Haitian foods and recipes consist of cooking traditions and practices from Haiti. Haitian cuisine is comparable to that of 'creole' cooking and similar to the rest of the Latin Caribbean, but differs in several ways from its regional counterparts.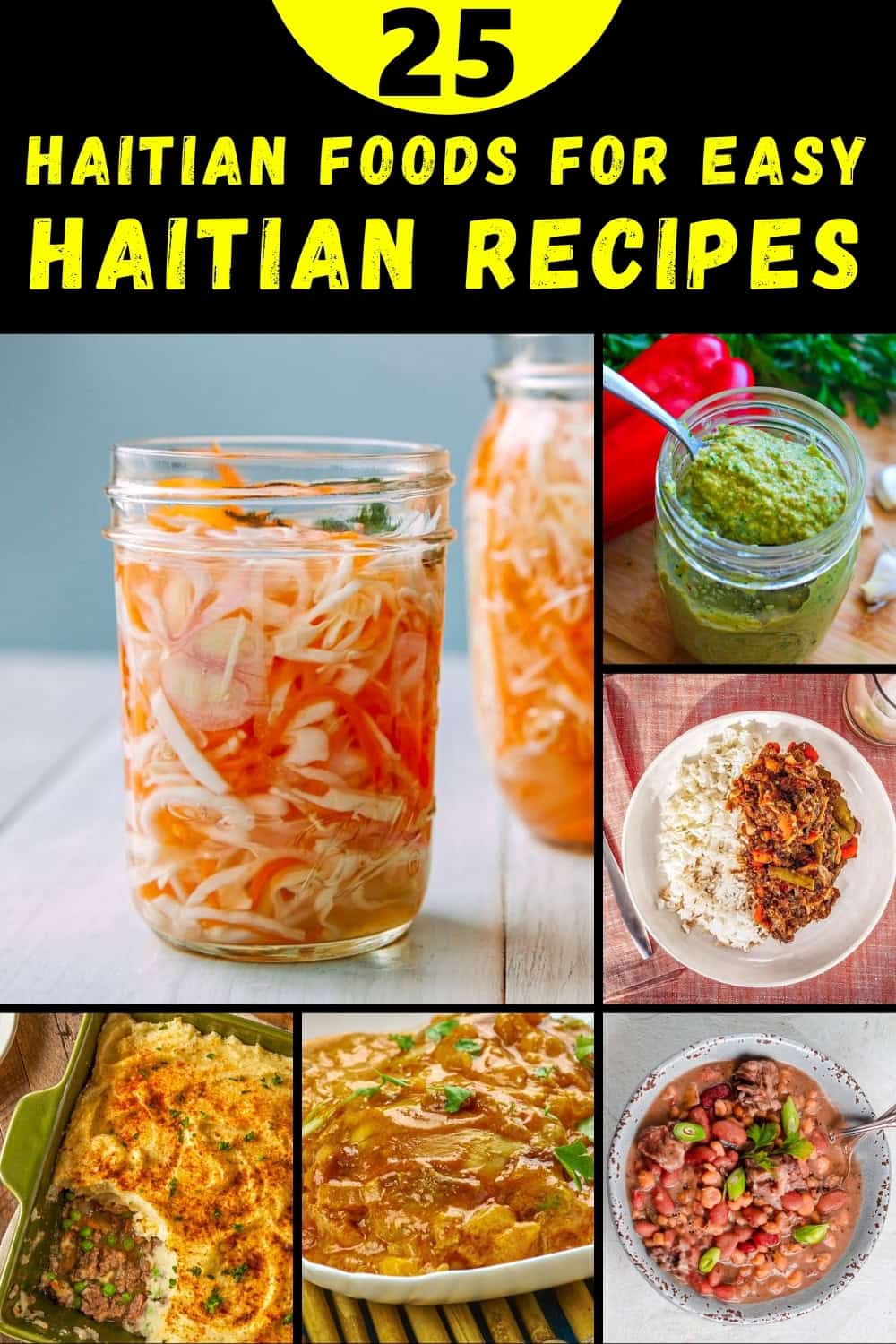 25 Great Haitian Foods and Easy Haitian Recipes
---
---
check out our video
---
---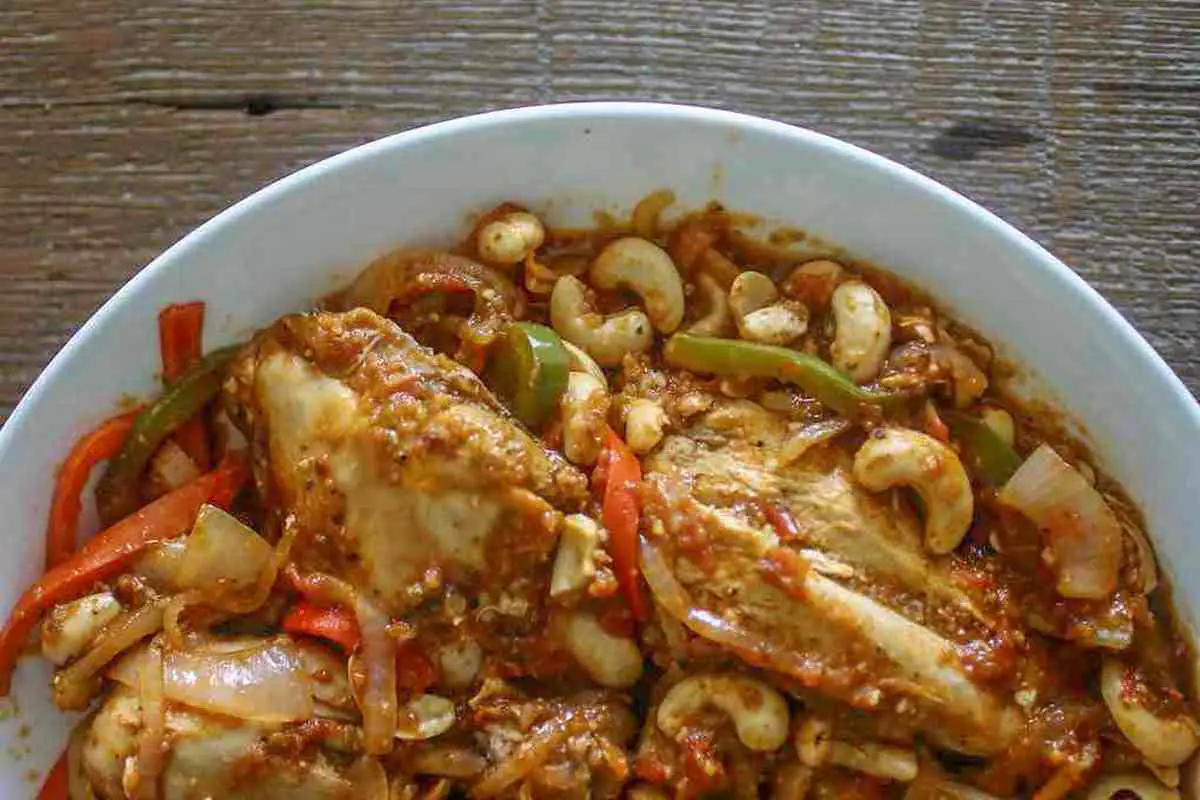 Poul ak nwa is one of the most popular dishes in Haitian cuisine. In Haitian Creole, poul means "hen" or "chicken", ak means "with" and nwa means "nut". This dish is much better when the chicken is marinated for several hours before cooking.
Poul ak nwa is a traditional chicken dish from Cap-Haitien that is prepared with the essential Haitian seasoning, epis. It's served with rice and pikliz, a type of spicy coleslaw.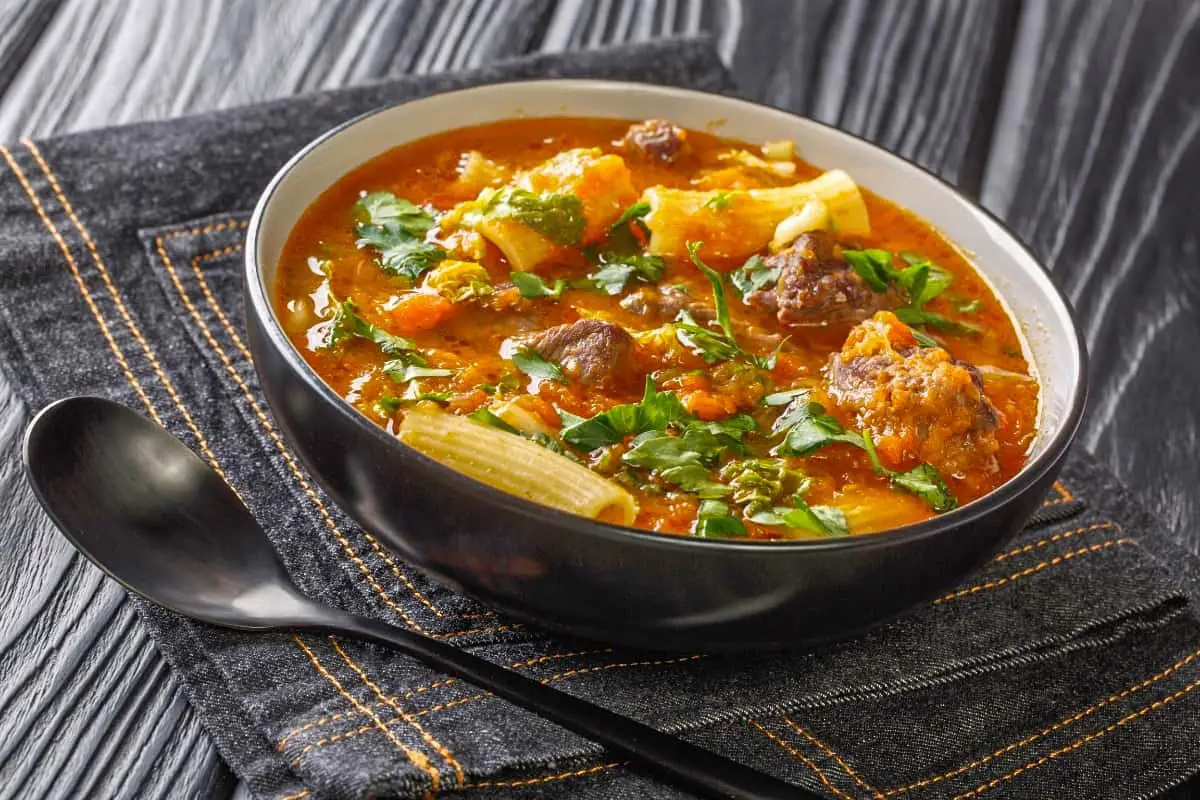 Soup Joumou is served every year on the 1st of January as the Haitian nation celebrate its Independence. It is one of the most savored food as it is a rarity.
Deliciously prepared to ones taste but the base is squash. Extremely filling, yet the enjoyment of the sensational flavors with the proudness of freedom make this dish a unique experience that one must share.
The number one and main reason that makes this soup so special to Haitians, is that, it is a reminder of their struggles and victory. During slavery, Haitian slaves were not allowed to enjoy this soup as it was only to be prepared for the slave masters.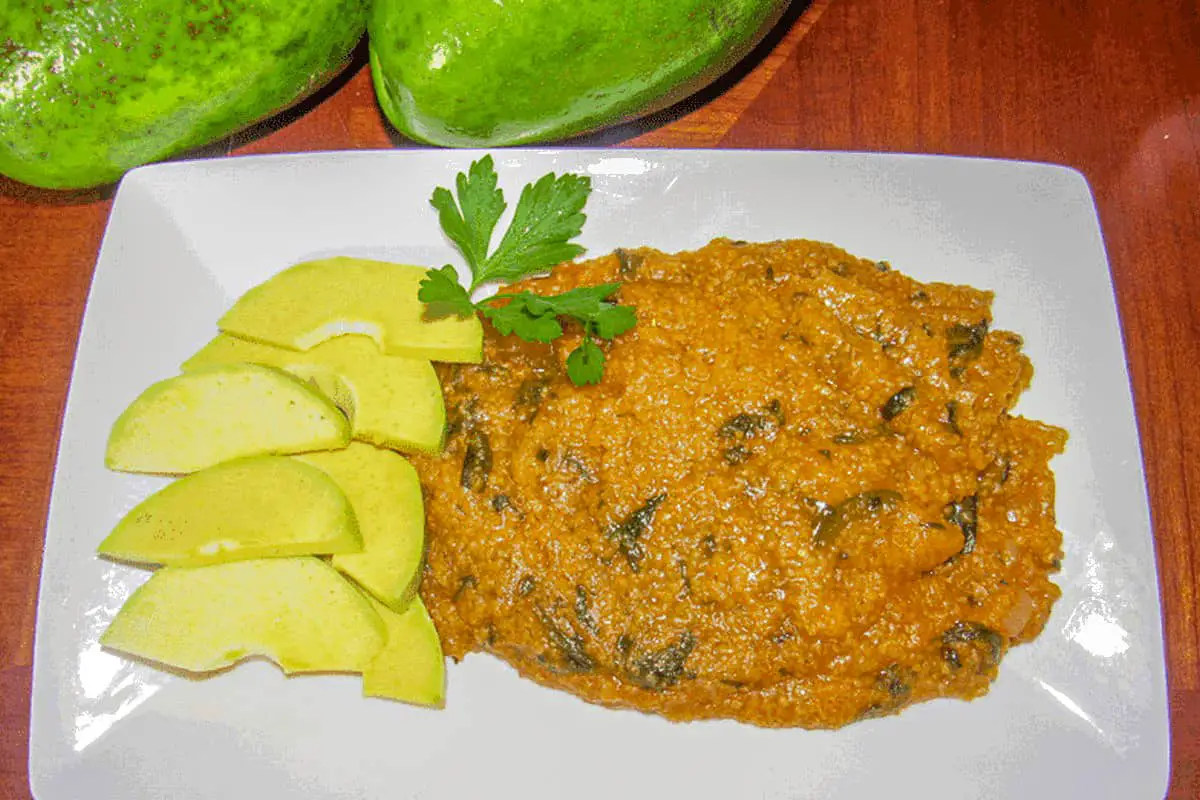 Mayi moulen is a preparation originating from Haiti based on ground corn similar to Italian polenta. In Haitian Creole, mayi moulen simply means ground corn.
The creamy texture of yellow cornmeal cooked in water is particularly pleasant and goes well with many preparations based on dried fish, vegetables such as beans or avocado, or meat in sauce.
It is a nourishing and very cheap dish. In Haiti, cornmeal is a staple food and is eaten as frequently as rice during the various meals of the day.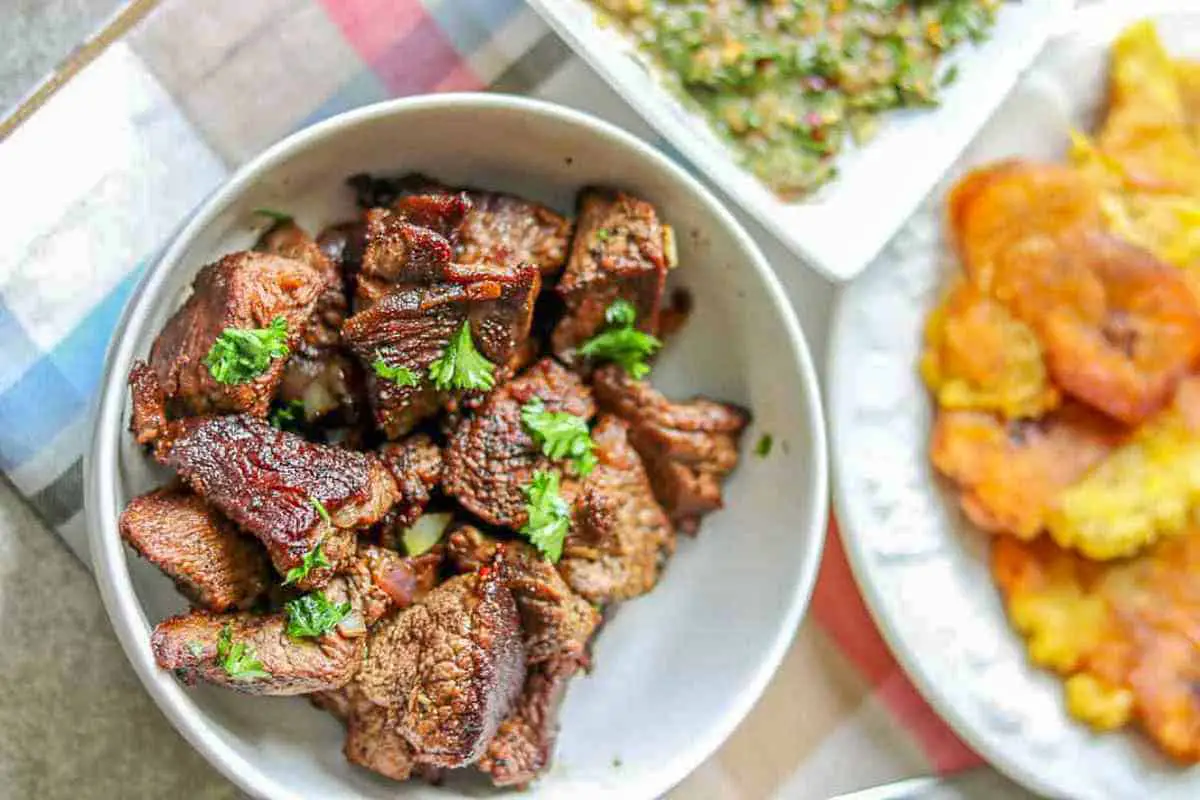 Haitian Tasso is famous in Haiti. In other parts of the world, they are called steak bites, fried beef tips, or beef bites. I call them mouthwatering!
These Tassos are so fun and easy to make. They also go a long way with fried plantains (Bannan peze). Haitians go crazy for these little steak bites!
The slight crunch of the vegetables, the heat from the thinly sliced scotch bonnet peppers, and the flavors the vinegar to bring it all together – just outstanding!
Bouyon bef or Haitian beef stew is a hardy traditional stew cooked through out Haiti. Haitian Beef Stew (Bouyon Bef) is typically cooked when the temperature drops or when ever you are feeling under the weather.
There are many variations of the stew but it typically made with beef, plantains, dumplings and malanga.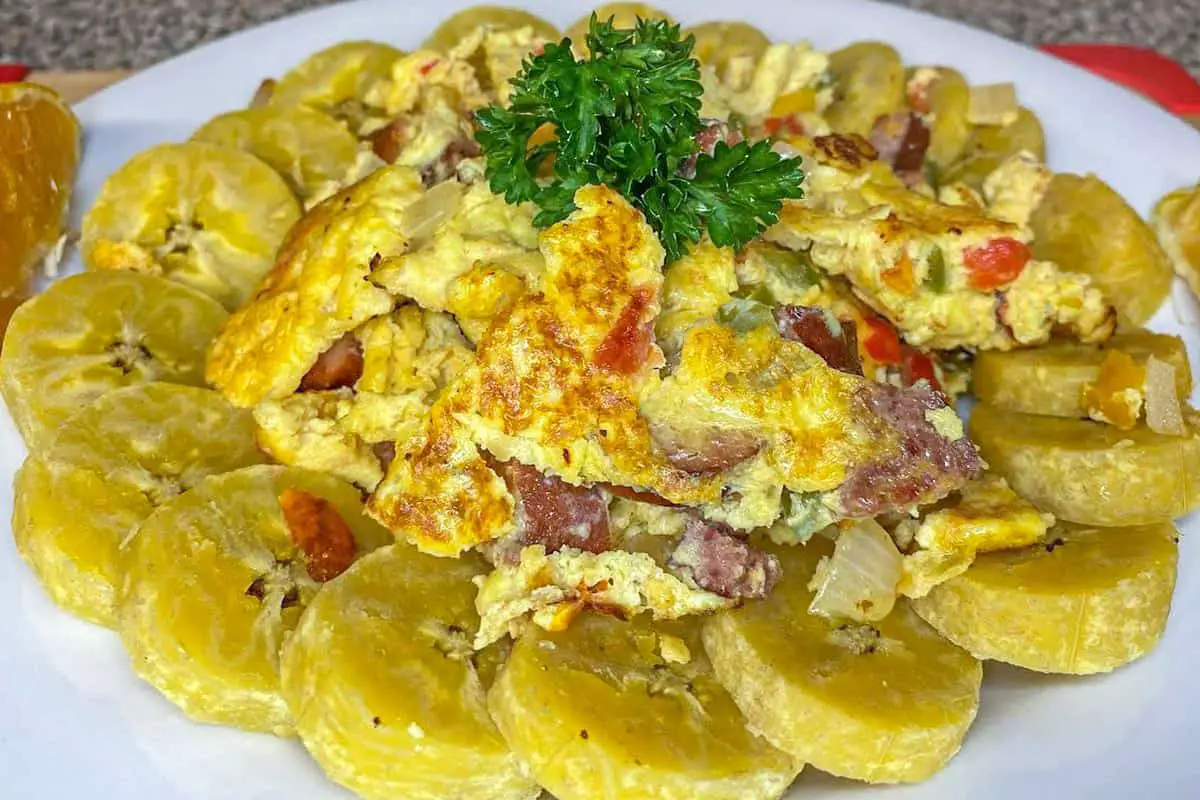 In Haiti a common breakfast in the countryside is spicy Haitian Eggs and plantains (sweet). This sweet an spicy combo gives you a nice kick of proteins, carbs, and a some veggies. You can switch up the veggies to your taste.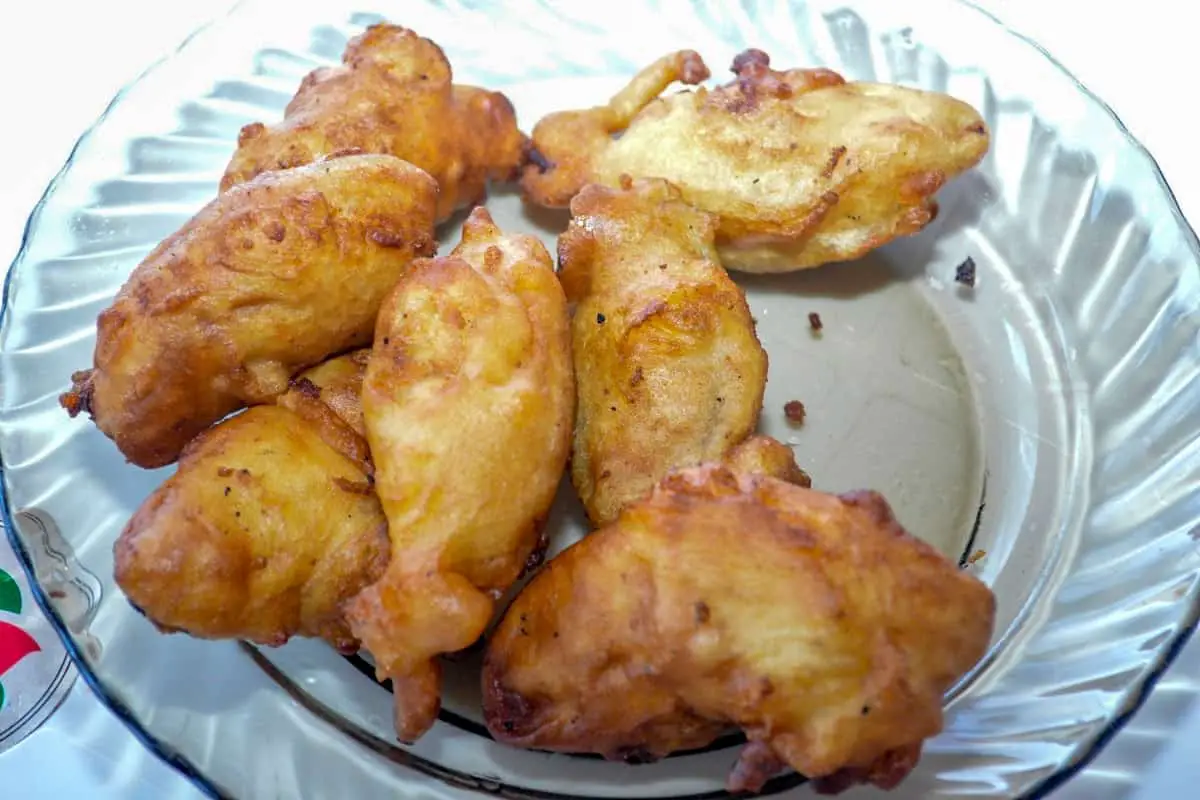 If you're unfamiliar with our beignets, know that they're different from the typically puffed fried batter served elsewhere. Our Haitian beignets are flat and banana based. They look like mini crêpes more than anything else, but we mostly eat them for dessert.
Beignets are an intrinsic part of our Canaval tradition. You won't easily catch a traditional Haitian family eating them outside of that season.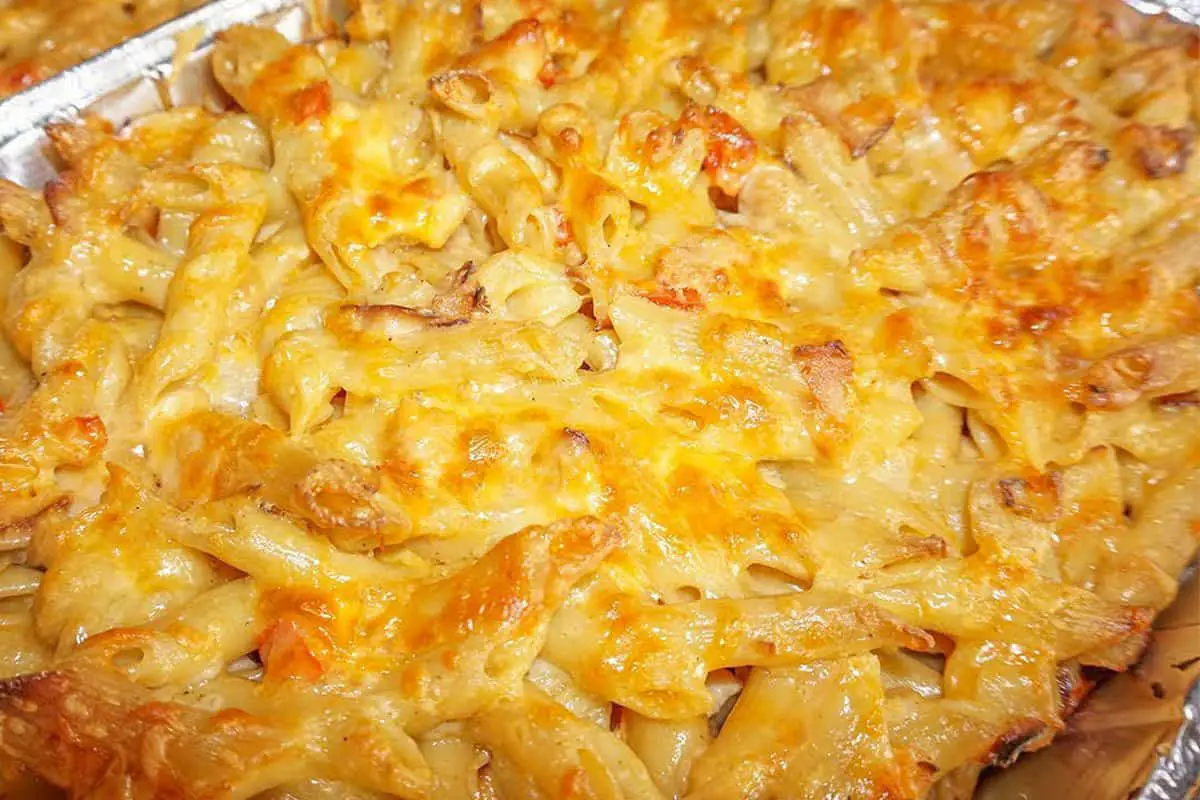 Makawoni au Graten is the Haitian version of mac and cheese. Given the richness and diversity of Haiti's culinary history, it's not in any way surprising that macaroni and cheese has found its way from its origins in Italy, to this Caribbean island.
Instead of using pasteurized milk however, Haitian mac and cheese uses evaporated milk. In addition, Haitians add diced bell peppers and onion. And sometimes ham, hot sauce, and various other ingredients.
Parmesan is the usual cheese for makawoni au graten, and many Haitian cooks add aged Edam or Gouda too. While these cheeses are not always used in this recipe, due to the added flavor and texture they impart, their use is increasingly popular.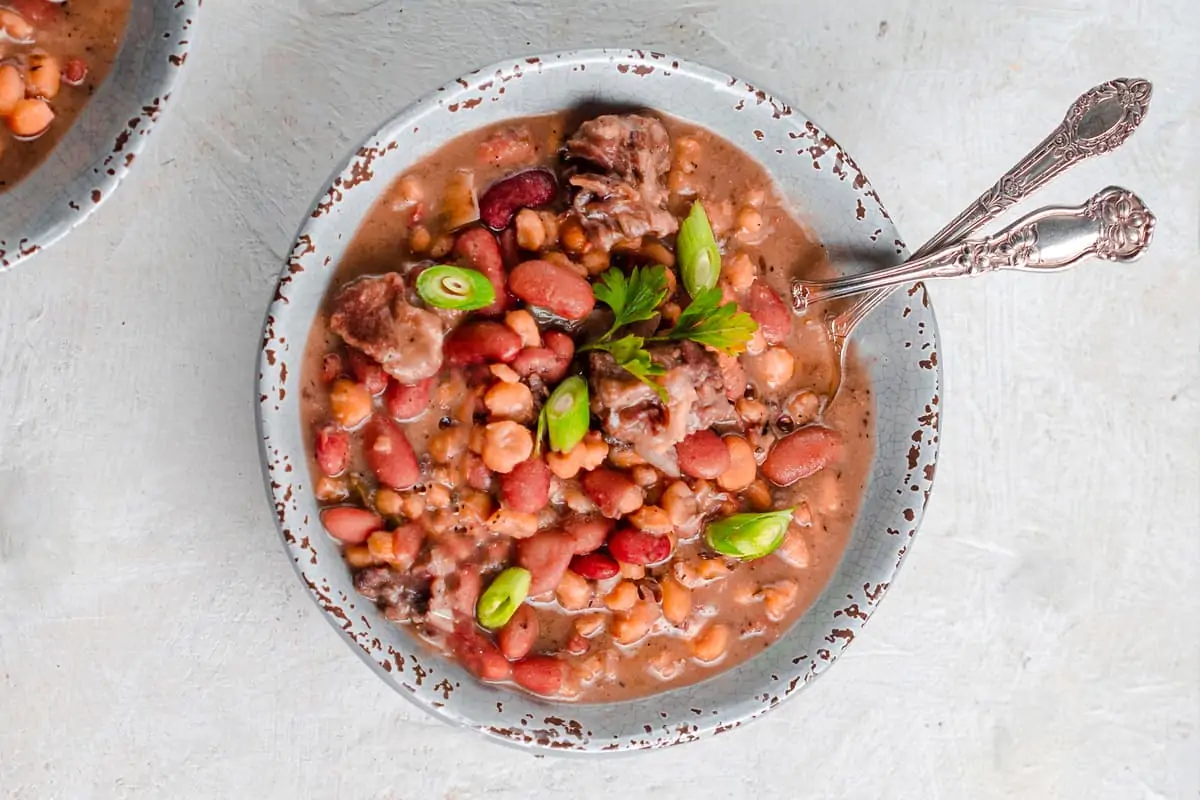 Cook the ingredients separately before combining them. The resulting casserole must then simmer for two hours or more for the flavors to completely develop. While this may sound like a long process, it isn't a tedious one.
Tchaka is a red beans, dried corn and heavily smoked salt-cured pork meat casserole. Each of those main ingredients have their own cooking time which explains why we prep them separately.
The secret to a successful tchaka is in the salt-cured pork meat and the simmering. Make sure to taste it often, and adjust the seasoning as needed.
Bold, flavorful Haitian seasoning base that makes everything taste better. Epis is the Haitian equivalent of a sofrito and serves as a base for most Haitian recipes. It's a blend of herbs, peppers, garlic, oil and vinegar.
There are no real steps. It's like making salsa – just roughly chop and blend! Epis goes with just about anything. I use it as an ingredient mostly, but I've used it as a topping for meat dishes and occasionally as a dip.
Haitian Spaghetti (Espageti) is a traditional Haitian spaghetti meal usually eaten for breakfast. It's flavor rich with fresh vegetables, herbs, and different kinds of meats. The best part? It's so easy and quick to make!
Haitians pride themselves on using fresh herbs and vegetables to ensure all of our meals are fresh. This recipe can easily be a one-pot meal, although, I like to create the sauce in a different pan. We use our all-time favorite Epis seasoning and tomato paste to create a sauce for the pasta. This is the Haitians popular technique when cooking.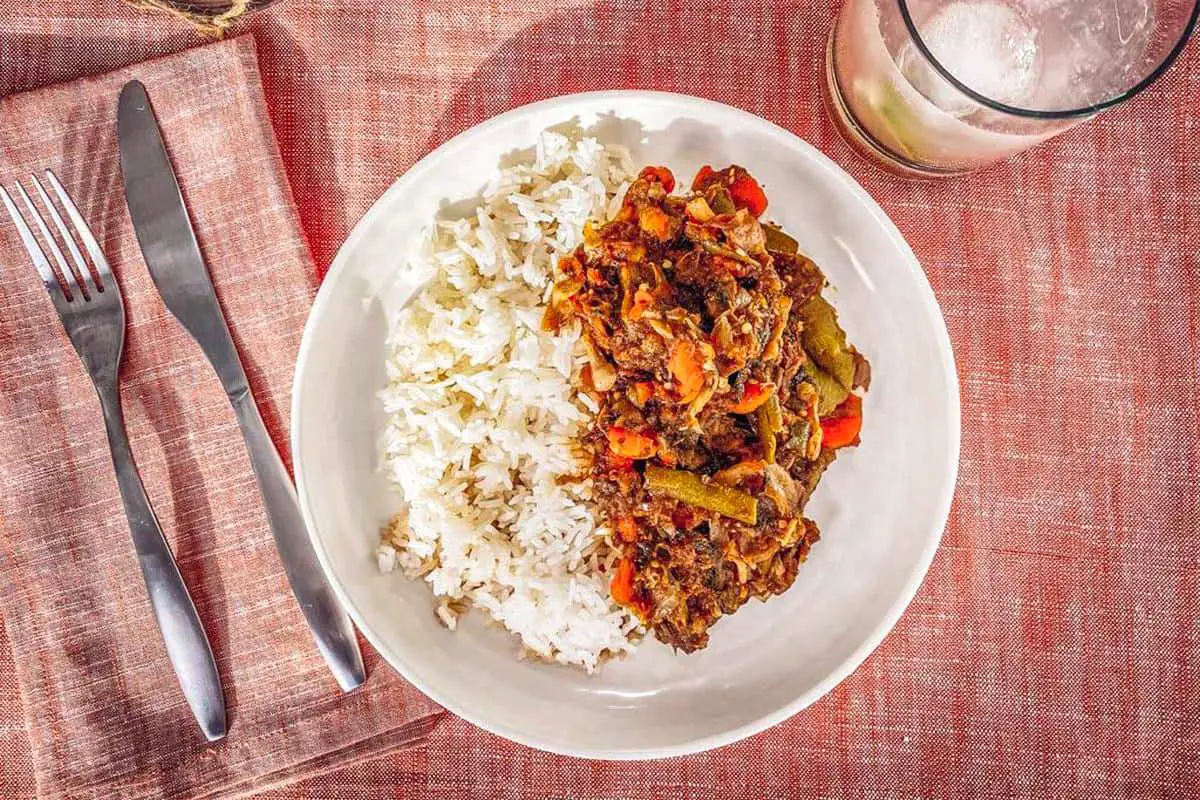 This Haitian legume recipe is one passed down in every Haitian household with some variations, including its choice of meat protein. Legume is a thick vegetable stew—a mashed mixture of eggplant, cabbage, chayote, spinach, watercress and other vegetables, depending on house preference.
Labouyi Bannann is a healthy veggie based Haitian breakfast that is both delicious and good for you. This nutrient rich porridge is the way to start the day with a filling and wholesome breakast.
Plantain Porridge is more popular than cornmeal porridge in Haiti and Jamaica. Some people eat porridge daily in the Caribbean. The only thing that varies is the type of porridge.
There are two ways to make plantain porridge – either from the fresh plantain or from plantain flour, which is readily available in the Caribbean and in Caribbean markets here in America.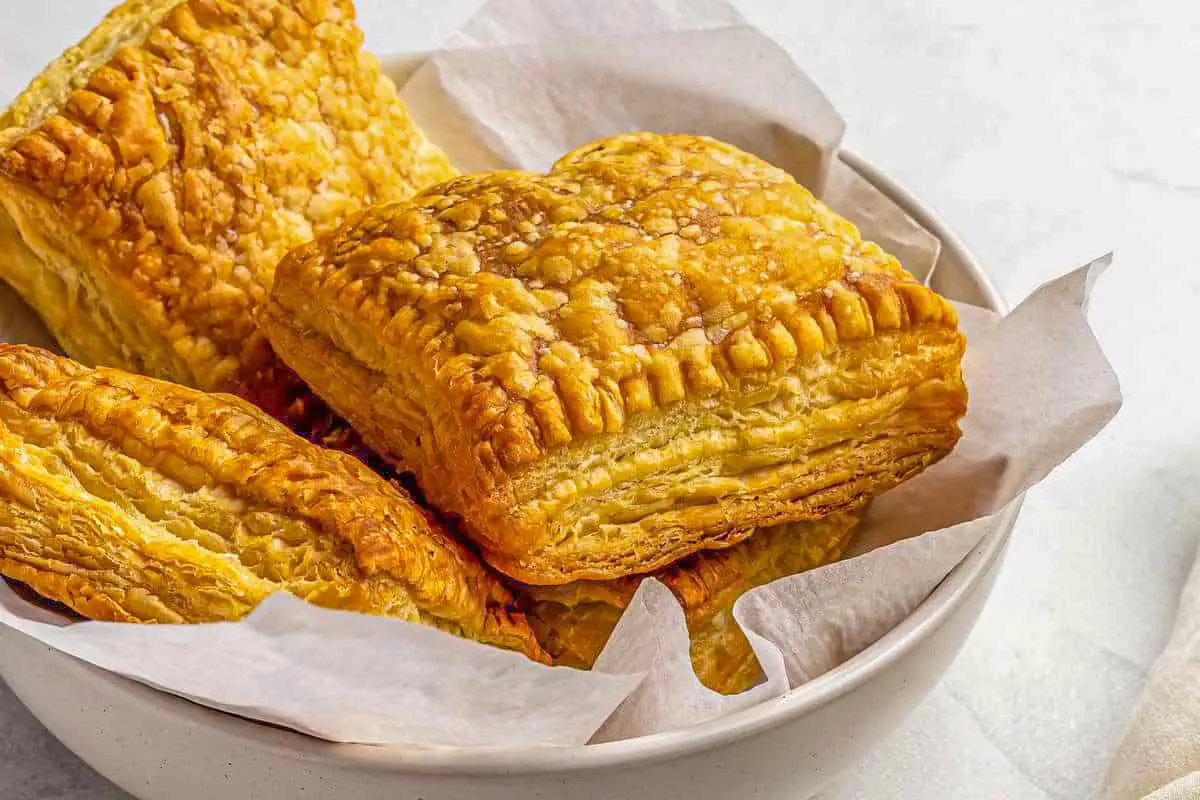 Delectable beef stuffed in puff pastry dough. Quick and easy Haitian Pate that comes together as quickly as they sail off the table.
Haitian Patties are served for breakfast with eggs, as a snack, and mainly as an appetizer at large gatherings or special occasions.
These delicacies are a combination of crunch and good buttery, flaky dough. Beef filling can be replaced with chicken, codfish (morue), smoked herring or any other filling of your liking.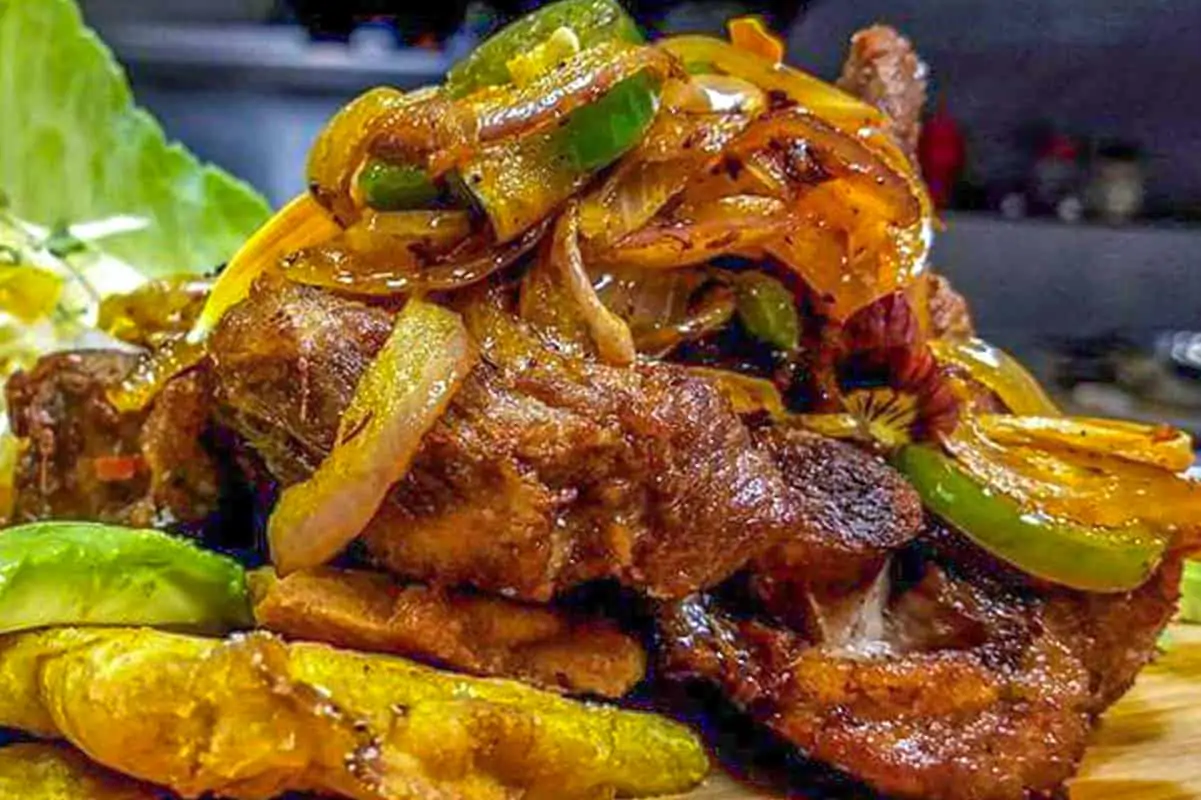 Griot is a rich, flavorful dish that is one of Haiti's most popular foods. It's quick and easy to serve at parties and family gatherings.
Cubes of pork are soaked in a sour orange marinade and then slow-roasted until tender. The tender morsels are then given a final fry in oil until delectably caramelized.
Griot is undoubtedly a must when it comes to Haitian food. This dish goes great with plantains and a side of pikliz (Haitian pickled vegetable relish).
Rather than a more traditional pâté, a chicken picadillo is first made and then whirred up for a filling in these little first-course, Haitian puff-pastry packets. The filling is then sealed in the dough and baked. It's highly spiced for sure, but also very aromatic and a nice start to any meal.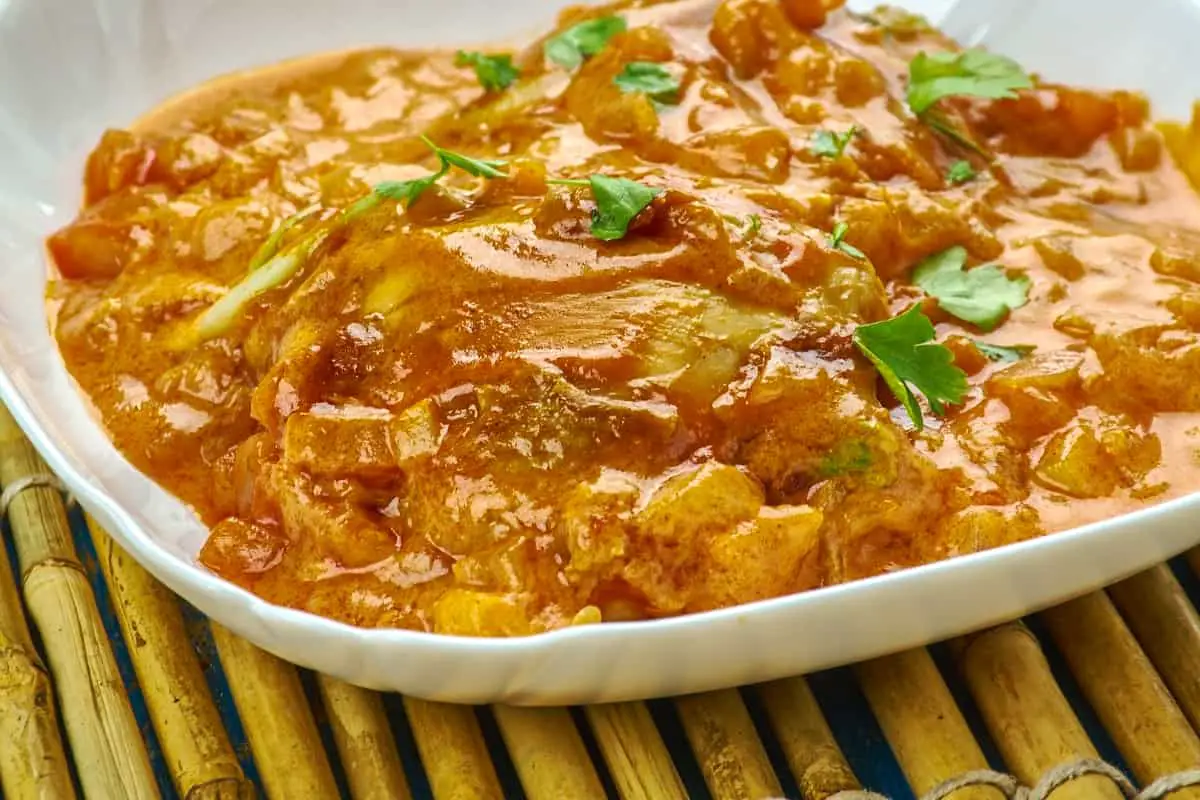 Haitian Stewed Chicken is a traditional recipe that is cooked using various methods. It is typically served with a side of rice. Here is our version of chicken stewed in a creole sauce.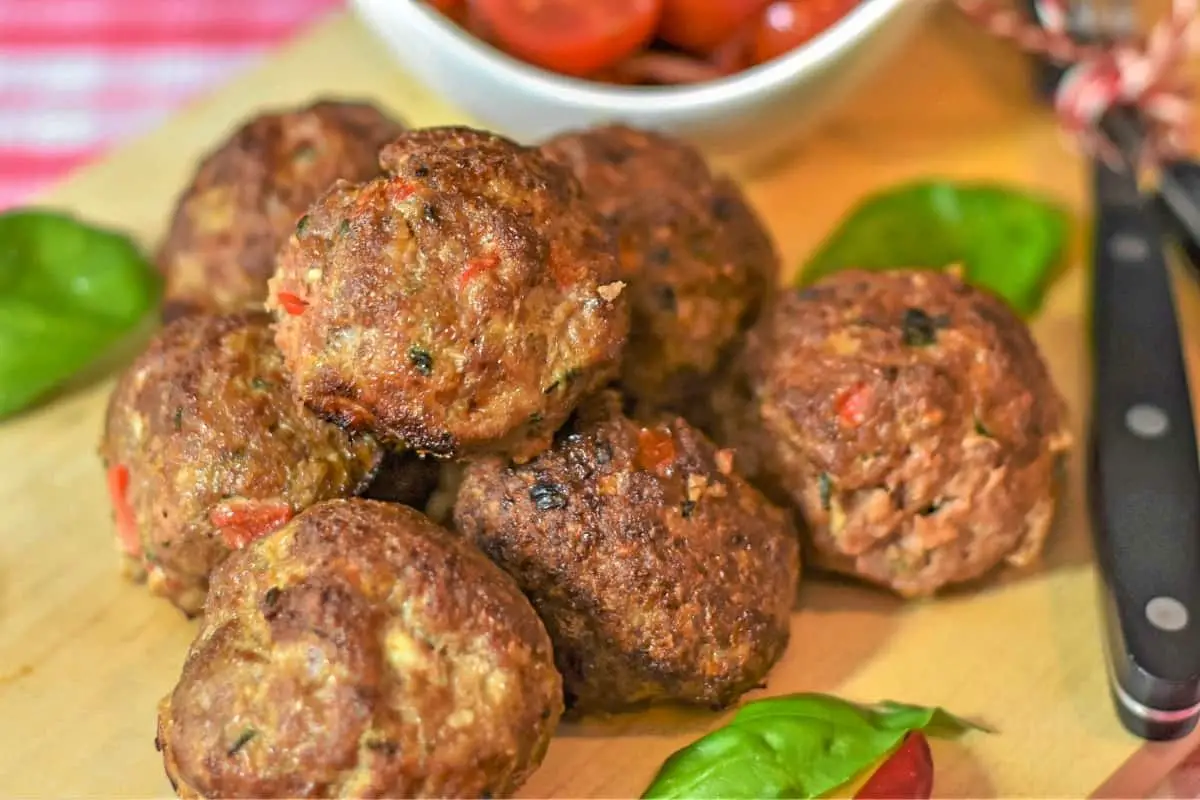 Homemade Haitian Meatballs, traditional, simple and delicious. Haitian Meatballs is made with ground beef and spices. No other ground meat is part of the recipe. The meatballs are usually made with a light tomato and onion sauce, almost like a Sauce ti-Malice. This dish is sometimes paired with Rice with Red Beans or White Rice and a Bean Gravy/Sauce.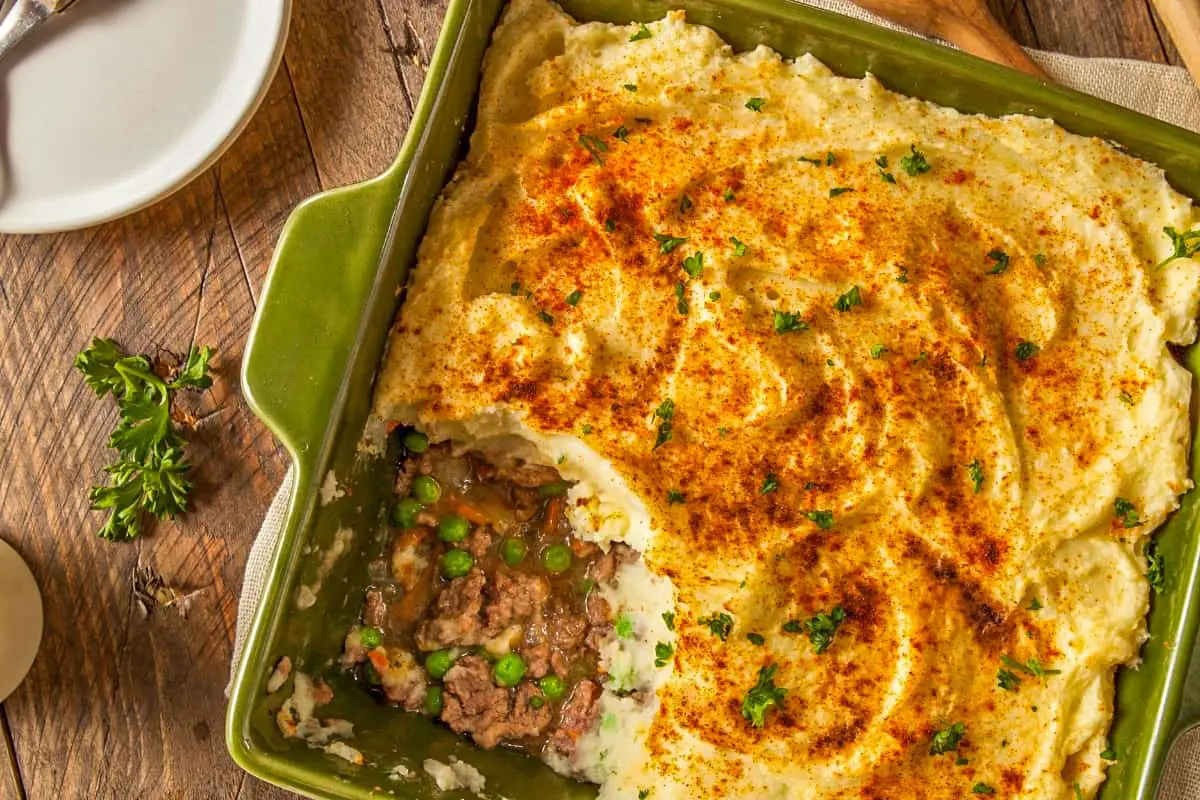 Haitian Cottage Pie is a cultural, gastronomic combination of meat, vegetables, and spices. Marinating meat, at least overnight, is essential in Haitian cuisine. The beef together with aromatic herbs adds a layer of complexity, as well as flavor to cookery rooted in Native Taino-Caribbean, West African, French, and Anglo-American cultures.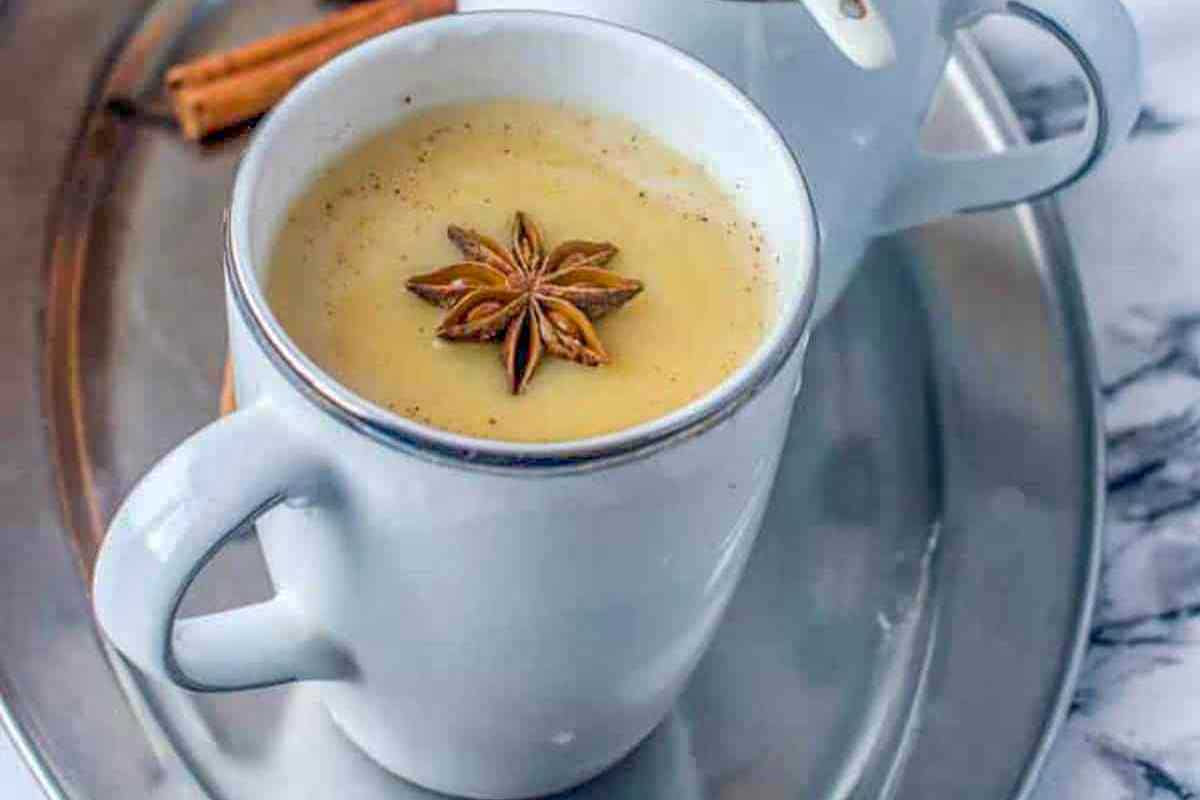 Traditionally, Haitians consume akasan for breakfast, just lukewarm. However, many locals prefer to consume this drink cold. Indeed, it is an excellent refreshing drink.
Akasan is a drink made from corn flour and spices that is very popular in Haiti. Akasan consists of corn flour, evaporated milk and spices, usually vanilla, cinnamon and aniseed.
This traditional Haitian drink has the consistency of a thick milkshake. Some will find that akasan has the consistency of a smoothie. It is a sweetened drink very popular with Haitian locals who consume it without moderation.
My friend Sharon was a missionary in Haiti for a number of years. When we went to visit her and her new Haitian husband this is one of the many foods of Haiti she prepared for us. They have a little kick.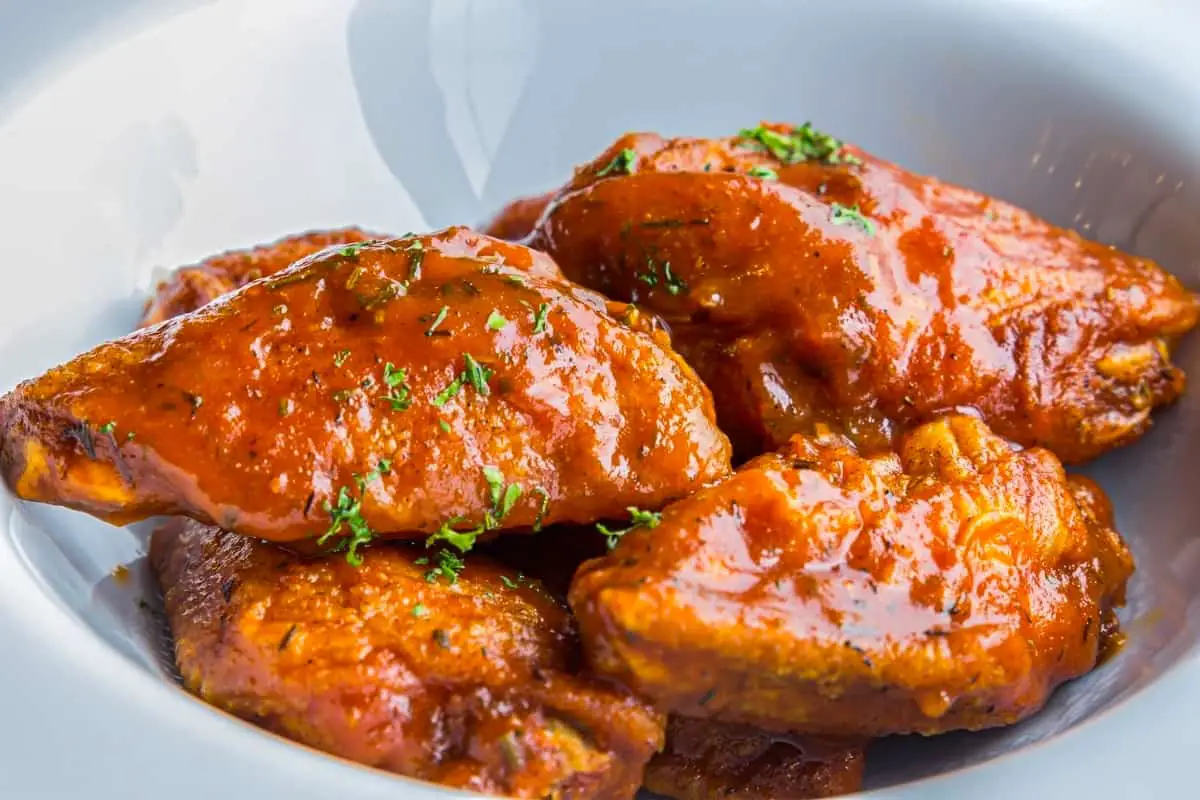 This Haitian Chicken Recipe is a one pot wonder! Full of chicken, tomatoes, wine, spices, and more, this recipe is easy and delicious!
The recipe in particular stood out to me, because It's spicy, you literally throw everything into a bowl, let it marinade for a bit, then cook it all in ONE pot. And there are only 8 ingredients.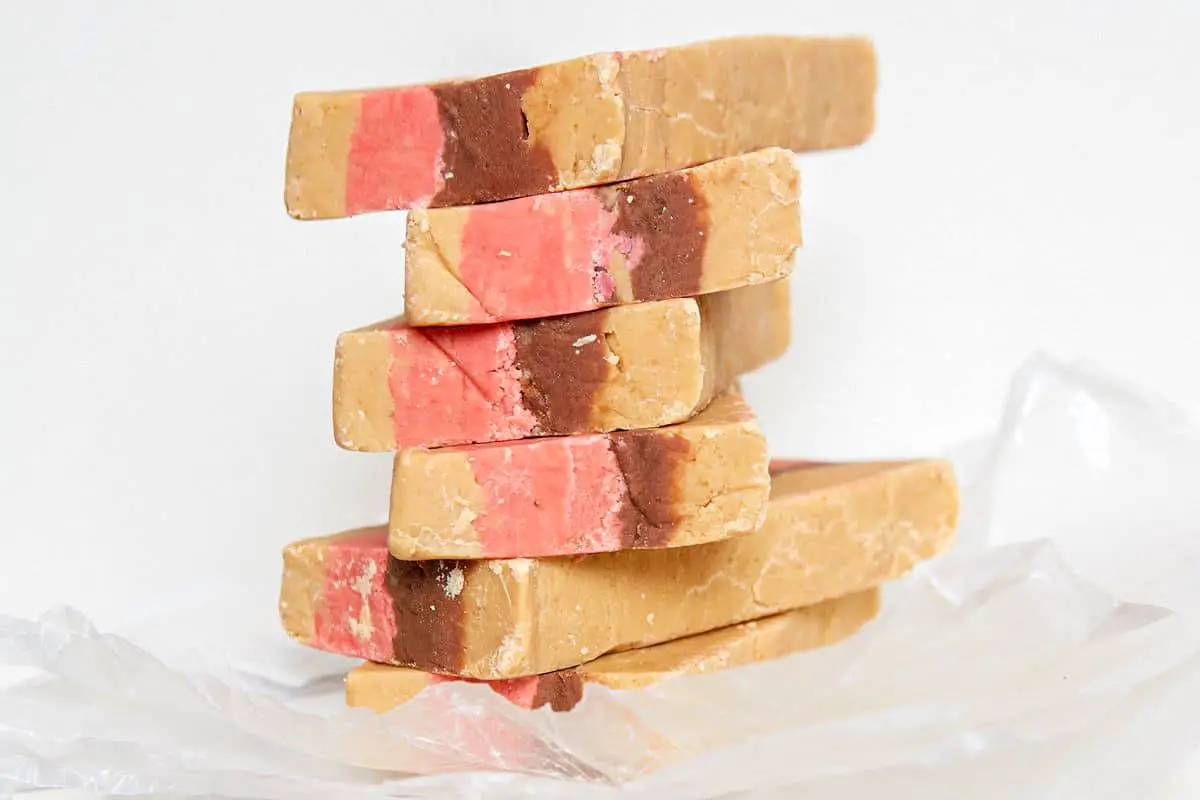 Dous Makos is a type of vanilla fudge originating from Petit-Goave, Haiti. The candy typically contains 3 signature stripes a light colored vanilla layer, a chocolate layer, and a red layer made using food coloring.
The candy was created by Fernand Macos in 1939 who many deem to be Haiti's version of the Hershey family. Getting this recipe right is all about timing. Here is our version of the signature candy.
This Haitian Cake Recipe flavored with orange and nutmeg is delicious for special occasions or an everyday tea cake. This traditional Haitian Cake is synonymous in Haiti and Dominican Republic.
Flavored with orange and nutmeg, Traditional Haitian cake is a versatile cake. It can be eaten simply as a tea time cake or decorate it up fancy for a special occasion. So light and airy.
All you need is a glass of milk or a cup of tea! Either way, this cake is going to just melt in your mouth!
---
---
What Are Some Traditional Haitian Foods?
Poulet aux noix: A Haitian dish featuring chicken and cashews as the main ingredients.
Joumou: Besides pumpkin or squash, the thick, savory joumou is loaded with various other vegetables, beef, and flavorings such as thyme, parsley, and chili peppers.
Tassot: Tassot is a traditional Haitian dish made with goat meat or beef as the main ingredient. Cubed meat is usually marinated in a combination of onions, orange juice, and lemon juice.
Pikliz: Pikliz is a Haitian relish consisting of a combination of pickled vegetables such as shredded cabbage, carrots, onions, shallots, and spicy peppers.
Bouillon Soup: Bouillon is a hearty and slightly thick Haitian soup made with meat, yams, kelp, cabbage, plantains, potatoes, scotch bonnet peppers, and celery.
Makawoni au Graten: This is not an ordinary mac & cheese. Haitians use rigatoni or penne along with other unusual flavorings.
Tchaka: Haitian tchaka is a hearty stew made with dried corn, red beans, squash, and smoked pork, particularly pork legs.
Legim: Heavily influenced by African cooking traditions, legume is a popular Haitian dish typically consisting of various mixed vegetables that are cooked with meat (usually beef) and then mashed together.
Haitian Patties: These Haitian delicacies consist of puff pastry that is shaped into small squares and filled with various types of meat such as beef, chicken, pork, or even fish.
Griot: Griot is a typical Haitian dish consisting of pork meat cubes slowly simmered in a sweet, spicy, and tangy marinade of chili peppers, onions, and orange, lime, or lemon juice until tender, then fried in a skillet.
Frequently Asked Questions About Haitian Foods
1. What is Haitians Cook?
The flavor base of much Haitian cooking is épice, a combination sauce made from cooked peppers, garlic, and herbs, particularly green onions, thyme, and parsley. It is also used as a basic condiment for rice and beans and is also used in stews and soups.
2. What is Haiti's Favorite Food?
Beef or goat (and sometimes turkey) become tasso, while pork becomes griot, which is considered Haiti's national dish. In general, the average Haitian diet is largely based on starch staples such as rice, corn, millet, yams and beans.
3. What do Haitian Eat for Breakfast?
There are numerous breakfast combinations. You can try out one of these 5 delicious dishes in the comfort of your own home. Eggs and Plantains, Mayi Moulen, Haitian Spaghetti, Plantain Porridge, or Corn Flour Shakes.
4. Is Haitian Food Spicy?
Haitian food is influenced by French, African, and Spanish foods with Taino roots. Typical meals include imported rice, local vegetables, and meats native to the island. Meals tend to be mildly spicy.
5. What Do Haitians Eat for Lunch?
Lunch (manje midi) is a large meal. Usually rice, beans, and meat. Snacks are frequent and consist of fruit. The evening meal (dine) is soup or hot cereal.
6. What Haitian Foods Are Eaten At Holidays?
The most important Haitian holiday is Carnaval, a flamboyant display of pageantry similar to the Mardi Gras of deep-south American cities like New Orleans. Everyone eats Haitian Beignets (Beignets de Carnaval), a delectable casual dessert made with bananas.
About Haitian Cuisine
Haitian cuisine consists of foods and cooking traditions from Haiti, a country in the Caribbean. It originates from a myriad of culinary blends and styles, mostly from peoples and communities that have populated the country, such as the French, Africans, and the Spanish. Most of all, though, the indigenous Taino people have had the biggest impact on Haitian cuisine and other cuisines all over the world.
Haitian cuisine is known for its simplicity and unpretentiousness. It is also wildly recognized because of its wild flavors and boldness in preparation and presentation. The latter demonstrates the influences that the French and African cultures.
Another culture that has had a huge influence on Haitian cuisine is Arabian. Arabian migrations into the country have led to Levantine influences to be well ingrained in not only the cuisine of modern-day Haiti but also in the general culture and way of life.
The History of Food from Haiti
The Taino natives, who not only influenced Haiti but also a myriad of other Caribbean islands, were the ones who introduced what is now known as a barbeque to the rest of the world. The word is derived from 'Barabicu' in the language of the Taino and that of the Timucua, who were the native inhabitants of Florida and the area around it.
When Christopher Columbus and his explorers first landed in Haiti, they found the natives of the land roasting meat over a grill. The grill was not as we know it today; rather, it was made of a wooden framework that rested on sticks, and the fire was underneath the grill. The smoke and the flames underneath the grill would rise and envelop the animal meat, thus giving it a certain appealing flavor.
When the Spaniards colonized Haiti, they brought in many diseases with them, diseases that the natives were not immune to. Thus, many natives died, and the Spaniards began to bring in slaves from Africa to work on the plantations they had set up. The African food that the colonizers brought had a major influence on the cuisine of the area. Foods such as Okra, which is an edible root, pigeon peas, and spices were introduced to the region.
During the colonial times, the French were also able to exert their culture into Haitian cuisine. They introduced cocoa, coffee, and sugarcane into the fold.
Old-style Haitian Cooking and Food.
Even though old-style Haitian cooking and food are in many ways akin to that of other Caribbean islands, it is distinct. Haitian food has a very independent and unique flavor. One of the more frequent ways of Haitian cooking today and in older times was barbequing. Moreover, old-style Haitian cooking involved the extensive use of herbs, and the chefs did not use pepper sparingly either.
One of the top foods both now and in past times is Legume Haitian. This is a thick vegetable stew made from spinach, eggplant, chayote, cabbage, and watercress. More vegetables were added into the mix, depending on the chief preference.
There were many types of stew in old Haiti, and many of them, though there have been a couple of nuanced changes, still exist today. Some of them include the aforementioned Legume Haitian, Tchaka, consisting of beans, pork and squash, and many others. Rice is most often what accompanied the stews.
Meat was a common dish, or ingredient, in traditional Haitian cuisine, and it still is. The cook would boil chicken meat in a marinade that consisted of sour orange, lemon juice, garlic, and bonnet pepper before he or she eventually fried it to a crisp. Meats common in traditional Haitian food are beef, goat meat, called cabrit, and pork.
Starch, mainly through the influence of the Africans, was a common ingredient in traditional Haitian cuisine. Foods such as potatoes, breadfruit, yams, and sweet potatoes are even to this day a major staple piece of the cuisine in the country.
Modern Haitian Cooking and Food
Today, not only is barbeque still part and parcel of the Haitian cuisine, it has somehow managed to be an intricate part of many other cuisines in other parts of the world, though, of course, there is a myriad of regional variations.
Like many other cuisines the world over, traditional Haitian cooking methods, from preparation to actually cooking and eventual presentation, are an intricate part of modern-day Haitian cooking and food. One of the top ingredients in modern Haitian cooking is called epice, a combination of garlic, peppers, and other herbs, particularly thyme, parsley, and green onions. It is mainly used as a condiment for the stews mentioned earlier, as well as rice.
Modern Haitian cuisine is also made up of a myriad of drinks. One of the main drinks from Haiti is rum. Haitian rum is well known globally. Rhum Barbancourt is the finest rum in the region and is recognized as the finest rum in the entire world. Rum is made from molasses, and thus you can trace the impact of the Spanish sugarcane plantations on modern Haitian cuisine.
Beer is also very common in Haiti and is mainly drunk in festivals and celebrations. Clairin is an alcoholic drink that is fundamentally distilled spirit and is sometimes referred to as white rum. Cremas, an alcoholic drink made from creamed coconut, evaporated or condensed milk, and rum, is also very popular.
One of the region's best-known appetizers is Haitian Patty. It is made from grounded meat, either chicken, beef, salted cod, turkey, or smoked cod. A flaky or crispy crust then surrounds the grounded meat.
Modern Haitian cuisine and foods entail dishes from the country's numerous regions. For example, the region called Jeremie, which is on the country's southwest tip, has a dish called tonmtonm, which, essentially, is streamed breadfruit and mashed in a pilon. It is swallowed without chewing with the help of a sauce called okra. Okra is cooked with meat and savory spices.
---
You May Want to Join Our Boondocking Group on Facebook For More Information
You May Want to Join Our Campfire Recipes Group on Facebook For More Information
For More Photos Visit Our Instagram at World Recipes Daily – Our Big Escape