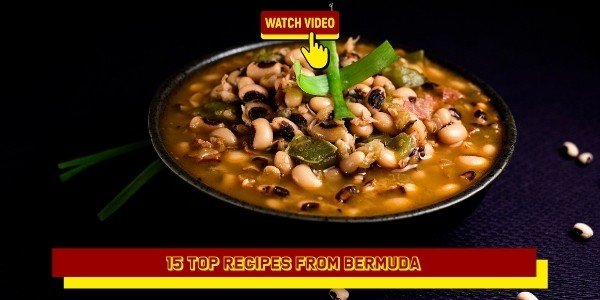 The recipes from Bermuda reflect the foods that are available on the small island. All foods not available are imported are to expensive for locals.
Bermudian cuisine is the cuisine of the British Overseas Territory of Bermuda. The cuisine of the islands reflects a rich and diverse history and heritage blending British and Portuguese cuisine with preparations of local seafood species, particularly wahoo and rockfish.
Traditional dishes include codfish and potatoes served either with an add on of hard-boiled egg and butter or olive oil sauce with a banana or in the Portuguese style with tomato-onion sauce, peas, and rice.
Hoppin' John, pawpaw casserole, and fish chowder are also specialties of Bermuda. As most ingredients used in Bermuda's cuisine are imported, local dishes are offered with a global blend, with fish as the major ingredient, in any food eaten at any time.
 Main Dishes
There are several dishes served on Bermuda that are unique to the island which offers a taste of traditional Bermudian culture. Fish is one of the main ingredients in Bermudian cuisine. Local fish includes mahi-mahi, snapper, spiny lobster (during September–March), tuna, and wahoo.
These are used in dishes such as fish and chips, pan-fried fish, and boiled salted codfish and potato, a traditional dish in Bermuda (usually served on Sundays with tomato sauce and olive oil).
Fish chowder is considered a national dish, which is a staple food not only in restaurants and hotels but also in homes; the main ingredients are fish stock, fish, vegetables and bacon fat and served with spices, but a Bermudan specialty is to serve it with black rum and sherry peppers.
Beef stock is an essential ingredient in Bermudian fish chowder. Sherry pepper is prepared with ripe and very hot bird peppers using sherry for marinating it, and supplemented with herbs and spices; and black rum is rum derived by blackening with molasses in a special barrel for aging.
 Pickled Onion Brunch
The specialty in some restaurants during the weekend is a codfish brunch. It is a large serving of full-blown codfish, boiled and steamed with salt, and with boiled potatoes, onions, and sliced bananas. The topping is with hard-boiled egg or tomato sauce, and, also occasionally with avocado slices.
Appetizers served are a shark hash and Codfish cakes. Shark hash is minced shark meat, sautéed with spices, and served on toast. Codfish cake is made out of salted cod mash (smashed) and with cooked potatoes and fresh thyme and parsley. Then, it is formed into a patty and fried in a pan.
It is also served with a topping of a "zesty fruit salsa and a side of mesclun salad" sandwiched in a white bun with mayonnaise. (1)
 1. Bermuda Fish Chowder
 2. Bermuda Banana Bread
 3. Bermuda Rum Cake
 4. Carrot Cake Protein Cookies
 5. Arugam Pullu – Bermuda Grass Rasam
 6. Green Lentil Curry with Kale
 7. Baked Ranch Parmesan Pork Chops
---
Now that you are checking out the 15 Top Recipes From Bermuda, what's next? Let's learn more about Surrounding Country's Top Recipes.
15 Best Traditional Bahamian Cuisine Recipes
15 Top Panamanian Cuisine Recipes to Try
15 Great British Virgin Islands Recipes
15 Best El Salvador Recipes and Traditional Meals
---
 8. Recipes From Bermuda – Bermuda Sorbet
 9. Recipes From Bermuda – Black Rum Cake
 10. Hoppin John Recipes From Bermuda
 11. Bermuda Codfish Cakes
 12. Bermuda Pizza Recipe
 13. Recipes From Bermuda – Nanas Cassava Pie
 14. Recipes From Bermuda – Bermuda Onion Tarts
 15. Bermuda Onion & Garlic Fried Taters
Thank you for taking the time to reviews our favorite Recipes From Bermuda.
Please leave an honest review of how you like the recipes you try and if possible any changes you made that made a better recipe. It really helps others trying to make great food that makes them lose weight.
 Helpful Information About Bermuda
(1)Text Courtesy of Wikipedia