These islands, known for their sugary beaches, lush rainforests, and vibrant culture are home to amazing Saint Kitts recipes full of Caribbean flair. An introduction to the cuisine of the idyllic twin-islands of Saint Kitts and Nevis is sure to tantalize any taste buds.
From the succulent spices of boiled fish to the grown-to-perfection veggies of the local farmers, you are sure to leave the islands with some delightful new Saint Kitts recipes to bring home. In this article, we will explore the history of Saint Kitts and Nevis cooking, the ingredients used, the traditional Saint Kitts recipes, and a few modern spins on tropical cooking.
You'll learn to make some of the classic Saint Kitts foods like Roti, Pelau, and Gofri which have become beloved staples of many Caribbean households. Plus, you'll have an opportunity to expand your culinary horizons with a few easy-to-follow Saint Kitts recipes that make full use of the unique produce and flavors found on these magical isles.
History of Saint Kitts and Nevis
One of the lesser known Caribbean island nations, the federation of Saint Kitts and Nevis has a long and rich history and culture dating back over 500 years. Since European explorers first stumbled upon these two islands in 1493, the region has experienced numerous changes and world-wide influences that have shaped it into what is known today.
From the famous English explorer Sir Thomas Warner's colonization of the islands in 1623 to the nation's independence in 1983, the history of Saint Kitts and Nevis is one of great strength and resilience. With this article, readers will learn about the fascinating history of this Caribbean island nation, exploring the people and events that have helped shape this beautiful place.
From the first Native American inhabitants to the effects of slavery and colonialism on the region, get ready to embark on a journey through time that will cement this wonderful nation's important place within the Caribbean.
Saint Kitts Food Culture
Discovering a new culture's unique cuisine is an experience like no other. Have you ever wondered what it would be like to sample the delicious, flavorful Saint Kitts recipes from the island paradise of Saint Kitts and Nevis? Situated in the West Indies, Saint Kitts and Nevis combines a diverse array of food traditions from Africa, Europe, India, and the Caribbean.
Everyone from foodies to cultural connoisseurs will find something to enjoy in this small Caribbean nation. In this article, you'll learn about the history and traditional dishes of Saint Kitts and Nevis, as well as some of its lesser-known culinary exports. From fiery pepper Saint Kitts foods to plantain-stuffed dumplings, get ready to explore the tastes of Saint Kitts and Nevis!
---
Want more ideas to round-out your Recipe Box?
A lot of great options are in these posts!
---
15 Saint Kitts Recipes To Make At Home
---
---
check out our video
---
---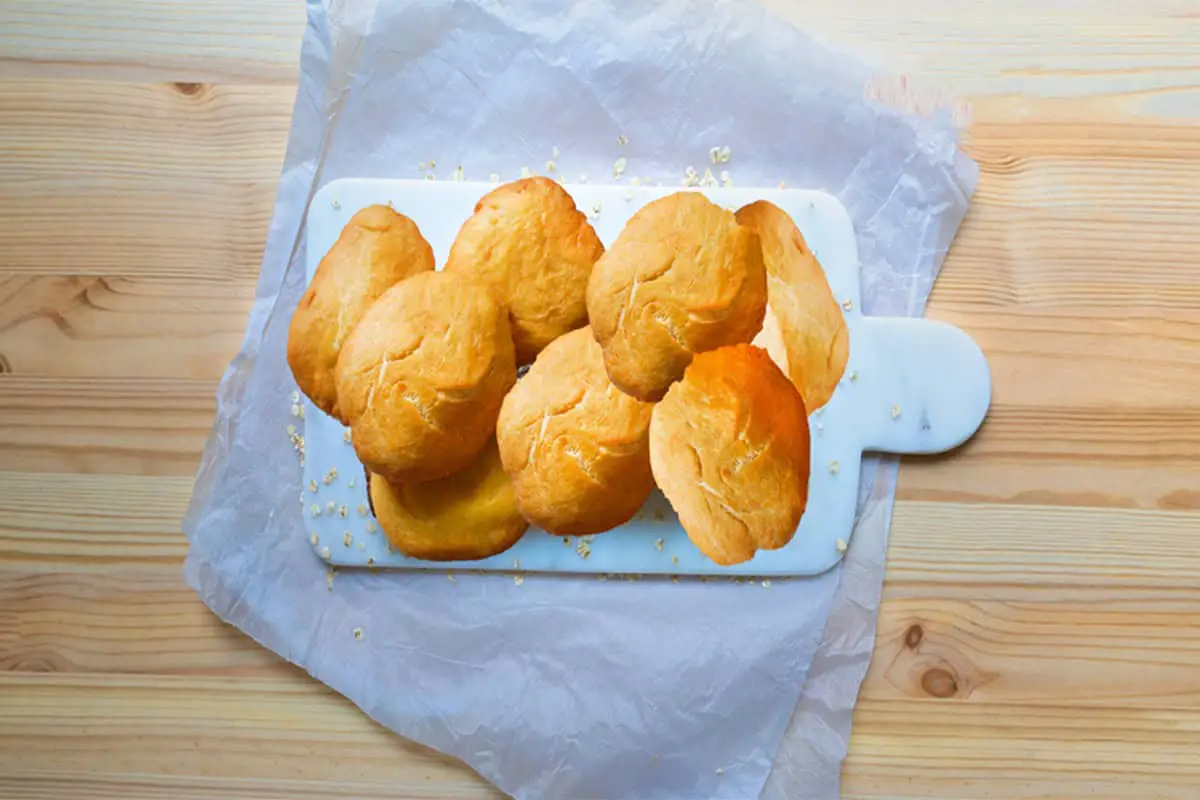 Any islander's diet must include Johnny cakes. Flatbreads like these may be found all over the United States, thanks to the fact that they're not only excellent but also simple to produce. White flour is used by local cooks, but cornmeal is sometimes used on other Caribbean islands.
Both are magnificent. Breakfast in the Virgin Islands consists of johnny cakes washed down with a hot cup of bush tea. These are simple and quick to make at any time of day.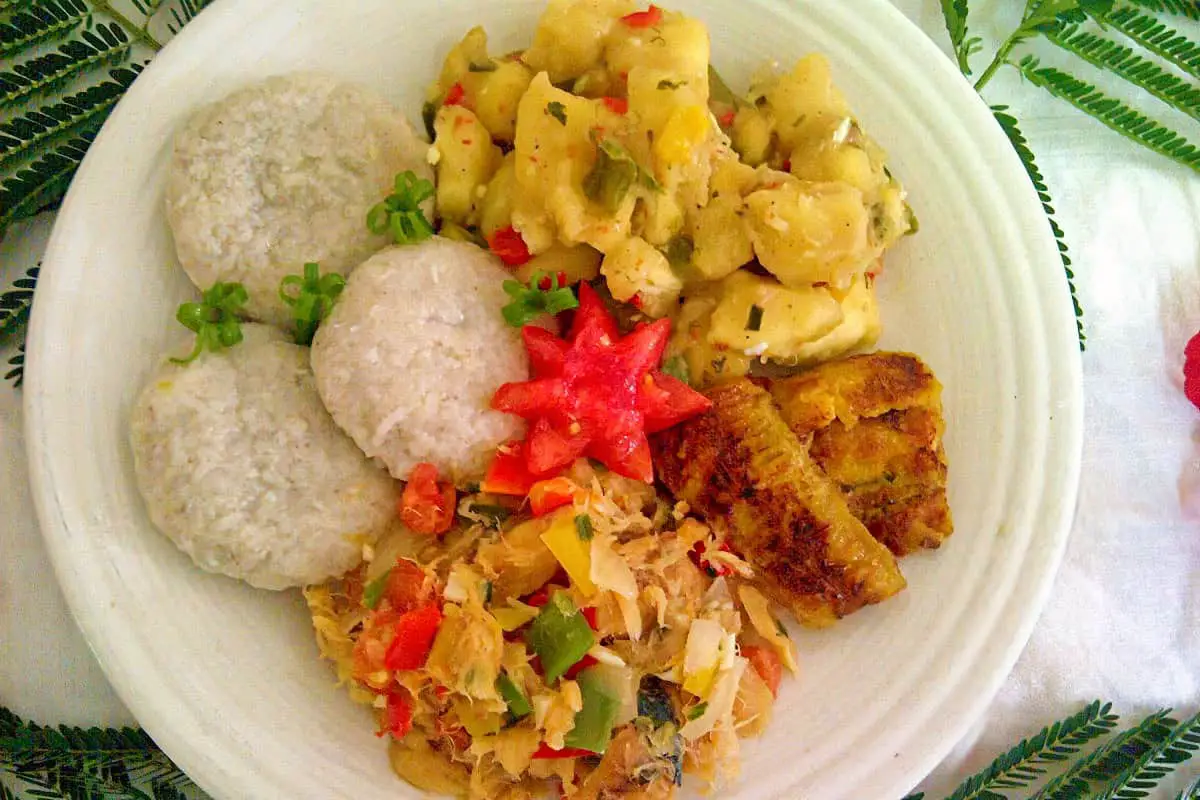 Cook up is a staple in St. Kitts-Nevis as well as other Caribbean islands. It is a one pot meal including various different meats and rice and peas. Cook up is also known as "Pelau" on other islands.
"This is a main stay, well one of the main stays of Kittitan cooking. (dish is from St. Kitts) I haven't personally made it in years, but my sister does the cooking these days, so I'm getting it from her to post it here. Now this Saint Kitts food is meant for scaling.
You can reduce or add as much as you want of some (most) of the ingredients. This Saint Kitts food has been made for two people all the way up to 45 people. Everyone makes it a little different according to their taste like most Saint Kitts foods in the world. Let's get started."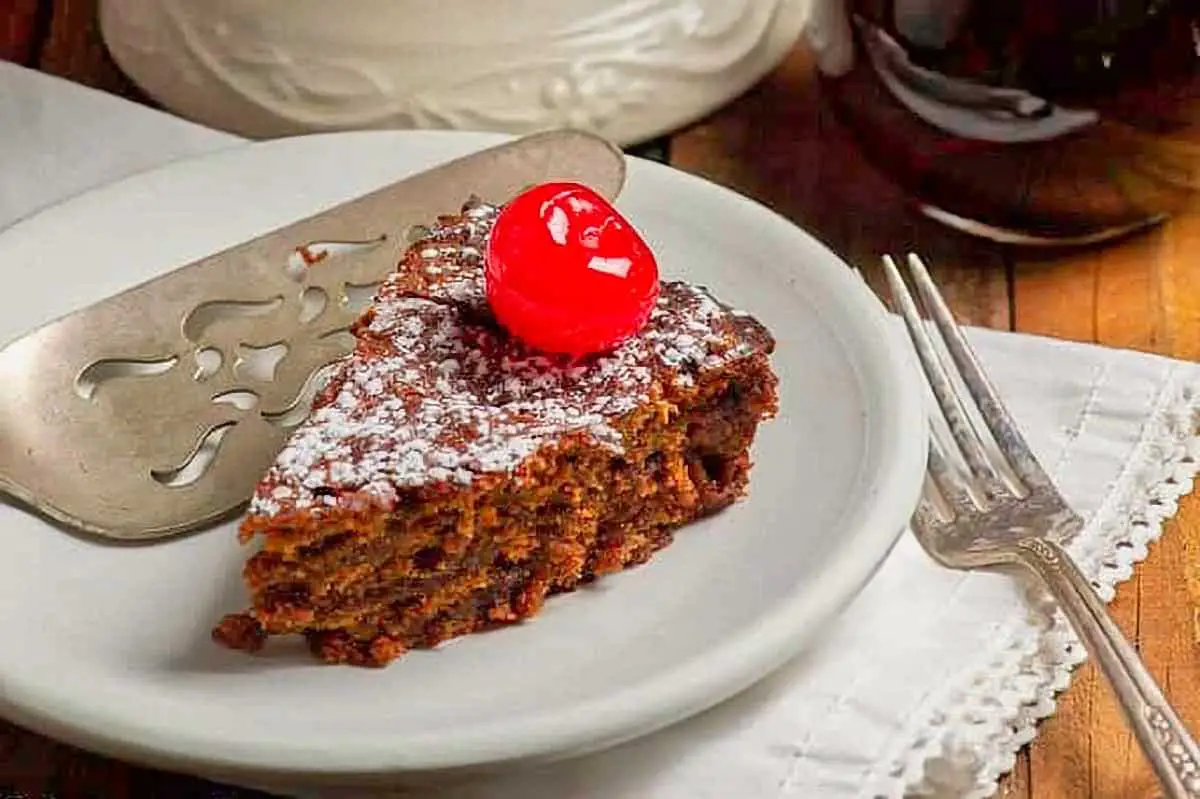 Caribbean black cake is one that is enjoyed for celebrations. It is made with dried fruit soaked in rum and sweet wine. Some people in the Caribbean soak their fruit for up to a year. I had about two weeks but you can do it with just a few days, just be sure to plan ahead when you make this special cake.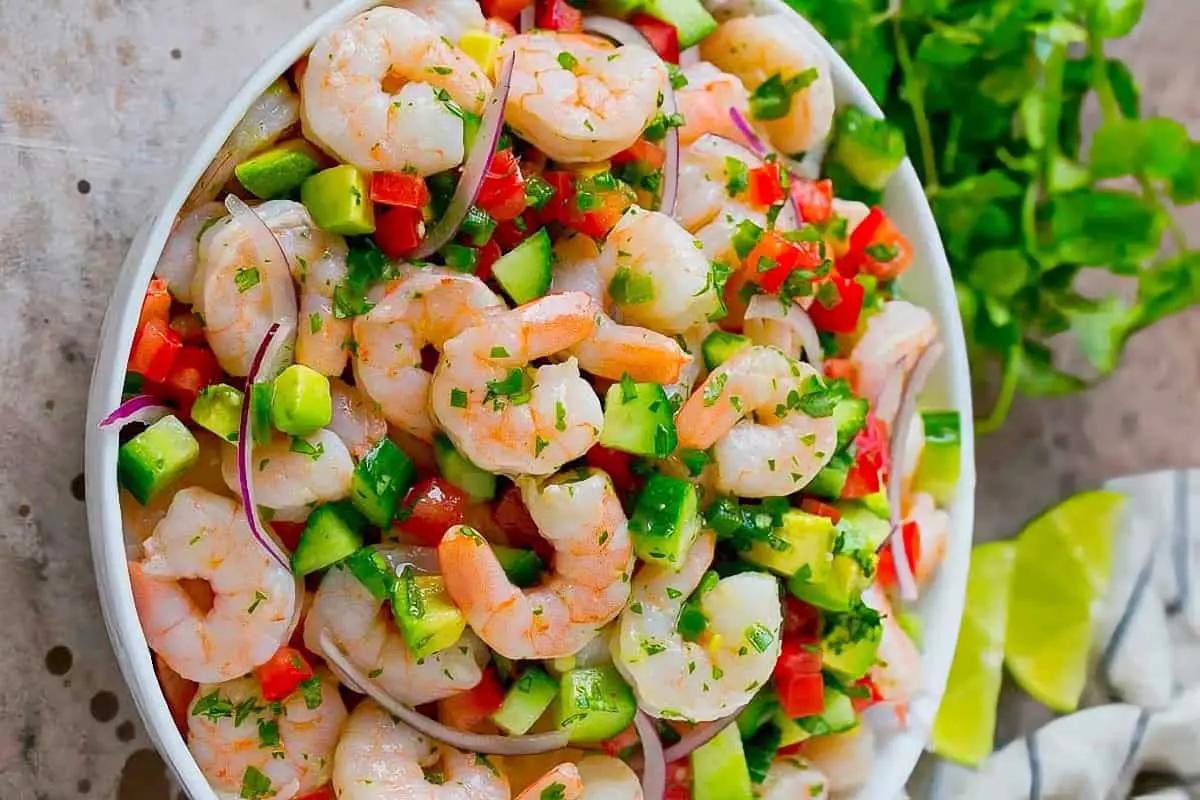 This shrimp ceviche Saint Kitts recipe is fresh shrimp marinated with cucumber, red onions, cilantro, avocado and diced jalapenos. It takes just minutes to make and is full of bold and zesty flavors.
Serve this shrimp ceviche as an appetizer or a light meal, it's perfect for any occasion! I'm constantly looking for more ways to incorporate seafood into my family's diet, I often make garlic butter shrimp, honey garlic salmon or ceviche for a quick and healthful dinner.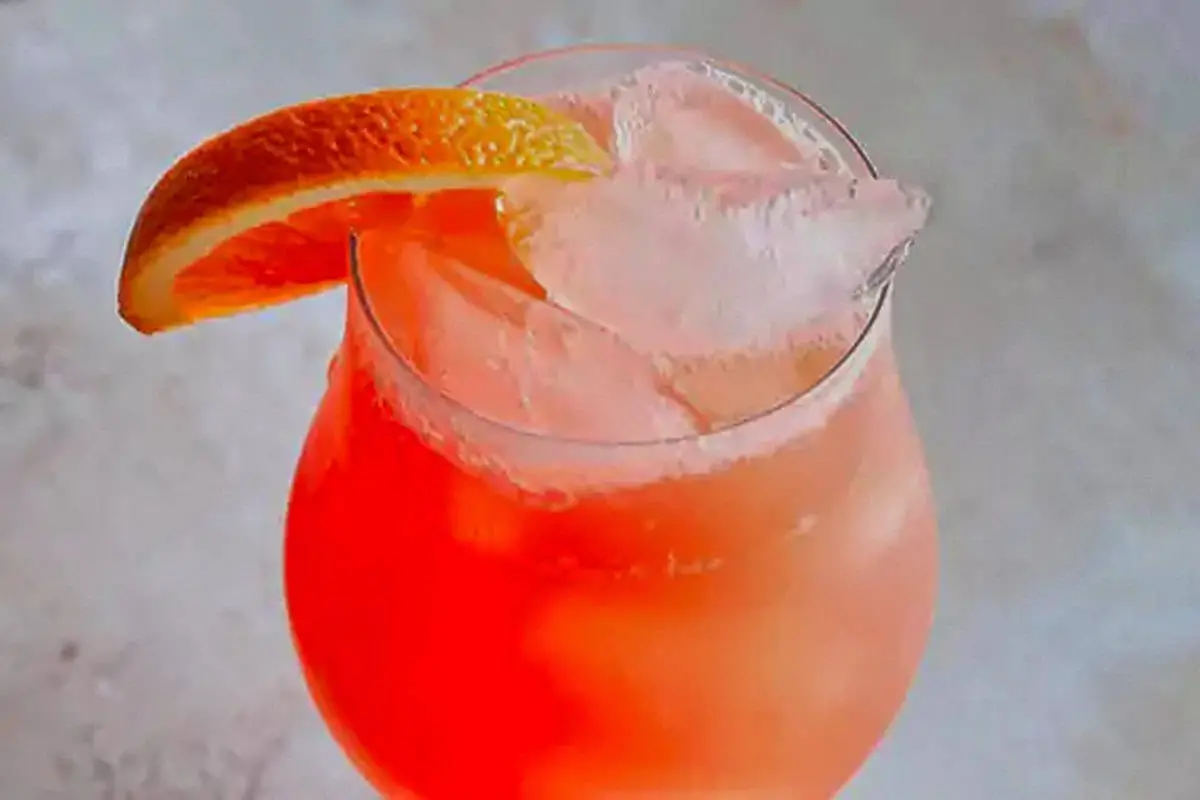 Mix and serve this rum drink over ice in a parfait glass. Wait for the "Scorpion's Sting" it is the Cinnamon that gives this rum cocktail it's kick. BTW, there are "REAL" Scorpions on Nevis…I know…I got stung by one.
The process for making rum varies depending on the place and the type of rum being produced. In general, the grades or styles of this spirit are classified by their origin, flavor, color, and taste.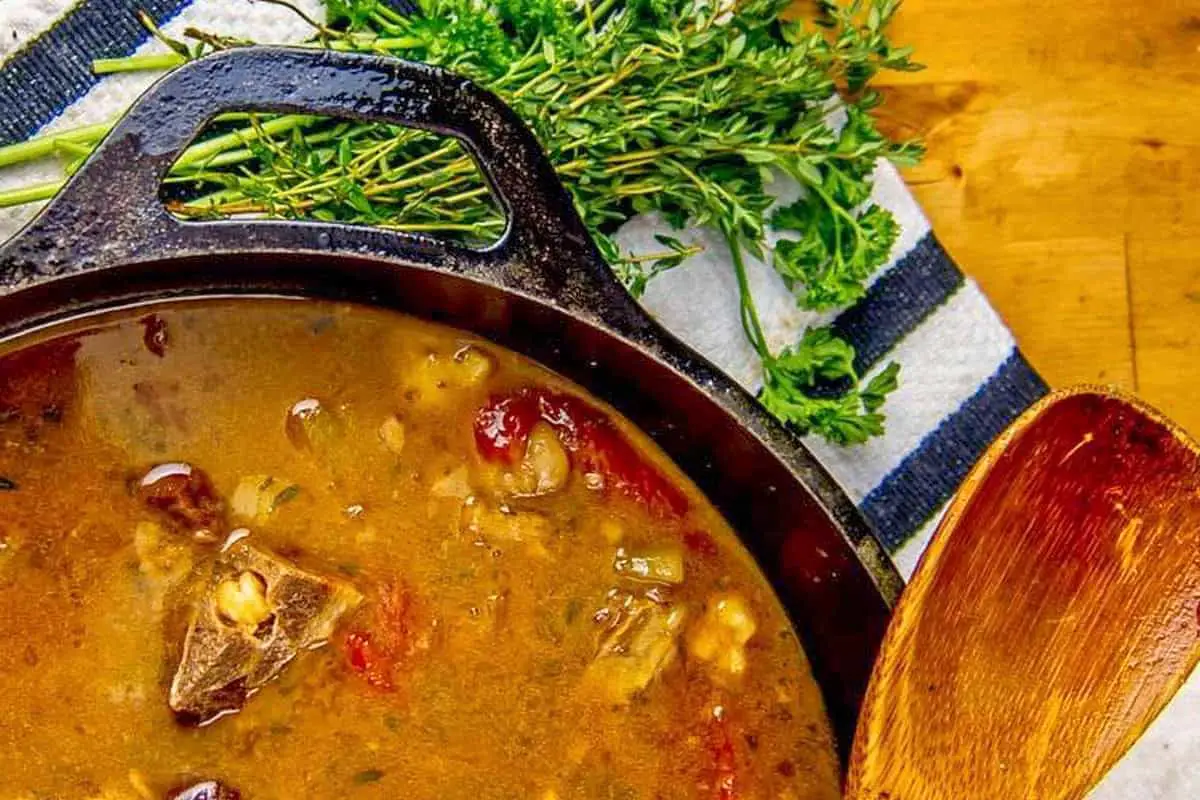 Goat water is a common Saint Kitts recipe and on many of the Caribbean islands and is well loved. It is a hearty and filling stew that is meal in a bowl! It is rumored to give men extra, ahem, potency and vitality. Pluto Shervington dedicated a reggae classic to it: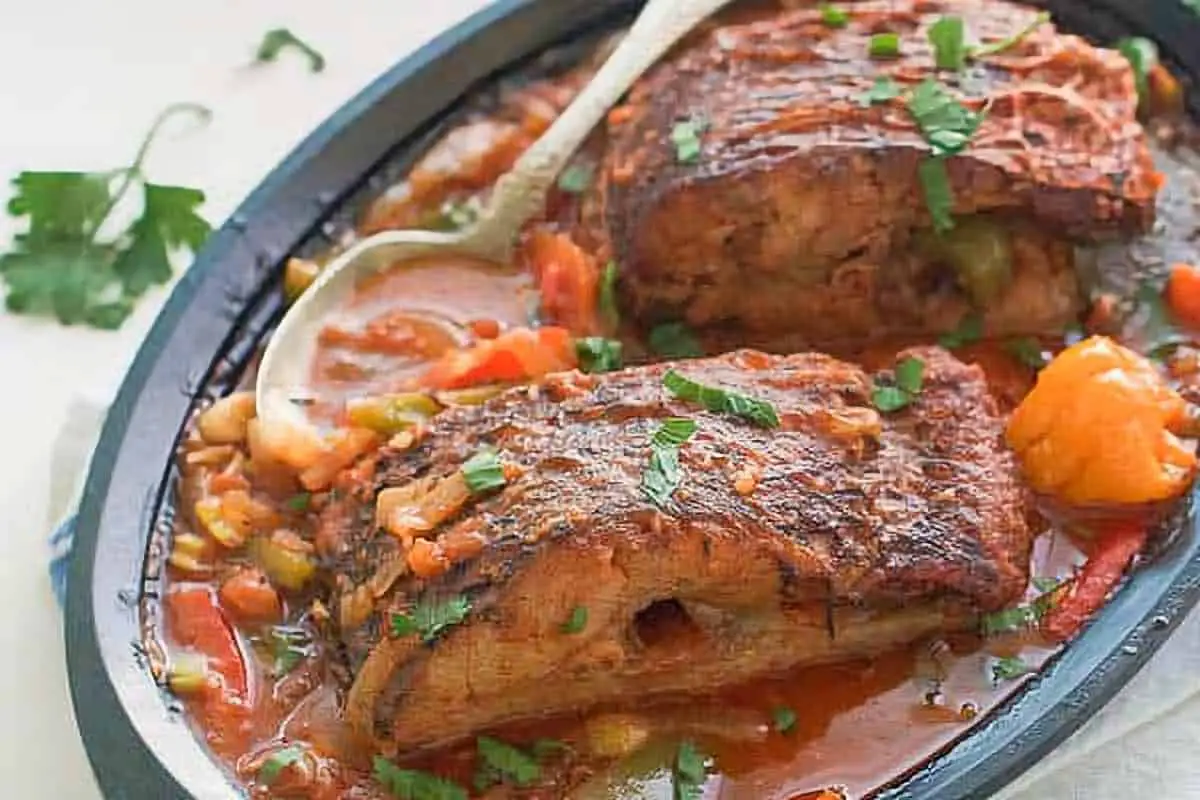 Caribbean Fish Stew – A simple stew with marinated red snapper and tilapia, infused with spices, herbs bell peppers, tomatoes, and onions – Simply delicious.
I first had this Caribbean style stew at a hole in the wall restaurant and it was really really flavorful. Dang! All the way to the bones! (I love nibbling on bones). If you didn't know that already. However, the fish is usually served with the sauce on the side. It taste even better with the fish slowly simmered in the sauce.
This is a straight-forward Saint Kitts food that can be made in several different ways and it varies from one cook to another, this is my version of this stew. Nothing complicated here. Just good old stuff.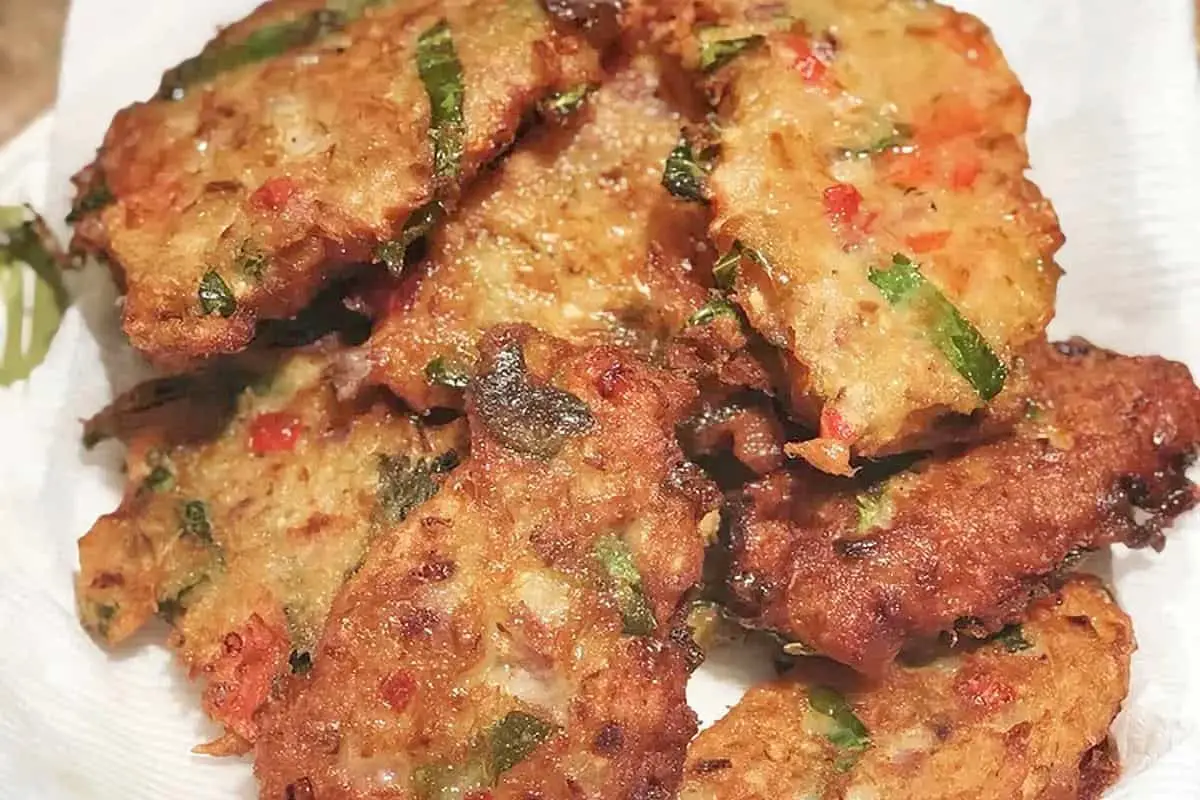 Caribbean fritters are a popular appetizer in Jamaica. Just stamp them out in the kitchen, take some for the road and go! Salt cod can be prepared the day before for a quicker cook time. These are also good served with a spicy dipping sauce.
I found malanga at my local Latin market. It was called malanga. I first peeled the malanga with a knife and then grated it. Honestly, I don't particularly like to grate unless it is malanga or tania. It grates beautifully, it is soft and almost has a milky like consistency that acts as a binder.
I found malanga at my local Latin market. It was called malanga. I first peeled the malanga with a knife and then grated it. Honestly, I don't particularly like to grate unless it is malanga or tania. It grates beautifully, it is soft and almost has a milky like consistency that acts as a binder. You really don't need a binder when you put these in the fryer, these are so easy to make and it clear to see why they are loved.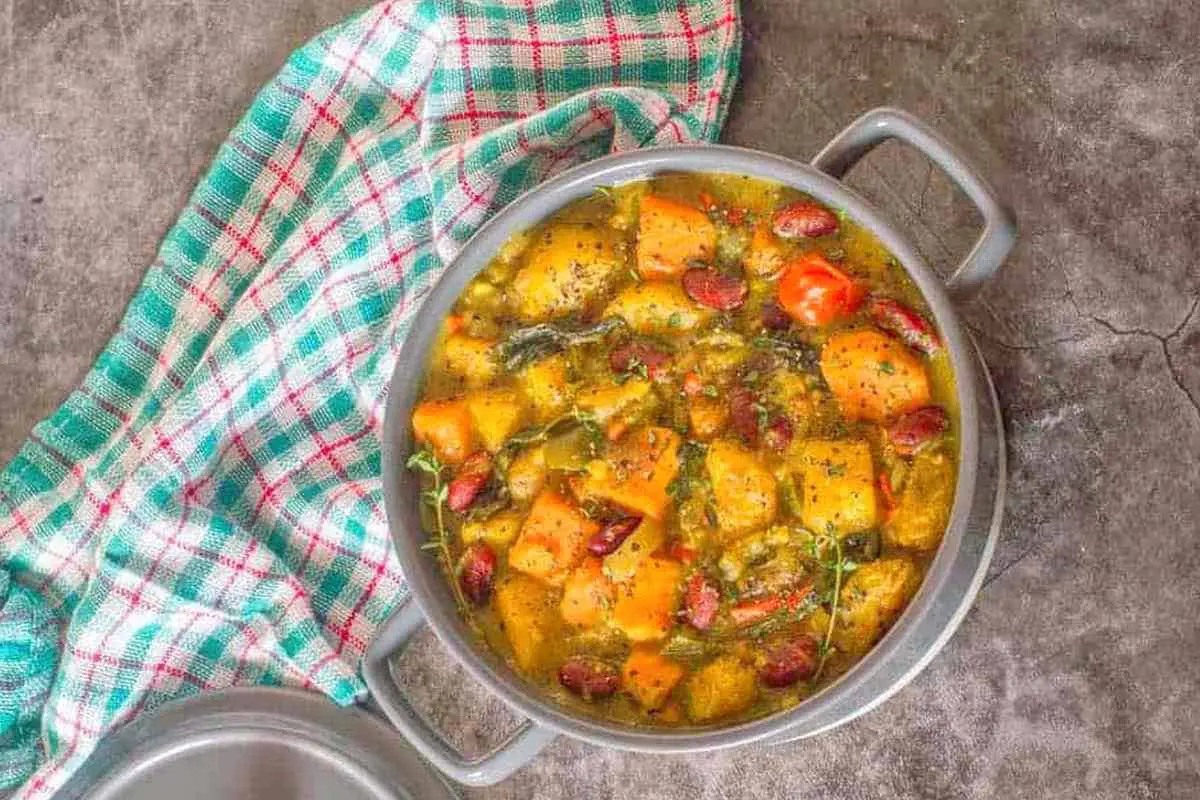 This Caribbean vegan plantain curry is filling, delicious and made in one pot. It's packed with sweet potatoes, spinach, kidney beans and fragrant spices. An overall award winning dinner that is great for bulk cooking or weeknights for the family.
Little do people know that the Caribbean has a monopoly on their own rendition of a good old curry – whether it's curried shrimp, beef or Pumpkin Curry
We have a unique vibrant spin on things and this vegan plantain curry (aka curry plantain) is everything you could need on your dinner table – it's plant based, packed with flavor and filling too.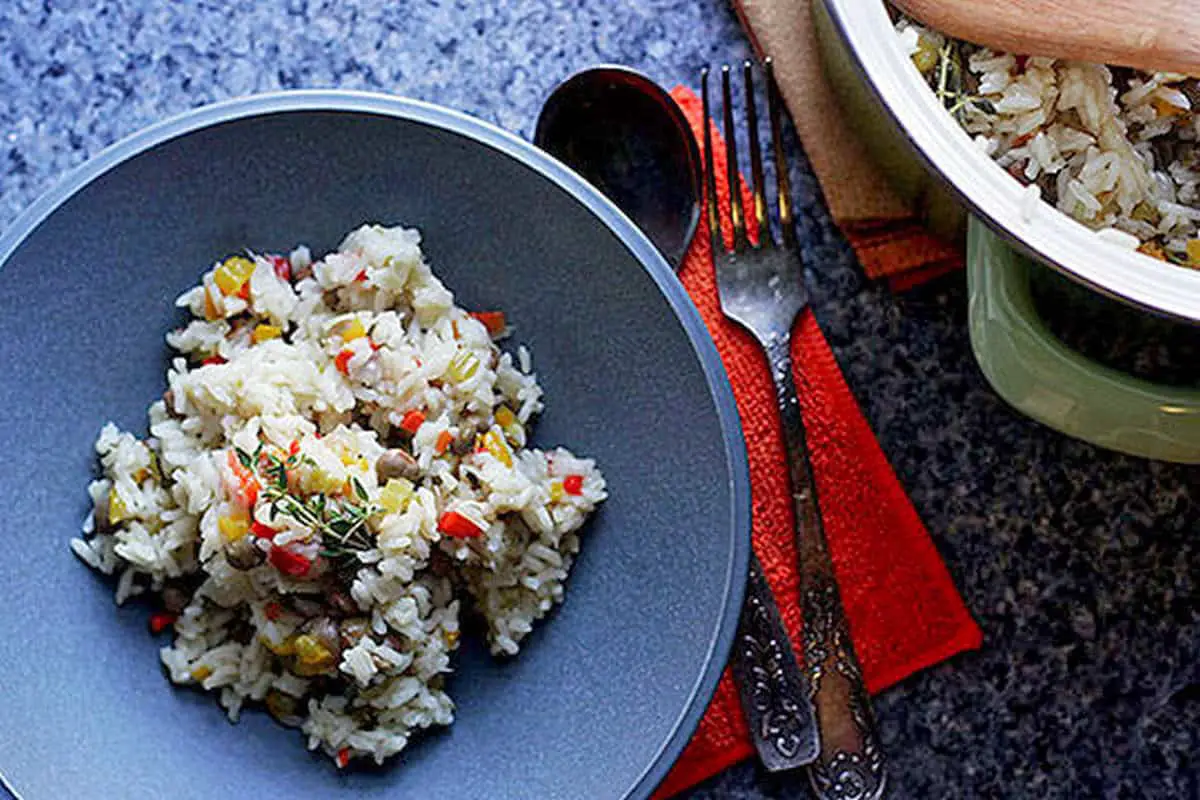 There's nothing to this Saint Kitts recipe. And yet it is everything. And this is why it's a staple all over the Caribbean. The version I made is vegan, although a few slices of diced, fried bacon or a ham hock would be grand – and traditional – in this as well (just fry them up before you add the veggies).
The key to this Saint Kitts recipe are the Pigeon Peas, although you can substitute black-eyed peas if you can't find any. In a delightful twist of fate, I found pigeon peas easily (we stayed most of the time with our cousin Kelly who informed us that her entire neighborhood is Caribbean – what!). If you aren't sure where seek Pigeon Peas out where you live, try the Latin section of your grocery store or a Latin market.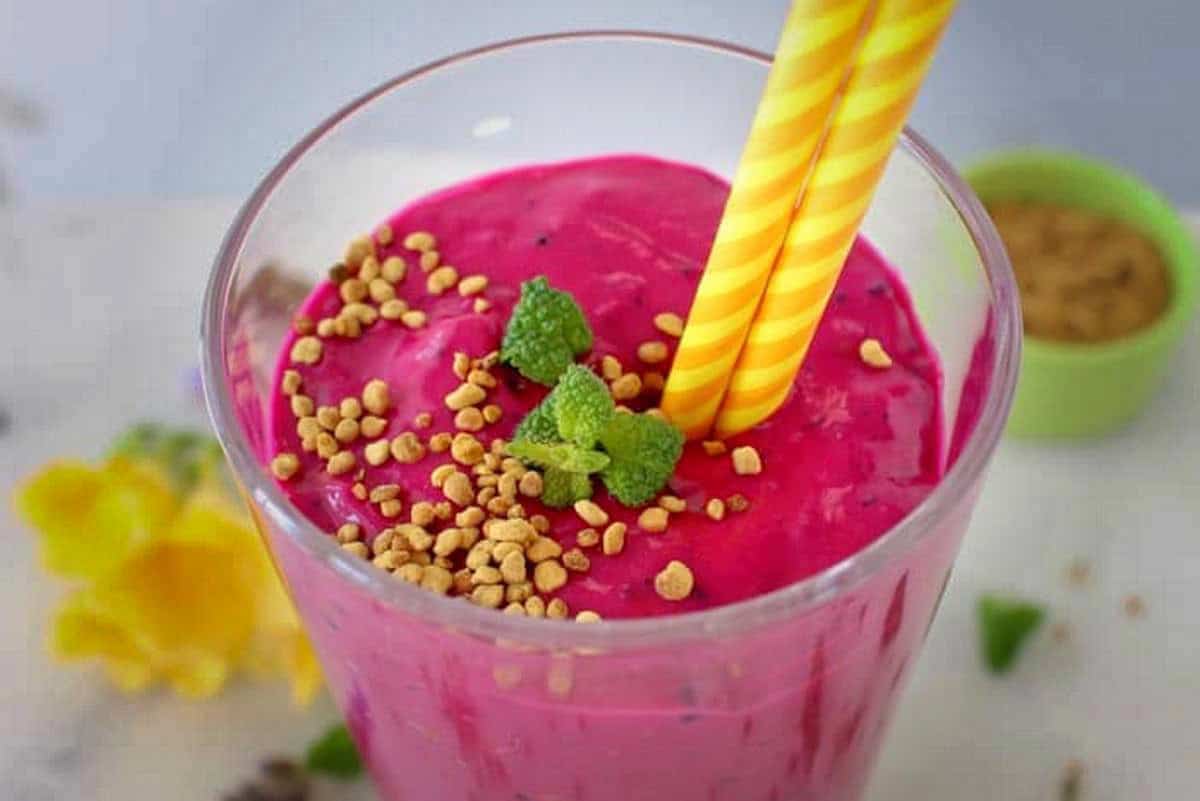 First of all, this is the creamiest smoothie in existence, thanks to the addition of the avocado and the magic of fat free a2 Milk® . I also added a couple of tablespoons of bee pollen and some chia seeds to bump up the nutritional value and protein content of my dragon fruit pitaya smoothie. Talk about a superstar nutritious breakfast to go, right ?!
I used raw organic honey to add a touch of sweetness, and a nice squeeze of lemon juice to balance it out, so there are absolutely zero yuckies allowed in here.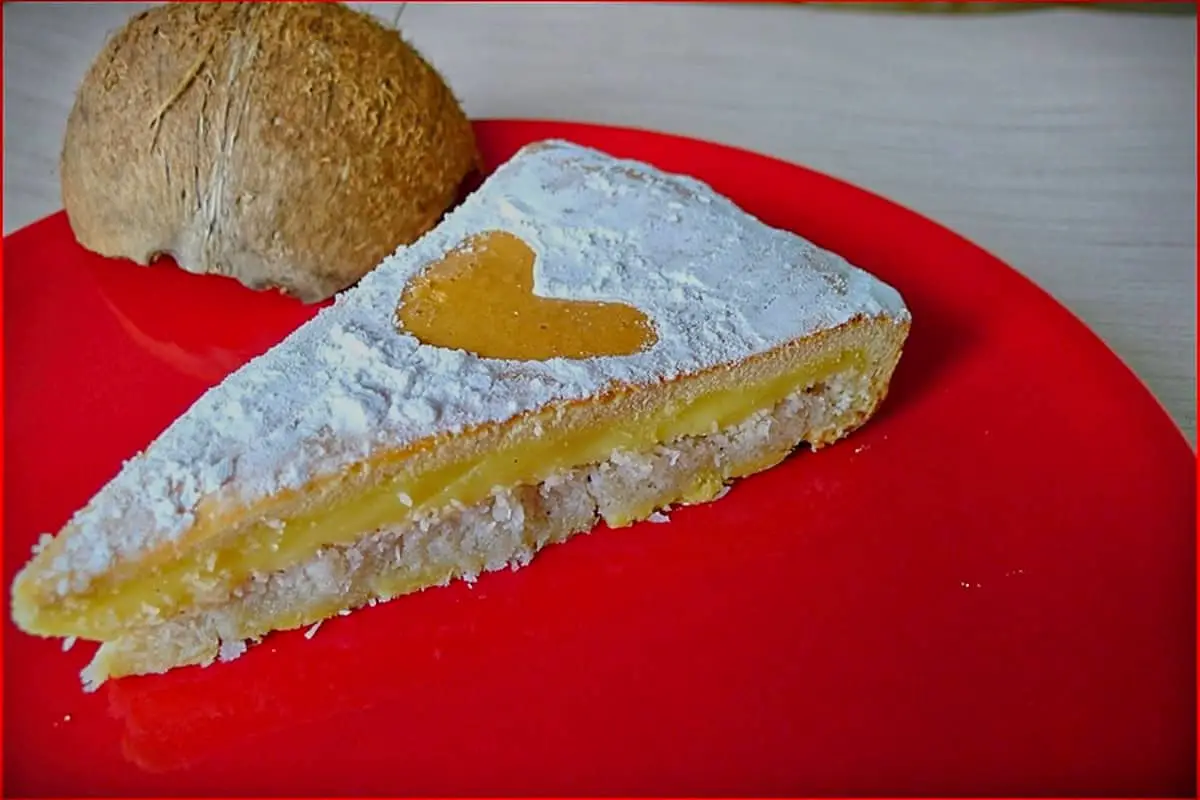 "Tourment d'amour" is a traditional pastry originally from Saint Kitts and Nevis but adopted by all the Caribbean islands. It is composed of four layers: a layer of short-crust pastry, covered with a layer of coconut jam, topped with a vanilla custard and finally covered with genoise (soft sponge cake)..\
History tells us that in the early twentieth century, fishermen's wives prepared this cake with lots of love while they were waiting for their husband. When they were coming back from fishing, they were welcomed with this sweet treat.
Composed of fortifying ingredients, the wives believed this cake to be a sweet delight that was supposed to give more courage to the men as they came back home and recover after a tiring day.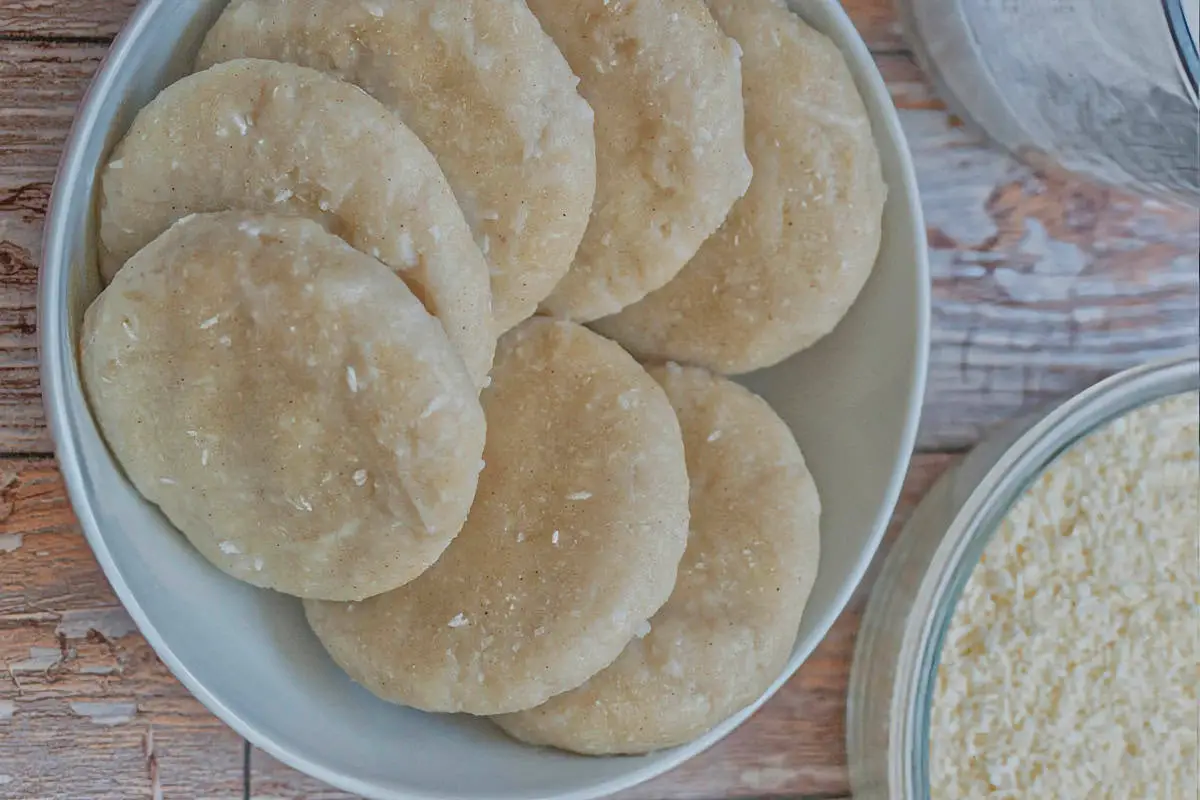 Learn how to make some delicious island style coconut dumplings using only a handful of ingredients. They are great to add to your stew, soup or to serve as a side dish to some of your favorite Caribbean cuisines.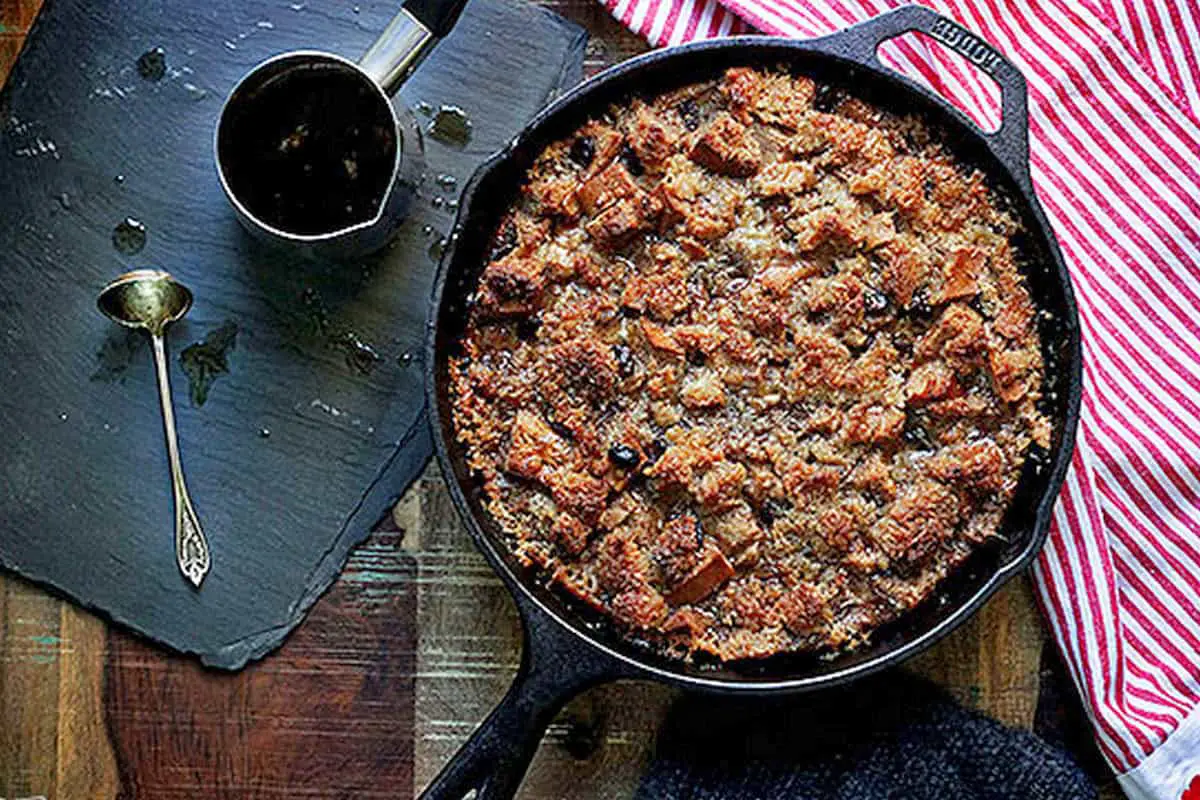 Coconut Bread Pudding is a crazy popular Caribbean dessert … it's like a cozy sweater for the belly. I found a version of this Saint Kitts recipe from a lady, Jennifer, who took a cooking class in Saint Kitts & Nevis. When I saw the rum, brown sugar, butter, and coconut,… oh man, I knew I wouldn't quit until this treat was in my tummy.
It whips together in just a few minutes (Bonus party talk? All the ingredients can be waiting in your pantry for those friends that just "pop over" during the holidays). While traditional Saint Kitts recipe use white bread, I found whole wheat gave the bread pudding a little oomph in the face of the mad, wonderful richness.
---
You May Want to Join Our Boondocking Group on Facebook For More Information
You May Want to Join Our Campfire Recipes Group on Facebook For More Information
For More Photos Visit Our Instagram at World Recipes Daily – Our Big Escape