Are you looking for a taste of the Caribbean in your kitchen? Look no further than Saint Lucia recipes! From flavorful classic traditional Saint Lucia recipes like callaloo and green figs and saltfish to mouthwatering desserts like breadfruit pudding and banana tart, Saint Lucia food has something for everyone.
In this article, you'll learn about the history behind Saint Lucian recipes, the unique ingredients that make up the flavor palette of the island, and tips and techniques for preparing some of the most beloved authentic Saint Lucia foods. Whether you're a novice looking to try something new or an experienced chef looking to branch out, Saint Lucia recipes offer an abundance of flavors and textures waiting to be explored!
History of the Beautiful Island of Saint Lucia
What do the beaches of the Caribbean, the rich culture of its people, and the fateful meeting of two British sea captains have in common? They are all part of the captivating history of the beautiful island of Saint Lucia.
From the Arawak first inhabitants to the French and British colonial rule, the path of Saint Lucia's history is full of tales of struggle, triumph and adventure. This article will provide an overview of Saint Lucia's colorful history, including early inhabitants, its changing hands between European powers, and its journey towards becoming an independent nation.
With interesting facts, dramatic stories and a unique cultural identity, this island's past is sure to inspire.
Saint Lucia Food Culture
Are you looking to tantalize your taste buds with Caribbean island flavor? Then Saint Lucia is the destination for you! With a unique blend of African, Indian, and French influences, the Saint Lucia food is an unforgettable experience.
Imagine savory chicken roti served with a side of dumplings, boiled green banana and saltfish that will have your mouth watering, and the sweet and creamy flavors of coconut tarts and cassava pone. Saint Lucia's food culture is a delectable mixture of many cultures' signature traditional Saint Lucia recipes with a unique Caribbean twist.
In this article, we will explore the history and evolution of Saint Lucia's food culture, the diverse range of authentic Saint Lucia foods available, and the culinary experiences that await you on the island. So, join us as we take a tantalizing journey through Saint Lucia's rich and flavorful past, present, and future.
---
Want more ideas to round-out your Recipe Box?
A lot of great options are in these posts!
---
20 Saint Lucia Recipes To Expand Your Collection
---
---
check out our video
---
---
A flavorful traditional Saint Lucia recipe using dasheen bush simmered in a creamy and flavorful coconut sauce with crab. This popular side authentic Saint Lucia food is usually a must-have for Sunday dinner. It accompanies the stew chicken, the stew peas, macaroni pie and sometimes coo coo.
And as my aunt says "callaloo must have crab in it" and I was lucky enough to score some at the Caribbean market one day. Finding the dasheen bush was not so easy though. I had to call around to a few farmer's markets before finding a little Guyanese store with some bundles.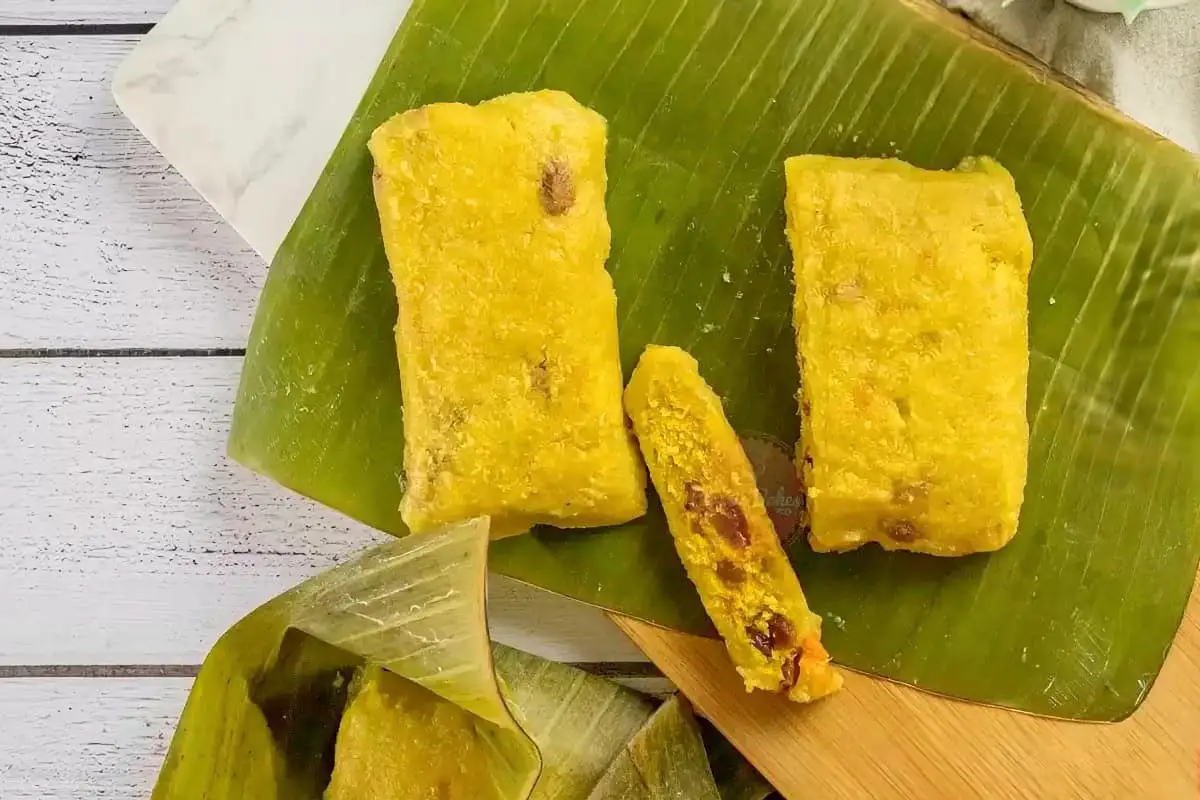 Paime (pronounced Payme) is a sweet dessert pie that's rolled in a banana leaf and steamed to perfection. Locally grown cornmeal, coconut, and pumpkin are mixed with flavorful spices to make Trinidad Paime. Though it is popular around Christmas, Trinidad Paime (Payme) will add variety to your table for your guests all year round.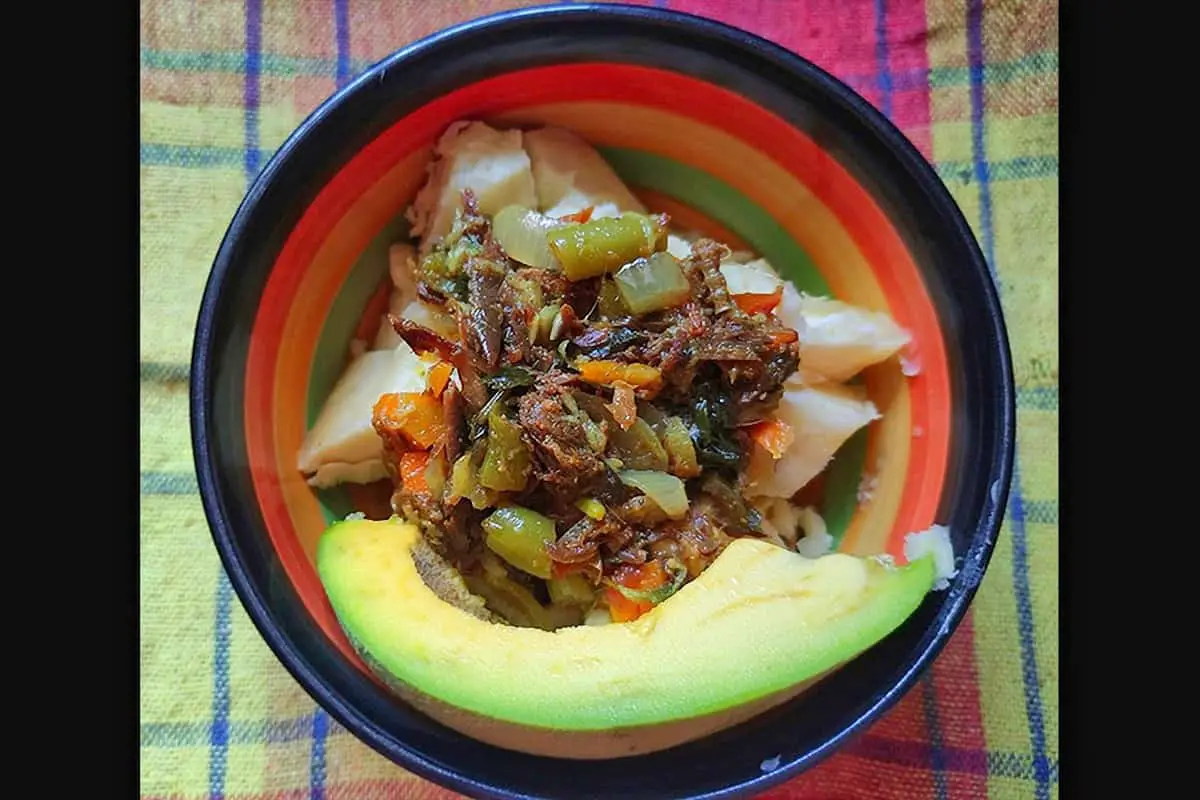 Learn how to make a classic roasted breadfruit and smoked herrings traditional Saint Lucia food. A simple traditional Saint Lucia recipe filled with Caribbean flavor and a great way to make breadfruit. It's that time of year again when we can indulge in all of our favourite Saint Lucias. Roasted breadfruit and smoked herrings are one of those dishes that is always at the top of our list for creole celebrations because it embodies true island goodness.
Although most people nowadays boil rather than roast the breadfruit, the dish remains the ultimate Caribbean comfort food.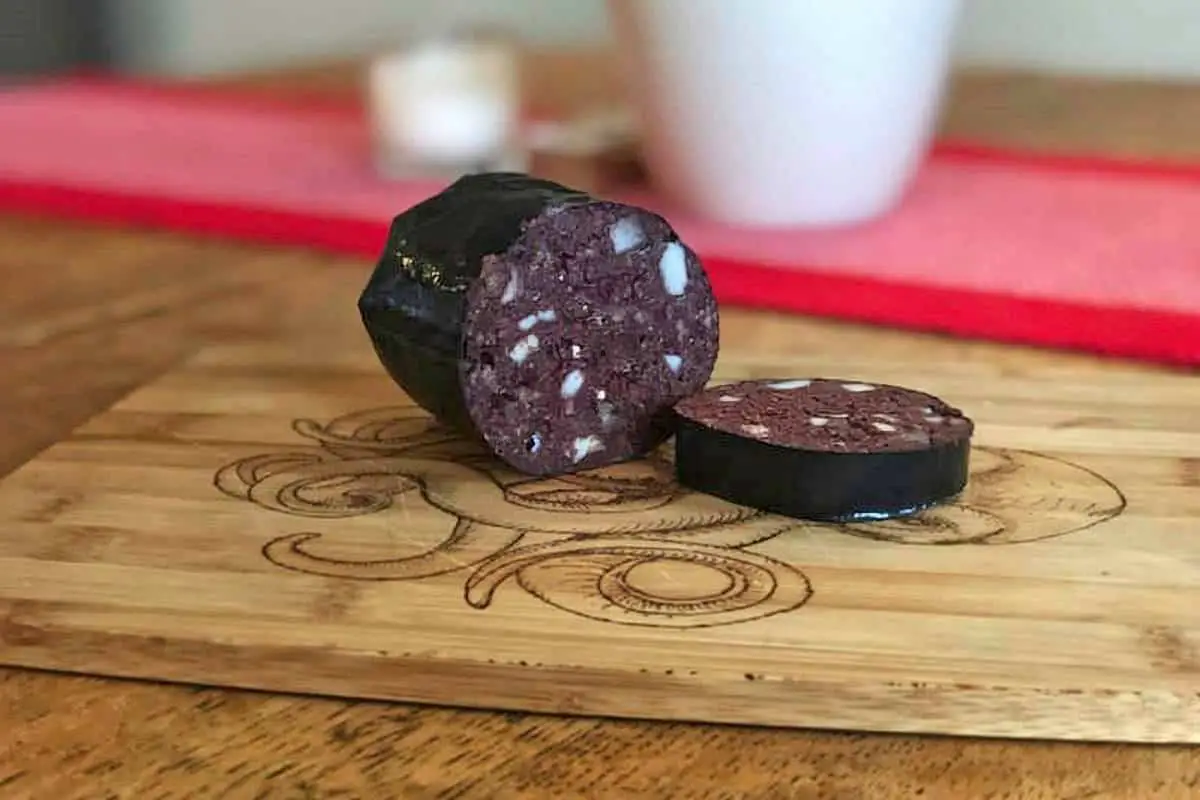 Black pudding is super easy to make at home, it's fun, really inexpensive to make and its a great source of zinc, potassium, calcium, magnesium, iron and protein. Paired with bacon it's been medically proven to cure 99% of all hangovers (note: this has not been medically proven).
You don't have to use synthetic black casings as i have here – you can use standard hog casings (or larger) that you'd ordinarily use when making sausages.
I couldn't find many Saint Lucia recipes online for home made black pudding, so it took me a few attempts to get it right. The main problem i had was getting the consistency correct – my first attempts were far too loose. A number of Saint Lucia recipes call for soaking oats overnight, however, i found this meant too much liquid. I also diluted the dried blood too much on my first attempt.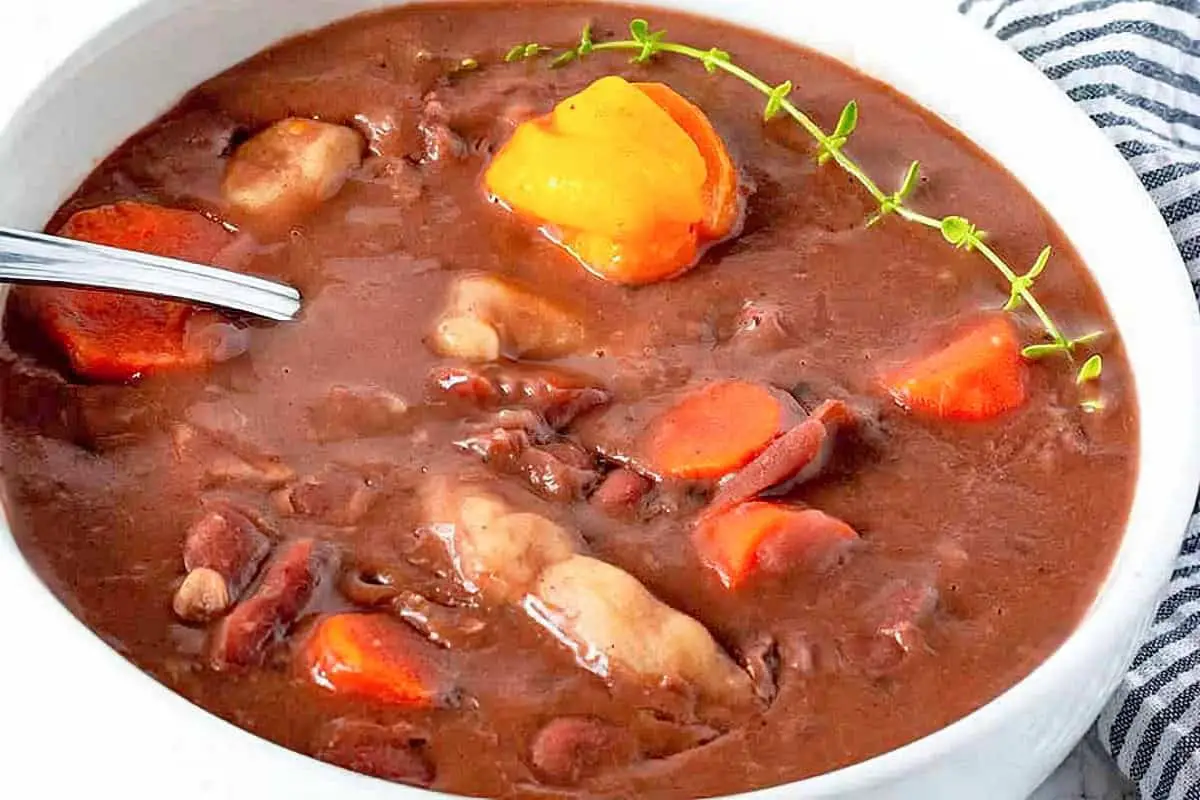 Never has there been an island fairer than Helen of the West Indies. From her exquisite natural scenes to her warm and inviting locals, St.Lucia will definitely make your eyes glisten, and your heart melt.
When it comes to St. Lucians, they prefer to use fresh fruits, vegetables and meats either purchased in the supermarket or at roadside stalls. That's exactly how locals secure all the ingredients for one of their favorite meals- the delicious St Lucian Pigtail Bouillon.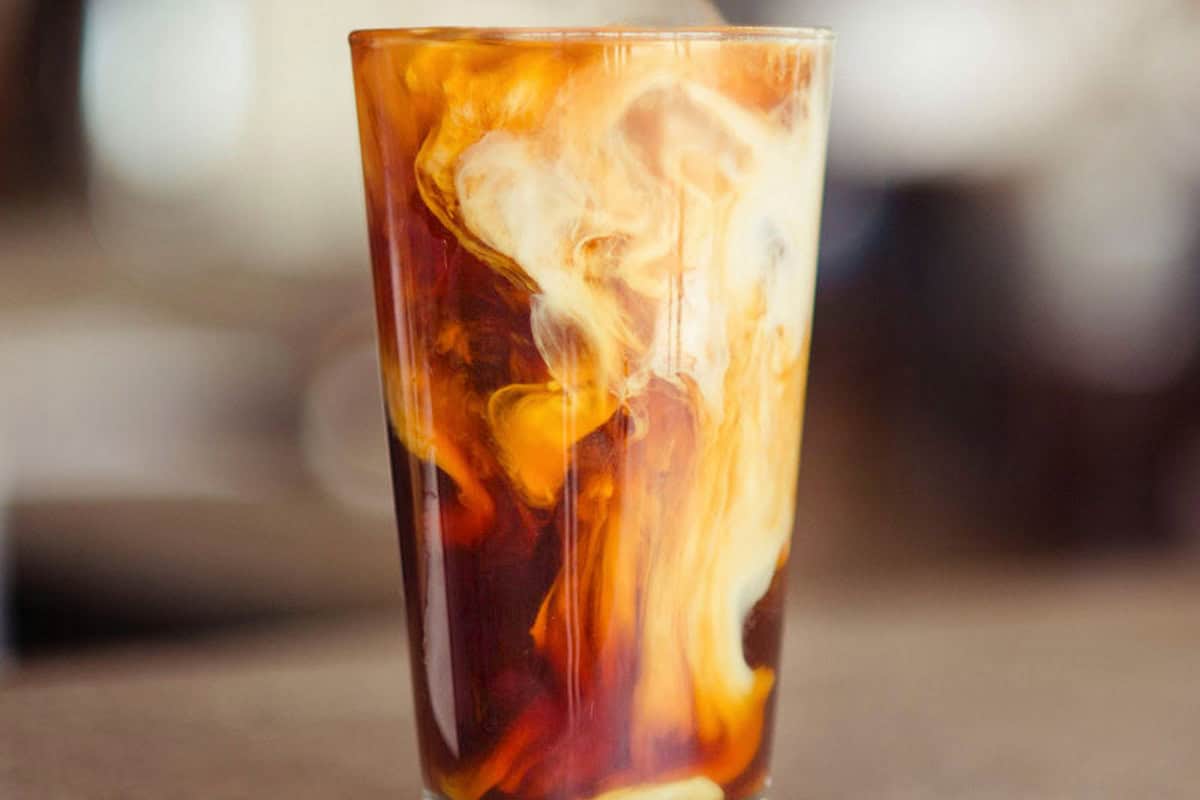 Ambrosia. Food of the gods. Also known as the Dirty Banana. At least… it's the liquid food of the gods. Look at all that potassium, vitamin C, fibre and B6 – it's almost a liquid superfood!
Creamy beyond belief, our version of the dirty banana is a perfect balance of two parts banana to two parts dirrrty.
The natural banana flavor is heightened by the retro faux taste of the banana liqueur, whilst the combination of coffee and chocolate liqueurs adds a bittersweet almost earthy edge to the drink.
With enough booze to sink a royal navy frigate, this banana based rum delight could well be your tropical ticket to cocktail heaven.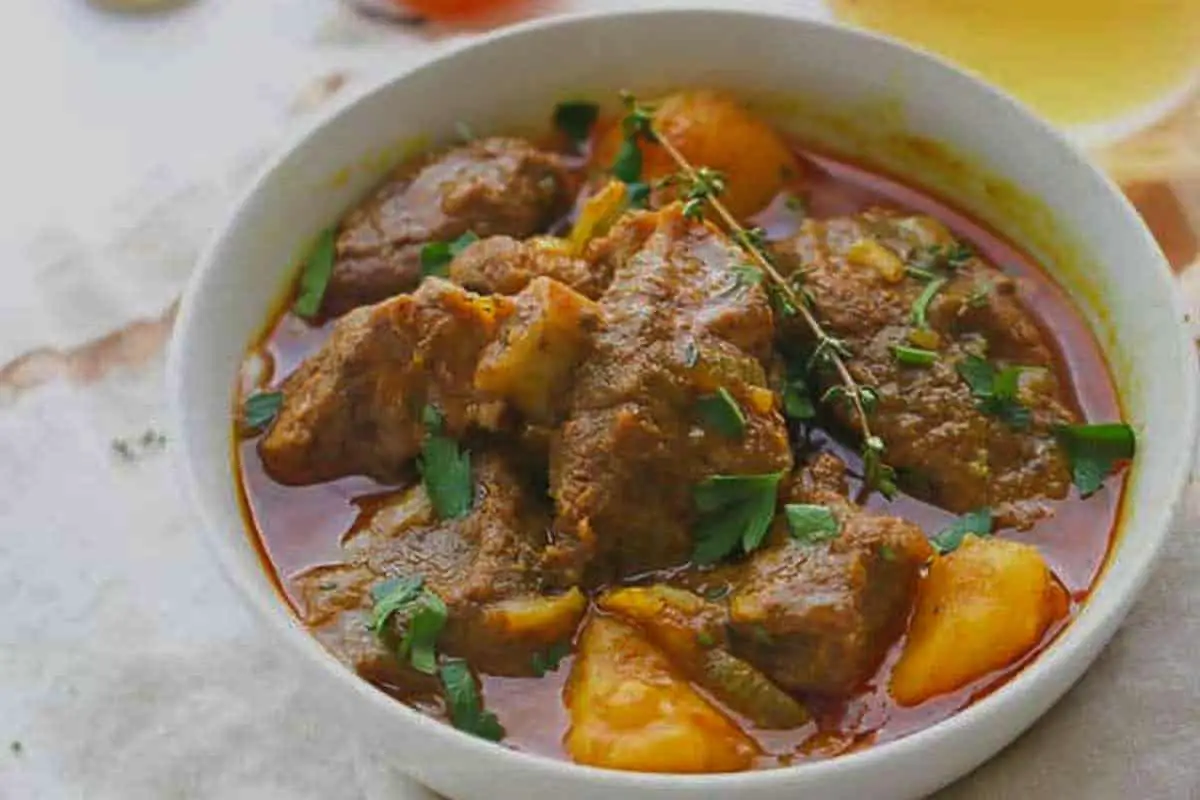 Caribbean Curry Goat – insanely delicious slow-cooked Caribbean Spiced Curry that is full of flavor and tender to the bone! An absolutely must-make Saint Lucia food! So easy to make with minimal prep.
If you ask anyone who loves Saint Lucia food to pick his or her favorite, this Curry Goat would no doubt make an appearance on the list. Although goat meat has become increasingly popular in the United States due to the influx of different cultures, it isn't celebrated nearly enough as it should.
The Caribbean bread called roti is clearly of Indian origin and is very often used in Caribbean cuisine to accompany curries and stews.
Caribbean cuisine is the result of a tasty melting pot from all the people who came ashore. The Indian influence is manifested by the rotis, pancakes stuffed with meat or fish and vegetables. Rotis in the Caribbean cuisine, including St. Lucia, are pancakes similar to tortillas but lighter, stuffed with a variety of ingredients including chicken curry, shrimp or lamb.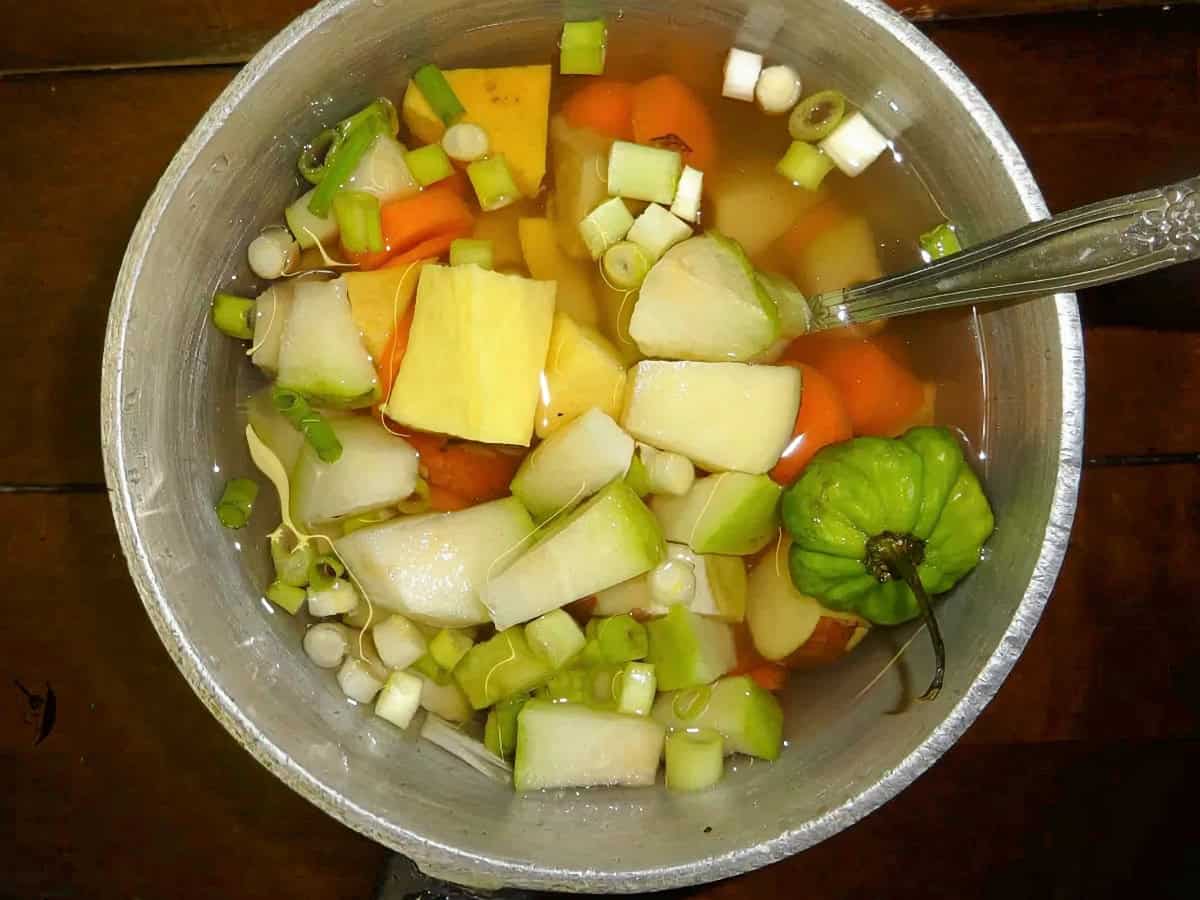 A male goat is required to make authentic Caribbean mannish water. If you're not an adventurous eater you may want to by pass this one. If however you are a fan of adventurous culinarians like Anthony Bourdain and Andrew Zimmern this Jamaican delicacy is right up your alley.
And. Aphrodisiac or not I love this soup. So much so that I have had relatives in Caribbean freeze my portion of mannish water for months at a time because I missed a holiday or other celebration.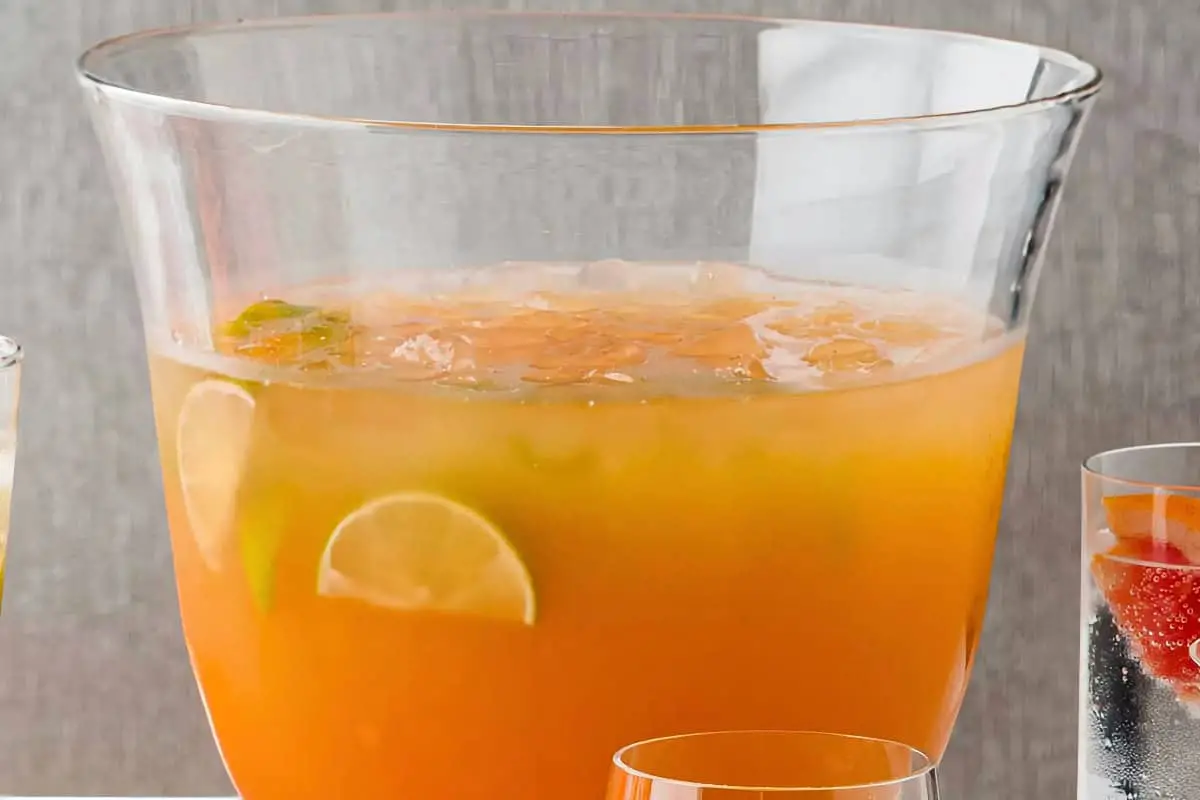 Rum punch is a popular party drink in many countries. Not surprisingly it's a favourite in the Caribbean, where rum is made with sugarcane juice. Saint Lucia recipes vary from country to country, but usually contain some sort of citrus to make a zesty contrast to the rum. In the Caribbean rum punch is usually drunk as an aperitif.
We love this Saint Lucia rum punch served up in a big old-fashioned punch bowl at Christmas cocktail parties for friends and family to help themselves. We've styled it up in a modern, clear glass punch bowl which looks stunning. Try adding slices of lime for a colour contrast against the orange drink.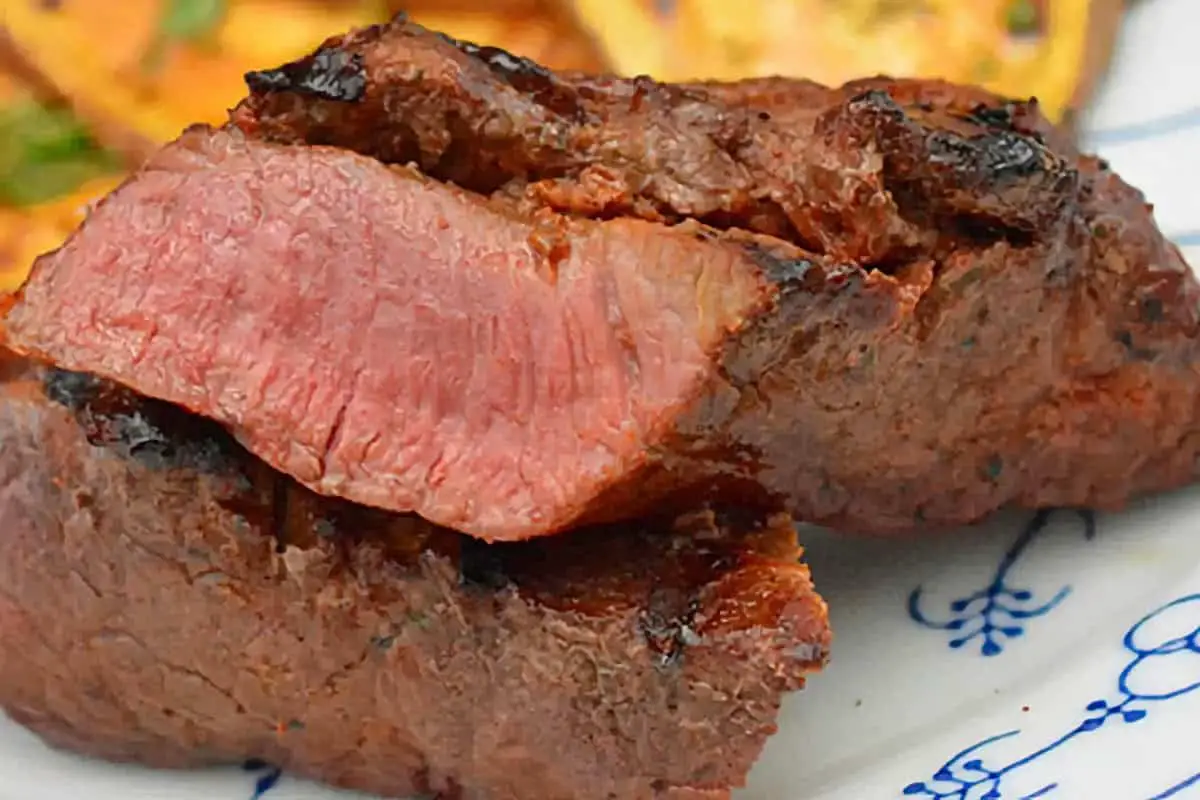 Like beef liver, they are a specialty Saint Lucia food in most of western Europe. Unlike lamb or veal kidneys, beef kidneys are big and tough and need long braising over non, moist heat to become tender. And when cooked right, they are the most amazing meal to serve.
They receive a bath in a marinade of olive oil, balsamic and fresh herbs. Then they meet the grill to get a perfectly timed moment, long enough to get a beautiful char on the outside yet short enough to remain tender and pink at the center. That is about all the cooking which happens and about the plate that they go to! No fancy sauces, only a generous drizzle of Maldon crystals and black pepper.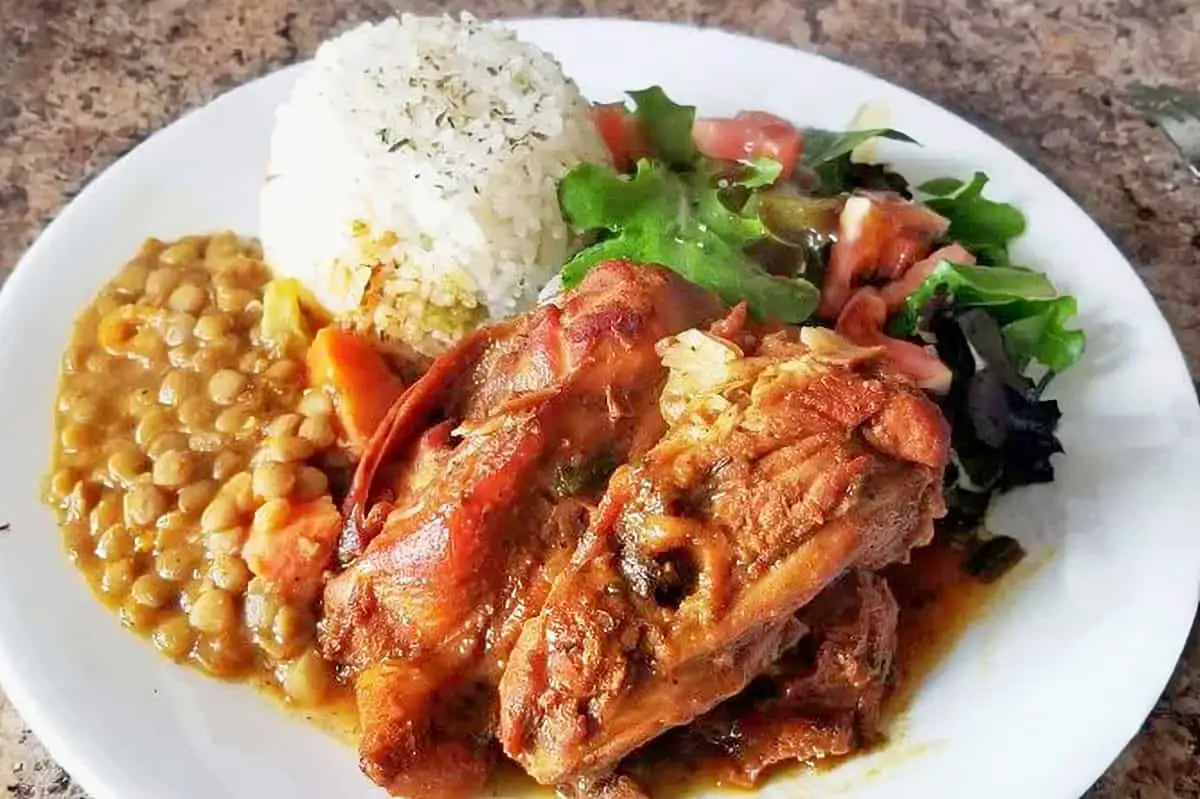 In Saint Lucia recipes, the back part of the chicken is a delicacy for most people. Chicken backs can be stewed and served with cooked breadfruit, dasheen, yam, or other ground provisions. Although there are less meat and more bone, this cheap part is truly tasty and versatile.
It can be placed in a soup or a bouillon, or it can be made into" Fig and Backs" (seasoned chicken backs Saint Lucia recipe with boiled green bananas in a savory broth).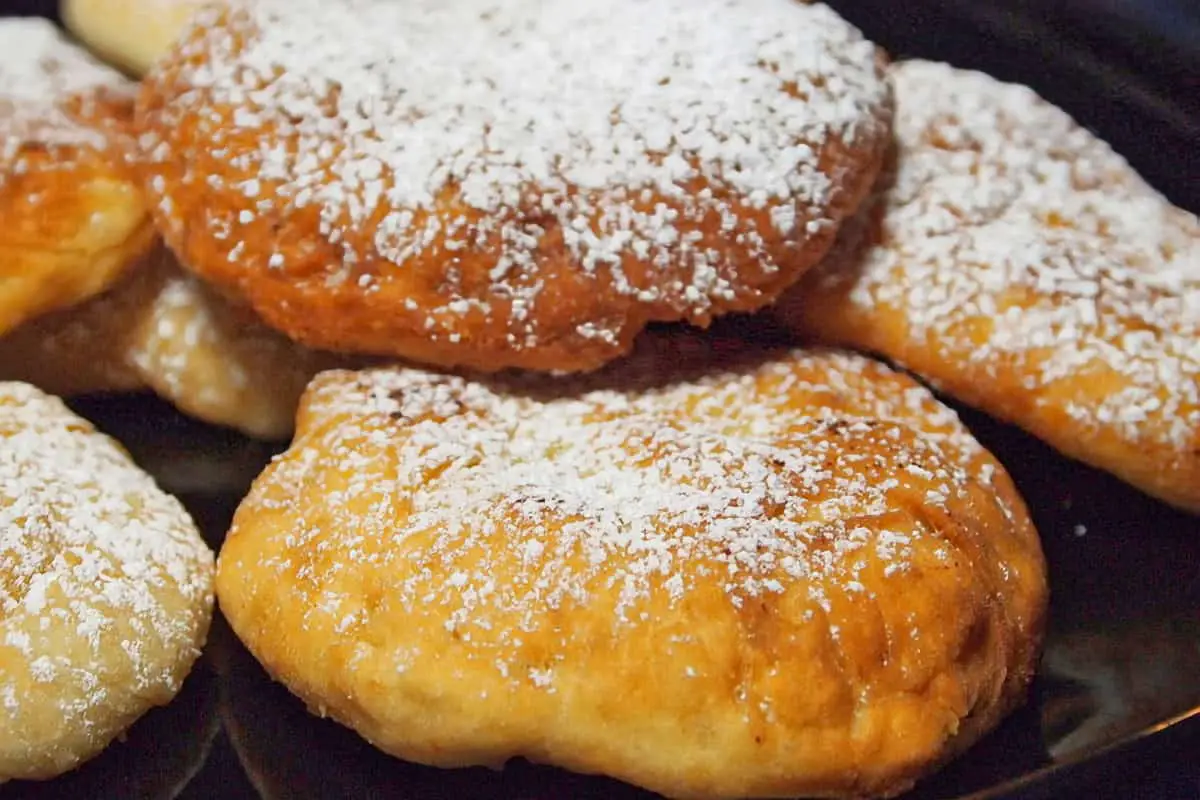 A Caribbean breakfast treat called 'Bakes.' They are soft, doughy, and almost impossible to put down. Bakes are most enjoyed in the morning – think Sunday morning brunch. Despite the name, bakes are only occasionally baked. More often than not, Bakes are fried discs of dough. Enjoy plain or split open with anything from jam, cheese, meat, salt cod salad, or whatever works for you. Everyone has their own version. Cook time will vary with heat.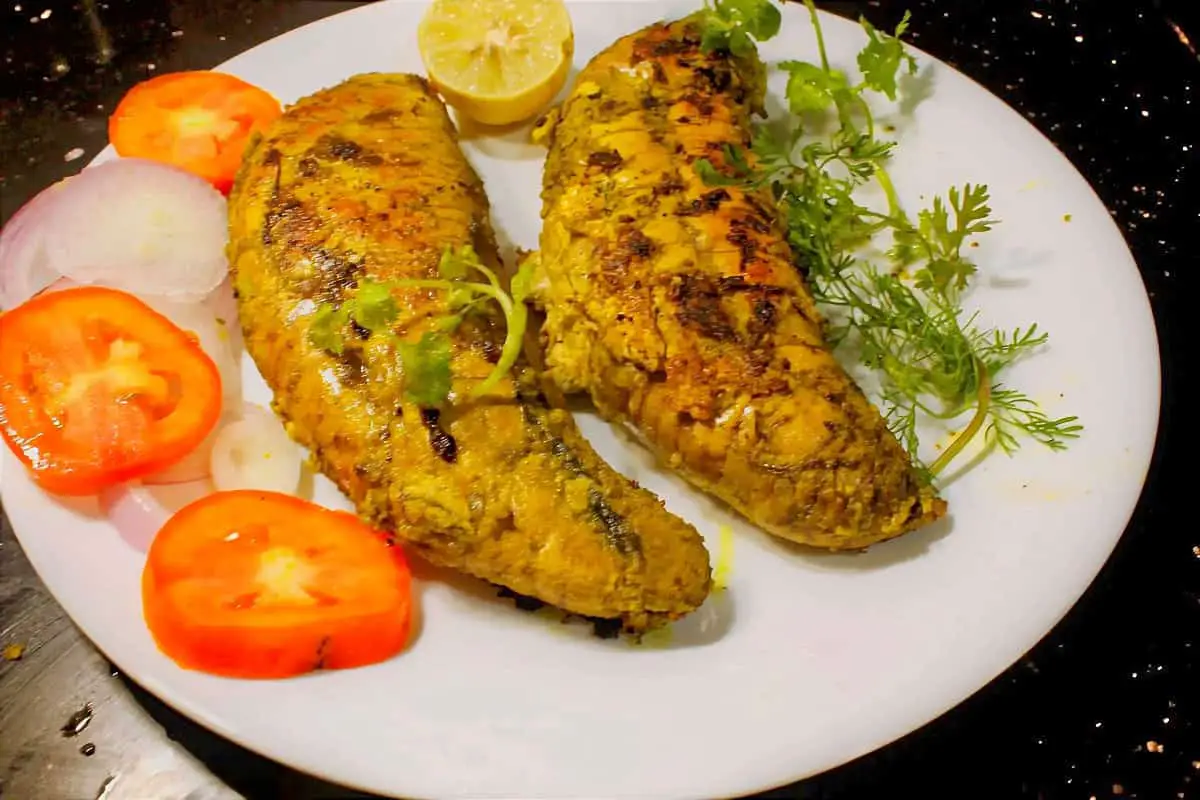 Fish Roe Saint Lucia Recipe – Fried Fish Eggs (Gaboli Fry). If you haven't eaten a Fish Roe before then you must try out this Saint Lucia recipe. In Mumbai, we call Fish Roe (Fish eggs) Gaboli and Fried Fish Eggs is Gaboli Fry on the restaurant menu.
This is a simple and delicious Saint Lucia recipe where we marinate the fish roe in a green chutney paste and then shallow fry. My mum would make this at least once every year when fish roe was available in the monsoons. Fish roe cooks very quickly and overcooking may lead to hard fish roe.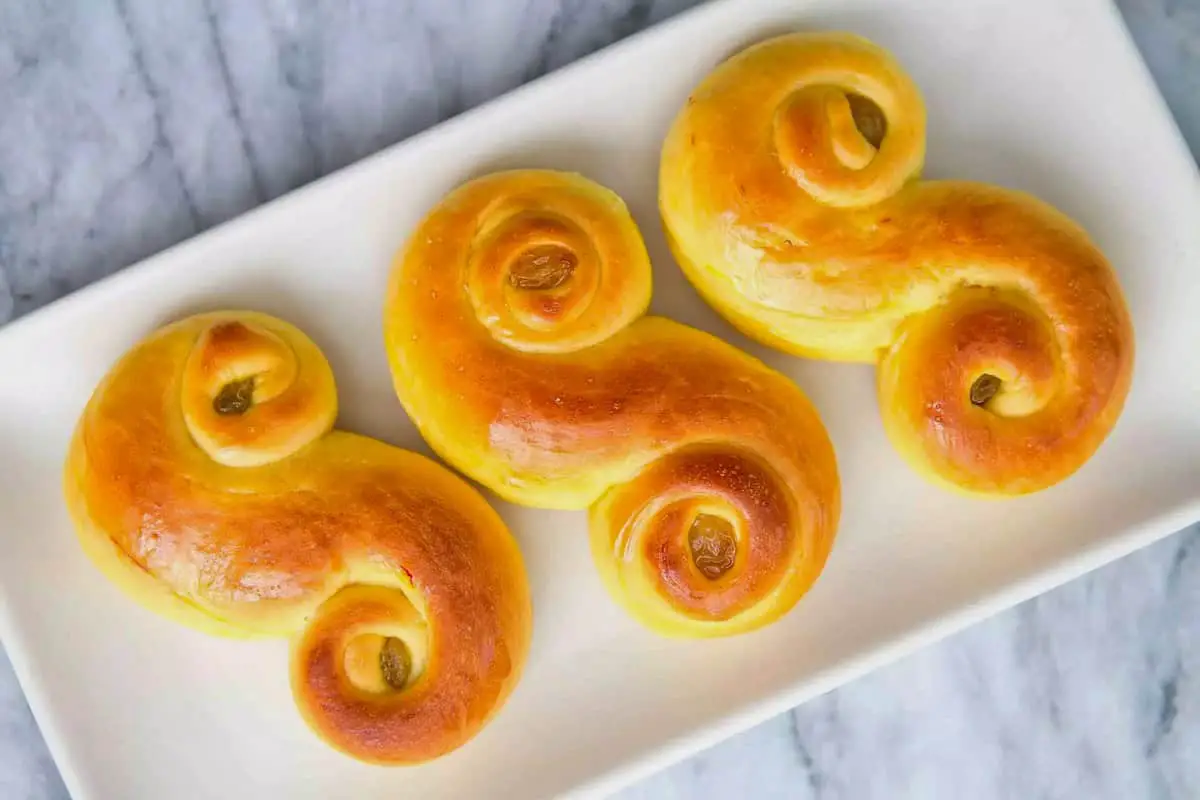 St. Lucia Saffron Buns
https://www.simplyrecipes.com/recipes/st_lucia_saffron_buns/
Christmastime favorite, saffron infused S shaped sweet rolls, for St. Lucia Day. December 13, St. Lucia Day, also known as the Festival of Light, is a day of celebration, in the spirit of Advent and Christmas.
Young girls are dressed in white robes with a red sash, with one girl selected as "Lucia" who wears a crown of lit candles (or battery powered ones), the others carrying a single candle. Processions with singing and revelry abound.
At home, the eldest girl dresses up in robe, sash, and candle crown, and delivers coffee and lussekatter, or S shaped saffron buns to her parents for breakfast.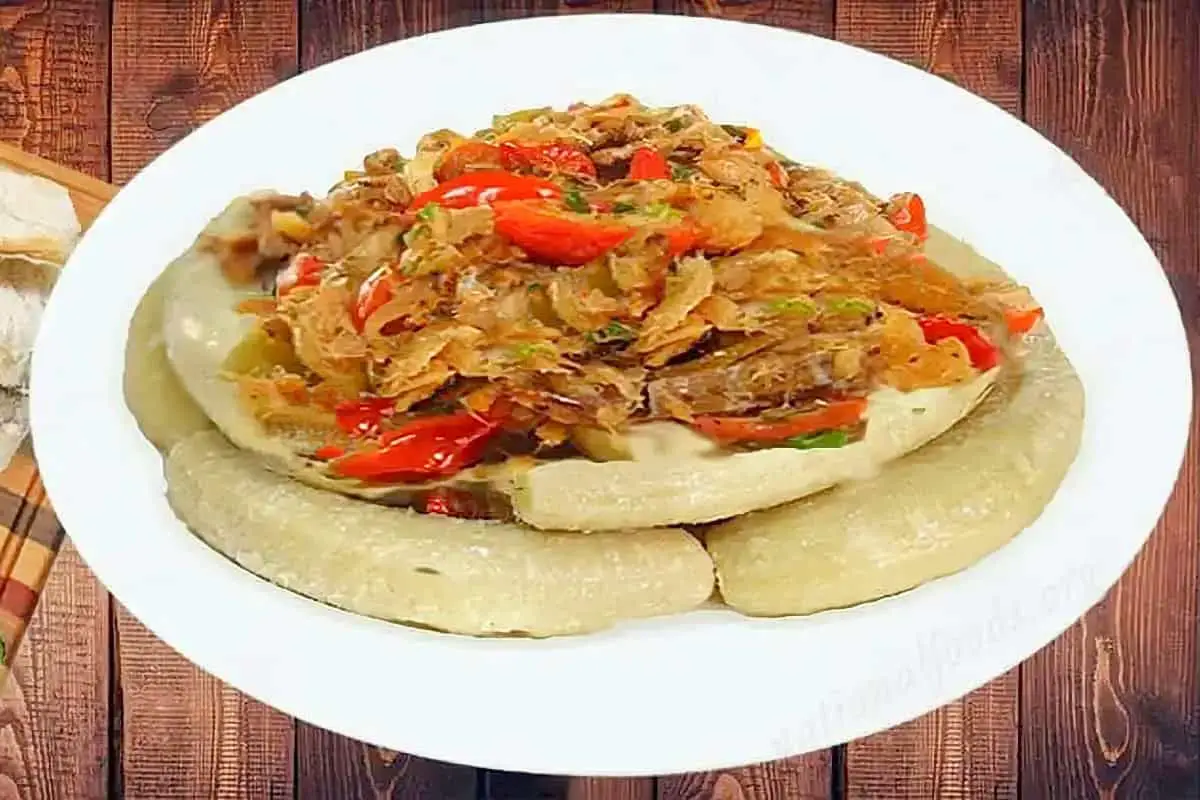 Green Fig and Saltfish (Green figs are the local name for green bananas) is the National Dish of St. Lucia. This dish has its roots in 19th-century slavery when bananas were plentiful and dried, salted codfish was cheaply imported from Canada to serve as rations for slaves. O
Over time, the slaves added their own spices to the dish and it became so popular on the island, that it was eventually recognized as the national dish of St. Lucia. The dish is typically prepared on weekends and especially for the Creole Day Festival held in October.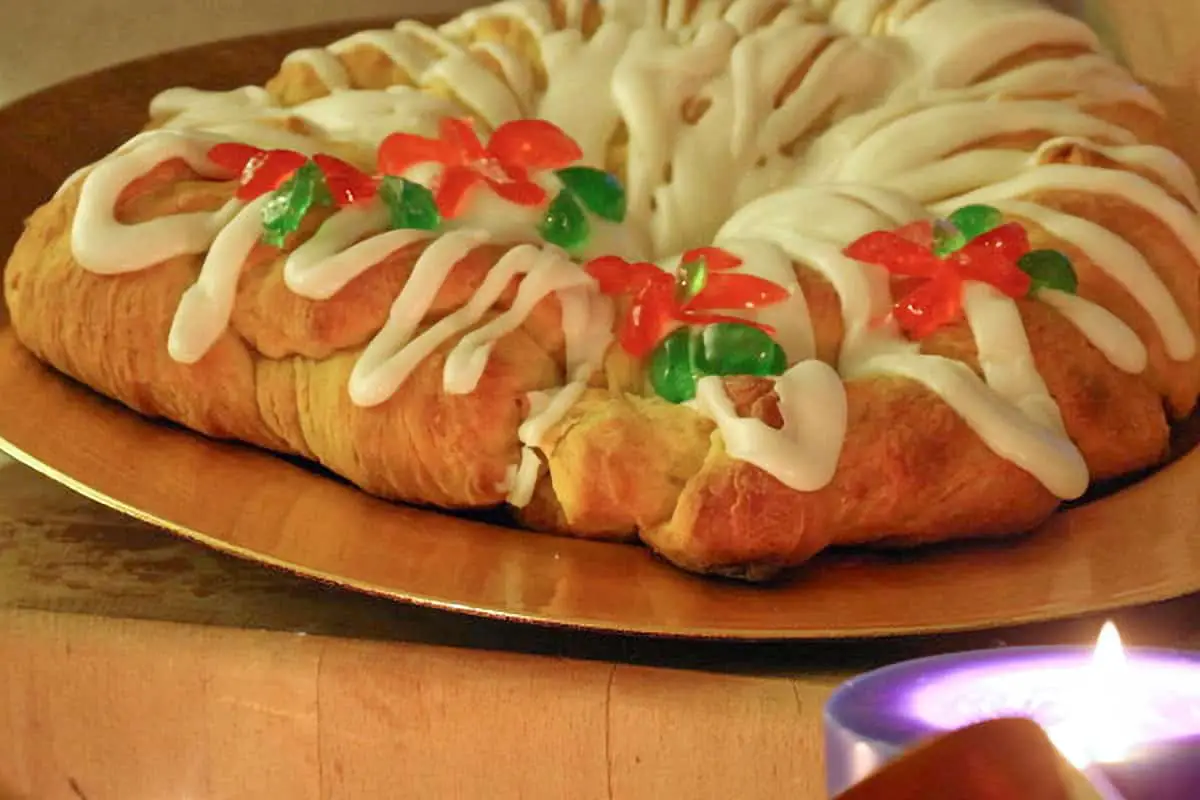 Since St. Lucia's Day (or St. Lucy's Day) is just around the corner on December 13th, we thought we'd share this special Swedish bread with you – fantastic for the Holidays. The celebration of the day comes from stories that were told by Monks who first brought Christianity to Sweden. "St Lucia was a young Christian girl who was martyred, killed for her faith, in 304. The most common story told about St Lucia is that she would secretly bring food to the persecuted Christians in Rome, who lived in hiding in the catacombs under the city. She would wear candles on her head, so she had both her hands free to carry things. Lucy means 'light' so this is a very appropriate name." (see note below**)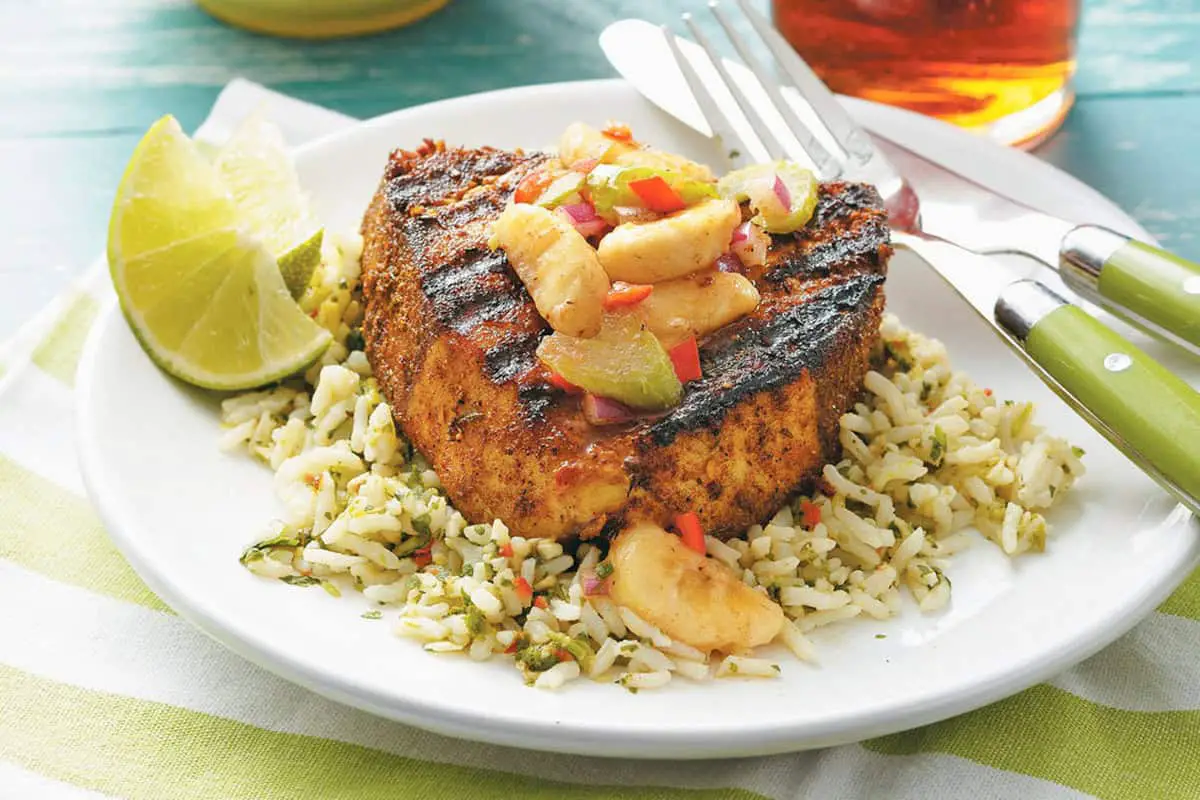 From fish to salsa to rice, this meal is loaded with fresh island flavor — and you can enjoy it in your own backyard!
Though native foods remain mainstays in the Caribbean, the favored flavors have been influenced by other cuisines over the years. Experience for yourself how Indian food plays into St. Lucian cooking by seasoning this fish with a blend of the native jerk and Indian curry powder. Then cook the fillets on the grill to hold true to island tradition.
A fresh take on salsa — including banana, celery, and chile — takes the fish above and beyond. Serve it all over zesty cilantro-lime rice for a full-on Caribbean feast.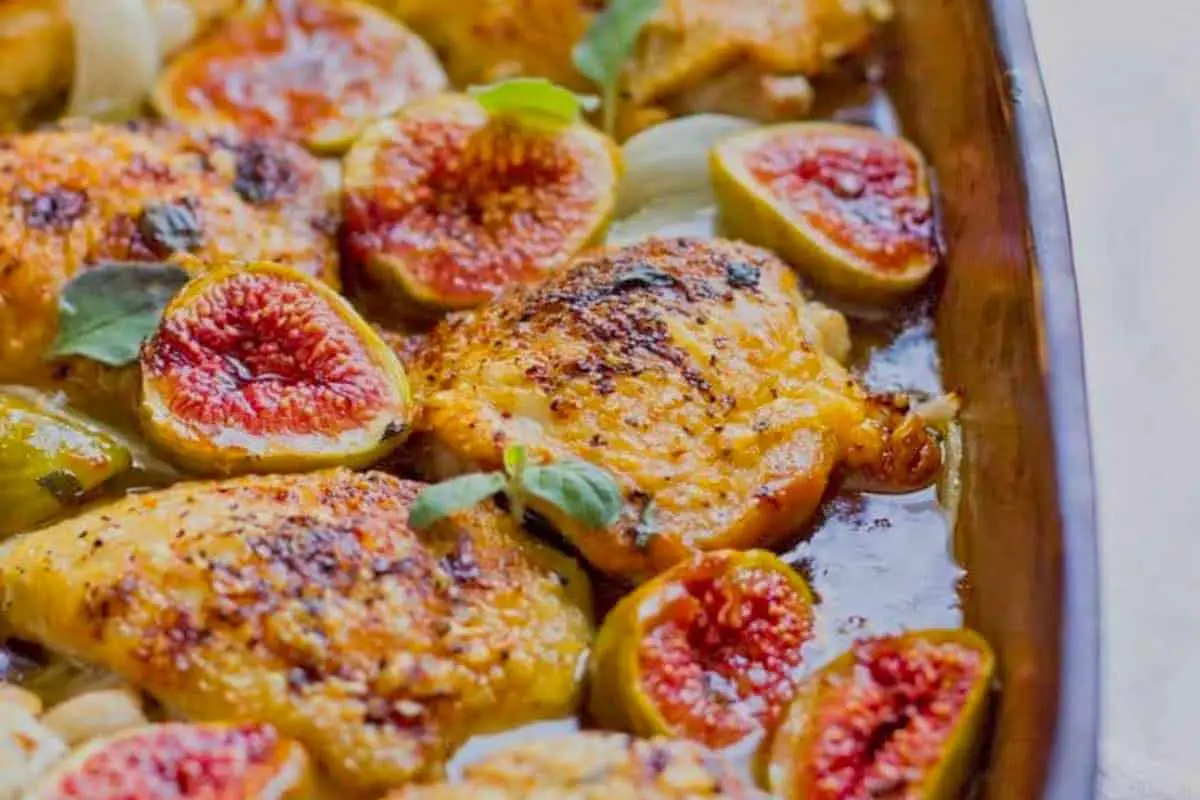 This Honey Roasted Chicken and Figs has onions, shallots and figs roasted in a garlic honey sauce that gets a little love from red wine vinegar. So good.
I made this several times with three different vinegars. First I tried rice wine and it was too sweet. Next up was with apple cider vinegar, and while I loved it, the red wine vinegar was the perfect acid to off set the sweetness of the figs and honey.
This Honey Roasted Chicken and Figs is a wonderful comfort food dinner without the carbs like a pasta dish or with mashed potatoes. Slow roasted chicken in an insanely delicious garlic honey sauce with sweet figs. Sound good? I swear to you it is indeed.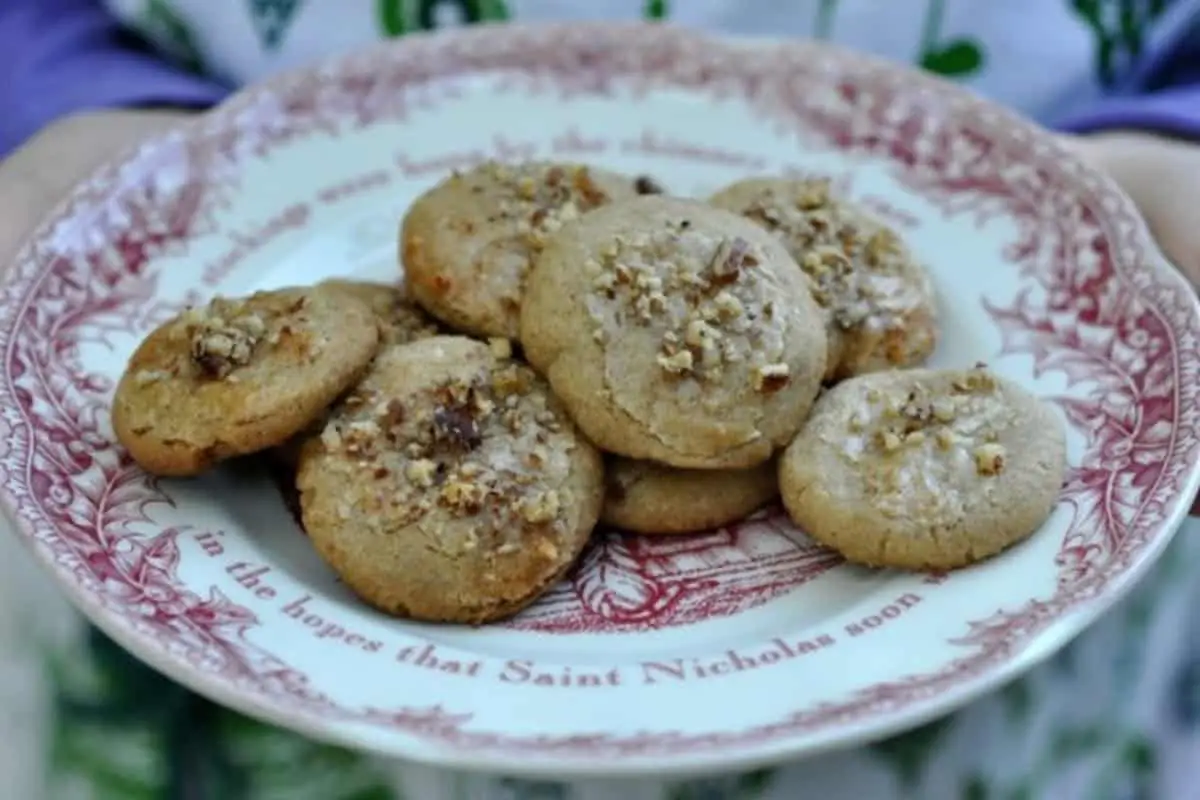 Today is St. Lucia Day. Lucia is the patron saint of light in today is celebrated throughout Europe. Born in Italy in the third century AD to a noble Greek family, Lucia was brought up a in a time of severe persecution for those of the Christian faith.
Devastated by plans for an arranged marriage to a pagan man, Lucia renounced the wedding and chose to dedicate her life to God and give her share of the family fortune—her dowry—to the poor. Her behavior was viewed as so strange she was thought to be possessed with evil spirits. Lucia steadfastly clung to her faith and was martyred on December 13, 304.
---
You May Want to Join Our Boondocking Group on Facebook For More Information
You May Want to Join Our Campfire Recipes Group on Facebook For More Information
For More Photos Visit Our Instagram at World Recipes Daily – Our Big Escape