The Budget Morocco Travel Guide includes 18 Important Travel Planning Tips that will allow you to see and do more on your budget. Learn how you can benefit.
Welcome to the Morocco Travel Guide! Over the course of this guide, we'll explain all you need to know before starting to plan your visit to this destination. We'll take a look at some of the best places to see and adventures to enjoy, but focus perhaps a little more on the actual practicalities involved in making the most of your time here. Whether you are visiting for just a few days or have several weeks to spare, this is a truly unique country that really can offer something for everyone.
From heritage and ancient sites through to bustling markets, beautiful gardens, atmospheric souks and everything in between you'll never be lost for something to do.
Morocco has enjoyed steady growth in its tourism industry recently and has seen a doubling in tourist numbers since 2008. The country now attracts almost 10 million unique visitors each year, and there is no sign of that slowing up any time soon. Make no mistake you can still explore the kasbah's with a scruffy backpack and not much else, but this is a country now quite at home in catering towards the city-break and more luxurious ends of the market too.
Budget Morocco Travel Guide – What Are the Best Places to Visit in Morocco?
One of the most appealing features of Morocco is that the country is really distinctive and you'll notice very different styles and atmosphere between its different parts. The south of the country – featuring Marrakesh and the Atlas mountains – is perhaps the most famous region and a popular option for those with just a week or two to explore different aspects of Morrocan culture.
If you want to hike stunning landscapes and tour majestic gardens during the day, haggle in markets and take in some amazing street food at night, then Marrakesh is perhaps the best option in the western hemisphere. It is still a city of absolute contrasts – perhaps best demonstrated in the differences between the old and new districts. The former is where you'll find the classic Jema el f'na market/medina, and a distinctly 'medieval' style atmosphere offset by the cosmopolitan sides of town that feel much like a prosperous southern French city. Be sure to spend time in the gorgeous Jardin Majorelle and Bahia Palace to escape the dust and at least some of the crowds.
Perhaps due to Marrakesh's popularity, not too many people tend to explore Rabat (the capital) and those who skip this city are really missing out. There are some spectacular sights to see here at a somewhat less overwhelming pace than you'll experience in the south of the country.
The Chella Gardens are ancient and a peaceful place to rest your weary bones for a few hours, especially if you have spent the morning exploring the maze-like Kasbah of the Udayas. Take time to roam around the Berber (and later colonial) style fort, as well as some of the best museums and galleries found anywhere in North Africa. Be sure to visit the Oudaias Kasbah and allow plenty of time to explore/get pleasantly lost at your leisure.
Of all the Morrocan cities, Casablanca is perhaps the most famous – and yes, you can visit Rick's Cafe for a surprisingly reasonably priced cocktail or mint tea. This busy port city has plenty of hidden gems still quietly lurking behind the ever-encroaching modernity – as well as some of the essential 'must-see' sights that have to feature in pretty much any tour of Morocco. The Hassan II Mosque is seriously overwhelming (visitors are advised to dress appropriately) while Mohammed V Square is regally impressive in all the right ways.
Fes is probably the second most popular/visited city after Marrakesh and has not made anywhere near as much effort to gentrify itself towards visitor's whims and preferences. If you like the general vibe of Marrakesh then the Morocco Travel Guide seriously recommends you try out Fes as well. The Fes el Bali does not cater mostly for tourists – it is a working marketplace where you'll see actual locals buying and selling pretty much everything under the sun. If you are a keen haggler then you'll have far more opportunity to strike a bargain here compared to taking on the savvy traders in the south.
Away from these major cities, there are still plenty of other spots well worth taking the time to explore. Tangier is the most 'European' Moroccan city and has a proud place in literary history. If you need a break from traveling for a few days and fancy curling up to read and relax, then this is the city to do it. Meknes is probably the best place for culture vultures to base themselves, especially if they intend on checking out the incredible Volubilis Roman ruins. Highly recommended – even if you have not much understanding/knowledge of the Roman African legacy.
Ait Ben Haddou is one of the most iconic features of the central region and well worth taking the time to stop by if you are traveling overland between the major cities. You'll probably recognize this orange fortress from countless Hollywood movies – and needless to say, that alone makes it a very popular destination. Arrive early or late for the quietest and most atmospheric experience.
Last but not least – and a personal favorite of the Morocco Travel Guide – Essaouria over on the west coast really is a wonderful place to relax and surf for a few days. It is relatively well known – and has some of the best beaches and surf you'll find anywhere in Africa/Europe – but if you visit at the right time it is a truly idyllic spot. You'll never have better (or much cheaper) world-class seafood prepared and grilled right before your eyes. Essaouria is a superb spot for those who have the time to explore the south in full and feel the need to recharge their batteries afterward!
Overall, it is easy to understand why the south attracts most of the visitors. It is a truly distinctive part of the world with a curious mix of modern European influences alongside ancient Berber traditions and cultures. The north is certainly (and probably unsurprisingly) the more European area, but lends itself well for those wishing to check out many classic sites and then branch out towards the likes of Meknes and/or Fes afterward. If you have a limited timeframe – let's be generous and say two weeks – then you'd probably be best off exploring just the south during your first visit.
The Atlas mountains really do deserve at least a week alone. If you have longer, then you'd be best off starting in the North and working your way south to appreciate how this country changes.
Budget Morocco Travel Guide – What Are the Best Things to Do in Morocco?
Tourism now employs millions of Moroccans and you'll have no shortage of choice when it comes to undertaking pretty much any activity that interests you. As mentioned above, the tourist economy is a big deal nowadays and there are countless operators (nationwide and private) who will conduct specialized tours.
While Morocco is really accessible and well used to visitors, you'll perhaps be best considering one or more of these to really see the best parts of the country without going to the hassle of making transport arrangements for yourself. By no means is this a 'cop-out' – the best services tend to be small groups in minivans/4-wheelers – and can usually be really flexible depending on what you want to spend your time doing.
In our opinion, these are the best way of really exploring the Atlas mountains 'properly' rather than just driving between scenic views that have been photographed a million times before. Even better – they are not especially expensive once you have factored in the savings you'll make on travel and time expenditure. If you visit the south you simply need to explore the Atlas mountains – and be advised that this is a substantial area we're talking about here!
Hiking ranges from the very straightforward to basically mountaineering, and you'd be advised to take a guided service unless you really know what you are doing. A multiple night hiking/biking/camelback tour is something you'll always remember and a really good way of spending some of your time. Don't expect to really 'experience' Berber culture by just visiting Marrakesh – to do that you need to venture further south.
By the time you leave Morocco, you will have become a connoisseur of mint tea – and accept that it is served with literally every meal. Moroccan food is amazing (and cheap!) quality and they have some of the best produce you'll find anywhere. Perhaps rather reassuringly, street food vendors tend to cook their produce fresh and fast – meaning that you'll be able to enjoy incredible food without much chance of catching a tummy bug.
Make sure to spend plenty of time eating out in Morocco as even visitors on a modest budget will be able to enjoy world-class food for comparatively little. Even popular tourist markets such as you'll find in Marrakesh will have huge tagines, salads, skewers, and plates of sundries available for less than a few dollars.
You'll spend plenty of time touring heritage, antiquity, and religious sites in Morocco – and they do tend to be unusually atmospheric. Morocco rewards the curious and openminded visitor, and something you will start to understand once you are in the country is that there are endless numbers of 'hidden paradises' to be found down even the least enticing Kasbah sidestreets. Souks and medinas are packed with courtyards and gardens where visitors will always be welcome to rest for a while. In modern Morocco, you'll still be stunned at the way people continue to adhere to traditional practices.
How you spend your time in Morocco can be as focused or as vague as you like. What we will say for sure is that you'll never be bored – and for all the right reasons. Perhaps the last thing we ought to mention here is that haggling is close to a national sport in Morocco. It is not quite as common in specifically tourist expenses nowadays – the times where you could haggle for a free week's accommodation if you stayed for two are sadly long past. But you most certainly can and should negotiate for pretty much everything where the price is not already printed out (haggling in restaurants/cafes is frowned upon).
Our only advice is to persevere when you spot something you'd like to take home and revisit the vendor over a few days to help drum that price down. Aim for a 'fair price' where they make a profit and you are happy to spend. Haggling isn't about ripping anyone off (most of the time) but rather to open up further opportunities to spend/receive more. If you intend on buying a carpet, look first at the smallest and most ragged examples that you'd never dream of taking home. Watch the prices being quoted suddenly drop!
Budget Morocco Travel Guide – When is The Best Time to Visit Morocco?
High season in Morocco tends to run between November and March when temperatures are significantly cooler in the south and more manageable elsewhere. It can become surprisingly chilly at night even in the larger cities. Generally speaking, accommodation costs are significantly higher especially in popular destinations although daily expenses don't tend to increase by much. Note that prices go through the roof over Christmas/New Year.
Over shoulder-season you can still visit large parts of the country – just be aware that sandstorms are common in the Saharan regions and it can be quite damp along the northern coast. Prices tend to increase around European school holidays especially Easter time.
Low season runs throughout summer and you should expect sometimes very high temperatures indeed. Plenty of Moroccans head to the coast for their vacations at this time of year – so expect resorts to be very busy indeed.
Keep an eye out for Ramadan and Eid Al Adha as prices and availability can fluctuate significantly during these times.
Overall, we at the Morocco Travel Guide would suggest that visitors try and time their visit according to what they will mostly be doing. If you are heading out hiking/exploring a lot then the peak season is probably the best – unless you can handle the high temperatures of the low season, and do remember that they can be very challenging indeed! City and site visitors can enjoy a little more flexibility with when they choose to visit, and may actually prefer the lower crowds over the hottest months (just remember not everywhere has aircon!).
Budget Morocco Travel Guide – Do I Need A Tourist Visa in Morocco?
Most people will have problems passing easily through Moroccan customs and immigration. Visas are generally issued upon arrival and are valid for 90 days. These can be extended quite easily but you may find it most straightforward to do so from outside the country. Take a quick break in one of the small Spanish provinces around the northern coast and it'll usually be extended within 48 hours. Only visitors from Israel and Subsaharan countries need to apply in advance for a visa.
Basically, all you need to visit Morocco is a passport which is still valid for six months after your arrival. While issues are extremely rare (or publicized) you should be slightly careful regarding what you bring into the country. 'Immoral' material – and that includes music and some books – is technically banned although you're unlikely going to have anyone scrolling through and deleting music off your phone! Just don't stick out and you'll have no problems whatsoever.
Note that liquor stores are basically unheard of, so if you are wishing to bring alcoholic spirits as a gift you may want to grab this at the airport (maximum 1L/person).
Budget Morocco Travel Guide – What Currency Is Used in Morocco?
Morocco uses the Moroccan dirham (Dh) that at the time of writing trades for around Dh 9.5 = $1.
Broadly speaking the country is nowhere near as cheap as it was perhaps ten or twenty years ago – but on the positive side, standards have increased considerably. This is still a very budget-friendly country – especially when comparing daily sustenance costs and internal travel – but you'll notice that prices for accommodation and some attractions are markedly higher than other North African countries. Such are the advantages and disadvantages of becoming a popular tourist destination!
You should have no trouble managing your money in Morocco. ATMs are everywhere and the vast majority will work with internationally issued cards. Broadly speaking these offer the handiest and best exchange/conversion rates although you can sometimes find better value within actual banks (almost all will offer some level of English speaking service).
Credit cards are widely but not universally accepted and often apply an additional charge – as much as 5%. Use them for big expenses such as accommodation/travel/services and stick to cash for general expenses. A money belt is a sensible idea, especially in the coastal cities.
Avoid anyone offering to illegally change money with you – chances are it'll either be a scam or an undercover cop looking for a quick sting. The Dirham is a protected currency and cannot be legally exported. If you get caught doing so it'll be confiscated and chances are the inevitable 'bureaucratic delay' will cause you to miss your flight.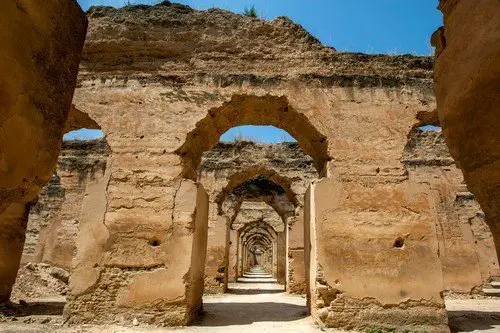 Budget Morocco Travel Guide – Do I Tip In Morocco?
Expect to tip quite often in Morocco and it is no coincidence that the Moroccan word for a tip – 'Bakeesh' – also means 'bribery'! There is no need to go overboard – just accept that a few dirhams here and there is an essential part of many travel industry employees wage packet. Examples would be Dh10 for a luggage porter (one who carries your luggage from the hotel to a cab) and Dh2 to a cafe waiter on top of the standard 10% from all sit-down establishments. Room attendants, security guards, guides, restroom attendants, – the list goes on and all will expect a small gratuity for any service provided.
Our advice is to go with the flow and just accept those little surcharges as a compromise for the otherwise outstanding value that anyone can enjoy when visiting this country. Morocco is not as rich as some people tend to presume, so tip where you can but never feel obliged to do so lavishly.
Budget Morocco Travel Guide – What Kind Of Budget Do I Need In Morocco?
Morocco is one of those countries where you can either scrimp by and still enjoy a great visit, or spend lavishly and live in something quite close to absolute luxury. Prices are generally very reasonable and you'll be pleasantly surprised at how major expenses – such as guided tours and upmarket accommodation – are actually good value compared to most other popular destinations.
A good number of people may be slightly disappointed to hear that the 'classic experience' of cruising the kasbah on a dollar a day is now pretty much a pipedream – but that does not mean you cannot do Morocco on a budget. It is an excellent option for backpackers looking to gain real value and still live pretty well without breaking their budget.
How much you spend on a daily basis in Morocco is really going to depend on how you spend your time. If you are planning on going shopping in the souks then remember that anything valued at over Dh2000 will need to pass through customs. Various rules apply here and the additional costs can add up quite substantially.
Should you be heading out on a multiple-day Atlas mountain tour just remember that tips need to be paid daily in most cases. Admission prices are pretty reasonable – as are most other mainstream tourist expenses – but just keep an eye on those added little expenses as they can gobble away at those savings pretty quickly.
All that being said, here's what the Morocco Travel Guide would suggest applies to three different – and admittedly very vague – budget levels. Do factor in that basic costs vary quite substantially across the seasons, although basics such as food and travel rarely change very much at all.
Budget (Dh500/day)
We've set the bar quite high here and you can certainly get by for considerably less should you wish. But this budget allows visitors to have a good enough place to stay – a shared room in a budget hotel costs about Dh50-75 – and sometimes hostels can actually be more expensive, especially if they are in a great location in the major cities. Most hotels will include a basic breakfast within the cost of the room – and that is not usually enough to set most people up for the day. Expect to spend between Dh100-150/day on food and you'll be eating very well indeed. Again that could be slashed in half quite easily but the choice is yours.
Traveling between cities/locations by road or rail is very reasonable – and the latter is especially so. The bus between Essaouira and Marrakesh, for example, takes around 4 hours and should cost no more than Dh70 each way. For that, you'll enjoy some air-conditioned luxury.
You could save about a third and use a more downmarket option without those luxuries, but we'd suggest you treat yourself – the views are much more enjoyable when you aren't bathed in sweat. Walking tours are fantastic value and often operate on a tips basis. Try and calculate that roughly by the hour – for example, Dh50 for a five-hour group tour is decent value at a fair price.
Mid-Level (Dh1000-1500)
Perhaps unsurprisingly Morocco has heavily promoted itself towards this part of the market in recent years – people who are openminded and have the money to spend on some pretty unique experiences. It is quite a significant leap from our already generous 'budget' budget, and that is mostly because we expect the majority of people to spend on tours and experiences. You could easily not do so if you are only visiting somewhere for a few days but they can really help visitors understand and appreciate the more subtle aspects of Morocco.
Better quality accommodation – probably in a classic riad or international chain hotel – can cost between Dh600-800+ for a double. That is still pretty amazing value all things considered, and you should expect very good quality indeed. Where possible we'd recommend visitors splash out on more 'Moroccan' rather than International style hotels, simply because it adds to the overall experience and they tend to offer better quality anyway. Check your options online in advance and you'll be impressed with what you can find.
Car hire is an option – around Dh300-450/day depending on the standard of vehicle – although we'd only recommend this if you need some added flexibility and are intending on heading to some very remote regions. Public transport is pretty good on the whole and you'll be able to afford upgraded carriage quality within this budget anyway.
High End (Dh2000+/day)
Big tours – especially those which include special equipment, transport, accommodation, and guides – are expensive although they should still be well within the thresholds of this budget. Some Moroccan experiences really are the best way of enjoying the country especially if you are on a tighter timeframe.
As a general rule, the more specialized the tour the better they can be tailored to meeting your specific needs – and remember that these are fair game when it comes to haggling and negotiation. The very best tours will offer listed prices and be fully booked months (possibly years) in advance so if that's your scene, make appropriate arrangements well before visiting!
The best hotels in Morocco tend to be based on the classic riad style – with the difference that if you're spending Dh1500+/night you can expect a reasonably sized suite with all the mod cons. Just as a point of comparison, that's what you'd also spend on a standard double room at an internationally branded hotel – so hopefully you see our point that the best value tends to be found by going local!
You may well be offered additional services from your fancy hotels, such as a concierge and driver/vehicle. For around Dh600/day, a driver can be pretty handy (just remember the tip…).
Internal flights are a solid option within Morocco assuming you are in a rush, although in the opinion of the Morroco Travel Guide the overland experience is much more interesting. Tickets are pretty reasonable although they go up substantially at peak times of the year.
Overall, Morocco is not quite as amazing value as it once was – but then not many places are! Providing visitors do their own research in advance when it comes to arranging places to stay and see, then you should expect generally excellent value across the board – especially if you are more used to European or North American prices.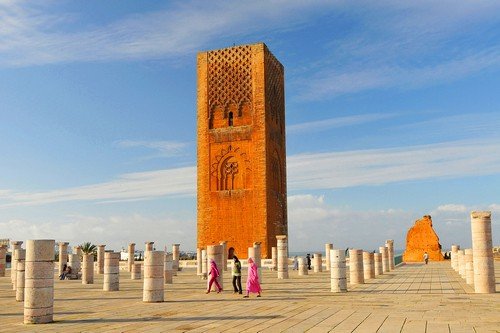 Budget Morocco Travel Guide – What Languages Are Spoken in Morocco?
Modern Standard Arabic (Darija) and Berber are the two official languages of Morocco, although you'll find a number of others are also spoken in various parts. French is very widely spoken and serves as a semi-official second language – you'll find plenty of bilingual signage throughout the country.
As a visitor, you are likely most interested in how common English is throughout the country – and the answer is pretty straightforward. Almost everyone directly engaged in the tourist economy will speak a degree of English – and that will vary from very basic words through to total fluency. English is especially popular with younger people and expected to be very widely spoken in the near future (to the dismay of some traditionalists).
Generally speaking, you're only likely to have any problems being understood in very isolated spots not used to encountering many visitors. Even then, just some basic French should be enough to help overcome any language gaps.
Budget Morocco Travel Guide – What Religions Are Practiced in Morocco?
99% of the population is Muslim, split around 67% Sunni and 33% Shia. There are small pockets of other religions but you'll barely even notice them. Visitors should respect the fact that this is a practicing Islamic country and that involves following a few cultural rules. It should go without saying that visitors are obliged to behave properly and respectfully around religious sites, but also accept that the 'rules' extend to other aspects of social life.
Public displays of affection are not widely approved of (although that varies depending on where you are) and should generally be avoided. Even though it is quite common to see men holding hands in a platonic manner, LGBT people are advised to try and keep a lower profile than they may like/expect. Homosexuality is illegal.
Although there is no mistaking the fact that religion is a strong part of the Moroccan cultural landscape, it is not the be-all and end-all that many people assume. You should have no issues regarding religious observance or otherwise providing you are suitably respectful of the fact that it is very important to lots of people.
Budget Morocco Travel Guide – Practical Tips From The Morocco Travel Guide
At this stage of the Morocco Travel Guide, we'll take a look at some of the more practical considerations worth knowing before you visit this amazing country. There really is so much to do in Morocco that it lends itself towards all styles of travel. Backpackers will love the freedom (and affordability) of being able to travel relatively easily between very distinctive regions.
Those with higher budgets are advised to look at specialized tour options that can be absolutely fantastic – or consider hiring local services who can put their own plans into action. It really is quite easy to tailor your Moroccan travel experience exactly as you wish – and even better, you should be able to change your plans pretty easily too.
We have already touched upon the fact that Morocco is quite a diverse country – and nothing better portrays this than the staggering differentials you'll notice in terms of wealth. It is no exaggeration to say you'll be walking through old town Marrakesh and a donkey cart will be leading the traffic ahead of the latest edition Mercedes Benz.
Large parts of the country remain agricultural (one of the reasons why the fresh produce is among the best on the planet) and correspondingly quite poor, so remember to be mindful of that when touring about. Moroccan people do appreciate tourist money but don't especially like it being flaunted – especially when the country is not entirely dependent on that revenue stream (at least not yet).
Do your best while touring the country to eat and shop where the locals go. You'll perhaps be a little disappointed to realize that nobody will pay much attention to your presence! Morocco has historically been one of the most western minded African nations and has a very long history that has frequently been intertwined with those of European countries. From 'Barbary' pirates in the 17th century through to nowadays being a staunch ally in the 'war against terror', Morocco is about as pro-western as it gets.
Sure – the country has experienced very occasional acts of terror – but these are extremely rare and strangely enough not usually geared towards targetting tourists. Your everyday Moroccan finds these acts reprehensible and wants nothing but to make sure their guests have a good time and enjoy spending money in their country. So despite the country being relatively close to some global hotspots on the map don't forget that Syria, Iraq, and other trouble stricken nations are literally at the other end of the continent. This is a very different type of country and one that embraces visitors far more gladly than most.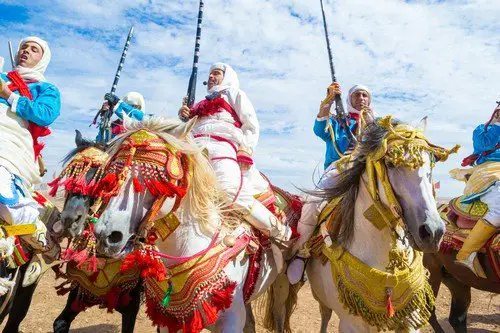 Budget Morocco Travel Guide – What About Health and Safety in Morocco, Is It Safe?
As with any country experiencing large amounts of poverty and youth unemployment, crime does happen in Morocco. It does happen against tourists too – but it is very rarely violent. The Moroccan police maintain a very close guard over visitors to their country and you'll notice a high presence around pretty much all of the major tourist destinations. Undercover police actually do operate extensively (for once it's not just something touted to reassure visitors!) and crime rates in popular destinations are much lower than one may expect.
Crime against tourists focuses almost entirely upon property and money – baggage theft and pickpocketing are common annoyances – but very rarely anything more serious. Wear a money belt and keep away from the seamier districts of Casablanca, Tangiers, and Marrakesh at night and chances are you'll be perfectly safe. Morocco is no less safe than most other Mediterranian countries, and in some respects can actually be quite a bit safer (people will take your side if someone starts harassing you). Terrorism warnings are sometimes in place and advise against travel to contested desert areas in the far south.
In regards to health, the best advice here is to make sure you have taken all necessary vaccinations (hepatitis A & B, rabies, typhoid) beforehand, make and take copies of these with you, and ensure you have decent medical insurance. Medical standards are very high in the cities and pretty basic in more far-flung regions, so ideally make sure your insurance is able to pay upfront and also include transfers if needed. It is a good idea to establish which hospital network is included within your insurance plan before you visit although you'll be treated for very serious issues regardless of your ability to pay.
It is a good idea to pack a small medical kit that contains basic medication, sunblock, bandages, and antibacterial handwash. You'll find that hygiene standards are reasonably high although plenty of people do experience some gastric sickness when they visit for the first time.
Do not let that put you off eating the amazing street food you'll find throughout the country, and remember that if you do get sick it tends to pass very quickly. Tap water is generally safe in the cities although it may cause discomfort in some people with more delicate stomachs. Stick to bottled water if you wish and as a matter of course on more remote areas.
Take your medication with you and ensure that you have copies of the prescription in person and uploaded securely to the cloud. You may need to prove your eligibility to carry some opioids at immigration and it is best to be upfront about these to avoid any hassle. If you need a new script then you'll probably need to visit a Moroccan doctor – most of whom will speak some degree of English. Do not expect the medication to be the same brand and accept that you may need to visit a hospital for more specialist products.
Morocco is generally much safer than some people assume and your biggest risks are going to be environmental. It can become very hot and very cold depending on the time of day/year – so make sure you are prepared for both. Altitude sickness is far from unheard of up in the Atlas mountains, and insects can be a real nuisance. Treat all bites from your medical kit wherever possible and keep an eye on them growing worse/more painful. Snake bites do happen (rarely) so have them looked at right away unless you are sure it was administered by a non-poisonous species. Most cases are not serious but better safe than sorry.
Budget Morocco Travel Guide – What is the Best Transportation in Morocco?
Trains and buses are the best and most cost-effective way to see Morocco while traveling in relative comfort. The roads are generally pretty good quality, and while buses can seem a little chaotic (especially in the stations) they are usually well maintained and clean enough. You may struggle at first to comprehend the ticket system – especially when being offered 'discounts' from a dozen touts at the same time – so visit in advance and use a proper booking desk.
Most of those who offer English language services will fly a small British flag although you'll find most employees will understand the basics. If you do travel by bus don't expect to cover huge distances at much speed – some rides can last the best part of two days. Try and book a seat that is not on the sun-side of the coach for a little extra comfort.
The Moroccan train network is excellent and now even features a high-speed TGV enhancement. Tickets ate straightforward to book and it is usually worth paying the small extra cost for a superior carriage over longer distances. There may be some provisions for discounted tickets (especially if you have student ID) but these vary and change regularly. Prices are reasonable enough to not really worry too much about penny-pinching here! Once you have arrived at your destination you may be offered porter services who will carry your bags to a cab rank. If you are unsure of where you are these can be a sensible way of spending a few coins.
The communal atmosphere of Moroccan buses and trains is really something everyone should try and enjoy at some stage of their visit. It is polite to accept food when offered but not necessarily the first time! Be willing to share your own haul of snacks (international branded candy is very popular!) and you'll make friends in no time. Should you be planning on sleeping then don't expect to get much peace and quiet during daylight hours. Look for calmer, quieter, and often faster overnight services instead.
Driving in Morocco would be fine if other road users acted a little more responsibly. The Ultimate Morocco Travel Guide highly recommends using the roads to get around the more out of the way areas (which are well worth exploring) but do so with a degree of caution. Take it slow and easy – and perhaps try to avoid urban areas, at least city centers, unless you have a very cool head.
Taxis are a more sensible option and come in various styles. Grand taxis are marginally more expensive and comfortable, although petit taxis are fine for general getting about. Urban transport is sometimes quite tricky although both Casablanca and Rabat have excellent and sparkling new – tram systems. Ask at the desk of your hotel for advice if needed.
Last but not least – Morocco is a brilliant country for biking and thanks to those long flat spaces you can do so without massive degrees of experience. The mountains are an entirely different proposition but you'll find that the country is surprisingly well geared towards bike routes and hire services. Consider it if you fancy doing something a little different and like to travel under your own steam.
Budget Morocco Travel Guide – What Are the Best Accommodations in Morocco?
You should encounter no problems whatsoever finding somewhere to stay at any time of the year – just keep an eye out for those seasonal price hikes as they can literally jump and fall within a week. We'd recommend using the fact that hotels are cheap and usually pretty clean/clean enough to look towards more central options wherever possible. Old town Marrakesh is packed full of brilliant little riads that charge astonishingly low rates for really quite high-quality rooms. They are far better options compared to the huge resort-style hotels found lined up in the more modern side of town.
There are plenty of hostels available throughout the country and these vary in quality. We'd recommend these to visitors who are enjoying a 'backpacker experience' and wish to meet fellow travelers, although, in all honesty, you'll find better value and much more privacy in budget hotels nowadays. It really depends on what you are looking for. If you do opt for a hostel then be well advised to book well in advance. The popular/famous hostels book out months in advance especially if you are hoping to secure one of those elusive private rooms!
Boutique hotels are now quite common throughout Morocco and you'll have no trouble finding everything from eco-lodges to Parisian style loft apartments. Many of these are overseas-owned – so responsible tourists may want to remember that little pointer – but they can certainly deliver the goods for visitors willing to spend more than they need to. Should you want western-style luxury hotels then you'll have no problems finding them. Outside of Marrakesh most of these tend to be business-focused rather than designed for the tourist market, but you'll have all the CNN money can buy!
In all seriousness, the Morocco Travel Guide really recommends that visitors consider their accommodation options quite carefully before they visit. Even if you are just spending a few days in a city, where you choose to stay will make up a big part of your stay. Using the Marrakesh example again – there is a real difference between spending your nights in a western-style hotel or a classic riad – and that is not reflected in the price.
Visitors interested in making their own arrangements will find plenty of online options throughout the country. Plenty of hotels and riads do not use the standard 'hotel websites' and are well worth looking up under your own steam. Check plenty of reviews and feel free to email any questions beforehand. Airbnb (and other similar sites) is an option in many places especially the larger northern coastal cities. Surf schools on the west coast are also usually able to recommend good quality local hotels and services.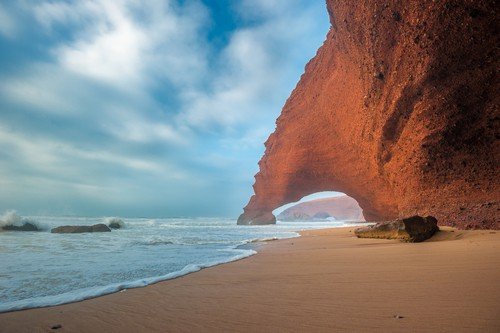 Budget Morocco Travel Guide – How Can I Practice Responsible Tourism in Morocco?
Our best advice for experiencing Morocco in a responsible manner would be to try and spend your money on smaller local services wherever possible. Corruption has long been an issue when it comes to issuing official licenses and permits – and progress has been made, but it remains an issue. Look to try and support non-accredited independent companies where you can as chances are the quality and cost will be much better anyway. Morocco has not been especially sensitive to the Berber people while pushing through the development of their tourist industry – so remember that when you visit.
You'll notice plenty of poverty in Morocco although nothing close to as 'severe' as many other places in Africa. That does not mean that people are not proud – in fact, it is the very opposite. Some of the treatments you may see of animals would be enough to call welfare services in the West. All you can do is not to use donkeys/camels or have your photo taken with caged monkeys or snakes. There are plenty of charities in Morocco dedicated to animal preservation and care – donate what you would have paid for a grim photo towards them instead.
Understand that 4X4 vehicles are often used to get around remote areas and the desert. Needless to say, these are convenient but also environmentally damaging. Consider alternative options before just assuming these are the only ones – biking and horseback are solid alternatives (the latter often offered via charitable companies).
Last but not least – sexual harassment. This is far less an issue than before – and something that frankly offends the vast majority of Moroccans – but women are advised to wear less revealing clothes to help prevent unwanted attention. Should you notice inappropriate glancing/touching – then stand up and point at them, especially on public transport. 'Shooma!' is the word and you'll have a small army at your hands willing to chase them off.
There are plenty of other 'little' issues that affect the responsible tourist in Morocco but these are perhaps the most important to be aware of for now. Try and leave as little trace behind as possible – something that is difficult when bottled water is almost essential yet empties are rarely recycled – and do your best to understand and appreciate the uniqueness of Moroccan culture as best you can. Respect goes a long way in this country, and something as simple as asking a local if they are willing to be photographed makes a big difference in the long run.
Budget Morocco Travel Guide – What Food Should I Try In Morocco?
You are simply going to be spoilt for choice in Morocco and there's no point listing all of the amazing foods you're going to find here. The fresh produce is world-class and the spices must be also considered as some of the freshest and most distinctive going. Anyone who appreciates spice – and not necessarily sheer heat alone – is going to fall in love with real Moroccan food. All of the following are best served with a glass of famous Moroccan mint tea – the honey sticks are optional!
Tagines are everywhere and rightly considered one of the most popular dishes in the country. These assorted stews are basically cooked in the tagine itself – and can be based on various meats, vegetables, and masses of spices. We're not exaggerating when we say that these are universally enormous meals and absolutely delicious. If you can squeeze a tagine dish into your luggage allowance they make an amazing gift for taking home too.
Much as the team at the Morocco Travel Guide loves their tagine, there's no end of other options you simply have to try. Fish chermoula is common throughout the coastal towns and basically grilled 'catch of the day' with plenty of lemon and spices. Makouda deep-fried potato balls are found in every street food market – and go perfectly with all the wonders that you'll discover there. Skewers of every meat imaginable and dozens of salads, sweets, pastries, and juices can all be picked up for very little cash indeed.
In all honesty, the best way to enjoy Moroccan food is just to try it. Even sweet pigeon (exactly what it sounds like) is quite delectable after the first peculiar nibble or two. Something you will notice is that many people eat with their fingers and use communal bowls.
As a visitor, you'll probably be offered some kind of cutlery, but there was a reason we suggested packing that antibacterial hand cleanser! Vegans and veggies should not have any trouble finding delicious foods to enjoy in Morocco. Just remember that the concepts are not quite so thoroughly applied/understood. Ask if you are unsure, most street food vendors are a chatty bunch!
Budget Morocco Travel Guide – What Should I Pack for A Trip to Morocco?
A money belt is a sensible precaution but other than that you should just pack whatever clothes and footwear are going to be suitable for your style of trip. Good boots are a must for the mountains and a hat is not a bad idea at any time of the year. Power adaptors are sold at most pharmacies but can be a chore to find otherwise. Remember a little medical kit packed with sanitary basics and you're pretty much set. Spare clothing is cheap and easy to find throughout the country, and we'd suggest considering leaving/donating anything you don't need to make room for some extra souvenirs.
Budget Morocco Travel Guide – What Clothes Should You Wear In Morocco?
This is a slightly tricky one because you'll see no end of people wearing 'classic tourist' clothing throughout Morocco – so why not join them? In all honesty, you could get away with wearing shorts and a t-shirt if you want, but don't expect many local people to want to speak to you much. Some religious sites will and do turn away people who are inappropriately dressed – and that extends to visible tattoos and piercings.
We'd recommend people dress comfortably and quite smartly but in a manner that also suits their purposes. You are not going to be expected to wear a suit in the Atlas mountains, but a sensible shirt is never a bad idea. In cities, you will notice that not many people tend to dress down deliberately and that many people instead spend a lot of time trying to look smart and respectable. Do the same and you'll have no problems whatsoever.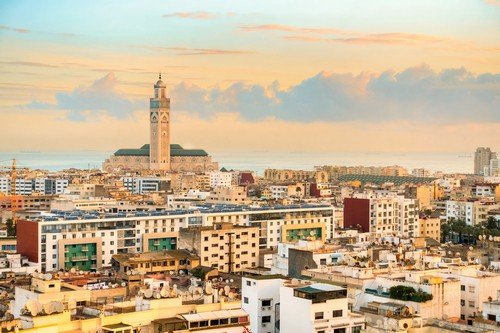 Budget Morocco Travel Guide – What Are Some Interesting & Important Facts About Morocco?
So we are nearly at the end of the Morocco Travel Guide. We hope you have found some of the information provided useful towards planning your own visit to this ever-rewarding country. Morocco is a fantastic country that will offer something really rather magical for most visitors.
It doesn't matter too much if you have bags of cash or are living on a shoestring – this country is really inviting and hospitable to respectful visitors. There is so much more we'd like to tell you about the fun you'll have experiencing Morocco, but hey – we don't want to take all the fun! You'll discover plenty of interesting little facts as you go – and some will be quite unlike anything you'll see elsewhere.
We'll conclude the Morocco Travel Guide with a selection of interesting little facts to highlight quite how interesting this country happens to be:
▸ Morocco is one of the most contested regions in world history. The Romans, Visigoths, Byzantines, Vandals, and French have all occupied it at some time or another. You'll see plenty of evidence of each still today.
▸ Morocco is a constitutional monarchy with a very small 'c'. King Mohammad VI is a name you'll become very familiar with!
▸ It is estimated that Morocco produces 80% of the hashish taken throughout Europe.
▸ If a couple is divorced the first wife must give approval if the man plans to remarry.
▸ Over 60% of visitors cite historical and cultural interest as their main reason for visiting the country.
▸ But adventure and desert tourism is the fastest-growing sector.
▸ Moroccan cuisine is unique and best described as a mixture of Berber-Moorish, Mediterranean and European influences.
▸ Never refuse a glass of mint tea – doing so is considered extremely rude!
▸ Moroccans do not use the heart to symbolize love. Instead, they use the liver.
▸ Agadir's Souk El Had has over 6,000 official stores and vendors – plus an unknown number of unregistered stalls.
We hope you enjoyed reading the Budget Morocco Travel Guide – and good travels! Contact us with any questions you may have about travel to Morocco.
You might also like some of the articles from our website about boondocking and travel.
5 Best Ways to Visit Techatticup Gold Mine In Nevada
12 Super Reasons To Visit Mount Charleston Nevada
10 Great Reasons to Visit The Valley of Fire Park
9 Great Hiking Trails In Red Rock Canyon
For complete photos and videos of our trip visit our photo on our Facebook Page
You May Want to Join Our Boondocking Group on Facebook For More Information