What an amazing place the great Sahara Desert is! We've seen parts of it on TV or in the movies, but to roam about on this sea of sand, is to enter into an alternate universe. The sun rising over the eastern horizon in the morning has never looked so huge, overwhelming and hot.
Riding Camels in the Sahara Desert
We began a tour riding camels – The guide who helped us to mount up and get started called them meharis. He said that meant riding camels. Then, riding on these great slobbering beasts turned out to be an experience like no other.
Moving out over this sea of sand on these swaying meharis made us feel something like we were sailors in a rowboat. Over the years we've ridden horses. We've gone dog-sledding in Alaska. So the next challenge seemed to ride a camel.
Never mind the reasons for coming to Morocco. The urge to see as much of the world as possible before we got too old to travel. The two days ride from Marrakech to our destination to the sands of the great Sahara. The trip was a two-day prison inside a hot van. Many would say a ride like that isn't worth enduring to see anything, let alone a lot of sand and gravel.
The Tours Offered Both Good and Bad Points
It isn't easy to say when such conditions we have to endure were too tough for the benefits we enjoyed. Something of a love-hate experience. The ride we took was a test of endurance and discomfort. But once it was over, it didn't seem so bad after all.
We have seen so many movies that used the Sahara and now have the satisfaction of having seen it in person. The camel ride was a forgettable experience, I hate camels. At least, unlike horses, camels kneel down, so mounting a camel is a lot easier for a person of any age.
Visiting a place like Morrocco isn't all fun and games. Our experience in Morocco had some great moments. We had some bad moments as well. Much of the latter is due to the fact that we didn't understand exactly what a tour of the Sahara Desert entailed.
---
---
check out our video
---
---
Not A Tour That You Might Expect
In other places, tours are usually predictable and somewhat comfortable. Our Sahara Desert tour was completely different from anything that you might expect. That's why we're writing this. We want to enlighten any reader who might be contemplating such an excursion. So, here's a no-holds-barred look at it. Then you can decide whether you think the trip will be worth it if you'll be up to the challenge.
Merzouga, the gateway to the Sahara, means you're going to have to travel some 350 miles (560k). Miles of winding roads through mountain passes and tight hair-raising curves. This trek means that at least you'll need three days of uncomfortable riding or driving. Should you choose to try it, expect to spend a great deal of your Sahara Desert tour on the road. This was even tougher than our 21 days traveling in a Russian Van in Mongolia.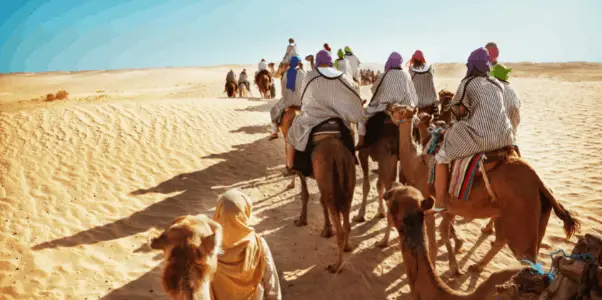 Sahara Desert Day Trip or 3 Day Trip?
Should you have only a Sahara Desert day trip around Marrakech, it's going to be impossible to see the sand dunes. You will miss the sea of undulating sand. For this experience, you're going to have to be in Merzouga and Erg Chebbi. If you manage to adjust your expectations, this can be a most rewarding visit you can come away with. A wonderful memory of riding a camel over the areas of gravel and visit a palm grove outside Marrakech. Not all the Sahara is sand. One good note is that prices here are quite reasonable.
If you have two days, you can get to the Zagora Desert and try a camel ride at sunset. You can spend the night in the desert and at sunrise, you're back on your camel. A night tour costs a little more than a day trip, but we considered it a good value.
A real Sahara Desert Tour means you're going to need three full days to get to the Sahara. But if you can make that run, we know you'll say it was worth the uncomfortable ride. You'll come away with a new realization and appreciation of the magical beauty of the desert. There is nothing you've ever seen before to prepare you for the magic in the sunrise and set over the Sahara Desert. To see the great Sahara with your own eyes, breathing in the desert air and knowing you're actually there. It is an experience you cannot get on the couch with a bowl of popcorn and watching TV.
Why The Sahara Desert Is So Worth the Trouble
The Sahara Desert Tour will take you to something that is unlike any other place on earth. We've traveled over the years and never before have we seen any sight as beautiful as the Sahara Desert. You might think you're in an alternate universe or on another planet. Observe the contrast between the sand, the blue sky above and the way the sand ripples like ocean waves. Little wonder that many have compared the Sahara to a dry ocean. There is nothing that compares to a Sahara Desert Tour.
Rather than advance booking a Sahara Desert Tour you can wander around the souks. You'll get better prices offered to you there but be careful. Beware of up-charges, such as a scarf made in China. You're assured you'll need during your tour. It will make you grind your teeth when you're about to pass out from the heat of a van. The driver telling you the AC is not working to save gas.
The bottom line here is definitely to book the tour in advance with your hostel or hotels on arrival. They need good reviews on Booking and Agoda to provide the business. They are aware that bad reviews cost them money. For that reason, they will only send you to a company they believe you will be happy with. After all, these businessmen have a lot more to lose than an unscrupulous peddler in a souk.
Best Option To Book A Sahara Desert  Trip
The owner of our hostel booked our trips with Ando Travel Limited. This company averages 4.4 stars and a thousand verified reviews. A good many of these reviews come from women either traveling alone or in small groups. Although we haven't booked a tour with this company, we do believe they did use their service. You can get more information as well as pricing at Get Your Guide.
Most negative reviews come from people who complain that there's too much driving. That's true, but it's going to be the same thing with any company. The Sahara is some distance away and getting to it is a long – but worthwhile – drive. There is another drive that's shorter but it's on a different course and much less impressive.
A note to women traveling alone. Be cautious. It's not unusual for solo female travelers to get Sahara tours offered by the touts in the souks. Remember, in most of these countries, women are something like property. Men in these countries see women from abroad as the same as women in their country. Not right at all but the way it is when you travel to some areas. You will find this much more in the outlying areas of Morocco.
It's important to read and understand exactly what is an included item. Find this out and what is not included. For example, we had a tour operator assure us that the tour included a ride into Fez so we wouldn't have to backtrack. We felt assured that it was an inclusion in the tour we booked. When it came time to continue on into Fez we had to pay out another $20 per person. Despite the assurance of the tour operator, the small print excluded this little item. so we had no choice but to pay up.
Wherever you go, something always seems to be wrong with the AC, you are going to sweat. Our Sahara Desert Tour included accommodation for two nights. The first was in a hotel along the way. The second was after actually reaching the Sahara Desert. Both were acceptable and a little surprising after some of the earlier discomforts.
The tour didn't include lunches. No matter which tour you take, you're almost certain to be dining at an expensive dump. This is where the tour guides get a kickback. Most tours don't include anything to drink, not even water, so pay to bring your own.
Follow this by long days of driving with dull uninteresting stops. From Marrakech, the ride to the Sahara is two long days in that van with no AC.
With the issues, you should still put the Sahara Desert Tour on your bucket list. To avoid some bad experiences while on this trip, we can offer a few tips based upon our own experiences. If you're a woman, stick closer to the others rather than wasting time in chats with the guides. You could learn a lot more and save money as well.
If you have been a victim you have only yourself to blame. It's the traveler's duty not to be a victim to any of the many predators afoot in the tourist world.
An alternative would be to rent a vehicle and drive out to the Sahara. Still the same horrible road and poor stops to get food. You can make your own choices choose your own stops. The most important thing is you will have AC. Still, we wouldn't recommend this for a person traveling alone. You could get together with some friends and share expenses.
It's up to you to decide whether you think a Great Sahara Desert Tour is worth not only the money. That as well the discomfort you'll experience a good part of the time. Our opinion is that despite all the above, we have no regrets. Seeing the Sahara with its dunes, and its sunrises and sunsets are something you will never forget.
You might also like some of the articles from our website about boondocking and travel.
5 Best Ways to Visit Techatticup Gold Mine In Nevada
12 Super Reasons To Visit Mount Charleston Nevada
10 Great Reasons to Visit The Valley of Fire Park
9 Great Hiking Trails In Red Rock Canyon
For complete photos and videos of our trip visit our photo on our Facebook Page
You May Want to Join Our Boondocking Group on Facebook For More Information