The Budget Norway Travel Guide includes 18 Important Travel Planning Tips that will allow you to see and do more on your budget. Learn how you can benefit.
Welcome to the Norway Travel Guide! Famed for its staggering rugged natural beauty, featuring fjords, craggy cliffs, and almost 100,000 square kilometers of tundra. Norway is one of those countries that deserves to occupy a category of its own. Outside of the handful of large cities and towns, visitors will almost immediately feel a certain kind of isolation that is unique even compared to neighboring Scandinavian countries. Given that approximately half of the country lies within the arctic circle, this is also the perfect country for experiencing the Northern lights, midnight sun, and the ubiquitous polar nights.
Wonderful as Norway most certainly is for visitors who like to brave the elements and explore some genuine wilderness, it is hardly the most accessible of countries. Norway can be astonishingly expensive to visit, although during the Ultimate Norway Travel Guide we will explore some options for the more budget-conscious traveler that may make it possible to do so.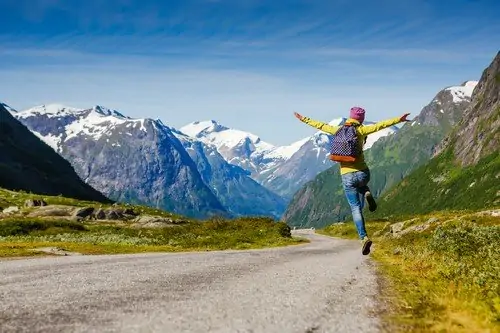 What Are the Best Places to Visit in Norway?
Not many visitors to Norway spend a great deal of time in the cities, although you should take the time to check out the surprisingly cosmopolitan capital Oslo. Most of the major museums are found within or around the vicinity of the city, and all visitors – regardless of their budget – ought to pick up a Visit Oslo Pass for free or heavily discounted admission to almost fifty attractions. The Nasjonalgalleriet features mostly Norweigan artists who unsurprisingly tend to favor their sweeping landscapes.
Alongside plenty of more worldly museums and attractions, be sure to take the short ferry ride over the Oslo bay to the Vikingskipshuset (Viking Ship House) museum for a superb exploration of that element of Norwegian culture and folklore. Be aware that as with many Oslo museums they tend to only open during the milder months!
Bergen, Norway's second city, really pushes the definition of 'city' – being what most people would consider a picturesque town cleaved into a staggeringly close mountainscape. If heading to Bergen from Oslo try and book a train – it takes seven hours but also runs through the beautiful Hardangervidda plateau. Upon arrival, look for plenty of museums and ancient marketplaces during your stay here, and chances are you will end up in Bergen at some stage given that it is the key hub for boat tours and larger cruises along the fjords.
For most visitors, Bergen is also going to be the best opportunity to try some classic Norweigan cuisine without needing to remortgage their home! The Norway Travel Guide highly recommends taking lunch at the fish markets for some reasonably priced catch of the day (especially those mussels).
Further to the north and you'll find the iconic Trondheim – long regarded as one of the most beautiful places in Norway. Narvik is a long way further north (this is a deceptively long country) and will take 24 hours to reach by train from Oslo. Lying well within the arctic circle, Narvik is perhaps the best place in the world to enjoy the peculiarities of perpetual sunlight or darkness depending on when you choose to visit.
Thanks to near-zero light pollution the Northern lights can be mindblowing and last for several hours at a time. As with other Scandi countries this far north, you'll have no shortage of alpine beauty to explore – ideally by husky or reindeer sleighs. Tromso – even further North! – is more popular with Norwegians and excellent for those interested and experienced in challenging climbing (you need to fly here in almost all seasons).
Something you will find when visiting Norway is that many of the most iconic sights tend to be squeezed into the itineraries of the various cruises and tours. Much as we would always recommend people try and visit attractions under their own steam, Norway is a rare exception where tours can offer far better value and make accessibility considerably easier. Even travelers willing to hire a car for their stay should be aware that it is prohibitively expensive to do so in Norway (€200+/day). Tours often incorporate both seaborne and road travel, which despite being expensive in their own right are – relatively speaking – decent value in a very expensive country to explore.
Other attractions throughout the country worth seeing should they fall within your path are Sognefjord – the most popular and features on literally every cruise, the Loften Islands, Waterfalls Valley, and plenty of others.
What Are the Best Things to Do in Norway?
We'd recommend choosing when to visit Norway very carefully as this is going to play a major factor in determining what you can enjoy while in the country. At any time of the year, you will be able to explore most of the wilderness – the Norweigan roads and rail network is unbelievably efficient – although those with a specific interest in snow sports and wilderness exploration may wish to choose their times more carefully (we'll cover this shortly). What we ate the Norway Travel Guide can say with 100% confidence is that visitors should expect to spend the majority of their waking hours outside – so remember to wrap up warm!
Europe is lucky enough to enjoy more than its fair share of beautiful countries but Norway is kind of on a different level thanks to its quite spectacular uniqueness. It is able to combine the awesomeness of the Alps – towering cliffs and peaks that stretch literally for hundreds of miles – but with vast archipelagoes and swarthy coastlines too. unlike neighboring Sweden, it is not absolutely coated in trees, so expect your views from summits to be considerably more varied and interesting.
Few sights compare to being on top of a mountain and looking down far below towards isolated fishing villages and mountainside hamlets, characteristically decked out in the Norweigan fashion.
We have already discussed how tour guides/groups can be very useful in helping visitors to make the most of their time in Norway. The same can also be said of Oslo and Bergen. With the capital museum pass, you also gain free use of the tourist buses that run everywhere worth seeing in the city – making for a huge saving on transportation costs. Take the opportunity for a walking tour that ought to stretch out for most of the day to learn more about the history and culture of this otherwise rather swanky and modern destination. Bike tours through the cities are a common sight and a perfect way of getting about too.
Perhaps the most important thing that visitors to Norway ought to bear in mind is that the country demands a little more planning compared to other European destinations. It is not like France, the UK, or Germany in the sense that you can cover long distances in just a few hours. Getting from Oslo to the far north will take days by train – and you ought to decide before you arrive where is best for you to focus your trip.
Many visitors tend to cruise up the beautiful fjords and into the arctic circle – perfect for those who like to see the sites and are not worried too much about the lack of flexibly that inevitably follows. Thanks to healthy competition the prices are not quite as outrageous as you may anticipate.
More adventurous visitors who have the budget to explore at leisure will find long stretches inland where there really is very little in the way of human habitation. When it comes to wilderness easily accessible from near-empty yet world-class roads, Norway is once again truly exceptional. Skiing is naturally a huge deal in Norway and the country offers a host of famous sites and slopes. In some parts of the country you can enjoy snow sports throughout the year, with slopes only closed for occasional maintenance and to give the attendants a well-earned rest.
When is The Best Time to Visit Norway?
'High season' between June and late August is pretty much the closest Norway gets to becoming a tourist destination. The climate can vary between warm/mild and sunny/rainswept and can always vary at just an hour or twos notice. Accommodation is cheapest at this time of year with many seasonal guesthouses and hostels popping their doors open – although take that definition of 'cheap' very carefully. That being said, Norway is a popular place during these months and you seriously ought to book your beds and travel tickets far ahead to beat the crowds.
Shoulder season is roughly a month or so either side of the high season and prices can again be pretty reasonable with popular sights and destinations a little less crowded. The weather is usually reasonable but carry a waterproof and a warm layer of clothing just in case. There are plenty of popular festivals around this time of year with Midsummer usually following just inside the shoulder season. Accommodation prices will rocket over these particular days.
October through to April is considered low season throughout much of the country although for parts of the far north this can be their busiest time of year. Expect plenty of snow and very cold temperatures. Many popular attractions – even in cities – will close over this period. All that being said, this is the time of year to look for bargains especially for organized tours of the fjords and inland regions.
Do I Need A Tourist Visa in Norway?
Norway is a straightforward country to visit for most people even though it is not within the EU. Those from Sweden, Finland, Iceland, and Denmark can enter without even their passport. EU citizens and those from Schengen countries can stay from 90 days without a visa but will require a passport. The exact same applies to those from an extensive list of other 'approved' countries including the USA, Canada, Australia, NZ, Japan, and Israel.
Tourist visas run for 90 consecutive days although it can be easy to extend upon arrival providing you can prove you have the means to support yourself (a separate visa is required for those conducting work/business).
Do U.S. Citizens Need A Visa for Norway
U.S. citizens do not need a visa to enter Norway, which simplifies entry into the country; however, a passport valid for at least six months past the planned date of departure is required.
What Currency Is Used in Norway?
The Norwegian Krone (NOK) is the national currency and exchanges at around 9 NOK = 1 USD.
Money should not cause any difficulties in Norway – providing you have enough in the first place! ATMs are not quite as widespread compared to many other European countries but you can use your card pretty much everywhere. In the experience of the Norway Travel Guide, you could quite reasonably expect to not need any cash whatsoever during your stay in the country, although a little for casual expenses is not a bad idea.
Visitors ought to be aware that almost everything closes in Norway on Sundays – including supermarkets, banks, and a large proportion of attractions. That is enforced by law and applies to every business operating from premises over 100sq meters!
Make sure your banking provider offers good value exchange rates and low commission charges during your stay in the country, especially when you intend on using your card a considerable amount. Note that traveler's checks are rare in Norway and you will only be able to change them at banks (typical rip-off 'change bureaus' barely exist).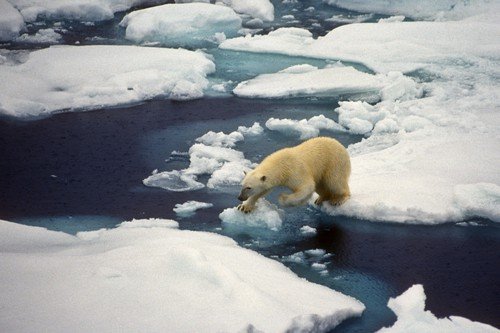 Do I Tip In Norway?
Chances are that by now you might be wondering how on earth Norwegians manage to afford their high prices. While the country does not operate any official minimum wages, the country's industries have negotiated collective minimums themselves. Waiting staff in Norway are paid a minimum of US$20/hour, cleaners are paid US$22/hour+, and so on.
While pay is always relative to the cost of living, these high minimum rates mean that tipping is rare despite service standards being very high. Tourists may still feel free to tip at their own discretion but nobody is going to expect it. As a general rule you should reward servers with a token tip – perhaps just round up the bill – for exceptional quality.
What Kind Of Budget Do I Need In Norway?
While the Norway Travel Guide is not going to pretend that this is a remotely cheap place to visit, there are certainly ways that the canny visitor can save some serious dough. That being said it is simply unrealistic to expect to 'see' Norway from top to toe without accepting some level of serious expenditure. The distances and cost of living are simply going to bite into anyone's budget. What you can expect from Norway is a general very high standard of quality that can become almost a little to easy to get used to. Prices are high but you will get what you pay for – the problem is that there are usually no cheaper alternatives!
Here is what we at the Norway Travel Guide would broadly suggest you should expect from a variety of different budgets. As ever, there are ways of cutting costs here and there.
Budget (1500NOK/day)
Pretty high for a minimum budget, right? Remember we did say that this was going to be realistic! There is a degree of leeway here, especially if you visit while the weather is warm enough to camp or find a bargain using social media or Airbnb etc. But for the average budget visitor that is a fair estimate that includes proportions of travel costs for seeing all parts of the country.
Hostels are often pretty good value at between 250-400NOK/night in a dorm room. Just book massively in advance because you most certainly will not be the only person looking to explore Norway on a budget. The Norweigan countryside has plenty of hiking lodges that serve as a variant of typical hostels and usually include at least one substantial meal. Expect to pay a little more for these (approx 600-700NOK), excellent value compared to a standard hotel.
In Oslo make sure you pick up a multiple attractions ticket for about 500NOK assuming you wish to check out the key attractions and plenty of secondary ones. The included free travel is worth it alone, and remember that most attractions do charge pretty hefty individual prices. Make use of student discounts and concessions where applicable.
The real budget-killer in Norway is going to be the price of sustenance. In most countries, you can get by eating cheap supermarket sandwiches and supplemented with occasional discount restaurants. Not the case in Norway where said sandwich will cost about 100KR+ and a cheap meal easily two or three times that price in a seated establishment. Cheaper options exist everywhere but in a comparative sense, they are still very pricy. We'll cover travel shortly but for now, it is important to understand that this is an expensive country and that if you plan on visiting on the cheap you need to plan well ahead, be organized and flexible.
Mid-Level (2000NOK/day)
Remember that accommodation is weirdly cheaper during the high summer season. A decent hotel can be found in those months for 'Swedish prices' – not cheap but hardly excessive at say 1000NOK/night. Assuming you are sharing that is OK, but expect prices to go up significantly out of season and especially in more remote regions. It is not unusual for a room in Narvik to cost twice the Oslo rate.
On this budget, you still ought to make the most of the savings we have discussed so far, and you will unlikely be looking at car hire unless sharing with a group. That being said your budget will allow for a good quality restaurant meal each evening – about 400-500NOK and perhaps even lunch at cheaper places too.
You really ought to be looking to spend the excess on a multiple night tour of a specific part of the country. Cruises range in quality and the competitiveness between the operators can result in some pretty decent discounts. Be sure to look for those which also include meals as well as a cabin (interior options are generally 30% cheaper). While you may not have much spending money these are an excellent way to see much of the best of Norway in relative comfort and ease.
Interested in viewing the Northern lights and experiencing some real arctic circle isolation? Your budget will stretch that far – just – assuming you book in advance and plan your spending carefully. Buy train tickets for longer journeys in advance and look for seasonal overnight trains including sleeping carriages and compartments. These are by no means cheap but allow for a quite spectacular experience and some stunning views. Try and pick services that include observation cars.
High-End (3000NOK+/day)
In all honesty, this budget will be enough to cover superior – but not necessarily five stars or boutique – hotels, but will allow you to eat very well and enjoy plenty of the best Norway has to offer. Be sure to take in activities such as dog sleigh tours and perhaps look to stay in one of the various ice hotels dotted throughout the more remote places. They may have become something of a Scandanavian standard in recent years but in the opinion of the Norway Travel Guide, this country still has the original and best!
Given the near-universally high standards on transport and accommodation, you really do not need to spend more for first-class tickets or suchlike. Instead try and apply your additional budget towards those expensive little extras such as ship cabins with a view, unique activities, and maybe consider internal flights if they are an option and time is short. Car hire is an option but do weigh it carefully to decide whether it is worth the expenditure and effort of long-distance driving.
Ski lodges of your choice will be accessible within this budget. Norway has a handful of truly exclusive resorts that are akin to the French and Swiss prices, but mostly the prices are quite reasonable given the wages that local people earn. Remember that Norwegians are expert skiers (it is taught in schools) so slopes may be a little more 'advanced' than you expect.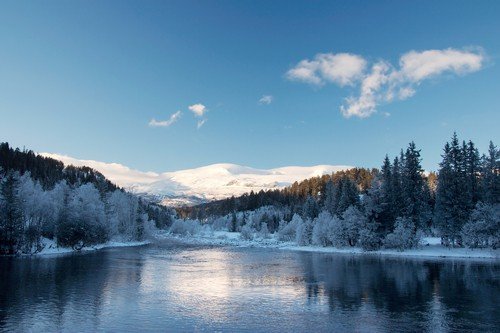 What Languages Are Spoken in Norway?
Norwegian is the national language but you'll discover that pretty much every Norweigan speaks English to a conversational standard. Only very old people may struggle to understand more complex words and phrases. So you really will have no problem whatsoever getting by with language in Norway, and certainly not cause any offense by approaching and asking questions directly in English (just be polite when you do so).
English language media is popular throughout the whole of Scandanavia and arguably even more so in Norway. It is not unusual for their main TV stations to broadcast English language shows and movies at prime time, often without even any subtitles.
What Religions Are Practiced in Norway?
Norway is a Christian country with about 72% of the population considering themselves Lutheran. While the Church of Norway was only made completely independent from the state in 2017, you'll notice that most Norwegians keep any religious sensibilities very much to themselves. Those who wish to practice any faith are welcome to do so, but otherwise, this is a very secular country.
It is worth noting that a fair amount of the Norse tradition celebrated during multiple festivals every year have their base in Nordic religions. While these have mostly died out in any sense of actual worship nowadays, the northern Sami people do still practice some of these on a more regular basis.
Norway is a surprisingly cosmopolitan country in some ways and you will find small pockets of less common religions in most cities.
Practical Tips From The Norway Travel Guide
We hope you have found the Norway Travel Guide informative so far, and now we shall take a closer look at some of the practicalities of enjoying your stay in Norway. This really is one of the most interesting countries to explore in Europe for those with a genuine interest in the outdoors.
Take the time to read up on the extensive wildlife and birdlife that you will see throughout your time visiting. Time your arrival right and you could witness the annual Varanger bird migration, check out the Elk routes in the south (if you believe the Norwegians they consider this the Elk highway…), marvel at herds of thousands of reindeer and so much more. Make no mistake, there is far more to appreciate in Norway than just enormous mountains and beautiful fjords. So try and learn a little in advance of what to spot and look out for.
Norwegians are generally a considered group of people who share a friendly competitive streak with the rest of their Nordic associates. Winter sports are a massive deal and the country may barely care when the Summer Olympics are being held, but when the Winter Games the nation tends to go a little crazy!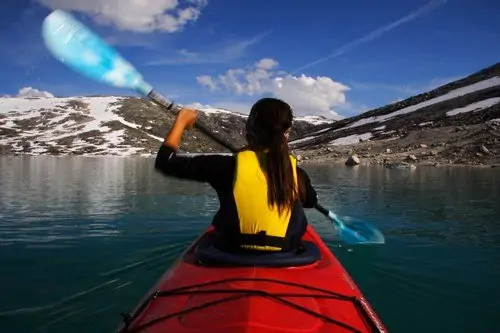 What About Health and Safety in Norway, Is It Safe?
Norway is regarded as one of the safest countries in the world and as a visitor, the chances of you becoming a victim of any crime are incredibly low.
Visitors ought to appreciate how the weather can suddenly change when they are out hiking and exploring. Warm clothing and waterproofs are essentials at pretty much any time of year, as are good boots and a basic level of fitness and navigation skill. Keep an eye out for sunburn during the warmer months and make sure insect bites are properly cared for – especially ticks. Scarier wild animals such as bears are found in many regions but most Norwegians will never so much as even see one.
As for healthcare, Norway has world-class facilities that will look after you if you are sick or injured. EHIC holders may still need to pay for a service fee, and those from elsewhere should make certain they have adequate insurance. Make sure that includes cover for skiing and mountaineering if applicable.
You ought to always pack enough medication for your stay in any European country, but if you lose your prescription you will again be in good hands. Chances are you will need to visit a doctor for a prescription and understand that this may not be included in your insurance and can be extremely expensive. Many medications may not be the same brand as you are used to, but again that applies to almost all European countries.
Tap water is safe to drink (and very tasty!) so save yourself a few dozen Krone by refilling a bottle as you go.
What is the Best Transportation in Norway?
The Norweigan transportation system is a little short of a modern-day marvel. Rail, bus, and ferry services are usually timetabled to handily connect with each other so in terms of efficiency you are going to be simply blown away. The rail network stretches as far north as Bodø and most people visit Narvik from the Swedish side. Trains are universally comfortable, clean and orderly with plenty of handy conveniences such as buffet cars and wifi.
As you may have guessed, tickets are quite steep but not as crazy as the most pessimistic reader may have presumed. Check for discounts and passes where applicable and always book online and in advance to find the cheaper fares. Even if these are available online the same ticket may not be available for purchase at the actual station. Note that for very long distances it can be better value to fly, but of course, there is the knock-on environmental cost of doing so.
Buses are a solid choice when it comes to traveling about the interior with routes that stretch the whole country. Rather amazingly they are just as comfortable and efficient as the trains – with tickets that are generally very good value, especially on better-traveled routes. Plenty of Norwegians travel by bus instead of the train so you'll tend to find that intercity routes are located in very well signposted terminals in central city districts.
Tourist Offices will help you arrange travel and find the best prices, plus also help you choose the more scenic routes. Make sure, once again, to apply any discounts – these can be a little complicated and vary by operator.
Ferries are an outstanding option for seeing the fjords while getting from A-Z and are once again not quite as expensive as you might have assumed. What better way to travel the coast than checking out some of the most sensational scenery in Europe from the comfort of the observation deck?
There are a wide variety of operators and services. Some are focussed on speed while others look to cater to the more tourist side of things. Plan your route quite carefully here and you can enjoy pretty much the same quality of views that you would enjoy on a cruise at a considerably cheaper cost.
As mentioned already driving is an option for those who can afford it. Norweigan roads are outstanding quality – they need to be given the climate and terrain – but journeys can also be quite long. Do not entirely trust the estimated times you'll see posted on road maps – they are for people who will not feel obliged to stop every fifteen minutes to take in the invariably gorgeous views.
Internal flights are pretty well established within Norway and the routes from south to north are mostly filled with people working within the oil industry. It can be a cost-effective way of hopping from one end of the country straight to the other, but only those with seriously limited schedules should really consider it. You'll be missing out on many of the most beautiful sites.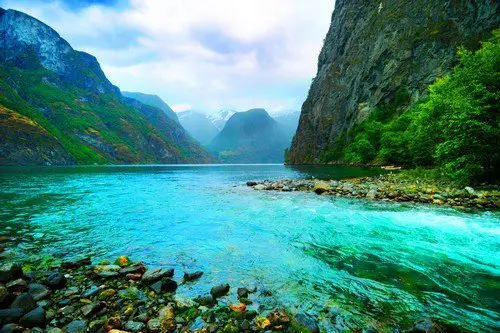 What Are the Best Accommodations in Norway?
Something you will find when looking for a place to stay in Norway is that the overwhelming majority of the accommodation market is comprised of middle-of-the-range hotels. While there are some hostels (and cabins/lodges) throughout the country they are far fewer in proportional terms than most other European countries. Should you be lucky enough to find a bed, then prices are generally speaking excellent value. Anyone intending on saving this way during a visit to Norway should book far in advance – possibly even by setting a reminder to inquire about future dates the moment they become available.
Most people are going to need to pay for a hotel – and it goes without saying that sharing your room/bed is the way to go. Single travelers needing a private hotel room are going to be at a considerable logistical disadvantage. Keep an eye out for deals during the busier seasons (when many people choose to camp instead) and look towards private bookings online. Airbnb and others have a decent presence in some parts of Norway but nowhere near as many as some other nearby countries.
Wherever possible try and book your accommodation when it also includes meals and perhaps even discounts on ski passes and so forth. You may have rightly presumed from the travel section above that Norway is a highly integrated country and it is not unusual for some hotels to partner-up with attractions, restaurants and so forth to attract more custom. Weigh these up when considering which options are going to provide the best overall value.
While finding somewhere to stay in Norway is not cheap, it need not be so much different compared to the big-city prices you'll find throughout Europe. We at the Norway Travel Guide would estimate that across the board accommodation costs are about 25% more than in Germany for instance. Book in advance and be openminded with your choices and you can narrow that gap by a fair amount.
How Can I Practice Responsible Tourism in Norway?
Despite their large oil industry, it may surprise you to learn that almost all of the country's electricity is generated by hydroelectricity. Norway is very proud of its natural splendor and ranks routinely as one of the greenest countries on earth. Visitors are expected to entirely conform to this and obey their very strict rules on recycling (even public garbage cans have different compartments), public cleanliness, obeyance of countryside laws, and very much adopt a 'leave no trace' approach to their outdoor pursuits.
Whaling is a tricky issue in Norway and responsible visitors should try not to engage in anything to do with it. Norwegians are aware that the rest of the world takes a very dim view of this practice – so they do not like being called out on it, especially when only a small minority of the population participates. Talking of minorities, the rights of the Sami and their territories is a hot political issue. Nobody is quite sure which territories belong to which Sami, or where the border ought to be drawn. As a visitor, it is best not to involve yourself in this topic. Just be aware that the Sami do not like being photographed without their permission.
What Food Should I Try In Norway?
Norweigan traditional food is something that may put off even the most adventurous palates, with attractions such as pickled shark and bizarre cheeses frequenting numerous lists of the world's most disgusting! But we at the Norway Travel Guide are happy to inform you that many popular Norweigan meals are actually rather delicious.
You may well start the day with a coffee and Lefse. These are rolled flatbreads seasoned with butter, sugar and a hefty dollop of cinnamon then rolled up into a kind of cigar tube. Delicious hot and ideal for saving for a mid-morning or lunchtime snack, these are just the right fuel you'll need for a busy day ahead.
Klippfisk is one of the best – and most easily accessible – forms of pickled fish that are popular throughout Norway. Usually made from salted and pressed cod (although many places serve a 'catch of the day' variety) these little parcels are then coated in creamy mashed potato. Rakfisk is a similar specialty and made from fermented trout.
Bergenske fiskesuppe is a deliciously creamy and decadent fish soup made with smoked fish varieties and extra egg yolk. Sometimes compared to bearnaise varieties, it is one of those dishes that you simply must try in the country.
Despite the heavy focus on fish, you should have little trouble finding a variety of foods available wherever you go. Often the more affordable restaurants are those which focus on vegetarian or vegan alternatives. Look out for Nepalese curry houses for invariably excellent food at bargain prices.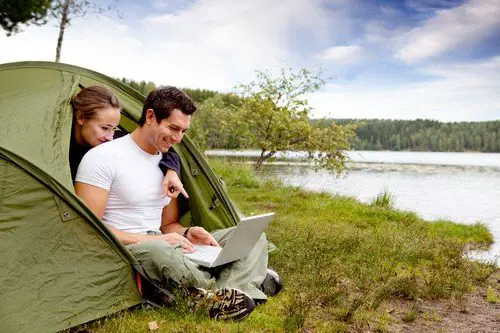 What Should I Pack for A Trip to Norway?
You should bring a good variety of clothing suitable to what you intend to be doing during your time in Norway. Wearing outdoors waterproofs will look a little out of place in modern Oslo, much like a summer dress and willowy hat isn't really appropriate for Narvik. Clothing – especially high-quality outdoor wear – is very expensive so bring whatever you may need with you. The same goes for tents although ski hire and even lift passes are not ludicrously expensive.
Smaller items such as insect repellent and general toiletries are easy to find throughout the country.
What Clothing Should You Wear In Norway?
Much as we have just discussed you ought to dress in a style suitable for the weather of the area you are going to be touring. That can be easier said than done given how quickly the forecasts can change, so try and focus on durability for outdoors and a few nicer items for casual city wear.
Most Norwegians are a little less fashion-focussed that other Nordic countries (looking at you Sweden!) but it is appropriate to be well dressed when heading out for the evening. One of the reasons why restaurants are very expensive in Norway is that they are saved for very special occasions – so do your best to look quite smart. Otherwise, you can wear whatever you like.
What Clothes Should You Wear In Norway?
We are almost at the end of the Norway Travel Guide and hope to have provided you with an informative introduction towards what you can expect from this stunning country. Norway can most certainly be one of the trickier countries to explore on a budget, but with a little out of the box thinking combined with some resourcefulness and planning, anything is possible.
Given how pricy it can be you are well-advised to have a pretty thorough itinerary in mind before you arrive as this is an expensive country to dawdle! The south and westerly (fjords) regions are accessible and straightforward, while the more northerly parts can be the absolute opposite. Wherever you go in Norway, just expect to be absolutely amazed at how incredible the scenery, nature, and wildlife are throughout. It really is a very special place.
What Are Some Interesting & Important Facts About Norway?
Before we sign off this Norway Travel Guide, we'll leave you with a few interesting little facts about this country and the more peculiar aspects of the Norweigan national character.
▸ Leif Eriksson discovered America 500 years before Columbus. He just didn't brag about it.
▸ One of the most photographed places in the country is a village called Hell.
▸ You can travel from Norway to North Korea and only pass through Russia.
▸ Remember we mentioned that the Winter Olympics are a big deal in Norway? It's because they win almost everything.
▸ Norway is estimated to have almost half a million lakes. Someone must have become bored with counting.
▸ Salmon based sushi was invented by the Norwegians.
▸ Norway tops the UN list for global development, no doubt thanks to that $1trn national trust they have stashed away.
▸ Don't expect your wealth to be a secret though. All personal wealth, income and assets are fully publically accessible.
▸ There are actually two different versions of Norweigan – as if one wasn't tricky enough.
▸ Norway once upon a time decided to make a penguin a Knight.
We hope you enjoyed reading the Budget Norway Travel Guide – and good travels! Contact us with any questions you may have about travel to Norway.
You might also like some of the articles from our website about boondocking and travel.
5 Best Ways to Visit Techatticup Gold Mine In Nevada
12 Super Reasons To Visit Mount Charleston Nevada
10 Great Reasons to Visit The Valley of Fire Park
9 Great Hiking Trails In Red Rock Canyon
For complete photos and videos of our trip visit our photo on our Facebook Page
You May Want to Join Our Boondocking Group on Facebook For More Information