Budget Belize Travel Guide includes 18 Important Travel Planning Tips that will allow you to see and do more on your budget. Learn how you can benefit.
Welcome to the Belize Travel Guide! Tiny Belize has long lived in the shadow of its more famous Central American neighbors but is now widely being touted as one of the 'next big things' in global travel. That was not likely come as much surprise to those who have already traveled to this country. Belize offers some sensational attractions with a close to perfect combination of a tropical, wildlife packed jungle interior and some luscious low lying beaches along an inviting coastline.
Throw in some of the best – and least visited – Maya ruins, eco-resorts, and cave systems in the world and you have a country with rare amounts of untapped potential for adventurous travelers.
Belize is far more safe and stable compared to just a decade or so ago, and the majority of visitors report that it is considerably friendlier and certainly more 'genuine' compared to many of its more successful neighbors. The Ultimate Belize Travel Guide will explain why this country deserves so much more exposure – and why independent travelers could well be at the heart of the next chapter of this nation's development.
Budget Belize Travel Guide – What Are the Best Places to Visit in Belize?
Belize could quite reasonably be considered the 'home' of eco-tourism. More worldly travelers have been enjoying the country's practically untouched natural wonders for decades – and in some ways, this degree of secrecy over the qualities that exist here adds a layer of additional mystique to the country (and perhaps makes some also shy to visit). Belize is not the kind of country where visitors should expect everything on a plate. Besides a handful of super-developed resorts catering to high-end visitors and passing cruise line traffic, tourist infrastructure is pretty light on the ground.
For some people that may be an issue – but the positive news is that thanks to its small size actually getting around Belize is considerably easier than most visitors assume. With a degree of prior planning, this is a country where you really can scuba dive in the morning, explore ruins in the afternoon, and relax with a sundowner marveling at the staggering natural wonders around you.
Most international visitors will arrive in Belize City (use the word 'city' lightly) and should start their adventure with a visit to the Museum of Belize. Hosted in the country's former national prison this mid-19th-century redbrick building charts the eclectic history of Belize in rustic and impressive style. It is an essential 'first stop' for those looking to enjoy a culturally minded stay in Belize with plenty of discussion of the country's Incan, slave trade, and more progressive modern history.
As with plenty else you'll find in Belize it's pretty small and understated, so spend the rest of your time in the capital check out the spectacular Goff's Cave for some world-class scuba, and take a water bus out to the equally postcard-perfect Half Moon Caye National Monument. We highly recommend taking in the Carribean Colors Art Gallery if you have the chance – it's one of the rare examples of eco-sound dining you'll find anywhere in Central America with some outstanding local artworks too.
Chances are that after a couple of nights sampling the sometimes rather indulgent and hedonistic Belize nightlife you'll feel the need to stretch those cultural muscles – and where best to start than with a visit to the legendary Xunantunich ruins? It is easily the best developed and most accessible Incan site within the country – and a perfect taster for what the country has to offer.
Make no mistake, if these ruins were homed in a more visited country they'd be truly world-famous – so take the opportunity to savor the relative tranquility and atmosphere of this amazing site. Nearby Caracol offers more of the same with a higher 'jungle to ruins threshold' that if anything makes the experience even more memorable.
Our advice would be to look to spend a few days between these two sites and allow for some downtime between them by checking out the nearby nature reserves. Try and check out the Living Maya Experience if you are staying locally – it's amazing and nowhere near as 'touristy' as it sounds!
When it comes to scuba and marine life experiences Belize is certainly one of the best destinations throughout the Americas. Ambergris Caye is a good alternative to the sometimes crowded spots directly around Belize City with most visitors opting to stay in close by San Pedro for some added beachside tranquility. It is a great alternative to similar locations which have been basically bought-out by the large cruise lines for the exclusive use of their passengers.
On this note – we highly recommend that independent travelers spend as much time as possible taking up locally run services, tours, and so forth during their stay. The fledgling Belizian travel industry needs that kind of grassroots investment to really thrive and enhance living standards within the country. So far only a tiny proportion have benefitted from the upsurge in visitor interest over recent years – so do your best to spread that wealth where possible.
Placencia Lagoon is well worth a visit should you find yourself on that stretch of the coastline – it still maintains some of the best reefs and corals you'll find anywhere in the region. Travelers who are willing to leave the comforts of the beach and head inland into the sometimes daunting jungle will be extremely well rewarded. This country is massively proud of its natural heritage and as mentioned previously is one of the most progressive and protective of its native species anywhere on the globe.
Chiquibul national park is probably the easiest overall introduction to the forests and we suggest using the local expert guides to make the most of your adventure. Once you have acclimatized (and likely become amazed at how casually gorgeous this country happens to be) step up to Corkscomb Basin for some jaguar spotting, Payne's Creek for some eco-travel camping under the canopy, and Sarstoon Temash for some seasonal bird watching.
The fact that we've barely had the opportunity to mention the dozens – perhaps hundreds – of smaller incidental places well worth visiting in Belize tells its own story. For such a small country Belize is basically packed with essential sites – and using local tour services is the best way of unlocking them in anything approaching a logical and comprehensive manner. Travelers who love to roam and trust a little to luck will find they continually hit the jackpot in Belize – it is a country where you really can't go wrong.
Budget Belize Travel Guide – What Are the Best Things to Do in Belize?
You've probably already guessed that Belize is one of the best places in the world for visitors who like to add plenty of variety and spontaneity to their adventures. It is one of those places where you can quite reasonably stop for thirty minutes between destinations to climb a waterfall or peek your head inside a staggering cave network (don't go roaming about without a guide!). Our advice is to allow for considerably more time in Belize that you may expect if you are visiting as part of a regional expedition.
Two weeks is probably the minimum for making the most of the coastline and fully checking out the ruins and natural wonders. Those who are visiting as a unique trip should aim for about the same and perhaps look towards eco-themed visits. As we'll discuss later in the Ultimate Belize Travel Guide the options here are really impressive!
Our advice for the coastal regions would be to check out as much as possible, but don't feel 'obliged' to just stay at popular Placencia or San Pedro. As with many other places, those who make the effort to head a little further out will discover some amazing and far less busy options for their sun-drenched leisure time! Hopkins is an excellent example of this – you'll fall in love with the small village feel while having long stretches of sumptuous beach pretty much entirely to yourself. The somewhat unimaginatively titled 'Secret Beach' further up from Ambergris Caye is another solid option, as are Kolo King close to super-chilled out Caye Caulker.
Everyone should try some diving while in Belize – and don't worry about safety or professional standards. Providing you use accredited and official dive masters you'll have no problems exploring the shallow depths around the amazing Hol Chan Marine Reserves (it even has shipwrecks and reef sharks!), while those who like to plunge a little deeper will be dazzled by the diving at Turneffe Atoll and Glover's Reef. Something experienced divers will appreciate about Belize is the considerable lack of environmental pollution – the water is pristine with close to unparalleled visibility really helping bring those colors to life.
Tempting as it can be to just hang around the coast, you really ought to head inland to see 'real' Belize. Take a trip to the Actun Tunichil Muknal cave network for some breathtaking subterranean adventures packed with additional Maya flavors. If you get the 'caving bug' then a trip to Nohoch Che'en Archeological Reserve provides a rare opportunity to even explore by canoe – and trust us, it doesn't get much more atmospheric than that. The same is also the case at Barton Creek, while if you want the network pretty much to yourself (and your guides) then try and venture far out to Blue Creek if you have the opportunity.
You'll simply be blown away by the natural wildlife throughout Belize – it is actually tricky to not find yourself inside a national park for long stretches of the country! Without listing all the options our standout favorites would have to include the Rio Bravo Conservation for the sheer variety (anything from wild turkeys through to actual turkey vultures!), Cockscomb for the rare chance to spot a jaguar (likely watching you from a safe distance), and the Baboon Sanctuary for all the obvious reasons.
Almost all of these are run at least partially by dedicated charities so do your best to support them as best you can – a good number provide secondary services such as bunkhouses, guided tours, cafes, and so forth.
Throw in the small matter of a wealth of utterly unspoiled Incan ruins – you genuinely can have the opportunity for your guide to just take you off the beaten track to a site that nobody has visited in years – and you'll hopefully have a good picture of how amazing Belize rather secretively happens to be. Throw in some fantastic nightlife and you have, for many people, what would be one of the absolute highlights of anyone's Central American adventure.
Budget Belize Travel Guide – When is The Best Time to Visit Belize?
Timing when you visit Belize is pretty important. We'd generally advise against visiting between June-October as the country tends to experience heavy rain, the occasional hurricane, and plenty of key attractions close down for a break. On the flip side, those already fantastic prices drop even further, and if you time it right/get lucky it can be an amazing time to visit if you want to have the country pretty much to yourself. But it'll probably be wet and quiet in the wrong ways!
Most people instead choose to visit somewhere between January and April. Temperatures are high but not utterly overwhelming, days are clear, and Belize is firmly open for business. The drawback is that prices increase quite substantially especially in the popular eco-resorts and scuba/snorkeling hotspots. It can seriously add 50% to the cost of your visit so our advice would be to aim for either side of this 'peak season' instead. Chances are you'll find good (if somewhat humid) weather in November and May, attractions will all be open, and visitor numbers substantially lower.
Budget Belize Travel Guide – Do I Need A Tourist Visa in Belize?
Belize is open for business and the vast majority of visitors will be welcomed with open arms! Providing your passport is valid for at least three months after you arrive visitors from pretty much anywhere will be provided with a 30-day tourist stamp. That is easily extendable on a monthly basis by visiting the half-dozen immigration offices dotted about the country.
Theoretically, visitors can be asked to prove they have funds to cover their visit but we are not aware of that ever actually being applied to first-time entries. Check the entry restrictions before you travel as these are liable to change suddenly throughout this region, but don't anticipate any problems whatsoever being allowed to enter the country.
Budget Belize Travel Guide – What Currency Is Used in Belize?
The Belize Dollar (BZ$) is relatively stable at the moment and at the time of writing exchanges rather handily at BZ$2 = $US1. The currency is pegged at this rate so don't anticipate any major changes but you should always check this out before you travel as a matter of course.
Money is easy enough to handle in Belize but you ought to make sure quoted prices are in local dollars and not USD for obvious reasons. Haggling is rare in the country so expect to pay the listed prices besides the occasional casual group discount or reduced prices for longer stays.
As the country has started to attract more worldly visitors prices have substantially increased over recent years. It is still an absolute bargain – especially if you aren't too picky/fussy – and it is straightforward enough to keep control over your spending. ATMs are common (4 digit Chip & PIN) and you'll have few issues using credit cards in most cities and resorts. Internet access is much easier/more common than most people assume so expect no problems managing your money online.
We'll discuss personal safety later in the Ultimate Belize Travel Guide but it is worth mentioning at this point that the overwhelming majority of crime in the country is property/money led (more commonly scams/bag theft instead of mugging). Use a secret wallet/money belt as a matter of course and keep cash in different places. Do not withdraw more than you need to get through three or four days at most.
Budget Belize Travel Guide – Do I Tip In Belize?
Belize doesn't have much of a tipping culture (you won't see many locals doing it) but we'd still recommend visitors leave a 10% gratuity on restaurant meals, change on cab/porter fares, and keep an eye out for semi-obligatory daily tips for most tour guides. As briefly mentioned above there is considerable disparity on who makes most of the money in Belize's fledgling tourist industry, so leaving a little extra for the service workers is going to genuinely boost their income and make a difference. Considering how low prices are we'd recommend you tip unless the service standard is disgracefully poor!
Budget Belize Travel Guide – What Kind Of Budget Do I Need In Belize?
You'll quickly notice that Belize currently appeals to three pretty distinctive kinds of visitors. On the first hand, you'll have the massive cruise liners that rarely make much effort to actually take people far inland. A good number who step foot inside the country only visit line managed sites (meaning barely any of their money stays in the country). Assuming that the majority of our readers aren't considering such an 'experience' we'll skip that category for now!
Inside Belize itself, you'll be able to get by on a shoestring budget providing you are careful where you spend your money. If you are a confident and experienced traveler you can stay in Belize for a long time on a BZ$50/day budget – most will be looking at around twice that figure. At the other end of the market, the upscale eco-lodges can charge prices that you'd expect to see in the wealthier Latin American countries – BZ$300/day and up is the norm.
So as you can see, you ought to expect a degree of contrasting visitor experiences in Belize and the good news is that both are excellent. Here is a very approximate breakdown of what you can expect for three budget tiers:
Budget (BZ$100/day)
Fifty USD/day is enough to easily get by in Belize that'll cover the basics with money to spare. The key factor is deciding where you spend that excess – tours/activities/adventures can become quite expensive pretty quickly, especially once you have factored ins secondary expenses such as travel, tips, and equipment hire. Basic lodging – and we're talking campsites and the most basic hostels – can cost as little as BZ$5-10/day.
Hotel doubles start at closer to BZ$60 and prices vary depending on where you are in the country and during which part of the season. Food is universally cheap and often great quality. If you mix it up between street food, convenience stores, and some self-catering you'll not need to break BZ$15-20/day. That is slightly more expensive than usual for the region because most food tends to be imported in Belize – but should still not break any budget!
Getting around is also amazingly cheap. Practically no bus journey will set you back more than BZ$10 one way. If you are happy to spend plenty of time lounging on the beaches, roaming about the ruins, and generally not spending much you can easily get by in Belize for next to no money whatsoever. But what about those activities?
This is the big difference as you'll really need to take a good number of these to make the most of your stay. Prices aren't absurd – if anything they're still great value – but they will compromise anyone's plan who hopes to 'do Belize' completely on a tight budget. A day out caving or snorkeling will cost anywhere between BZ$80-200. Day tours of local relics/ruins cost about BZ$50 or so including transport.
Mid-Level (BZ$200-500/day)
Ask any local tourist expert and you'll discover rather quickly that this is the kind of visitor that Belize is desperate to attract more of. Realistically speaking, those within this price bracket aren't necessarily demanding amazing lodgings but want to cram their days full of the best experiences – and can afford to pay for those privileges. For that reason, we have set the price boundary for our mid-market visitor at such extremes.
A good hotel, let's say one with an en-suite bathroom and perhaps a beach view, will start at BZ$200 and most likely reach up to BZ$300 at peak season. Eco-lodges are around the same, perhaps 10-20% more in the most desirable spots. Not many visitors would rate such prices as being 'cheap' – especially when backpackers down the street will be spending a fraction of that amount. But that's what you pay for a clean pool and hot running water in Belize.
Once again – dining is astonishingly good value. A big night out with drinks and a lavish meal at a top restaurant will rarely cost more than BZ$50 or so. Cabs are a handful of dollars for a local trip. The big difference is going to be those experiences as they tend to mostly come as 'standard packages'. No matter if you're staying in luxury or camping out under the canopy, you'll be paying the same amount of money to dive the same reefs. More exclusive trips are available and can cost north of BZ$300/person and that is entirely at your discretion.
High-End (BZ$300-800+)
Splash out around BZ$350-450 for the best resorts and you'll find all-inclusive fine dining, private beaches, and frankly, never need to leave. But what kind of fun would that be? The big difference when it comes to accommodation is that such an additional bankroll basically unlocks all the finest, most unique, and utterly spectacular eco-lodges throughout the country (they really are incredible).
The best will cost the most and often include guided tours and experiences as part of the package – quite handy if you want to be ferried about in a safe and convenient manner, and frankly there's nothing wrong with that. The key factor here is that with that level of expenditure you should anticipate one of the best travel experiences you'll ever have. Belize is amazing and with that spending power you'll have a fantastic – and hopefully very responsibly minded – time in the country.
Take your pick of the tours – perhaps consider the uber-exclusive wildlife tours, private ruins tours, wildlife safaris and so forth depending on your personal interests. We don't recommend you hire your own car in Belize – it isn't worth the hassle – but you can hire drivers for the day with a vehicle for about BZ$200/day plus fuel. You'll find some amazing spas starting at about BZ$100 for the full works. Shopping isn't really much of a big deal in Belize but check out the small boutiques is that's your scene.
Budget Belize Travel Guide – What Languages Are Spoken in Belize?
One of the fascinating aspects of Belize is the interaction between the languages. You'll find that English is almost universally spoken but tends to be mixed along with plenty of local Kriol (Belizean Creole) words, slang, and terminology. Expect to pick up plenty of these from your universally friendly tour guides! Most signage is in English and the vast majority of visitors will have no difficulty being understood wherever they go. Spanish, Mayan, and Garifuna are also spoken on a regional basis.
Budget Belize Travel Guide – What Religions Are Practiced in Belize?
Once again the religious diversity and intermixing is a fascinating aspect of Belizian culture. Roman Catholicism dominates (alongside a sizable Protestant minority) but coexists alongside shamanism and other aspects of ancient Mayan religions. It is up there with Haiti when it comes to religious vivacity!
As a visitor, you'll likely not have any issues regarding religion while in the country. Consider dressing slightly smarter than your standard 'jungle wets' when visiting religious sites but really that should only apply during service times.
Budget Belize Travel Guide – Practical Tips From The Belize Travel Guide
Thanks for reading the Belize Travel Guide so far – we hope by this stage to have piqued your interest in exploring this amazing little country! Despite having so much natural splendor and cultural wealth Belize is still quite behind other Central American countries when it comes to attracting many visitors. The country has a turbulent past, and to an extent, this explains why the extremes of wealth/poverty you'll experience here are so blatantly stark.
Despite Belize being far more stable now as compared to just a dozen years ago, it has an unfortunate knack of scaring off would-be visitors. The exact same was the case of Colombia not too long ago either, and nowadays that country is one of the most popular in the Americas – so do not be surprised to see stable, progressive, and openminded Belize following a similar path over the next twenty years or so. We're not exaggerating when we say that this country is amazing and so packed with potential that now is certainly the time to beat the crowds and enjoy the country while it emerges into the limelight.
We'll now focus a little more on the actual practicalities of visiting Belize. Don't worry – it's way easier and safer than you probably assume!
Budget Belize Travel Guide – What About Health and Safety in Belize, Is It Safe?
We won't beat about the bush – Belize does have a moderate crime problem, but no worse than most Central American countries. What you ought to understand as a visitor is that the vast majority of this is not directed towards tourists but instead fought out between rival gangs. Violence against travelers is almost unheard of as even the gangs appreciate the fact that a buoyant tourist trade is going to enhance the national economy! There is a risk of petty theft so make sure to use hotel/hostel safes, moneybelts, and don't carry too much currency or flash your fancy gadgets/jewelry in the seamier spots.
Take cabs and avoid some beaches once night falls, avoid drugs, and ignore occasional scam artists and aggressive beggars. Check prices before confirming a purchase. Follow these basic tips and you'll likely be perfectly safe in Belize.
When it comes to health, there is a reason the British Army still uses Belize as its jungle training hub! Food and mosquito-borne infections can be an issue – so make sure you are vaccinated in advance and aware of warning signs of the most common ailments. Local clinics are well suited to treating these and you'll have no problem finding adequate care if you fall sick.
Snakes, spiders, ants – the list could go on – and are all found in abundance just as they are in any other tropical country. You don't need to be a commando to know what to look out for and chances are that you'll be using guides anywhere when exploring more remote areas. Focus your attention watching out for heatstroke and dehydration instead.
Healthcare in Belize is pretty limited compared to most countries but more than capable of dealing with local issues (remember that not just visitors get sick by the climate and environmental hazards!). That being said comprehensive medical insurance – ideally paying costs upfront – is essential for visiting Belize.
Make sure it covers water sports and other adventure activities. If you lose your medication then you'll probably have to visit a local doctor. On the plus side, they'll all speak English, on the downside you may need to visit Belize City to collect your script (do not expect branded products). Carry and save copies of all essential medical documents and prescriptions to speed up and enhance the quality of care.
Budget Belize Travel Guide – What is the Best Transportation in Belize?
If you like your trains then sorry – you're out of luck. Belize has no national train system whatsoever. On the plus side, getting about the country is easy and you'll enjoy plenty of variety too. Visitors in a hurry could use the surprisingly decent internal flight network (often small planes) but tickets can be rather expensive. If you are heading along the coast and out towards nearby islands (and you should) look to making the most of the ferries – they're an amazing way of getting from A to B with some spectacular sights to pass.
On the roads, you could hire your own vehicle but on the whole, we'd suggest you avoid the temptation. While your own transport massively increases the ease of getting around the roads can shoddy, other drivers aren't going to win any awards anytime soon, and they can sometimes be downright hazardous at night. Instead, we'd suggest you stick to the bus network. It makes up for the general air of chaos by being surprisingly simple.
Prices are a general flat-rate pretty much regardless of where you are going, can and will make seemingly random detours, pick-ups, drop-offs, and occasionally blow a flat tire. Use the fact that everyone speaks English to your advantage here and ask to be dropped off at specific places – they'll usually do so.
Cabs are a sensible precaution/cheap way of getting about the cities at night and don't rule out the possibility of hiring a bike either. For a bargain BZ$20 or so, you can hire one for 24 hours and enjoy the relative flatness of the country. Just take care when cycling on busier roads and this can be a really good way of getting around, especially in the smaller coastal towns. Hitchhiking is also pretty common in Belize, but do take the same precautions you would anywhere else.
Budget Belize Travel Guide – What Are the Best Accommodations in Belize?
We covered most of this earlier in the Ultimate Belize Travel Guide but there are a couple of points worth mentioning still. Do take into account the fact that accommodation prices increase across the board during the peak season months. That may be inconsequential if you're staying in cheap hostels but will hit your wallet if you're opting for more upscale options.
We'd advise you book at least your first few nights of accommodation before you arrive and then call ahead/use online methods to book as you go. Remember that the most popular options – and we're talking both bargain-basement shacks through to sublime eco-lodges here – book out well ahead throughout the year and often close during the rainy season.
We at the Belize Travel Guide recommend that travelers take a thorough look into the accommodation options available throughout the country. Look deep enough and you'll find plenty of sustainable and ethical choices that do not cost an arm and a leg. You may also want to search for online private listings. Although the likes of AirBnB do operate in Belize choice is not exactly widespread outside of the most popular towns. Social media and links from various conservation charities might be your best bet if you plan on taking that route.
Budget Belize Travel Guide – How Can I Practice Responsible Tourism in Belize?
Belize has a long and eclectic history of people looking for environmentally conscious living options, and that is still heavily reflected in plenty of places to stay and experience throughout the country. That being said, there has been considerable development and exploitation in parts of this truly special environment – and visitors ought to be aware of the ongoing pressures that the region faces.
Our advice for responsible travelers to Belize is to look for ways to help support and promote the country throughout your travels. The tourist economy will only expand in the right direction providing that natural wonder is maintained – so use social media to document the works of the various organizations you encounter along the way and to demonstrate to others that Belize is a safe and welcoming place to visit.
Make a dedicated effort to spend your money with locally owned (not just expatriate run) establishments especially around the most visited areas. Providing you demonstrate that you can visit this country in a positive and encouraging manner then hopefully the 'right kind' of visitors will also be attracted to follow in your footsteps.
Budget Belize Travel Guide – What Food Should I Try In Belize?
You'll have every opportunity to try local, heavily Carribean influenced foods during your stay in Belize – and as you may have expected this can be a real highlight of the trip. Street food is literally everywhere and you'll find plenty of tamales that vary according to the specific region and are – in our opinion – tastier than what you'd find in Brazil thanks to the liberal use of fresh cayenne pepper. Check out Mexican style Tamalitos if you like an even spicier kick to your midday snack!
Plenty of Belize food is designed for slow cooking on a communal pot – and you'll soon realize that very little goes to waste throughout this country. Cochinita Pibil is a good example where slow-cooked pork is basically then added to a very light coconut style curry. Chimole is a chicken and veggies alternative that often turns out to be more of a fragrant broth. Besides the ubiquitous rice and beans, Sere fish soup, deep-fried Panades (like an Indian pakora), and Salbutes tortillas you'll eat very well and affordably throughout your stay.
Vegetarian foods (at least those without chunks of meat or fish) are easily available and given that dairy isn't big on most Belizian shopping lists vegans can usually get by without too much hassle. As you may expect there are only a handful of dedicated vegetarian/vegan cafes and restaurants throughout the country, but those you try will certainly hit the mark.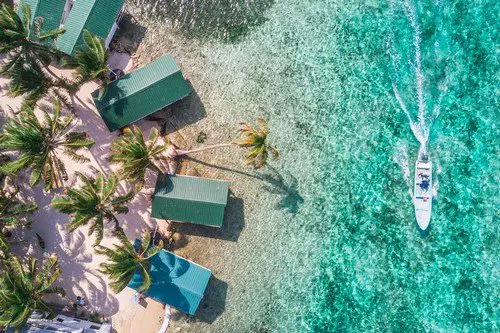 Budget Belize Travel Guide – What Should I Pack for A Trip to Belize?
You should pack according to how you intend to spend your time. If you are spending a good amount of time in the jungle/forest then a first aid kit is a good idea, and make sure to include antibacterial soap too. Mosquito nets and repellants are also very handy – some may say utterly essential! Lightweight, airy, quick-drying clothes are likely going to be your staple items of clothing and try to make sure you also pack some long-sleeved options and a hat for keeping the sun off.
As discussed previously a money belt is a sensible idea and you'll most likely also require local electric socket converters. A portable battery pack/charger is also handy, as is a lightweight waterproof torch. Last but not least – remember proper swimwear and above all else a very good, well worn, and again waterproofed pair of boots!
Budget Belize Travel Guide – What Clothes Should You Wear In Belize?
Nobody in Belize will especially care what you choose to wear. Try and dress a little smarter if you plan on staying or visiting more upscale areas, but providing your garments are not offensive or excessively revealing nobody will bat an eyelid. 'Jungle-chic' is not yet a style to the best of our knowledge – but you get the picture!
Budget Belize Travel Guide – What Are Some Interesting & Important Facts About Belize?
We're approaching the end of the Belize Travel Guide and hope you have enjoyed reading and learning more about this gem of a country. Our advice would be to not be remotely shy of visiting Belize. Yes – the country does have some issues, but these basically do not really apply to visitors.
Those who do decide that they'd like to explore a magnificently rich and endlessly fascinating and enjoyable country should leave preconceived notions at home and fully embrace their experience. Do so responsibly and with the best possible intentions and enjoy the invariably warm reception you'll receive from the locals. Let's wrap up the Belize Travel Guide with a handful of fun and interesting facts!
▸ Belizians don't usually use handshakes – they lock thumbs instead.
▸ Belize became independent from the UK in 1973 – it was formerly known as 'British Honduras'.
▸ Despite poverty and inequality, Belize has the 3rd highest GDP/capita in Central America.
▸ The Tapir is the national animal – an enormous kind of guinea pig that can weigh up to 500lbs!
▸ Be careful with wild cashew nuts – some are the best in the world, and others are highly toxic!
▸ You'll have plenty of space to yourself as Belize has only 15 people/kilometer – the lowest in the region by a distance.
▸ Over 80% of rainforests are currently protected by the national parks scheme but all of these are under pressure.
▸ There are over 900 Maya sites throughout the country and more are discovered every passing year.
▸ Belize's Barrier Reef is 185km long, UNESCO protected and contains over 450 species of fish.
▸ Two-thirds of visitors are US citizens – the vast majority attributed to passing cruise ships.
We hope you enjoyed reading the Belize Travel Guide – and good travels! Contact us with any questions you may have about travel to Belize.
---
Now that you have read about Belize, what's next? Let's learn more about a Cuba trip. Check out The Ultimate Cuba Travel Guide
---