In Togo foods, maize is a main ingredient. In fact, a traditional Togolese proverb advises against roasting all of your maize during the winter. While yams, cassava, plantains, and rice are all sources of starch, maize is by far the most prevalent.
The average Togolese has two to three meals each day, each of which includes Togo foods including a starch and a protein source. Fried eggs, a variety of cereals, or sliced avocado are all common breakfast options in Togo. Tea, coffee, or Milo, a powdered beverage similar to Ovaltine made by Nestle, are always served with breakfast.
One can eat flavorful Togo foods using spiced chili sauces, peanut paste, and palm oil throughout lunch and dinner. Tomato paste, oil, onions, and sometimes dried fish are used to make chili sauces. Due to the nation's location along the Atlantic, fish is an easily accessible source of protein.
Fufu is a mainstay of Togo foods and culture. Traditional yams are cooked before being mashed into a dough and served with a variety of sauces and side dishes to make fufu. Pates, another traditional Togo food, are prepared from cassava or maize flour and are typically accompanied by sauces made from meat or vegetables.
Fruits that are excellent can be found in Togo. There are many mango trees, and pineapple is always in season. In Togo's urban regions, it's also typical to find foreign delicacies like baguettes and German beers.
8 Traditional Togo Foods To Prepare At Home
---
---
check out our video
---
---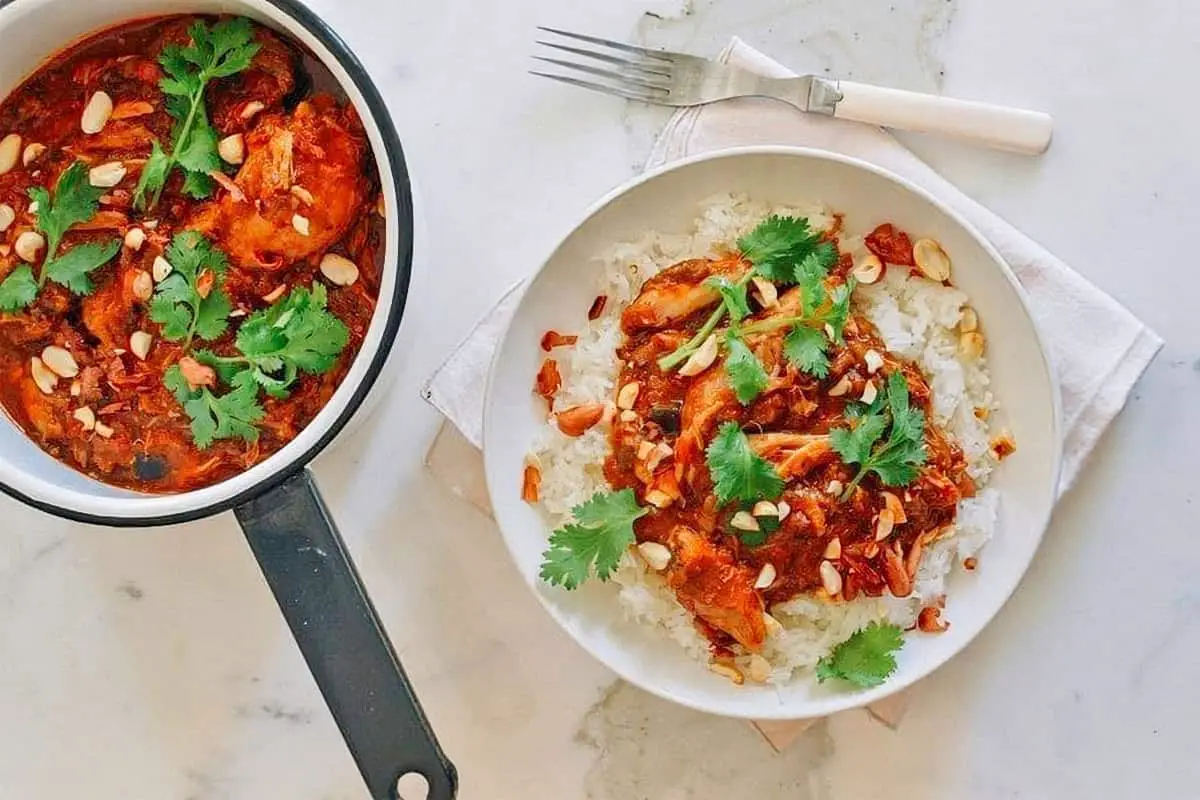 I find that a lot of Togo food is quite uninspired. Beef gets all the good recipes when it comes to stew, but what about the humble chicken? When you think "chicken," "stew" isn't the first thing to come to mind…which is totally absurd, because slow cooked chicken is really good.
The addition of peanut butter to this Togo food recipe for chicken peanut stew may sound a bit strange to some, but it really adds a delightful savory edge to the tomato-y, paprika-y redness of this stew. But if you're looking for a different kind of flavor, you can try another one of our chicken stews: Spicy Chicken Andouille Gumbo.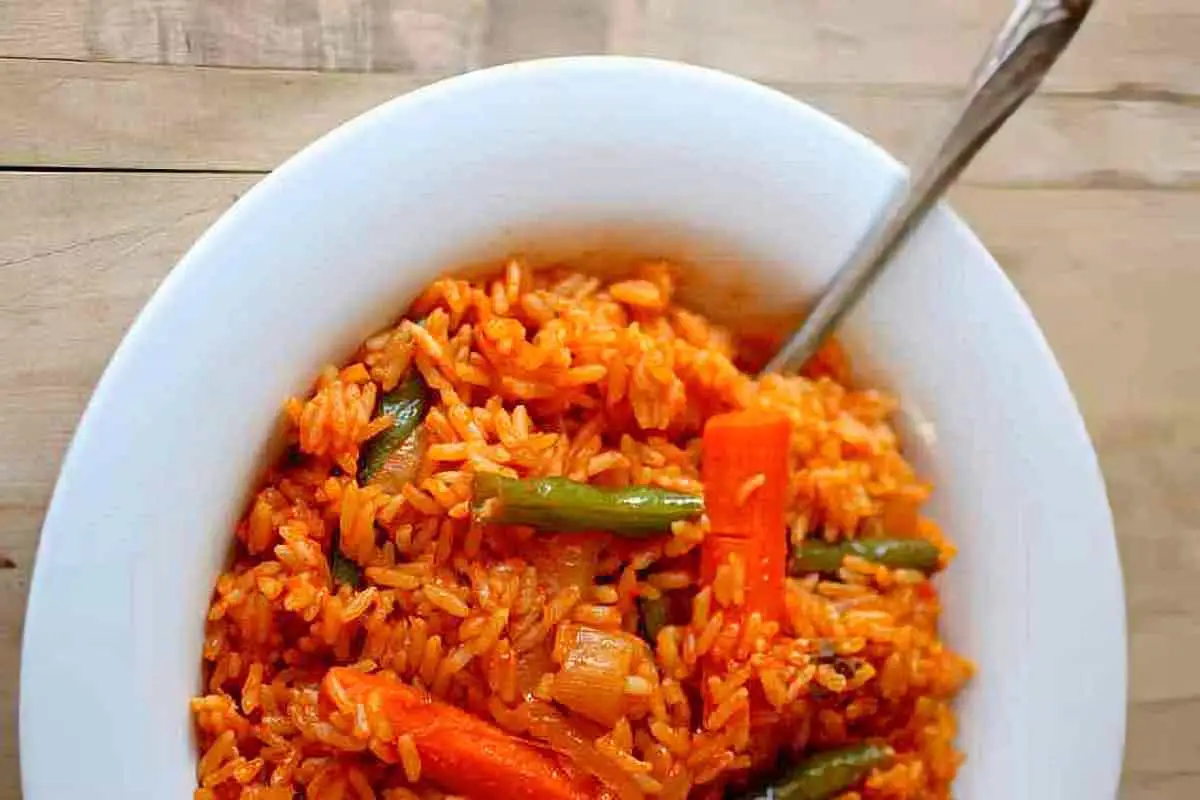 Jollof rice is one of the most common Togo foods. It is prepared throughout the region including in Ghana, Nigeria, Senegal, Gambia, Sierra Leone, Liberia, Ivory Coast, Togo, Cameroon as well as Mali.
It is composed of fluffy, red-orange rice that is cooked with a combination of vegetables that may include peas, peppers, carrots, cabbage or eggplant, and often accompanied with meat such as lamb, goat, chicken, beef. Jollof rice is also served with salad or fried plantain called dodo in the Yoruba language.
As a matter of fact, Jollof rice probably traveled to America too, as jambalaya and especially Lowcountry red rice share a lot of similarities with Jollof rice. This Togo food will also be reminiscent of the popular old world paella, as well as a number of other rice dishes we have already featured in 196 flavors such as galinhada, arroz con pollo, nasi goreng, plov, biryani, majboos, al kabsa or skoudehkaris.
Gboma Dessi from the small African country Togo contains big loads of green spinach in a tomato stew with a distinct flavor profile. Fried chicken or beef is mixed in as well. That's the kind of Togo food that you can't stop eating.
We just love it! Originally, the meat for Gboma Dessi is cooked before it's seasoned and fried. If you can take the time for this version (see instructions for the long version below), it adds another level of deliciousness to the dish.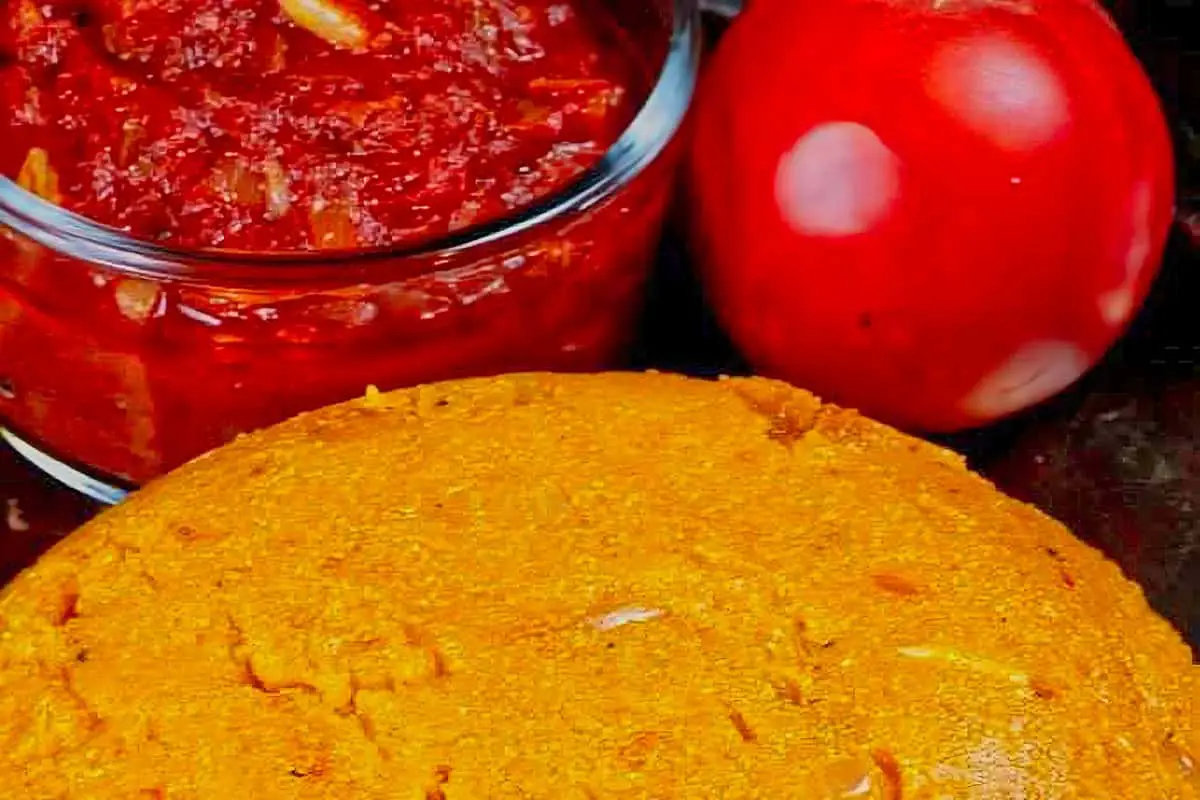 Togo Djenkoume tomato cornmeal recipe is a staple dish in Togo foods. It is thick and lightly flavored to be used as an accompaniment with other Togolese dishes. We loved it with the Togo Grilled Chicken recipe for an authentic and traditional Togolese meal.
You only need a few ingredients to make this staple Togo food. Cornmeal, ginger root, onion, garlic cloves, chopped tomatoes, tomato paste and some chicken or vegetable broth.
The ingredient you may not have is important, and that is red palm oil. You only need a couple tablespoons but it is key. This is also used to make the marinade for the Togo grilled chicken so you will use more of it there.
---
Want more ideas to round-out your Recipe Box?
A lot of great options are in these posts!
---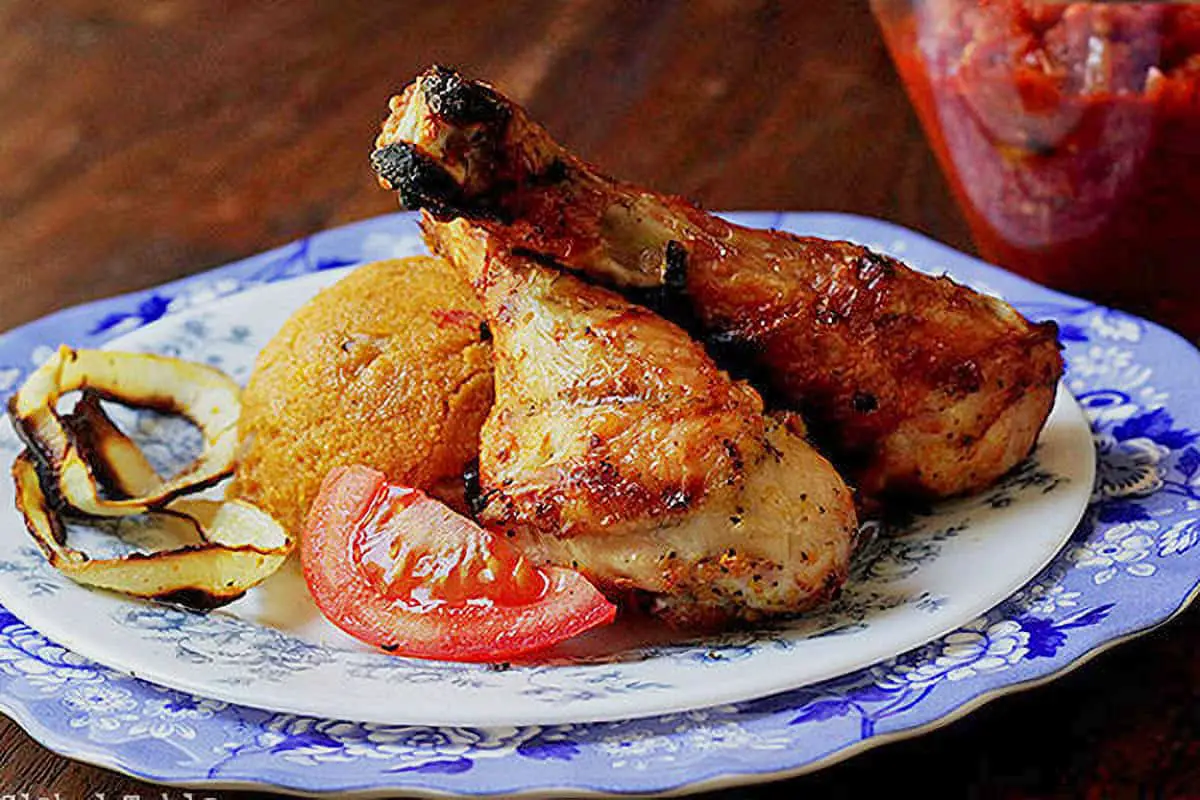 What brings a smile to your face? The sunshine? The taste of the ocean? What about security… that lovely feeling, when you know you can feed your family, without depending on someone else.
Mrs. Essowedeou, from Togo, agrees. "I never knew how chickens could bring a smile to our faces," she says. Mrs. Essowedeou raises chickens as part of the "Plan Togo" program. These chickens are her smile because they are her (and her family's) ticket to security. Independence. Food. She sells the chickens and the eggs to raise money for her family.
This week, let's smile with Togo foods in our hearts. And, in Kpetou's honor, let's do it with chicken. Because, sometimes, it's that simple.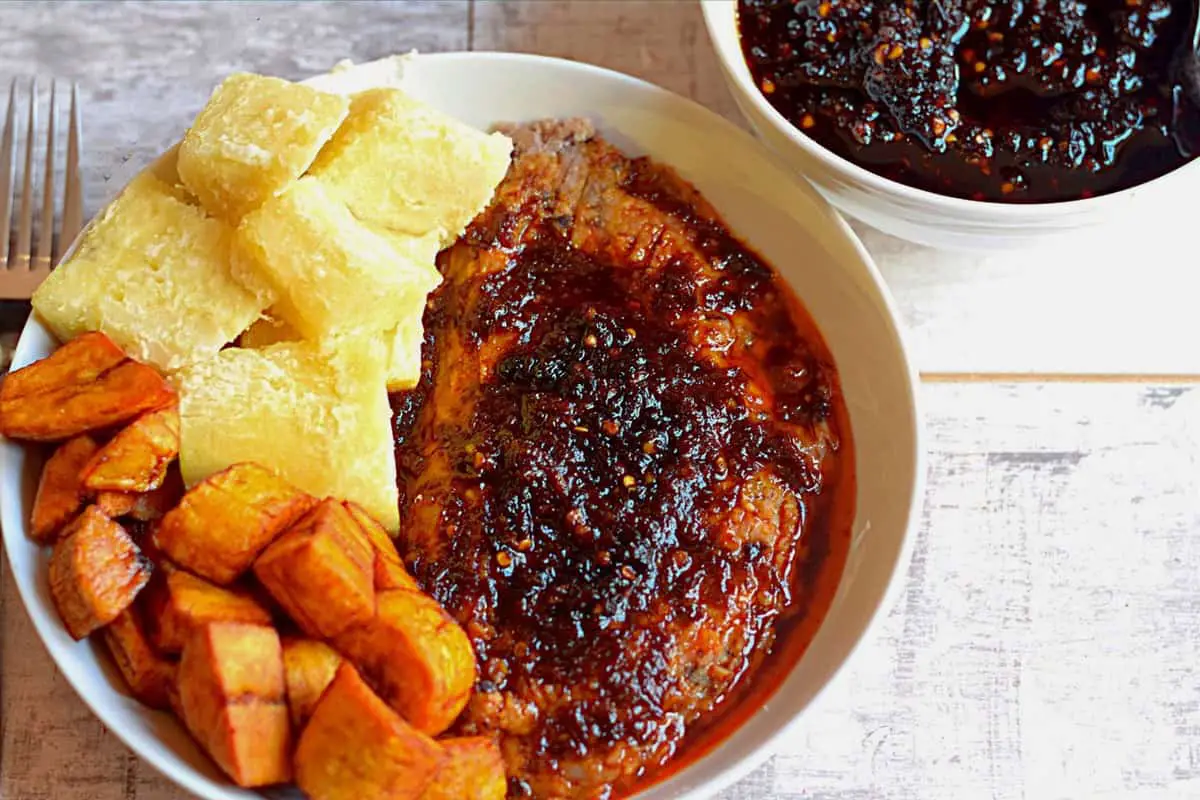 The peppers used for Ewa Agonyin sauce are dried bell peppers, Cameroon peppers and dried pepper seeds which are dried seeds of red chili peppers. Tomatoes are a No, No! Also, using fresh peppers won't produce the authentic Ewa Agoyin sauce taste.
If you can't find dried bell peppers for this Togo food, you can use just dried pepper seeds. These are very easy to find as almost all grocery stores, especially Asian stores I know stock them. They are usually called "Crushed Red Chillies or Red Pepper Flakes". I should warn you though, they are very very hot. If you can stand the heat, then you're good.
You'll need loads of palm oil to achieve the authentic Ewa Agoyin sauce taste and consistency so you won't be able to compromise on this.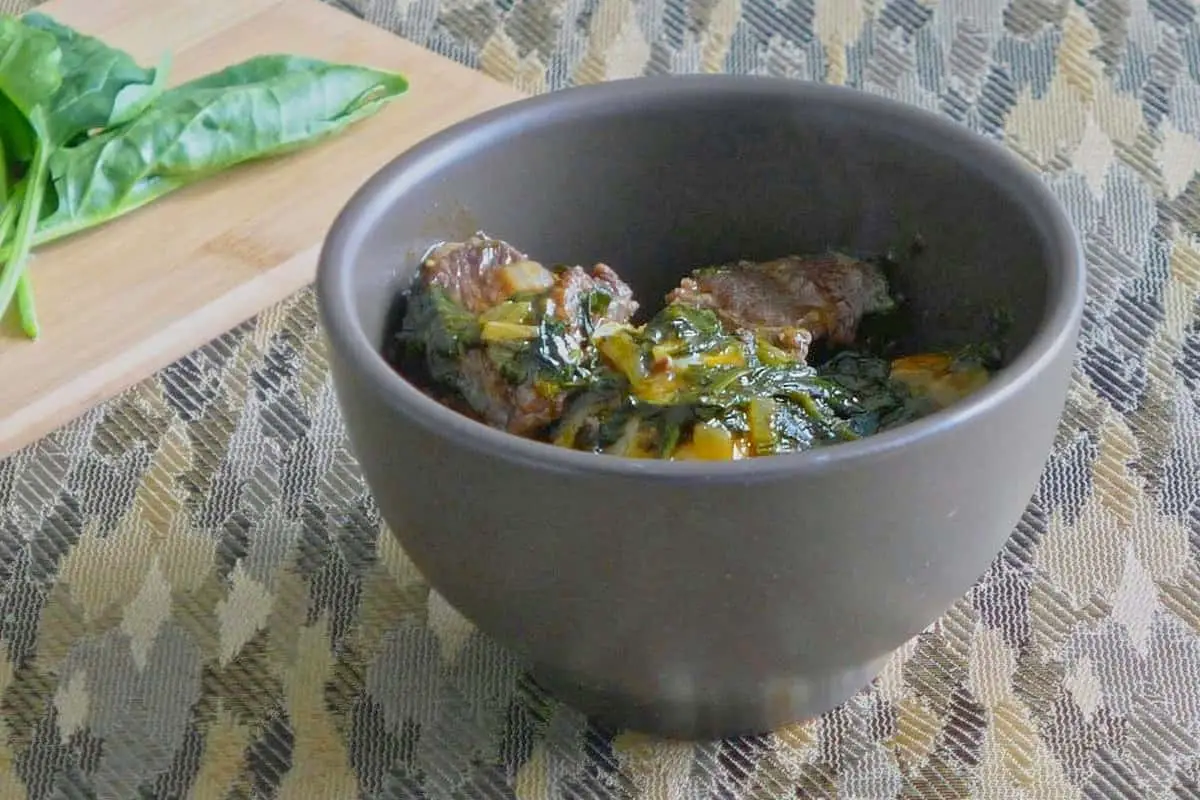 Today, I am taking you out for some Togo food, one of the smallest countries in Africa, a former French colony. Gboma dessi is really a sauce. It is also called "sauce feuille" in reference to the spinach leaves (feuilles in French). Once prepared, the sauce can be served with meat, shrimp, crab or smoked fish.
For my version of gboma dessi, I chose beef, especially beef cheek. You can choose the piece of meat that you want as long as you follow the preparation method specific to the Togolese traditional dish, which also known in Benin and Ghana (under the name of shoko).
This Togo food can be used with various sides such as white rice. You can imagine that I was not going to settle on a simple white rice! During my research, I discovered that this dish could also be served with ablo or akoumé. Now we're talking! Two unique words that I had never heard before. Enough to satisfy my thirst for learning.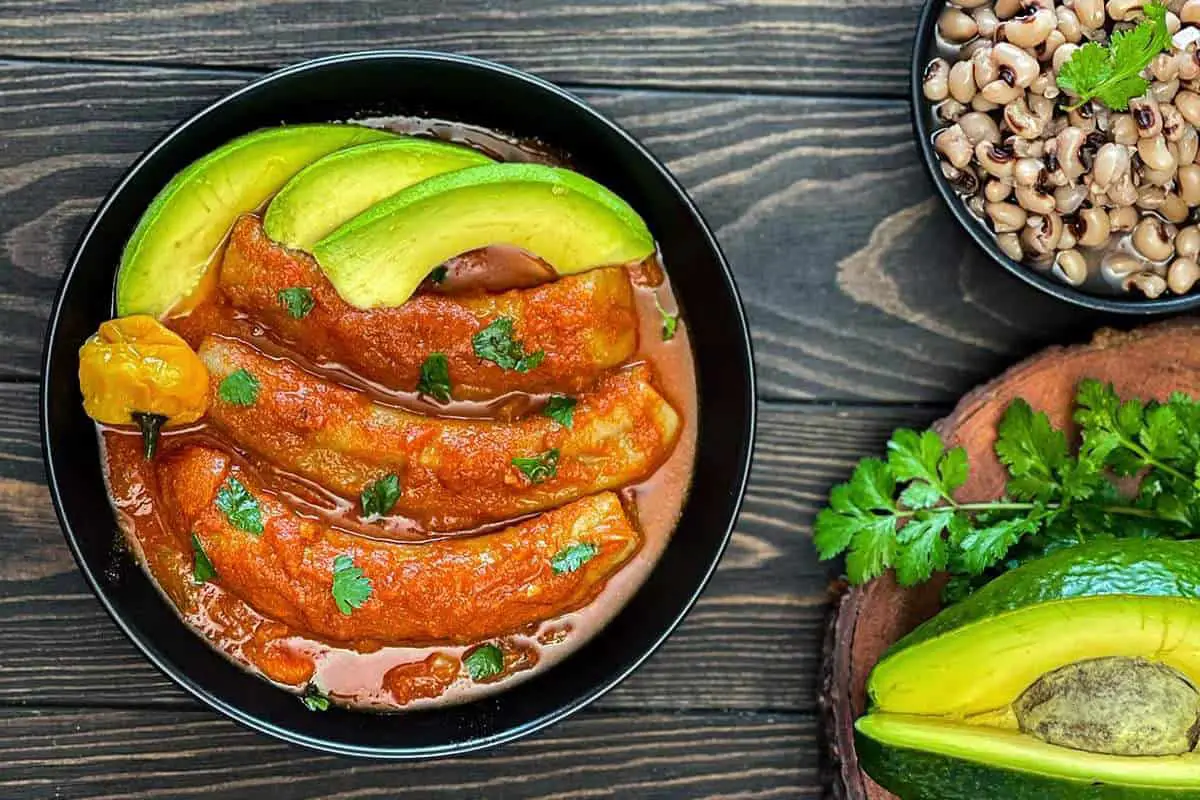 Agatoga is a vegan stew made mainly from plantains. This Togo food is loaded with flavor and uses vegetables like carrots, bell peppers, and tomatoes along with the plantains. Agatoga is an African stew that is not just tasteful but is also super easy to make and healthy.
Make this Togo food in large batches and serve it at gatherings and parties. It is versatile, goes well with a number of side dishes and the flavors are just right.
Try this super easy and simple recipe and I am pretty sure you will love it! This simple dish is vegan, gluten-free, and loaded with healthy nutrients. It will become your ultimate comfort food in no time.
---
You May Want to Join Our Boondocking Group on Facebook For More Information
You May Want to Join Our Campfire Recipes Group on Facebook For More Information
For More Photos Visit Our Instagram at World Recipes Daily – Our Big Escape