Because of its geographical location, Afghani food and its cuisine borrows from a myriad of countries while remaining uniquely its own & easy recipes to follow.
Afghanistan is not quite the Middle East nor is it quite Asia; it is located in the mountains between Iran and a number of "-stans" (Pakistan, Turkmenistan, Uzbekistan, and Tajikistan), and is only a short distance from India and China.
Many Afghani recipes spices, including chili peppers, saffron, garam masala, and black pepper, originated in India. Mongolian influences manifest in dumplings and noodles, while Persian contributions include coriander and mint.
Oil in Afghanistan food is liberally used and mutton fat is traditionally added to many dishes as a source of fuel in this country due to the long, cold winters. The recipes of Afghanistan have a low tolerance for heat, and they frequently use yogurt in their cooking as a condiment, topping, or dressing.
The Afghani recipes for lamb kebab are a widely beloved fast food option. Meat, vegetables, chickpeas, tomato, fruit, yogurt, and spices can all be added to the fried onion and garlic base of a korma. Rice is the highlight of any meal and a specialty of the region.
The revered national Afghanistan food is called Kabuli (or Qabli) Pulao, and it consists of slow-cooked meat in a dome of gently seasoned rice with lentils, raisins, carrots, ground cardamom, and nuts. Naan, a type of bread, is eaten with nearly every meal.
Afghans will go to great lengths to accommodate visitors, including cooking the recipes of Afghanistan into elaborate meals even when resources are tight. One would be expected to eat copious amounts of Afghani food food while visiting an Afghani home. Therefore, please be sure to leave some food on your plate, as it will be refilled shortly.
16 Amazing Afghani Food Picks With Easy Recipes
---
---
Afghani Bolani…these little Afghani food flatbreads are out of this world! Homemade dough is stuffed with potatoes, green onion, cilantro, and green pepper then shallow fried to crispy, golden brown perfection! Surprisingly easy to make, you won't believe how fast they disappear!
Years ago, I had a lovely Afghani neighbor who brought me all sorts of goodies from her kitchen. These recipes of Afghanistan for Bolani were one of my favorites. Of course, mine are much less spicy than hers! Use any type of green chili that you prefer depending on how mild or spicy you like it.
The recipes of Afghanistan for this mild kebab with fantastic flavours were so tasty… Try this Afghani chicken kebab Afghani recipes!
Whenever I cook for family, I always have to include at least a couple of mild dishes.
I love spicy food but for those who like it mild, this Afghani chicken kebab recipe is one to try.
This time I decided to pair these chicken kebabs with super spicy ghost pepper chilli sauce Dr Burnorium along with a deliciously cool raita. All wrapped up in homemade chapattis and garnished with salad veg. It doesn't get much better!
The first time I had a Afghani food called Kabuli Pilau, also known as Afghani Pulao, was in my first year of college, at a local restaurant with my family. I remember seeing the dished out serving platter of lightly browned rice, scattered with glistening raisins and carrots and large chunks of meat and thinking 'Oh, well. Guess I'm not eating tonight'.
Before that night, I was ethically against mixing sweet and savoury together. I thought it was a heinous culinary crime and the very thought of it sent my taste-buds sprinting away in disgust. But that was before that night.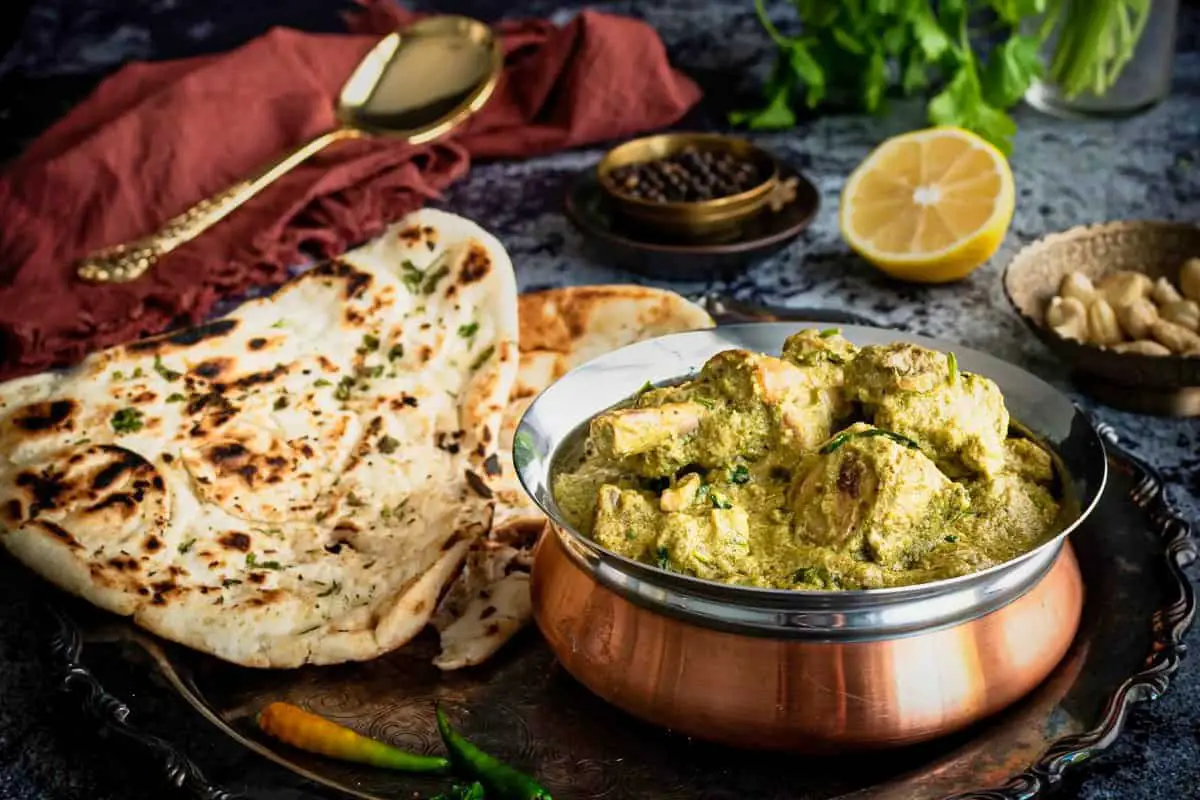 There are endless Afghani recipes for Chicken curry, but each one is special. Like this one, Afghani chicken is as rustic yet robust as it gets!
Afghani chicken curry & kebabs are popular Middle Eastern dishes which are been spoken about a lot by friends n family back in India. It gained a lot of attention in my hometown mainly because of the influence
If you have ever tried one of the many recipes of Afghanistan for chicken curry at restaurants, the first memories which comes to you is the rich taste of the curry. A combination of cream, yogurt, ghee and cashew nuts, makes for its rich and mildly spiced gravy.
Most Afghani food like this requires minimal prep work unlike Indian curries; no onion sauteing (which takes forever to brown, I know!), just put everything in a blender, blend to prepare the marinade, and marinate the chicken in it. The taste of the dish is well-balanced with, chicken which is unbelievably moist, juicy and delicious, and a velvety gravy.
It is not until you go to write up Afghani recipes that you think about the name of the thing you are needing to write about – Afghans a famous Afghani food. Hmmmm interesting name for a biscuit! There is little to no helpful information online about where it got its name but in the USA they call their blankets or throws Afghans. I digress……
There are few variations around – some with no vanilla, some with coconut etc but I like to keep to the Afghani recipes from my Grandma – it is lovely, not too crumbly and delicious!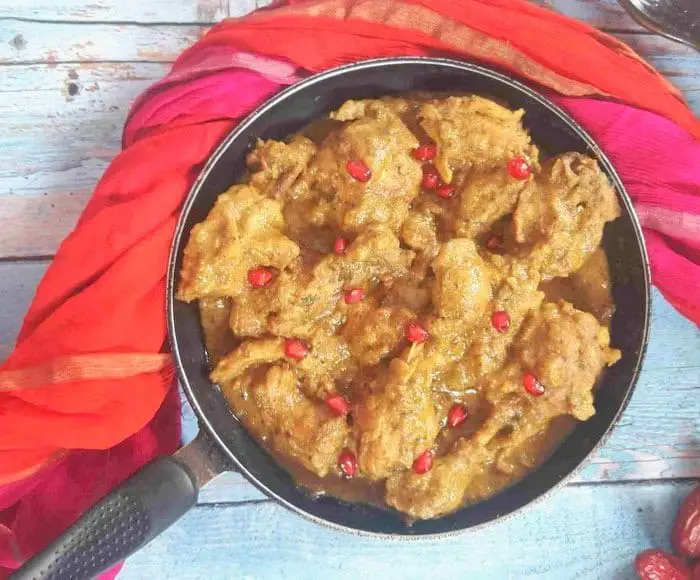 Lavand-e-murgh is a traditional Afghani food which means chicken in yoghurt. Masaledar and creamy, this chicken dish is an absolute winner. Serve it along with garlic naan and this simple meal will leave you licking your fingers.
Lavand-e-murgh is a rich, creamy chicken curry where chicken is slow cooked in yoghurt along with spices to create a tasty, satisfying and delicious dish. A flavourful chicken dish packed with spices , cooked in a yogurt gravy, this dish can be served at family dinner or make it over the weekend for a family feast.
Serve Lavand-E-Murgh along with Whole Wheat Lachha Paratha and Burani Raita for a simple yet delicious weekend meal.
Malida is a traditional Afghan Sweet, made with whole wheat flour dough crumbled, sweetened and flavored with cardamom and dry fruits. Malida can also be made from leftover or fresh whole wheat Rotis or flat breads.
The addition of Jaggery and dates to this Afghani food to the Malida recipe, not only adds to the sweetness but also to the nutrition content of this wholesome sweet. Jaggery has the ability to cleanse your body, helps in digestion and also contains minerals that can be easily absorbed by the body to provide energy and vital nutrition. Malida Recipe with chai as a tea time snack.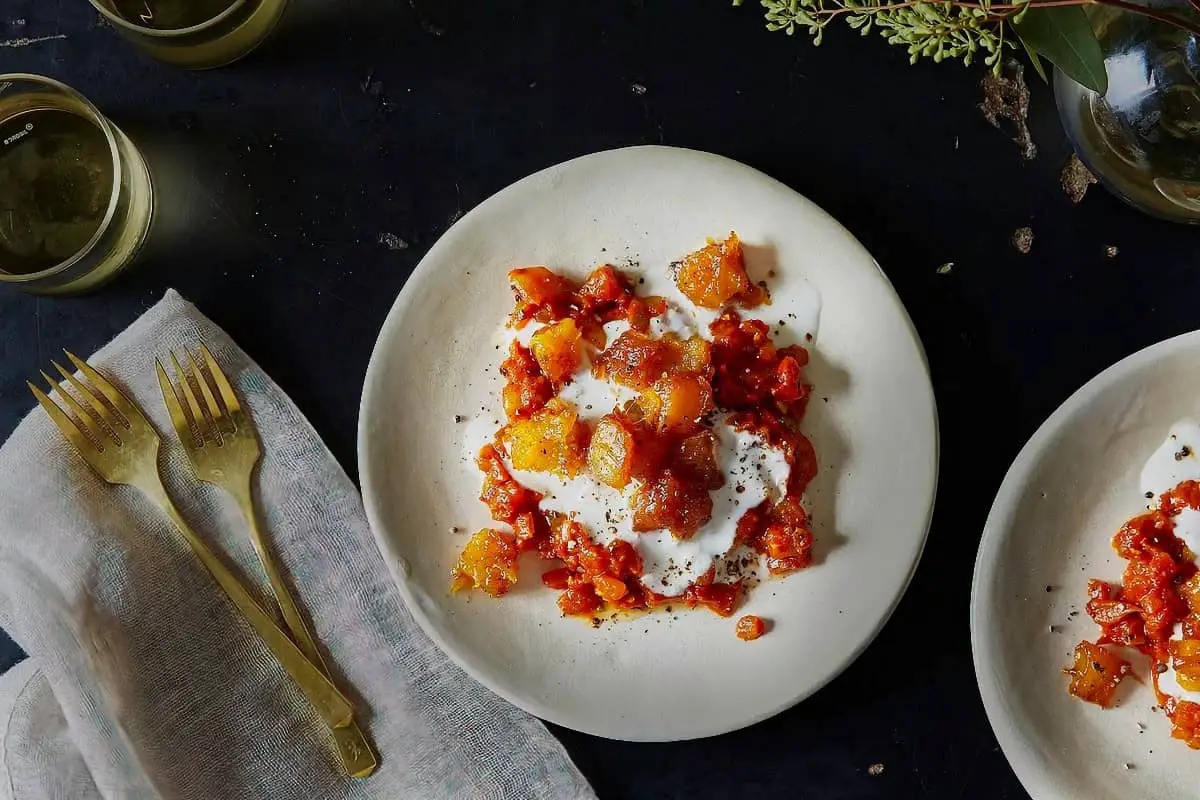 One of my favorite places to bring visitors to Boston is this Afghan restaurant in Cambridge called The Helmand. Usually, it's the first time any of them have had Afghan food, and I love introducing them to the signature appetizer there, the kaddo.
It's a "pan-fried then baked baby pumpkin seasoned with sugar and served on yogurt garlic sauce, topped with ground beef sauce." It sounds like a pretty strange flavor combination and is unlike anything else I've ever tasted, but it's absolutely delicious!
---
Want more ideas to round-out your Recipe Box?
A lot of great options are in these posts!
---
Doogh is a refreshing drink make with curd to combine with any Afghani food choice, cucumber and mint. It is popular in Afghanistan, Persia, Iran, Turkey and other middle eastern countries. It is similar to buttermilk or chaas which is quite popular in India. Serve after lunch or dinner or anytime of your day to quench your thirst.
Doogh is a classic twist to the traditional Afghan Yogurt Drink also known as Chaas in India where the yogurt is blended along with mint, spices and cucumber making it a perfect drink for the summers.
It makes a great summer cooler and is simply flavored with cumin powder. It should be served chilled and usually it is made with chilled water or ice cubes. It tastes great after a north Indian meal or a middle eastern meal.
Boulanee Katchalu is a potato-stuffed Vegan Flatbread from Afghanistan. They can be eaten as is or with a side of dhal or subzi.
Boulanee is a Farsi name for 'stuffed bread' and is a kind of flatbread from Afghanistan. This is once again a vegan flatbread and depending on what kind of fillings we use, the names of the flatbread differ.
Boulanee Katchalu can be sweet or savory and the filling varies anywhere from spinach, lentils, pumpkin, and so on. Boulanee Katchalu is a very popular street food as well.
Flatbread is a great option when following a vegan lifestyle. Boulanee Katchalu is quite similar to the Indian Aloo Paratha. The Aloo paratha is usually a circular shape, whereas the Boulanee Katchalu is made into a half-circle shape (kind of like a turnover) and then pan-fried.
Kabuli pulao is the Afghani food national dish. Unmistakable in its appearance with its glistening carrots and large tender chunks of lamb, Kabuli pulao is an unforgettable dish.
The recipes of Afghanistan can be scaled up for large occasions. Wikipedia has this to say about our national treasure:
Kabuli palaw is considered a festive and important dish due to the price and quality of the ingredients as well as its tradition of being Afghanistan's national cuisine. The dish is traditionally placed in the center of the meal with other foods making up the rest of the perimeter.
Yes some spell it kabuli palaw, kabuli pulao, or qabli pilau. However you spell it, this will be a family favorite soon enough. The Gourmet Traveler says this:
"Kabuli palaw is a staple at any Afghan gathering," says Durkhanai Ayubi. "Rice is very precious for Afghans – it forms the centerpiece of the meal, and all the other food is presented around it."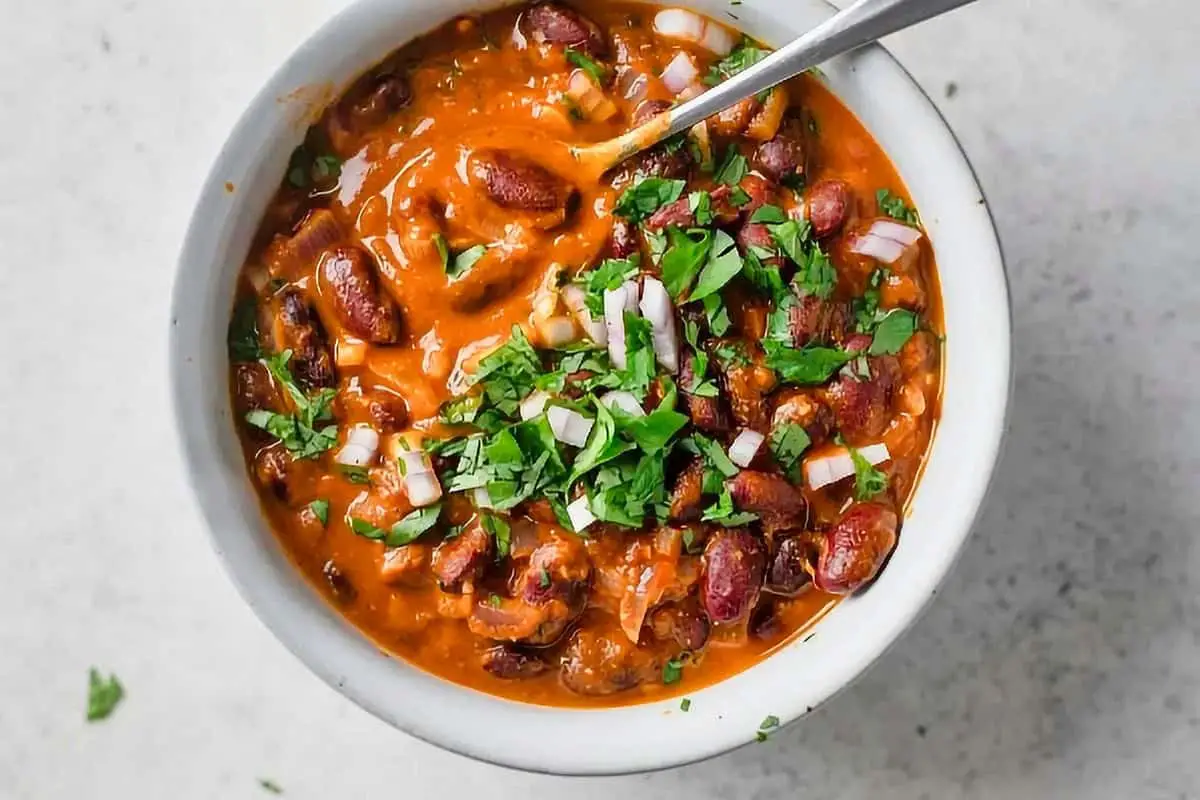 This Afghan kidney bean curry, the Afghani food known as lubya/lubia/lobia depending on how the language is transliterated, is one of my favorite meals. I first had the dish at a local Afghan restaurant and can't get enough of it!
Imagine buttery soft kidney beans simmered in a curry base bursting with the rich flavors of coriander and tomato and studded with lightly caramelized onion and plenty of garlic. Lubya is perfect served alongside fragrant basmati rice with a garnish of cilantro and minced red onion.
Have you had Afghan cuisine before? Afghan restaurants are few and far between in the US, which is a shame as the food is SO good. The cuisine is reminiscent of the Indian-Pakistani food I grew up eating (not surprising, as Afghanistan shares a border with Pakistan), though the spices are used to a different effect.
Eggplants cooked with tomatoes. Served with yogurt-garlic sauce and topped with lots of dried mint.
One of my favorite recipes of Afghanistan is Borani Banjan, which is an eggplant dish with yogurt and lots of garlic & mint. I remember the first time I tasted this wonderful Afghani food at a restaurant and instantly fell in love with it.
I love eggplant and when you make it this delicious the love just doubles. I would like to mention here that my hubby who isn't a great eggplant fan loves this dish and always orders it whenever we eat at an Afghan restaurant. So you can imagine, it must really be good.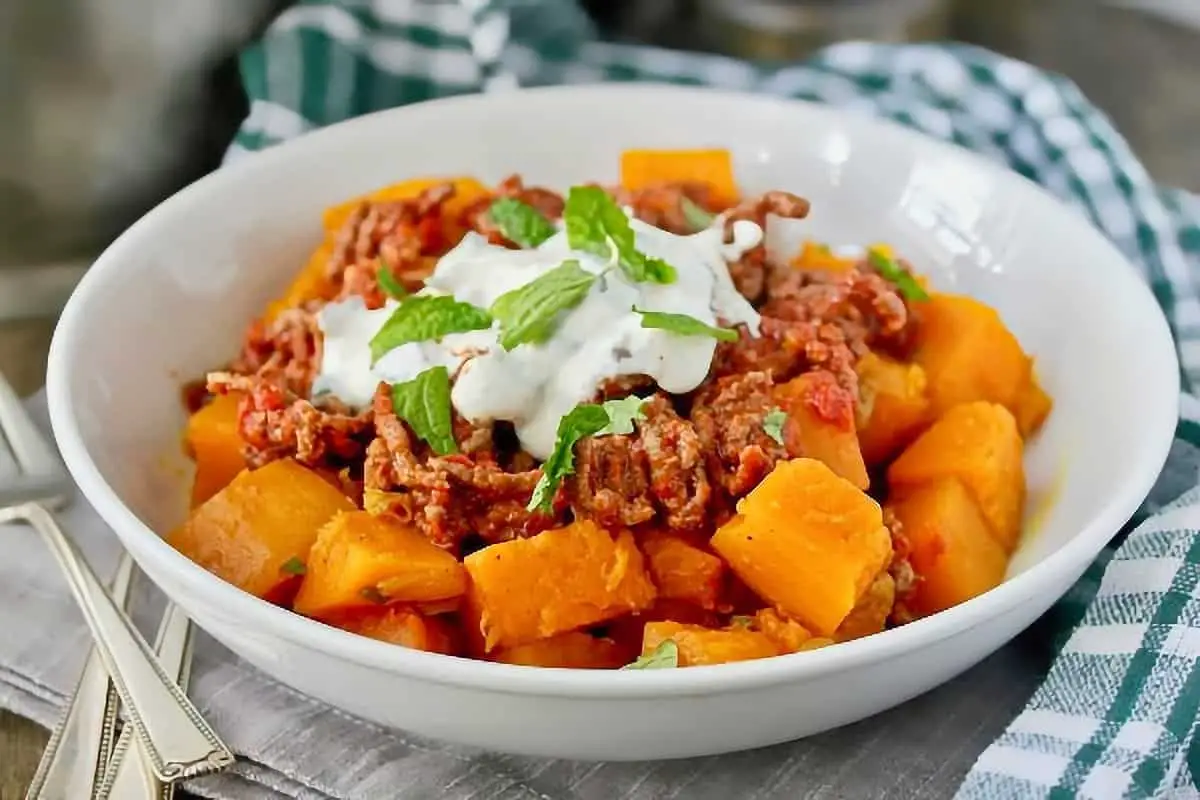 This Afghani food dish for pumpkin with yogurt sauce is rich and earthy. It features sautéed pumpkin and onions flavored with turmeric, ginger, and chiles, which is topped with a ground beef and tomato sauce, and then a garlic and mint yogurt sauce.
While we tend to think of desserts when we imagine cooking with pumpkin (usually from a can), pumpkin is served in sweet and savory dishes throughout the world.
Evidently pumpkin is native to North America, but has spread across the world and adapted to the cuisine of every region. You can eat the flesh, the seeds, the flowers, and even the leaves.Pumpkin flesh is super nutritious – high in vitamin A and fiber. It's very filling, and is great for vegetarian main courses.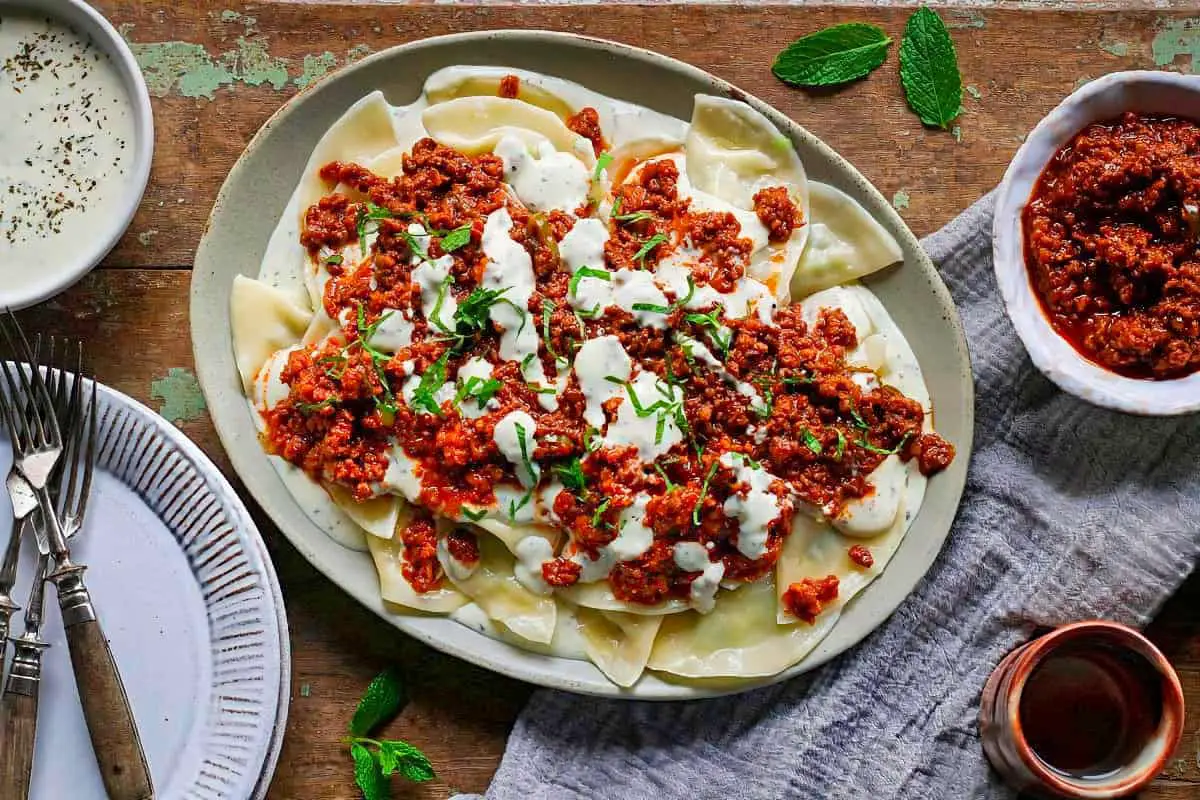 Aushak are an Afghan food version of dumplings, usually filled with leeks, onions, or chives. It's served with creamy garlic yogurt and a hearty tomato-based meat or lentil sauce. As aushak are time-consuming to make, this dish is usually reserved for special occasions. Filling and sealing the aushak is a wonderful opportunity to sit together and prepare this lovely dish in good company.
I must have eaten this Afghan food dish dozens of times during the two years I lived in St. Peter's Street, literally a stone's throw from the restaurant. Yet, I had no conception of what might give the dish its wonderful flavour. The obvious – chicken and yoghurt – apart, of course.
I still remember my first visit to Afghan Kitchen in London's Angel district. Having lived nearby for years, I was well familiar with the area. But I'd never heard of this place until a fellow student suggested trying the place out for dinner.
The humble restaurant (it's tiny, and with no signs out front) has been around since 1994. Started by a retired photo journalist, it's served more or less the same, simple menu of four meat and four vegetarian dishes since the beginning. The decor is basic, the food prepared in big trays and microwaved to perfection upon order.
---
You May Want to Join Our Boondocking Group on Facebook For More Information
You May Want to Join Our Campfire Recipes Group on Facebook For More Information
For More Photos Visit Our Instagram at World Recipes Daily – Our Big Escape