Central Asian Uzbekistan recipes are renowned for their great taste along with a rich cultural heritage. The Uzbekistan recipe have become a cultural icon. Delicious influences from Persian, Russian, and Chinese cooking can be found in Uzbek dishes.
Uzbeks consider the aromatic rice dish plov to be a national symbol and a staple of festive meals. Plov is a Middle Eastern dish consisting of a variety of spices like cumin, coriander, and black pepper cooked with rice. Meat choices typically include lamb and beef. As a side dish, plov is often accompanied by a salad (called achichuk) consisting of tomatoes, onions, cucumbers, and pickles.
A staple of Uzbekistan recipes is shashlik, a kebab-like dish. Shashlik is prepared by marinating skewers of meat (typically lamb or beef) in a mixture of vinegar, oil, and spices, then grilling them. As a side dish, lavash (a type of flatbread) is commonly served with shashlik because it is great at soaking up the meat's flavorful juices.
Uzbekistan recipes are known for their hearty soups and stews. The Uzbek people love their sourpa, a hearty soup made with meat, potatoes, carrots, onions, and a wide range of herbs and spices. The noodle soup lagman is another popular dish in the area. It has a lot of meat, a lot of vegetables, and a lot of different spices. Commonly served with lagman is hot chili sauce, known as "achchiq sovuq."
Traditional breads are a staple in Uzbek cuisine and can be found in bakeries and markets all over the country. Non is one of the most popular breads in the world, and it is a type of flatbread that is traditionally baked in a tandoor oven. Non, an essential Uzbek staple, is typically cooked in either butter or oil.
Tea is highly valued in Uzbek culture, and the country is home to many unique varieties. One of the most popular kinds of tea is green, and it goes particularly well with sweet treats. Uzbek desserts and snacks often feature the country's famed dried fruits, nuts, and sweets.
The warmth of Uzbek hosts is an integral part of the country's culinary legacy. As part of traditional Uzbek hospitality, hosts often provide guests with a wide selection of tasty treats and refreshing beverages. The Uzbeks are known for their warm hospitality, which is exemplified by their age-old custom of mehmondo'shlik.
Uzbekistan recipes are an all-out celebration of flavor, tradition, and hospitality. The cuisine of Uzbekistan, with its exotic mix of cultural influences, offers a wide variety of dishes and flavors that are sure to please the most discerning gourmet. Uzbekistan's culinary traditions, whether you're sampling plov for the first time or sipping a cup of green tea, are a sensory treat.
---
Want more ideas to round-out your Recipe Box?
A lot of great options are in these posts!
---
9 Easy Uzbekistan Recipes To Create At Home
---
---
check out our video
---
---
This Beef Stew with Potatoes is known as a Kavardak Uzbekistan recipe (Кавардак). It's a delicious beef winter stew that's common across Russia and across former Soviet countries. Especially common in the Central Asian part of Russia and the surrounding regions.
Kavardak is really just a classic Beef Stew with Potatoes recipe, which can also be made with lamb. Actually I think lamb is more commonly used in Central Asia. However can be harder to find in North America, and is usually more expensive that beef. That's why I made this recipe with beef, but you can buy a lamb roast, chop it up to use the exact same way.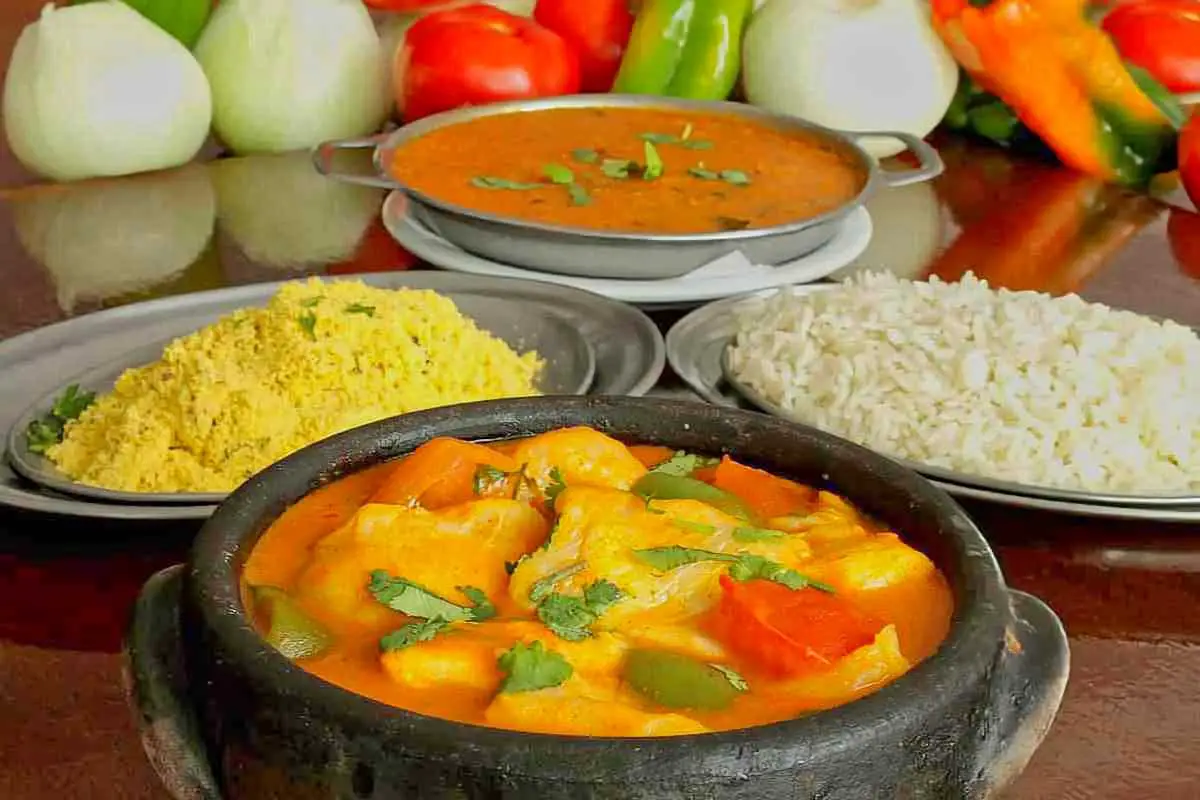 If you've seen any of our previous articles, you probably know we're big fans of Uzbek recipes food and all other Central Asian cuisines and in this post, we'll share one delicious Uzbek dish that's very popular across Central Asia and in other former Soviet countries.
Dimlama, also known as dumlama, basma, or damlyama is a hearty, delicious stew that anyone can make at home in less than 2 hours and this dimlama recipe will show you how. Dimlama is a traditional Uzbek dish that's especially popular during the annual harvest time (spring and summer) when you can find an abundance of vegetables in Uzbekistan and most other countries in the region.
All ingredients are cut into large pieces and placed in layers in a way that they can cook in their own juices. The dimlama recipe takes around 1.5-2 hours to prepare and the final result is a hearty stew served on a large plate and eaten with a spoon.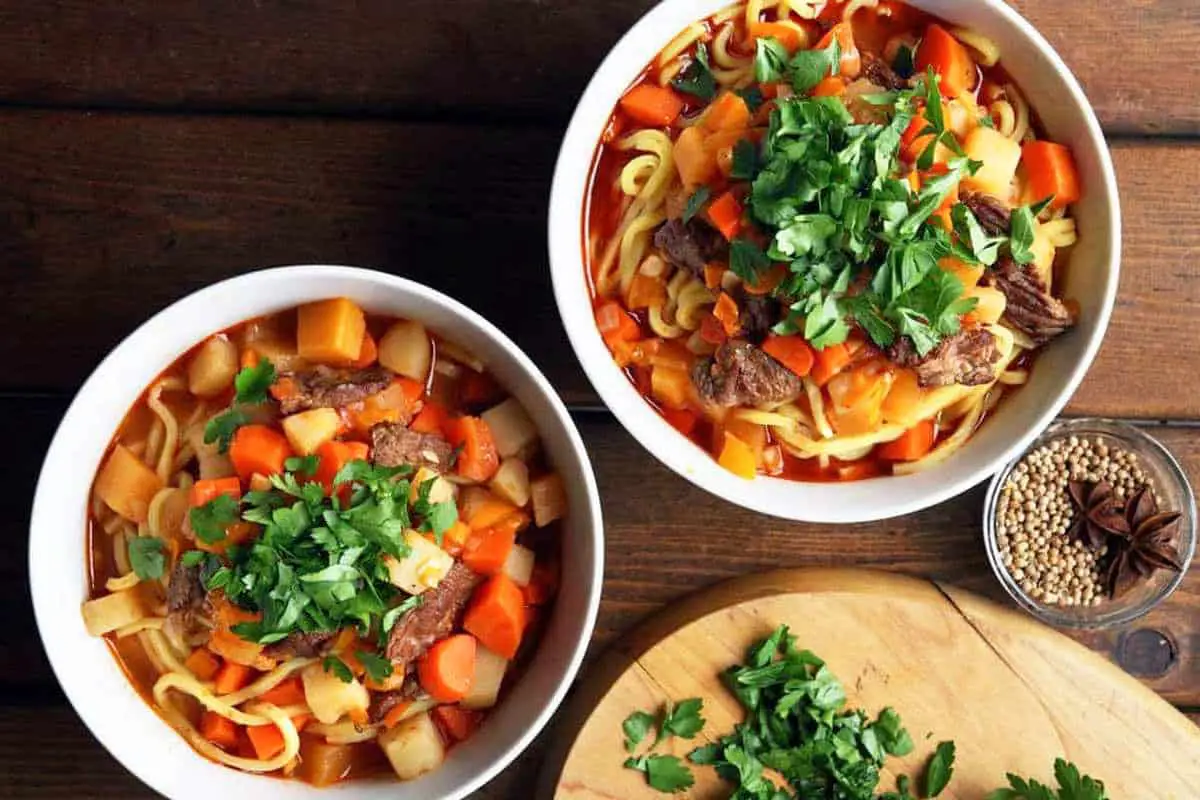 This Uzbek recipe is for a flavorful noodle soup from Central Asia. The aromatic broth is filled with vegetables and beef strips. However, this is also a little intimidating. These recipes are authentic to me, because this is the way I grew up eating them.
But I also realize that someone having grown up with a similar food tradition may feel these recipes aren't authentic at all, because they deviate from their family recipe. Though I hope we can all embrace each others food love, even in its differences.
My mom was born and grew up in the Central Asian part of Russia. Lagman is a flavorful veggie noodle soup that is eaten in a number of countries from Uzbekistan and Kyrgyzstan to Turkmenistan. Wikipedia says it is originally Uyghur – an ethnic minority group of the region.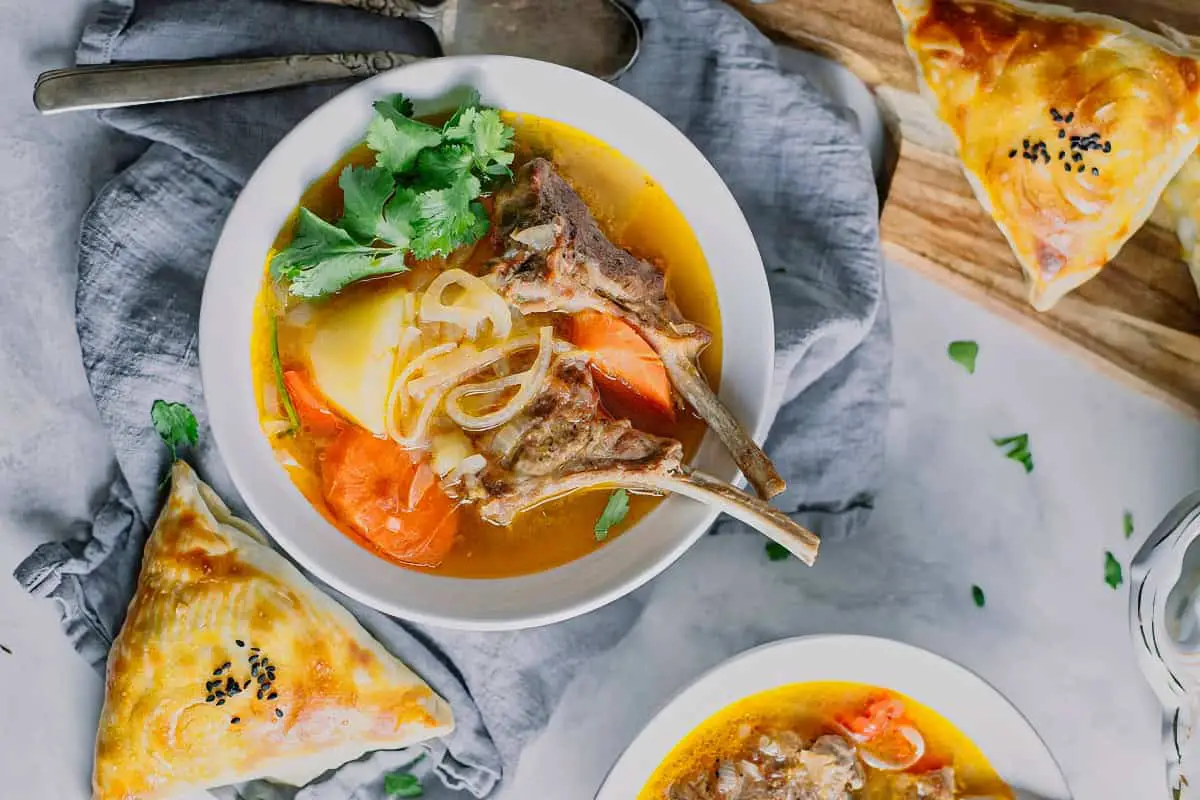 This rich lamb and vegetable soup, also known as Shurpa is a well-known dish in Uzbekistan. Simple to make, this one is sure to become a favorite you'll make over and over again!
I know we will survive these cold dark days, thanks to Uzbek recipe like this Uzbek Shurpa Soup. Rich, fatty broth combined with generous pieces of lamb and vegetables, slowly cooked with fragrant spices and herbs – it's not just another soup, it's a real medicine! After indulging on a plate or two of Shurpa you'll gain energy for the whole day, quickly recover after a stormy night out, and even help cure any cold or flu symptoms.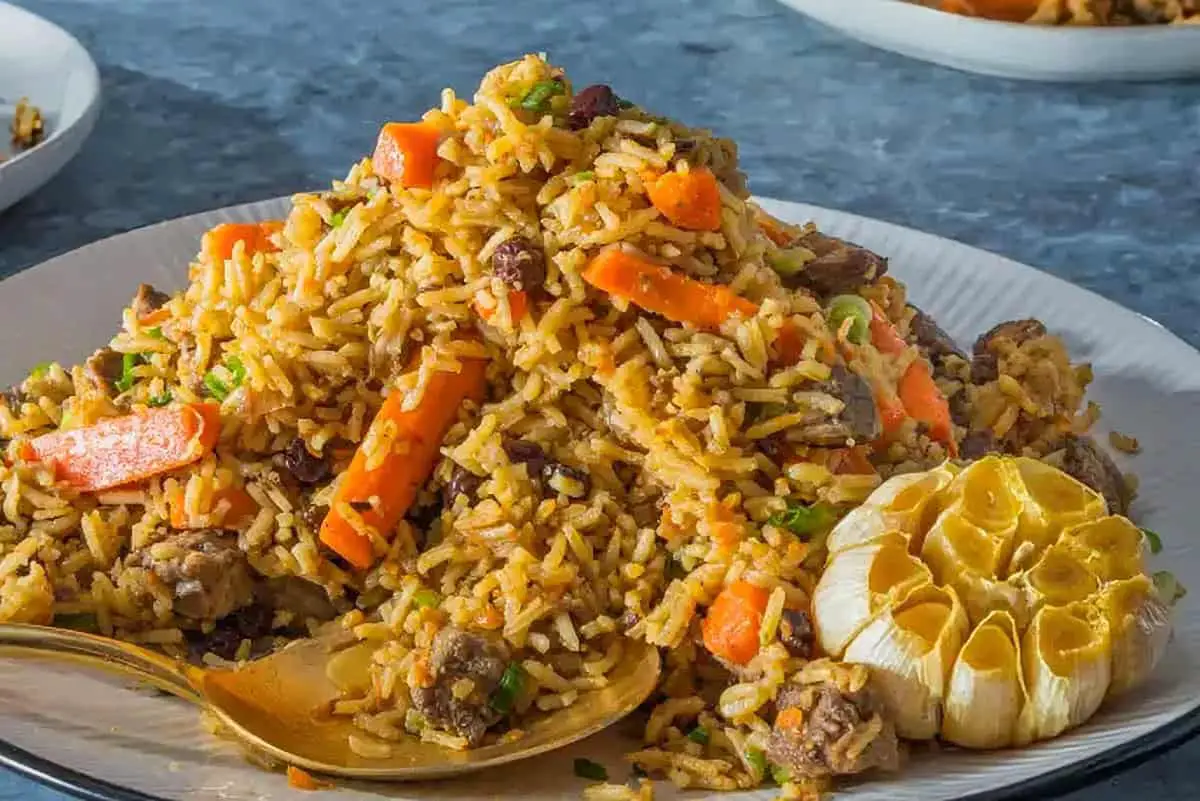 This revered beef-and-carrot rice Uzbekistan recipe is worthy of being the centerpiece of the table. The most challenging part of making it is getting the meat to reach perfect tenderness at the same time that the rice finishes cooking and the moisture has evaporated or been absorbed into the rice.
To eliminate tricky timing issues, we removed the beef from the saucepan when it was tender and added it back to the pilaf only when the rice was nearly done. Placing a layer of aluminum foil between the saucepan and the lid ensured a tight seal, so all of the flavorful cooking liquid was retained during the braising step and then absorbed into the rice on the stovetop.
A grated carrot added at the beginning of cooking provided sweet, earthy flavor throughout, while larger carrot chunks added later with the rice became tender but remained intact. Traditional dried barberries supplied bracing pops of acidity. A whole head of garlic, simmered with the meat and then used to garnish the platter, distinguished this Uzbekistan recipe from other Silk Road pilafs.
Even though I have never been to Uzbekistan, I love Uzbek recipes and other Central-Asian recipes. There is nothing like Uzbek plov (pilaf), samsa, and other delicious dishes and goodies. Uzbek bread is what I am particularly fond of. Uzbeks eat it with just about everything. It's very versatile. Me, I've even made grilled cheese, sandwiches and burgers with it and loved the results. This bread is addictive!
There are many types of Uzbek bread, obi non is just one of many Uzbekistan recipes, though it's the most common bread there. Every region in Uzbekistan, if not every town, has its own style of obi non. Obi non can be super plain – made with just flour, water, yeast, and salt – or it can incorporate shortening, butter, lamb fat, meat, raisins, nuts, sesame seeds, and more.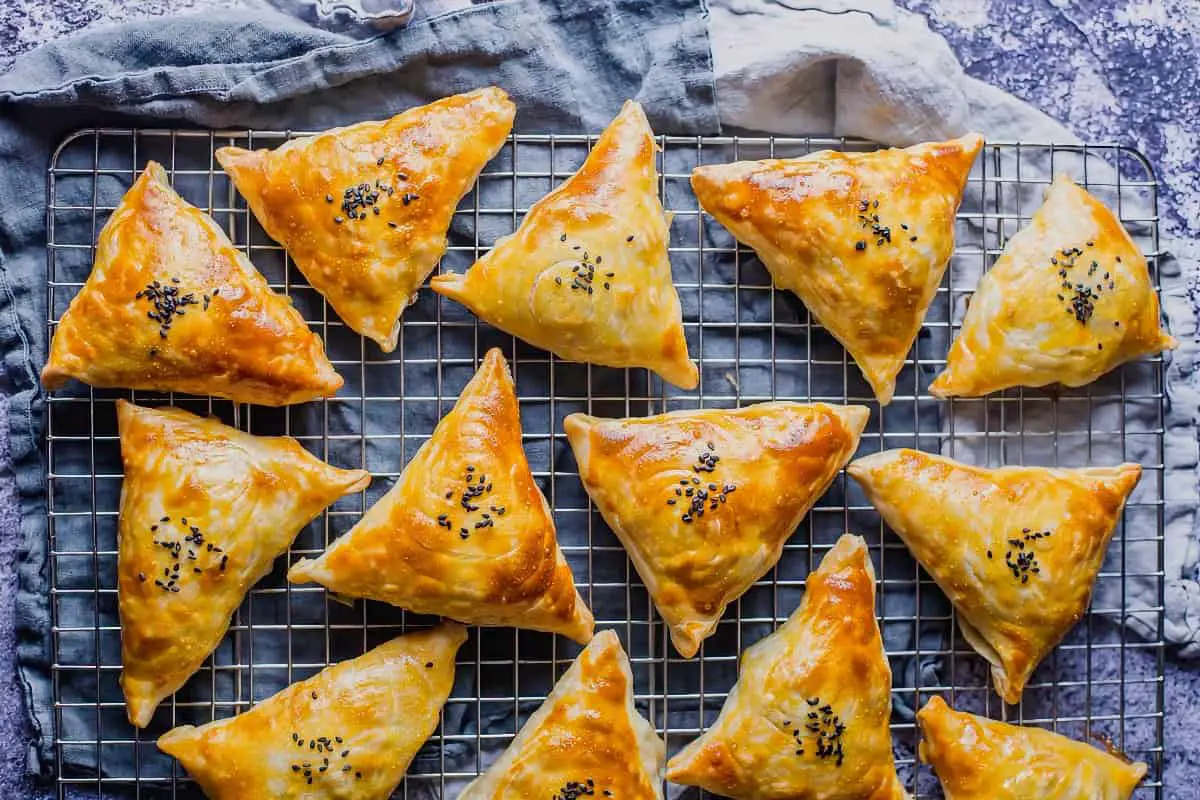 If only every weekend could start out with this Uzbek Samsa. I'm sure you guys have noticed, but I have definitely switched into full-on fall mode. Don't hate me, but I love making some cozy Uzbekistan recipes nowadays.
In Uzbekistan and many countries of Central Asia, you'll find Samsa, also known as samosas in some places, being sold on street corners, roadside shacks, fancy restaurants, or prepared for family gatherings, where they are commonly enjoyed with a nice cup of tea.
On this blog, I've posted many stuffed savory Uzbec recipes, including Manty, Chebureki, Belyashi, and Pelmeni. But as delicious as they all are, this traditional Uzbek Samsa is in a class of its own.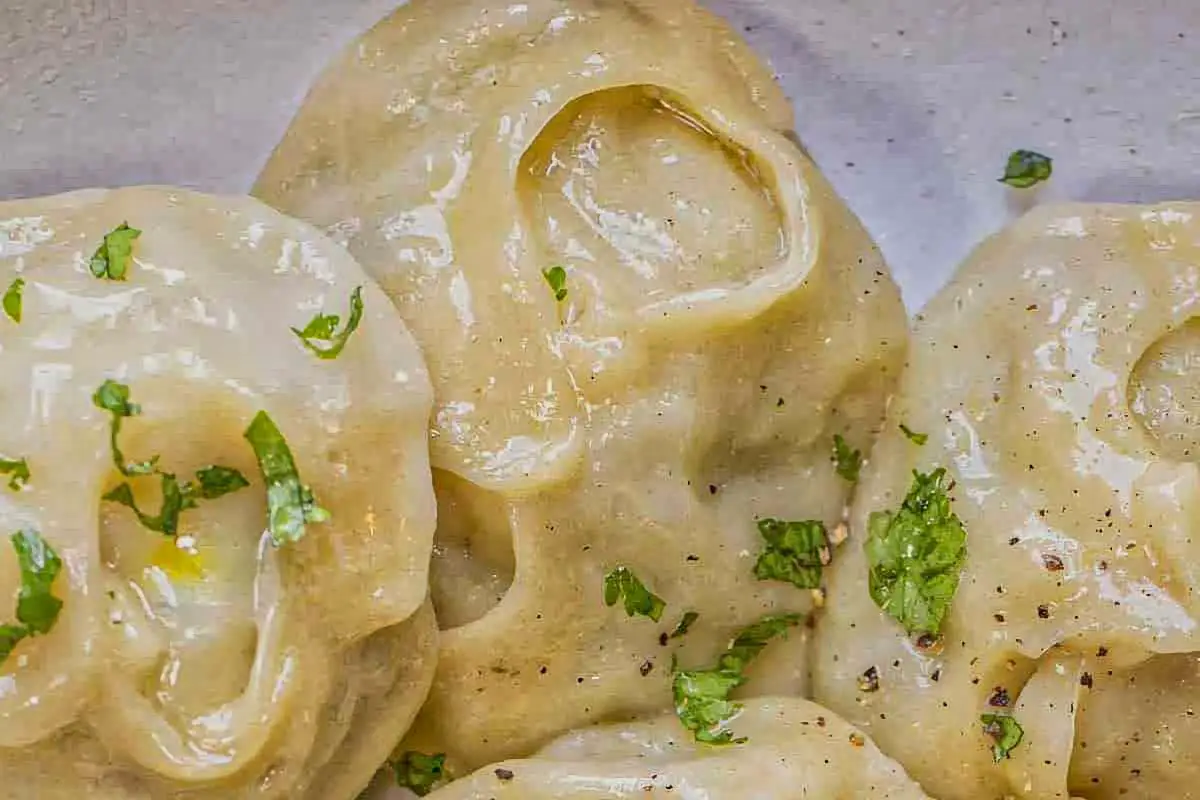 This Uzbek recipe is the best Uzbekistan dumpling recipe! A soft dough filled with a juicy chicken potato filling. A delicious Mediterranean dish the whole family will love. There are many different Uzbek recipes that are unique and delicious, such as this Uzbek Samsa recipe.
Manti is a classic dish served in several different parts of the world. It's kind of like a mix between Vareniki with potatoes and pelmeni. The recipe may seem intimidating but don't let it be. Yes, this is not a super quick recipe that you just throw together, but it's worth every minute.
You can use any meat, pork, beef, lamb or in my case chicken. If using different meat, the cooking time will be longer as chicken cooks quicker. If you are not used to the seasoning coriander or cumin, Vegeta may be used or your favorite seasonings.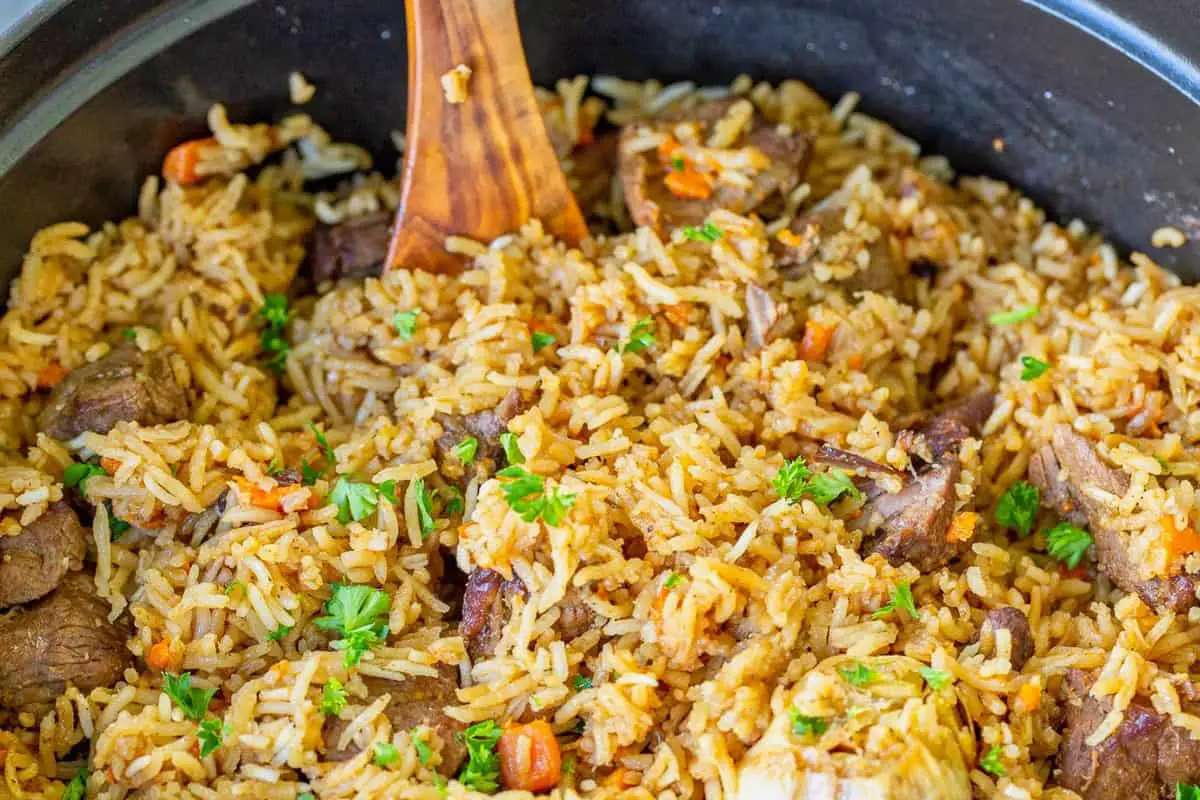 Plov is a very popular, historic Uzbek recipe. Also referred to as "pilaf" or "palov", it's made up of long grain rice, tender chunks of lamb, onions, and carrots. In this recipe, you'll learn how to make this traditional dish in no time.
Plov to Uzbekis is like pasta to Italians. Considered Uzbekistan's national dish, it's a source of delicious pride throughout the country and everyone has their own spin on it. Because it's so simple to prepare, plov is often served at large gatherings, such as weddings, holiday parties, and birthdays.
---
You May Want to Join Our Boondocking Group on Facebook For More Information
You May Want to Join Our Campfire Recipes Group on Facebook For More Information
For More Photos Visit Our Instagram at World Recipes Daily – Our Big Escape