The variety of traditional Malaysian recipes is one of the reasons that it is such a popular cuisine. Having rice as a staple food may sound boring, but this is certainly not the case. The different traditional Malaysian recipes used in the cooking, and the wide range of ingredients that are used mean that rice dishes are always full of flavor.
The influences of Malaysian cuisine include Chinese, Indian and even Thai. These influences combine to ensure that food from Malaysia is nothing if not unique.
The use of rice and noodles in traditional Malaysian recipes means that dishes are filling without being too heavy.
Which Are The Most Popular Dishes In Malaysia?
Five of the most popular dishes in Malaysia are listed below.
1. Nasi Lemak
This is considered to be the national dish of Malaysia.
2. Nasi Goreng Kampung
This is fried rice and there are many different ways of cooking it.
3. Maggi Mee Goreng
This traditional Malaysian makes use of the famous branded instant noodles.
4. Roti Canai
This is a traditional Malaysian recipes for a delicious flatbread. It is cooked using ghee and folded several times during cooking to create a layered texture.
5. Char Kway Teow
This is one of the most popular street food dishes in Malaysia. The most common ingredients are flat rice noodles, shrimps, Chinese sausage and a variety of vegetables.
Frequently Asked Questions About Food From Malaysia
Which Cuisines Have Influenced Malaysian Cooking?
Traditional Malaysian recipes have influences from many other Asian countries including both China and India. This variety of influences is one of the things that makes the cuisine so unique.
What Is The Staple Food Of Malaysian Cuisine?
Rice is the staple food of Malaysian cuisine. It is cooked in several different ways and can differ widely between dishes.
How Should A Malaysian Meal Be Eaten?
The answer to this question largely depends on what is being eaten. Chopsticks are used occasionally, but it is for more common to eat a meal using a fork and a spoon.
Do Durians Really Smell That Bad?
Durians have a pungent odor that can put people off giving this fruit a try. However, it has a pleasant, sweet taste that is well worth experiencing.
Do Vegetarians Get A Lot Of Choice With Malaysian Cuisine?
There are many traditional Malaysian recipes that are suitable for vegetarians. Even recipes that do call for meat can be easily adapted.
25 Great Traditional Malaysian Recipes You Will Love
---
---
check out our video
---
---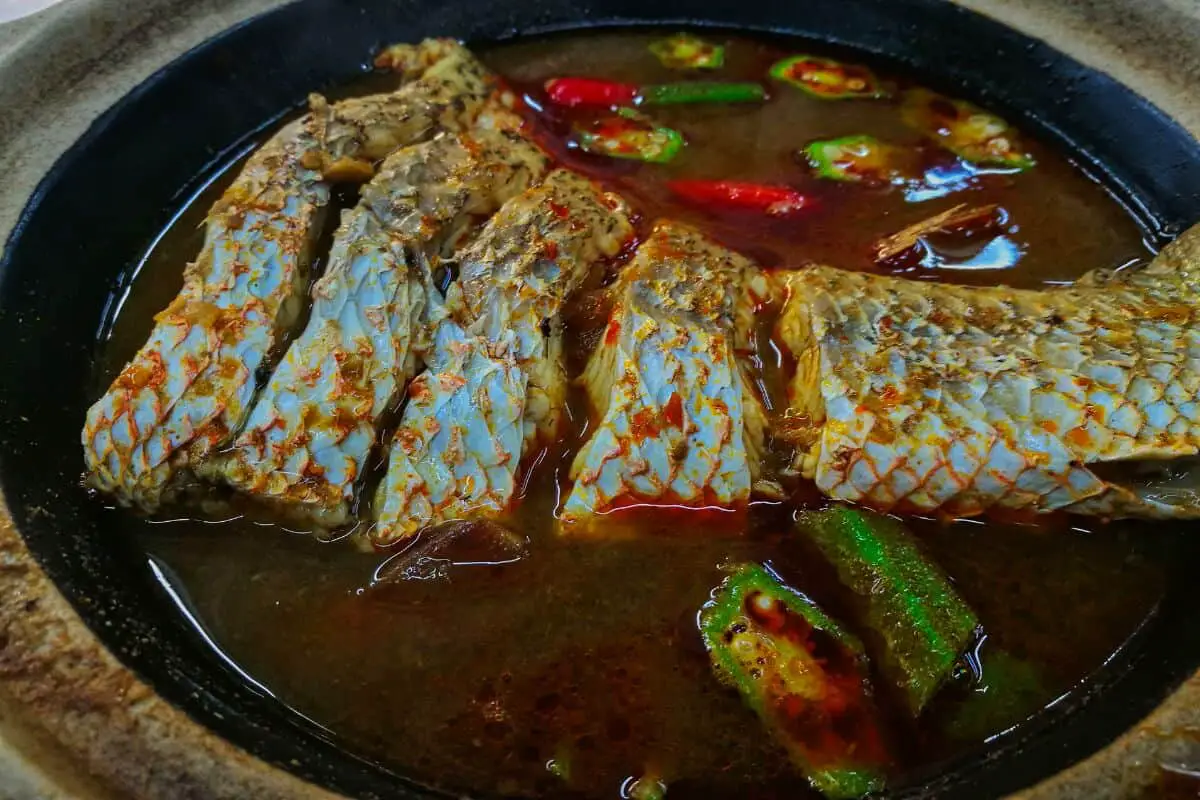 This is a traditional Malaysian recipe that's sour, fiery hot, and tastes extraordinarily satisfying. Assam Pedas, or literally "sour spicy," is a classic Malaysian dish. Everyone has their own interpretation for this favorite dish and there are endless adaptations; suffice it to say, it's sour, fiery hot, and tastes extraordinarily satisfying.
When I made this Malaysian recipe for nasi lemak last weekend, I made a point to prepare some extra spice paste for this Assam Pedas dish. While traditional Assam Pedas calls for ikan tenggiri (Spanish mackerel) or ikan pari (stingray), I used pomfret instead.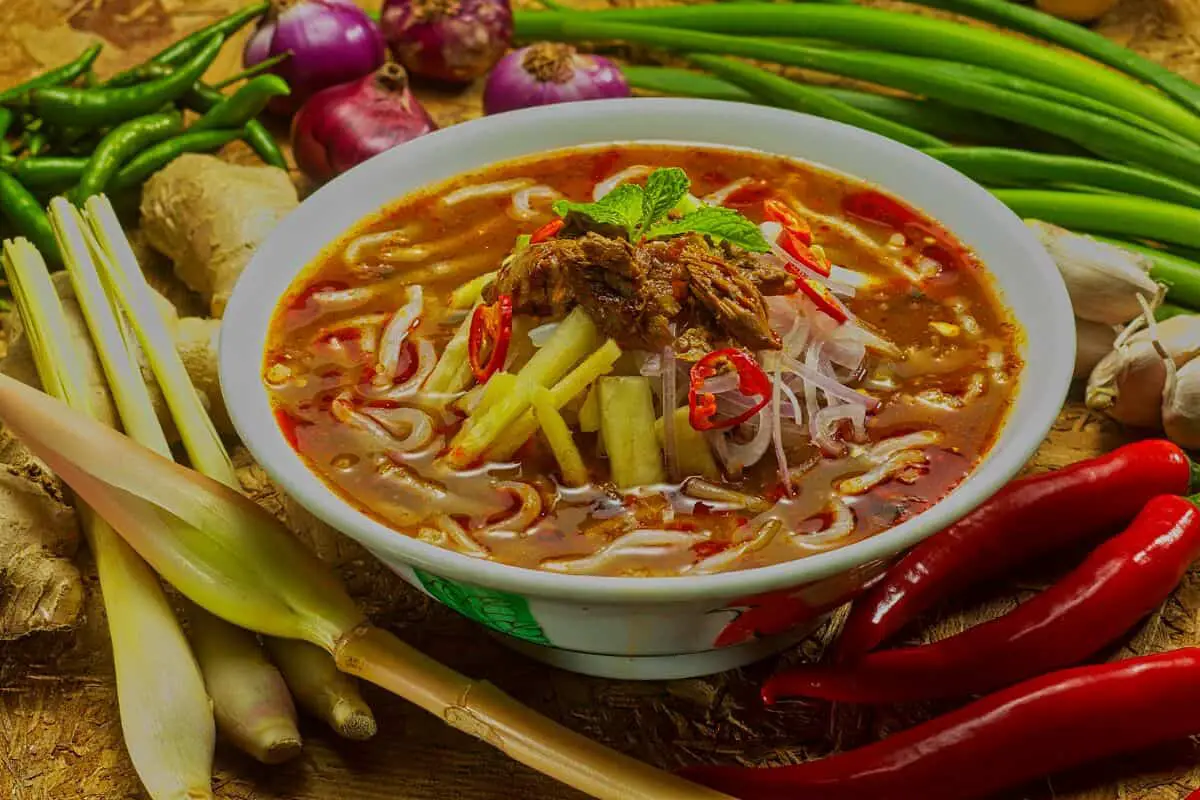 Curry Laksa is a Malaysian coconut based curried noodle soup topped with shredded chicken, shrimp, fried tofu, and bean sprouts. A must-try!
In the northern part of the Malaysia, this traditional Malaysian recipe is simply known as Curry Mee to differentiate it from the spicy and tangy fish based Asam Laksa. On the island of Penang, there is a sub variety known as Siamese Laksa which is a delightful fusion of the two.
It is a specialty Malaysian recipe of the Peranakan community there. In the Central Perak Region, the Cantonese and Hakka communities made this dish to suit their milder palates by combining yong tau foo (stuffed vegetables) as toppings. There are other regional versions in Malacca, Johor, Kelantan, and Sarawak.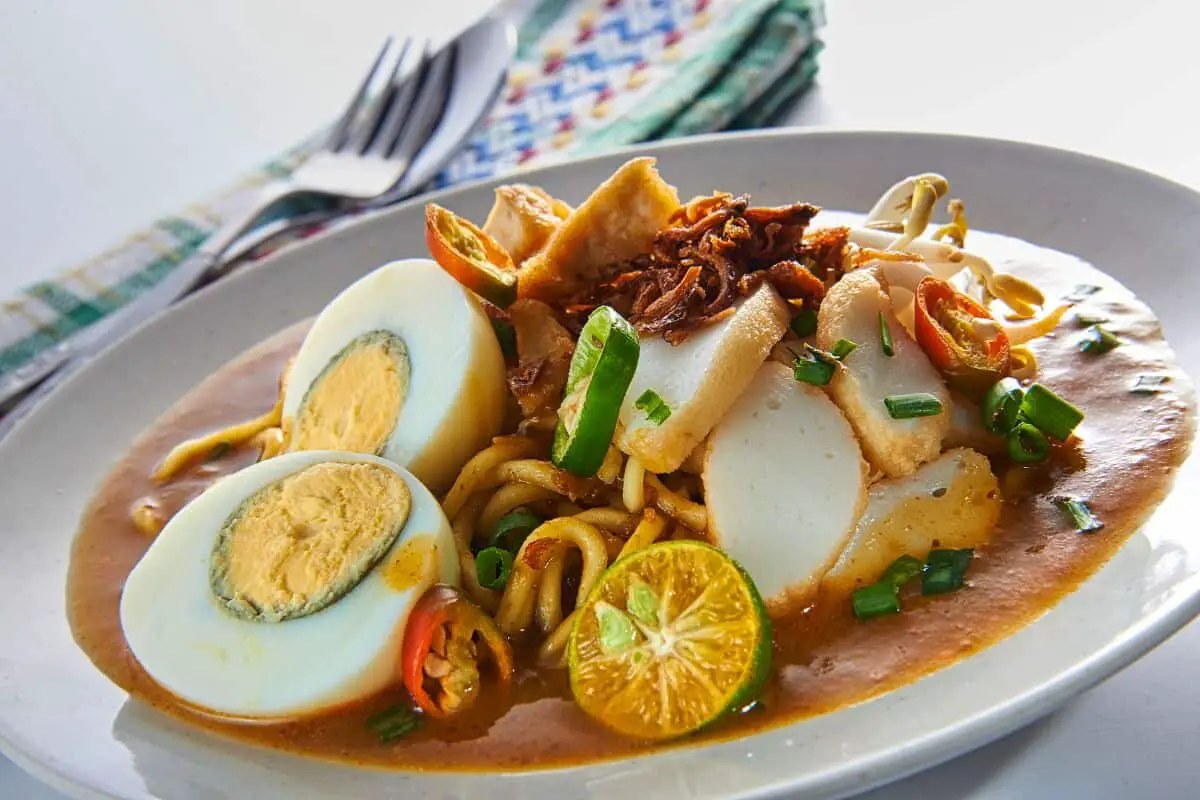 Mee Rebus is a traditional Malaysian recipe that can be found across Malaysia. It is made with egg noodles covered in gravy that is thickened with potatoes, and is sweet, spicy and slight sourness. The dish can be garnished with your preferred choices, such as limes, chilis, bean sprouts and hardboiled egg.
The exact origins are unclear, however most people believe it was probably created in the northern states of Malaysia and then travelled south with the Indian traders. Because of this there are many Malaysian recipe variations of Mee Rebus in Malaysia and other countries in the South East Asia region.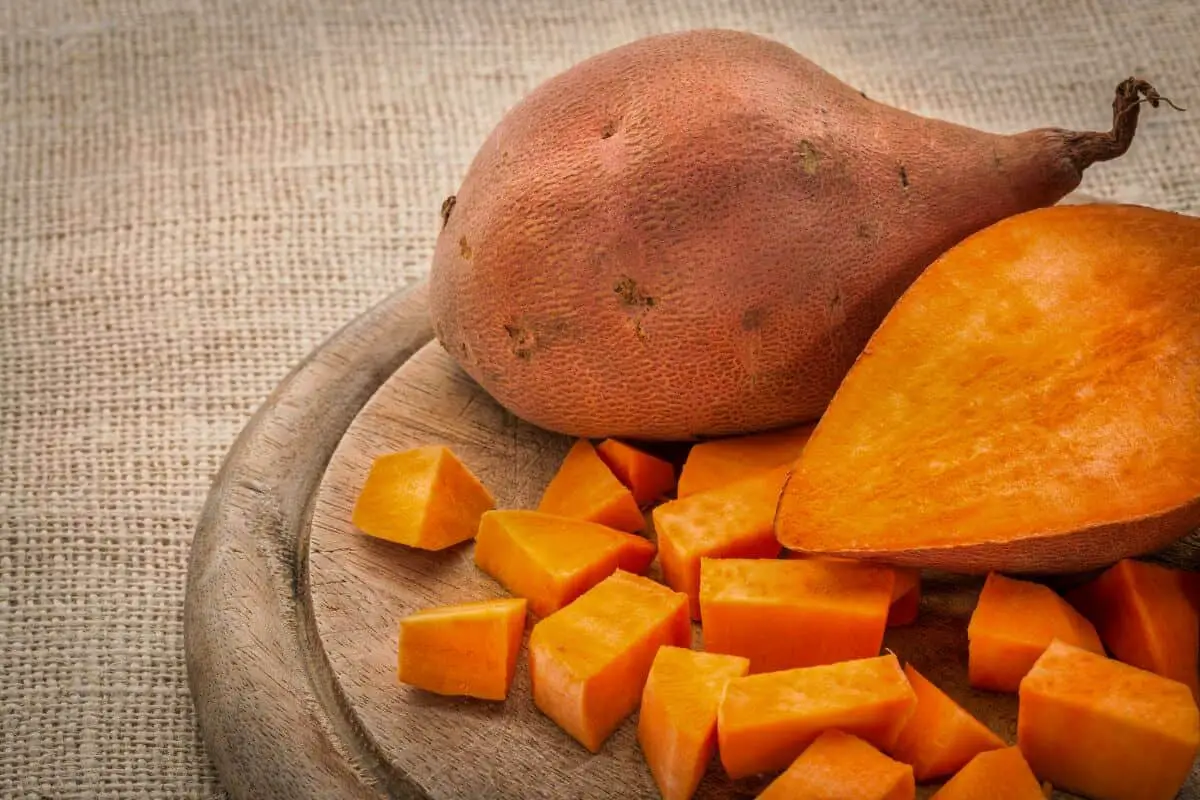 This is a quick and easy traditional Malaysian recipe for lunch or to take to the office. Sweet potatoes are cooked with dried black dates and dried longan and lightly sweetened with rock sugar and served as dessert. It just seemed like it's not that long ago that mom made me this sweet potato ginger soup.
When our now, 6-year old daughter, was only 6 days old to be exact! I haven't made it since. How quickly I have forgotten about those super long sleepless nights.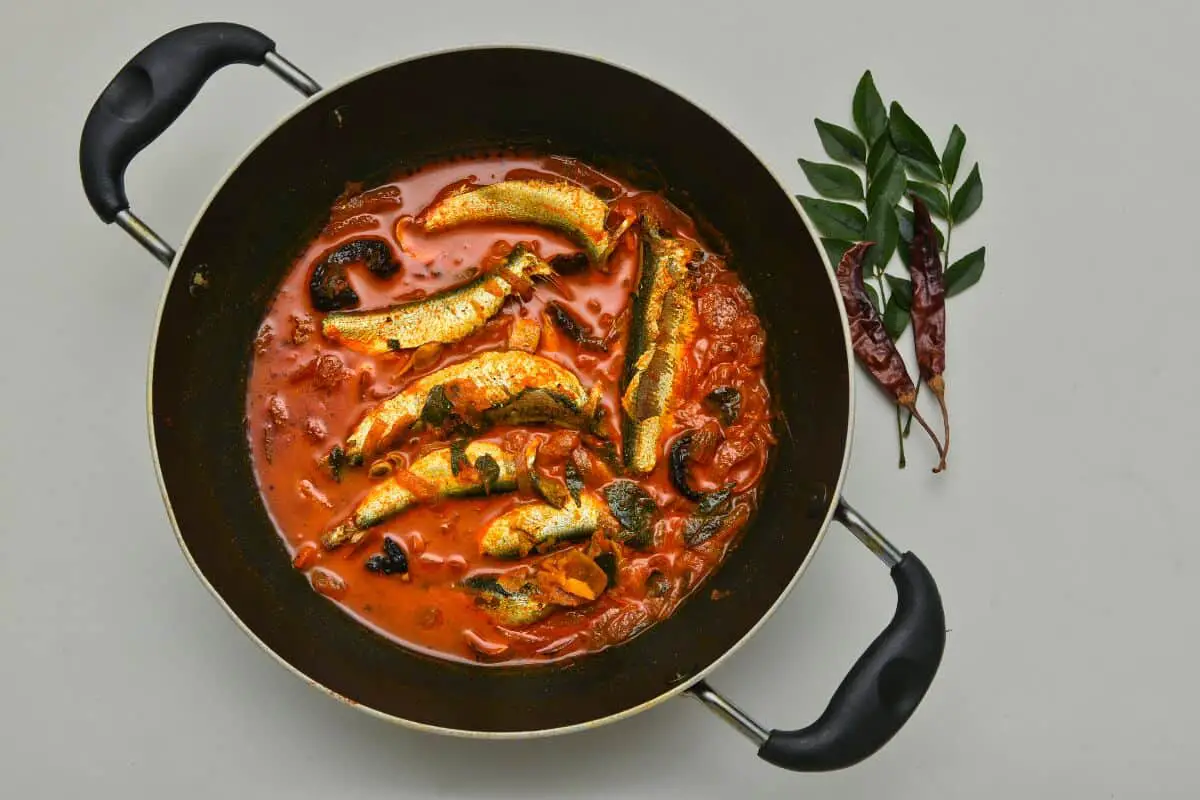 Describing curries is like describing traditional Malaysian recipes – diverse, complex, colorful. "Do not ask me how long the dish will take to cook. Cooking is not like baking. You have to judge by sight, smell and texture" Nazlina quipped. Something my mom would say.
In Malaysia recipes, curries can be loosely categorized into three styles – Malay, Straits Chinese, and Indian. Loosely because there are endless varieties from the fusion of spices and flavors in our multicultural country. No more so than in my foodie island of Penang.
To show you how to make a delicious Malaysian recipe, we met up with Nazlina Hussin, a popular culinary guide in Penang.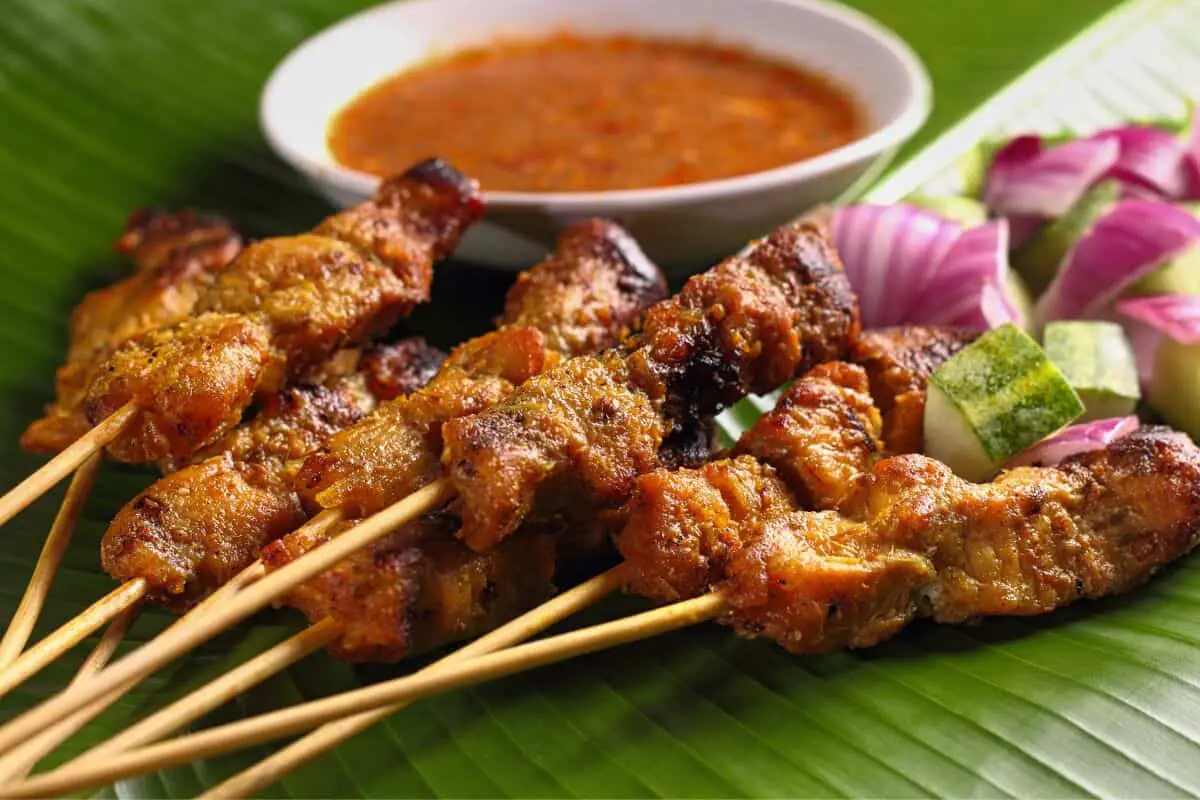 Paired with a sweet and sour dipping sauce, this traditional Malaysian recipe for a fiery Malaysian beef satay will keep you coming back for more! You see, Malaysian recipes have influenced a TON of dishes in neighboring regions like Thailand and Indonesia. I've had both Thai and Indonesian Satay, but I had no idea that Satay originated from Malaysia recipes!
Right, well that's how I discovered this delicious traditional Malaysian recipe for Malay Sambal. This little jar caught my attention at Whole Foods the other day, so I had to grab some and bring it home to experiment. You can also grab a jar on Amazon right here!
I used the Sambal to marinate some beef (uh-may-zing), and then used it AGAIN to make a sweet and sour dipping sauce for the finished satay.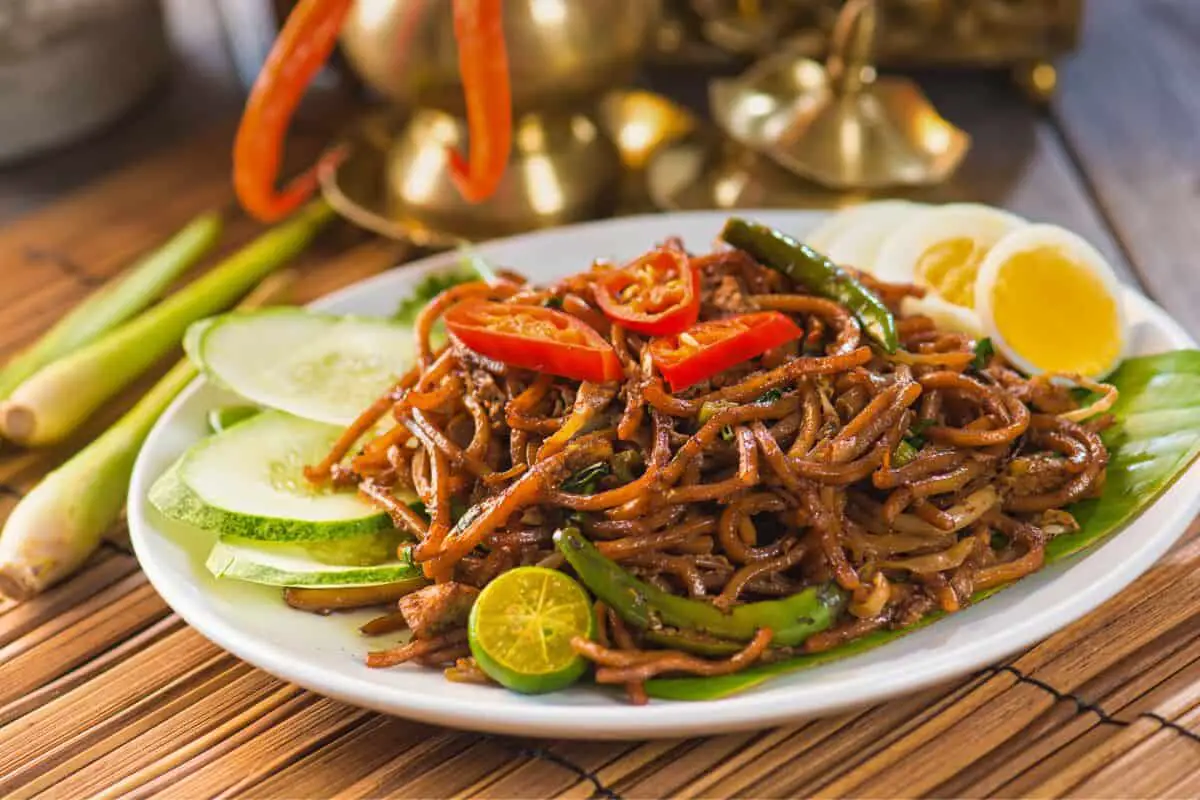 Mee Goreng Mamak Indian Style is the traditional Malaysian recipe for Mee Goreng I ate all the time growing up in Malaysia. Sticky savory, sweet, spicy, sour yellow noodles combined beans sprouts, fried tofu, red potatoes, tossed and stir fried fairly quickly under super high heat.
Mee Goreng means "fried noodles" in the Malay language. And I'm pretty sure it is called the same thing and means the same thing in the Indonesian language too.
You will find that there are many different types of Mee Goreng Malaysian recipes out there but this one in particular is of what we call "Mamak" style.
You May Also Like: 20 Best Traditional Samoan Recipes To Cook At Home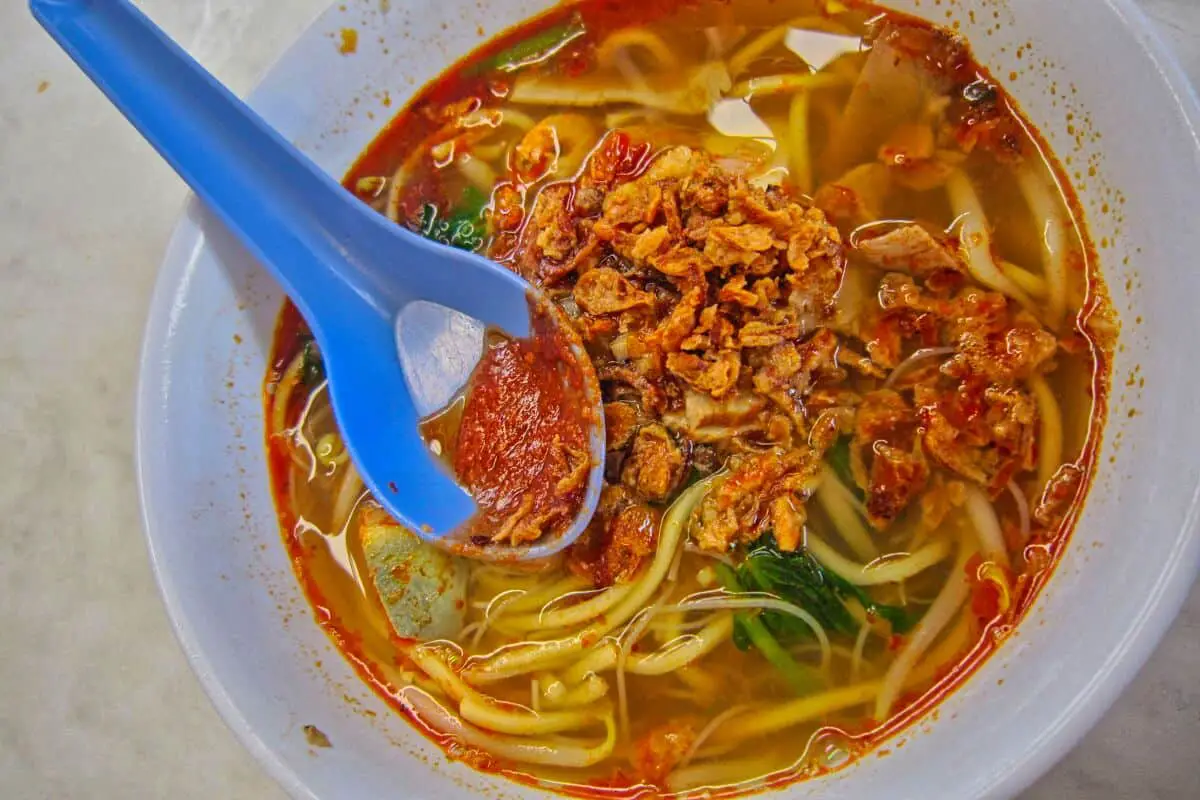 Also known as har mee, this traditional Malaysian recipes hawker classic uses prawn shells and heads to develop its signature, full-flavored broth. Do as the locals do and save shells and heads used for cooking other dishes in the freezer until you have enough – the more, the better the broth.
Prawn noodle soup is a popular Malaysian recipe that many often order when eating out at hawker centers. What better way to enjoy Prawn noodle soup dish than to recreate this dish on your own! Have as many serving as you want, and take all the prawns that you want to eat. The richness of the broth will definitely make the extra time taken worth it, and you won't regret your homecooked Prawn Noodle Soup.
Prawn Sambal – A spicy shrimp traditional Malaysian recipe flavored with lemongrass and fresh ginger.
Sambal Udang – Every bite is bursting with the briny flavor of the prawn, complex flavor of fiery sambal, and a citrusy note of kaffir lime leaves.
If there is one dish that I can eat every day with just plain white rice, it's probably sambal udang (prawn sambal)—a popular Malay recipe or Nyonya prawn dish that is much-loved by many people.
Made with a sambal paste and flavored with belacan (Malaysian shrimp paste), the gravy of sambal udang is best when drizzled on a serving of steaming hot rice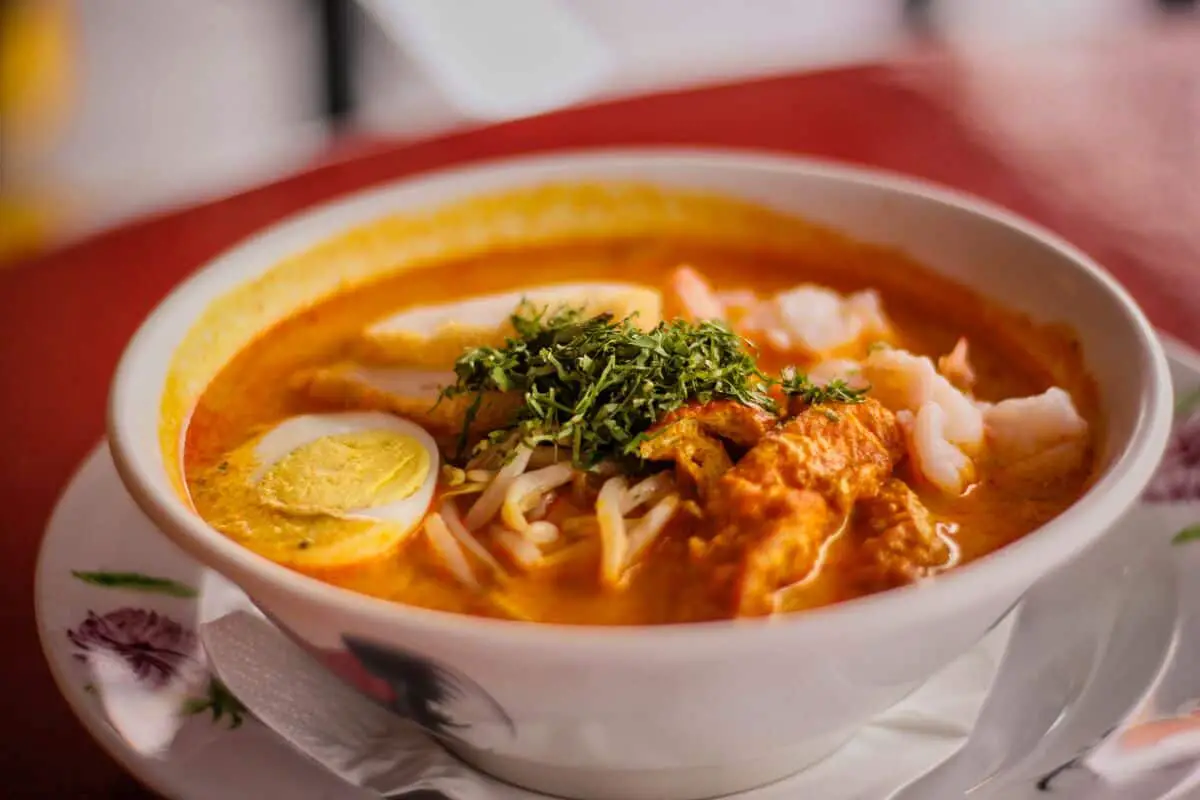 How to make this traditional Malaysian recipe for an authentic Laksa Soup! This Malaysian coconut curry noodle soup can be made with your choice of chicken, shrimp or tofu (or all) with rice noodles in the most fragrant coconut broth. Top with fresh bean sprouts, lime, cilantro. Learn how to make authentic Laksa Paste from scratch, or use store-bought laksa paste– either way, you will love this!
Choose your choice of protein to the flavorful Malaysian recipe for coconut broth, then ladle it over fresh rice noodles, top with a handful of crunchy bean sprouts, fresh cilantro, and mint, and serve with lime wedges. So much flavor here friends!
It's a soup that takes you far, far away, and it has been a hit at home when the temperatures are cooler.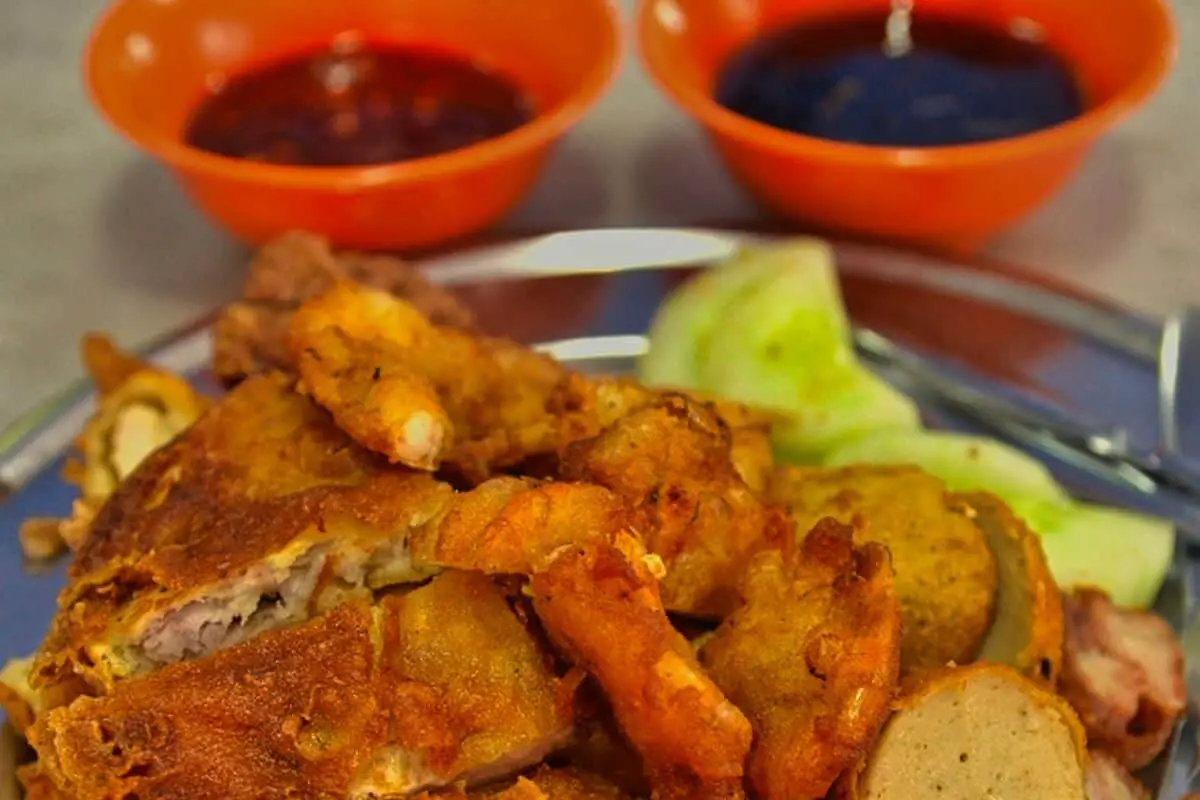 Lor Bak is popular traditional Malaysian recipe for street food in Malaysia, particularly among the Chinese. It is a meat roll wrapped in beancurd skin, seasoning with Chinese five-spice powder, and deep-fry until crispy. Besides being a famous street food sold in every nook and corner, it is also a favored festive dish during the Chinese New Year.
Let's get into the detail of my favorite Malyaysian recipe for Lor Bak.
Other names also refer to the same deli. So If you encounter a Five-spice meat roll, Ngoh Hiang pork roll, loh bak, spice pork roll, and 五香卤肉卷, they are all variation phrases referring to Lor Bak.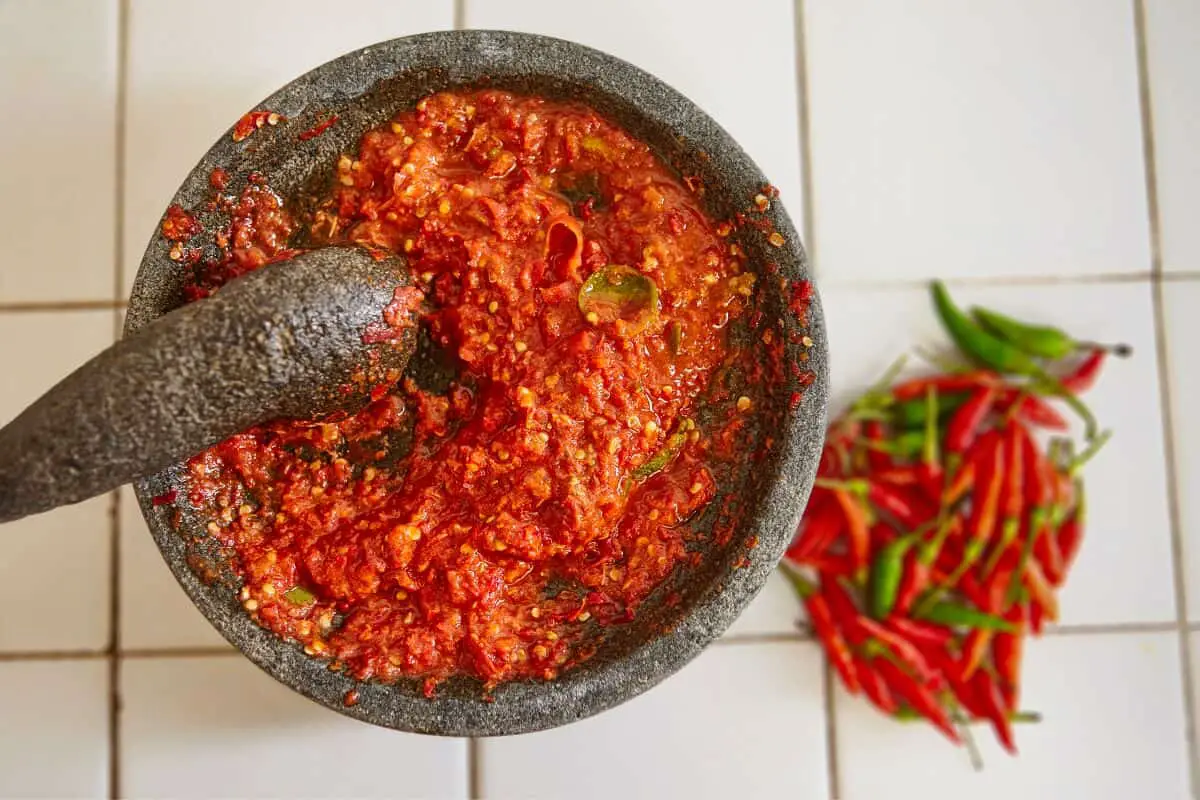 Sambal Belacan is a popular Malaysian chili condiment made of chilies, belacan, and lime juice. It adds zest to all your traditional Malaysian recipes. Sambal Belacan is an indispensable chili condiment in Malaysian cuisine. For many, a meal is incomplete without this spicy savory concoction. It whets one's appetite and goes with just about everything.
Like Nasi Lemak, Malaysians absolutely love and can't leave home without it.
There are many versions of Sambal Belacan but these 3 ingredients are essential – red chilies, belacan (shrimp paste), and lime juice. Salt and sugar to taste is optional. I have seen recipes on the worldwide web with shallots and tomatoes, although I have never personally tasted them.
You May Also Like: 30 Super Easy Traditional Thai Recipes To Make At Home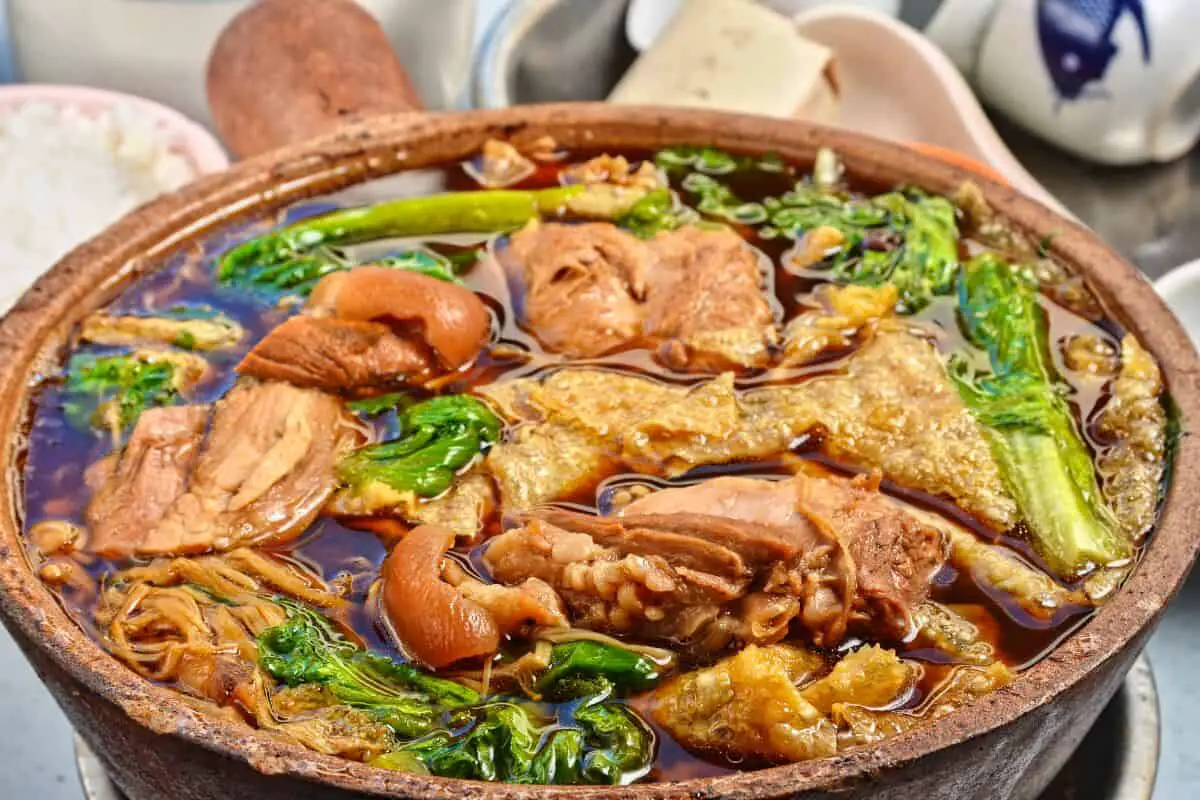 Bak kut teh is a Malaysian recipe for pork ribs soup cooked with many Chinese herbs, typically served with steamed white rice, you tiao (Chinese crullers), and thinly sliced chilies and minced garlic with soy sauce. It has been a long while since I had bak kut teh, and I miss it so much.
I spent close to two years in Malaysia and it was one of my many favorite traditional Malaysian recipes. I used to have this all the time from the night market with my friends, and it was really really good, I think it must be the combination of good food and good company 🙂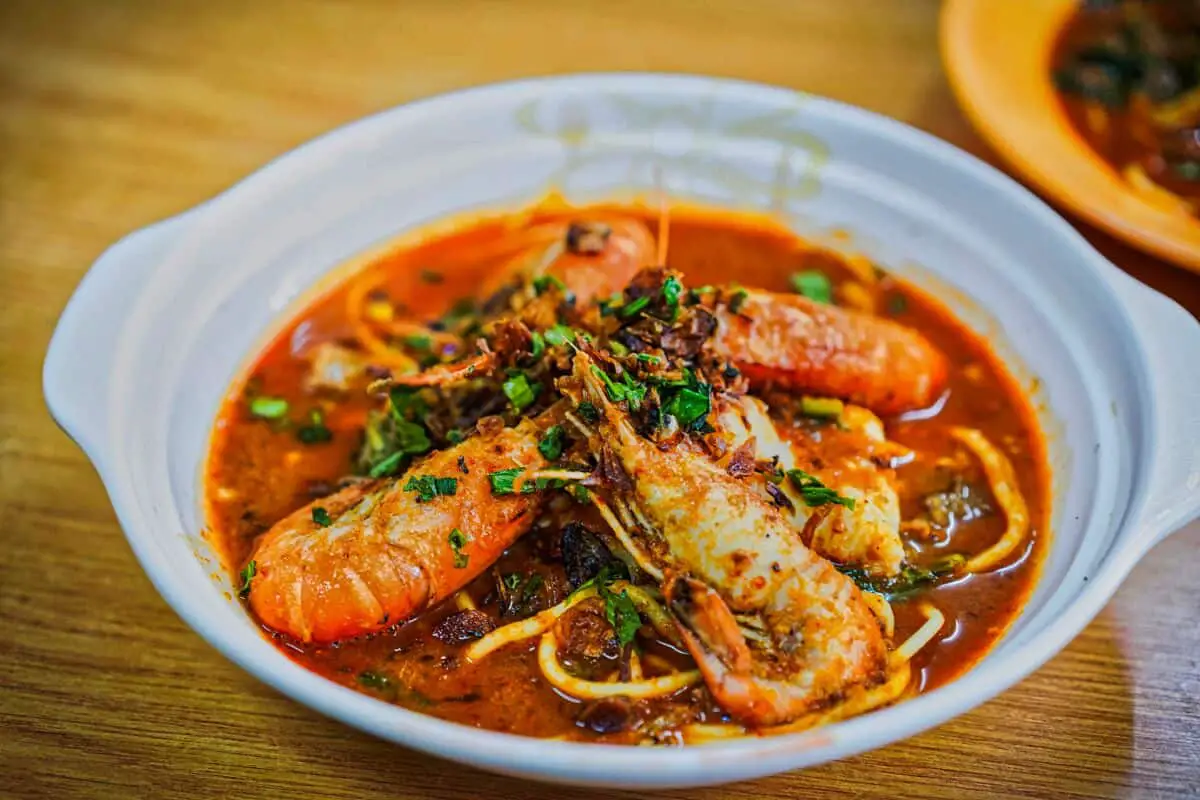 How to make easy Mee Bandung, a Malay recipes noodle dish of eggs and prawns poached in a savory sweet tomato ketchup-based gravy. Mee Bandung is a Malaysian/Singapore Malay noodle dish of prawns and eggs poached in a savory sweet tomato ketchup-based gravy.
Despite its name the traditional Malaysian recipe for, Mee Bandung (or it's full name, Mee Bandung Muar) does not actually originate from the Indonesian city of Bandung. Instead, it came from Johor, Malaysia. Bandung here means "mixture" in Malay. Therefore Mee Bandung is simply mixed noodles, referring to the combination of different ingredients in one bowl of sauce.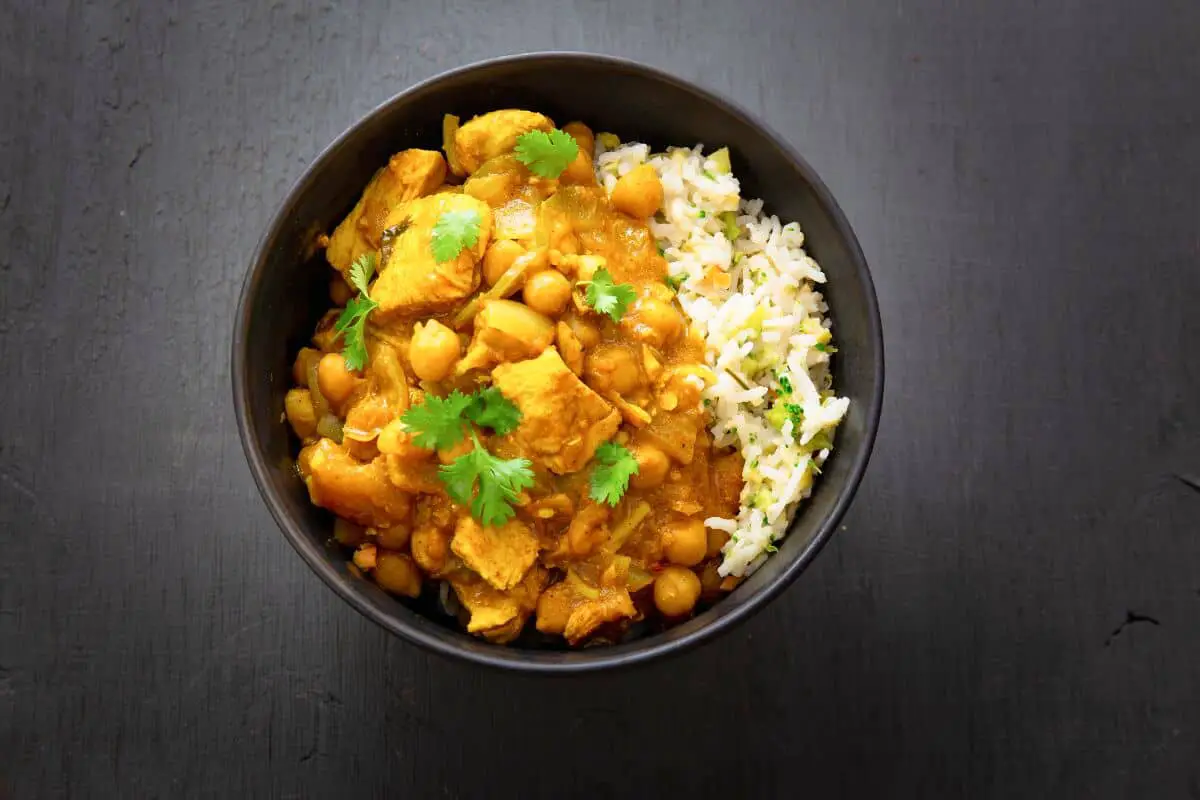 Malaysian Mango Chicken recipe – It is a traditional Malaysian recipe that will satisfy your tastebuds when you are in mood for something light and tangy.
Fruits are abundantly available, so much so that restaurants are always coming up with fresh new ideas to incorporate fruits into the local dishes, eg. Durian with sticky rice and fried fish with Dragon fruit sauce, just to name a few.
Ripe mangoes are used to cook dishes like Mango Chicken, whereas fresh, unripened mangoes are used in most fruit salads, eg. Rojak.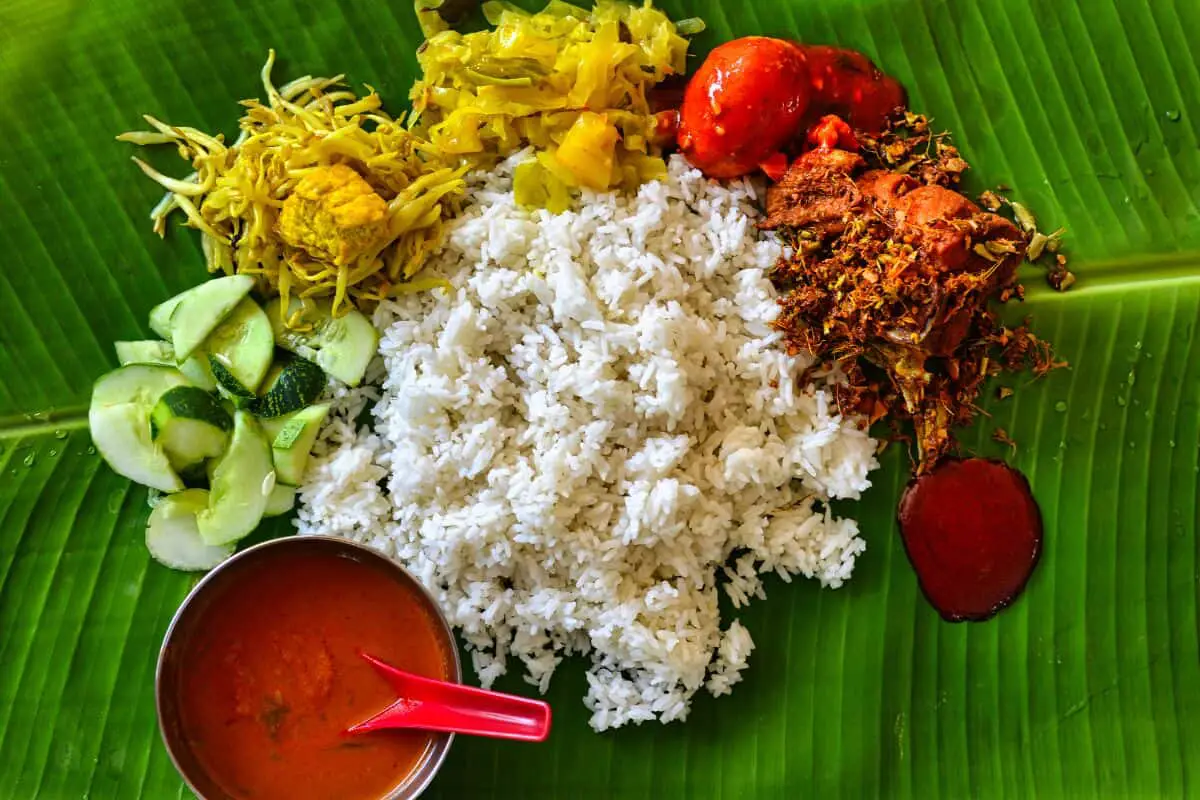 The traditional Malaysian recipe for Nasi Kandar from Pulau Pinang, Malaysian recipes are are always white rice eaten with various types of curry dishes. Usually, those who sell it are Malaysian traders of Indian or Tamil descent. So if you want to make nasi kandar at home it's very easy.
Nasi kandar is commonly served along with various types of curries and other dishes. The name for this malay recipe, Nasi kandar itself, means rice that is carried on the shoulder, which is from the words nasi (rice) and kandar (shoulders). The rice seller usually carries two large containers containing rice and side dishes around.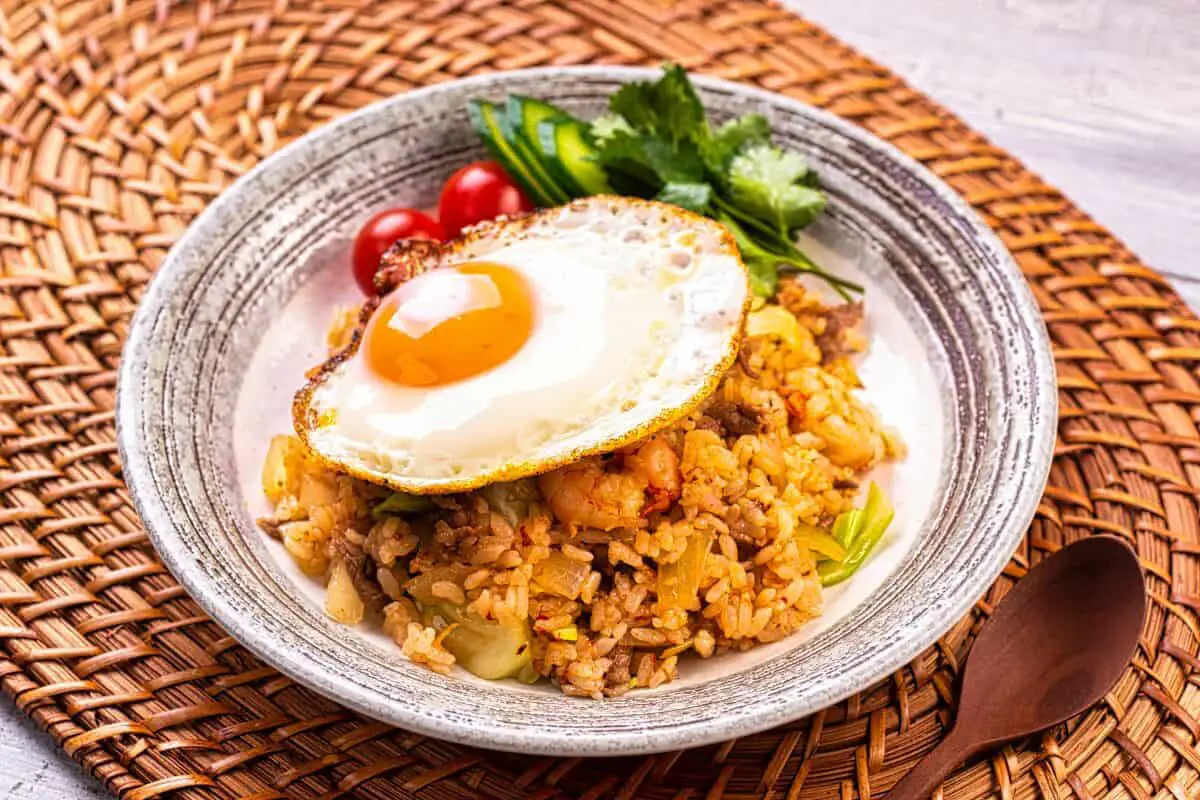 A Popular Malay Style Fried Rice: Nasi Goreng Kampung. Village style fried rice, otherwise known as Nasi Goreng Kampung is a Malaysian recipe for a Malay style fried rice. It is commonly cooked using leftover rice. However, you can also use freshly cooked rice as well. Just be sure the rice is thoroughly cooled.
Long beans, water convolvulus (kangkung), dried prawns and shrimp paste, which are always featured in Malay cooking are used together in this traditional Malaysian recipe style fried rice dish. Just heat up a wok with cooking oil and fry the blended ingredients till fragrant. Add the peeled shrimp, vegetables and crushed chillies. Fry till just cooked.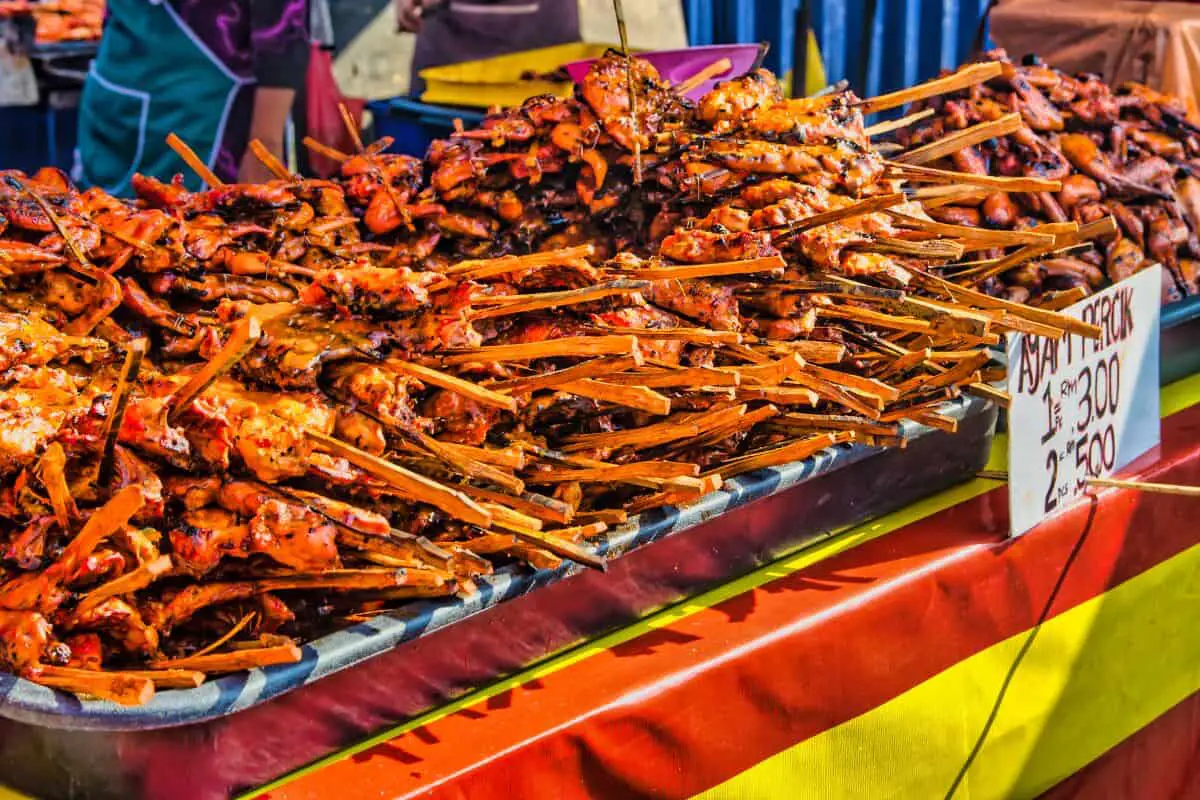 The traditional Malaysian recipe for Ayam Percik, a Malaysian grilled or roasted chicken marinated in flavorful spices like turmeric, cumin & coriander along with lemongrass, coconut milk & tamarind. As the chicken is roasted, the marinade caramelizes on the meat lending a delicious coating that will blow your mind.
It is chicken chunks marinated with a myriad of local spices, then cooked in coconut cream, followed by grilling to perfection. It is a popular dish, especially during the festive season, and is widely available at the Ramadan bazaar.
The unique taste is derived from the combination of the local spices (lemongrass, turmeric, etc. ) plus loads of coconut cream.
You May Also Like: 25 of Our Best Traditional Indonesian Recipes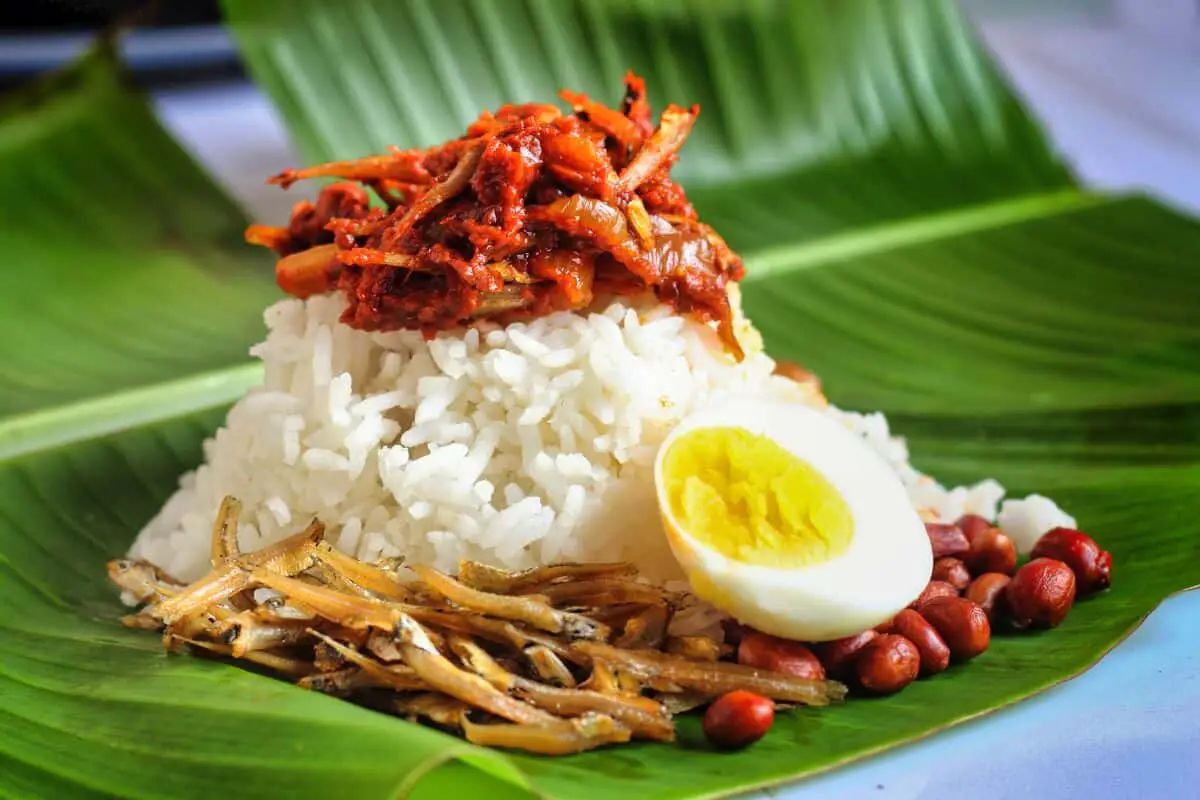 Make this super easy and aromatic Malaysian / Singaporean style nasi lemak using rice cooker or on the stove and serve it with the best homemade sambal nasi lemak.
Nasi lemak or coconut milk rice is a traditional Malaysian recipe for a popular breakfast food in Singapore, Malaysia, and Medan (a city in the island of Sumatra where I grew up). In Jakarta, this is known as Nasi Uduk. Nasi means rice in Indonesian language, and lemak means fat (the fat from the coconut milk). The rice is cooked in coconut milk, and flavored with screwpine leaves (pandan leaves), and lemongrass.
The Malysian recipe is usually sold wrapped in banana leaves, with cucumber slices, pan-fried anchovies (ikan teri/ikan bilis), fried roasted peanuts, sambal for nasi lemak. Fried chicken wings or fried small fish are also a popular addition to nasi lemak.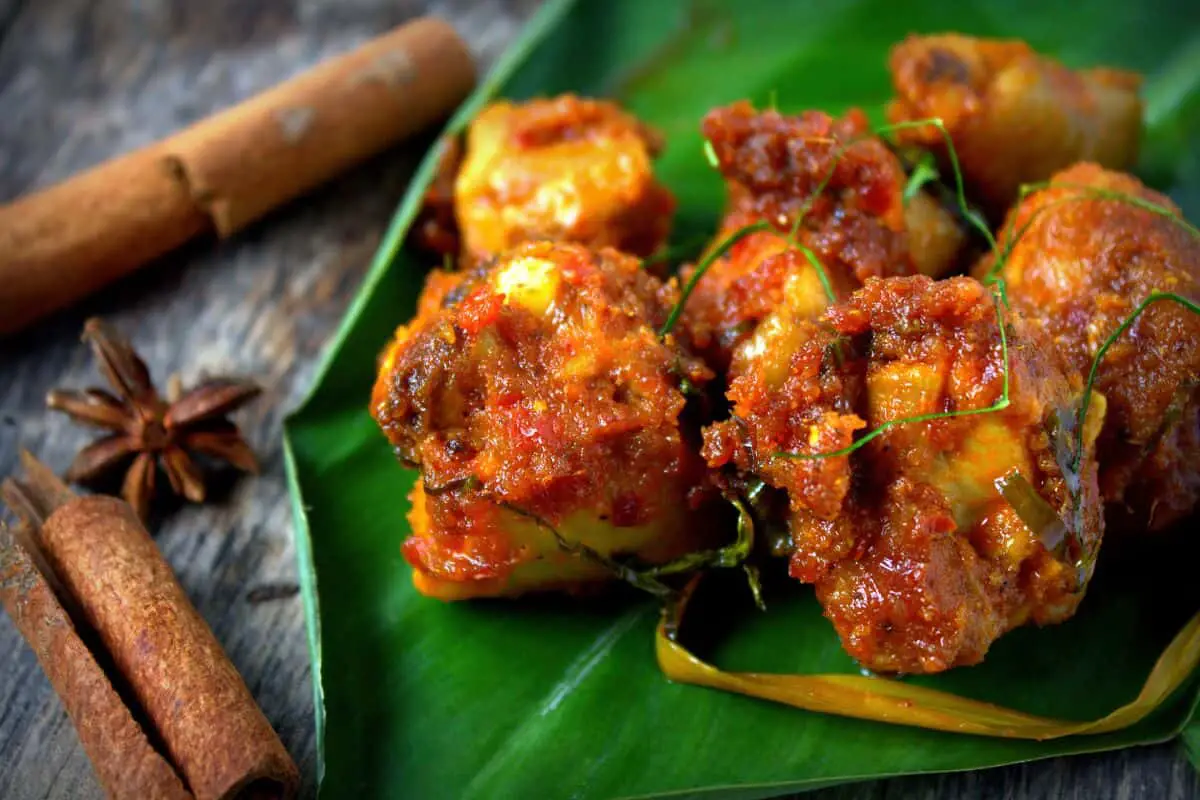 A Malaysian traditional Malaysian recipe classic, Chicken Rendang. Tender chicken in aromatic herbs and creamy coconut milk, all goodness in one pot. A traditional dish that's loved by everybody. I made this lovely chicken rendang lighter by using less amount of coconut milk and it taste wonderful just the same.
Chicken rendang is a traditional Malaysian Recipe that takes the savory taste of chicken and aromatizes it with exotic spices. It's often hailed as one of the world's best foods; even Gordon Ramsay has tried his hand at this popular Southeast Asian dish before! What's there not to like when this Minangkabau special is rich and tender all at once? It is the perfect meal for any time of the day.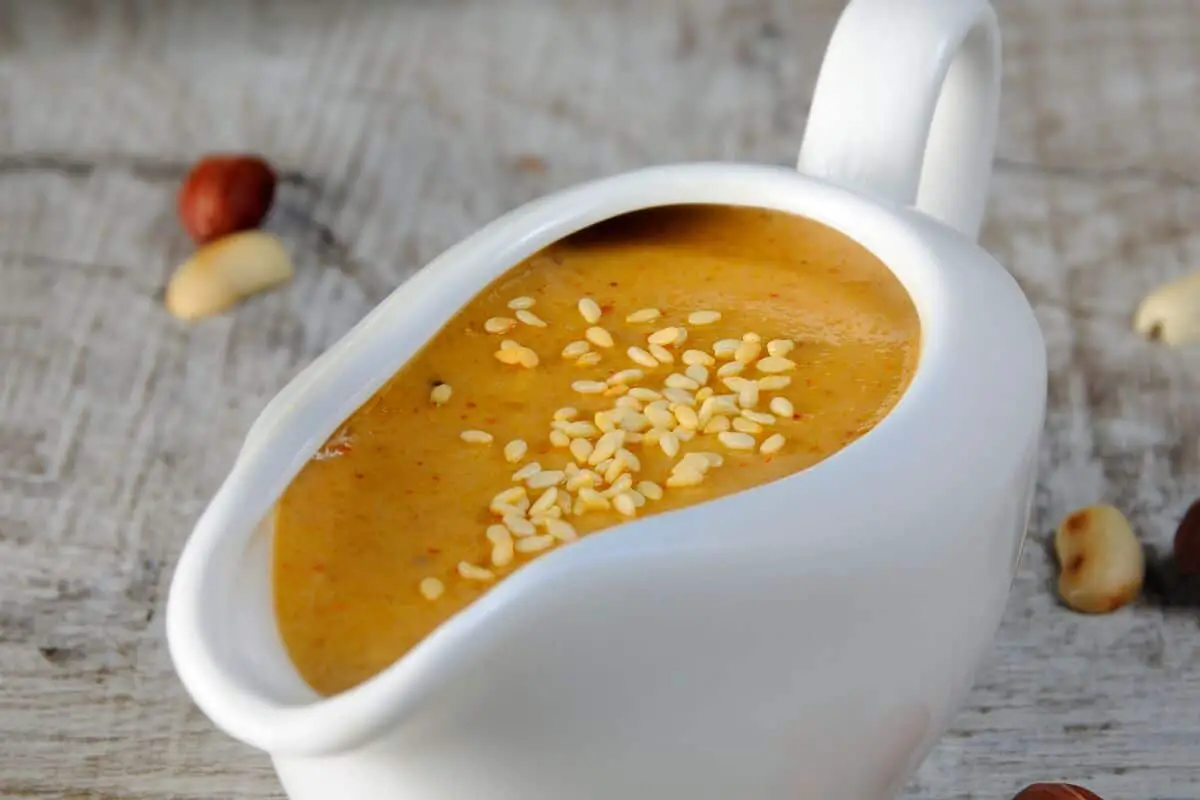 This traditional Malaysian recipe creates a spicy peanut sauce with spices and rich taste. This homemade peanut sauce recipe goes well with chicken satay. This is the best peanut satay sauce you will find online! Peanut sauce is one of the most popular Asian dipping sauces.
The sauce goes perfectly with chicken satay or beef satay. My Malaysian recipe for peanut sauce recipe is 100% homemade and authentic. It's mildly spicy, made of aromatics, spices and dry roasted peanuts. The amazing rich taste of this recipe is unmatched. It is the best recipe you'll find online!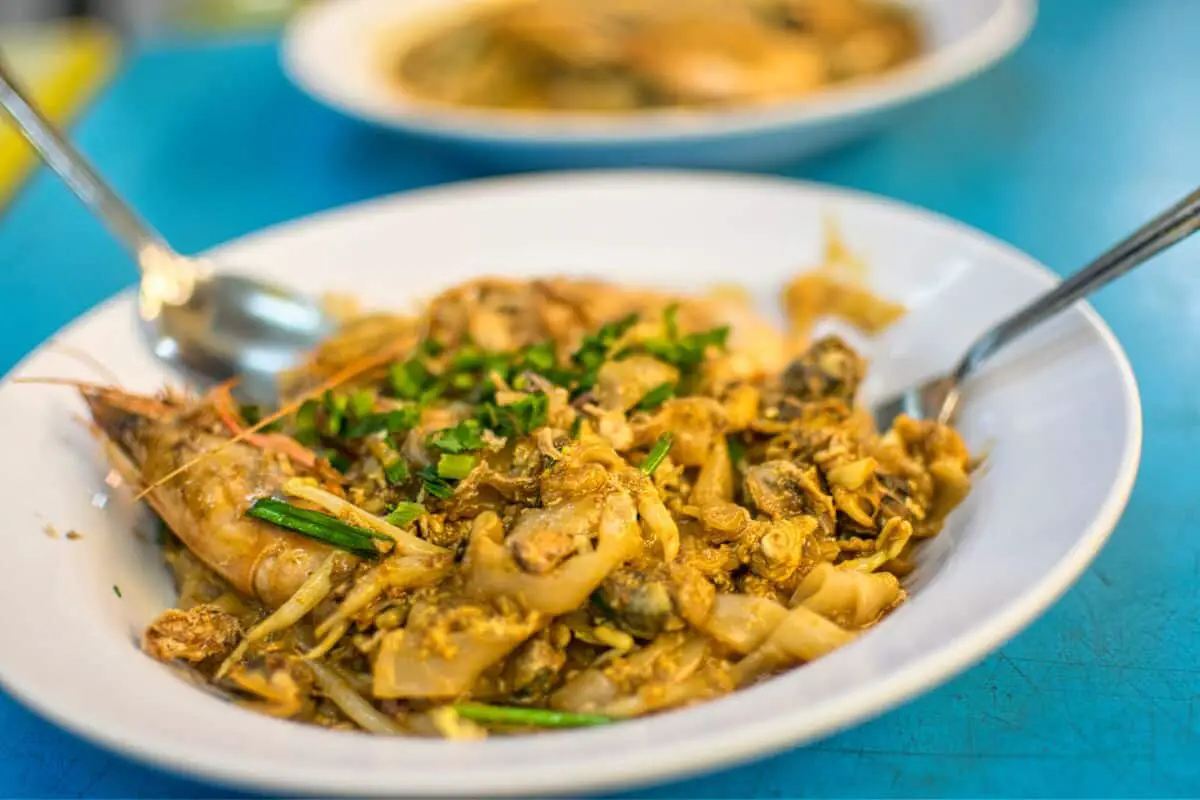 Char Kway Teow (also sometimes spelled Char Kuey Teow) is a traditional Malaysian recipe from Malaysia, but it's also very popular in other Southeast Asian countries like Singapore and Indonesia. A bit similar to Cantonese Chow Ho Fun Rice Noodles, Char Kway Teow is a hearty dish that's filled with meat, veggies, and chewy noodles.
We have a few good Malaysian restaurants in the tri-state area, but my favorite is a chain called Penang. Their Char Kway Teow is delicious––the perfect amount of seasonings and fish sauce, charred rice noodles, and "wok hay." Of course, one day soon we'll have to make it to Malaysia to enjoy a big plate of Char Kway Teow on the street!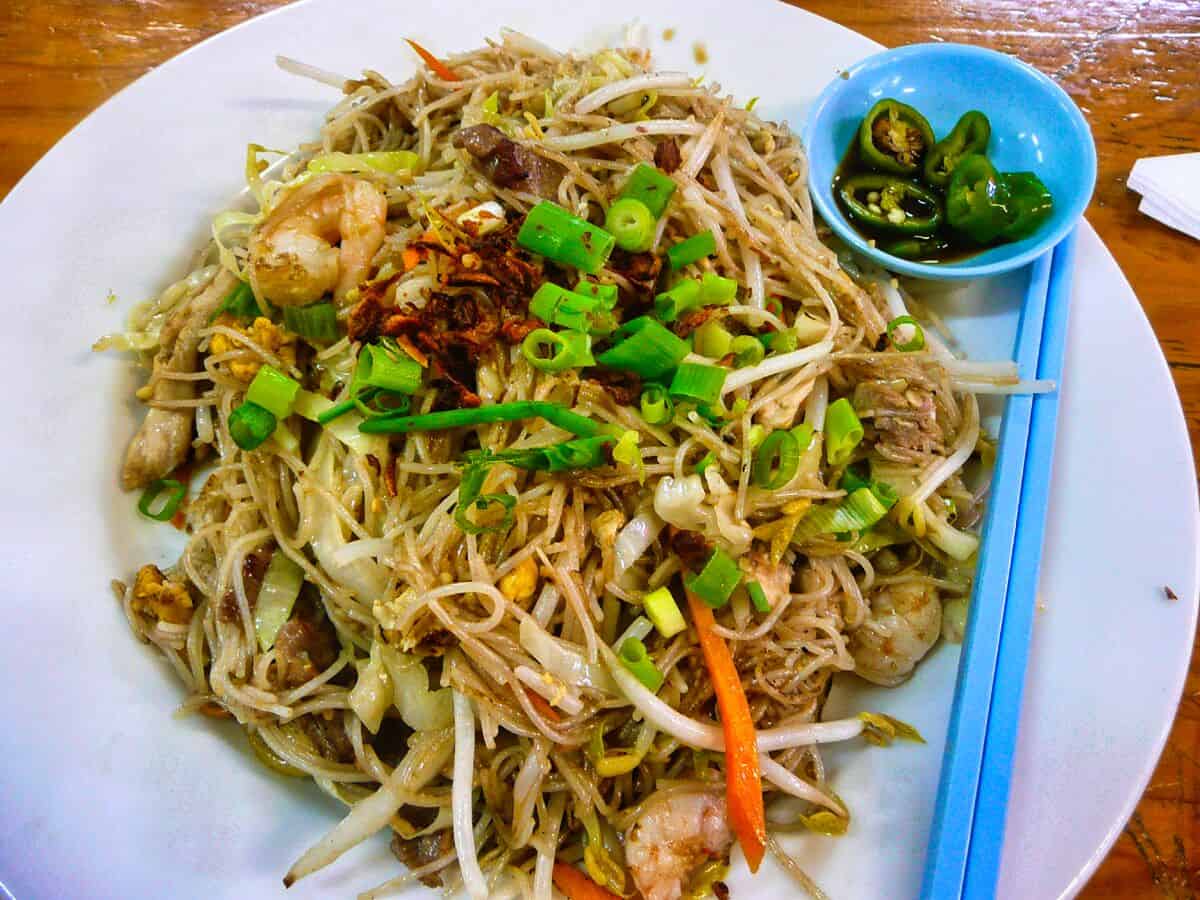 Nyonya = A culture, and cooking style, which arose from the fusion of Chinese and Malay cultures in areas of what is now Malaysia, Singapore, and Indonesia.
Kerabu = A spicy, sweet & sour, Malaysian salad
Bee Hoon (or Mee Hoon) = Rice Vermicelli
Put those together along with this traditional Malaysian recipe and you have a light, flavorful Malaysian dish, enjoyed for breakfast, lunch, dinner, or as a snack. Never a wrong time to eat Nyonya Kerabu Bee Hoon. Not a complicated dish to prepare, but it may be difficult to source all the ingredients.
That's not a problem – either omit what you can't find, or try substituting with another ingredient. Instead of sambal belacan, try Thai tom yam paste. Instead of calamansi lime, try a squeeze of a sour lime mixed with sugar, or pineapple juice.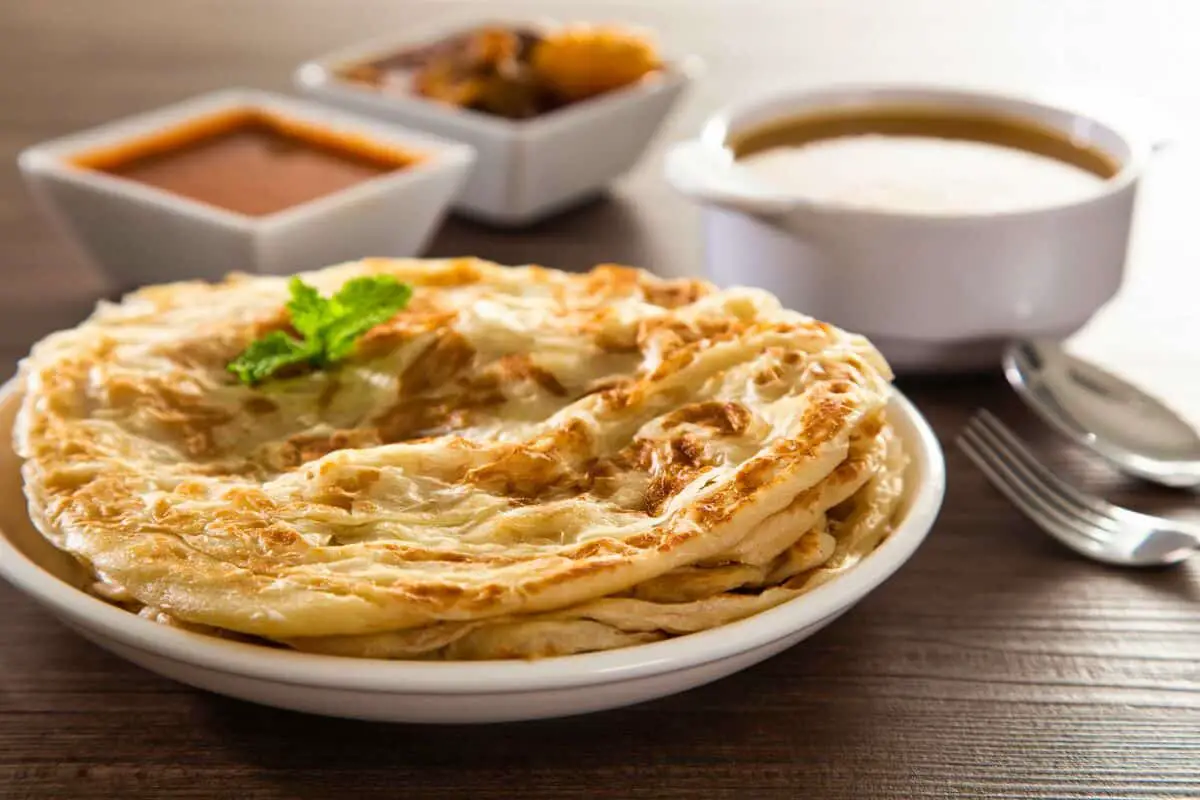 The one thing that I consistently repeat and believe in is that the Language of Food is universal. Its inevitable to find similarities between different cuisines in some way or the other. If you thought that Italian and Indian cuisine have no similarities at all , then the technique of making Rumali roti and Pizza dough will amaze you.
If you thought Bread pudding was an American tradition, then this traditional Malaysian recipe for Indian Hyderabadi Ka Meetha will put things in perspective. I am not even going into the similarities of Mexican and Indian cuisine. Talking about the pizza and rumali roti, there is another close competitor there too.
You May Also Like: 30 Super Easy Traditional Cambodian Recipes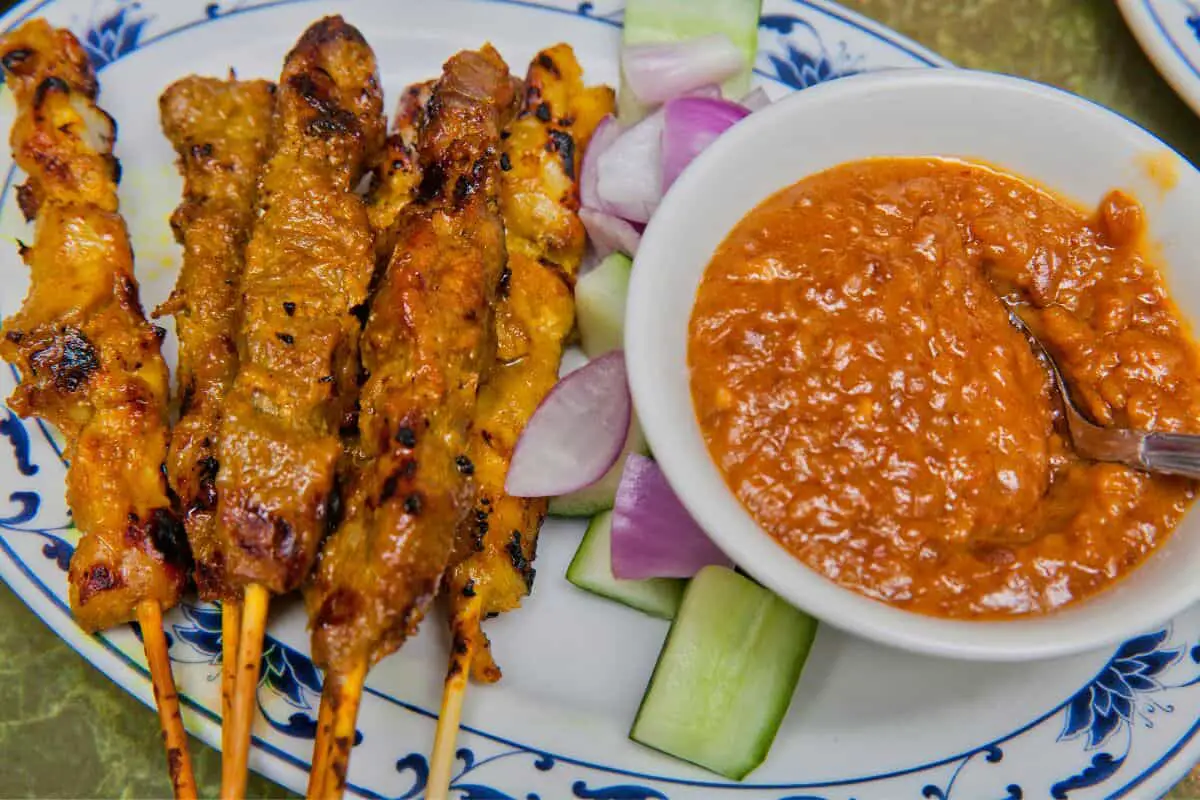 This Malaysian Chicken Satay traditional Malaysian recipe, is delicious, simple and the perfect finger food for watching the big game, or sitting out watching the kids swim whilst you cook out. Or just serve them up in the middle of winter and dream of summer nights.
The marinade is super simple and if you follow my top tips for mixing up the marinade and freezing the prepared satay sticks, you can grab the tupperware box from the freezer in the morning and it will defrost and marinade ready to cook for dinner.
---
Check Out Our Pictures On Our Instagram – Our Big Escape.
You May Want to Join Our Boondocking Group on Facebook For More Information
Check Out Our Recipes On Our Instagram – World Recipes OBE