Last updated on September 27th, 2023 at 12:45 am
Are you looking for a way to add some global flavor to your everyday cooking routine? Ghana recipes offer a mix of vibrant spices, fresh ingredients, and aromatic flavors from West Africa.
Whether you're looking for a new breakfast staple or weeknight dinner idea, Ghanaian dishes have something for everyone. With a variety of spiced stews and remarkably flavorful fried dishes, Ghana recipes are a tasty adventure that's sure to please.
Not only are Ghana foods delicious, but they are incredibly healthy too, with the majority of dishes being made with fresh ingredients like fish, poultry and vegetables. From traditional jollof rice to the nutty and sweet hit of kelewele, you'll soon understand why Ghana food has been gaining in popularity over the past decade.
Ghana is a great place for adventurous eaters, with diverse dishes that range from spicy peanut soup to savory jollof rice. Whether you're a fan of Ghana food or just looking to expand your recipe repertoire, you're sure to pick up some mouth-watering ideas.
The flavors of this West African country's traditional dishes are a feast for the senses. From the famous Bofrot for breakfast to the one-of-a-kind groundnut soup, these Ghanaian recipes are sure to put a smile on your face.
We introduce readers to traditional ingredients and unique ways of cooking favorite Ghana recipes as well as offer suggestions of alternative recipes for cooking up a storm in the kitchen. With a little practice, you'll soon be cooking up the best dishes of West Africa and enjoying an authentic taste of Ghana in your own kitchen.
---
Want more ideas to round-out your Recipe Box?
A lot of great options are in these posts!
---
19 Exotic Ghana Recipes To Add To Your Cookbook
---
---
check out our video
---
---
Chicken chichinga are Ghanaian chicken kebabs made with suya spice, which is a peanut-based spice blend that's widely used in Ghana and Nigeria.
Chichinga are one of my favorite authentic Ghana recipes can be made with any meat, tofu or vegetables. The meat versions of chichinga, particularly beef, are popular street foods in Ghana and Nigeria (where it is referred to as suya). Chicken chichinga is delicious and very easy to make. You can cook it on the grill or in the oven with a grilling pan.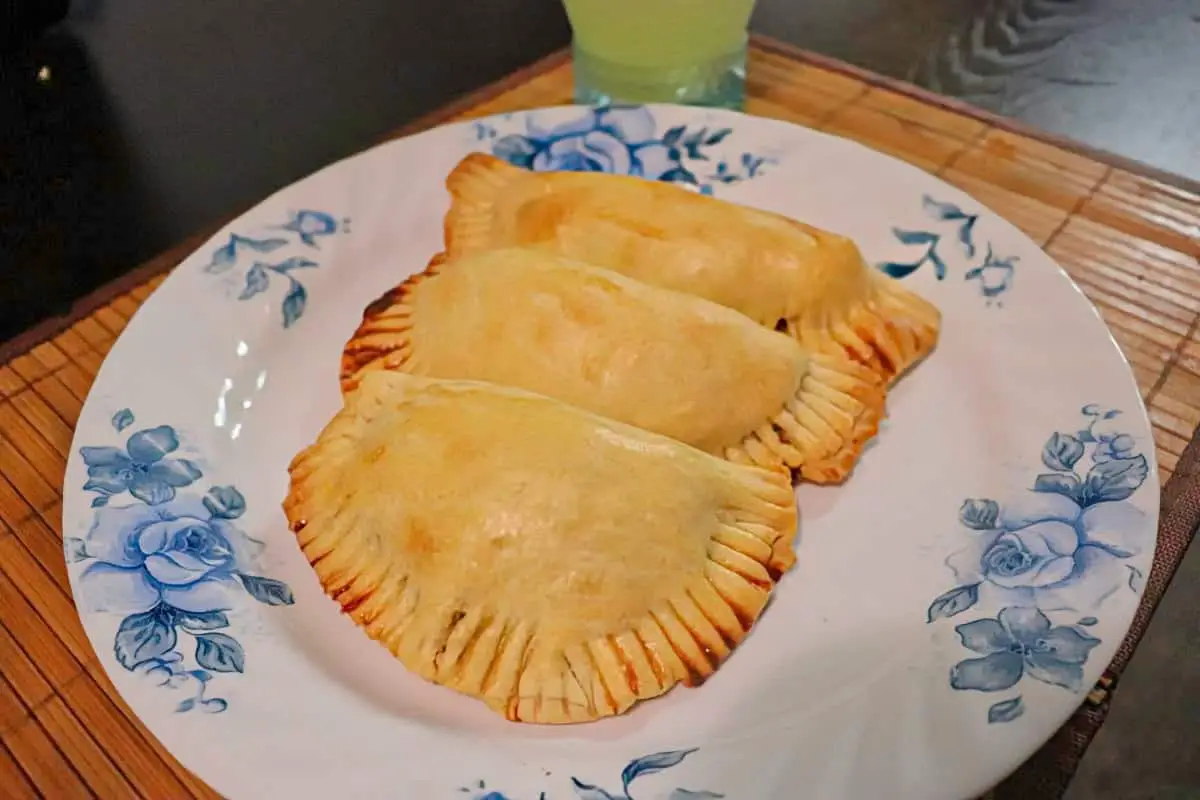 This Ghana meat pie is a authentic Ghana recipes street food pastry, that is stuffed with meat. It can served as an appetizer at restaurants, parties, etc. Meat pie is a popular West African pastry which is stuffed with meat. It is very similar to empanadas from Latin American countries.
People from the Caribbean Islands also have their version regularly called patties.
You can buy meat pie from many street vendors in West African cities as a quick snack or for lunch especially for busy individuals. Meat pie brings back so many great memories.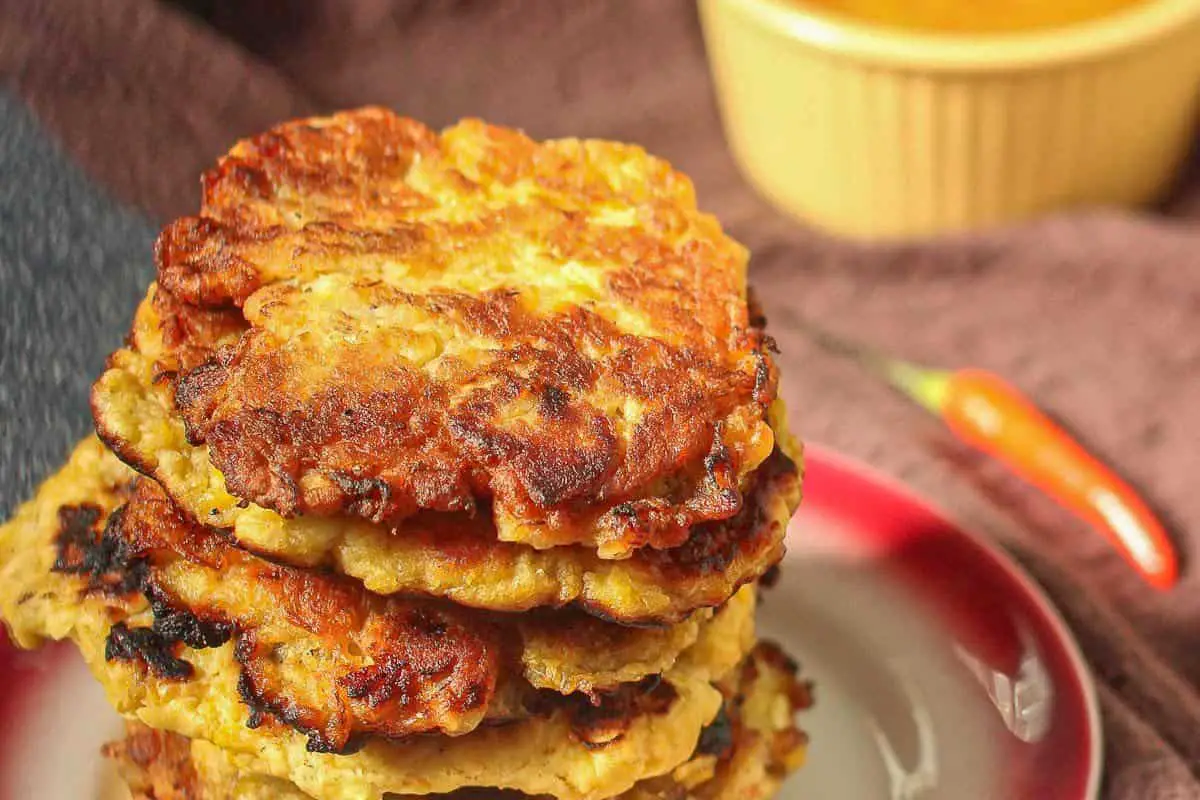 Tatale – Ghanaian Plantain Pancakes are a popular authentic Ghana recipes for a street food in Ghana and a great way to practice no waste by utilizing over ripe sweet plantains. Are you a plantain fanatic? Welcome to my club! For people of Caribbean decent, this is a staple ingredient and we can hardly imagine a meal without it.
Plantain is also a staple ingredient in African cuisines. In fact, the Caribbean plantain obsession most likely came from the African slaves who came to the Caribbean. Whether ripe or green, also known as raw banana in some countries, it is such a versatile fruit. When green, it can be cooked in savory preparations like fritters, soup or curries.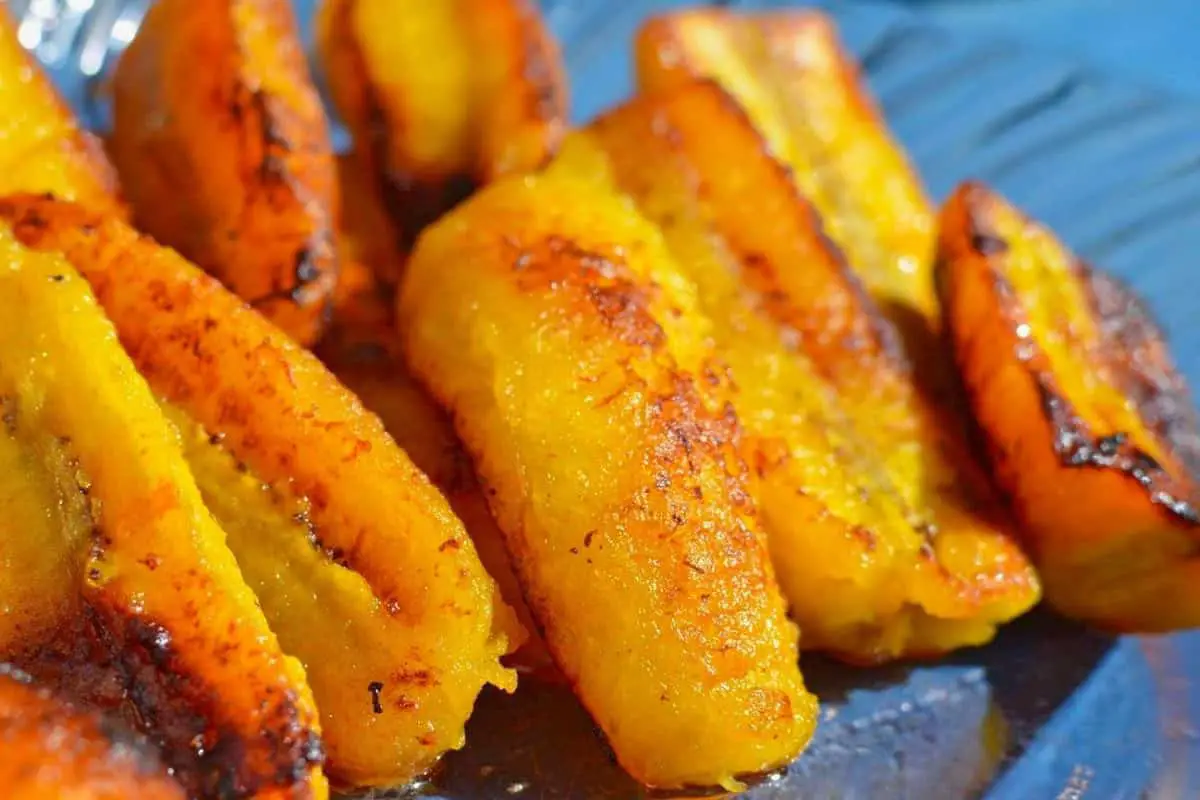 For anyone travelling to Ghana, there should be one street food at the top of your authentic Ghana recipes to try. Kelewele (pronounced Kay-lay-way-lay) is a popular Ghanaian dish made with fried plantains seasoned with spices. It is often served with rice and bean stew or alone as a vegetarian dessert or snack. In Ghana, you can find the street vendors ready to hand over this amazing West African treat.
Kelewele is commonly sold as a street food but is very simple to make at home. When cooked at home, it's often a side dish to a main entrée like barbecued meats, stews, or even can be eaten as dessert. Plantains are cut into chunks, slices, or cubes, covered with spices and fried to a caramelized brown.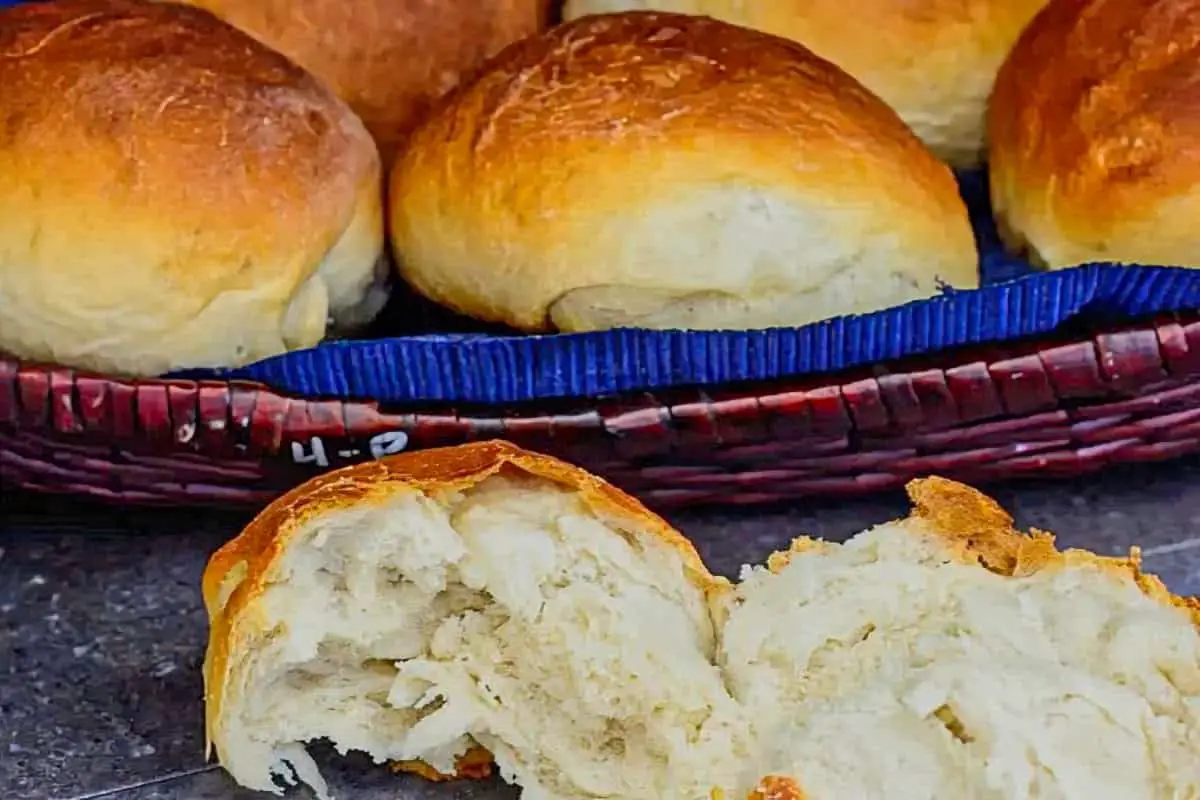 Ghana Sugar Bread (or sweet bread) is a sweet, dense and chewy textured bread roll that is commonly eaten in Ghana and also surprisingly rich in Vitamin C!
Ghana Sugar Bread (or sweet bread) is a sweet dense and chewy textured bread from one of my favorite authentic Ghana recipes commonly eaten in Ghana. Other West Africans eat similar versions of this bread as well (for instance agege bread in Nigeria), and the traditional Ghana food recipes that I am sharing is tweak-able to cater to your taste.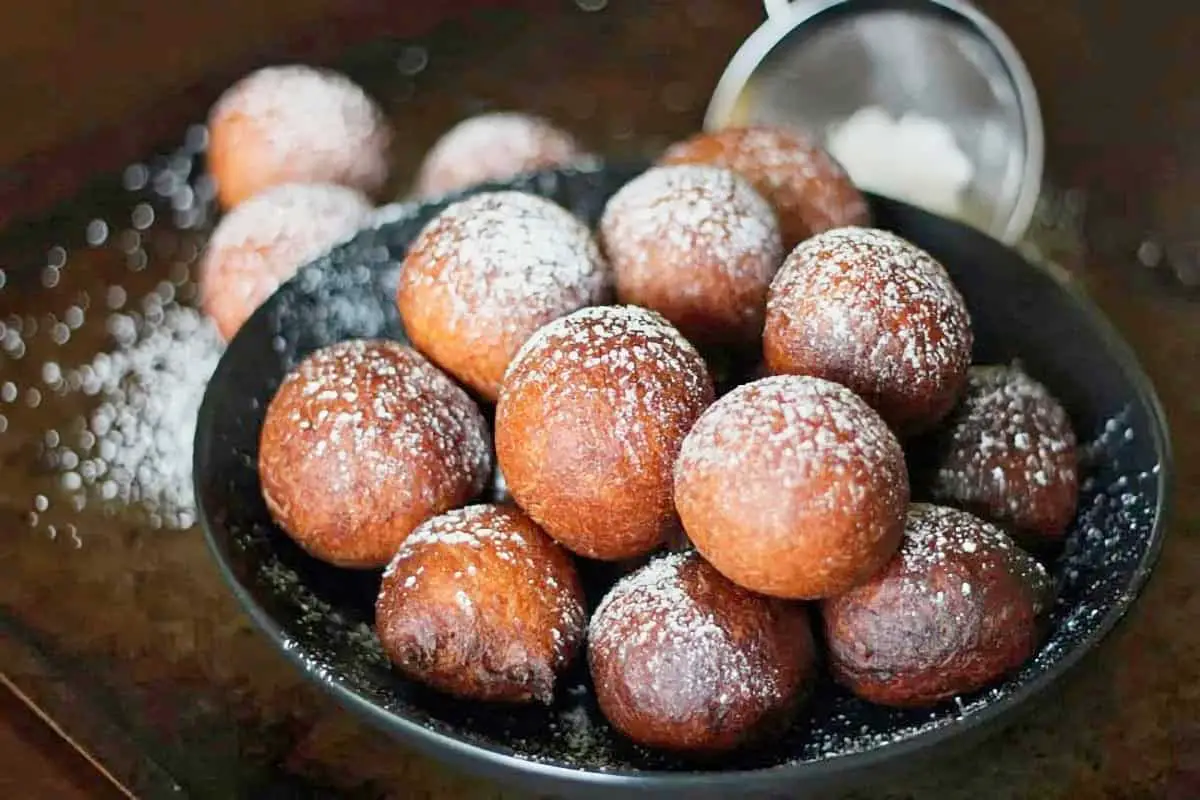 As a child I loved having Bofrot for breakfast, immediately after they finished cooking. Though it wasn't an everyday thing, I remember wanting it every time I could smell it. In Ghana it is common authentic Ghana recipes choice for street vendors, especially in the main city of Accra, to sell it along the sides of the roads, among other delicacies.
Many African countries have their own variations and different names for them. For instance, Nigerians call them puff-puff and in the Congo it's Mikate. In Ghana, Bofrot is made in the morning and immediately eaten for breakfast with "koko", which happens to be fermented corn porridge.
You may think yuck to fermented corn, but the porridge is sweetened with evaporated milk and sugar. By now you should know my favorite saying…"don't knock it until you try it," LOL.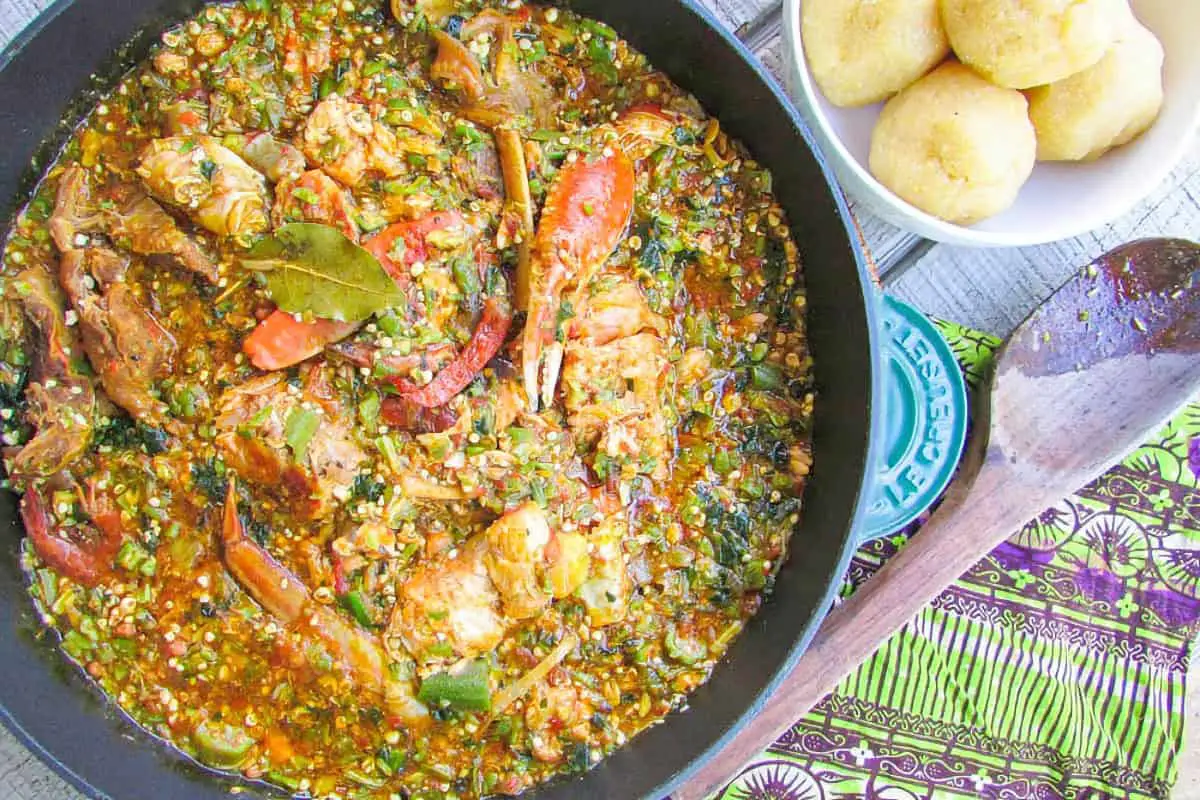 I am a huge fan of Okra thanks to my ajebutter and my dad. There's no telling how many times I make it in one week. Even my son the gluten free ajebutter loves and prefers a meal of okra over anything else. Infact he calls the Nigerian stew and okra the red and green soup.
Today we will make one of my favorite authentic Ghana recipes. Ghanaians and Nigerians do have a lot in common; especially when it comes to food. Apart from Egusi, Jollof rice and suya, we do share similarities in how we make our okra and to them it's called Okra stew. Maybe because of how it's made with a tomato base. Not forgetting that the Yoruba's do call theirs Okra stew too.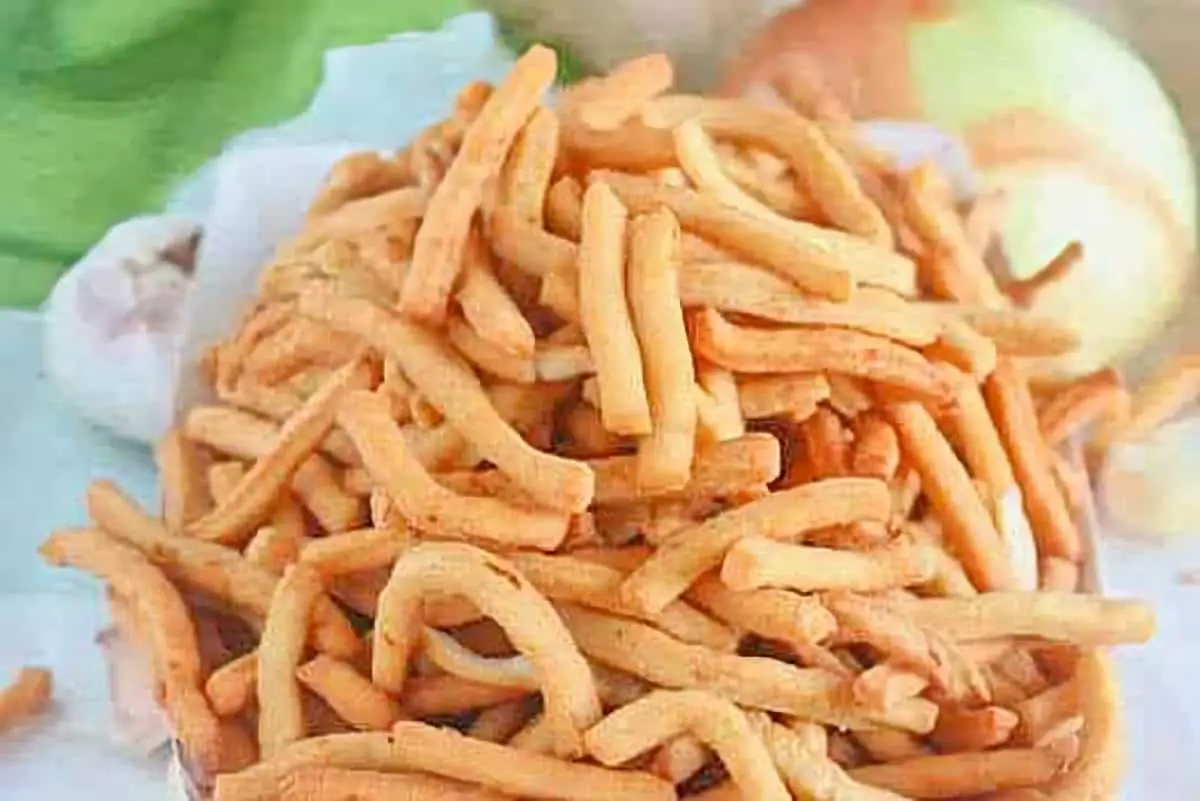 Ghana Chin Chin (Chips) – widely popular fried pastry chips in West Africa with a Ghana twist featuring strong notes of onions, garlic and a little bite from the white pepper. If you're a sweet tooth like me, add a hint of sugar for an extra tasty and addictive chin-chin.
This is authentic Ghana recipes pick for West African Fried Pastry chips. Hands down! My all-time favorite snack. And to tell you the truth, I can never have it around the house for too long. I can eat a bag full of it without ever realizing I have gone overboard. So whenever I make them. I quickly get them out of my house- sometimes.
This traditional Ghana food recipes for jollof rice brings you a brightly colored red/orange rice dish, with wonderful spice and rich and saucy beef (or other meat). Jollof rice is a much-loved festive dish that people often serve at weddings, parties, and other large gatherings. The rice cooks in a rich and spicy tomato-based sauce, giving it a bright color.
Authentic Ghana recipes Jollof can come with or without meat. But the third component of today's jollof rice traditional Ghana food recipes, particular to many Ghanaians, is meat mixed into the rice. Goat, beef, or lamb (ram meat) are common additions. (I love jollof rice with goat meat or beef.) Jollof rice can also be made with chicken or fish.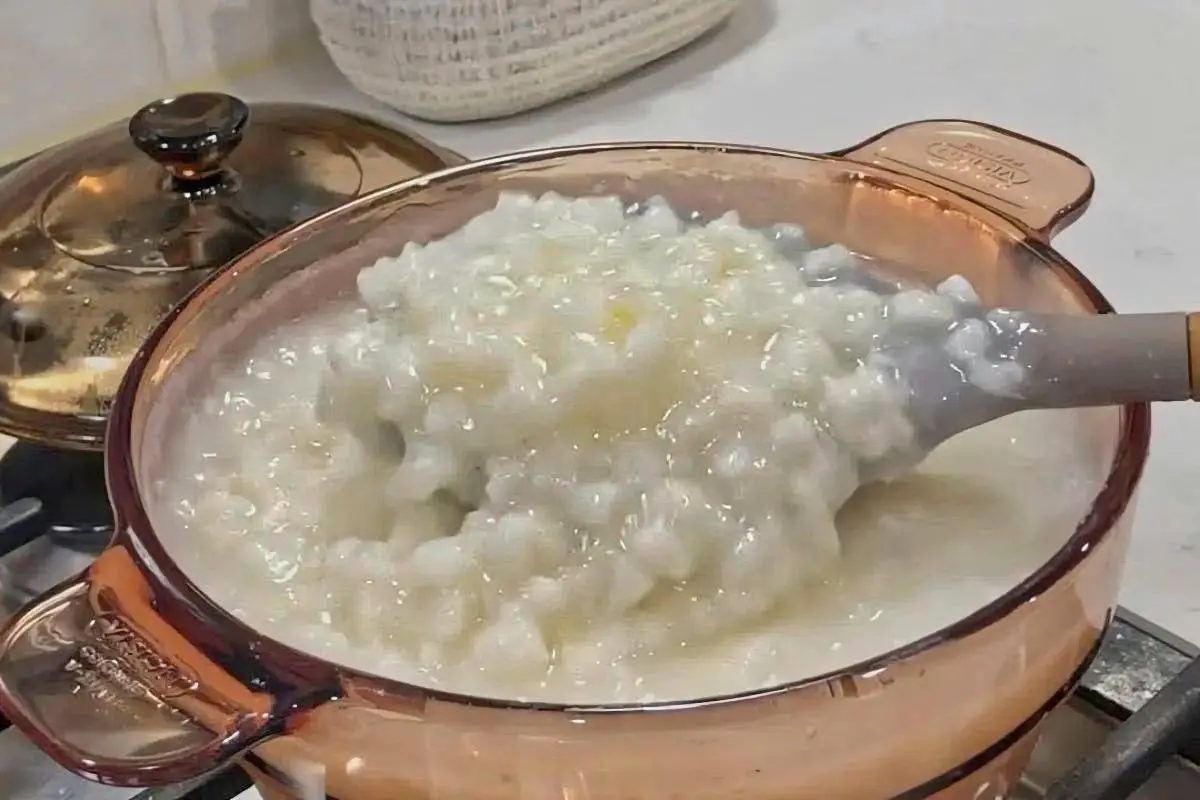 Oblayo is a common authentic Ghana recipes dish for a breakfast meal that is sold along the streets of Ghana. It is made from corn and is eaten with sugar and milk just like all other breakfast meals.
Corn is a good source of fiber which helps with digestion and also contains zinc, magnesium, copper, iron, manganese and B vitamins. Zinc helps to boost the immune system, magnesium combats depression, copper and iron help the body in red blood cell formation.
The health benefits derived from corn are numerous, so imagine how you will be benefiting from making oblayo for breakfast. If you are eager to learn how to prepare this meal, then join me as we take a look at the traditional Ghana food recipes.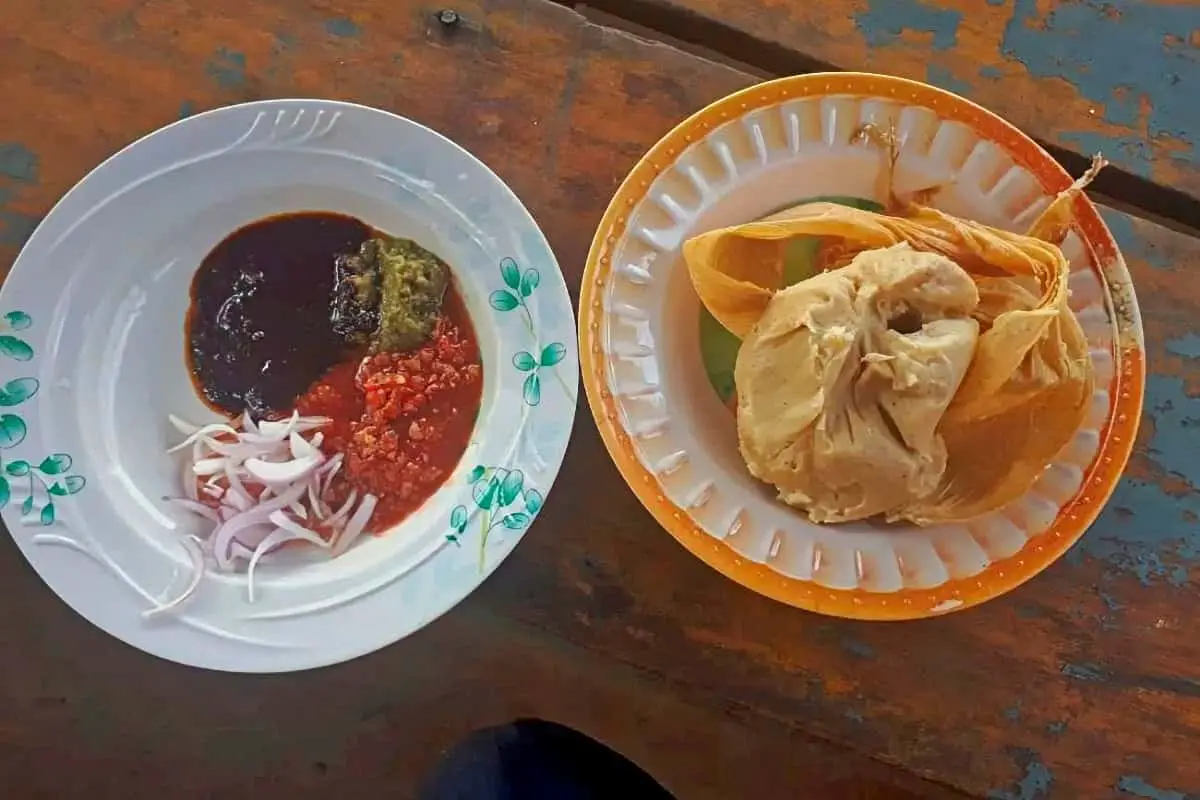 Kenkey is a staple authentic Ghana recipes dish of Ghana prepared using fermented white corn, which is commonly consumed all over the country by the Ga and the Fante people from southern Ghana. The Ga people know this dish by the name of komi and the Fante people call it dokono.
The dish is produced by soaking grains of maize in water for approximately a week. They are later milled and kneaded with water into a dough. The dough is then set aside to ferment for about four days to a week.
Kenkey is considered to be similar to sourdough dumplings and is generally accompanied by pepper crudaiola and fried fish, soup or stew.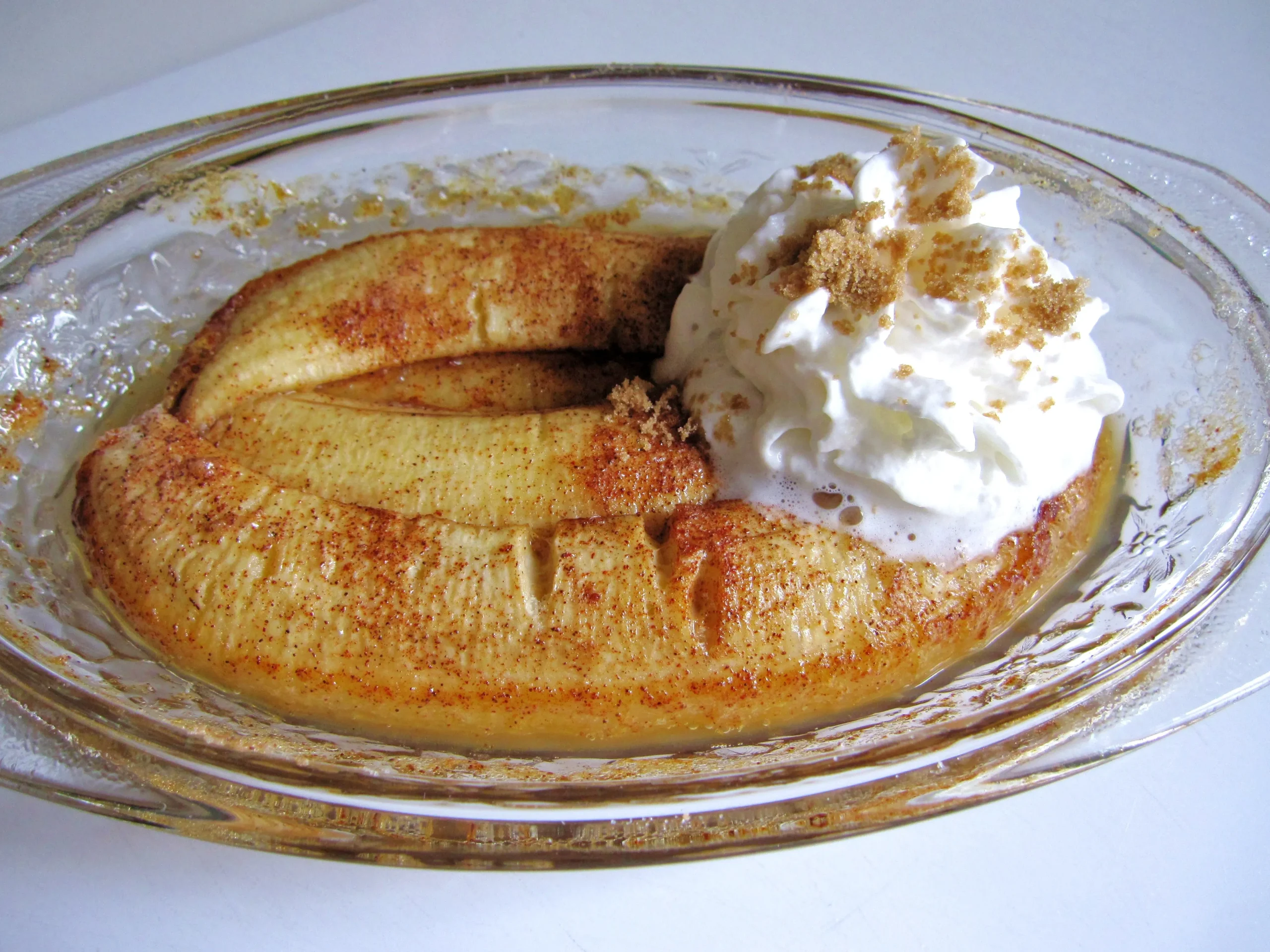 "OH How simple this is and yet fit for a Queen or King and their court!!! Simple and decadent at the same time, for adults and children alike. A lovely, light, dessert to end any meal whether in Africa, USA, or any other country. Lovely! Adopted from the U of Penn African cookbook"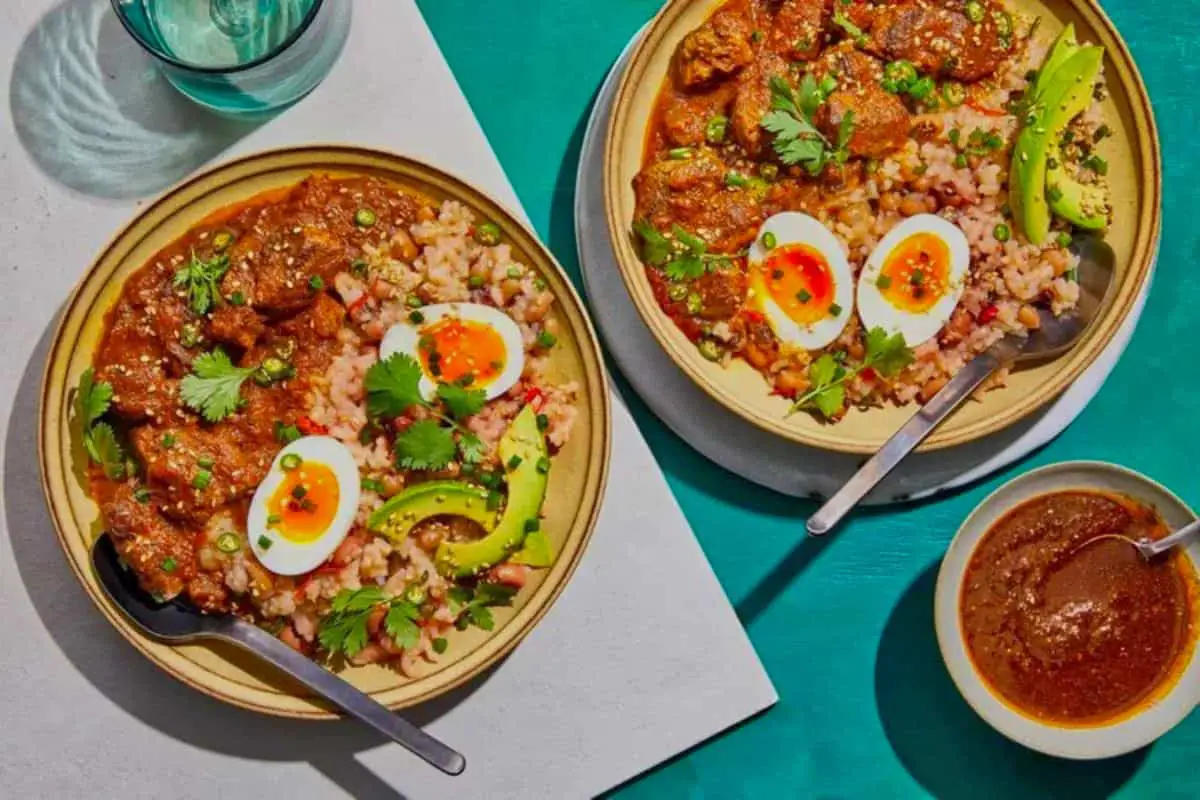 The scrawny Rooster strangles his voice and my sleep with his fuss. Mercy's broom has already begun switching away last night's dreams. I hear my uncle scurrying out the screen door headed for the waakye stall across the street on the corner of Palace Street, North Kaneshie—his first breakfast beckons.
Waayke authentic Ghana recipes are a common breakfast selection. The ludicrously extravagant breakfast that is sold on street corners in a plastic bag or wrapped in a plantain leaf puts any UK street food and even some brunch menus to shame.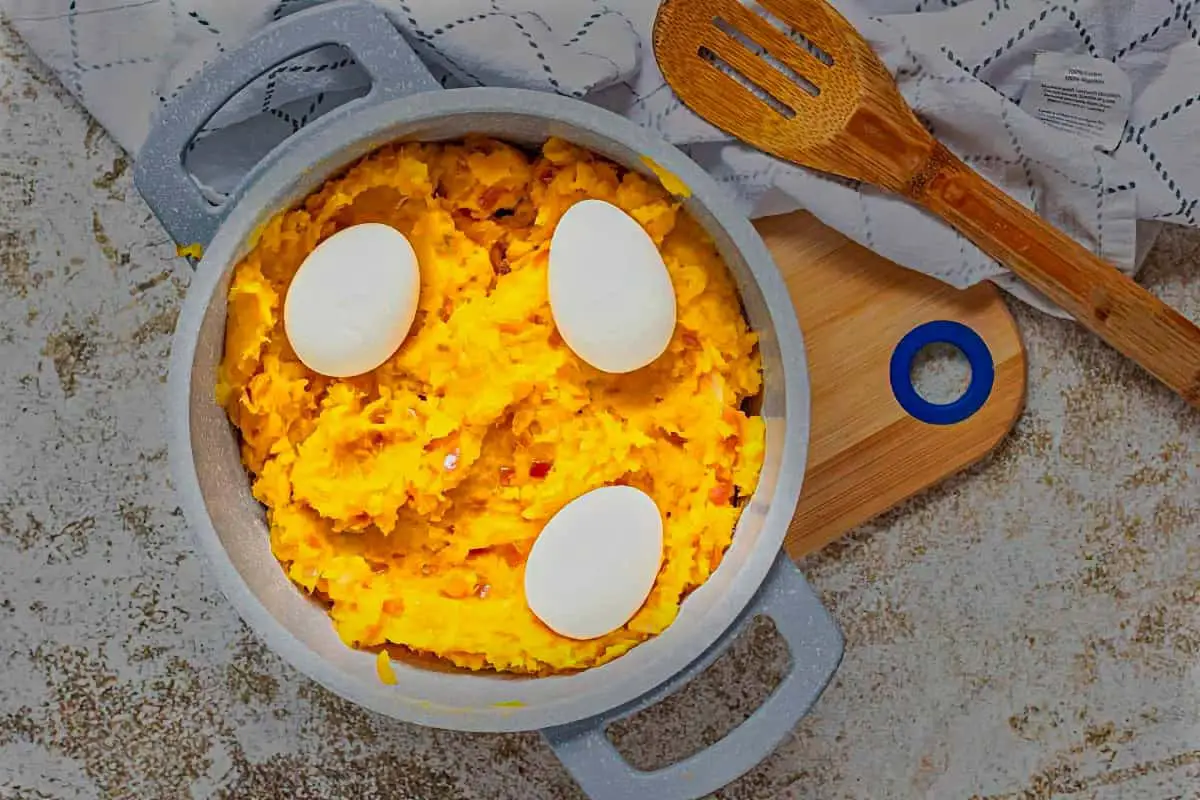 This celebratory authentic Ghana recipes dish is important in many Ghanaian homes, especially to celebrate weddings and coming-of-age ceremonies. Made by mashing yams with palm oil and onions, you can easily make this dish for a taste of Ghana at home.
This traditional Ghana food recipes for Oto from is incredibly special to Ghanaian people. It is a celebratory dish, reserved for some of the most important days and festivals of the year.
It is made by mashing yams with palm oil and onions and then serving it with hard boiled eggs on top. I'm learning a lot about eggs being used in other cultures food – like in India, Egg Biryani seasons and fries whole hard boiled eggs. But it's delicious!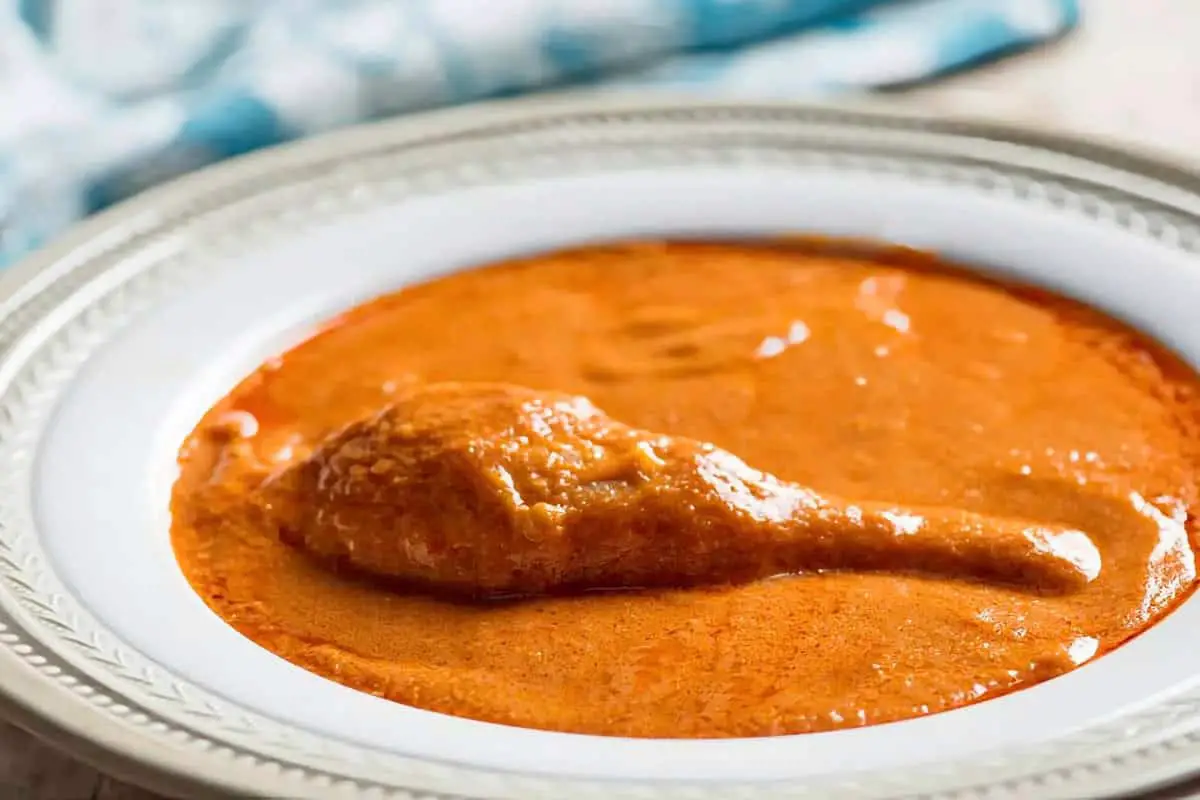 Peanut butter and tomatoes lend a rich and creamy backdrop to this simple authentic Ghana recipes pick, hearty Ghanaian chicken stew. Up for something a bit bolder? Try this goat- and tripe-based version instead. Our traditional Ghana food recipes was inspired by Sara'o Maozac's story "East, West, Then Backward: Falling for Groundnut Soup in Ghana" and was adapted from Maame Serwa's traditional Ghana food recipes instructions.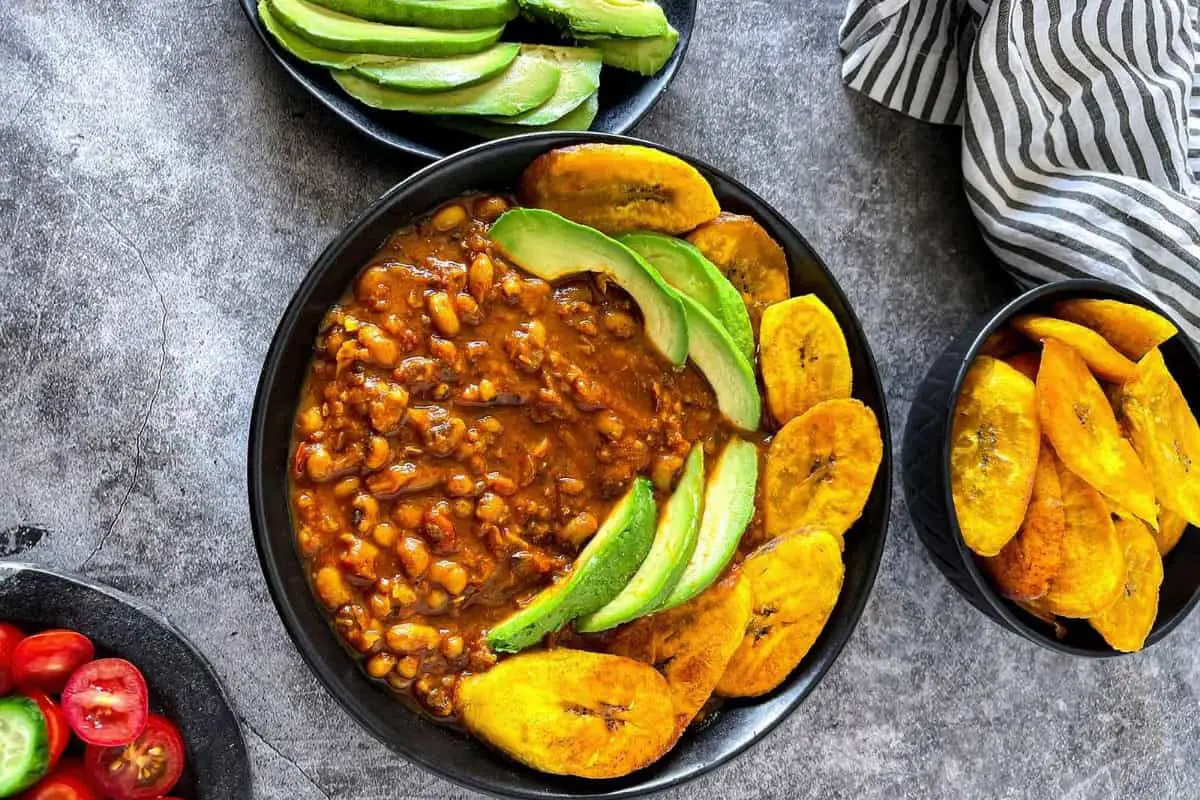 This rich Ghanaian red red stew is a simple yet delicious vegan stew perfect for Sunday brunch or holiday dinner.
Ghanaian Red Red Stew is a simple, heartwarming authentic Ghana recipes dish from Ghana. It's vegan, gluten-free, and… it's pretty darn delicious. Made with black-eyed peas in a rich tomato base, this Ghanaian red red stew is a good addition to your healthy lunch or dinner menu.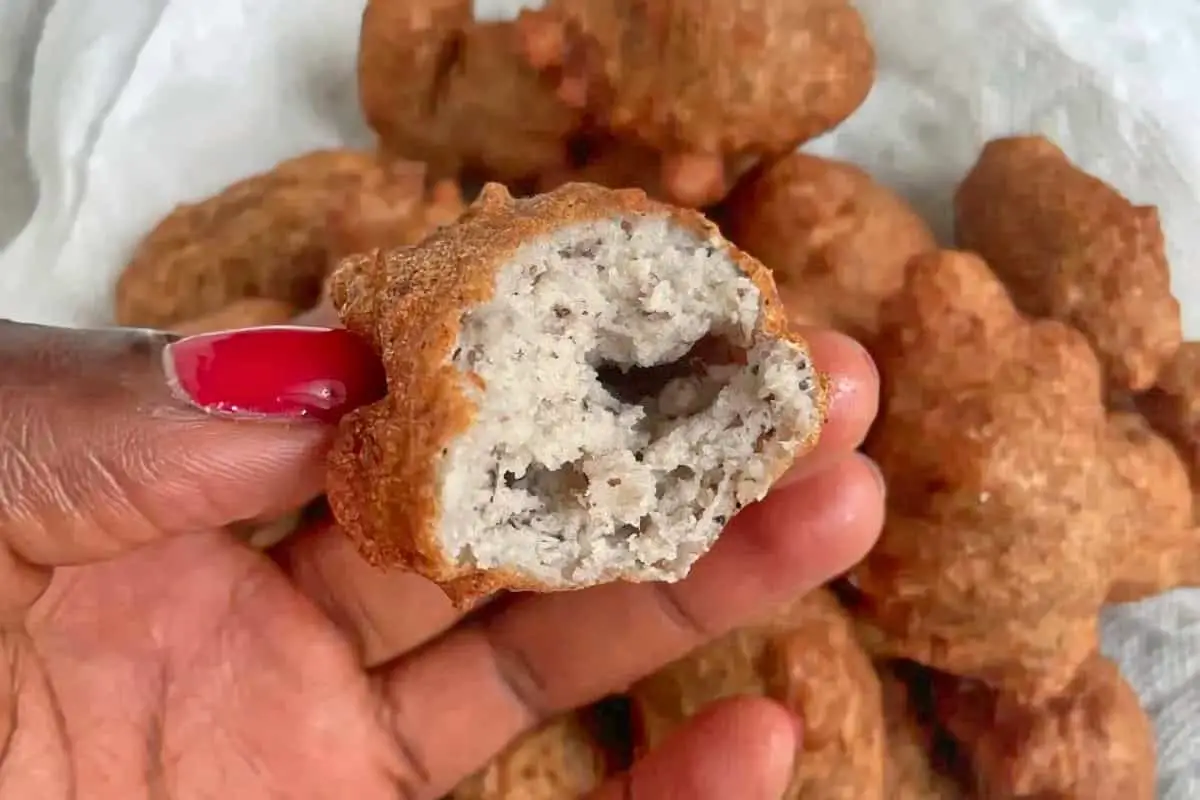 This post is all about a favorite Ghanaian breakfast – Hausa Koko and Kose. Hausa Koko and Kose is a traditionally fully vegan Ghanaian breakfast consisting of a hot and spicy millet porridge (hausa koko) served with fried bean fritters (kose). It is a celebration of indigenous ingredients, spices and techniques and is truly a breakfast of champions.
Authentic Ghana recipes for breakfast in Ghana varies a lot. Some eat in the morning, others do not. People eat foods considered as lunch meals others do not. Popular breakfast foods in Ghana include tea and bread, which is not actually tea but a hot chocolate beverage with Ghanaian bread. However, nothing tops Ghanaian breakfast like Hausa Koko.
Early in the morning, you can find many sellers along the street each cooking their own authentic Ghana recipes. These are usually Muslim women from the North who specialize in this porridge as it is originally from the north. Every time I go to Ghana, it is always a must for me to have Hausa Koko and kose every single day. It is a love I definitely inherited from my father and it is something I will like to pass down.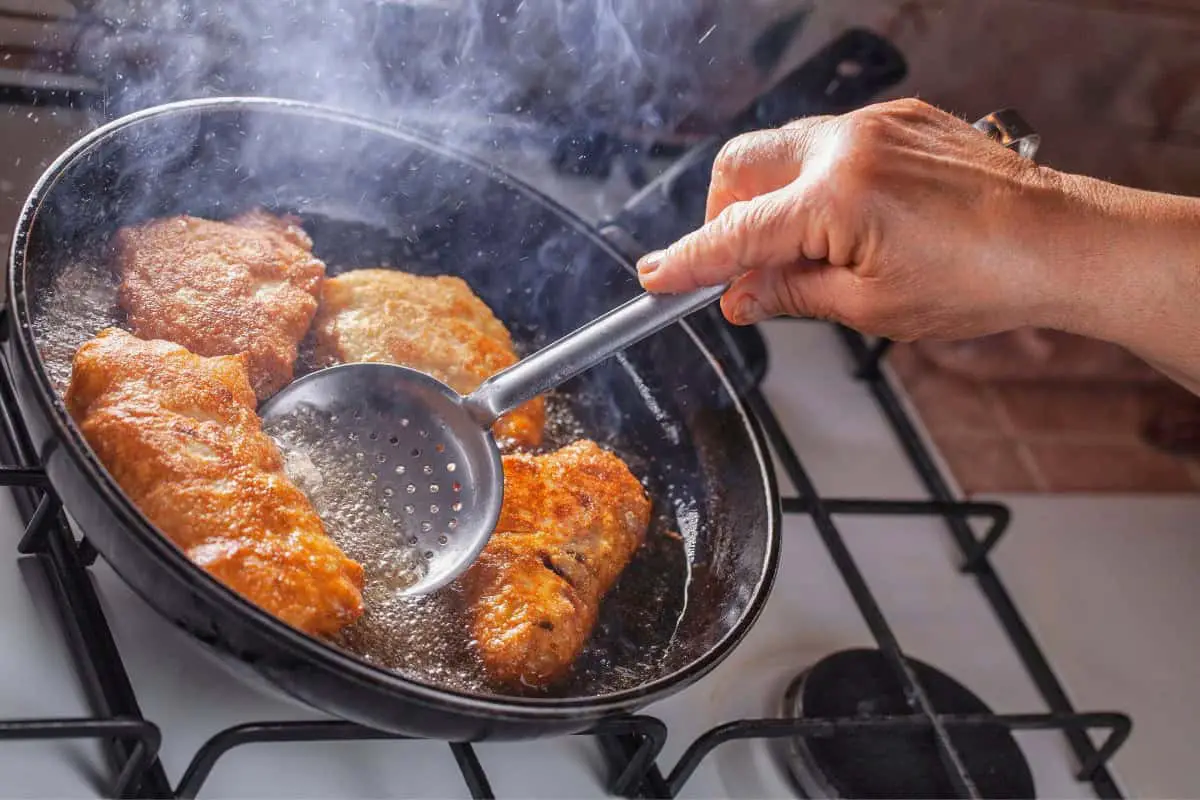 As breakfast, street foods and snacks go, koosé or akla is one of my absolute favorite authentic Ghana recipes. Growing up in Accra, I thought this was a purely Ghanaian or perhaps more specifically a Hausa breakfast snack until I learned in multi-cultural London that Akla (as my household called it) or koosé (as others, mainly the Hausas in Ghana called it) was somewhat universal.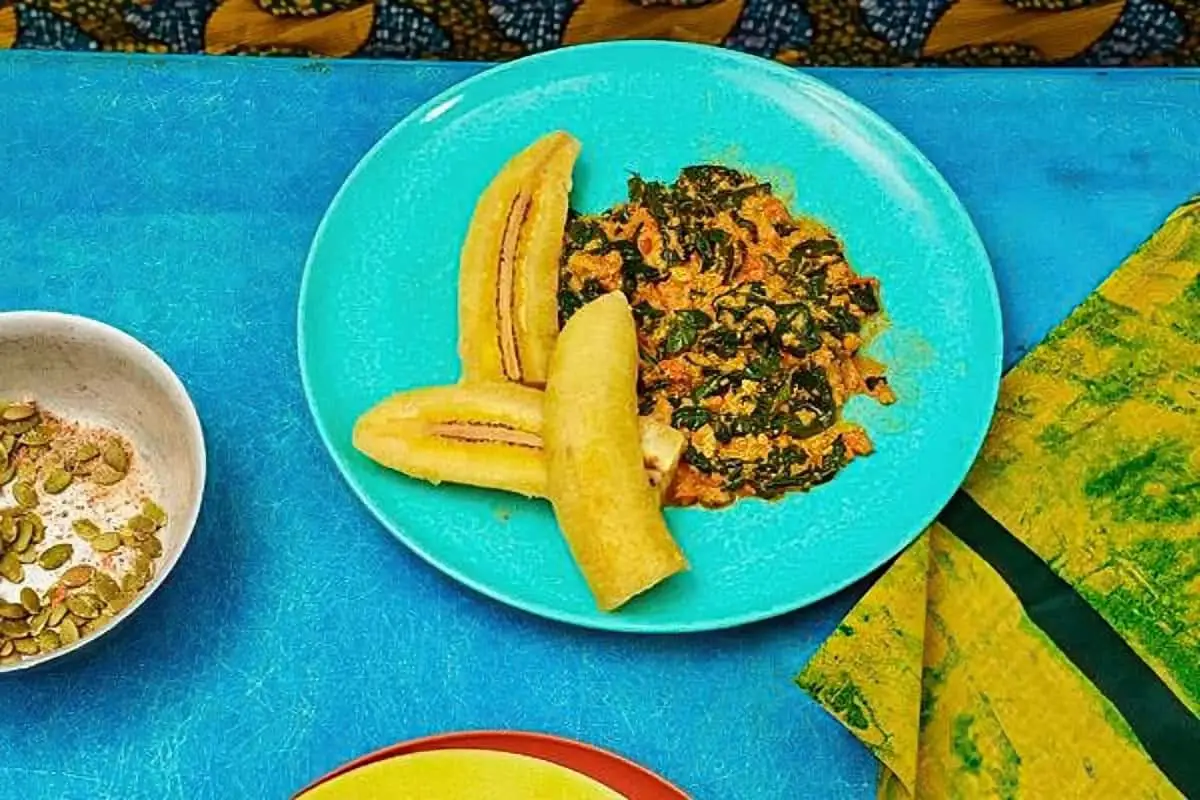 This traditional Ghana food recipes is an adaptation of the smoky spinach stew served at Papaye, Samuel Obeng's restaurant in the Bronx.
Built on a base of onions and ginger sauteed in palm oil, made fiery with habanero, and thickened with ground pumpkin seeds and tomatoes, the stew calls for African smoked, dried shrimp powder; its flavor is amazing. (Asian versions are typically unsmoked and chewier.) But smoked paprika and fish sauce make a serviceable substitute.
Summing Up: Ghana Recipes and Ghana Foods
Ghana offers an array of delicious, flavorful recipes for anyone to explore. From savory and spicy jollof rice to a sweet and creamy peanut butter stew, Ghanaian cuisine is sure to tantalize your taste buds. Ghana recipes are not only a delicious treat, but they also reflect the culture and history of the country.
People can take the first step towards learning about Ghana food by seeking out authentic Ghana recipes from their local chefs and restaurants, or even by preparing dishes at home. No matter the method, exploring Ghanaian cuisine provides both a delicious treat and a gateway to understanding the country's fascinating culture and history.
Ultimately, Ghana recipes are a great way to bring a piece of the country's culture into your home. Whether you're mastering a jollof rice recipe, indulging in a delectable peanut butter stew, or simply exploring the country's vast array of dishes, you are likely to have an enjoyable experience every time. So, why not explore some of these unique and delicious Ghana recipes today?
---
You May Want to Join Our Boondocking Group on Facebook For More Information
You May Want to Join Our Campfire Recipes Group on Facebook For More Information
Discover our unique product testing journey at Our Big Escape. We bring real-world experiences and adventures into every review, ensuring authenticity and reliability. Dive into our process at
How We Test Products: A Journey of Discovery and Trust
, where every product is an adventure tested.