Last updated on September 27th, 2023 at 12:32 am
Do you want to add some international flare with Montenegro recipes? Look no further than Montenegro for delicious and unique Montenegrin recipes that will tantalize your taste buds. Learn about Montenegro cooking and explore some of their most beloved dishes with this comprehensive introduction to Montenegro recipes.
Are you looking for a unique, tantalizing, and exciting culinary adventure? Look no further than Montenegro food. With its centuries-old food culture, Montenegrin food offers a wide selection of traditional dishes, flavored with fragrant spices and fresh local ingredients.
From humble mountain cheese to hearty seafood stews, Montenegro food is a true expression of Mediterranean and Balkan flavors. In this article, you will explore the history and influences behind Montenegro recipes and culture, discover the traditional Montenegro foods that are popular among locals, and learn some tips on how to sample the best of Montenegro's cuisine.
Are you ready to add an exotic twist to your dinner table? Take a culinary journey to the Balkan Peninsula and discover the surprising flavors of Montenegrin recipes! With a rich, flavorful cuisine that blends the Mediterranean and Middle Eastern influences, Montenegro recipes will dazzle your taste buds with unique and delicious Montenegro foods.
From zesty seafood specialties to rustic breads, you'll find something to suit every occasion. Get ready for a flavorful feast of traditional Montenegrin dishes like musaka and pasca, as well as contemporary takes on local flavors. Plus, you'll find insider tips for preparing the very best Montenegrin recipes at home. So, let's get cooking!
Dig into the flavors of Montenegro recipes that have been passed down through generations—from delectable seafood feasts to indulgent cakes. Whether you're a novice in the kitchen or a seasoned chef, you'll be able to craft delicious Montenegro foods that are sure to impress.
From Montenegrin recipes for homemade breads to traditional main courses, you'll learn the secrets to this region's unique cuisine. So, ready your apron, sharpen your knives, and get ready for a tasty exploration of Montenegrin rich culinary tradition.
You're a foodie and you've been wondering what makes Montenegro cuisine so special? From local delicacies to centuries-old Montenegro recipes passed down through generations, Montenegro has a unique and diverse food culture packed with flavor.
We'll explore in detail the traditional Montenegrin recipes that make this Mediterranean country's food scene so remarkable, from the iconic cicvara – a Montenegro food made from corn, onions and bacon – to the beloved kacamak, a creamy polenta dish served with minced meat.
We'll also take a look at how Montenegro's proximity to the Adriatic Sea and rich cultural history have influenced its culinary habits, and discuss some of the most popular ingredients used in Montenegro recipes. So, let's dig into Montenegrin foods and explore the country's culinary culture.
---
Want more ideas to round-out your Recipe Box?
A lot of great options are in these posts!
---
Easy Montenegro Recipes To Add To Your Recipe Box
---
---
check out our video
---
---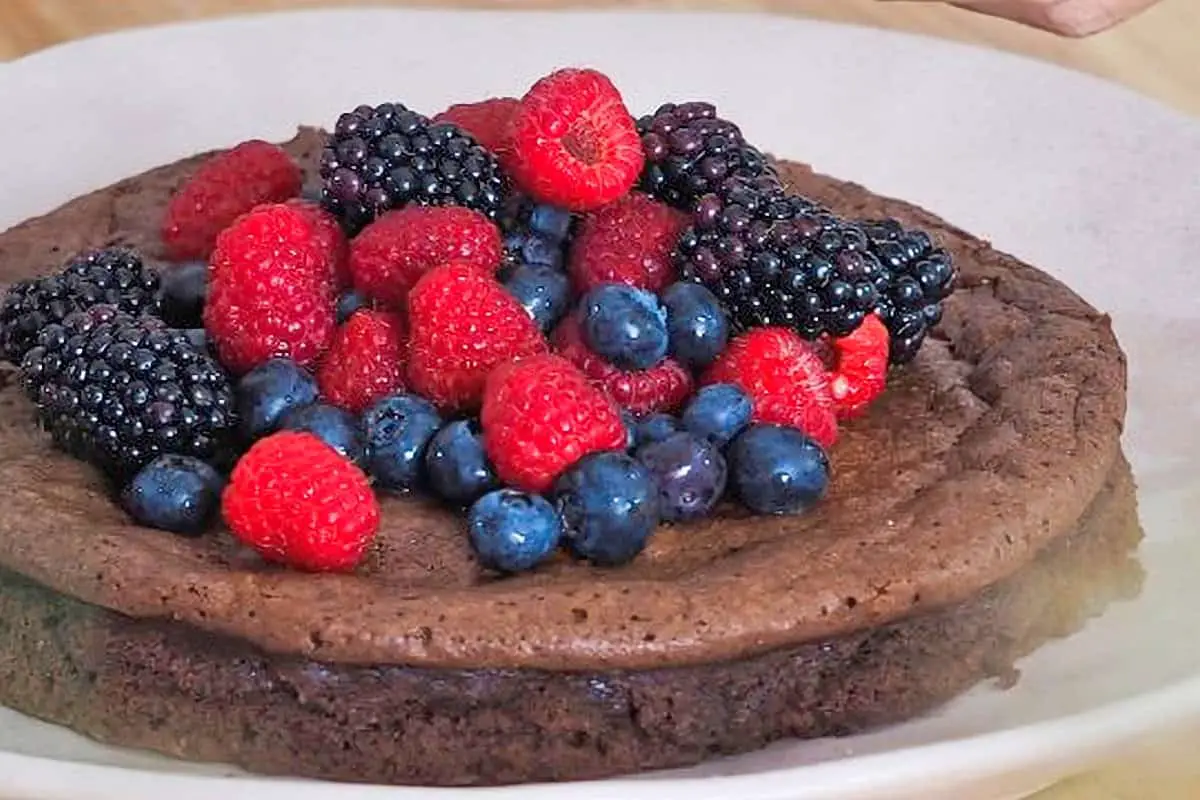 The bitterness of the dark chocolate used for this cake is offset with the sweet bursts of fresh berries scattered on top.
It's made with only 5 ingredients, so be sure to use only quality chocolate, as it really stands out. Local chocolate maker Majani, founded in Emilia-Romagna in 1796, seems the perfect choice.
The cake is also called "Torta Montenegs" or "Torta Regina del Montenegs" in honor of Elena of Montenegs, who in 1900 ascended to the throne of Italy with her husband Victor Emmanuel III.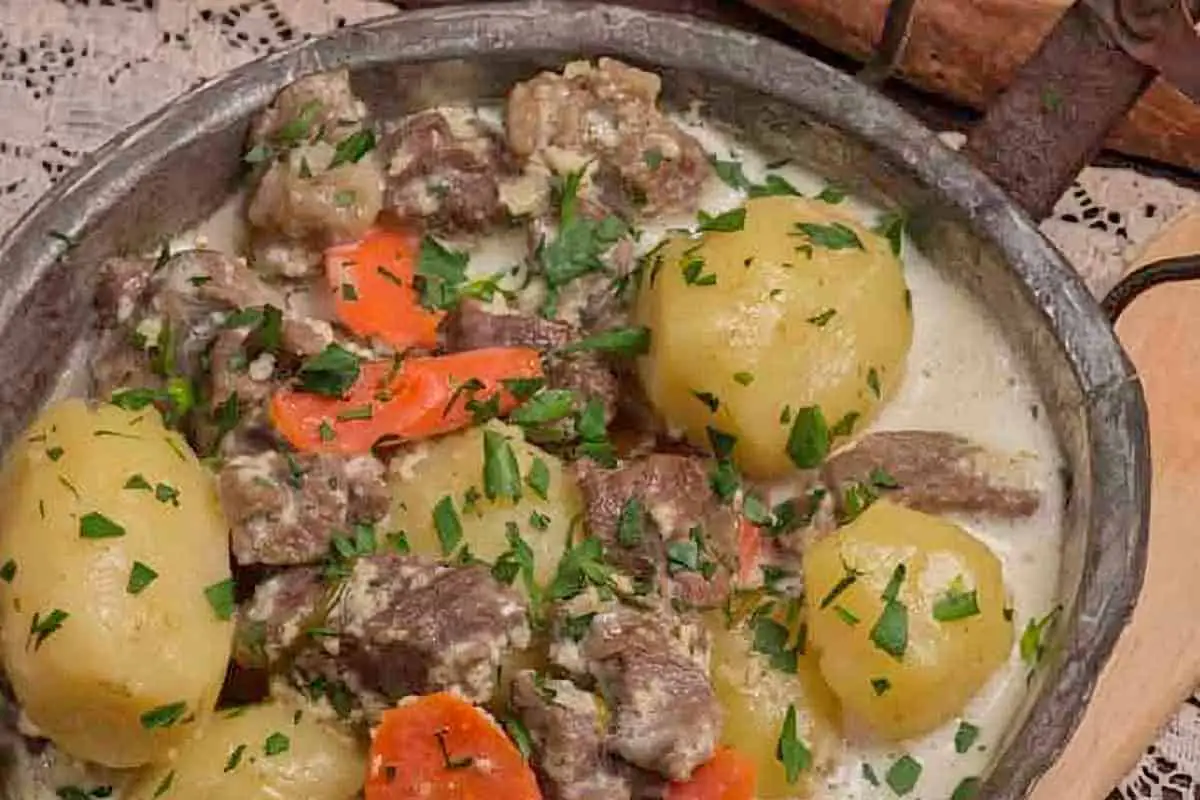 Montenegrin lamb in milk is a wonderful main dish. It is easy to make and the meat comes out perfectly tender. Cooking in milk is the secret. It has some nice hearty root vegetables to enjoy with it as well. This Montenegro food is very popular and for good reason it is delicious.
This Montenegro recipe is basically a one pot meal. I really enjoyed subtle flavor of the fennel as well. In Montenegs they also use an cooking pot called a "sac" that is bell shaped and placed on ash. It also makes the meat very tender. You don't need a "sac" to make this Montenegro recipe just some milk.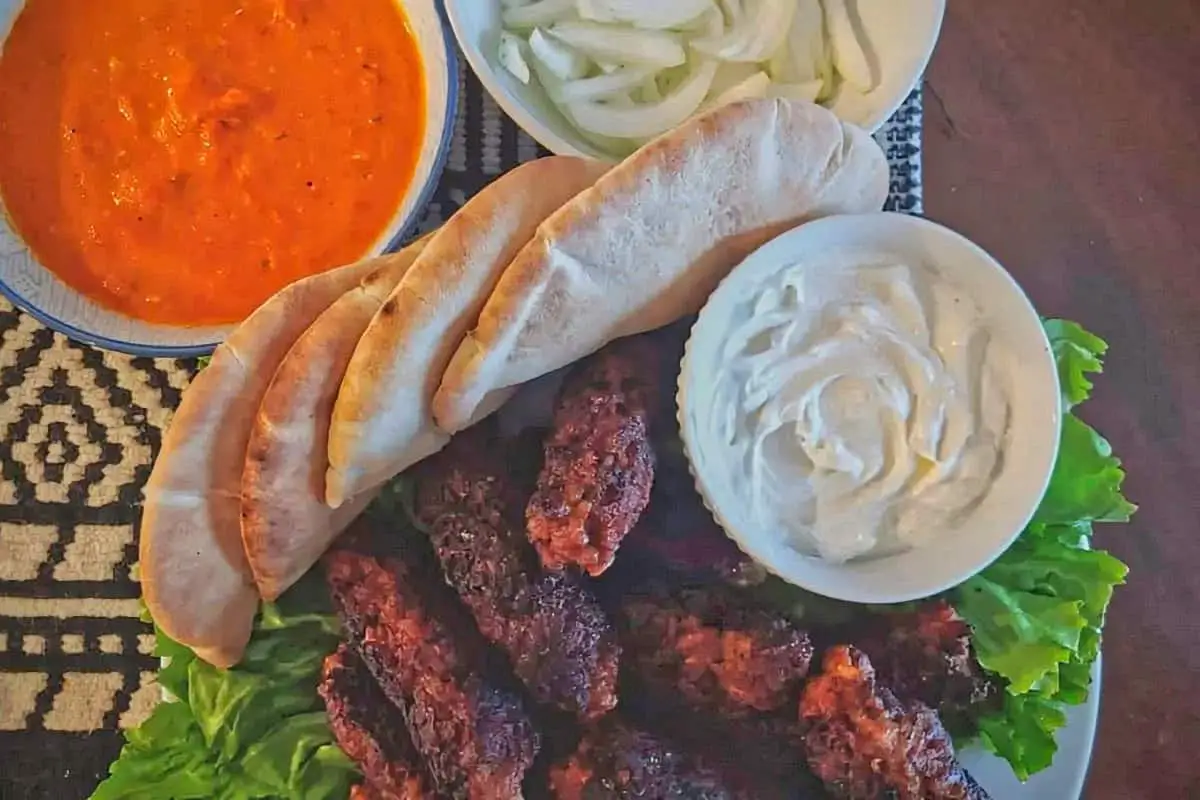 We are heading back to the Balkan's this week and trying out a Montenegro recipe called Cevapi. And for a such a tiny, little country, they seem to have all the right things going on. They have coastline and beaches, mountains and canyons, history and culture. And even more amazing, it's so abundant you can even fit all that beauty into one picture.
And then to top if off, they have Cevapi – bite size sausages of tastiness. We've kind of been on a kick for street food (Namibia-Kapana, Japan-Karaage) so why stop now. These little treats mostly resemble kebabs, just in a petite and cuter version.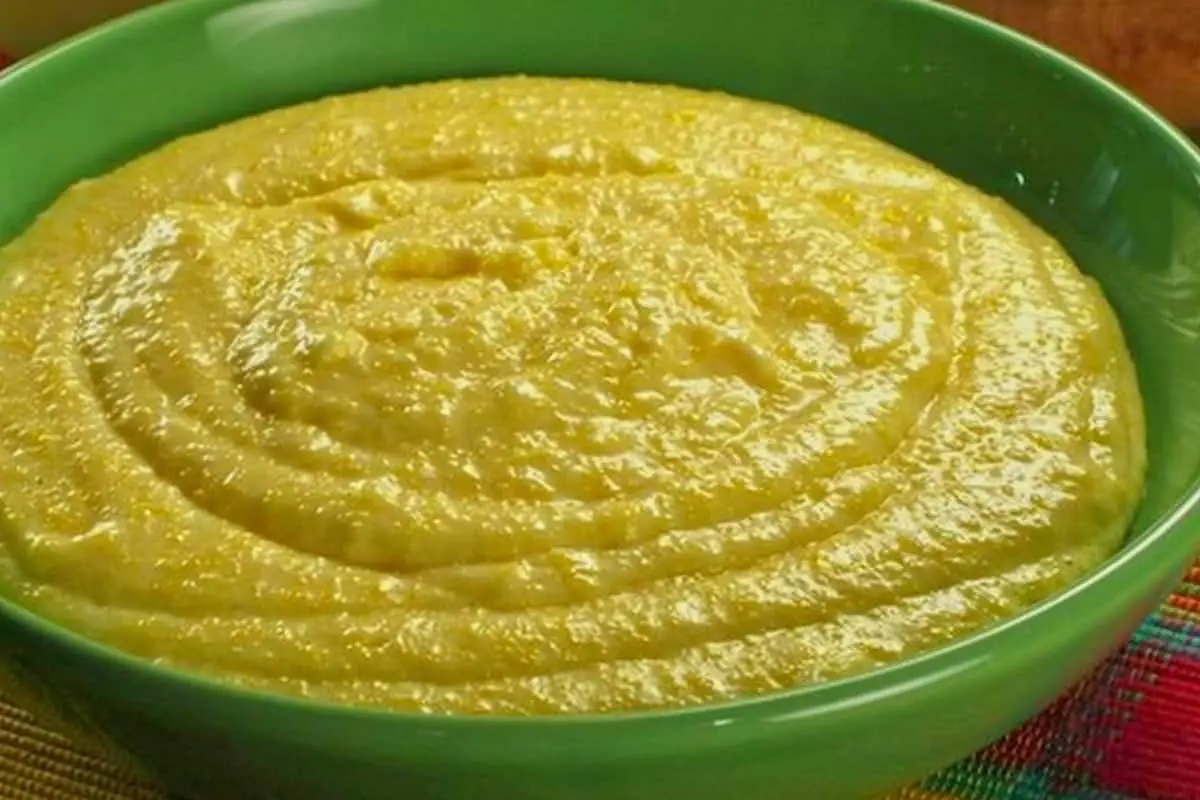 Good cicvara can be found in old Serbian restaurants and the local cuisine in Montenegs-mountainous areas, as well as in Serbia in Zlatibor, Tara, Soko Banja, and Durmitor. Here is one of the many available Montenegro recipes for this classic Montenegro food, should the desire arise. Here's a Montenegro recipe you can try out on your own if you're feeling adventurous in the kitchen.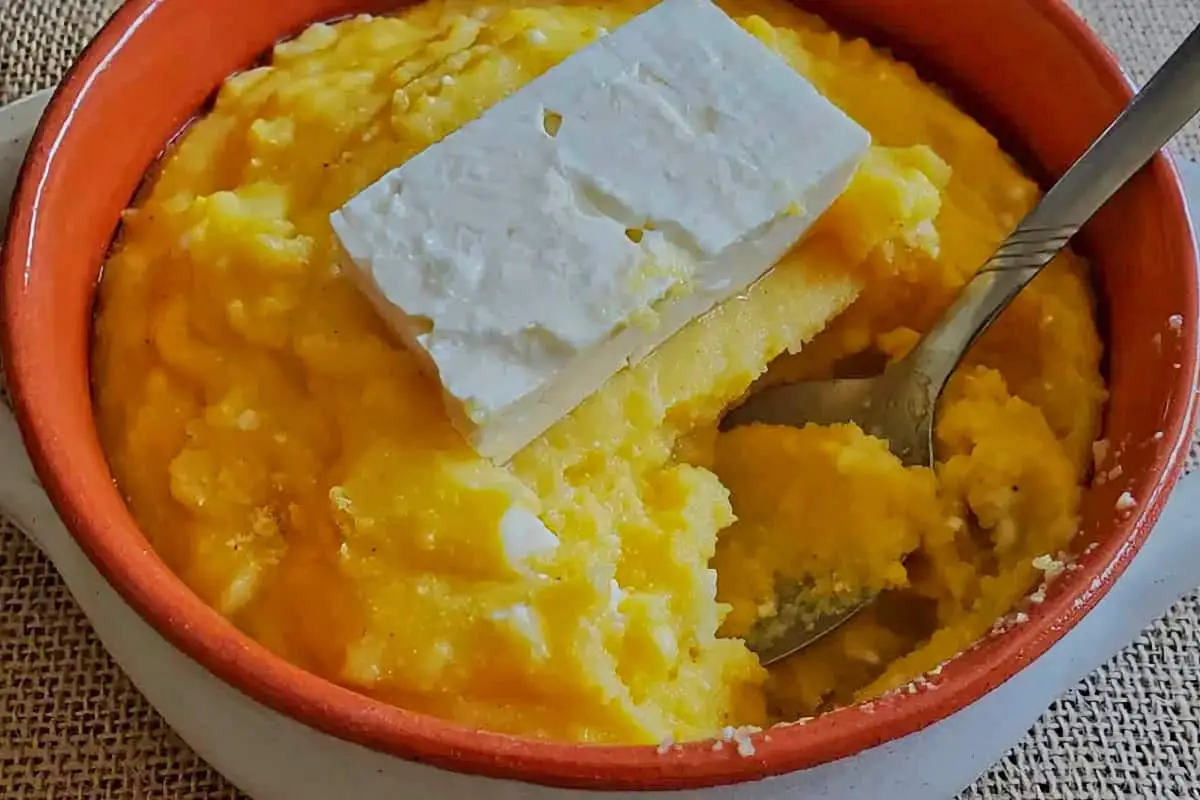 One of the most traditional breakfasts of the Balkan region is Kačamak, or cornmeal porridge. As with most dishes, different parts of the Balkans have different names for it. In some regions, it's referred to as Pura, and in Macedonia it's called Bakrdan.
Kačamak is made with finely ground cornmeal, butter/oil, water, and salt. It's a porridge dish that is very versatile. Toppings and mix-ins include cheeses, sour cream, kajmak, and fried bacon. But the old fashioned way to enjoy it is with milk poured over the top. Generations of Balkan people grew up eating this humble meal. With plenty of milk on hand from dairy cows and the staple, cornmeal, it was something readily available.
Unexpected, delicious new foods are one of the best bits of travelling. One Montenegro recipe which continually delights and surprises our guests is 'priganice' (that's the name for these dough balls in Montenegs, but every country in the Western Balkans has their equivalent, from uštipci in Serbia to petulla in Albania).
A main staple of any Balkan kitchen, these fritters are quick to whip up. Most often served at breakfast, priganice are equally good any time of day. Our friend Tanja, a talented cook, loves to serve them to our guests as a starter to a Montenegrin lunchtime feast, using them to showcase her family's delectable home-produced honey.
The reaction is always one of glee when essentially doughnuts appear first on the table! It's rare a single dough ball is left.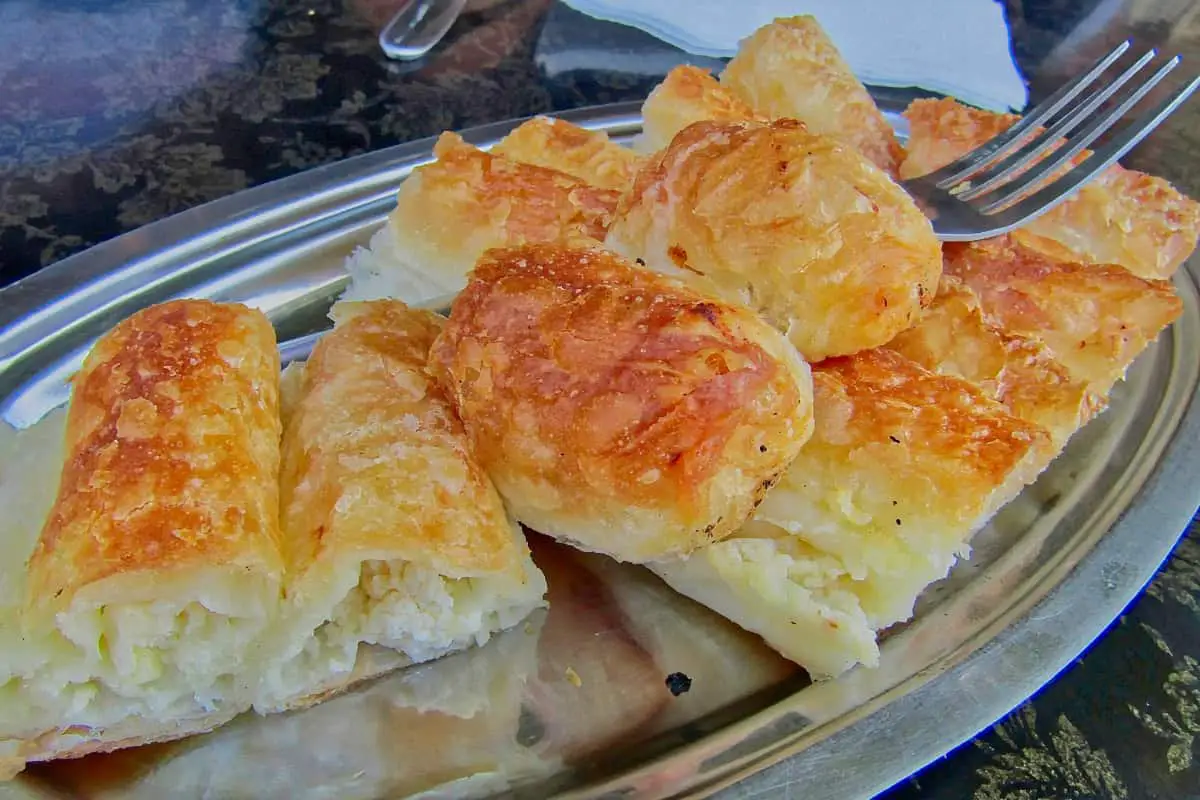 There's no time like the present to try something new! I've got a lot more free time on my hands now that I'm not traveling. Since we can't go anywhere, I've been experimenting a lot in the kitchen and trying new Montenegro recipes! First up was adjaruli khachapuri from Georgia, next was pierogi from Poland, goulash from Hungary, and now bureks from the Balkans!
A burek is a flaky pastry, usually in a coil or spiral shape, that comes in a variety of fillings. This Montenegro recipe uses the cheese variety, but meat bureks are very popular, as are spinach-filled bureks.
Originating in Turkey, they are a popular snack throughout all of the Balkans. Whenever I'm on a trip to this region of Europe, you can guarantee I'll be eating a burek! I've had bureks in Croatia, Montenegro, Bosnia & Herzegovina, Serbia, Kosovo, North Macedonia, and Albania. T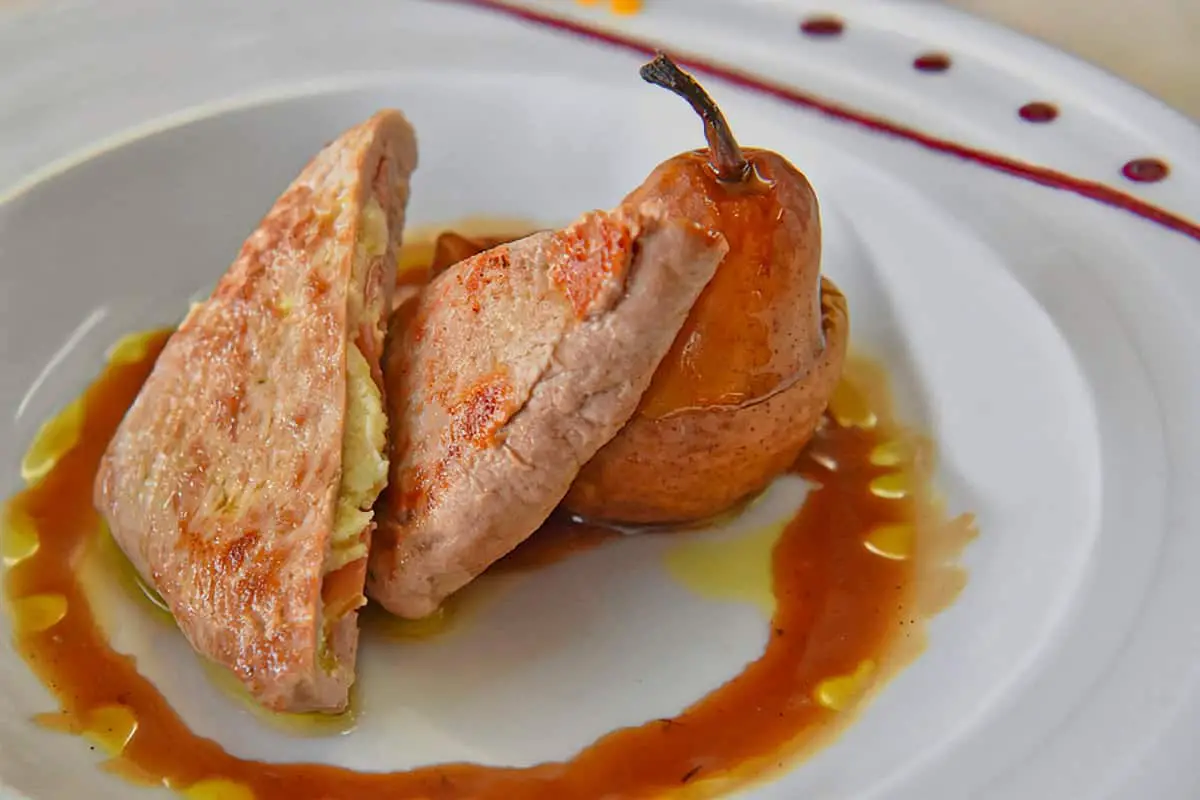 In my last post, I introduced you to Njeguški pršut and Njeguški sir, two specialties of the central region of Montenegs. Now, imagine combining them with the Balkans' insatiable appetite for grilled meat, by folding the ham and cheese into a thin slice of veal. What you get is a Njeguški stek – logical, right? Yet this simple assembly isn't the clever creation of some everyday Montenegrin summer barbecuer. It's the brainchild of Milovan Mića Stojanović, one of Serbia's most famous chefs.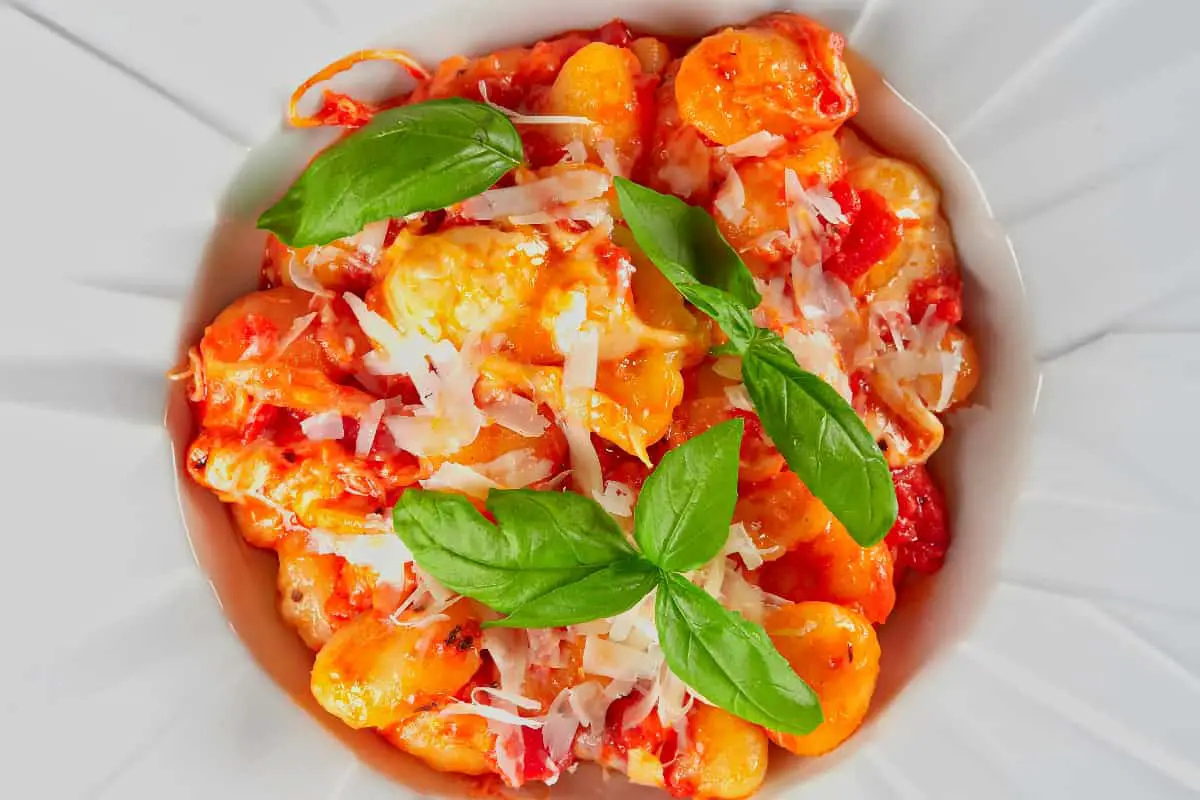 Shrimp alla buzara is common all around the north Adriatic coast. When I make this quick and delicious Montenegro recipe at our house, I give everyone an empty bowl for the shells. I bring the pan to the table, we roll up our sleeves and dig in, savoring the sweet meat, then sucking and licking every drop of sauce from the shells. All that's needed is some grilled bread.
If you wish, use smaller, inexpensive shrimp (shelled and cleaned) in the Montenegro recipe to make a terrific dressing for spaghetti or linguini. And leftovers make a great risotto.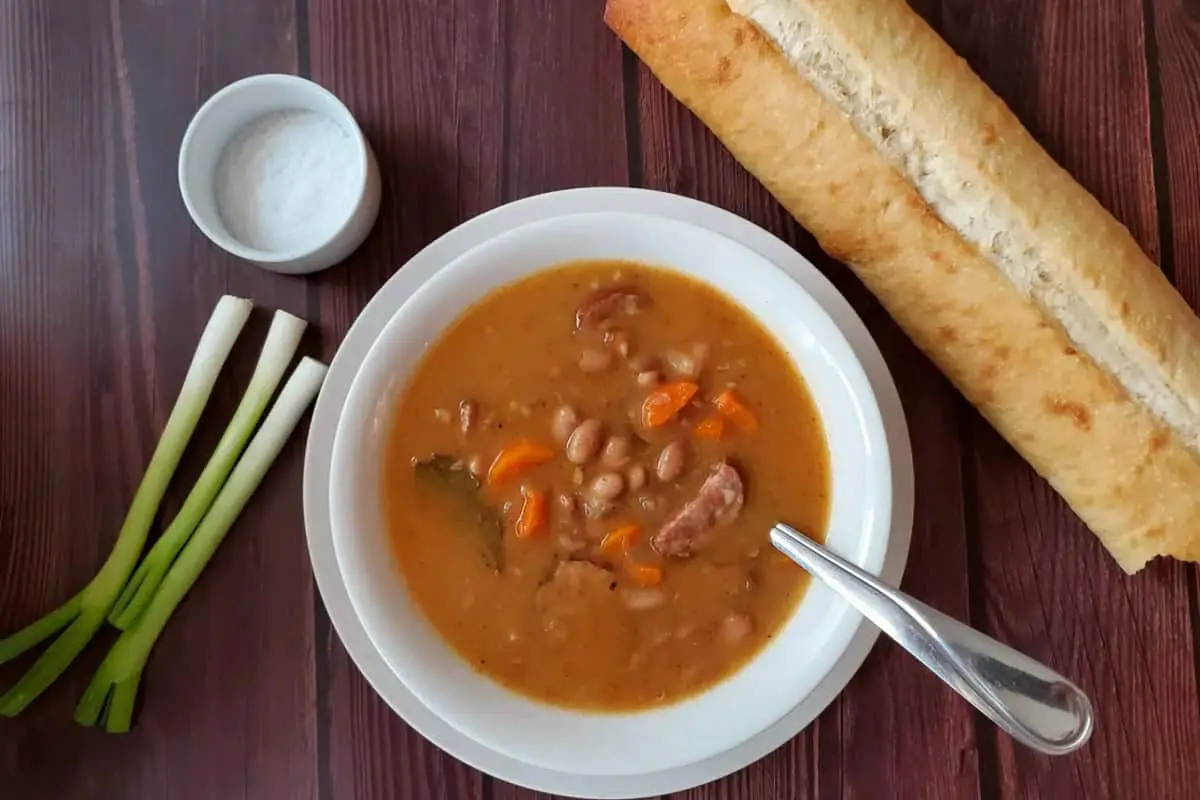 If you're a novice in the kitchen or just beginning to cook, this is the perfect Montenegro recipe to get your feet wet. In Serbia there's a saying "prosto ko pasulj" roughly translated to mean "as simple as beans", a metaphor to describe just how easy something is to do/make. Like this traditional Montenegro food.
Anyway, "kuvano jelo" dishes are the cornerstone of Balkan cooking, and if you ask my grandma, meals without something "on a spoon" are hardly meals at all!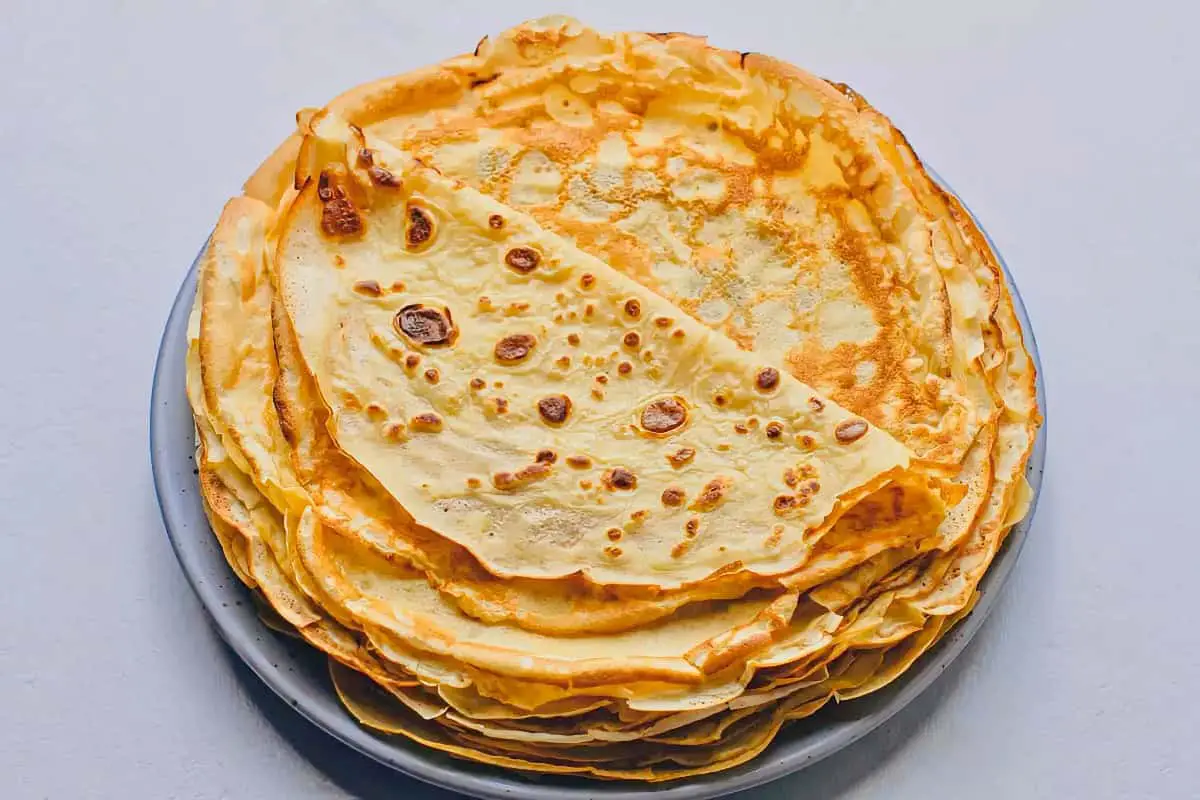 Palačinke is a common and delicious meal eaten across Croatia. With varied similar versions in all of Eastern and Central Europe, these are sort of crepes but also sort of pancakes.
A flour and egg batter, thicker than the one you'd use for crepes but runnier than a standard pancake batter, is fried in butter or oil and stuffed with sweet or savory fillings. Different than pancakes, palačinke doesn't need a leavening agent. We use club soda to create a light and airy batter.
Originated in the Roman Empire many centuries ago, these pancake-like discs are the perfect vehicle for any sweet or savory filling, much like crepes. Commonly found at street vendors' kiosks, most households have a favorite Montenegro recipe and filling. A squeeze of lemon juice and some sugar is enough to highlight the flavorful cooked crepe, but more elaborate fillings can make the dish a whole meal and not just a snack.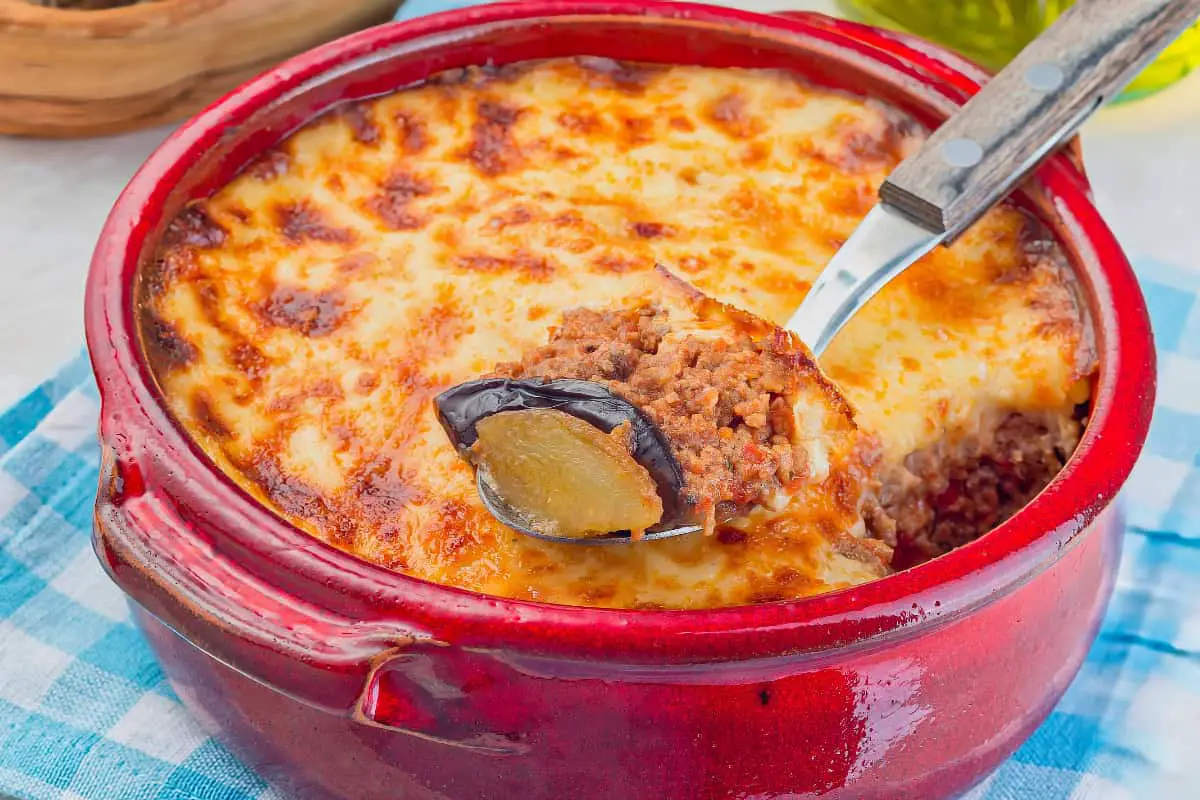 This dish is called moussaka, and it's a delicious casserole with homemade potato chips, cooked ground beef, and the traditional béchamel sauce! It's tasty and satisfying, and we bet you'll make it again and again!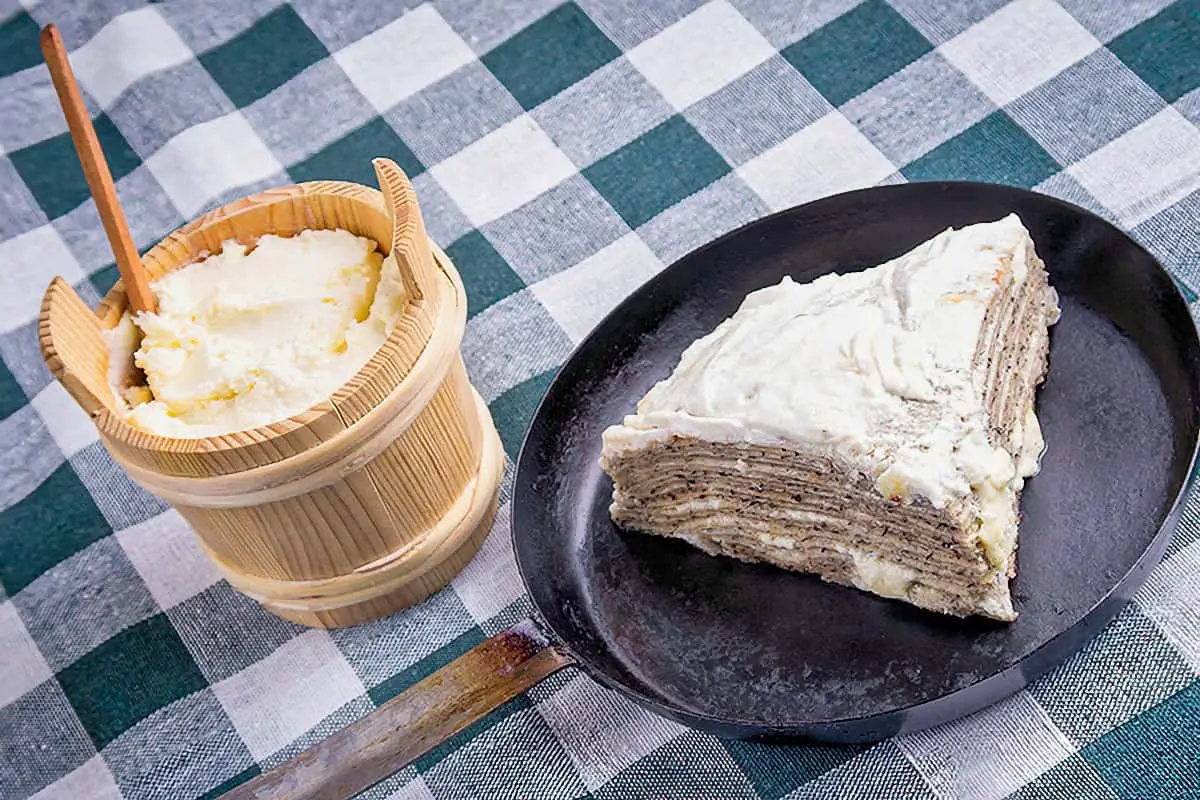 This Montenegro recipe for a traditional beloved dinner or snack-time treat of the Balkan region comes from our friend Mrs. Sabina Ramovic in Montenegs. Did you know that buckwheat is actually not a grain, but a highly nutritious and gluten-free plant seed? It also happens to be a staple in the Montenegrin kitchen.
So what makes this Montenegro recipe special? Our sources tell us it's all about the way of preparation and the ingredients. You need to spend a lot of time baking the pancakes, then patiently filling the layers, and finally waiting for the pie to be baked in the oven.
Women used to work a lot in the fields, as well as caring for the livestock, the children and the entire household! Taking all that in consideration, it is easy to understand that Buckwheat pie wasn't made each day, but usually on special occasions, such as the celebration of the household saint.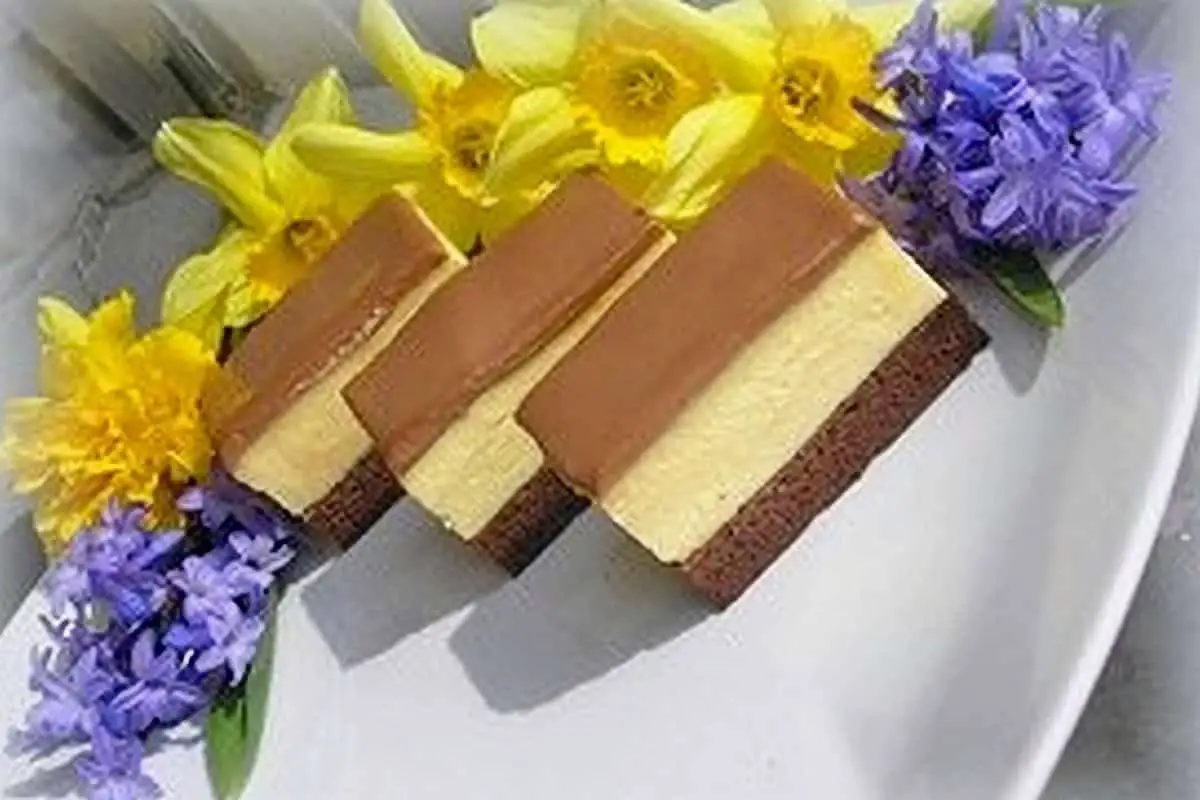 Last year, during our vacation in Montenegro, I was able to taste this divine, chilled delicacy. It tasted so good that I wanted to get the Montenegro recipe, but unfortunately, despite my best efforts, I couldn't. Diligent research work followed, to see if I could find some guidance that would give me the opportunity to reproduce this gastronomic experience.
The " tutirecipes" page, I found a cake that reminded me a lot of my little favorite. After reading the recipe, I changed a couple of things in order to be able to reproduce the sight and taste that the Montenegrin delicacy gave. Well, the work was finished, and when I consumed it, I experienced time travel. Despite the fact that I tried to make it more attractive, it does not change the taste experience.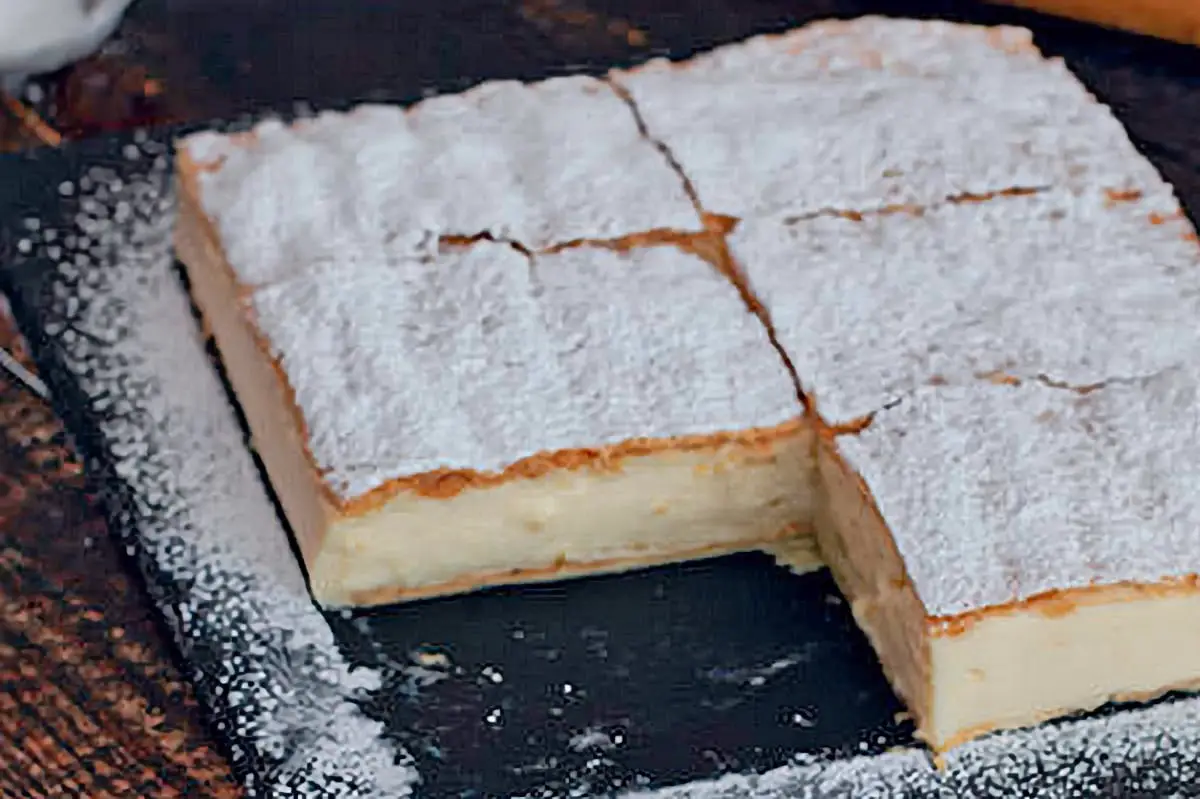 This delicious dessert made of sheets of crispy puff pastry, filled with vanilla custard is very familiar in many European countries and it is known under various names: cremeschnitte, krempita, kremšnita, krémes, cremsnit, cremes and so on. No matter how is called it is definitely a dessert you need to try at least once in a lifetime.
---
You May Want to Join Our Boondocking Group on Facebook For More Information
You May Want to Join Our Campfire Recipes Group on Facebook For More Information
For More Photos Visit Our Instagram at World Recipes Daily – Our Big Escape
Discover our unique product testing journey at Our Big Escape. We bring real-world experiences and adventures into every review, ensuring authenticity and reliability. Dive into our process at
How We Test Products: A Journey of Discovery and Trust
, where every product is an adventure tested.