Before we start our list of easy Brussel sprouts recipe choices we want you to know more about the vegetable. In particular the amazing health benefits you get from them.
Brussels sprouts were first grown in the 16th century in Brussels, which is the capital of Belgium. They look a bit like small cabbages, but don't be fooled by their size. Each bite has a lot of good things for you.
Brussels sprouts are a healthy food because they are full of fiber, vitamins, minerals, and antioxidants. They may also help your health in other ways, like reducing inflammation and making your immune system stronger.
Brussels sprouts have a lot of a natural sulfur-based substance called glycosinolate glucobrassicin, which can be hard to say. Research shows that this compound may help keep your DNA from getting damaged in ways that make you more likely to get cancer. It may also stop tumors from making new blood vessels.
Brussels sprouts taste mild, sweet, and almost nutty when they are cooked the right way. But it's easy to cook them too long, which can make them taste bitter, feel mushy, and smell like sulfur. Because of this, Brussels sprouts usually get a bad name.
32 Easy Brussel Sprouts Recipe Holiday Side Dishes
---
---
check out our video
---
---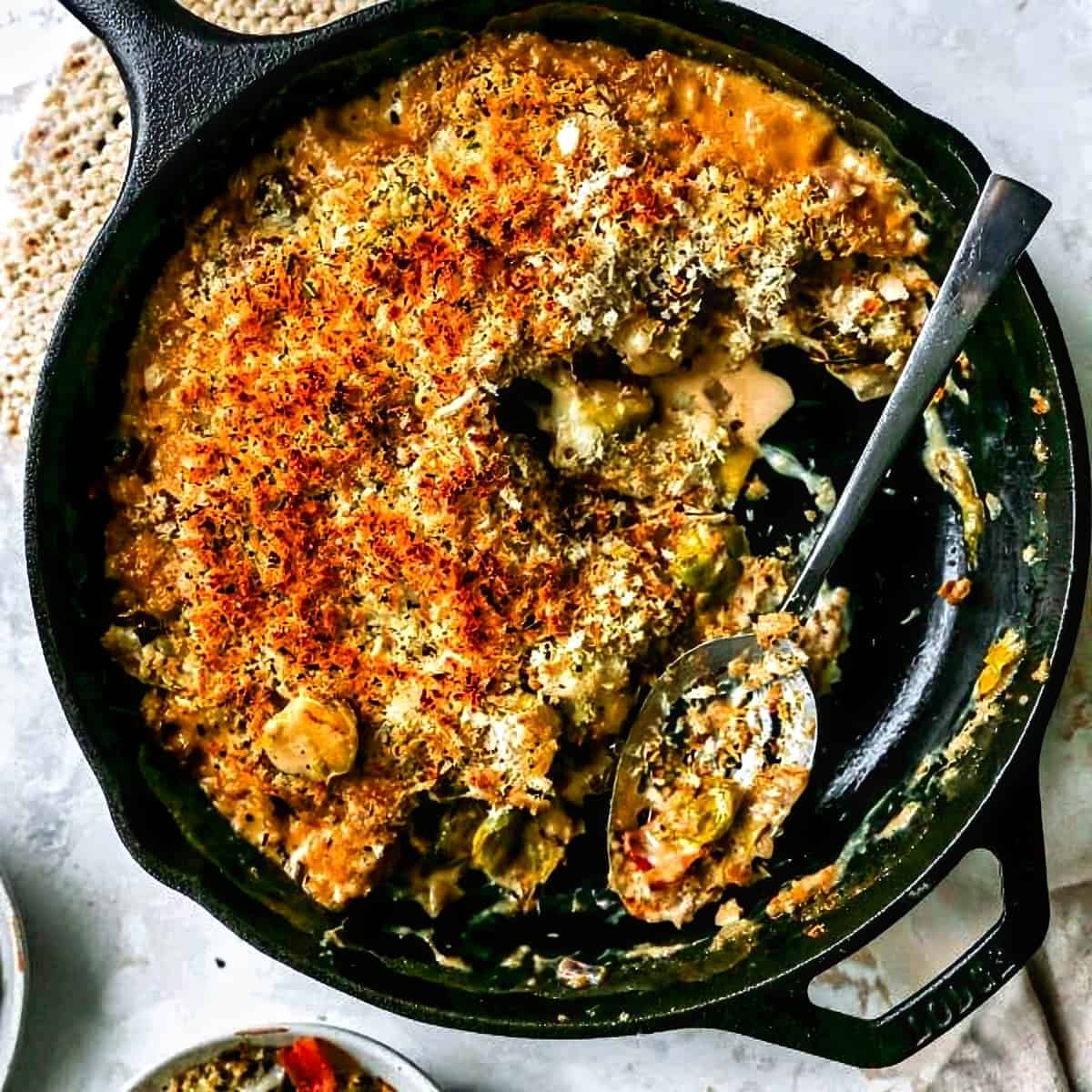 This one-skillet Brussels Sprouts Casserole will become the unexpected star of your Thanksgiving holiday Brussel sprout recipes with bacon, cheese, and a crispy panko topping.
I know that Brussels Sprouts Casserole doesn't sound that exciting or like a dish your kids will eat, but hear me out!
We've added in bacon, cheese, and a crispy panko topping that makes this casserole absolutely delicious.
This is one hundred percent Thanksgiving comfort food that we love so much we'll be making it year round.
Start your grocery list now! I promise this is a easy brussel sprouts recipe you'll want to make ASAP. It's hearty, savory, and filled with the best comfort food ingredients.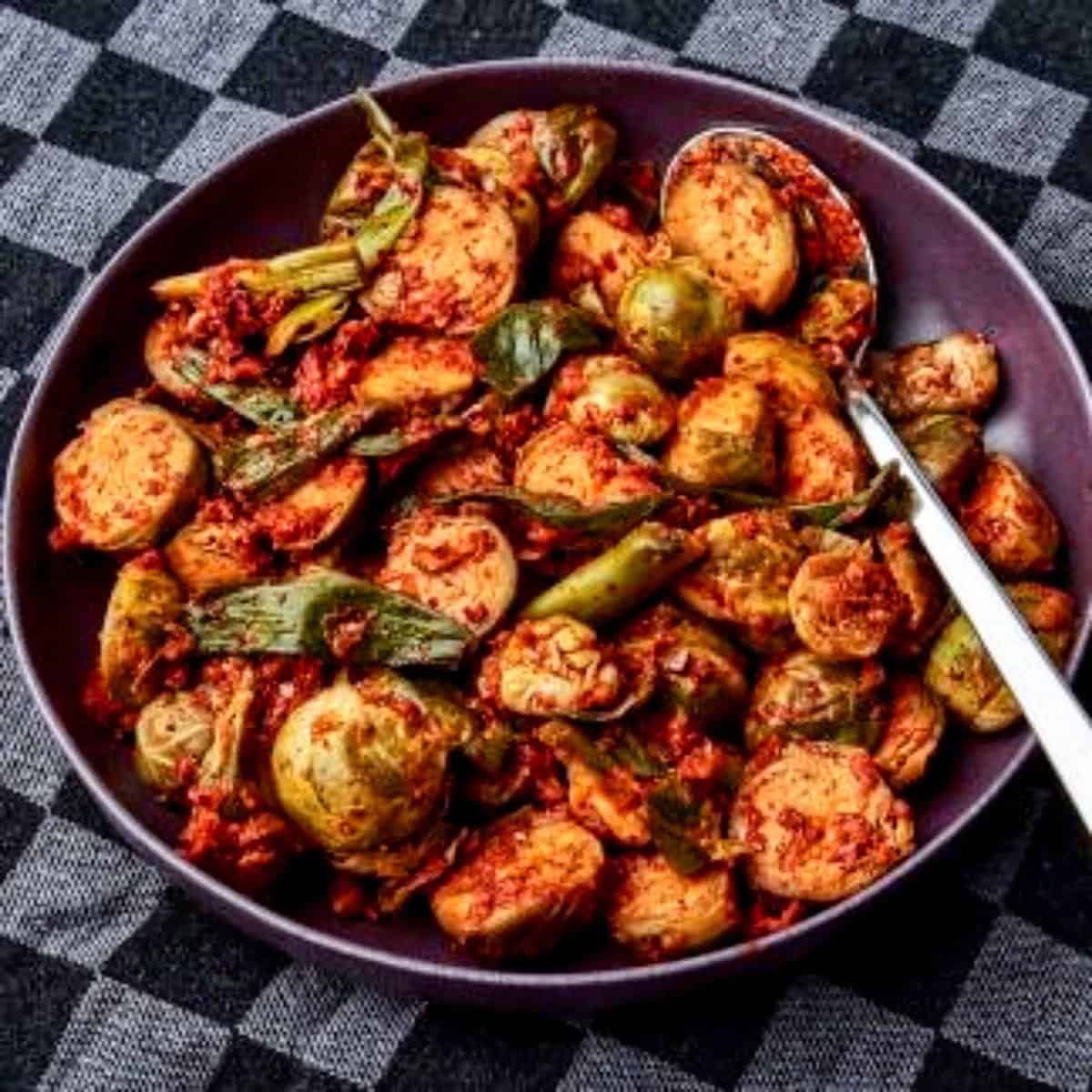 Korean Kimchi is most known as Napa cabbage kimchi, but there are many variations using different vegetables: you could use cabbage of any sort: white, red, pointed cabbage, etc.
It's a perfect fridge clearing task if you happen to have leftover cabbage from your Christmas. It's also a really easy Brussel sprouts recipe: You can substitute the pear with apple and scallion with leek.
If you have one or two carrots, toss them in! If you can't handle it too spicy, reduce the gochugaru to 1 tbsp/15 grams."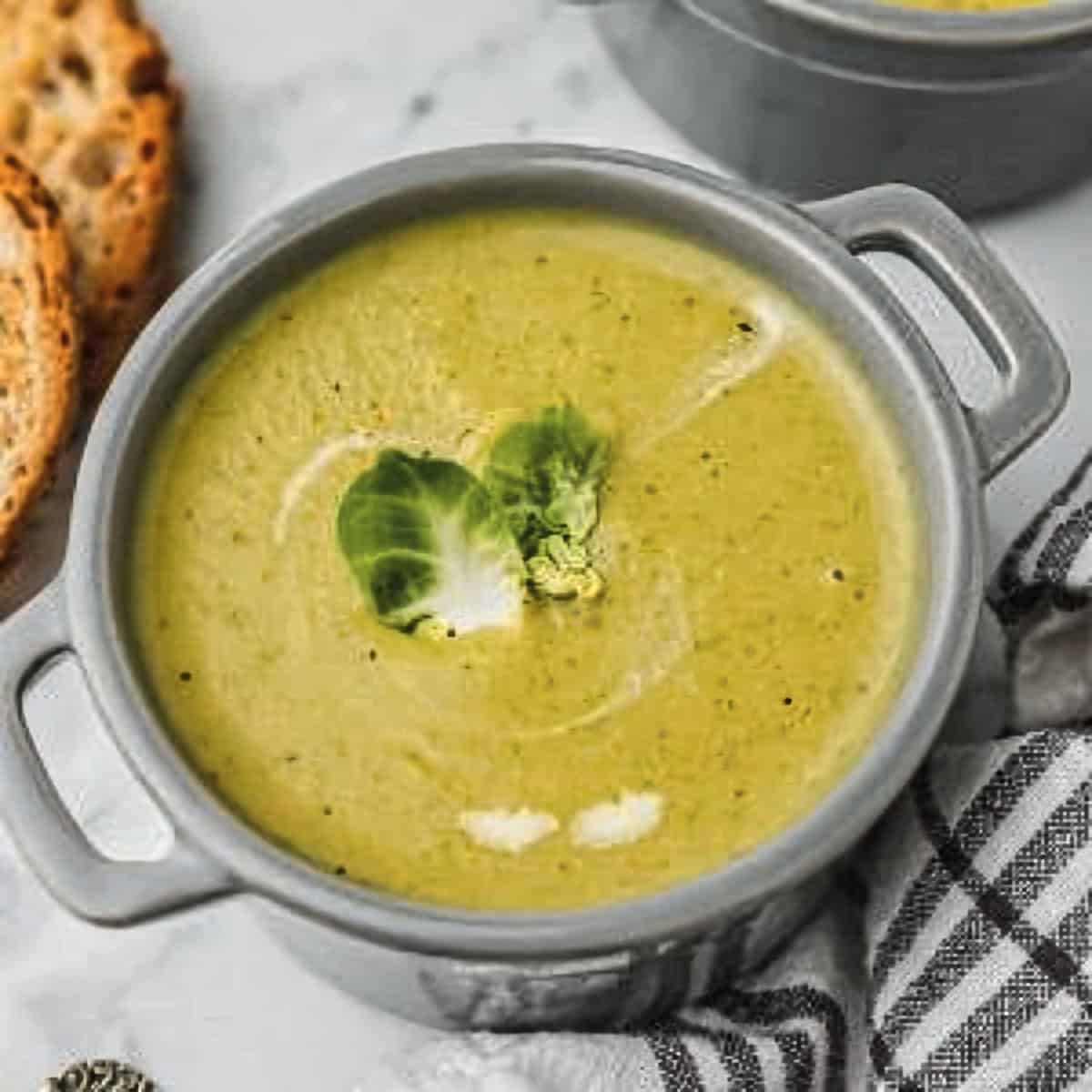 Homemade brussels sprout soup is creamy, thick, rich, and super comforting. Simple green soup that is flavorful and packed with nutrients your body would love.
You only need a handful of everyday ingredients and minimal effort to make this delicious homemade vegetable soup.
What better way to welcome the new year than to start with a soup recipe, right?
After the holiday season where we tend to go wild with all of the goodies, hello chocolates, dips, and wine.
It's always nice to have some clean eating resolutions.
I get you, moreover, you probably have some Brussels spouts left from Christmas and the New year as well.
So what better way to use them up than making a creamy brussels sprouts soup with potatoes!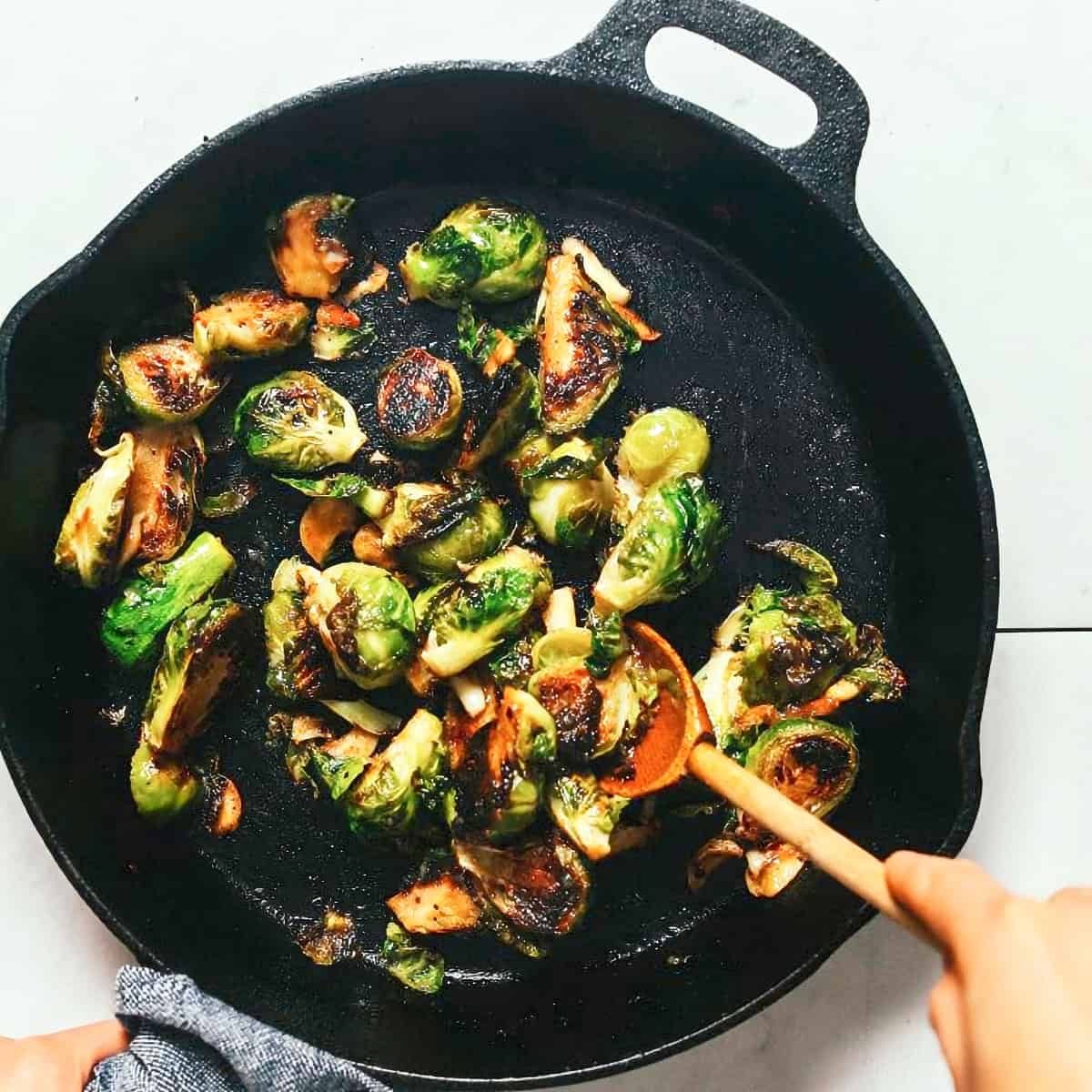 If you've been looking for a quick, reliable way to make crispy roasted Brussels sprouts, you're in the right place!
We've perfected our method for tender-on-the-inside, crispy-on-the-outside sprouts plus a tangy, salty glaze that sends the flavor over the top. Let's do this!
This easy Brussel sprouts recipe is simple, requiring just 30 minutes and 8 ingredients to make.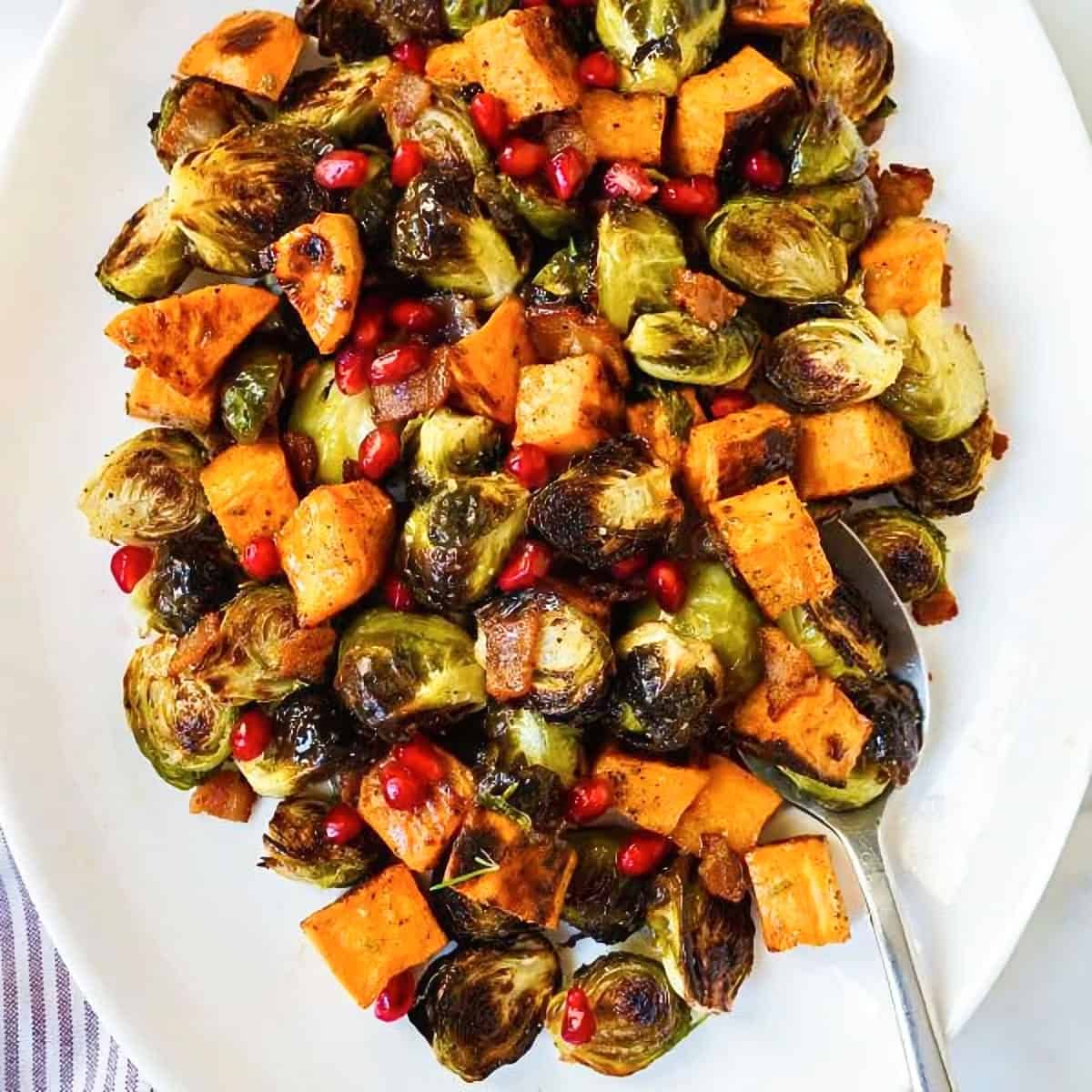 It's easy to get creative with these roasted Brussels sprouts and sweet potatoes.
For a quick side dish that complements just about everything, follow this easy brussel sprouts recipe. If you want to spice things up a little, try one of the variations.
Swapping a few spices and adding fresh stir-ins to coat the roasted Brussels sprouts and sweet potatoes transforms the flavor of the dish to something new, yet equally delicious.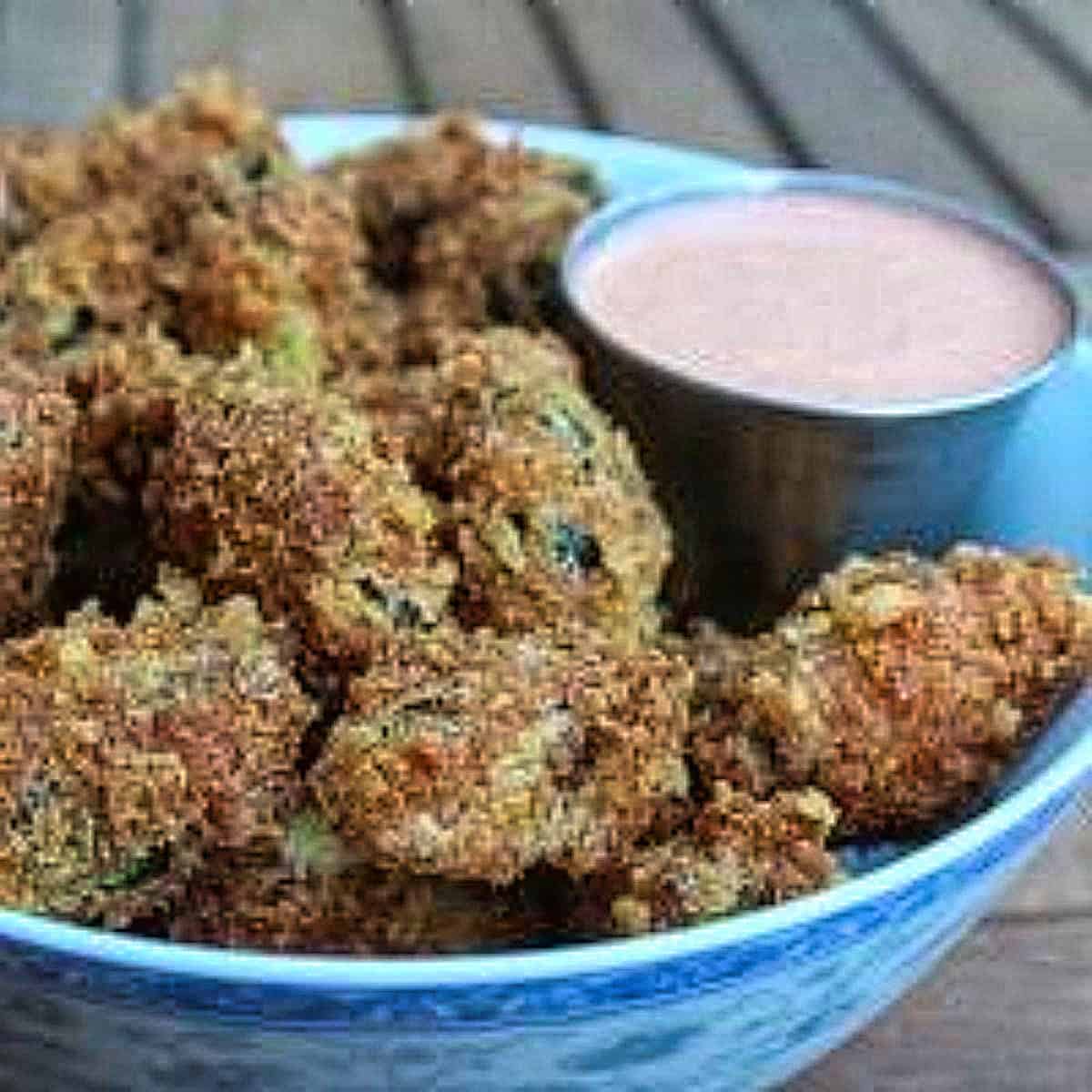 We all have it. That favorite comfort food that eases the stress out of us after a particularly harrowing day.
You're thinking of yours right now… My favorite comfort food, fried brussels sprouts with sriracha aioli, comes from the appetizer menu of our local pub.
I've been trying to recreate it at home for months, but clearly, I just needed the right stressful inspiration.
Just the right amount of crisp surrounding tender, flavorful brussels sprouts.
A creamy siracha aioli combines the heat of sriracha with the richness of aioli for a well-balanced dipping sauce.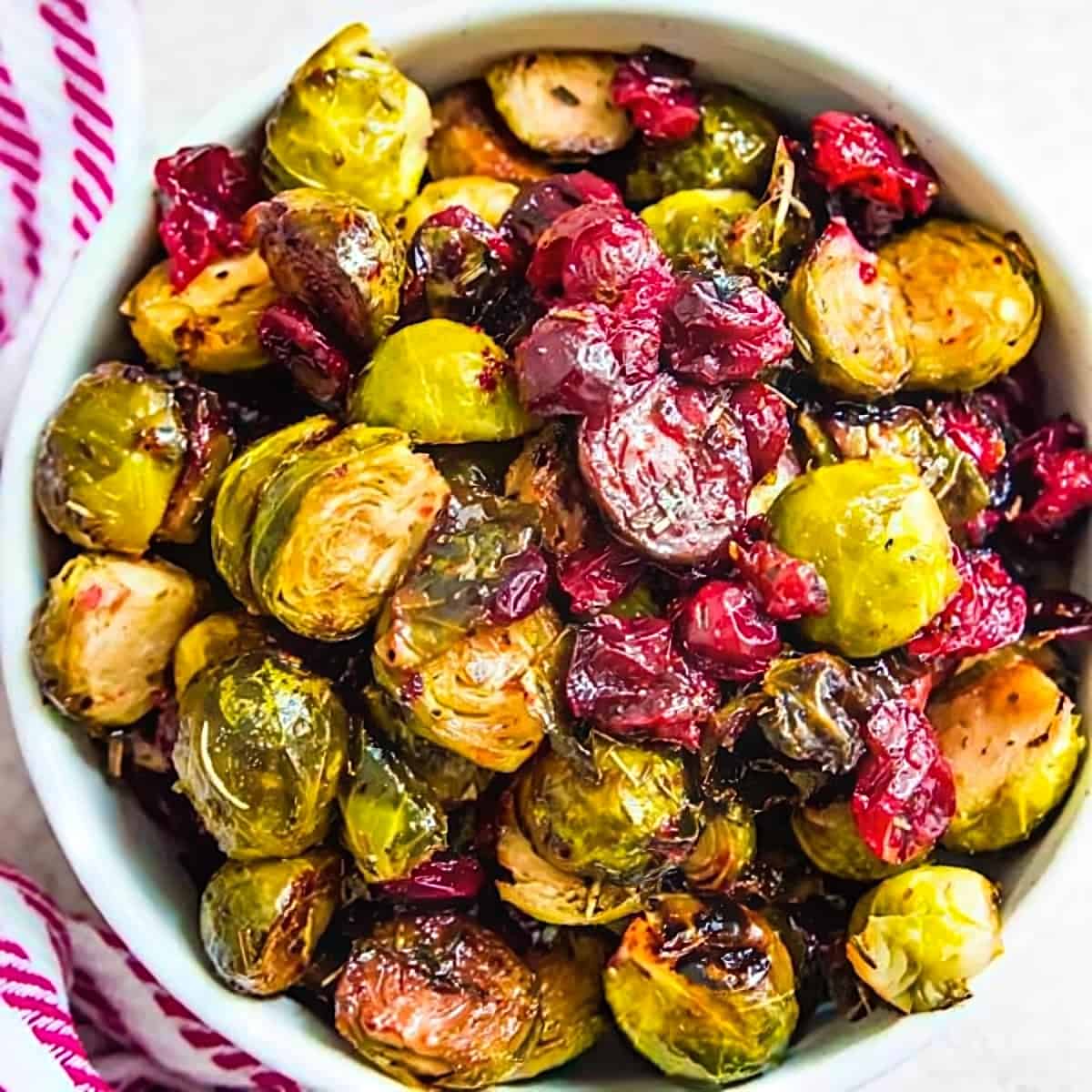 Brussels sprouts and pure Vermont maple syrup make a harmonious pairing, and together they become a beloved side dish for dinner.
This roasted easy Brussel sprouts recipe is simple to achieve but tastes like a gourmet indulgence thanks to its medley of flavors. Sweet, tart, robust, savory; this side dish has it all!
Enjoy these roasted maple Brussels sprouts on their own, in a warm hearty grain bowl, or beside a golden chicken dinner.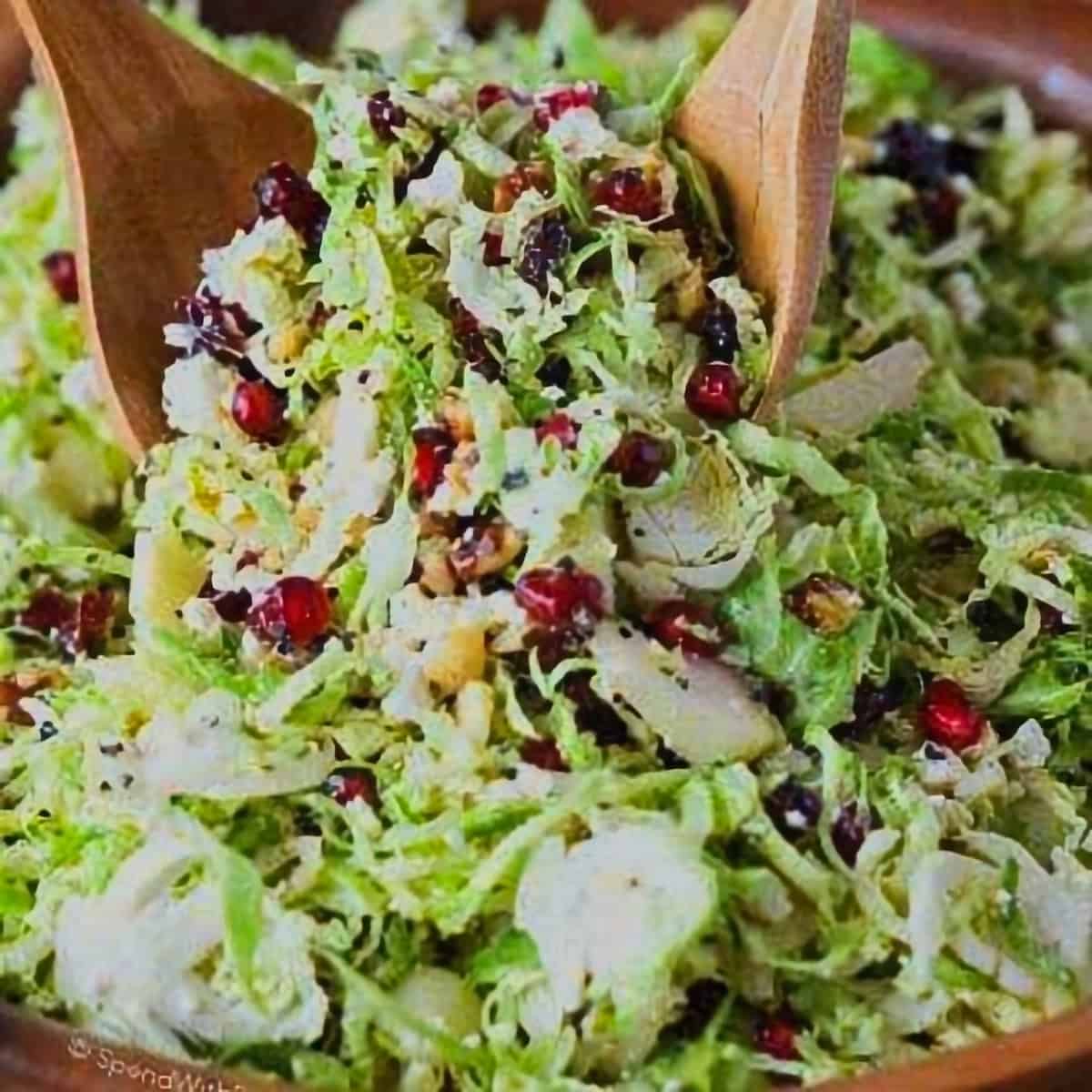 Brussels Sprout Salad is a delicious fall salad and keeps for days in the fridge!
Shredded Brussels sprouts, crisp tart apples, feta cheese, cranberries, pomegranate arils, and walnuts all tossed in a tangy honey Dijon vinaigrette.
This easy Brussel sprouts recipe makes a perfect side or lunch.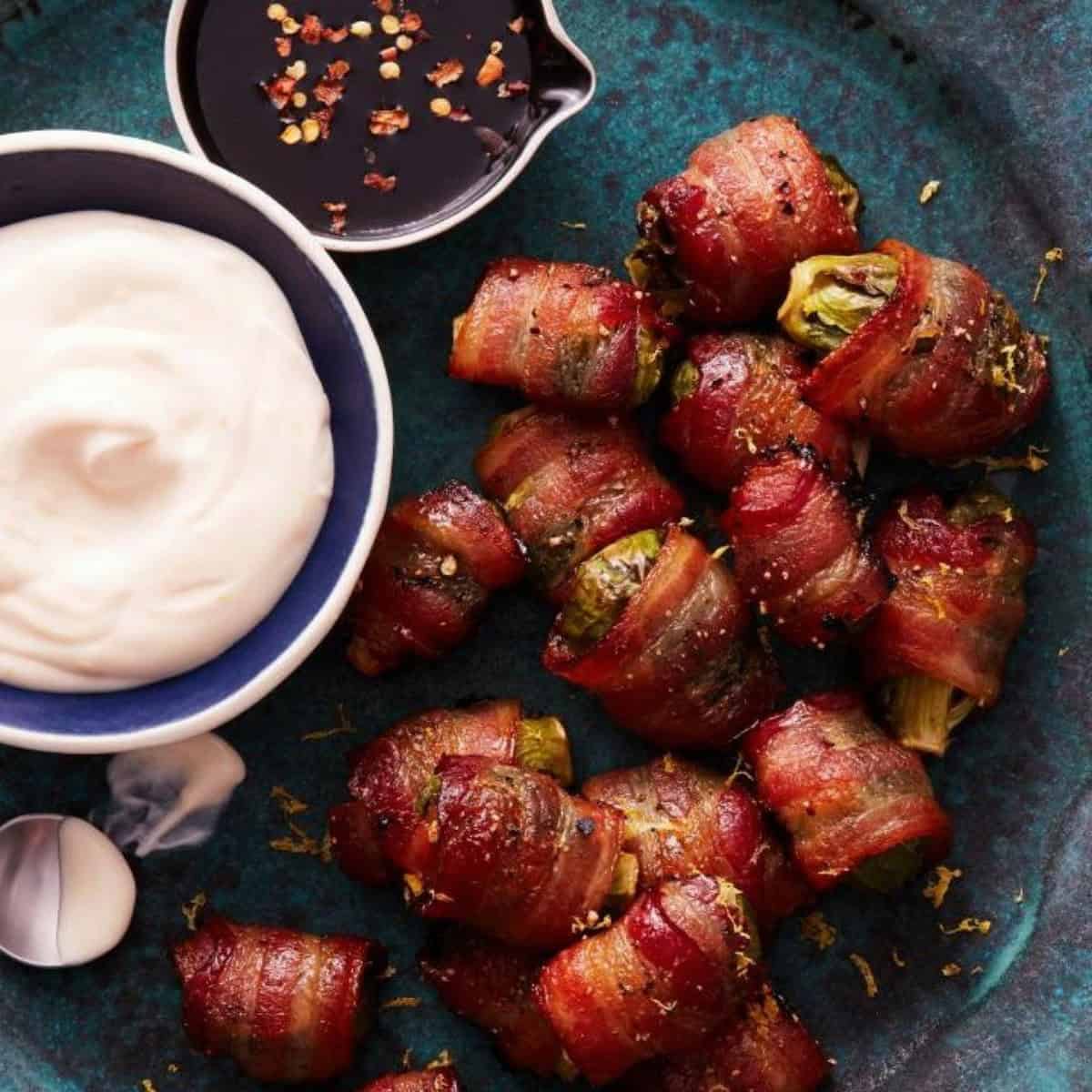 Most easy Brussel sprouts recipes for bacon-wrapped Brussels sprouts call for holding everything together with toothpicks, but we skip that step.
Setting the bacon seam-side down on the baking sheet makes it seal in the hot oven.
The maple syrup glaze helps to make each bite sweet and caramelized.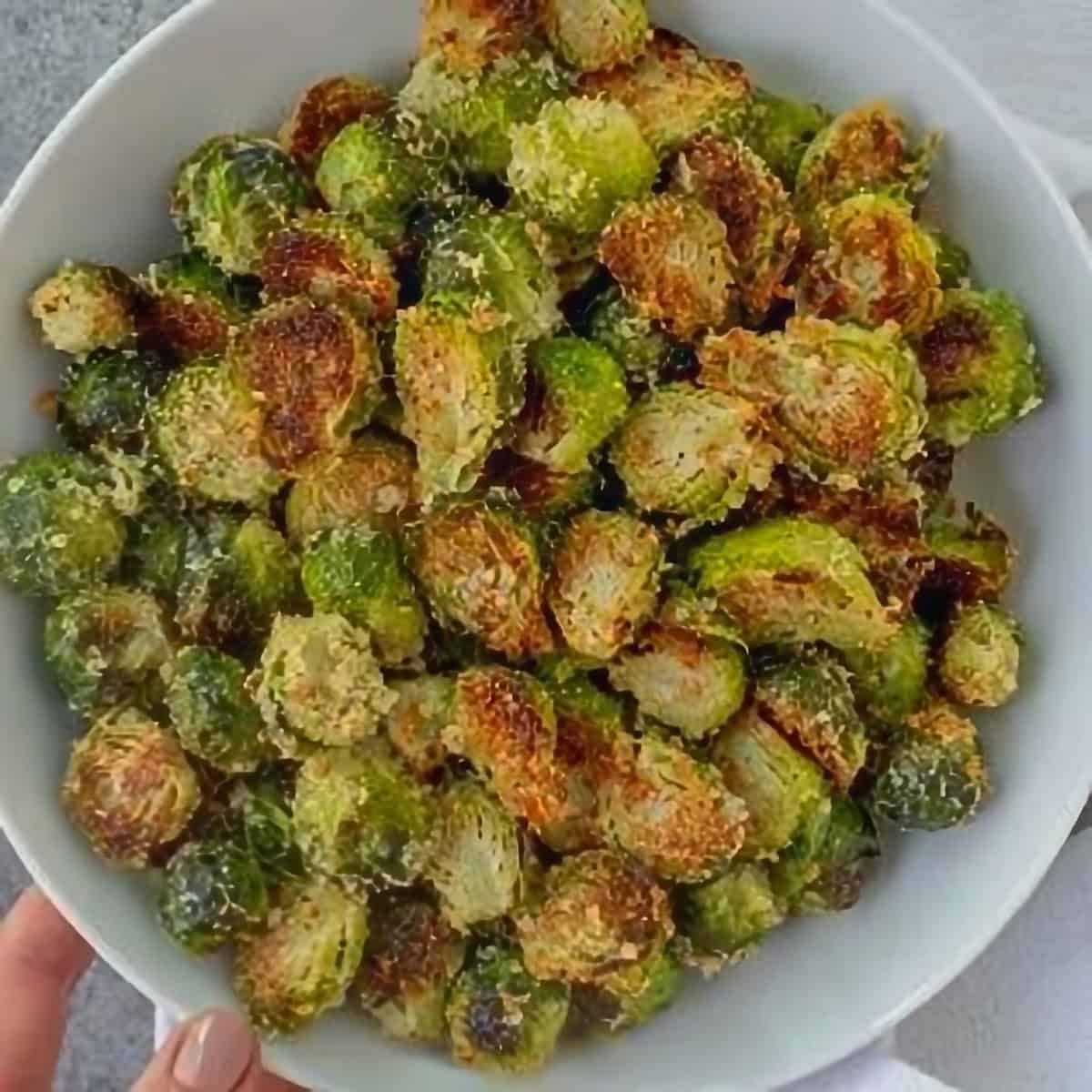 The key to getting the brussels sprouts to be crispy is in the olive oil and butter mixture, as well as the panko breadcrumbs.
If you don't have panko on hand, you can certainly use regular breadcrumbs. But I do find that they end up even more crisp with panko!
This easy Brussel sprouts recipe has quickly become a repeat in this house and once you try it, you'll understand why.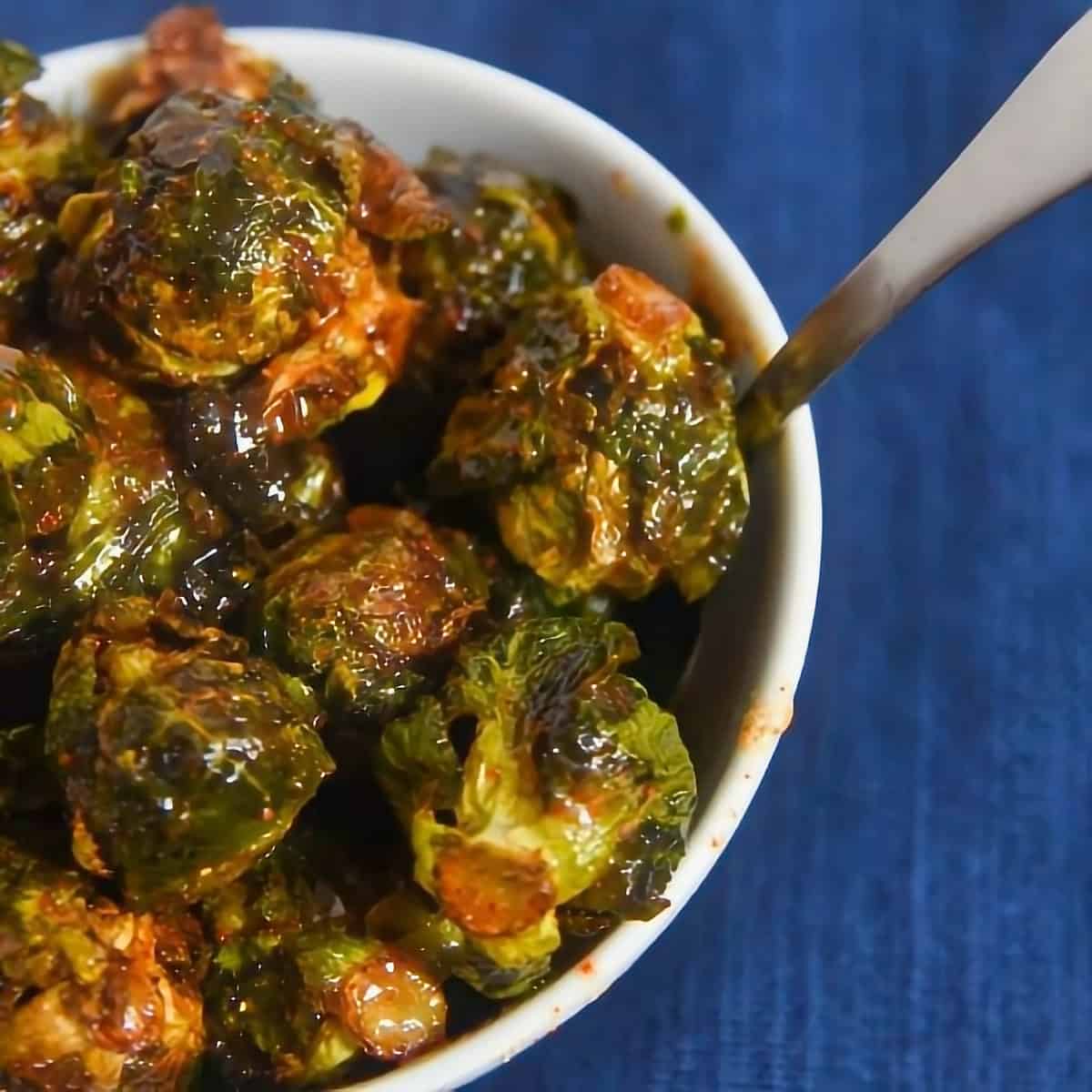 Longhorn Steakhouse Crispy Brussel Sprout Recipe is a easy brussel sprouts recipe that it is different from how you would regularly cook Brussel sprouts.
With a slight variation in cooking technique and use of aromatic spices, Indulge in the heavenly flavors!
It took me a few tries to get this easy Brussel sprouts recipe to the point where I wanted to find it.
I did a lot of research to see if there were any ideas for how to make them online, and I did find someone on Reddit who claimed to get the recipe from a cook at Longhorn.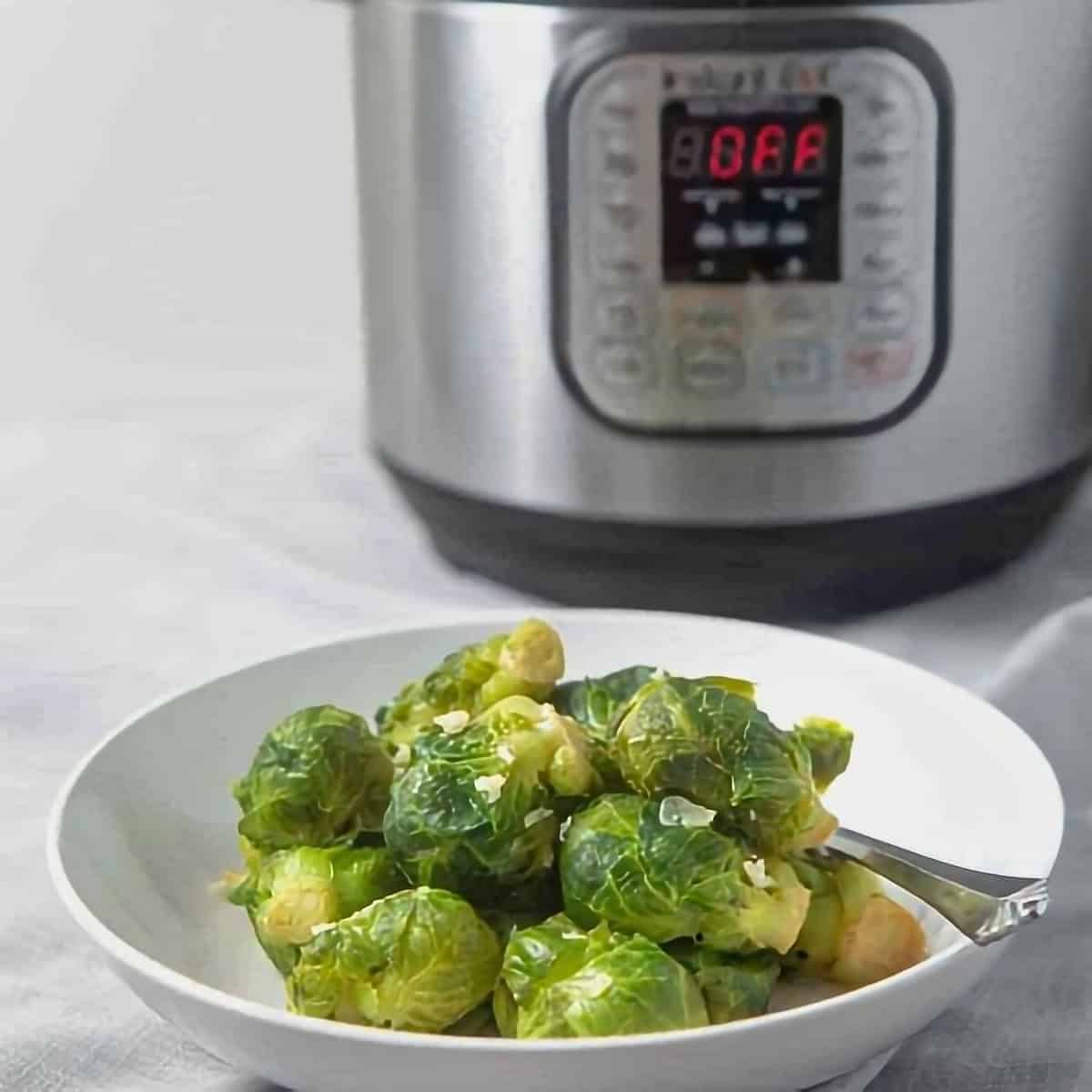 Cook this nutrient-dense superfood Instant Pot Brussels Sprouts! Perfectly cooked Brussels sprouts make a super quick & easy healthy Instant Pot Side Dish and a perfect addition to your holiday brussel sprout recipes.
Superfood Brussels sprouts is a nutrient-dense leafy green vegetable. It has high levels of vitamin C & vitamin K, rich in antioxidants, and a good source of dietary fiber & protein.
Great for any holiday or just any day. Eat those easy brussel sprouts recipes that are healthy for you and your family.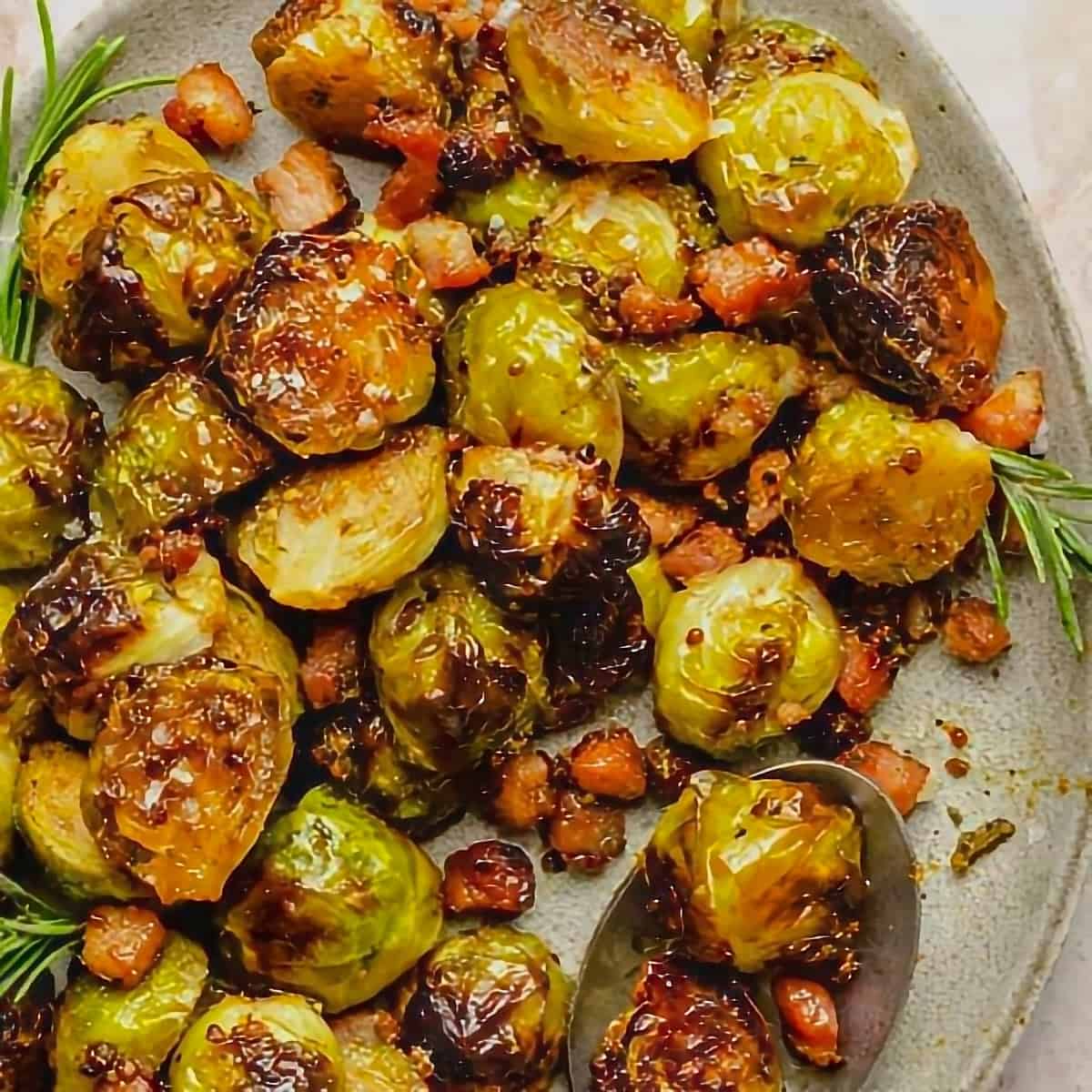 These caramelized brussels sprouts with bacon and maple syrup are super quick and easy to throw together (in under 30 minutes!).
They make the perfect holiday Brussel sprout recipes side dish for your holiday meals, especially at Thanksgiving and Christmas. They are so versatile though, you can enjoy them at any time of the year!
You'll want to have this side dish with the perfect roast chicken and the ultimate crispy rosemary roasted potatoes to enjoy for Thanksgiving or Christmas.
We love a good roast dinner and think you should have the best easy brussel sprouts recipes to celebrate with family and friends during the holiday season.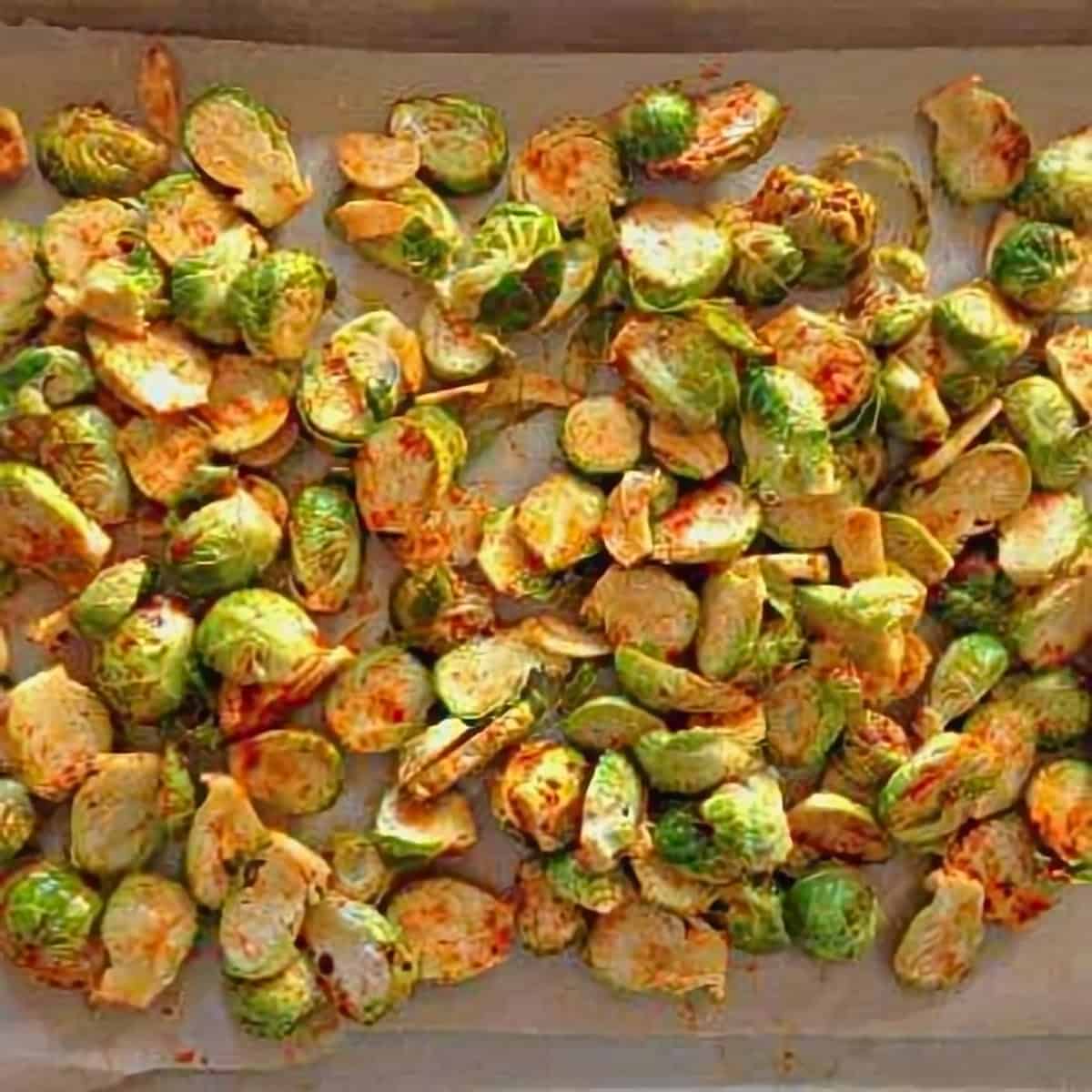 I decided to share the Roasted Brussels Sprouts Caesar Salad.
It caught my eye right away as I leafed through the book and when I saw that it involved smoked paprika, that sealed it.
Preparing and assembling the salad is really simple. And you'll have dressing leftover for another salad or to perk up steamed or roasted vegetables.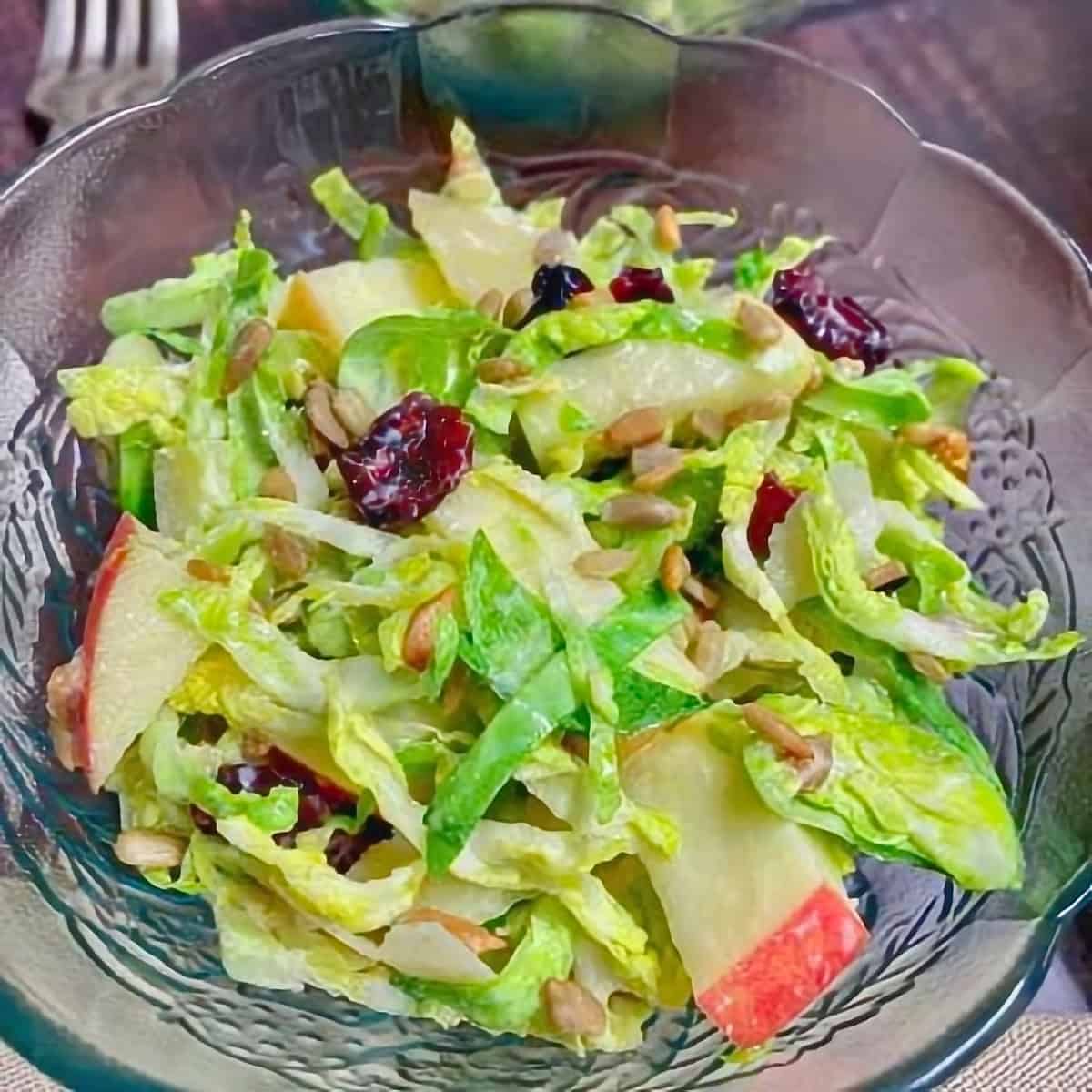 Shaved Brussels Sprout salad has everything from sweet, salty, crunchy, and tangy flavors.
It is also so beautiful to serve! It's the perfect salad or side dish for your holiday Brussel sprout recipes.
This shaved Brussels Sprouts Salad is super easy to make!
You don't need to cook the Brussels sprouts and it lasts a few days in the fridge making it perfect for meal prep lunches or as a make ahead weeknight side dish.
This is my kind of salad and I hope you enjoy it as much as I do!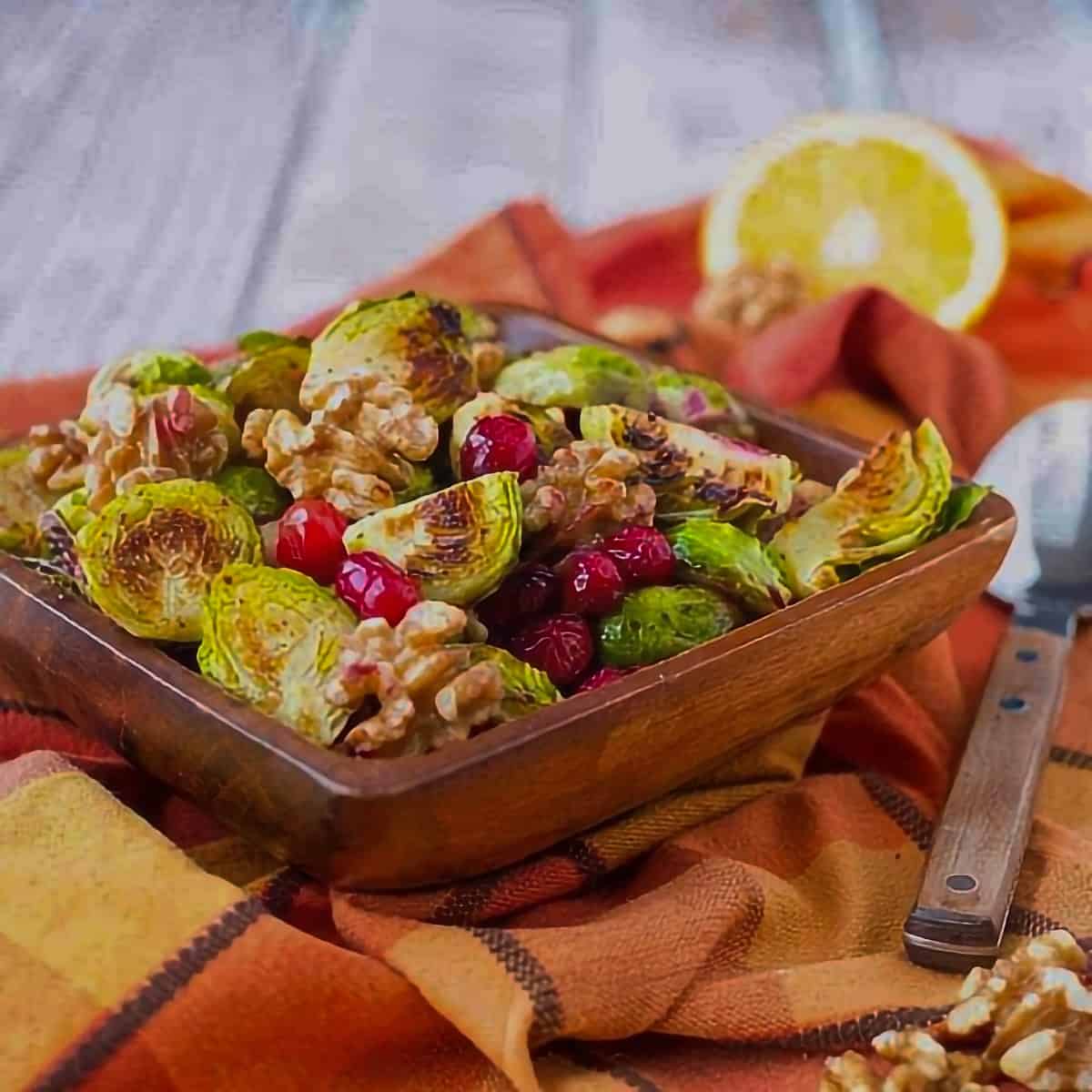 Roasted Brussels sprouts with cranberries and walnuts are a perfect addition to your Thanksgiving or Christmas table. These holiday Brussel sprout recipes are simple, festive, and delicious!
Brussels!! Love 'em or hate 'em, they are any holiday staple. And I just so happen to love them, especially when they're roasted or shredded into a slaw.
By the way, if you're a fan of Brussels sprouts roasted, you should also try my maple cayenne roasted Brussels sprouts.
Just pinky promise to judge those by their taste and not their photos because I posted this easy Brussel sprouts recipe five years ago. Five years! That's so crazy.
---
Want more ideas to round-out your Recipe Box?
A lot of great options are in these posts!
---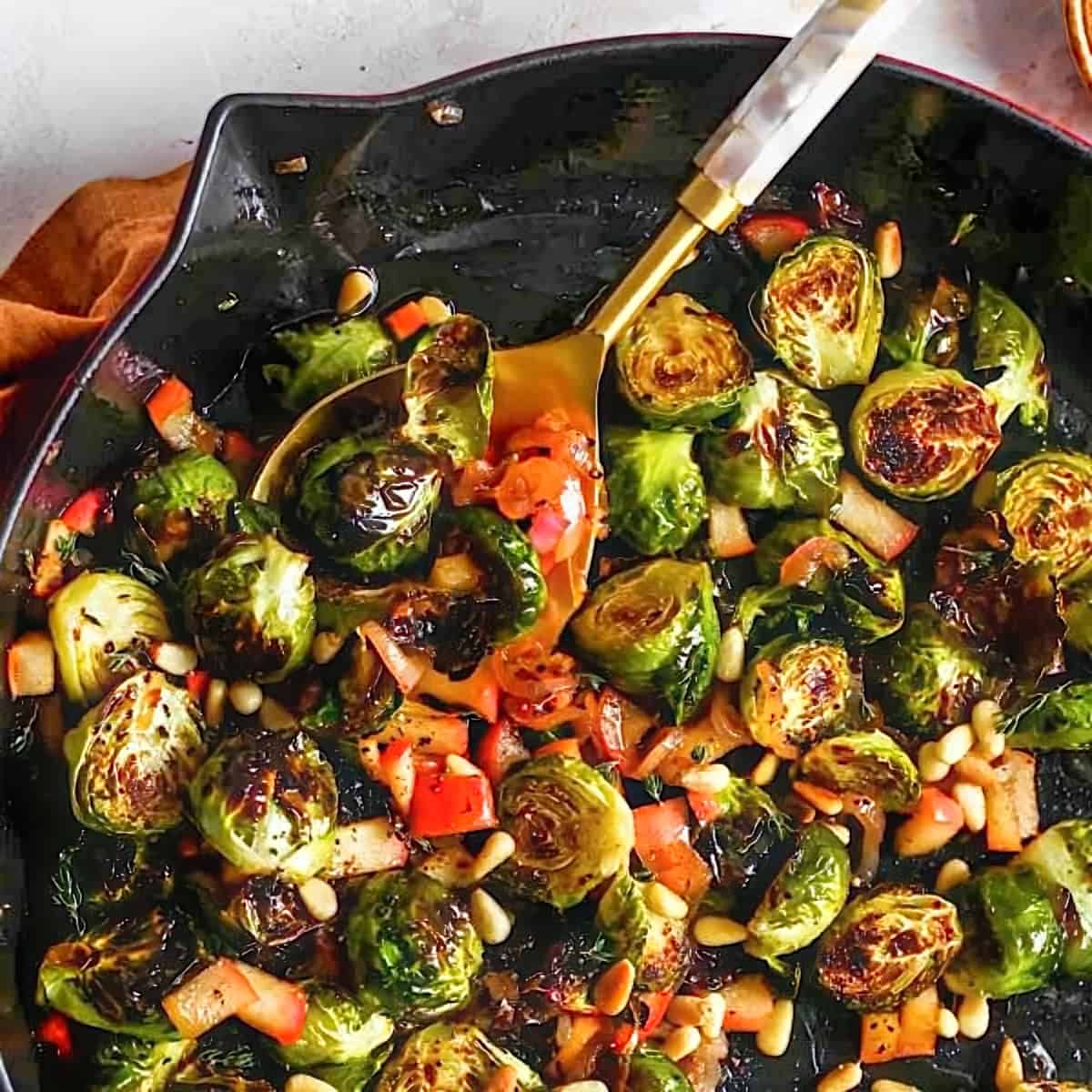 Sweet and savory Cider-Glazed Brussels Sprouts with apples, shallots, and bacon.
This all-star side dish is worthy of any dinner party, yet easy enough for weeknights. Delightfully crispy and caramelized with steakhouse-worthy flavor, they'll impress even the biggest veggie skeptics!
Charred and crispy on the outside, caramelized and meaty on the inside, and tossed in the most addictive apple cider glaze, these sprouts are side dish perfection.
A well-cooked Brussels sprout will speedily displace whatever childhood trauma mushy, boiled Brussels sprouts inflicted upon you in the past.
They may even become your go-to green veggie.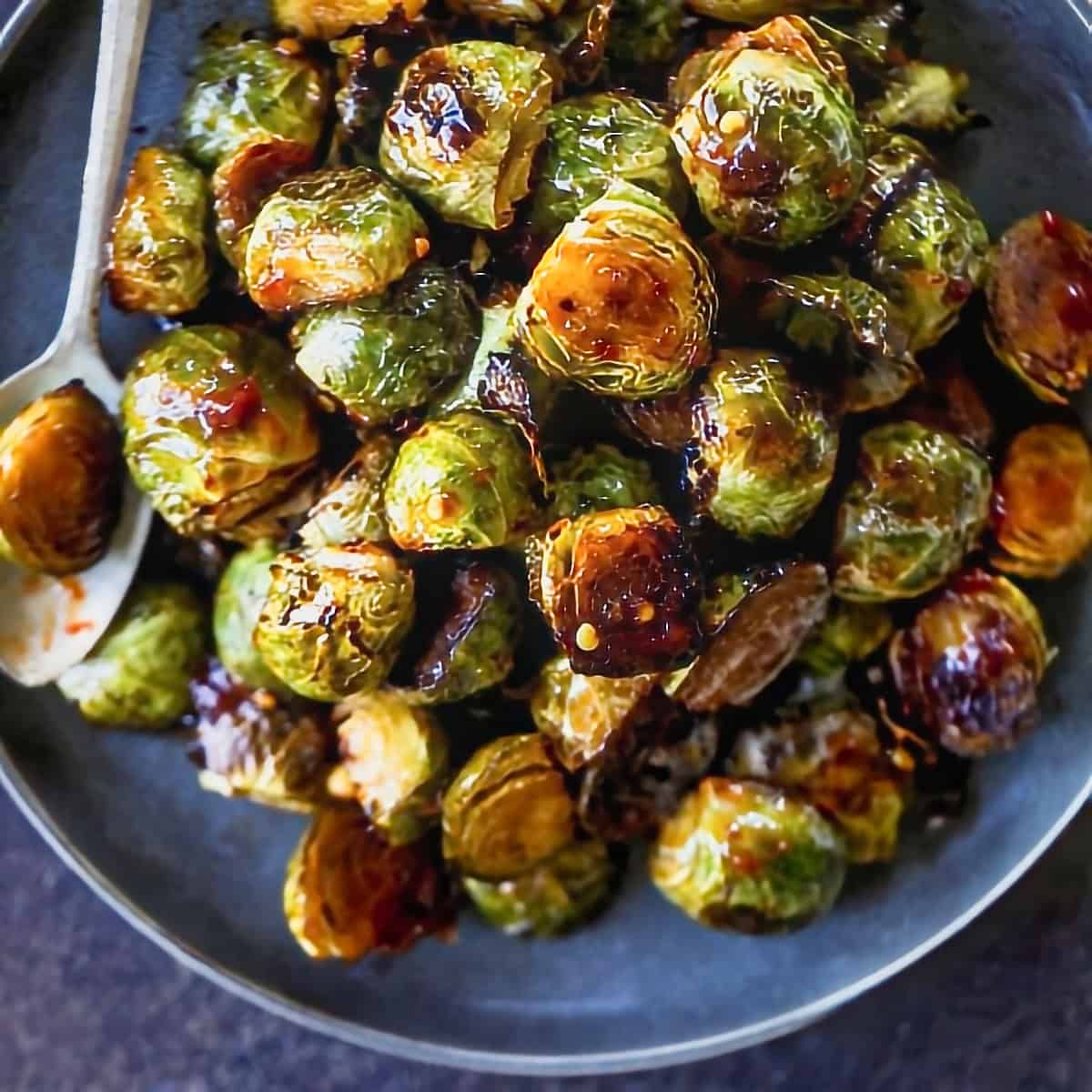 If I'm talking about brussels sprouts on a Friday, you know they must be good.
Sweet and spicy brussels sprouts are currently the most requested side dish in our house right now.
So I stole the sauce/marinade from this sweet and spicy pork shoulder.
It's so delish served with the sesame cucumbers – ah! I'm craving it right now.
I wanted to do something else with brussels though.
They might just be my favorite vegetable, which is probably not a line you'd ever think you'd read over here.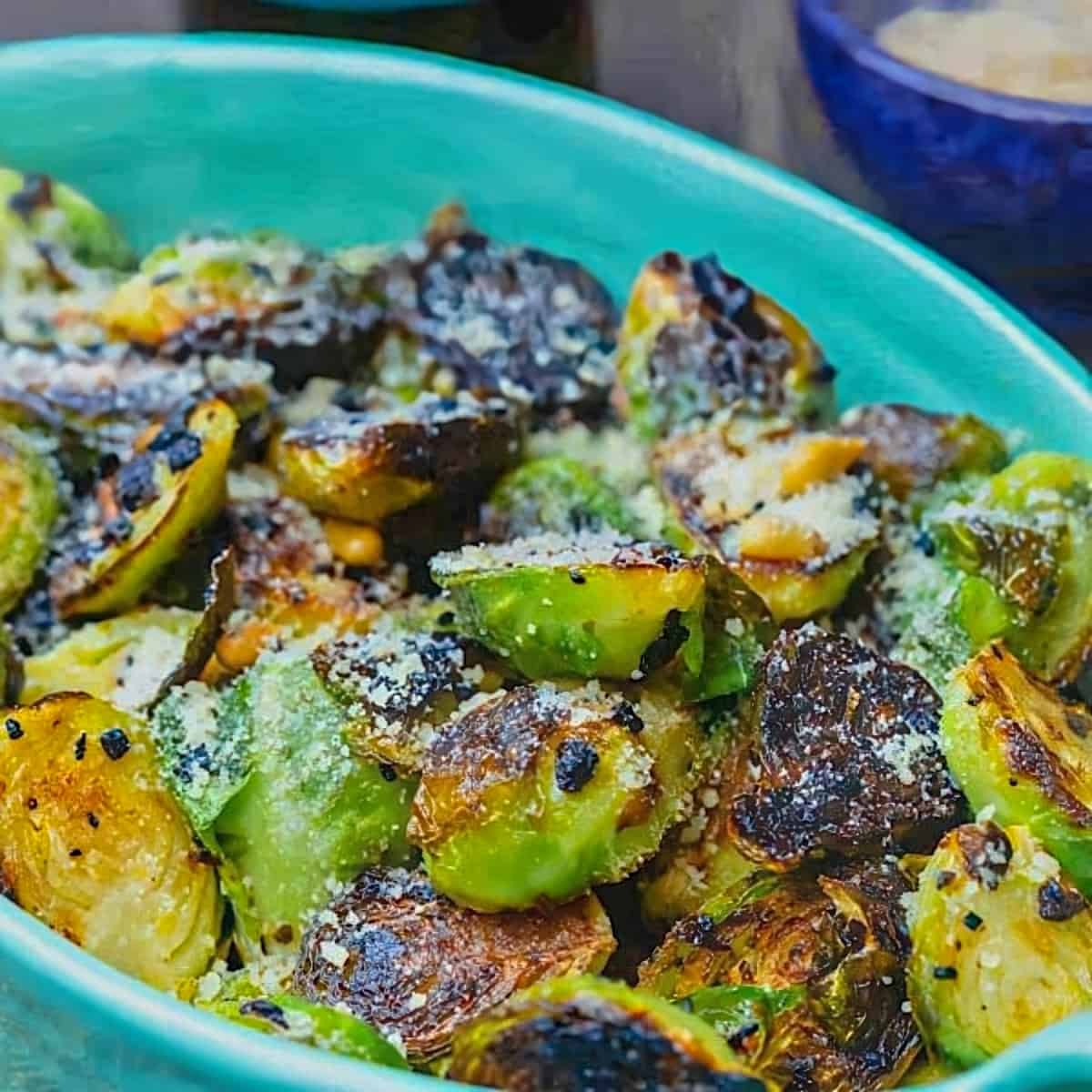 Crispy olive oil fried brussels sprouts with caramelized onions and garlic are great holiday Brussel sprout recipes! Finish with a sprinkle of freshly grated Parmesan cheese and toasted pine nuts.
These pan fried Brussel sprouts are best served immediately. They make a great side next to anything, especially hearty roasts like Spatchcock chicken or even slow-cooker leg of lamb.
Take things up a notch more with a drizzle of homemade tahini sauce!
Yes, they are green, but pan-frying them brings out their flavor. Use as a side dish or if you're like me, an on-the-go breakfast item!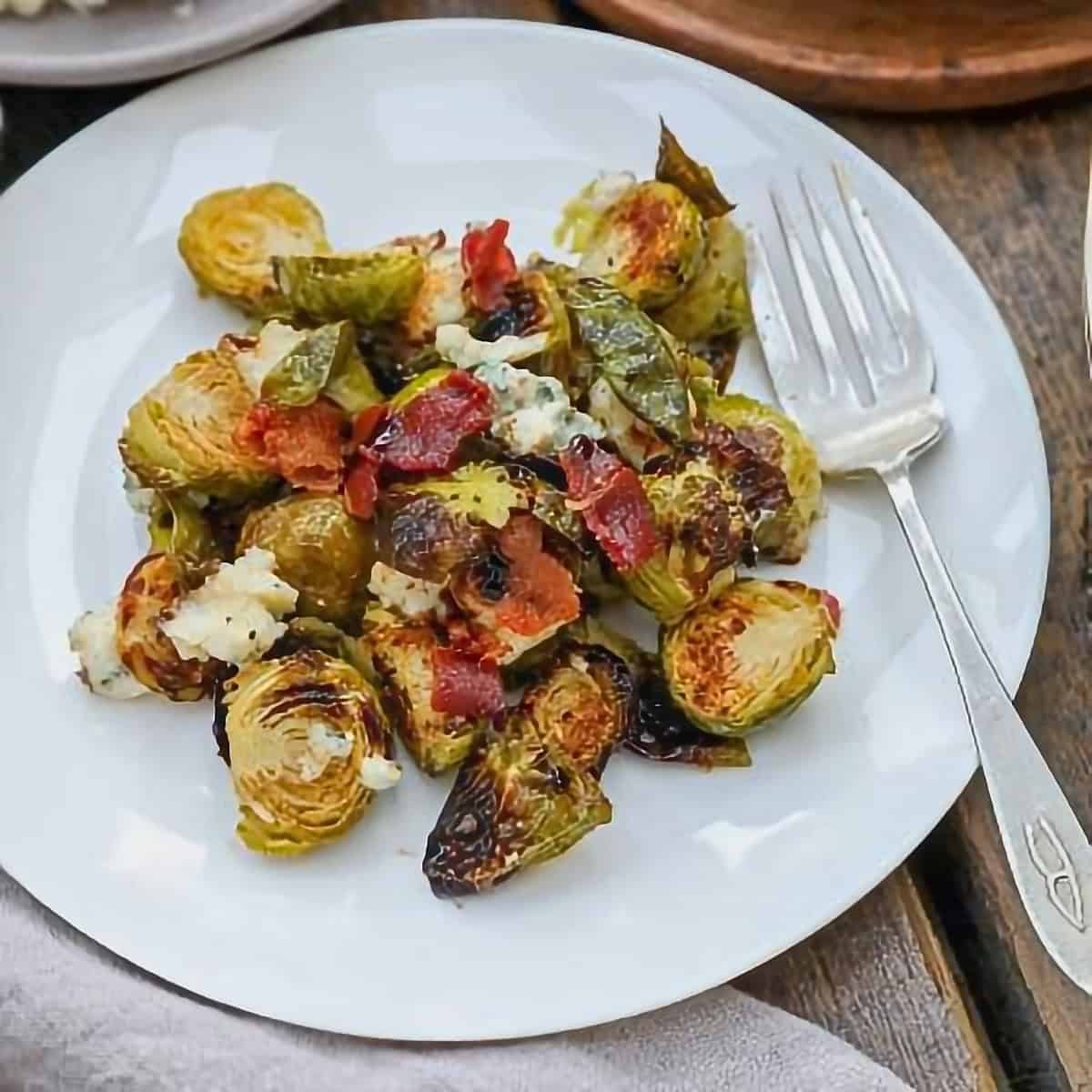 This is my family's absolute favorite dish on my holiday table. What's not to love with the mixed
aroma of garlic, onions, bacon, and blue cheese floating through your home?
Yes, this easy Brussel sprouts recipe calls for bacon and blue cheese – both ingredients that are higher in saturated fat and sodium, but you're using a small amount of each, really for a pop of flavor.
Feel free to use even less of both ingredients if you are closely watching your saturated fat and salt intake.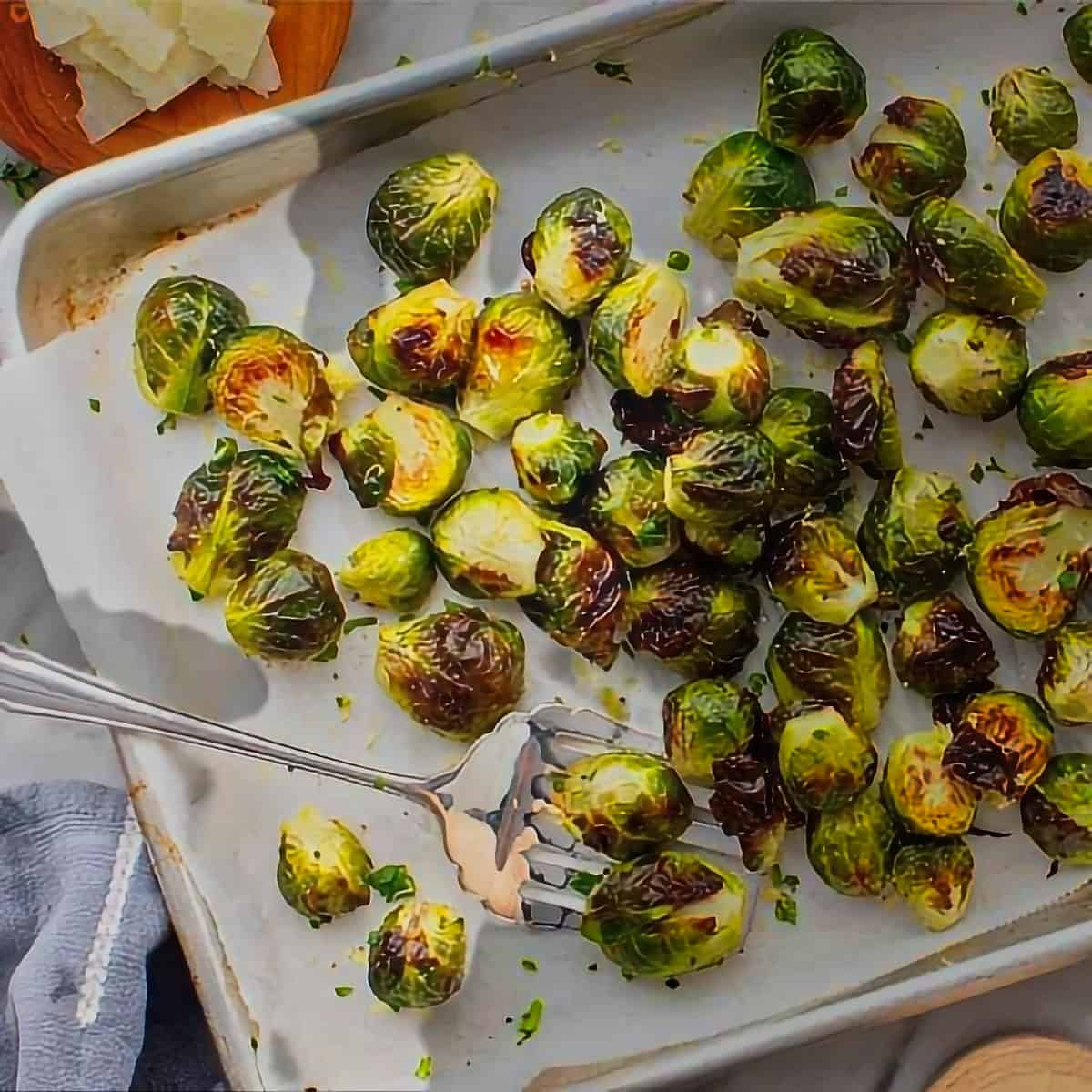 How do you feel about Brussels sprouts? Do you love them, or hate them? Over the last few years, I feel like they've been getting more and more popular, and I couldn't be happier about it!
Brussels sprouts are some of my favorite fall veggies – they're fresh and healthy, but still hearty, and they pair well with all sorts of seasonings.
But, in my opinion, the key to loving Brussels sprouts is preparing them the right way. No one's clamoring for more boiled or steamed sprouts – they're often bitter, and they have an unappealing mushy texture.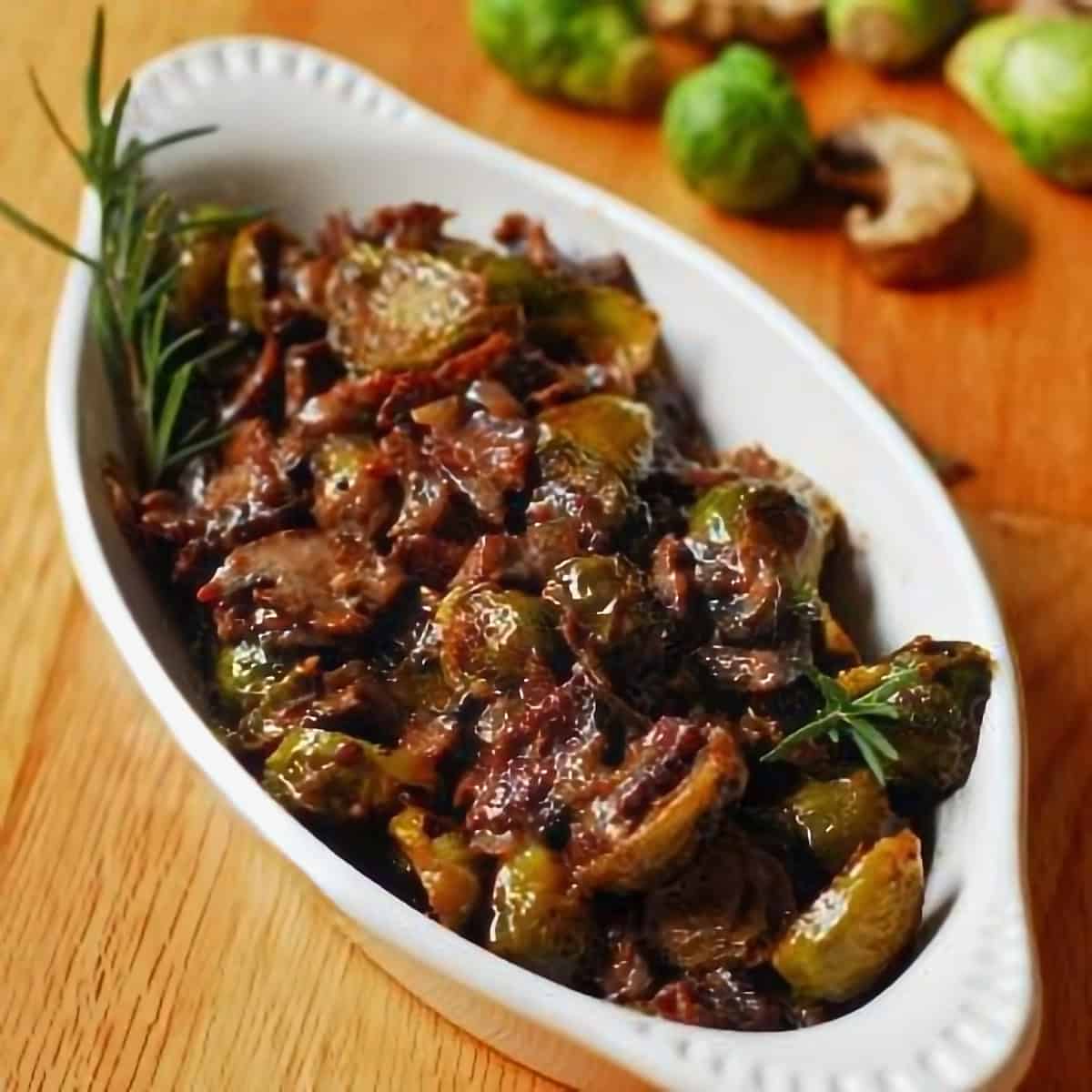 Say that title five times fast. Brussels Sprouts and Mushrooms in Rosemary Red Wine Cream Sauce, Brussels Sprouts and Mushrooms… Yeah, enough.
I could not find a way to make it any shorter, and if it were up to me, it would have also included bacon, because you better believe plenty of the salty stuff is in this killer side dish.
I guess it is up to me, but I did want you to remember what this dish was called.
John is not a big fan of brussels sprouts or mushrooms, and he loved this. Loved.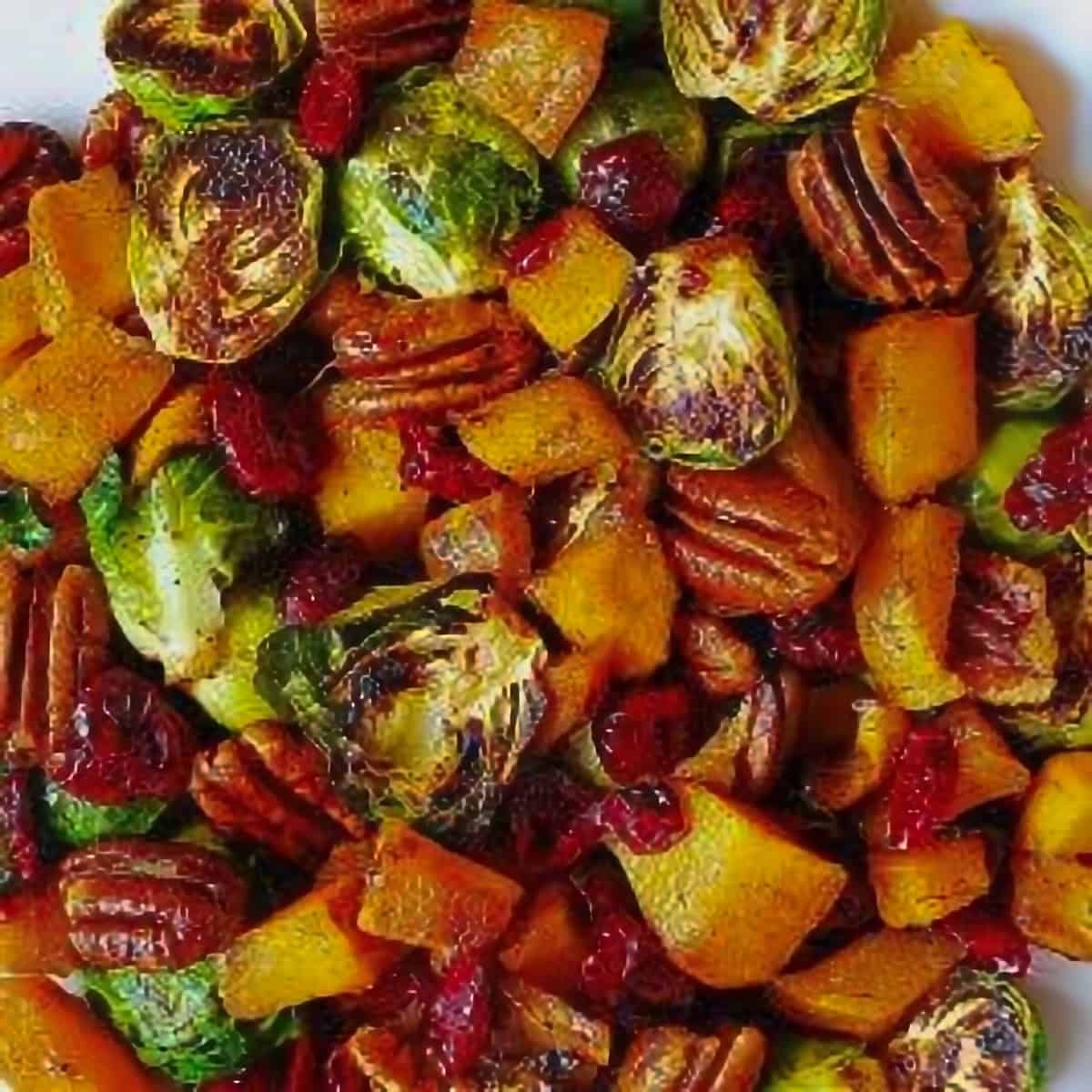 Roasted Butternut Squash and Brussels sprouts with Pecans and Cranberries is one of the best holiday side dish holiday Brussel sprout recipes you'll ever try!
They are perfect holiday Brussel sprout recipes for Thanksgiving, Christmas, New Year's Eve, or any time you like! This side dish is packed with vegetables and nuts. It's healthy, gluten-free, vegetarian, and rich in fiber!
What I love the best about this roasted butternut squash and Brussels sprouts and this particular easy Brussel sprouts recipe is that it fits so well with classic Thanksgiving side dishes.
It's such a perfect addition to a holiday table. It will look (and taste!) perfect next to traditional Thanksgiving recipes, such as green beans, potatoes, and stuffing.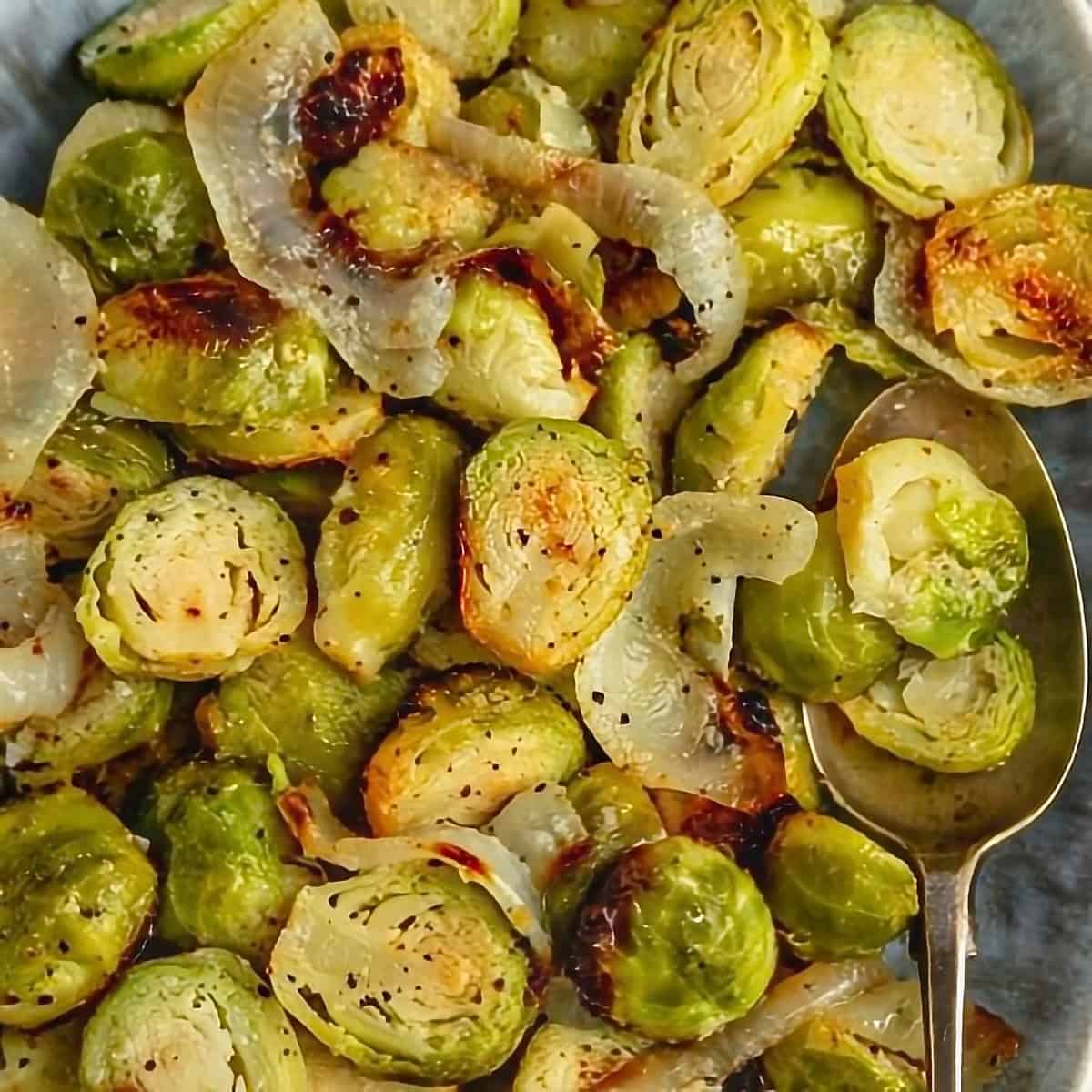 Incredible, melt-in-your-mouth grilled brussels sprouts made in foil packs with just 6 simple ingredients!
These easy foil pack grilled brussels sprouts make the perfect plant based side dish for any summer main.
We've been going through a bit of an obsession lately over here. Tony makes them at least twice a week to pair with chicken sausages, my honey mustard chicken or salmon.
These grilled brussels sprouts are tender, caramelized and perfect paired with my garlic fingerling potatoes. This easy Brussel sprouts recipes makes the best healthy side dish during the summer when you don't feel like turning on your oven.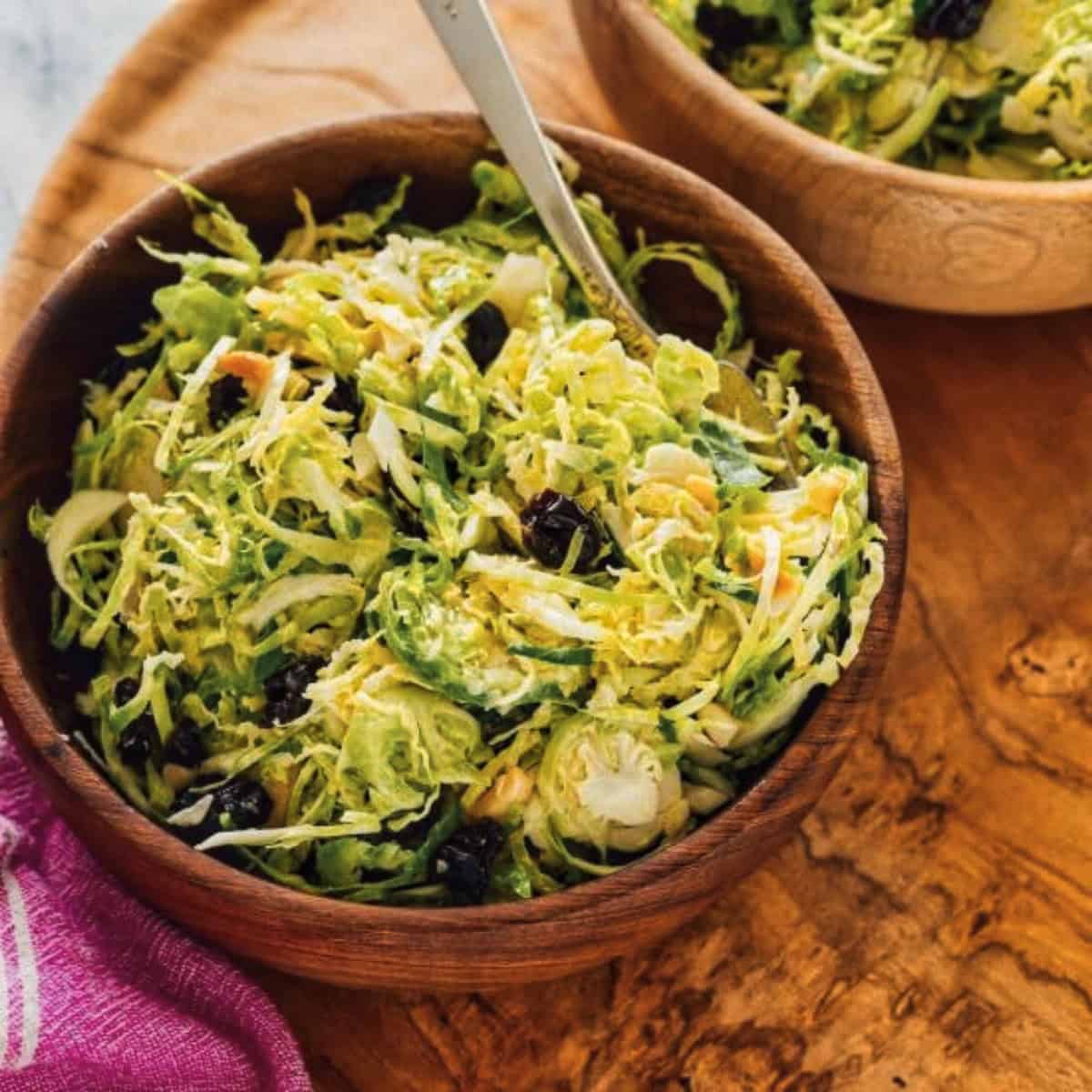 If you haven't made this Brussels sprout slaw yet, you've been missing out!
There's a good chance you've missed this easy Brussel sprouts recipe, since it's been hiding in the archives under some not-so-appetizing photos.
I hope these are more enticing and this slaw is irresistibly crisp and tangy, with a simple honey-mustard dressing. Freshly toasted almonds offer some savory crunch, and dried cherries (or cranberries) send it over the top and work well as holiday Brussel sprout recipes.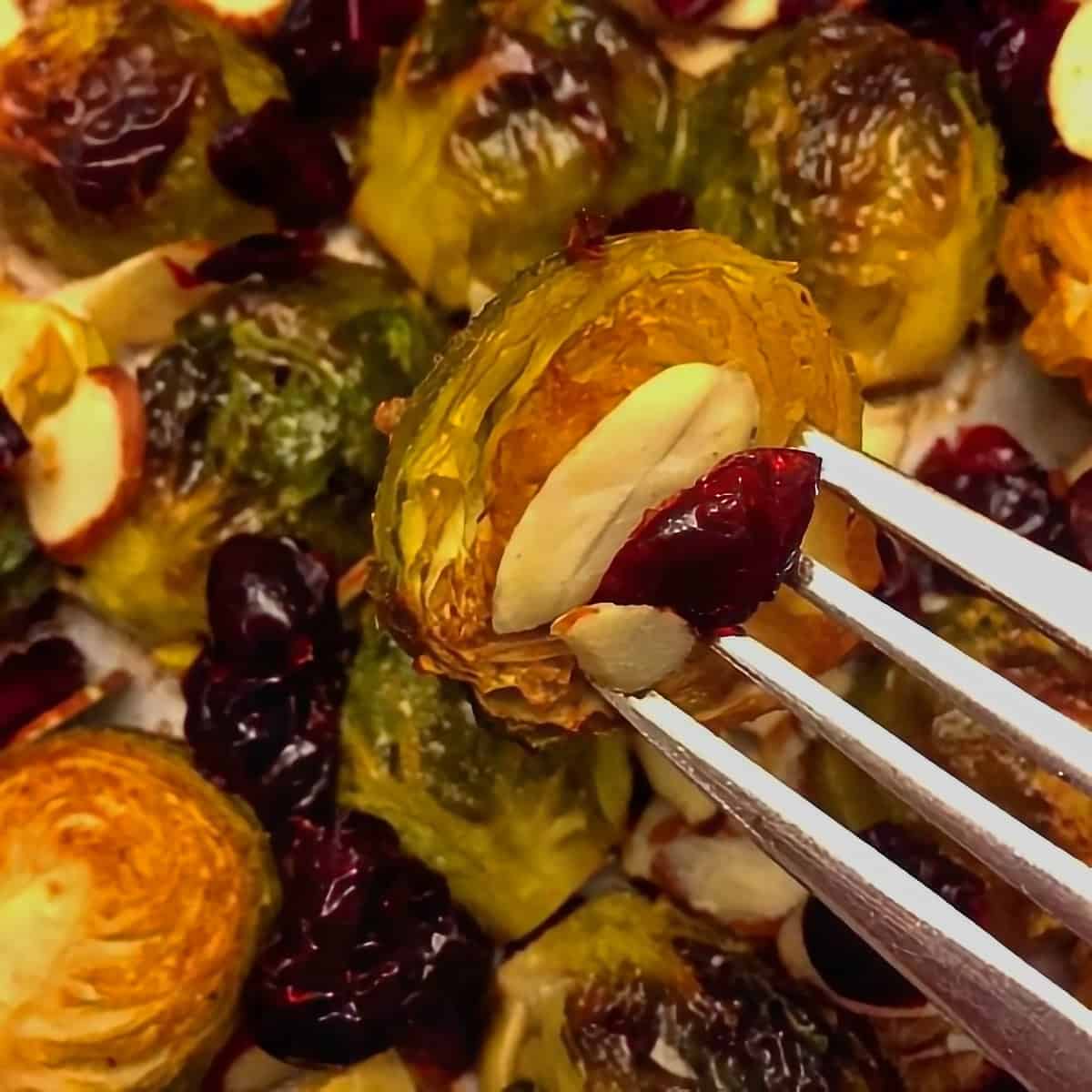 These balsamic roasted brussels sprouts with dried cranberries and almonds taste amazing! This is my favorite way of eating brussels sprouts!
This epic dish is an upgrade to my easy Brussel sprouts recipe 🙂 Brussels sprouts are roasted in olive oil, balsamic vinegar and garlic mixture, and tossed with dried cranberries and sliced almonds!
Roasting brussels sprouts in the oven at high temperature makes brussels sprouts taste so delicious and caramelized! And when you toss them in the olive oil and balsamic vinegar mixture beforehand, the balsamic flavor really comes through during the roasting process!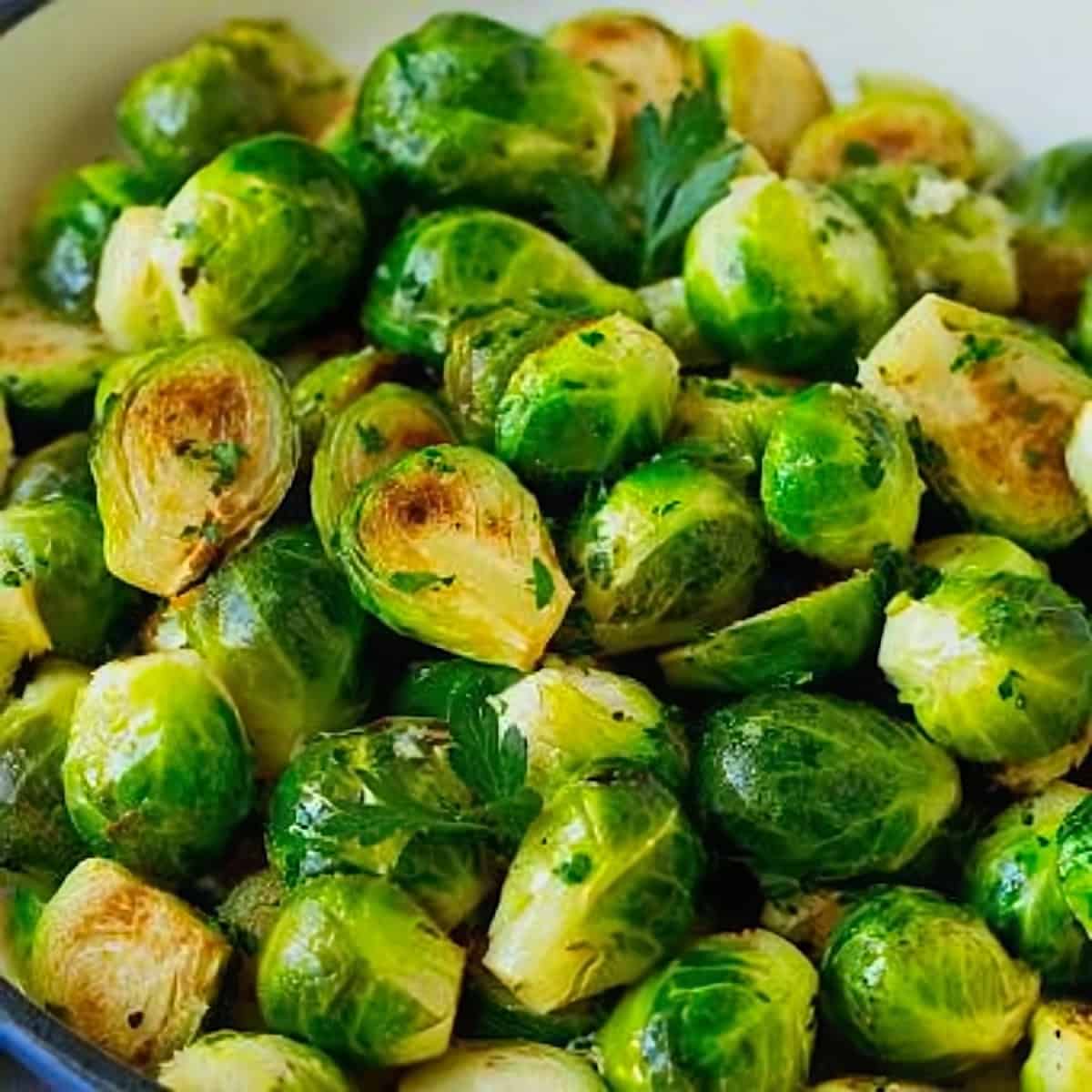 These little guys are endlessly available. Throw in chilli flakes, cumin seeds, fresh oregano, or any other flavors you love.
Brussels sprouts also go great with cheese (see it for yourself in our cheesy brussels sprout bake), so don't shy away from some shaved parmesan for garnish.
Start as you would with any veggie—give them a good rinse under cold running water.
Next, use a paring knife to remove the stem, then use your fingers to pull off any yellow or damaged outer leaves.
Et voila, a perfectly cleaned sprout!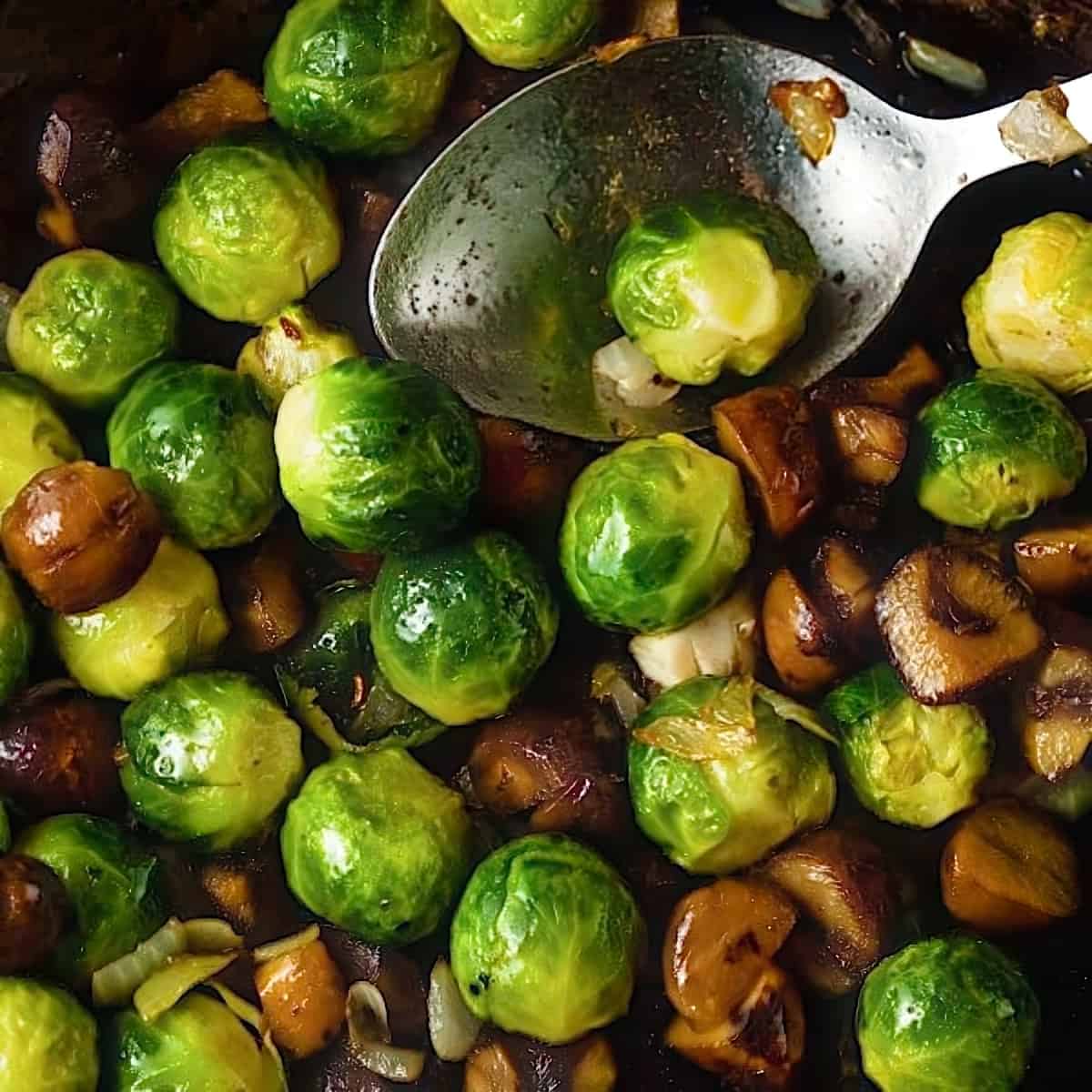 Brussels sprouts are synonymous with Christmas dinner or for that matter any holiday dinner and these are the holiday brussel sprout recipes to cook.
This classic combination of Brussels sprouts and chestnuts is really easy to make and is perfect for the Christmas table or with any winter roast.
Love them or hate them Brussels sprouts are a staple on many a Christmas table.
I fall into the love them camp because they are one of the few truly seasonal vegetables left. So to me when winter comes they are a must and not just on the festive table.
While I will happily eat plain boiled sprouts, I also like to jazz them up a bit and this classic combination with chestnuts is a favorite way to do that.
Not least because it is so easy to make, – I do like easy Brussel sprouts recipes!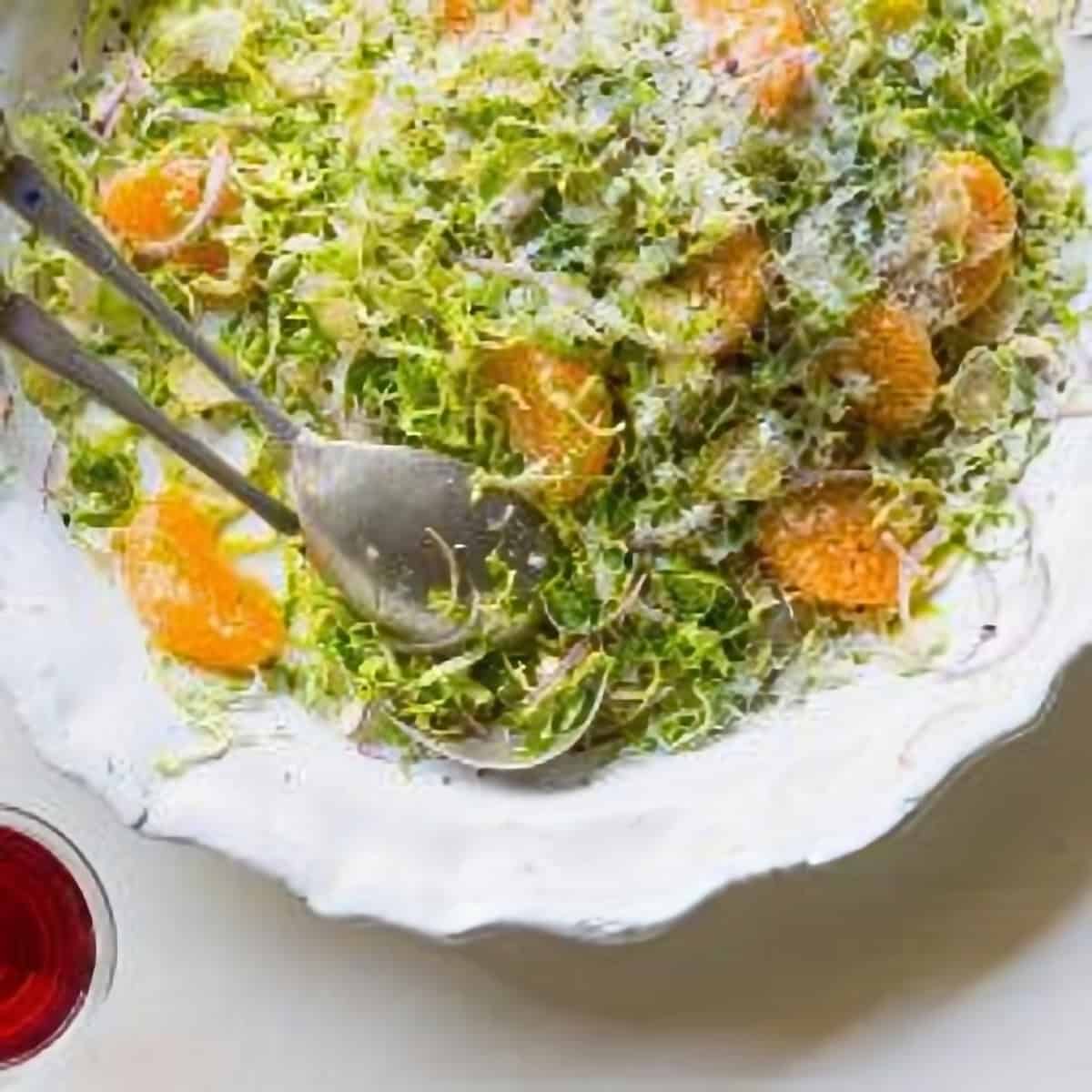 If you've never had raw brussels sprouts before, this salad will be a revelation. To save time, use a handheld slicer for the sprouts and onion.
The citrus in these easy Brussel sprouts recipes makes the perfect add on to Brussel sprouts.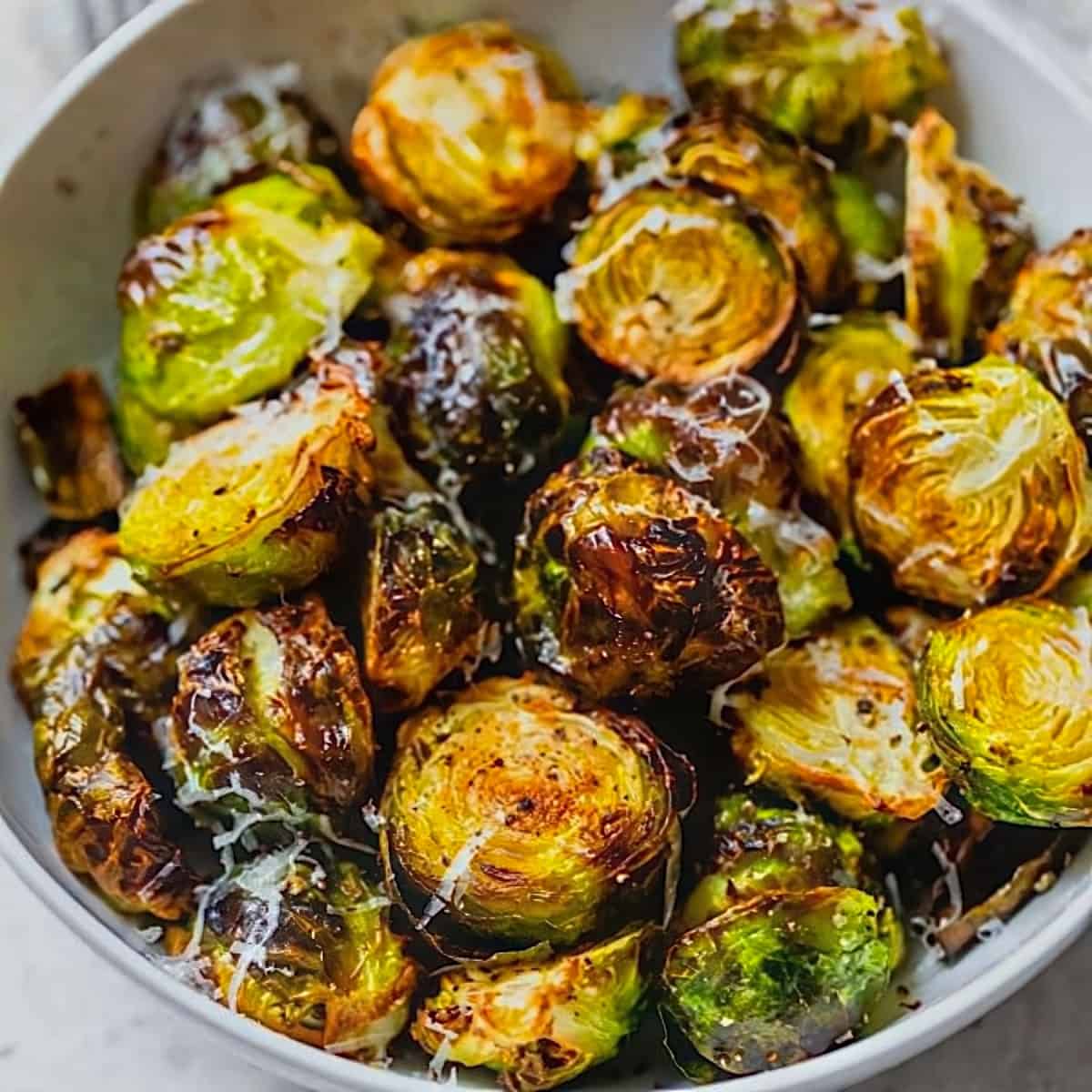 When you catch yourself throwing back healthy vegetables with the loss of self-control usually reserved for potato chips, you know you've found a keeper.
Air Fryer Brussels Sprouts, you are pure, unbridled, crispy addiction!
To give the Brussels sprouts flair, I took inspiration from my Roasted Brussels Sprouts with Garlic and added some garlic cloves to the mix.
The garlic gets very dark and crispy, which we adore. Feel free to use the garlic, skip it, or try one of the other variations below.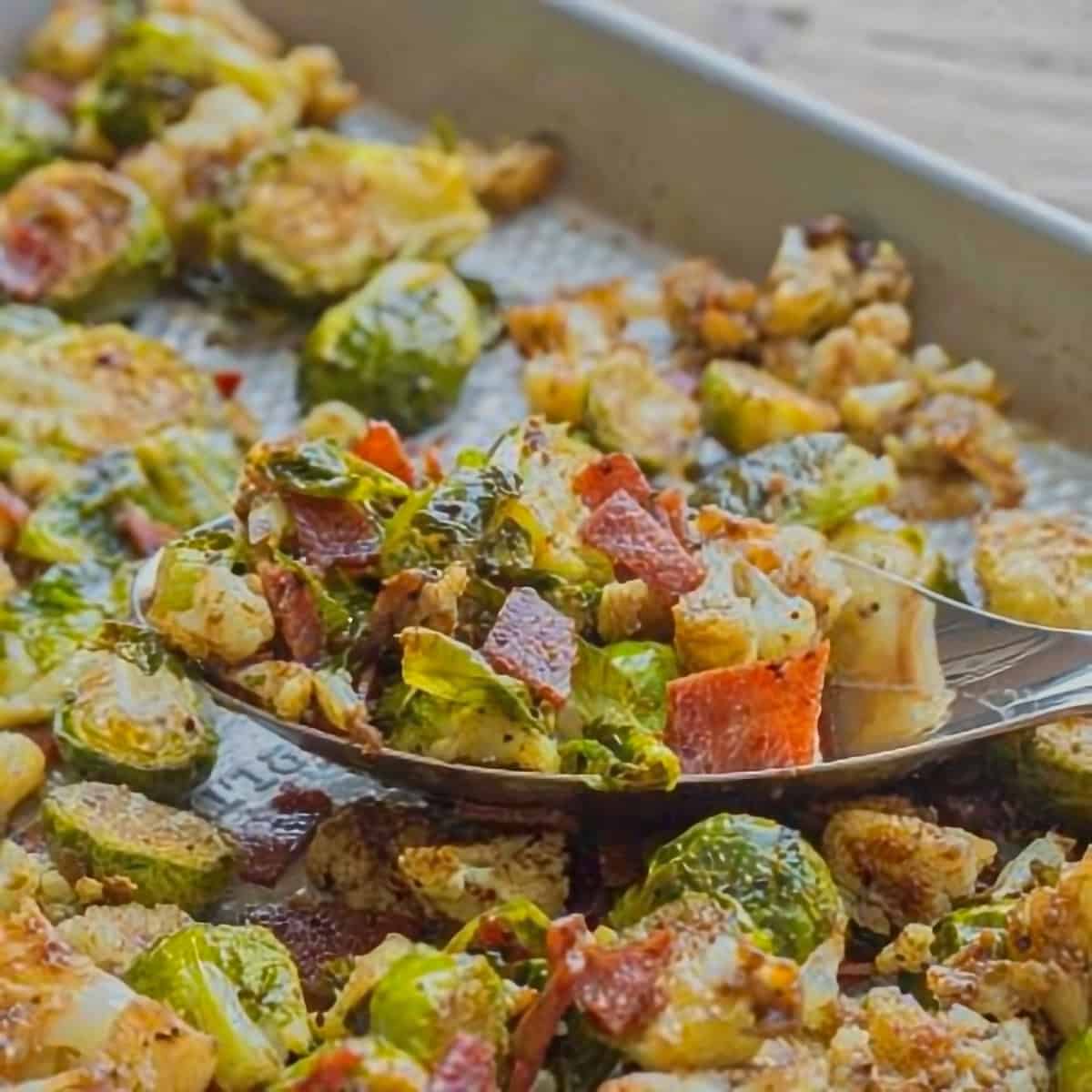 Roasted Brussel Sprouts with Bacon and Cauliflower ~ Are you a vegetable lover or hater? No matter what you think about veggies, you're going to love this holiday Brussel sprout recipes choice.
Loaded with roasted veggies, crispy bacon and a delicious balsamic vinaigrette, this is one side dish you don't want to miss.
After you prepare the veggies all you need to do is sprinkle with oil, salt and pepper. Place them on a baking sheet, roast for 20 minutes and BAM you have some gorgeous vegetables. You could eat them this way if you wanted to, but who doesn't love bacon with their veggies?
Today's holiday Brussel sprout recipes addition is a perfect one for the coming up festivities. Thanksgiving, Christmas, New Years.
They are all traditionally loaded with poultry, game or pork, but there should always be space for something green.
These Orange Roasted Brussels Sprouts w Pomegranate & Hazelnut is all your table needs, they have a deep roasted flavor that pair perfectly with the sweetness of the pomegranates and the crunchy hazelnuts.
---
You May Want to Join Our Boondocking Group on Facebook For More Information
You May Want to Join Our Campfire Recipes Group on Facebook For More Information
For More Photos Visit Our Instagram at Campfire Recipes Instagram Our Big Escape
---