You went to the grocery store and bought a package of stew meat and want some easy beef stew meat recipes. You might have put some in the freezer so you can eat it later. No matter what, stew meat can be used for more than just stew. First, let's learn a bit more about stew meat so we can figure out what else we can make.
What Cut of Beef Is Stew Meat?
Did you know that there is no cut of beef called "stew meat" on a beef chart? When meat is cut into cubes and packaged together, we call it "stew meat." It can come from different parts of the animal, such as the chuck, round, or sirloin. It's mostly scraps from certain primal cuts.
Beef chuck and/or round, which have a lot of tough connective tissue, are used to make stew meat. When you cook it in a liquid for a long time, the connective tissue breaks down and gets very soft. That's why it's usually cooked slowly in stock to make beef stew.
Beef stew meat is a cut of beef that is cheap. It can be used to cook more than just beef stew. Stew meat can be used to make a lot of different meals, such as beef stroganoff with egg noodles, enchiladas, beef Paprikash, chili, slow cooker pepper steak, and, of course, beef stew.
As a general rule, it can be used in any beef stew meat recipes that calls for chuck or round roast to be cut up and braised. Just use the same amount of stew meat in place of the chuck or round. It really is that simple.!
What Else Can I Make With Stew Meat?
As a general rule, you can use stew meat in any beef stew meat recipe that calls for chuck or round that needs to be cut up and cooked slowly. Just use the same amount of stew meat in place of the chuck or round. Here are some easy beef stew meat recipes and dishes that you can make with beef.
25 Simple and Easy Beef Stew Meat Recipes
---
---
When it comes to quick and satisfying meals Beef Masala Curry has to be at the top of the list.
Fragrant spices paired with tender meat feature weeknight dish that can be on the table in 30 minutes with the help of Instant Pot!
It's so comforting, spicy-sweet-savory and it just generally puts me in a good mood about life.
Most of my life revolves around food that is quick and easy and I'm always looking for shortcuts or ways to save time.
Using the Instant Pot often is one of my favorite shortcuts of all times! Easy to use and cuts cooking time by hours! And the FLAVOR it creates is just unbelievable!
If you love curry. If you love cooking. Make this delicious beef masala curry and enjoy eating well.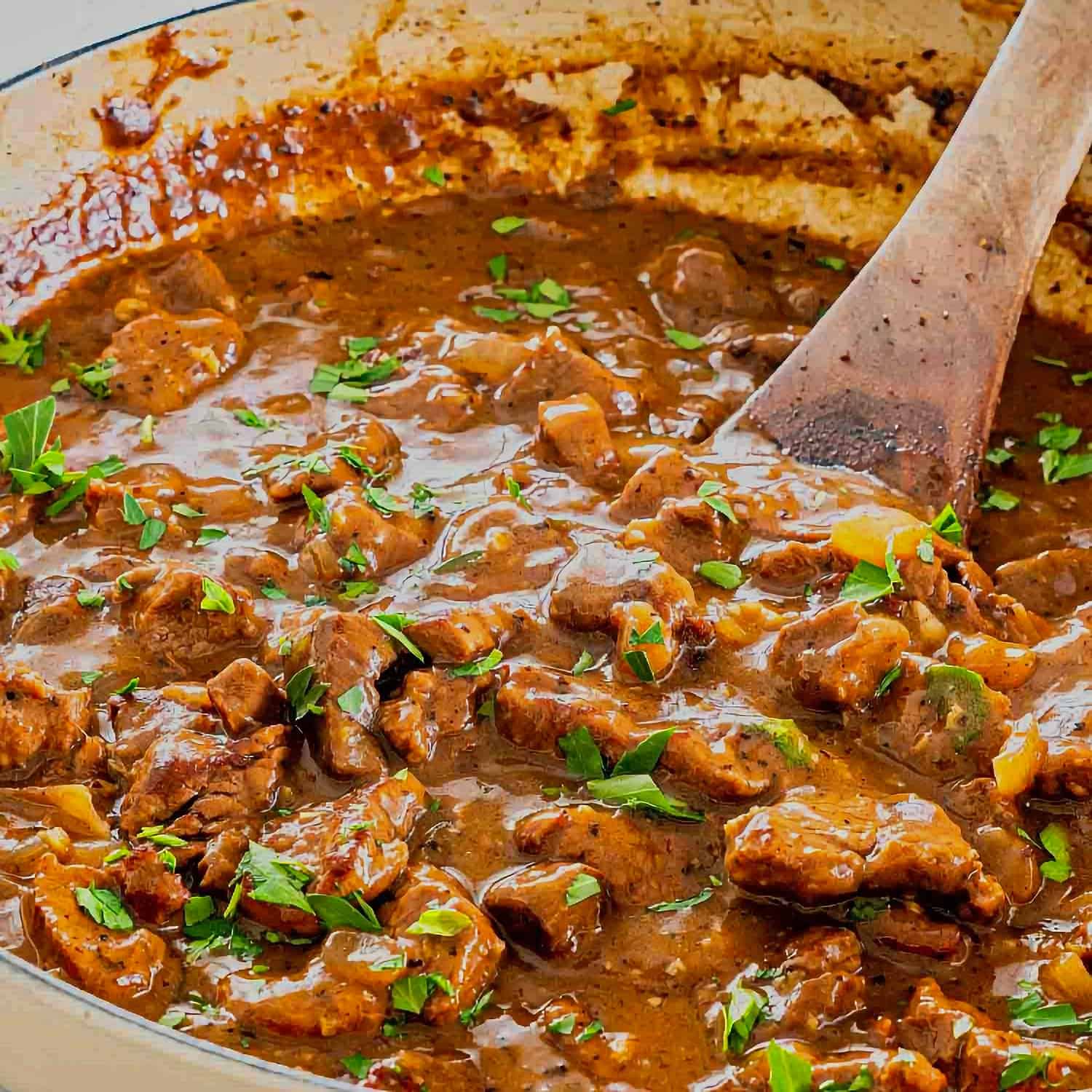 This is my go-to beef stew meat recipe for Beef Tips with Gravy! Made with staples from your kitchen and only one pot.
A favorite comfort meal that all ages will crave! Including instructions for your slow cooker or Instant Pot, you can make this beef stew meat recipe no matter your equipment or time limit.
I've always been a fan of beef tips and gravy. Nothing like using one of the most inexpensive protein items at the grocery store and creating something this delicious with it!
While comforting, saucy, and drool-worthy, this beef stew meat recipe is also surprisingly low-calorie. It's a win-win!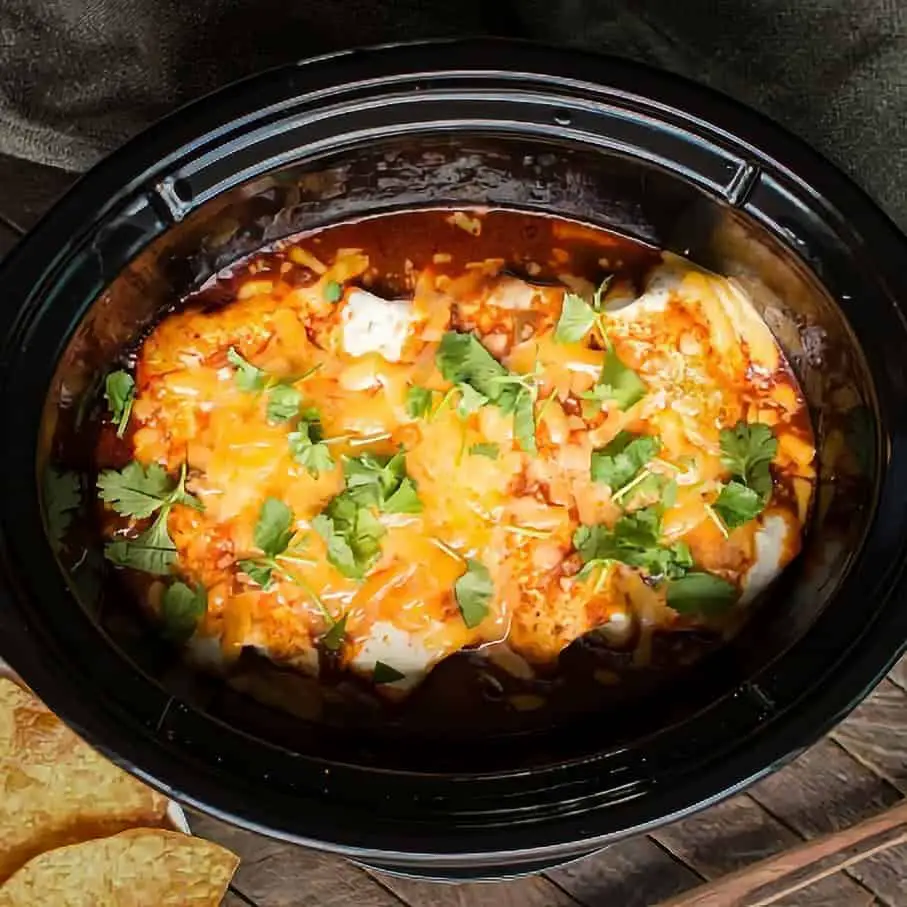 These Slow Cooker Smothered Beef Burritos are better than takeout and great for an easy weeknight meal.
If you love a good Mexican slow cooker meal look no further! Pair this meal with my slow cooker refried pinto beans or black beans!
It's been a while since I've posted a Mexican recipe. This meal is everything you would want, beef, cheese, and carbs.
Beef and enchilada sauce cook all day, then I make burritos with the meat, beans, and cheese, then cover those with the sauce and more cheese.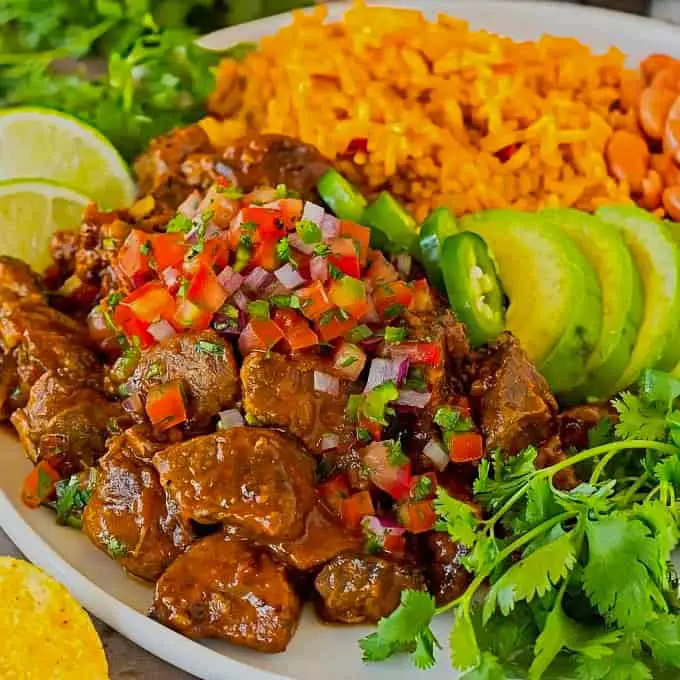 My local Mexican restaurant makes the absolute best carne Guisada, and I decided it was time to learn to make this classic dish at home.
It turns out that this tender beef is actually quite simple to make, with ingredients that you probably already have on hand.
This Mexican style carne Guisada is beef that is stewed with tomatoes, peppers and spices until it becomes tender and flavorful.
Serve your stewed beef as-is, or use it to make burritos, enchiladas, or many other different specialty dishes!
In my house, we enjoy Mexican food at least once a week. Some of our favorites include marinated carne Asada, Chile Verde, and this savory carne Guisada.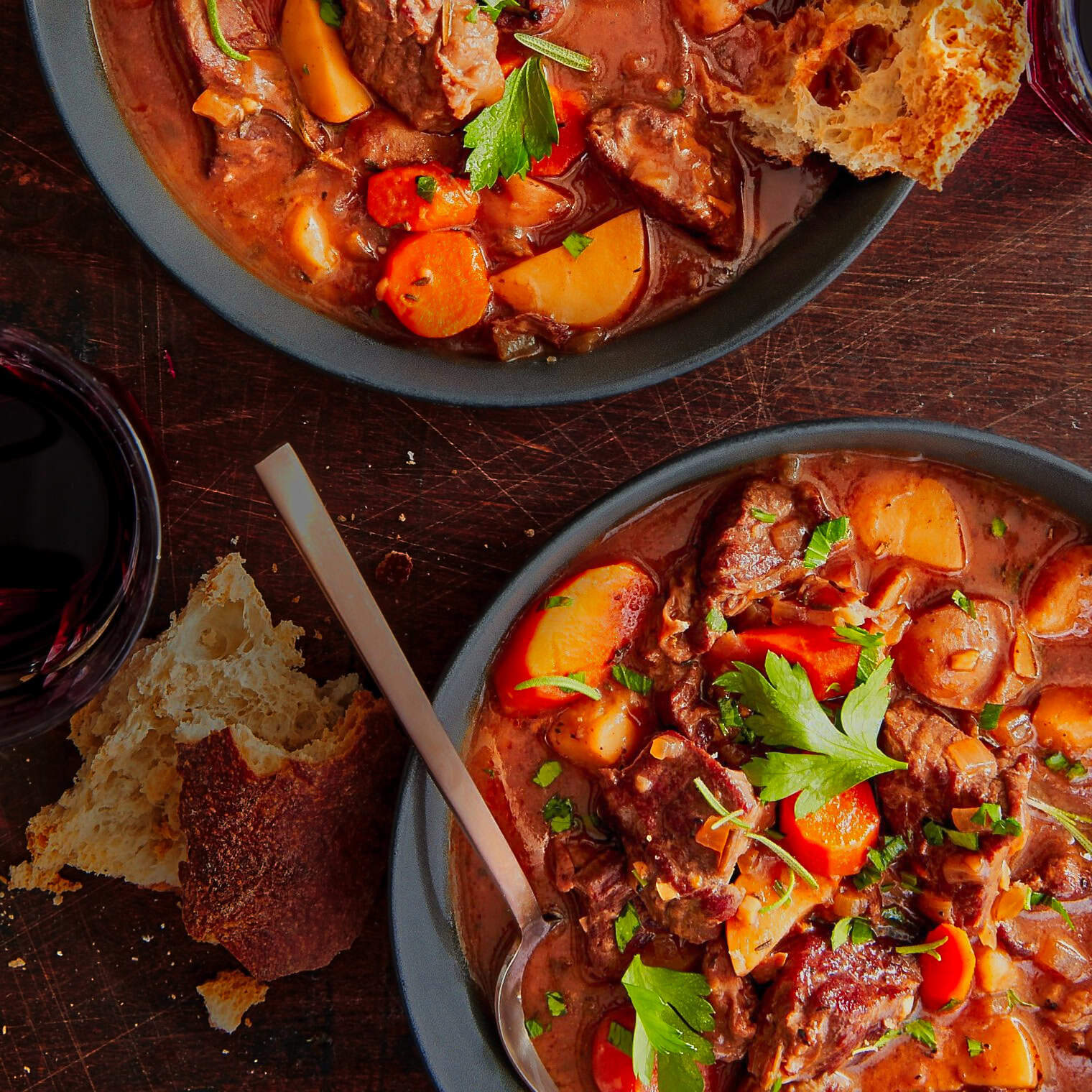 Everyone's favorite cozy beef stew made in the crockpot! The meat is SO TENDER and the stew is rich, chunky + hearty!
There is truly nothing more comforting than a hearty beef stew on a cold, cold night.
And it's even better when it's been simmering low and slow in your crockpot for the last 7-8 hours.
Aside from searing your stew meat to give it that really nice caramelized flavor, this beef stew meat recipe requires zero babysitting (thank you, slow cooker!).
All you need to prep is your crusty bread for dipping, a glass of red wine, and a side salad to round out your meal.
Beef Spezzatino is one of the most traditional dishes in Italy where it's eaten throughout the country, from the mountains in the north to the islands in the south.
However, in northern Italy most people eat it along with polenta while in the southern regions it's usually served with just a few thick slices of crusty bread.
This dish is so common that there are endless variations and basically every family has its own recipe.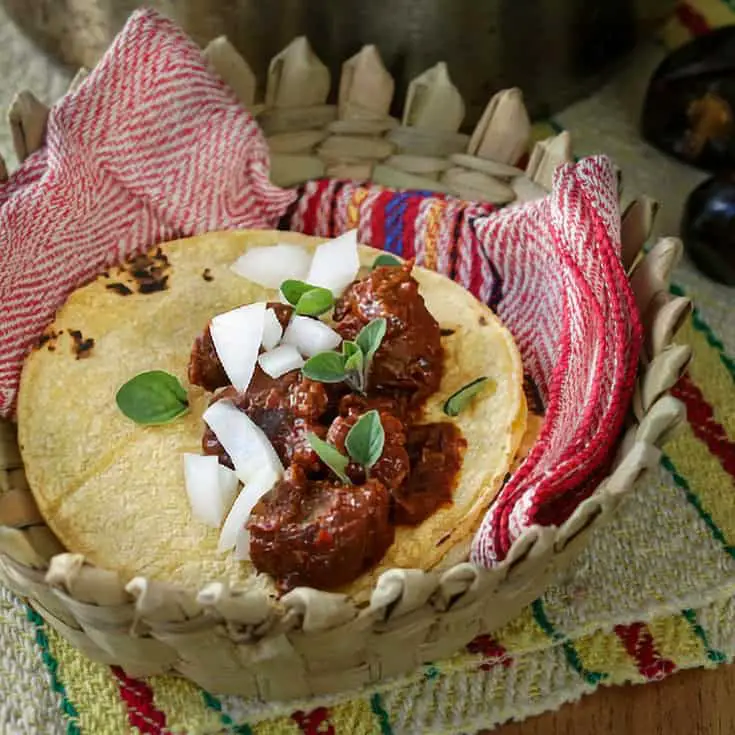 These chunky beef tacos might look familiar — they're a ripoff of Chile Colorado, but that's usually made with pork.
These are a simple and a great way to use beef stew meat (besides in beef stew, though if you want that, I have two: vegetable beef stew and beer beef stew).
Chile colorado is also usually made with guajillo, ancho, and/or Pasilla Chiles — all are various dried chiles.
When I made this the first time, I used guajillo (because I always have them; they're my favorite) and cascabel peppers and we liked it so much.
I won't ever change.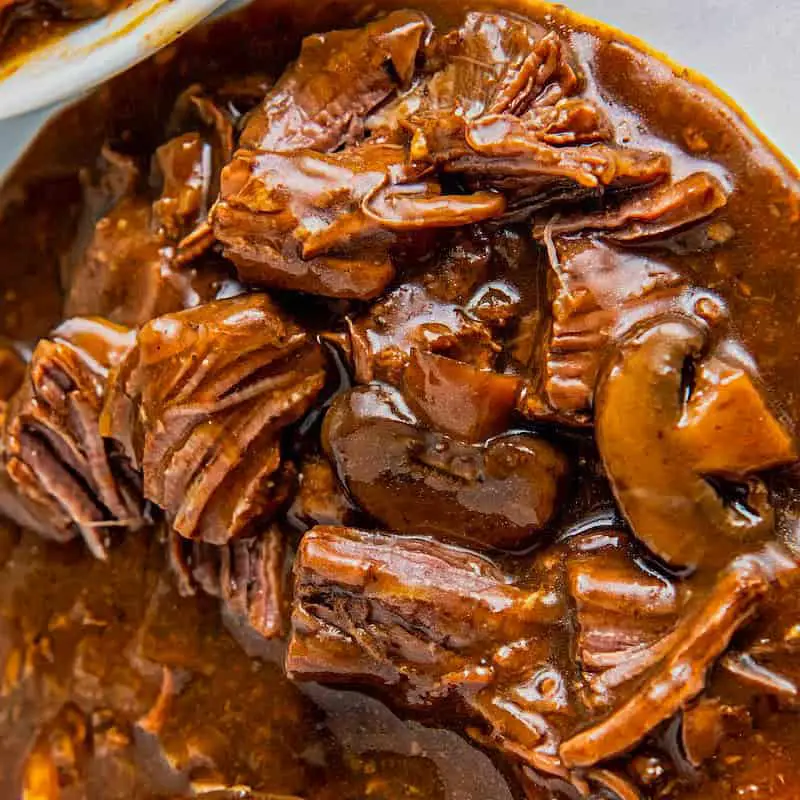 Extra tender Instant Pot Beef Tips is the ultimate comfort food with tender chunks of beef smothered in a rich brown gravy.
Serve this dish over mashed potatoes, egg noodles or even rice for a satisfying, filling meal the whole family will love!
There are so many reasons to love this easy recipe.
For starters, it is easy to prepare and an inexpensive beef stew meat recipe that can feed a crowd if you need it to.
The beef becomes extra tender in the instant pot and the gravy is so rich and flavorful, it's sure to become a family favorite in now time.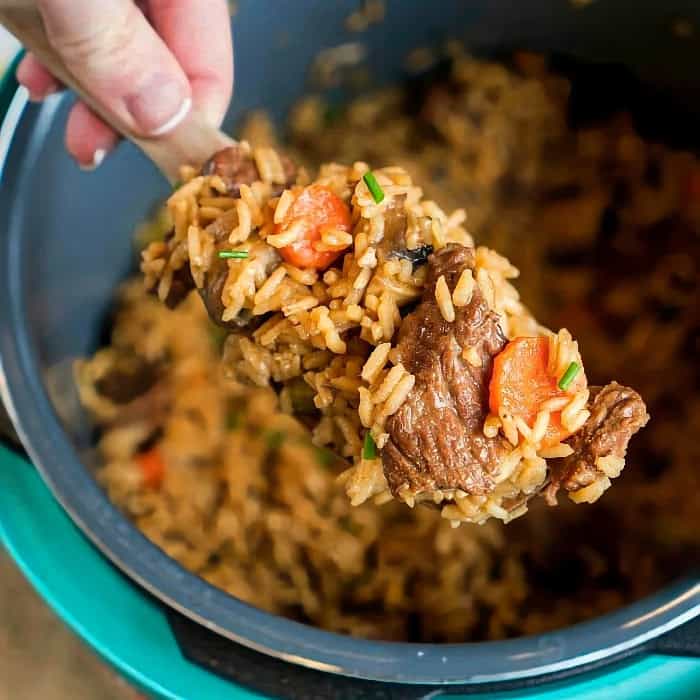 Instant Pot beef stew casserole is incredible! With tender stew beef and rice cooked in one pot with vegetables too it is a pressure cooker easy beef stew meat recipe you will love.
We called this deliciousness Instant Pot beef stew casserole, you could also say it's beef and rice.
Whatever the name is I will tell you the flavors are amazing!! I bet you'll put this Instant Pot beef stew meat recipe on your meal rotation soon too.
With tender beef cooked in a sweet homemade teriyaki like sauce your kids will call it amazing too. It's one of our favorite Instant Pot easy beef stew meat recipes around.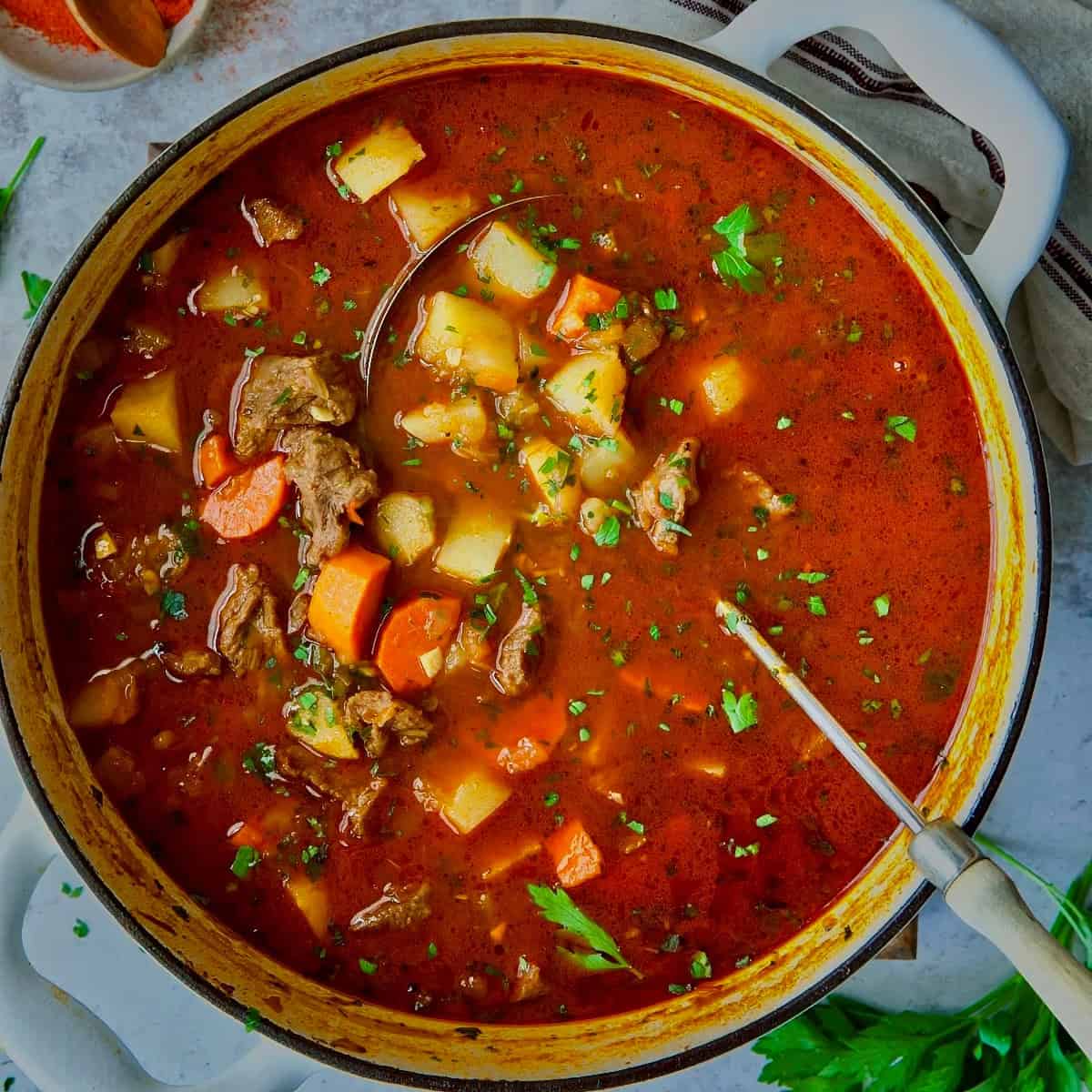 Buttery tender pieces of beef, earthy root vegetables and a rich paprika-seasoned broth come together in this traditional Hungarian goulash recipe for the ultimate warm and comforting meal!
Perfect with crusty bread, noodles or these easy pumpkin muffins!
This easy beef stew meat recipe of traditional Hungarian Goulash soup is a combination of the two authentic versions. The easy beef stew meat recipe is made from Hungarian cookbooks I purchased in Budapest along with a familiar online version with ingredients that are easy to get in any grocery store.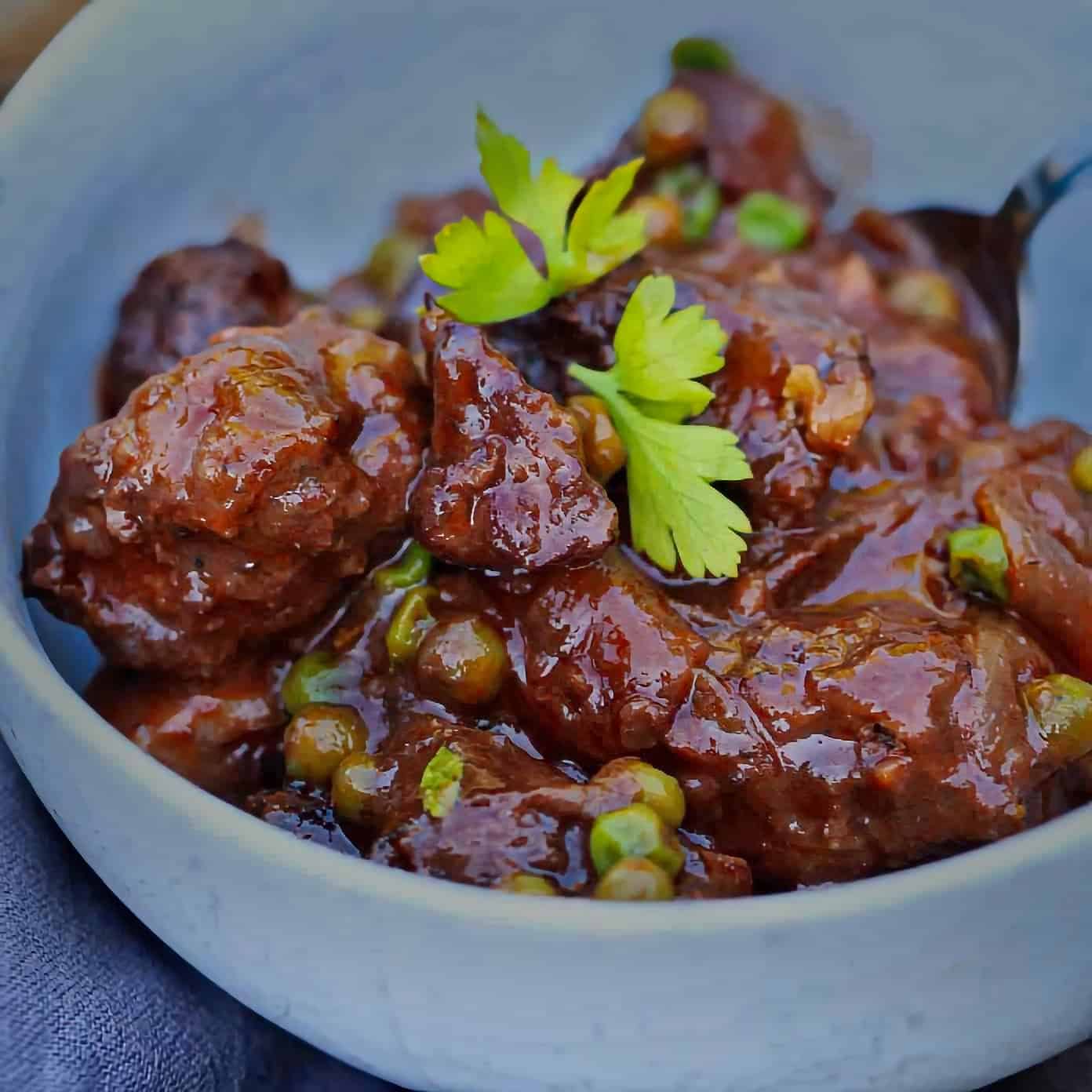 Simple enough for weekdays, but delicious enough to impress company One Pot Braised Beef with Mushrooms only gets better the longer the flavors marry.
So go ahead make a double batch and have enough for tonight and for leftovers tomorrow.
Beef tips – or substitute beef stew meat or a larger beef roast
Mushrooms – Crimini mushrooms, button mushrooms or wild mushrooms are all nutritional powerhouses high in selenium, vitamin D, and iron!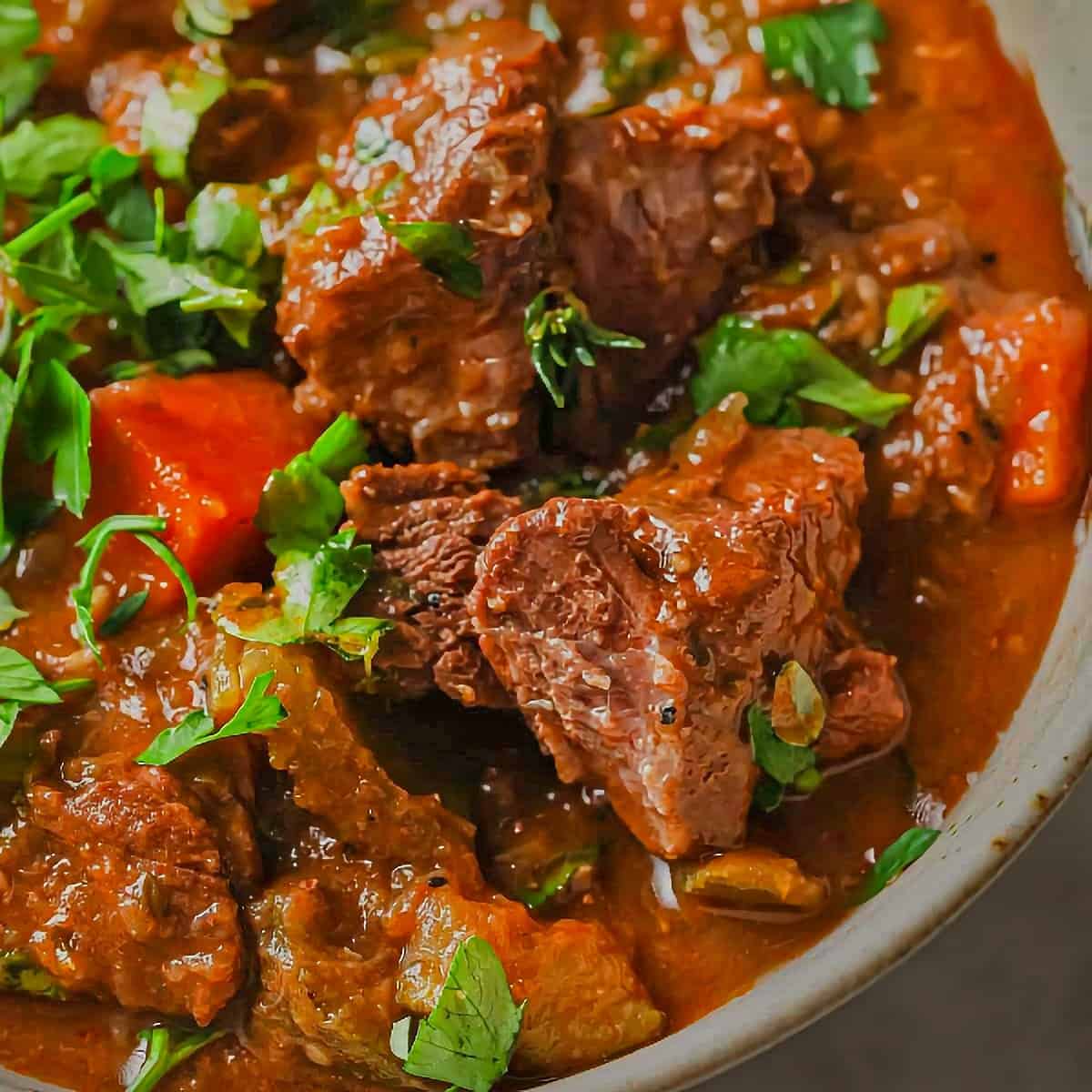 This hearty low carb beef stew is a filling meal that's nutritious and delicious in equal measures. Think tender beef pieces in a thick, tasty sauce!
My keto easy beef stew meat recipe is going to be a hit with the whole family, whether they are low carb or not.
This one is so amazing that I was tempted to call it THE BEST keto beef stew.
I know there are a lot of easy beef stew meat recipes out there claiming to be the best, but it's really true for this one!
The flavor is incredible and it's packed with good-for-you whole foods ingredients.
---
Want more ideas to round-out your Recipe Box?
A lot of great options are in these posts!
---
13. Slow Cooker Beef Tips from The Cozy Cook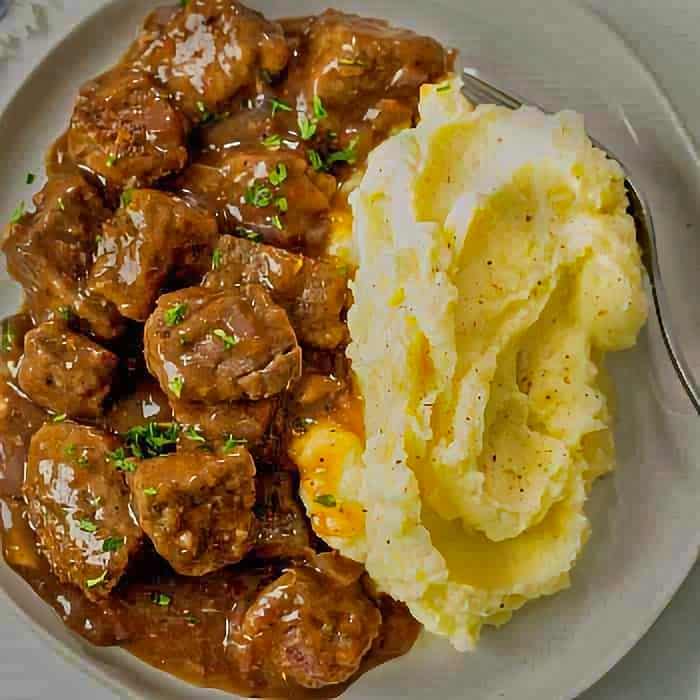 Learn how easy it is to make Beef Tips and Gravy from scratch on the Stove Top or in the Crock Pot.
These Sirloin tips are smothered in the most flavorful brown gravy and served with mashed potatoes, egg noodles, or with rice.
Welcome to one of my family's favorite meals! We can't resist this easy beef stew meat recipe with a side of creamy mashed potatoes and roasted carrots.
I love assembling it the night before and cooking it in the Crock Pot during the day, or serving it as a quick skillet recipe!
You won't believe how flavorful this gravy recipe is either. (I think I've definitely got easy gravy recipes down pat.)
There are plenty of seasonings in this recipe, but they really add the best flavor to the meat and gravy, mix them together ahead of time and cooking will be a snap.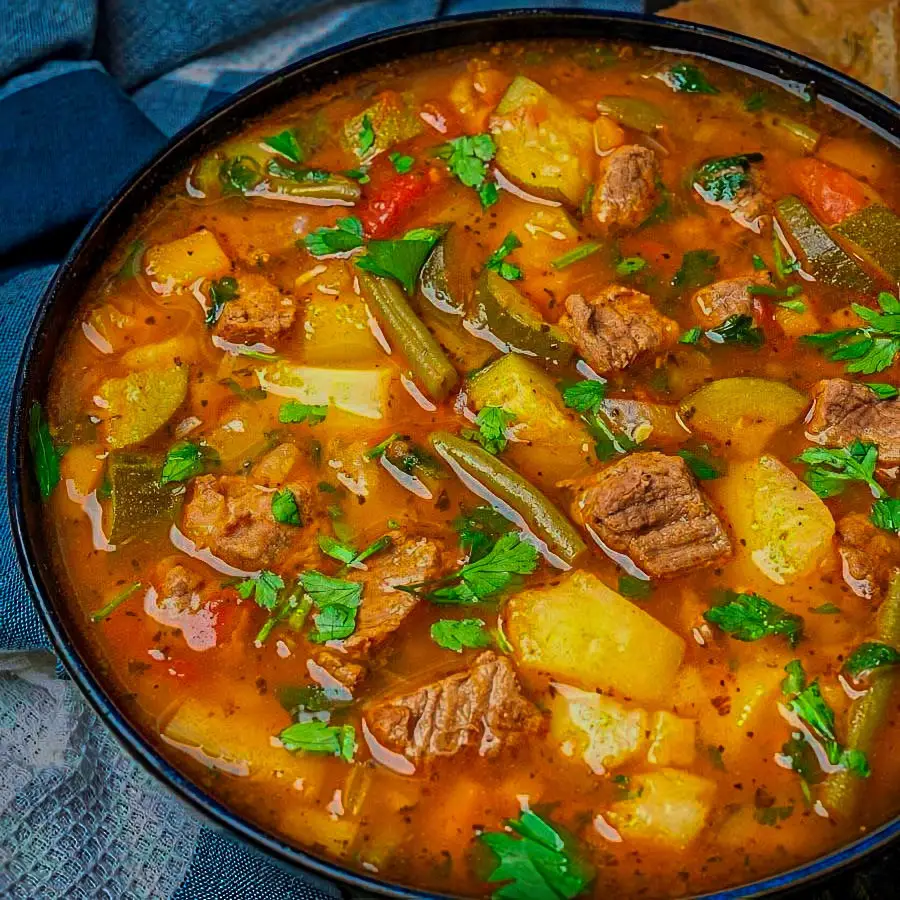 This Instant Pot vegetable beef soup is warming, comforting and just the perfect meal to try on those days when you're all about clean eating.
It's also budget-friendly and super easy to make it your own.
If you love chunky, hearty soups, this Instant Pot vegetable beef soup is a easy beef stew meat recipe you should definitely try!
This is a super cozy, warming soup that tastes like something that's been simmering on the stovetop for hours, but it's ready in just 45 minutes instead.
What I like best about this vegetable beef soup is that you can easily customize it by adding whatever veggies you may have on hand.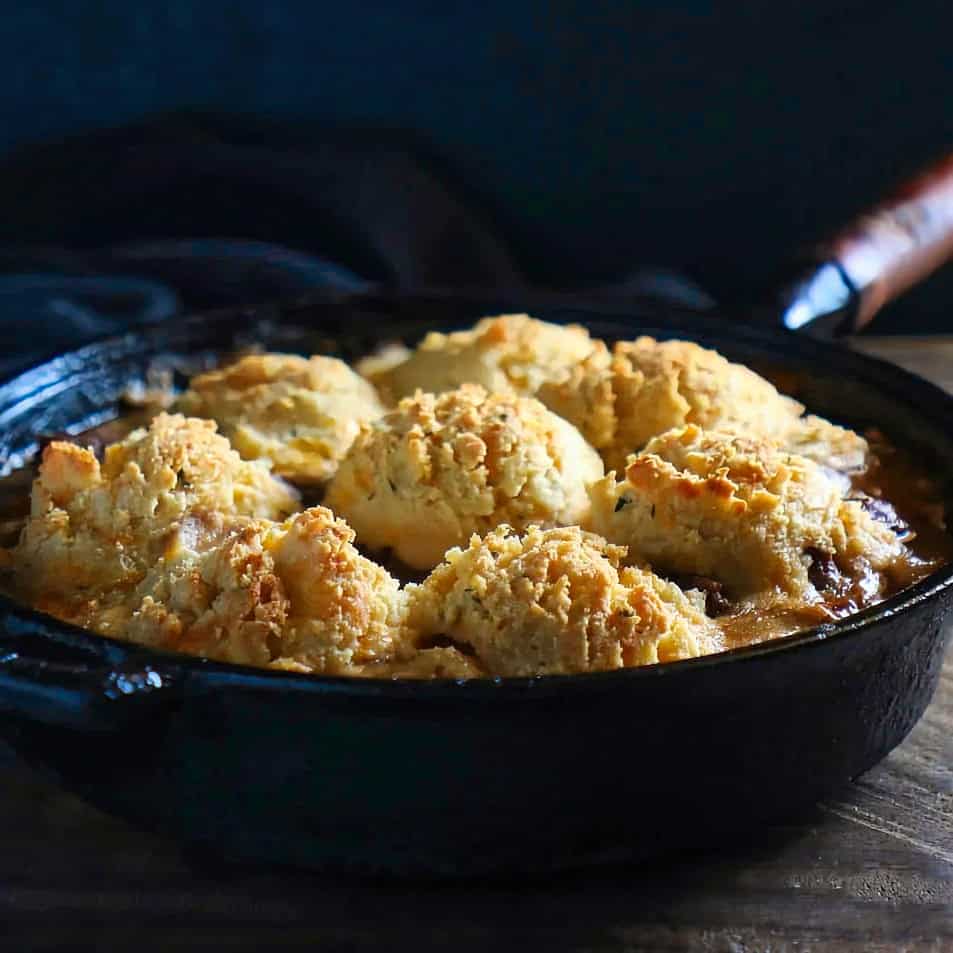 This keto beef stew is rich and hearty on its own, but topped with the cheesy biscuit crust it moves into beef pot pie territory and I'm not mad about it.
No matter what you call this recipe, it's keto comfort food at its best!
This easy beef stew meat recipe for Keto Beef Stew (or low carb beef pot pie if you prefer) was inspired from a recent vacation which included a few days spent in London – and we had some of the best food of the entire trip there.
Which is saying something because we at a LOT of delicious food in Europe that year!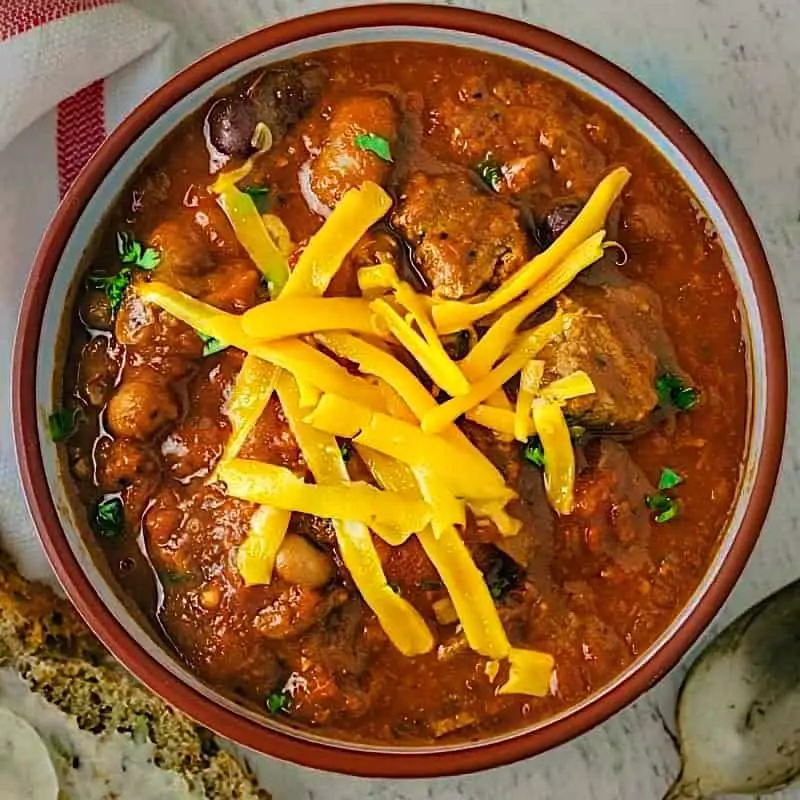 Now you can make your own easy beef stew meat recipe for award-winning signature beef chili recipe made with browned chunks of beef, a variety of beans, and some savory seasonings.
A big pot of this zesty and savory chili is just the thing for game day or any day of the week!
We love easy beef stew meat recipes that come together quickly and can be cooked in different ways! Short on time?
Make chili in the instant pot.
Cook Chile con carne low and slow in the Crockpot. Use a tougher cut like beef chuck and let it slow cook until the meat is super tender and flavorful!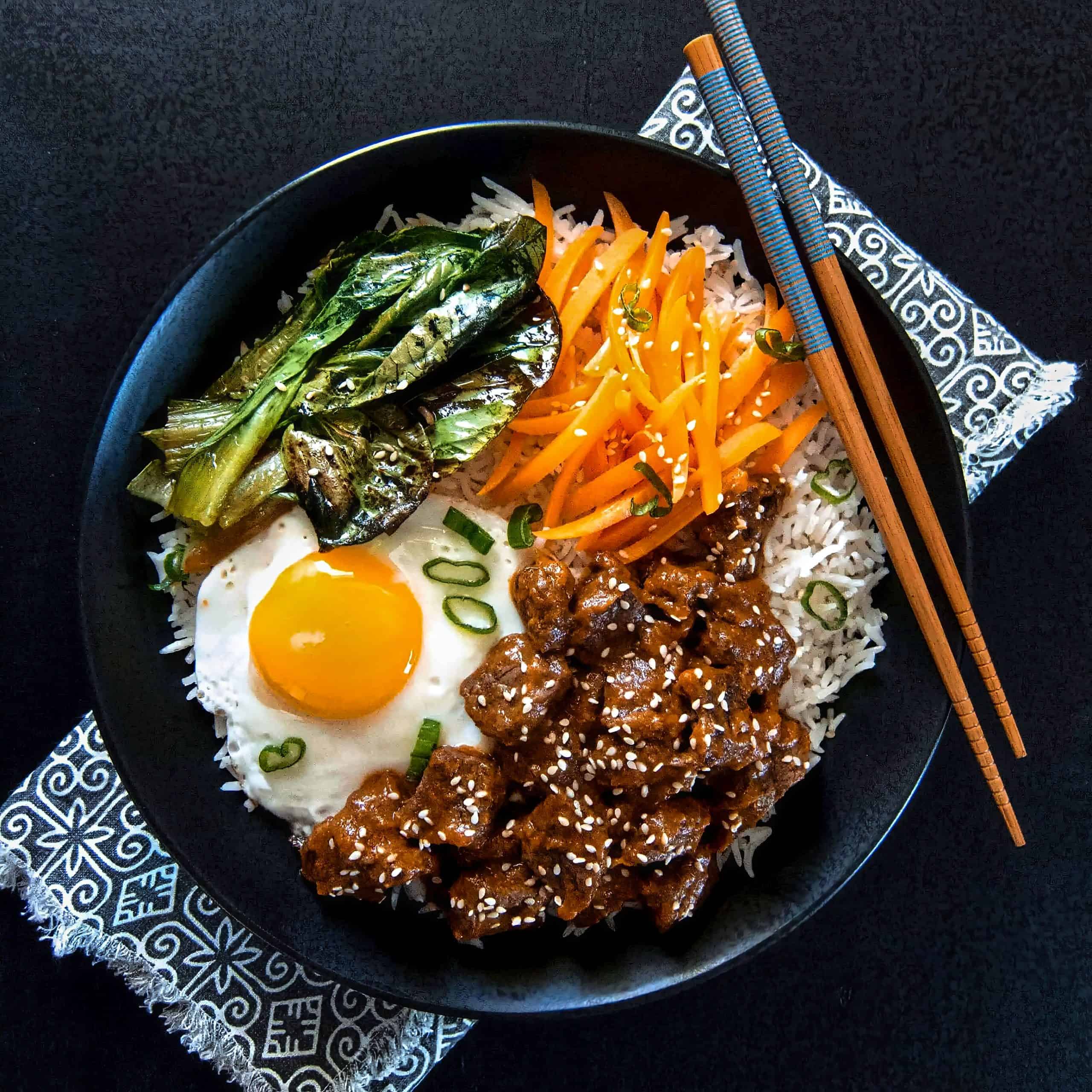 This streamlined easy beef stew meat recipe for Instant Pot Korean beef bulgogi makes for a quick weeknight dinner that tastes great in bibimbap. Built on a bed of rice, accompanied by sauteed vegetables, pickled carrots, Kimchi, and a fried egg on top.
Another popular easy beef stew meat recipe in Korean cuisine is bibimbap (pronounced 'bee-bim-bahp') which is translated as 'mixed rice'.
To make these Korean beef bowls, you layer rice on the bottom of a bowl and arrange various side dishes on top and then mix everything together before eating (hence the name!)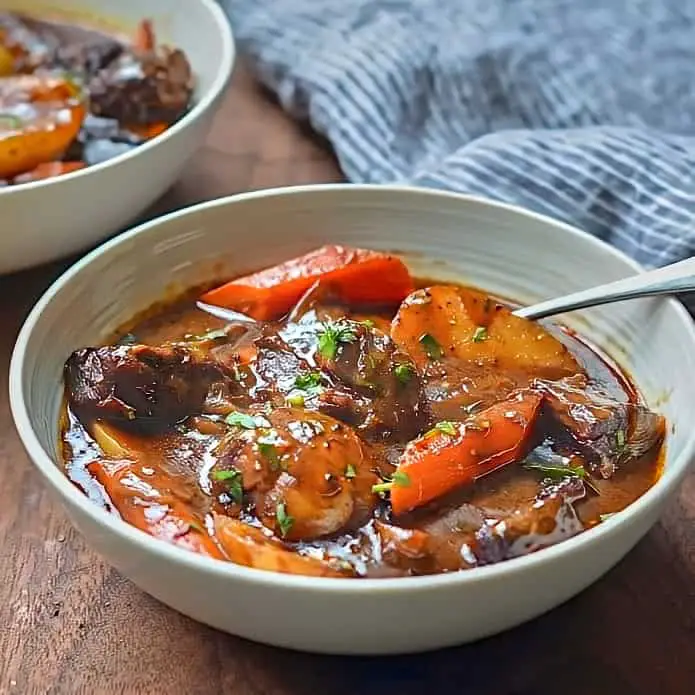 This classic French beef stew is the ultimate cold weather comfort food. After a few hours in the oven, the meat becomes meltingly tender and enveloped in a rich wine sauce.
It is the ultimate cold weather comfort food. Chunks of well-marbled beef are seared in a hot pan, then gently braised with garlic and onions in a rich wine-based broth.
After a few hours in the oven, the meat becomes meltingly tender and enveloped in a deeply flavorful sauce. It takes a few hours to make, but the easy beef stew meat recipe is mostly hands-off.
Go ahead and make it a day or two ahead of time; the flavor improves the longer it sits.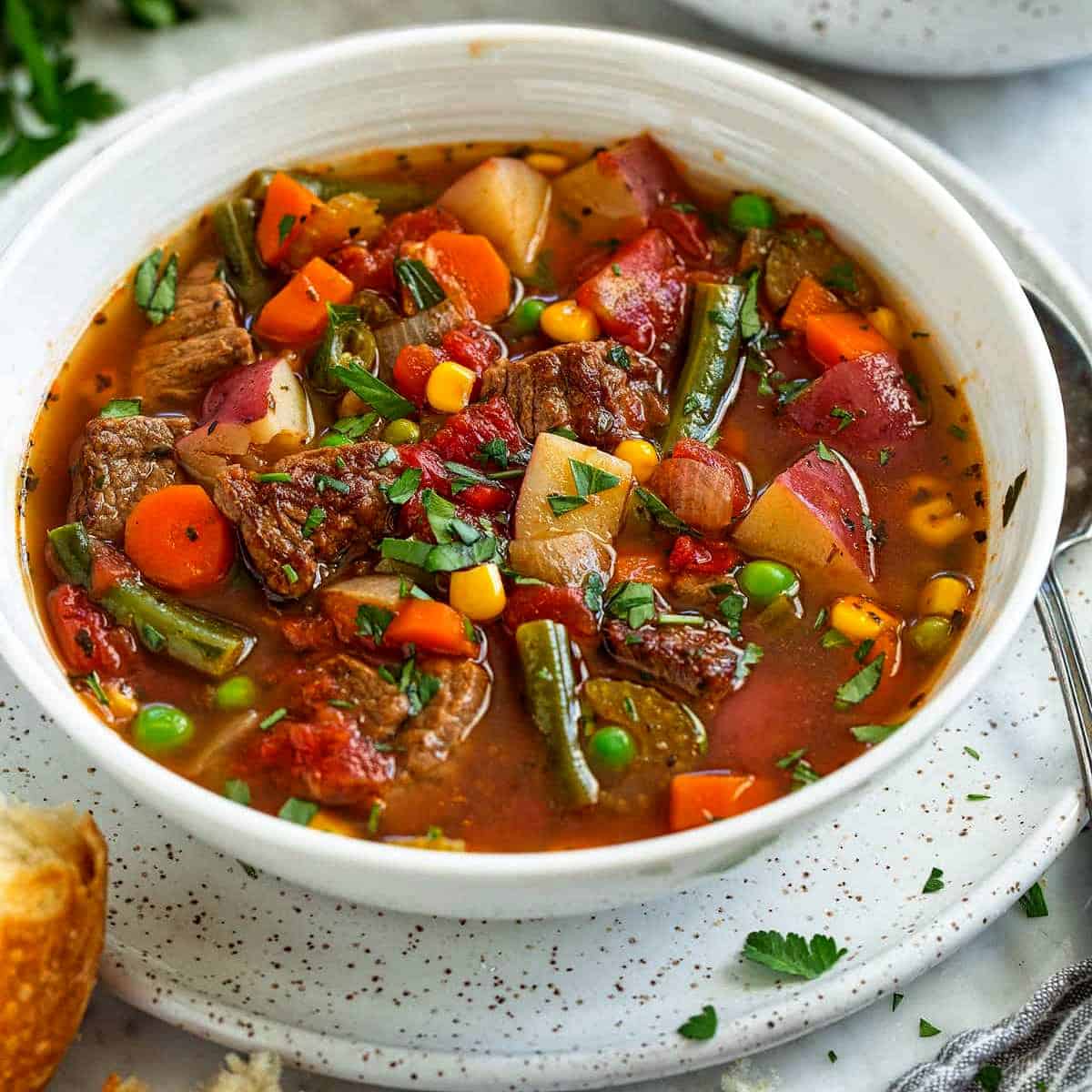 After simmering for an hour on the stove top this soup has such a delicious rich flavor and the beef is so deliciously tender.
This is a perfect comforting fall and winter soup but when you've got lots of vegetables to use up in the summer this is the easy beef stew meat recipe to make!
Note that the soup will be a little Brothier than what's pictures, I like to remove some of the broth so you can see the ingredients in the soup.
But with that said you can use less broth if desired or even simmer the soup uncovered during cooking (just go easy on the salt).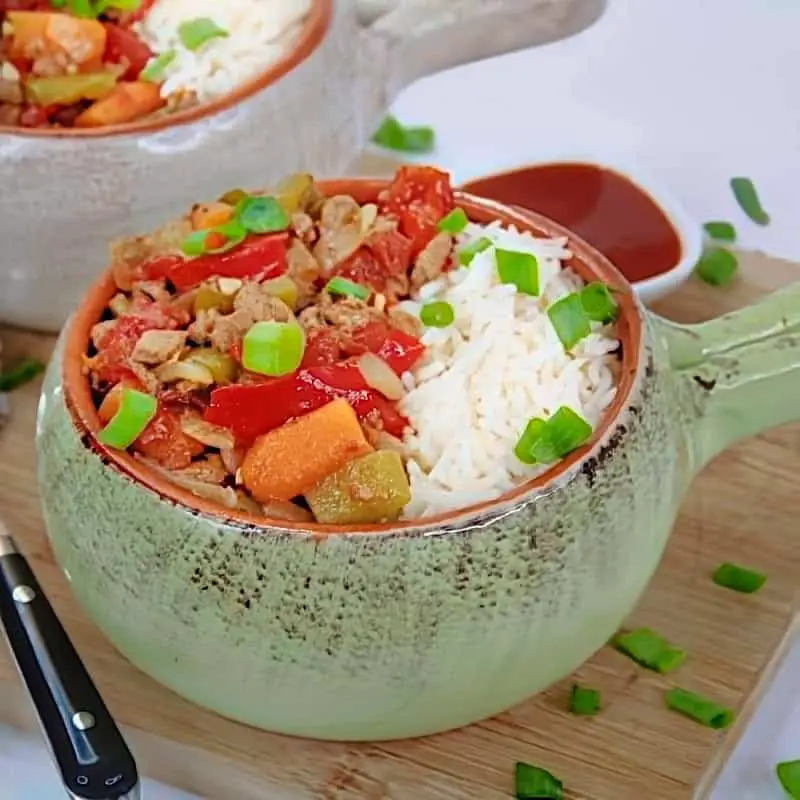 We love Caribbean food, especially Jamaican food because of the way they combine many spices together to create bold flavors.
It seems like every trip we take down there we discover more and more wonderful things to eat.
I already loved the jerk chicken and was thrilled to find another dish I loved just as much. Even if your kids have refused to eat stew in the past try this one.
There's a super high chance they will love this Jamaican beef and rice too.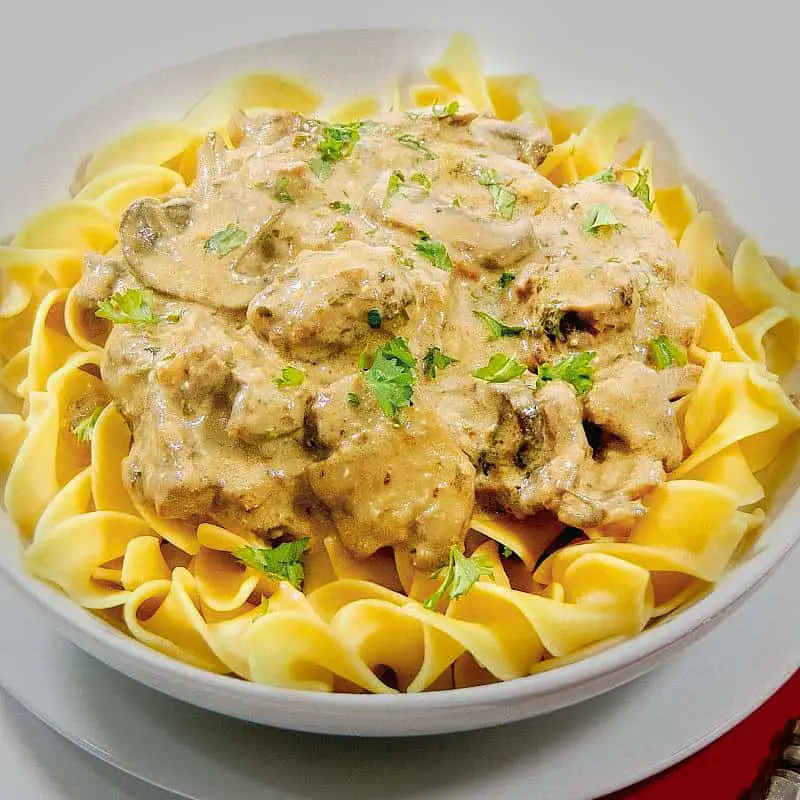 This Slow Cooker Beef Stroganoff recipe has creamy bites of beef, with earthy mushrooms, and is made ultra-luxurious with the addition of port wine.
It blows all other beef stroganoff recipes away!
I used port wine to make this easy beef stew meat recipe over the top incredible.
I knew it would be good because I use port in my Cream of Mushroom Soup, and it is amazing, so I had to use it in this one.
I know it might seem like a random ingredient to buy, but it is so worth it. So please please please don't leave it out!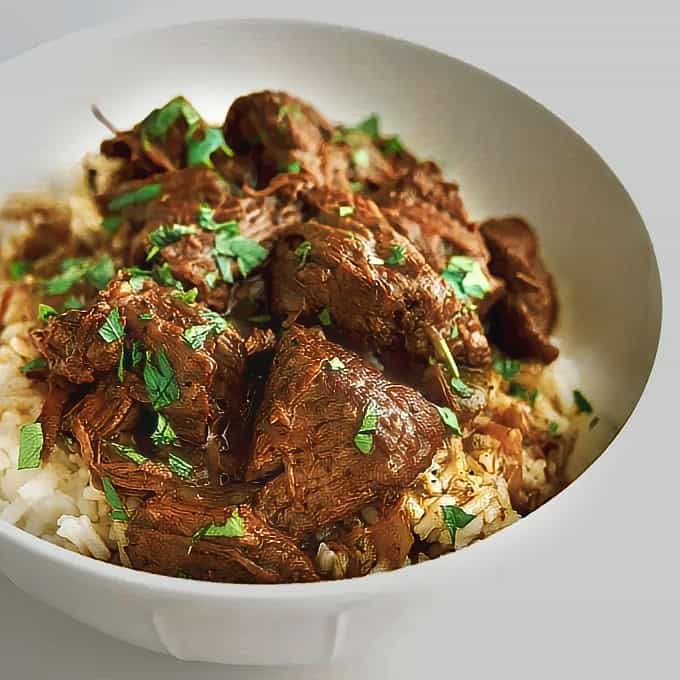 Stew Beef and Rice is a simple easy beef stew meat recipe yet satisfying and full of flavor.
And comfort food doesn't get any better than this easy Stew Beef and Rice Recipe.
Onions, peppers, garlic, and oregano are slowly cooked with beef to create one hearty meal.
Not only is Stew Beef and Rice delicious comfort food to the max, it is oh so easy to make.
Beef and Noodles using Granny's classic easy 5-ingredient easy beef stew meat recipe is quick and easy.
Made in the Instant Pot, but can be made using the crockpot or stove top too.
This is the best easy beef stew meat recipe for dinner you'll find with made with beef tips or stew meat smothered in a creamy mushroom gravy served over noodles.
It is a great option for a busy weeknight dinner as well as a meal that your entire family will love!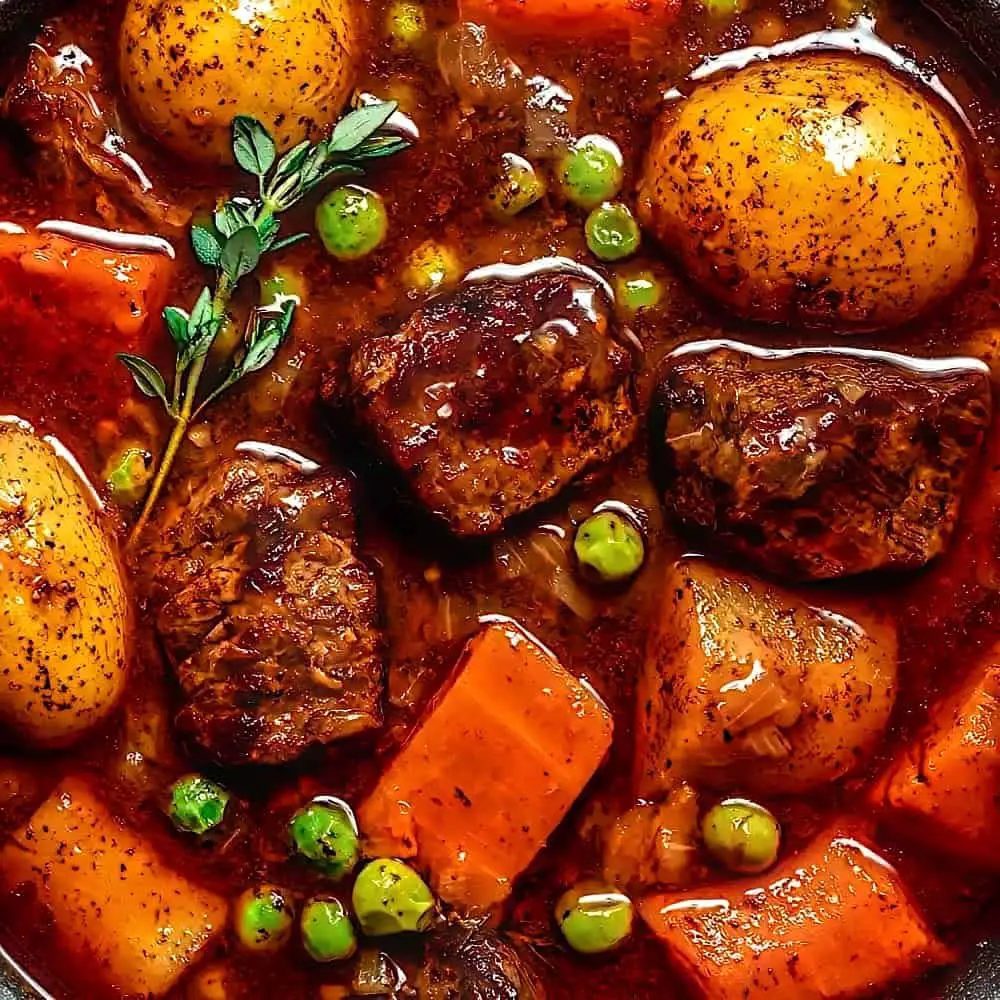 A comforting dinner that's easy, doesn't break the bank, and the whole family is sure to love? Sign us up.
Beef stew is our ideal meal on a chilly night, combining tender beef with perfectly cooked veggies and thick, rich broth.
Using a budget-friendly cut of meat, it's an affordable dish that tastes even better the next day.
The Instant Pot makes homemade beef stew extra easy.
First, we brown the beef using the sauté setting to add tons of flavor, then we use the same pot to cook the onions and garlic.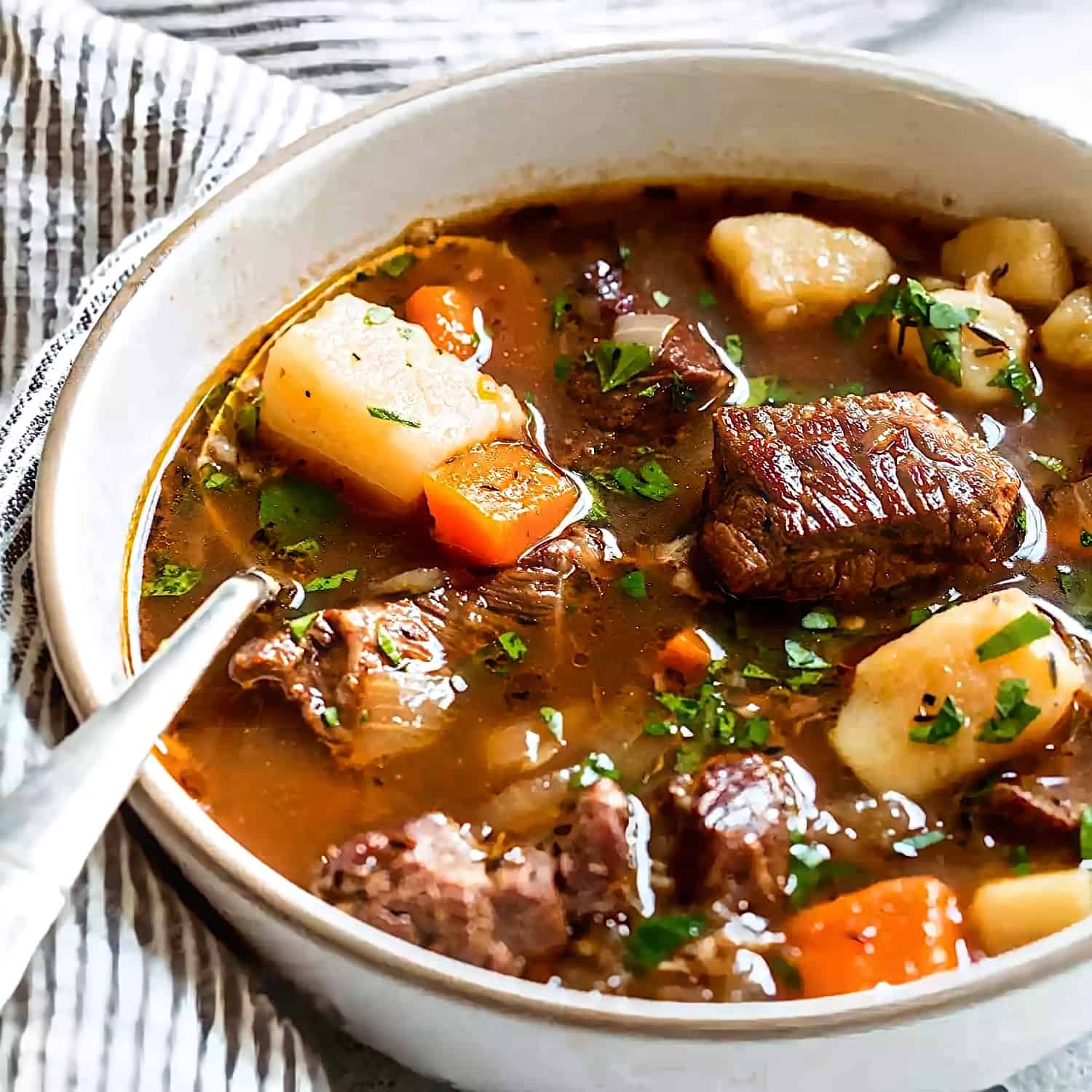 An excellent, hearty Irish-inspired beef stew made with garlic, stock, Guinness, red wine, potatoes, carrots, and onions.
The last is the case with this Irish beef stew. As any Irish person will tell you, lamb is the preferred meat for a good Irish stew.
But here in the states we eat a lot more beef than lamb, so when we want to make a stew to celebrate all things Irish, it's usually done with beef.
This particular stew has all of the classic trimmings of a good Irish stew—meat.
Stock, plenty of root vegetables—with the addition of some Guinness extra stout, for its malty flavor and some Irish authenticity.
---
You May Want to Join Our Boondocking Group on Facebook For More Information
You May Want to Join Our Campfire Recipes Group on Facebook For More Information
For More Photos Visit Our Instagram at Campfire Recipes Instagram Our Big Escape