Last updated on September 27th, 2023 at 12:51 am
Czech recipes are some of the most interesting and flavorful dishes you will ever try! From savory goulash to sweet dumplings, the Czech kitchen is filled with elaborate treats that will tantalize your taste buds and make any home cook feel like a master chef. With bold ingredients steeped in history, learning how to make traditional Czech food will surely add something special to your culinary repertoire.
When you think of delicious and mouthwatering food, the Czech Republic might not be the first place that comes to mind. However, this Eastern European country's traditional cuisine offers a variety of tantalizing dishes that not only taste great but also carry a lot of history and culture. From traditional goulash to Bohemian cakes and pastries, Czech food is a delectable treat for any foodie looking to explore something unique.
We'll even provide simple and delicious Czech recipes you can easily follow to create mouth-watering dishes your entire family will love.
---
Want more ideas to round-out your Recipe Box?
A lot of great options are in these posts!
---
30 Mouthwatering Czech Recipes Using Local Czech Food
---
---
check out our video
---
---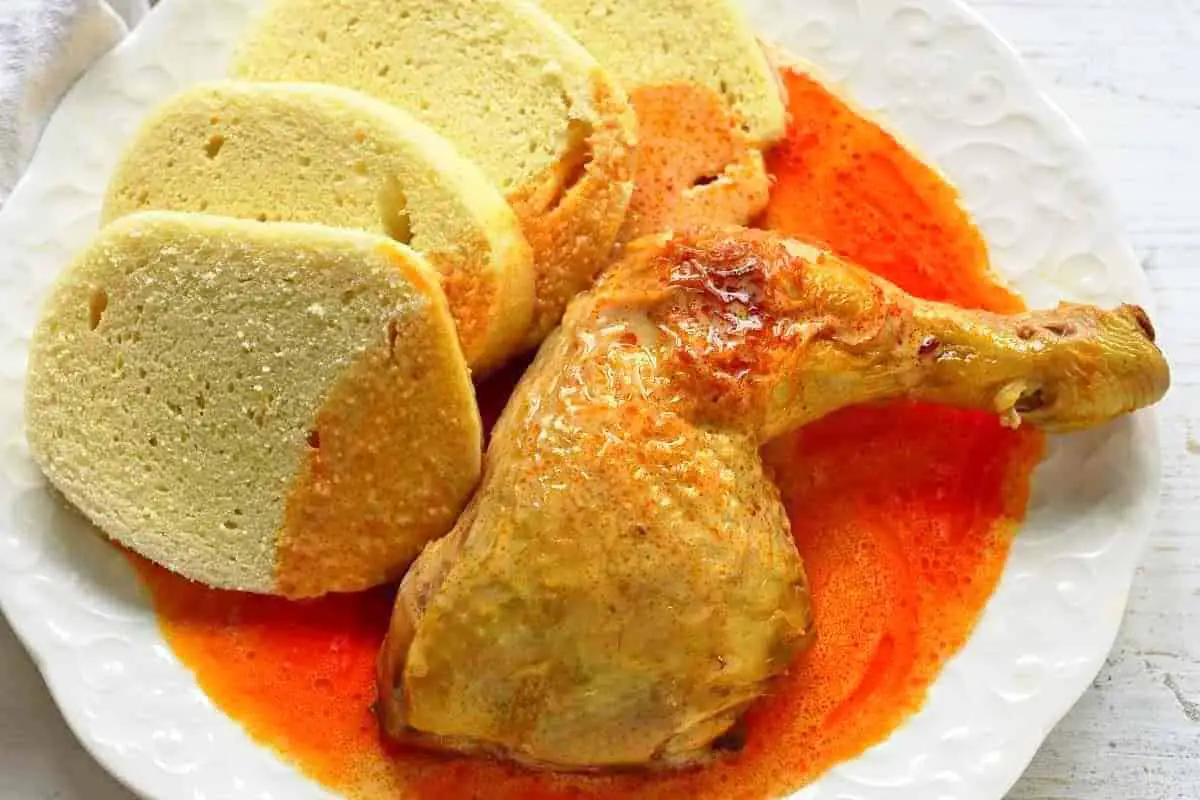 This easy chicken paprikash recipe comes from the Czech Republic (known as Czech "kure na paprice"), where it is traditionally served with bread dumplings. Call it a comfort Czech food that will delight you especially in the cold months!
Czech Paprikash is based on the original Czech recipe for Hungarian paprikash. It is basically an identical dish, and we call it "kuře na paprice" or "kuřecí paprikáš" (chicken paprikash) here in the Czech Republic.
Hungarians call this popular dish "csirkepaprikás", and in Austria, it's "Paprikahendl".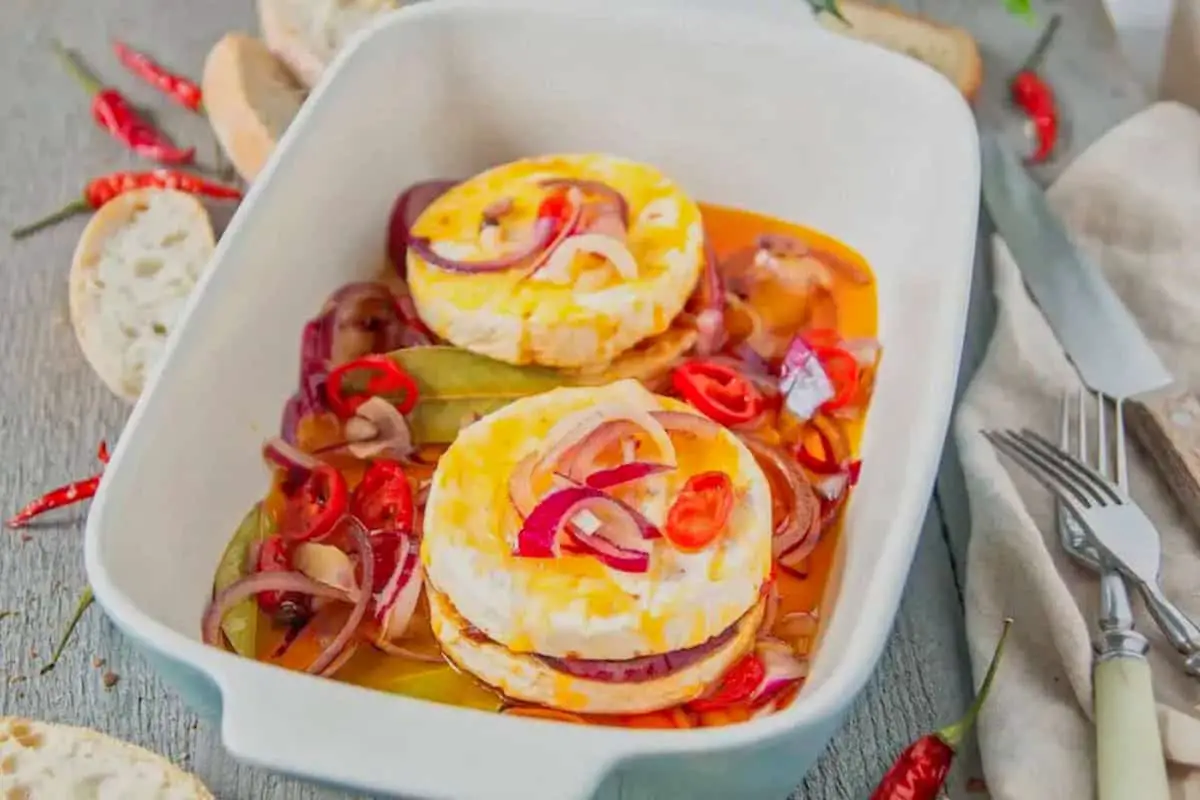 This marinated Camembert Czech recipe is one of the most favorite appetizers which are coming from Czechia (if you are not sure which country it is, it was called the Czech Republic in the past). The preparation this Czech foodis very easy and will not take more than 15 minutes. The tricky part is that you have to leave it in a fridge to mature, for at least 7 days
But don't worry, it will be definitely worth. Also, you will have some time to buy a good Czech beer which will be perfectly matching this dish. And if you are not a big fan of beer, try to drink a Pinot Noir with it.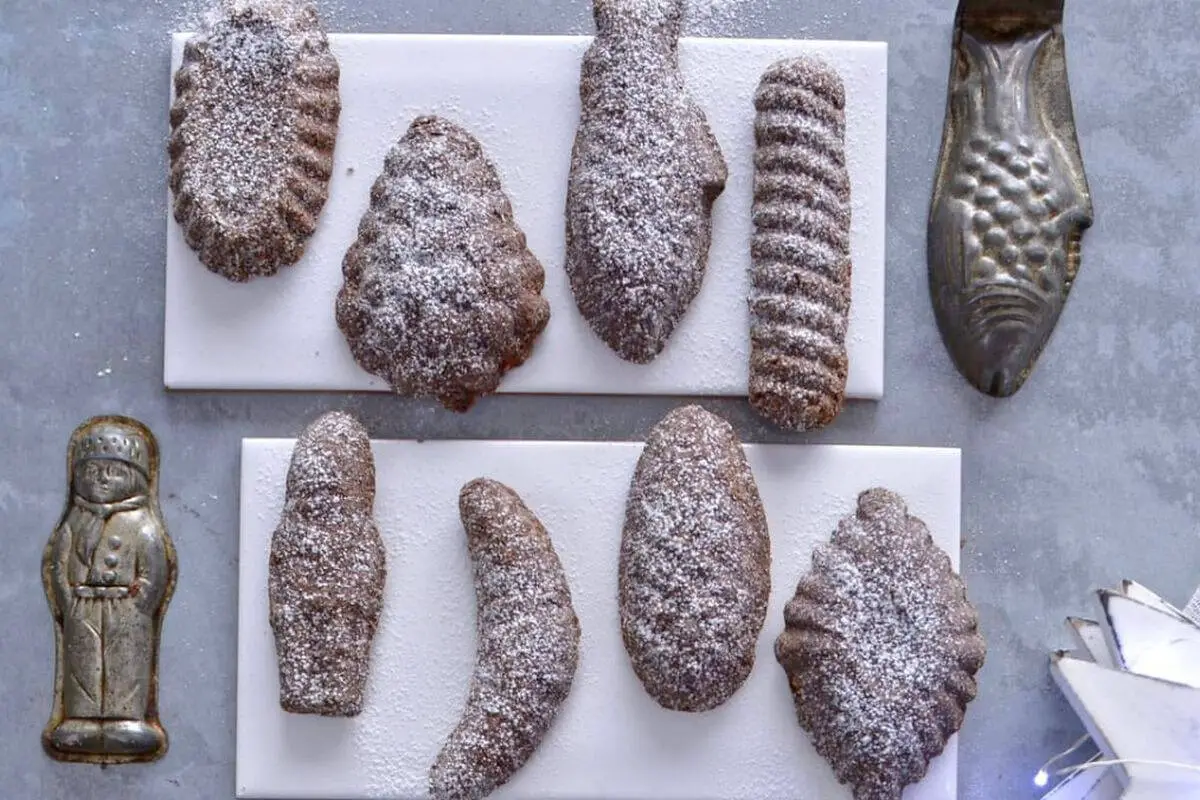 They are also known as laborious and belong to the heavy Christmas classics. At the Hauptvogels, they prepare them in molds that they borrow from their mother, who in turn inherited them from her mother. A truly generational Czech recipe!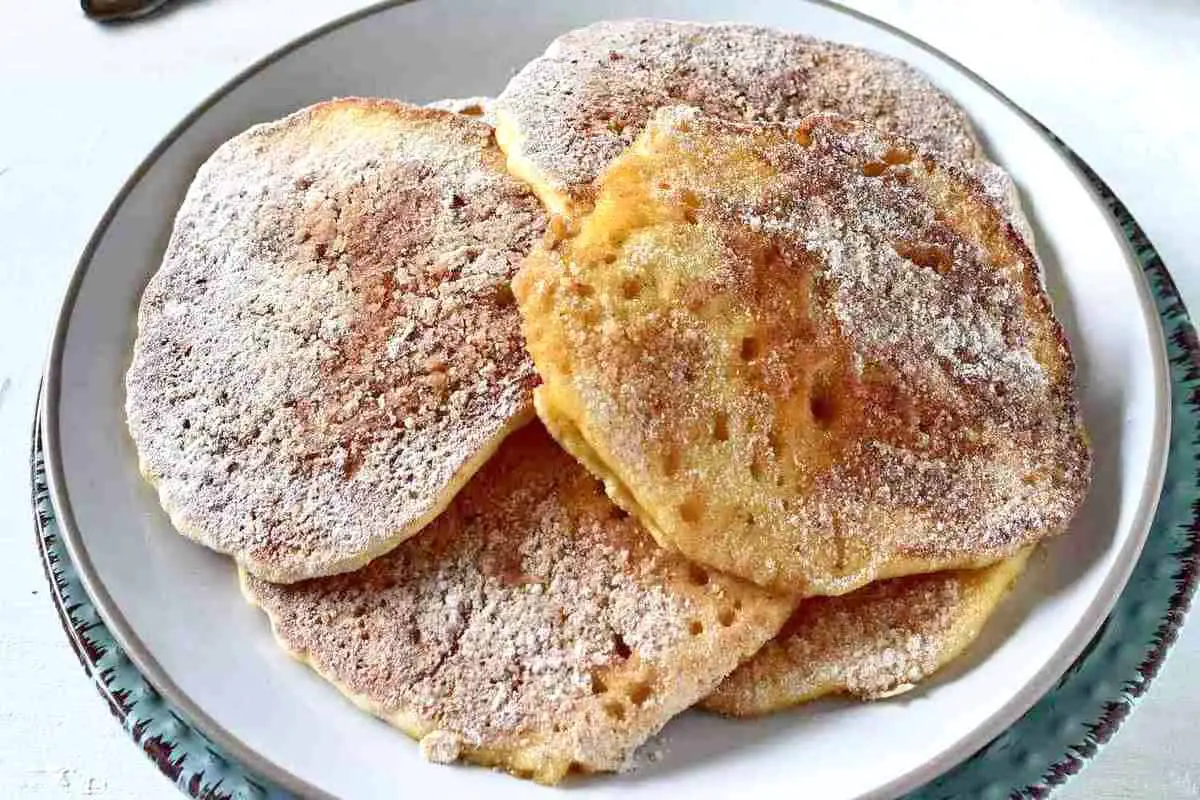 Yeast pancakes are a real delicacy that Bohemian Grandmas make for their beloved grandchildren. In the Czech language, this dish is called lívance and belongs to the favorite sweet treats. I swear, these are the best pancakes you can have!
Yeasted pancakes are round palm-sized patties made of semi-liquid batter, leavened with yeast in Czech food. The pancakes are fried in a pan on a piece of butter, finally garnished with fruit, a scoop of sour cream, or just rolled in powdered sugar. They are served as a dessert, but in the Czech Republic, children in particular often eat yeast pancakes as a main sweet dish.
This one stands out significantly among all the possible pancake Czech recipes because it produces perfectly soft and fluffy pancakes. Although they take a little more time to prepare, their taste is much better compared to quick American pancakes made with batter with baking powder or baking soda as a leavening agent.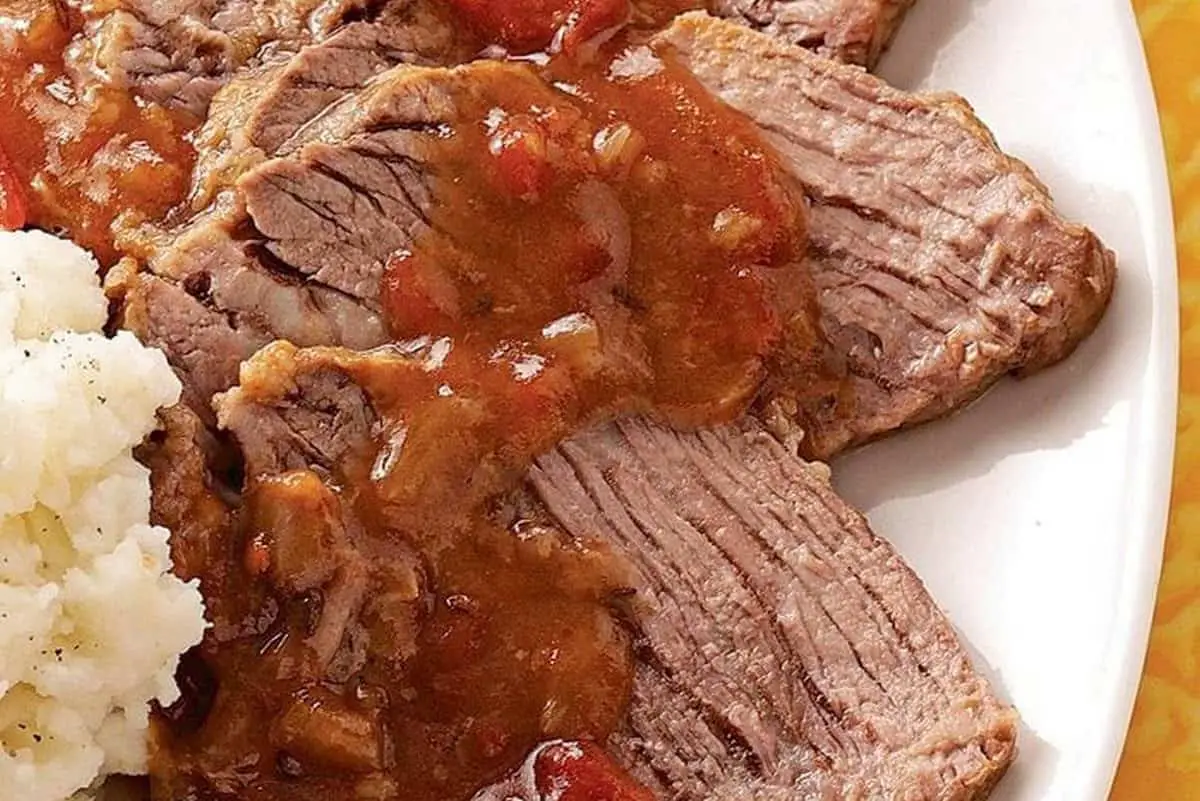 I love this pot roast Czech recipe because it's so easy to prepare and serve. You can put this "meal in one dish" together to cook, then practically forget about it until dinnertime. Coleslaw is a great accompaniment.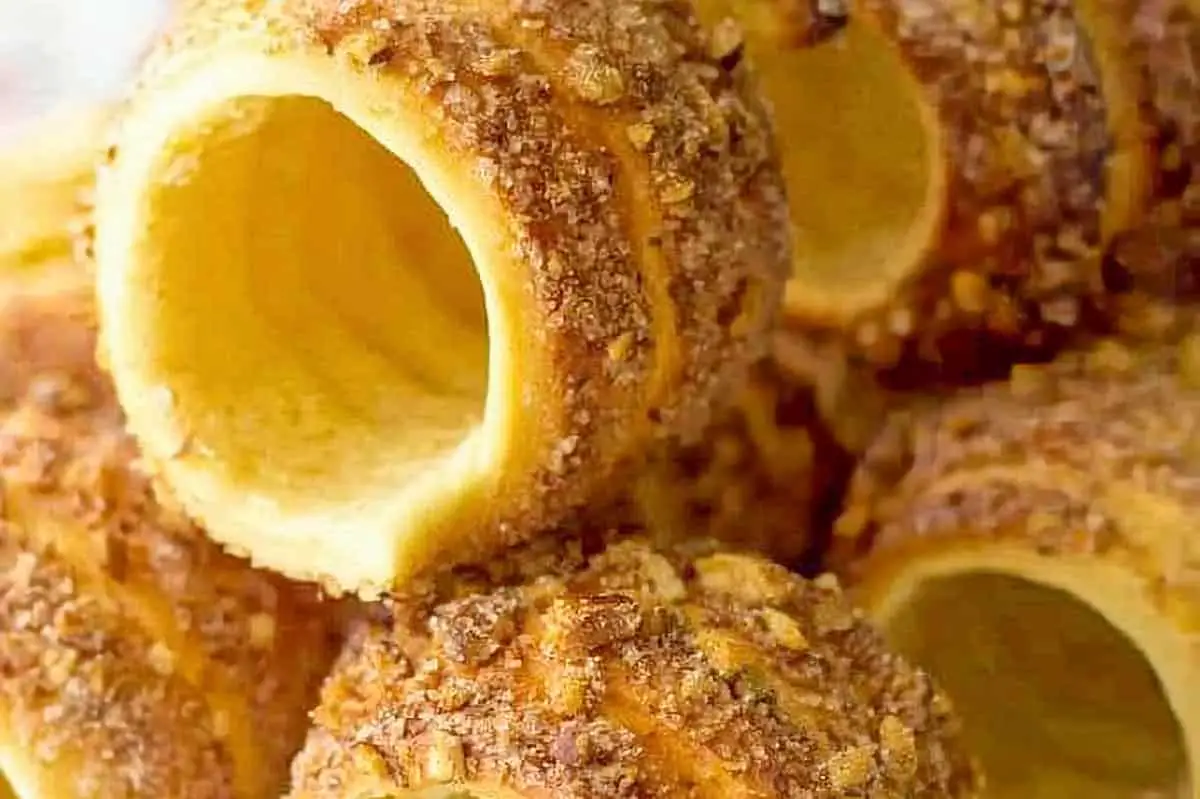 Trdelnik is one delicious dessert you are sure to find on every corner of Prague. It's a traditional Czech pastry dough, wrapped around a stick, rolled in cinnamon-w lnut and sugar mixture and baked to a crispy perfection. Does it sound amazing? It sure is!
In this step-by-step Trdelnik Czech recipe I'll tell you all my tips and tricks on how to make the best oven baked Czech Trdelnik. Let's get cooking! My mom was the one who suggested me making Trdelnik recipe for my blog. Since I haven't posted any Czech food yet, I liked that idea and was eager to make the Czech recipe ASAP.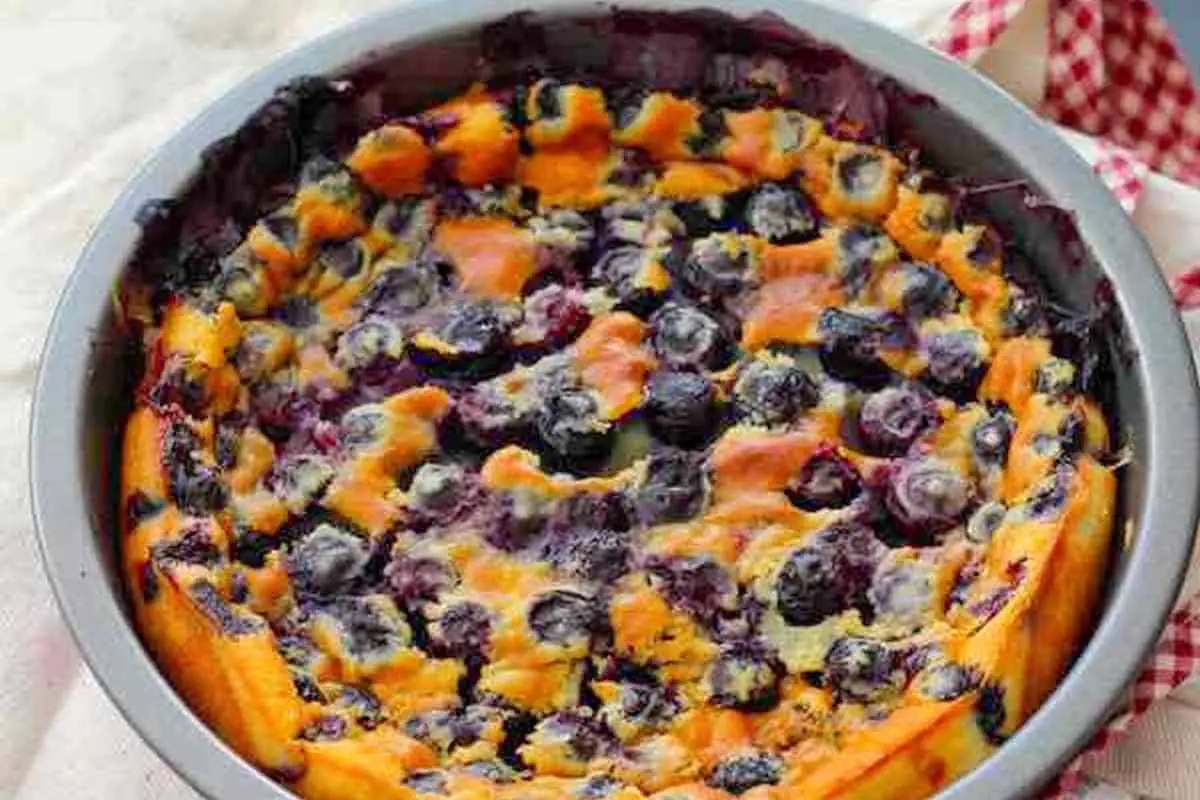 Litá bublanina or simply bublanina is one of the must-haves of traditional Czech desserts. This dessert is reminiscent of French clafoutis. Bublanina can be prepared rather quickly and it does not require any special equipment.
The original Czech recipe of bublanina is quite simple. This Czech food consists in a batter prepared with beaten eggs and mixed with flour (originally semolina), sugar, and milk, to which seasonal fruits are added. The original Czech recipe often uses cherries or blueberries.
These berries are commonly used for the making of this cake but any kind of fruit can be used. At the end of cooking, it is usual to sprinkle icing sugar on the cake.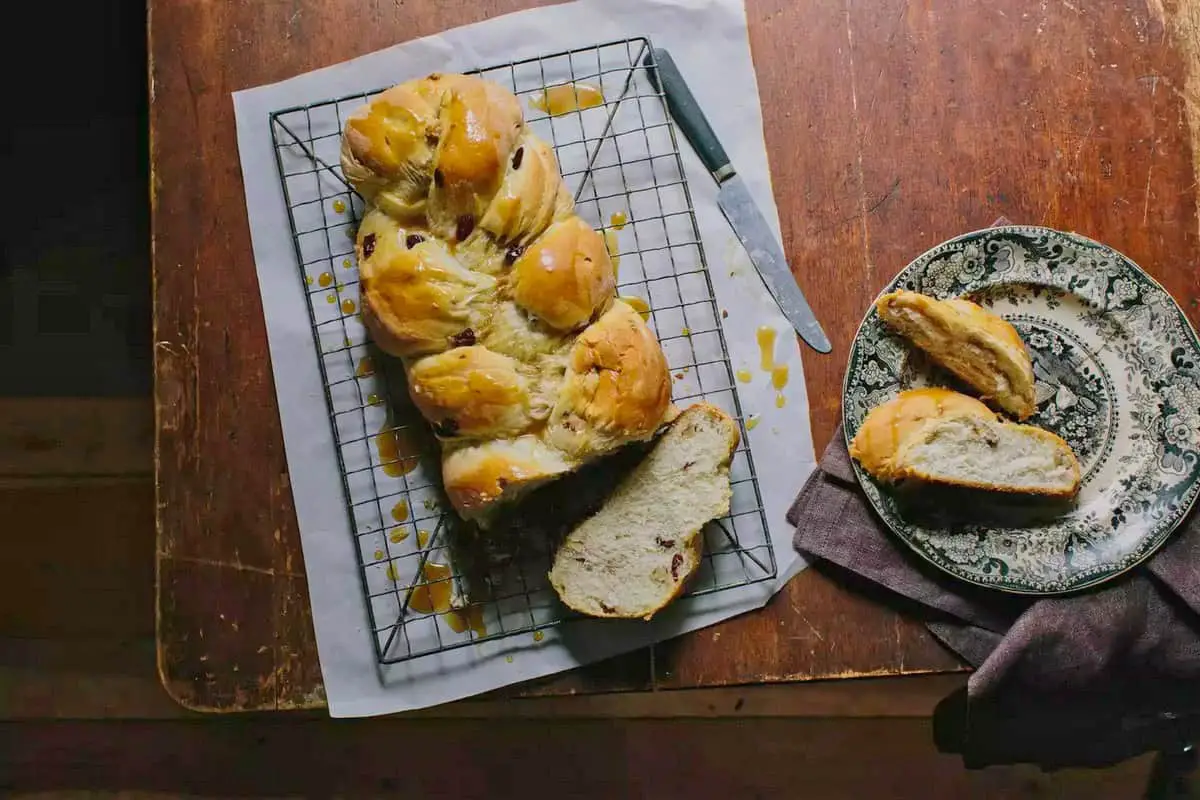 Houska is a traditional Czechoslovakian Christmas bread made with candied fruit, almonds, and raisins. Depending upon local customs and family preferences, some people toast it and top it with jelly or butter and powdered sugar. It takes a full day to make, but it's well worth the effort.
This rich, eggy, slightly sweet yeast bread exists in almost every Eastern European culture. Typically, this Czech food is braided and can be made with or without raisins. Bohemians and Czechs call it houska. Poles call it chałka and Ashkenazi Jews refer to it as challah.
The bread is reminiscent of French brioche and is terrific plain, with butter, or toasted. Leftovers are great in bread pudding, makówki (Polish poppyseed bread pudding), and French toast.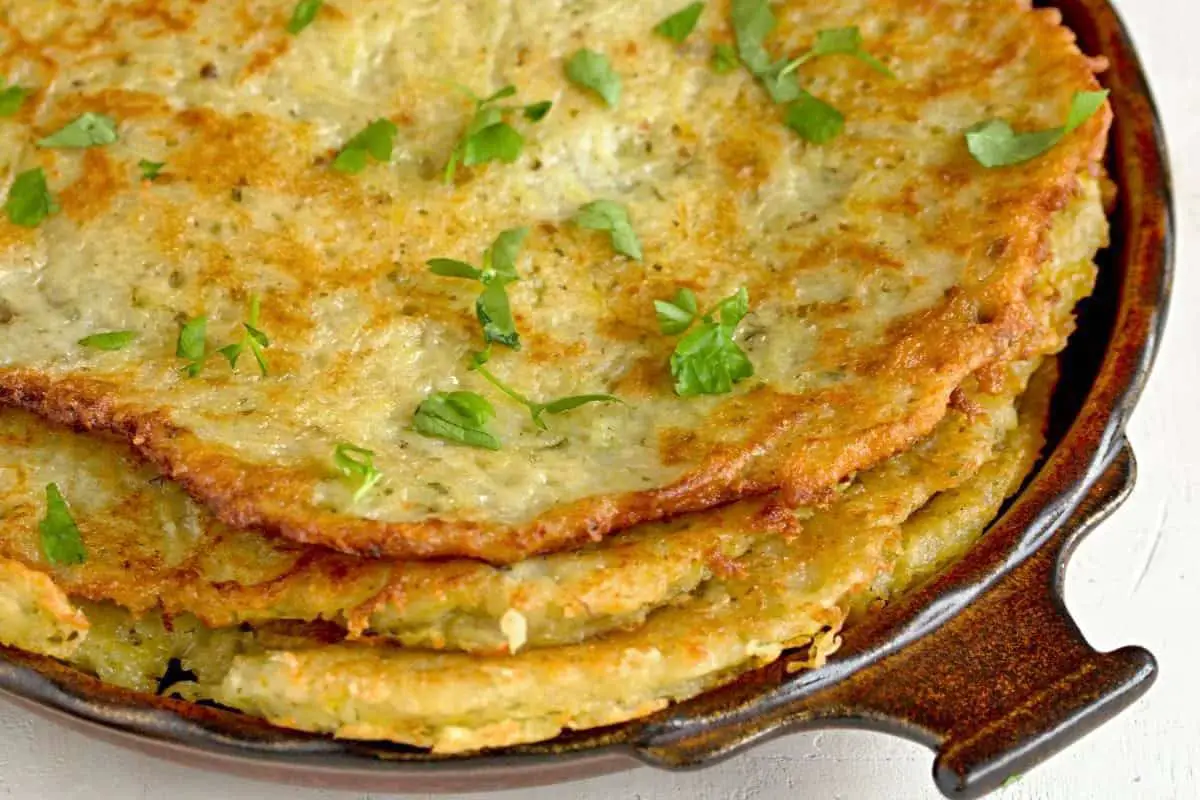 Flavorful, loaded with plenty of garlic and marjoram, surprisingly easy. Talking about bramboráky, famous Czech potato pancakes! I don't know a Czech who wouldn't like them. And no one can eat just one! Find out why bramborak is one of the most popular Czech recipes around.
Bramborak is a Czech food shredded potato pancake. It is made from raw shredded potatoes, with a lot of garlic and marjoram. An egg, flour, and hot milk ensure that the potato pancakes stick together when fried and have a nice texture.
Bramboraky pancakes are pan-fried in pork lard or vegetable oil.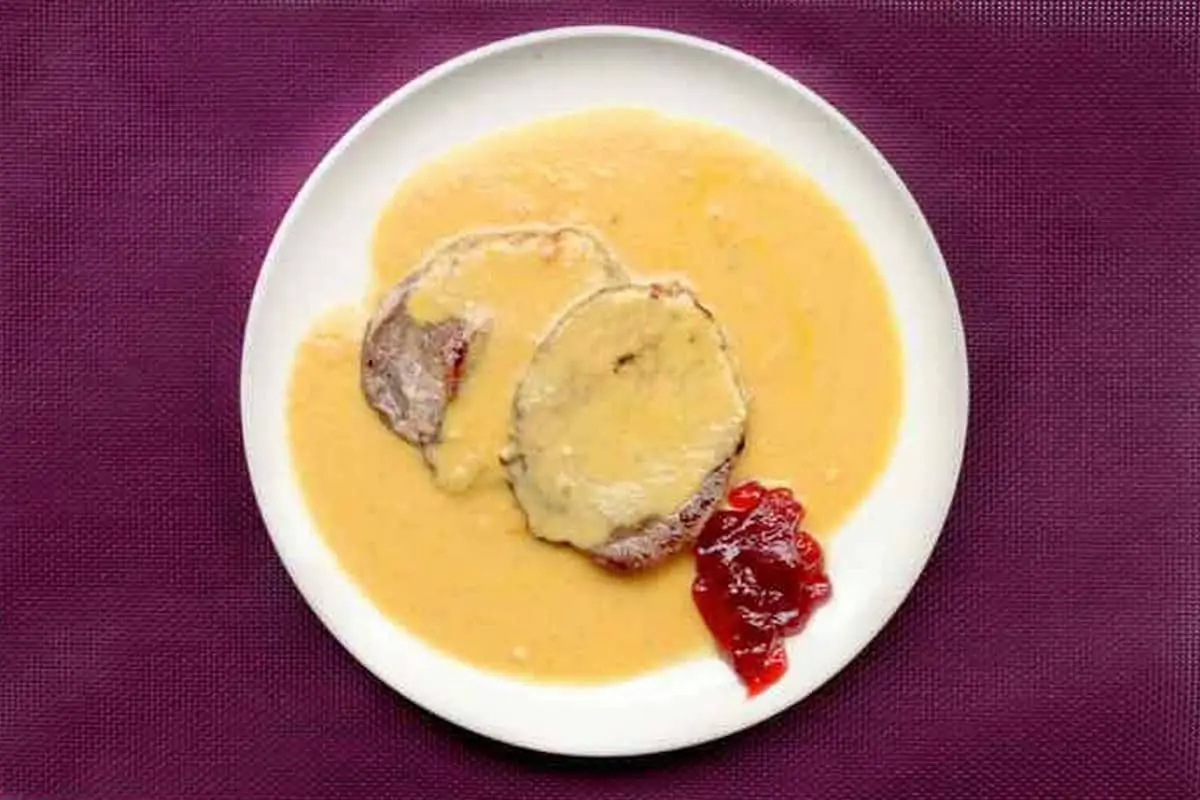 Svíčková na smetaně translates as beef sirloin in cream sauce and is one of the most popular Czech food choices in the Czech Republic.
Beef tenderloin, or sirloin, is slow cooked with root vegetables and spices. The cooked root vegetables make up the sauce which sour cream is added to before serving. The beef is larded before cooking – cuts are made in the meat and diced bacon is inserted – and this creates a deep and rich flavorsome meat.
Svíčková na smetaně is a hearty dish typically eaten during the cold winter months in the Czech Republic. The beef is cooked with a variety of root vegetables, traditionally onions, carrots, celeriac, leeks and turnips to create a substantial dish. Because the beef is slow cooked, it is tender and flavorsome.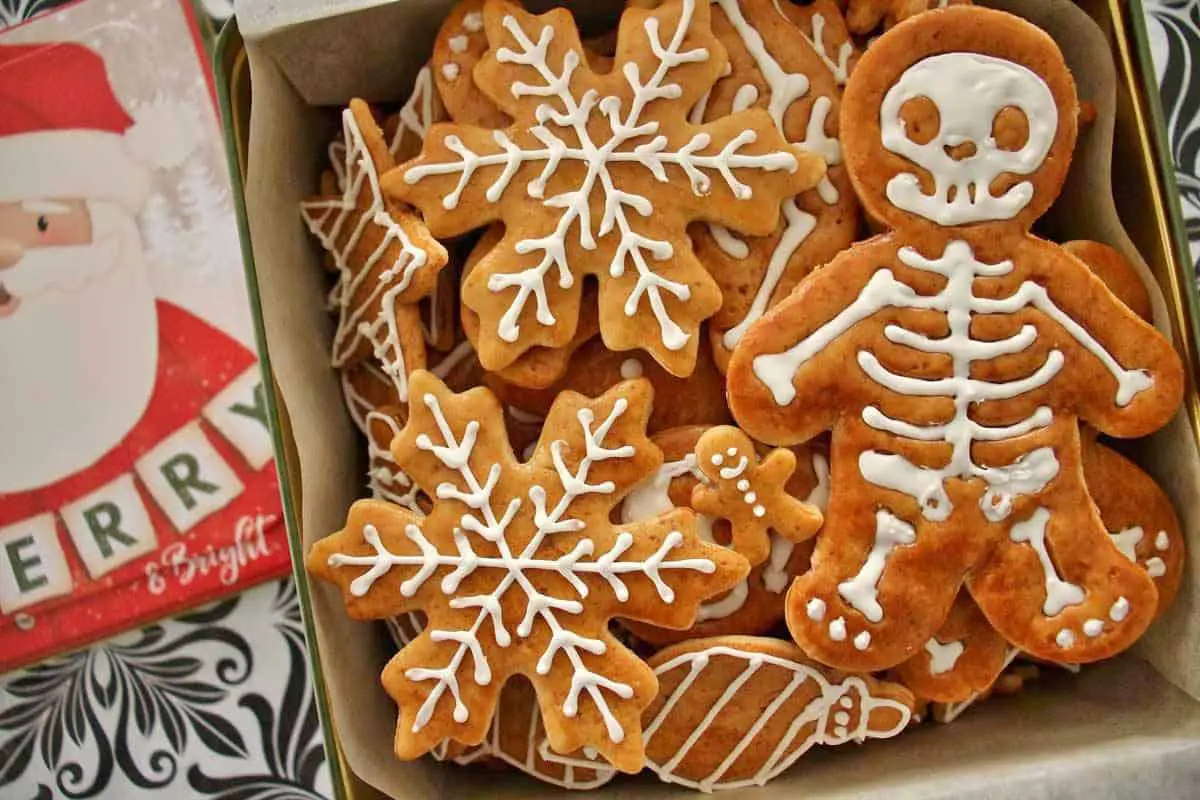 Making Perníčky, or Czech gingerbread cookies, is a nice change from trying the standard American recipes. These Czech Christmas cookies are less sweet, lack ginger, and feature a mild anise flavor in the spice mixture.
I fell in love with perníčky, or Czech gingerbread cookies, in Prague. They're quite different from American gingerbread cookies, which contain ginger and molasses, two ingredients not found in the Czech food version.
On the contrary, perníčky have a mild anise flavor. This comes from the combination of anise seeds, star anise, and fennel seeds. I'm usually not a fan of licorice or other anise-flavored fCzech food choices, but I actually LOVE perníčky. I was determined to make them myself after returning from Prague.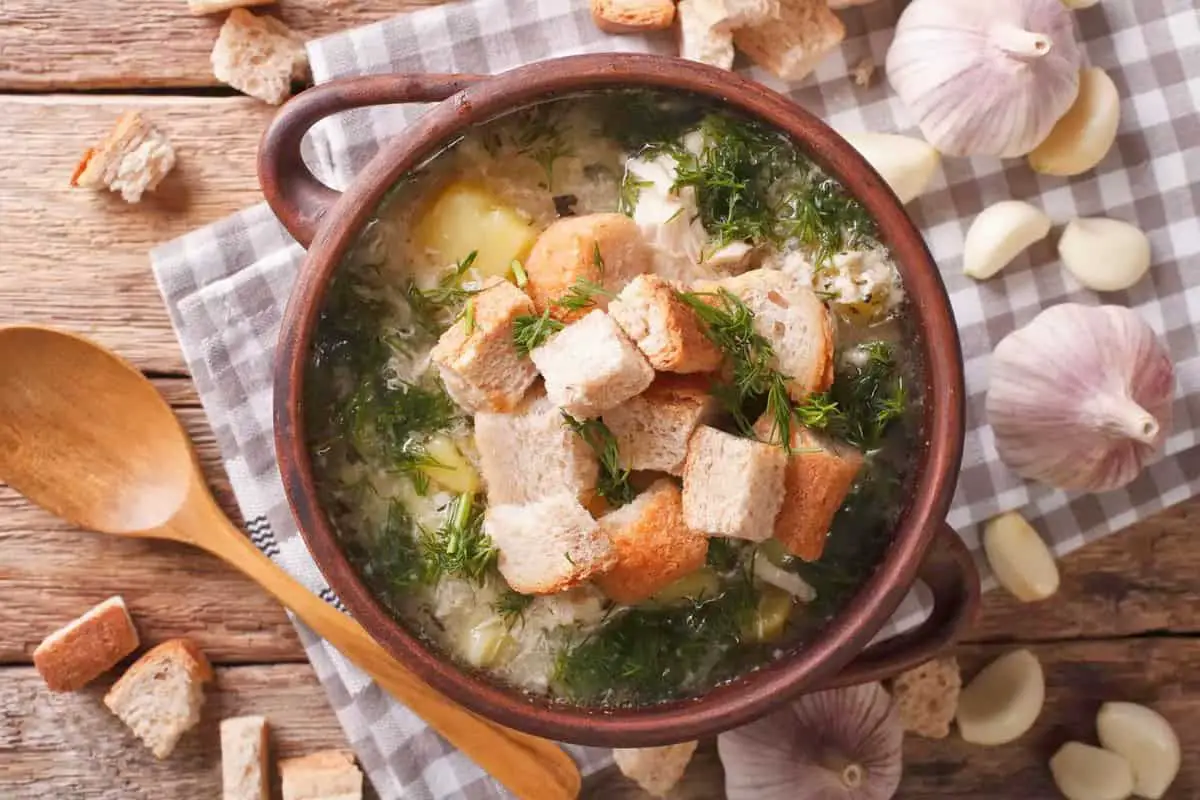 This garlic soup Czech recipe or česnečka is said to be the number one hangover cure in the Czech Republic.
It's a simple affair of broth, potatoes, garlic, and onions. This soup is so quick to make that many housewives and mothers rise early in the morning to stir up a pot of this easy dish for their spouses and family members after a night of partying.
Garlic soup is by no means the only Czech food eaten to chase away the effects of enthusiastic celebrations.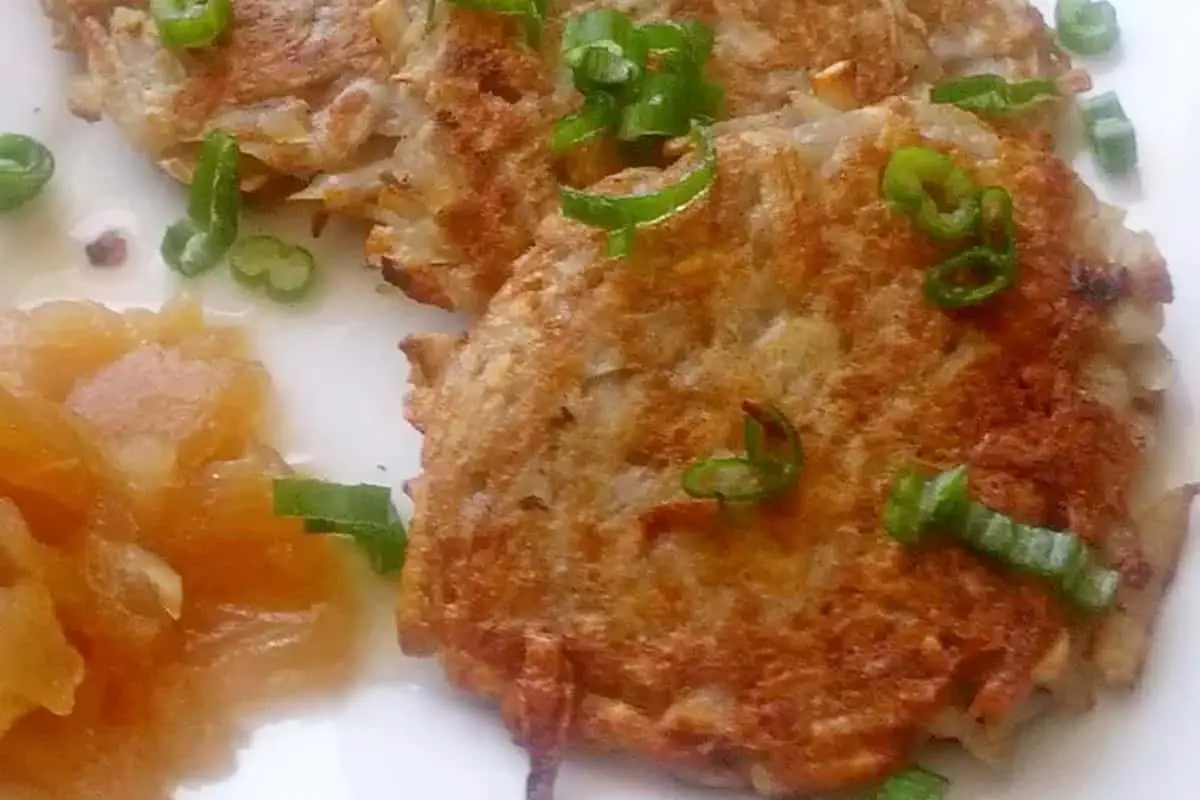 Bramboracky (bram-bor-atch-key) are traditional pan-fried potato pancakes best accompanied by beer. This is a Czech recipe that my Czech boyfriend and I have fun with often.
Potato pancakes are commonly associated with traditional Czech, Ukrainian, Yiddish, German, Hungarian and Polish cuisines, although other cuisines (including those of India and Korea) also have similar potato pancakes.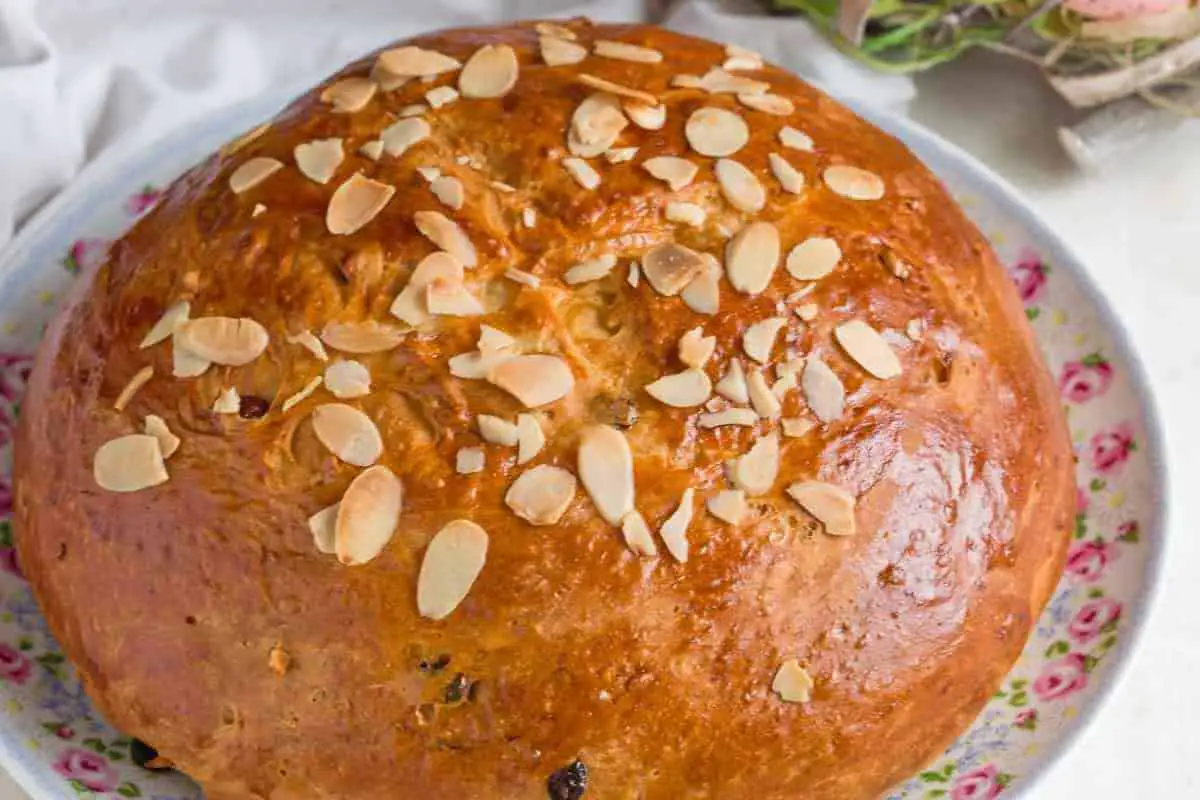 When talking about typical Easter treats baked in the Czech Republic, you can't forget mazanec, sweet Easter bread! Also known as "velikonoční bochánek", it's one of Czech Easter's main symbols.
Making a good homemade mazanec bread is not rocket science, you just need enough time to rise and a little loving care to work the dough.
The Czech food dough is very similar to that for Vánočka, or Houska Christmas bread. However, the mazanec is not braided, so it takes an inch less work.
These easy blender crepes are so easy to make, and are perfect to serve for breakfast or dessert. They can be filled with fruit, jam, yogurt, ice cream, you name it!
These easy blender Czech food crepes are part of my morning routine. I've been making this Czech recipe since I was a kid, it's the first thing I learned to cook! Crepes are also a great make-ahead breakfast, I whip up a batch and refrigerate the batter to use throughout the week. The batter stays fresh 4 to 5 days, refrigerated. Fill them with anything you wish!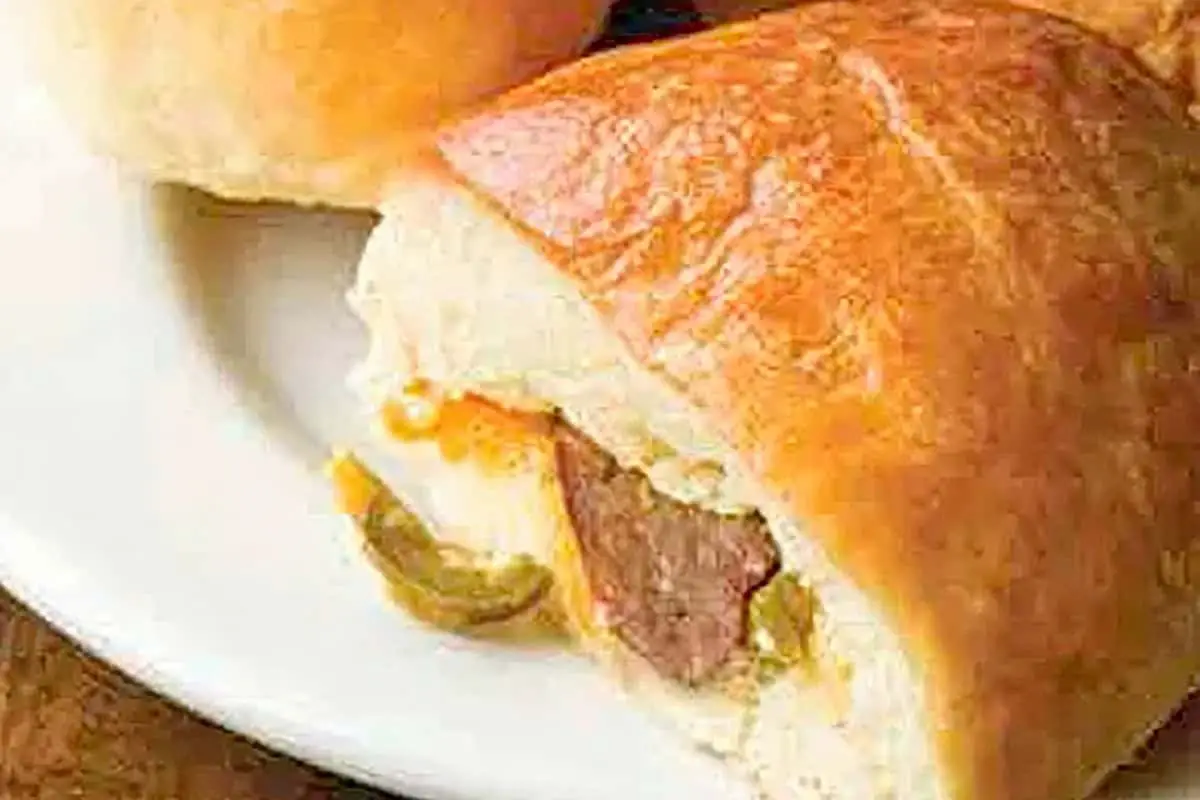 IF YOU MEET A CZECH TEXAN, he or she will politely inform you it's incorrect to use the term sausage kolache when referring to a sausage-stuffed kolache. When you scrunch up your face with confusion, the person will then kindly explain that the correct term for this savory pastry is klobasnek.
But wait, let's back up here for a minute. If you're not familiar with a Czech food kolache, then you may be wondering what the heck I'm talking about. Allow me to explain.
A kolache is a sweetened yeast roll that's been stuffed with a fruit, cream cheese, or a poppy seed filling. The roll is either square or round, and there's a well in the center to contain the filling.
With a klobasnek, the dough is wrapped entirely around the filling, and the only way you can tell what's inside is to take that first bite. You find these pastries all over Texas, though they were first introduced in Central Texan Czech communities, such as the small towns of West and Caldwell.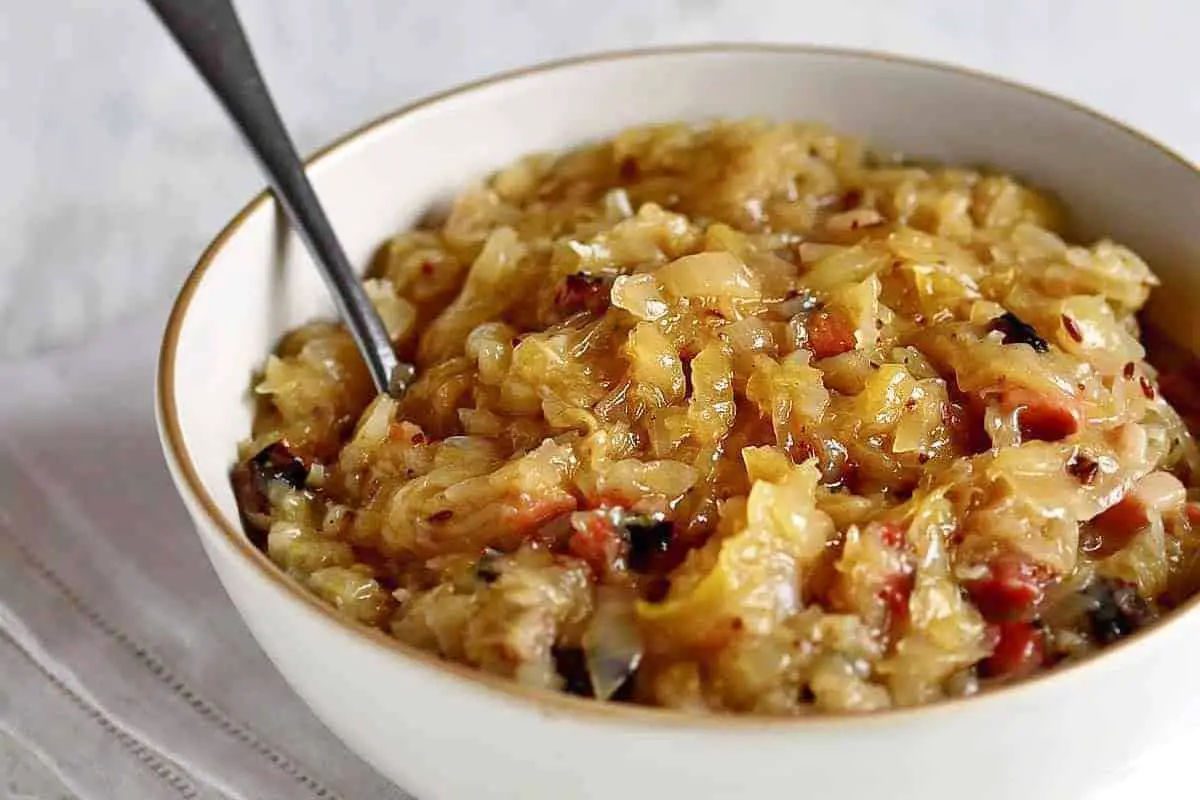 This Czech-style braised sauerkraut is deep in flavor, glossy, creamy, and with just enough juice around. It's cooked with onion and bacon and is served as a side dish for famous Czech meals like vepřo knedlo zelo.
Sauerkraut is a very common Czech food. I live in a mountainous area in northern Bohemia, near Jizera and Krkonoše (Giant) Mountains.
Life in the foothills was not easy in the past. People were dependent on crops, which grew in the poor fields. The cabbage was doing very well there.
In autumns, people pickled shredded cabbage in big crocks to ensure they had enough Czech food for the upcoming long winter. They ate fermented sauerkraut either raw or cooked as a healthy side dish.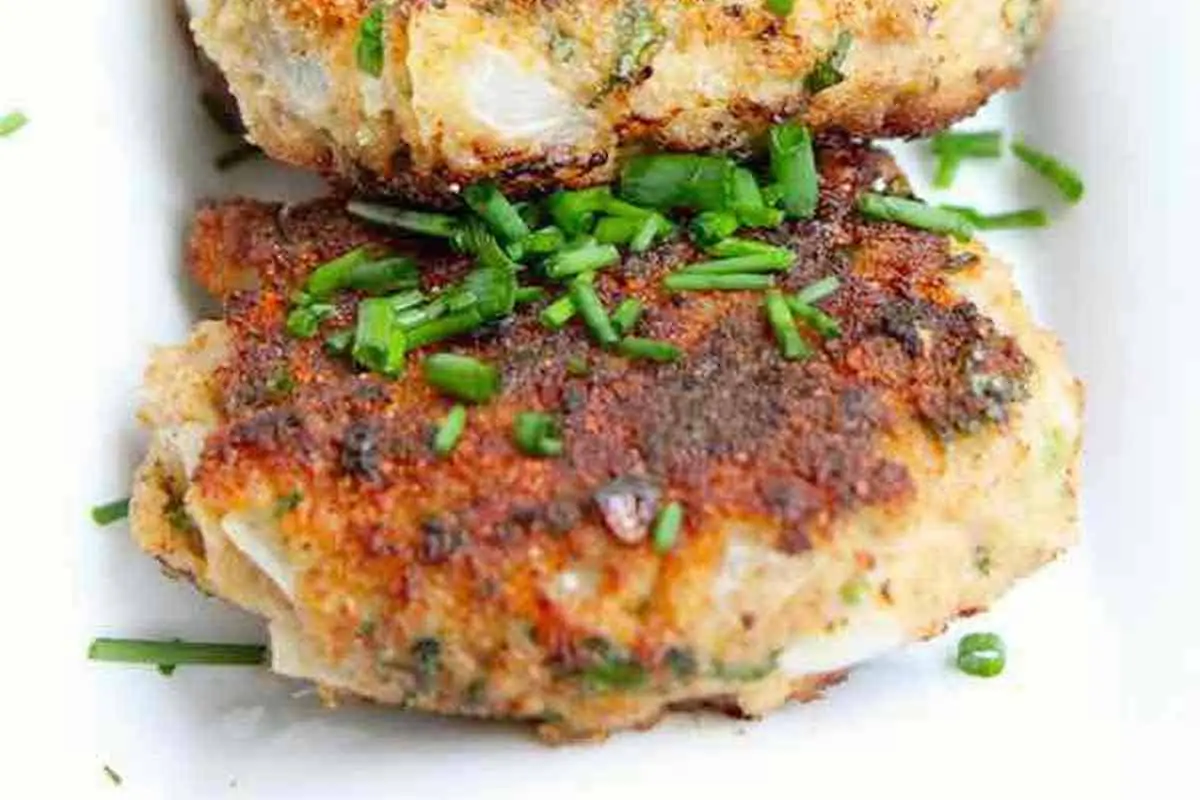 Karbanátky (singular: karbanátek) are fried meat patties that are eaten in the Czech Republic, in central Europe. A mixture of ground meats (pork and beef) are seasoned, and chopped onion, garlic, egg, parsley and spices are added.
They are rolled in to balls, gently flattened and then they are rolled in breadcrumbs and fried in oil or lard. Translated into English, karbanátek means "hamburger" or "meatball".
Karbanátky are typically made as part of the lunch meal and are often served with mashed or boiled potatoes and fresh vegetables to make a hearty and balanced meal. Although best eaten hot, straight out of the pan, they can also be kept refrigerated and served as part of a cold lunch the next day.
Leftover karbanátky are often used up by being thinly sliced and placed on rye bread to form an open-faced sandwich. They are also popular when served cold with potato salad, and can often be found at celebration buffets and picnics.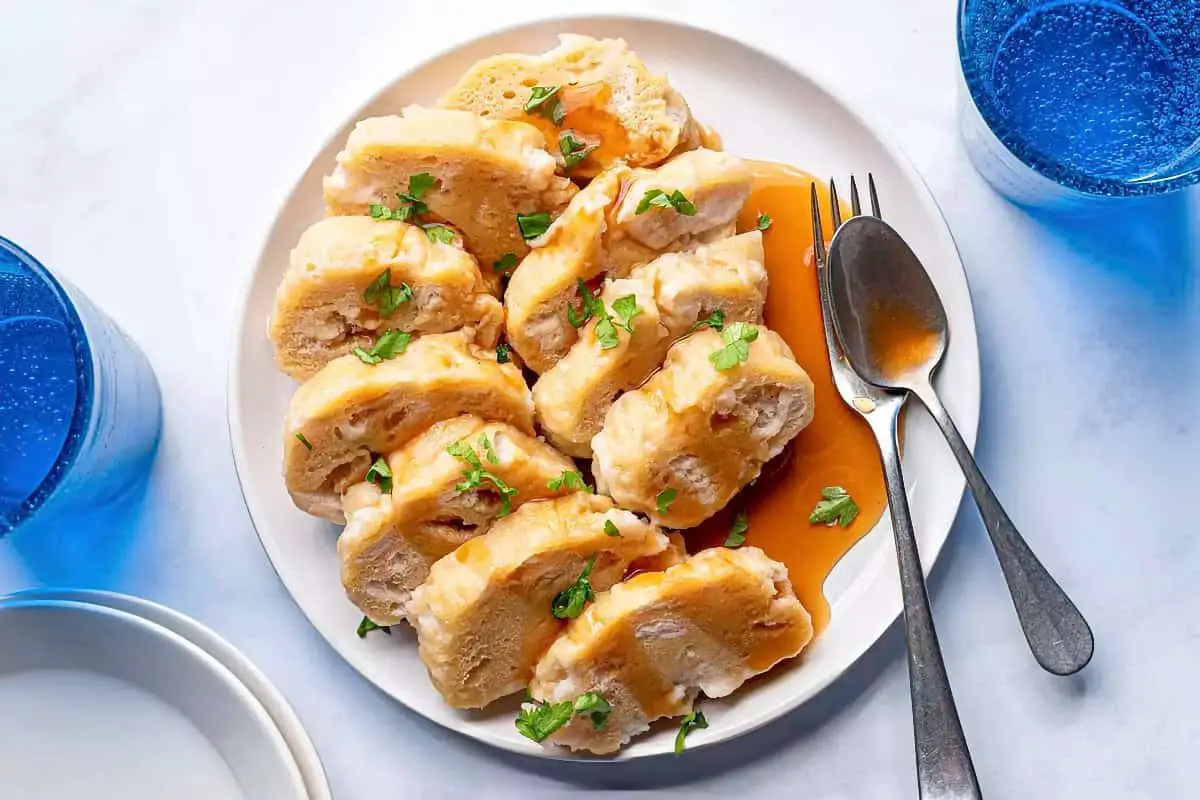 Bread dumplings are staples in the cuisines of Central and Eastern Europe. What started as a way of repurposing stale bread became a full, flavorful dish in itself. Bread dumpling Czech recipes are varied across the region, but in general, they use either flour or stale bread, yeast (or other leavening agents), eggs, salt, and a liquid for binding. And then herbs, dried meats, fat, and other ingredients can be added.
Savory and sweet, dumplings like our Czech recipe for houskový knedlík are now considered part of the Czech national culinary heritage. For such an esteemed dish, Czech bread dumplings are simply made with flour, milk, eggs, and stale bread cubes, which are formed into a loaf or roll.
They are then boiled, sliced, and served. They're perfect for soaking up lots of gravy and are typically served with roasted pork loin, roast pork with sauerkraut, roast goose, roast duck, chicken paprikash, roast beef and dill sauce, and goulash. But a warm dumpling with your favorite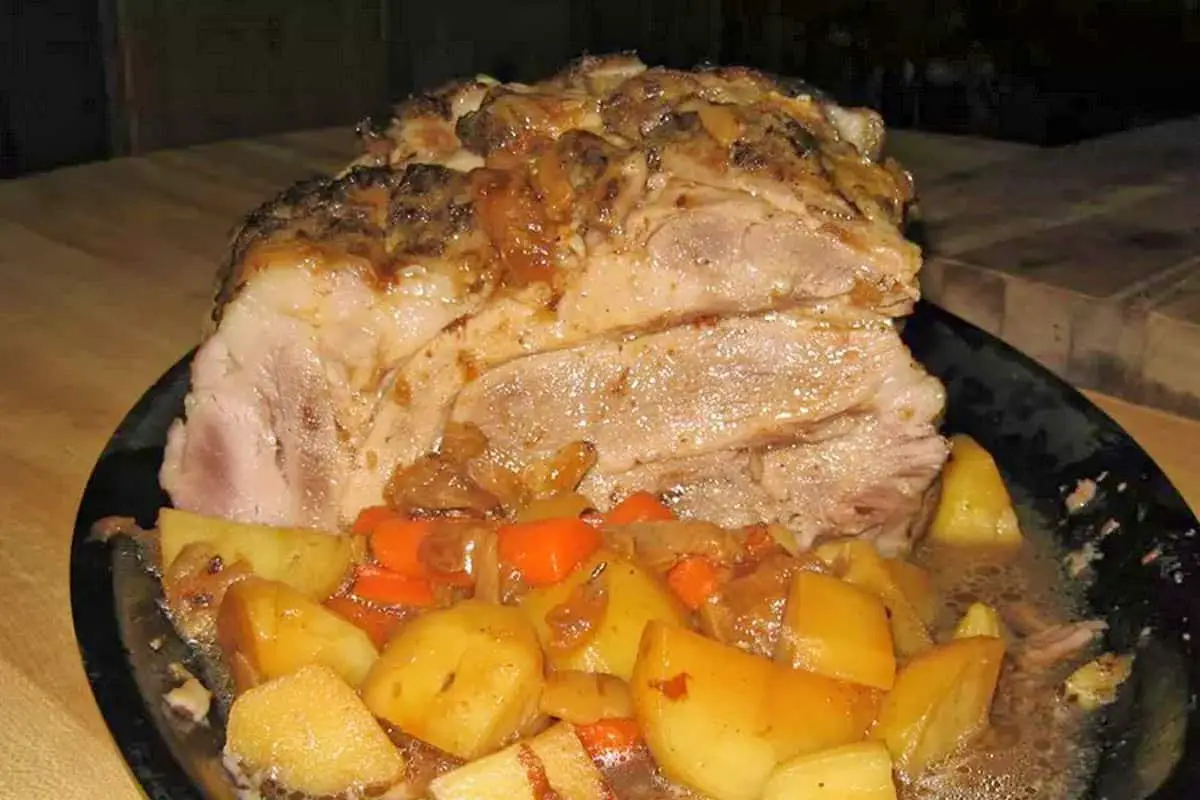 Roast pork (veprova pecene) is a Czech food usually served on Sundays. Be sure to serve it with knedliky zeli (dumpling with sauerkraut) from this site and a nice Czech pilsner. Don't skip the caraway or the beer — they make this Czech food what it is!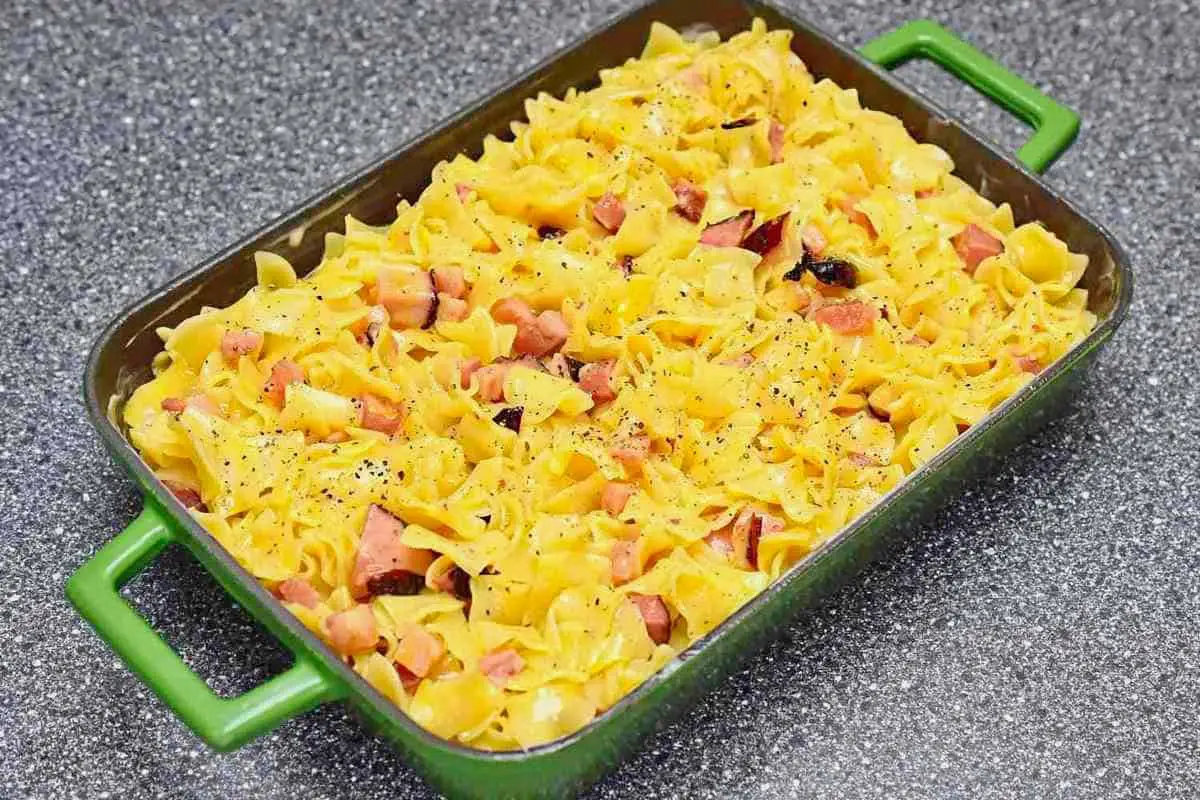 It's time for an egg custard meal you remember mainly from your childhood! Šunkofleky, Czech ham and noodle bake, a tummy-warming blend of pasta with smoked meat and plenty of eggs.
Šunkofleky (plural) is a famous Czech ham noodle casserole Czech food that is very easy to make. They are cooked pasta in a square shape, richly buttered, with diced smoked meat and eggs. The blend is then baked in the oven.
Baked šunkofleky are cut into pieces and can be garnished with parsley sprig. Dill pickles are traditionally served with šunkofleky.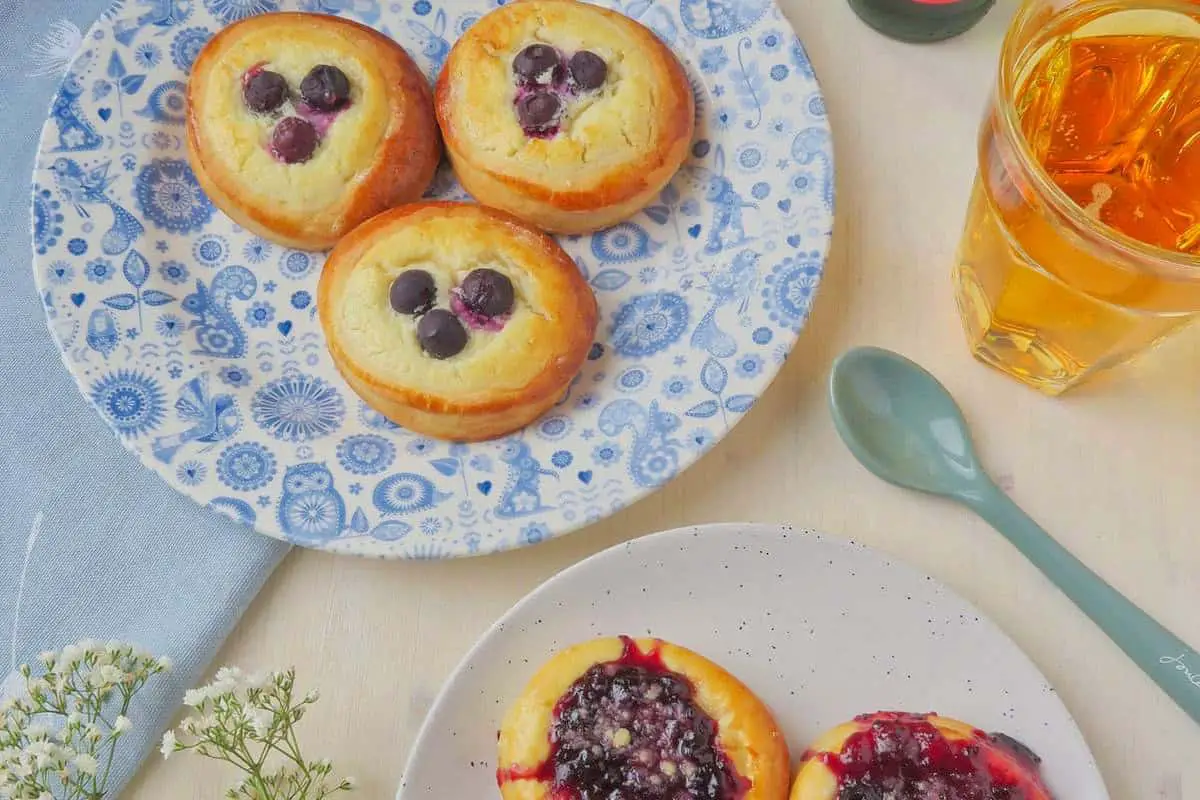 I absolutely love traditional Czech recipes that have been passed from one generation to the next. They truely survive the test of time and you can guarantee they will be absolutely delicious! Czech Kolaches are one such Czech recipe. The base is an enriched dough and they can be filled with a variety of sweet things such as fruit or jam.
They can also be small or large, which is another thing about traditional Czech recipes, every family has a different version. So why not find your favorite! As Czech Kolaches originated as desserts at Czech weddings, their perfect pairing is with a drink of course. Budweiser Budvar lager is brewed in the Czech Republic using 700 year old traditional methods and local ingredients.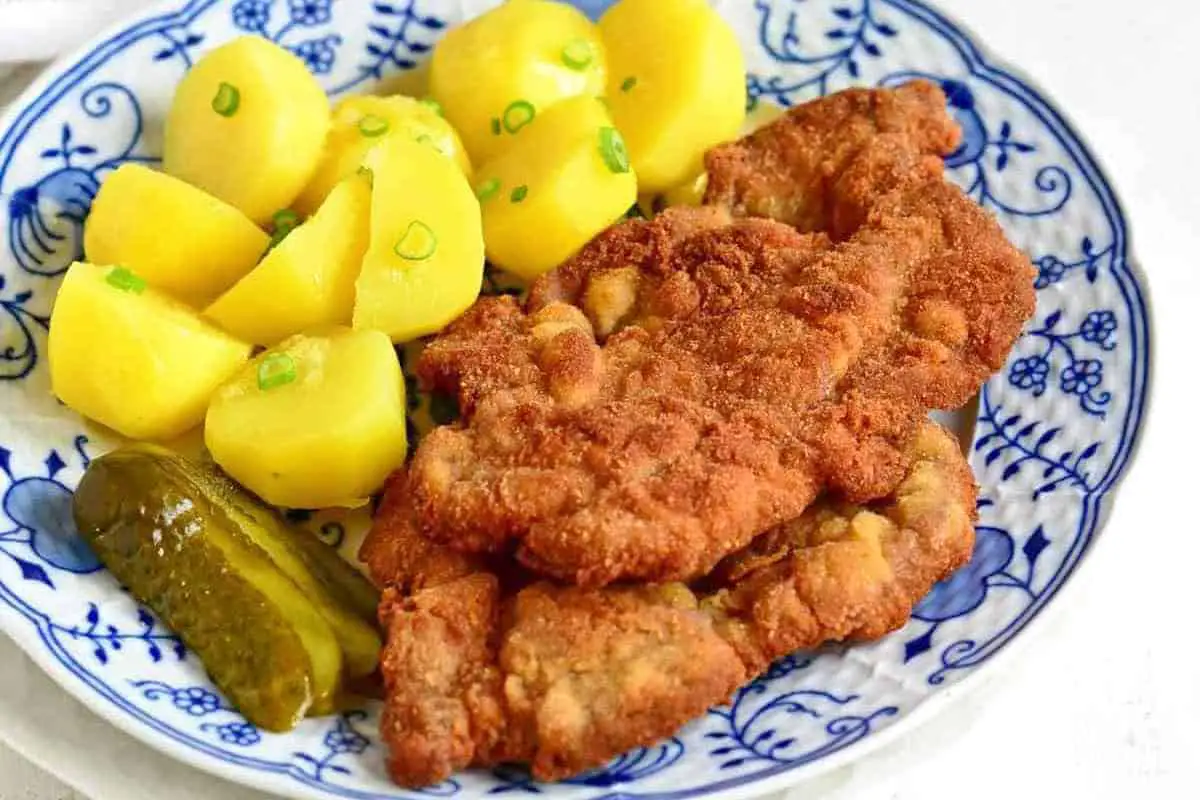 Czechs love řízek, breaded and fried pork Schnitzel. It's a traditional Czech food commonly eaten in restaurants or easily made at home. Řízek in Czech is also known as Schnitzel because of our two neighboring countries, where German is the official language: Germany and Austria.
Vepřový řízek (plural řízky) is a Czech schnitzel, a thin slice of pork, usually about ½-inch thick. It's tenderized, then coated in flour, beaten eggs, and finally in breadcrumbs. Řízek is pan-fried in a generous amount of fat from both sides until golden brown.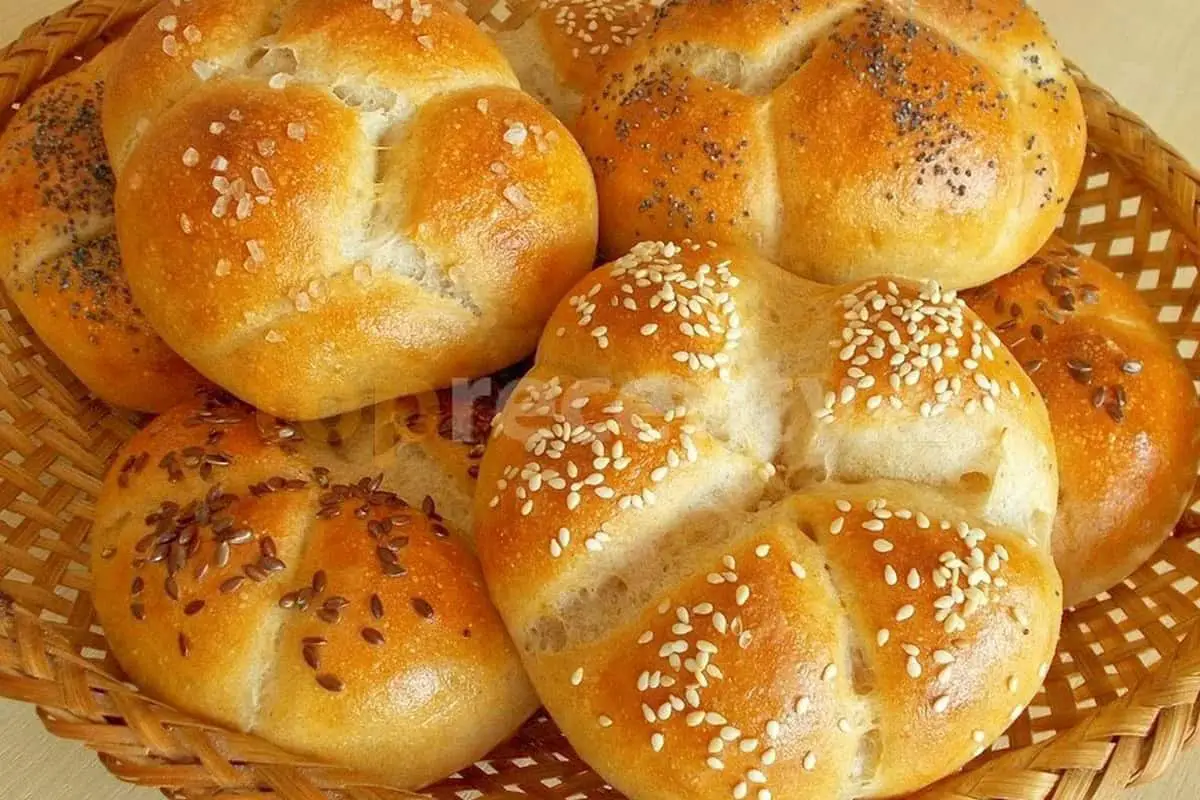 Fragrant crispy pastry… – and what's more? These buns are so good that you'd better make them straight away from a double batch and freeze the baked ones for storage. You can freeze the yeast dough both leavened and unbaked and bake it if necessary.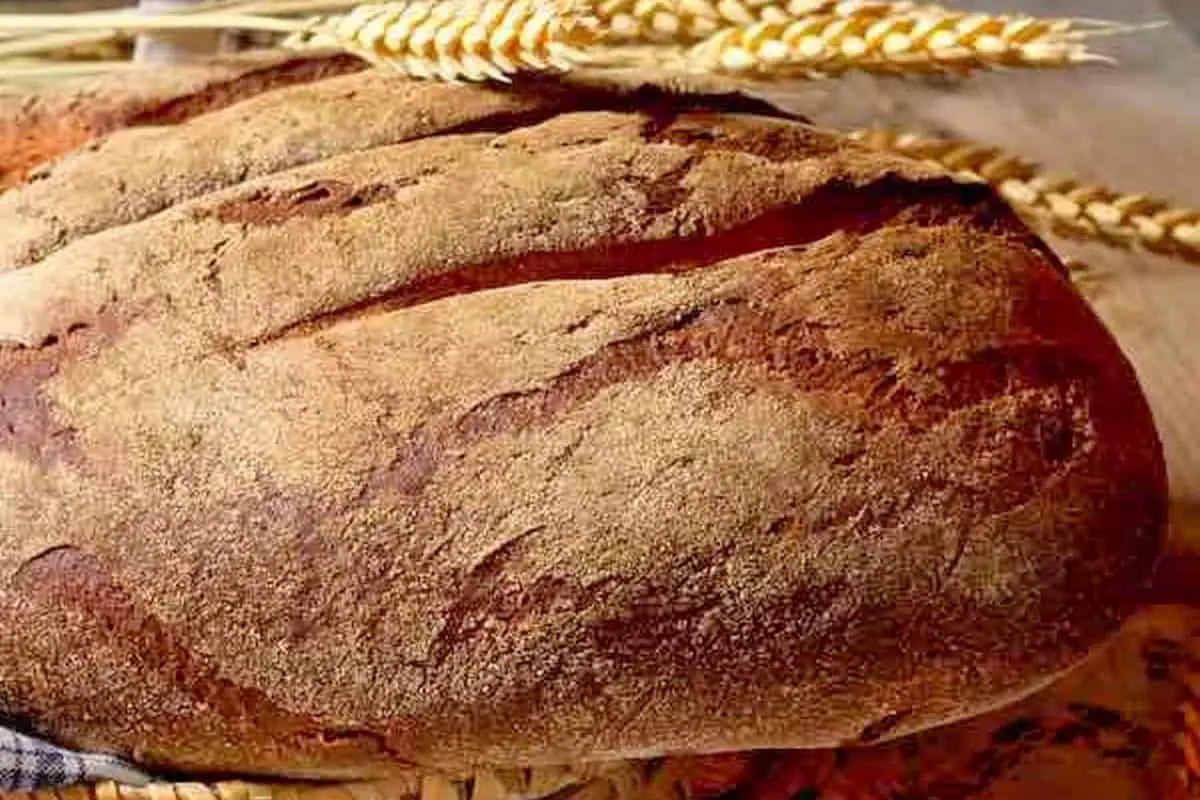 Bohemian bread is one of the pillars of Czech culinary identity.
Like all breads that have ever prepared by man since ancient times, it is a clever mix of simple products. Flour, water, heat and as often with baking, patience and love. The word for "bread", chleb or chleba is similar in all Slavic languages, although from one country to another, the Czech recipes vary. The word is actually not of Czech origin, as it comes from the Germanic word hlaiba found in Estonian or Finnish. It is nevertheless already present in old Slavic.
Vepřo knedlo zelo is the real Czech thing! Pork roast, dumplings, and sauerkraut, you'll find this delicious and comforting Czech food on every traditional Czech restaurant menu. Learn how to make vepřo knedlo zelo from scratch in this detailed Czech recipe!
The dumplings for this Czech food are often flour based, but can include potato and the sauerkraut is added at the end to cool off the Czech food and make it quintessential eastern European!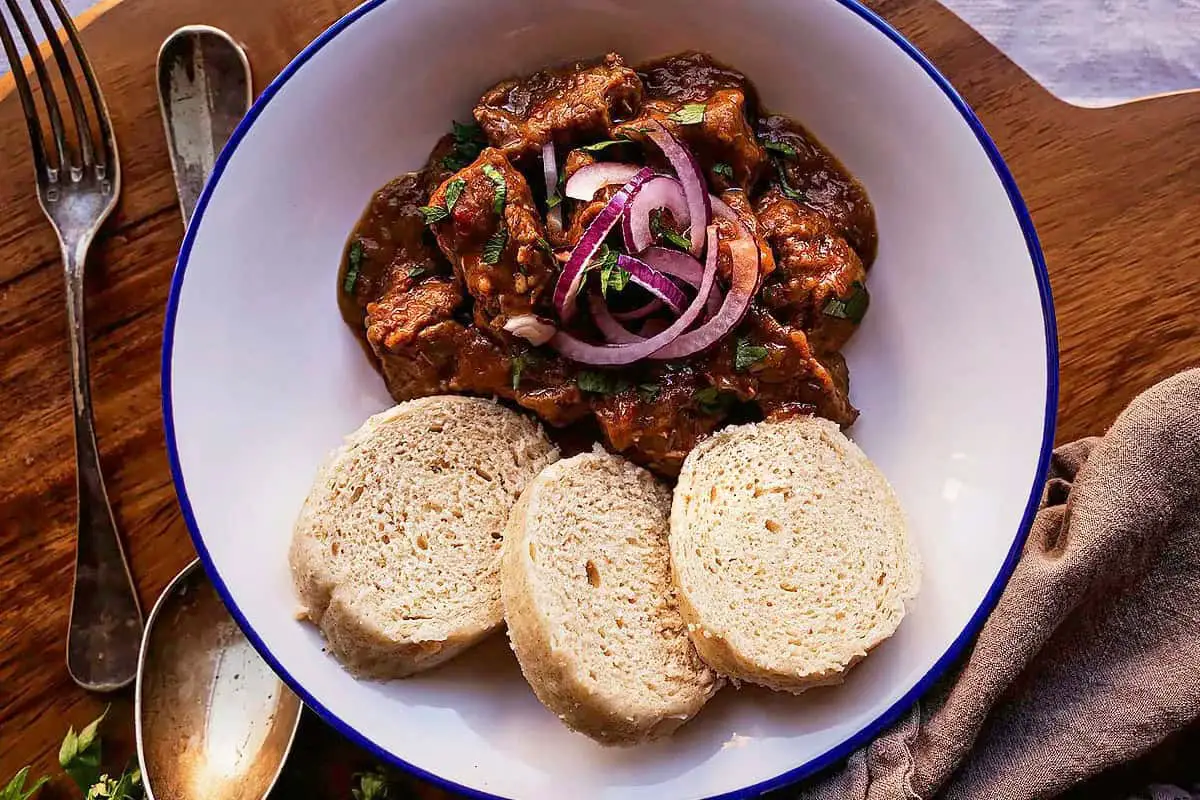 You won't believe it, but I prepared this Goulash and Knedliky Czech recipe last year in September. I took the photos and saved it on the hard drive, along with another bunch of Czech recipes that I have not yet left, to publish it during the winter. But between one thing and another, the good weather arrived, then Christmas and it was not the right time to upload a Czech recipe of this kind.
So I was looking forward to all these dates to be able to share it with you. I also tell you one thing… The wait has been worth it because, since the first time I made it, I have prepared it many times. In fact, at home it is a fixed monthly, it is a preparation that they like very much. This has allowed me to keep trying, changing and modifying details that have considerably improved the final result.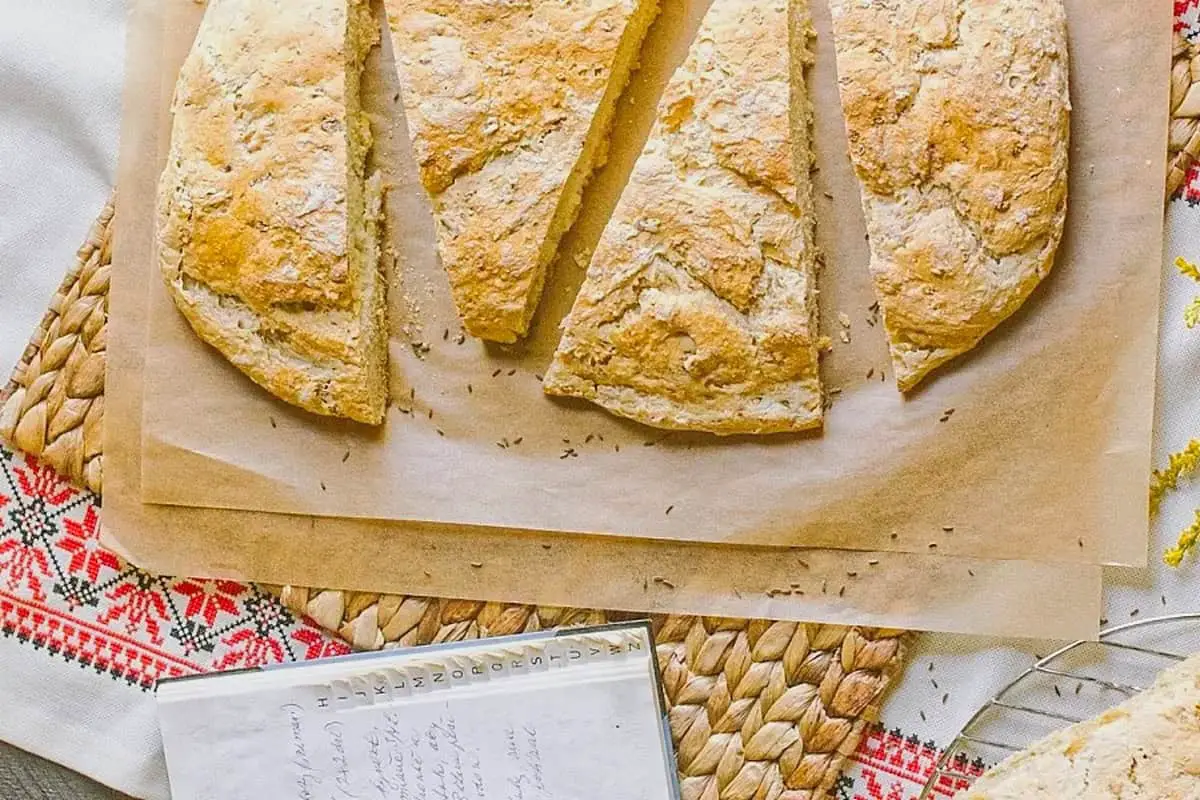 Compared to all the elaborately slashed and decorated loaves trending on Instagram and Pinterest, this bread is as humble as one of its ingredients: the potato. When I removed it from the oven, somewhat flat, a little bumpy, and coated with a soft layer of flour, I wondered if I had failed to follow the Czech recipe.
But shortly thereafter, my family started commenting on its delicious smell and the kitchen filled with my kids requesting a slice. The entire exterior – top, bottom, and sides – was crunchy and a tap on the bottom of the bread made a satisfying hollow sound. And truly, when I cut into the bread, revealing specks of potato and those tempting caraway seeds, my confidence grew.
It wasn't until the next day, when I sampled the bread with meats, cheeses, butter and jam, baked brie and roasted grapes, that I realized this was truly the perfect bread to pair with a charcuterie board.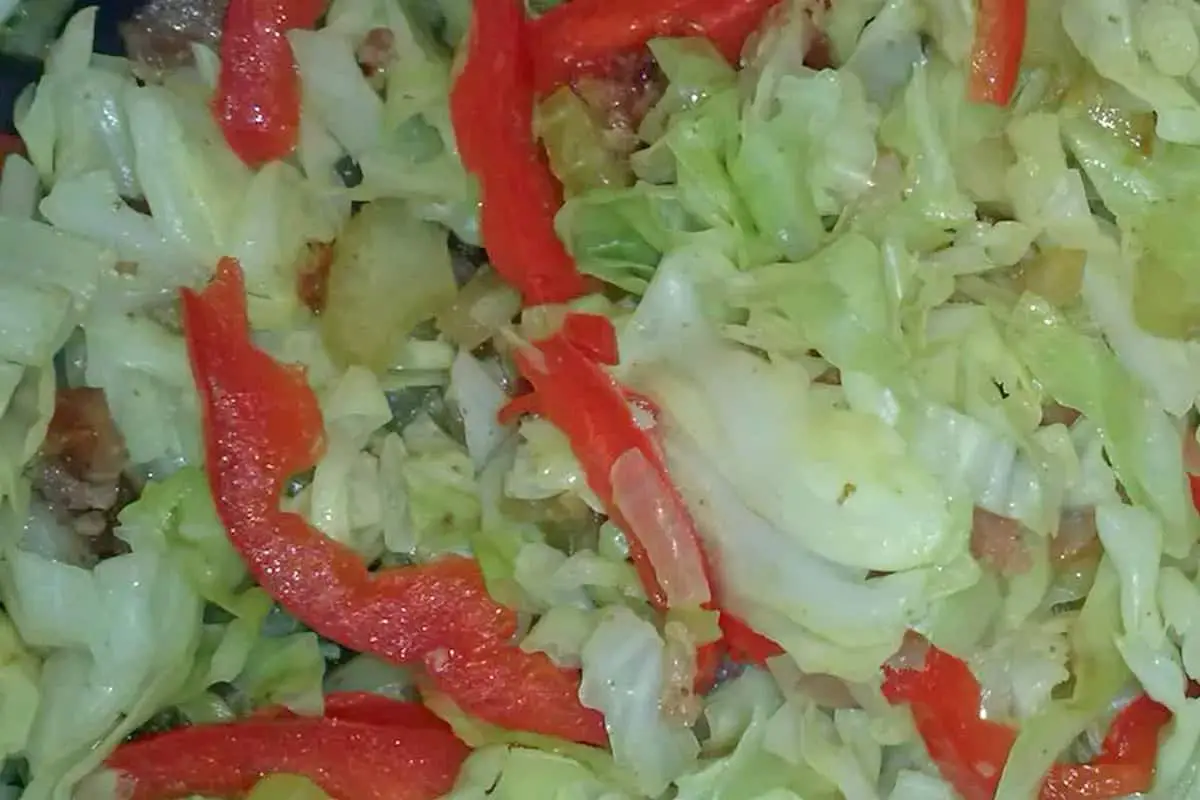 I can only attempt to spell the real name of this Czech food; Cabushka or something like that! My mother's father was from Czechoslovakia, and he has three sisters who are excellent cooks. I have learned to cook this Czech food quite happily. At our last reunion, there were three separate bowls with different versions of this same Czech food; they were all scraped clean!
Hovězí guláš (beef stew or goulash) is undoubtedly one of the famous Czech food recipes everybody should try when visiting the Czech Republic. Slow-braised and seasoned right, this goulash is characterized by rich and hearty color, aromatic flavor, and insanely delicious taste.
Czech beef goulash comprises big chunks of beef meat in a thick onion-based gravy. It's served with bread dumplings or fresh bread garnished with onions and a piece of green parsley or other greens.
Together with Svickova or Rajska tomato sauce, the goulash is a staple of Czech cuisine.
There are many goulash Czech recipe varieties all around central Europe: Hungarian, German, or Slovak. Each country uses a few different ingredients. I learned this traditional Czechoslovakian goulash recipe from my parents when Czechs and Slovaks lived in one country.
---
You May Want to Join Our Boondocking Group on Facebook For More Information
You May Want to Join Our Campfire Recipes Group on Facebook For More Information
Discover our unique product testing journey at Our Big Escape. We bring real-world experiences and adventures into every review, ensuring authenticity and reliability. Dive into our process at
How We Test Products: A Journey of Discovery and Trust
, where every product is an adventure tested.