Last updated on September 27th, 2023 at 12:33 am
Delicious, aromatic, and full of flavor – Mongolian cuisine is a treat for the senses. From the iconic Buuz dumplings to the mouth-watering Khuushuur deep-fried pastry pockets, Mongolian food will tantalise your taste buds and take your culinary experiences to the next level. With the right ingredients and Mongolian recipes, you can make the most famous Mongolia foods right in your own kitchen.
In this article, we will explore the unique flavors, ingredients and origins of Mongolian cuisine, and teach you how to make hearty and traditional Mongolia recipes like Buuz and Khuushuur. So, whet your appetite and get ready – it's time to take a delicious journey through the diverse world of Mongolian food!
Mongolian Recipes
Dining in Mongolia is unlike any other experience in the world – and it's time to get in the kitchen and bring its unique flavors right to your home! Mongolian cuisine is full of richness and zest, perfect for those who love to experiment with new ingredients and cooking techniques. With this article, you'll get the inside scoop on traditional Mongolian recipes – from flavor-packed soups to delectable desserts.
After all, who wouldn't love the chance to sample some of the best Mongolia foods from the Mongolian culture at home? Be prepared to tantalize your taste buds, as you explore and learn about classic Mongolia recipes is like Buuz (steamed dumplings), Khuushuur (deep-fried pastry) and Tsuivan (noodle soup). By the end of the article, you'll be a master of the Mongolian culinary arts!
Mongolian Culture
Do you wonder what it's like to experience life in a culture vastly different from your own? Step inside the unique and fascinating world of Mongolian culture. From nomadic traditions to the modern-day lifestyle, learn all about the customs and practices of Mongolia's people. We'll explore the special cuisines, the cultural events, the history, and even the language that has endured since the era of Genghis Khan.
You'll be surprised to learn how some of the most ancient and traditional beliefs still thrive in Mongolian society today. Join us as we discover the many facets of this colorful culture – a combination of the old and the new – that has become the heart and soul of the nation.
---
Want more ideas to round-out your Recipe Box?
A lot of great options are in these posts!
---
Rich & Easy Mongolian Recipes For Your Kitchen
---
---
check out our video
---
---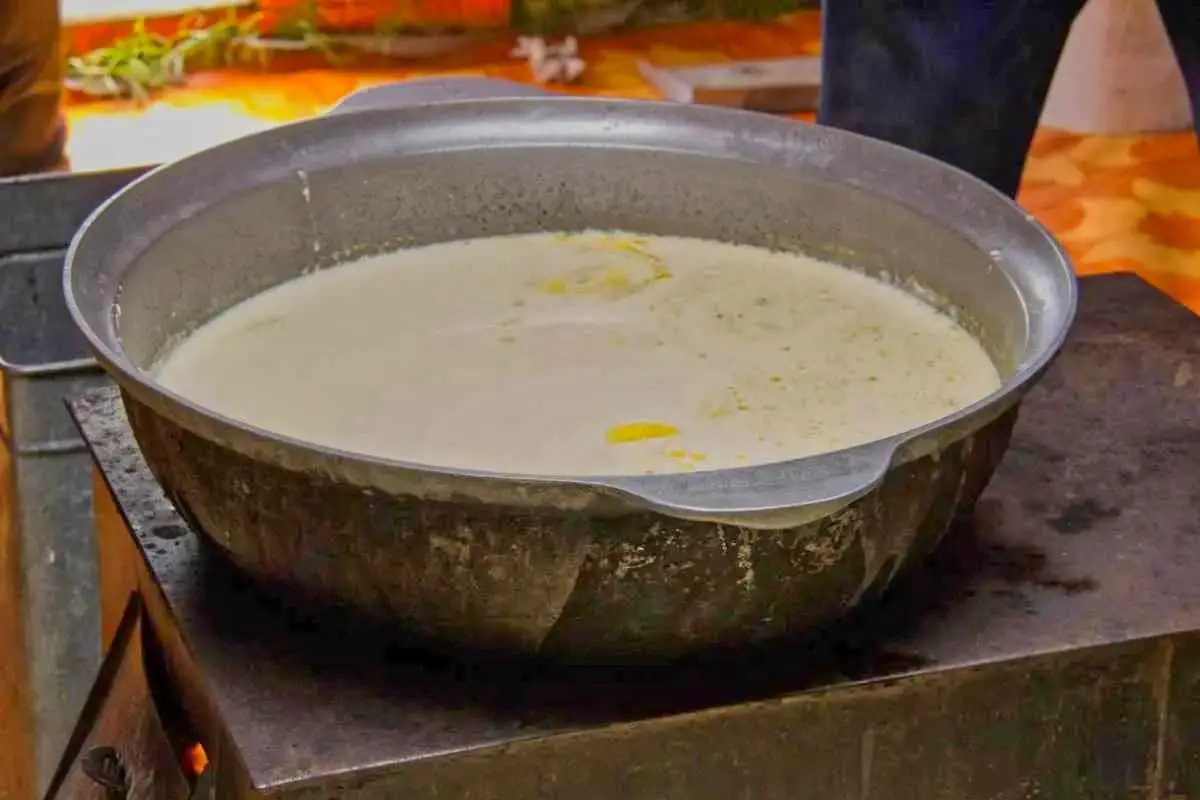 Also known as kumis, Airag, also known as Kumis, is essentially fermented mare's milk and is the national beverage of Mongolia.
A combination of lactic acid bacteria and yeast leads to the process of fermentation of the milk. Airag is useful in treating severe illnesses related to the heart, lungs, and stomach. It is rich in Vitamin C and D, which in turn helps build a stronger immune system.
Airag is only available during the summer months in Mongolia, starting from July until late September.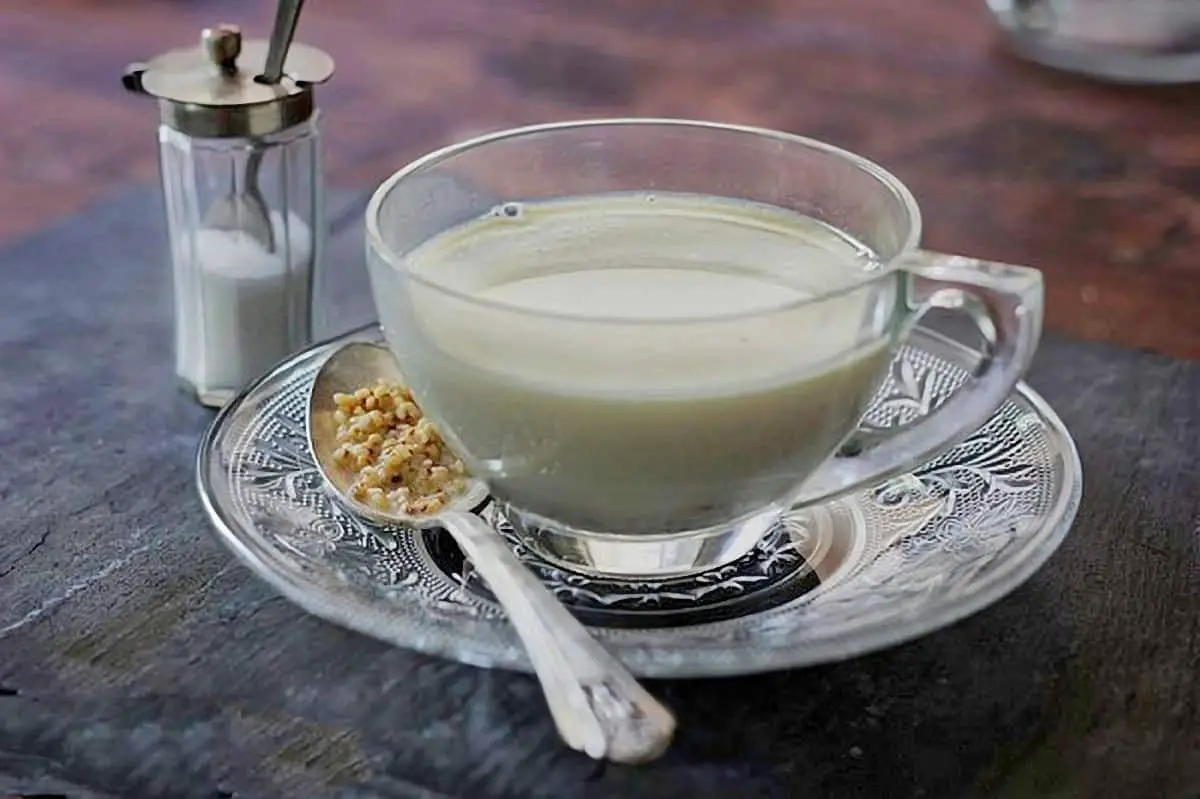 If tea time in your home means sweet, sugary cups of deliciousness, think again. This week we're sipping on salty, milky green tea cooked with buttery toasted millet. This is one of the more elaborate versions of Suutei Tsai – a famous Mongolian drink enjoyed out on the cold steppes.
Each sip tastes of milk and salt and cereal – but the drink also has a remarkable drying effect in the mouth, thanks to a healthy dose of naturally astringent green tea.
This is absolutely the strangest tea I have ever sipped.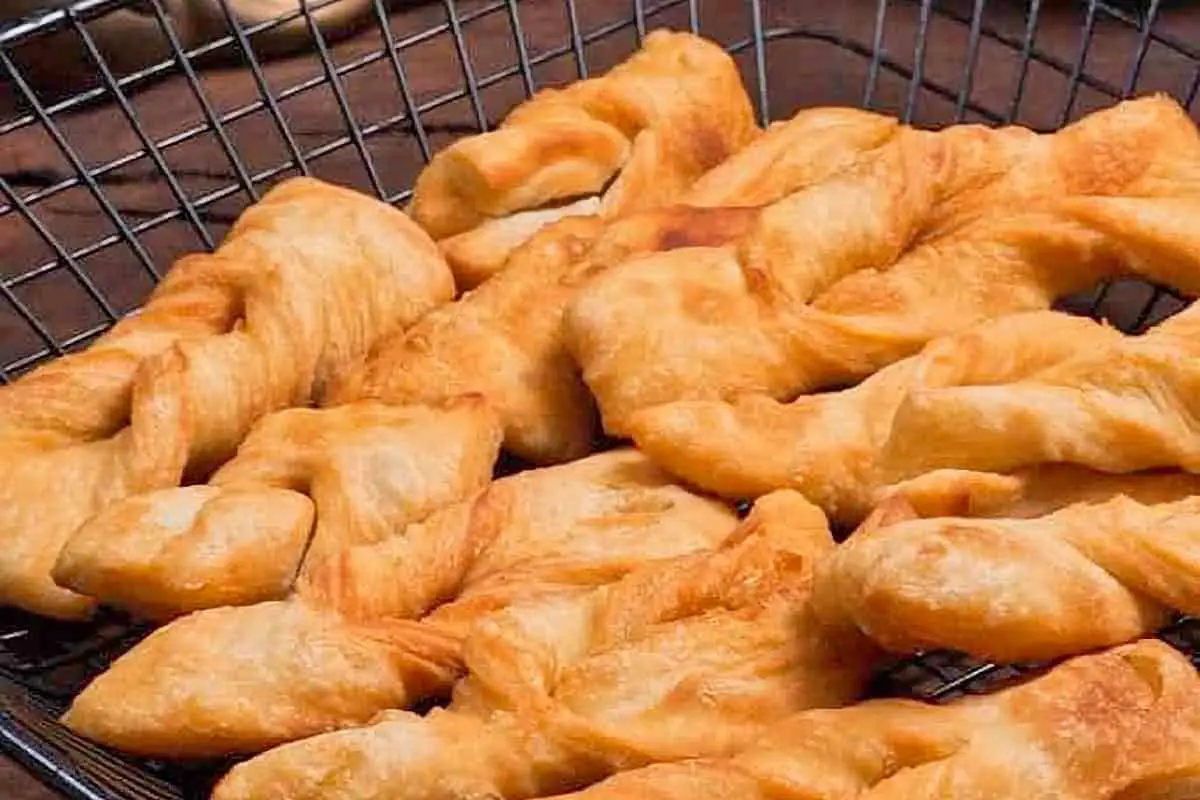 Mongolian butter cookies called boortsog are really scrumptious treats, they are really more like fried dough than cookies. We enjoyed them straight from the fryer dipped in our Mongolian tea to end our meal. The leftovers were actually really good with tea the next day but you may not have any leftovers, they are that good hot! They can be served with honey, butter or even cheese. Another quick and easy Mongolian recipe, thanks Mongolia!
The Mongolian recipe I am posting today is probably one of the weirdest since the beginning of our adventure.
We're going to Mongolia for an authentic Mongolian barbecue called khorkhog or xорхог in native language. Real Mongolian barbecue has nothing to do with the Taiwanese invention from the 1950s.
Which brings us to real Mongolian barbecue (AOC), the one I propose you to discover. Khorkhog is a Mongolian recipe created by nomads which is not really available in cities. Khorkhog is a Mongolia food that is never served in restaurants, even in Ulaanbaatar. What is special about this Mongolia food is that it is cooked with… stones! Yes, and you can imagine that this was a first for me.
I'm not talking about cooking on stones or coal, or cooked in a stone oven, but cooking with stones.
Mongolians traditionally use a milk jug to cook their khorkhog. The metal container is large enough and allows cooking under enough pressure to create steam. I personally used a pressure cooker that I have not pressurized. It was the first time I used my pressure cooker on my barbecue and I scared my whole family with this handmade bomb.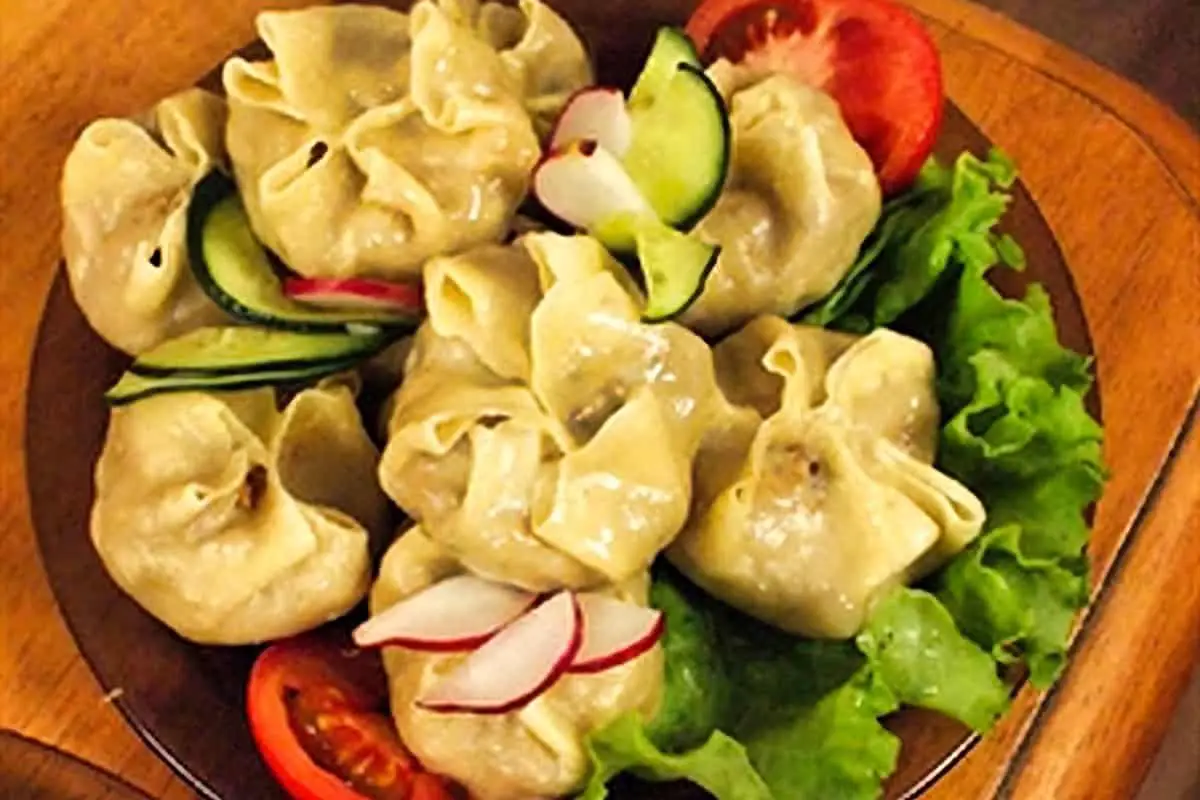 Bansh are Mongolian dumplings that are sealed tightly, then boiled in water with a pinch of salt. The dough is typically made with wheat flour, water, and salt, while the filling consists of ground beef or mutton, garlic, onions, herbs, and spices.
You've probably heard about Chinese dumplings and how much flavor they pack. There is a localized variety of dumplings in Mongolia. The dough for Mongolian dumplings is made in a different way. Mongolian dumplings, in contrast to their Chinese counterparts, are typically made with a sturdy dough.
Dumplings, a specialty of Mongolia, are a staple on every Mongolian table, especially during festive times like the Lunar New Year or when guests are in town. You can boil, steam, or fry these dumplings, and the meat inside is typically beef or mutton.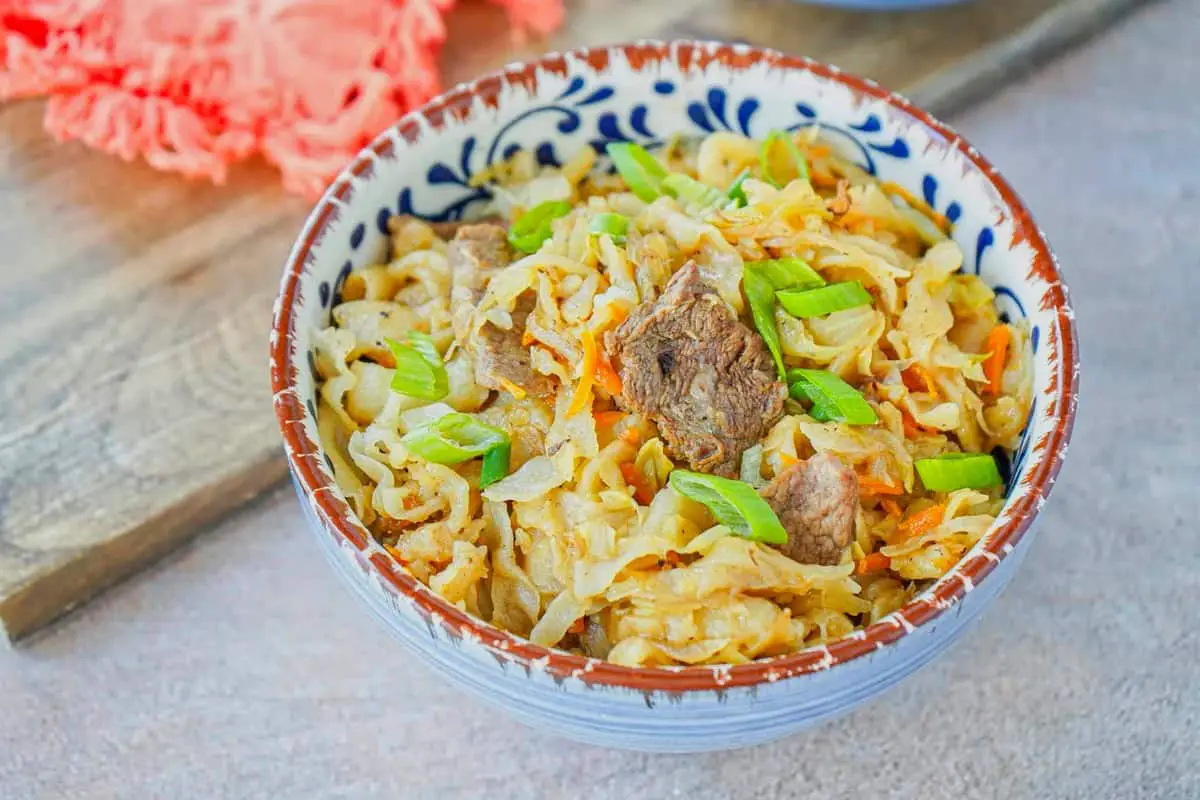 A Mongolian recipe for Tsuivan (Mongolian Noodles with Meat and Vegetables)! Handmade noodles are steamed over a bed of stir-fried meat and vegetables for a flavorful one-pot meal. I first came across Tsuivan (цуйван) at a local Mongolian restaurant- Nadima's Sushi & Mongolian Express here in Torrance, California (unfortunately now closed).
Every single thing I have tried has been so good- from the Buuz (steamed dumplings) to the Khuushuur (хуушууp, deep-fried stuffed flatbread with meat), but Tsuivan continues to be a family favorite.
While looking up how to make the Mongolia recipe at home, I was immediately drawn to the cooking style. The noodles are first formed by hand, then everything is cooked in one pot! No need to separately boil the noodles first.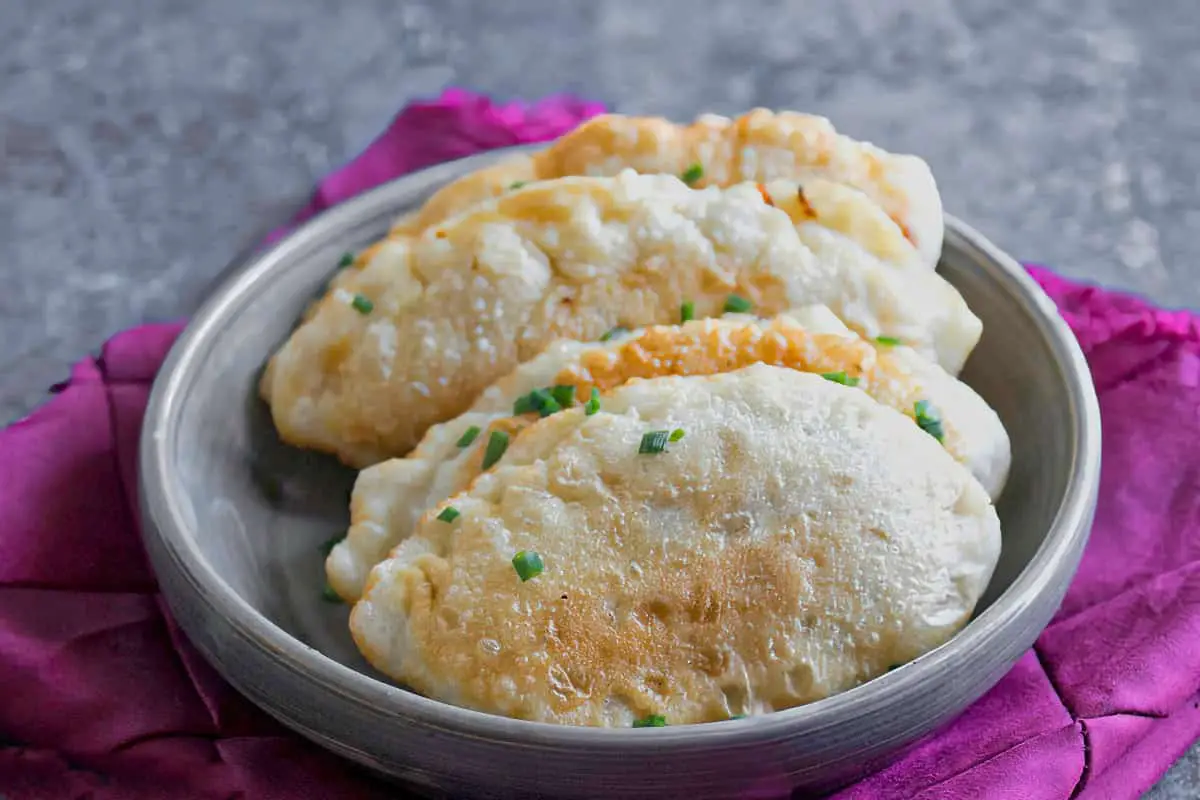 My neighbor and friend Oyuka is originally from Mongolia and naturally I asked her to share some of her Mongolian recipes with me. I was surprised to learn that Mongolian cuisine is actually heavily influenced by Russian food due Mongolia's close proximity to Russia. I searched for Mongolian food online and found a picture of Mongolian Meat Pockets (Khuushuur).
Khuushuur is a type of fried meat dumpling and I knew if would be delicious. I asked Oyuka if she knew how to make them and she sent me a picture of the ones she had just prepared for her family. It turns out that this Mongolian food is not only super tasty, it also travels well and is eaten out of hand.
Oyuka came over and helped me to prepare them. She very patiently showed me how to shape the patties. I can promise you hers were a lot prettier than mine but as long as the pockets remain closed, it doesn't really matter. I will definitely be making these again.
This is a popular soup in northern China. Cooking goes quickly, so you'll want to prep all the ingredients first. Simmering the soba noodles in the broth helps thicken the soup. For Chinese New Year this year, I plan on preparing a Mongolia food from my aunt Florence's cookbook, Cooking with Fire Pots: Mongolian Hot Pot.
You can make a basic Mongolian hot pot with thinly sliced lamb, cellophane noodles (also known as mung bean or glass noodles), tofu, and some leafy green Chinese vegetables. Made with roasted sesame paste (or peanut butter), soy sauce, sesame oil, sherry, vinegar, sugar, and spicy red chili oil, the dipping sauce is savory and robust.
Meats that have been thinly sliced for hot pot can be found in the frozen section of most Asian supermarkets. Asia is home to a wide variety of hot pot cuisines, including the Japanese Shabu Shabu and Sukiyaki, as well as the Korean hot pot. H Mart, a Korean supermarket, was where I found pre-sliced lamb, but I've also seen it at the local Japanese and Chinese markets.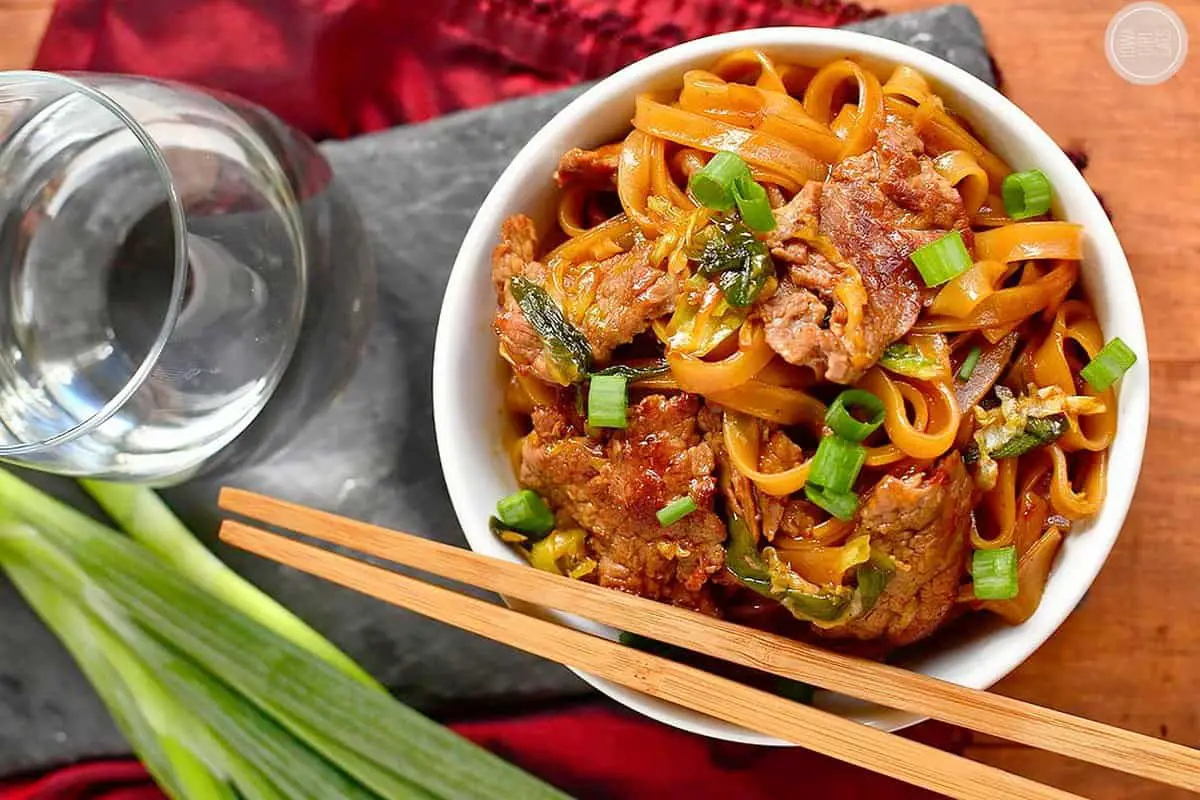 Gluten-Free Mongolian Beef Noodle Bowls taste just like the popular take out food but swap rice for chewy rice noodles instead! Slurp Mongolian Beef Noodle Bowls, aka my most favorite take-out fake-out dish of. all. time!
Since developing my Asian Noodle Bowl recipe a couple months ago I've made them at least a half dozen times which is…a lot of Asian Noodle Bowls. Especially for Ben who isn't a huge fan of repeating recipes all that often.
The noodle bowls are something I truly crave on the regular but to give poor Ben a break I decided to give them a spin to match the flavors of one of our all time favorite take-out dishes – Mongolian Beef…and then proceed to make it like five nights in a row. My bad!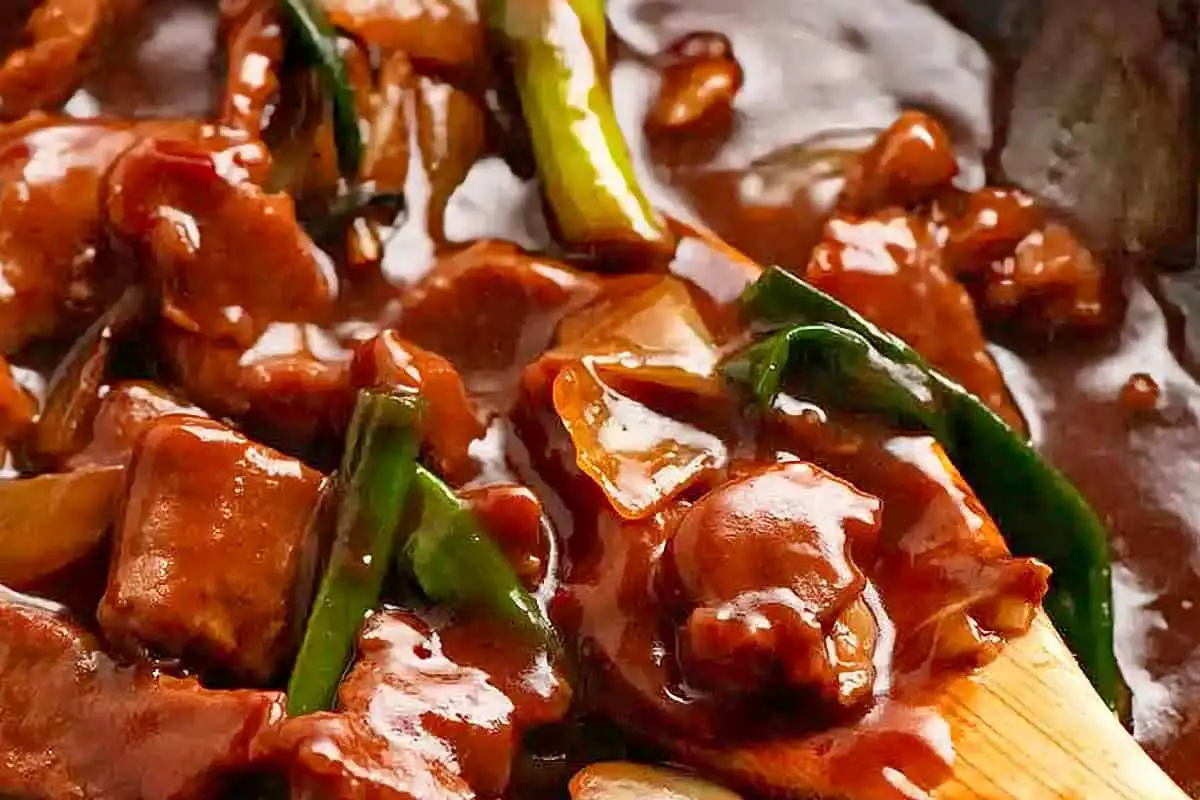 Mongolian Lamb is an Aussie favorite, found on the menu of every suburban Chinese restaurant. At "posher" establishments, it might even arrive at the table on a hot iron plate, sizzling and spitting for theatric effect!
Sizzle aside, this homemade version is a near perfect replica. Even the velveted texture of the lamb! Mongolian Lamb is a Chinese stir fry that's made with tenderized, marinated strips of lamb in a dark sweet-savory sauce perfumed with Chinese Five Spice.
It's not an authentic Chinese dish, and almost certainly has nothing to do with Mongolia. The truth is nobody really knows why it's called Mongolian Lamb. But it's a Chinese-Australian takeaway classic nonetheless that every Aussie knows and loves!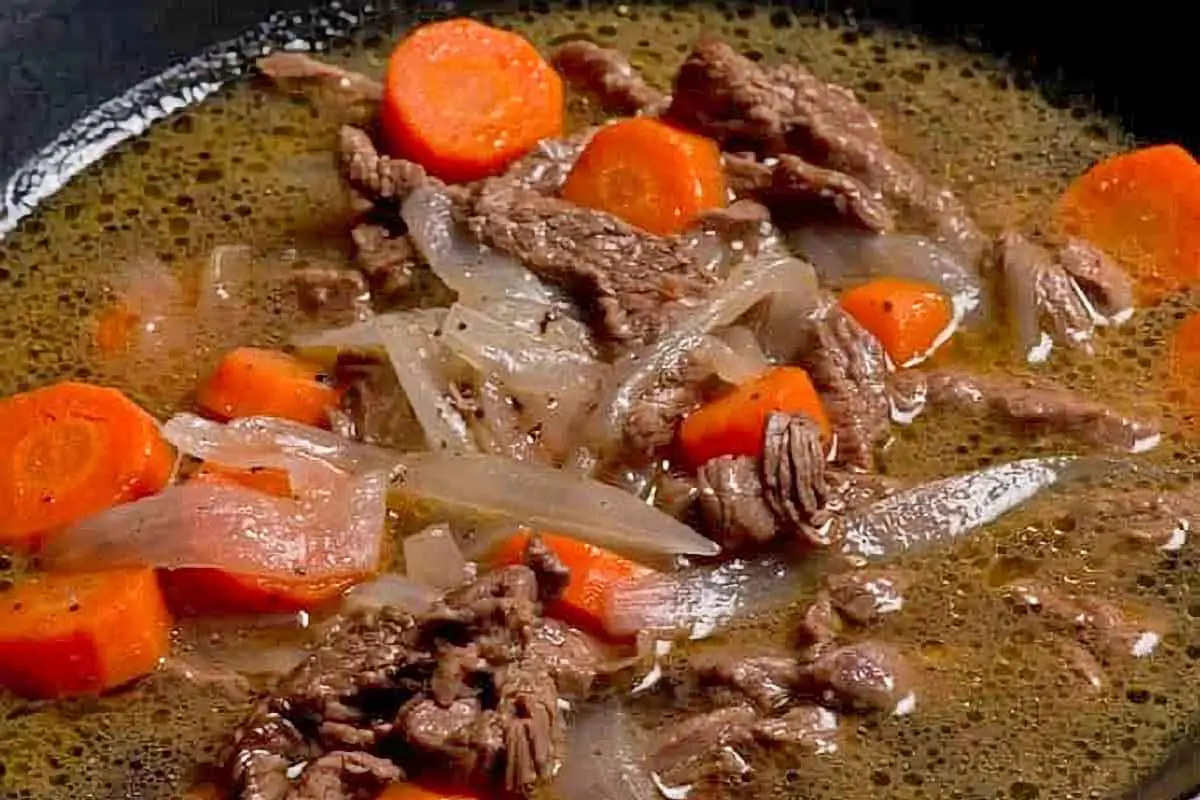 Mongolian soup called Guriltai shul is a meat based soup that gets its flavor from the meat and a few vegetables. The soup is topped with tasalsan Guril or fried noodles which adds a great texture to the soup. When I come across these Mongolian recipes that are so basic, I wonder what is the point and then I eat it and totally get the point. It is simple, easy to make and absolutely delicious!
Vegetables are not easy to come by in Mongolia however this Mongolian recipe calls for onions and carrots. I am sure this is a treasured comfort Mongolian food in the cold winter months in Mongolia. Just imagine yourself in a yurt in the midst of alpine meadows and snow capped peaks!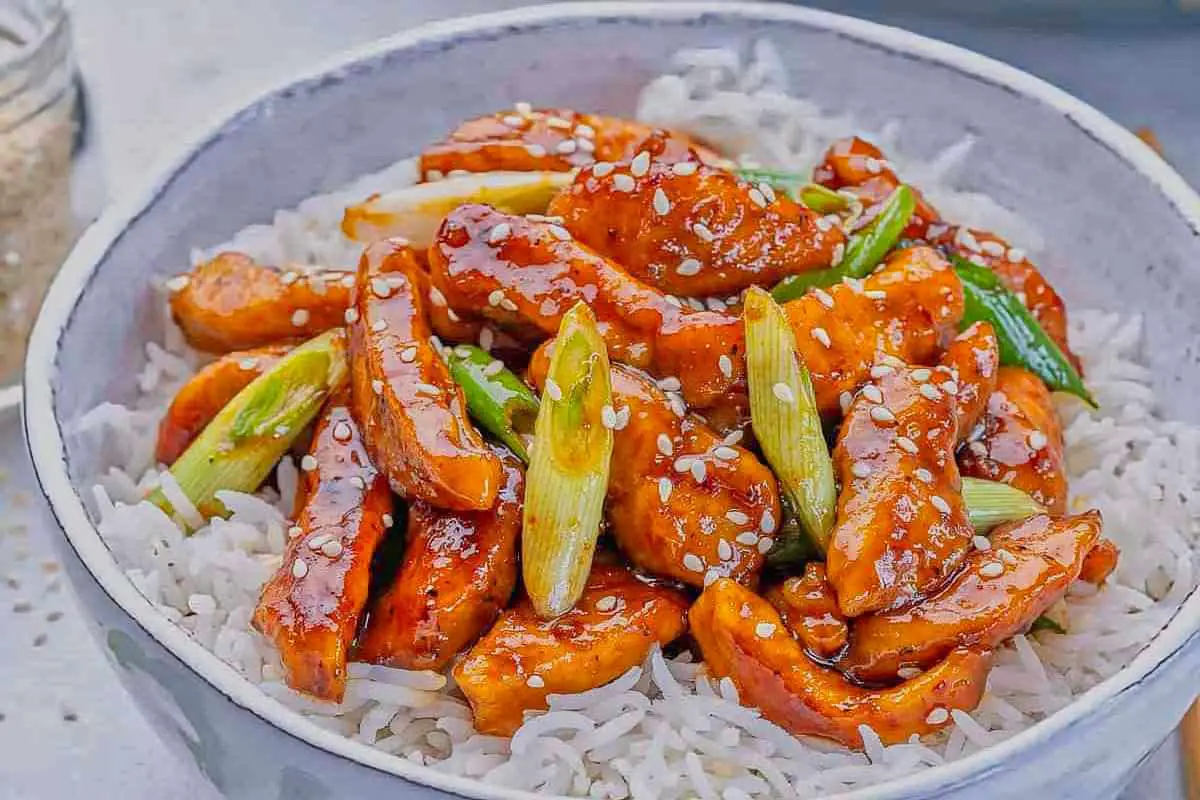 Enjoy this Mongolian Chicken Recipe for lunch or dinner any day of the week. Tender and juicy chicken cooked in a sweet and savory sauce that's healthier than the traditional take-out Chinese chicken recipe.
This healthy Mongolian recipe for Chicken is the perfect way to add more easy chicken recipes to your weeknight dinner menus. Change it up with some juicy, sweet, and savory chicken instead of the same bland chicken dinners you are comfortable cooking. This Mongolian chicken is made healthier, full of flavor, easy to make, and ready in just under 30 minutes. The kids will love it and they are great for meal prepping. Feel free to add some veggies like green beans or broccoli to this Chinese chicken.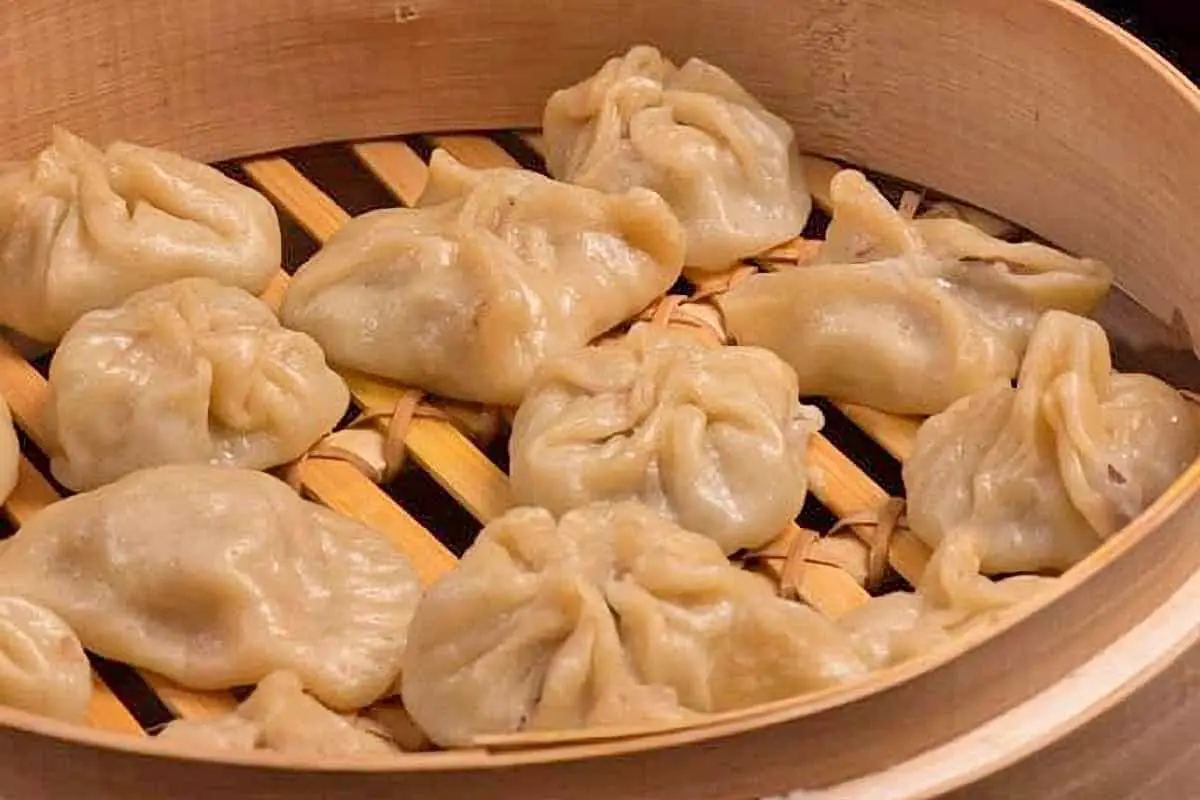 Mongolian Buuz are the national Mongolia food. They are small steamed dumplings that are filled with typically mutton or beef. They are often times served as a meal on their own but for our International Cuisine meal we had them as a starter. Two other Mongolia recipes are made with the same ingredients, the only difference is the size and shape. They are called Khuushuur and Bansh
The shape of Buzz is typically round with a hole at the top for steam to escape. I made these in three different shapes, they were all equally good. In Mongolia the shape of the Buuz is their prideful signature. They are served with ketchup. Please note that when I made the dough, I reserved about 1/4 to make the fried noodles to go with the meat soup.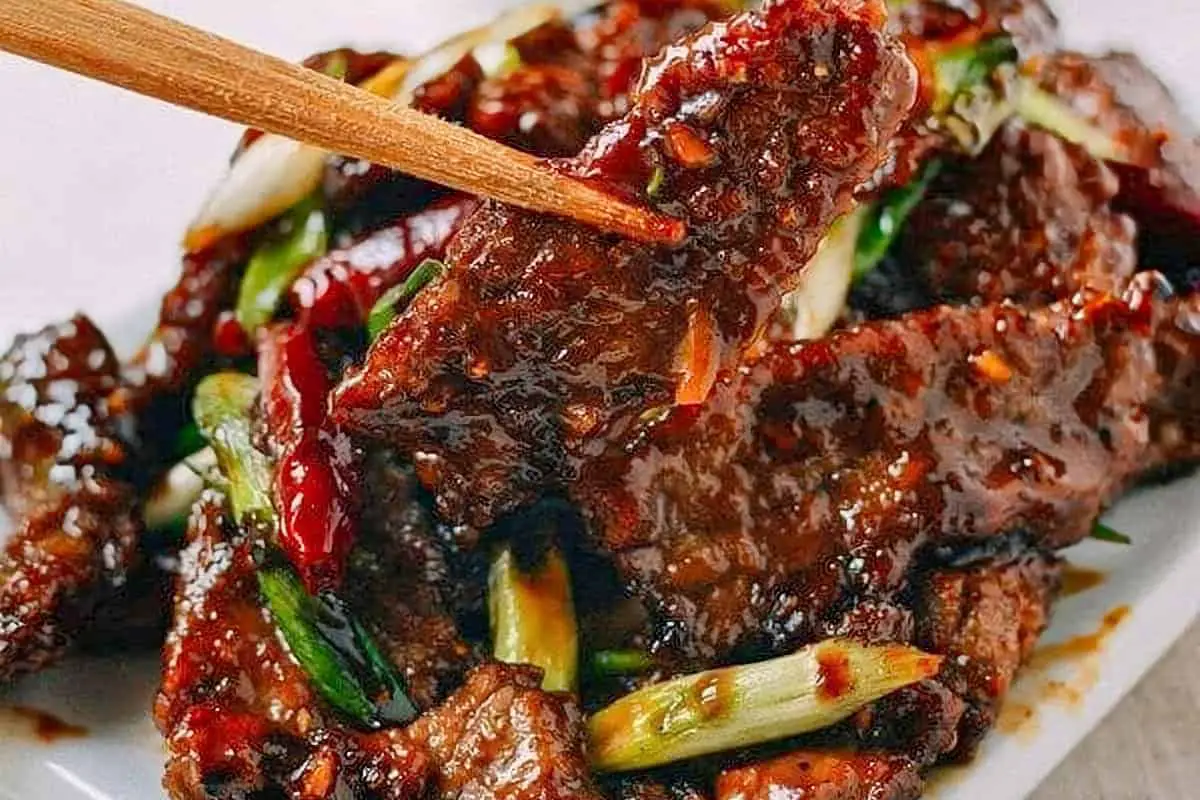 First. What exactly are the origins of Mongolian Beef? Because it's definitely not Mongolian…In fact, in Mongolia, more often than not, home cooks simply boil meat and dip it in sauces. Not exactly a stir-fry.
P.F. Chang's version of this Mongolia food is probably the most well-known, but, personally, I think their Mongolia recipe is way too sweet, and it's definitely too sweet for Judy (which is saying something, since she comes from Shanghai, where sweet-savory dishes are often the main event).
In fact, when Judy found out I was going to make a Mongolian recipe, the exclamations were strong and immediate: "Too sweet! Too oily! No good! You're crazy!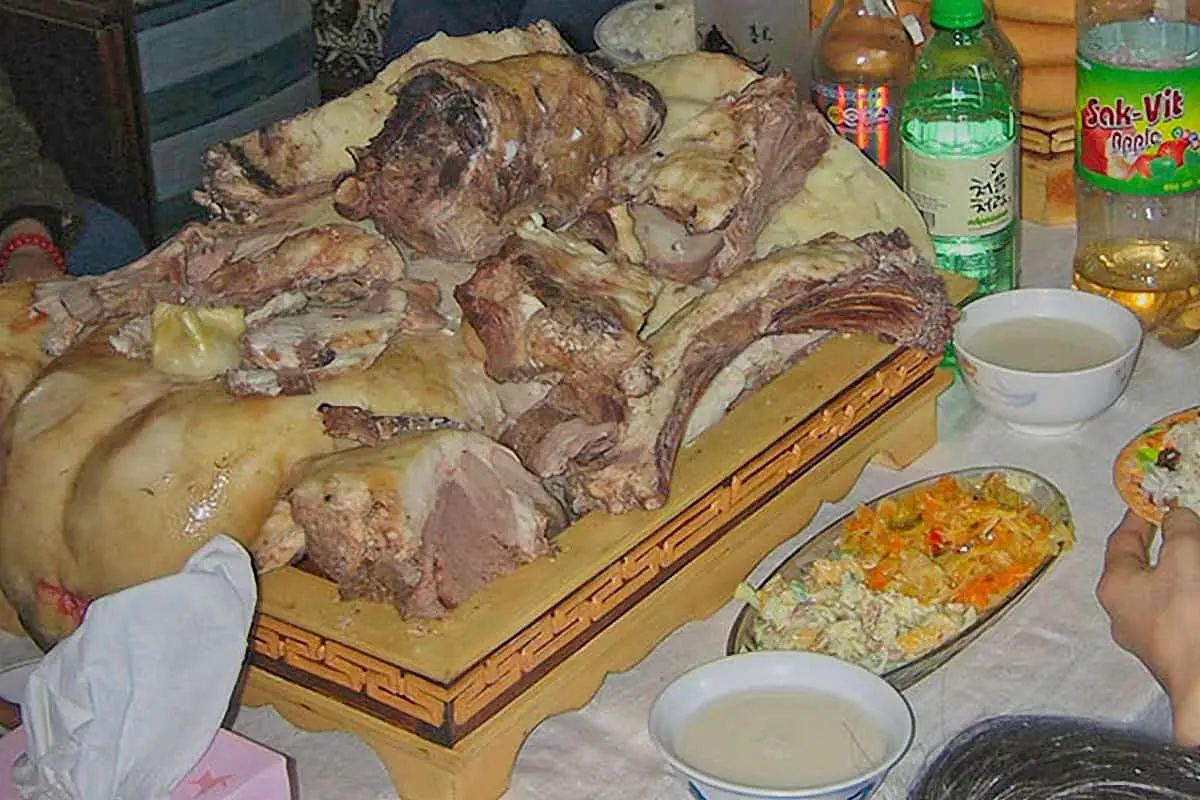 Mutton Back, stewed in one piece.
A well fed sheep will collect a large amount of fat in the lower back and in the tail as an energy reserve, as is easily recognizable as a "fat bottom" on the animal. This fat is the core component of the speciality described here. A mutton back is only prepared for special occasions, such as the new year's festival "Tsagaan Sar" or a wedding.
---
You May Want to Join Our Boondocking Group on Facebook For More Information
You May Want to Join Our Campfire Recipes Group on Facebook For More Information
For More Photos Visit Our Instagram at World Recipes Daily – Our Big Escape
Discover our unique product testing journey at Our Big Escape. We bring real-world experiences and adventures into every review, ensuring authenticity and reliability. Dive into our process at
How We Test Products: A Journey of Discovery and Trust
, where every product is an adventure tested.