The history of South African recipes reflects the country's complicated past, which has seen colonialism, slavery, apartheid, and liberation movements. South African cuisine is a unique blend of flavors and influences from the country's diverse cultural heritage, including indigenous African, Dutch, Malay, Indian, and British.
Before European colonization, South African food was based on a hunter-gatherer culture, with traditional dishes consisting of game meat, fruits, and vegetables. The arrival of Dutch settlers in the 17th century brought about significant changes in the local cuisine. The Dutch introduced farming and livestock, which led to the introduction of South African recipes such as biltong (dried, cured meat), boerewors (sausage), and potjiekos (stew).
The Dutch also brought slaves from Indonesia, Malaysia, and Madagascar, who introduced their own cuisine to South Africa. One of the most significant contributions was the Cape Malay cuisine, which originated from the Cape Muslim community. This South African food is known for its use of spices such as cinnamon, cardamom, and turmeric, as well as the use of fruit in savory dishes.
Indian laborers were also brought to South Africa in the 19th century to work on sugarcane plantations. They brought with them their own foods, which included curries, biryanis, and samoosas. Today, Indian cuisine is an integral part of South African food, and South African recipes such as bunny chow (a hollowed-out bread loaf filled with curry) and breyani (spicy rice dish) are popular across the country.
The arrival of British colonizers in the 19th century also had an impact on South African recipes. British cuisine was introduced, which included dishes such as roast beef, fish and chips, and pudding. However, the British also brought their love of tea, which became a popular beverage in South Africa and is still enjoyed today.
During the apartheid era, South African recipes divided along racial lines. White South Africans continued to eat European-style food, while black South Africans were restricted to traditional African cuisine. However, in the 1970s, black South Africans began to reclaim their cultural heritage through food. Restaurants such as Wandie's Place in Soweto began serving traditional African cuisine, and today, dishes such as pap (a porridge made from maize meal) and chakalaka (a spicy relish) are enjoyed across the country.
Since the end of apartheid in 1994, South African recipe influence has undergone a revival, with chefs blending traditional recipes with modern techniques and international flavors. The South African recipes have become a source of pride, with local ingredients such as rooibos tea, biltong, and boerewors being used in innovative ways.
One example of a modern South African recipe is braai (barbecue), which is a popular social activity in the country. Braai involves grilling meat over an open flame, and the meat is often served with pap, chakalaka, and a tomato and onion relish known as sous.
South African recipes are a melting pot of flavors and influences from different cultures, reflecting the country's complex history. Traditional South African recipes coexist with Dutch, Malay, Indian, and British-inspired cuisine, and modern South African chefs are blending these influences with innovative techniques and international flavors.
The result of these South African recipe infusions are a vibrant and diverse culinary scene that is a source of national pride.
---
Want more ideas to round-out your Recipe Box?
A lot of great options are in these posts!
---
29 Easy South African Recipes For Your Kitchen
---
---
check out our video
---
---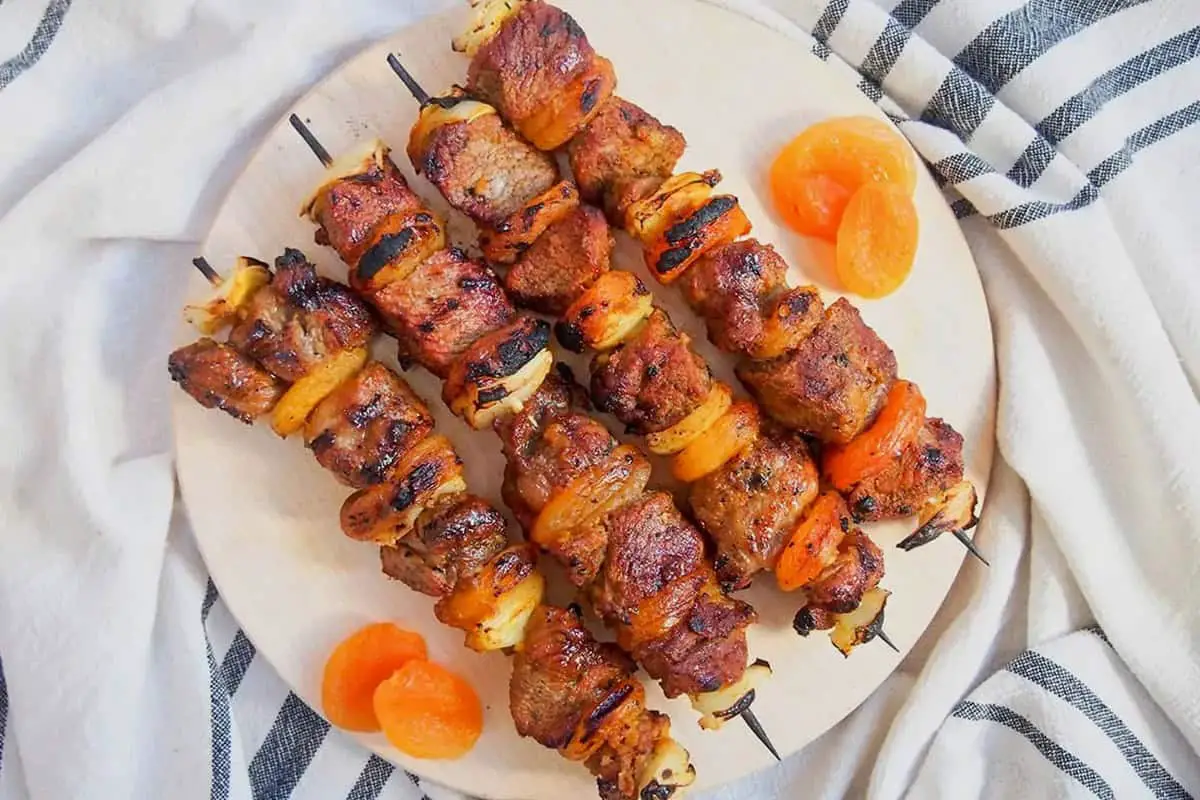 Lamb sosaties are a common feature of a classic South African braai (BBQ). The apricot and curry marinade might sound unusual but it adds a wonderful flavor to these tasty kebabs. So easy and delicious! If you think it's just the Southern US that does barbecue, you'd be wrong. True, they have a particular style, but grilling is a big part of the culture in many other places as well.
In South Africa, it's called a braai (Afrikaans for grill/barbecue) and these sosaties are a popular favorite. Sosaties are a Cape Malay South African food and the name comes from the words "sate" meaning skewered meat and "saus", a spicy sauce in Afrikaans. While this is a South African food that originated in the Cape Malay area, they have spread in popularity around the country.
There are a few variations to the sosaties marinade, but most at least include apricot jam, curry powder and garlic. Most South African recipes I found use wine vinegar, although I have seen some mention of tamarind which I imagine would be a tasty alternative.
Shakshuka is an unbelievably delicious, beautiful, and easy brunch or dinner that you will love! Have you made shakshuka before? I've been seeing posts on this delicious looking brunchy meal for some time. I've been dreaming of this dish.
Here's a South African take on this traditionally northern African and Middle Eastern dish, it's just as delicious, but smoky and totally different.
Never tried Chakalaka? You're missing out. Chakalaka is a traditional South African vegetable relish that tastes amazing served with bread, stews, meat and more. It is Vegan and Gluten Free. Learn how to easily make it in this post. If you've never heard of Chakalaka before you might think it's a Mexican dish by the name. Nope. It is a South African food.
Although its exact origins are unknown, some believe it originated from mineworkers in Johannesburg who added tomatoes, beans, chili and anything else they had into a pot to create a vegetable dish with a Portuguese flair.
However it originated, it is now a staple of South African cuisine and is served just about everywhere in South Africa, especially at braais (cookouts / barbecues).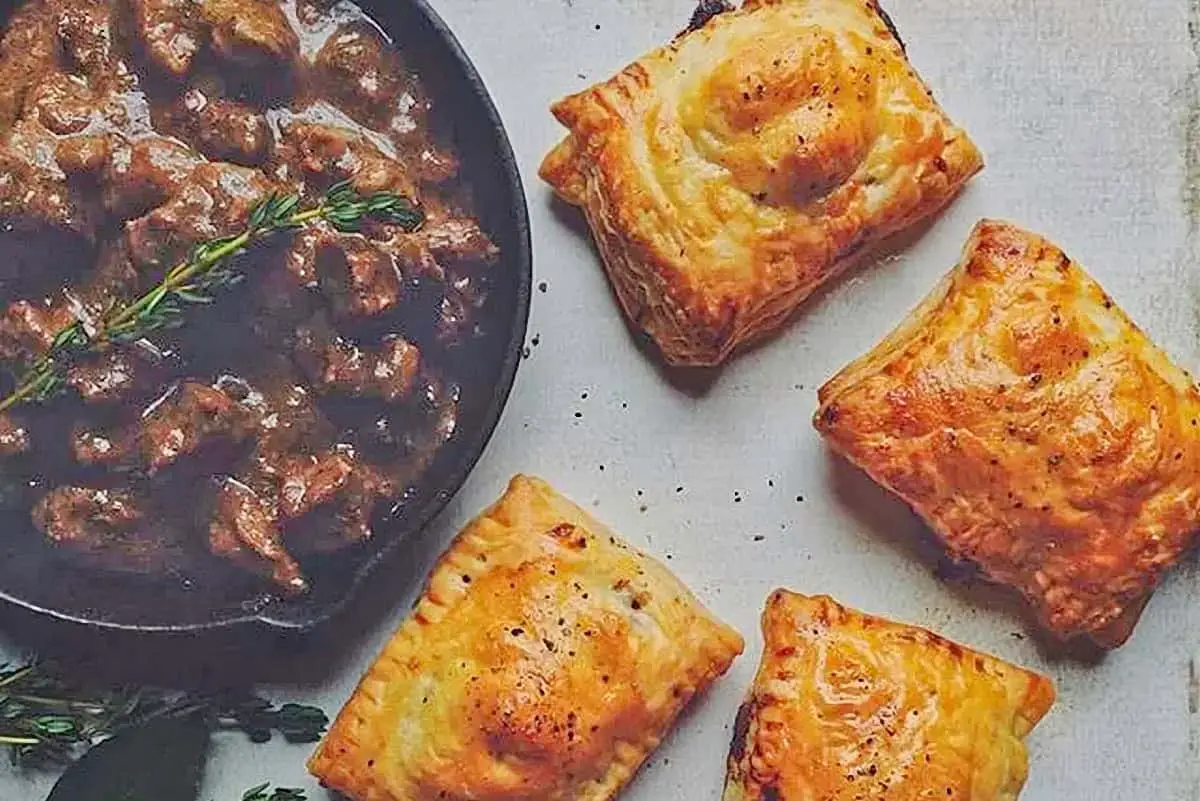 Slow-cooked pepper steak gets wrapped in buttery, flakey puff pastry for the most amazing dinner South African recipe. Want to make the whole thing from scratch? Check out the South African recipes for homemade puff pastry in the Laminated Dough feed!
The watermelon juice was legendary and there was little better on a hot summer afternoon. But when it came to food, there was only one choice for me: a Cheeza*! This cheese-lover's delight was a slice of rye bread topped with a mixture of grated Cheddar cheese, tangy mayonnaise, and an optional ingredient (I recall mushrooms, spring onions or salami).
The whole thing was then popped into the (super-modern and progressive!) microwave on its polystyrene plate, to be returned to you in a few minutes as a bubbling cheese duvet of deliciousness. To me, it was perfection on a plate, and the minute my mom relented and bought a microwave for our kitchen, we started making a version of these babies at home.
South Africans love yummy treats like Milk Tart, Custard Cookies and Chocolate Cookie Fudge! This Lemon Meringue Tart is not different. You will find the perfect combination between sweet and sour in this
lemon meringue tart.
This is the traditional South African recipe that differs from what others may call a Lemon Condensed milk Tart since it has egg yolk in the filling. It is an easy South African recipe and perfect for the kids to help too! Mine liked crumbling the cookies for the crust:
These South African pumpkin fritters are light, fluffy and literally melts in your mouth. Drizzled with caramel sauce and you're in pumpkin heaven. Ooh, this is exciting. This South African pumpkin fritter is the newest addition to my ever-revolving list of deep fried dough in celebration of the fall season, and I am very excited to share this with you.
Why all the excitement? Well let me count the ways…. First of all it's a really great combination of flavors…. Secondly, because it is light as air (it literally melts in your mouth). And maybe most of all because it is quick and easy – ready in under 20 minutes. You can start eating these bite-sized treats.
I've been making these for 20 years. They're so simple to make, but everyone LOVES them. They're best served hot from the oven (allow them to cool enough so that there are no singed fingers) or at room temperature.
Make a double batch and freeze one for later use. Take a frozen cheese scone, wrap it in a damp paper towel and place it in the microwave for 30-45 seconds. Yum!
South African Biltong is a beloved snack throughout the entire country. It is somewhat similar to a beef jerky however the meat is air-dried as opposed to smoked.
It is also flavored with a unique sweetness from brown sugar, spiced up with coriander, pepper and vinegar. These flavors come together to make a wonderful bite that truly grows on you. Once you start, you want another and another.
South African biltong was made out of necessity. For centuries it was a way to have protein along the trails when refrigeration had not been invented. Today it is mainly made out of beef as it is abundant but back in the day it was a way to cure meat especially from large African animals like kudu , springbok and wildebeest.
Bunny Chow – deliciously tasty South African Street food with made with aromatic spices, meat, chickpeas and potatoes served in hollow bread. A one-of-a-kind sandwich! You will not come across a "sandwich" like this! Yes, indeed!
Bunny Chow is a very unique, portable and popular South African street food that exemplifies the natural fusion of South African recipes. A highly spiced curry that will get any spice lover excited, my kind of peeps!
Don't let the ingredients list scare, it's simple and straight food and is no more complicated than making any stew. The only hard pressed decision is what to what meat to use. Or you can leave the meat for the carnivores and make it totally vegetarian or vegan if that's your thing.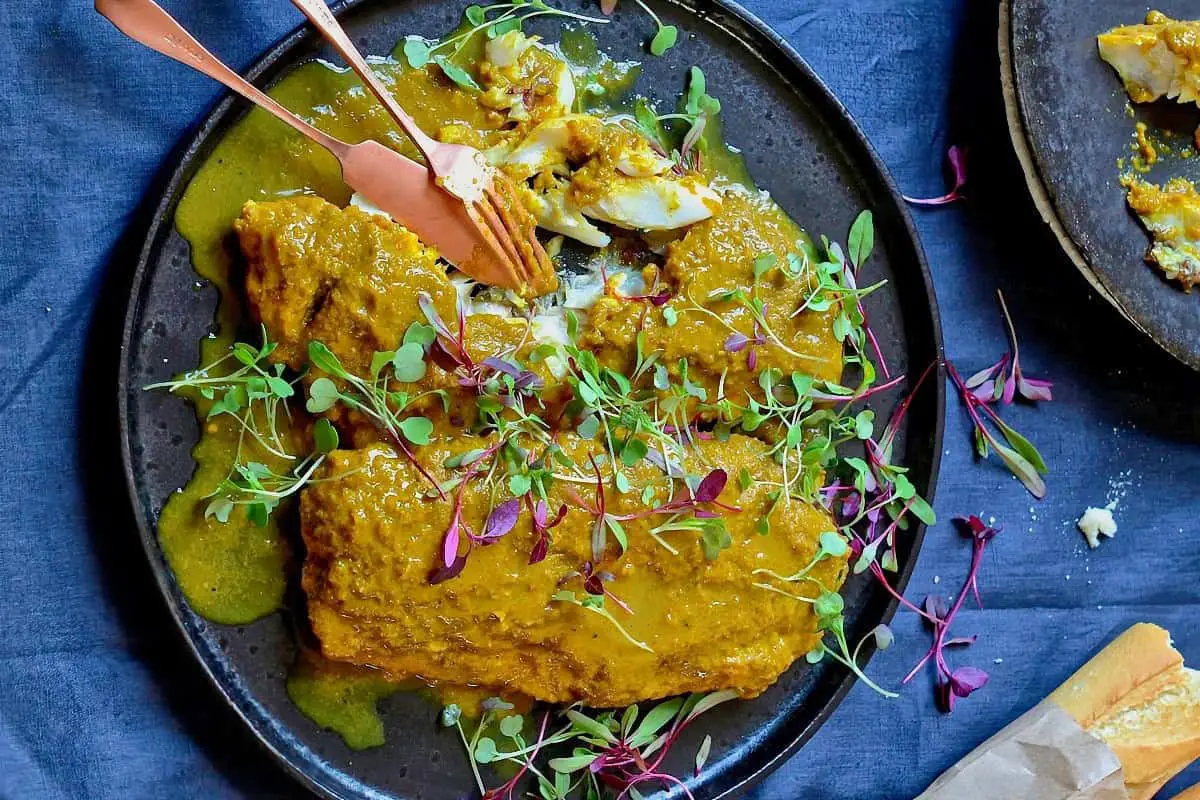 Pickled fish is most often eaten at Easter. This year I'm making my first ever Traditional South African pickled fish. The South African recipe is loosely put together, guided by my mother Magdaleen van Wyk's book, Cooking The South African. I've meddled with the ingredients because that's what cooks do best.
I'm a firm believer in tradition. It's about customs and practices, passed down from one generation to another. And there's no better topic than food to elicit conversation. Ask any food-enthusiast about their best South African recipes and you'll find, most likely, it's those old family favorites scrawled on paper, paled and fingerprinted with love.
Mielie Meal or pap is a popular staple food in South Africa. When you're invited to a braai you can be assured that there will be pap served with a rich tomato relish.
It is similar to Italian polenta or American grits except that it is usually made of a white rather than a yellow maize variety. In this South African recipe, we are going to add some additional goodness that will take the traditional pap recipe to the next level. You can serve this as a side dish with any meat.
If there are any leftovers the next morning you can eat the pap as a porridge by adding some milk and sugar.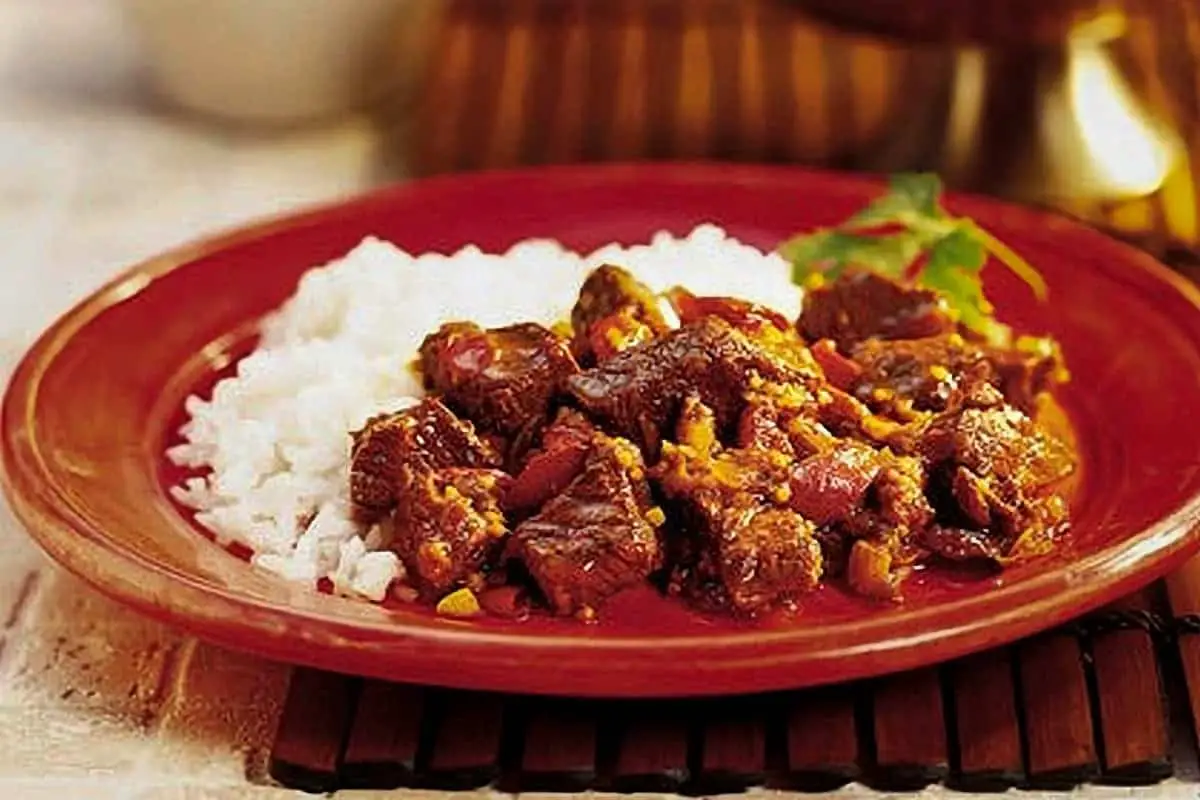 When Nancy Sephton lived in South Africa in the '50s, lamb curry was as ubiquitous there as hamburgers and hot dogs are in the United States. On a return visit a number of years later, she came across the curry made with beef, which has become a favorite with her family.
Traditional Koeksisters – A traditional South African sticky donut treat that's deliciously sweet, sticky, crunchy and drenched in syrup, laced with cinnamon, lemon and ginger. Absolutely perfect for snack or tea time and even breakfast.
We all a vice right? And fried foods are mine- especially when they are a sweet treat. Not a weekend goes by without an occasional indulgent of some sort of fried food. You heard right! However, moderation is the key. Okay, that's not exactly true. I can barely contain myself. So don't take my word for it.
Two avocados in the pantry along with a bag of lemons, some artisan bread, and then a phone conversation with my mum last week led to this lovely South African recipe for African style Guacamole and Cream Cheese Tartines today – mum reminded me how we used to enjoy avocados when we lived in South Africa.
Basically, it's a simpler version of the more well-known Mexican "Guacamole" where avocados are mashed with other ingredients … the Mexican version of guacamole is authentically made with lime juice, chilies, chopped tomatoes and coriander (cilantro). There are variations of course, and I had an American guest staying with me once who added cumin to hers with a spoon of sour cream.
Potjiekos is a traditional South African recipe made with game meat. My mom's version of the oxtail stew or oxtail potjie is hearty and filling. The perfect winter comfort food!
Growing up in Pretoria, I'll tell you one thing. South Africans love their meat, so if you are ever wondering what to cook, you know it's going to be something meaty.
The Oxtail Potjiekos is one of our family favorites for a Sunday brunch or lunch other than the Braai or bobotie, of course! And there's always enough of this beef dish leftover for dinner. My mum's South African recipe for oxtail stew is both yummy and saucy.
The Oxtail Potjie is like a stew but has a slightly different cooking method. With a regular stew, you have to stir it every once in a while, but as for this potjie you just leave it to cook for a few hours, no stirring necessary.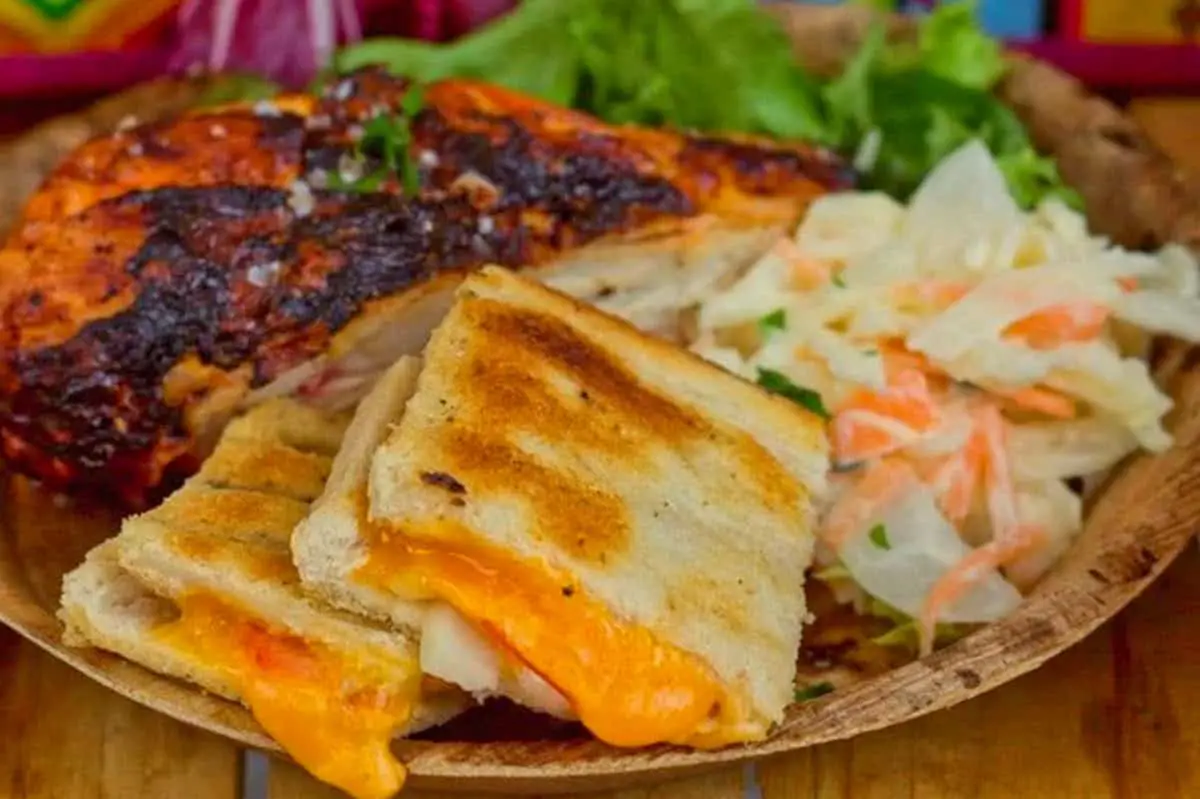 It may look simple, but these braai broodjies are more than meets the eye! Cooked over an open flame or barbecue grill this cheesy, melted sandwich is a traditional side dish to South African barbecue, akin to American comfort foods that remind us of our childhood.
Freshly grinding the cumin and fennel seeds in this powerful South African blend provides wonderful flavoring for traditional meat and potato curries.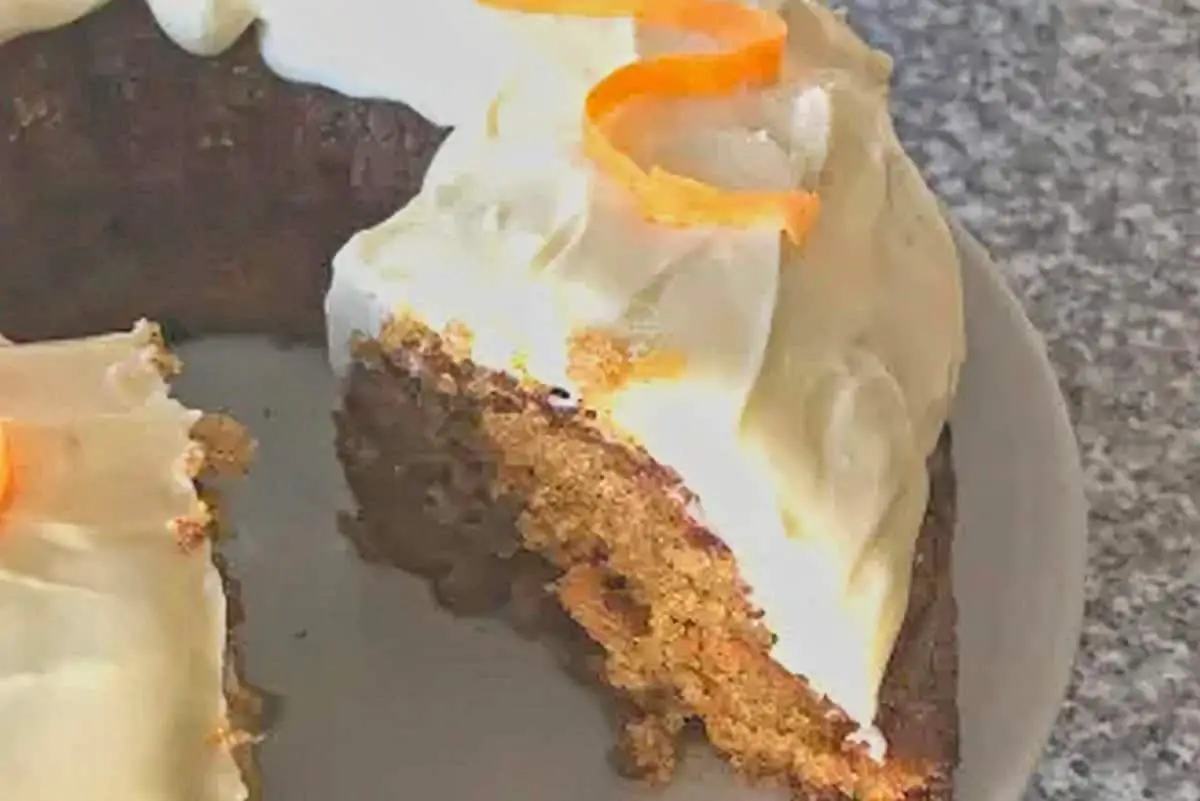 I've been wanting to share with you this South African recipe for carrot cake for a long time, but did not get around doing it until now. A cafe-style South African carrot cake recipe that won't disappoint.
It is one of those recipes passed along from grandma's side and you will probably wonder why it is called South African carrot cake because perhaps it looks like an ordinary recipe? Well, it is made with South African products and loved by South Africans, hence the name!
Most South Africans love baking from scratch. It was only recently that I saw a variety of boxed cakes on the shelves of grocery stores, it is just not readily available. I personally prefer baking from scratch, it just tastes better, right?
If Nick chooses a bake, the end result depends on how enthusiastic I'm feeling and what I have available in the cupboard or fridge. But the one ingredient that no self respecting Saffer would leave out of a potato bake is… brown onion soup.
I've written before about our collective love of packets of brown onion soup – it's one of the things that my store cupboard is seldom without. Once you are sure you have potatoes, cream, onions and the soup powder, the rest is just bells and whistles. The bake that's pictured above was made for friends, so I took a little extra care, adding mushrooms, cheese and breadcrumbs – but a simple bake can but just as addictively yummy.
The secret is in long, slow cooking so that the liquid is reduced and absorbed by the potatoes, so leave yourself plenty of cooking time. It's not health food (!) but I can vouch for its cheesy, starchy deliciousness – whatever the weather.
Robust and flavorful South African Boerewors is the sausage you need for your next grilling party! South America has has chorizo, France has andouille, Poland has kielbasa, and Germany has their vast selection of "wurst".
Boerewors (pronounces BOO-ruh-VORS) is a South African fresh sausage that is perfect for the grill. The name means "farmer's sausage" and comes from a combination of the Afrikaans words boer ('farmer') and wors ('sausage').
Can you can see the Dutch influence in the South African language an culture in the name?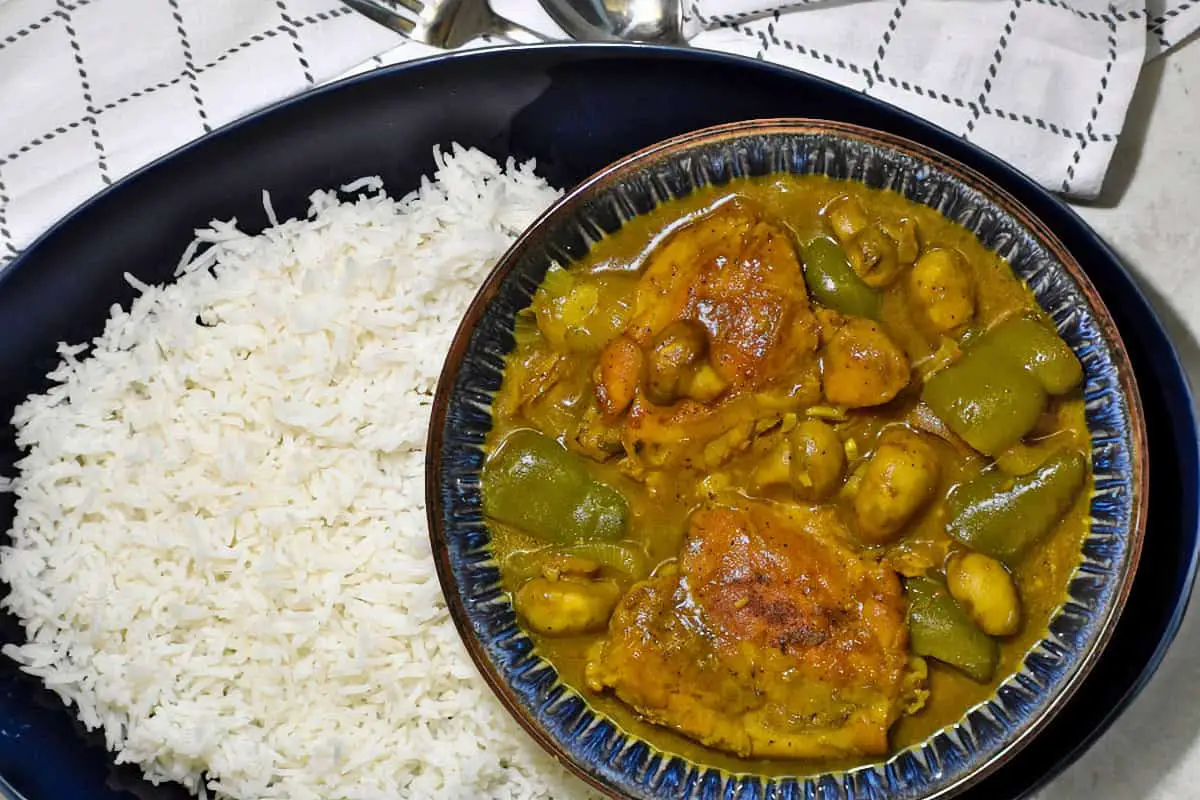 If you think a curry is a curry is a curry, how different can it be… think again. You are in for a surprise!! This South African Chicken Curry doesn't even come close to anything you've known before. It's a completely different flavor, yet so delectable! This one is mild and sweet, albeit with loads of curry powder, reminding you of that curry flavor every single bite.
Mind you, this curry tastes nothing like my Indian dishes, and yet I loved it from very first time I tried it. I loved that fruity sweetness mixed into the chicken along with those distinctive curry powder flavor. If you are looking for yet another way to cook your chicken, this is it my friends.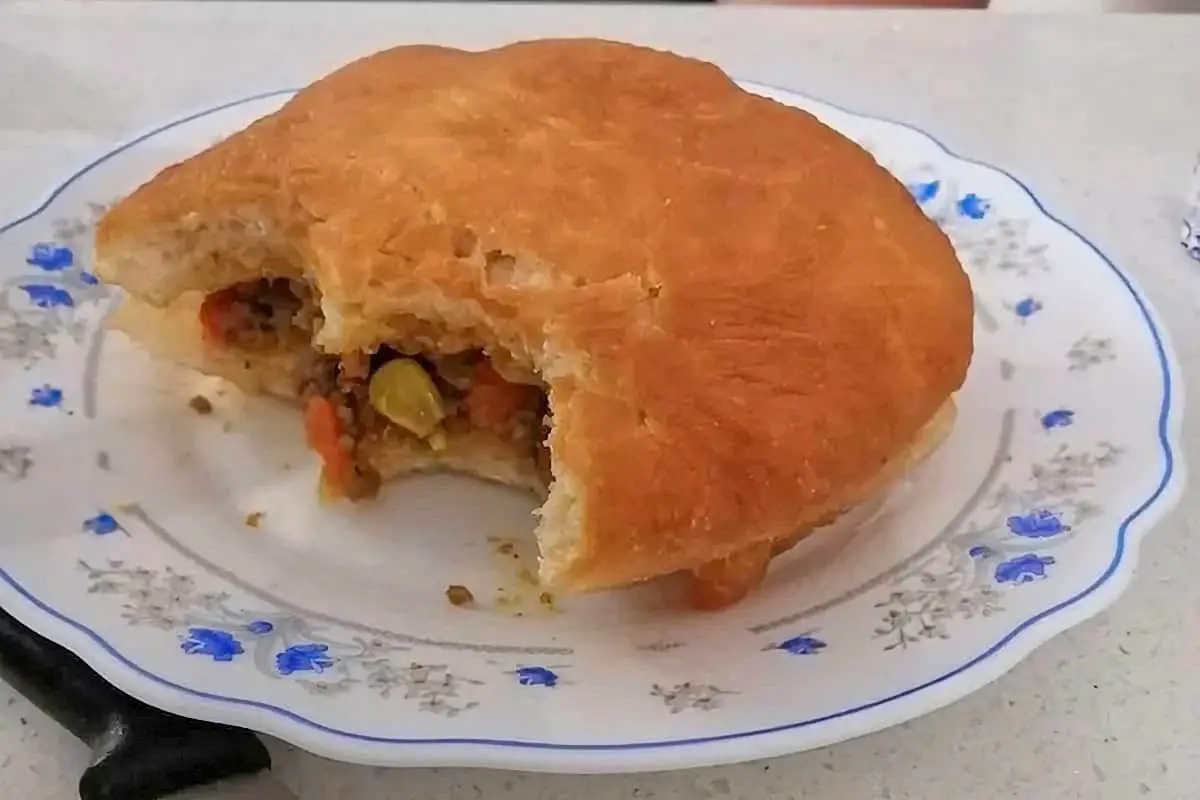 Tasty vetkoek (fat cake) makes a lovely dinner or snack. You can make them any size you wish; they're a great party snack when made small. They can be filled with meat, tuna and mayo, syrup, curried minced meat, cheese, or basically anything you feel like using. They're fast, easy, and very tasty.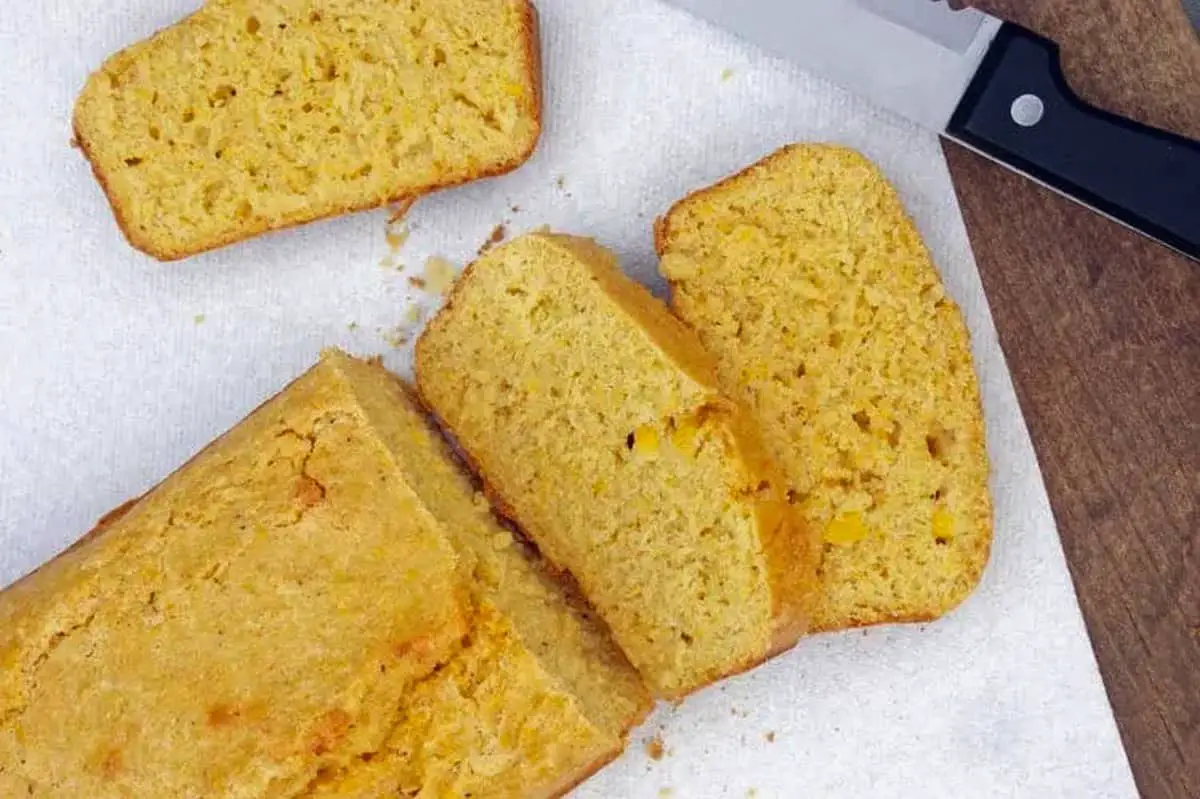 Kernels of sweet corn stud this sweet and flavorful Mealie Bread, a South African sweetcorn bread that is sure to delight any cornbread fan. Mealie bread is a traditional South African quick bread made from mealie, known in other parts of the world as maize, or corn.
Maize was first grown for food in indigenous Mexico, and it is thought that the Portuguese were the first to bring maize from the Americas to Africa. It became quite popular in many parts of Africa where it was (and is) used to make a number of pudding, porridge, and bread dishes.
Durban Chicken Curry is a spicy South African delicacy that is perfect for the first timer in the world of Indian cuisine. This spicy, pungent South African recipe consists of roasted chicken in a gravy with finely chopped onions, tomatoes, garlic and other spices. This South African recipe also calls for sambal and steamed basmati rice. Here's a look at how to make it yourself. It is easy, quick, and sure to please the crowd.
Durban chicken curry is a popular winter dish with a spicy, sweet sauce. The South African recipe has a savory flavor and a tender chicken piece. Durban Indians usually consider their Durban chicken curry to be mild, but you can spice it up to suit your taste. To make a Durban style chicken curry, add a few dried spices to a pot of warm oil. Then, fry the garlic and add the chicken.
A South African recipe for Pannekoek (South African Crepes with Cinnamon Sugar)! These thin pancakes come together easily and are filled with a drizzle of lemon juice and sprinkling of cinnamon sugar. Pannekoek are pancakes similar to slightly thick crepes from South Africa, originally brought from the Netherlands. They are especially a perfect comfort food for a rainy day.
A basic batter with flour, salt, baking powder, eggs, milk, and butter is whisked together until smooth, then poured in thin layers in a hot skillet and cooked just until golden on each side. Each warm pancake is drizzled with freshly squeezed lemon juice, a generous sprinkling of cinnamon sugar, then rolled up and served warm.
This is a traditional South African recipe, which comes from the great culinary tradition of the Cape Malays — originally brought in as slaves in the 17th century. It's easy and plain, but great with meats like venison, corned beef tongue or any meat with gravy. Also usually served with Bobotie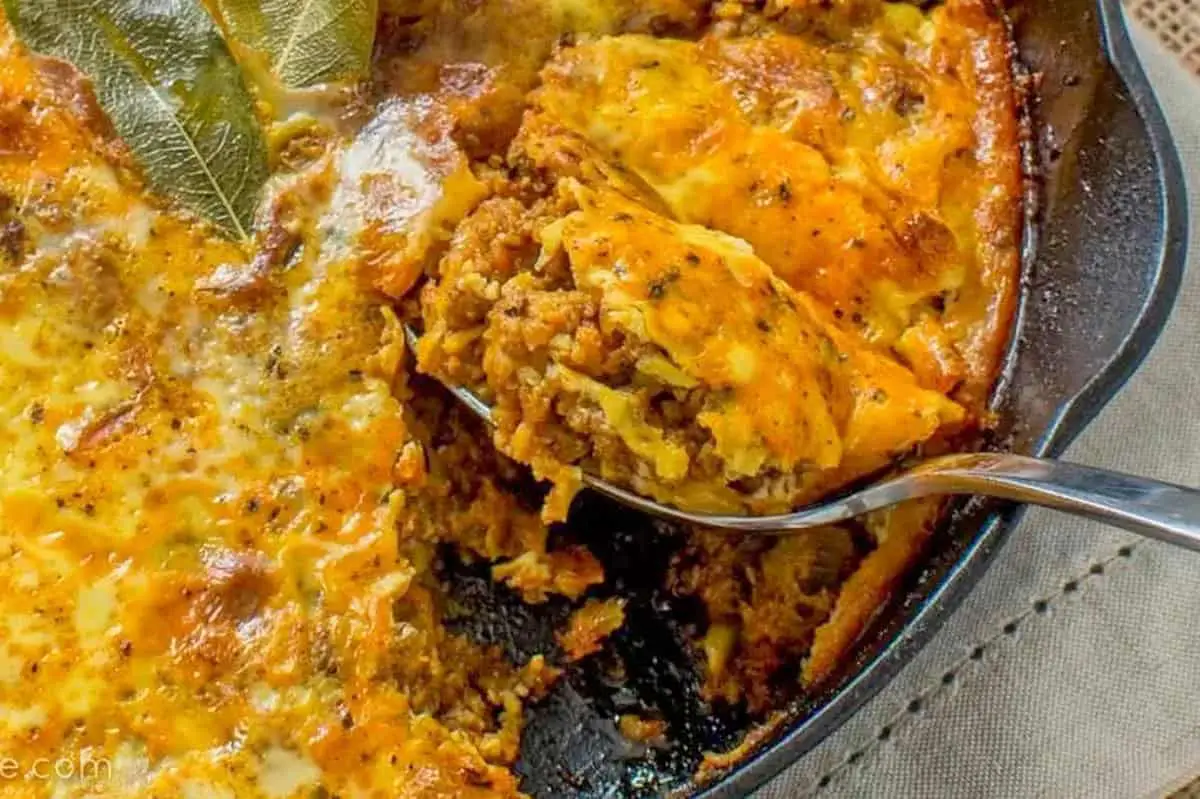 Bobotie is a South African casserole with curried ground beef at the bottom and a thin layer of egg custard on top. Bobotie's roots in South Africa date back to the 17th century. Dutch traders set up camp in the area that is now Cape Town as a stopping point on their journeys back and forth to Indonesia. The traders brought spices, cooking techniques, and recipes with them.
While the specifics are a bit vague, it is thought by some that the original bobotie South African recipe came from Indonesia and was adapted to fit the available ingredients.
This classic food from South Africa, Bobotie (pronounced ba-bo-tea), is made with ground beef seasoned to perfection and a creamy, decadent topping. It is rich, savory, spicy, aromatic, and zingy. A comforting meal, full of the flavors of Africa!
This milk tart South African recipe is from my South African grandmother, Ouma. Her legendary milk tart is lip-smacking, and the recipe is a real winner. It's a traditional South African tart that is easy to prepare and can be served hot or cold.
---
You May Want to Join Our Boondocking Group on Facebook For More Information
You May Want to Join Our Campfire Recipes Group on Facebook For More Information
For More Photos Visit Our Instagram at World Recipes Daily – Our Big Escape