The Bhutanese food centers around rice. We cultivate both white and red rice. Red rice's flavor is similar to that of brown rice, but it has a nuttier undertone. Crops like corn and buckwheat are also grown. Noodles come from wheat flour. Tomatoes, turnips, onions, greens like spinach and green beans, and spicy peppers and radishes are all examples of vegetables.
A lot of heat and spice goes into the stews and other dishes. Spices like curry, cardamom, garlic, turmeric, and ginger are common. Beef, chicken, pork, yak, and goat are all staples, but many Buddhists also enjoy the many vegetarian options.
Butter tea, beer made from cereal grains, and rice wine are all examples of alcoholic beverages. Noodles and dumplings have become common choices for light meals. Bhutan food cuisine takes heavy inspiration from both Indian and Chinese cooking.
18 Spicy Recipes of Bhutanese Food For Your Kitchen
---
---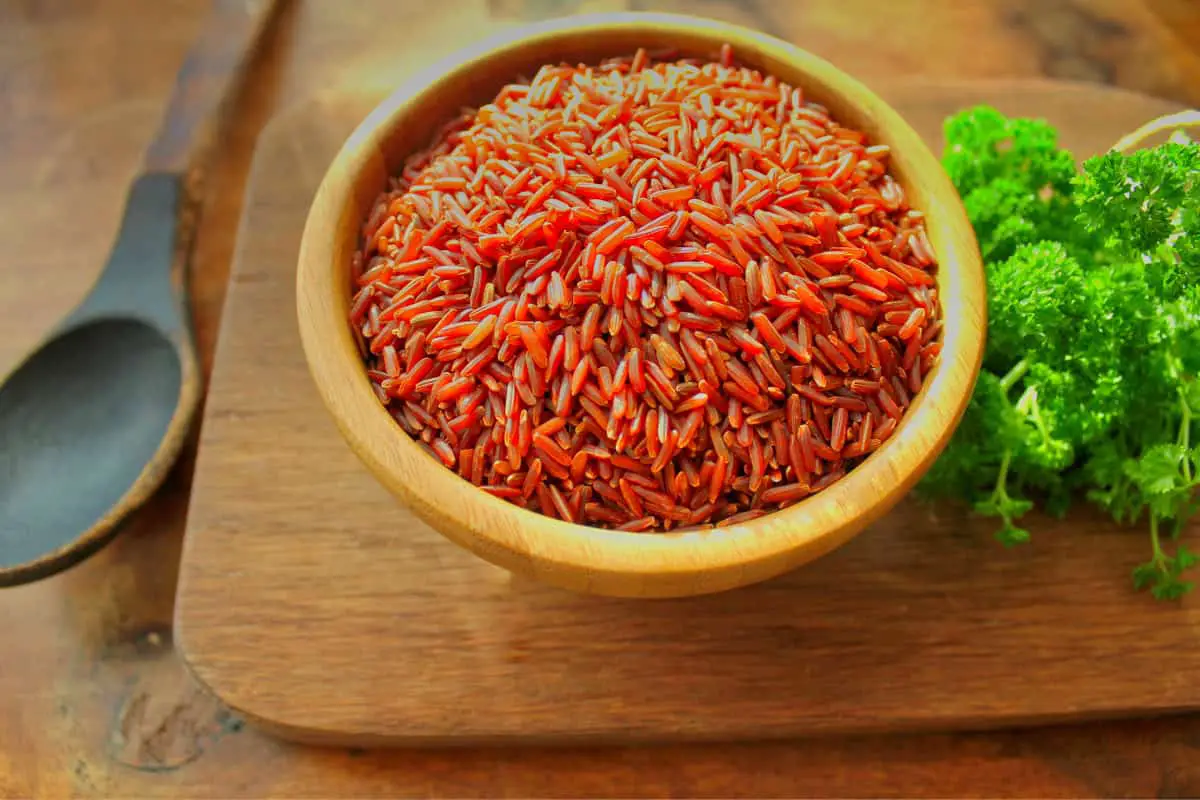 Red rice is a native to Bhutan food and just recently available in the states through Lotus foods. It has a nutty flavor that is quite different from any other rice I have had. When you make it, please be sure to thoroughly clean it before cooking.
I would recommend soaking it, even overnight and then strain and rinse before cooking. It appears the cooking time and liquid amounts are longer and higher than the package suggests for this Bhutanese food. I doubled the liquid and cooked about. 1 and a half times, just check it once in a while until tender.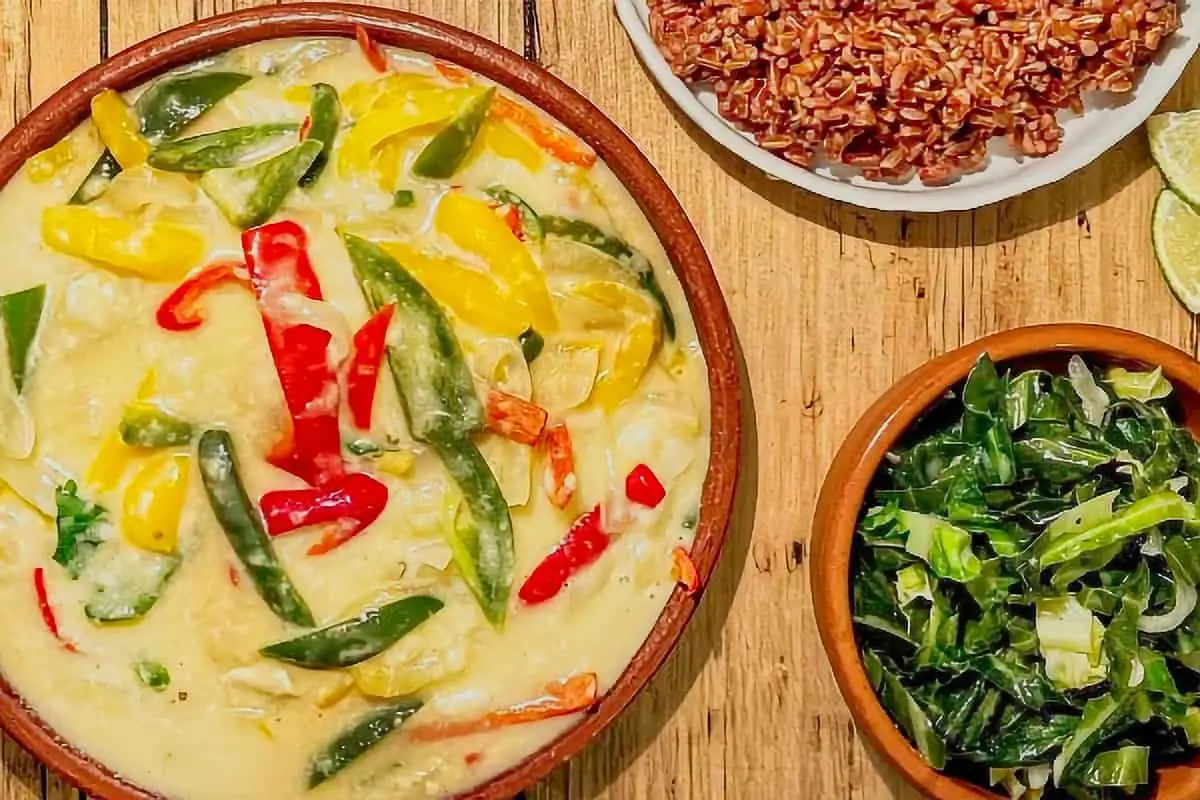 Ema Datshi is a Bhutanese food famous dish. It is a basic stew comprised of a variety of chilies and a peculiar cheese called Datshi, which is created from yak milk. This meal can be made with potatoes (Kewa Datshi), meat, beans (Semchung Datshi), or mushrooms (Shamu Datshi). But their favorite Bhutan food choices are only chili and cheese! The chilies used in the Ema Datshi are quite fiery, and the meal is served over a bed of red rice, another Bhutanese staple food.
Tomatoes, butter, and cheese are used to balance off the heat in the dish. Despite this, it's difficult to eat one scoop without reaching for a glass of water. The Himalayan region is home to a rare and distinct type of cheese known as chhurpi.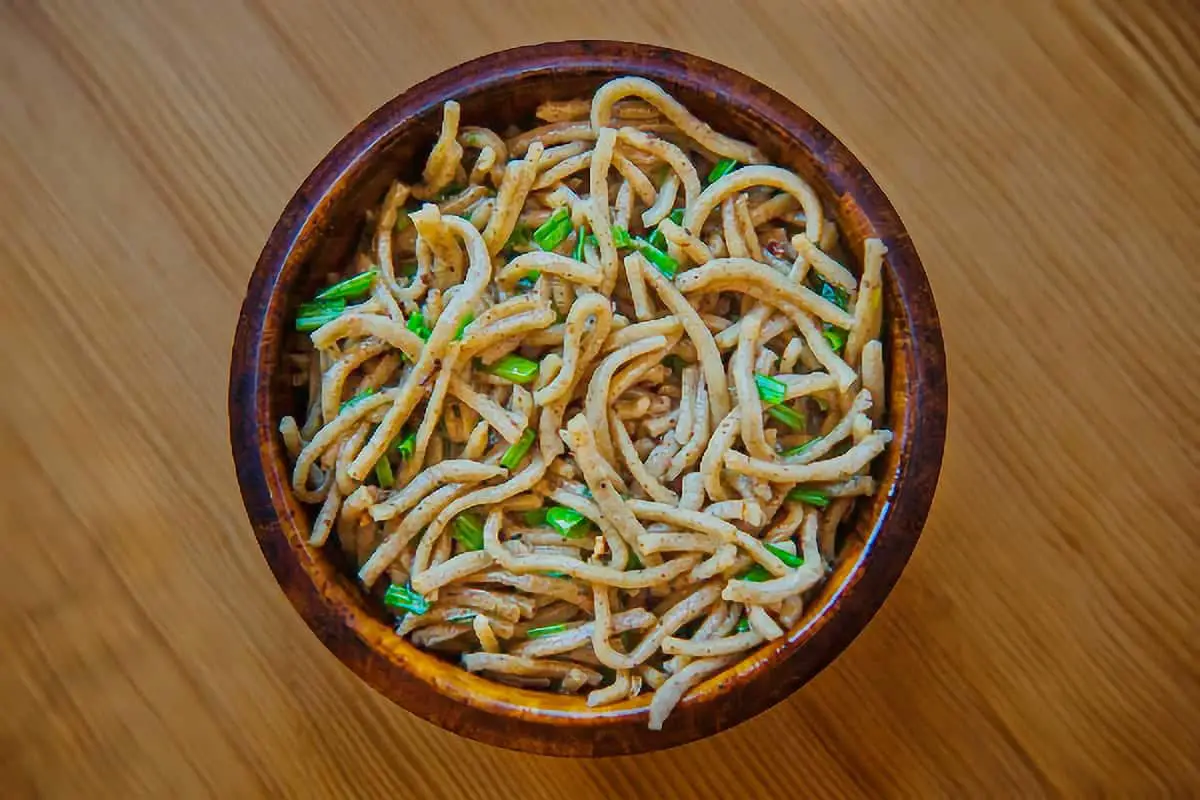 Puta, another staple food in Bhutanese food, is a complete meal in and of itself. Puta's noodles are nutritious and made with bucket wheat. Puta, a rice replacement, is produced by cooking these wheat noodles with sauces, veggies, and meat. The noodles in this dish are typically boiled, but they are served stir-fried in oil.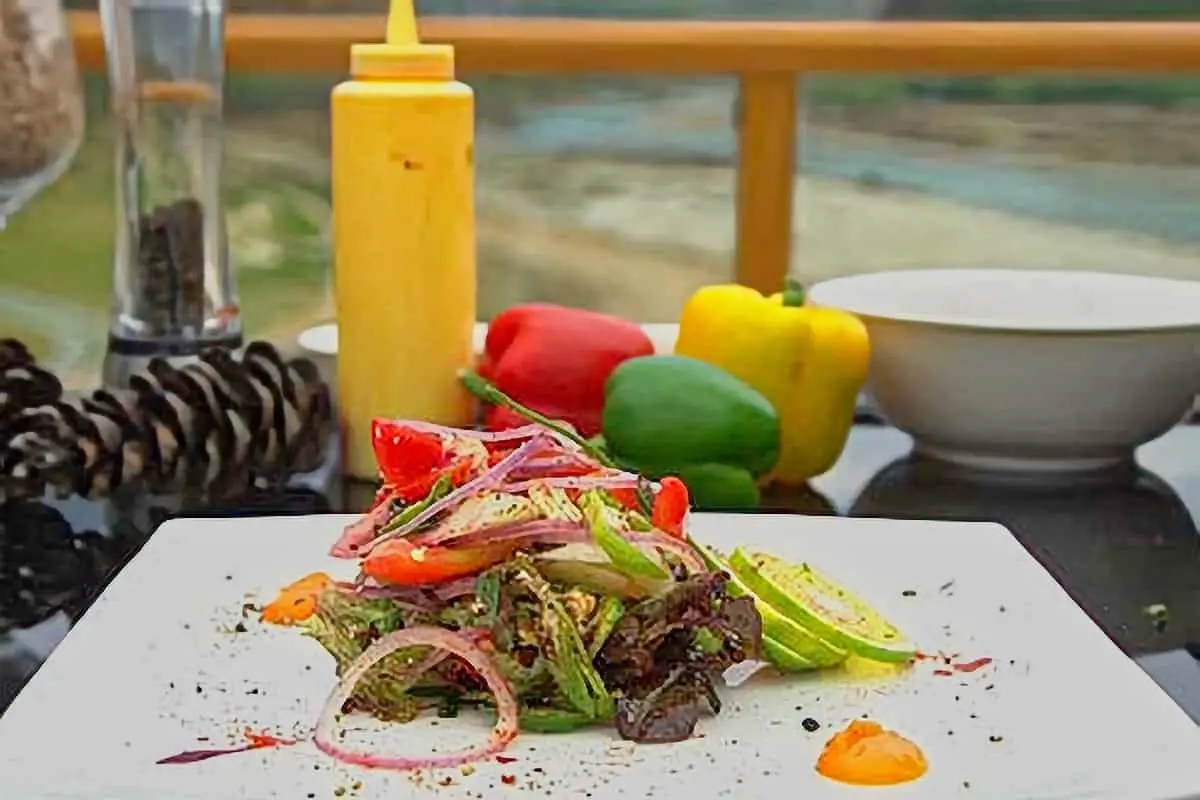 An authentic Bhutan food choice is this summer salad made with cucumbers and a kick of Sichuan pepper. Primarily a light salad that is made of cucumbers, onions, tomato, coriander, and Sichuan pepper. Though most of the time, local cheese is added for an extra flavor but still vegans can opt to remove the cheese from the dish and will still be a delicious salad.
Restaurants usually drizzled the salad with extra oil to make it more flavorful and appears to have a sauce.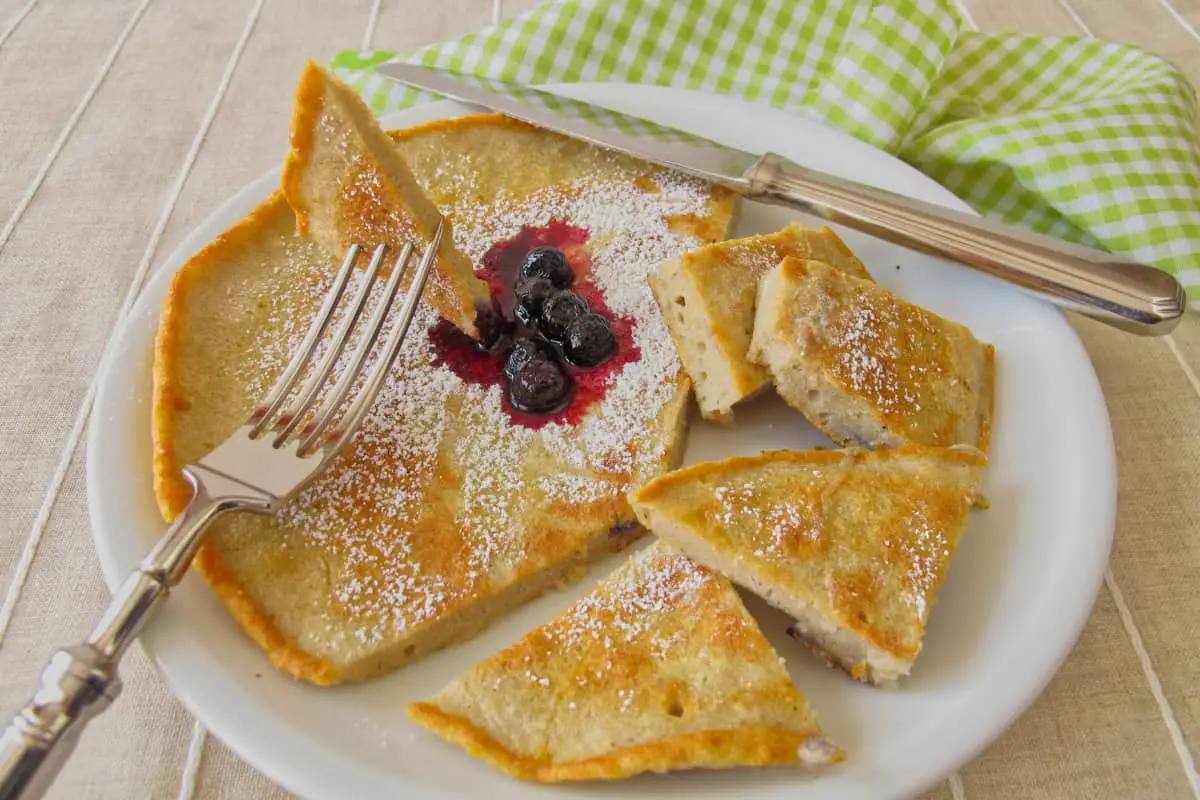 Khulee or Khur-Le is actually a Buckwheat pancake, a popular breakfast dish in the Bhutan food chain. It is made from Wheat and Barley flour.
Buckwheat is a very versatile food grain, it can be used in different forms of food preparations, being Khuli as the most popular and Puta (noodle preparation).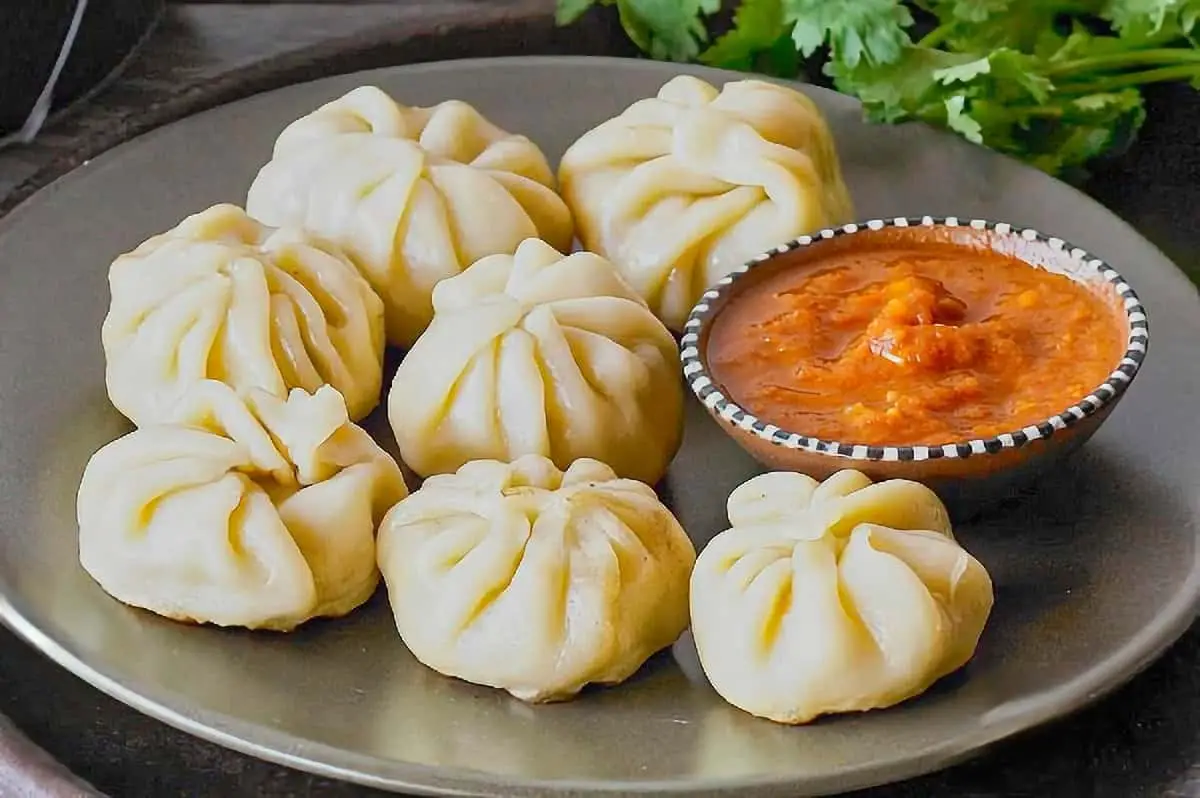 Dumplings, one of the most popular Bhutanese food choices, are also an important part of Bhutan food. Bhutan serves some of the best dumplings in the world, and it is recommended to eat Bhutanese dumplings. In Bhutan, many different types of dumplings are provided; depending on the filling, the dumplings can include beef, pig, cheese, and even chilies.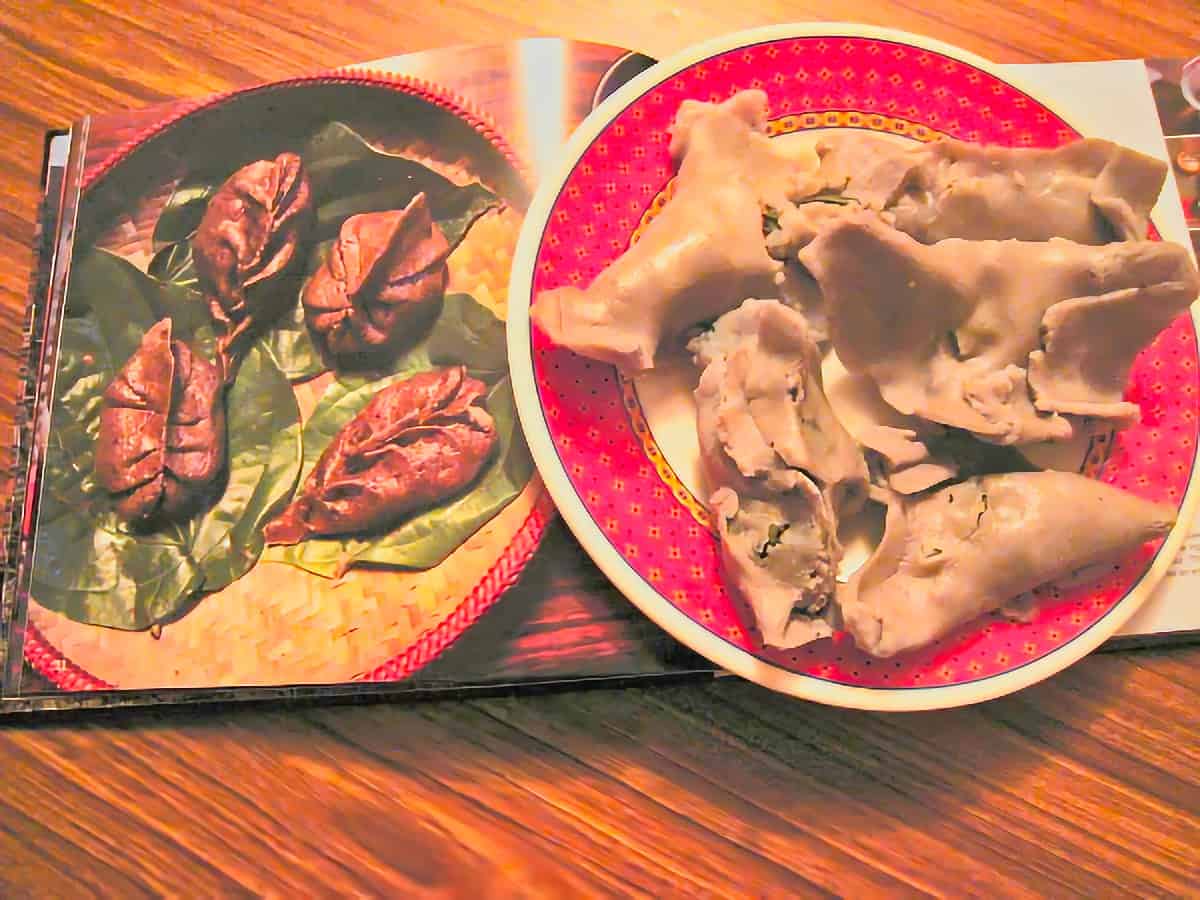 Hoentay is a Bhutanese food similar to momos, but they are made with a buckwheat dough wrapper. The dumplings are usually filled with a combination of local spinach or turnip leaves and cheese, and again, they can either be steamed or fried.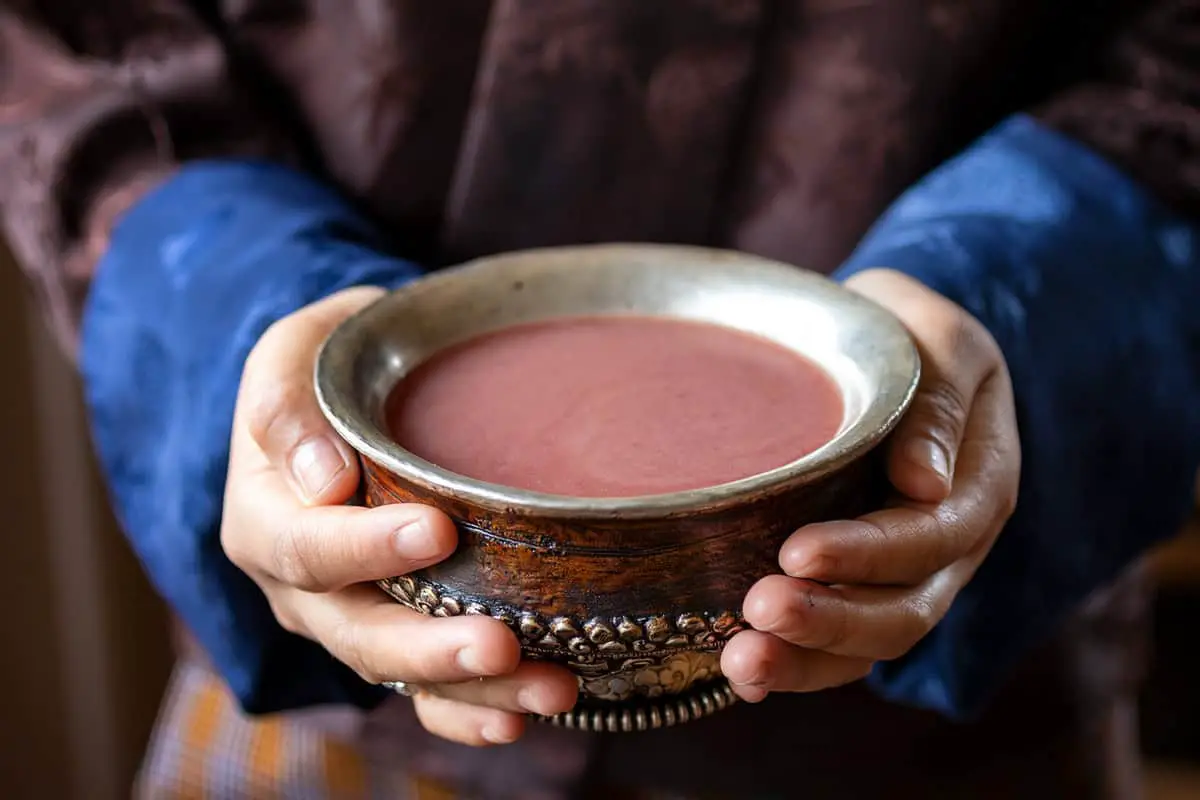 Suja is Bhutanese butter tea, loved for its savory and creamy nature. The butter in suja gives it a salty taste, setting it apart from the typical sweet Indian tea. Some people think that suja is the inspiration behind the Bulletproof coffee, a high-calorie coffee drink whose main ingredients are coffee beans and butter.
Suja likely originated from Tibet, which has a history of tea that dates back to the 7th century, during the Tang Dynasty in China. However, it was only during the 13th century that tea became popular in Tibet.
Legend has it that a princess from China married the king of Tibet, paving the way for trade routes between China and Tibet, also leading to the import of tea to Tibet.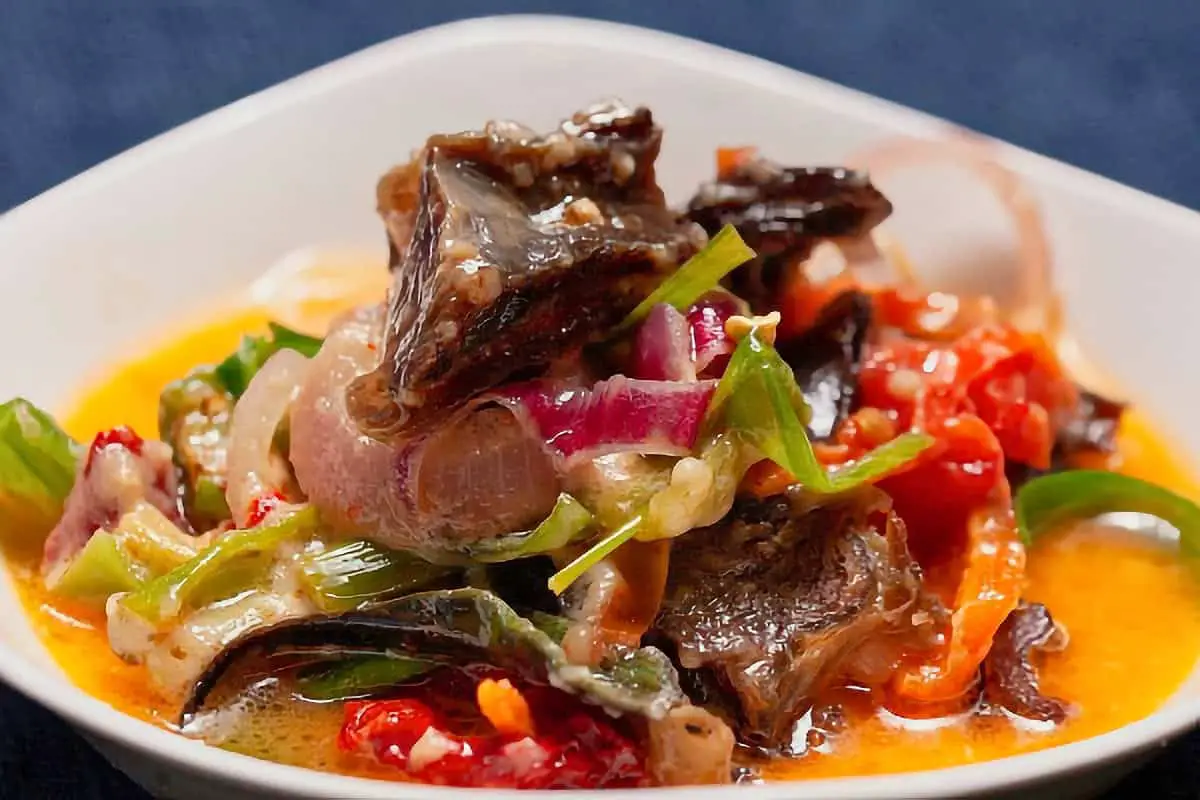 Shakam Datshi is a version of Ema Datshi that is also a popular in Bhutanese food. Made with dried Bhutanese beef, the cooking technique for the beef is slightly different, but the rest of the ingredients are similar to Ema Datshi. It is the cooking manner of the beef that distinguishes it from Ema Datshi. Shakam Datshi, like Ema Datshi, is finest when served with red rice.
---
Want more ideas to round-out your Recipe Box?
A lot of great options are in these posts!
---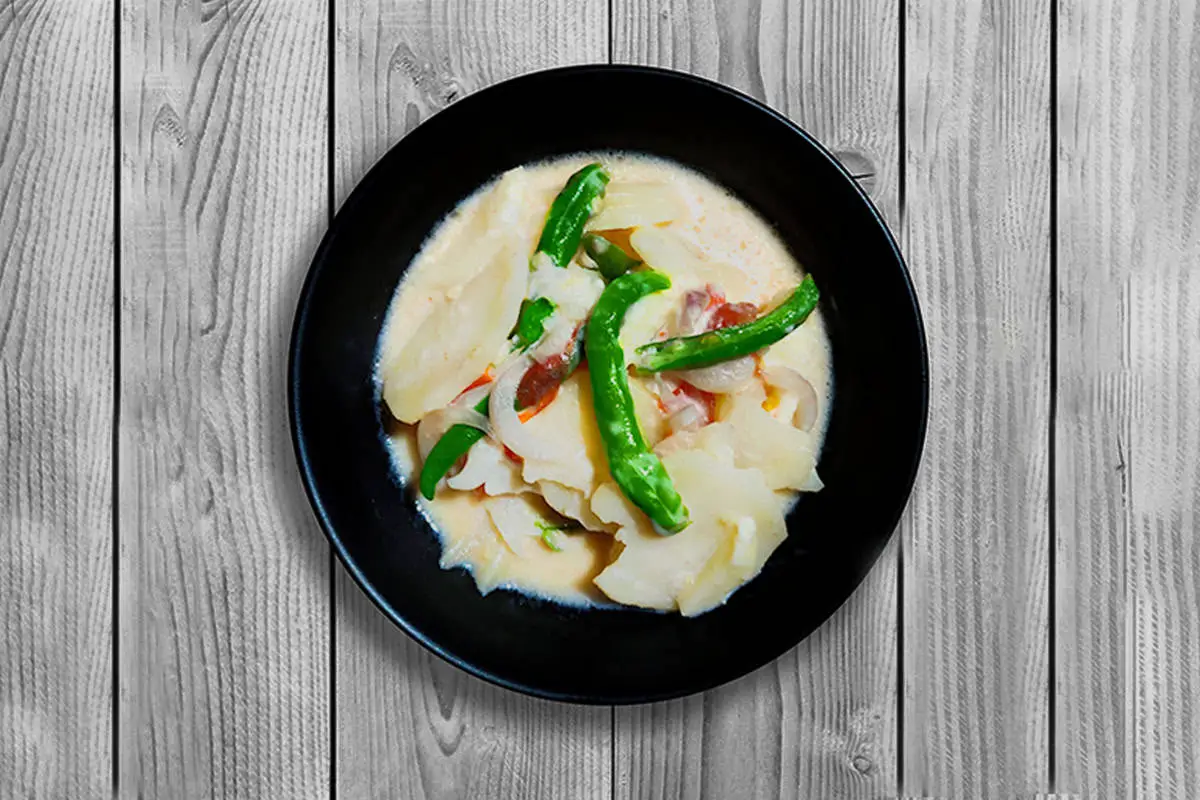 Kewa Datshi is one of the famous dishes in Bhutan food. "Kewa" means "potato" and "Datshi" means "cheese". This dish is easy to prepare, requires very few ingredients and is delightfully tasty.
So basically it's a vegetarian cheese stew with potato in it.
Unlike Ema Datshi, it is less spicy and one in every of my favorite item that goes together with my meals.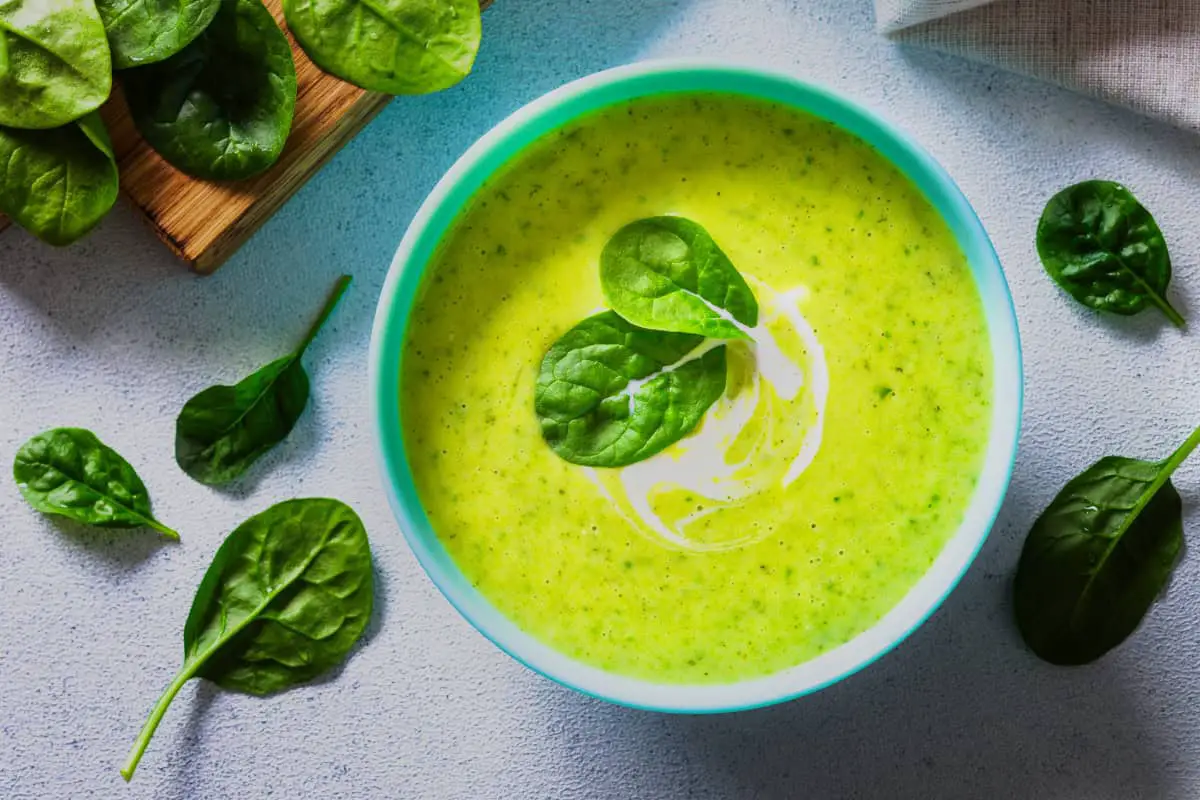 Jaju soup is an authentic Bhutanese food made with spinach and milk, an extremely easy and quick one, this best part about this recipe is that it can be made with almost any vegetable, especially greens.
Phaksha paa is a Bhutan food made of dried pork with a variety of spicy red chilis. There are other variations of the dish that include items such as spinach, radish, and bok choy. For added flavor and texture, some Bhutanese cooks like to add aromatic buckwheat dumplings stuffed with greens or cheese to phaksha paa. Phaksha Paa can be served as a gravy or as a stew.
Phaksha Paa is a dish made with pork that comprises a complex blend of spices and chilies as well as certain mountain veggies that are all cooked in oil or butter, while the pork is first stir-fried and then added to the dish. This is a traditional Bhutanese food that is also served with rice.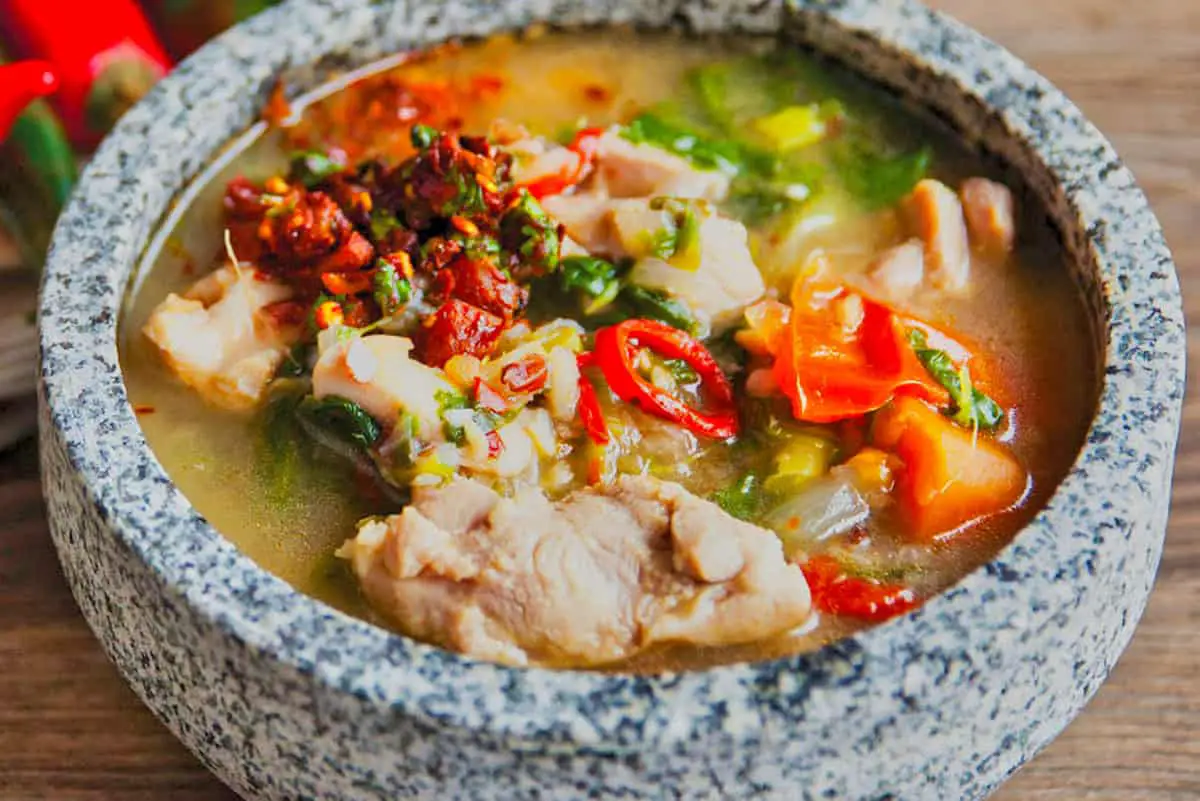 Bhutanese food is simple beyond our conception. Our guide told us that most Bhutanese only eat meat once a week. That reduces quite a bit of carbon footprint! Since meat is quite the rare treat, the meat dishes are pretty well-honed.
The Bhutaon food called maroos are a perfect combination of fresh ingredients, seasoned judiciously with lots of leeks, garlic, red onions and ginger and laden with green chilies that never decimate other flavors. This bjasha maroo we have recreated is possibly the most befitting introduction to a little-known and often-misunderstood culinary world.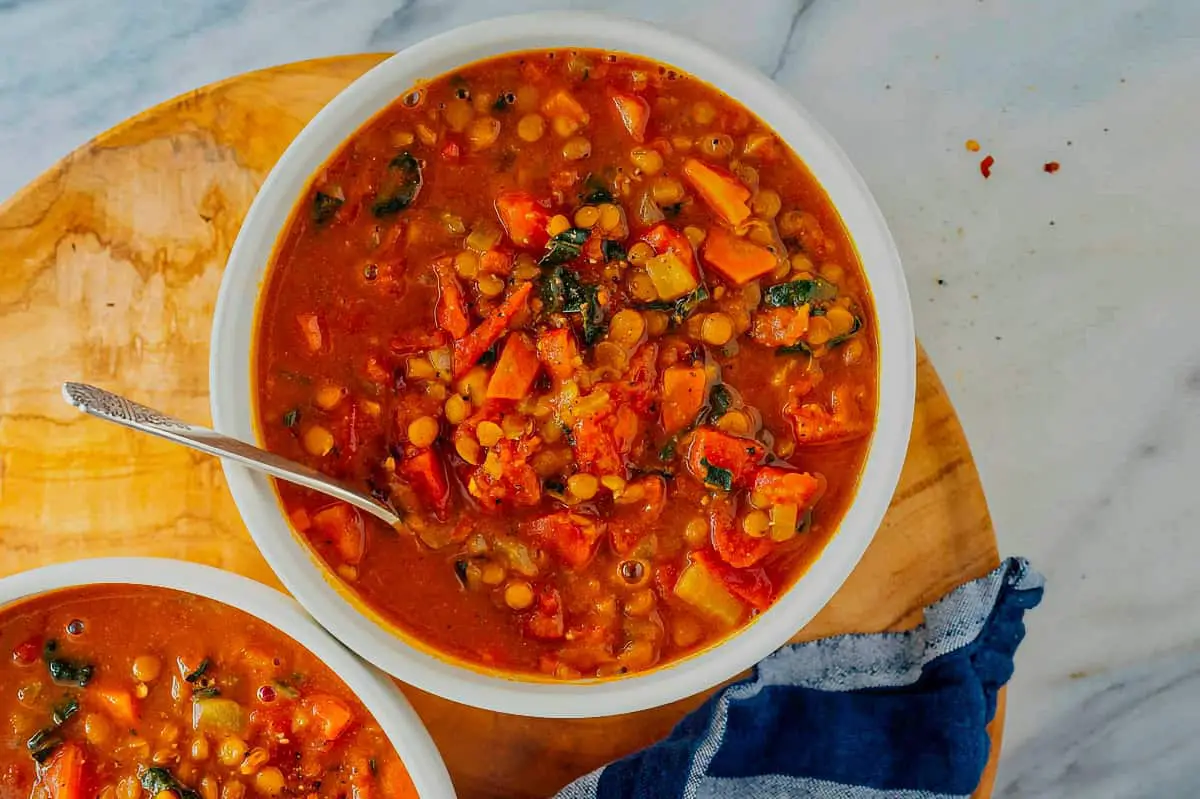 This soup recipe was a long time coming and is the best recreation of the Bhutan food I loved on my trip! Over the years, I made some lackluster lentil soups that never saw the light of day on this website. No vegetarian food blog would be complete without a proper lentil soup, though, so I perfected one of my own.
Here it is. My Bhutanese food lentil soup is made with mostly pantry ingredients but includes hearty greens and a squeeze of lemon for bright, fresh flavor. It's seasoned with a few of my favorite spices and plenty of freshly ground black pepper. Honestly, it's the best lentil soup I've ever had.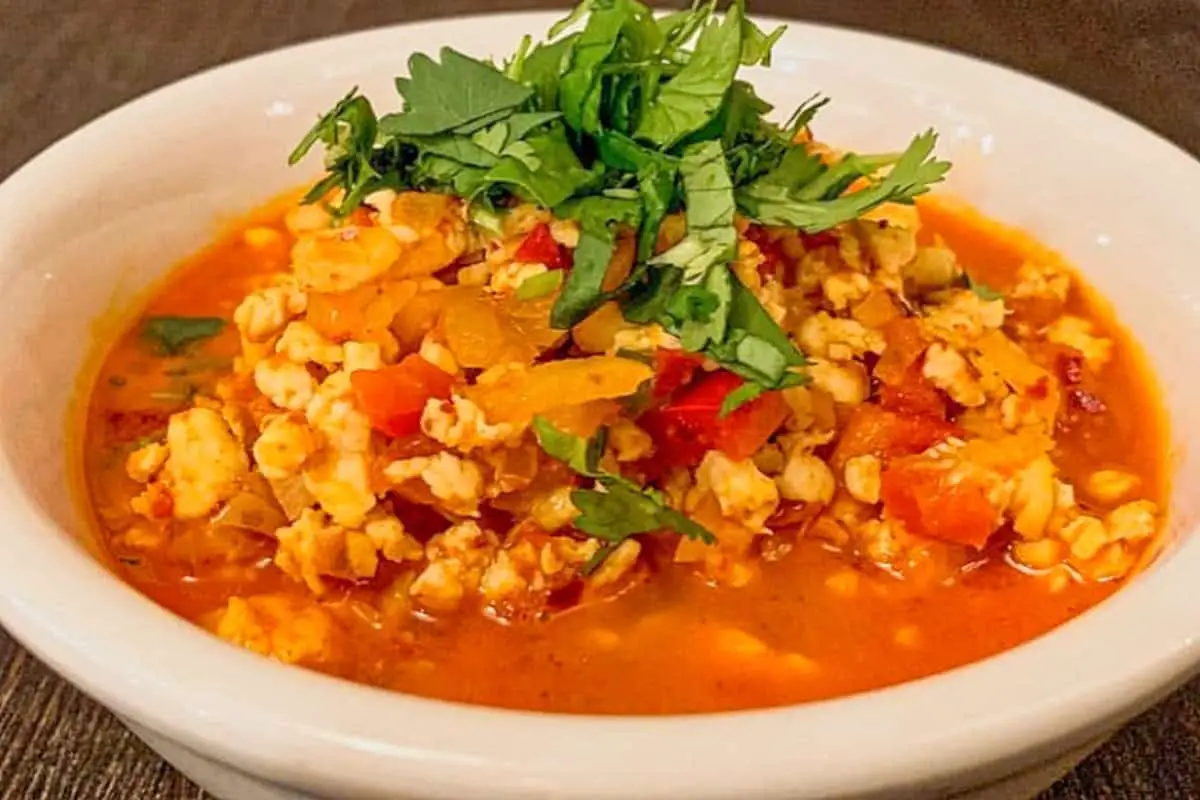 The Jasha Maru is another well-known Bhutanese food. This is a popular Bhutanese meal made with chopped chicken, garlic, ginger, chilies, and tomato sauce. This combination of components is typically eaten over red or brown rice. The meal is highly spicy, as are most Bhutanese foods because the primary distinguishing feature of Bhutanese cuisine is its spiciness.
Rice, like chili peppers, is a mainstay in many Bhutan food dishes, hence it is normal to find it alongside numerous meat dishes in Bhutan. Like any other Bhutanese delicacy, it is best served with red rice.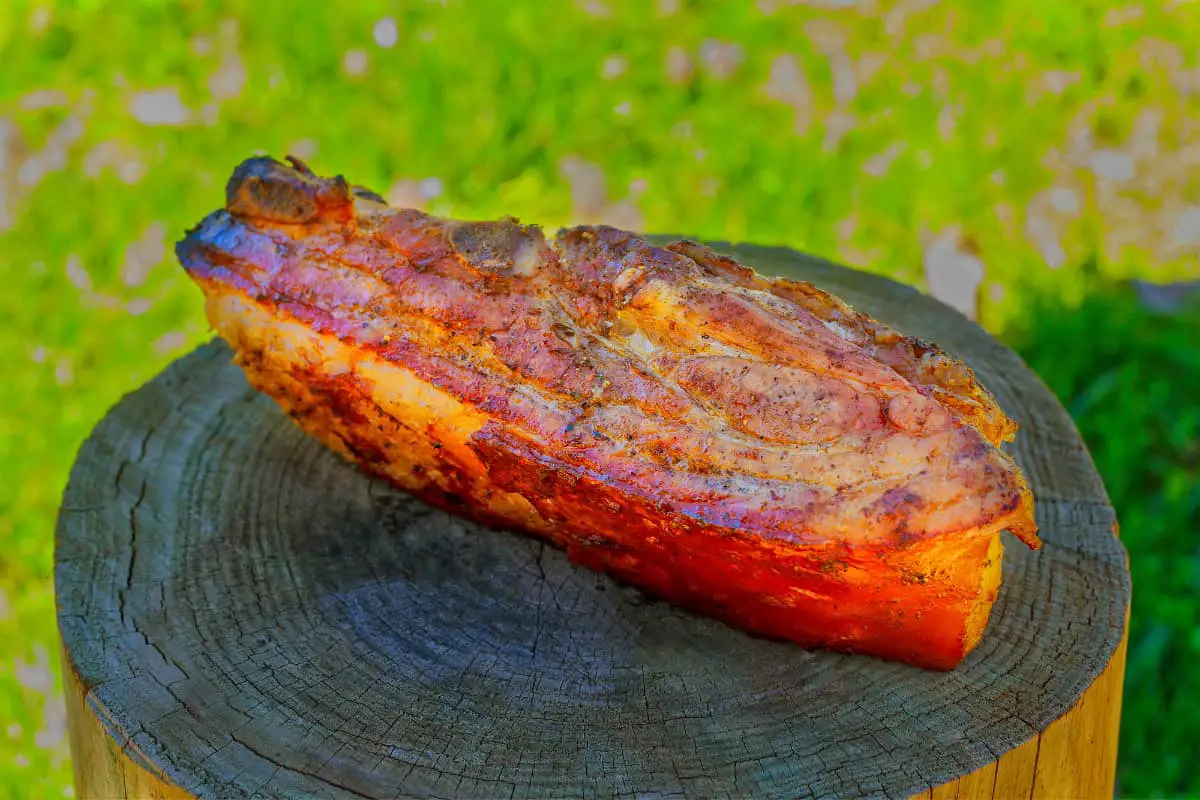 Today I am making a very popular Bhutan food called Sikam Paa. The pork belly are smoked and dried in the sun. Smoked dried pork is sautéed with Bhutanese dried chilies and radish. Hope you guys will love this recipe.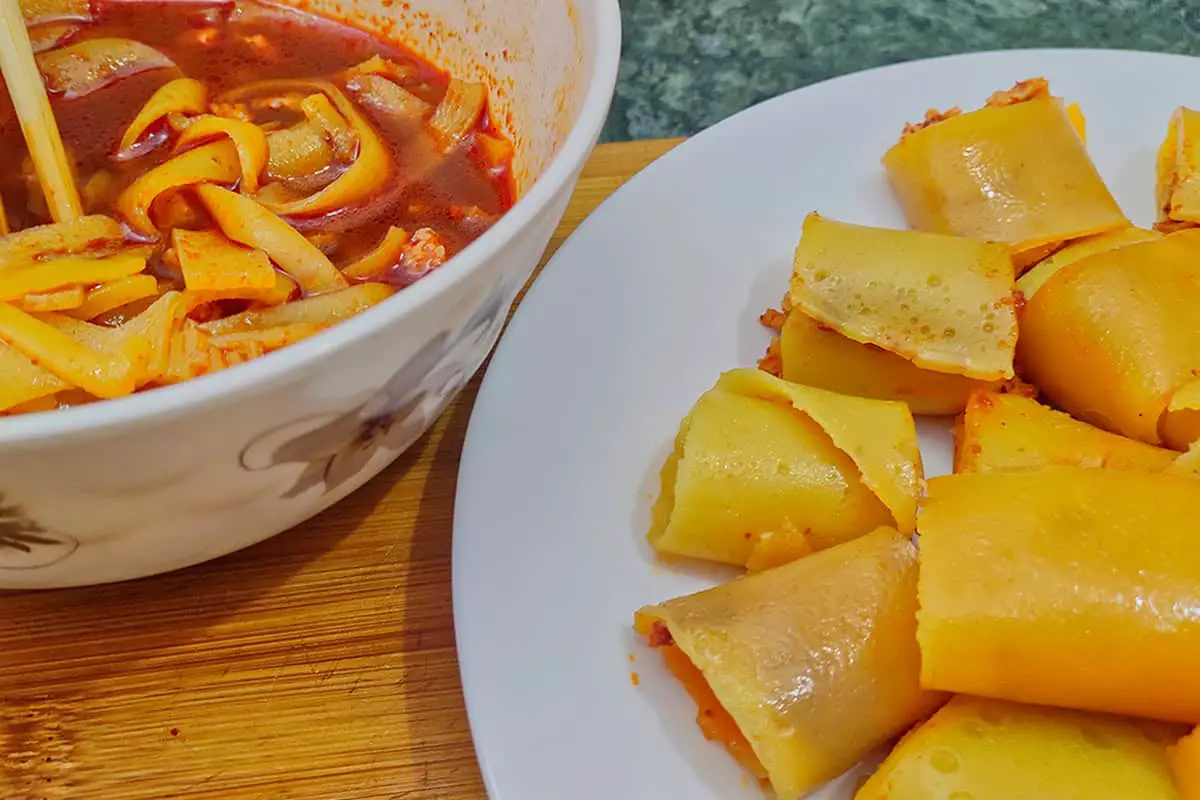 You might have seen Tibetan or Bhutain Laphing Recipe video somewhere or around. Laphing or Laping is a popular Bhutan food often prepared on the street.
Tibetan on Bhutanese Laphing is spelt out in a variety of ways, some calls it Laping, some calls it Laffi and many other dialects. Laphing recipe constitutes very few ingredients, this dish has a classic flavor of chili oil and garlic.
In this video, we'll be learning about this mouth-watering Bhutan food called Laphing.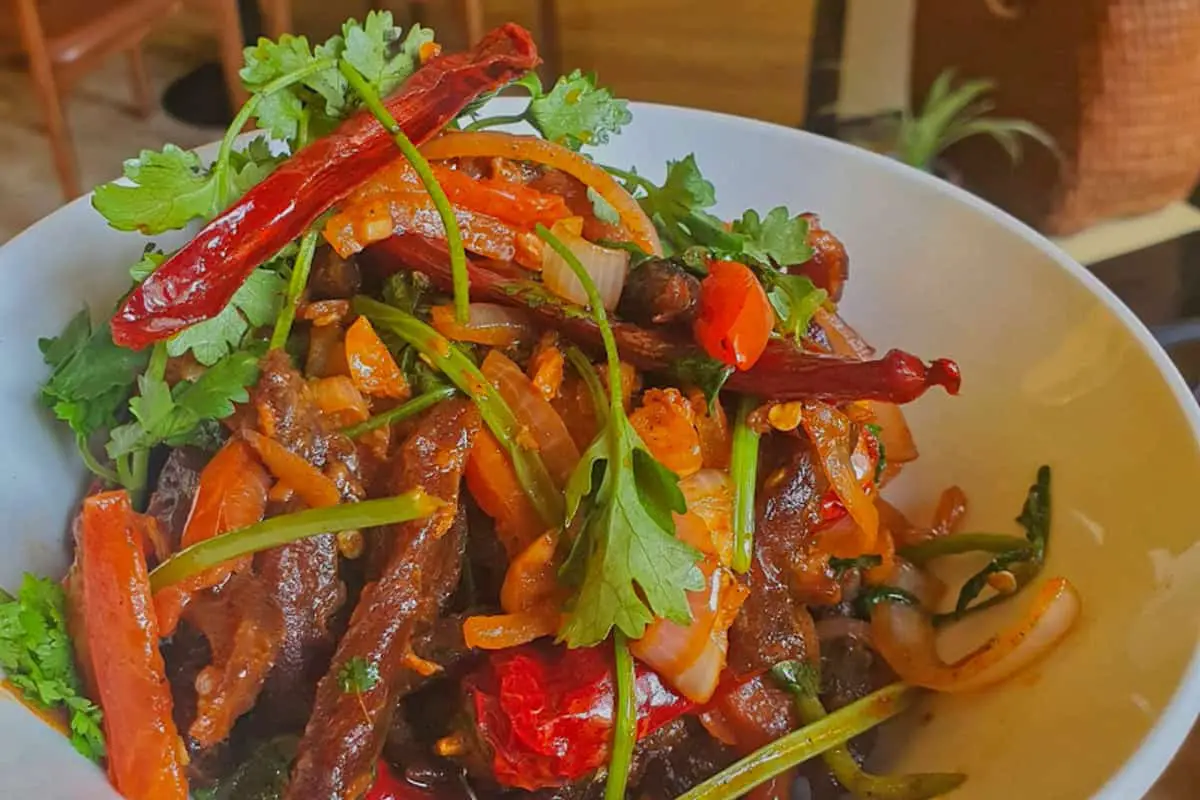 Bhutanese food is generally spicy, with heavy use of dried red chilies. Shakam Paa is an enchanted Bhutanese meal made with ground beef, dried chilies, and radish. Because beef is dried and kept before being used in this meal, it is a little chewy.
Shakam Paa is a great source of protein and is a mainstay of the Bhutanese diet. The practice of drying and preserving meat is also used in Bhutan food. This Shakam Paa dish is fantastic with Bhutanese red rice.
---
You May Want to Join Our Boondocking Group on Facebook For More Information
You May Want to Join Our Campfire Recipes Group on Facebook For More Information
For More Photos Visit Our Instagram at World Recipes Daily – Our Big Escape