Enjoy your hike to Waimano Falls via Waimano Falls Trail. This 2.9-mile out-and-back trail near Pearl City, Oahu. Generally considered a challenging route, it takes an average of 1 hour 41 min to complete. This is a very popular area for hiking, so you'll likely encounter other people while exploring. The trail is open year-round and is beautiful to visit anytime. Dogs are welcome, but must be on a leash.
Difficulty: Hard
Length: 2.9 mi
Elevation gain: 810 ft
Route type: Out & back
Dogs on leash, Hiking, Forest, Partially paved, River, Views, Waterfall, Wildflowers, Wildlife, Muddy, Rocky, Scramble
---
Want more ideas to round-out your hiking trips to the Hawaiian Islands?
A lot of great ideas are in these posts!
---
Amazing Hike to Waimano Falls via Waimano Falls Trail in Oahu
---
---
check out our video
---
---
Description:
The Waimano Falls Trail is also known as the Manana Trail. One of the most popular hikes on Oahu is the Waimano Falls Trail, and there are a few reasons for this. The trail is a little difficult, but not too hard. It takes you to one of the best swimming waterfalls on Oahu. You can swing on a rope that is tied across the falls. The trail is beautiful and can be used at any time of year. They allow dogs as long as they are on a leash.
Start by going to the green gate at the top of Komo Mai Drive. You have to park on the road that leads up to the gate. The first half mile or so of the hike is easy. The Manana/Waimano Ridge Trail is made up of pavement, roots, and a wide path. Then you'll see a sign that says "Waimano Falls Trail" and points to the right. To get to the beautiful end point, you need to go to the right. Then you'll be on the real trail, which will be a singletrack trail.
The adventure starts when it's time to start going down to the bottom of the valley. The weather is pretty good. It would be easier to get there if you went in the winter, when the path is full of ankle-deep, red slush that makes the ground slippery. Even if you go in the summer, you'll be at a sharp angle. The water in the lowest pool is deep enough to swim in and is just as cool. At the end of the trail, there is a big pool with a rope swing in it. Just upstream of the pool are the falls.
A little ways down from Waimano Falls is a pool where you can swim. The waterfall has two different levels. My favorite part is the swinging ropes across the falls. I love hikes that end with a reward. After a long, hard hike, there is nothing better than going for a swim to cool off. Most of the time, it rains a lot in this area, which keeps the water clean because it is always moving through the area.
It's not very well marked, like a lot of trails on the Hawaiian islands. This means that if you aren't paying close attention, you could take a wrong turn and make your hike longer. There are arrows spray-painted on a few trees and ribbons tied to a few trees, but they are easy to miss. Because I missed some of the markers, my hike took me an extra half hour.
When it has recently rained, the Waimano Falls trail can get very muddy. It's pretty much impossible not to step in it, so don't wear sandals or your nicest shoes. The extra rain does help make Waimano Falls one of the best waterfalls on Oahu, so the mud isn't all bad. Watch out for the roots. They can also trip people up quickly.
Since it was close to Pearl City, Waimano Falls felt more like a waterfall for locals, and its main draw was a rope swing (a definite tell-tale sign that locals in the know would come here). The hike to get to this waterfall was hard and dangerous enough to keep most people away.
Waimano Falls Hike in Hawaii
How long is the trail to the Waimano Falls? The Waimano Falls Trail is a 26.7-kilometer path that gets a moderate amount of use. We recommend that you stay on the main Trail until you get to where the Trail splits. When it rains, the Trail must sometimes be muddy. There are different paths; we recommend that you use the map.
Now I'm going to answer the most common question, which is, "How deep is Waimano Falls Pool?" The Pool has a safe drop of 15 to 20 feet. The main pool isn't too deep, but it can fit a lot of people at the same time.
Waimano Falls hike is one of the best trails because of this. We think this Waimano Falls Trail is the best place to hike and have a great time. The beautiful Waimano Falls is in the south of the island of Oahu. Even though it's one of the best waterfalls in the area, fewer people visit it than the other waterfalls on Oahu. Still, Waimano Falls is a great choice if you want to visit a waterfall that doesn't get too crowded.
Places to Take the Best Waimano Falls Photos
Waimano Falls is one of the best waterfall hikes on the Hawaiian island of Oahu, according to many articles. Even though this trail doesn't get as many hikers as some others, it's almost certain that you'll see other hikers there because it's been written about a lot. Even though this area is very popular, this hike is surprisingly hard. This was a highlight of our one day around the island tour. Great Waimano Falls hike to waterfall.
The path goes down very steeply into the gorge. The singletrack quickly turns into a steep, eroded descent with big root steps down, big boulders, and many muddy spots if it has been raining. On the way back up, you have to use both hands almost the whole time, and in some places, you have to do some tricky scrambling moves. But if you ask the locals, most will say that Waimano Falls is one of the best hikes in the area and that other trails are much harder. Waimano Falls photos are everywhere you look. The waterfall at the end of the Waimano Falls hike will make the hike worth it.
After going down the steep, eroded path, you'll reach the famous pools and waterfall at Waimano. Wet weather makes the way down to the pools even more dangerous, but if it hasn't rained recently, the waterfalls won't be running. If it has been dry, the waterfall stops moving and the water in the pools stays still.
When the water is running, people like to swim in the pools. If "swimming" sounds too boring, you can swing on the ropes or jump off the cliffs nearby. If you decide to jump off a cliff, make sure you've thought about the risk. People have been badly hurt in this area, and getting people out of Waimano is hard and takes a helicopter. This is where your camera comes in handy for taking Waimano Falls photos. There are some waterfalls, rope swings, and wading pools at the end of the Waimano Falls hike.
The climb back up can feel like a slap in the face after you've spent time in the pools. Even though the climb is hard and tricky, it is short, which is good. Once you get back to the Manana Ridge trail, you can take it easy and walk back to your car.
Relax and enjoy your Waimano Falls photos and send a few to your friends. If you are in Ohau and like to find places that are not too crowded with tourists, then Waimano Falls is a great place to go.
Hiking Tips For Waimano Falls Trail
★ Get there early, there aren't many places to park on the street, especially on the weekends.
★ Wear comfortable shoes you don't mind getting dirty. Also make sure that your shoes have enough traction because it does get slippery.
★ Bring a towel and a change of clothes if you plan on jumping into the pool.
★ Bring a jacket just in case it starts raining.
★ Make sure you go to the bathroom before you start the hike, since there are no bathrooms on the trail.
★ The trail to Waimano Falls is also used for hunting. Most likely, you'll see hunting dogs and pigs passing by (don't get scared).
★ Make sure to follow the pink markers along the trail so you don't end up hiking five miles up to the Ko'olau Mountains.
★ It's easy to walk down the steep root-filled hill, but it might be harder to walk back up.
★ You don't have to rush through dirt roads or cross a stream, but you should be prepared to walk through a lot of mud.
★ If it's not dry that day, you'll see a beautiful waterfall after walking through mud and narrow paths.
Always Pack These 11 Essentials For Every Hike
1. Navigation + Communication Devices Fully Charged
2. Sun Protection
3. Proper Footwear + Extra Clothes
4. Water
5. Extra Food
6. Headlamp
7. First Aid + Repair Kit
8. Knife / Multi-tool
9. Fire Tools
10. Emergency Shelter
11. Trash Bag
Directions To the Waimano Falls and the Waimano Falls Trail
Waimano Falls is located in Pearl City, Oahu. The best way to get there is by car. From Waikiki, take the I-H-1-W. Keep going on I-H-1-W, then take I-H-201 W and I-H-1 W to Waimalu's Moanalua Road. I-H-1 W, take exit 10, then turn right on Moanalua Rd. Right turn onto the Waimano Home Rd. Turn left onto Komo Mai Dr. and go all the way to the end of this road.
Going Down 'Cardiac Hill' to the Waterfall
Once on the Waimano Falls Trail, which was clearly marked, the path went down along a sloped ledge for the first 500 feet. But then the trail went down very steeply. This part of the trail was called 'Cardiac Hill' by the locals, probably because it would be a very steep climb back up to this point. As the trail went down, it got steeper and more tangled with tree roots. Some signs tried to point people more to the right so that plants could grow back and stop the hillside from eroding further. As I went down this hill, the trail got steeper and narrower. I also started to come across dangerous spots where people had set up ropes to help them keep their balance and get a better grip.
Because the trail was in such bad shape, I found that I had to be very careful about where I stepped, especially since I almost slipped and fell a few times. At the bottom of the steep descent, about a half mile from where the Waimano Falls Trail split off from the Manana Ridge Trail, there was a rocky slope that was so steep I had to hold onto narrow ledges to move slowly down it.
Once I got to the bottom, there was a false trail that kept going down. I didn't realize I was off course until I could no longer see any signs of a trail. I then had to go back and find the real trail. The key was to stay to the left of the shaky rock wall or slope, and then to get back on the narrow trail, which had more steep slopes and even a few switchbacks.
About 0.1 mile further, the jungle briefly opened up to show where the main branch of the Waimano Stream ran next to a single tall tree. After going back into the jungle for another 0.1 mile, the trail went down one last steep, slick, and dangerous slope until it reached a ledge with a view of the lower waterfall and rope swing.
Keeping to the left to go upstream, the path came to a sudden end at a small dropoff where you could see Waimano Falls and its plunge pool. To get down to the level of the stream and further downstream to the rope swing and lower cascade, you had to go down a steep, shaky, and almost vertical path with the help of a rope.
And this was the end of the hike. It took me about an hour to walk the roughly 0.6 to 3/4 mile stretch down "Cardiac Hill," where I lost about 500 feet of height. In fact, on the way back up, it was a hard, sweaty climb to regain all that elevation and get back to the Manana Ridge Trail. It took me over an hour to get back to the trailhead and then to my parked car.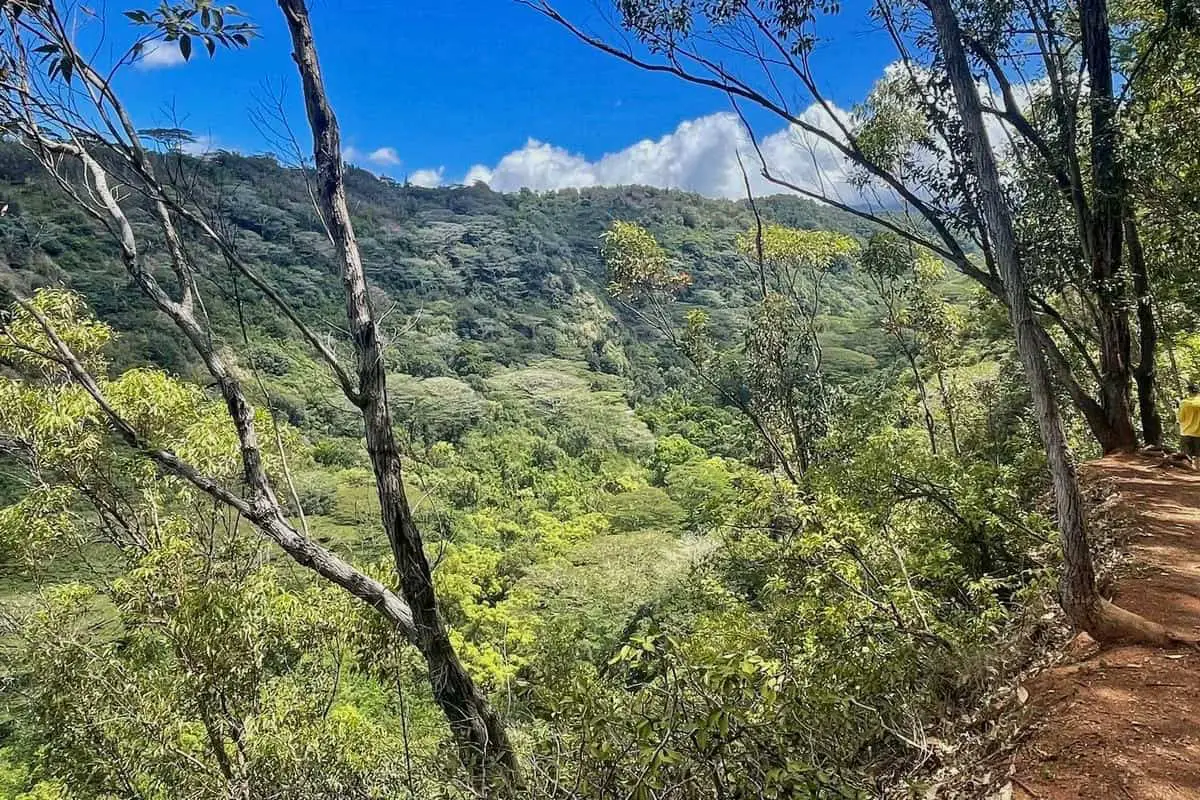 Hike the Trail to Waimano Falls Review
It's a steep, enjoyably challenging track down and the bottom is such a treat!
Overall, this hike wasn't too hard for our fit family of 10, 13, and 40-year-olds. But there were a few places that were steep and might have been hard. The hike was beautiful all the way through, but the waterfall was especially lovely. If you haven't hiked much before, the steep parts might scare you away, but most of them have ropes that can help you out. But the hike will be worth it when you get to the waterfall at the end.
You can park on the streets near the front door. There were some kids with dogs that I think people rent for hunting, so don't worry if you see them. The hike itself starts out easy and gets a little steeper, but is still safe. Follow the signs for the trail as you go. When you've been walking for a while and are in the middle of the jungle, you need to turn left to get to the pools at the bottom. The way is shown by a small arrow made of sticks. If you go the wrong way, it's easy to see and you can just turn around. At the end of the hike, there are waterfalls, rope swings, and places to wade in the water.
This short trail is a good hike for families with kids, and at the end, they can jump in the pools by the waterfall. The first mile is easy and mostly flat until you reach the intersection with the Manana Trail. Here, you turn right and start going downhill. Eventually, you reach the famous Cardiac Hill, which is a bit steep and full of roots. Coming back from the falls, this section is a little harder, but if you take it slow and steady, you will be over it in no time.
The best time to go is during the week. Weekends can get very busy, which is why I don't come here very often. In the summer, the water doesn't move as much, so I like to go after it rains. Rope swings over the pools are fun.
This hike is pretty hard, but it's a 5 star hike for sure. The weather and mud determine how hard it is, and it depends on whether you do it during or after it rains. We went hiking before and after it rained. So much mud, and the climbs were very steep. It would be much easier if it wasn't wet. We had to use the ropes to literally climb up and down to get to and from the trailhead. It was so worth it to go on this hike! The rope swing was pretty cool, and the two pools of water were so refreshing. We left around 7 a.m. and got to the waterfall around 8 a.m. For the next hour, we were the only ones there, and we didn't see anyone else until we were halfway back on the trail. This place isn't for everyone, so I don't know how busy it would be. You should be in good shape. My daughter, who is 10 years old, made it, but she is a tough kid. Check this out if you want to go on a great hike through the jungle that ends at a waterfall.
My favorite waterfall hike right now is to Waimano Falls. I like going on hikes where I can reach a peak with a waterfall or a view that takes my breath away. The top of Pacific Palasades is where Waimano Falls is. It's about a three-mile walk that takes about two hours to do round-trip. The best time to go is after it rains, when the water is moving faster. This hike isn't as busy as others, but like Manoa Falls, the paths are muddy. This trail is surrounded by lush greenery. The payoff comes when you get to the pool, where a beautiful waterfall is waiting for you. There is a hanging rope that lets you jump in.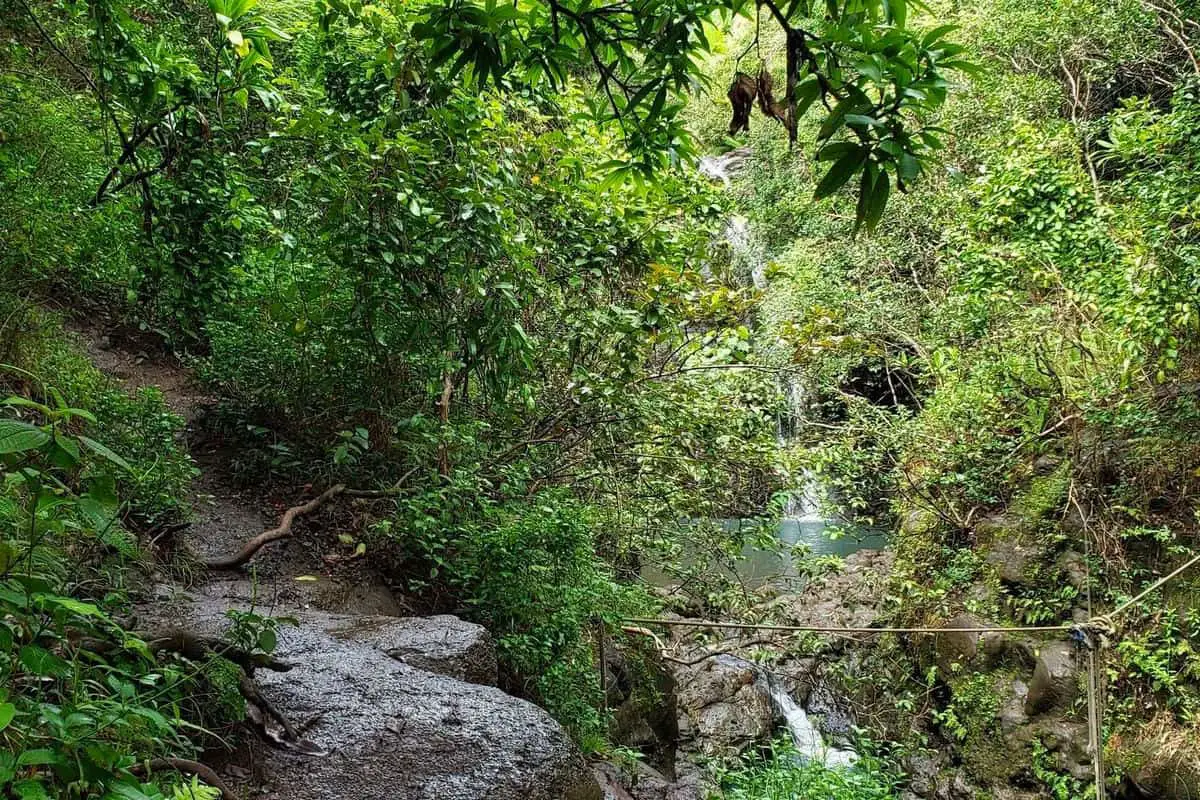 Nearby Trails to Hike
---
1. Aiea Loop Trail
Discover this 4.9-mile loop trail near Aiea, Oahu. Generally considered a moderately challenging route, it takes an average of 2 h 47 min to complete. This is a very popular area for hiking, so you'll likely encounter other people while exploring. The trail is open year-round and is beautiful to visit anytime. Dogs are welcome, but must be on a leash.
Difficulty: Hard
Length: 4.9 mi
Elevation gain: 1,309 ft
Route type: Loop
Dogs on leash, Kid friendly, Hiking, Forest, Views, Wildflowers, Wildlife, Rocky, Scramble
Review
Beautiful hike. Make sure the check out the heiau (Hawaiian temple) at the front of this park. It was more intricate than I others I've seen. You can park, visit the heiau, and then you have to drive a bit farther to park at the trailhead.
2. Moanalua/Kamananui Valley Trail
Discover this 9.2-mile out-and-back trail near Honolulu, Oahu. Generally considered a challenging route, it takes an average of 5 h 49 min to complete. This is a very popular area for birding, hiking, and mountain biking, so you'll likely encounter other people while exploring. Dogs are welcome, but must be on a leash.
Difficulty: Hard
Length: 9.2 mi
Elevation gain: 2,998 ft
Route type: Out & back
Dogs on leash, Hiking, Mountain biking, Bird watching, Running, Forest, River, Views, Wildflowers, Wildlife, Bugs, Rocky, Scramble
Review
Beautiful view and one of the highest points you can get to on the island legally. The hike can be strenuous for most. This was my second time. We went while it was raining and very windy. Be aware when it rains it can be very slippery and there are some portions of the ridge that are shoulder width. It can be a bit intimidating when there are gusts of winds. We had to crouch down very low and walk across slowly while we were ascending. If you are afraid of heights or a beginner do not bother to attempt! Wear the proper hiking boots. Expect to get very dirty if it's raining.
3. Lower and Upper Waimano Trail
Enjoy this 2.5-mile loop trail near Pearl City, Oahu. Generally considered an easy route, it takes an average of 1 h 14 min to complete. This is a very popular area for hiking, mountain biking, and running, so you'll likely encounter other people while exploring. The trail is open year-round and is beautiful to visit anytime. Dogs are welcome, but must be on a leash.
Difficulty: Easy
Length: 2.5 mi
Elevation gain: 488 ft
Route type: Loop
Dogs on leash, Kid friendly, Hiking, Mountain biking, Walking, Running, Views, Wildlife, Over grown
Review
Started hike at 10am. We took the upper trail first, then looped down to the lower trail, and back out. AllTrails says it takes about 2hr to complete. My wife and I finished in 1hr 30min. The views and the river at the bottom made it worth the trek!
Waimano Falls via Waimano Falls Trail Things to Do
---
1. Pearl Harbor National Memorial
Site commemorating the 1941 Pearl Harbor attack, featuring USS Arizona Memorial, museum & galleries. For many visitors a trip to Oahu and Pearl Harbor National Memorial is not complete without stepping foot on the USS Arizona Memorial. The National Park Service has managed and operated the USS Arizona Memorial since 1980. Everyone has a World War II story, and every day the Park Rangers at Pearl Harbor National Memorial work tirelessly to meet the demands of over 3,000-5,000 visitors daily wishing to pay their respects.
2. Hawaii's Plantation Village
Guides take visitors on a tour of a re-created 1900s sugar plantation with 25 buildings & homes. Step back in time to when 'sugar was King' and experience the real Hawaii. Hawaii's Plantation Village is the perfect location for keiki, family and all ages to explore a living history museum and botanical garden. A visit to us opens a door to a time of true hospitality and cultural sharing that sprung from Hawaii's plantation life.
The Village tells the story of life on Hawaii's sugar plantations (circa 1850-1950) and is composed of a museum and restored buildings and replicas of plantation structures, including houses of various ethnic groups and community buildings such as the plantation store, infirmary, bathhouse and manager's office. We share the story of Hawaii's many cultures: including Hawaiian, Chinese, Japanese, Filipino, Korean, Okinawan, Portuguese and Puerto Rican.
3. Aloha Tower
Built in 1926, this landmark 10-story lighthouse is one of Hawaii's most recognizable buildings. For nearly 100 years, Aloha Tower has welcomed visitors to O'ahu, from early days when ocean travel was the only way to visit Hawaii to today when all cruise ships to this island arrive near its port. Aloha Tower is an iconic symbol of Hawai'i and the most recognized building in the state. More than 18 stories tall, Aloha Tower and its 10th-floor observation deck offer unparalleled views of Honolulu Harbor and the Koʻolau Mountain Range. Aloha Tower's lighthouse served as a navigation landmark that could be seen at sea from 15 miles away with a tower clock that was once one of the largest in the United States.
Food and Diner Locations Near the Waimano Falls via Waimano Falls Trail
---
1. OH MY GRILL – Aiea
98-199 Kamehameha Highway Pearl Kai Shopping Center C, 7, Aiea, HI 96701
About
Aloha, and welcome to Oh My Grill Barbecue, your favorite restaurant in Honolulu for local style plate lunches and meals. Our locally owned and operated restaurant is open for breakfast, lunch, and dinner, serving local tried and true favorites like hamburger steak with savory gravy all over, crispy and juicy chicken katsu, or a good old mixed plate with all of the fixings.
Try some of our house specials like our Wagyu Burger, handmade with 100% Wagyu beef patties, or cool off with our Dole Whip Float. So come visit us at one of our two locations in McCully or Pearl City, and indulge on some of your local favorites today!
Review
I didn't know about this restaurant's other locations and didn't know what to expect, drawn only by the bright sign outside. I think I was expecting a standard diner counter setup, and was surprised to find a sit-down, table service restaurant inside (though they do brisk takeout service too). For a local joint it was nicely appointed with little touches showing someone really cared to make a good first impression. Signs promoted an upcoming grand opening (April 23, 2022), suggesting things were just getting started. The staff outnumbered the patrons, but I'm certain that's going to change.
The menu was expansive and impressive. Breakfast is it's own impressive thing, but we came for lunch. Pepsi fountain drinks plus smoothies, floats, and Thai iced tea — even Dole Whip. I went for the BBQ Mixed Plate and my friend for the loco moco, both were nicely presented on teishoku-like trays. And both were quite good. There were many other things on the menu we are curious to try, and will certainly be back!
2. Restaurant 604
57 Arizona Memorial Dr, Honolulu, HI 96818
About
Island inspired fresh fusion food with numerous locally sourced ingredients and breathtaking views. Restaurant 604 offers the best waterfront dining in Pearl Harbor. It's the best restaurant for military families, local residents and those just passing through to enjoy a quality meal along with world class service. Our diverse menu is designed to please almost any palate featuring a selection of traditional American cuisine along with island favorites. Conveniently located next to the USS Arizona Memorial it's the perfect place to grab a bite to eat surrounding your tour or an easy stop off during your daily commute.
Review
We had a little bit of everything. But the best thing was the tuna nachos. I had the seared tuna club sandwich. The size and flavor of the tuna steak was better than most dinner size meals I've had. The service was excellent. All of our food came out the way we ordered it and promptly. The drinks were strong and flavorful. Finally I bought some merchandise to include some Oakley sunglasses that were priced right along with a hat. Will be back.
3. Dixie Grill
4111, 99-016 Kamehameha Hwy, Aiea, HI 96701
About
Welcome to Dixie Grill BBQ and Crab Shack. Dixie Grill features food & drink of the barbeque belt and coastal regions of the southeastern United States. "We're always smokin' something" from brisket to turkey, along with southern favorites like fried pickles, okra, mac n cheese, Seafood? We got CRAB. Lotsa crab! Key Lime Pie & Banana Pudding for dessert. HUGE selection of whiskey & tequila, cold draft beer, and our signature SCREAMIN' MAI TAI.
Review
My wife and I visited Pearl Harbor and found this little place for a late lunch. The burger I ordered was amazing!!! The bbq sauces they offered were tasty, and they start it all off with popcorn!! Great food at a reasonable price. Also had the special, pulled pork nachos and a happy hour special of peel em and eat em shrimp. The server we had was familiar with west Texas, so that made it that much more memorable! Thank you guys for the great food and warm welcome!
---
You May Want to Join Our Boondocking Group on Facebook For More Information
You May Want to Join Our Campfire Recipes Group on Facebook For More Information
For More Photos Visit Our Instagram at Campfire Recipes Instagram Our Big Escape