Discover the Gregory Bald Trail. This 11.6-mile trail near Townsend, Tennessee, goes out and back. Most people think of it as a difficult route, and it takes an average of 6 hours and 50 minutes to finish. This is a very popular place for backpacking, camping, and hiking, so you'll probably run into other people while exploring.
The trail is beautiful and can be used at any time of year. Dogs can't go on this trail, so you'll have to leave them at home.
Difficulty: Challenging
Length: 11.6 mi
Elevation gain: 3,359 ft
Route type: Out & back
Backpacking, Camping, Hiking, Horseback riding, Running, Forest, Views, Wildflowers, Wildlife, No dogs
First of all, if you use the directions button to Gregory Bald trail, it will tell you to park a mile before the trailhead at the cabin. At the end of Forge Creek Road, where the trail starts, there is a small cul-de-sac where a few cars can park.
If you go on a day when there aren't as many people, like I did on Monday morning, you can park much closer. Still, the first two miles are pretty easy. You walk along a stream for a while, and then, as you start to go up, you catch glimpses of the view, which are mostly blocked by leaves. In the next 3 miles, the road gets steep and there are only trees.
If you've done other long hikes in the Smoky Mountains that were about the same distance, you'll be fine. If you haven't, it's all uphill until you meet up with Gregory Bald trail. The last half mile to the bald is a little rough, but when you reach the top and see the view in all directions, you'll be glad you made the effort.
As a note, there is bear poop all the way from the top to the bottom, and I saw a mother bear and her cub on the way down. You would almost certainly see a bear, so just be aware of your surroundings and know what to do when you do, and have fun!
---
Want more ideas to round-out your hiking trip to Tennessee?
A lot of great trails are in these posts!
---

1000s of Beautiful Gregory Bald Trail Flaming Azaleas
---
---
check out our video
---
---
The Gregory Bald trail is a total of 11.3 miles from start to finish. Hiking experts say that you should give yourself about 6 hours to finish the hike. Along the way, you will gain more than 3,000 feet in elevation, which is why this trail is considered difficult.
If you want to finish the hike in two days, you can stay at Campsite 12 for the night if you need a place to rest .
The Gregory Bald trail hike is not to be missed if you love nature and flowers. Even though this is one of the hardest trails in the Smokies, you'll soon see why it's also one of the most popular hikes for tourists. This trail is a must-do because of the beautiful mountain view and other sights. Here is all the information you need to hike to Gregory Bald.
Some flowers have warm colors like red, orange, and yellow with hints of salmon or magenta, while others have cooler colors like pink, white, and light yellow. Some of them have a scent, which comes from the fragrant white arborescens species.
The Gregory Bald Azalea has the best qualities of both of its parents, like a shape that looks like a trumpet and bright colors. The flowers come in many different colors and color combinations. As the flower ages, the color tones change.
The beautiful Gregory Bald trail is a great place to hike for both nature lovers and flower fans. When the azaleas bloom in early summer, hikers come from all over the world to see them. Not much of a flower person? No problem. At Gregory Bald, you will be blown away by the beautiful views.
All kinds of beautiful nature can be seen along the Gregory Ridge Trail. Even though the trail is open all year, most people go there in the spring and summer to see the flowers in bloom. Your trip will start in an old-growth forest, where you can see trees that are hundreds of years old.
You will also find a creek where the banks are covered with rhododendrons. During the rest of the hike, you will see a variety of beautiful flowers and trees, and maybe even a few animals back off the path.
You can start your hike at the Gregory Ridge trailhead near Cades Cove, whether you want to see the colorful azaleas at their best or just take in the beautiful mountain views. Gregory Bald is one of the most popular places to hike in the Great Smoky Mountains, and it can be reached by a difficult trail.
Even though the Gregory Bald trail round-trip hike is hard (11.3 miles) and you'll gain a total of 3,020 feet in elevation, this hike is well worth it because of the mountain views and terrain. The peak of the long hike is 4,949 feet above sea level.
This hike is hard because it is long, goes up and down hills, and has rough terrain. The whole trip takes about 6 hours, so you'll want to plan it as either a full-day hike or an overnight trip (Campsite 12 along the trail offers overnight camping).
As you might guess, Gregory Bald is the goal of this Smoky Mountain hiking trail. This is the place to go if you want to see the colorful azaleas at their best or just want a picture-perfect view of the mountains.
If you don't know already, a bald is a flat area of meadow land along a mountain ridge. Elkmont sandstone made this particular bald. If you look closely, you can see some of the sandstone coming up through the thick grass on the bald. From the top, you can see many mountain ranges, such as Cades Cove, Rich Mountain, and the Yellow Creek Mountains.
Old-growth trees have been used to make trails through the forest along the Gregory Ridge Trail. At the start of the trail, you will walk close to a creek that is covered by rhododendron. At some point, a foot log bridge will take you over the creek so you can get a better look at it.
Gregory Bald Trail Description
From the Gregory Bald Trailhead parking lot, head out on the Gregory Bald trail, which starts on the west side of the bend in Parson Branch Road. From where the trail starts, it is just over 4 miles to the bald. The first mile is pretty easy and gradual, giving you time to enjoy the scenery as you walk through an impressive old-growth forest with big eastern hemlocks.
After the first mile, the grade will start to get a little steeper. Keep going at a steady pace, because the next three miles will be just as hard, and you won't get much of a break until you reach the bald. Take your time and be careful on the steeper, rockier parts of the trail where there are ruts. The trail gets a lot of use, and after it rains, it can get very rutted.
Backcountry Campsite 13, Sheep Pen Gap, is right before you get to the bald. It is one of the quietest places to camp in GSMNP. Just past the camp site, the Gregory Bald Trail meets up with the Wolf Ridge Trail. On the Gregory Bald Trail, keep to the left to keep hiking up to Gregory Bald.
It takes up about 10 acres. Take your time to look around this beautiful grassy meadow, as there is a lot to see from the bald, including animals, views, and, of course, flame azaleas. The view is great all the time, but the colors in June are especially beautiful. On a clear day, you can see Cades Cove, Rich Mountain, Fontana Lake, Thunderhead Mountain, and Clingmans Dome.
When you're done exploring Gregory Bald, just go back the way you came to get to your car.
Hiking Tips For Gregory Bald Trail
The best time to hike the Gregory Bald trail is between the middle and end of June. This is when the bright orange, red, yellow, white, and fuchsia colors of the azaleas light up the bald. People say that it is the best place in the Smoky Mountains to see azaleas in full bloom.
August is another great month to hike to the Gregory Bald trail because blueberries are in bloom all over the top. But if you go at this time, watch out for black bears. They are just as interested in the blueberries that are coming into season.
Pack the 10 Essentials For Every Hike
1. Navigation + Communication Devices Fully Charged
2. Sun Protection
3. Proper Footwear + Extra Clothes
4. Water
5. Extra Food
6. Headlamp
7. First Aid + Repair Kit
8. Knife / Multi-tool
9. Fire Tools
10. Emergency Shelter
11. Trash Bag
Directions To the Gregory Bald Trailhead:
From the center of Gatlinburg, take the main Parkway into the National Park and turn right at the Sugarlands Visitor Center. Go all the way to Cades Cove on Little River Road. Start the one-way scenic loop once you get to Cades Cove.
From the Townsend intersection, take Laurel Creek Road west to get to the Gregory Ridge Hiking Trailhead. Make your way to Cades Cove. After driving for 7.5 miles, you will get to a parking lot. Go around this lot and through the loop road that only goes one way.
13.2 miles after the intersection at Townsend, the looped road will turn sharply to the left. Stay on Forge Creek Road, which will lead you to Parson Branch Road. Drive for another 2.2 miles.
Review
"In this Park, we shall conserve these trees, the pine, the red-bud, the dogwood, the azalea…for the happiness of the American people." – President Franklin D. Roosevelt, from his speech dedicating Great Smoky Mountains National Park
If you've ever hiked the Gregory Bald trail to the topin early summer, you know that when the many azalea shrubs there are in bloom, it's like seeing the "Eighth Wonder of the World." The crazy range of colors of the flowers and the fact that they grow on top of a mountain all add up to a feeling of wild awe.
But if we also know that the azaleas on Gregory Bald are one of the most interesting natural science experiments on our planet, we can only grow to like the place more.
Gregory Bald Trail Nearby Hiking
---
Twentymile Trail
Check out this loop trail that goes around 7.8 miles near Bryson City, North Carolina. Most people think of it as a moderately hard route, and it takes an average of 3 hours and 45 minutes to finish. This is a popular trail for hiking, camping, and backpacking, but there are times of the day when you can still be alone. From March to November is the best time to visit this trail. Dogs can't go on this trail, so you'll have to leave them at home.
Difficulty: Hard
Length: 7.8 mi
Elevation gain: 1,384 ft
Route type: Loop
Backpacking, Camping, Hiking, Horseback riding, Running, Forest, Lake, Views, Wildlife, No dogs
Review
The path was pretty and easy to follow. For most of the hike, you can see or hear water falling. I'm not too out of shape, but it was hard for me. There are many downed trees to climb over or under, and I had to go off the trail to get around one. It goes uphill a lot and can be muddy. If you are afraid of falling, the log bridges are not a good choice.
They bounce when you walk over them, and they are only about 12″ wide. Some are covered in moss and have handrails that are partially broken off and wobbly. I didn't like it! In one place, there was no bridge, so I had to wade. I had water shoes in my backpack, which was lucky.
I wouldn't do it without hiking boots and trekking poles. Even though there were broken bridges and downed trees, I would do it again.
Hannah Mountain Trail
Enjoy this out-and-back trail that goes for 18.1 miles near Tallassee, Tennessee. Most people think of it as a moderately hard route, and it takes an average of 8 hours and 13 minutes to finish. This trail is great for backpacking, hiking, and running, and you probably won't see many other people while exploring. The trail is beautiful and can be used at any time of year.
Dogs can't go on this trail, so you'll have to leave them at home.
Difficulty: Hard
Length: 18.1 mi
Elevation gain: 2,910 ft
Route type: Out & back
Backpacking, Hiking, Walking, Running, Forest, Views, Wildflowers, Wildlife, No dogs
Review
This trail goes through a beautiful forest. It's not too hard, but there aren't many great views either. This part of the Great Smoky Mountains National Park is not my favorite. Rabbit Creek Trail, which starts at the Abrams Creek Ranger Station, led us to Hannah Mountain Trail. I didn't like Rabbit Creek Trail very much, except for the beautiful wildflowers that caught us by surprise.
But the path was much nicer once we got to Hannah Mountain Trail. The unexpected river crossing was the best (or worst), depending on your point of view. You have to go across Abram's Creek, which was up to our hips when we did it.
Huckleberry Knob Trail
This out-and-back that goes 1.7 miles near Robbinsville, North Carolina. Most people think of it as an easy route, and it takes an average of 50 minutes to finish. This trail is used by a lot of people to walk, run, and hike, but you can still get some alone time when it's not busy. From March to October is the best time to visit this trail. Dogs are welcome, but must be on a leash.
Difficulty: Easy
Length: 1.7 mi
Elevation gain: 331 ft
Route type: Out & back
Dogs on leash, Kid friendly, Hiking, Walking, Running, Forest, Views, Wildflowers, Wildlife
Review
Ok, sooooo. I was aware of all the reviews that warned about hogs, but I went ahead anyway. I had everything ready to go camping. Just before it got dark, what looked like a mother pig and her babies ran out from behind the trees. There was another guy there who was watching the sunset on his own, and she yelled at us and started to follow us. All of the babies tried to follow.
I had to give up my gear and run back to the car. I'm going to get it in the morning and hope I don't run into anyone. It would have been a great place to camp because it is so pretty. Still, you should be very careful. I had been there for a few hours and thought I was safe. I also read that dogs make things worse, so I left mine behind in case that was the case. So glad I did.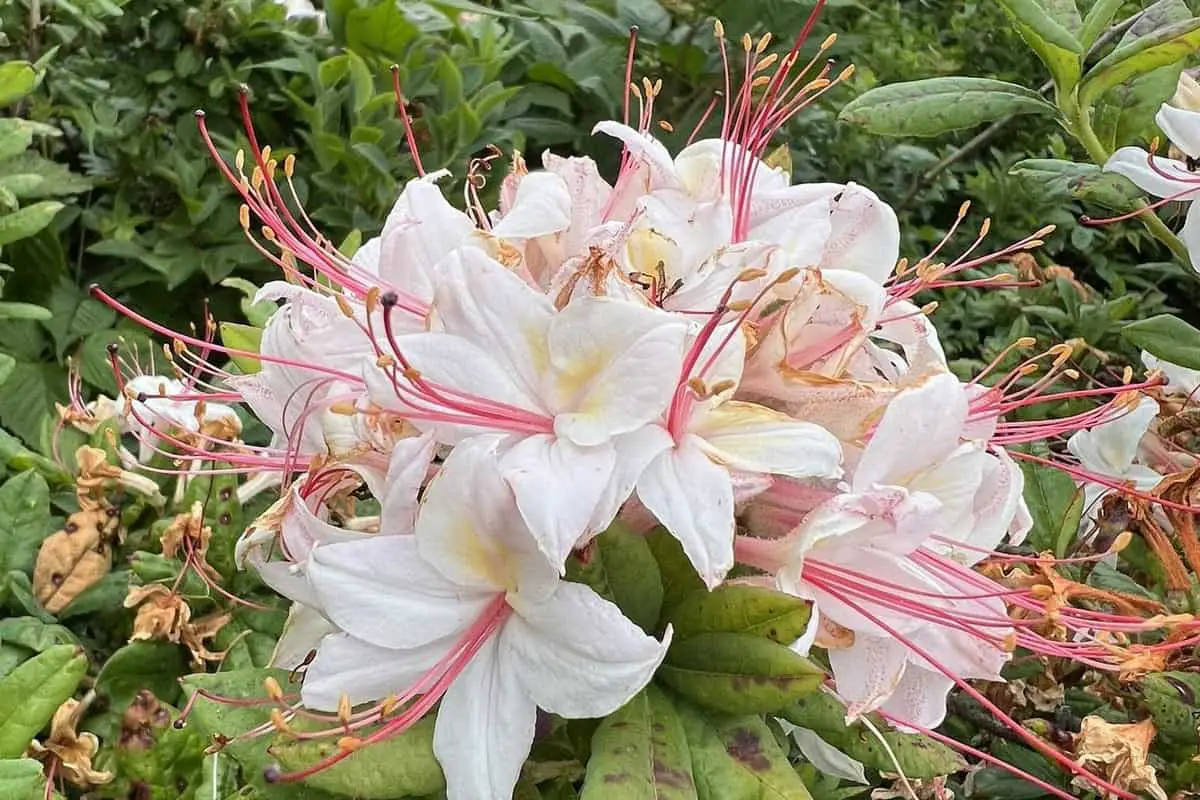 Things to Do Near the Gregory Bald Trail
---
Look Rock Viewing Platform
Look Rock is a natural ledge with a view of the park. It is on the beautiful Foothills Parkway. A half-mile walk takes you to the observation tower, which has a great view of the mountains in all directions.
The Foothills Parkway doesn't get as much traffic as other roads in the park, so it's a great place to get away from people and cars, especially in October when people come to see the fall colors. There are many beautiful places to stop along the 18-mile Parkway. The highest point of the Parkway is Look Rock. At Look Rock, the National Park Service runs a picnic area and a campground.
The public can go up to the observation tower, which is near the hiking trail. When the weather is clear, you can see a lot from the tower. Because the railing is low, keep an eye on kids who are younger. The level at the very top is closed. On the east side of the parking area is the start of the path to the tower.
There is also a natural observation ledge on the west side of the parking area. You don't have to hike to get there, but the view isn't as good as from the tower, where you can see in all directions.
Elijah Oliver Cabin
Cades Cove Loop Road is just a short, one-mile (round-trip) walk from the Elijah Oliver Place, which is a group of buildings from the early days of the United States. The main cabin was made of cut logs that were stacked on a stone base. Part of the cabin was built on top of a trickling spring, which kept foods like eggs, butter, milk, and other dairy products cold.
The people who lived in Cades Cove were known for how friendly they were. In fact, everyone knew that most families were so kind that they would let a traveler stay in their home for free, feed them a warm meal, and even let them sleep there for the night.
On the right side of the front porch of the Elijah Oliver Place is a small room with a door. This room, which was called a "Stranger's Room," was set up so that travelers in need could stay there for free. Many people think that Elijah Oliver's sense of hospitality came from his strong religious beliefs. For 37 years, he was a member and deacon of the Primitive Baptist Church.
Review
Fontana Dam
Visit the Fontana Dam Visitor Center to learn about the history of the Dam through videos, pictures, and written information. If you climb the tower, you can see the beauty of Fontana and Graham County.
Fontana Lake helps the area in many ways, like keeping floods from happening and giving people places to go for fun. The Appalachian Trail goes over the top of the dam, and hikers have given a nearby trail shelter the name "Fontana Hilton" because it has hot showers.
Food and Diner Locations Near the Gregory Bald Trail
---
Mountainview Bistro
300 Woods Rd, Fontana Dam, NC
Review
We ate breakfast and dinner at the Bistro. The hamburgers, steak sandwiches, and steaks are all absolutely delicious. We also had the delicious breakfast buffet, which had a lot of different kinds of fruit, eggs, sausage, bacon, grits, potatoes, french toast, muffins, breads, and cereal.
Tapoco Tavern
14981 Tapoco Rd, Robbinsville, NC 28771-6885
Review
My "mom" and I ate here while staying at the lodge. We ate catfish with sweet potato fries. All of our food was cooked just right and tasted great. The river view is the cherry on top. We also had drinks at the bar later, and they were very good as well. The service is great, and everyone who works there is friendly and willing to help.
T Dubbs
448 Rodney Orr Bypass, Robbinsville, NC 28771
Review
While we were hiking in North Carolina, my husband insisted that he had to eat Carolina barbecue. He found this place on TripAdvisor and was very excited to try it out. He and our 18-year-old ate a Q sandwich and dry-rubbed chicken wings.
My 18-year-old son said that he had never had BBQ that was this good. Since we are from Georgia, he has had a lot of great BBQ. This is the place to go if you want the real deal.
---
You May Want to Join Our Boondocking Group on Facebook For More Information
You May Want to Join Our Campfire Recipes Group on Facebook For More Information
For More Photos Visit Our Instagram at Campfire Recipes Instagram Our Big Escape