Try the Spicewood Valley Trail, a 2.1-mile out-and-back trail near Austin, Texas. Generally considered a moderately challenging route, it takes an average of 45 min to 1 hour to complete. This is a popular trail for hiking, running, and walking, but you can still enjoy some solitude during quieter times of day.
The trail is open year-round and is beautiful to visit anytime. Dogs are welcome, but must be on a leash.
Spicewood Valley Trail
8043-8585 Scotland Well Dr, Austin, TX 78750, USA
30.42333110676179, -97.79502738969244
This Spicewood Valley Trail is a short, well-kept trail that goes through a beautiful forest and by a small waterfall that falls down in a cascade. This route is right in the middle of Austin, Texas, which makes it a great place to get away from the city and enjoy the outdoors. At the start of the trail, there is a small parking lot that can fit about 5 cars.
Difficulty: Bit Challenging
Length: 2.1 mi
Elevation gain: 127 ft
Route type: Out & back
Dogs on leash, Kid friendly, Hiking, Walking, Running, Cave, Lake, Waterfall, Wildlife, Rocky
---
Want more ideas to round-out your trip to Texas?
A lot of great ideas are in these posts!
---

Best Spicewood Valley Trail Hike In Austin Texas
---
---
check out our video
---
---
The Spicewood Valley trail is one of Austin's newest. It was finished and opened on November 12, 2005. The American Youth Works? Environmental Corps finished the job.
Over the course of two years, 120 volunteers built the 1.3 mile Spicewood Valley trail. In doing so, they made a beautiful path that sometimes reminds me of the stonework done by the CCC in national parks. To protect the trail, thousands of pounds of stone were cut, moved, carved, and put in place.
The United States Youth Conservation Corps built the Spicewood Valley Trail in the year 2005. It took the Corps of Engineers two years to finish this 1.3-mile trail, but because the trailhead is in the middle, you can walk almost 2.5 miles in each direction.
The US Forest Service's United States Youth Conservation Corps hires teens between the ages of 15 and 19 who are interested in conservation and land management. They give money for projects like fixing up buildings, building and maintaining trails, fixing up parks and campgrounds, and many other things.
Although, since 1982 they don't fund local programs like the Spicewood Valley trail they will send teams to construct projects that cities, counties and states are willing to fund.
This trail is really great for summer hikes because it is shaded about 90% of the time and has some nice water features. Unfortunately, most of the water features are dry during the summer. Still, there's plenty of shade, the sound of water trickling, and if you're lucky, you might see some nice birds here.
The Spicewood Valley trail goes in and out, and I walked a little over 3 miles in total. When I got to the end, I found something that made me very happy: huge boulders that were dry because it hasn't rained in a while, and a lot of sunshine shining down on me.
Spicewood Valley Trail Description
On the topo map, the trail starts at the point called "Trailhead," which is across the street from Mountain View Park. At the waypoint "Parking," there are lots of places to park, and the trailhead is just across the ball field and playground.
Through a couple of steep switchbacks, the Spicewood Valley trail drops into the creek valley with a bang. Volunteers with American Youth Works put in a lot of hard work right away. The only reason a normal person can walk down the steep terrain is because stone steps were put in place to make it easier.
Even though many hikers could have handled going straight down a steep slope, the erosion that would happen would not be acceptable.
The Spicewood Valley trail comes to a "T" at the waypoint "Junction." If you turn left and head north, you'll get to the hillier and more interesting part of the trail. Here, the trail goes next to a rocky bluff and then goes uphill with switchbacks to another trailhead in the area.
Near the waypoint "Alt-TH," there is a stone bench that looks out over a dry waterfall that, when it rains, sends water into the creek. The trail is flatter in the southern half. In the distance, you can see some stonework in the form of stone benches.
If you go back to the intersection and then keep going south, the trail gets easier and flatter and mostly follows the creek at the bottom of the valley. Unlike the northern trail segment, the southern trail does leave the tree cover, letting the Sun shine on hikers.
Turnaround is a waypoint that shows where the Spicewood Valley trail meets Scotland Well Drive. This is not far from Spicewood Springs Road. I won't mark this as a trailhead because there's nowhere to park.
I briefly looked for a way to connect the Spicewood Valley trail to the Upper Bull Creek Greenbelt trail across the creek, but I couldn't find one. There may be an unofficial way to link them, and it may become clearer over time, but right now it's clear that they are on different trails.
This hidden little oasis isn't well-known, but it has a lot of beautiful sights. Spicewood Valley Trail is a great place to see in Mountain View Park. You'll want to come back again and again to see the beautiful trees, rocks, and animals. This exciting hike in the Austin area will lead you to the clearest blue lake.
Hiking Tips For Spicewood Valley Trail
Pack plenty of water, it gets hot in Austin.
Watch for snakes pretty much year round in South Texas.
1. Navigation + Communication Devices Fully Charged
2. Sun Protection
3. Proper Footwear + Extra Clothes
4. Water
5. Extra Food
6. Headlamp
7. First Aid + Repair Kit
8. Knife / Multi-tool
9. Fire Tools
10. Emergency Shelter
Directions To the Spicewood Valley Trail:
From Hwy 183 in northwest Austin head south on Spicewood Springs Road. Turn right onto Scotland Well Drive and continue north. Turn right onto Middlebie Drive and look for the Spicewood Valley trail parking area.
Review of Spicewood Valley Trail
This Spicewood Valley trail is one of Austin's best-kept secrets. There were only two parking spots and no bathrooms, but there was a lot of parking on the street.
There are many cool places to check out off the trail. I even saw raspberries growing in the wild. At the end of the path, there is a beautiful limestone rock that looks out over the water.
It would be a great place to have a picnic. During the evening, I only saw about three people on the trail.
I can see why they put this in the "moderate" category, but it's mostly easy. If you want to start trail running, it would be a great place to start. The trail didn't end up where it was supposed to on the map. The supposed turning point was a rock wall. I could see houses above, so I don't think the map is correct.
There were lots of baby dragonflies and butterflies, as well as some small hills and some cool limestone boulders at the end.
The Spicewood Valley trail is in great shape. You forget that you're in a big city. Even though I'm out of shape, I was fine carrying a baby on my back. I just wore tennis shoes and didn't have any problems, but now that it's been raining, I almost wish I had worn my boots. We will come back here for sure!
Spicewood Valley Trail Nearby Trails to Hike
---
St. Edwards Green and Red Loop
This 2.7-mile Edwards Green and Red Loop is close to Austin, Texas. Most people think of it as an easy route, and it takes an average of 1 hour and 10 minutes to finish. This is a very popular place for birding, hiking, and mountain biking, so you'll probably run into other people as you explore.
The trail is beautiful and can be used at any time of year. We allow dogs, but they have to be on a leash.
This path goes through wide open fields with cacti, juniper forests, and then a creek with clear water and beautiful places to swim. Parts of this trail go through open fields, so it's a good idea to bring sun protection. In the spring and summer, this is a great place to watch birds. You might see black-chinned hummingbirds and painted buntings.
Difficulty: Easy
Length: 2.7 mi
Elevation gain: 347 ft
Route type: Loop
Dogs on leash, Kid friendly, Hiking, Mountain biking, Walking, Bird watching, Running, Forest, River, Views, Waterfall, Wildflowers, Wildlife, Blowdown, Bugs, Rocky
Review
The Edwards Green and Red Loop are very quiet trails. I walked in a counter clockwise direction and missed a few turns, so I had to go back the way I came. The climb to the top was long and steep. I had to stop a few times just to get my breath back. I'll go clockwise the next time for a more gradual climb.
Note that dogs are allowed on the loop, but they are not allowed on the parts of the trail that go through the preserve. Leave your dog at home if you want to do the whole trail.
Canyon Creek Nature Trail
The Canyon Creek Nature Trail is a 5.0-mile loop trail is close to Cedar Park, Texas. Most people think of it as a moderately hard route, and it takes an average of 1 hour and 50 minutes to finish. This is a popular place to birdwatch, hike, and run, so you'll probably run into other people while you're exploring.
The trail is beautiful and can be used at any time of year. We allow dogs, but they have to be on a leash.
This is a beautiful walk in the shade that starts at Trailhead Neighborhood Park. In the beginning, the first quarter mile or so is on a paved path. After that, the rest of the trail is on natural dirt. About half way through the trail, there is a nice little climb that makes for an interesting change in terrain.
Difficulty:
Length: 5.0 mi
Elevation gain: 377 ft
Route type: Loop
Dogs on leash, Kid friendly, Hiking, Walking, Bird watching, Running, Cave, Forest, Partially paved, Views, Wildlife
Review
Most of the walk was flat and in the shade. One short, slanted spot that got Sun. Went at 7 a.m. and stayed until 10 p.m., and I only saw 3 or 4 people. The description says that the trail is a loop, but it's not. There is a small loop on the trail, but the real trail ends at a road, and you just turn around. At this time, there is no water running.
Great Hills Park Trail
The Great Hills Park Trail is a 1.5-mile trail near Austin, Texas, that goes out and back. Most people think of it as an easy route, and it takes an average of 35 minutes to finish. This is a popular place to hike, run, and walk, so you'll probably run into other people while you're out exploring. We allow dogs, but they have to be on a leash.
You have to cross a few creeks to get to the beautiful forest area, which is full of native plants. Along this stretch of protected land, you can see deer, different kinds of birds, and small reptiles. In some parts of the park, the trail is rocky and has rolling hills. This small park is a great green space for the people who live nearby.
Difficulty:
Length: 1.5 mi
Elevation gain: 101 ft
Route type: Out & back
Dogs on leash, Kid friendly, Hiking, Walking, Running, River, Wildlife
Review
The Great Hills Park Trail is really a great trail that was a huge surprise! We parked on the side of the road, but not near any houses, and it felt completely safe. Most of the trail was in the shade, and there were a few rocky spots, but nothing too bad.
Most of the water crossings were dry, but a couple of them were deep enough to get your shoes wet (I had on my waterproof hiking boots so was happy to get to splash around).
It used to randomly go into a neighborhood where there was no shade, but that didn't last long. I only saw two people on the trail and two on my way in and out. There were a few places where you could go off the trail and look around, which was nice. I felt safe by myself.
Things to Do Near the Spicewood Valley Trail
---
Austin Aquarium
Come see thousands of different species and interact with exhibits! Since 2014, the Austin Aquarium is near the Spicewood Valley Trail has been the best place for family fun in the Austin area for years. We love giving people once-in-a-lifetime opportunities to see everything from sharks to kangaroos.
In the aquarium, you can see a wide range of amphibians, a parakeet aviary that you can interact with, a separate dove aviary, and both cold water and tropical fish. Also, the Austin Aquarium has sharks, a touch tank for stingrays, a rain forest with hundreds of reptiles, and our newest family members, Ring-Tailed Lemurs and Capybaras!
The Austin Aquarium gives kids and their families a chance to see and learn about the ocean without having to take a long trip to the coast. Without leaving Austin, visitors can watch jellyfish float and glow and look at the bright and colorful corals.
Lake Travis Zipline
Lake Travis Zipline Adventures is happy to offer you the "Adventure of a Lifetime." We give people of all ages a fun outdoor activity that gets them moving. Five Ziplines are part of our World-Class Tour.
The longest and fastest ziplines in Texas are the last three.
I looked up cool things to do in Austin before going there, and this was the first thing that came up. Why shouldn't the reviews be good? Outside, hiking, getting fresh air, and ziplining, need I say more?
When you get there, there are plenty of places to park. Check in at the visitor center. Now you can go. We made a reservation for 9 a.m. because we didn't want to cook in the heat of the afternoon. Even though it was already nice and warm at 9, I couldn't imagine what it would be like at 1pm.
You cross the lake in a small boat, walk up a hill, and put on your gear.
HUGE HUGE shout outs to Austin from Austin and Pierce the Fierce! The two of them really set the tone for the whole thing. They were very lively, funny, and had great conversations, which made everything a lot of fun. They are exactly the kind of guides you need for this kind of thing. They were amazing, and it's clear that they love what they do and are very good at it.
There are five different ones. The first two are short and are meant to get you used to the experience. The next three, at 1800 meters, 1600 meters, and 2800 meters, are the big ones. Wow, going across the water gave us great views of the lake.
You pick up speed pretty quickly, especially on the last one when you get to race someone. (The right side goes faster)
There's a bar for drinks and water when you're done. The view of the lake is beautiful. Great place to hang out while you wait for your group.
The Domain Mall
Situated in a beautiful park-like setting, The Domain features 100 upscale and mainstream retail stores and restaurants, almost half of which are exclusive within the market.
A sampling of retailers includes high-end boutiques such as David Yurman, Louis Vuitton, AllSaints, Tiffany & Co. and Austin's only Neiman Marcus, as well as more traditional retailers like American Eagle Outfitters, Banana Republic, Express and more.
Restaurants include favorites like True Food Kitchen, Kona Grill, Grand Lux Cafe, Maggiano's Little Italy, North Italia and many more. The multi-phased Domain development is anchored by Neiman Marcus, Macy's, Dillard's and Dick's Sporting Goods.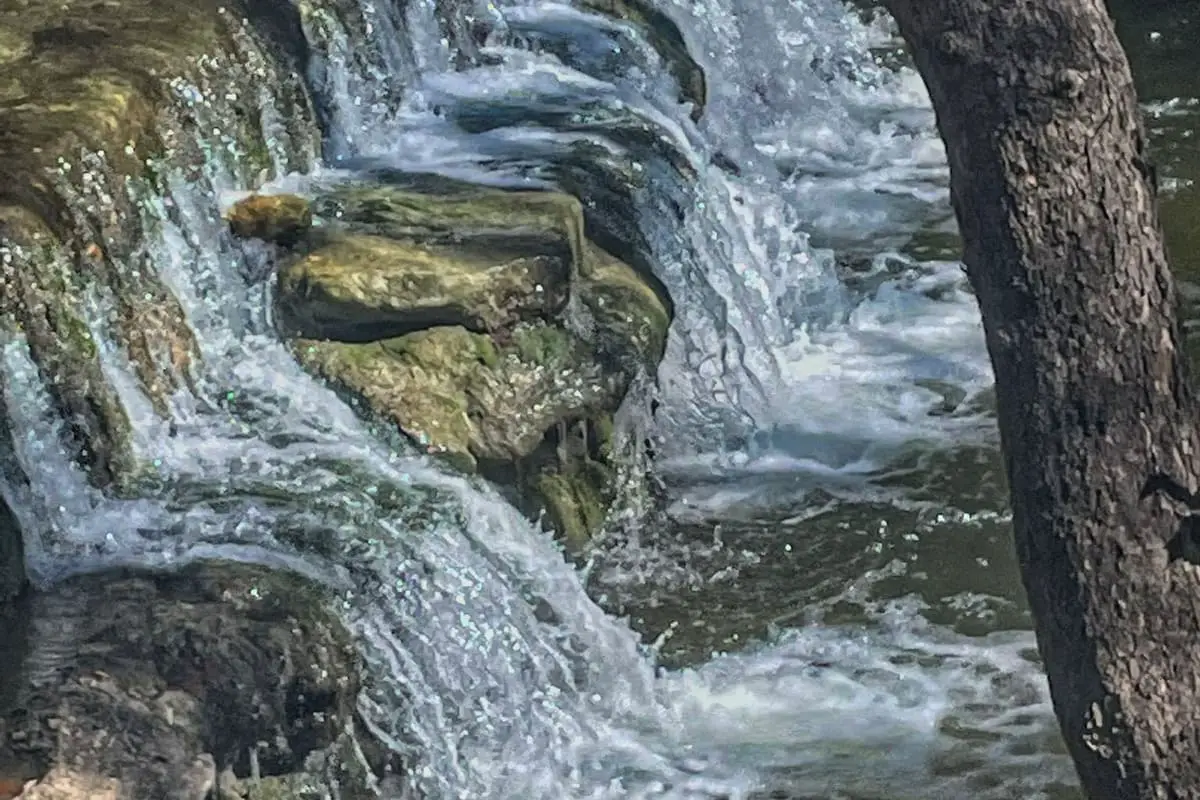 Food and Diner Locations Near the Spicewood Valley Trail
---
Cheddars Scratch Kitchen
13301 B Hwy Ste 183 Austin, TX 78750
Review
Another great meal at Cheddar's. We were immediately seated. Meredith was attentive and helpful. She quickly brought drinks to our table.
Mom got a Smokehouse Burger and French fries. This is what she likes best. The Chicken Pot Pie is what I asked for. I haven't had that for a long time. The service was quick. Everything was sweltering. It shows that the food wasn't just sitting there while people waited to eat it. The pie's filling was creamy, just like I remembered.
Only criticism is that Cheddar's no longer has their world famous onion rings and they also don't offer sweet potato fries.
Pour House
11835 Jollyville Rd Austin, TX 78759
I've been passing up some awesome food and beers for years. Don't make the same mistake I did. I Yelper plead with you! I also learned two things I've been missing in pizza, too.
I have been by this place a lot. It is on the edge of a west Austin neighborhood, and between it and Highway 183 are a few apartments and condos. I think it's part of a restaurant chain that also has a location in Fort Worth, but I could be wrong. What I know for sure is that my first trip there was awesome! I want to go back when I've had enough to eat and drink for a whole day.
They have a great outdoor area with lots of umbrellas, and we chose a table. The server told us right away that we were there. We scanned the menu with our phones, and by the time we decided what to eat, our cold beers were already on the table (good pour on the Guinness, btw).
We got our own pizza with sausage, mushrooms, green peppers, and hot marinara sauce. First of all… You know how on some chain pizzas, the toppings come off all at once, leaving you with barely enough pizza to call it a cheese pizza? Not here.
Everything is cut up into small pieces and put on the pizza evenly. With every bite, you get exactly what you asked for. Second, if you put some of that marinara on a piece of canvas, I'd eat it. Everything went well together because of the spices.
Review
Oasthouse Kitchen
8300 N FM 620 Ste E Austin, TX 78726
Review
Found this place by chance while searching. I am so happy to have found it! I loved Oasthouse a lot! Amazing gastro pub. The atmosphere is pretty casual, but it has a classy feel to it. The food was very good. I tried a lot of their appetizers and main dishes. Wonderful cocktails to add on! Also like their kids menu!
I love that they have a nice playground area that works well for parents the most. It was nice to keep my one-year-old busy, who doesn't like to sit still. The service is great, and so is everyone who works there. There are enough parking spots, and they even have two patios!
---
You May Want to Join Our Boondocking Group on Facebook For More Information
You May Want to Join Our Campfire Recipes Group on Facebook For More Information
For More Photos Visit Our Instagram at Campfire Recipes Instagram Our Big Escape