Wiliwilinui Hiking Trail
Lush tropical forests and mountain ridges covered in green on top of green. Breathtaking panoramas of the Pacific Ocean along the Wiliwilinui hiking trail. A journey along the spine of the Koolau Mountain range on the eastern side of Oahu, you can encounter all of these things and so much more!
---
Want more ideas to round-out your hiking trips to the Hawaiian Islands?
A lot of great ideas are in these posts!
---
We have it all, everything you need to know about experiencing the Wiliwilinui hiking trail. From how to get there to precisely what to expect throughout this amazing journey, is provided here. If you're seeking breathtaking vistas and a distinctive approach to experience Hawai'i's ethereal beauty you will find it on the Wiliwilinui hiking trail.
Difficulty: Moderate
Length: 4.7 mi
Elevation gain: 1,617 ft
Route type: Out & back
Dogs on leash, Hiking, Forest, Views, Wildflowers, Wildlife, Bugs, Muddy
The Wiliwilinui hiking trail offers a variety of alternatives for hikers who want to go further, as well as neighboring Hawaiian restaurants where you may eat authentic cuisine while out for the day. This is the ideal location for a stunning climb after which you may spend the day with your family visiting other fantastic things to do in the neighborhood.
Description:
On Oahu, the Wiliwilinui hiking trail trek is a challenging excursion along the spine of the island. The Koolau Summit Trail is reached after the  winding  stairways and woodland pathways over the 7.6km out-and-back route, which includes an elevation gain of nearly 500 meters.
Our spirits were high, and each step was filled with anticipation despite the delayed start and the additional warm-up. We were astonished by how beautifully the trail was kept after arriving at the trailhead. Although the Wiliwilinui hiking trail trip began on a road rather than a trail, the dense tree canopy and the heavy layer of soft, pulpy dead leaves that covered the ground gave the large, open area a spooky feel.
Standing at the trail's crest, I can see Waikiki, a metropolis of white structures that appears to be in another world from the ridges we are traversing. I turn around to look at the east coast's turquoise water, and the expansive vistas give me the impression that I am in the very middle of this stunning island.
Almost every landing during this section of the climb up offered us a vista of the valleys. The Wiliwilinui hiking trail came to an end when you arrived at the relay station tower and continued on a short route up the ridge to a little clearing the size of a room with a lone bench.
Sitting on the bench at the summit of the Wiliwilinui hiking trail provides a view of Kailua and Lanikai, while turning around to face the opposite way reveals Waikiki, Koko Crater, and Diamond Head. Have a snack and take in the scenery. But be careful, it's a little windy.
The Wiliwilinui Ridge Trail hike is a stunning excursion that gives breathtaking views, an intimidating, remote atmosphere, and is one of Oahu's least populated hikes. The peacefulness you will experience when you sit on a ridge and look out over everything that has been built below you is worth the ascent.
Hiking Tips For Wiliwilinui Hiking Trail
The Waialae Iki gated neighborhood contains the Wiliwilinui hiking trail. To get access to the path and receive directions, check in at the security guard station. If you're traveling on a popular holiday or weekend, make sure to plan ahead because only a certain number of trail passes are provided each day.
Remember that the tropical environment in Hawaii can change suddenly, so it's best to be ready and bring water, sunscreen, and an umbrella. There are several stairs as the Wiliwilinui hiking trail approaches the summit. If it has just rained, the terrain can be muddy, so make sure you are wearing sturdy hiking boots.
This fairly challenging 4.7-mile out-and-back trip climbs 1,617 feet in total elevation. You'll stroll through a verdant forest on the route to the mountain's summit, climbing along the spine to take in the expansive views of the entire island of Oahu.
In the final half mile of the Wiliwilinui hiking trail, where you'll have to scramble up a set of steep stairs made only of heavy wood slabs and the slick clay that covers the mountainside, you'll acquire the majority of the elevation gain. Given its steepness and the frequently muddy terrain, the Wiliwilinui hiking trail here is undoubtedly difficult, especially for first-time hikers, even if no technical abilities are required.
Similar to the Wiliwilinui hiking trail, many of Oahu's most beautiful walks follow mountain ridgelines. However, these breathtaking vistas also come with risk because ridgelines are frequently quite constrained, with crumbling cliffs and treacherous ascents. This is no joke though; over a dozen hikers have perished while on hikes around Oahu in the previous ten years.
On the other hand, the Wiliwilinui hiking trail is a great place to start exploring ridgeline paths because it is well-maintained and quite wide, making it a safer approach to take in the breathtaking views. However, exercise caution since any hike, including the one up the Wiliwilinui hiking trail, carries certain risks, particularly when the going is slick and damp (which, on the eastern side of Oahu, is pretty much always). To avoid any rain showers, I'd advise monitoring the weather before your hike and making plans accordingly.
Directions to Wiliwilinui Hiking Trailhead:
To reach the Wiliwilinui hiking trail, you'll need to pass by the security guard at the Waialae Iki 5 community. There's only a handful of parking spots for hikers near the trailhead, so the guard passes out a certain number of laminated parking passes each day.
You will not be able to drive in the community if all of the parking permits are in use. You will either need to return at a later time or, as an option, park in the area outside of Waialae Iki 5 (be sure to look out for "No parking" signs!).
The Wiliwilinui hiking trail is at least 1.8 miles (roundtrip) away from the guard station, up a steep and winding hill, if you opt for the later option. Therefore, you might want to arrange your visit for when the trail is less busy, such as early on a weekday, if you want to be sure to score a parking pass.
To avoid getting too close to sunset, the guard will advise you to attempt to leave the Wiliwilinui hiking trail before it gets dark when you first arrive. For what it's worth, I was quite concerned that I wouldn't be able to obtain a permit because I really wanted to go on this trek. Nevertheless, on a stunningly beautiful Saturday afternoon, there appeared to be plenty of parking spaces available at the trailhead. Because of this, it's possible that the Wiliwilinui hiking trail, despite its breathtaking beauty, is still mostly unknown.
If you're fortunate enough to get a Wiliwilinui hiking trail pass, the permit will also include a map and detailed parking instructions. Basically, you'll continue on Laukahi Street until it intersects with Okoa Street, then turn left onto Okoa and proceed up the street to one of the two little lots beside the trailhead. The Wiliwilinui hiking trail permit must be returned in a dropbox near the right side of the guard station after your hike.
Review of Wiliwilinui Hiking Trail
Approached the security gate around one and got a pass without any problem. Plenty of parking at the Wiliwilinui hiking trail parking lot. This was a pleasant walk for the first hour on a wide road that starts out paved then turns to dirt. It was dry today and the last few days so the trail wasn't too muddy.
After some rain, spikes or poles would help you stay upright. The Wiliwilinui hiking trail can get MUDDY! The hike really begins about a hour into it when you approach the stairs. This is where the fun begins. The stairs to the top were in mostly effective condition. Ropes were placed at the steeper and slippery sections. The Wiliwilinui hiking trail gets a little narrow and drops off on both sides. Try Looking straight down and ahead. Just one step at a time if you don't like heights. Clouds covered the view to the East but the viewpoint to Diamond Head was up close and crystal clear.
Amazing trek up the Wiliwilinui hiking trail with beautiful views waiting at the summit! This is only suited for intermediate to advanced hikers. There is a ton of mud and quick elevation gain. The stairs are helpful but after a rain they are mud soaked so it does require a lot of coordination and cardio capacity. Hiking boots were covered in mud. Many other hikers in sandals had to stop bccause they couldn't make it up. Totally worth it as you're surrounded by beautiful views.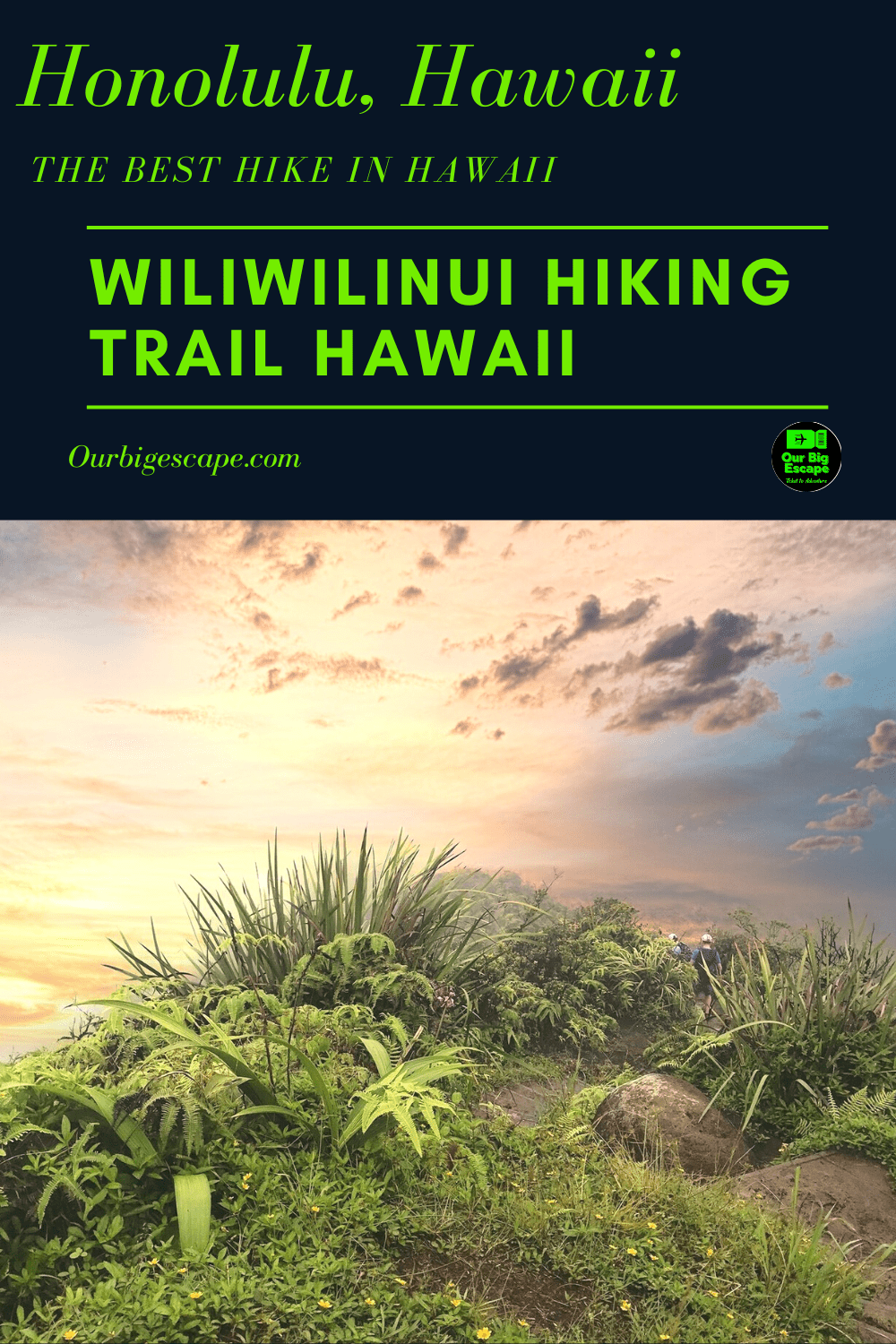 Wiliwilinui Nearby Trails to Hike
---
---
check out our video
---
---
Makki Valley Trail
Difficulty: Easy
Length: 2.5 mi
Elevation gain: 797 ft
Route type: Out & back
Dogs on leash, Kid friendly, Hiking, Forest, River, Views, Wildflowers, Wildlife, Rocky, Scramble
Explore this 2.5-mile out-and-back trail near Honolulu, Oahu. Generally considered an easy route, it takes an average of 1 h 33 min to complete. This is a very popular area for hiking, so you'll likely encounter other people while exploring. The trail is open year-round and is beautiful to visit anytime. Dogs are welcome, but must be on a leash.
Review: Easy trail for intermediate hikers. Muddy even though no rain for a few days, so be careful around tree roots and rocks, recommend hiking boots with good grip and mindful where you are stepping where it's muddy and slippery.
I was with an experienced hiker who wore regular tennis shoes and he slipped a few times. Great signage, just keep following signs for Makiki Valley Trail if you want to stay on this specific out and back trail. Ends once you get to a road and you come back the same way.
You'll get some cardio with incline, especially on the way back at the very end. Great hike for a novice who wants a "challenge" and an easy one for intermediates!
Kuliouou Ridge Trail
Try this 4.7-mile out-and-back trail near Honolulu, Oahu. Generally considered a moderately challenging route, it takes an average of 3 h 5 min to complete. This is a very popular area for hiking, so you'll likely encounter other people while exploring. The trail is open year-round and is beautiful to visit anytime. Dogs are welcome and may be off-leash in some areas.
Difficulty: Moderate
Length: 4.7 mi
Elevation gain: 1,650 ft
Route type: Out & back
Hiking, Dog friendly, Forest, Views, Wildflowers, Wildlife, Rocky
Review: First mile is full of switchbacks with a lot of the surrounding land being remediated. Once you get past that it opens up to some beautiful pine needle covered forest segments, then the ridge with amazing beautiful views as you ascend a somewhat grueling set of stairs to the top. Luckily it was a perfect day, but I can imagine how the upper segment might not be so fun if it rained. In good weather, no boots or climbing shoes needed. Poles would have been nice on the way down. For those big stairs.
Food and Diner Locations Near the Wiliwilinui Hiking Trail
---
Uncle Clays House of Pure Aloha
820 W. Hind Drive #116, Honolulu, HI 96821
Review: I can't even remember how many years ago I first heard about this place, so since we were doing some errands in the area, I thought it was about time to give it a try on a nice sunny day!
It's located around the middle of the Aina Haina Shopping Center, and there is ample parking!
Andys Sancwiches and Smoothies
2904 E Manoa Rd. Honolulu, HI 96822. Manoa
Review: I was in the area at the UPS store, when I realized that Andy's was close by and closing soon! I walked over and had to have the avocado tuna sandwich that was featured in the Honolulu magazine back in 2014 (yeah, I saved that article…LOL!), but times have changed and it use to be only $4.75, but alas… inflation and a pandemic!
The Original Roys
1830 Ala Monana Blvd, Honolulu, HI 96815
Review: I don't even know where to start! The staff was amazing! Swan was our waiter and the women there were so helpful and kind! The food … well the food was absolutely DELICIOUS this was our first time in Waikiki and stumbled upon this place!! We definitely will be returning when we come back! We asked what they recommended and nothing disappointed! From the strawberry soju to the calamari and chili oil sauce! Everything was full of flavor and great! Highly recommend and was reasonably priced!!
Ono Steaks and Shrimps Shack
41-037 Wailea St, Waimanalo, HI 96795
Review: We ordered the house beef noodle, pork intestine noodle and the egg/tomato noodle (for the kids). We were impressed that you could get extra noodles for free! I regret not asking if I could make my noodle less spicy, as it was SPICY. There was definitely peppercorns, and lots of chili oil! Despite it being very spicy, it tasted really good and the texture of the noodles was perfect, too.
Fatboys Hawaii Kai
7192 Kalanianaole Hwy, Honolulu, HI 96825
Review: Such a small place with very friendly prices, we are from Miami and we have here one of the best tuna steak we ever had for $15 with rice, greens and 2 sauces. One of the sauces was also absolutely delicious. Highly recommend. We will be back before our departure for sure!
5 Wiliwilinui Hiking Trail Trip – Alternative Things to Do
---
Foster Botanical Garden
A garden in the middle of Honolulu's bustling downtown? Yes! Visitors may escape the bustle of the city here at Foster Botanical Garden. Foster Garden, which is the oldest of the Honolulu Botanical Gardens, features an amazing and variety of mature tropical plants.
Immerse yourself in the bright flowers and lush vegetation that are exclusive to Hawaii's tropical islands. Foster Botanical Gardens is the ideal destination for the whole family because it is home to a huge variety of tropical birds.
Naturally, a garden wouldn't be complete without an eye-catching collection of plants. A number of the trees in the Foster Botanical Gardens are protected under Hawaii's Exceptional Tree Program, which also preserves and categorizes trees that meet additional requirements like age and rarity or that have historical or cultural importance. In the gardens, you're guaranteed to observe some unusual plants and animals.
Tantalus Lookout – Puu Ualakaa State Park
You might be wondering why a mountain in Hawaii is named after a Greek demigod. The mountain's original name was Puuhi, but Tantalus became its more popular name in the 19th century after an unsuccessful trekking expedition by Punahou School students.
Tantalus is famous for his inability to reach food and water as punishment in the underworld in Greek mythology. The name refers to the disappointment of early climbers who failed to reach the peak.
The breathtaking vista is among Tantalus Lookout's outstanding features. You can see all the way from Diamond Head to Waikiki Beach on a clear day. The setting is ideal for watching the sun set. Even the brilliant city lights below may be seen if you arrive at night.
Nowadays, climbing Mt. Tantalus is much simpler than it was when Punahou students attempted to do it in the middle of the 19th century but were unsuccessful, naming the peak after a character from Greek mythology who had an impossible task.
Approximately 2.5 miles long and 600 feet high. The walk leads you through Oahu's lush jungle and offers stunning vistas of Honolulu as you go. The hike can be made simpler and more enjoyable with the help of a tour guide.
Mu-Ryang-Sa Buddhist Temple
Mu-Ryang-Sa is a sanctuary of calm and beauty that is unmatched by any other if you're genuinely interested in learning about one of our many Hawaii cultures and you like Asian art and architecture. Visiting this tiny refuge will undoubtedly be a pleasure for your eyes and soul, assuming you don't reside in Asia or have little exposure to Korean Buddhist culture.
Mu-Ryang-Sa, the name of the temple, translates to "Broken Ridge Temple." On your journey up, you might have observed that the temple's upper ridge is fractured. What would seem to be a problem with the temple is actually a narrative with an important Buddhist teaching.
Therefore, if you're seeking unusual things to do in Honolulu, this might be a fun and memorable activity for your family's Hawaii vacation.
The shattering of the ridge-pole of ignorance by wisdom, results in the demolition of illusion and the attainment of liberation, or nirvana. As with the enlightenment of the Buddha.
Hawaii Living Building Challenge
If a typical single-family home in an urban residential zone in Hawaii can legally achieve what was once the norm for all Hawaiians, the ability to live entirely off the land, with the responsibility to manage that land for eternal perpetuity, it will be a success. This, according to a case study conducted by the local Hawaii architecture firm Bowers & Kubota.
These straightforward, single-wall redwood cottages were constructed using materials that have shown to be durable and long-lasting over many years. A result of the Sequoia Tree, the oldest and largest species on earth, Redwood T&G has a DNA that can withstand Mother Nature's harshest conditions.
Redwood is the perfect building material for Hawaii since it has survived the ice age and acquired inherent resistance to mold, mildew, UV exposure, fire, illness, and bug infestation in addition to creating an internal poison that repels termites.
Should we not be rejoicing in the fact that we can no longer harvest this great building material? Instead, we are hiring demolition specialists to squish it in a construction dumpster and transport it to the landfill. The materials used to build these simple single-wall tongue & groove redwood homes have proven their resilience and longevity over the many decades.
Honolulu Watershed Forest Preserve
One of the most well-known Hawaiian parks is the Honolulu Watershed Forest Preserve, which is situated just to the northeast of Honolulu, Hawaii. It is a region of highlands that is home to a rare natural forest covering around 600 square kilometers of land. Everyone visiting Honolulu should visit the park, especially those who enjoy various outdoor activities.
---
You May Want to Join Our Boondocking Group on Facebook For More Information
You May Want to Join Our Campfire Recipes Group on Facebook For More Information
For More Photos Visit Our Instagram at Campfire Recipes Instagram Our Big Escape