Enjoy hiking the Sliding Sands Trail – The Best Haleakala Hike. An11.2-mile point-to-point trail near Kula, Maui. Generally considered a challenging route, it takes an average of 7 h 24 min to complete. This is a very popular area for backpacking, camping, and hiking, so you'll likely encounter other people while exploring. You'll need to leave pups at home — dogs aren't allowed on this trail.
Difficulty: Hard
Length: 11.2 mi
Elevation gain: 3,054 ft
Route type: Point to point
Backpacking, Camping, Hiking, Views, Rocky, Scramble, No shade, Fee, No dogs,
---
Want more ideas to round-out your hiking trips to the Hawaiian Islands?
A lot of great ideas are in these posts!
---
Hike Sliding Sands Trail Maui – The Best Haleakala Hike
---
---
check out our video
---
---
Description:
The best way to get to Haleakal crater is on the Sliding Sands Trail. The trail starts near the top of the 10,023-foot Haleakal volcano and goes down to the strange crater floor. The eroded crater has beautiful colors and light that changes all the time. This is the best Haleakala Hike on Maui, even though it is very hard. This is a great way to see a lot of the crater floor, but you can hike further or shorter distances if you want. Unlike most hikes up a mountain, this one starts at the top and goes down to the bottom. The best way to see what's on the crater floor is to camp inside the crater in one of three cabins, but you'll have to win a lottery to do so.
You can't get a better view of Haleakal National Park than by walking through it. In the two very different districts, there are many trails where you can enjoy the outdoors. Because the ecosystems in Hawaii are fragile, the law says that hikers must stay on marked trails. There can only be 12 people in a hiking group. If you have more than 12 people in your group, you will have to split into two or more groups and give each group 30 minutes to go their own way. There is no food, gas, or anything else you might need in the park or on the Haleakala Hike.
In the Summit District, there are more than 30 miles (48 km) of hiking trails that range in length from 10 minutes to several days and nights. In the native shrubland, you can go hiking to look for native forest birds and endemic plants. In the aeolian cinder desert, you can learn about the volcano's geological history.
In the Summit Area, trails are hard because there is less oxygen in each breath because of the high elevation. There is a risk of altitude sickness. Watch out for symptoms like nausea, headaches, dizziness, and trouble breathing. Before going hiking in the Summit Area, pregnant women and people with heart or lung problems should talk to their doctor. If you start your Haleakala Hike on a downward slope, it will take you twice as long to get out. For example, a 15-minute Haleakala Hike down plus a 30-minute hike up equals a 45-minute hike. In some places, soft cinder trails make hiking feel like walking on a beach.
Most of the time, the temperature is between 30 and 65 degrees F, but with the wind-chill factor, it can get below freezing at any time. Hypothermia poses a risk. Hikers need to be ready for high altitudes, cold temperatures, and rain. The weather in the Summit Area is always different and hard to predict. Always be ready for strong UV rays, wind, rain, and cold weather.
3 Points of Interest:
1. The "crater floor" is 3.9 miles down one way. The elevation change is almost 2,500 ft
2. "Pele's Paint Pot" (about 5.7 miles in) is roughly the halfway point of the Haleakala Hike, near
the north side of Halāli'i cinder cone.
3. Kawilinau (also about 5.7 miles in) was formerly called the "bottomless pit." The volcanic pit is 65 feet deep.
(View both 2 & 3 after reaching the crater floor and heading north towards Halemau'u.)
Note: Plan ahead! Park visitation slows in inclement weather, decreasing the number of visitors who might offer you a ride up to Keonehe'ehe'e Trail parking lot. We recommend parking your vehicle at Halemau'u and hitchhiking up to Keonehe'ehe'e at the beginning of your hike. Upon concluding your hike, you will have immediate access to your vehicle at Halemau'u.
Hiking Tips For the Haleakala Sliding Sands Trail
Bring your rain gear and wear sturdy boots. Expect it to be cold and windy. Bring a lot of water. At this altitude, you lose water much more quickly. The sun's UV rays are also getting stronger. Don't think that this very hard Haleakala Hike in a high alpine wilderness will be easy.
★ Put on sturdy shoes (hiking boots or athletic shoes)
★ Take water and what you need for the Haleakala Hike (drinking water available at all visitor centers)
★ Food (no food for sale in the park) (no food for sale in the park)
★ Dress right, because it can be cold at 10,000 feet or more. Raingear, pants, a jacket, and a poncho for cold or wet weather. Sunscreen, because the sun's rays are strong at this altitude (hat, sunglasses, sunblock)
★ Carry a hiking pole; it makes it much easier to climb back out of the crater. Get a good meal and a good night's sleep the night before this Haleakala Hike.
★ People who have lived and learned say that hiking the Sliding Sands Trail when you don't have enough energy because you haven't eaten or slept makes it about 10 times harder than it needs to be. So, to stay safe and have fun, make sure you're ready and well-rested when you start.
Always Pack These 11 Essentials For Every Hike
1. Navigation + Communication Devices Fully Charged
2. Sun Protection
3. Proper Footwear + Extra Clothes
4. Water
5. Extra Food
6. Headlamp
7. First Aid + Repair Kit
8. Knife / Multi-tool
9. Fire Tools
10. Emergency Shelter
11. Trash Bag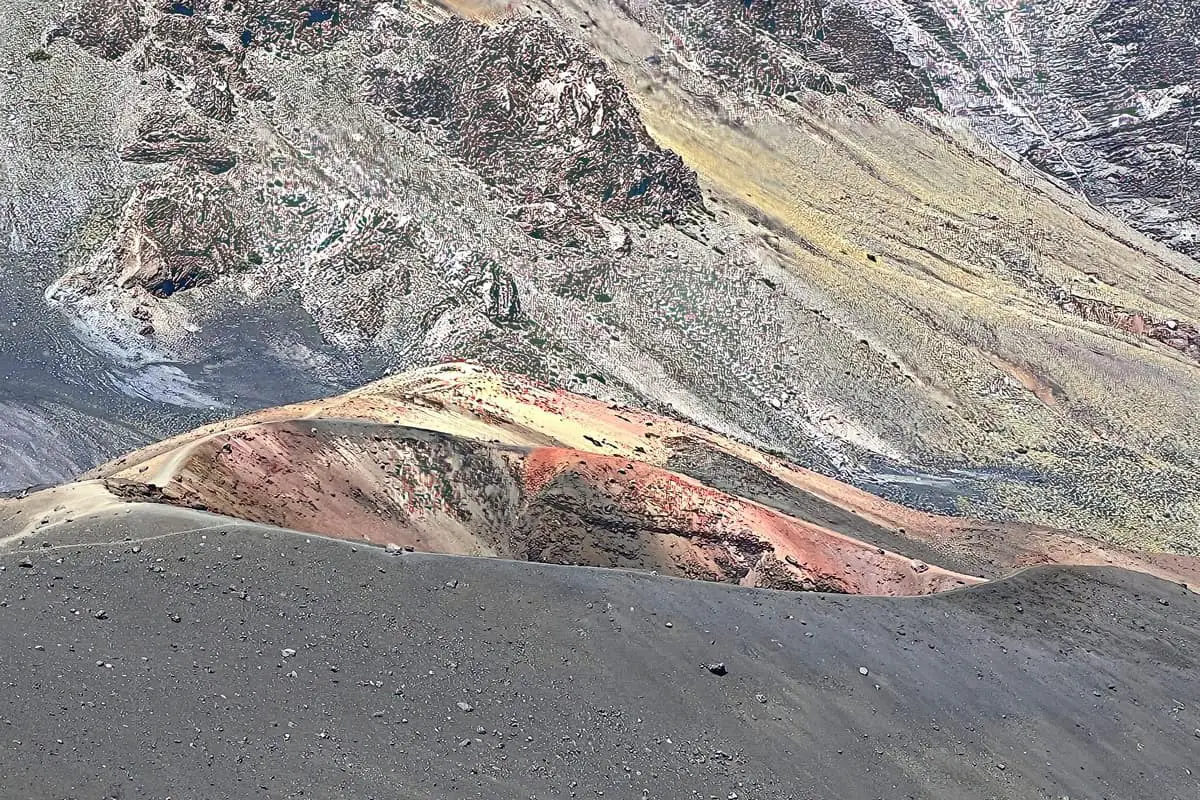 Directions To the Best Haleakala Hike: Sliding Sands Trail
Drive to the end of Haleakal Highway (Hwy. 378) and look for the Keonehe'ehe'e Trailhead about a half mile below the actual summit. There are bathrooms at the trailhead, but no water. Every day, people can't get into the park between 3 am and 7 am. There is now a lottery system for getting into popular places to watch the sunrise. Even if you just want to hike and not watch the sunrise, you still need a permit to get into the park before 7 a.m. If you plan to drive to the park and get there at 7 a.m., you shouldn't have to wait. On the Haleakal Highway, you should be careful. Along the narrow, winding road, you can expect to see cyclists, construction vehicles, and emergency vehicles.
From the Keonehe'ehe'e Trailhead, find a path through lava rocks that goes along the Haleakal Highway. Signs will lead you to the beginning of the Sliding Sands Trail as you go around the cinder cone above you. The biggest risk of this Haleakala Hike is the false sense of security you get as you go down from the trailhead. At the end of the hike, it's much harder to climb out of the crater, so make sure you have plenty of energy for the long climb back to the trailhead. It's easy to get into a lot of trouble. You have to go down 2,400 feet over 3.8 miles to reach the crater floor. The views along the way are out of this world. Even on a sunny day, clouds often rise up over the crater rim on the northeast side, where Maui meets the trade winds. See the rare and interesting hinahina (Haleakal silverswords). A few side trails are blocked. You have to stay on the main Sliding Sands Trail if you're in a National Park. Once you reach the bottom of the crater and the first intersection, you know you're in for a hard day hike. From here, it's a 7.6-mile hike with a 2400-foot elevation gain to get back. The next loop around the crater lets you see some of the most important sights. Before you decide to do this loop, think about how fit you are and what the weather is like.
From the first fork at the bottom of the crater, keep going east. On your way back, you'll take the path that heads northeast. After walking for 1.6 miles, you'll come to another intersection with a trail going northwest. Keep going east for 0.2 mile and you'll find another intersection near Kapalaoa Cabin. After walking north for 0.4 miles, you will reach a three-way junction. Go past Pu'u Na'ue and head northwest. After this short climb, you'll come to another crossroads. Hike 0.3 mile. Near here is Kawilinau, which is a deep hole in the ground that used to be called the "bottomless pit." It is only 65 feet deep. From Kawilinau, walk west for 0.3 miles. Along the way, you'll pass a place with multicolored lava that is unofficially called "Pele's Paint Pot." It's really cool. Walk southeast for 1/4 mile, past the point where the Halemau'u Trail meets the Sliding Sands trail. At the next fork, walk west, then southwest, back to where you first saw the crater floor. For the last 3.8 miles and 2400′ of the hike, keep going. If you did this whole loop, the last few miles back to the rim will be very hard.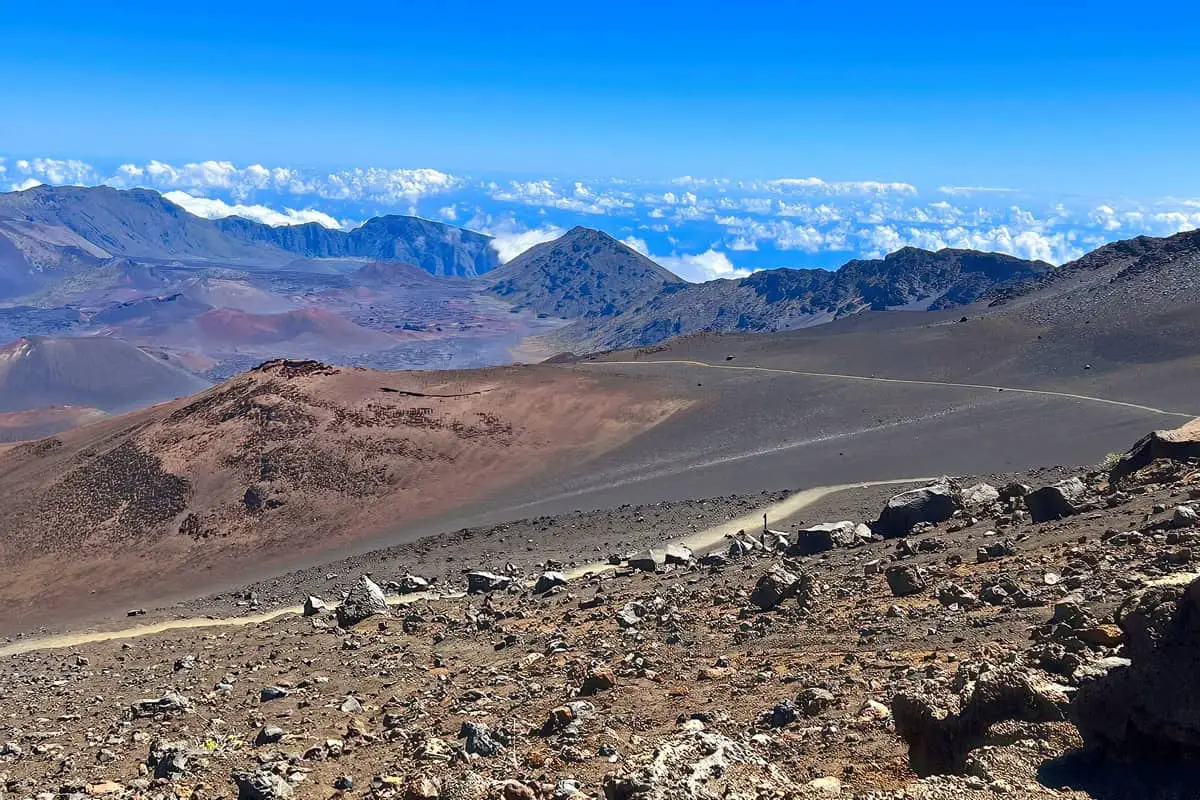 Hike the Sliding Sands Trail Review
This Sliding Sands trail is worth it even if you only do a small part of it. The crater gets more colorful as you get closer to the cinder cones. Going down is easy, but going up is much harder because the ground is sandy and moves under your feet. We are pretty fit, but it was hard on the way back, in part because the air was thinner. I had to stop a few times to get the sand out of my shoes, too.
Several members of my family and I did the full 11-mile loop, which started at Sliding Sands Trail, went down to Honua, and then went back up to the parking lot where people get out. We were between 19 and 66 years old. It took me and my husband 9.5 hours because we are 65 and 66 years old. Even though we don't hike, we made it. BARELY. We saw some OUTSTANDING scenery. Views you won't see anywhere else. But you should know that the last 4.8 miles are REALLY HARD. I can't see how you could do it in 6 hours unless you are in good shape and like to hike. This Haleakala Hike is DIFFICULT/HARD, in my opinion. The last four miles are always going up, and they are very rocky.
Nearby Trails to Hike
---
Kapalaoa Cabin via Sliding Sands Trail
Discover this 11.5-mile out-and-back trail near Kula, Maui. Generally considered a challenging route, it takes an average of 6 hours 16 min to complete. This is a very popular area for birding, camping, and hiking, so you'll likely encounter other people while exploring. The trail is open year-round and is beautiful to visit anytime. You'll need to leave pups at home — dogs aren't allowed on this trail.
Difficulty: Hard
Length: 11.5 mi
Elevation gain: 2,834 ft
Route type: Out & back
Camping, Hiking Walking, Bird watching, Running, Views, Wildflowers, Muddy, Rocky, Scramble, No shade, Fee, No dogs
Review
This trail is EPIC! We started hiking around 10am, it was super windy and cloudy at the start, but as we proceeded down, it started to clear up. The weather is very nice down in the bottom. As we walked toward the end (the cabin) it was misty rain. On our way back, it became super hot. Down in the bottom, there were several areas with different plant cover, very pretty and peaceful as if you have the entire volcano to yourself. Heading back up the mountain was hard, we took frequent breaks. The last mile seems never end, we took breaks very 5min lol. We finished the whole trail in about 5.5 hrs
Halemau'u Haleakala Overlook Trail
Check out this 7.6-mile out-and-back trail near Kula, Maui. Generally considered a challenging route, it takes an average of 4 h 41 min to complete. This is a very popular area for hiking and running, so you'll likely encounter other people while exploring. The trail is open year-round and is beautiful to visit anytime. You'll need to leave pups at home — dogs aren't allowed on this trail.
Difficulty: Hard
Length: 7.6 mi
Elevation gain: 2,375 ft
Route type: Out & back
Hiking, Running, Views, Wildlife, Fee, No dogs
Review
Beautiful day. Hike was very cloudy at first (around 10am), but cleared up considerably. Be prepared for rolling cloud-cover which can bring mist or light rain, and lots of wind. Thankfully, I didn't experience these issues. As others have mentioned, definitely wear boots with ankle support because there is a lot of loose rock. Also bring suncovers like sunglasses, hats and sunscreen when the conditions are sunny, as the trail is entirely exposed, so it can get hot quickly.
Pa Ka'oao Trail (White Hill Trail)
Experience this 0.5-mile out-and-back trail near Kula, Maui. Generally considered an easy route, it takes an average of 16 min to complete. This is a very popular area for hiking and walking, so you'll likely encounter other people while exploring. The trail is open year-round and is beautiful to visit anytime. You'll need to leave pups at home — dogs aren't allowed on this trail.
Difficulty: Easy
Length: 0.5 mi
Elevation gain: 108 ft
Route type: Out & back
Kid friendly, Hiking, Walking, Views, Wildflowers, Wildlife, Rocky, Fee, No dogs
Review
Short little hike for an awesome view of the crater. Not the best view of the west side of the mountain (parking lot in the way) but base of the trail is only about a half mile from the summit so when we were done we were able to walk up there to join the rest of our family that had opted to drive instead of hike. Super cool to the the clouds start moving into the crater. A bit crowded since we went close to sunset, but the views were worth it.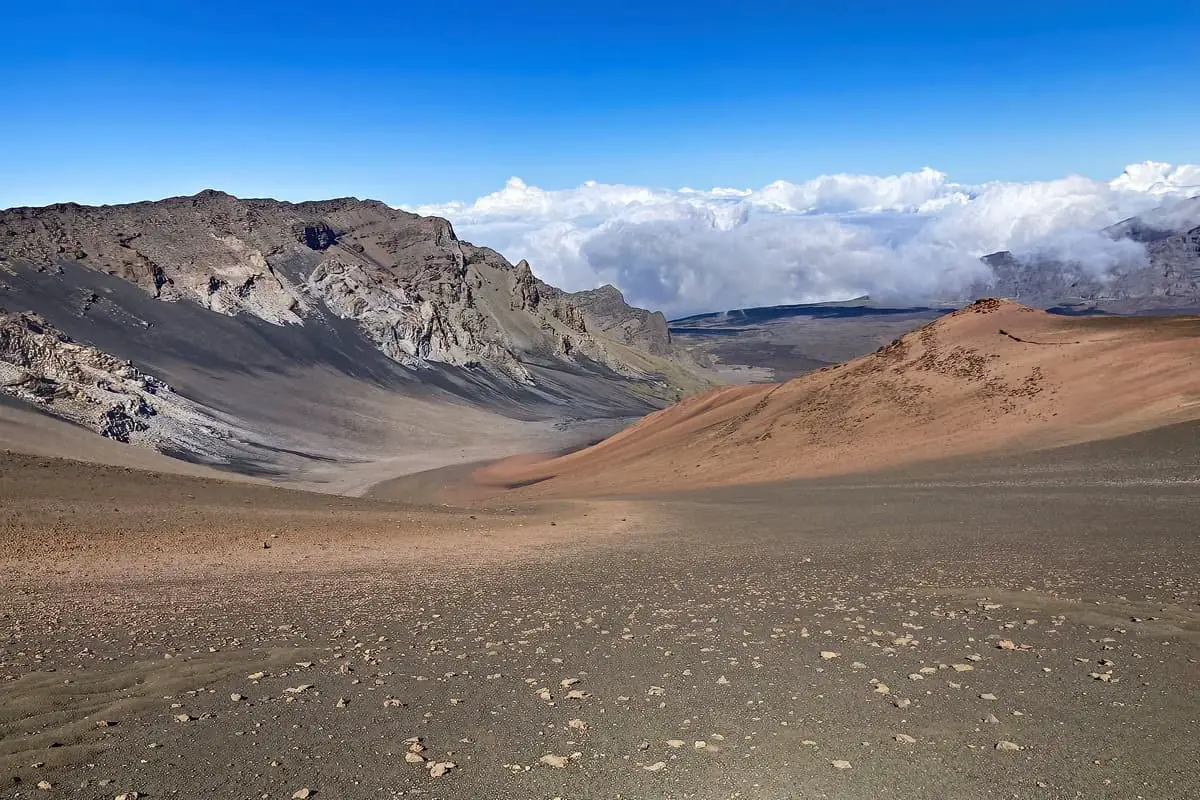 Hike the Best Haleakala Hike: Sliding Sands Trail Things to Do
---
Haleakalā Observatory
This research observatory on the 10,010-ft. summit of Haleakalā offers dramatic panoramic views. The surrounding landscape seems like a different planet, not the familiar mother earth. Lava rocks, thin air, wind smell, unique plant, lack of human-generated noise; each of of them contributes and forms a hard-to-describe experience. One of the most beautiful and unusual places I have visited! The sunset on the volcano summit next to the observatory, is an amazing experience. The drive to the summit is very picturesque and is definitely worth it! Bring something warm to wear, it gets cold up there.
Redline Rafting
Maui Snorkeling Tours. Not trying to be dramatic but, this was one of the coolest experiences of my life. The clarity of the water was unbelievable and we saw so many fish we had never seen snorkeling elsewhere in Maui. The guides were fantastic, super knowledgeable about the areas we visited (geology, animals we saw, island history, etc) and were very fun to spend the day with. It was an admittedly early start but you're the first boat to the crater which meant no crowds of snorkelers to compete with, we had fresh water to swim in every stop we went to. I'll definitely be returning to Redline next time I'm here.
Kula Botanical Gardens
Opened in April 1971, Kula Botanical Garden is 8 acres of serene peaceful escape. 3,500 above sea level this family owned garden will be a welcome respite. The cool air and amazing plants in a natural setting will be a highly of your visit to Maui. Public restrooms available in our gift shop. Coffee and snacks/candy available. Kula Botanical Garden located on Kekaulike Highway near the Kula Highway junction on Maui, Hawaii. It is open daily. An admission fee of $10.00 for adults and $3 for children ages 6–12 is charged. Children under six are admitted free.
Came here on a Saturday. Paid 10$ for each adult. Woman at the counter was a great lady. Answered alot of questions we had. Restrooms were located in the beginning at the store. They had small snacks and drinks but no restaurant here. Nice stroll took my group about 30 minutes to go around taking plenty of photos.
The main reason we went wasn't the flowers and the trees, but chameleons! And we weren't disappointed! They have 2 in the cage right after the entrance (male and pregnant at the time female), and that helps you to get your eyes tuned to find more in the garden. We spotted 5 in an hour there.
Food and Diner Locations Near the Sliding Sands Trail Maui
---
The Maui Cookie Lady
3643 Baldwin Ave, Makawao, Maui, HI 96768-7502
About
The Maui Cookie Lady (MCL) is a distinctive brand of premium, freshly-baked gourmet cookies that feature an array locally sourced ingredients and all hand-rolled in small batches established in 2012 and the original MCL cookies on Maui. Our little island boutique bakery continues to gain loyal customers due to our creative, decadent flavor combinations and wholesome inclusions.
A long-time cookie enthusiast, founder, Mitzi Toro began baking delicious cookies in 2012 as a fundraiser to thank the nurses at Maui Memorial Hospital for taking such phenomenal care of her terminally-ill father. After raising funds for the dedicated nurses for a few months at a local farmers market, Mitzi was encouraged to transform her cookie fundraiser into a business by her regular customers who came to immensely love her delicious delectable. Thus, the Maui Cookie Lady cookie company was born. The companies' motto is to make the world a smaller place one cookie at a time.
Review
What a magical shop and with such AMAZING cookies!! My husband and I flew in from Colorado to visit family and this was a must-go stop on our trip. 100%worth it!!! I highly recommend adding this to your itinerary if you're on island and make sure you leave room in your suitcase (since we added about 15lbs worth of cookies for our return trip lol).
Kula Lodge
15200 Haleakala Hwy, Kula, Maui, HI 96790-8007
About
The Kula Lodge has been a favorite of both visitors and Maui residents for great dining experience and breathtaking views of Maui. Perched high above the green hills of Kula on the Valley Island of Maui, the Kula Lodge and Restaurant is a comfortable place to relax on the way back from Haleakala, Hana or Maui's Ulupalakua Winery. Arriving from the other direction, the Kula Lodge is a gateway to rich scenery of Upcountry Maui, a wonderful place to meet or treat your friends and the only full-service bar in Kula.
Review
We always stop hear when we are driving through this area. The views alone are worth it, especially if you are able to sit outside. It can be hit or miss on time to get seated based on the ebb and flow of people showing up. We were seated right away as always had a great view. I had the pulled pork sandwich and that sandwich was soooo good. A top 5 on my list. I really was amazed at how good it was. We also had pizza and based on the number of pieces left over (none), everyone loved it. The place did get crowed but our waitress always made sure to tell us that the pizza was backed up a bit. I mean, it is lunch in Maui with a great view, no need to rush. Enjoy the piano player and the surroundings. As an added bonus, we saw Mic Fleetwood in the restaurant so we listen to Rumours down the mountain. Also, there is a great little general store in the parking lot. Make sure to pop your head in there.
KULA Sandalwoods Restaurant
15427 Haleakala Hwy, Kula, Maui, HI 96790-8009
About
Located in Upcountry Kula, Maui at the 3,300 foot elevation. Sweeping bi-coastal views of the islands of Moloka'i and Lana'i, Mauna Kahalawai and the valleys below. Dine with us for breakfast and lunch. Enjoy comfortable hillside view cottages … A perfect starting point on your trek to Haleakalā National Park. From our location: 25 minutes to the Park entrance … The 10,023 foot (3,055 m) summit is a quick 45 minute drive.
Review
Delicious food, great service. My husband and I arrived Sunday morning just as it opened. Limited menu and seating only outside. Neither posed a problem as the menu gave enough options even a picky eater could find something and the outdoor seating is perfect. You are in Kula, why would you want to sit inside?? The owner was both chef and server, he was attentive and friendly. I had the breakfast sandwich, arrived hot and fresh garnished with fruit and rosemary. My husband had the cheese omelet which came with hash browns and the same garnish. The eggs were so light and fluffy! Unlimited refills on the coffee. The couple at the next table were having the eggs Benedict and they said it was delicious. Worth the drive and so nice to get away from the overpriced and barely passable food of the beach areas.
---
You May Want to Join Our Boondocking Group on Facebook For More Information
You May Want to Join Our Campfire Recipes Group on Facebook For More Information
For More Photos Visit Our Instagram at Campfire Recipes Instagram Our Big Escape
pfire Recipes Instagram Our Big Escape