These are our top 10 easy hikes in Yellowstone National Park are activities meant to get someone out and walk amongst nature. There is a slight difference between hiking and backpacking, but sometimes people use the terms interchangeably. Hiking refers to activities on a trail over a single day, whereas backpacking Yellowstone is carried out in the great outdoors and comprises carrying a sleeping system over several days.
Hiking and Backpacking in Yellowstone National Park
While there are a plethora of hiking and backpacking places in the United States, Yellowstone National Park spectacularly lends itself to exploration on foot versus those that are more easily or enjoyably explored by boat, bicycle, or car. The 10 easy hikes in Yellowstone meets all the common hiking and backpacking criteria, such as offering stunning scenery, expansive space, walkable terrain or trails, and preservation of ecological integrity, qualifying it as a world-class place for all hiking and backpacking enthusiasts. These 10 easy hikes in Yellowstone are for beginner hikers and most are family friendly.
5 Places For Your Yellowstone National Park Trip Planner
1. Black Canyon of the Yellowstone River
The Black Canyon is found on the northern side of the Park. Unlike many parts of Yellowstone, the Black Canyon is much warmer and drier due to its lower elevation. Hiking around the Black Canyon is best done in late May and June to avoid the mid-summer heat.
2. Shoshone Lake
Shoshone Lake is an appealing mountain lake next to the Shoshone Geyser Basin. Visiting the backcountry lake and seeing the backcountry geyser basin is an opportunity that most hiking and backpacking enthusiasts would not want to miss. Shoshone Lake is a perfect place to swim for those who don't have a problem swimming in freezing water. On the other hand, the geyser basin offers a fascinating view for first-time visitors. You would want to visit Shoshone Lake for backpacking from July to September when the lake is still warm enough for swimming.
3. Snake River
The Snake River is on the southern side of Yellowstone National Park. Besides shimmering blue waters, Snake River has polished granite stones, and it is also reported that deep swimming trout are also available in the area. Wildlife is rich in this area, offering an opportunity to see grizzly bears, black bears, and wolves. A trip to Snake River is best made in August and September when there are no mosquitoes.
4. Sportsman Lake
The Sportsman Lake is located on the northwestern side of the Park and is bordered by the Gallatin Range. The Gallatin Mountains are considered the highest in the Park, with the best and safe hiking trails. The mountains house some of the most pristine lakes that would be favorable to those seeking a backpacking trip. However, for a fantastic and unforgettable experience, visiting should be in July to the first few days of September.
5. Electric Peak
Electric Peak is also found in the Gallatin Mountains, like the Sportsman Lake. However, backpacking in this region is focused on summiting Electric Peak, which is approximately 10,969 feet high. Camping is done along the stunningly beautiful Gardner River, which is also fantastic for wildlife. This trip is also excellently done from July to the first half of September.
Hotels and Lodges Near the Best Hiking Trails In Yellowstone
1. Best Western Desert Inn
Best Western Desert is located 15.9 miles from Yellowstone National Park. The hotel has an indoor heated pool and offers free internet connection in all guest rooms and public areas. Someone can locate or visit famous landmarks such as Old Faithful in minutes.
2. Park Hotel Yellowstone
Park Hotel has located three blocks from the Yellowstone Park entrance. Well-appointed rooms, a heated indoor swimming pool, and a hot tub are a few of the comforts offered by the hotel to keep guests happy and comfortable. Park hotel is close to the lower Geyser basin and Old faithful, less than an hour's drive.
3. Gray Wolf Inn & Suites
Gray Wolf Inn is a classy and comfy hotel located 6.8 miles from the western side of Yellowstone National Park. Some of the magnificent locations in this area include Grizzly and Wolf Discovery Center. The Gray Wolf is on the west side of the Park and close to the west entrance. Their rooms are air-conditioned, have free wireless internet access to keep you connected and feature an indoor pool and a spa tub.
4. Clubhouse Inn West Yellowstone
Clubhouse Inn is ideal for those who wish to walk to the Western gate. However, it is located 15.9 miles from Yellowstone National Park. Nearby attractions include Yellowstone River, Grizzly, and Wolf Discovery Centre. The hotel offers free Wi-Fi, an indoor pool, and a spa, and their rooms have a flat-screen television with satellite channels, a microwave, and a refrigerator.
5. Hibernation Station
The Hibernation Station is located approximately 15.8 miles from the main gate into the National Park. Each cabin in the station is handcrafted with features and customs from western decorations. The cabins are fitted with hand-made beds, chairs, and decorations, giving a rustic experience. Guests also enjoy a free wireless connection, a television, and a room fireplace. All focused on increasing comfort.
Campgrounds Near Easy Yellowstone Hiking Trails
1. Red Rock RV Park
Located just 22 miles from Yellowstone National Park, Red Rock RV Park is nestled and surrounded by the forest over the hill from Henry's Lake. Although the Park is quite secluded from the highway, it is close to great restaurants in Island Park. It also offers a wide array of amenities such as a pickleball court, clean laundry facilities, and a new bathhouse for about $85 a night.
2. Ponderosa Campground
Ponderosa has a scenic setting and a good old country hospital that makes for an unforgettable vacation. Ponderosa is approximately 81.5 miles from Yellowstone. For as low as $37 a night, you can enjoy Ponderosa's full-hook-up RV sites and comfortable heated cabins.
3 .Norris Campground
Norris Campground is an excellent pick for people searching for a laid-back, no-frills vacation. It is strategically located to offer the guests quick access to Canyon village, about 10 miles away. Unfortunately, RV sites are minimal and are on a first-come, first-serve basis. The nightly rate goes at $20.
4. Absaroka Bay RV Park
Absaroka is the perfect Park for those individuals who would instead enjoy their trip with the comfort of full hookup campsites. It is located only 50 miles from Yellowstone's Eastern entrance of Yellowstone. Its proximity to town and the National Park allow you to enjoy both worlds by spending an average of $30 a night.
5. Headwaters Lodge
Headwaters Lodge is located just two miles from the Southern entrance to Yellowstone. The lodge is unique as it provides no Wi-Fi and no cell phone service in the area. However, there are plentiful activities that guests would engage in, such as riding on horseback, fishing, and participating in interactive programs and activities. The lodge is an excellent pick for those who need to disconnect from the world and have fun in the company of their loved ones. It is the best place for couples to reconnect. Unfortunately, someone would have to spend approximately $269 a night, which is very expensive.
Tips for Hiking in Yellowstone National Park
1. How do I get a Yellowstone Trail Map?
The official trail map of Yellowstone Park is issued at each of the five park entrances. Someone can also obtain the trail map at the Visitors Center of each area.
2. Can I Take a Dog for Hiking in Yellowstone?
Unfortunately, dogs and pets are not allowed on trails or into the backcountry because they are at risk of being injured by park wildlife.
3. Which Yellowstone Entrance is the Best?
The Northeastern entrance is the best because it has the most wildlife due to its proximity to Lamar Valley, a hot spot for wildlife viewing.
4. What is the Best Time of the Year to Hike in Yellowstone?
The Park gets so much snow during winter and spring. The best time for backpacking and hiking Yellowstone is during summer and early fall when the days are warm and sunny, and the nights are nice and cool.
5. Do I Need Hiking Shoes for Yellowstone?
Yes, you do. Pack hiking boots and good athletic shoes that provide stability, traction, and comfort.
6. When Does Yellowstone Open?
Yellowstone opens daily from May through September and opens on weekdays from November through April.
7 .Are There Stores or Restaurants Inside the Park?
Yes, there are. You will also find general stores, canteens, snack shops, and bars inside Yellowstone Park.
8. How Many Hiking Trails are in Yellowstone National Park?
Yellowstone boasts more than 900 miles of hiking trails.
9. Is it Safe to Hike in Yellowstone?
It is safe to hike in Yellowstone so long as you're in group sizes of three or more people to reduce the risk of a bear attack.
10. Are there Bears at Yellowstone?
Yes, there are. Yellowstone is home to two bear species: grizzly bears and black bears. Hikers and campers are advised to avoid bears as much as possible because their responses to visitors are unpredictable.
---
Want more ideas to round-out your trip to Wyoming?
A lot of great ideas are in these posts!
---
Our Top 10 Easy Hikes In Yellowstone National Park
---
---
check out our video
---
---
1. Grand Prismatic Hot Spring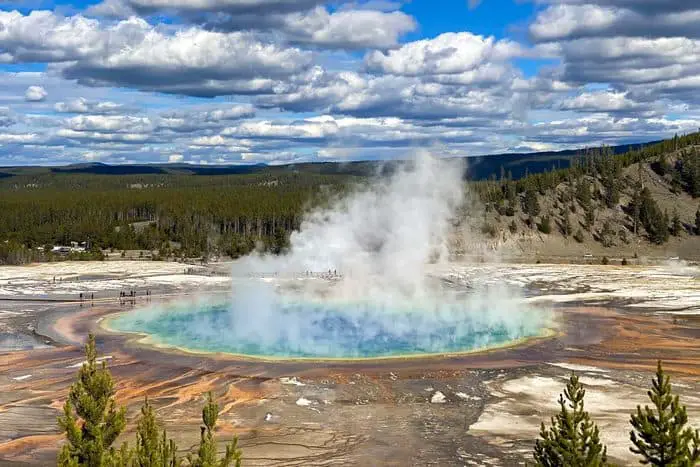 This part of the area, along with the trail, is rich in tradition. Trekkers will reach the Firehole River just outside of the trailhead on an ancient steel truss bridge that was built in 1911 to straddle the Gibbon River but was relocated to this position in 1925. Older trappers named the river the Firehole because the steam coming from the river resembled burning from a fire.
The Fairy Falls Trail begins its journey at the bridge along the Fountain Freight Road, which was built in 1885 to serve the historic Marshall/Firehole Hotel that once stood in this location in the late 1800s. Senator Benjamin Harrison, who'd eventually become the 23rd President of the United States, and environmentalist George Bird Grinnell, whose Grinnell Glacier and Grinnell Lake are named after in Glacier National Park, are recorded to have stopped at the hotel.
Backpackers will access the Grand Prismatic Overlook Trail after trekking six-tenths of a mile. The route climbs 130 feet to a new observation deck that faces Grand Prismatic Spring and the Midway Geyser Basin. Hikers used network paths to get a bird's-eye view of Grand Prismatic Spring before 2016.
The parks began building on the new route and viewing deck in 2016 as a result of guest safety issues and severe resource degradation over the years. It was finished during the summer of the next year. Hikers must trek two-tenths of a mile up the gently steep slope to reach the viewing platform.
Grand Prismatic is the largest spring in the United States, and the third-largest spring in the world, with a diameter of 370 feet and a depth of 121 feet. It's also one of Yellowstone's most frequented places due to its magnificent rainbow of hues. Trillions of bacteria, as well as sunlight scattered by mineral particles in the water, are responsible for the different colors found in the spring.
The ideal time to see the spring is in the late morning or early afternoon, after the sun has burned off the most of the steam that tends to float above the pool. Unfortunately, this is also the busiest time of day, making it difficult to obtain a parking spot. We traveled the trail early in the morning and came across the scene shown above. Put this hike on the top of your list of best short Hikes In Yellowstone.
Length: 1.5 mi
Elevation gain: 200 ft.
Route type: Out & back
Easy Hikes In Yellowstone, Wheelchair friendly, Kid friendly, Best Short Hikes In Yellowstone, Stroller friendly, Walking, Hot springs, River, Views, Fee, No dogs
2. West Thumb Geyser Basin Trail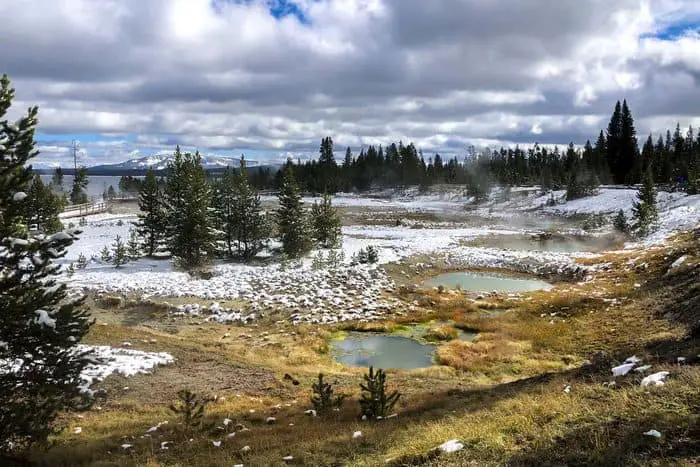 Yellowstone National Park has a number of hydrothermal zones. The West Thumb Geyser Basin is unique in that it is located on the edge of Yellowstone Lake and is partially submerged, creating a dramatic backdrop for the geysers, pools, and springs. A 2/3-mile-long wheelchair-friendly promenade loops through the geyser basin on a dirt road and wooden boardwalk. Check out our other posts for backpacking yellowstone opportunities if you are looking for a great backpacking trip.
The trailhead lies near the Grant Village Visitor Center on the west side of Yellowstone Lake in Yellowstone National Park's south end. The stair-free circle that explores West Thumb Geyser Basin is 2/3 of a mile long, with a second route cutting across the basin in the middle. Along the trip, there are several overlooks that allow excellent views of the various hydrothermal characteristics.
Take one of two paths running northeast toward the loop from the trailhead's huge parking lot. To hike the loop in a clockwise orientation, turn left. You'll begin with a beautiful panorama of the geyser basin and the lake beyond. Yellowstone Lake is "North America's greatest high-elevation lake." The deep blue water is located at an elevation of 7,733 feet above sea level. For one of the best short Hikes In Yellowstone this trail offers some of the best scenery in the park.
The Absaroka Mountains rise on the opposite side of the lake, across from the West Thumb. Even if there weren't odd misty pools on the ground all around you, the lake and peaks form a postcard view that would be delightful.
On the left, the trail leads to Abyss Pool. The Abyss Pool is one of Yellowstone's deepest hydrothermal pools. The turquoise water descends to a depth of more than 50 feet.
Length: 1.0 mi
Elevation gain: 59 ft.
Route type: Loop
Easy Yellowstone National Park Hikes, Kid friendly, Hiking, Best Day Hikes In Yellowstone, Best Hiking Trails In Yellowstone, Walking, Bird watching, Beach, Lake, Views, Wildflowers, Wildlife, Fee, No dogs

3. Fairy Falls Trail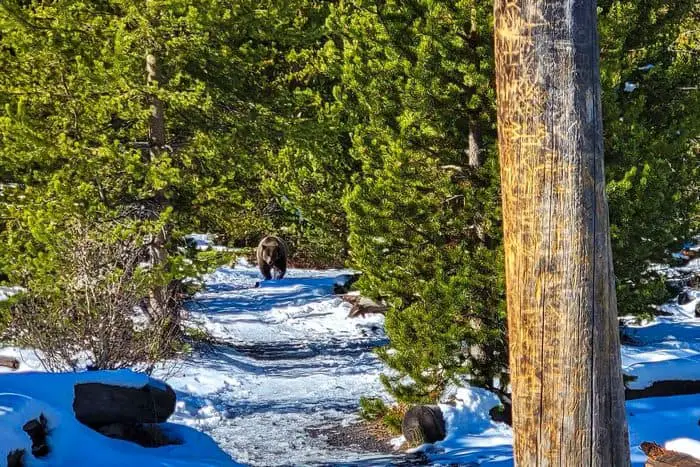 For a Yellowstone National Park hikes experience the Fairy Falls Trail is one that you have to visit. This About 6 miles north of Old Faithful, the Fairy Falls Trail begins. You'll start on Fountain Flats Drive to go to the start of the Fairy Falls Trail. Begin by crossing a historic bridge across the Firehole River. For the first mile or so, the Fountain Flats Drive follows a wide, old dirt road that is relatively flat. You'll pass the backside of Grand Prismatic Spring on what we think is one of the  best hiking trails In Yellowstone, the park's largest hot spring, on this portion of the trail. This stretch of the trail is suitable for biking. This easy Yellowstone National Park hikes trail can easily be combined with a trip to Old Faithful, the most iconic geyser in the park.
On your left, after approximately a mile, you'll come to the official trailhead for the Fairy Falls Trail. Leave your bike here if you're bicycling. The trail passes through extensive stands of young lodgepole pines in this section. It's relatively flat, just like the first half of the trail. There is a minor inclination when you approach close to the fall. This trail has a number of backcountry campsites that are ideal for an overnight stay. Check with the park service to see if these places are available and what restrictions they have. Some of the best short Hikes In Yellowstone on this list do have closures due to weather from time to time.
Fairy Falls is a tall, slender waterfall with a blue lagoon at the bottom. You can retrace your steps and return to your starting point for a shorter hike. Continue along the route for several more miles if you want to see Twin Buttes and a few thermal phenomena. At about two miles, you'll come to a junction for the Fairy Creek Trail, and if you continue on, the trail will end at the Imperial Meadows Trail.
Length: 4.8 mi
Elevation gain: 170 ft.
Route type: Out & back
Easy Hikes In Yellowstone, Kid friendly, Stroller friendly, Camping, Hiking, Walking, Running, Hot springs, River, Waterfall, Wildflowers, Wildlife, Historic site, Fee, No dogs

4. Mammoth Terraces and Upper Ter Loop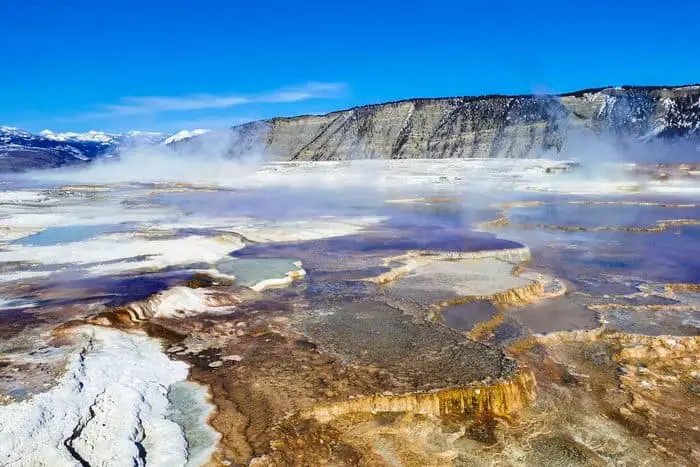 At 3.6 miles we decided to squeeze this into our easy Yellowstone National Park hikes list even with that added distance. It is a longer trail than many on the list but not challenging for active hikers. We still rank it in the best short hikes in Yellowstone category. Although the thermal qualities of Mammoth Hot Springs have dwindled in recent years, and sections that were once wet and bordered with colorful algae are now dry, white, or grey, there is still enough here to make it one of Yellowstone National Park's highlights and one of the best hiking trails In Yellowstone. Mammoth is best known for its travertine terraces, which consist of numerous tiny, shallow pools along ledges of various levels, though it also has a number of hot streams and gas vents.
It is divided roughly into two halves: the smaller, or main terraces, which are toured by several brief loop trails, and the topmost, or highland terraces, which are circled by a narrow, one-way drive that is closed to RVs and other large vehicles.
The lower terraces are normally fairly busy, partly because of the easy access from the major road, but the higher portion is considerably quieter, and despite the regular but infrequent traffic on the road, it is also a good hiking destination. All of the pathways across the lower terrace are roughly one mile long, and when combined with the walk along the upper road, the whole distance is 2.8 miles, with many dozen designated thermal features along the way.
The bottom basin is mostly open land and offers one of best hiking trails In Yellowstone, and the different terraces form a continuous mineralized area approximately a third of a mile across, whereas the higher parts are partly wooded, with grassy patches and clusters of trees separating the springs and terraces. The majority of sites enjoy expansive views north, beyond Mammoth to the Yellowstone River canyon, and there's a decent chance of seeing wildlife, particularly elk, who frequent the treeless flats.
Length: 3.6 mi
Elevation gain: 538 ft.
Route type: Loop
Easy Yellowstone National Park Hikes, Kid friendly, Best day hikes in Yellowstone, Hiking, Walking, Best Short Hikes In Yellowstone, Bird watching, Hot springs, Views, Waterfall, Wildlife, Fee, No dogs

5. Midway Geyser Basin Trail
Consider this as one of the easy hikes in Yellowstone. The half-day looping journey around the Midway Geyser Basin if you're visiting Yellowstone National Park and want to see some amazing thermal phenomena as well as get out on the trail to escape the congestion and bustle of the roadside attractions. This hike visits hot springs, geysers, woods, waterfalls, rivers, meadows, lakes, and probable wildlife sightings, to name a few highlights of Yellowstone. Long portions of the trail veer away from the crowded hubs of activity around Grand Prismatic Spring, providing a touch of serenity to an already fantastic climb.
This day-hike can also double as a backpacking route. Start by downloading the Backcountry Permit Reservation Application, which you can submit by fax, mail, or in person to get a permit. Because of the area's popularity, it's best to make a reservation as soon as possible to avoid being turned away. The park also has a limited number of walk-up permits available, however these are less trustworthy for long-term planning. You can pick up your permit from the local visitor center after your reservation is verified (in this case, the Old Faithful Visitor Center). The reservation will be processed for a charge of $25.
Length: 0.7 mi
Elevation gain: 55 ft.
Route type: Loop
Easy Hikes In Yellowstone, Wheelchair friendly, Kid friendly, Best Hiking Trails In Yellowstone, Stroller friendly, Walking, Hot springs, Paved, River, Views, Fee, No dogs, Best Hiking Trails In Yellowstone

6. Old Faithful Geyser Loop Trail
This is another one of the easy hikes in Yellowstone for family trips. Cross Fairy Creek and continue north on the trail, which passes through a mix of forest and open meadows. Turn left at 2.9 miles onto the Imperial Geyser trail, which is one of the park's most active geysers. On a modest uphill gradient, pass across a large meadow before reaching a trail divide on the opposite side.
Following the banks of the geyser's outlet creek, a right turn will lead you directly to the geyser. At 3.2 miles, the left branch continues through dense forest before arriving at a right bend that leads directly to the geyser. You can go either way, but the looping option (turn left and follow the creek back to the geyser) provides the most diversity.
Imperial Geyser shoots water into the air in near-constant bursts from a large pool that feeds its outflow creek. The water cools away from the center of the pool, which is well above boiling. The water then travels downstream, feeding Fairy Creek, where it cools down enough to support colorful colonies of orange algae. The return journey from the geyser takes you along the creek's bank, where you may see the intriguing and moderately unpleasant algae. Turn left at 3.5 miles to proceed east and continue your journey to Goose Lake.
Along Fairy Creek, the trail next runs across an open grassland with various swampy meadows. At 3.7 miles, the trail crosses Fairy Creek on a beveled log, then continues on a lengthy chain of beveled logs through a swampy area rife with mosquitoes (bring plenty of repellent!). Beyond the swampy area, the trail curves to the north until encountering a spur trail to campsite OD4 at 4.2 miles.
Continue north over open grassland interspersed with lodgepole pines and occasional hot springs (unless you're camping). Because the soil surrounding the springs is quite fragile, and there will be a lot of warm water pooling up along the trail, you'll need to go carefully through the hot spring sections. Bison, elk, moose, bears (bring bear spray for unexpected meetings, turkeys, and deer are all probable sightings in Yellowstone's plentiful wildlife.
Length: 0.7 mi
Elevation gain: 16 ft.
Route type: Loop
Easy Yellowstone National Park Hikes, Best day hikes in Yellowstone, Wheelchair friendly, Kid friendly, Best Day Hikes In Yellowstone, Stroller friendly, Hiking, Walking, Hot springs, Paved, Views, Historic site, Fee, No dogs
7. Mystic Falls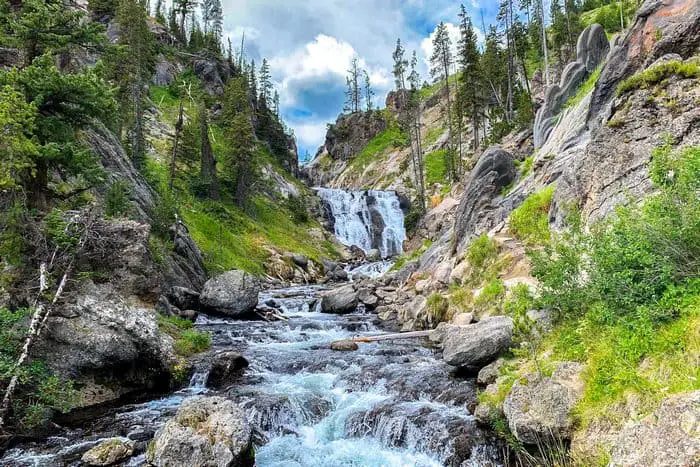 The journey to Mystic Falls begins at the Biscuit Basin Trailhead, about 3 miles north of Old Faithful.
We have this on our list of easy Yellowstone National Park hikes, and it is a bit longer. Probably not one to take the children on but great for any active hiker. The hike starts by crossing the Firehole River, which got its name from early trappers who mistakenly thought the steam rising from the river looked like smoke from a fire. Hikers will travel through Biscuit Basin on a boardwalk once they reach the other side. The road also goes through a number of thermal features, including Sapphire Pool, which may be the most stunning thermal feature in the park outside of Grand Prismatic Spring. We were also fortunate enough to witness the erupting of Jewel Geyser, which resembled a tiny version of Old Faithful.
Hikers will reach the loop portion of the boardwalk after about two-tenths of a mile. Though you can go either way, the left fork is the quickest way to the Mystic Falls Trail, which splits off to the left after another tenth of a mile of walking. Before reaching the official Mystic Falls Trailhead, the new trail extends along a raised boardwalk for a short distance.
Trekkers will find the Fairy Creek Trail intersection after two-thirds of a mile. Though you can go either way to the falls, the left fork is the most direct and easiest way to go to Mystic Falls. The Summit Lake Trail intersection is just past this one. To get to the falls, keep on the right side of the road.
The trail begins to run parallel to the Little Firehole River at about eight-tenths of a mile, and you'll see your first view of the waterfall at about 1.2 miles. The two switchbacks a little farther up the trail are strongly recommended. This will bring you closer to the falls, allowing you to have a better glimpse of them.
Mystic Falls is a popular tourist attraction in the area. On the Little Firehole River, Mystic Falls cascades 70 feet down a succession of ledges. The river passes through a small, but ruggedly attractive canyon below the falls.
Hikers who want to make a loop trip can continue on the Mystic Falls Trail after taking in the views. The trail climbs 500 feet from the falls to a viewpoint of the Upper Geyser Basin. From there, the loop continues by returning down the Fairy Creek Trail. From the Biscuit Basin Trailhead, this loop hike is approximately 3.7 miles long.
Length: 2.4 mi
Elevation gain: 147 ft.
Route type: Out & back
Easy Hikes In Yellowstone, Kid friendly, Hiking, Best day hikes in Yellowstone, Forest, River, Best Short Hikes In Yellowstone, Views, Waterfall, Wildlife, Fee, No dogs
8. Artist Point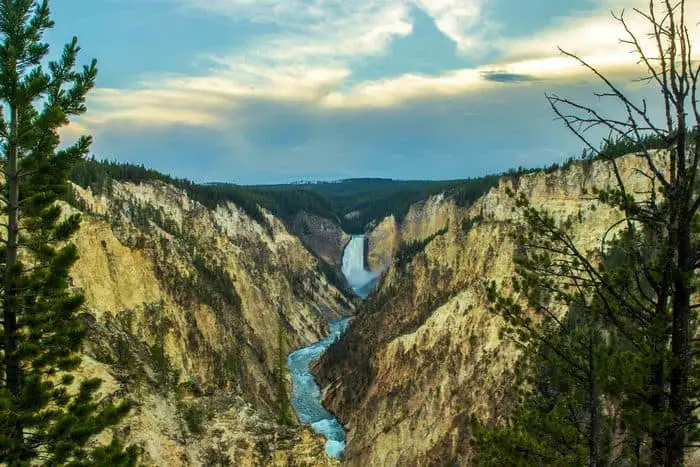 This is one of the shortest easy hikes in Yellowstone and that makes it the top of the list for young children. This is a fantastic hike that may be extended by connecting with the path along the South Rim and Uncle Tom's Trail. Take caution with youngsters on this climb, as there are no fences protecting the cliffs. Also, avoid getting too close to cliff edges, as they are continually crumbling.
There is a clear path to begin your trek from the parking lot, and you will nearly immediately arrive at Artist Point, a spectacular overlook that is frequently busy. The Grand Canyon of the Yellowstone and Lower Yellowstone Falls can both be seen from here.
A dirt road leads into the trees from Artist Point. There are no services along this trail, which is marked as a wilderness path. Along the way, you'll pass by numerous viewpoints that offer breathtaking views of the Yellowstone Grand Canyon. These will really overwhelm you.
You'll gain height quickly, and then the trail will meander up and down as you make your way out to Point Sublime. Point Sublime is not as impressive as other overlooks, and the beauty along the path to Point Sublime is far superior to that of the point itself.
Return the same way you came. The views of the Grand Canyon of the Yellowstone and the falls are equally breathtaking and that alone makes it one of the most rewarding easy Yellowstone National Park hikes.
If you return to the parking area, you can choose whether or not to walk the South Rim. The trail for this great walk emerges from the parking lot's opposite side.
Length: 0.2 mi
Elevation gain: 16 ft.
Route type: Out & back
Easy Yellowstone National Park Hikes, Wheelchair friendly, Kid friendly, Best Hiking Trails In Yellowstone, Stroller friendly, Walking, Paved, River, Views, Waterfall, Wildlife, Fee, No dogs, Best Hiking Trails In Yellowstone
9. Fountain Paint Pot Trail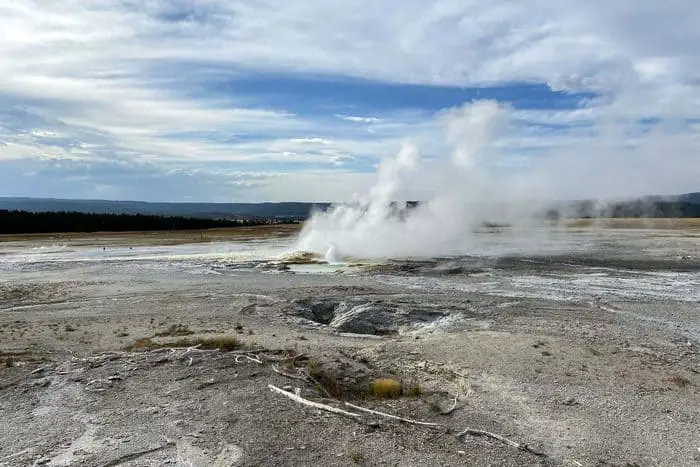 Looking for one of the easy Yellowstone National Park hikes that is a bit longer but not challenging then this may be the one. The Fountain Paint Pots Path is a 0.6-mile circular trail in Yellowstone National Park. You'll see a plethora of geysers, and it's ideal for virtually everyone! In just.6 miles, you'll view 16 different attractions on the Fountain Paint Pots Trail! This trail is extremely popular because to the abundance of natural beauty in such a tiny space. (This is true of the majority of Yellowstone's geyser routes.)
The best option is to skip these areas during the hours of 10 a.m. and 4 p.m., when they are the busiest. We anticipated there would be a lot of traffic. But, because we wanted to walk all of the geyser loops, we opted to brave it!
One of the best things about Yellowstone's geyser treks is that they're built on boardwalks, making them accessible to practically everyone. (Walking on the ground is dangerous.) As a result, anyone with a stroller or a wheelchair may view a significant amount of this magnificent National Park!
This is the first large pool you'll see on the trail, and the colors are stunning, with orange edging the aqua blue!
Yellowstone National Park's Fountain Paint Pots Trail | Be Inspired Every Day!
Because it's so unique and bright, the Fountain Paint Pots Trail is properly titled!
Around some of the geysers, you'll see some amazing oranges and reds. Bacteria Mats are what they're called. (I know… doesn't that sound delicious?) Certain bacteria can survive in hot environments, and these pools have their own micro-ecosystem. They request that you no longer throw anything into the geysers. (I suppose this was once a regular practice, similar to a wishing well.) However, it throws the geysers off kilter — similar to coral reefs, a minor disturbance might take decades to resolve!
As the route ascends, you'll come across these hot mud vats. This is the area for which the route was named. Fumeroles, which are boiling spouting mud blasting out of the ground, can be found a short distance away. Several additional minor geysers and pools can also be seen in this area. You'll come across this geyser named Clepsydra, which means 'water clock' in Greek. It's about half way through the path. Every three minutes, it used to erupt. But now it explodes pretty much all day, which makes for a terrific photo opportunity!
Because the Fountain Paint Pots Trail is a loop, it begins and ends where the photo below was shot. I hope you enjoyed your Yellowstone National Park journey today, and there will be many more to come!
Length: 0.6 mi
Elevation gain: 22 ft.
Route type: Loop
Easy Hikes In Yellowstone, Kid friendly, Hiking, Best day hikes in Yellowstone, Walking, Bird watching, Best Day Hikes In Yellowstone, Views, Wildlife, Fee, No dogs
10. Lone Star Geyser Trail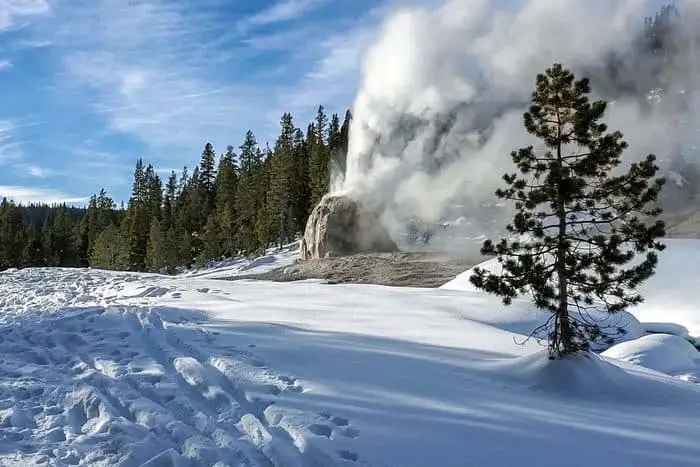 Another of the easy hikes in Yellowstone on our list is the Lone Star Geyser Trail. short climb leads to a well-known and popular geyser. Despite common belief, the geyser was given the name Lone Star because of its isolated location and remoteness from Old Faithful and the Upper Geyser Basin. It has nothing to do with Texas, the Lone Star State. Every two to three hours, the Lone Star Geyser erupts, spraying water up to 50 feet into the air. The Firehole River can also be seen from the route.
An ancient service road serves as the flat trail to Lone Star Geyser. The route is paved, however it is closed to all vehicles except bicycles. The track follows the Firehole River for the first part. The trail's width allows the large number of people that visit Lone Star Geyser each day to share the same path in a friendly manner. There is a confluence with the Spring Creek Trail about a half mile before the geyser. Continue in the correct direction.
About 100 feet before the geyser, the pavement comes to a halt. There is an alternative route if you do not wish to hike on the paved road. Hikers can also reach the Lone Star Geyser Trailhead from the Fern Creeks Trailhead, which is 1.7 miles north of the Lone Star Geyser Trailhead. A 6.4-mile out-and-back hike is available.
Snowmelt runoff percolates into the ground and is superheated by the Yellowstone hotspot, causing Lone Star Geyser to erupt.
The Lone Star Geyser hike is ideal for large groups looking to walk together. Because of the ease of walking and the wider-than-normal route width, there are greater options for side-by-side or sociable walking. For the same reason, families with young children will like this trail. Beginner hikers and geyser enthusiasts seeking for a new trail to try outside of the Upper, Biscuit, or Norris Geyser Basins will enjoy the Lone Star Geyser walk.
We hope you have time to try all of these easy hikes in Yellowstone while you are in the Park. Each of these Yellowstone National Park hikes is an adventure waiting to happen for you and your family.
Length: 5.3 mi
Elevation gain: 127 ft.
Route type: Out & back
Wheelchair friendly, Best day hikes in Yellowstone, Kid friendly, Stroller friendly, Camping, Hiking, Mountain biking, Walking, Forest, Hot springs, River, Wildlife, Fee, No dogs

---
You May Want to Join Our Boondocking Group on Facebook For More Information
You May Want to Join Our Campfire Recipes Group on Facebook For More Information
Check Out Our Pictures On Instagram – Our Big Escape.