Last updated on April 12th, 2022 at 08:13 am
Recipes From Laos and Laotian cuisine is distinct from other SE Asian cuisines. Laotians enjoy sweet, salty, sour, & bitter flavors as long as they are strong.
Steamed sticky rice is the Laos' main dish. Sticky rice is known as khao niao in Lao, where khao means 'rice' and niao means 'sticky.' In fact, the Lao consume more sticky rice than anyone else in the planet.
Sticky rice is thought to be the essence of Lao culture. Sticky rice, it is widely believed in the Lao community, will always be the glue that binds Lao communities together, connecting them to their culture and to Laos, no matter where they are in the globe.
The Lao people are often referred to as luk khao niaow, which means "children or descendants of sticky rice." Sticky rice, larb, and tam mak hoong are the trifecta of Laos cuisine recipes.
Tam mak hoong, sometimes known as som tam in the West, is a spicy green papaya salad that was invented in Laos.
Recipes from Laos come in a wide variety of regional variants, owing in part to the fresh foods available in each location. Baguettes are sold on the street in the capital city, Vientiane, and French restaurants are frequent and popular, both of which were initially introduced while Laos was a part of French Indochina.
Traditional Food from Laos
Food is the most essential activity in Laos at all times of the day. It is fairly typical in the local language for people to greet each other by inquiring, "Have you eaten food?" Food is often the topic of many talks, especially when friends and family are dining and sharing meals. Lao people also take great pride in sharing their traditional cuisine with inquiring visitors.
Lao people were initially migrants from Southern China, and they were made up of a variety of ethnic groups who spoke different languages and had varied cultures. They brought their traditions with them when they went further south. Lao cuisine has a much greater awareness in the world as a result of historical Lao migration from the Lao PDR to Thailand and adjacent nations. According to Arne Kislenko, there are more ethnic Lao residing in Northern Thailand than in Lao PDR, resulting in the spread of specific Lao recipes far beyond the country's borders. In truth, much of Thailand's "Isan" cuisine is actually Lao rather than Thai in origin. However, we believe that the best approach to sample Lao cuisine is to travel within the country's borders and sample the variety of cuisines available.
Because of the various ethnic groups that make up the country, traditional Lao food is diverse. Southern cuisine is fiery, spicy, and salty, whereas Northern cuisine is gentle. Most Lao foods are steamed, boiled, blanched, or stewed and are not fatty.
Because of migration, several surrounding cuisines, particularly from Southern China into Northern Laos, have influenced Laotian food. There is also a major link between northeastern Thai and Cambodian cuisines. Fer, for example, has been influenced by Vietnamese cuisine and has become a famous dish in Laos (Vietnamese Pho-noodle).
Laos Cusine – Unassuming But Packed with Flavor
The country's ability in combining herbs, chilies, and the aromatic bacterial riot of fermented meat and fish is on display. Fresh ingredients like as vegetables, poultry (chicken, duck), pork, beef, and water buffalo are used in most dishes.
Fish and prawns are plentiful, but because Laos is a landlocked country, they are almost usually freshwater varieties. Mutton is only eaten by the country's small South Asian Muslim population, which is almost entirely concentrated in Vientiane.
Laotian cuisine is one of Southeast Asia's best-kept secrets. Due to its landlocked location, this small country receives less attention than its neighbors, yet it nevertheless has a lot to offer in terms of culture and cuisine. Laotian cuisine is flavorful, with herbs and fresh ingredients. There are several regional differences, but Lao cuisine can be defined as the entire Lao ethnic group's cooking heritage and style. The main cuisine of Laos is sticky rice, which is often believed to be the glue that binds Lao populations to their culture and to Laos.
Laos Food vs Thai Food
Isan (Thai) and Lao cuisines are both herbaceous and vegetable-heavy, with a lot of bitter notes. Thinly sliced banana blossom lends bitterness and floral overtones to dishes like naem khao and laab, while sliced raw Thai eggplant provides bitterness and texture to dishes like naem khao and laab. Fresh bamboo shoots, ginger, galangal, and vast amounts of fresh herbs including mint, cilantro, makrut lime leaf, and dill are among typical ingredients.
Laotian cuisine is simpler than Thai cuisine, with fewer ingredients. It's additionally hotter because dried chilies are used. While coconut milk is occasionally used in Isan and Lao cuisine, the sweet, thick sauces that are commonly associated with Thai cuisine are not seen in Lao cuisine.
Laotians enjoy sweet, salty, sour, and bitter flavors as long as they are strong. Prepare to eat a lot of sticky rice with your hands if you decide to go native.
FAQs About Laotian Food and the Recipes from Laos
What is Laos Food?
In terms of flavor and ingredients, Laotian recipes are quite similar to those found in Thailand and Vietnam, and frequently include fresh herbs, spices, noodles, and rice. The Laotians' staple dish is khao niaw (sticky rice).
What is it About Laos Dishes and Sticky Rice?
Every meal in Laos starts with khao niew, or sticky rice. It's all over the place. Sticky rice is prepared from glutinous rice, which contains more sugar than ordinary rice and becomes sticky when steamed.
What is the Traditional Food from Laos?
Laab (also known as "larb" on Thai restaurant menus) is a salad made from ground meat and herbs, laced with fish sauce and lime juice, and topped with a powder made from dry powdered rice.
Is Laotian Food Spicy?
The most renowned Lao cuisine is larb (also written laab or laap), a spicy mixture of marinated meat or fish that is occasionally served uncooked (similar to ceviche) with a variety of herbs, greens, and spices.
What is the Difference Between Thai and Laotian Food?
Both Laotian and Thai cuisine have distinct and excellent flavors. The distinction is that, unlike Thai cuisine, Lao cuisine uses herbs and vegetables that aren't cooked or require overnight marinades. Thai food is usually served individually, whereas Lao food is frequently offered in a family setting.
Is Laotian Food Healthy?
Laotian cuisine is fresh and nutritious, with nearly no processed foods. Sticky rice, fresh vegetables, fresh herbs, fish and meat, fish sauce, chili, spices, and fruit are the main ingredients of Lao cooking. In Laos, sticky rice is served with every meal and is considered the country's defining dish.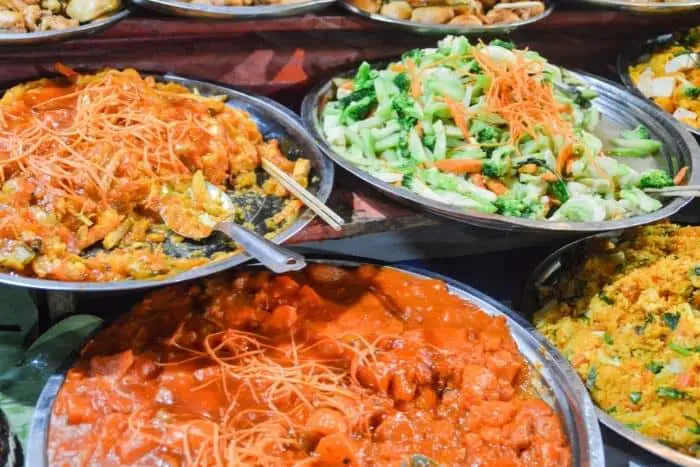 15 Of The Best Recipes From Laos
1. Laotian Shrimp Larb – Laos Cuisine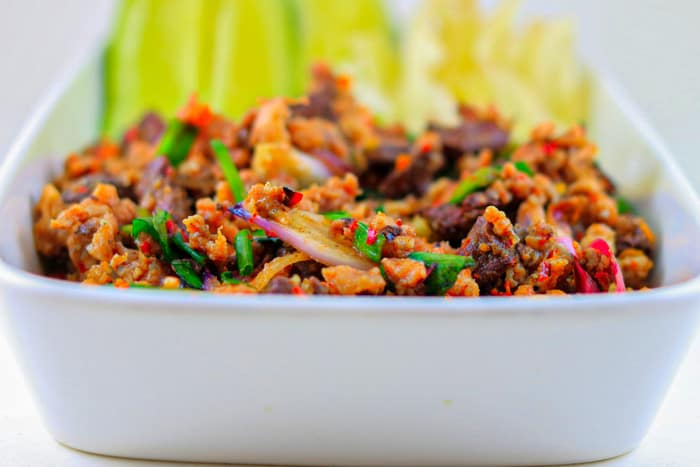 Not familiar with larb? It's a traditional Laotian dish that's meant to be eaten with your hands and relies on chopped meat or seafood, flavorful aromatics, and fiery chilies. Toasted and ground rice adds a subtle nutty-sweet flavor and also thickens the sauce for our shrimp iteration.

2. Recipes From Laos – Sweet Coconut Cakes – Laotian Food
Get in the festive spirit, helping out a local Lao street food seller with her sweet coconut cakes. These steamed cakes are dairy and gluten-free and are best when eaten piping hot.

3. Incandescent Lao Salad – Laos Dishes
Have you ever had larb? Sometimes it's spelled laab or laap. It's a kind of meat salad eaten in Laos and northern Thailand…It's light, bright, and fiery hot–almost incandescently so – due to hot chilies. And it's kind of sour due to citrus. It's absolutely delicious.
This Incandescent Lao Salad is not larb. It was, however, inspired by it. It's light, bright, citrusy sour, and incandescently fiery. We have tried many Recipes From Laos and this is one of our favorites.

4. Lao Crispy Fried Rice Ball Salad – Food From Laos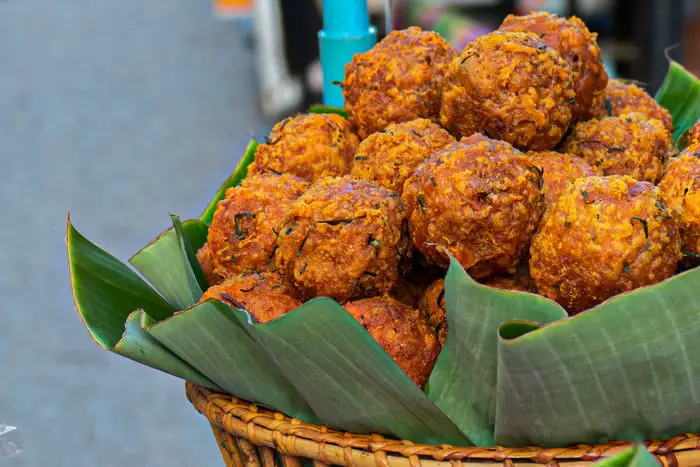 One of the Recipes From Laos favorites is a crispy rice salad (Nam Khao) with crispy, chewy textures with a balance of sweet, tart, salty and spiciness.
If you have never had a Lao Crispy Rice Salad, it's unlike anything you've ever tasted before and you need to try it because my words just won't do it any justice. Crunchy, chewy rice with a well-balanced tart, salty, spicy and sweet combination of toppings and fresh herbs. It is one of the tastiest traditional recipes of Laos. It's honestly something you absolutely must try once in your life.

5. Lao Steamed Fish (Mok Pa) – Laotian Cuisine
Bring the exotic flavors of Laos to your table with this zesty Recipes From Laos daily stape named Lao Steamed Fish (Mok Pa). Wrapped in a banana leaf and infused with essential Lao ingredients, this scrumptious steamed fish looks amazing and is sure to be a hit with friends and family.

6. Lao Tomato Dip – Laos Food
Spicy and Zesty dip used in Lao at virtually every meal. When you want a surprising new dip to roll out then this is the one.

7. Laab Diip (Raw Beef Salad)- Recipes From Laos
Another one of the great Recipes From Laos is Laab dip raw beef is one of the essential Lao dishes that incorporates unique and delicious ingredients.
The recipe looks easy, but the key to making this dish is sourcing and making the ingredients from scratch or finding the Lao aunty that has all these ingredients! Enjoy!

8. Recipes From Laos – Tom Khem – Laotian Recipes
One of my favorite Lao comfort food is tom khem. "Tom" means boil and "khem" means salty. It is a braised pork dish in a salty, yet sweet broth. The sweetness balances out the saltiness and the pork is ever so tender.
But for me, the hard-boiled eggs are my favorite. After the eggs have been in the simmering broth for a while, the flavors soak into the eggs and make them so delicious!

9. Lao Chicken Noodle Soup Recipe – Laos Cuisine
When it comes to noodle soups, Asia is the best. Lao is the cuisine of Laos, a South-Asian country. Lao meals typically consist of a soup dish that is sipped throughout the meal.

10. Luang Prabang Salad (Laos salad) – Laotian Food
The top of the Recipes From Laos freshest salad you have ever eaten, this Luang Prabang salad is packed with tons of herbs and paired with a creamy sweet and sour dressing, inspired by my recent trip to Laos.
One of the reasons I love traveling (and there are many) is that I always return with new inspiration for blog recipes. I love being able to bring back a taste of my adventures abroad.

11. Lao Style Beef Salad "Pra Nuea" – Laos Dishes
Thai restaurants around the world sell larb (also spelled laab) in various styles, usually with ground chicken "Larb Gai" or pork "Larb Moo".
Our Lao version here, made with rare lean ground beef, is exceptional because the meat soaks/cooks in lime juice for several hours then finished briefly in a skillet to give it an especially sour flavor. Combined with the shallots, sliced lemongrass, fish sauce, and ground chilies, it all comes together so well. It's very healthy too. You can make this same version with pork, chicken, shrimp or lobster.

12. Jeow Mak Keua (Lao Eggplant Dip) – Food From Laos
A smoked and spicy eggplant dipping sauce typical from Laos. It reminds Babaganoush, with fish sauce instead of tahini. In Laos, it is served with glutinous rice (sticky rice), pieces of dried meat or vegetables to dip in the sauce. In Laos, the duo Jeow Mak Keua and Sticky Rice are a favorite breakfast in the school lunchboxes.

13. Nam Khao (Lao Crispy Rice Salad) – Laotian Cuisine
If you have never had a Lao Crispy Rice Salad, it's unlike anything you've ever tasted before and you need to try it because my words just won't do it any justice. Crunchy, chewy rice with a well-balanced tart, salty, spicy and sweet combination of toppings and fresh herbs.
It's honestly something you absolutely must try once in your life. Lao cuisine is quite rare around here and usually a hidden gem in the cuisine world, you might be familiar with its flavors if you've had Thai or Vietnamese foods.

14. Laotian Omelette – Laos Food
A great Recipes From Laos breakfast special is the Laotian Omelette. This hearty omelet is loaded with fresh herbs and snake beans to make a great breakfast or as part of a multi-course Asian meal.

15. Larb Laotian Chicken Mince – Recipes From Laos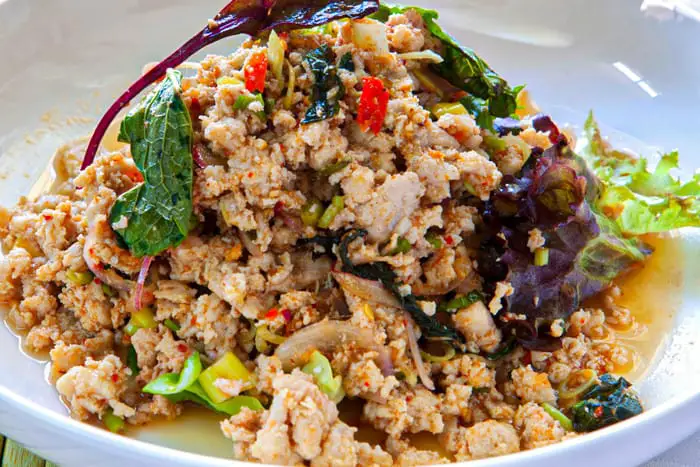 A friend taught me how to make this dish that originates from Laos and Cambodia. If you can't find galangal, substitute fresh ginger and a squirt of lime juice. Pre-ground chicken, turkey, or pork may be used instead of the chicken thigh meat. Serve with sticky rice or in lettuce cups.

---
For complete photos and videos of our trips, visit our photos on our Facebook Page
You May Want to Join Our Boondocking Group on Facebook For More Information