Choosing between Yellowstone or Yosemite as to which is best is difficult to say the least. They are two of the most famous national parks in the United States and both have so much to offer you just have to go to both. For a great place to visit be sure and visit both. Another plus however with Yellowstone you get the chance to visit the Grand Teton National Park as well. When comparing two of the most popular parks in the world there will never be a clear winner.
---
---
check out our video
---
---
Want more ideas to round-out your Yellowstone and Yosemite Parks?
A lot of great ideas are in these posts!
---
Yellowstone National Park is famous for spotting bears and bison amid geysers and mammoth hot springs. Both are hotbeds of geothermal features like the Grand Prismatic Spring, and the geothermal activity produces many geysers and hot pots. The most famous but not necessarily the best is of course the Old Faithful Geyser
It is located in a wide natural setting that spreads itself through three states. On the other hand, Yosemite National Park is a site that charms you with beautiful waterfalls, granite domes for climbing, and hiking in a mountain terrain that is counted among the most beautiful in the world.
These two parks have rightly achieved a place in UNESCO's World Heritage site status and their being the top two among the 63 National Parks spread around the United States. They are managed and run by the National Park Service. They are both places that have gained a wild popularity, receiving four million visitors every year. Deciding whether to visit Yellowstone or Yosemite can be daunting. Instead of leaving it to coin tossing, we have compiled some information to help you determine which national park to visit first. Depending on what you want your experience to be, these two parks have some differences which might bring in the distinctions that make one outdo the other. We can only differentiate them by looking at some particular aspects.
1. Their Histories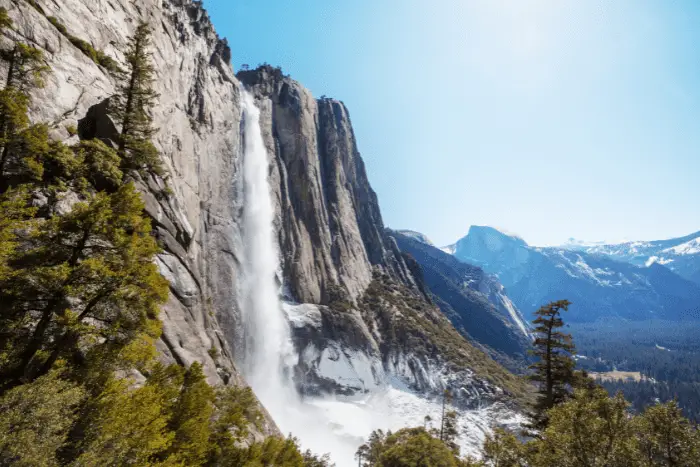 Yosemite's history has a dark side to it since the Native Americans who lived there had to be driven out in the 19th century. However, it still retains the tribal name 'Yosemite,' meaning 'killer' in the Miwok language. It is unknown whether the name is from before being driven out, which might signal the dramatic landscape, or due to their being made to leave. President Lincoln, in 1864, designated it as a public recreational space due to it becoming a point of convergence for European explorers and Gold Rush miners, which necessitated conservation. It was the Scottish-American journalist John Muir, who would later, in 1890, push for it becoming a national park so that the wildlife and wilderness could be preserved.
As for Yellowstone, its landscape and the surrounding are believed to have been formed from a violent volcanic eruption about 2 million years ago, creating a vast rolling hills terrain, rock formations, and ridges, sprawling for about 9000 square miles. Due to its unique geology and the magma which powers the hydrothermal system below its surface, it has become a famous site for viewing geysers, including the famous Old Faithful. Despite the geysers being a major point drawing people to the park, the natives who lived in the area feared it greatly due to a belief of the presence of evil beneath the surface. President Ulysses S. Grant designated as the first National Park in 1872 which makes it the oldest national park of the two.
As for those who are not so much interested in the histories of these two iconic parks, some of the other things that might draw them to them might be:
2. Yellowstone or Yosemite for Wildlife and Beauty
These two iconic national parks are landmarks of the beauty of nature and the magnificence of wildlife, but they both have specific strengths.
When we talk of the incredible wildlife that thrives in Yellowstone, what comes to mind is the elk, moose, bison, the bighorn sheep, the huge grizzly black bears, and wolves. It also has lots of wild lands waiting for you to explore them. Yellowstone houses about 60% of all geysers in the world, which make beautiful natural hot springs having plumbing unique to themselves which causes them to erupt from time to time in huge and high streams of hot boiling water and steam. This phenomenon is quite astounding, which, combined with the bubbling mud spots and technicolored hot springs, draws about 4 million tourists every year. However, the forests, mountains, and canyons surrounding this phenomenon are not as impressive.
Yosemite has the best places to take hose pictures that speak more than words can ever say when talking about landscapes. Just looking above, the clouds will have your heart moved in the instance by this splendor rivaled by no other; Half Dome's haughty profile, El Capitan's hulking presence, and gemstone lakes found in the subalpine wilderness of the high country.
Its waterfalls are one mesmerizing feature to behold, even to those travelers who are most jaded. The spring's runoff turns these beauties into cataracts that will spectacularly thunder their way into your heart, leaving you drenched in mist. Yosemite Falls drop to about 2425 feet in three tiers, making them among the tallest in North America. Their open meadows gives you the ability to watch the falls from some vantage points all through the valley. At Glacier Point, you can see the granite peaks that tiresomely stretch themselves out into the far distance, but the most captivating view from this point is El Capitan from a bird's-eye point of view, in addition to the Half Dome.
In this battle of the greats, it is only fair to let Yosemite take the win when it comes to the natural splendor, while Yellowstone takes the prize when it comes to the wildlife.
Wildlife In Each Park
There are some large difference and some the same on the wildlife you will find in the two parks. While both parks have impressive wildlife the vast number of big game animals in Yellowstone have to give it the edge. Both parks are bucket list places to visit for any nature lover.
Yellowstone Wildlife
The biggest population number of species of mammals in the lower 48 states can be found in Yellowstone. Yellowstone is known for its predator–prey complex of large wild animals, which includes eight ungulate species (bighorn sheep, bison, elk, moose, mountain goats, mule deer, pronghorn, and white-tailed deer) and seven large predators (bighorn sheep, bison, elk, moose, mountain goats, mule deer, pronghorn, and white-tailed deer) (black bears, Canada lynx, coyotes, grizzly bears, mountain lions, wolverines, and wolves). In addition there is also a large population of bald eagles which visitors love.
The National Park Service's mission is to preserve the natural processes that keep these species and their habitats alive while also keeping track of population trends. Many species enter the park boundaries during seasonal or migratory travels, when they are exposed to varied management plans and land uses by people.
Yosemite Wildlife
The approximately 90 animal species in Yosemite National Park, as well as their activities, are incredibly intriguing for park visitors to observe safely and ethically. Because of diminishing population numbers or a lack of information about their numbers and distribution, seventeen mammals have been given special status by the federal or state governments of California. Continuing research has put a magnifying focus on various animal species in the park, building on work done by noted mammal researcher Joseph Grinnell in the 1920s.
Some of the species include the black bear, mule deer, coyote, bobcats and Sierra Nevada bighorn sheep
3. Yellowstone or Yosemite For Hiking and Activities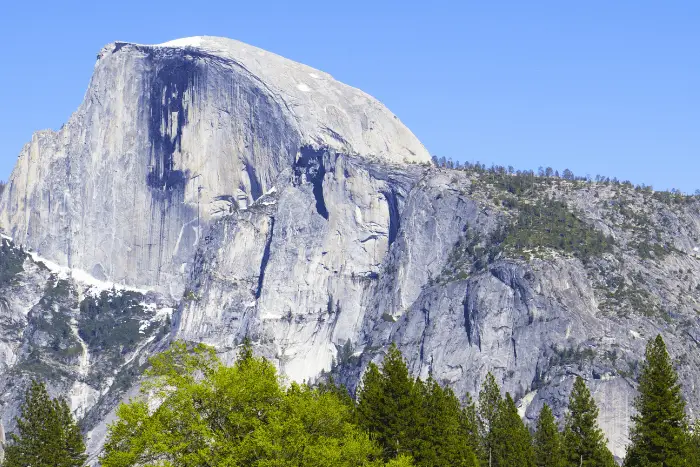 When you find yourself in such heavenly places, you don't just sit back and wait for the enchanting flora and fauna to bring itself to you. You need to stretch your legs and bring back to life that long-buried curiosity in preparation to tackle these unmatchable natural attributes actively.
When you hike through Yellowstone, you can spot the geysers. The roads intricately meandering through will come across a lot of trailheads which will give you a wide variety of choices for walking and hiking, some of which might be very strenuous. These explorations will only be capped by your ability.
Bunsen Peak, standing at 8564 feet, is among the most popular hikes for the early season, which has numerous choices of views to choose from. For those who are more hardened, this hike can be extended by going down the gentler slopes on the east of the mountain then going further down to the base of Osprey Falls which does not get as many visits as the others. This is the best way of extending your hike by an additional day.
Another one of the great trails is the Lone Star Geyser Trail, which has quite the scenery and being paved, which means it is not so demanding; you can even ride a bike if your legs need a break. This leads you to the largest geyser in the park, which makes it routine eruptions every three hours and goes on for about two to thirty minutes, getting to heights of between 30 feet and 45 feet.
If you decide to hike uphill on Mt. Washburn, you might have to persevere about two hours of gravity working against you, even though that will be repaid beyond measure when you get to take in the 360-degree beauty of the park. This is the most popular hike in Yellowstone. You can also choose to use a mountain bike to make the climb using a dirt trail
As for Yosemite, the main attractions are its wide variety of trails. You might be aware of these adventures that will have your heart wildly pounding if you have come across Free Solo, which shows Alex Honnold trying to the first person to free-climb El Capitan solo.
You have so many choices for trails you will be spoiled for choice; there are about 800 miles of them. When routes that go through the floors of the valley swarm with people – they are the easiest – you can escape the congestion by going up. Some other ways of diverting your attention and activity include cycling, rock climbing, swimming, trail rides, cross-country skiing, and ratting. Half Dome's northern face receives climbers from the whole world over who try to make the climb, although those hikers who are well experienced and endowed can get to the summit by use a round-trip that will take you 17 miles from Yosemite Valley, which will gain 4900 feet in its elevation.
The adventurous hikers will find overnight backpacking trips to the high country's alpine meadows exhilarating. These sites have the service of several trails, each taking care of the diverse abilities of the hikers.
When it comes to adventure in the wilderness, Yosemite will be the ultimate winner due to its wide variety of choices ranging from the gentle valley-floor trails to the rock faces that will make your spine tingle, but Yellowstone still has several options. Another reason Yosemite wins is that it remains open to a variety of activities in winter as compared to Yellowstone which has to mimic the bear and go into hibernation.
Our conclusion that both of the parks have a wide variety of hiking and sightseeing that the overall comparison is difficult to pick a winner but since we are photographers as well as writers we would give the edge here to the vast beauty and waterfalls of Yosemite.
4. Yellowstone or Yosemite For A Family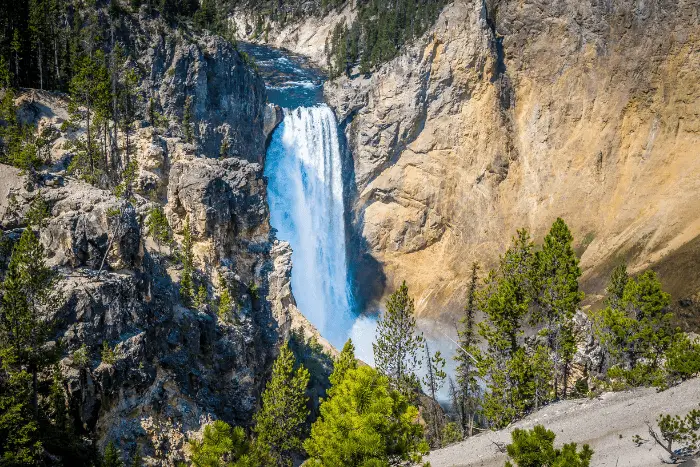 These two giants have the wildlife and the beauty that will make the most amazing appeal to everyone. They both have trails that are accessible and a wide range of facilities designed to handle visitors of all abilities. Regardless, each one of them has its own points in which it outmatches the other, which make different appeals to different people.
When it comes to Yellowstone, a family will have the best time here. It does not have any tigers or lions, but you are sure to come across a huge number of bears. It would help if you stayed more than 100 yards away from these grizzly bears, but children of different ages enjoy their spotting. When you combine this with all the other opportunities for wildlife viewing, you will find that Yellowstone is the best choice for a family visit. Some of the other hot points that you will enjoy in the company of your gang might include the numerous aquatic fireworks; the geysers. It also has short-looped trails, which make the ideal places for clearing out the vehicle before roaming through the immense natural beauty.
If what you need is some space to do some solo contemplation, Yosemite is your best choice. It, too, has bears plus a wide variety of other wildlife for view, even though its real beauty is connected to your contemplating the spectacularly natural beauty contained within. Not all age groups can enjoy the beauty of sitting quietly to watch light playing on Half Dome. Others which might not be tasteful to all are the back-country hikes which have grown to be very famous, and also the ultra-active activities like rock climbing. Children will still enjoy the Yosemite scenery, but those who will fill themselves to the fullest with its grandness are those willing to sit back and let it come to you as it is.
Yellowstone will take the front seat when it comes to creating the most sensuous experience for all the visitors. It will give the couple historic lodges to snuggle, have the remotest outback recesses for adventurers, and take teenagers looking to shoot the best selfies to Old Faithful spurts.
Yellowstone
Yellowstone has lots more to interest kids IMO, especially kids who don't hike. The park is very large with a different view around every corner. It has lots of bison, elk, and other animals and birds as well as fantastic and varied geology. Old Faithful isn't the only eruption, there are lots as well as bubbling mud pots, hot springs, etc.
We did a poll on our Facebook account and It's unanimous so far – Yellowstone. Nothing like seeing big animals rub against your car. No hiking necessary – plenty to see from stops along the road. Also white water rafting of varying skill levels or just a float trip will give them plenty to tell their city friends when they get home.
Yosemite
There were others like this Wow – I'll be a Yosemite dissenter here in the event you choose that option. If you do, take the hiker's bus from the Yosemite Valley floor to Glacier Point for the incredible view of the valley, and then hike DOWNHILL back to the valley floor on the Panorama Trail to the John Muir and Mist Trails with spectacular views of Half Dome, and Illilouette, Nevada, and Vernal Falls. We did that hike when our kids were several years younger than your niece and nephew. They still talk about it and the giant Sequoias at Wawona Grove elsewhere in the park.
Overall just by the sheer numbers of 10 to 1 we will go with Yellowstone.
5. Yellowstone or Yosemite Accessibility On A Budget
For budget minded families the accessibility to Yosemite makes it so much cheaper than Yellowstone. Yosemite is near both Los, Angeles and Las Vegas airports. The beauty of Yosemite rivals Yellowstone for much less money. The outdoor activities for us are more friendly toward seniors.
If you have visited any national park and experienced the huge dent on your finances will inform you of how expensive it might be visit two of America's most famous parks; the reservations at the campgrounds might be hard to secure, and the supplies are expected to be quite expensive, and the cost of gas and a rental car will as sure as hell be high. Despite all these, there are ways in which you can save on your money.
If you are planning to visit Yellowstone, make plans to come with your own car since you cannot go in and out of the park with a public mode of transport. If you are not on a road trip, you can fly in and out via the small airports found in Wyoming, Jackson, and Bozeman, as well as those found in Montana and Billings. These, however, are quite expensive.
As for accommodation, you will find plenty of choices in the getaway towns of Gardiner, Cody, and West Yellowstone in Montana and Wyoming. Each of these points has many motels and campgrounds at all prices. When you get into the park, the lodges and campgrounds there will cost you a fortune, with the campgrounds going for about $20 to $34 and the lodges booking way ahead in the summer months.
6. The Winner Is Yellowstone or Yosemite
Yellowstone or Yosemite Wildlife – Yellowstone
Yellowstone or Yosemite Hiking and Activities – Yosemite
Yellowstone or Yosemite Visiting As A Couple Or A Family – Yellowstone
Yellowstone or Yosemite Accessibility On A Budget – Yosemite
Easy and Cheap to Reach – Yosemite
It is very easy to reach Yosemite from the major cities. It is just about a 3 to a half-hour drive from San Francisco and five hours from Los Angeles. It is also easy to get to it via cheap flights to one of the main airports of California and then use the services of rental cars to get yourself to the park. In addition to these, it is very easy to access it by using public means of transport, mostly from Bay Area. Here, you can use the services of Amtrak trains and Greyhound buses to get to Merced, which is found on the western side of the park from where you can use buses to get to Yosemite. Inside the park, there are shuttles that give you access to most of the key sites, while cycling is another way of getting into Yosemite Valley.
The campsites that are found within the vicinity of the park go for around $20 to $36 although it is almost impossible to get a reservation due to their high demand. The lodges too are expensive and mostly full. The towns that are found just outside the park, however, which include El Portal, Fish Camp, Groveland, and Mariposa have motels, campgrounds and other lodging potions at all prices, although these see a wide variation on quality.
The friendly choice to your finances would be Yosemite, since going to Yellowstone will require you to drive from a long way off, consuming much gas. If you choose to fly, you will need to buy an expensive ticket to an airport nearby, and then you will have to rent a vehicle that will cost you. Yosemite, on the other hand, is close to major cities in California and you have the choice of making a visit that does not require the use of a car. As for the prices of lodging, admission, and food, they are almost the same, which means they have no great part to play in this comparison.
The best time of year to visit both of the parks is during the shoulder seasons. The busiest time is from early spring to late summer but the fall is our choice for both of the parks. The peak season especially in Yosemite is a madhouse and you are better in the great time the fall with the crisp air and beautiful colors offers. Both parks are open year round but the weather in central California does offer more time to visit without the threat of snow.
In conclusion, the comparison of Yellowstone and Yosemite leads to great injustices to both of them for no one can conclusively determine which one is better than the other. They both have their highlights, and the diverse tastes and preferences of those visiting leads to people enjoying them based on factors that are more personal to them than they are just physical appearances. If your ideal situation consists of towering peaks, humongous landscapes and ease of access, the best choice you can make is Yosemite. For those whose charm consists of serenity, wildlife and rolling hills, without having a care of how log it takes you to get there, the best choice for you might be Yellowstone.
If you get the chance, it is good that you visit them both and other national parks like the Grand Canyon National Park, but if your time is limited, the above criteria will act as a good guideline to determine what you value most.
The true winners here are the people who get to visit any of the national parks in the United States and between these two parks the are both so great nobody could say one is better than the other.
---
You May Want to Join Our Boondocking Group on Facebook For More Information
You May Want to Join Our Campfire Recipes Group on Facebook For More Information
Check Out Our Pictures On Instagram – Our Big Escape.