Sequoia National Park is one of the most extraordinary parks in the United States. Furthermore, it is one of the oldest national parks, having been founded on September 25, 1890. Situated in the Central Valley and High Sierras of California, it has many amazing sights to offer and is a place of splendor and awe. Stunningly vast, it covers more than 400,000 acres, with most of the park considered true wilderness, meaning essentially unmarked by man.
If you're looking for things to do in Sequoia National Park, you will never be bored. You can see some of the biggest trees in the world here, enjoy hiking the many scenic trails leading through the wilderness that appears to be as untouched now as it was in the beginning, go for picturesque drives, and still never run out of things to do. Furthermore, certain locations in the park can only be accessed by foot or on horseback. If you're interested in even more exciting and fun things to do in Sequoia National Park, read on.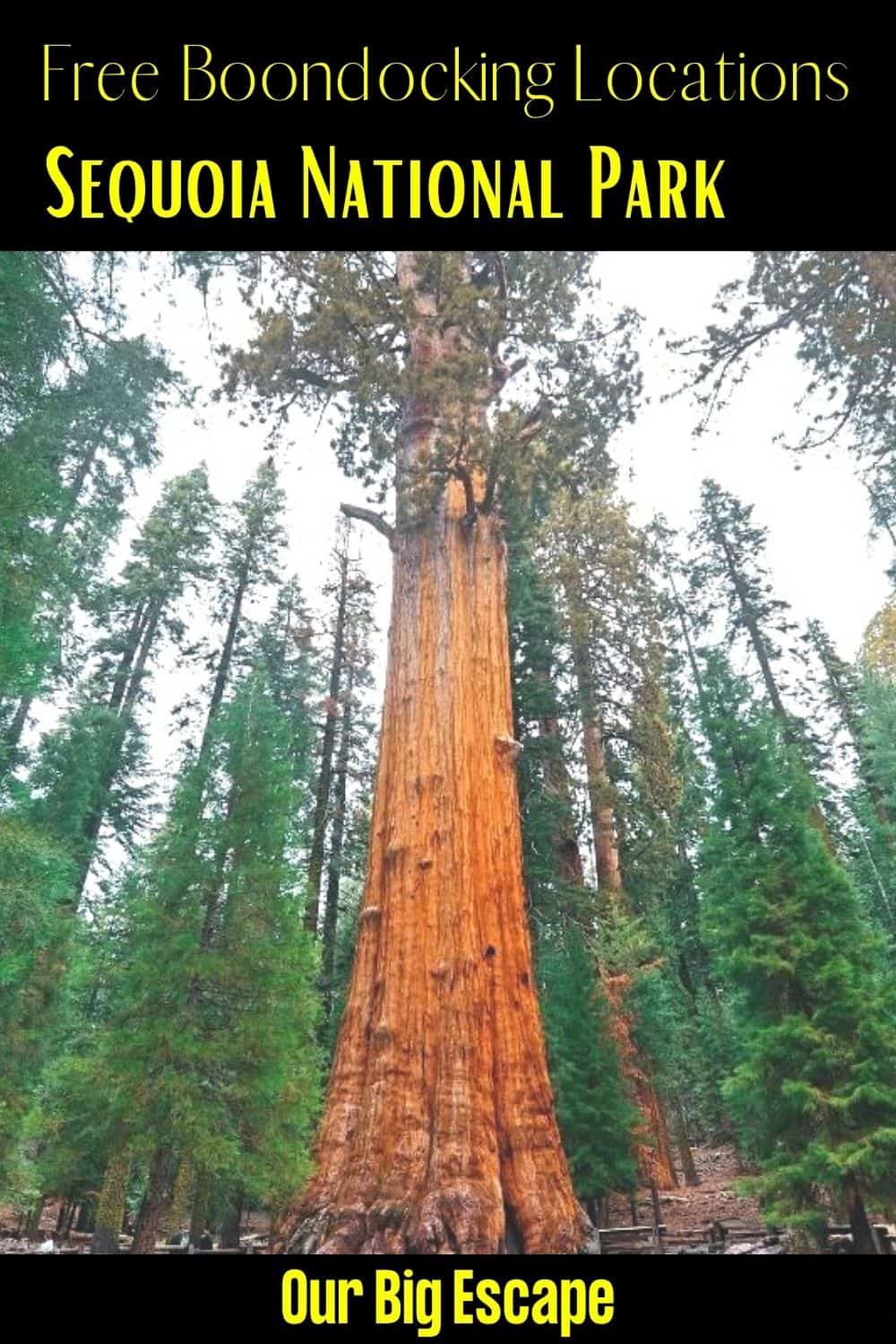 ---
---
Visit the Largest Tree In the World In Sequoia National Park
This is the General Sherman Tree, and seeing it is a real thrill. Now it needs to be understood that the General Sherman Tree is called the largest tree on the earth, but this means by volume. What this means is that measured by the amount of wood, it is the most gigantic tree on earth, even though it is not the tallest nor the widest. However, it is 275 feet tall and 36 feet in diameter at its base, which makes viewing this tree in all its splendor one of the greatest experiences to have in Sequoia National Park.
---
Want more ideas to round-out your trip to California?
A lot of great ideas are in these posts!
---
The tree is reached by hiking a short trail, but don't be deceived by the word short. Found at 7,000 feet in elevation, this hike can be a lot more taxing than you originally believe. The main parking area is positioned at the top of a hill, making the climb back to your vehicle from the tree site a difficult one. Fortunately, there are benches placed strategically along the way so you can stop for a rest. you'll need too. Round trip, the Sherman Tree Trail is around a 1 mile trip. It also includes stairs that you will have to mount.
Keep in mind that there are plenty of other Giant Sequoias, literally thousands in the Giant Forest. Some other trails worth investigating are Big Trees Trail and Congress Loop.
Climb Moro Rock In Sequoia National Park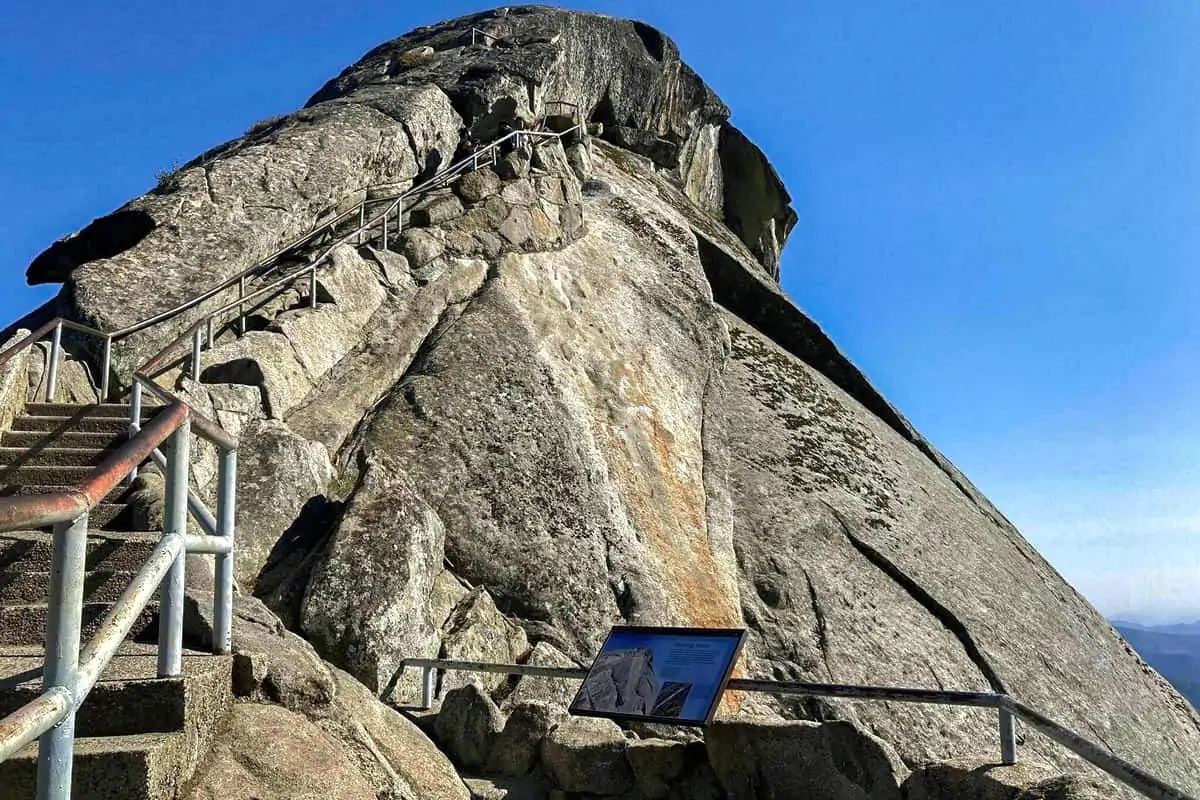 Moro Rock is a granite dome that protrudes over the edge of the Giant Forest and can easily be seen by anyone who happens to be driving up the Generals Highway leading into the southern part of Sequoia National Park. Emerging high above you as drive the rock instantly mesmerizes you and from then on you are committed to climbing to the top.
A concrete stairway was built into the rock in the 1930s. It is a long stairway with metal railings that goes directly to the top of Moro Rock. Upgrading the deteriorating wooden staircase that existed in place of the now concrete one, was a smart move, as the park was able to design a route to the top that is harmonious with the surroundings and also made the climb a lot more safe for visitors.
The stairway is nearly 800 feet long with over 350 steps to the top. This is a demanding climb at an elevation of 6,725 feet. You will actually gain 300 feet in elevation while you are climbing the stairs. There are handrails to aid you along the way as you climb.
In the age of the Covid-19 virus, you should realize that social distancing is not practical or possible on this trail and face masks or coverings are highly recommended. If you want to skip the crowds, or find the hike too tiresome, there are other granite domes in Sequoia National Park such as Little Baldy, Big Baldy, and Beetle Rock.
In the summer you can catch a ride on a shuttle that will bring your from the Giant Forest Museum to Moro Rock. Winter is a different story. In the wintertime, the road closes and you will have to walk 1.5 miles each way from the Museum to get to the stairs. Be warned, do not try climbing Moro Rock in snow or icy conditions. Take this caution very seriously, as you can start out fine and wind up unable to make your way back down in snow or ice.
View Hospital Rock
Sequoia National Park has been the proud home to Native Americans of thousands upon thousands of years. To this day archaeologists continue discovering artifacts.
One fantastic find is a group of pictographs on Hospital Rock. Close by, there are also mortars in the rocks by the Kaweah River. You can find exhibits located near the picnic area restrooms that give interesting information about the culture of the Native Americans who live in the area.
Not far from here, near Potwisha, one of the many campgrounds in Sequoia National Park, there are actually even more mortars to be found and faint pictographs.
Drive Through Tunnel Log
Many visitors to Sequoia can't contain their anticipation and immediately start to wonder, where's the tree I can drive through?
On weekdays in summer and depending on the weather in winter, there is a tree you can drive through on your way to Crescent Meadow. The tree succumbed to natural causes and fell across the road in 1937, thus becoming an iconic representation of the park. The next year, a tunnel was carved into the tree as a way to attract visitors.
A word of caution here. Be sure that you check the size of your vehicle before you try to drive through the tunnel. There is no guarantee your vehicle will fit. The tunnel is only 8 feet tall and 17 feet wide. But don't worry. For vehicles that are too tall, there is a bypass going around the tunnel so you can continue to Crescent Meadow.
Furthermore, while still acting as a main attraction, nowadays, Tunnel Log is also a fantastic reminder of the evolution of National Parks. Yes, they have come a long way! In the early days of the National Park Service, park managers concentrated their energies more on visitor recreation rather than protecting our resources. In this day and age, the National Park Service aims to place restoration and protection on a higher pinnacle than recreation, but maintain that balance is a difficult task.
Visit Tharp's Log
Our National Parks are rich in history, and it is thought that Hale Tharp was the first non-Native American to tackle exploring the Giant Forest. He arrived in 1856, guided by Potwisha tribe members, without whose help he might not have made it, and proceeded to carve his name into the log. It wasn't until 1861 that he was able to return meaning to settle there. With the help of fire, Tharp hollowed out the log and build a small cabin essential to his survival. Since that time, it has been utilized as a shelter for a host of pioneers, among them John Muir. The cabin is included in the National Register of Historic Places.
In order to reach Tharp's Cabin, you can either drive or take the free shuttle to Crescent Meadow. From here there's a simple 2 mile loop. you'll find the cabin about halfway on the trail. This was my highlight to my trip to Sequoia National Park.
Marvel At Both Tokopah and Marble Falls
Two amazingly beautiful waterfalls are located on easy trails in Sequoia National Park: Tokopah in the Lodgepole area and Marble in the foothills. In order to get to Marble Falls, you need to follow the trail 3.9 miles beginning at the dirt road near site #14 in Potwisha Campground.
Tokopah Falls is a huge favorite among people searching for the best things to do in Sequoia National Park. Tokopah Falls Trail has its origins in the Lodgepole Campground close to Marble Fork Bridge. This trail is challenging at 1.7 miles one way. The time to see the falls at their peak is in the early summer.
Explore Crystal Cave In Sequoia National Park
This is an exciting and fun experience. From the start of spring through fall, the Sequoia National Park Conservancy gives tours of an astounding marble cave in Sequoia National Park. The tour is 45 minutes and tickets are a must, however they can be bought online. You should plan ahead because this is a very popular tour and could be sold out. You aren't permitted to visit the cave without a tour guide.
To gain access to Crystal Cave, all visitors must hike a steep 1/2-mile route from cave parking to the entrance. Another 1/2-mile trail takes you through the cave.
Vehicles that are longer than 22 feet are not allowed on the winding road to Crystal Cave. The temperature of the cave is around 50 degrees, so be sure that you take a jacket with you.
Sled Down the Hill at Wolverton
Winter can be a glorious time to begin your exploration of Sequoia National Park, but that is only if you have the appropriate gear. This means traction devices for your shoes and your vehicle. You may also require skis, sleds, or snowshoes.
Wolverton, found in the Giant Forest, has two quite good sledding hills in a vast, open meadow. Take care on the hills as it can be hard to see exposed rocks or trees when they are buried in snow.
---
For complete photos and videos of our trip visit our photos on our page Facebook Page
You May Want to Join Our Facebook Group Boondocking Group on Facebook For More InformationLength