Last updated on September 9th, 2021 at 09:29 am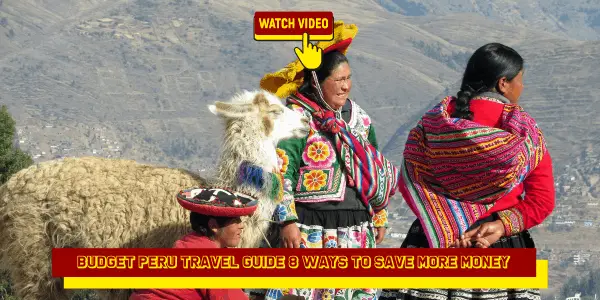 Budget Peru Travel Guide includes 18 Important Travel Planning Tips that will allow you to see and do more on your budget. Learn how you can benefit.
Welcome to the Peru Travel Guide! For a long time, this amazing country was considered one of the 'final frontiers' of far-flung travel, the kind of destination where you really could find yourself stumbling on ancient Incan ruins with a llama in tow! Nowadays Peru is much more accessible than that rather romantic image – but still enjoys plenty of places where the more adventurously minded visitor will feel right at home.
From the world-famous ancient sites that pay testimony to the incredible culture of this gorgeous country, through to colonial-style cities that just ooze a certain fun-loving style, this country is certainly one of those with something to cater to everyone's taste and mood. The Peru Travel Guide will discuss all the essential information you'll need for planning a visit to Peru – from the best sites through to administrative details, safety tips, accommodation advice and pointers on where to save some cash on traveling around – we've got you covered!
Budget Peru Travel Guide 8 – What Are the Best Places to Visit in Peru?
The overwhelming majority of visitors to Peru will be looking towards including plenty of Incan sites within their itinerary. Quite frankly, sites such as Macchu Picchu are so famous – and indeed deserve their reputation for uniqueness – that they simply have to feature it on any trip. Readers are likely aware of some of the problems that Macchu Picchu has experienced in recent years through overcrowding, and we'll discuss these later as part of our responsible travel section.
For now, just be aware that you can visit this incredible and utterly unique destination responsibly provided you follow the sometimes quite strict rules in doing so! Don't be put off visiting Macchu Picchu – it is one of that handful of places that must rate as 'utterly unmissable' – just do so without the intention of necessarily returning again in the future!
Cusco was once the Incan capital and the modern city (a description best used lightly!) retains an incredible atmosphere that makes it a popular choice for visitors looking for a base to explore the many surrounding sites. Check out the impressive national Incan museums before heading out to get a broader understanding of the incredibly rich and fascinating culture you'll soon be discovering. The Sacred Valley is amazing to tour and chances are it'll become an almost daily feature as you travel through it on the way to other sites such as the Saqsaywaman complex (unbelievably atmospheric), Qorikancha (breathtaking ruins), Tambomachy (beautiful water features) and others.
Our advice would be to take your time visiting these and try not to pack too much into single days. Incan cultural overload is a thing – so take it easy and wander at leisure for the best experience. Make sure to spend plenty of time in Cusco itself – the city is worth a few days itself.
Lima is perhaps the perfect example of a 'manageable' capital city that quite perfectly personifies the more laid back aspects of Peruvian culture. Check out the Huaca Pucllana Incan pyramid for your local history fix, but spend most of your time marveling at the quaint and somewhat rustic colonial-era heritage. The Plaza De Armas De Lima is basically the scenic national square and usually packed with everything from occasional markets through to street performers and food stalls.
It is the perfect place to relax after a long day trekking the nearby ruins! Make sure to visit the outstanding Larco Museum that focuses upon the cultural aspects of the ancient civilizations who once made Peru home, and check out the various heralded churches and cathedrals that remain practically unchanged from the days they were founded.
Heading back outside the capital city, you'll likely be looking to spend most of your time staying in smaller communities that are closer to the other central attractions. Lake Titicaca is well worth visiting, especially for the opportunity to visit and stay on one of the islands (Amantaní would be our suggestion). It is considerably larger than most people anticipate so look towards spending a few days/a week to explore it fully. Try and mix it up between hiking (some parts are quite hard going) and more sedate boat tours.
The Inca Trail is another essential feature of the trip – and truth be told you'll need plenty of time and energy to see it in full! The three major trails tend to overlap in places and you'll well be advised to take your time deciding which option works best – and most realistically match your abilities/capacities – before setting off.
Our advice at the Peru Travel Guide would be to check out the various options for joining good quality organized tours which may provide some environmentally sound travel options (often a donkey!) as well. Get this choice right and you'll have an incredible and truly one of a kind adventure. Do your best to take the extra time and effort to see Salcantay if you are lucky enough to have enough time.
Arequipa, the Colca Canyon, and the Nazca Lines are three other essential sites that you'll likely stumble across anyway while visiting the sites we've already discussed. One of the best features of Peru is that not only is there so much to see anyway, but there are masses of secondary sites that you can spend a short while taking detours to explore along the way. Our suggestion would be to take the plunge pretty much as often as you can – it rarely tends to ever disappoint!
Budget Peru Travel Guide 8 – What Are the Best Things to Do in Peru?
Our advice would be to take the Inca Trail. It does not have to be necessarily that difficult and the four/five days expedition is one of those iconic travel experiences that you'll simply never forget. Remember that this is not an especially 'grueling' hike – you'll see some mindblowing scenery, wildlife, and other sites along the way. Try and pick a tour that offers a degree of flexibility.
Smaller usually tends to be better in this regard and if you're part of a larger group then try and find a dedicated option just for your party. Peruvian guides are total professionals and they'll adapt the schedule as you need providing it is arranged upfront.
The Salkantay option is tougher and longer but certainly worth it providing you're in reasonably good shape and not in a massive hurry! Consider horseback and remember that you'll be traveling through an incredible 15 different ecosystems over your adventure. Getting your Inca Trail experience right will make or break your trip – and the good news is that it's pretty easy to ensure you're in good hands. It is possible to go it alone but only consider this providing you know what you're doing.
While the Inca Trail tends to hog the limelight make sure to spend some time exploring the Amazon in further detail. The Peruvian stretch is arguably one of the best as it is lower and more ecologically diverse. Time your visit right and you'll see an astonishing variety of natural life – best seen by riverboat. Our advice would be to try and factor this into your trip not just as a unique experience but also as a means of getting through the country (especially if visiting Peru as part of a greater South American travel adventure).
One thing we at the Peru Travel Guide will say with some certainty is that visitors who make the most of this country tend to get something like a 'mountain bug' that can really awaken a lust for high altitude adventure! If you find yourself anywhere near the Cordillera Huayhuash – and their remoteness is worth the effort – then consider taking up some more serious mountaineering.
Unless you seriously know what you're doing you'll need to use expert guides, but if that kind of adventure travel is something you find tempting, these are some of the most spectacular mountain ranges on the continent. They're also very pretty to admire from below too!
Hiking expeditions are one of the mainstays of the Peruvian travel industry and those who prefer more accessible (yet still occasionally demanding) treks should look towards Chachapoyan people's homelands where you'll find some dazzlingly precarious mountaintop settlements, sites, relics, and fortifications.
Some people can quite happily trek through these regions for weeks or even months at a time – and we'd highly recommend this for those who visit during the Inca Trail high season and fancy something a little more to themselves. Make sure to check out the mummy caches as you go…
You'll never be short of something amazing to keep you busy during your time in Peru. Our advice would be to spend as long as possible within this country as much of the appeal lies in wondering what is lying just around the next mountain bend or over the next series of hilltops. Make sure to spend your time relaxing in the cities by experiencing the famous Peruvian markets (pro tip – the Chinchero market is better for bargains than the more famous Pisac), admiring the colonial-style architecture, and perhaps chatting with the locals while sharing a Pisco Sour.
Budget Peru Travel Guide 8 – When is The Best Time to Visit Peru?
Peru is good to visit for long stretches of the year although exactly when best suits your preferences will depend on how important it is to miss the crowds. High season stretches over June through to late August (not coincidentally the time many North American and European students are taking summer breaks). It is a great time to visit for dependably dry weather and tends to also be the best opportunity for catching local festivals. That being said – Peru can be very busy indeed at this time of year especially along the Inca Trail.
Shoulder season – March/May and September/November – may be damper and cooler but you can expect significantly reduced crowds. It is also an ideal time for hiking through rainforests where the canopy helps protect against rainfall in the most atmospheric manner possible! We at the Ultimate Peru Travel Guide would recommend this as being the best time to visit overall, providing you pack appropriately and are OK with enduring sometimes wet and haphazard weather. The reduced crowds really make it worthwhile especially around March when the trail has just reopened.
Low Season stretches over the winter months and the Inca Trail is closed through February for maintenance. Expect rainy season int he highlands but good enough weather along the coast (many Peruvians decamp to the beach during this time of the year). It's also the rainy season in the Amazon that can extend as late as May some years.
Budget Peru Travel Guide 8 – Do I Need A Tourist Visa in Peru?
Very few nationalities will require a specific visa arranged before arrival in Peru. What you should look out for is how long the customs officials stamp your passport for – as this can vary considerably! You should be able to demonstrate onward/return travel arrangements and have at least six months remaining on your passport. Most tourists are automatically stamped with a 30-day 'visa' but this can be extended to as long as 180 days for no additional fees at request. Make certain of this if you are planning on staying longer than a month as it can be a real headache – or frankly impossible – to have that stamp extended once it has been planted.
No matter how long you plan to stay you'll need a Tourist Card which can be arranged simply online in advance of your arrival. Keep this safe and on your person at all times – you'll need to relinquish it when you leave the country. It may sound inconvenient but you'll need it at hand when on the Inca Trail and they do check quite frequently (and impose substantial fines if you do not have it). You'll also need a special visa if you plan on working or studying during your time here.
Outside of these little factors, most visitors will have no problems getting into or leaving Peru. Be aware that bribery does still sometimes rear its ugly head at some remote land entry points although this is quite rare nowadays. Be careful if you chew coca leaves while in Peru – they are highly illegal in neighboring countries so empty your bags and pockets.
Budget Peru Travel Guide 8 – What Currency Is Used in Peru?
Peru uses the Nuevo sol (S) that exchanges for about S3.3 = 1USD.
As a visitor to Peru, you might be a little surprised at how costs and prices can seriously fluctuate in this country – and be ready to accept that you'll often pay a little more for goods and services than locals are charged. Bargaining/haggling is a way of life and pretty much anything is up for negotiation. You can do this country quite easily on the cheap providing you are willing to rough it a fair bit – or enjoy a very comfortable stay at prices more in line with what you'd pay in Argentina or Mexico.
High-end visitors will find the very exclusive accommodation and tour experiences hitting stratospheric levels. Be aware that many prices – especially for more expensive tours and so forth – will be listed in USD and sometimes only greenbacks will be accepted!
ATMs are widespread and generally offer pretty reasonable exchange rates/commissions. They use a 4 digit PIN system and ought to work with most internationally-issued cards (check this in advance). Our advice would be to take some care when and where you use ATMs – try and stick to those attached to banks which will have security personnel at hand and avoid using them at night.
Machines ought to only dispense clean and unspoiled notes – be careful not to accept worn notes when handed change as chances are these are counterfeit (a major problem in the country). Official money changers hang out around tourist spots and ought to carry ID. They're a reliable backup option of there's no ATM nearby but make sure to conduct business in public.
Credit cards are accepted quite widely although they can levy substantial additional charges (7-10%). Our advice would be to use a money belt/secret wallet and make sure to keep about 2-3 days worth of both dollars and sols on your person at any time. Make use of hotel safes where possible and use credit cards for substantial purchases ideally in advance to avoid some fees. Providing you are savvy and take care to manage your spending you'll likely have little trouble handling your finances in Peru.
Budget Peru Travel Guide 8 – Do I Tip In Peru?
There is a tipping culture in Peru and the standard 10% applies to most restaurants/cafes that offer any kind of table service. You should leave small change on cab fares and remember to tip your guide the 'recommended' amount each day. Don't forget to pay porters a tip on top of their paltry wages too. Other than these essentials you should only otherwise tip at your discretion.
Budget Peru Travel Guide 8 – What Kind Of Budget Do I Need In Peru?
As explained above prices can fluctuate wildly in Peru depending on the time of year and where you happen to find yourself. It is no exaggeration to say that sometimes the Inca Trail can basically feature prices similar to what you'd expect in the more mountainous parts of Europe! That being said there's no need for anyone to get ripped off – just remember that in large parts of the country you'll often be quite limited when it comes to options on places to stay and eat.
Visitors can enjoy Peru without breaking the bank – just be aware that despite being a poor country the prices are not always indicative of that fact. The Peruvian currency is also notoriously unreliable so make sure to keep an eye on exchange rates and factor it into any prices we quote or estimate during the Ultimate Peru Travel Guide. Here are three very rough estimates on what general visitors can expect for their daily budgets:
Budget (S150-200/day)
We've set this threshold quite high simply because it'll be what you'll need to spend on a daily basis once you have also factored in hiking tours/guides and associated expenditure. On days when you are chilling out or traveling under your own steam, you can easily cut back this expenditure by at least a third – possibly even more provided you are just exploring a town/city.
Accommodation costs vary substantially and much depends upon local availability. Good hostel dorms tend to start at about S30-45 depending on season/location, whereas lodging houses on the Inca Trail can easily be twice as expensive for little improvement in quality. Admission to most sights rarely breaks north of S10. A good number of them are free or operate on a donations only basis (we'd suggest at least S10 in those circumstances). Allow for at least S20-30 to cover your daily tips while out on a tour.
Something which you may be glad to hear about is the fact that you can dine very well for not much cash throughout Peru. Stick to street foods and the outlets where the locals go and you'll rarely need to spend more than S20/day on sustenance. Travel costs are also pretty reasonable but vary depending on the route and comfort of your operator – we'll talk more about this later.
Mid-Level (S300-450)
This is the kind of budget you'll be looking at which will incorporate good quality 'expedition style' tours that span multiple days – namely for most people the Inca Trail. Prices vary but a ballpark figure of between S120-180/day will be enough for these and remember that usually includes places to stay and most meals as well as the services of your guide and porters (minus tips). If you wish a smaller group then be prepared to spend more – our advice is to check local reviews in advance and ask around if you are making on-the-spot arrangements.
Plenty of hostels/hotels have agreements with local tour agencies and more often than not these will be reliable and among the best overall options – just don't expect anything too tailored for your specific requirements.
Hotel rooms are within this budget and – again – those rates are going to vary astonishingly. There's plenty of hotels in Lima that charge standard room rates of around S100/night for a double room. But if you want a more central hotel or one with a decent view or transport links, expect to spend twice or three times that figure. Take heart in the fact that you'll be eating and drinking like royalty though. You'll struggle to find many restaurants to spend more than S40-50/meal anywhere in the country, and those that charge such rates will be outstandingly high quality!
High-End (S750+)
Peru has enjoyed a considerable spike in high-end travel experiences over recent years and you'll be surprised at the variety – and the prices – available. Fancy a specialist private city tour that'll usually be led by a local expert and last for the best part of a day? Yours for around S300/day. The same is available for private excursions and expeditions but just accept the fact that those rates will likely hit S1000/day – still pretty good value if you're splitting that between a small group that can afford the premium.
Exclusive accommodation – and we're talking from five-start city resorts through to exclusive eco-lodges and rainforest cabins – can cost per night what some travelers would expect to spend per week. Book these well in advance if you intend on visiting over the popular months as the best are incredibly popular. Car hire is another option but only really advisable if you're staying in more populated areas. If you go that route, we'd recommend splashing out on a driver too.
Plenty of people assume that Peru is going to be incredibly cheap – and while basic costs can be pretty low, the more 'touristy' aspects of visiting the country certainly come with a premium attached. Given that it is a truly unique country then we'd suggest taking those occasionally inflated prices on the chin anyway. There will be days where you'll spend very little, especially if you are a more experienced/confident travelers who are used to making their way around under their own steam.
Budget Peru Travel Guide 8 – What Languages Are Spoken In Peru?
While there are plenty of indigenous languages still widely spoken throughout Peru you'll find that most people (about 80%) also/exclusively speak Spanish, which serves as the country's official and administrative language of choice. English is only commonly spoken by those associated in some way with the tourist industry – and you'll find that the further you head away from visited areas and major cities, the less common it becomes.
We'd recommend that visitors to Peru and most other Latin American countries try and learn some basic Spanish words and phrases beforehand. You'll get by with these and some polite gesticulations as needed. While there is a noticeable language barrier it needn't affect or compromise the quality of your trip in any substantial way.
Budget Peru Travel Guide 8 – What Religions Are Practiced in Peru?
Christianity – overwhelmingly Roman Catholicism – dominates the official statistics but you'll find that plenty of Peruvians also still follow some aspects of indigenous religions (most often displayed in 'Mother Earth' and so forth). That being said, plenty of people do visit church routinely and you should not be alarmed to see large processions of people trooping too and from church most mornings.
Providing you do not interfere and behave respectfully around churches and other religious sites it'll not present any kind of an issue. If you practice a non-Christian faith it may be sensible to keep it private and to your own hotel room in some parts of the country.
Budget Peru Travel Guide 8 – Practical Tips From The Peru Travel Guide
We hope you have enjoyed the Peru Travel Guide so far, and we'll now shift our attention a little towards the practicalities of making the most of your time in this amazing nation. When you're wandering those incredibly beautiful and atmospheric ancient routes you'll find it easy to forget that this laid back country does have its share of underlying problems.
The drug trade continues to exploit the poorest people in some regions, and while violence is becoming rarer there are some areas where visitors should either take particular care or simply avoid regardless. Visitors are rarely the target (it brings unwanted attention) but you do not want to accidentally stumble across something that you should not have seen.
People will likely have heard about the Shining Path who fought a rather brutal insurrection for many years. Contrary to official claims the group – or rather some splinter elements – do remain in the deepest parts of the jungle regions, and have largely turned their backs in Maoism philosophy in favor of taxing the local drug industry. Once again – scary as it may sound – the chances of stumbling across these groups is literally beyond comprehension. You'll have no good reason for visiting the areas where they operate, and will likely be turned back (or arrested) if trying to do so.
Something you will notice in Peru is that a substantial proportion of people are very poor. Official statistics suggest that about 40% of people live beyond the poverty line, but in some regions, that'll feel more like 80-90%. Do not be blind to this fact – and understand that traveler's money is absolutely essential to the survival of some communities. Bargaining is fine and well in the marketplaces but does it respectfully. Peru is a bewilderingly fascinating and beautiful country that really is a privilege to visit – so paying a little over the odds is something that most visitors would be well advised just to learn to live with.
Despite their many and varied faults, the Peruvian government is better than most when it comes to restricting/limiting the damage that tourism is exacting on their heritage sites. While the lines at Macchu Picchu are hardly ideal it could be a whole lot worse – our advice is to check out some of the other amazing sites around that area as part of your trip. Choquequirao is stunning – some say even more beautiful – and rarely gets over 50 visitors a day. Spreading the wealth ought to be a part of any responsible visitors trip and we guarantee you'll enjoy your stay, even more, the further you carry that advice.
Budget Peru Travel Guide 8 – What About Health and Safety in Peru, Is It Safe?
As with any poorer country crime can be an issue in some parts of Peru – although it is important to understand that this is almost always money/property-related and barely ever violence simply for violence's sake. Luggage theft and pickpocketing are issues around tourist hotspots so keep your bags nearby/locked away, use a money belt, and store cash and documents securely and in multiple places.
Make copies of all essential ID, travel, and health documentation and store these with luggage, on your person, and uploaded securely to the Cloud. Stick to popular spots in the cities and take care at night – cabs are a good idea if you are traveling any long distances across towns. Read your government's travel advice before you visit to understand which areas currently are not open or advisable for travelers to attempt to enter.
If any of that worries you about visiting Peru then be assured that Peru is no more dangerous than most other neighboring countries, and certainly a lot easier than Brazil or much of Central America. Crime does happen and tourists are sometimes targetted – but even still you'll be a rare exception rather than the rule if you do fall victim to any crime when visiting. Just keep your wits about you, have nothing to do with the drug industry, avoid public intoxication, and you'll already greatly reduce the likelihood of being robbed/mugged in Peru.
In regards to health – Peruvian medical facilities are often excellent in Lima and a handful of major towns – but then quality substantially drops off in more remote areas. Top-quality medical insurance is essential as there are plenty of environmental hazards (altitude sickness, dehydration, insects/wildlife) as well as regular outbreaks of disease in parts of the country. Consult with your doctor beforehand and take all the recommended vaccinations. Avoid drinking tap water anywhere.
Should you lose your prescription medication then chances are you'll need to visit a Peruvian doctor (a good proportion speak English) and have your meds reissued. Do not expect the same brand, and specialist medicines may not be immediately available. Speed up the process and reduce costs by having as much documentation on hand as possible. A few minutes of saving your documents online before you travel can be really helpful!
Remember that the majority of hazards will be largely mitigated against when you employ local tour services. Not only will they prevent crime (really not that big an issue outside of the cities) but also know the warning signs of environmental illnesses. Peru may seem daunting in these regards but our advice would be to consider this part of the Ultimate Peru Travel Guide as a 'worst-case scenario' listing. Providing you look after yourself chances are you'll be absolutely fine throughout your stay.
Budget Peru Travel Guide 8 – What is the Best Transportation in Peru?
As most visitors to Peru spend a good proportion of their time traveling as part of their experience, understanding how this works is rather important, to say the least! Many visitors tend to travel in one direction (usually the Inca Trail) and then take a flight back to Lima before they head for home. Internal flights are a handy option within the country although the system is quite convoluted and airlines tend to launch/go bust on a frequent basis. Our advice would be to book any flights well in advance and stick to one of the most established (and more expensive) operators if you plan on taking this option.
Most Peruvians use buses – and these are a solid choice for visitors who are used to traveling in this manner and can handle the sometimes uncomfortable conditions, loose adherence to timetables, and occasional road closures due to flooding and landslides. Get past those little factors and the bus is a bargain way of seeing some spectacular scenery and no end of interesting cultural observations and exchanges – just go with the flow and you'll probably have a wonderful time (especially if you hand out some snacks to fellow passengers).
Don't expect to pass vast distances at any kind of great speed – but if you aren't in a rush then the bus should become an integral part of your non-trail based Peruvian adventure. Try and figure out the various different classifications – the 'luxury' options are often worth the added expense as they tend to be a bit quicker. Fares change according to time of departure and its sensible to buy a day or two in advance especially on lesser serviced routes.
Trains are a valid option in some parts of Peru. Despite the network being understandably limited by the local geography, the services are surprisingly smart and offer some mind blowing views over long stretches. Taking the train from Cuzco through to Macchu Picchu (or the other way around) is a superb experience and very highly recommended indeed. Prices vary in a similar manner to the buses but tend to be a little more predictable. It is one of the few cases where haggling is not an option in Peru.
We advise against hiring your own car as Peruvian travel involves long distances and often quite demanding driving. Cabs are a good idea within the cities though – they're everywhere and prices tend to be very reasonable even over longer trips. If you are part of a group and wish to hire a driver for the day you may want to ask around the taxi ranks. Rates are pretty high, but as ever value is relative and it may be the handiest way of getting too and from some more out of the way spots.
Budget Peru Travel Guide 8 – What Are the Best Accommodations in Peru?
We'd suggest that visitors planning on touring Peru during the busiest time of year try and book their accommodation well in advance to find the best (or at least most stable) prices and locations. If you are visiting Peru exclusively as part of an organized 2/3 week visit then this really is the most straightforward option. On the other hand, if you are visiting Peru as part of a wider tour of the region and like to keep a more fluid schedule you'll rarely have problems finding a room somewhere at short notice – just remember that you may not be in the best position to haggle!
It is fair to say that visitors should not expect too much from budget-friendly Peruvian accommodation. Cleanliness should not be an issue anywhere (Peruvians are very houseproud people) but sanitation qualities can be somewhat rustic. Hostel prices will vary considerably. You'll find beachside lodges and a handful of city hostels featuring considerably superior amenities for prices about the same as you'd pay for a standard hotel room.
Peru is a good country for making use of the advice/recommendations you can pick up while on the road from other travelers, but whether or not 'boutique' hostels really go hand in hand with the Peruvian experience is a matter of personal opinion.
More generally speaking hotels are going to come in all shapes and sizes. Plenty of Peruvian families operate semi-official B&Bs along the more popular trails, and we'd recommend these for a couple of reasons. Firstly, you'll have a chance to interact with the locals more and that's never a bad thing. Secondly, the money you pay will go directly towards the local economy – and that's something any responsible visitor should aim for during their time here.
Research your accommodation options before you arrive and chances are you'll stumble across some which you may not have previously considered. Hammocks are a great addition to your luggage simply because you'll find it easier to sleep on any riverboats you may happen to find yourself traveling onboard. Online listings (AirBnB etc) are growing in popularity throughout Peru and you can find some absolute gems if you look in the right places and keep an open mind.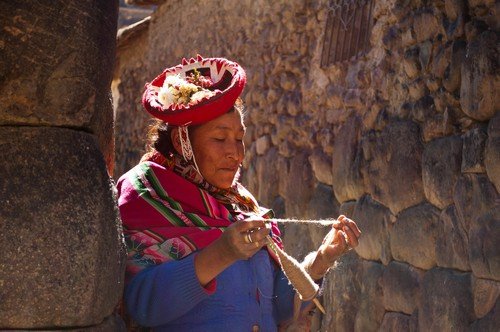 Budget Peru Travel Guide 8 – How Can I Practice Responsible Tourism in Peru?
We've talked a fair amount about how important responsible tourism is when visiting this country already, but here's a recap of the essentials. Don't try and rush this country. It may look smaller than some of its neighbors but Peru is incredibly diverse – you'll find long coastlines, deserts, flatlands, jungles and mountains here that all demand some attention.
It is not the kind of country that lends itself so well to 'checklist travel' as you'll miss those moments of just being able to soak up the splendor in its full. Try and visit the various animal and bird sanctuaries where you discover them, and we'd also advise you to spend more time in the towns and cities than you may expect. Lima is a brilliant and extremely fun place to relax and unwind – so enjoy it!
As tourism has become a more important part of the national economy you'll come across plenty of people trying to cash in on rather garish portrayals of Incan culture. We'd suggest skipping the photo opportunity to sit on top of a sad-looking llama and instead find opportunities to really do it for yourself (with a happy llama!).
Animal care qualities are far more haphazard in Peru than most visitors will like, and you'll tell those who do care for their animals right away if they are a central part of your trip/expedition. While it is important to spend freely in Peru try and make sure that your money goes towards those enterprises who are conducting business in the proper manner.
While nobody is ever disappointed by the magnificence of Macchu Picchu, don't be tempted to believe that once you've seen the highest point of Incan culture that everything else will be second or third rate. It really is not the case! The Ultimate Peru Travel Guide recommends that responsible visitors who take in MP also pay some kind of attention to the many other amazing Incan sites both nearby and further afield – and remember to donate a little towards these too. Were everyone just to visit Macchu Picchu then it'd be very sad days indeed.
Budget Peru Travel Guide 8 – What Food Should I Try In Peru?
Ceviche – carefully marinaded fish – comes in many forms, and while the dish is usually associated with Lima most visitors prefer the zestier and more fragrant examples you'll find towards the coastal regions. Try it alongside a hearty pile of super healthy quinoa, and perhaps opt for a Suspiro a la Limeña (super smooth meringue) as a dessert. If you need a quick snack that'll provide plenty of fast energy then opt for one of the many stalls you'll see selling Causa (the cause).
This combination of potatoes, tuna, tomato, and avocado is usually mashed together and was a classic served during the war with Chile 100+ years ago! Anticuchos is basically tasty late-night street food – and often skewered meats sourced from the 'cheaper' cuts. You'll not notice the difference – the meat is extremely tender and usually slathered in hot and spicy sauces.
You'll have no problems eating well and affordably throughout Peru – although don't expect many food allergies or restricted diets to be very widely understood. If you have serious allergies then we recommend you have these carefully transcribed into Spanish beforehand and show the note to your server/cook.
People understand vegetarian food and there'll always be a good variety of choices – but vegans may struggle more than they expect outside of Lima. We at the Ultimate Peru Travel Guide recommend you always use the busiest street food vendors who'll not only have a higher turnover meaning food is left out for shorter times but usually also enjoy a good reputation for quality and cleanliness too.
Budget Peru Travel Guide 8 – What Should I Pack for A Trip to Peru?
Pack carefully and according to the general season. A high quality waterproof as well as long-sleeved lightweight clothing are pretty much essentials, and you should remember to also pack some warmer garments for higher altitudes. Hammocks are a good idea if you're heading through the jungle regions. Good footwear is essential – try and make sure your boots are not only providing a sturdy grip but are waterproof and well worn in before you travel. Blisters are the last thing you want in Peru!
As mentioned above a money belt/secret wallet and a basic medical kit are sensible additions to any Peruvian packing list. We'd also suggest a good hat and a waterproof document holder are also quite handy, as is a power adaptor. Anything else you should be reasonably able to replace within the country.
Budget Peru Travel Guide 8 – What Clothes Should You Wear In Peru?
Rugged and good quality outdoors wear will serve you well throughout your Peruvian adventures. We recommend long sleeves to help provide protection against bugs and sunshine, and also sticking to materials that dry quite quickly (not denim). Try and pack at least one or two 'smarter' outfits for the occasional night out in the big city, and remember that offensive/outlandish clothing is best avoided anywhere near any religious or cultural spots.
Generally speaking, you'll stand out as a tourist anyway so try and look like a 'good kind' of serious and intelligent traveler rather than perpetuating any stereotypes. Most people won't especially care what you wear during your time in Peru – just try not to show off expensive jewelry or designer garb too much.
Budget Peru Travel Guide 8 – What Are Some Interesting & Important Facts About Peru?
Now we are approaching the end of the Ultimate Peru Travel Guide we'll wish you the very best for arranging your own travels to this amazing country. Peru is one of those places that once you've been you'll be yearning to go back – and no matter whether you're touring it selectively or as part of a broader South American odyssey you'll likely not find many more memorable places.
Despite it being a little scary in some senses Peruvians are the kind of people who love to show off their incredible heritage and frankly gorgeous natural scenery – it's one of the things that tends to really bring the country together. We highly recommend you let them do so at the nearest possible convenience!
Let's wrap up this Peru Travel Guide with a few fun and interesting little facts – you'll be able to add dozens of your own in no time at all!
▸ The Cerro Blanco sand dune is the highest on earth – and you can board down it!
▸ About 7.5m out of the 30m Peruvians live in Lima.
▸ There are over 3,000 different types of potato grown within Peru.
▸ Keep your eyes peeled for the world's largest flying bird – the Giant Andean Condor.
▸ Try and spot the Nazca Lines from the air – wonder why they were made?
▸ Peruvian shamans are commonplace and usually administer hallucinogenic drugs for most ailments…
▸ Peruvian coca leaves were an essential ingredient in early recipes for Coca Cola…
▸ Peanuts are believed to originate from Peru – but you'll barely ever spot anyone eating them here.
▸ Over two-thirds of the country is still covered by the Amazonian rainforest.
▸ Peruvian couples must first pass a stage of 'servitude' – trial marriage – before they marry.
We hope you enjoyed reading the Budget Peru Travel Guide – and good travels! Contact us with any questions you may have about travel to Peru.
---
Now that you have read about Peru, what's next? Let's learn more about a Chile trip. Check out The Ultimate Chile Travel Guide
---