These are the cookie pizza recipes for those times when all you want is a cookie in the shape of a pizza. I'm going to provide you the recipes for some of my favorite cookie pizzas. Imagine for a moment a massive chocolate chip cookie that has been baked in a cast iron skillet and is served with ice cream on top.
---
Want more ideas to round-out your Recipe Box?
A lot of great options are in these posts!
What is a Cookie Pizza?
The most helpful tips and tricks for whipping up these cookie pizza recipes in a hurry. Have you ever been the host of a dinner party, only to discover that you do not have enough time to prepare dessert?
Have you ever found yourself craving something sweet on a Wednesday night after dinner but not feeling like you wanted to put in the effort to cook anything or clean up the mess afterward? These cookie pizza recipes are your answer.
This piece of advice is going to completely alter the dynamic. The concept is very fundamental. When you prepare cookies the next time, make sure you have some extra cookie dough on hand and freeze it so that you can use it for these cookie pizza recipes with fruit or without.
Always ready to be cooked, I have a batch of cookie dough stashed away in the freezer of my home. This way, you can easily thaw frozen cookie dough and bake a batch of cookies without making a mess. You can even make cookie pizza recipes without having to do all the dishes that are connected with making cookie dough, as I have been known to do on occasion.
Where did the Cookie Pizza come from?
In Tucson, where I grew up, there was a place named Oreganos that we frequented frequently and which claimed to be the creator of the cookie pizza. In actuality, they did not refer to it as a Pizookie. I believe BJ's Restaurant and Bar makes the claim to have invented the cookie pizza and popularized it through their restaurant franchise across the country.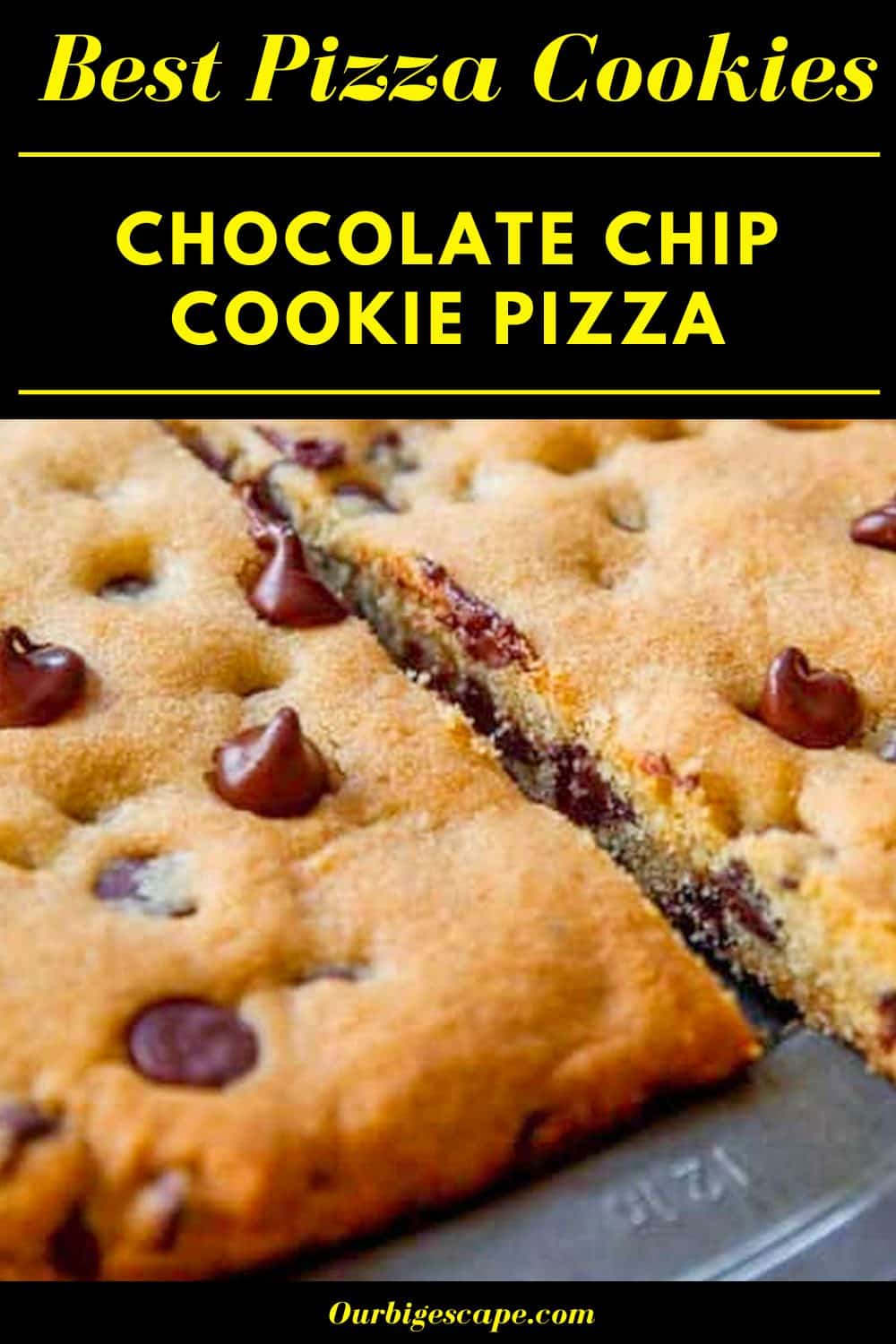 16 Easy Cookie Pizza Recipes NO FRUIT
---
---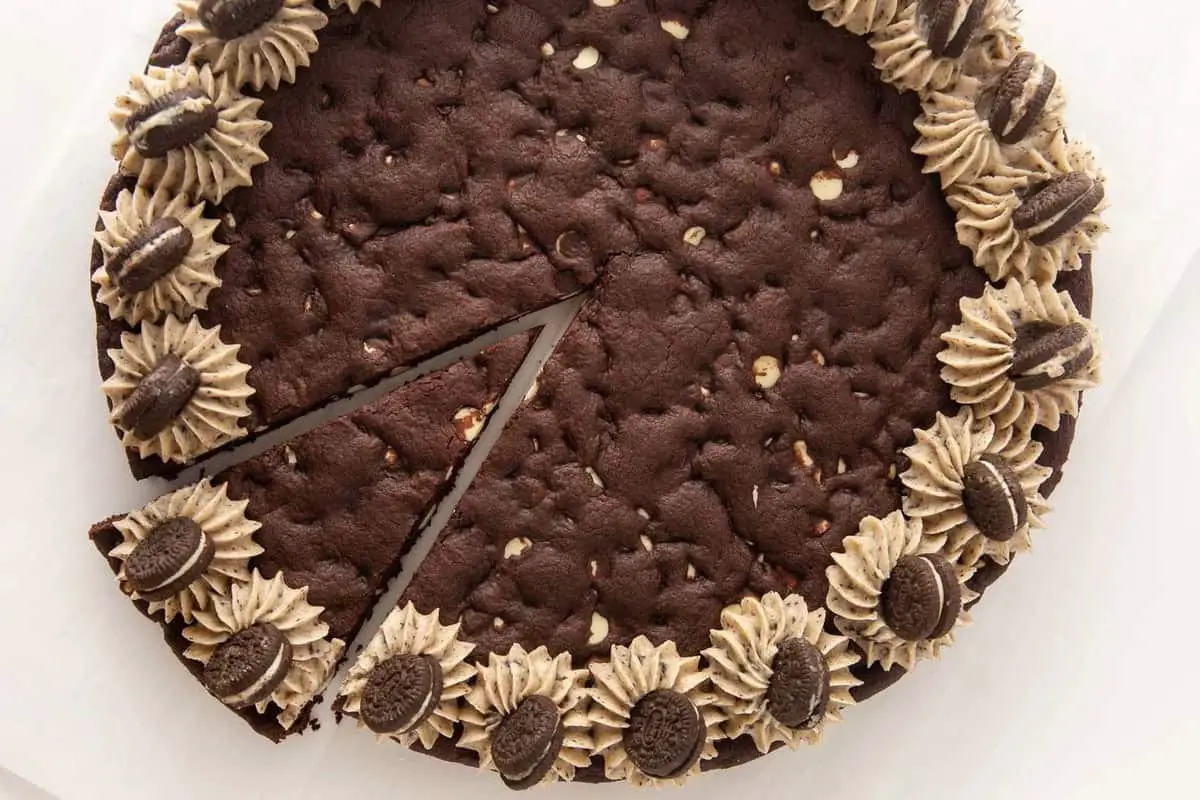 This soft, chewy, and perfectly sliceable Oreo Pizza Cookie Cake is the perfect birthday cake for Oreo lovers! It's made with a cookie pizza recipes that includs dark cocoa powder and is topped with a creamy Oreo cream cheese frosting!
This giant Oreo cookie cake has the perfect texture—it's dense, moist, easy to slice, and sturdy enough to eat with your hands! This Oreo dessert pizza comes together in a matter of minutes and it's easy to decorate with my simple cookies and cream frosting.
Follow this simple cookie pizza recipe and learn how to make cookie pizza desserts.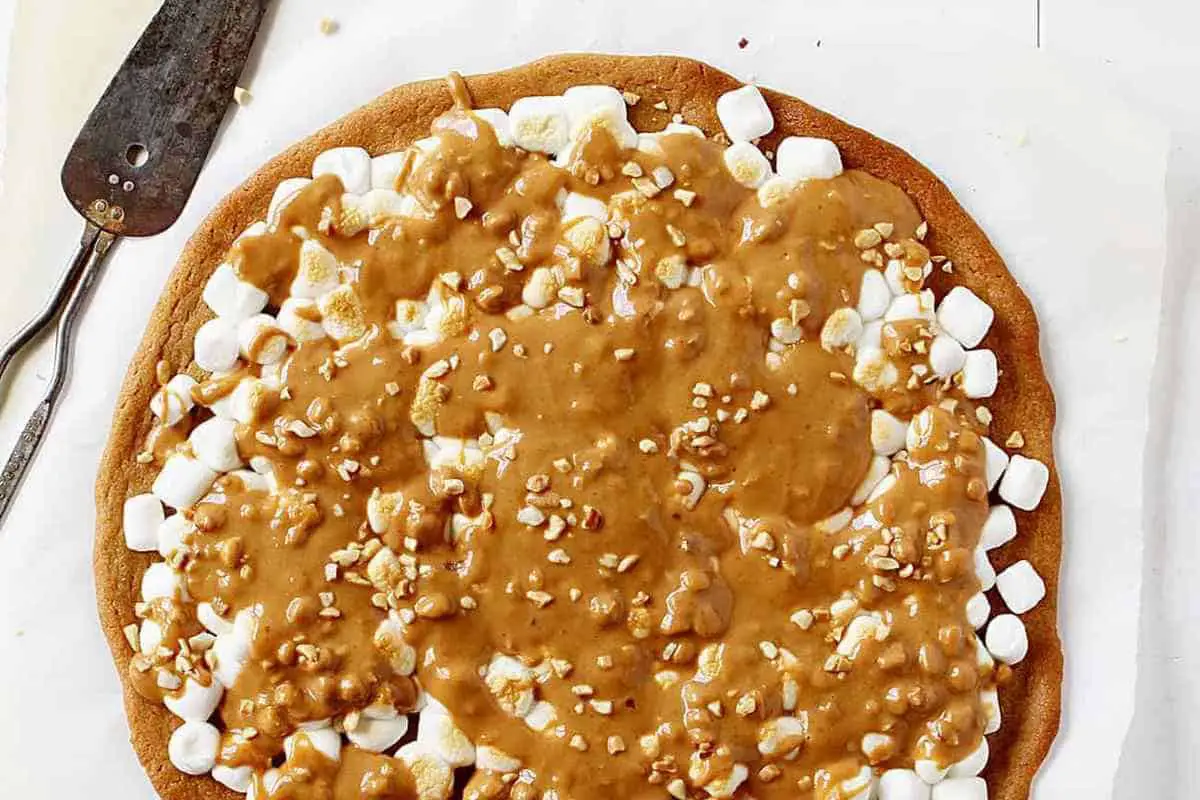 Peanut Butter Cookie Dessert pizza is a must-have dessert for all you peanut butter lovers out there! It has a peanut butter cookie crust covered in marshmallows and topped with a homemade peanut butter sauce. I am a huge fan of peanut butter desserts and this one is at the top of the list!
Pizzas do not only have to be a savory dish topped with just meat and vegetables. Nowadays, almost any ingredient is put on a pizza, including fruits and even candy! In addition, many dessert pizza crusts are made with cookie dough, as I used in this cookie pizza recipes I created for my Peanut Butter Cookie Dessert Pizza.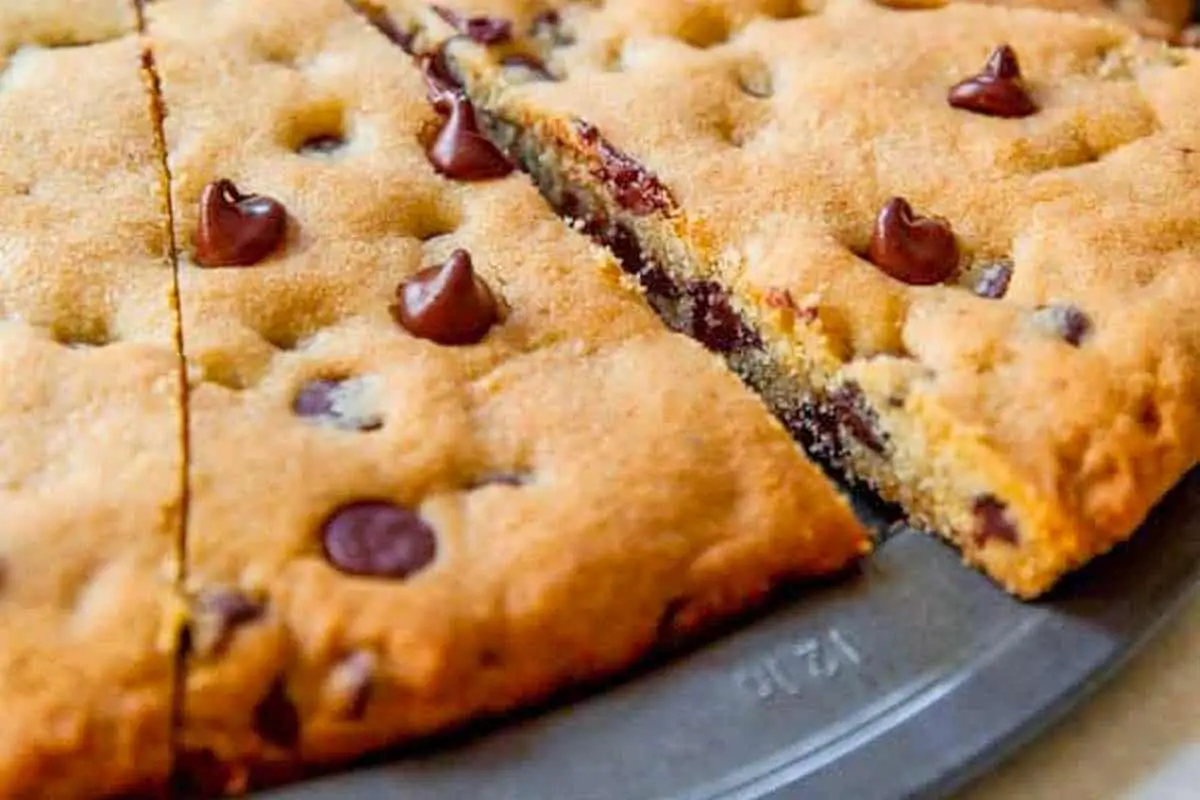 These cookie pizza recipes are perfect for sharing, homemade chocolate chip cookie pizza is studded with chocolate chips, simple to prepare, and the ultimate crowd pleaser. It's part pizza, part cookie, and 100% delicious!
Chocolate chip cookie pizza isn't anything new or groundbreaking, but it certainly deserves a spot on our dessert tables. Why? It feeds a crowd, uses my soft chocolate chip cookies dough as the base, and is one giant cookie in pizza form! Part pizza, part cookie, all pizookie (!!), all magnificent.
You can learn how to make cookie pizza desserts with this recipes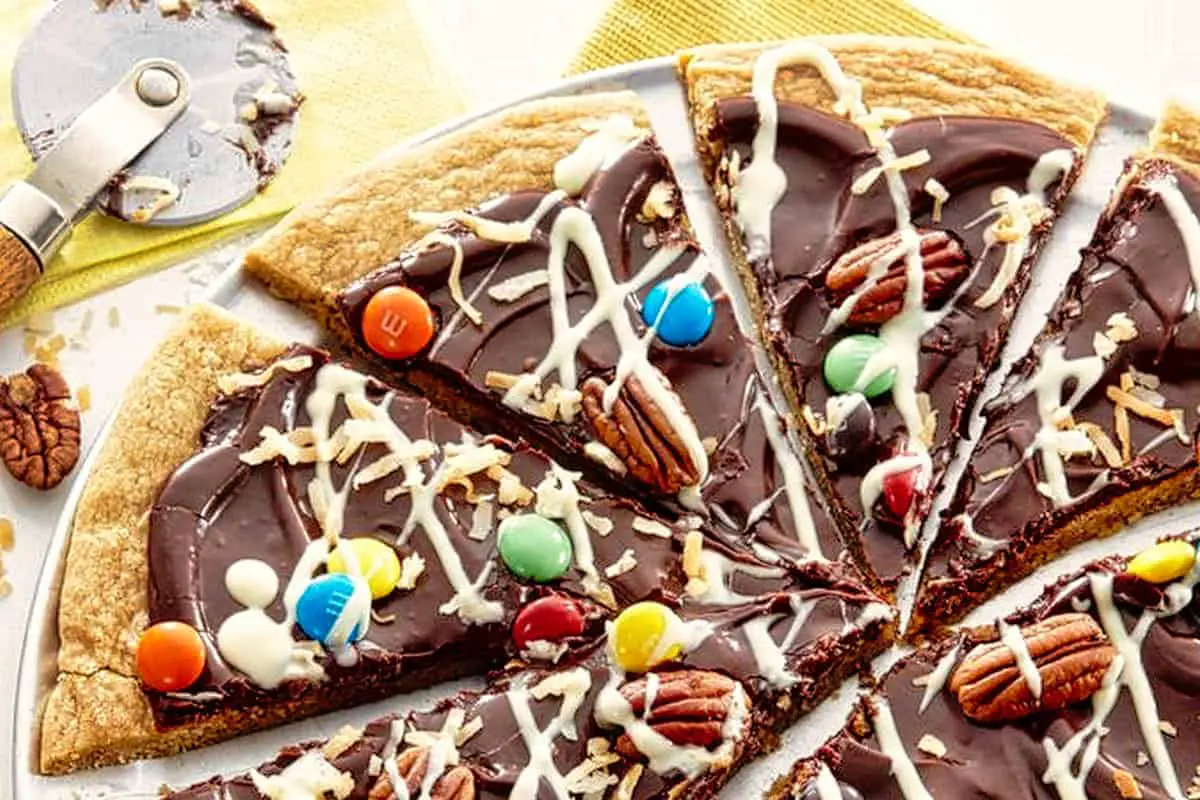 We are convinced almost anything is better in pizza-form, including dessert! This chocolate cookie pizza is one of our favorite ways to enjoy dessert-style pizza. Start with a homemade cookie crust, spread on a melted chocolate sauce, and top with your favorite sweet toppings, such as candy, shredded coconut and pecans.
Customize your cookie pizza recipes further by adding more of your favorite sweet treats to make your own decadent dessert masterpiece, or just stick to the basics and keep it simple. Start a new tradition and add this delicious cookie pizza to you next family pizza night.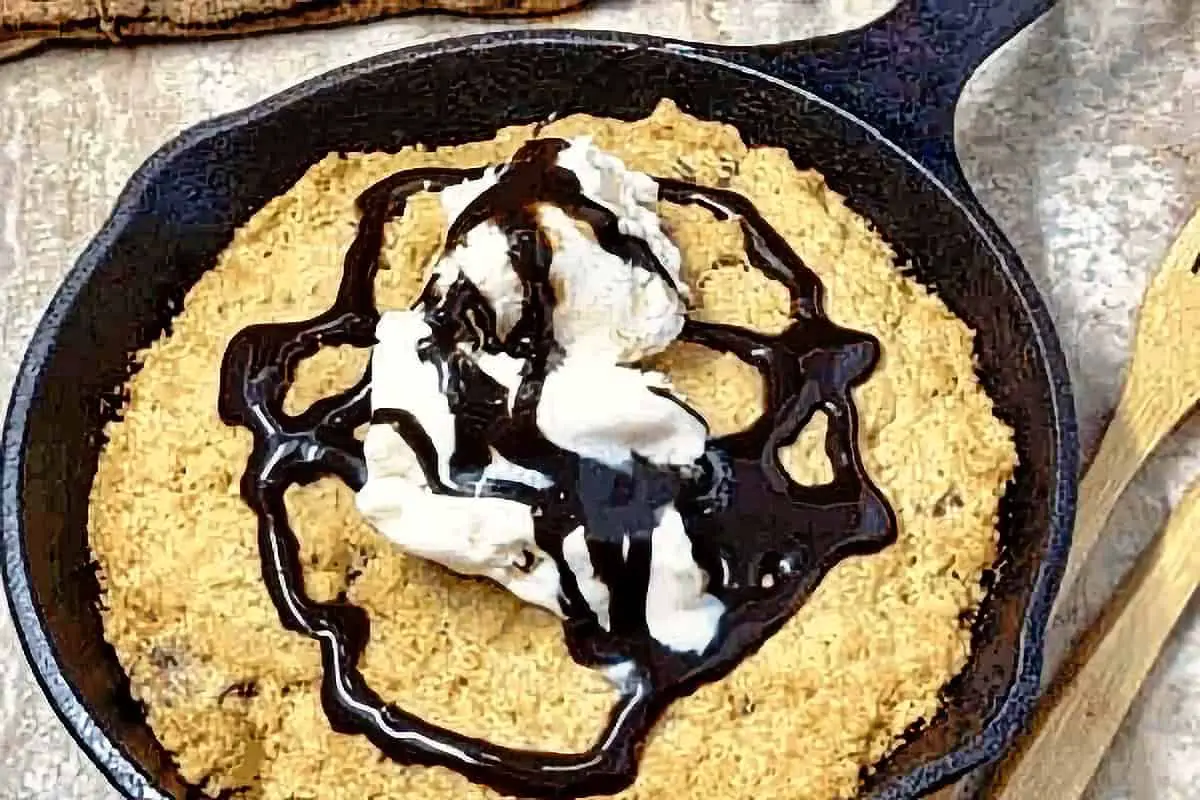 Air Fryer Oatmeal Chocolate Chip Cookie Pizza — I love cooking with my air fryer. It's so easy to use, and it saves me time in the kitchen. I thought of new things to try with my air fryer and this oatmeal chocolate chip cookie pizza recipes were one of my choices. This is a great breakfast or dessert option for those who are following a gluten-free diet!
It's been a while since I made pizza, but this one is worth it. This recipe is for Air Fryer Oatmeal Chocolate Chip Cookie Pizza, and it's got all the makings of a classic cookie dough crust with some extras mixed in. This recipes will show you how you can learn how to make cookie pizza desserts.
It starts by making your favorite oatmeal chocolate chip cookies from scratch. This is such a fun recipe! Who doesn't love a great Air Fryer Cookie Recipe? This one is amazing! Serve with some vanilla ice cream and a drizzle of chocolate, and you have a great dessert any time of the week!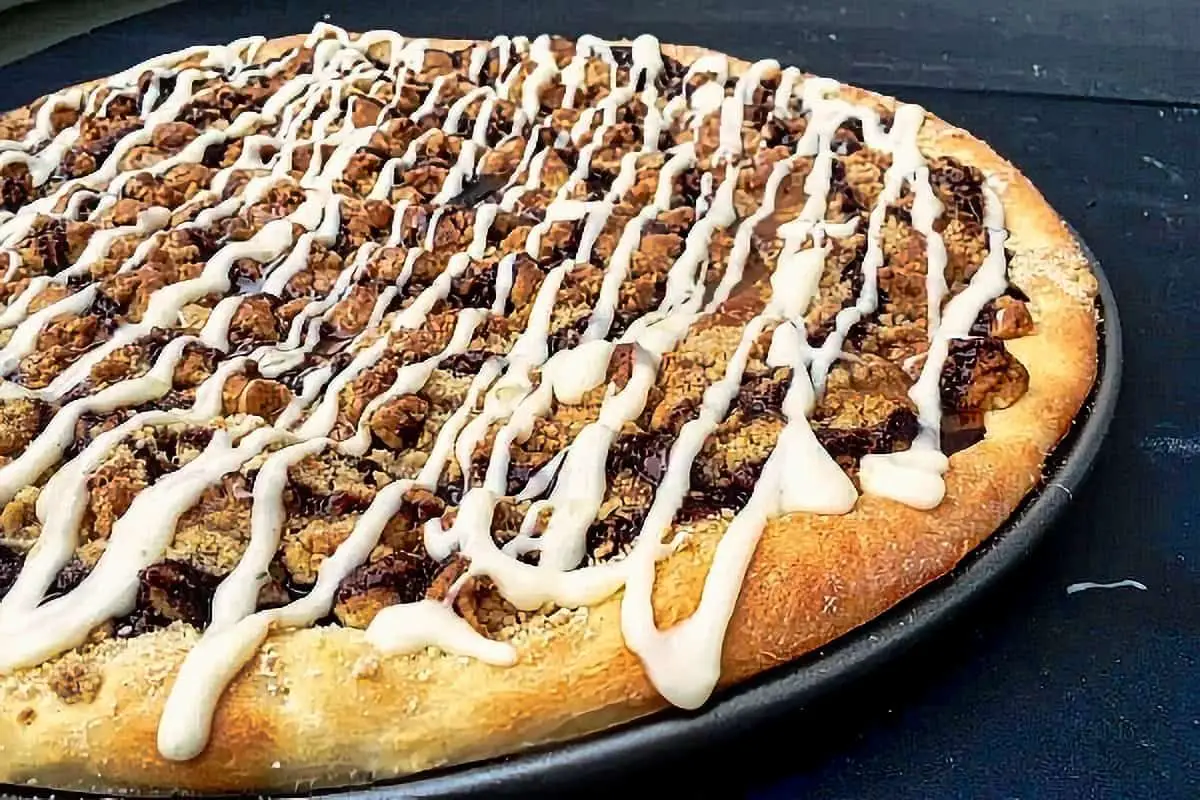 This Cookie Dough Dessert Pizza is made from homemade dough and tastes like warm chocolate chip cookies. It's great to serve at parties or with family! (It would be dangerous to eat this much sugary goodness all yourself)
The process of making these cookie pizza recipes consists of combining a few different recipes together into a delicious masterpiece. Each step in this instructable contains the ingredients you'll need for that step.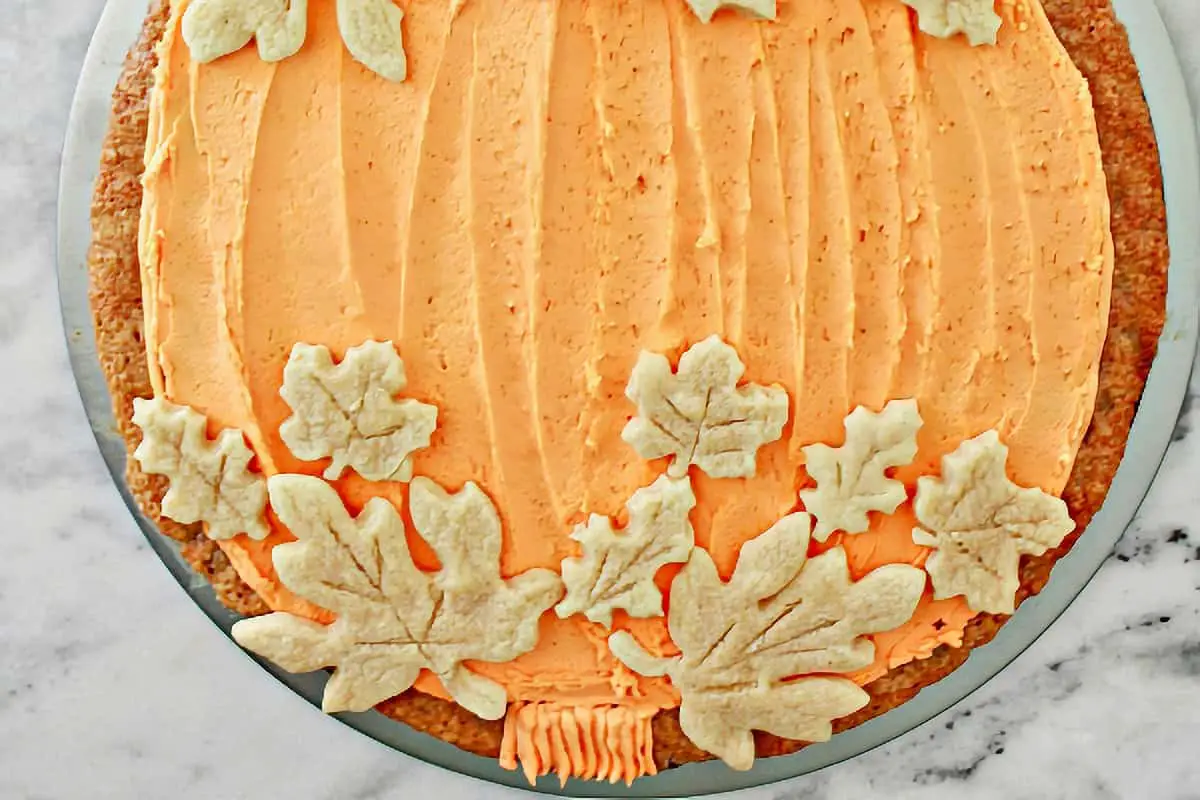 Well, hello my friends! So nice to see you here and discussing my first cookie pizza recipes edition. May I introduce you to her??? It's a Pumpkin Pizza Cookie and you guys, I'm in love with her cuteness.
I kinda feel like I cheated a little and didn't create a recipe for this Pumpkin Pizza Cookie. I honestly, thought I would have to do so. But when I realized that 1 bag of the cookie mix would fill my pizza pan perfectly, I said – forget it! Let's make this easy for everyone!
Follow this simple cookie pizza recipe and learn how to make cookie pizza desserts.
Gingerbread cookie dough topped with festive chocolate chips, crushed graham crackers and toasted gooey marshmallows baked in a skillet. It's a combination of your favorite summer and Christmas flavors in one giant cookie.
These Gingerbread S'mores cookie pizza recipes are perfect for entertaining and combines all your favorite flavors of summer and Christmas. Why waste time rolling out cookie dough when you can make one giant cookie? It's so much more fun and easier to make!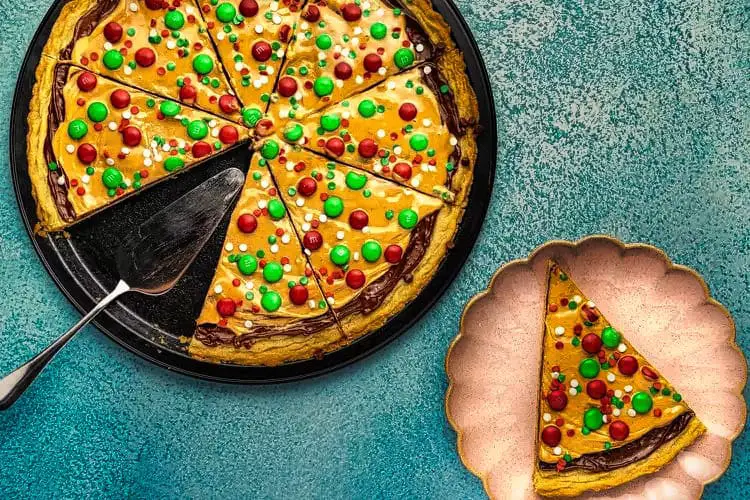 These cookie pizza recipes are as versatile as you make thet, to suit any holiday or occasion throughout the year. The crust of refrigerated cookie dough is topped with chocolate pieces, peanut butter, and assorted candies for a simple holiday dessert the kiddos can help with.
You can learn how to make cookie pizza desserts with this recipes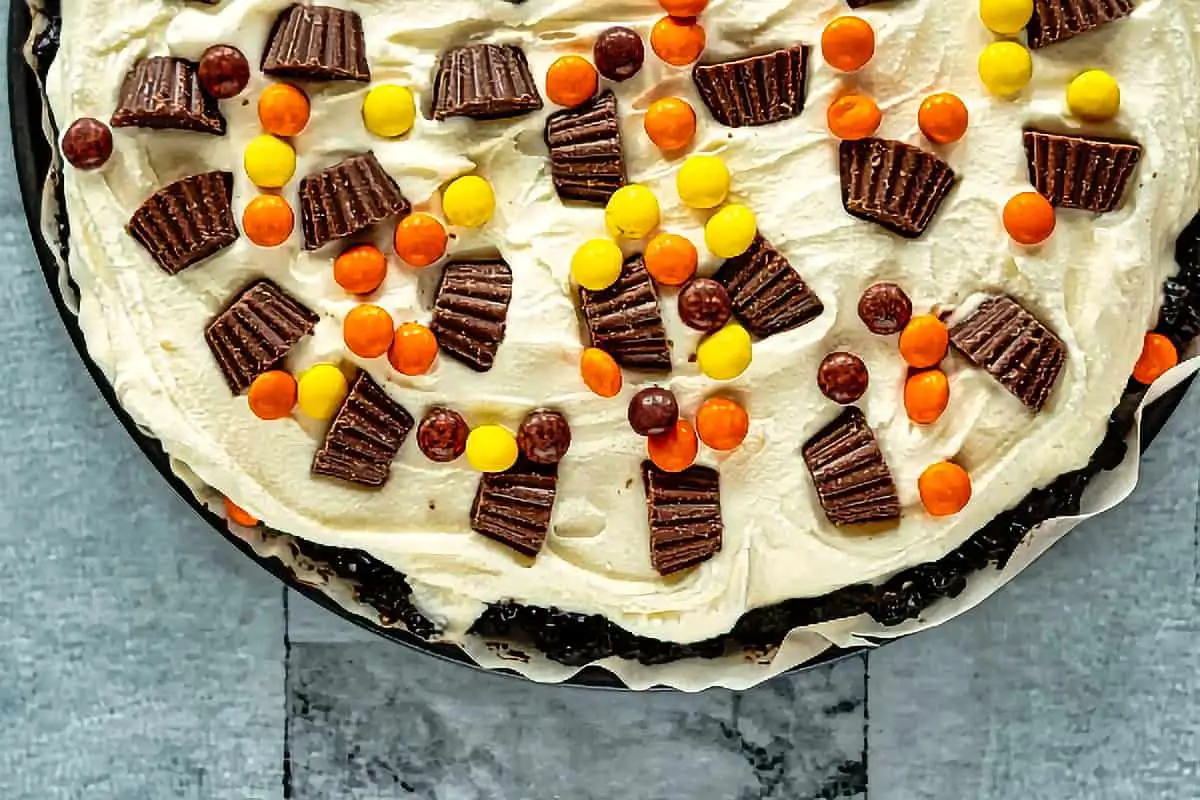 Let everyone create their own ice cream topped cookie. Any way you slice it, these cookie pizza recipes topped with homemade fudge sauce and candies is as sweet as can get! We are an unabashed ice cream house. We eat it in the summer when it's hot and cuddled under blankets in the winter when it's cold.
We've eaten it since our kids were young and we'll eat it when they're old.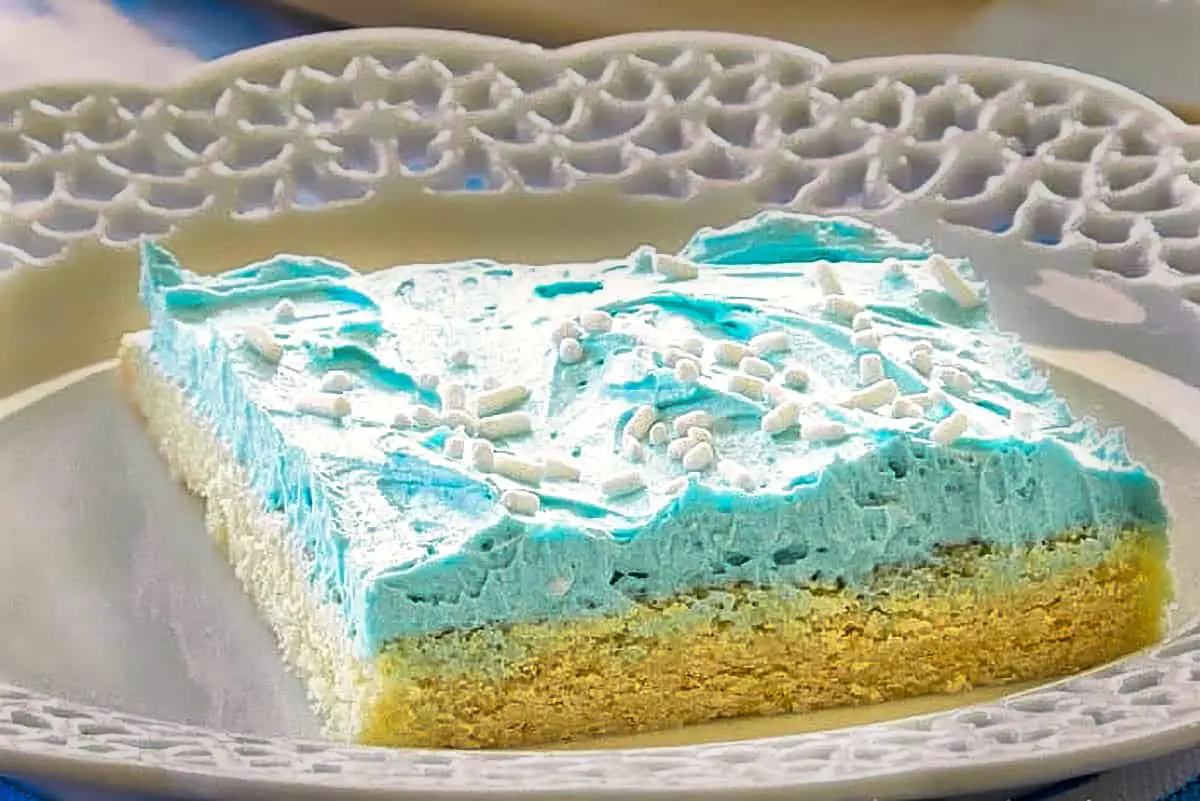 Yesterday was an absolutely amazing day! The UPS guy arrived with a big box…HAPPY DANCE! Then my new Pampered Chef pizza stone that I ordered last week arrived…another HAPPY DANCE!!!
Do you see that clear lid? That is my favorite part so far! You probably already know that I don't add flour and powdered sugar in stages like you're supposed to, I add them all at once. Well now I can, the lid keeps all of the ingredients inside!
Do you see that round cover to the right, that is where you add a blender attachment, crazy right? There is also a Cookie Paddle Set to help make those perfect cookie pizza recipes!
This recipes will show you how you can learn how to make cookie pizza desserts.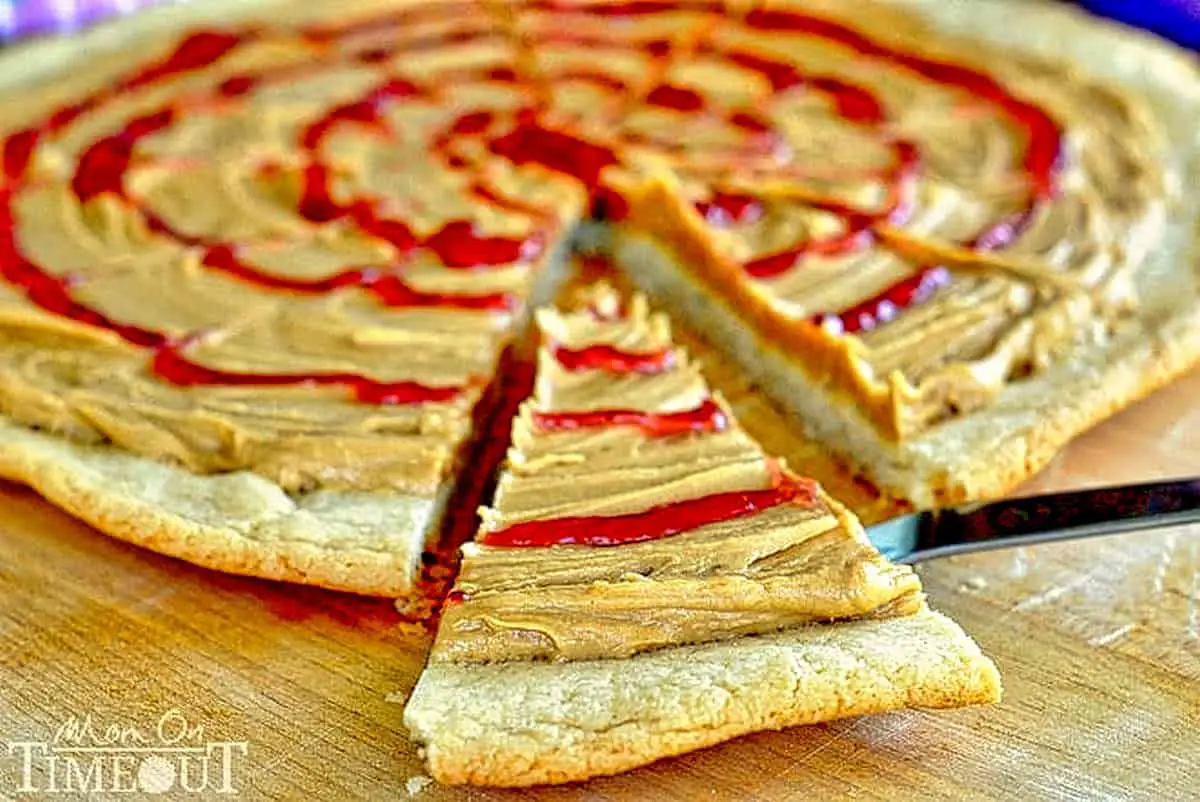 f you love peanut butter and jelly sandwiches, you're gonna go crazy for this Peanut Butter and Jelly Sugar Cookie Pizza! Inspired by Goofy's Kitchen at Disneyland! I'm going to come right out and say it….
This cookie pizza recipes a great hot dessert.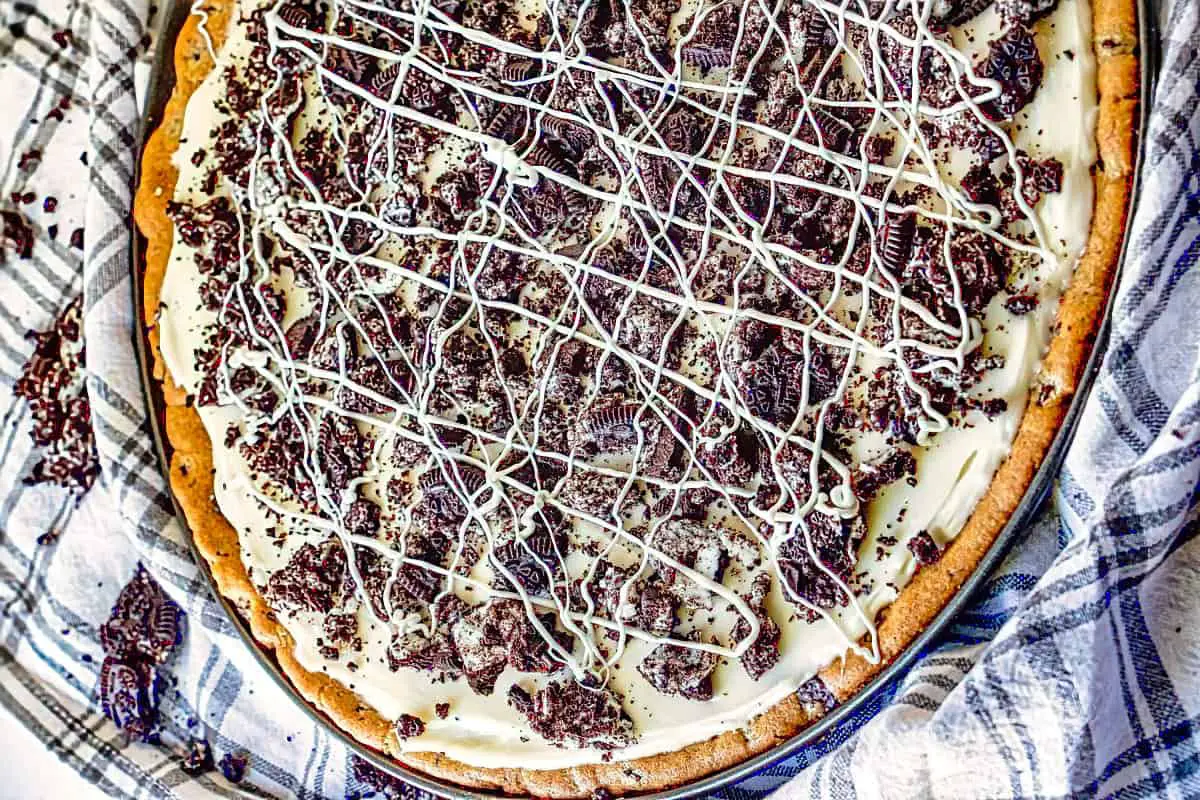 Cookies and cream dessert pizza is a decadent sweet treat your whole family will love. Loaded with chocolate chip cookies, a smooth cream cheese icing, chopped Oreos and white chocolate, this easy dessert is a hit!
One of the cookie pizza recipes everyone in my family can agree on is cookies and cream. What's not to love about Oreos after all? This recipe is a cookie lover's dream come true!
It tops a huge chocolate chip cookie with cream cheese filling that tastes like Oreo stuffing. Chopped Oreos and a drizzle of melted white chocolate finish off this decadent treat. Follow this simple cookie pizza recipe and learn how to make cookie pizza desserts.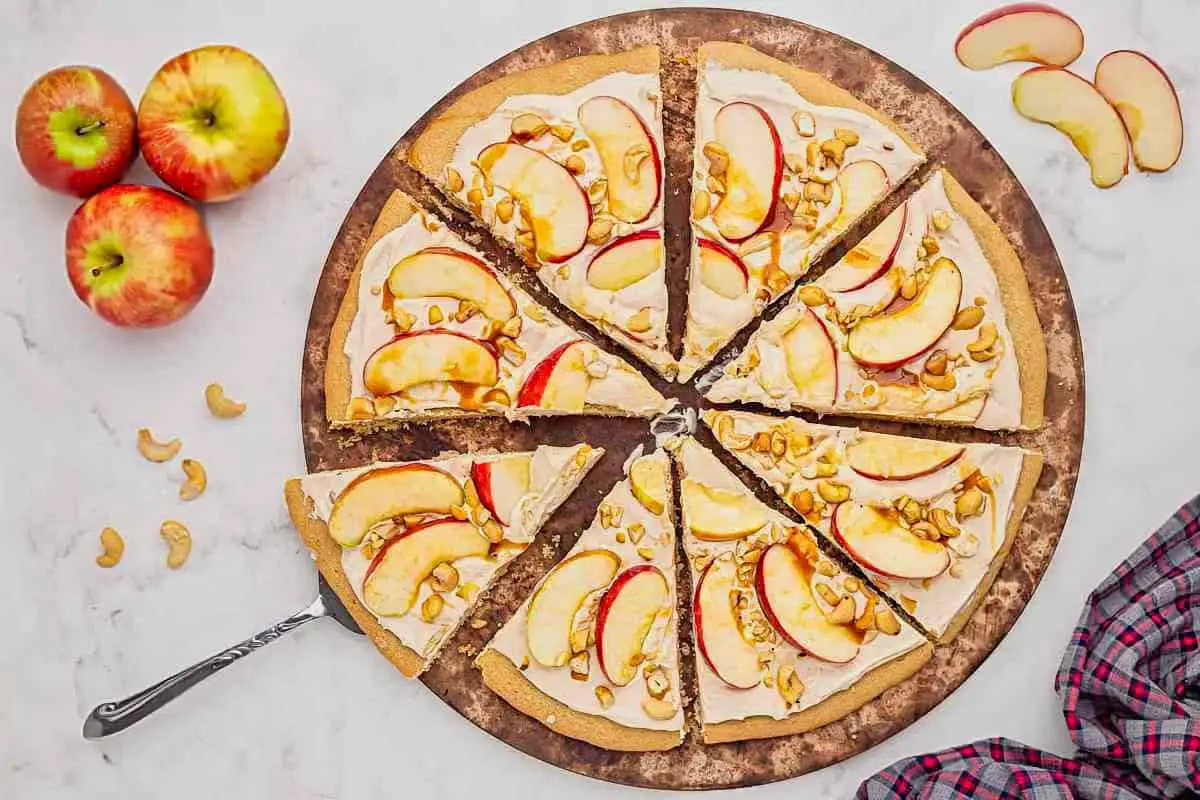 Serve one of these cookie pizza recipes tonight! This Caramel Apple Sugar Cookie Pizza features juicy apples and chopped nuts baked on a soft cookie crust with caramel cheesecake topping. Drizzled with caramel, it's the perfect easy dessert for fall.
Sugar cookie dough. I used refrigerated sugar cookie dough. Feel free to use a homemade sugar cookie dough instead if you prefer. Whether you choose a tube of dough or the break and bakes is fine…they will all get pressed into a circle.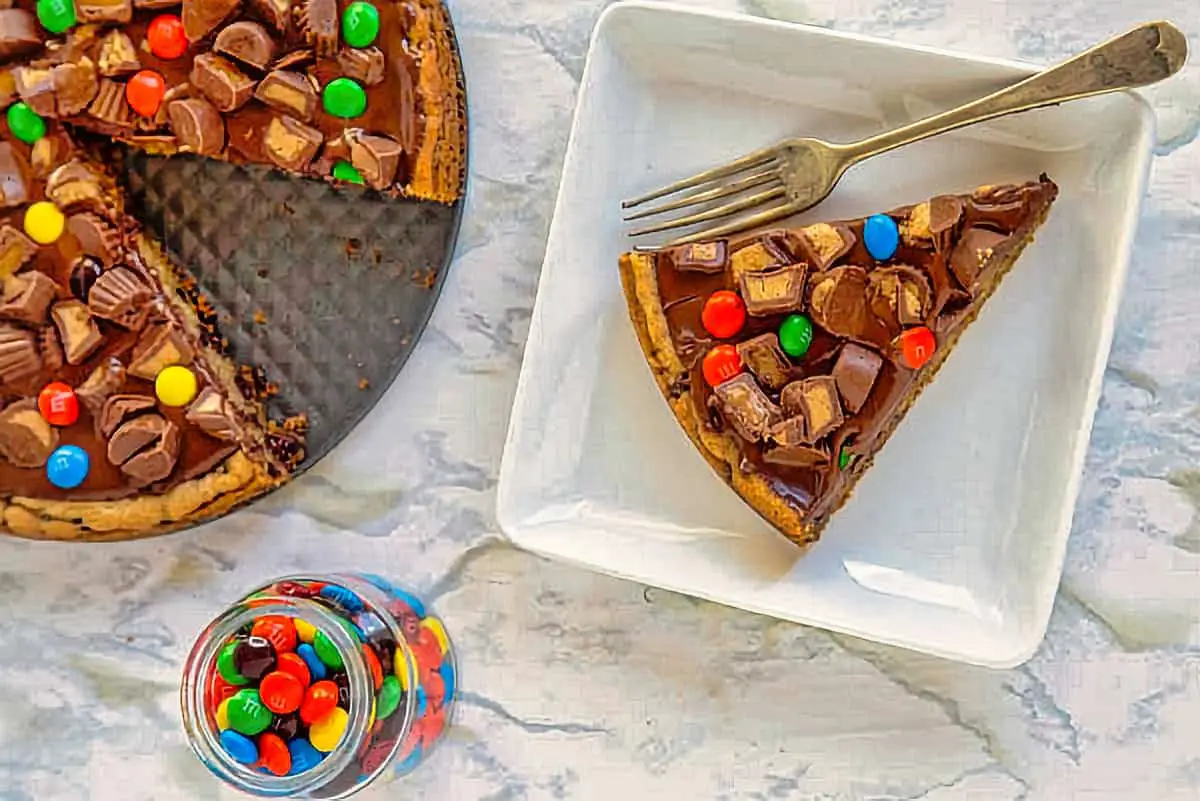 Halloween is over! Did you have a good time? My son of course got way more candy than he needs. Before we went out trick or treating, I had to dump out the candy from last year that didn't get eaten. So it is safe to say that we have too much candy again this year.
We hung out with friends, carved pumpkins, and had a great time. The weather even cooperated and wasn't too cold. Always a good thing! So now what to do with all of that leftover Halloween candy. Simple, make one of those great cookie pizza recipes and use it for toppings.
You can learn how to make cookie pizza desserts with this recipes.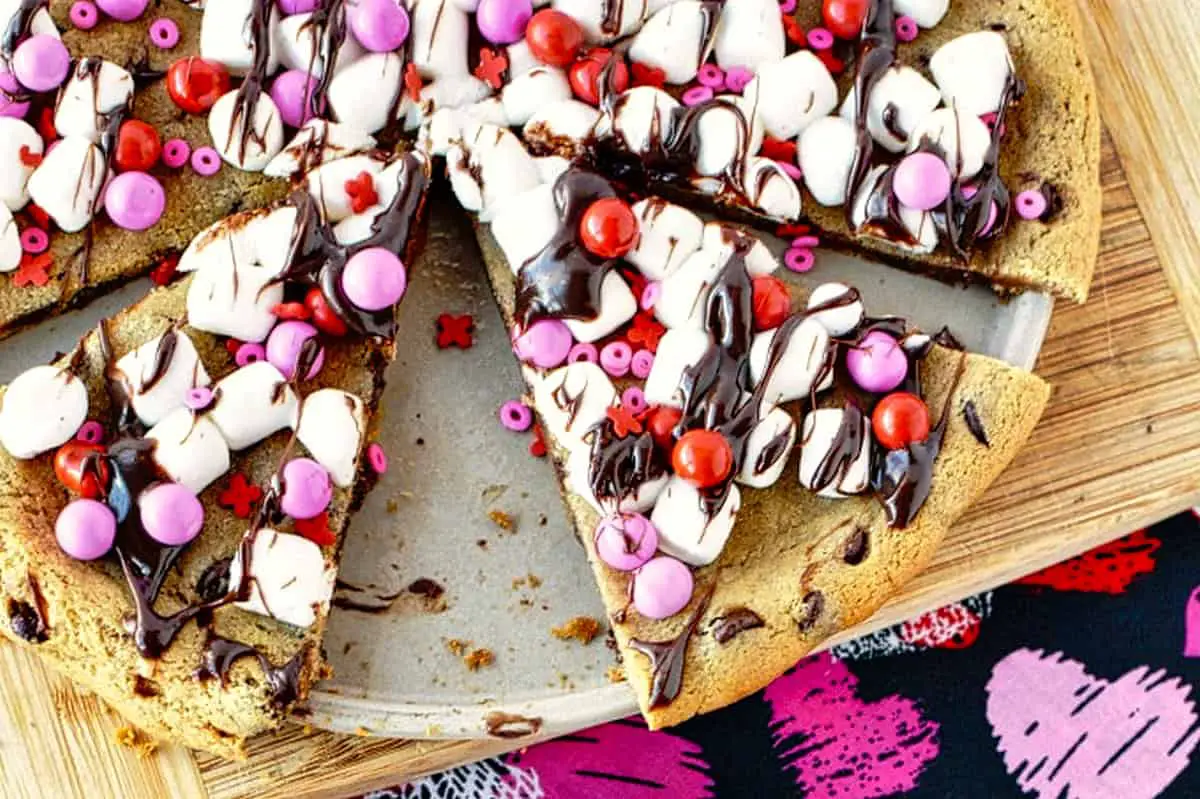 This year, I am having dinner with a good girlfriend of mine. We are going to have dinner together so that we aren't both left sitting home alone. Another fun way to celebrate Galentine's Day! Maybe I'll make this delicious Valentine's Day cookie pizza recipes choice from times gone by!
This is a fun way to celebrate even when you don't have a romantic interest in your life.
---
For More Photos Visit Our Instagram at Our Big Escape
For More Photos Visit Our Instagram at World Recipes Daily
You May Want to Join Our Campfire Recipes Group on Facebook For More Information