Last updated on September 27th, 2023 at 01:13 am
These Recipes for Funfetti Cupcakes are a must bake for your next party or special event. We have a great tasty idea for you and they are a real crowd pleaser!
Perfect Cupcake Baking in 5 Easy Steps
Here are some expert methods for always producing light, airy, and delicious cupcakes.
Step 1: Use only the finest materials while making cupcakes.
Your taste buds should feel nothing but ecstasy as you sink your teeth into a cupcake. Cupcakes can be made perfectly moist and delicious by using expensive, high-quality ingredients. Make those three to four bites count by stuffing them full of deliciousness.
Step 2: They should never be overbaked.
It's better to under-bake than overbake, as a rule of thumb. A cupcake can't be saved if it's overbaked. And the inside won't be moist either. Make sure the cakes are taken out of the oven on time by setting two timers if necessary. Use an oven thermometer to detect the precise temperature inside your oven for optimal cooking results. When your cupcakes are slightly sunken rather than peaked, you know you're doing it right. If you're still not sure, try testing one with a toothpick.
Step 3: Use a Light Hand When Mixing the Batter
The secret to moist, airy cupcakes is as simple as taking a lighter hand during the baking process. Cupcakes that rise and stay moist in the oven are the result of air bubbles introduced into the batter. If you overmix the mixture, the air bubbles will deflate and the cake will have the texture of a brick. To avoid this, you should mix at a low speed and stop as soon as all of the components are incorporated.
Step 4: Let all of the ingredients reach room temperature before you begin making cupcakes.
Listen to a seasoned pro: When everything is around the same temperature, mixing the components into the batter is a breeze. If you want immaculate cupcakes, it's worth the extra effort it takes to take out the eggs, butter, and other food stuffs from the fridge 15 to 20 minutes before you begin baking.
Step 5: Put Your Work in the Freezer
The trick to having perfectly baked cupcakes for your party is to bake them ahead of time and freeze them. Cupcakes should be stored at room temperature if they are to be kept for a very short period of time before consumption. However, rather than leaving them out on the counter overnight, freeze them to ensure they retain their moisture for tomorrow.
Professional Cupcake Icing Techniques
Cupcakes prepared from scratch have a distinct charm. They're simple to make and cooked with a lot of love. When you master the art of frosting cupcakes and have a few basic decorating techniques down, your baked goods will seem like they were made by a professional baker.
What Is the Best Frosting for Cupcakes?
Choosing the icing type is the first stage in the cupcake decorating process. Here is a rundown of some of the most well-liked frostings for use in decorating cupcakes, along with advice on how to use them.
Butter Frosting is a simple and quick option for topping cupcakes. The creamy frosting made with butter, powdered sugar, and milk is a breeze to pipe onto baked goods.
Another frosting created from sugar, butter, and eggs (or egg whites). Buttercream Frosting is a traditional topping for cupcakes and cakes. Buttercream is less sweet than butter frosting and has a silky smooth texture that is easy to spread and pipe.
Whipping cream and melted chocolate (white or dark) come together to form Ganache. You can use warm ganache as a thin glaze by dipping cupcakes into it, or you can cool it to spreading consistency and use it as frosting.
Another common topping for cupcakes is Creamy White Frosting. This ultra-white frosting uses vegetable shortening in place of butter. Because of this, it 's tint can easily be changed to any vibrant color. With the addition of shortening, the frosting becomes light and airy, perfect for slathering or piping. NOTE: A simple vegan frosting recipe is to substitute almond milk or soy milk for the milk in your white frosting recipe.
Powdered Sugar Icing is a milk (or another liquid) and powdered sugar concoction that is spreadable and sweet. You can either drizzle it over cupcakes or use it to dip them. You may adjust the thickness of this easy glaze by adding additional powdered sugar or milk (or a non-dairy milk option).
Despite its popularity as a topping for carrot cake and red velvet cake, Cream Cheese Frosting is equally delicious on other types of cake, such as spice cake, apple cake, and chocolate cake. The frosting has a pleasant flavor and can be easily spread and shaped into peaks by swirling. NOTE: Cupcakes or cakes using this frosting should be kept in the fridge.
Icing in a Can: When time is of the essence, use this! Buying frosting from the store is a convenient option to making your own, and there are many varieties to choose from.
FAQs About Easy Recipes for Funfetti Cupcakes for Special Days (like today)
What's With the Name Funfetti?
The name "Funfetti" is a combination of the words "fun" and "confetti," and the cake was first sold in 1989 by the Pillsbury Company. The batter for this cake was made from a white cake mix into which had been folded various colored sprinkles. The unconventional design of the cake was created with young customers in mind.
What is Different About Recipes for Funfetti Cupcakes?
Funfetti Cupcakes are just white cupcakes with additional vanilla and lots of sprinkles. A cake with a little more flavor and some bright jimmies on top is guaranteed to be the talk of the party.
Why Do People Love Funfetti Cupcake Recipes So Much?
Funfetti is particularly delicious because it strikes the ideal balance between sugary vanilla and rich buttery flavor, resulting in a simple, sweet cake with a riot of brightly colored sprinkles.
Are Recipes for Funfetti Cupcakes As Simple As Adding Sprinkles?
Sprinkles can be added to the cake batter before baking. Mix 1/2 cup sprinkles with 1 Tbsp flour for a regular cake mix, or for any recipe that yields two or three layers. (The sprinkles will be coated with flour, preventing them from sinking to the bottom of the batter.)
What Kind of Oil do You Use in Funfetti Cupcake Recipes?
Canola oil, or another vegetable oil, will do just well. The cake will be moist with just a quarter cup added.
What Kind of Frosting is Funfetti Frosting?
Vanilla buttercream with sprinkles swirled in is what I call "Funfetti frosting," and it's what I use when I bake. This frosting is made primarily of butter, confectioners' sugar, and vanilla extract.
Which, if either, is Preferable to Use in Funfetti Cupcake Recipes: Oil or Butter?
Using oil in place of butter in cupcake recipe allows for more sustained moistness. Cupcakes benefit from oil's ability to reduce gluten formation, making them lighter and airier. Also, any kind of buttercream icing would be fantastic on top of these vanilla cupcakes, as the underlying flavor is so versatile.
What Ingredient Makes Recipes for Funfetti Cupcakes Moist?
Flavor and moisture are both enhanced by the buttermilk in this recipe. Since buttermilk is acidic, it reduces the gluten in the flour, resulting in a softer cupcake.
Can You Put Sprinkles On Cupcakes Before Baking?
Cupcakes aren't ready to go in the oven until they've been infused with sprinkles. Sprinkles can also be added to the top of the cupcakes by pressing them on with your fingertips before baking. Doing so will guarantee that the sprinkles remain affixed to each cupcake.
Things To Avoid In Your Recipes for Funfettie Cupcakes
★ Funfetti cupcakes look so much better without any brown sprinkles! (except on the dark chocolate or white frosting on a dark chocolate cupcake, then it's cool!)
★ The type of sprinkle you should NOT use are the tiny, round, rainbow sprinkles. They're called nonpareils, and they are the true enemy of funfetti cupcakes or layer cakes.
Nonpareils will start to bleed their colors the second they're stirred into your cupcake batter, resulting in a creepy, pink/grayish batter.
★ Do NOT let the rainbow jimmies sit in your batter for an extended period of time, and then try to stir it. They will 'bleed their colors' into your batter. Yuck!
---
Want more ideas to round-out your Recipe Box?
A lot of great options are in these posts!
---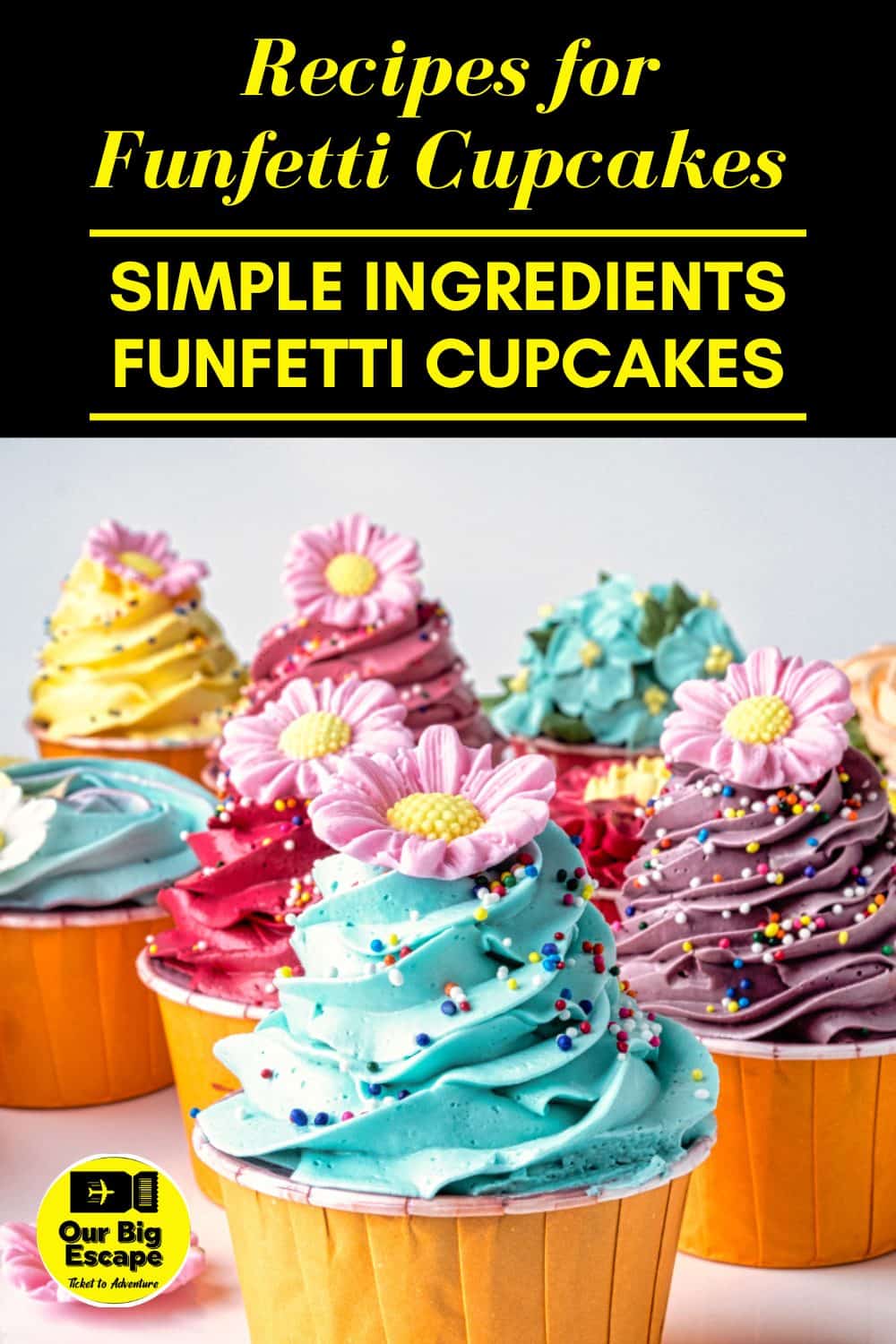 15 Easy Recipes for Funfetti Cupcakes for Special Days (like today)
---
---
check out our video
---
---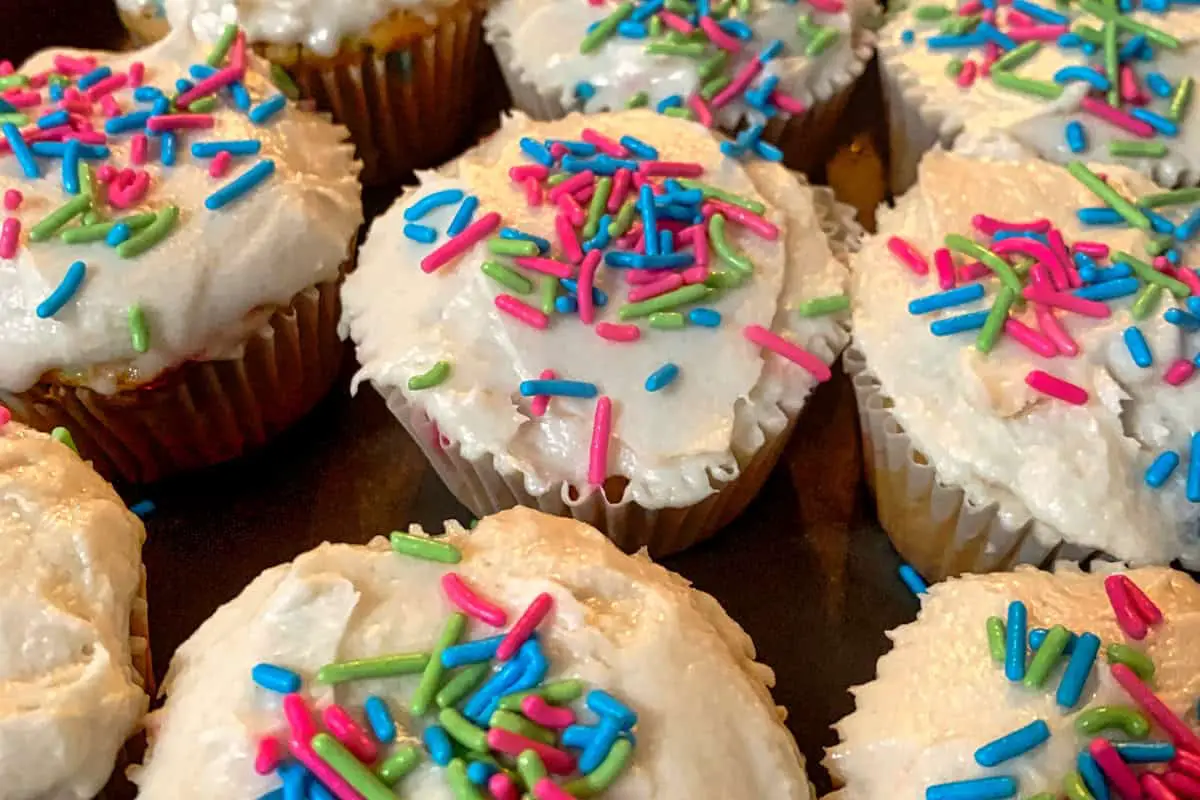 Ditch the box cake mix because these homemade Funfetti Cupcakes are EASY, and taste so much better! They're moist and flavorful, topped with buttercream frosting and extra sprinkles, making them a favorite for birthdays and parties.
One of our favorite moist and definitely tasty Recipes for Funfetti Cupcakes. I've included 'Make Ahead Instructions' and 'Freezing Instructions'.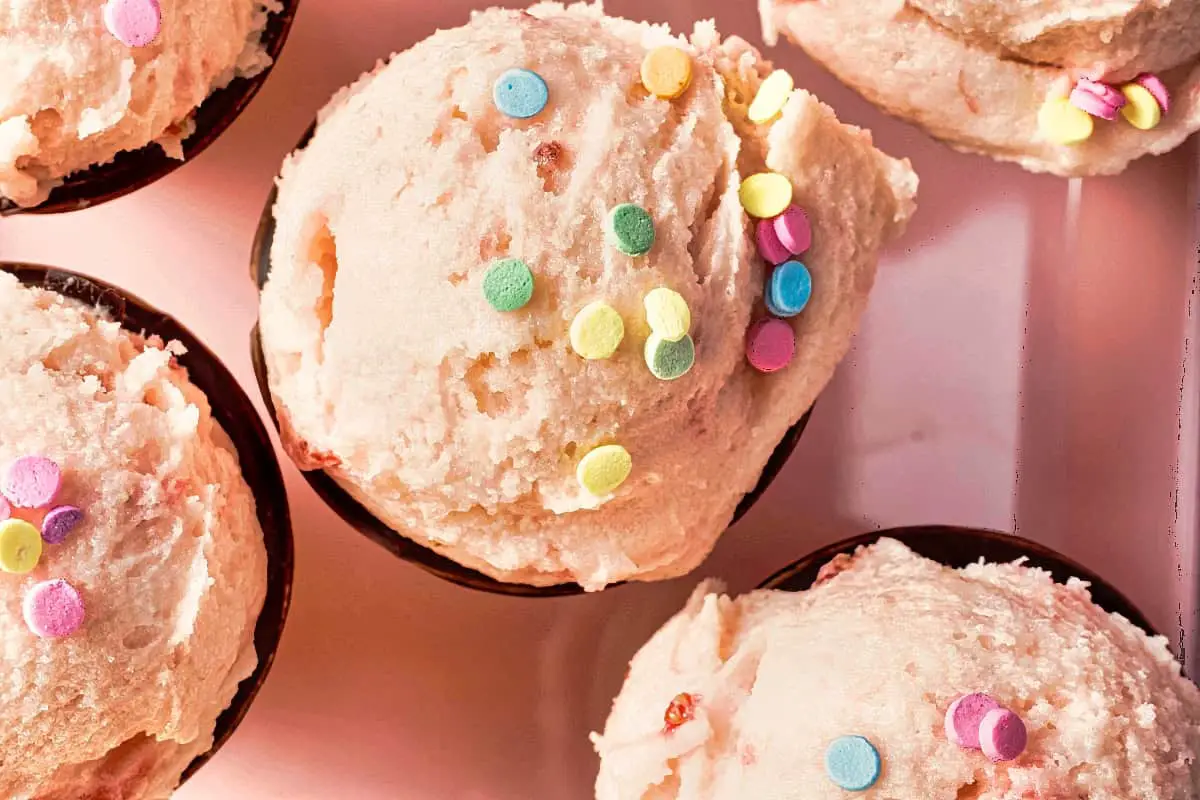 I know that sprinkles don't actually add any flavor to a cake. But I swear the bright pops of color and the slight change in texture from the extra bits of sugar do make a difference.
It also isn't just the sprinkles. A good funfetti recipe is all about adding sprinkles to an already great cake or cupcake recipe. The sprinkles are just the finishing touch. The flare.
The cupcakes base is the real star of the show, and I did quite a bit of testing to make this one just right. I discovered the Secret Ingredient. This has become one of my favorite recipes for Funfetti Cupcakes.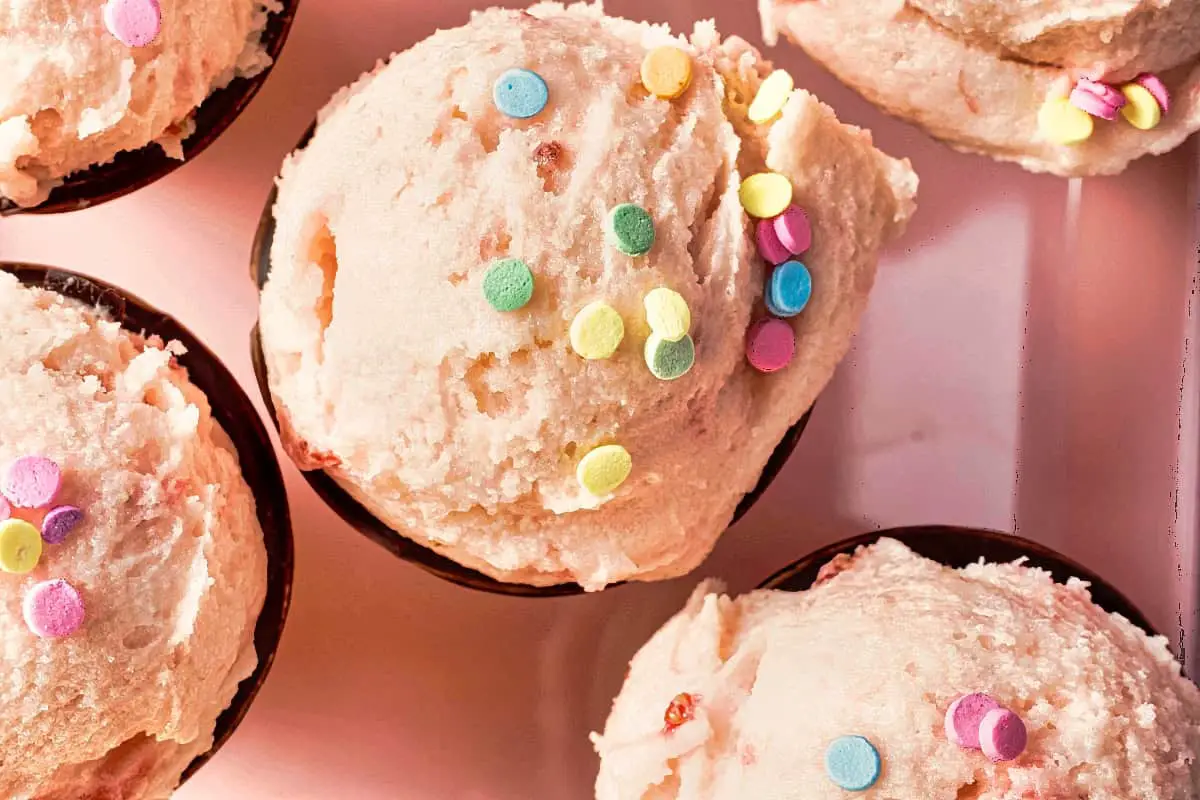 Delicious Homemade Funfetti Cupcakes are so easy to make and perfect for just about any occasion. Dress these cuties up for any holiday or celebration just by changing the color of the sprinkles!
'Funfetti' just refers to a white cake with multi-colored sprinkles baked in. You might have grown up calling it "confetti cake." Or some people just consider it to be birthday cake.
To get the perfect light and fluffy texture in these cupcakes and to make sure the sprinkles stay evenly distributed throughout the cake. You really have to try some of these Recipes for Funfetti Cupcakes.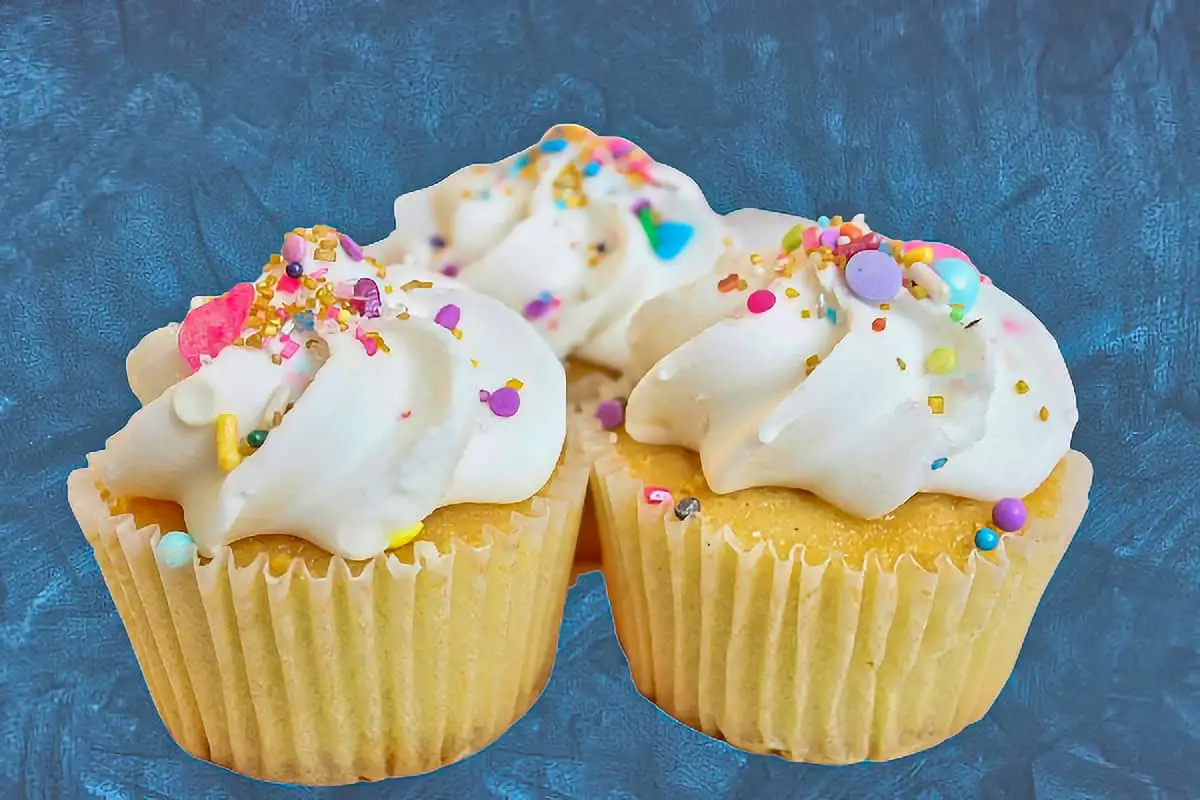 These funfetti cupcakes are a perfect way to brighten anyone's day. Fluffy, moist, and packed with colorful sprinkles, they're topped with creamy vanilla buttercream frosting and are the perfect birthday cupcake (or for any celebration!).
Funfetti cupcakes, also called confetti cupcakes, are the perfect celebratory treat. The moist, tender cake full of colorful sprinkles topped with fluffy frosting just screams happiness and joy. You really have to try some of these Recipes for Funfetti Cupcakes.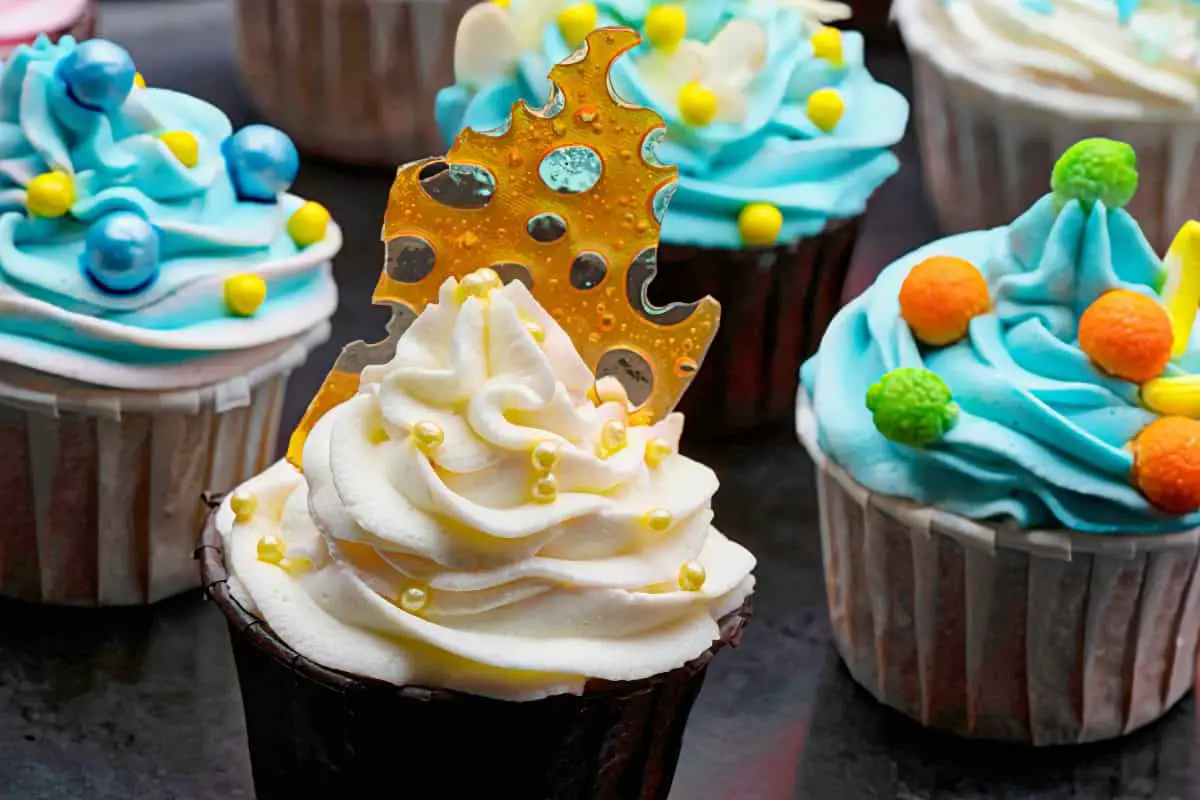 So while funfetti cupcakes are basically vanilla cupcakes with sprinkles in them, I actually found it more difficult to get these just right than it'd seem. Just add sprinkles? Not so much.
Have a party coming up? Got a great tasty idea for you. Try recipes for Funfetti Cupcakes. They're a crowd pleaser!
So after trying several things. Eventually I decided to try whipping the egg whites. Not only did it fix the sinking problem to have the volume of the egg whites keeping the sprinkles in place – it also make the cupcakes even lighter and more tender.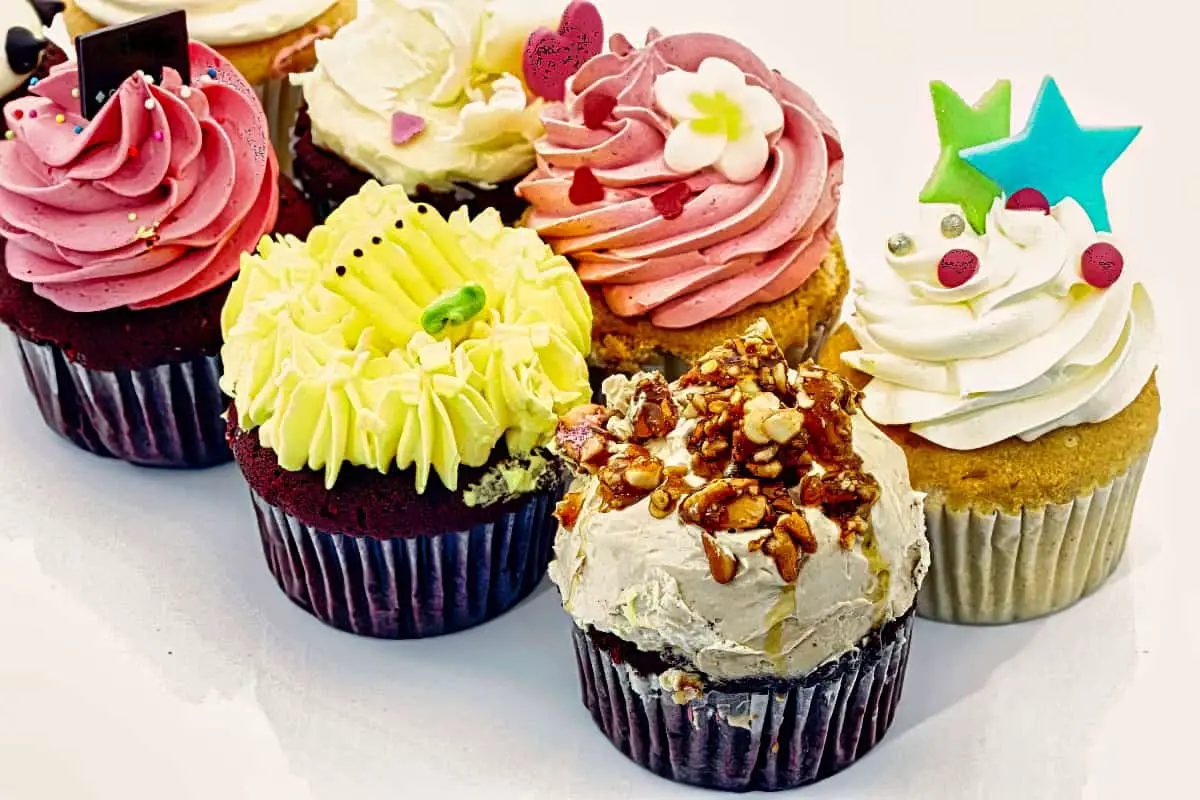 Soft, fluffy homemade funfetti cupcakes that are worlds better than anything you will find in a box! They're quite easy, too. This is one of our favorite moist and definitely tasty Recipes for Funfetti Cupcakes.
I recently developed a homemade funfetti cupcake recipe that may just be easier than your store-bought mix. So fluffy, so soft, spiked with vanilla, and bursting through the seams with colorful speckles.
Using easy everyday ingredients, this homemade recipe only takes about 25 minutes AND tastes 1,000% better than anything on the store shelves.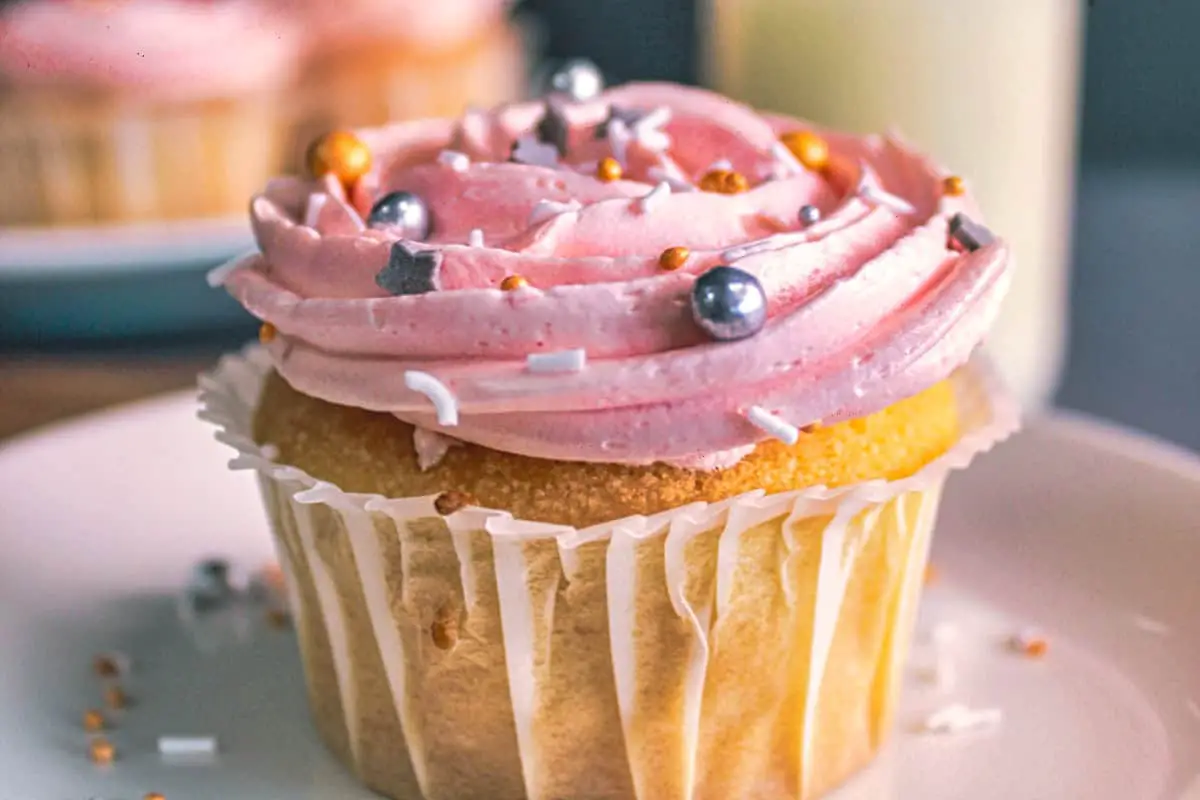 Bake a batch of these funfetti cupcakes for a kids' party – they have an airy, custard-flavored sponge and creamy vanilla frosting, all topped with rainbow sprinkles
You'll need to buy good quality sprinkles to make sure the color stays bright and vivid after baking. Bake these for any occasion or birthday party! This has become one of my favorite Funfetti Cupcake Recipes.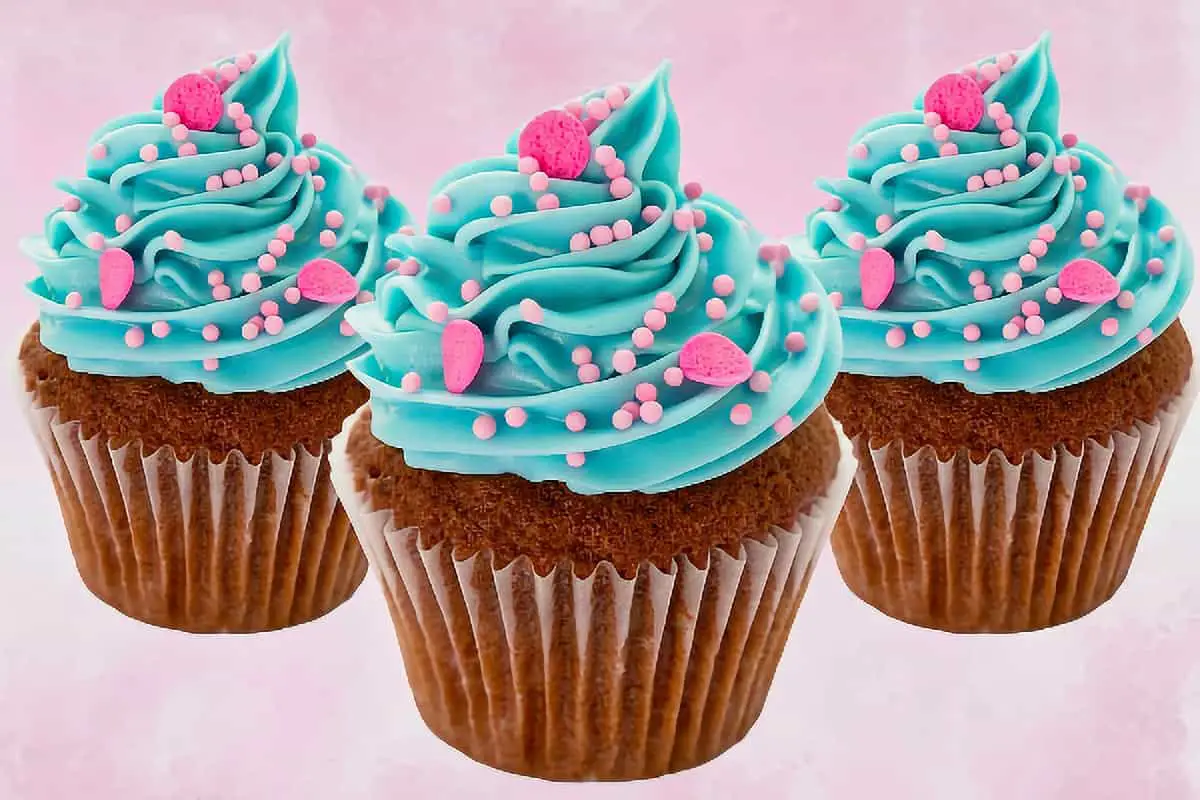 Funfetti is really a very simple concept – vanilla cake batter with rainbow sprinkles mixed into it and decorated with vanilla buttercream and more rainbow sprinkles.
But yet every time I look at these Funfetti Vanilla Cupcakes they make me smile as they are so fun! There's something about rainbow sprinkles that brings back childhood memories and makes you feel happy from the inside out. You really have to try some of these recipes for Funfetti Cupcakes.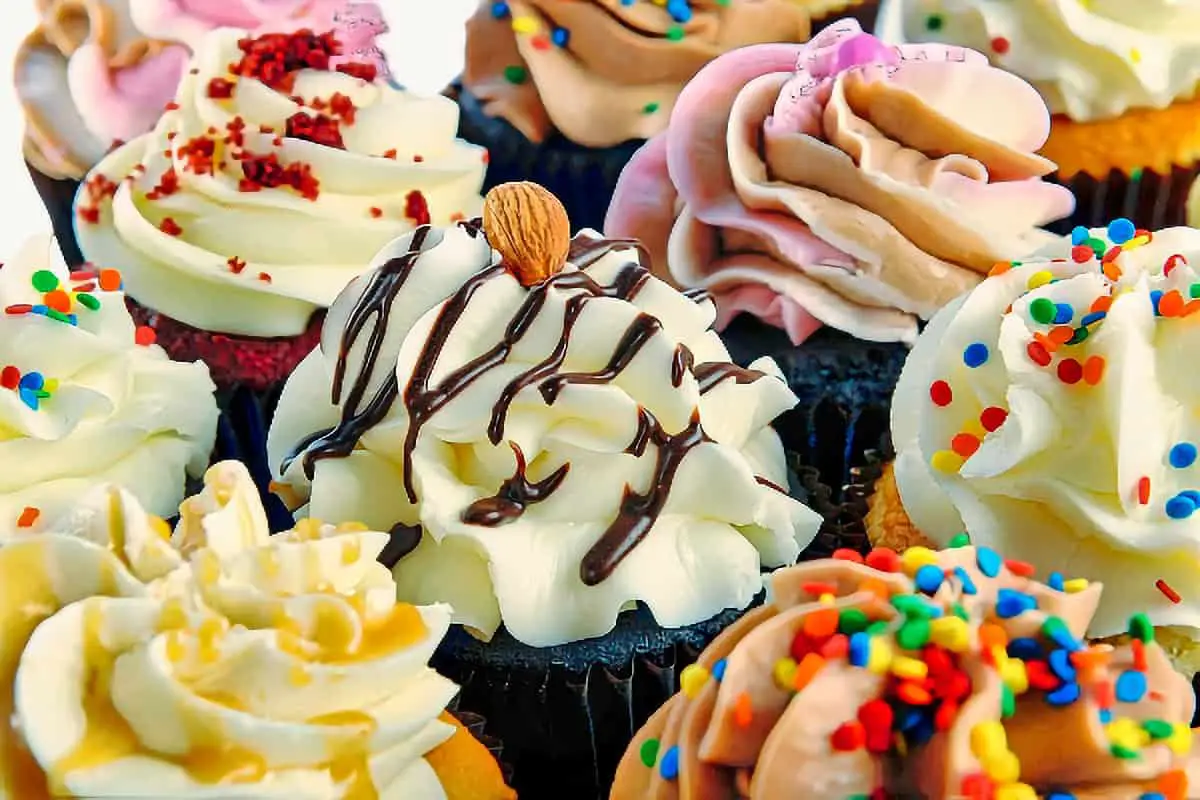 These Homemade Sour Cream Funfetti Cupcakes are even better than box cake mix and are so easy to make! Moist, perfectly sweet, tender, loaded with rainbow sprinkles and topped with a swirl with a sweetened sour cream frosting.
These cupcakes are incredibly easy to make and are the perfect treat for any birthday celebration, occasion, or anytime you want to make something sweet, delicious, and colorful.
You only need a few simple kitchen staples to make these. I love how these cupcakes aren't overly sweet and the sour cream balances out the sweetness. These Recipes for Funfetti Cupcakes are a must bake for your next party.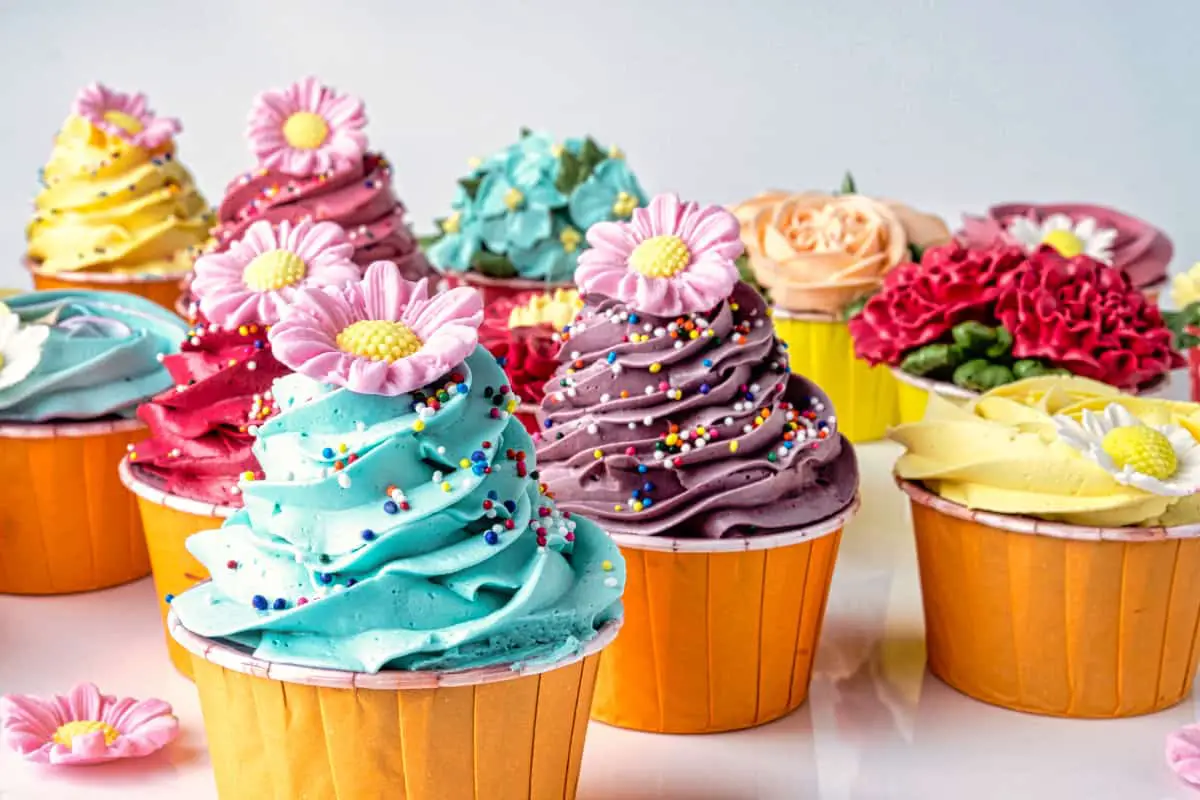 The best Funfetti cupcake recipe! Made from scratch with simple ingredients, these funfetti cupcakes are moist with a perfect crumb. Ditch boxed mixes and make these homemade funfetti cupcakes instead.
Since I have four daughters, sprinkles are a huge thing around here. Which means I had to create the best funfetti cupcake recipe. Have a party coming up? Got a great tasty idea for you. Try recipes for Funfetti Cupcakes. They're a crowd pleaser!
They are moist with rich vanilla flavor and so much better than store-bought mixes. Best of all, they are made with simple ingredients like flour, cane sugar, etc. and none of the processed ingredients found in box cake mixes.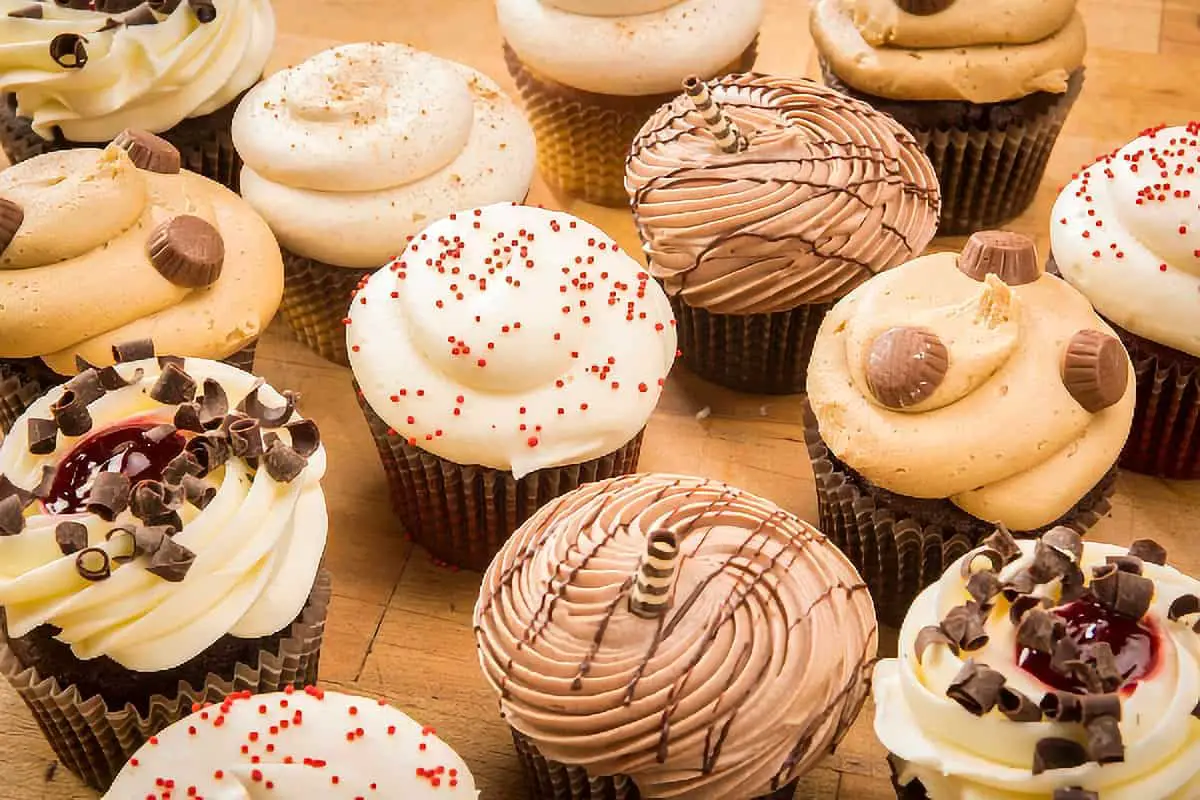 My favorite thing about these cupcakes is just how incredibly cute and simple they are. And they're so easy to make too! Who ever thought that vanilla cupcakes with one simple ingredient in them could make them like 50% hotter? It's one of our favorite recipes for Funfetti Cupcakes.
These cupcakes are moist, delicious, and flavorful. That's because the key thing to keep in mind when making a simple cupcake flavor is using good ingredients! Good vanilla, butter, and fresh eggs. Trust me, it makes all the difference!
And that frosting! I recently tried a frosting recipe that called for sour cream in it. I was like, ok whatever. At the very least it'll make it creamier? It does, but it also adds flavor and makes it so much more delicious.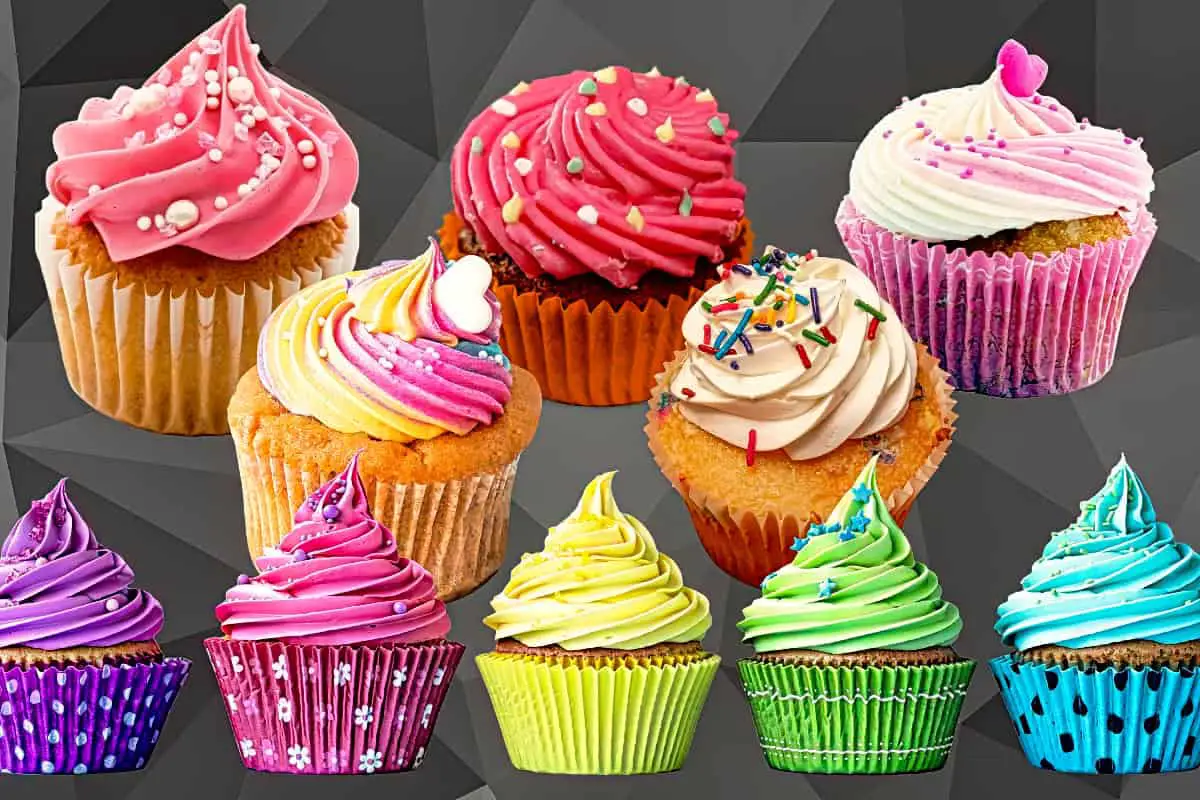 I should make a funfetti cupcake that would be perfect for parties and celebrations. They are jam packed colorful sprinkles and topped with a homemade cream cheese frosting and even more sprinkles. It doesn't get anymore fun than these cupcakes!
Now this recipe makes about 12 cupcakes but you can always double or even triple the recipe. Trust me, they disappear really quickly so it's good to have extra cupcakes on hand! This has become one of my favorite recipes for Funfetti Cupcakes.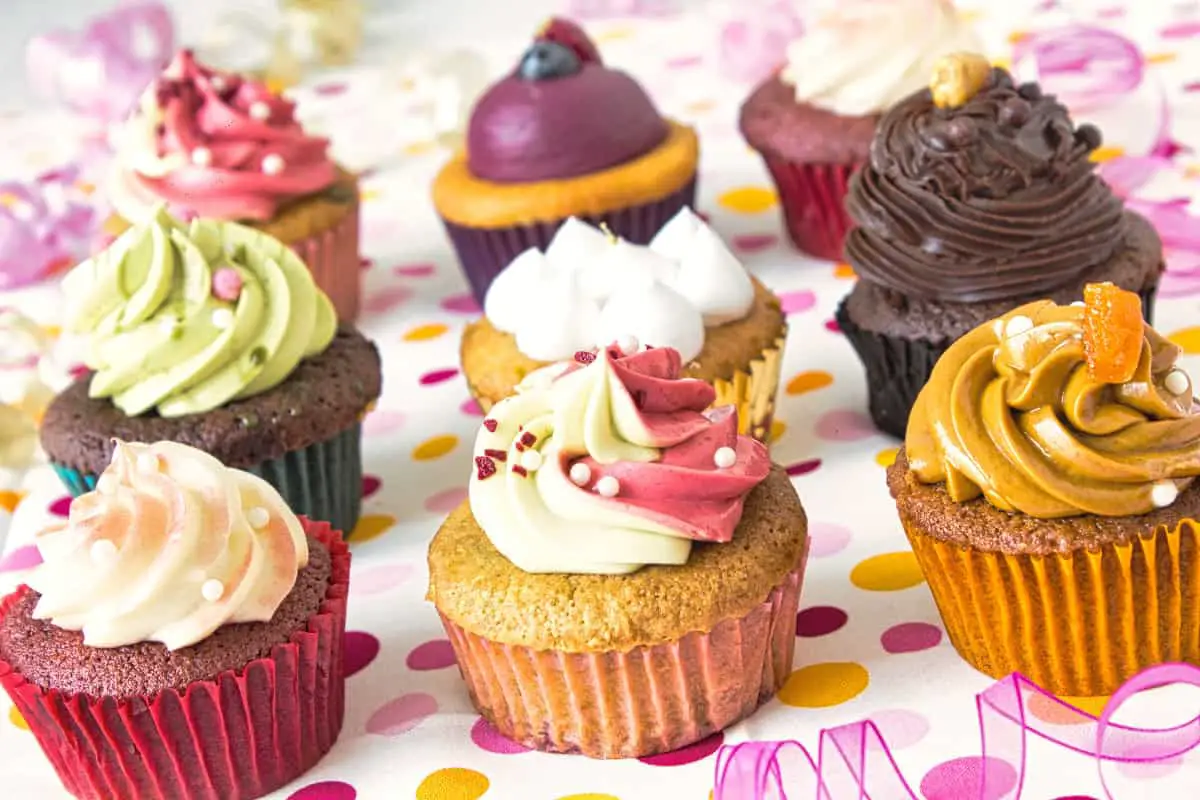 Bright rainbow sprinkles and a soft, buttery cupcake make these the BEST homemade Funfetti Cupcakes. Fluffy homemade vanilla rainbow speckled cupcakes that are worlds better than anything you will find in a box!
Now, I know there have to be like a million recipes for funfetti cupcakes out there. They're a classic! Plus, they're so pretty and fun, as is anything with sprinkles. You really have to try some of these recipes for Funfetti Cupcakes.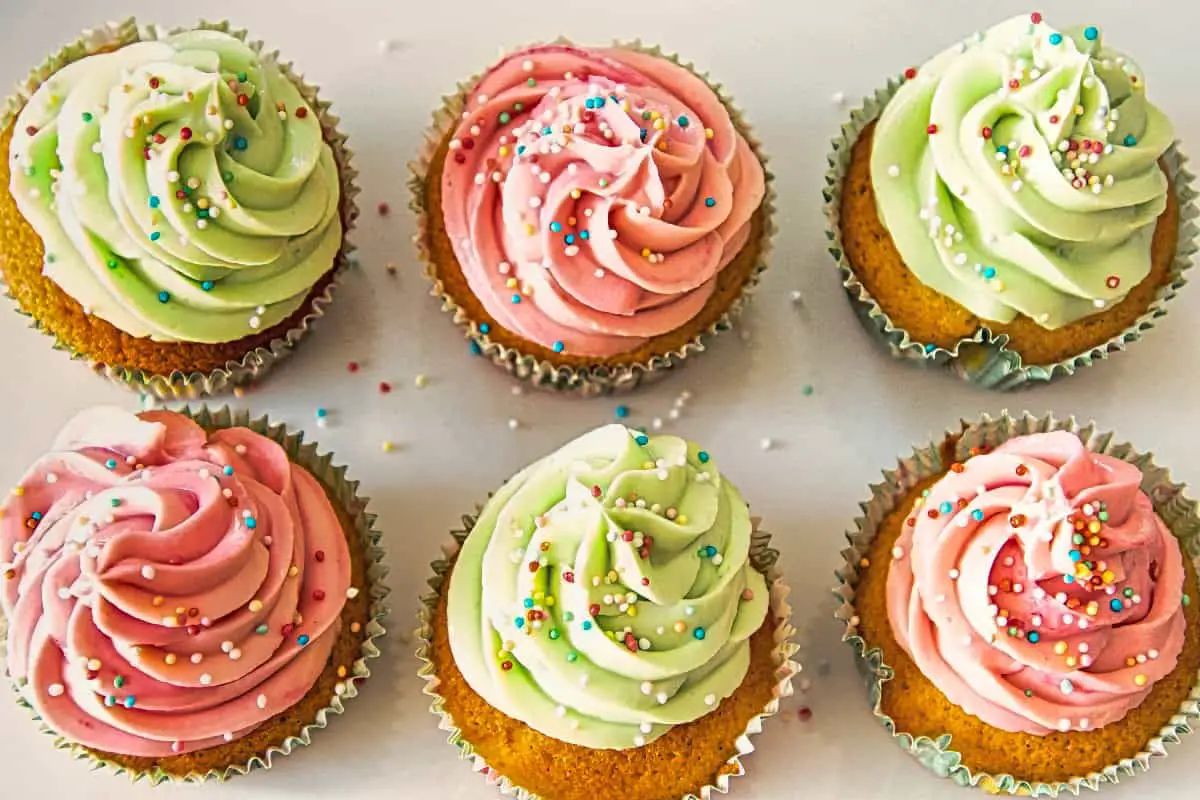 These Recipes for Funfetti Cupcakes are a must bake for your next party. This easy cupcake recipe is homemade – never use a box mix again! This really is the PERFECT Funfetti Cupcake Recipe and it's so much fun to switch up the color of sprinkles you use.
We absolutely love this recipe and I know you will too – it's amazing with my homemade buttercream! I am addicted to sprinkles so putting them in and on top of cupcakes is a thing I love to do. Sprinkles make everything better.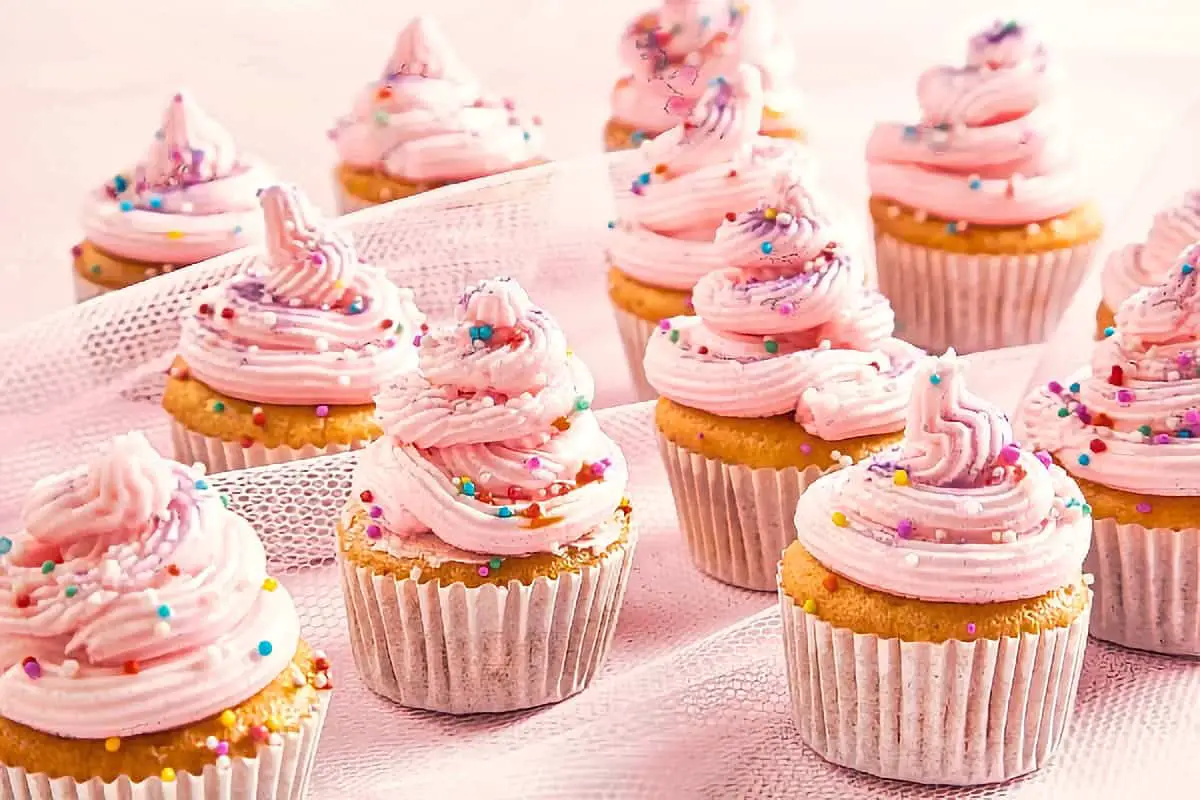 Delicious vanilla funfetti cupcakes, full to the brim with brightly colored sprinkles. Have a party coming up? Got a great tasty idea for you. Try recipes for Funfetti Cupcakes. They're a crowd pleaser!
One thing that has always baffled people is funfetti – it's one of the best things to exist in my opinion! But what is it?! In my eyes, it's a vanilla cake with sprinkles stuffed throughout the sponge, and it is HEAVENLY! And also, super cute.
The cupcakes themselves are based around my easy vanilla cupcakes recipe. However, if you want a little more show, color and fun, these will look amazing and fit the bill perfectly for any occasion!
---
You May Want to Join Our Boondocking Group on Facebook For More Information
You May Want to Join Our Campfire Recipes Group on Facebook For More Information
Discover our unique product testing journey at Our Big Escape. We bring real-world experiences and adventures into every review, ensuring authenticity and reliability. Dive into our process at
How We Test Products: A Journey of Discovery and Trust
, where every product is an adventure tested.