Using a blender or juicer Carrot juice cocktails, here's how to make your own nutritious and delicious carrot juice drinks. Carrots are all you need to make a healthy, sugar-free juice that stands on its own or blends well with other juices. Additionally, the pulp and carrot tops from the remaining mixture can be used in other ways, making this recipe waste-free.
---
Want more ideas to round-out your Recipe Box?
A lot of great options are in these posts!
---
I have put in a lot of effort into improving my immune system through changes in my diet and way of life. I've found that drinking nutritious fruit and vegetable juices is a quick and easy way to get many of the nutrients your body needs.
Juices and health shots have become a staple of my diet over the past few years, and I've come to enjoy them just as much as raw or cooked  carrots (especially when paired with a generous helping of  other juices). Carrot juice has a surprising amount of flavor (and sweetness) for something that is so simple to make, and it also has many health benefits. Moreover, this nutritious carrot juice can be made in many different ways!
16 Carrot Juice Cocktails that Take It To the Bank
---
---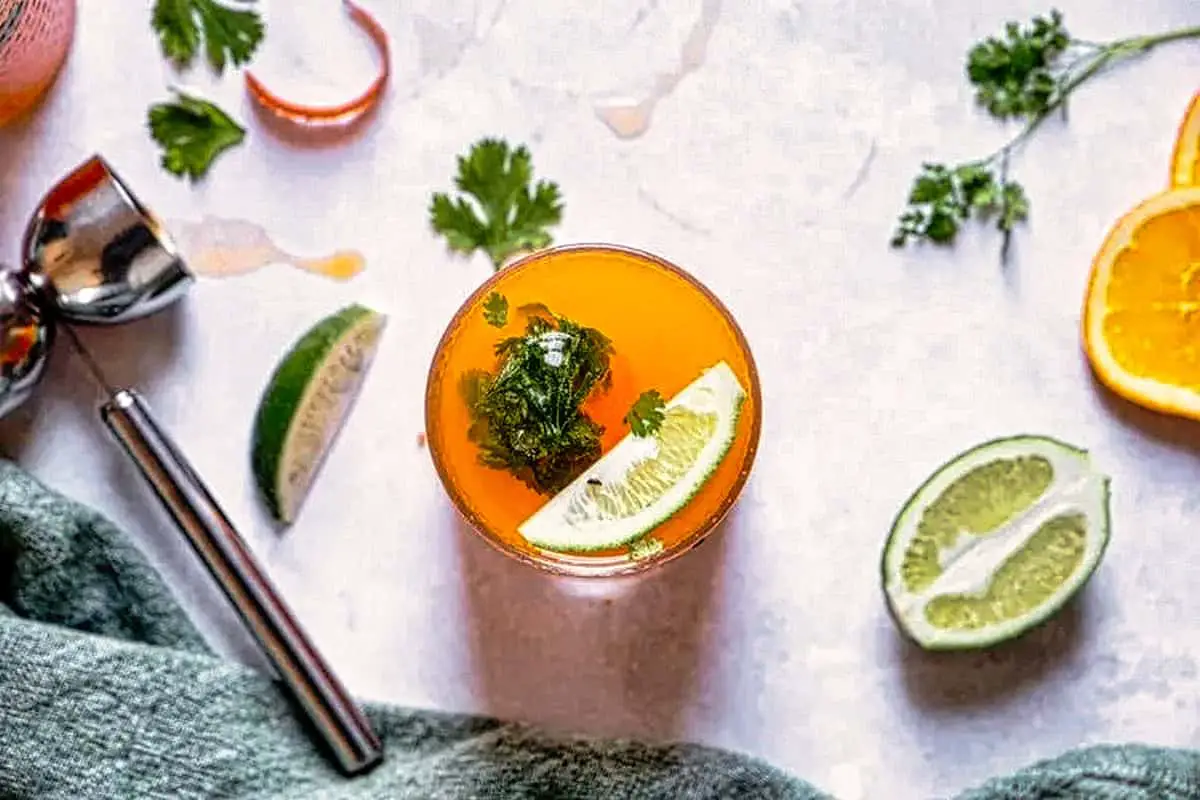 Carrot juice cocktails, sharply sour lime soda, and smoky mezcal come together with a cilantro garnish to make a savory carrot cocktail. This recipe makes one serving, but it's easy (obviously…) to get a few more glasses and make double or triple the servings!
Let's talk about this savory Carrot juice cocktails: I used mezcal in mine (check out a personal fave of mine, Banhez Mezcal), but if you're more into the carrot margarita, you can do that by using tequila instead. Cilantro is the ideal garnish here, and if you're extra like me (hiiiiiii), make cilantro ice cubs by freezing cilantro in your regular ice cubes.
I'm always down for a salted rim, so I threw on some Maldon (yes, I'm obsessed), but I tried not to go too crazy here. You do you, babe.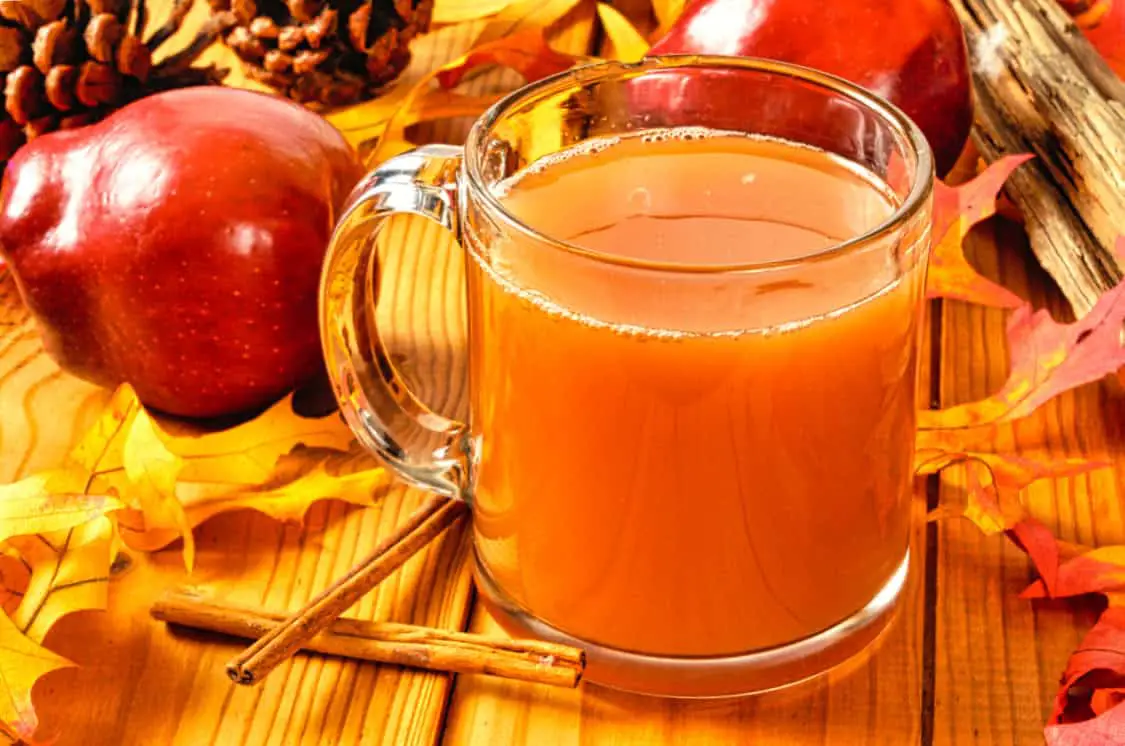 Cold-pressed apple, carrot, and ginger juice warmed and infused with winter herbs and spices for a nutrient-rich, flavorsome drink. Perfect Carrot juice cocktails for those chilly nights.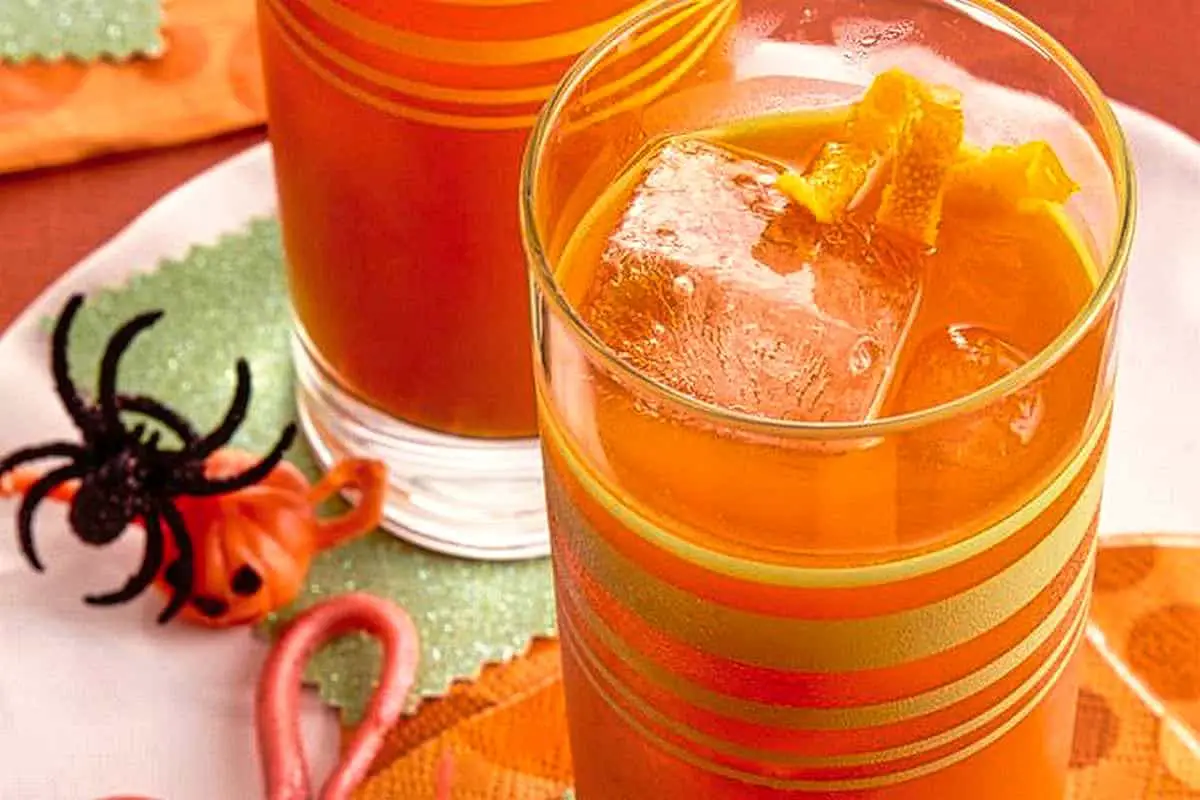 Enjoy this chilled Carrot juice cocktails made using orange flavored vodka, carrot juice and tangerine juice – perfect for Halloween or fall celebration.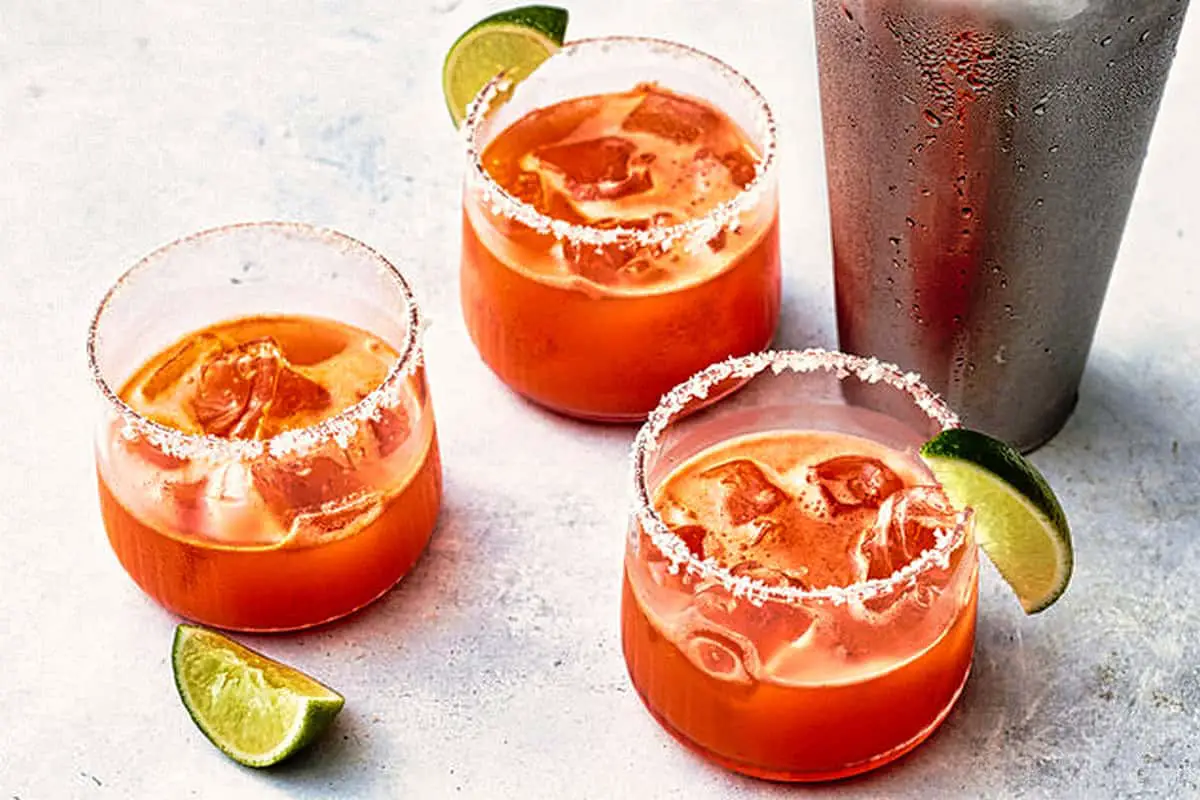 Fresh-squeezed grapefruit is the main feature of these vivid-orange Carrot juice cocktails, but carrots, which can be juiced in a blender, provide brilliant hue and vegetable notes. Shake it together with ice and tequila to get the garden party started.
This spicy carrot mezcal margarita is the perfect blend of smoky, spicy and savory. Think of it as the margarita version of a Bloody Mary. They are the perfect healthy summer Carrot juice cocktails for BBQ's or feeling something different.
Mezcal has become more popular in the United States recently. And with great reason! It tastes AH-mazing! Nowadays you can find creative mezcal uses, but my favorite is a mezcal margarita.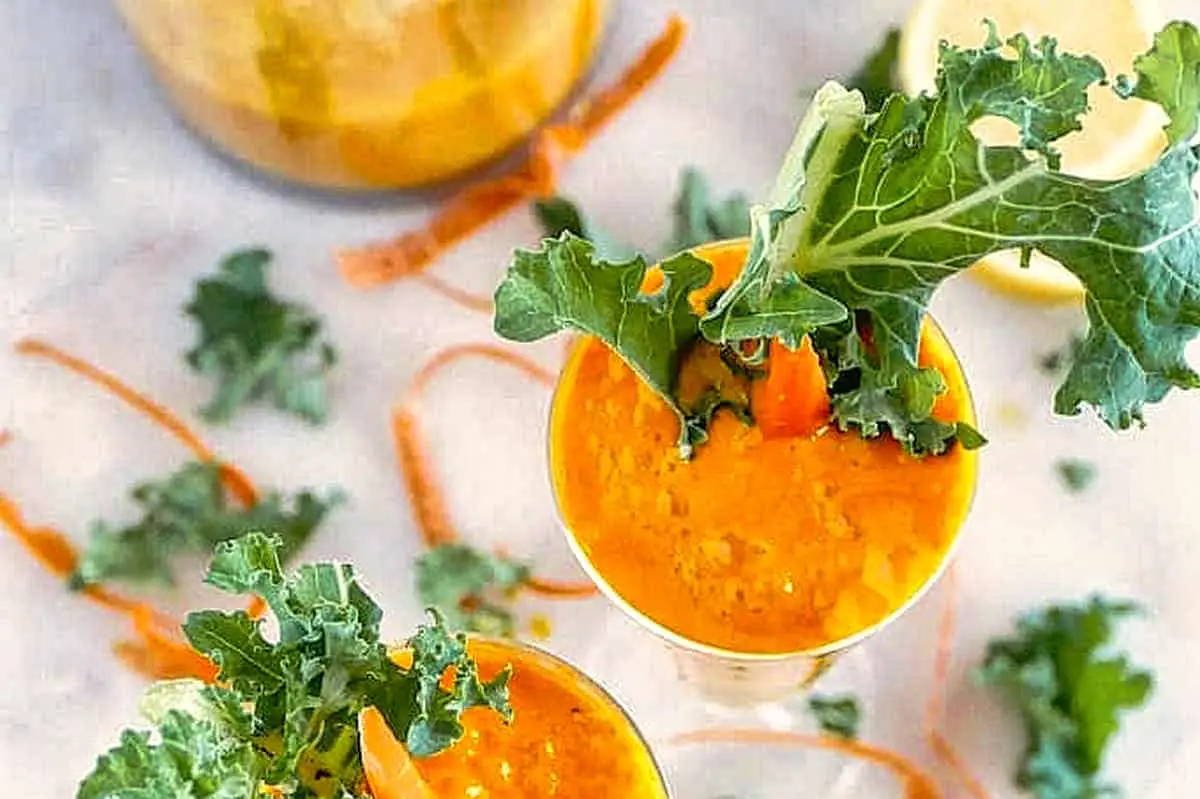 Fun, colorful, and tasty, these fresh Carrot juice cocktails are mixed with Prosecco for a unique twist on mimosas. They're a great treat for Easter, Mother's Day, or Christmas brunch.
Adding carrot juice to a classic mimosa gives it even more of a vibrant orange color and contributes some earthy undertones. If you're like me and think cocktails with fruit juice are generally too sweet, I think you'll love how the carrot juice subdues, but doesn't overpower, the orange juice in these drinks.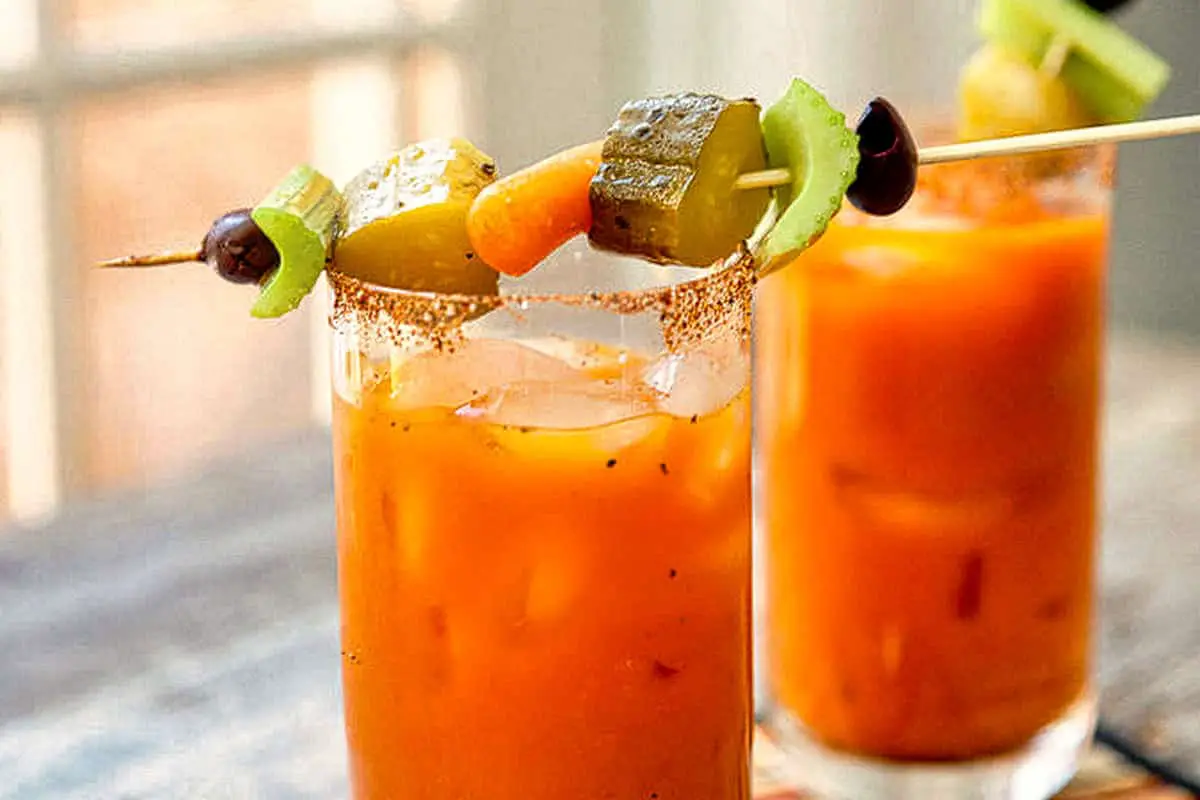 Besides the Mimosa, the Bloody Mary is the undisputed queen of the brunch cocktail world. Savory and spicy while still being refreshing, the iconic drink is known for its restorative qualities, as well as for providing the opportunity to garnish with enthusiasm. But not all Bloody Mary taste are the same:
This this adaptation are Carrot juice cocktails, the tomato juice is removed in favor of carrots, lemon juice, honey syrup and caper brine. The Bunny Mary—created by bartender Rob Krueger while working at the now-closed Extra Fancy in New York City—gets its playful name and vibrant hue from carrot juice, punched up with savory caper brine and a spicy cayenne-and-paprika rim for the glass.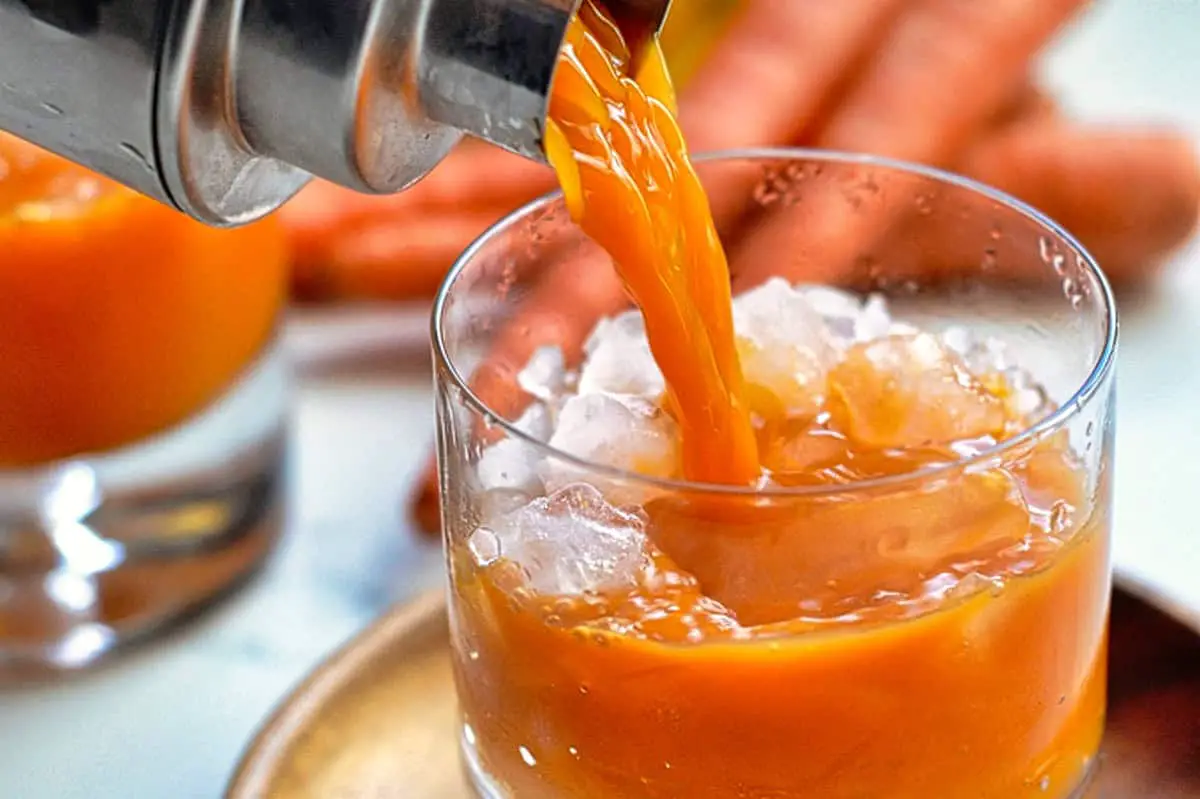 t's about time for a cocktail, am I right??? A Carrot Whiskey Cocktail at that! A couple of weeks ago Matt and I decided to have our weekend be Monday and Tuesday because he has a weird schedule and I can make my own schedule! So on a Tuesday afternoon we found ourselves going to a 1:30 PM movie – La La Land!
When we lived in Long Beach we saw them filming a scene on a street by our house all day and were so excited to see that part. Only when we finally saw it, it was maybe 5 seconds of them driving down our alley!! Haha oh the movies! Okay now back to these great Carrot juice cocktails which I know you need to get you through the rest of this week!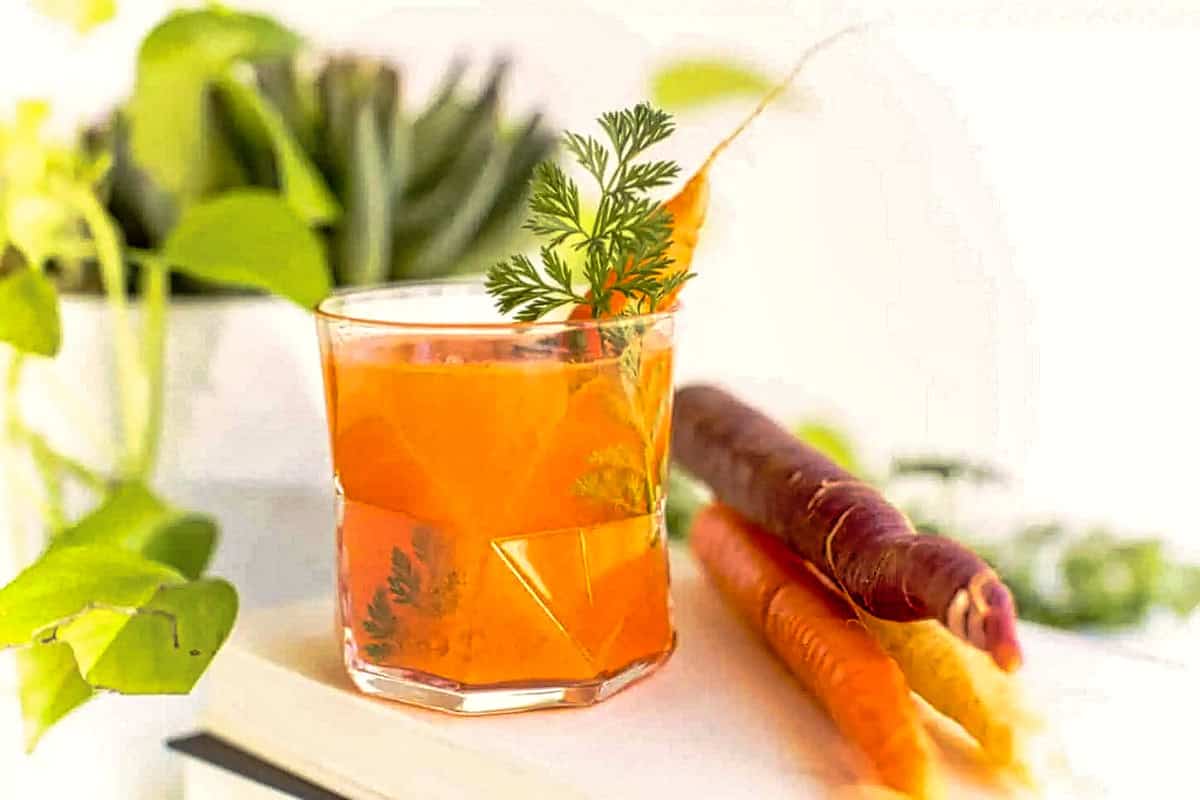 Brighten up your Carrot juice cocktails routine with a fresh new take on the classic Moscow mule! Pure pressed carrot juice gives these MosCarrot Mules their gorgeous orange glow, guaranteed to out-shine any pre-made cocktail mixes on the market. T
he natural, earthy sweetness of the carrots provides a low-sugar foundation to round out the spicy bite of ginger beer. Sophisticated and complex, yet bubbly and fun, who says you can't have it all in one glass?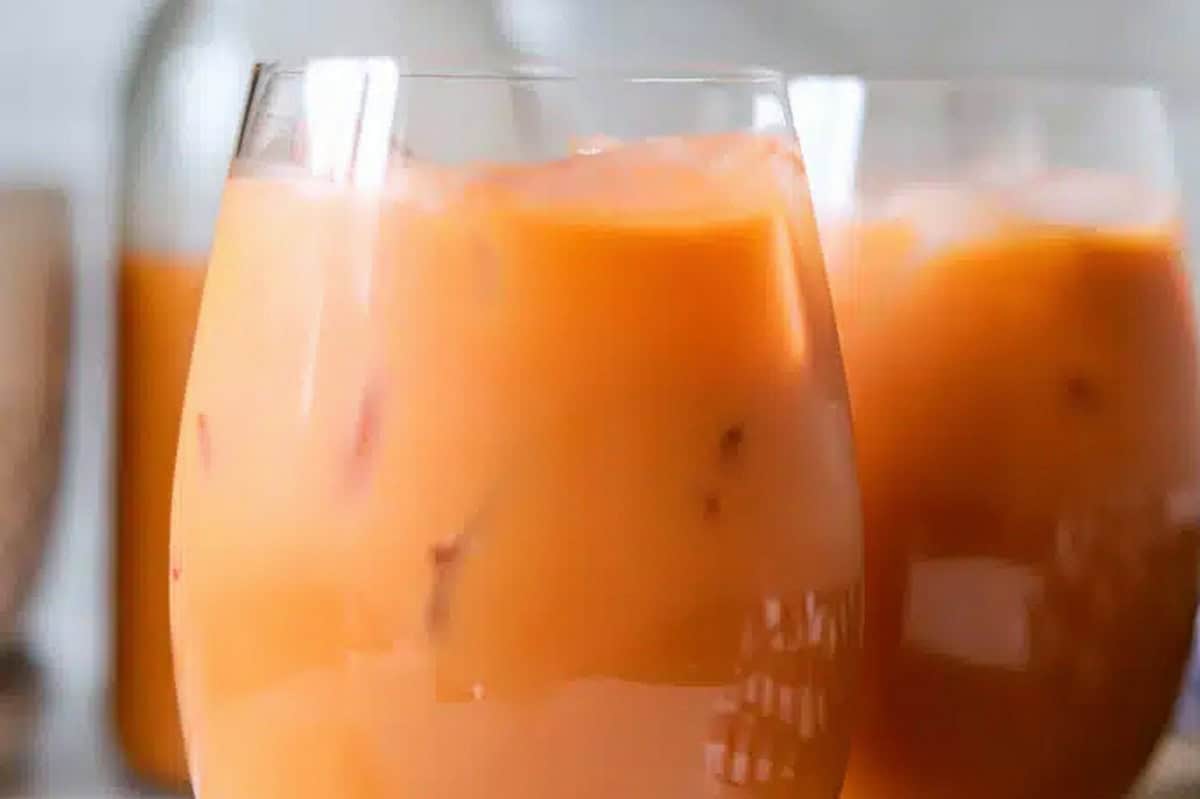 Jamaican Carrot Juice (Blender and Juicer Method) is a creamy, smooth and rich Jamaican Carrot juice cocktails! Enjoy this Caribbean twist on natural fresh carrot juice, featuring nutrament, dragon stout, a splash of vanilla, and hints of warm spices like nutmeg and cinnamon. Serve this after a long day, on a lazy Sunday morning with breakfast or as a brunch cocktail!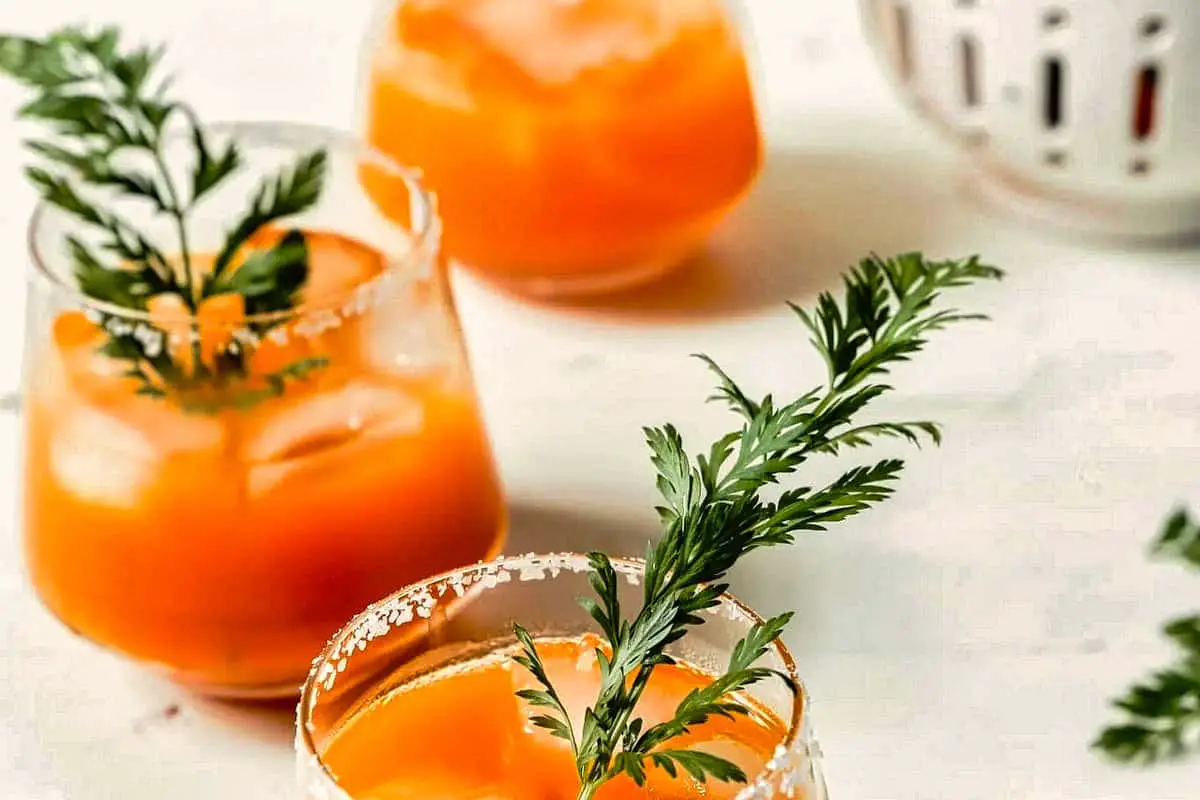 Carrot Margaritas! Kick off spring and Cinco de Mayo with seasonal Carrot juice cocktails. This spring margarita features sweet carrot juice, fresh lime juice, ginger, and of course, tequila!
Making a carrot cocktail is easier than you may think. No need for any special equipment like a juicer or a blender. This carrot margarita uses bottled 100% carrot juice. Yes, I'm not juicing my own carrots for this, would you?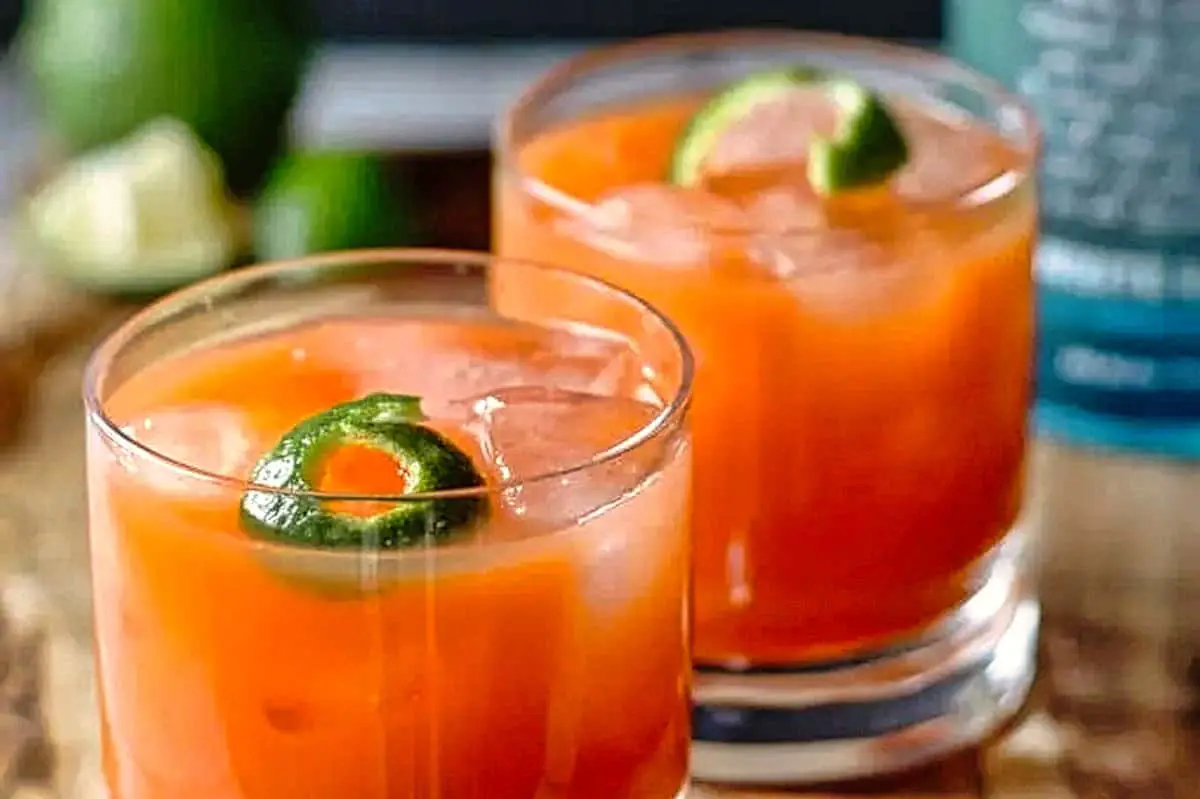 These rum orange Carrot juice cocktails will give a splash of color to any party spread!
I started planning this cocktail recipe before the BCB White Rum bottle arrived and had to start over when I finally got my first taste. I thought I was going to have to hide how it tasted with a lot of ingredients but I changed my mind. All of the cocktail ideas I brainstormed had to be trashed.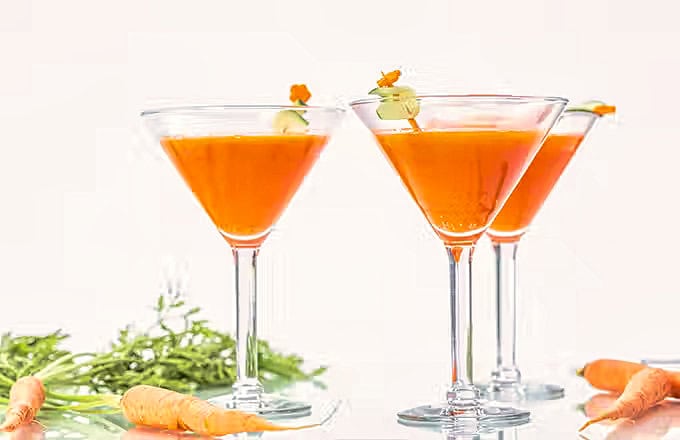 Want to try a funky alternative to the brunch bloody? Give this Carrot juice cocktail with infused vodka a taste. The bright orange color and refreshing vodka flavors make for a drink that's a definite departure from your typical Sunday brunch order.
The Jessica Rabbit comes from Terra Mare, a handsome bar and restaurant in Fort Lauderdale, FL. To make these Carrot juice cocktails, they're starting with all your favorite margarita ingredients–tequila, Cointreau, and lime. From there, they've added orange juice, plus fresh carrot juice, cilantro simple syrup, and jalapeno for a savory vegetal note that pairs nicely with orange.
Try mixing one up for yourself anytime tequila or fresh juice sounds good. And, really, when don't they?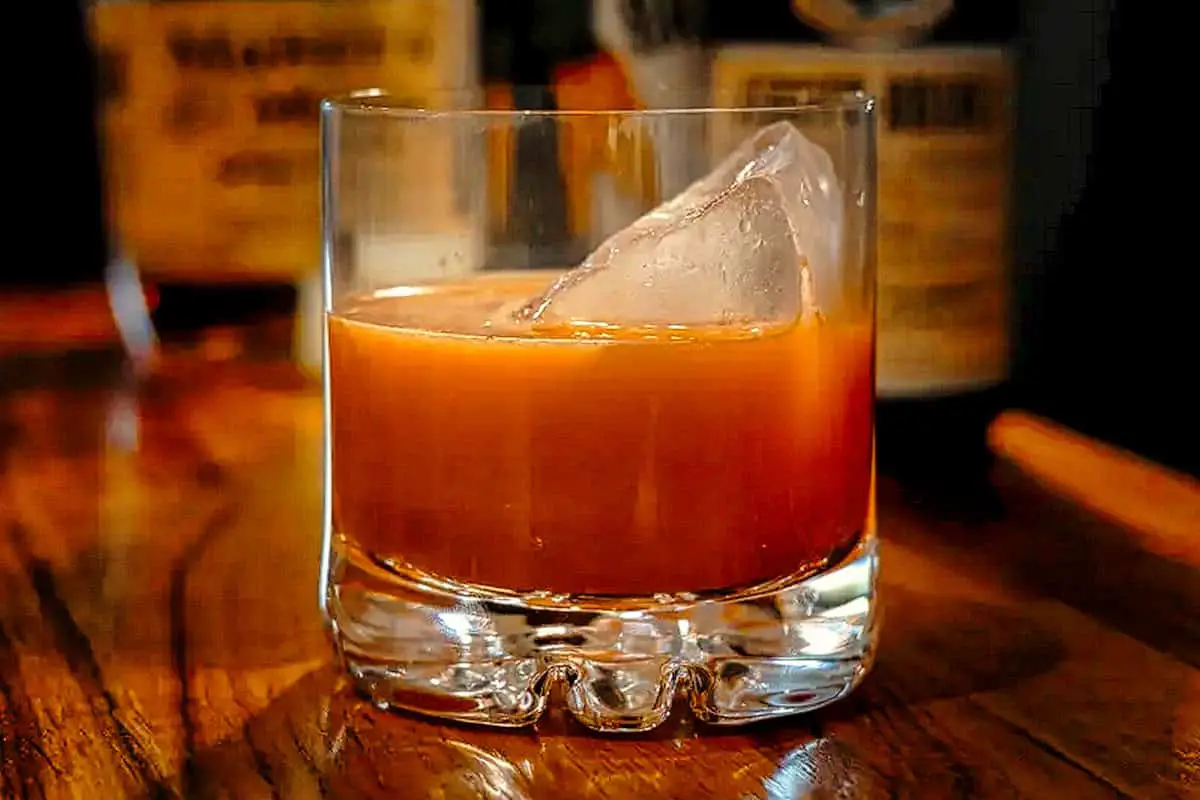 The What's Up, Doc cocktail is a drink built with bourbon whiskey, fernet-Branca, ginger juice, carrot juice, and lemon juice.
These bright and fresh bourbon and Carrot juice cocktails were originally created by Eduardo "Eddy" Rocha, lead bartender at SaltRock Southwest Kitchen Amara Resort & Spa in Sedona. It features freshly-juiced carrot and ginger with bitter, herbal Ferrnet-Branca, fresh lemon juice, and an aromatic herb garnish. I did not add ginger in this specific recipe, but I would suggest you add a touch of ginger juice before you try without it.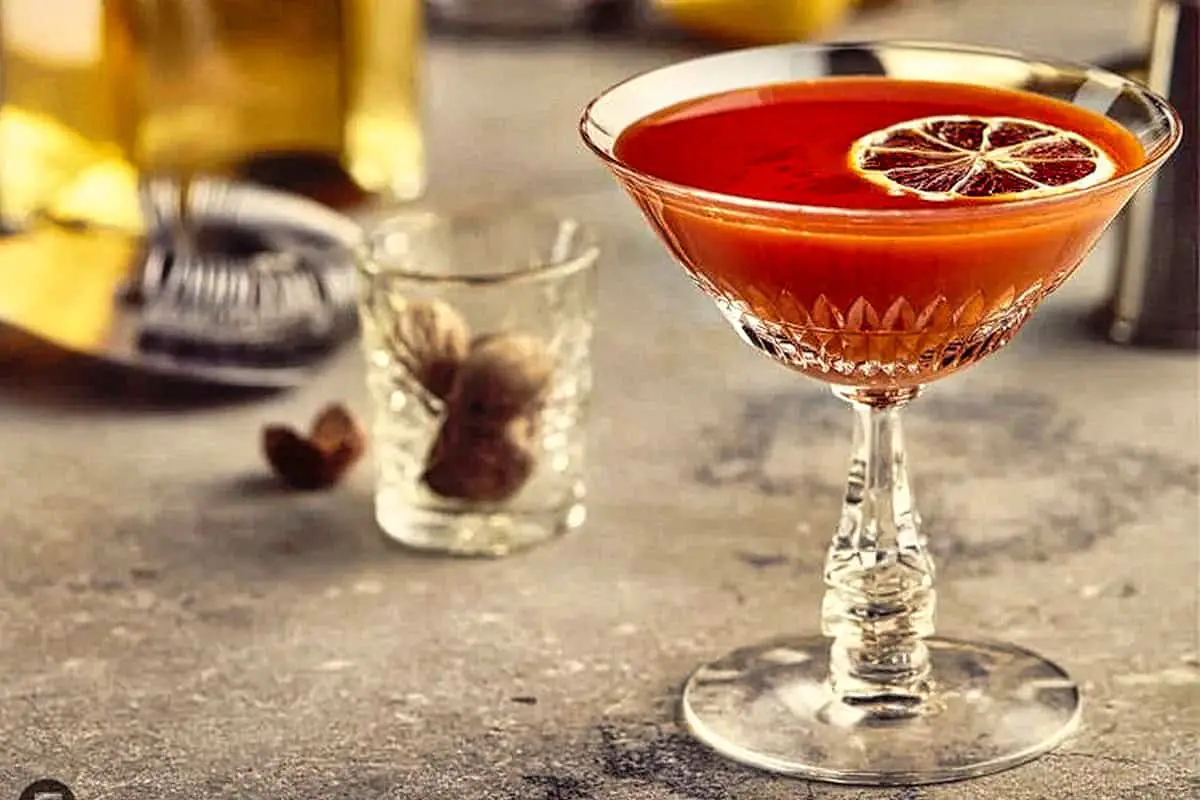 The new year is a time to restart, reflect and set goals for health and prosperity. Unless your resolution is to swear off spirits in general, there's no reason to cut a good cocktail out of the mix. Bright and vegetal in profile, these spiced Carrot juice cocktails are backed by winter spices, almond and a light-bodied Japanese whisky.
Orgeat syrup (pronounced or-zhat) is made of almonds, sugar and orange flower. In cocktails, it acts as a sweetener and adds body; you can find it in the mixers section of most liquor stores.
---
You May Want to Join Our Boondocking Group on Facebook For More Information
You May Want to Join Our Campfire Recipes Group on Facebook For More Information
Check Out Our Recipes On Our Instagram – World Recipes Daily