If you are planning on living outdoors full time then you need to go over this research on the best tents for camping year round. There are many reasons why someone would choose to live full time in a tent. Obviously, there is the love of nature and the outdoors. But, had you ever thought of these reasons?
Save Cash Living Outdoors Full Time
The expense of living in a tent is a significant benefit. Compared to living in a home or even an apartment, it is far less expensive. Even though you will need to purchase a lot of materials, the entire cost will still be considerably less than the monthly costs of gas, rent, internet, and power.
Live Healthier Tent Camping Year Round
Studies have shown that spending a lot of time in the forest, sometimes known as "forest bathing," can help you become healthier in a variety of significant ways. Your body's internal control, immune system strength, and ability to take in more air are all aided by the phytoncides that plants release. Some people think that spending time outside can make you happier as well. Let's not overlook the rise in vitamin D either.
Cut Back On Your Carbon Footprint
Living in a tent is one of the best things you can do if you want to lessen the influence you have on the environment and the globe. Living outdoors prevents you from consuming significant amounts of water, power, and other resources. Living in a tent can significantly reduce your carbon footprint and your mark on the earth, and you can feel content and at peace knowing that you've contributed to making the world a better place.
Prioritize and Simplify Your Life
The complexity of the world is always increasing. Many people desire to escape the world's drama and concentrate only on what is crucial. You may organize your priorities and concentrate on the long-term issues by living in a tent. The issues that the world seems to hold in such high regard are postponed. You'll come to understand that luxuries and other things that once appeared so vital are actually not that significant. You can do much better things with the money you would typically spend on these things. It is a very enlightening and healing experience.
Mobility
You're no longer confined to one location living outdoors full time! Dislike your current situation? Move! Would you like to experiment? Move! Do you have a visitor in mind? Move!
---
Want more ideas to round-out or upgrade your Gear?
A lot of great ideas are in these posts!
---
What Are The Best Tents For Camping & Living Outdoors Full Time?
There are many criteria you must go over before making such a decision.
---
---
check out our video
---
---
Tent Fabrics' Quality and Durability
If you are looking at buying a family tent you will have come across a confusing mix of different tent fabrics, from polyester to poly-cotton, and a whole collection of different brand names. It's hard to know which is best.
— Nylon or Polyester material for tents. This is great for children to use in the backyard in shaded areas under treed or using a tent periodically for a weekend getaway or family camping trip. Because it isn't made to resist the weather, a simple, fragile nylon pop-up tent won't cut it for truly living in the woods.
— Canvas Tent Fabrics. This is needed when you are looking for something sturdy and durable over the long haul. You should consider purchasing a true 4-season tent if you intend to be tent camping year round.
You will require something that you can erect without being concerned about it being ruined by the sun, rain, or snow. You need something that will be sturdy. You don't want to continually be concerned with your walls or roof ripping or tearing. You need something that will last not just for the season, but also for a very long time. They can serve as permanent habitation tents for living outdoors full time.
If you take good care of a high-quality canvas tent, it should last you for many years. You can not only live well in a tent with adequate planning and preparation, but also do so. Our forefathers engaged in it for ages! You want tents that provide more comfort and durability.
Set Up and Take Down
In this instance, the lengthy setup time associated with canvas tents is not a significant issue. You'll be residing in this shelter for a considerable amount of time, so why worry about an extra ten minutes of setup? Choose your important things. Is it easy setup or protection from strong winds, harsh weather and comfort during your long-term living?
Floor Area, Peak Height, Storage Space of the Tent
One night of camping in a small, claustrophobic space is one thing, but if this is going to be your new home, you need to feel at ease long term. You require extra space to move about. For the equipment to last you a season, you need living space! Having the ability to stand up is important. These are all offered by canvas tents.
Most light-weight camping tents, especially those that aren't tall enough for people to stand in, aren't designed for long-term usage. However, because you'll be staying in one of these tents for a while, we chose designs that provided loads of space for sleeping bags, supplies, and a relaxing area. This makes the tent's interior wonderful even when the outside weather is dreadful. Campers living outdoors full time must have one of the best tents for camping.
Weather Resistance
Because they offer sturdy materials and hold up better to shifting weather patterns, especially high winds and heavy rain, for living outdoors full time, this is one of the best tents for camping. Canvas tents are frequently the best choice for long-term camping. Additionally, there's a considerable probability that your cotton canvas tent will include a stove jack, allowing you to keep warm during the winter with your family.
Living permanently in a tent requires putting up with wind, rain, heat, and maybe snow and ice. Therefore, the model you select must be resistant to any weather and temperatures. Because they are sturdy and weather-resistant, canvas tents are typically the best option for this function. Additionally, canvas tents frequently contain a spot for a stove jack, allowing you to stay warm inside even during a snowfall.
The ideal tent for permanent habitation is breathable and water-resistant. You want to be able to obtain as much airflow as you can once summer arrives. Ideally, you can stop insects and other pests from entering your home.
Although you might wish to treat the material before erecting the tent outside, canvas tents are once again frequently the most durable. Your tent's lifespan can be significantly increased by adding some waterproof coatings.
Doors, Windows, Ventilation, Comfort
The majority of the time, you want to be able to use a camp stove inside a long-term camping tent. In order to prevent overexposure to harmful gases, you need something with adequate ventilation.
If you plan to live in a tent during the colder months of the year, you're going to need a source of heat. You're going to want a wood-burning stove or a quality propane heater.
Any canvas tent can be fitted with a stove jack to accommodate a wood stove. Thankfully, the majority of these tents have a stove jack, allowing all the smoke and other toxins to be properly vented outside.
To avoid overheating inside the tent, ventilation is also important. Vents can keep you cool and comfortable whether the stove is on full blast or it's merely hot outside. Vents can also stop excessive condensation from forming inside, particularly at night. For maximum airflow, the majority of canvas tents incorporate top and bottom vents.
Footprints: A tent footprint is, essentially, a sheet of fabric placed underneath your tent to provide added weather protection and insulation. The best camping tent becomes even better with one.
Price
You must look at the price as an investment when comparing tents to live in. A canvas camping tent typically costs substantially more than a nylon or polyester one. The price is far less expensive than renting an apartment or a hotel room, nevertheless.
Best Canvas Tents That'll Last You A Lifetime
1. SpringBar Highline Canvas Tent
Tent Size: 6 person | Seasons: 4-season | Weight: 76 lbs | Inside Height: 78 in | Floor: 10 x 10 ft (100 sq ft) | Setup Time: 15 mins
SpringBar is one of the most well-known brands when it comes to canvas tents. This is due to the fact that they've been producing them since 1961! SpringBar has 58 years of expertise constructing tents, giving them the knowledge necessary to produce a top-notch tent. The SpringBar Highline tent is our pick for the best canvas tent because of this. In addition to producing tents of the highest caliber, SpringBar also provides a lifetime warranty. No rip, tear, or flaw will prevent you from enjoying a camping trip with this tent.
Its dimensions are typical for canvas 6-person tents: 10′ × 10′ with a 6'6″ central height. Other tents are said to have imitated SpringBar's size, but we'll let you judge for yourself. There are models for six and eight people, but we think the six-person capacity is ideal. The 6-person model will have plenty of room unless you're camping with six more people because these tents are already quite heavy. The SpringBar is unmatched when it comes to setup. In the packaging, the manufacturer includes detailed instructions. There is not much you can get wrong because of its simple design. To show how simple it is, watch the video up top.
The only criticism we have of this tent's design is that there aren't windows on every side. The two doors, though, seem to provide you plenty of space to take in the scenery. Additionally, it has a spacious awning from which you may enjoy the outdoors. It's one of the best tents for camping and living outdoors full time.
PROS
High-thread count quality duck canvas prevents leaking while also being breathable
Canvas is water-repellent and mildew treated, reducing the risk of damage to the canvas
Clear directions mean you won't have a problem setting this up solo
Combination of wire stake-loops and embedded rope distributes the pressure around the tent body
Classic design with straight-up walls gives tons of space, comfortably sleeping 4 to 6 people
CONS
As a premium tent, this comes with a premium price tag. Well worth the investment in our opinion.
For Campers who want a tent that will truly last for decades (if not more!). For living outdoors full time, this is one of the best tents for camping.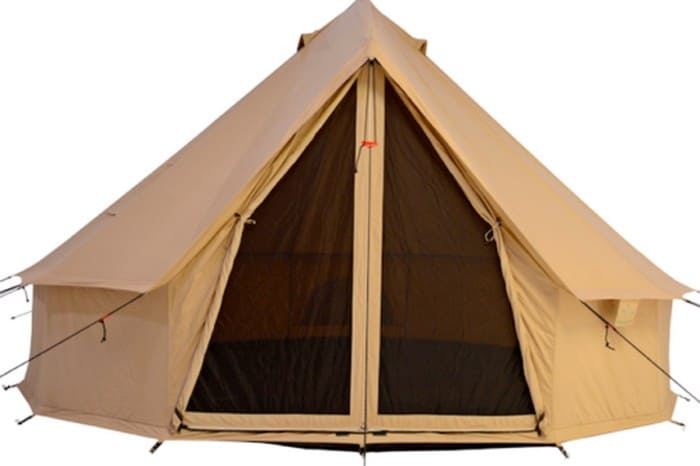 2. Whiteduck Regatta 6 Person Canvas Bell Tent With Stove Jack
Tent Size: 6 person | Seasons: 4-season | Weight: 71 lbs | Inside Height: 98 in | Floor: 13 ft diameter (132 sq ft) | Setup Time: 20 mins
WhiteDuck is one of the leading brands in the market if you're looking for a high-end canvas tent. All-purpose model The Regatta was created to withstand all four seasons. You can use this tent in the rain, snow, or wind because of its durable canvas construction. No matter the weather outside, the basic structure is strong enough to keep you dry and toasty. The Whiteduck Regatta tent includes a stove jack that is fire-resistant, just like many canvas tents do. With a camping fire inside the tent, you can stay warm when it gets chilly thanks to this flap. The stove jack's ability to keep water out means that you won't need to be concerned about leaks.
Many camping tents are nice and do the trick, but you always look forward to returning to a real house and bed. Regatta, though, is so cozy that you almost don't remember you're in the middle of nowhere. In fact, many of its owners utilize it in their backyards as a second house when they're not camping. Despite not being a backpacking tent, its 71 kg weight is extremely doable for the majority of car campers. You can see why this camping tent is so well-liked when you consider how easy it is to set up (less than 20 minutes for one person, 10 minutes for two).
This tent is amazing in both size and shape. With a three-foot height, the lowest portion of the walls rises higher than in other bell tents. You should have more than enough space to stand up and move around because the center height of the different sizes of this tent spans from 7 ft 5 in to approximately 10 foot. Your internal space can be maximized because to the bell form. This tent includes double-walled mesh windows that let air pass through for ventilation. Additionally, there are vents on top that allow heat to escape as needed. This tent should remain somewhat cool whether the stove is blazing or it's too hot outside. For living outdoors full time, this is one of the best tents for camping.
PROS
Weather-resistant material holds up to rain and sunlight
Snow, rain, wind – this tent will stand up to them all without a hitch
Four strategic vents and three windows provide plenty of airflow for cooling and ventilation
Double-layered doors and windows keep the warm air inside
Extra-tall interior allows you to move around comfortably
Easy setup – even one person can do it without any problems within 20 minutes
At 71 lbs. weight, it's surprisingly lightweight for a canvas tent of this size
CONS
It's a bit tricky to pack it back in the bag
This four-season tent really means it, thanks to its waterproof material and built-in stove jack. Tent camping year round requires one of the best tents for camping.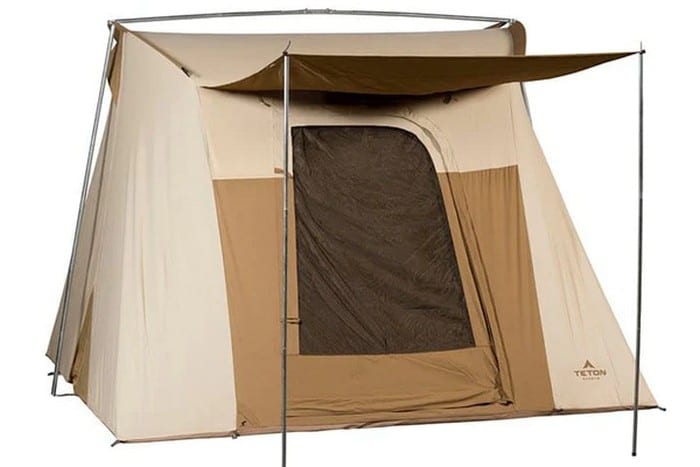 3. TETON Sports Mesa Canvas Tent
Tent Size: 6 person | Seasons: 4-season | Weight: 71 lbs | Inside Height: 78 in | Floor: 10 x 10 ft (100 sq ft) | Setup Time: 15 mins
A 6-person and an 8-person variant of the Teton Mesa Canvas tent are available. The 6-person model is the subject of my evaluation since, in my opinion, it delivered the best value in terms of both price and capacity. You'll notice right once how large this tent is. When it comes to 4-person tents, its 100 square feet of floor space makes it a genuine giant, and because to its peak height of 78 inches (or 6.5 feet), practically anyone can move around the tent with ease. One of the greatest canvas tents available is made even better by the fact that it can be set up quickly—in just five minutes—and is completely waterproof.
No product, however, is perfect. This tent is not for those on a tight budget, just like all canvas tents. Teton Mesa will set you back a significant sum of money. On the other side, you can be sure that your descendants will inherit this tent, making it ultimately less expensive than most nylon tents. Tent camping year round requires one of the best tents for camping.
PROS
100 square feet of floor space means you and your family will have plenty of room
Easy setup – most people can get it up and ready in less than 5 minutes
Comes with two extra-large doors that make movement easy peasy
100% cotton means it will keep you dry even during the worst thunderstorms
78 inches of peak height means even tall people can comfortably use this tent
CONS
No way around it – this is not a cheap product. You pay a premium price, but get premium quality
Tent stakes are of lower quality – you might want to pay a few bucks to get better ones
For campers who are willing to invest a bit more for the great canvas tent with an easy setup. For living outdoors full time, this is one of the best tents for camping.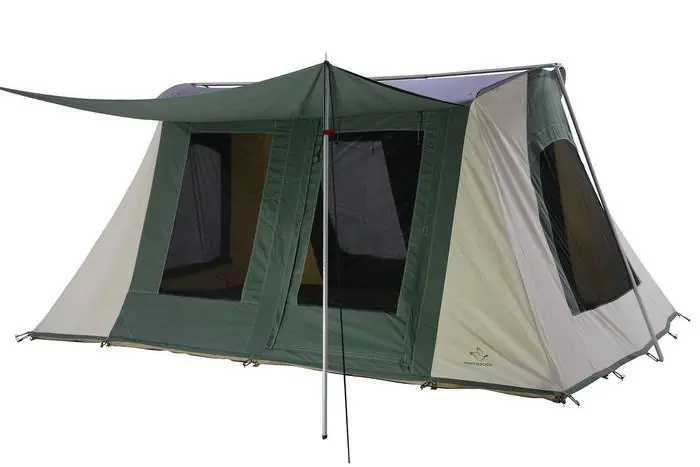 4. White Duck 10'X14′ Prota Deluxe Canvas Tent
Tent Size: 8 person | Seasons: 4-season | Weight: 94 lbs | Inside Height: 78 in | Floor: 10 x 14 (140 sq ft) | Setup Time: 20 mins
The larger version is the White Duck 10'x14′ Prota Deluxe. We also mean larger. This is the perfect 8-person tent, and the price difference between it and the 4-person model is only $100. This 8-person tent with 140 square feet offers greater value than many others of a similar size. Furthermore, taller persons will feel right at home with the 6'6″ ceilings. Although it weighs 94 lbs as opposed to its smaller siblings' 66 lbs, the extra weight is justified by the amount of room and comfort it offers. There isn't a canvas tent out there that is better on value. The White Duck Canvas Tent features windows on every side, just as the tent above. It isn't absolutely necessary, but it will allow you a little bit more ventilation and viewing space than the other tents. Campers living outdoors full time must have one of the best tents for camping.
PROS
Similar design to the standard canvas style tents, with small differentiators
A quality canvas tent at a reasonable price that doesn't skimp on quality
Windows on all four sides mean gives you improved ventilation and panorama views
The heavy-weight ceiling is coated with silver to protect you from UV rays and keep you cool
YKK zippers, 100% duck canvas, and a high-density groundsheet tub make sure this tent lasts
CONS
Instructions aren't clear, some users reported having trouble tearing down and packing up
For Campers who want a canvas tent at a great value, or those who want added sun protection built into their roof. It's one of the best tents for camping and living outdoors full time.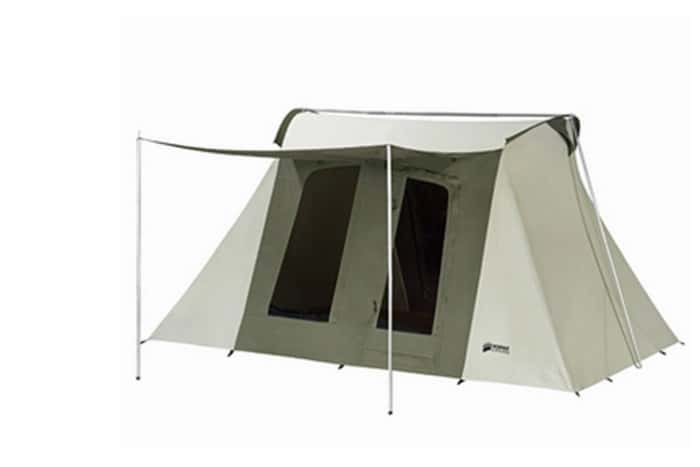 5. Kodiak Flex-Bow Canvas Tent
Tent Size: 6 person | Seasons: 4-season | Weight: 68 lbs | Inside Height: 78 in | Floor: 10 x 10 ft (100 sq ft) | Setup Time: 15 mins
The Kodiak Flex-Bow Tent is the next tent we suggest. The layout resembles the SpringBar at first appearance, however there are a few variances. It comes in several sizes, just like the Springbar. The 6-person is advised. This is constructed of fine cotton duck canvas and is made similarly to the Springbar. It is 10′ by 10′ in size, has a 6'6″ ceiling, and a 6′ by 4′ porch awning.
The minute particulars are where the two differ from one another. The Hydra-Shield canvas treatment used by Kodiak is the main distinction. You won't ever need to re-treat your Kodiak tent, unlike other canvas tents, thanks to the dry-finish silicone spray. Hydra-Shield isn't ideal, though. You can't build a fire inside the tent due to the chemicals inside for the fear of setting it on fire. It also implies that before using your tent for the first time, you must damp it.
Kodiak also decided to install doors on both sides. Although this tent isn't big enough to require doors on either side, some individuals want additional flexibility or windows. Although most people won't find them to be significant difficulties, they should be taken into account. The choice of material is the other variation in the Kodiak. YKK zippers and a double-thick ceiling are two construction choices that set this product apart from the SpringBar. Both the SpringBar and the Kodiak have comparable quality and dependability, so choosing between them comes down to preference. One of the best tents for camping and living outdoors full time.
PROS
Hydra-Shield silicone treatment keeps you dry and reduces canvas maintenance
Classic cabin-style canvas tent design found in the SpringBar gives you tons of room
Durable YKK zippers that won't ever snag or tear
Gear loft and movable organizers allow you to keep your gear (or cell phone) handy
Doors on both sides open the tent up for more ventilation, visibility, and flexibility
CONS
Kodiak's unique Hydra-Shield treatment means you can't have a fire inside
Hydra-Shield also requires a pre-camping water treatment. Set it up and spray the outside with water, then let it dry before you take this outside.
For campers who want all of the perks of a canvas tent, without the necessary maintenance. Campers living outdoors full time must have one of the best tents for camping.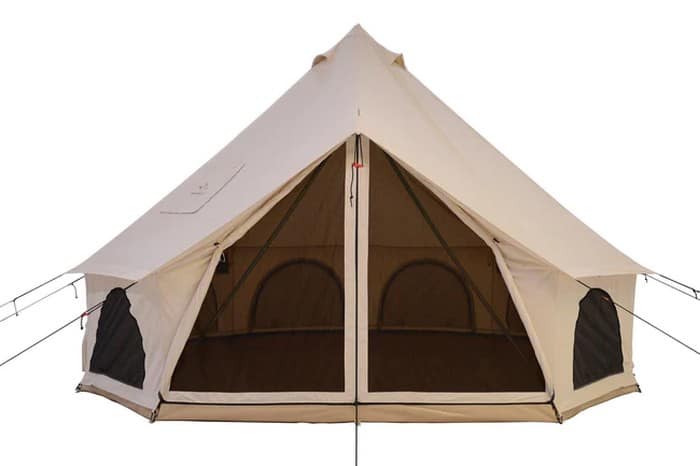 6. Whiteduck Avalon Canvas Bell Tent With Stove Jack
Tent Size: 6 person | Seasons: 4-season | Weight: 99-104 lbs lbs | Inside 8ft 5in | Floor: 13 ft (diameter) | Setup Time: 30 mins
Why not have a luxurious tent that makes you feel like you're living in a traveling palace if you're going to live in one all the time? The Avalon, one of the roomiest and attractive tents we've seen, gives you that impression. WhiteDuck didn't, however, devote all of its resources to making the tent seem fashionable. To ensure further durability and water resistance, the business strengthened the seams and edges as well. As a result, you may experience luxury living without being concerned about snow or rain getting inside. For living outdoors full time, this is one of the best tents for camping.
To aid with airflow and ventilation, this tent includes several windows all the way around. When it's cold outside, they can, however, also close to assist trap heat within. With such a large surface area to manage, a single camping stove probably won't be enough to adequately heat the entire interior of this tent. Additionally, because this tent is so large, you'll need at least one or two people to assist you in setting it up.
PROS
Reinforced seams and corners for extra durability
Large and spacious interior
Shock absorbing grounding system for better weather resistance
Rugged army duck cotton canvas
CONS
Heavy to carry around
Takes a while to set up and tear down
Good quality things are heavy, and tents are no different when it comes to something you can literally live in. Tent camping year round requires one of the best tents for camping.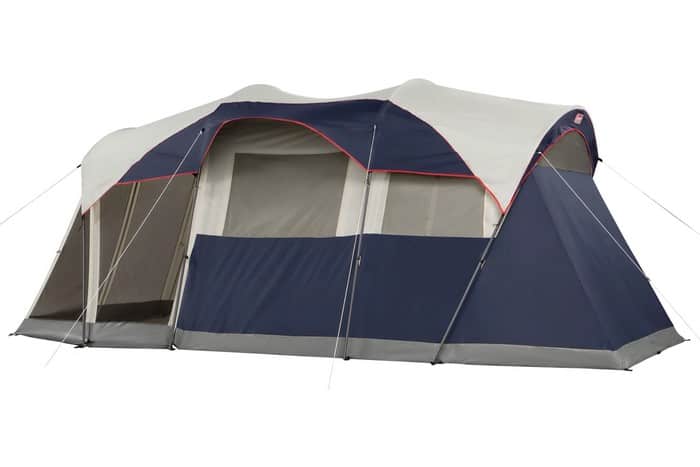 7. Coleman WeatherMaster 6-Person Tent With Screen Room
Tent Size: 6 person | Seasons: 4-season | Weight: 34.14 lbs | Inside Height: 6 ft 8 in | Floor: 11 x 9 ft & Screen Room 9 x 6 ft | Setup Time: 20 mins
With the Coleman WeatherMaster 6-Person Tent with Screen Room, you can unwind while watching nature change before your eyes. This outdoor tent, which is excellent for car camping and long camping vacations, contains a separate floorless screened chamber that provides additional ventilation on warm days, safe storage, and a bug-free dining area. In order to keep you dry, this camping tent is built with the WeatherTec system, which contains unique welded flooring, inverted seams, and a rainfly for added weather protection.
The tent has storage pockets to help you keep your belongings organized and has space for two queen-size airbeds. The curved windows increase air flow while keeping water out. An E-Port makes it simple to bring electrical power inside your tent, and a hinged door makes it simple to enter and exit the tent. This 6-person tent will withstand season after season thanks to its sturdy Polyguard fabric construction. Tent camping year round requires one of the best tents for camping.
A hinged door with a pending patent offers simple access and exit as well as a little bit of at-home convenience. There is enough room for the entire family in the Coleman WeatherMaster 6 tent, which features two rooms. The 17 by 9 (W x D) footprint and 6 ft. 10 in. center height make it easy for up to six campers to sleep inside. Easy access is provided by two doorways. A second floorless covered room offers additional cooling on hot days, a fantastic location for meals and gatherings, rain or shine, and secure storage.
Through the use of Variflow adjustable airflow, a vented Cool-Air privacy Port, a privacy vent window, and an all-mesh ceiling, Coleman's Comfort System offers great ventilation control. An inside gear pocket makes it easy to keep things organized, and a handy electrical access connection makes it possible to connect a cord from your inside-the-tent item to an external power source. Two color-coded poles, continuous pole sleeves, shock-corded fiberglass poles, a distinctive pin-and-ring design, and InstaClip attachments make setup quick and easy. Simple instructions are stitched inside the carry bag's handy pocket, and additional stake and pole bags are also provided.
The Coleman WeatherMaster 6-Person Tent can be set up in about 20 minutes, and it can be packed away safely in the expandable carry bag that comes with it. You can easily pack the bag by tearing away the rip strip.
PROS
Roomy tent with space to spread out
Brilliant mesh pockets for handy storage
Awesome screen room protects you from bugs
Well-made construction should last
Hinged doors are SUPER convenient
CONS
Setup could be a lot quicker
The tent stakes could be better
Might get chilly in cold weather
Enjoy bug-free lounging and extra ventilation in a separate screened-in room that also offers an additional sleeping area on warmer nights. For living outdoors full time, this is one of the best tents for camping.
8. Danchel Outdoor 8 Person Large Lightweight Yurt Tent
Tent Size: 8 person | Seasons: 3-season | Weight: 30 lbs | Inside Height: 10ft | Floor: 16 x 4 ft | Setup Time: 20 mins
Check out the Danchel Outdoor 8 Person Large Lightweight Yurt Tent if you're looking for a simple entry point into the world of canvas tents. It is considerably lighter and less expensive than canvas while still providing the same remarkable breathability. Fabric made of 300D Oxford is used to achieve this. Given that Oxford is a form of cotton blend, it falls in the middle of synthetic and natural canvas. Well-Ventilated. No stove jack. A door that is 60″ tall, two large PVC transparent windows on top, and four ventilation windows with mesh on the wall. When camping, take in the breathtaking scenery.
You get a lot of tent for your money with floor measurements of 16.4′. In truth, a great deal of campers were astounded by its vastness. The 10′ ceiling height also makes the offer more appealing. The Danchel Outdoor doesn't cut corners when it comes to performance, yet being far more cheap than its canvas relatives. It breathes, for example, just like a real canvas tent. The ventilation issues that might come with a synthetic option were not a problem for users. Campers living outdoors full time must have one of the best tents for camping.
PROS
Ventilation of canvas for a fraction of the weight
More affordable price tag
16.4' is a good size that campers love
Can handle poor weather
CONS
The windows can't be zipped from the inside
It doesn't cut corners when it comes to performance, yet being far more cheap than its canvas relatives. Campers living outdoors full time must have one of the best tents for camping.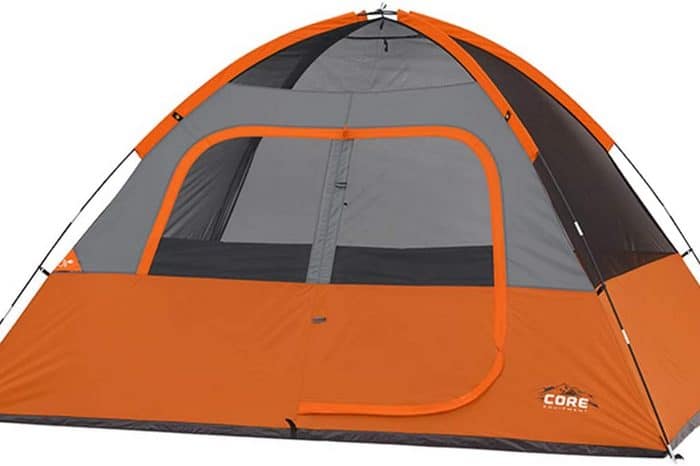 9. Dome Camping Tent 5-6 Person
Tent Size: 5 person | Seasons: 4-season | Weight: 12.7 lbs | Inside Height: 6 ft | Floor: 12.5 ft diameter | Setup Time: 7 mins
Allow us to introduce the Dome Camping Tent 5-6 Person to you if the high price of some of these long-term tents has been frustrating you. This tent opens up the world of long-term tent living to those of us without a lot of extra money, unlike some of its more pricey cousins. You're not purchasing a piece of crap, despite the price being reasonable.
One benefit of the 12.5′ diameter is that you have a respectable amount of space. However, there is not even close to adequate space for the 5–6 persons who were listed. Because of this, we suggest this tent for couples or singles, especially if you intend to stay in it longer than usual.
This Dome Camping Tent's ability to be converted into a screen room is one feature we adore! That's correct; except from the floor, the tent is entirely composed of mesh when the rainfly is removed. This should help you feel less constrained on the days when you're getting a little bored of living in a tent. When you need to leave your tent walls while still being bug-free, just open the fly. One of the best tents for camping and living outdoors full time.
PROS
Much more affordable option
Transforms into a giant screen room
Comes with colorful flags and pennants to festoon your tent with your own flair
CONS
Not the hardiest option for bad weather
The steep taper makes it tough for multiple people to be fully standing simultaneously
This tent opens up the world of long-term tent living to those of us without a lot of extra money, unlike some of its more pricey cousins. For living outdoors full time, this is one of the best tents for camping.
10. Gazelle T4 Plus Extra Large 4 To 8 Person Portable Pop Up Outdoor Shelter
Tent Size: 4-8 person | Seasons: 4-season | Weight: 56 lbs | Inside Height: 78 in. | Floor: 168″ x 94″ | Setup Time: < 5 mins
If you're sick of seeing these yurt-style tents with ridiculous, complicated setups, the Gazelle T4 Plus Extra Large 4 to 8 Person Portable Pop Up Outdoor Shelter is something to think about. You are, after all, here to camp, not to establish a base camp, correct? The pre-assembled hubs are responsible for the quick setup. The roof and corners only need to be popped out, according to this. Bam! immediate safety.
This has been dubbed the "Taj Mahal" of camping by some campers. Given the 7.8 x 14 ′ floor plan, they are probably not exaggerating. It makes a little more sense to compare this tent to a castle once the 6.5′ standing height is taken into account. Overall, users were quite happy with the build and praised its sturdy feel, which they claimed outperformed the department store's low-cost rivalry. For living outdoors full time, this is one of the best tents for camping.
The Gazelle T4 has also had a few opportunities to demonstrate its abilities. It resisted all but the most corrosive blows while being buffeted by gusts of 40 mph. This tent can therefore take a lot of abuse, although it is not completely bombproof. Last but not least, this tent also includes a separate screen room. Even better, you can use a room divider to divide it off when you just need a little privacy from your long-term roommate(s).
PROS
Instant setup
Hardy construction withstands most of the poor weather
Lots of storage options; 2 gear lofts, storage wall nets and pockets
Bathtub floor protects against rain leaks
Screen room can be separated with a room divider
CONS
Can handle a lot of rough weather, but isn't the best for extreme conditions
---
You May Want to Join Our Boondocking Group on Facebook For More Information
You May Want to Join Our Campfire Recipes Group on Facebook For More Information
Check Out Our Pictures On Instagram – Our Big Escape.