These unique traditional Icelandic food recipes are somewhat limited because of the shortage of food resources. However, that hasn't stopped the Icelandic people from crafting delicious meals from the few ingredients they do have access to.
Jump to the Recipes: Our 15 Traditional Icelandic Food Recipes For You To Discover
What Is Unique About Icelandic Food?
Due to its unusual geographical location, Iceland has developed a particularly interesting culinary culture. This country in the North Atlantic remained comparatively unconnected. Its remote location on the edge of the Arctic Ocean and the harsh reputation of its Viking residents both played a role in this.
Iceland is an unforgettable place to visit. It's hardly surprising that Iceland has become one of the most well-liked tourist destinations in the world given the abundance of breathtaking scenery, charming fishing towns, and spectacular architecture. One part of Icelandic culture, however, can be appreciated without ever having to visit the nation. The excellent Icelandic cuisine.
Lamb, dairy products, and fish are the three main ingredients of traditional Icelandic cuisine. The Icelandic cuisine is heavily based on fish in particular. After all, Iceland is an island, so this shouldn't be a surprise.
Icelandic food dishes are becoming more widely available in supermarkets and restaurants globally as a result of Iceland's appeal abroad. Some of the most well-known meals from Iceland are skyr, thorrablot, and hangikjot. Traditional Icelandic food recipes have been combined with ingredients from throughout the world to create a modern Icelandic cuisine.
Discover the Delectable Icelandic Foods
The country of Iceland isn't known for its abundance of food resources, but that hasn't stopped the Icelandic people from crafting delicious meals from the few ingredients they have access to. From fermented shark meat to smoked lamb and reindeer, Iceland offers many delectable dishes you must try if you travel there. But you may wonder what that unique delicacy Iceland is best known for?
First, Iceland is located where the seafood is exceptionally fresh, highly available, and of outstanding quality. So Icelandic food is perfect for you if you love seafood such as lobster, fish, shrimp, squid, or other sea creatures. You can get this from any restaurant all over the island and not just one type or kind, so no matter your tastes, you will find a type of food from Iceland that pleases your palate.
Secondly, food from Iceland is one of the healthiest meals on the planet because of how healthy most of the ingredients are. For example, much of the cooking oil used in Iceland is fish oil which has been shown to lower cholesterol levels and increase brain function while providing essential omega-3 fatty acids.
On top of that, a lot of the foods consumed are organic without pesticides or herbicides, meaning they are more natural than other meals around the world. In fact, all the vegetables found in Iceland are fresh, clean, and environmentally friendly. Therefore, Icelandic food might be right up your alley if you're a vegetarian, gluten-free eater, or just someone who wants to eat something healthier.
Lastly, the Iceland daily products have a mouth-watering flavor profile with spices and herbs that make them irresistible even before you take a bite. No additives or preservatives are found in these goods, so by consuming them, you will be getting the freshest flavors possible without any strange aftertaste whatsoever.
5 Most Popular & Somewhat Unique Icelandic Foods
1. Smoked Lamb
This Icelandic food is a flavorful meat from the sheep popular in restaurants and at home. The lamb can be smoked, roasted, or boiled and is typically served with potatoes, vegetables, and sauces like horseradish or garlic mayonnaise. The delicate smoke flavor is the perfect addition to any meal.
2. Dried Fish / Hard Fish
Icelandic dried fish, called hard fish, is a delicacy made by catching cod and then sun-drying for some months. It is a low carb, high protein, and low-fat food that has become very popular for people who are dieting or have diet restrictions. This might be a strange meal, but it has been a healthy snack for Icelanders for centuries. They often eat it with butter, cream cheese, and other favorite snacks like smoked salmon and rye bread.
3. Icelandic Meat Soup
A traditional soup that originated from a time when much of Iceland was wild and uninhabited. The meat from hunted animals would be cooked in water with vegetables and barley flour, creating a simple and hearty meal to fill bellies after long hunts. The soup can also be modified for modern tastes by adding ingredients like potatoes, leeks, onions, herbs, or spices.
4. Humar – Icelandic Lobster
A delicacy found in Icelandic waters, lobster is a unique and tasty food that is both affordable and healthy. The lobster meat is often prepared with butter or garlic and can be served as an appetizer, main course, or snack.
5. Fermented Shark
Shark meat is a popular food in many countries and cultures, but few prepare it as uniquely as Icelanders. They prefer to ferment their shark to create hkarl, which has a powerful smell that not everyone enjoys. The cooking process may be unusual, but it makes for some interesting flavors.
FAQs About Icelandic Food Recipes
1. What is the National Food in Iceland?
Lamb is one of the most popular dishes on the island, while traditional Icelandic cooking often includes fish, potatoes, vegetables, and mushrooms. Other foods popular in Iceland include skyr (strained yogurt), reindeer, and puffin.
2. What do Icelanders Have for Breakfast?
Skyr with jam, thick oatmeal, cod liver oil, or bread with butter is a typical breakfast in Iceland. People also love cod liver oil, a staple during winter because it gives your body warmth and a high source of vitamin D.
3. Is Icelandic Food Healthy?
Icelandic cuisine is healthy and wholesome. The main staples in Icelandic recipes are fish, lamb, skyr, potatoes, and cod liver oil.
4. What Fruit is Native to Iceland?
Icelandic tomatoes, bilberries, crowberries, strawberries, redcurrants, and brambleberries are all available year-round.
5. What Exactly Do Icelanders Eat?
Fish and meat are followed by more fish and meat. The Icelandic cuisine is mainly centered on proteins, with lamb and fish being some of the most popular options because of the country's environment and growing season limits. Additionally, dairy products are significant in Icelandic cooking. Even their own brand of yogurt, known as skyr, exists there.
Our 15 Traditional Icelandic Food Recipes For You To Discover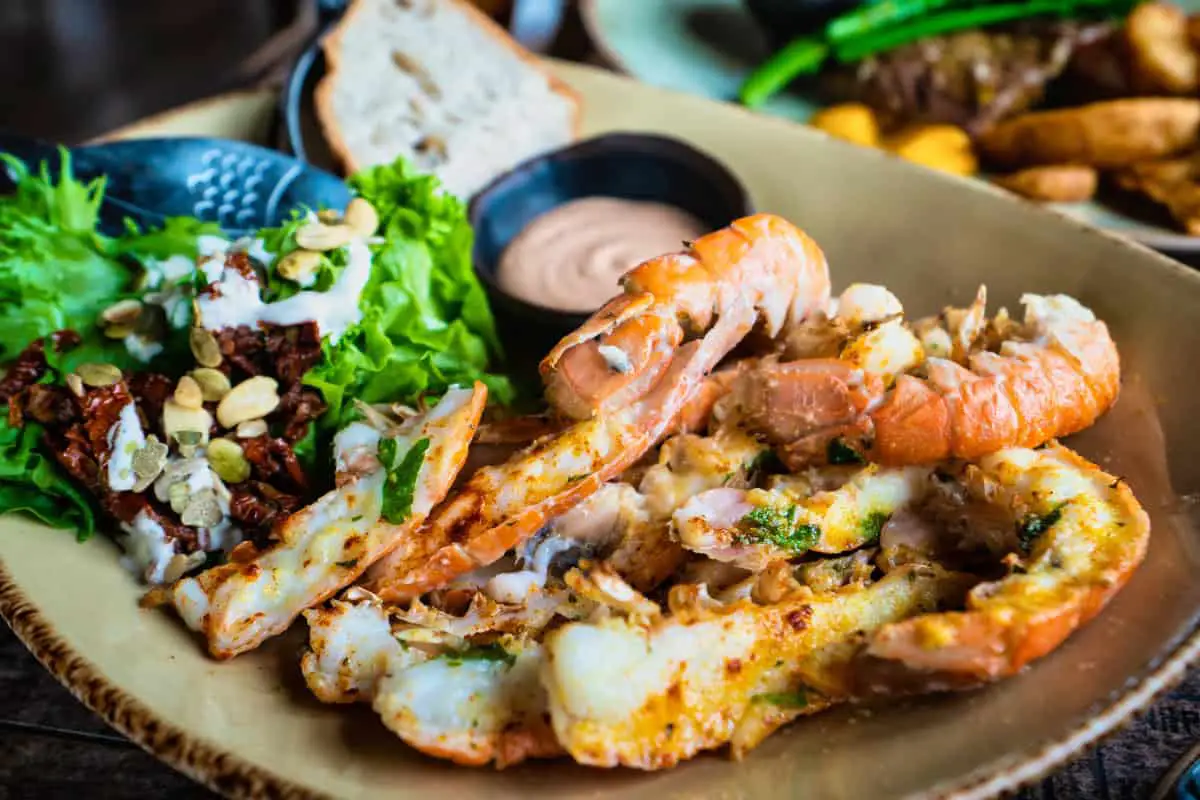 This Icelandic recipe is a traditional favorite, creamy soup in Iceland that can be found served at restaurants throughout the country. In Iceland, the Langoustine Bisque gets its unique flavor by first creating a fish stock made from Langoustine shells (but you can also use shrimp, prawns, or lobster), that are simmered with a few other fresh ingredients to create a flavorful reduction.
This Icelandic Langoustine Bisque is a creamy soup and a take on a traditional Icelandic classic that is commonly enjoyed during the holiday season, and is most similar to a lobster bisque that would be served here in the USA. While in Iceland Langoustine's are used to give this soup its unique flavor, you can also substitute them for shrimp, prawns, or lobster that are local to your region.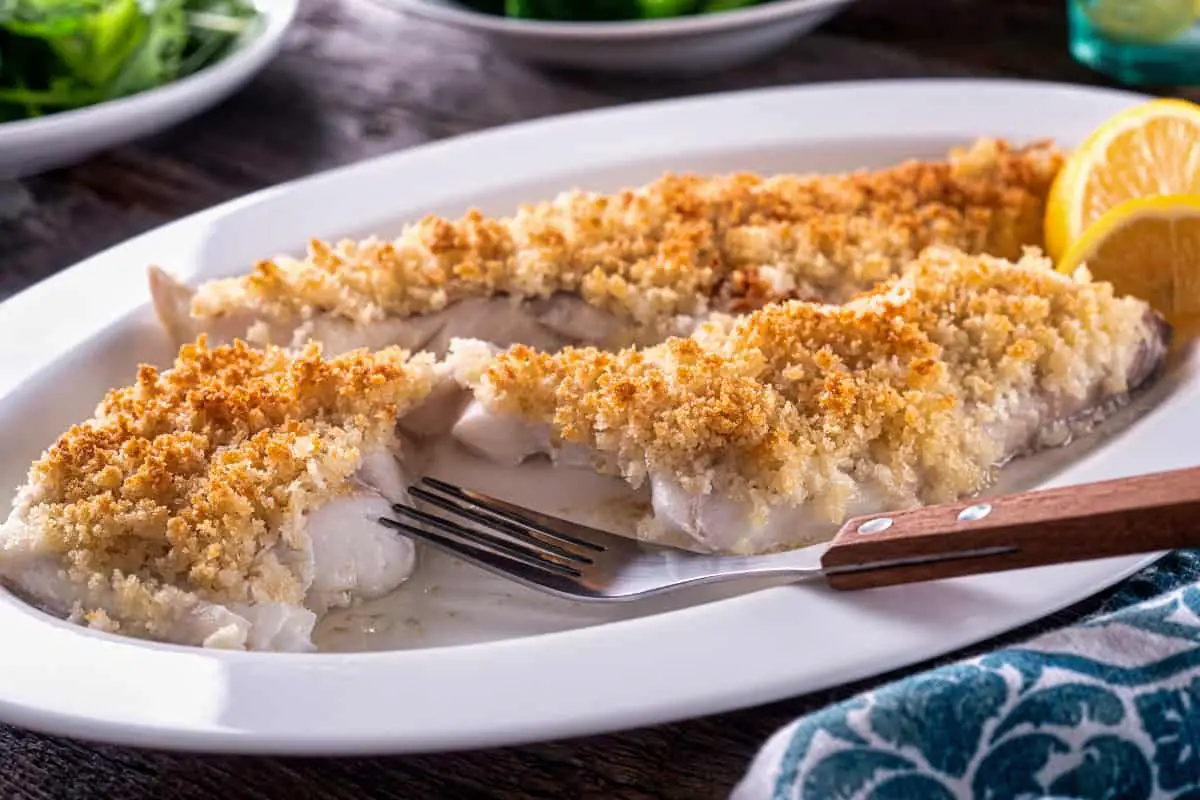 Fish is hugely popular in Iceland. The country is literally surrounded by water. This classic Icelandic recipe is all about the delicious baked fish that can be found gracing the tables at many homes throughout the country. It's simple and easy to make and goes great with just about anything.
---
You Might Also Try My 15 Favorite Traditional Norwegian Recipes
---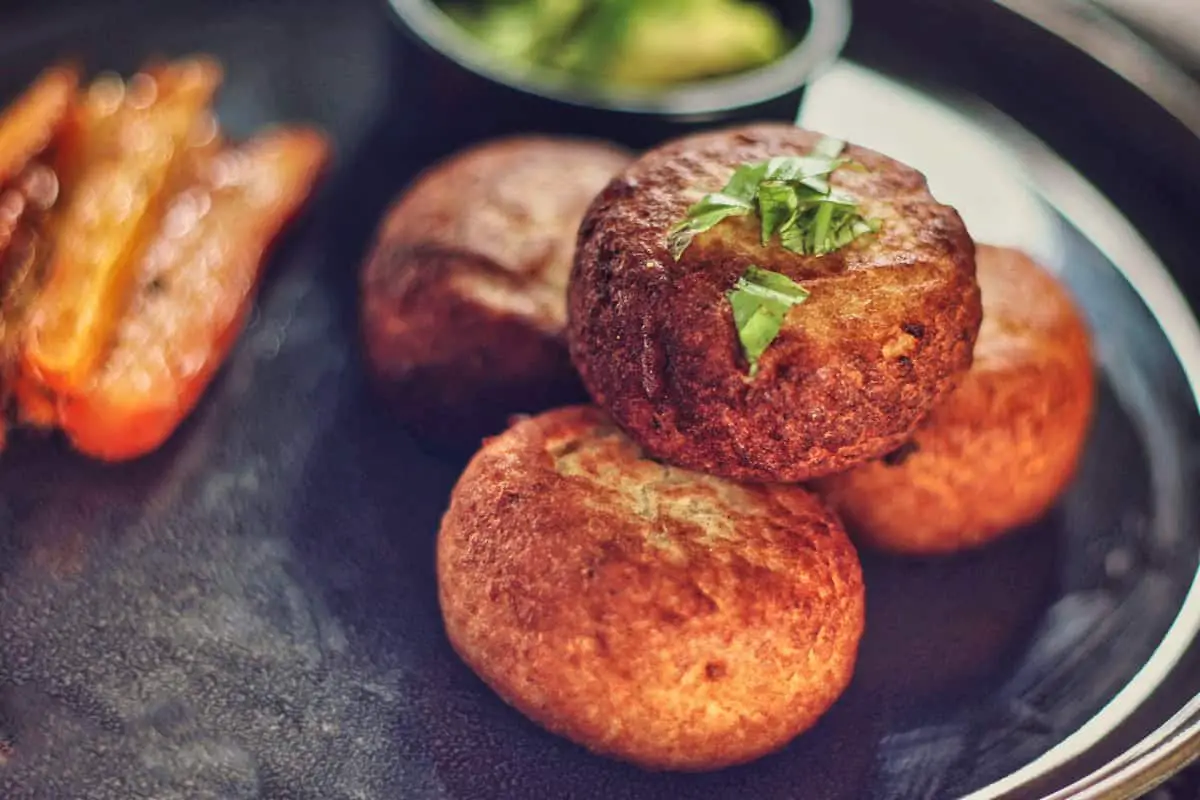 Made from a firm white fish, onion, salt, eggs and flour, fiskibollur is more of a croquette than a meatball. Fried in butter with a crisp shell and a light, airy yet creamy interior. Icelandic recipe is traditionally served with Kartöflur í jafningi (potatoes in white sauce). Try making these smaller and serving them as an appetizer! I finish off my fiskibollur with some Icelandic flake salt. It's the perfect finish.
Add some fresh herbs to fiskibollur, typically parsley but dill is nice also, you could also add some minced garlic. This recipes makes a good size amount, you could easily half it but I like to make this full Icelandic food recipe and freeze them. They reheat in the oven perfectly.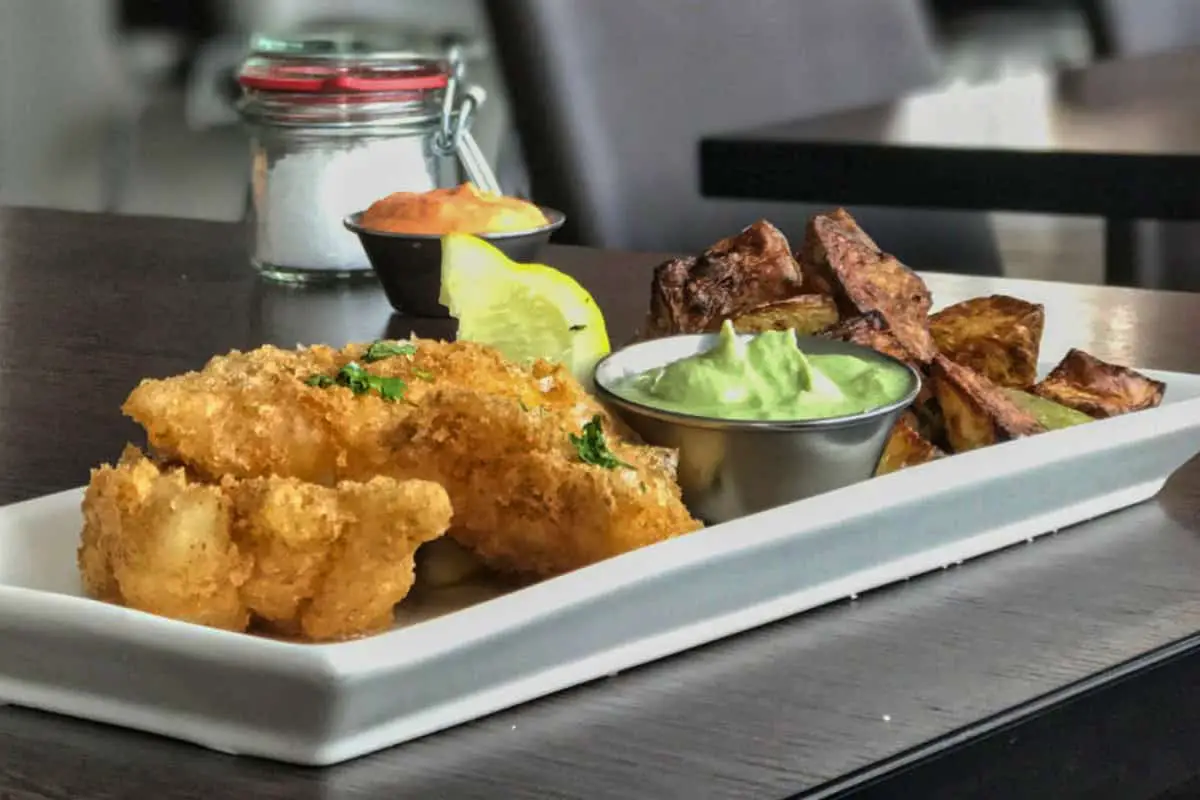 Fish and chips have become quite a thing in Reykjavík. You'll notice that their 'chips' are not deep-fried – this makes producing fish and chips at home a lot easier as you only have to concentrate on the fish – and that they use skyr, an Icelandic product a bit like yogurt, as the base for their version of tartare sauce. The spelt flour and ice-cold water make for a light batter on the fish. One of the traditional Icelandic food recipes at its best.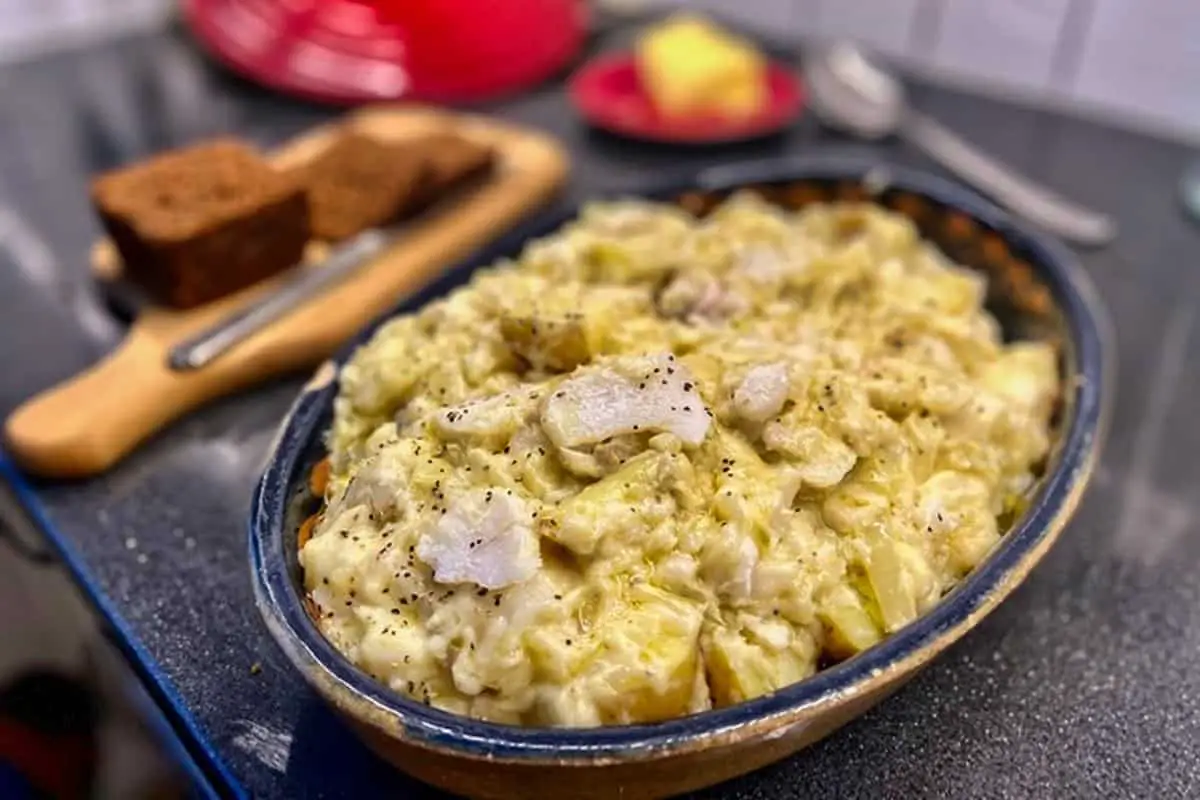 I quite often bake my fish this way. Easy & simple, nothing fancy, but we like the result. I actually do not even measure the ingredients for this Icelandic recipe anymore and just throw it together, but these are the original measurements. Sometimes I add a little lemon juice or lemon pepper seasoning and top it all off with a sprinkling of parsley for a little color
---
You Might Also Try 25 Great Traditional Swedish Recipes and Food (2022)
---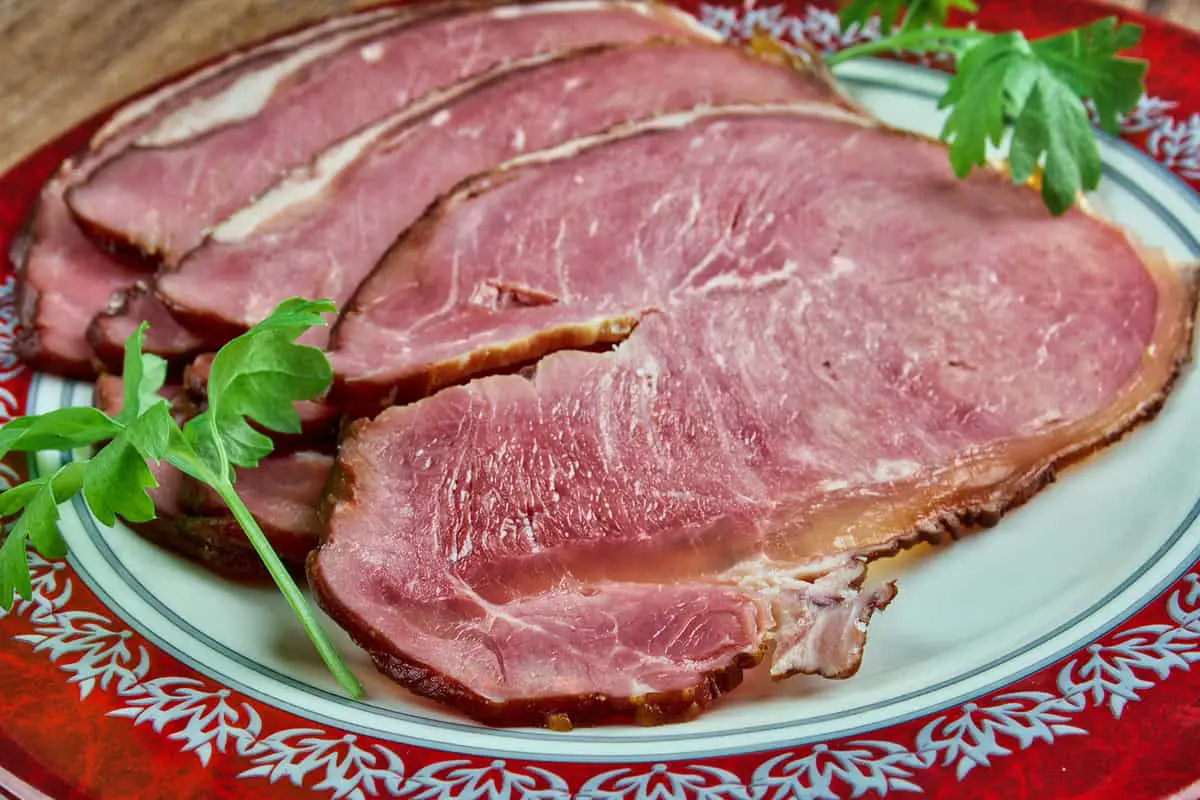 The word "hang" in the name means hanging lamb on the smoking birch wood. However, this Icelandic food dish uses another smoking method: a mixture of dried sheep dung and hay, called "Tadreykt".
Hangikjot is not only famous for its spectacular flavor but also helped the Icelanders through the Little Ice Age since smoked meats can survive for a long time. Nowadays, it often appears in lunch meals, with Flatkaka and Icelandic sauces.
Cold nights are perfect for enjoying Icelandic Lamb Stew with meltingly tender meat. Searing then slow-roasting in the oven brings out a rich and savory meaty flavor. Icelandic lamb is a wonderfully flavorful, exceptionally lean meat from animals raised with no antibiotics, ever and no added hormones. Pesticides and herbicides are seldom used in Iceland where the climate naturally protects the land. A traditional Icelandic food recipe at its best.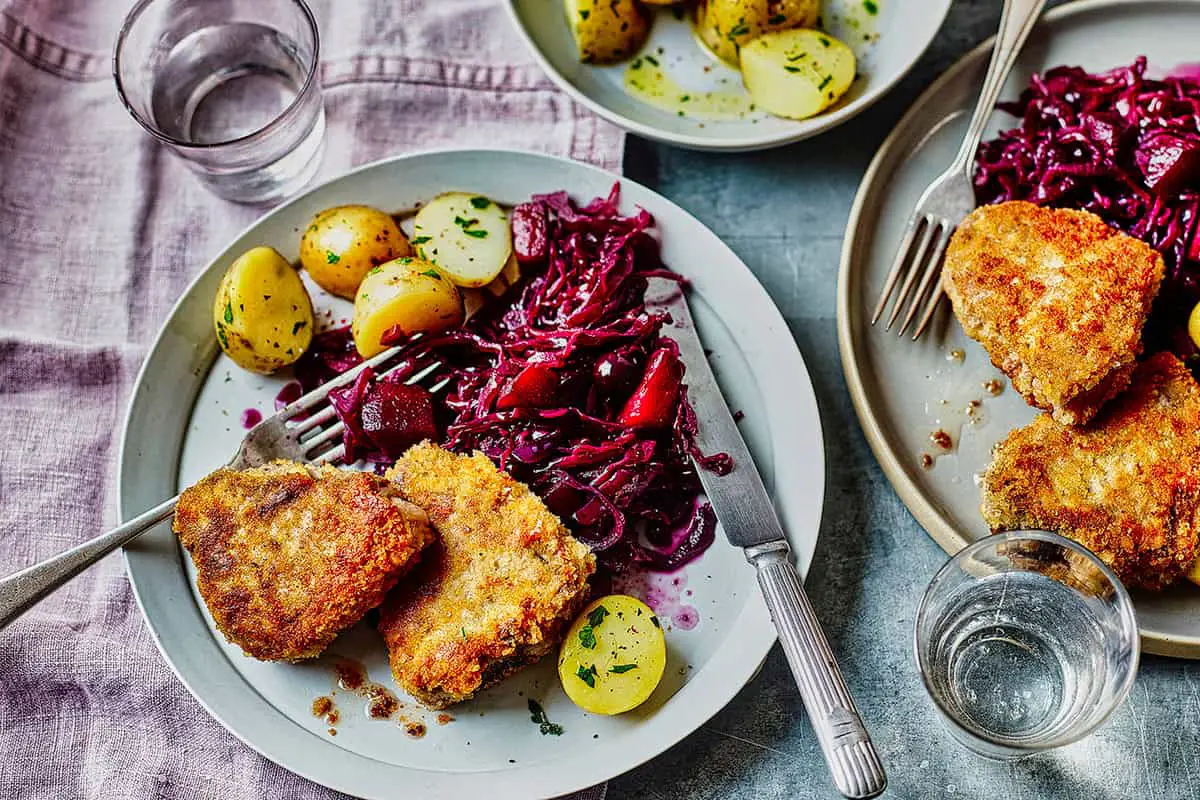 This easy Icelandic recipe of breaded lamb chop. Serve alongside a big bowl of homemade spiced red cabbage for a delicious treat. This simple Icelandic food recipe produces beautifully tender lamb coated in crisp breadcrumbs and a healthy serving of warmly spiced red cabbage. Cooking lamb chops in breadcrumbs is almost the most common way of preparing them in Iceland.
---
You Might Also Try 32 Top Traditional Scottish Food & Scottish Dishes
---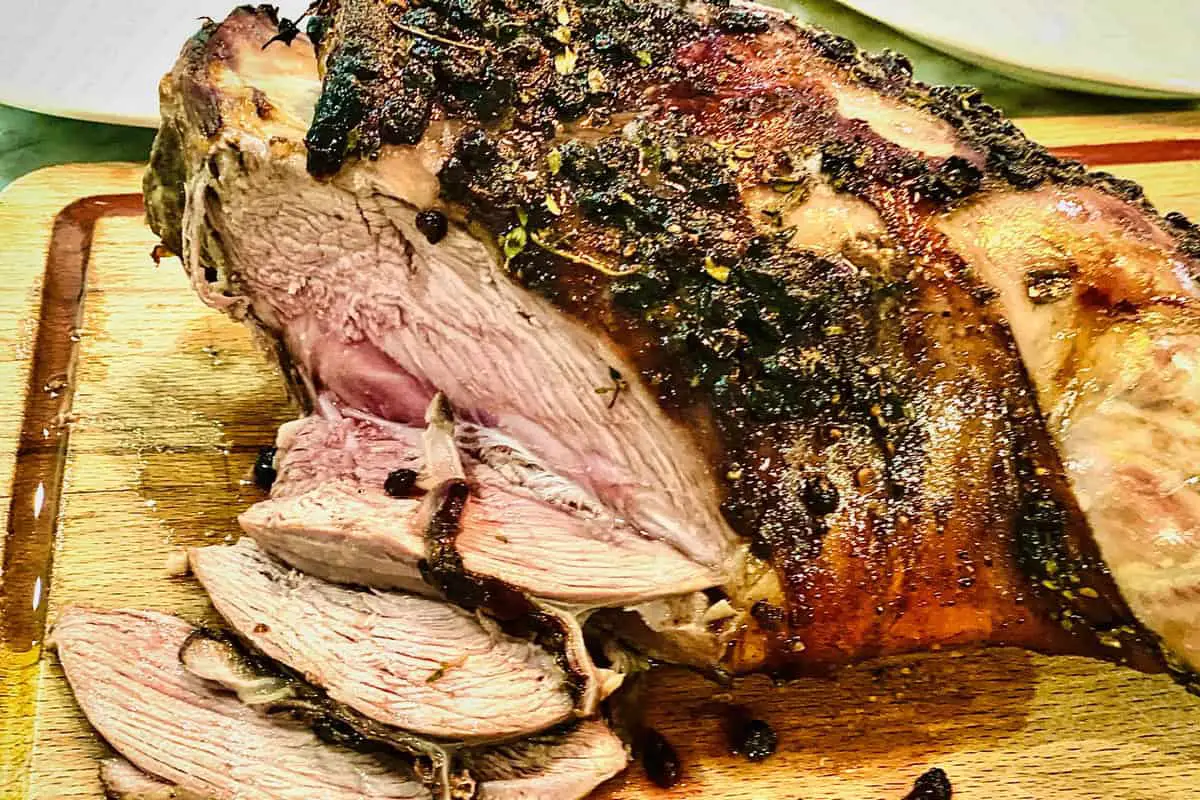 In Iceland it's very common to marinate lamb with blueberries, as they can be found growing all over the countryside. Sometimes people confuse them with the Icelandic crowberry, but the blueberry plants can be identified based on their red leaves. You can find blueberry marinated lamb in most Icelandic grocery stores, but a homemade marinade is always best!
Finally, serve with gravy, gratin potatoes and your favorite vegetables. As per Icelandic recipes tradition, we always include red cabbage and green peas. I wouldn't dare 'rock the boat' or Viking ship rather and include other vegetables. This is Icelandic tradition!!!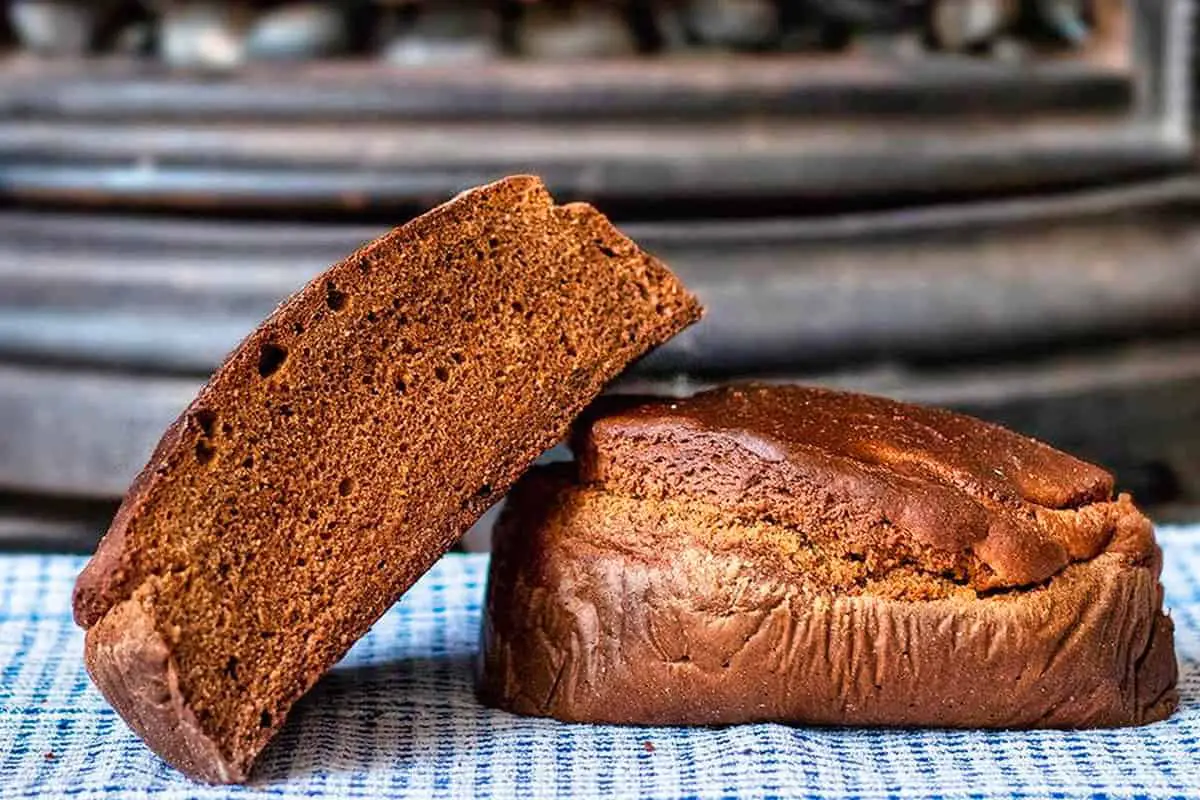 Rugbraud can be prepared in one of two ways by the Icelandic settlers: overnight baking in a pot set over dying embers, or by burying it close to a hot spring and steaming it, which earned it the moniker Hverabraud, or hot spring bread.
Regardless of the manner of preparation, this Icelandic food often has a thick texture, no crust, and a mildly sweet flavor. These days, it's frequently served with butter or a smoking lamp known as a "hangikjot" in Iceland.
But many inventive sweet dishes in Iceland also use stale Rugbraud into a porridge known as "Braudsupa" — bread soup. Rugbraud pieces will be soaked first, simmered with raisins and other ingredients while adding flavorings, and then served hot.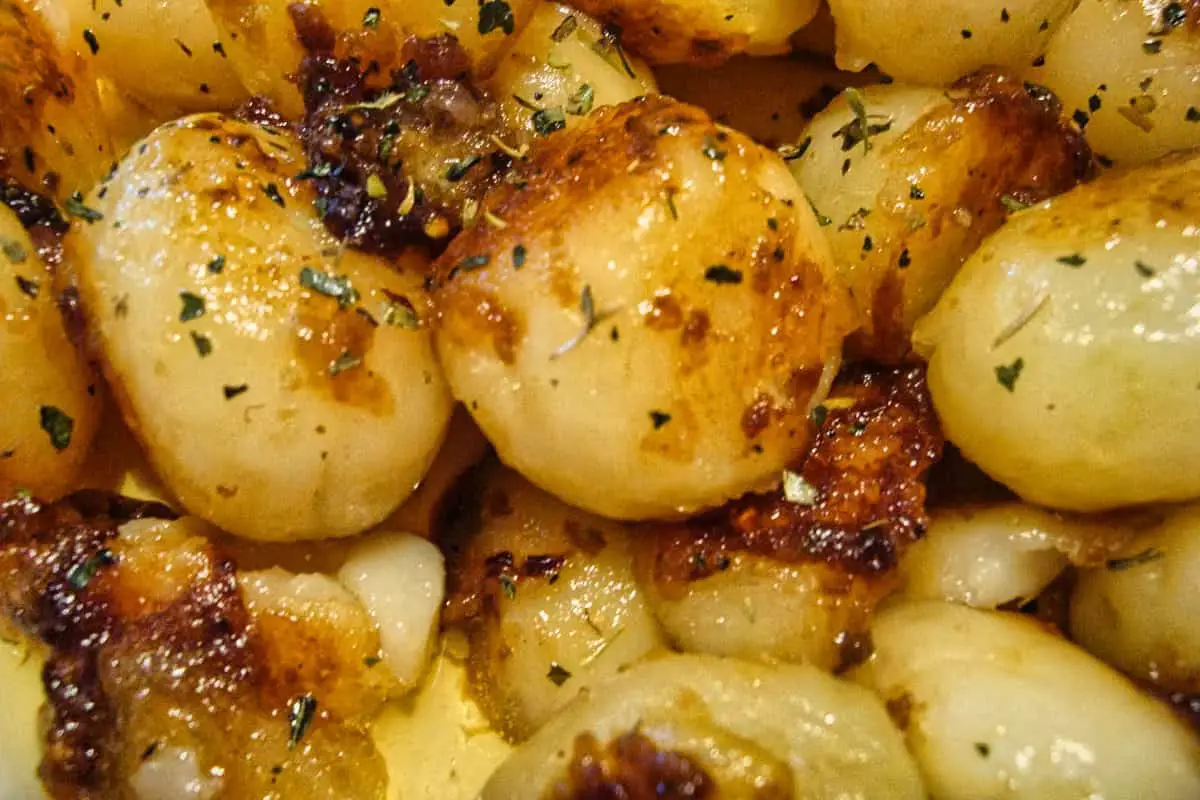 Icelandic caramel potatoes, known as Brúnaðar Kartöflur. One of the best sweet traditional Icelandic food recipes for side dishes served with roasted or pan-fried meat. It's a great alternative to the traditional roasted potato. An absolutely delicious side-dish, Icelandic caramelised potatoes compliment any roast meal. Traditionally, it is considered a particularly delightful addition to a shoulder of lamb and purple cabbage.
---
You Might Also Try 33 Easy Recipes for Traditional England Foods To Eat
---
Flatkaka is a rye pan-fried flatbread, which usually comes with line patterns of the iron cast roasting pan. It was believed to have first appeared in the ninth century and was baked on hot stones or direct ember heat.
The signatures of Flakaka include a thin round shape, soft texture, and made without yeast. Nowadays, this delicious Icelandic food is made by frying in a cast iron pan and is also usually served in a quarter or half with mutton pate or smoked salmon.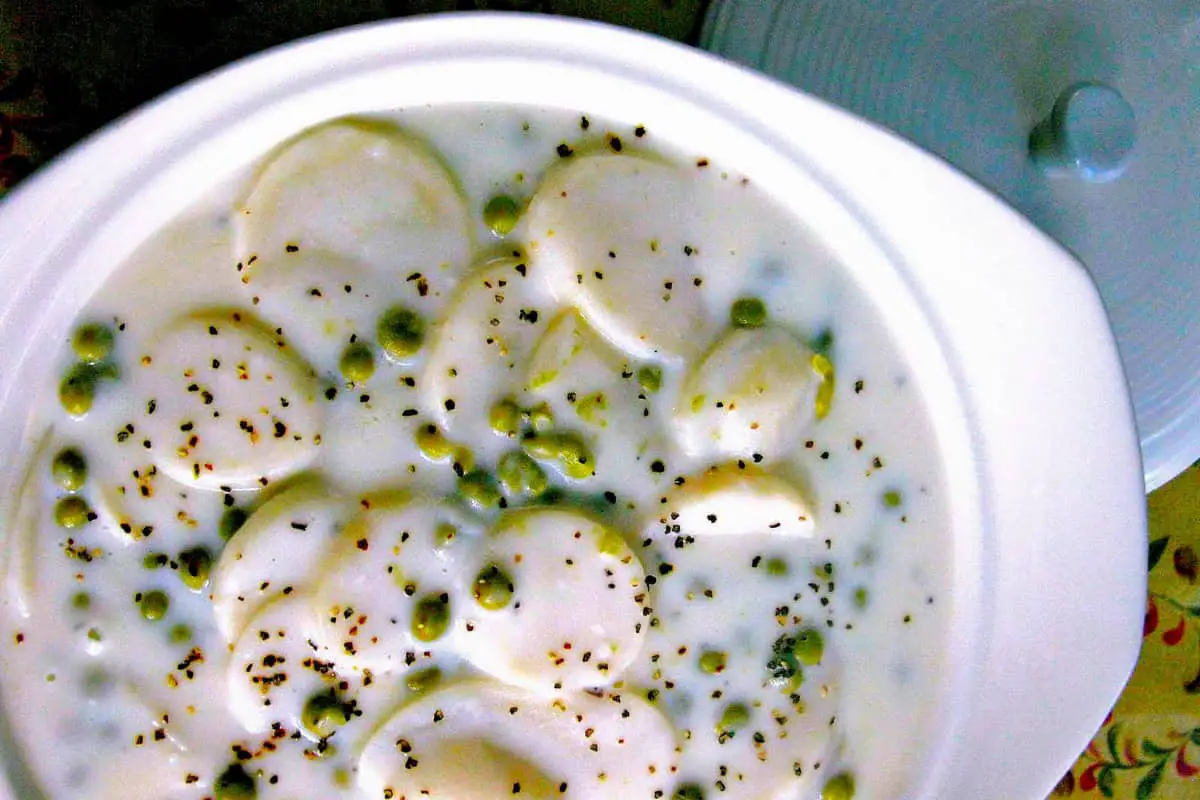 Boiled potatoes are a staple side dish in Icelandic cuisine and almost always were served with a white sauce. A Béchamel Sauce, one of the French Mother sauces. I had an affinity to mix my peas in with my Kartöflur í jafningi. Now I sometimes just serve them already together. Because I served this Icelandic food recipe with Fiskibollur and I added fresh dill, so freaking good.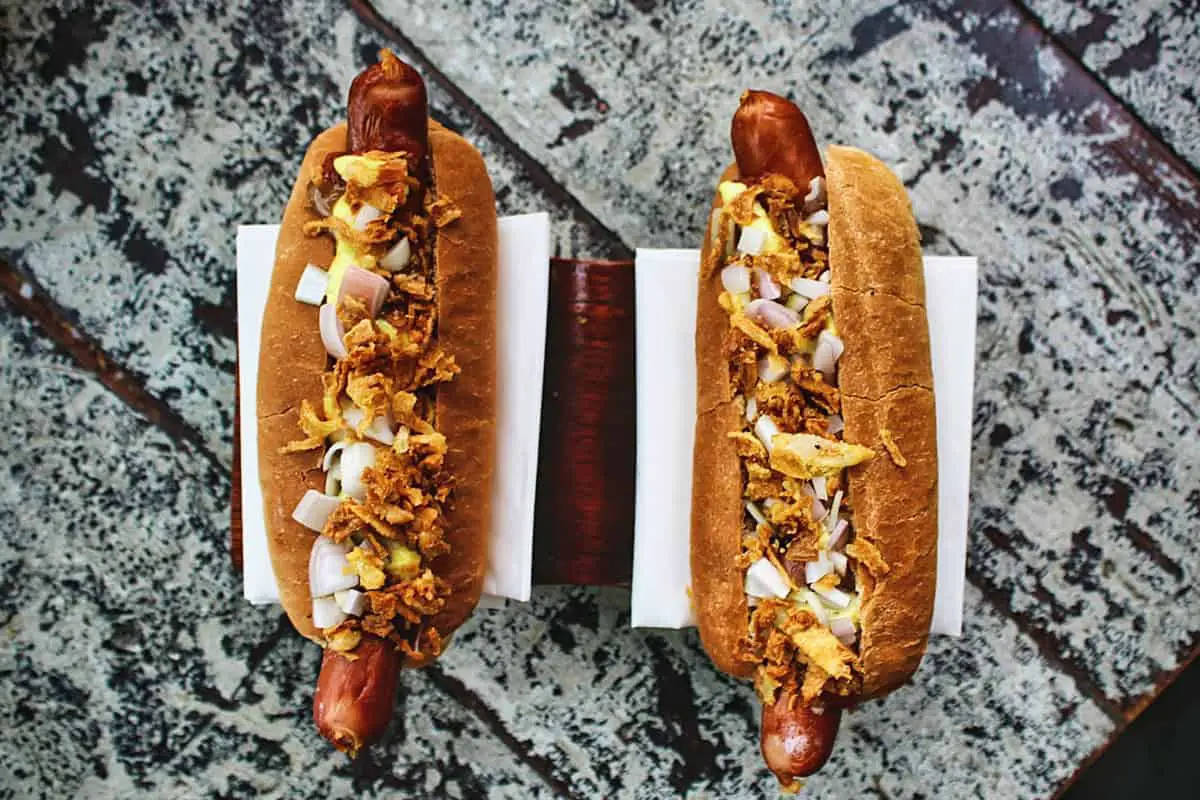 It's the Icelandic hot dog and sauce that make its fame. Traditionally, the hot dog contains equal parts of pork and beef or lamb. Pylsa comes with multiple sauces, but Icelandic sweet mustard sauce is a major choice.
You'd better order an "Ein Med Ollu" Pylsa to get all the ingredients, including raw onion, crunchy deep-fried onion, Icelandic mustard, and remoulade sauce. Simple traditional Icelandic food recipe at its best.
---
You Might Also Try 32 Heartwarming Traditional Irish Food & Recipes
---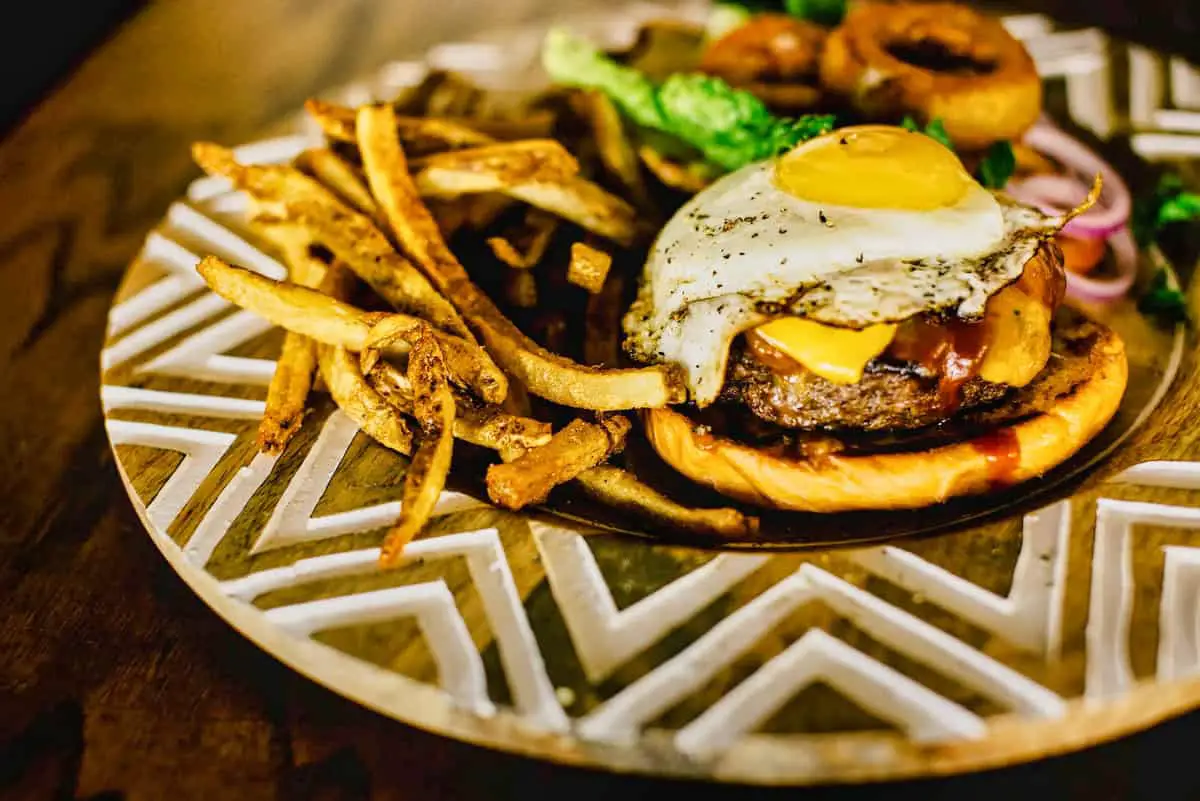 Although Icelanders consider shark meat their country's traditional cuisine, in reality, the truly traditional Icelandic food is the old-fashioned, fat and greasy hamburger. For decades, you could not travel around the country and buy anything else than a sloppy, slightly overcooked burger. And you had to have coleslaw and kokteilsósa (Icelandic cocktail sauce) on the side if you didn't want to be perceived as a traitor.
---
---
For complete photos and videos of our trip, visit us on our Instagram Page
You May Want to Join Our Boondocking Group on Facebook For More Information
You Can Check Out Our International Recipes On Our World Recipes OBE Instagram Page