The Budget Georgia Travel Guide includes 18 Important Travel Planning Tips that will allow you to see and do more on your budget. Learn how you can benefit.
Welcome to the Georgia Republic Travel Guide! Ten years ago you would struggle to find many people who chose to visit the Georgia Republic for fun. Perhaps the occasional hardy or eccentric backpacker may have dropped by from Turkey or Armenia – but other than that, the country was barely on the tourist map. Roll on to today and the Georgia Republic is one of the most popular 'secret' travel destinations out there, and certainly the most visited country in the Caucasus region.
Eight million visitors last year – double the national population – explored the rich heritage and beautiful landscapes that can be found here.
Now is an interesting time to visit. There are not many countries that are still so relatively 'unexplored' yet also surprisingly accessible and affordable. Feeling tempted to take a look for yourself? The Georgia Republic Travel Guide will explain the bests sights to see, and also talk you through some of the most essential practicalities for visiting this fascinating gem of a country.
What Are the Best Places to Visit in Georgia?
Not many capital cities are quite so laid back as Tbilisi. Despite the gradual encroachment of modernity throwing up some pretty garish new buildings, this is still a place where you can walk around and cross the road pretty much without checking for any traffic. Take a cable car to the surrounding hillsides and you'll quickly gather that this is no metropolis! Instead, it has an almost provincial air that may remind many visitors of some of the smaller Czech and Hungarian towns.
Don't be mistaken into thinking that you'll grow tired quickly – there is plenty to discover once you have scratched the surface. Allow plenty of time to explore the ancient Narikala castle that still dominates the city, the Jvari Monastery, Svetitskhoveli Cathedral and a scattering of national museums. Call it crumbling – or endearingly characteristic – but this is a wonderful city to explore at leisure. Allow 2/3 days at least.
Mtskheta is probably the second most significant destination in Georgia – and as you'd expect with a 4,000-year history – there is a fair amount to take in! It is the religious capital of the country – and you are well-advised to wear your Sunday best when visiting – but don't think this is just another place to roam between churches and tombs. It is very compact and the surrounding terrain is extremely simple to navigate and explore. Head out for just a couple of hours to enjoy some absolutely gorgeous views, especially from close to the Jvari Monastery.
Still in the mood for some monastic sights? The good news is that you'll find some rather unique examples in Vardzia. Set deep inside the caves and mountain walls, this is a destination quite unlike anything else. It is eerie and entrancing at the same time, and you can't but help to expect to bump into a Tolkeineqsque dwarf or orc every time you turn a corner! Keep an eye out for Vardzia – it's bound to be a set on some big money fantasy epic sooner or later. Make sure this is a feature on your Georgia Republic touring itinerary – if it were pretty much anywhere else it'd be attracting millions of tourists a year.
Rock fortresses and monastic ruins tend to be pretty common throughout this country but, most people who visit Georgia do so to take in the incredible scenery and natural splendor. From Tbilisi, you really cannot go far wrong as there are interesting places well worth exploring in any direction. Uplistsikhe over in the east – a couple of hours train journey from the capital – is a famous 'cave city' that is again one of those destinations that deserve to be so much more well known.
Dating back hundreds/thousands of years depending on which part you may find yourself, the amazing thing is that it is actually still a functioning township. It just happens to largely be accessible only by tunnels!
When natural and cultural wonders get a bit too overwhelming, perhaps consider a trip to 'Georgia's Vegas' – the coastal city of Batumi. Glossy, glitzy, kitschy and thoroughly tasteless – it is actually amazing fun for a night or two, especially if you can keep your wits around the many local casinos. It also has a 'killer' soviet era Ferris Wheel. Needless to say, the famous Georgian wine is served pretty much everywhere – and then, after a couple of days, you'll need to head back out to somewhere more tranquil to cure that throbbing head.
Svaneti is perhaps the most beautiful part of Georgia – but that's a subjective call and one we'll make simply because we're suckers for snow-topped mountains and a sense of real remoteness. You'll need to travel by road to get here, but it is worth the logistical hurdle. If you love the great outdoors then this is the perfect place to relax and roam for a few days. Head out for some day hiking and you're pretty much certain to be the only visitor in the villages. Make the most of the classic Georgian hospitality!
We could continue describing the many parts of Georgia also worthy of a mention, but the Ultimate Georgia Republic Travel Guide doesn't like to make checklists. What we can say with absolute confidence is that Georgia is the perfect destination for those who like to wander off the well-trodden paths a little. You'll find so much to see in this country that it can be a little bewildering. As ever – just go with the flow – and head wherever your fancy takes you. There's always something worth seeing.
What Are the Best Things to Do in Georgia?
You could follow an organized script/itinerary when exploring Georgia – but frankly, you're better off allowing for plenty of flexibility so you can chop and change plans as you go. Unless you have an obsessive checklist for monasteries and fortresses – and fair enough if you do – there is not much point sticking to a more organized structure. Part of the fun of visiting Georgia is that despite the country becoming far more popular with tourists quite recently, it is really unspoiled.
You will not find much in the way of tourist facilities outside of the key attractions – which means you have no choice but to spend some time getting to know the locals and their customs. Trust us – you'll be delighted to do so!
Something most visitors will appreciate when visiting Georgia is the low prices – and relatively decent value you'll enjoy for your money. We'll discuss this later in the Georgia Republic Travel Guide, but be assured that most visitors will not be worrying about the basic costs of living.
While the country lends itself amazingly well for outdoor activities (especially hiking and cycling) which also raises the possibility for camping, we'd recommend that you splash out more on using local accommodation options instead. Georgia is not a wealthy country and the amount you spend will actually matter!
So why is spending money a recommended activity in the Georgia Republic? Simple – it will unlock all sorts of other opportunities. Need a driver to head out towards somewhere more remote? Ask the owner of the hotel/B&B and they'll fix you up. That alone will inevitably make your day so much more memorable, as that 'locals factor' makes an enormous difference to any country tour.
Georgians are extremely friendly and hospitable towards their guests – and as something of a rarity, especially outside the central cities, you'll be offered plenty of things to do as you go. Basically speaking – it's much more interesting to spend the night in the village bar than it is to camp out underneath a tree!
You could choose to visit Georgia with some kind of project in mind. Anyone interested in photography will be absolutely blown away by how incredible this country can lend itself. From long exposure through to city shots and portraiture, not many countries are as photogenic as this – and it is again amazing how few people have so far taken advantage of this fact.
The same can be said for cycling tours. Georgian roads are a 'mixed bunch' to put it politely, but the terrain makes for endless fantastic rides with astonishingly beautiful scenery. Even the occasional soviet era mine and/or factory district is interesting in its own ways.
Should you have a stricter timescale to explore Georgia, why not try and track down all of the most famous forts (they are incredible!) and make your way around by train or bus? If you have the money (and not necessarily very much of it) this is the kind of country where you can realistically hire a guide with a vehicle for the day.
When it comes to tours, look through your options carefully. Georgia is lucky in some ways that much of the fledgling tourist economy is being led by entrepreneurial, young, educated Georgians. They understand the importance of a good quality walking/cycling/bus tour to making their country more accessible. Some of these are outstanding value and heartily we recommended them as ways of getting to know the country better.
Check out your options online and remember that many of the best private tours work on a part-time basis while juggling other jobs/studies. Book the best well in advance.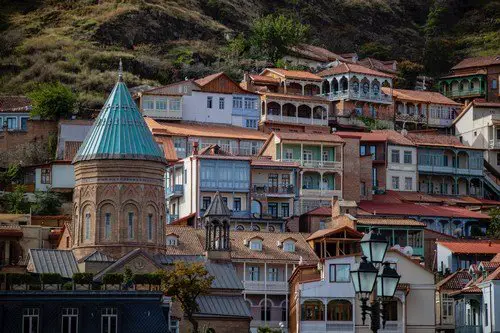 When is The Best Time to Visit Georgia?
Hot and humid summers alongside freezing cold winters are the name of the game here. We'd recommend that most visitors who want to explore the country in full and make the most of the countryside should aim to arrive somewhere between early May through to mid-July.
The weather will be warm/hot without being overwhelming. If you can handle the heat then July and August are perfectly fine – and arguably the best if you intend on properly heading up those peaks and checking out some harvest festivals. September is a good time to just catch the end of the warmer season and miss the 'crowds' (by Georgian standards).
The rest of the year is going to be a combination of 'mixed' and freezing cold! For some people, these can actually be even better times to visit, especially if snowscapes are your thing. Although there are some winter sports options in Georgia do not expect high-quality facilities, although the slopes and are a scene well worth considering.
Do I Need A Tourist Visa in Georgia?
Georgia is rather keen to project a pro-western image at the moment and this is reflected in their incredibly easy entry regulations. Citizens of over 80 countries can currently stay in the Georgia Republic visa-free for up to one year. Literally just turn up – most EU citizens can do so with just their ID card and needn't even bring a passport (although we'd recommend you do so).
If your country is not on the approved list, you'll still find it really simple to get a $20 online entry visa issued. Generally, these are only valid for 30 days, although that can be easily extended – especially if you are visiting for business purposes.
One small factor to mention – do not try and enter South Ossetia or Abkhazia from the Russian side of the border! We will discuss this and further security concerns later in the Georgia Republic Travel Guide.
Do U.S. Citizens Need A Visa for Georgia
U.S. citizens do not need a visa to enter Georgia, which simplifies entry into the country; however, a passport valid for at least six months past the planned date of departure is required.
What Currency Is Used in Georgia?
The Georgia Republic uses the Lari (GEL) that at the time of writing trades for around 3 GEL = 1 USD.
The majority of visitors will be able to enjoy a good standard of living during their stay in the Georgia Republic. You could quite reasonably get by on a budget of $50/day. Those looking to splash out more will possibly struggle to find much in the way of super-exclusive accommodation or high-end restaurants. These do exist but only in the capital and resort regions.
Although there are only a handful of typical 'hostels' available throughout the country, low-end hotels and B&Bs are plentiful and often pleasantly well situated. Attractions are very cheap, transport is extremely reasonable, and the cost of living is very low indeed. While there are cheaper places in the world this is still a country where you can expect value for money.
You may be slightly surprised to learn that it is very easy to handle your money in the Georgia Republic. ATMs are widespread in most cities/towns and should work with the vast majority of international card issuers (and offer English language translation). You may struggle to find an ATM in more out of the way places so plan for this accordingly. ATMs will usually offer the best value for currency exchange/conversion although you will find a handful of money changing options throughout the country.
Credit cards are increasingly accepted in cities although they can be much more difficult to use in more provincial areas. We advise that visitors make the most of their cards where possible but do not rely on them exclusively. The Georgia Republic tends to be open to haggling in most contexts (especially discounts for rooms over longer stays, etc) but does not push your luck too far. Official prices – for instance trains fares – are non-negotiable!
Do I Tip In Georgia?
Tipping is expected across the Georgia service industry although not anywhere close to the levels you may expect in the USA. Bars/cafes are strictly 'tip at your discretion' where you may wish to reward exemplary service (especially if waited on). More formal restaurants expect a 10% gratuity – remember that this is not always/universally applied to the total. Cabbies do not expect a formal tip but it is polite to leave a little change on top of the fare.
It is worth noting that Georgia is taking tourism very seriously now and the industry is employing far more people than before – and often on extremely low wages. A little tip here and there will make a considerable difference to your server's quality of life, so give a little more generously than you may otherwise. The prices are low enough to allow most visitors to do so.
What Kind Of Budget Do I Need In Georgia?
Georgia is a cheap country to travel and you can make a shoestring budget last a long time – especially with that extremely generous one year 'no visa' rule. Mid-market travelers looking to try somewhere quite new will find bargains galore and well-heeled visitors can comfortably aim towards the top of the market without breaking the bank. One quick word of caution (perhaps more relevant to people who are not used to being cash-rich) – do not flaunt your wealth in Georgia! People are very proud here and dislike ostentatious displays of material wealth. You'll have a better time maintaining a modest profile.
The Georgia Republic Travel Guide would suggest you expect the following according to what level of budget best matches your means. Note that there is some considerable leeway here – and you could push these general budgets to some serious extremes.
Budget ($30 max/day)
A thirty USD a day budget is really pushing the extremes – and for once in the right direction! Remember that there are few typical hostels in Georgia (so far) – but a budget hotel really isn't going to set you back very much, especially if you share with others. About 30 GEL would be enough for a low-end double room in most places, and when you factor in sharing that has to rank as one of the cheapest room rates you'll find anywhere. Just don't expect the Ritz!
In even better news for the budget visitor, food and attraction admissions are going to barely dent this modest budget. Barely any attractions cost more than 5 GEL/person – so splash out and enjoy a good lunch with drinks for 20 GEL or so. Transport costs vary depending on where you are but you'll be unlikely to break 5 GEL on an average day. Use taxis for the best value/convenience ratio if you are part of a group.
Georgia is one of the very few countries where the only compromise you'll really need to make as a budget visitor is going to be the quality of your sleeping arrangements. Even still, if you are lucky and find a good place to stay then you're set for a great time with very little spending required.
Mid-Level ($60 to $100 day)
As you may have guessed – the difference here is really going to be that accommodation budget. A comfortable mid-market hotel should be clean, central, and well-staffed. Look for the best hotels in towns outside of the major cities and you'll be very unlikely needing to spend more than 140 GEL/night for a double room. Split that cost and you still have an impressive daily budget to make the most of.
We'd strongly recommend looking around for some good quality guided tours to help make the most of your time. Not only are the best informative and great value for a day walking/cycling around, but they also offer decent advice towards where best to spend your evenings and where else in the country to visit. You'll notice that the pick of the tour groups is really very professional – make the most of that willingness to help people explore their country and you'll be set for a wonderful stay.
It is no exaggeration to say that even on the top scale of this budget you'll be dining very well and have pretty much your pick of the local restaurants. Use cabs for your convenience and perhaps even consider car hire (about 100 GEL/day) if you are feeling up for a challenge.
Top End ($100+)
Spend it where you can! Honestly, that is the only advice we can really offer visitors who enjoy a substantial daily budget. Even the best hotels will rarely offer anything over 300 GEL/day – and you ought to expect something rather palatial for that sort of money. Be advised that international chain hotels tend to be the most expensive and not much better than what you'd find anywhere else. If you are spending big on hotels, we'd recommend going for locally run choices instead.
Forget joining a tour – splash the cash and hire your own guide and driver for the day. All tour organizers will be able to offer a tailored service for those willing to spend big. it can be an excellent way of seeing the more remote locations and save needing to navigate the sometimes slightly bewildering local transport options. Take a vineyard tour should you have the opportunity – Georgian wine is massively underrated (much like the country itself) and you'll find some bargains to take home.
Overall, Georgia offers fantastic value at the moment and those prices are slowly climbing as more people start to visit the country. Our advice to anyone looking to try somewhere interesting and relatively 'new' would be to visit this amazing country as soon as possible, and not just because it is currently an absolute bargain (although that certainly helps!).
What Languages Are Spoken in Georgia?
Georgian is the national language and you'll find that this is quite a tricky one to learn in advance! We highly recommend you try and memorize a few basic pleasantries before you visit – they really will be appreciated by the locals.
That being said, you'll find that most of the younger Georgians speak a great deal of English. Older citizens could be conversational although most likely it'll be basic words and phrases. Other Georgians are much more likely to speak Russian as a second language and will only know at best very basic English.
We would suggest you arrive at stations a little before you are intending on traveling if you need to purchase some tickets. If your journey is complex you may need to wait for an English speaking attendant, especially outside of the major cities. Almost everyone in the tourist service industry speaks some English, so you shouldn't have any trouble being vaguely understood.
The language barrier is nowhere near as big an issue as many first time visitors assume, and chances are you might be pleasantly surprised at how many Georgians are keen to practice their English. It is on course to become the 'official' second language before too long and is widely taught in schools now.
What Religions Are Practiced in Georgia?
Almost 85% of the country officially observes Eastern Orthodoxy, with about 10% being Muslim. The rest is made up of small numbers of a handful of other religions. While there are no official figures for religious observance/agnosticism it is worth understanding that religion is still quite a powerful cultural factor in this country. You should take some care to dress very carefully when attending monastic/religious sites and it is not uncommon for poorly dressed visitors to be turned away. Nobody will care whether you adhere to the religion or not – but respect is an important aspect of Georgian life and especially so in this context.
Providing you follow this advice you'll have no issues practicing or navigating your way through the religious aspects of Georgia. Just remember that most historic sites are in practical daily use and you'll be fine.
Practical Tips From The Georgia Travel Guide
At this stage of the Georgia Republic Travel Guide, we'll focus a little more on the practicalities of making the most of your visit. Georgia tourism is certainly on the uptick We've mentioned already however that you'll not see quite the scale of visitor infrastructure as you'd expect to discover in many other countries. The good news is that you really don't need it. In our opinion – and something we expect most other visitors will agree with – the lack of shabby souvenir stands and cruddy snack stands – is one of the reasons why so many of these fantastic attractions remain largely unspoiled.
No doubt that will change, as one of the reasons the Georgian government has become so welcoming to overseas visitors is for that cold hard cash – so we'd recommend people visit sooner rather than later. We'll leave it up to the philosophers to determine the cause/effect side of the argument, but the bottom line is that at the moment this is a wonderful country to visit and you'll remember doing so a long time after you've headed home.
Many people assume Georgia is a bit shoddy – perhaps it's the whole Russian association – and while it is a little old and gray here and there, the country itself is absolutely gorgeous. Think of the best of Romania/Hungary with a scattering of Austria style peaks and you're somewhere close. Infrastructure is 'mildly dilapidated' but that doesn't mean trains and buses don't tun on time. WiFi and other modern-day essentials are widespread in most places, and you'll perhaps be glad to hear that the locals are some of the nicest you'll find anywhere.
What About Health and Safety in Georgia, Is It Safe?
Georgia is really safe providing you avoid the war! Sorry – bad joke – and it isn't strictly speaking a war, but you really need to follow your country's travel advice and stay clear of the contested areas. At the moment these are mainly the small pockets of South Ossetia and Abkhazia – and very unlikely to spread further. Tourists have no reason whatsoever to go near those areas at the moment, and those who do stray in that direction will probably be arrested and sent straight home.
Assuming you follow this advice you'll hopefully be glad to hear that the Georgia Republic is one of the safest European countries to visit. Really it is – and we can point at the statistics and speak from our own personal experiences. Unless you are seriously unlucky you'll have no issues whatsoever. Sure, crime happens, but it is nowhere near the levels that you'll find in 'safe' countries like France or Italy.
As for health care – generally, this is pretty good and you'll have no problem finding medical assistance should it be required. You ought to make sure your insurance covers all costs and make sure to stay away from the conflict areas. If you visit those and are injured it is highly unlikely that you will be covered!
Pharmacists are both widespread and well supplied. If you need prescription medication then you'll need to make arrangements to see a local doctor. Having your relevant documentation at hand will help a lot with this process, so make sure you have copies secured online and on your person. Do not expect the same branded medication as you are used to.
You shouldn't need any specific vaccination for visiting the Georgia Republic. Tap water is safe to drink everywhere although we'd suggest using kitchen taps rather than bathroom water.
What is the Best Transportation in Georgia?
Public transport is very reliable in two ways. It will be on time, and it will also be busy! Urban transit is extremely cheap – about 1 GEL each way for a typical trip – and the rest of the country tends to use a combination of road and rail to get around. You should try and book your tickets for the trains in advance, especially during the warmer times of the year. Some national holidays can blanket-book out entire days months ahead of schedule! Buses are always brilliant value and operate on a rather ad-hoc style (ask for a drop-off and you'll probably get it) yet somehow seem to stick to their arranged schedules.
Most visitors will probably be able to use buses and trains to get around well enough. Car hire is easy (as is bringing your own across the border) and reasonably cheap, just be aware that the roads are quite dangerous – in no small part thanks to the standards of other drivers. Once you are on the quieter roads (basically anywhere outside of the cities) you'll love the added element of freedom that your own set of wheels can provide. Gas is really cheap.
Cycling is relatively new to Georgia – at least in a sporting sense – and you'll be able to hire in most places easily enough. They are just as handy as cars for those looking to keep down their carbon footprint. Roads vary in quality and there are plenty of hills if you've been out of the saddle for a while. Georgia also has a reasonable standard of internal flights but you shouldn't really need to use that option. The country is gorgeous and the views from the train are well worth the additional time.
What Are the Best Accommodations in Georgia?
As with quite a few Eastern European countries, many hotels in Georgia will not pay too much attention to the number of people sharing the room. If you want to scrimp on costs even more than most, nobody will say much about four people sharing a double providing you don't cause any disruption. Even if you don't head towards those extremes, you'll have no problem finding somewhere to stay in Georgia most of the time. The only time you may struggle for a suitable/inhabitable room is during occasional festivals (mostly in September) – and you shouldn't expect on getting much sleep then anyway!
Most visitors should plan on booking their accommodation ahead of their arrival. You'll almost always pay a little more than what you would at the desk on the day, but prices are so low anyway that added convenience is really worth it. A good hotel room should be enough for most people's budget to handle, and we'd recommend looking for those with the best location rather than just the lowest prices.
Airbnb and similar sites have a growing presence in Georgia and you'll find some really good options here, especially if you want to have the opportunity to interact with the locals a little more. We have spent 7 months in Georgia recently and only paid $475 a month for a huge 3 room apartment.
Camping is a valid option if you are hiking/cycling through the country – and the rules are 'ambiguous' at best. Do not expect much if any English signage. Make sure you know what you are doing and have a decent map. In large parts of the country you can camp anywhere that is not going to be a nuisance. We'd suggest asking local farmers (probably in sign language) and offer them a gift as a way of saying thanks. There is a network of campsites that are quite popular just do not expect outstanding facilities.
How Can I Practice Responsible Tourism in Georgia?
Your primary consideration in Georgia is going to be how to ethically deal within a rapidly expanding tourist industry. At the moment we'd really recommend doing your best to stick to local options wherever possible – and that basically amounts to avoiding international chains, restaurants, etc and not dressing too much like your stereotypical tourist. Georgia is an astonishingly welcoming country to those who embrace it with the same degree of enthusiasm – so spend your cash in the smaller places where quality and care will usually be better anyway.
If you opt for a tour – then pick them wisely. Some are far larger than others and operate more like a corporate business. As they monopolize the advertising, a fair number of long-established locals who have traditionally led this market are being squeezed out. Look carefully well in advance and if in any doubt try and email your accommodation first to ask them for some options and ideas. Universities are also a good choice. We at the ultimate Georgia Republic Travel Guide can say with absolute confidence that if you find a good guide, you'll have an amazing time.
Culturally speaking it is quite tricky to pigeonhole Georgia – and we'd suggest you don't try and do so, either. It is neither entirely western/European or, for that matter, very Asiatic. It would also be incorrect to assume that this is 'just another' offshoot of Russia, as Georgia has thousands of years of independent history. Just keep this in mind while you are taking in the country. It may be a little disheveled here and there, but you'll find that this country has a habit of pleasantly surprising you.
What Food Should I Try In Georgia?
Don't get into the habit of assuming everything in Georgia is 'a bit like Russia just different' – and the national food tends to sum this up rather well. Sure, you'll find lashings of stoic and hearty dishes featuring dumplings and cabbage, but then you'll get those everywhere. We'd say that proper Georgia food tends to lean more towards Turkish/Azerbaijani styles, with more liberal use of different seasoning and plenty of variation in tastes and texture. We at the Georgia Republic Travel Guide suggest you try the following dishes the moment you arrive!
Kharcho is an amazing curry style soup that is sort of like a thicker laksa but with the noodles replaced with plums and walnuts! Usually based on meat but also found made with every vegetable under the sun, this is a staple meal that is perfect with a nice lump of Georgian Khachapuri bread (packed with cheese!). Apprehensive vegans needn't worry too much – Georgian food tends to include plenty of variety.
Pkhali is arguably the national dish and includes all sorts of various little dishes made from veggies, pulses, nuts, and grains. Absolutely amazing – and perfect for both breakfast and to snack over a couple of drinks in an evening.
If you fancy something a little unusual – and also very popular – check out Khinkali. Here we have a kind of dough parcel that resembles a chunky ravioli which you then dip into various bowls of seasoning. The art is to take a nibble, then to soak it into the liquid stocks, and drink that from the parcel without it tearing. Don't worry – it is just as difficult as it sounds and you'll be provided with plenty of napkins.
You'll have no issues whatsoever eating really well and affordably throughout Georgia. Visitors with restricted diets will be mostly understood and there is a scattering of specialist cafes/restaurants popping up in ever greater numbers.
What Should I Pack for A Trip to Georgia?
You could consider a money belt but you are really unlucky is you actually need it. Our only advice here would be to make sure you pack your electricity current adaptor (if needed) as replacements are a chore to find. If venturing out into the countryside you'll be advised to bring good and well-worn boots, waterproofs, long-sleeved and lightweight clothing, and perhaps some walking sticks (those hills do add up). Cyclists should bring locks/de-mobilizers and good repair kits. A basic first aid kit is an idea if you're heading out into the countryside for long stretches although you'll have no problem finding anything you need from the local pharmacies.
What Clothes Should You Wear In Georgia?
Pretty much the only thing you need to prepare for when visiting Georgia is to dress suitably for those heritage sites. Nobody in the country is going to force religion down your throat, but visitors are expected to behave respectfully and that includes managing their appearances. Rules such as these are actually enforced in Georgia (unlike many others we could mention!).
As mass-tourism is something alien to this country (for now) we'd strongly suggest that visitors try and not dress too much like a visitor. Nobody is going to bother you if you stroll about in shorts and a baseball cap, but you'll probably feel better not being the focus of bemused attention – especially out in the sticks.
Keep it smarter than you may dress otherwise – but just the right side of not too fancy – and you'll fit in perfectly. Top restaurants do enforce dress codes, as do some of the glitzier night spots.
What Are Some Interesting & Important Facts About Georgia?
We hope you have enjoyed reading the Georgia Republic Travel Guide and have found some of the advice provided useful towards planning your own Georgian adventure. Make no mistake – this is an amazing country and perfectly accessible for those looking to head a little off the well-traveled map and enjoy something a little different.
There are some amazing sights to explore here – and we're not joking by saying that we expect them to be absolute thronging with visitors in the near future. Make the most of that opportunity and get here first – just be sure to do so as the right kind of responsible visitor.
It'd spoil the fun if we were to try and tell you everything about this country in the Georgia Republic Travel Guide. You'll have far more fun working out and discovering the intricacies for yourself – and as with anywhere, the more you do so the better the time you'll have. We'll finish with a handful of interesting little facts that ought to tempt you to visit sooner rather than later!
★ Georgian winemaking is believed to be the oldest in the world – at least 8,000 years and probably much longer.
★ Georgia is one of the most ecologically diverse nations in the world.
★ Less a fact and more of a 'reality' – Georgian people are incredible conversationalists. Nobody is quiet for long.
★ The language is unique to the nation. Nobody else speaks Georgian (a fact that is surprisingly rare).
★ 'Mama' means 'Father' and 'Deda' means 'Mother'.
★ Stalin is perhaps the most famous Georgian – let's just say he's not thought of very high nowadays.
★ You will not find many toilet roll holders. Nobody knows why…
★ Smoking is extremely common and there are practically no restrictions.
★ The history of the European people can be traced all the way back to Georgia.
★ Georgians do not call their country Georgia. It is known as Sakartvelo.
We hope you enjoyed reading the Ultimate Georgia Travel Guide – and good travels! Contact us with any questions you may have about travel to Georgia.
You might also like some of the articles from our website about boondocking and travel.
5 Best Ways to Visit Techatticup Gold Mine In Nevada
12 Super Reasons To Visit Mount Charleston Nevada
10 Great Reasons to Visit The Valley of Fire Park
9 Great Hiking Trails In Red Rock Canyon
For complete photos and videos of our trip visit our photo on our Facebook Page
You May Want to Join Our Boondocking Group on Facebook For More Information