This Georgia Republic Guide Is All about the Top 9 Hot Spots for Backpackers. We Give You Everything You Need to Know for A Trip to Backpack Georgia On A Budget
To the west of Georgia is the Black Sea and the north is Russia. Turkey and Armenia are south of Georgia. It has a population of 3.7 million and compares in size to West Virginia (of the United States). The Georgia Republic is rich in history and culture.
The confusion of Georgia's location can also make it difficult to know what this country is like. Cultures vary throughout the different regions. There are fourteen languages spoken, not including dialects. Georgia has recently become a popular travel destination due to its low prices. Until recently it was often overlooked in the past. Tbilisi, especially, is becoming known as a "hot" place to visit.
History
The Georgia Republic is better known as Sakartvelo by the natives of the country. From 1918 to 1921 Georgia was an independent state until its annexation to the Soviet Union. Georgia then became a constituent republic in 1936 until the Soviet Union collapsed. Georgia transitioned from agrarian to an industrial and urban society during that period.
In November of 1989, Georgia declared sovereignty. In April of 1991 declared its independence. Civil unrest and instability wreaked havoc among the country during the 1990s. The government was overthrown and separatist movements rose to power. In recent times, the Georgia Republic government runs as a semi-presidential system.

---
---
check out our video
---
---
Language
There are fourteen languages spoken in the Georgia Republic. Georgian and Abkhaz are the two official languages of the country. The Georgian language is unlike any other language that you will ever hear. Visitors say that they have never heard before, such as guttural air puffs for consonants.
Landscape
The landscape of the Georgia Republic is for the most part mountainous. Brush and forests cover more than a third of the country. The Minor Caucasus mountains are in the south of the country and they are 2,000 to 3,000 meters above sea level. The Major Caucasus mountains are in the north and are up to 5,000 meters above sea level.
Mount Shakhra is 5,068 meters and is the highest peak of the Georgia Republic. Deep river valleys run through the southern parts of the Major Caucasus mountains. The Suram ridge divides the western and eastern parts of the country. The eastern area of the Georgia Republic has fertile plains. High seismic activity is often recorded in Georgia. This takes place especially in the eastern regions, with earthquakes having 5 to 7 points.
Climate
The climate varies based on the region in the Georgia Republic. Western Georgia has a humid, subtropical climate. Eastern Georgia ranges from humid to dry climates. The Caucasian mountains keep cold air from infiltrating Georgia.
The Black sea brings warm, moist air to Georgia. The western region sees heavy rainfall throughout the entire year. There is far less rainfall to the east.
In July, the highest temperatures reach approximately about 77F or 25C. In January the average temperature is 32F or 3C. The best time to visit the Georgia Republic is in the spring. Mid-April through May sees minimal rainfall and warm, sunny weather.
Georgia Republic Wine
The Soviet rule almost depleted the countries grape populations. Georgia is home to over 500 grape varieties. During Soviet rule families kept small plots. That is how the grape varieties survived. They are the foundation of Georgia's wineries. The wine is an authentic and appealing experience due to the uniqueness of the grapes used.
Today almost half a million wine imports are exported to the United States. The expansion of the western market is growing. Wines are becoming more and more sought after across Europe.
Traveling to the Georgia Republic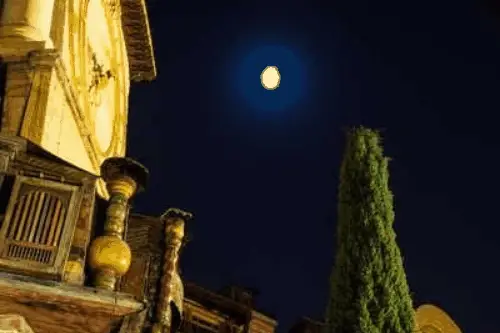 The official currency in the Georgia Republic is Georgian Lari. You can exchange your money in any local bank. If you are bringing electronic devices, consider bringing a voltage converter. The standard voltage is 220 V with the frequency being 50 Hz.
Airport
Tbilisi airport is one of the main airports taking international flights in Georgia.
Water
Water is reportedly safe in major areas of the country,
it does vary in remote regions. It is best to buy bottled water since it is affordable to do so.
Internet
WIFI is available in Georgia. Most cafes and guesthouses provide WIFI for visitors. In central Tbilisi, there is free WIFI service under the network TbilisiLovesYou.
Local Sim
SIM is available and so is 4G. With your passport, you can buy a SIM high-speed data for less than $10 USD. The service works in most parts of the country that are not mountainous.
Visas
Citizens of European countries can enter the country with their national identity cards. People from other places must have their passport.
Safety
The latest U.S government warnings for travel are best to check to make sure travel is safe. The political situation in this country is for the most part calm. Demonstrations can happen but the police control them.
There was heavy conflict in 2008. There are risks for unexploded ordnance especially in places occupied by Russia.
Budget: This is an affordable travel destination which is great if you are on a budget. You can eat well here, as food and wine well below the European averages. It is best to plan to spend around $30-45USD per day for a single person traveling in the Georgia Republic. You will see slight variations in spending if traveling as a pair. This estimate of expenses does not include the prices of day trips.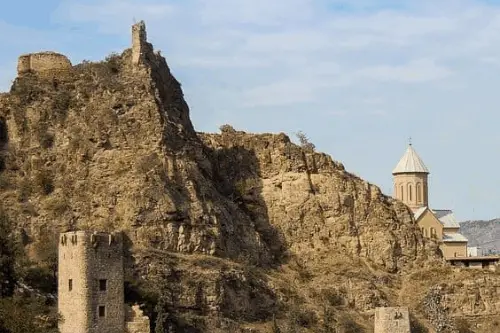 Festivals
Every October Tbilisoba happens. It is difficult to find information about this festival in English. Dates and schedules posted on the official site for Georgian tourism will give the dates.
This festival celebrates the diversity and history of the capital. In July, there is the Black Sea Jazz Festival that takes place in Batumi. In early August, Tushetoba takes place in Tusheti.
Food
Georgia's cuisine is quite popular and the citizens take pride in their food. The signature dishes that are available to try come at different price points. Fancy restaurants will have refined versions of the food but they are also available on the street.
The food has heavy bread and cheese influence with salads and meats as well. Vegetarians will have a few options for eating. Vegans and celiacs may find it difficult to find an appropriate meal. The cuisine is heavy on the bread and cheese.
Accommodation
Georgians pay close attention to hospitality and it is easy to find a place to stay while traveling. You can find hotels for as low as $30 or as high as $100+ per night.
Transportation
Be sure to wear your seatbelt as traffic accidents are rampant here. Minibusses (vans) called Marshrutka are a cheap form of transportation. You can get a ride across the town for as little as 35 cents or a take a trip across the country for $10.
In Tbilisi, there are cheap yellow buses to ride, but they have no air conditioning and can be crowded. Taxis are a great way to get around but make sure you agree on a price before you've taken the ride. Georgia has a railway system that covers most of the country and ticket prices vary.
Possible Issues
The Georgia Republic is one of the safest European countries to visit. It is safe to walk around as crime and corruption are low. If you are visiting the mountains, altitude sickness is a possibility.
Trekking in the Georgia Republic
Georgia is perfect for travelers who are looking for an experience in nature. The best times to visit is from mid-April to mid-October. There are paths for beginners and challenging trails for more experienced hikers. Here are some suggestions if you're looking to hike:
Svaneti
Inhabited by the Svan people who have preserved their traditions for thousands of years. The mountains here are very beautiful. The scenery must be seen in person as it is difficult to capture the beauty with words. There are medieval watchtowers from the 12th century here. The people are rich with culture and their music and food reflect it.
Ushguli
Ushguli is the most remote village in the Georgia Republic. The village is of Ushguli is also the highest village in Europe.
Tusheti
Tusheti is 5,413 -14,740 feet above sea level and is a region in northeast Georgia. The road to Tusheti is one of the most dangerous roads in the world. It is very difficult to get there. The only way to get there is through the 2900 meter Abano Pass.  Although, there a plenty of options for trekking and hiking.
There are towers in Tusheti that have withstood centuries. Sacred stone shrines exist there. Women, not even women who are visitors can approach any of the shrines.
Khevsureti
This destination has a very low population. It borders Russia and is perfect for trekking. Khevsuretis location lies between Kazbegi and Tusheti. There are mountains, rivers and ancient shrines scattered in Khevsureti. Thanks to Polish trekkers, there is an extensive network of trails to walk. From December to April, the Datvisjvari Pass, which is the main road to Shatili closes.
Mount Kazbek
One of the highest mountains of the Caucasus, it is in the eastern part of the country. Kazbek is an extinct volcano covered by icefields. Alpine meadows cover the lower parts of the slope. The elevation of this mountain is 16,512 feet or 5,033 meters. This is a popular climbing destination due to its easy access.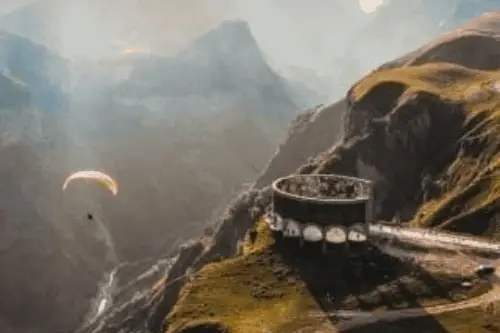 Chaukhi
Chaukhi Mountains Park – This park's location in Eastern Georgia makes it popular among locals. The park has two glaciers. It is a popular climbing and trekking destination in Georgia. The trek through the Chaukhi Massif doesn't take a lot of time due to its location. You must have a policy with a comprehensive travel insurance company to hike this area. This a place for beginners and expert nature enthusiasts. The highest place 12,606 feet or 3842.5 meters.
Borjomi-Kharagauli Trails
The German government and the World Wildlife Fund support and maintain the Trails. This park in central Georgia requires you to register before being able to explore. There is so much to explore that it is possible to spend several days here. The national park offers activities such as biking, horse riding, and hiking tours.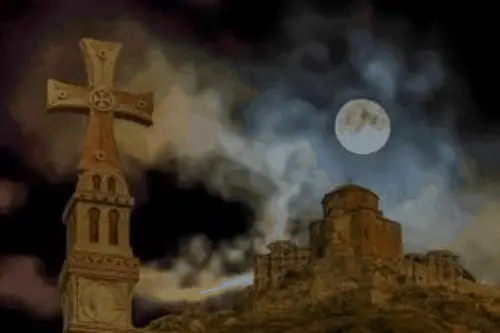 What to Take Trekking/Hiking
Backpack. A sturdy backpack with plenty of pockets is ideal.
Tent, Sleeping bag and pillow
Footwear. Be sure to pack comfortable shoes that are practical for walking long distances.
Outerwear. A jacket, headwear, rainwear and/or gloves are ideal to have to protect yourself from the weather.
A detailed map of the area. GPS and Google Maps are great tools but technology will not work everywhere. Especially in areas that are remote.
Flashlight and batteries
Matches and a lighter
First Aid Kit. It is best to prepare for accidents before they happen.
Water. Dehydration is the last thing you want to happen while hiking. It is best to drink at least two liters of water per day of hiking. The recommended amount of water will vary with the length of the hike of course.
Granola bars and other healthy, high energy foods are good to keep your energy up.
You might also like some of the articles from our website about boondocking and travel.
5 Best Ways to Visit Techatticup Gold Mine In Nevada
12 Super Reasons To Visit Mount Charleston Nevada
10 Great Reasons to Visit The Valley of Fire Park
9 Great Hiking Trails In Red Rock Canyon
For complete photos and videos of our trip visit our photo on our Facebook Page
You May Want to Join Our Boondocking Group on Facebook For More Information