We have put together a guide to 17 spots for Great Smoky Mountains National Park Photos and have included everything you need to capture them. This guide includes the best places for photos, our most Instagram worthy locations for a special capture, tips on titles and captions for Instagram and much more. Take the time to review it all before your vacation, it will help you work out a plan for your Smoky Mountain National Park trip.
Smoky Mountains Instagram Locations Including the Appalachian Trail and stretches of the Blue Ridge Parkway, the park's overall area is more than 800 square miles. Photographers go to the mountains to snap Great Smoky Mountain National Park photos of the landscapes, wildlife, and various vegetation.
---
Want more ideas to round-out your trip to Smoky Mountain National Park?
A lot of great ideas are in these posts!
---
There are countless photos of Great Smoky Mountains National Park opportunities in the park's mountains and waterways. White-tailed deer, black bears, elk, and turkey are among the park's wildlife species, but it can be challenging to locate them.
The Great Smoky Mountains National Park offers views of blue-green slopes and furrowed canyons that stretch for 100 miles through rhododendron and mountain laurel thickets, whitewater rivers, and a solitary cabin in a wooded area. There are bright spring woodlands covered in flowers.
The Great Smoky Mountains National Park provides top-notch photo opportunities around every corner. Landscape and nature photographers will find Smoky Mountains National Park photos in Tennessee and North Carolina's Great Smoky Mountains National Park. More people visit it annually than any other national park in the US, and photographers are able to take advantage of its beauty year-round.
A spider's web sparkling with dew in a hardwood forest or a rock covered in moss along a streambank are just two examples of the small-scale wonders that await those who slow-down and zoom-in in this Southern Appalachian wonderland, which attracts photographers from all over the world.
"No Great Smoky Mountains National Park Photos: Did It Really Happen?"
You won't soon forget your journey to the Smoky Mountains. But did it even happen if you didn't snap pictures? Everyone enjoys posting pictures from their travels on social media  We have a list of locations ready and waiting for you, if you want to 'Do It for the 'Gram'. Discover where we like to snap Smoky Mountain National Park photos and Instagram photographs in the Smokies.
Did it truly happen if there is no digital evidence of your trek, bike ride, kayak expedition, or dinner? With no work or school obligations, you and your family are enjoying a much-anticipated summer vacation in the North Carolina mountains.
You have plans to exhaust your children by hiking the trails beneath the gorgeous pine and poplar canopies. You and your kids made the 1.5-mile trek down a fern-lined route with scarcely any complaints. Your journey leads you to a waterfall that snakes between plants and branches and tumbles down 80 feet across boulders, surprising even your kids.
These are just a few of the photos of Great Smoky Mountain National Park that you will treasure forever.
We could write a whole blog series about Smoky Mountains National Park photos at America's most visited national park, but for now we're just going to highlight seventeen of the best!
Our Top 17 Great Smoky Mountains Photography Locations
---
---
check out our video
---
---
1. Clingmans Dome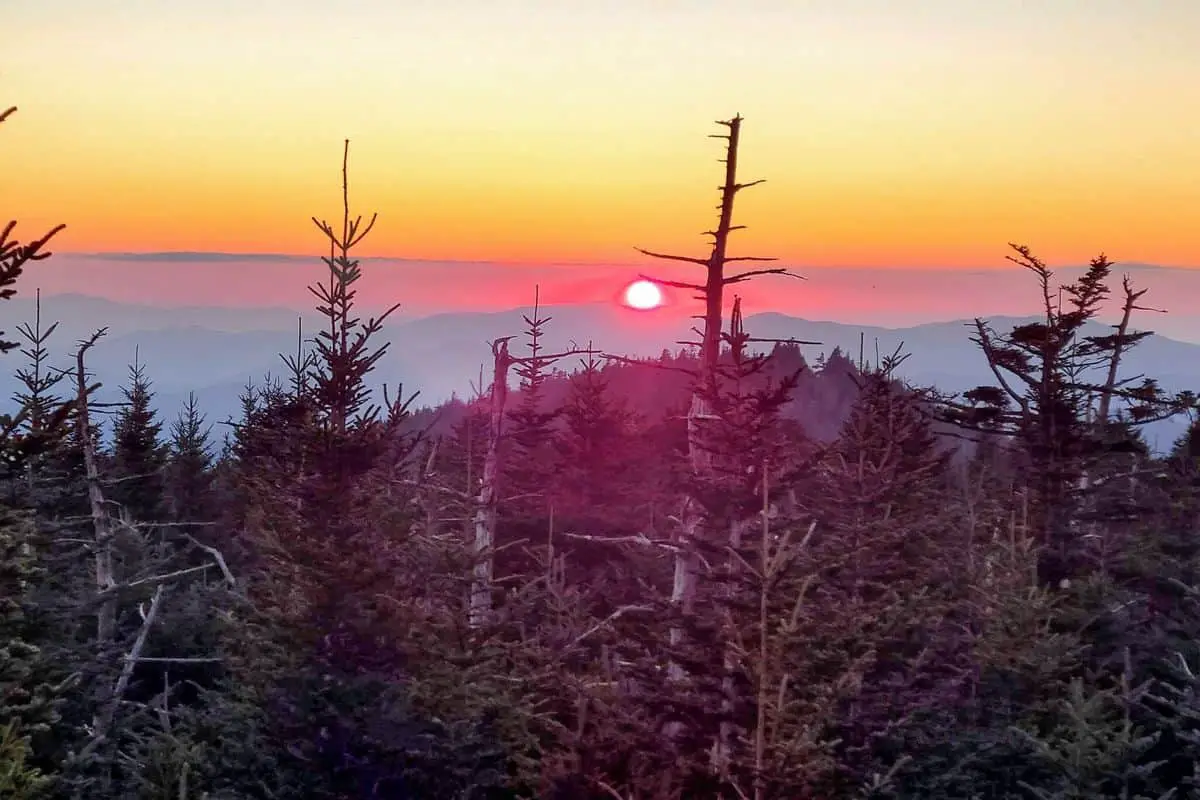 With a height of more than 6,600 feet, Clingman's Dome is the highest peak in the Great Smoky Mountains National Park. Clingman's Dome Road, which is seven miles long, ends at a parking area. A paved half-mile, steep walkway leads to the top of Clingman's Dome observation tower for some of the best long distance photos of Great Smoky Mountain National Park.
There are also stunning views of the surroundings from the parking lot as well. Even though this is the highest point in the park, some trees may block your view, so you might prefer the view for photography from the parking lot.
2. Cades Cove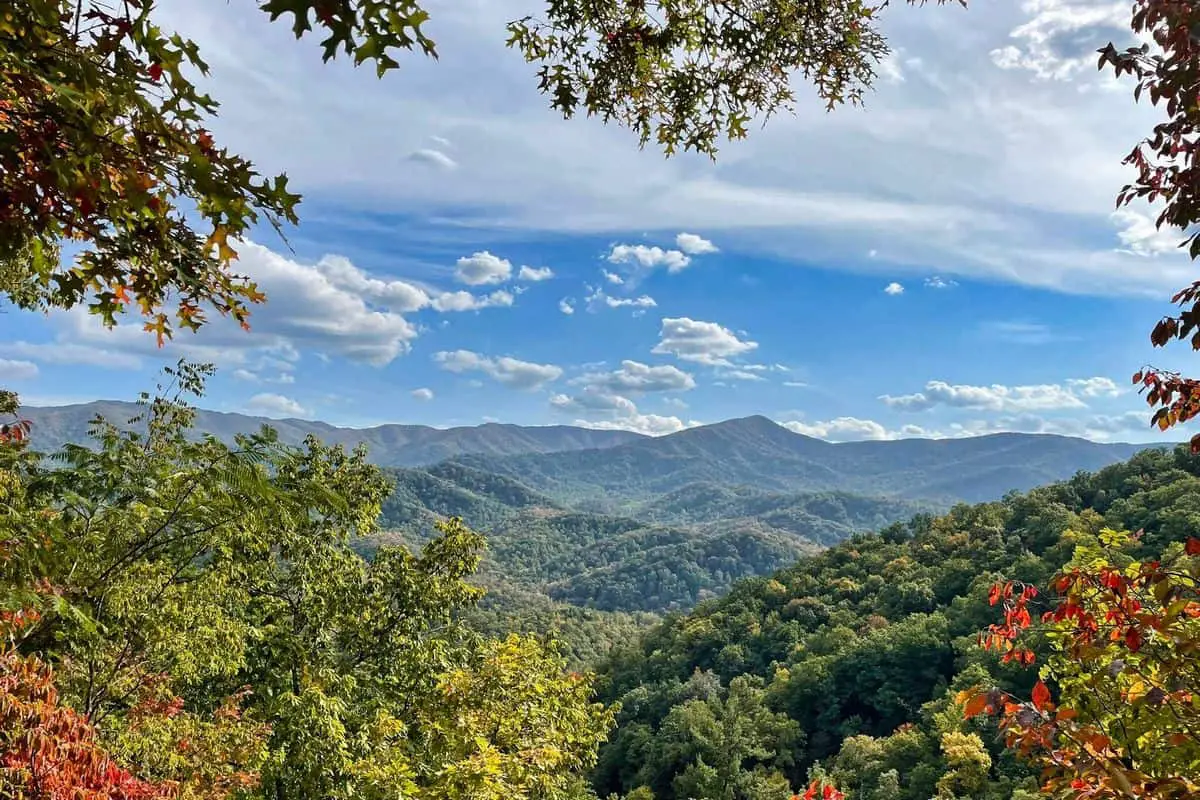 The stunning Cades Cove basin, which is encircled by mountains, is one of the main attractions of the Great Smoky Mountains National Park for good reason. It is not difficult for photographers to get Smoky Mountain National Park photos of the pastoral beauty of the Cove that would look great on a wall calendar.
The area's ancient buildings, many of which date back to the region's earliest settlements, add to their allure. The opportunity to take pictures of Smoky Mountain animals including white-tailed deer, wild turkeys, coyotes, and black bears also exists; Cades Cove is unquestionably one of the best spots in the park for photos of these creatures.
There is NOT a terrible time of year to visit Cades Cove to photograph its beauty, but we advise making an extra effort to come here while the fall foliage is at its most vibrant.
3. Mount Le Conte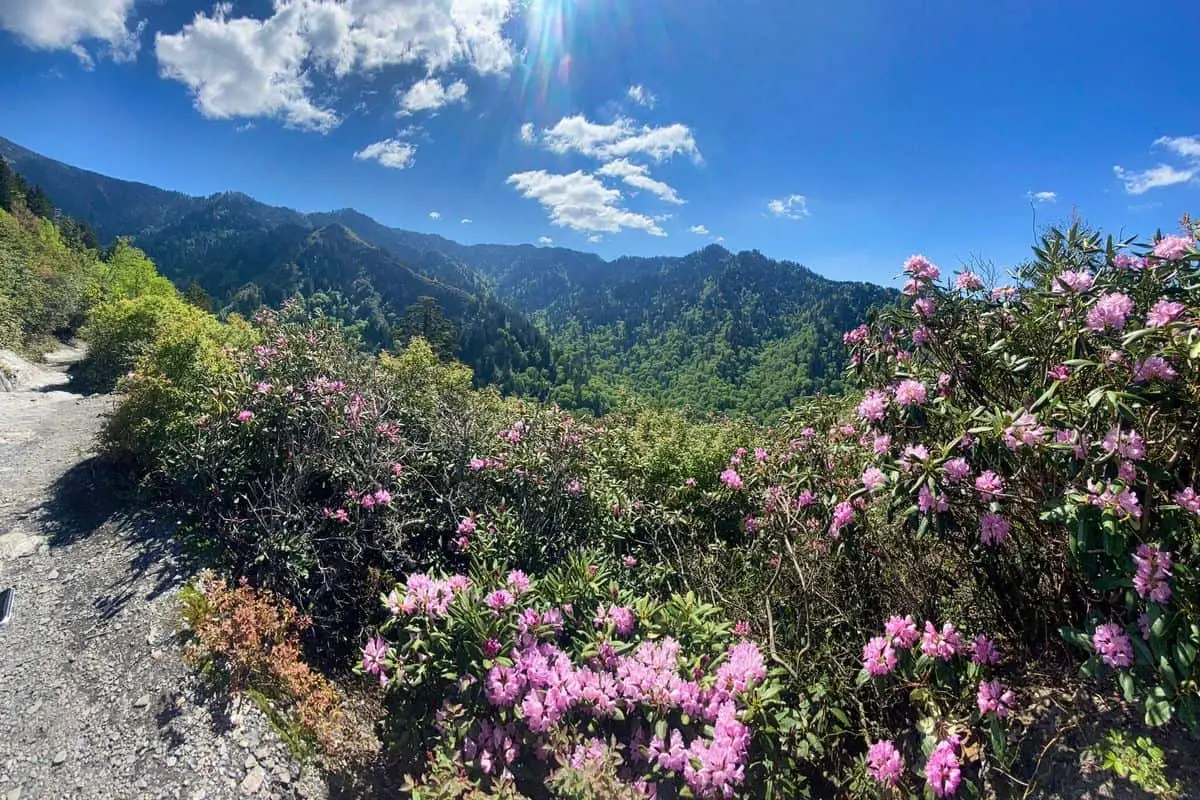 The third-highest mountain in the park, behind Clingman's Dome and Mount Guyot, is Mount Le Conte. It can be reached after a strenuous 5.5 miles of hiking from the Newfound Gap Road trailhead for the Alum Cave Trail. The photos of Great Smoky Mountain National Park from here make it all worth the effort.
There are two parking areas at the trailhead located about 8.7 miles south of the Sugarlands Visitor's Center near Gatlinburg. You can spend the night and come back the next day because the Le Conte Lodge is close to the summit.
4. Newfound Gap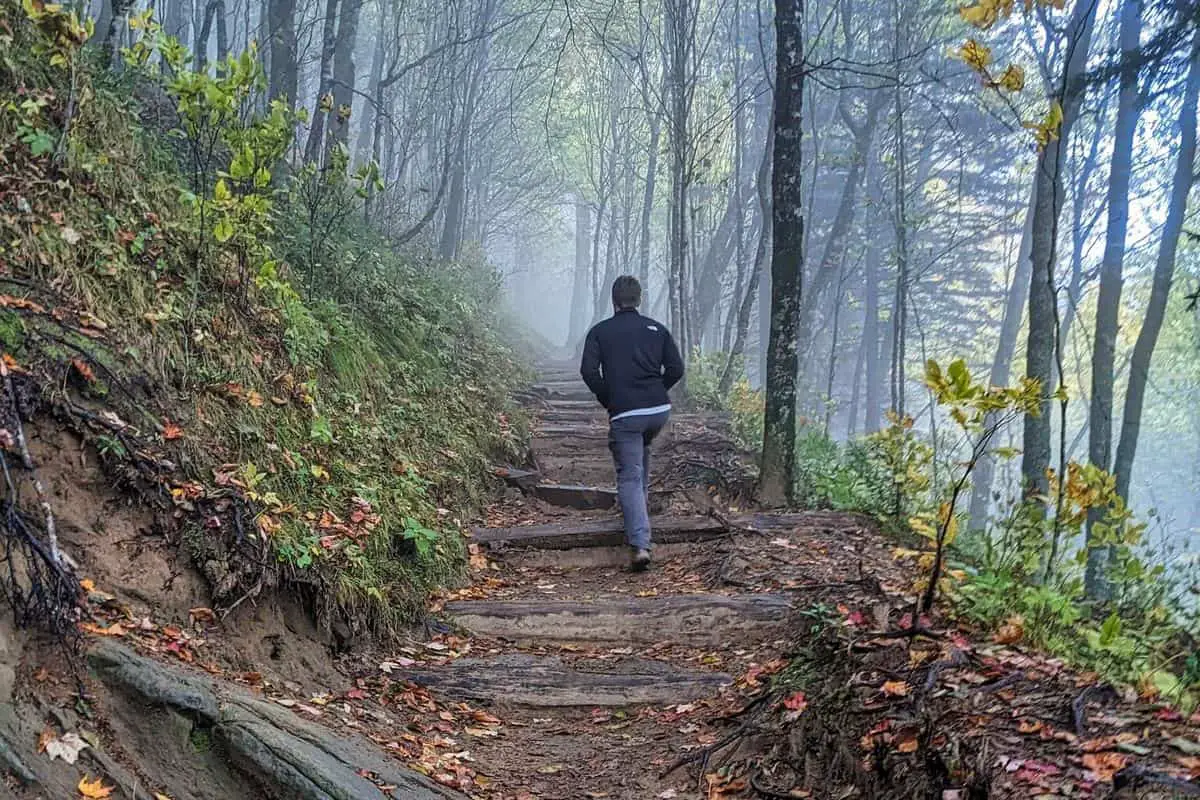 US Route 441 travels 33 miles through the Great Smoky Mountains, crossing Newfound Gap, the park's lowest drive-through pass at 5,046 feet, just before the halfway point. Newfound Gap, one of the Great Smokies' most famous locations, offers numerous photo opportunities. The views are fairly spectacular, especially at sunrise and (to a lesser extent) dusk.
Newfound Gap is directly on the Tennessee-North Carolina border, so crossing it and taking pictures of the state line sign will make for some iconic Instagram content. The Rockefeller Memorial is another well-liked location to frame: On September 2, 1940, President Franklin D. Roosevelt dedicated the Great Smoky Mountains National Park, which is marked by this monument.
5. Morton Overlook
The best spot in the Park to see a sunset and capture Smoky Mountains National Park photos at the end of the day is Morton Overlook. The sun will occasionally line up between the peaks when it sets at specific times of the year, such as May.
Particularly on weekends or during the busiest travel times, plan to arrive at this location at least an hour in advance. Parking spaces and good viewing places get booked up quickly.
The trailheads for Alum Cave and Chimney Tops, as well as other low elevation viewpoints for photos of Great Smoky Mountain National Park, can be located if you continue driving north on Newfound Gap Road (US 441) as you get closer to the Gatlinburg, Tennessee region.
To get to Elkmont, Tremont, and Cades Cove, turn left onto Little River Road. For photographs of streams and historic structures, head right in Gatlinburg and look for the Roaring Fork Nature Trail, which is also a part of the Park.
6. Grotto Falls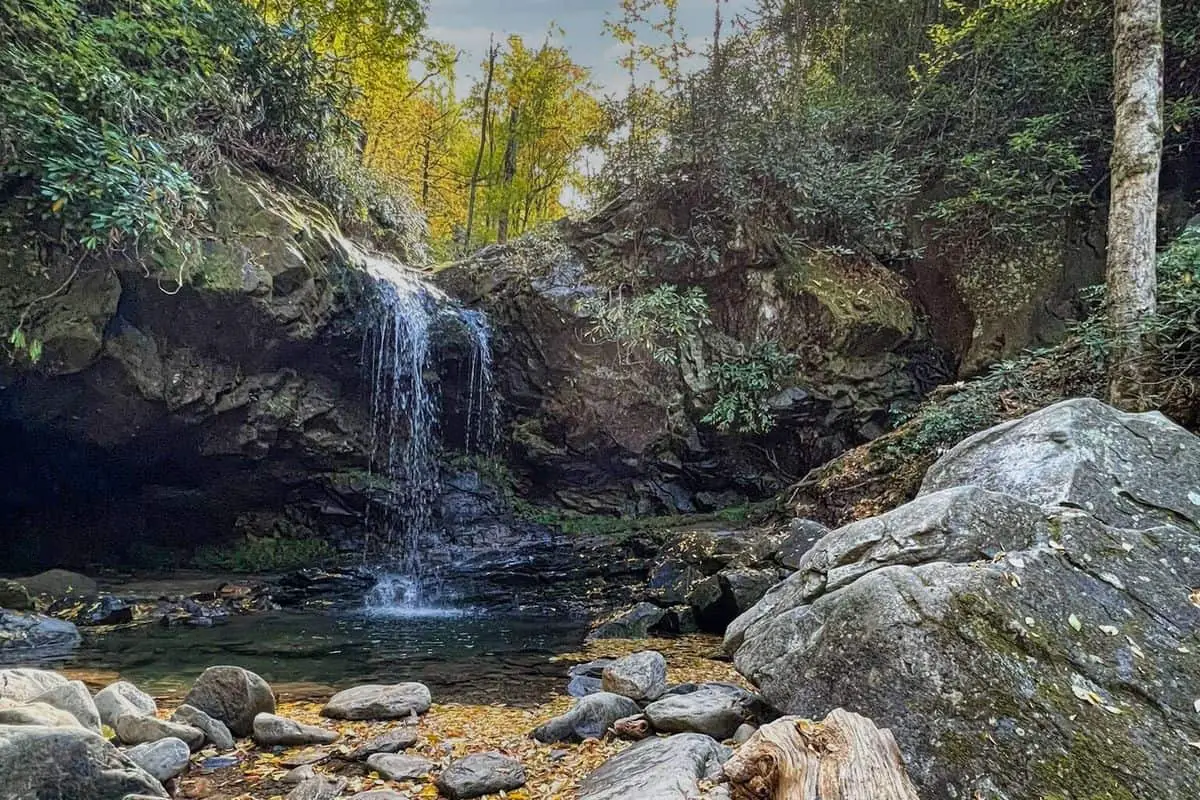 One of the attractions of the Roaring Fork Motor Nature Hike near Gatlinburg is Grotto Falls, where the Roaring Fork below Mount LeConte plunges 25 feet off a ledge into a rock-cupped pool. Grotto Falls is accessible through a short and simple trail.
It's quite photogenic all around, but what makes it particularly alluring is that you can go behind the curtain of falling water without getting wet, giving you the chance to take some unique, borderline otherworldly pictures.
An added photo opportunity is found further up the Roaring Fork Motor Nature Trail at the weeping hillside known as the Place of a Thousand Drips, which is fantastic after a heavy downpour.
7. Roaring Fork Motor Nature Trail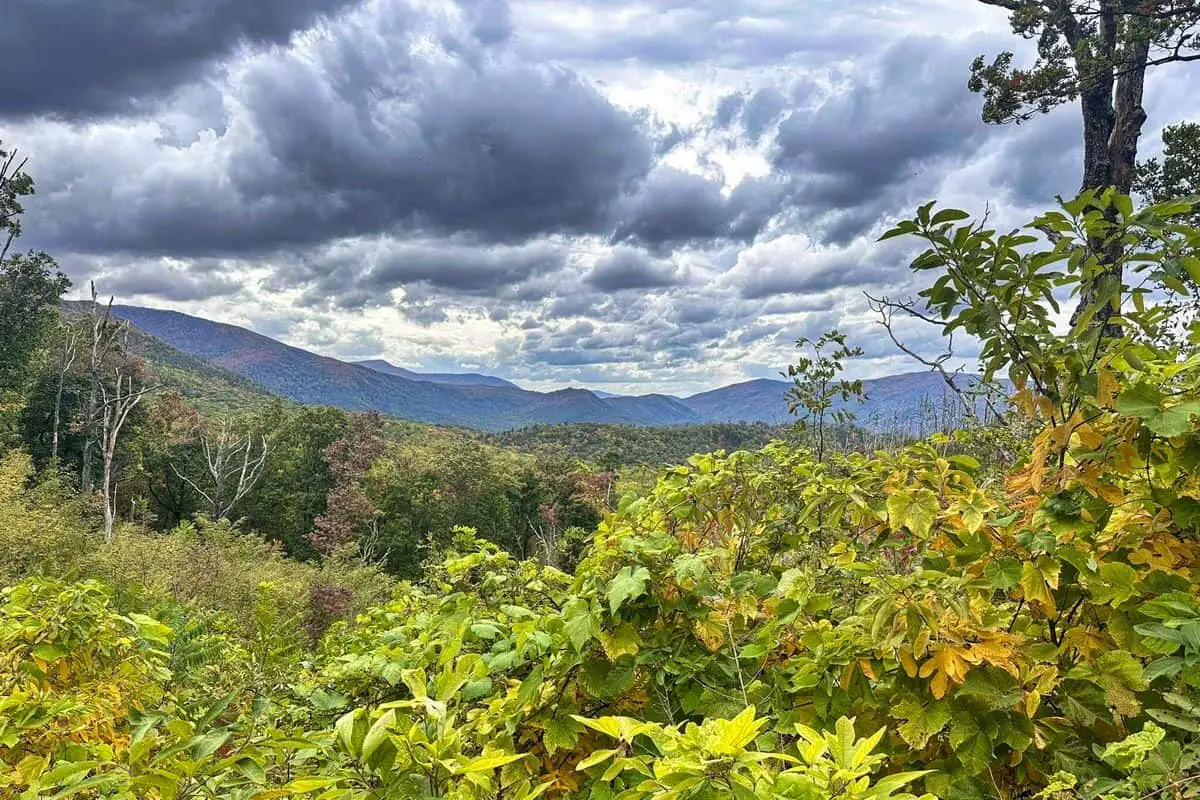 Another well-liked spot for photos of Great Smoky Mountains National Park location in the park is the Roaring Fork Motor Nature Trail, which is closed during the winter. It is conveniently accessible from Gatlinburg and acts as a starting point for a few significant trails and waterfalls.
The 5.5-mile Motor Nature Trail is a twisting circle that occasionally gets extremely steep. The nearby Roaring Fork stream makes for an excellent photographic subject.
Turn off the main parkway in Gatlinburg at traffic light #8, then take Historic Nature Trail Road to the Cherokee Orchard entry to the national park. You can also reach the Noah "Bud" Ogle self-guiding nature route and the Rainbow Falls trailhead before beginning the trail.
The Motor Nature Trail also leads to the trailhead for Grotto Falls, and at the trail's conclusion is the Place of a Thousand Drips, a waterfall that, depending on how recently it has rained, may have very little water or more substantial amounts. The Place of a Thousand Drips offers fantastic photo opportunities while the water is running.
8. Mingo Falls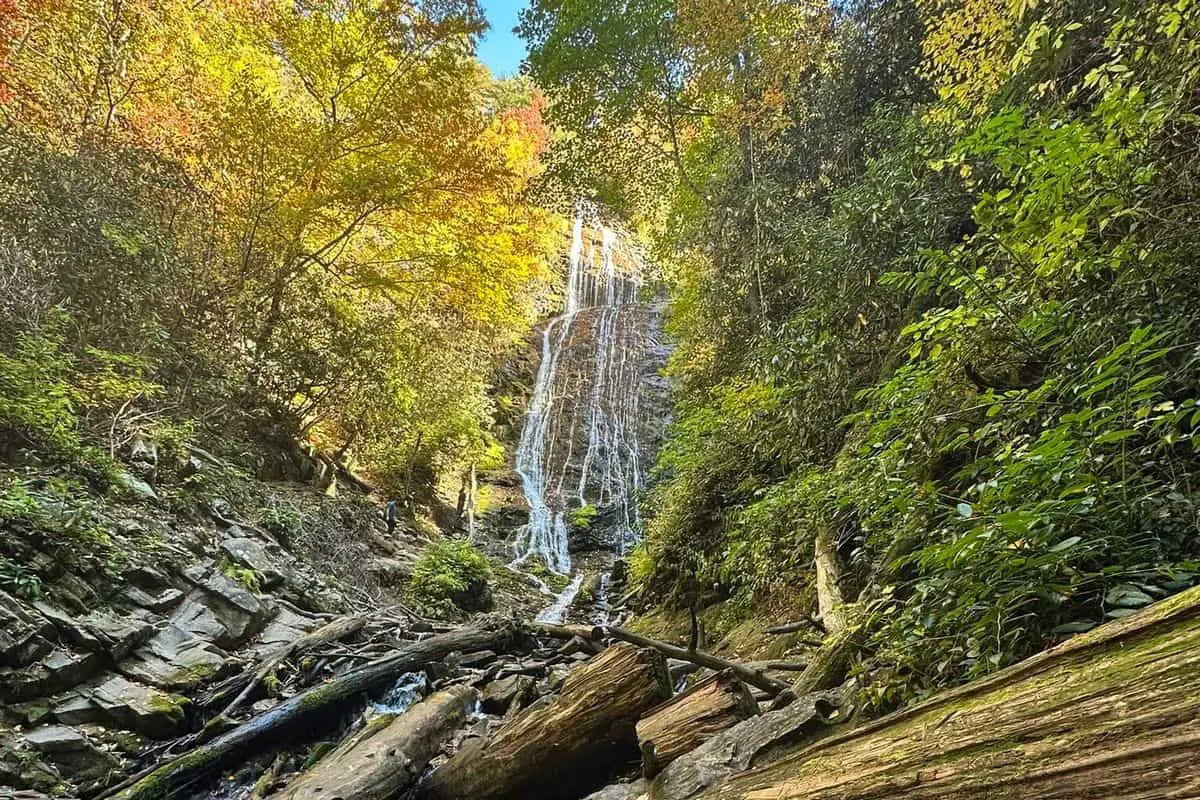 Actually, Mingo Falls is found on the Cherokee Indian Reservation immediately outside the park. The walk to Mingo Falls is just about.5 miles roundtrip, but it is quite challenging due to the more than 150 stairs that must be climbed. After a downpour, the 200-foot waterfall flows rather forcefully.
Drive south on US 441 from the Oconaluftee Visitor's Center to the trailhead and turn left onto Big Cove Road at the second intersection. The Mingo Falls Campground is 4.5 miles away after turning left at the first stop sign.
9. The Chimney Tops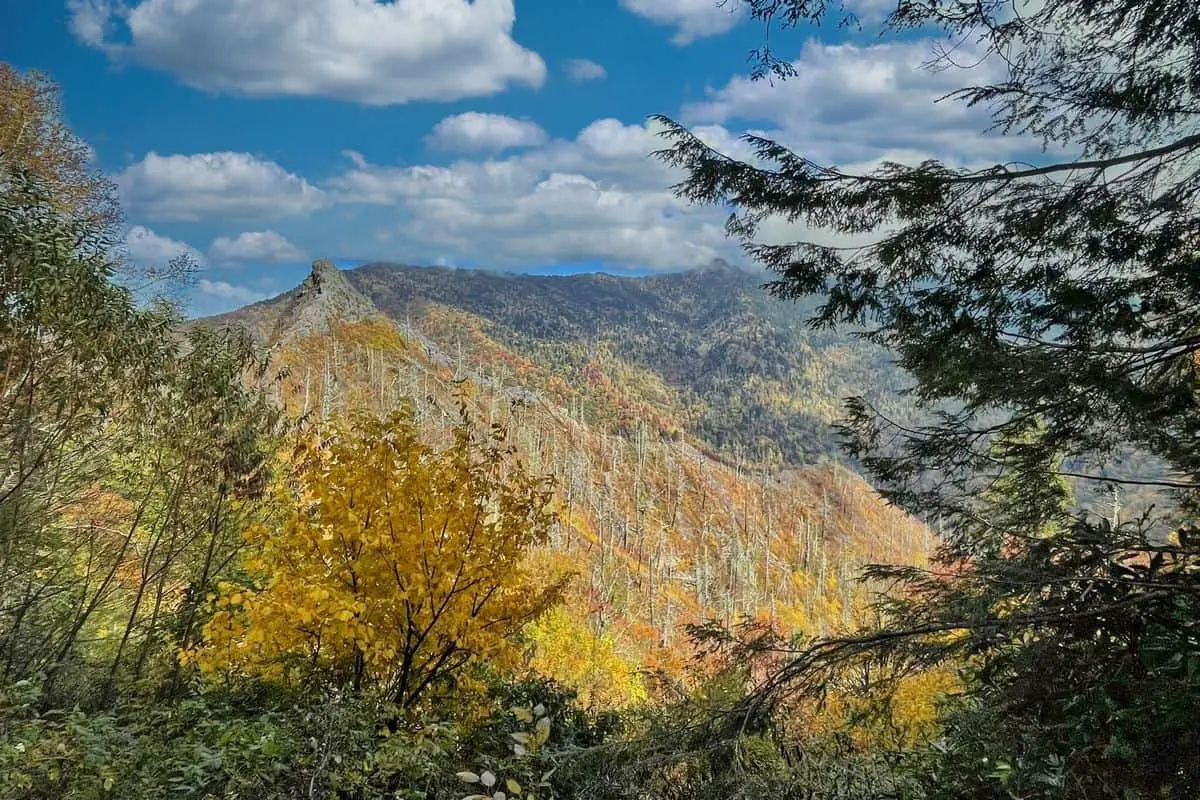 One of the most magnificent geological structures in the Great Smoky Mountains is the Anakeesta Formation's Chimney Tops and they yield some of the best photos of Great Smoky Mountain National Park, they tower over the West Prong Little Pigeon River off Sugarland Mountain.
They are undoubtedly a famous subject for photographs. There are several ways to get their precise profile: For a closer look, pull over at the Chimney Tops Overlook on US Route 441 or trek the Chimney Tops Trail.
10. Gregory Bald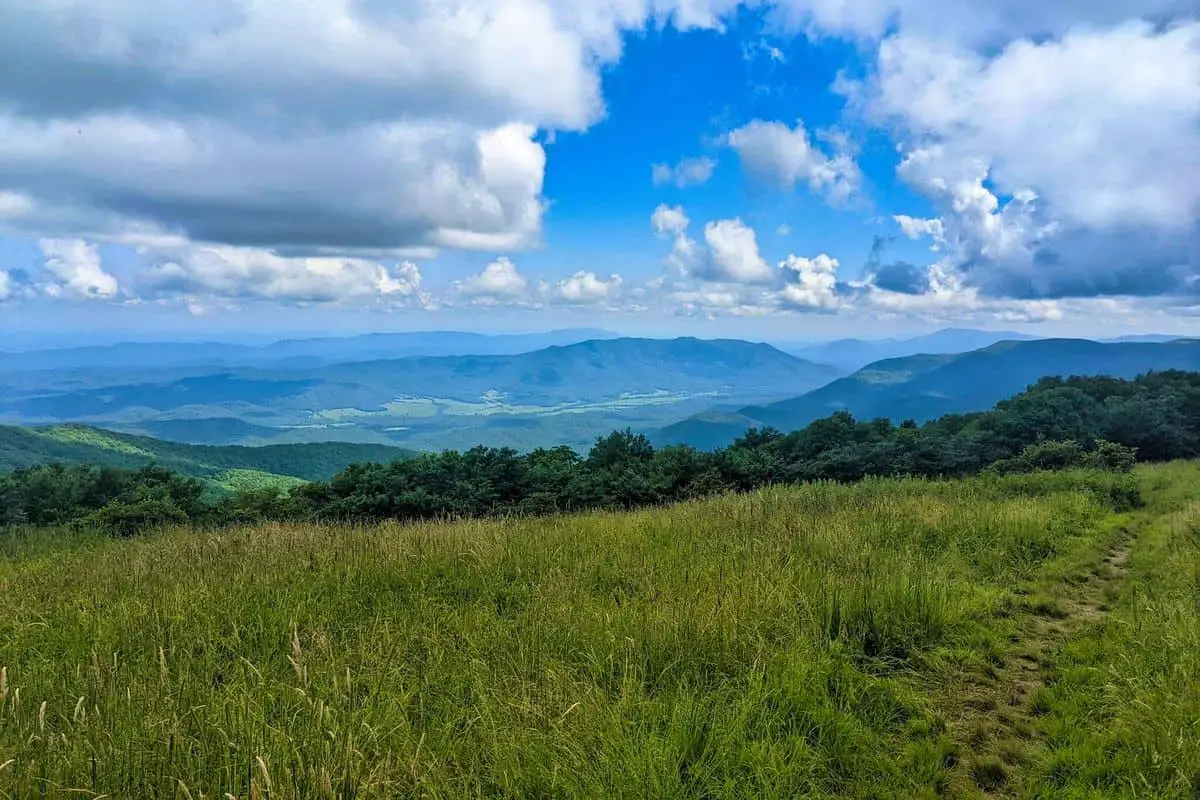 Gregory Bald, one of two high-elevation mountains that the Park Service actively manages in the Great Smoky Mountains National Park, offers expansive mountaintop vistas for Smoky Mountain National Park photos from its open stage at a height of approximately 5,000 feet along the Smokies divide.
It is picturesque all year round. But in mid- to late June, when the park's most renowned azalea display is in bloom is the best time for Great Smoky Mountains National Park photographs, it truly steals the show.
Here in the mountains, there are many different azalea species that grow in profusion and spontaneously cross one other to produce magnificent blossoms that are a glorious kaleidoscope of vivid colors.
One of the highlights of the Great Smoky Mountains' landscape, the azalea bloom atop Gregory Bald is without a doubt a must-see for photographers prepared to undertake the strenuous round-trip climb.
11. Oconaluftee Overlook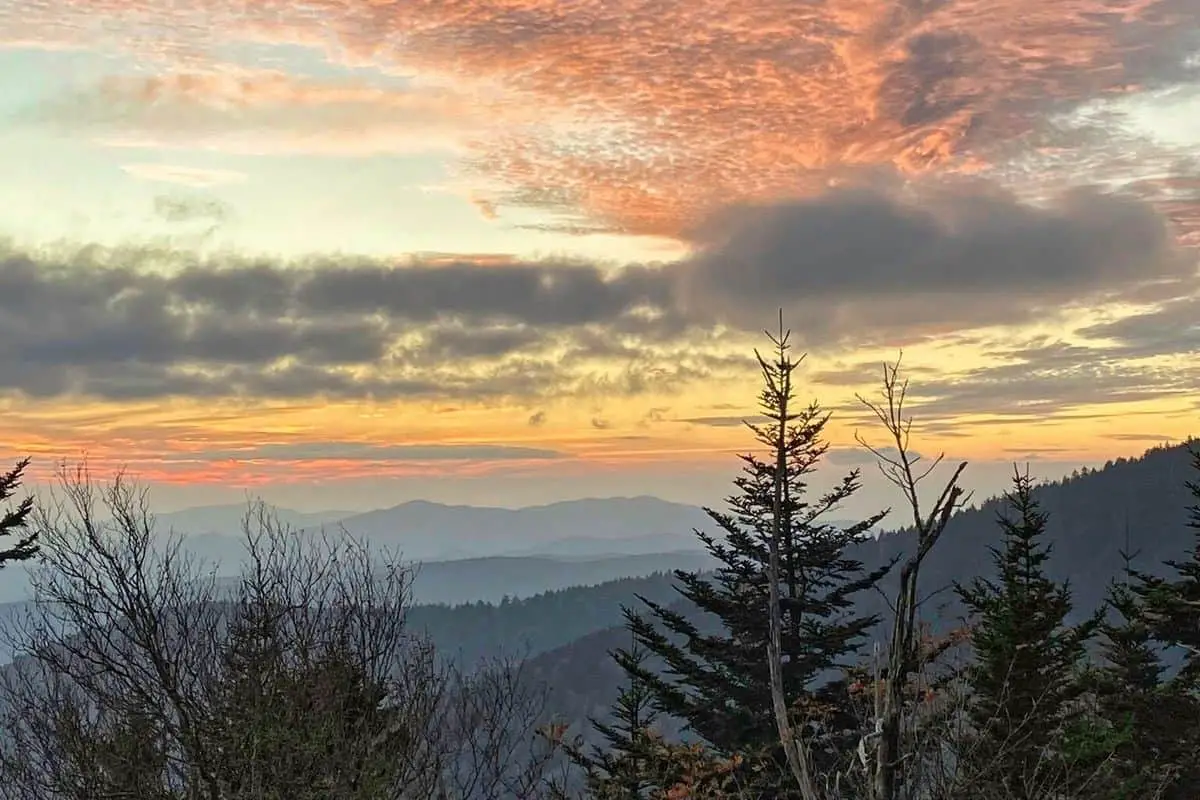 The greatest spot in the park to see the familiar Smoky Mountain range at daybreak may be this overlook and it offers you some great photos of Great Smoky Mountains National Park. The overlook is a tiny parking area that faces east along the Oconaluftee River drainage after Newfound Gap as you go into Cherokee, North Carolina.
To acquire a good place for Great Smoky Mountains National Park photographs and witness the light shift from a soft pastel to a bright orange as the sun rises, arrive here at least an hour before sunrise. Additionally, perform your valley fog dance the previous evening because this spot is very amazing when there is fog.
12. Rough Ridge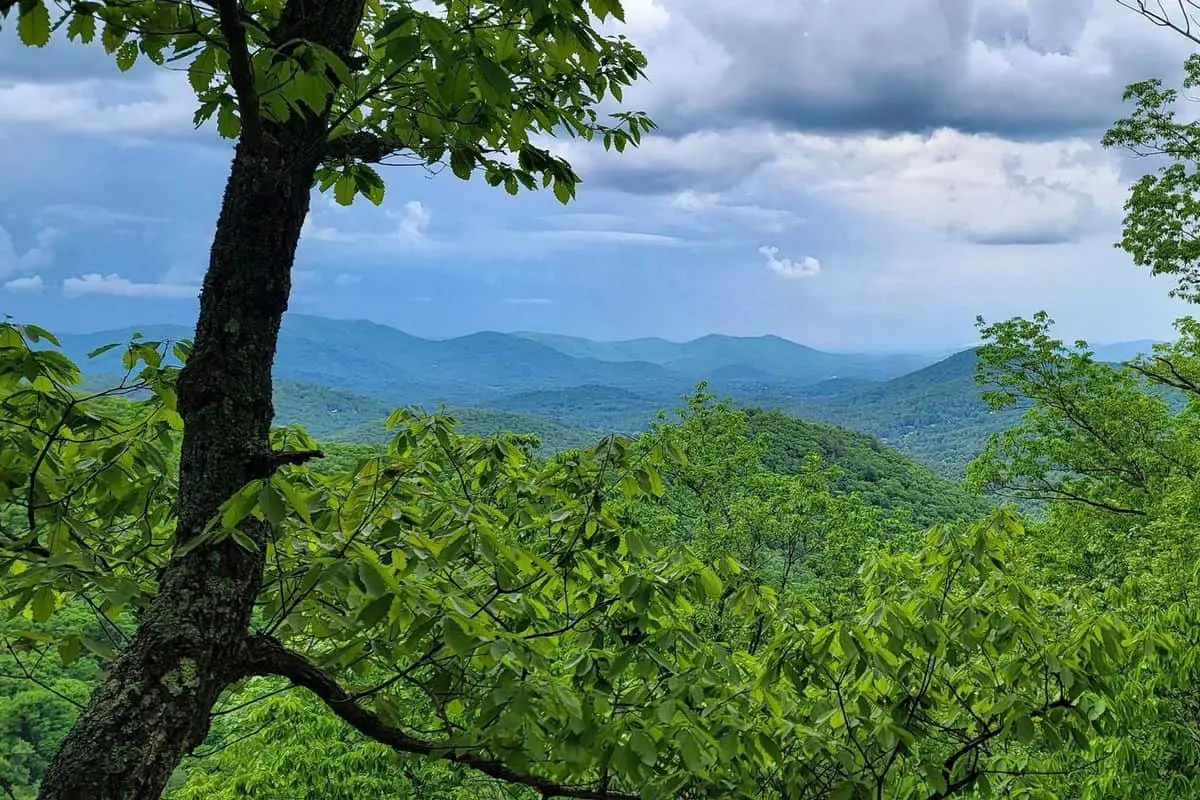 469 miles separate Cherokee, North Carolina from the North Carolina/Virginia border along the Blue Ridge Parkway (BRPW). Rough Ridge, which is located at milepost 302.8, is one of our favorite places on this BRPW list. There are many other stunning photogenic places as well.
The distance from the parking lot to the peak is just a little more than half a mile, and you are treated to breathtaking long-distance vistas of the Blue Ridge mountains along the way. You can get great views for Great Smoky Mountains National Park photographs of Grandfather Mountain and the renowned Linn Cove Viaduct from a number of vantage points on boulders and footpaths.
13. The Jumpoff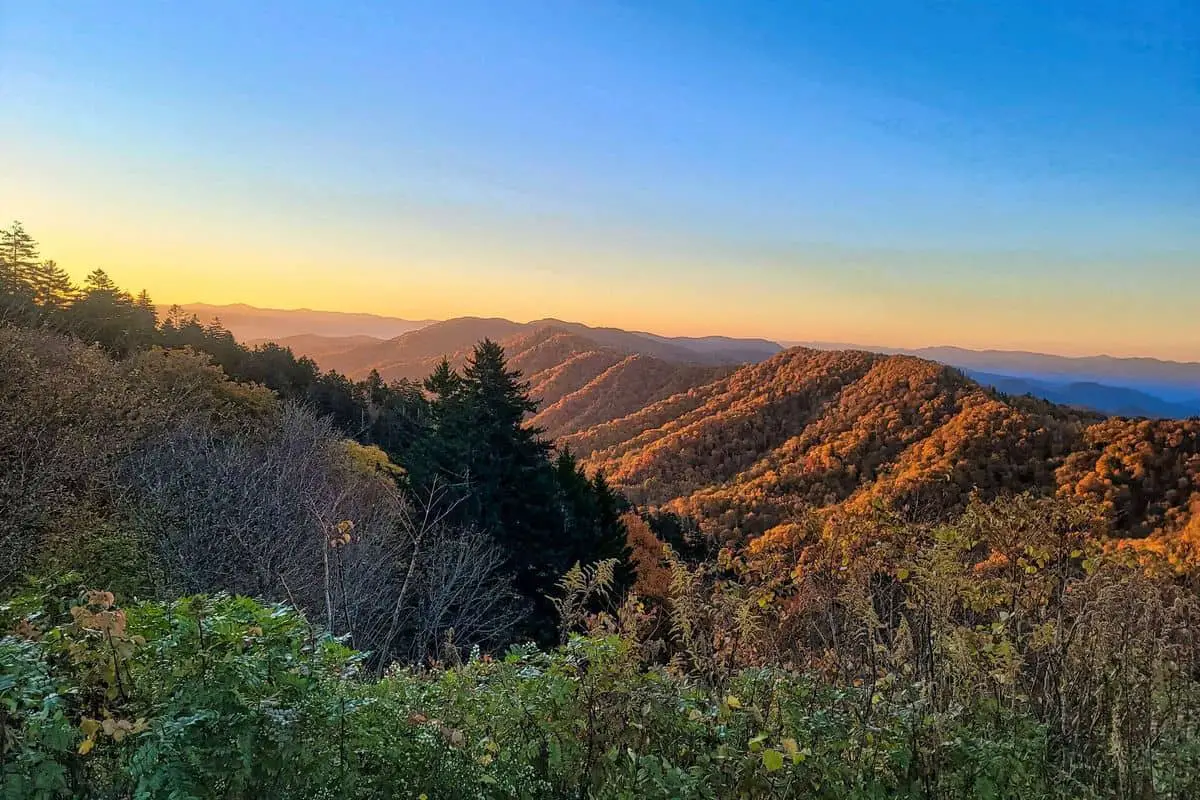 The Jumpoff is one of the best spectacular viewing points in the national park and is accessible from the Boulevard Trail, which follows its namesake ridge between Mount LeConte and the Smoky Mountain divide crest. (In fact, the majority of the Appalachian Trail trek from Newfound Gap Road to this location offers beautiful views.)
The Jumpoff outcrop affords spectacular views of the Huge Smoky Mountains, including the impressive Anakeesta crag of Charles Bunion just below the Great Smokies divide and the great loom of Mount Guyot, the second-highest summit in the range at 6,621 feet.
(If you want to add a little more hiking to your Jumpoff excursion as well as more Great Smoky Mountains National Park photographs, it's simple to include Charles Bunion; its viewshed is just as magnificent, but you'll probably encounter that much more competition.)
14. Kanati Fork Trail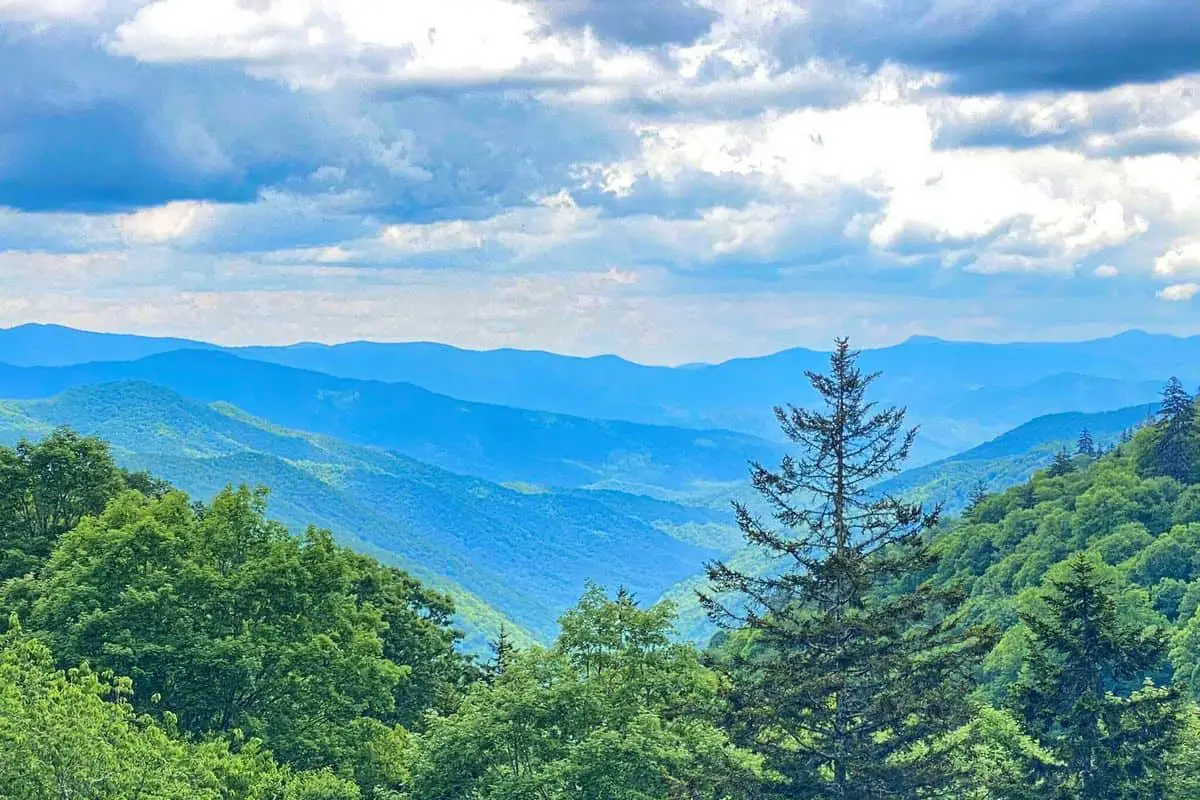 Along Newfound Gap Road, the Kanati Fork Trail makes a strenuous ascent from the Oconaluftee River valley to the Thomas Divide, but, the Smoky Mountain National Park photos you get from there make it all worthwhile.
While the entire path is fantastic for Great Smoky Mountains photography, the first couple of the slopes miles are the true reason it made our list because they place you right in the center of one of the national park's most famous wildflower displays in the Spring.
However, there is plenty of floral beauty sooner and later in the season as well. The blooms typically peak around April. Give yourself lots of time to wander among the Dutchman's breeches, trilliums, trout lilies, and other petaled wonders while taking as many pictures as you like.
15. Pickens Nose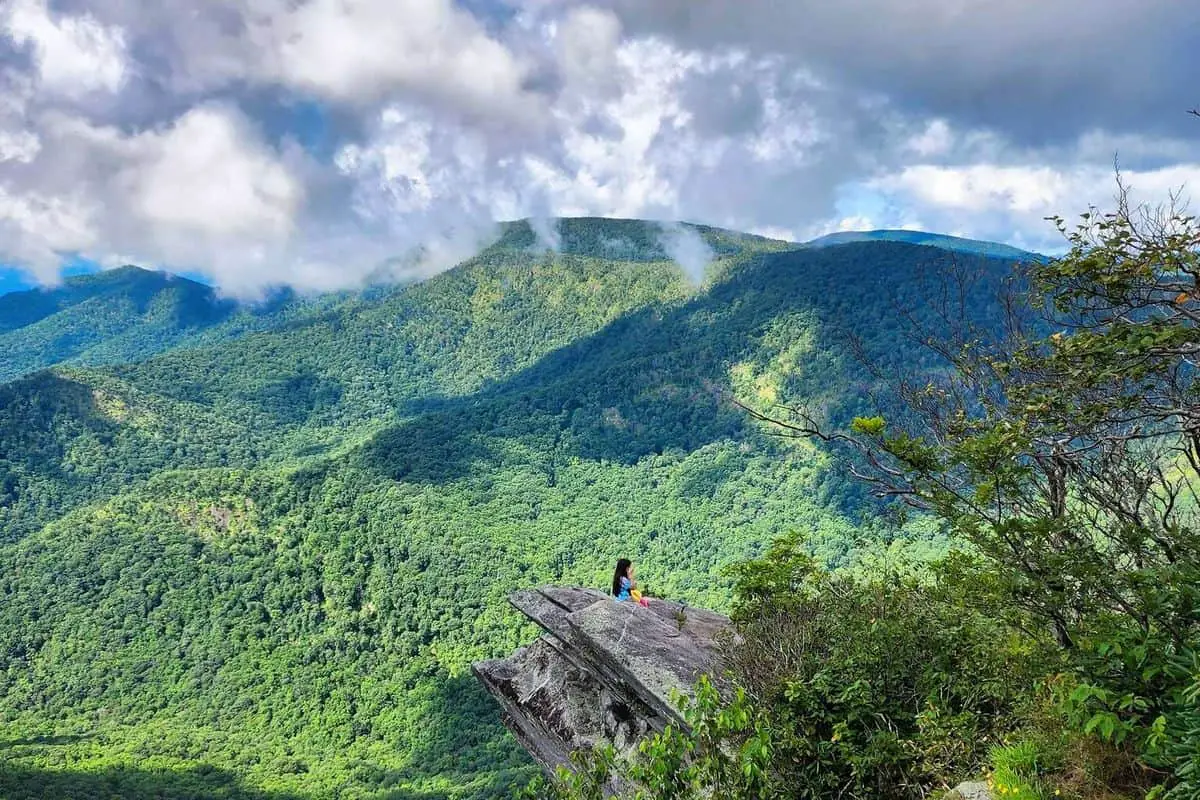 Speaking of rocky protrusions jutting from a hillside, Pickens Nose in the Nantahala National Forest is home to one of the 828 Smoky Mountains' most well-known photo spots. The 1.4-mile out and back trail is accessible and is situated between Franklin, North Carolina, and the Georgia state line.
16.The Old Mill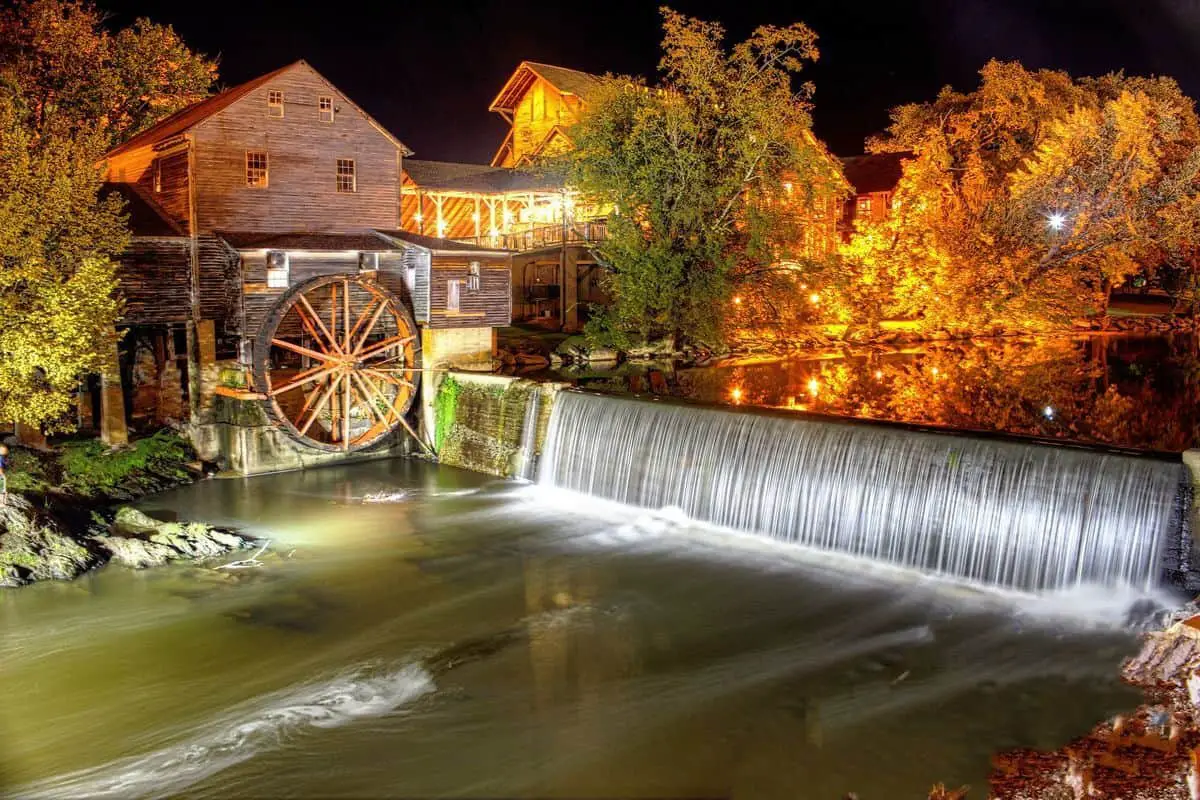 Around Pigeon Forge, The Old Mill was constructed in 1830. It was originally used by farmers to grind cornmeal and flour. The mill now has water running through it. It's the ideal setting for Great Smoky Mountains photography for group photos or simply a picture of it all by itself. For a stunning image that speaks a thousand words, take a step back and include the river as well.
17. The Village In Gatlinburg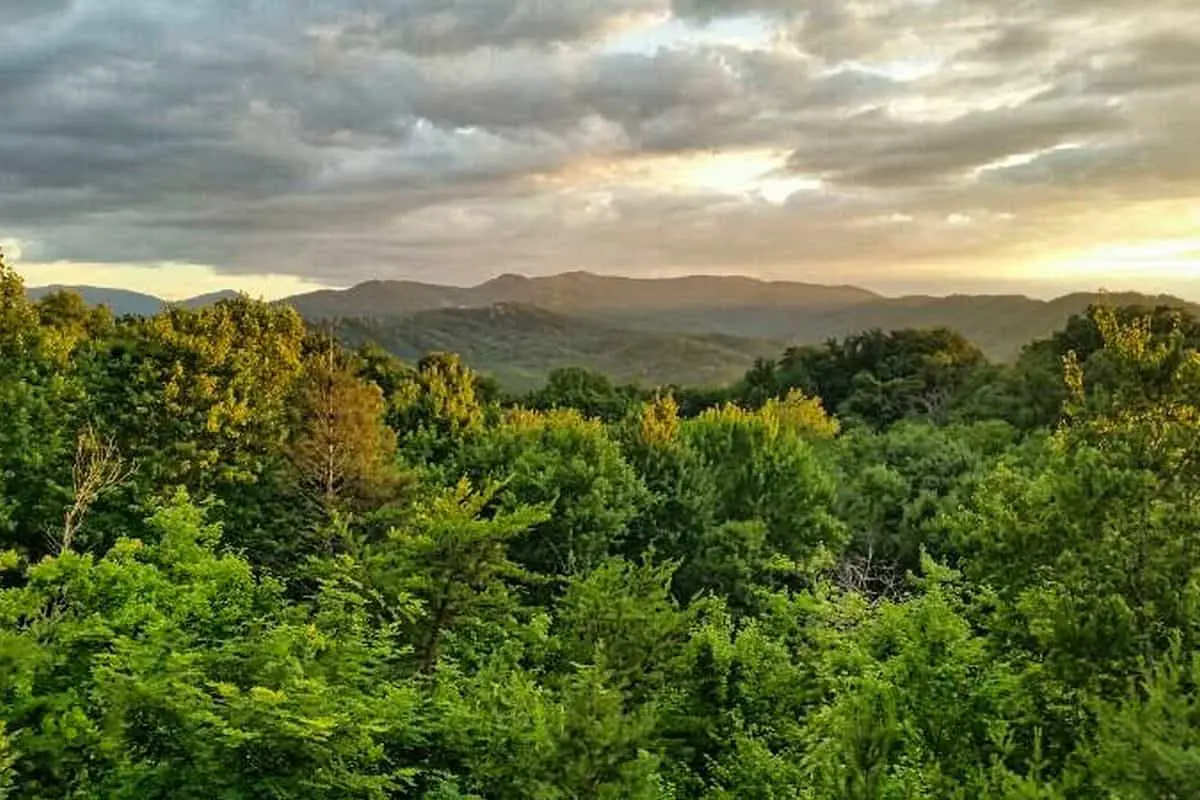 Enter The Village, a part of Gatlinburg that feels like its own town, after leaving the parkway. This shopping complex is brimming with charming, Old World stores that genuinely give you the impression that you've traveled back in time and into a totally other setting.
The shops and the fountain that is in motion are just two of the many photogenic locations in this region. Plus, grab a snack from the Donut Friar so you can take a #foodphoto that will leave your followers wanting more.
There are so many things, people and places for Great Smoky Mountains photography in Gatlinburg we can't describe it all here. Just believe that a visit to both Gatlinburg and Pigeon Forge have to be a huge part of your Smoky Mountains National Park photos Instagram journey around the Smokies.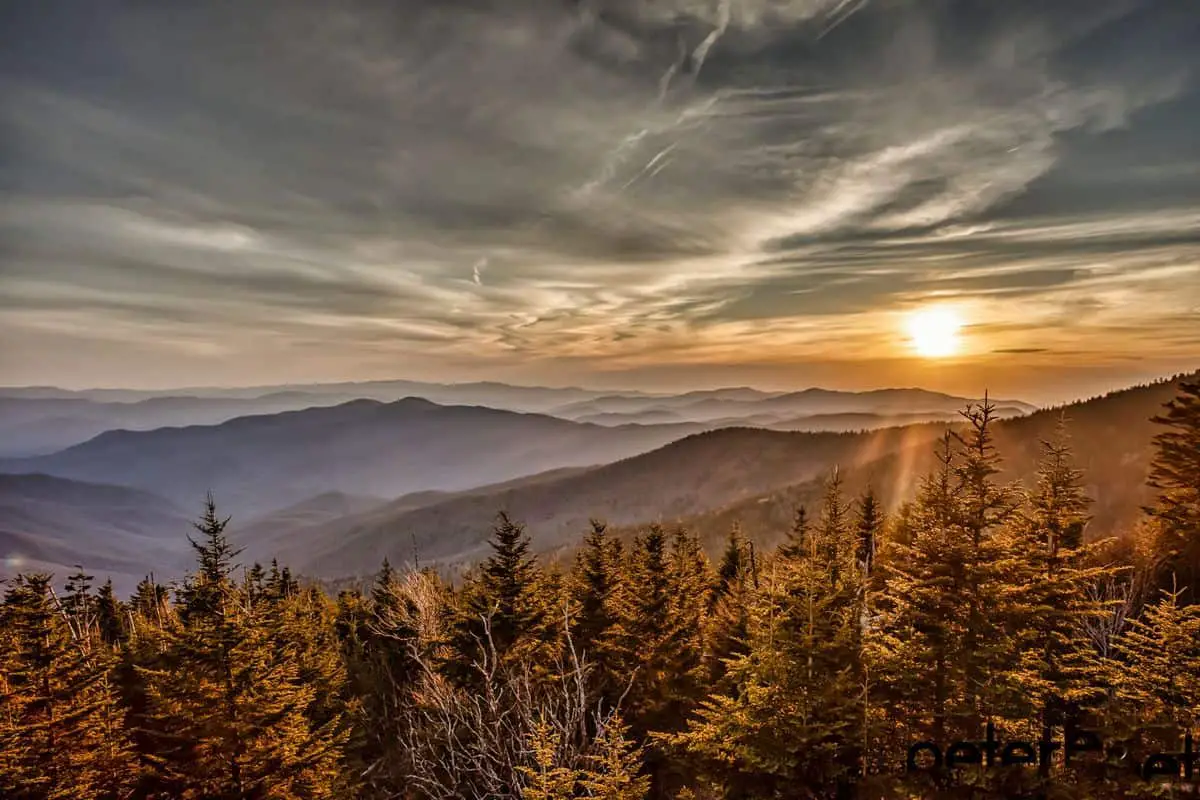 In any season, the Great Smoky Mountains National Park is stunning. Wildflowers can be photographed in the Spring, and Spring and Summer are the two seasons when there is the most water running through the streams and waterfalls. Of course, Fall is a fantastic season to take photos of the countryside as it changes hues.
Additionally, taking Smoky Mountains National Park photos of the scenery covered in snow and ice is possible throughout the winter.
Spring and Fall are the busiest seasons, thus those times will have the most visitors. While the park has a few excellent photo locations that are accessible by car, such as Newfound Gap and Clingman's Dome, the majority of the best photo opportunities need for some hiking.
The bulk of park visitors stick to the major thoroughfares and views, thus crowds don't really provide a significant challenge for photographers. The greatest time to visit truly depends on what you want to capture because even during the busiest times, you can easily find some isolation by hitting the trails.
Although the park is open all year long, some roads are blocked in the Winter, most notably the Roaring Fork Motor Nature Trail and the road to Clingman's Dome.
How simple or difficult it will be for you to enter and exit the park depends on where you will be staying in relation to the throngs. The most well-known entry to the park is in the town of Gatlinburg, and the town of Pigeon Forge, which is right next to Gatlinburg, is also a very popular tourist destination.
If you have to drive through Pigeon Forge and Gatlinburg in order to get to the park, even a very short trip can take a while (there is a bypass that will make the trip much quicker depending on where you are coming from). Within the park, there are campsites that will shield you from this traffic.
Additionally, during busy times, there are more vehicles on the park's key thoroughfares, such as Newfound Gap Road and the Cade's Cove loop. Even without traffic, moving between locations inside the park can take some time due to its size.
Since the park has such a large variation in height, the turning of the leaves in the Fall will occur at various periods. Generally speaking, October is a fantastic month to travel for Autumn Smoky Mountain National Park photos.
Great Smoky Mountains National Park Instagram Captions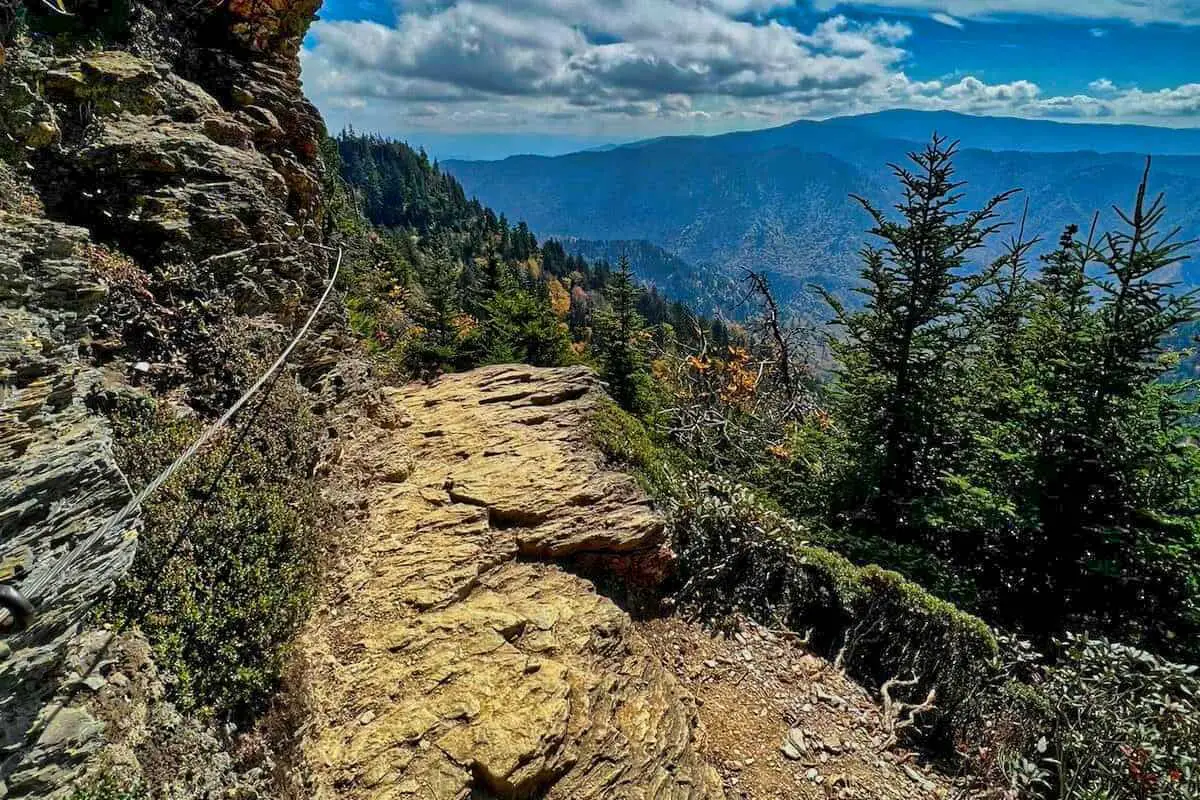 For your Smoky Mountain National Park photos, compelling captions can increase engagement, which is important for Instagram's algorithm. Strong language in your caption helps your followers understand they need what you're offering by defining your brand's narrative and personality.
In summary, Instagram captions can boost your business's social media success, which will benefit your bottom line. Instagram's algorithm has recently undergone changes, so if the platform loves your Instagram engagement rates, it will be more likely to serve (or "see") your uploads of Smoky Mountain National Park photos.
This indicator examines how many user comments you receive on a post and if you reply to those comments. As strange as it may seem, these modifications mean that simply having a large number of followers no longer ensures that your Great Smoky Mountains photography will be noticed.
Making the Most on Instagram With Great Smoky Mountains National Park Photos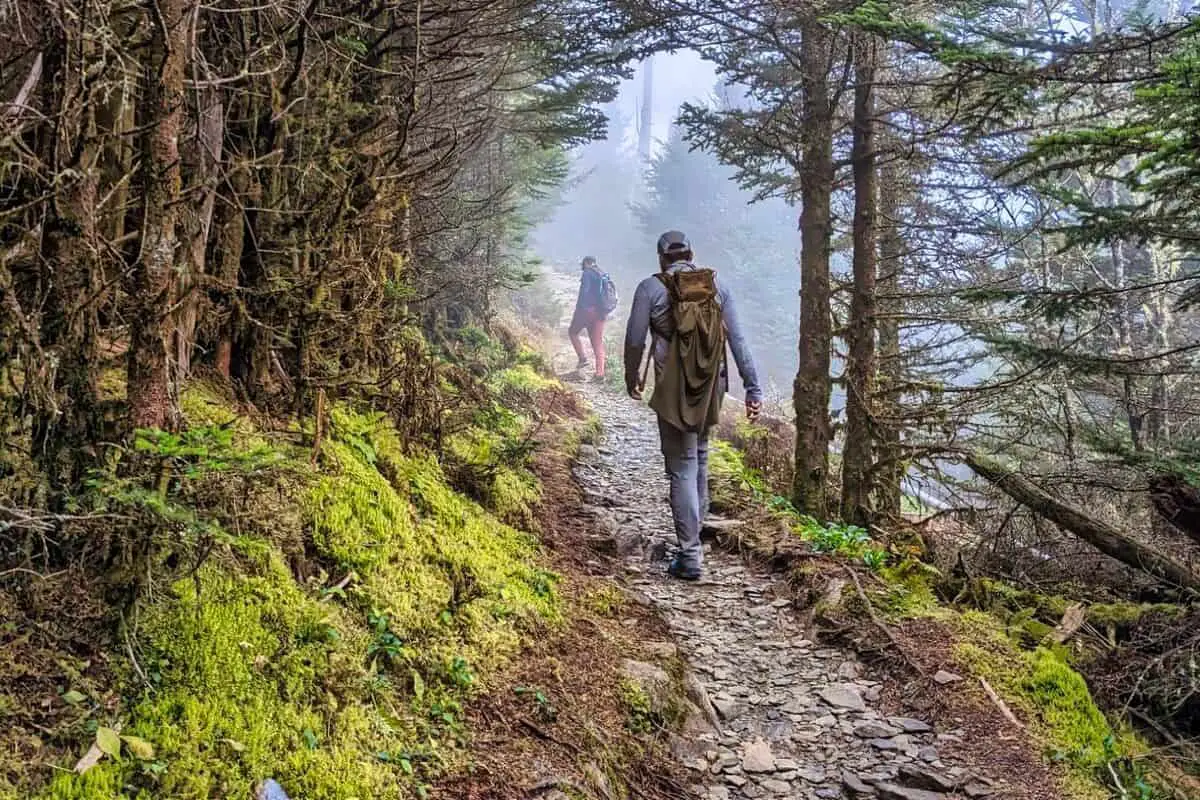 Include crucial information at the start of your caption because Instagram hides the remainder of it behind a "more" link after a few lines of text. Make sure it's intriguing or poses a question because only the first phrase or two will be seen by users in their Instagram feed. Also, avoid placing your call to action at the end.
"Lead with the hook in the first copy of your Instagram caption, just like you would with any other form of marketing!" When I get to the important information in my captions before the line break (the "More" option Instagram allows you to keep reading past the first two lines), I notice higher interaction.
Consider Caption Length
Your Instagram caption, like other marketing tactics, emphasizes the importance of high-quality rather than quantity for your Smoky Mountain National Park photos. It may be concise and to the point or contain longer, in-depth text.
When it comes to creating captions, there is no ideal or undesirable length. People will read your content if it adds value or is intriguing. But you should err on the side of caution if you're unsure whether a post is too long.
Smoky Mountains Instagram Locations Best Captions
We know you have made it this far, so you are searching for Instagram captions that mention the Smoky Mountains. The greatest captions for Instagram posts featuring Smokey Mountains are divided into sections below.
Both boys and girls enjoy going on mountain hikes and taking beautiful pictures. On social networking platforms like Facebook, Whatsapp, and Instagram, they wish to share those pictures. We've put up a thorough list of the best Smoky Mountain Instagram captions for girls and boys to get you started on the process of selecting a suitable description for your standout photo.
Best Smoky Mountain Instagram Captions
Feeling high right now.
The time it took to reach the peak was 3 hours. The joy of seeing the world from this altitude: timeless.
The view from the mountains is simply incredible.
This moment is the peak of my life.
Open air and coffee. What more can a man want?
I climbed a mountain today. Why? Because it was there.
It's not that I'm excited about the snow, but that I get to climb a mountain with snow.
The view from the top of a tall mountain is breathtaking.
This is peak mountain right here.
Never Look Back.
I love hiking. Incredible to see this mountain from the top.
It was hard getting up here, but this mountain top is the best view of my life.
Conquered this mountain. Time for a new mountain!
This is a picture of my friend's house. It's in the middle of a mountain and next to a river.
The perfect place to relax and unwind after a long week.
Sometimes you need to climb a mountain.
Mountain view, campfire, and mountain breeze. My favorite three things in life.
Climbing mountains all the time. Ain't no Wifi here!
If you want to feel life with all your being, think about climbing mountains. It's worth it.
These mountains gave us a good challenge, but we finally made it.
Big adventures start with a single step.
My heart led me to climb mountains!
Climb some mountains, and live a little.
Change is a good thing.
This adventure made me feel alive! If you have a mid-life crisis, climb some big mountains.
Snappy Smoky Mountain Instagram Captions
I belong in the Smoky Mountains
Love this super adventurous journey for me
It's impossible to not love the Smokies
I'd pick the mountains over the beach any day
Home is where the heart is, and the heart is in the Smoky Mountains
The Smoky Mountains are my happy place
Up, up, and away in the Smoky Mountains for a weekend
Sky above, earth below, peace within
Over the Smoky Mountains and through the woods
You can't buy happiness, but you can buy a lift pass
That girl, she's going to move mountains
Who else wants to shut off their phone, drive to the Smokies, forget everything, and just breathe in the fresh mountain air?
Dear Smokies, I will never get over you
Quotes For Smoky Mountain Instagram Captions
"This mountain, the arched back of the earth risen before us, it made me feel humble, like a beggar, just lucky to be here at all, even briefly." – Bridget Asher
"Because in the end, you won't remember the time you spent working in the office or mowing your lawn. Climb that mountain." – Jack Kerouac
"May your trails be crooked, winding, lonesome, dangerous, leading to the most amazing view. May your mountains rise into and above the clouds." – Edward Abbey
"The Smoky Mountains are a rare jewel…why not have a place where you can still see the stars? There is value to keeping things primitive." – James Dawson
"Of all the paths you take in life, make sure a few of them are dirt." – John Muir
"The farther one gets into the wilderness, the greater is the attraction of its lonely freedom." – President T. Roosevelt
"You are not in the mountains. The mountains are in you." – John Muir
"Mountains teach that not everything in this world can be rationally explained." – A. Lwow
"Although I do love oceans, deserts, and other wild landscapes, it is only mountains that beckon me with the sort of painful magnetic pull to walk deeper and deeper into their beauty." – Victoria Erickson
"I know I can't own a hilltop, a meadow, or a mountainside. But keeping it a secret somehow makes it mine." – Joyce Rachelle
"You're off to Great Places! Today is your day! Your mountain is waiting, so…get on your way." – Dr. Seuss
Smoky Mountain Instagram Captions About Relationships
Are there bears in the Smokies? Bearly any
I think the mountains smoke to me
In love with sunsets and these mountains
It's just a mountain, get over it
The Smoky Mountains aren't just funny, they're hill areas
Sometimes you just need to change your altitude
Enjoying life in the snow lane
Time in the Smoky Mountains is always snow much fun
The Smoky Mountains are all the range
The s'more pictures, the merrier
What a view, I've lost my terrain of thought
Short Smoky Mountain Instagram Captions
Smokies, let's do it
Adventure awaits
Ladies and gentlemen, Mother Earth
Made for the mountains
Move mountains
Sometimes I dream of mountains
Fresh air, don't care
Feelin' smoky
Postcard from the Smoky Mountains
Mountain breeze & tall trees
Sometimes I dream of mountains
Wanderlust and mountain dust
Inspirational & Beautiful Smoky Mountain Instagram Captions
I love places that make you realize how tiny you and your problems are
If I can't go to heaven, let me go to the Smoky Mountains
Watching the sunset over the Smoky Mountains is something I'll never forget
Sometimes you just need an adventure to cleanse the bitter taste of life from your soul
Life begins at the end of your comfort zone
Happiness can be found in the mountains
---
You May Want to Join Our Boondocking Group on Facebook For More Information
You May Want to Join Our Campfire Recipes Group on Facebook For More Information
For More Photos Visit Our Instagram at Instagram Our Big Escape