Last updated on May 14th, 2022 at 07:16 am
Maryland is known for its beaches, and there's no better way to enjoy them than with your family on a free Maryland boondocking excursion. Free Maryland camping spots, especially in the summer, like the Chesapeake Bay, has a lot to offer.
Free Maryland Boondocking and Dispersed Camping
Camping in and around the Chesapeake Bay delivers on Maryland's promises of sun-drenched shoreline, fishing, and boating. Maryland, on the other hand, offers a diverse range of additional adventure opportunities, including harsh mountains in the north and west, as well as the pastoral hills of Central Maryland. In addition, ancient villages and the great cities of Baltimore and Washington, D.C. are all within easy reach of the thrills and leisure offered by free Maryland boondocking.
The beaches of Maryland have long been a favorite family holiday spot. On Assateague Island, a 37-mile length of beach and marsh where wild horses graze, campers can find quiet fishing and swimming, as well as breathtaking coastal sunrises, not far from the bustling Ocean City. There are dozens of other free Maryland boondocking spots and waterfront camping opportunities in Maryland on the Eastern Shore and in the Chesapeake Bay's tributaries. Watermen have fished for blue crabs, oysters, clams, and rockfish for generations, and the towns have retained their red-brick charm.
Biking or walking parts of the old towpath for the Chesapeake & Ohio Canal is another popular way to visit free Maryland camping spots. To connect Washington, D.C. and Cumberland, Maryland, the 184.5-mile easy, shaded trail follows the Potomac River, passing through hundreds of ancient lockhouses, the spectacular Great Falls, and historic communities like Harper's Ferry. Every few kilometers, campers can find a free Maryland RV boondocking spot.
Mountaineers will find free Maryland dispersed camping along the remnants of the broader Appalachian range in Maryland. These locations provide easy access to vistas and waterfalls, including the state's tallest, Cunningham Falls, at 78 feet. Sugarloaf Mountain is a small peak south of Frederick, Maryland, with a Civil War history that now provides hikers, rock climbers, and campers far-reaching vistas of the surrounding vineyards and woodlands.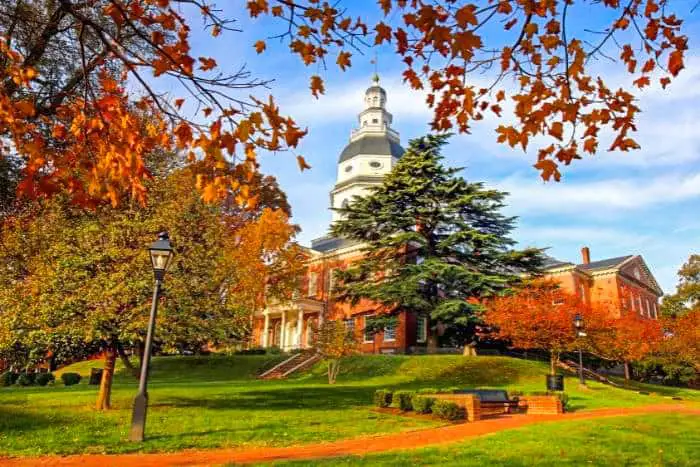 7 Free Maryland Boondocking
1. Sideline Rest Area Eastbound
Address
Hancock, Maryland
GPS: 39.715861, -78.280882
Elevation: 1184′
Management: Public – Rest Area (Unofficial)
The road in is Paved. Sideline rest area eastbound is open year round for Free Maryland boondocking spots. You may stay overnight at Sideline rest area eastbound. Quite moderately lit. I slept next to bike for 8hrs. Attendant checked on me multiple times and stated I could have pitched a small tent and nothing would be said.
2. Adirondack Shelters Camping Area
Address
Sabillasville, Maryland
GPS: 39.67717, -77.48394
Elevation: 1562′
Management: (Official)
The Free Maryland campong spots have two shelters with outhouses and fire rings. Very beautiful and secluded site. I accidentally found this site and have stayed there over 30 times. GPS is approximate. For those in search of backcountry solitude, there are two shelters that offer the bare minimum with regard to outdoor accommodation. A PASS or PERMIT is required at this campsite. The price is $10.
3. Deal Island WMA
Address
Riley Roberts Road
Deal Island, Maryland
GPS: 38.175841, -75.910699
Elevation: 4′
Management: Public – Fish and Wildlife Service (Official)
A primitive camping area is available on the Free Maryland boondocking spots for overnight stays. Mosquitoes and other biting insects are common from spring through early fall. Bring insect repellent, minimize exposed skin and wear light-colored clothing.
4. Rest area
Address
Laurel, Maryland
GPS: 39.141032, -76.844413
Elevation: 269′
Management: Public – Rest Area (Official)
Great rest area with overnight parking and a dump station with the free Maryland RV camping spots. Clean and not to much noise. Great spot! Always other campers there. Well lit. Monitored for safety. 100% workers empty trash cans, cleaning toilets, etc. Large mowed area for pets to roam and run. Picnic tables and grills. Enough space so that you are away from the road noise and truckers.
5. Swains Lock (tent sites)
Address
Potomac, Maryland
GPS: 39.031381, -77.243581
Elevation: 174′
Management: Public – National Park Service (Official)
10700 Swains Lock Rd, Potomac, MD 20854 Multiple free Maryland boondocking spots with tables and fire rings. Porta-pottys and water fountain. 100 meters from parking to site. Right on the river with decent fishing and natural firewood.
6. E. A. Vaughn WMA
Address
Stockton, Maryland
GPS: 38.077881, -75.391628
Elevation: 10′
Management: Public – Fish and Wildlife Service (Official)
A free, primitive camping area is available for overnight stays in the free Maryland camping spots. The campsites is a fairly level dirt packed parking area. Anglers can bottom fish for sea trout, croaker, spot, flounder or bluefish. Crabbing is also possible. Hiking and all-terrain bicycling on one of the many unmarked trails.
7. Hugh T. Cropper Inlet Parking Lot
Address
Ocean City, Maryland
GPS: 38.32612, -75.08655
Elevation: 7′
Management: Public – City parking (Unofficial)
The road in is Paved. Hugh T. Cropper inlet parking lot is open year round for your free Maryland boondocking pleasures. You may stay overnight at Hugh T. Cropper inlet parking lot. Great view, right on the water! Nice spacious, well lit, parking lot. Free through winter until April. No signs mention parking time limit or overnight rules, but nobody bothered me in my minivan overnight! You can pay $0.50 so your plates are in their system, but not sure if it's necessary.
Free Maryland Boondocking Locations
You'll be astonished by the number of free Maryland boondocking locations that are near water or wetlands. Because many of these sites encourage fishing, it's simple to eat what you catch when you're in the vicinity of a dispersed camping place. You'll find essential goods like fire rings at some of the sites you'll come across throughout areas. Additionally, while many of the free Maryland dispersed camping spots are free, others may require you to make a reservation in advance.
☆ E.A. Vaughn WMA
The E.A. Vaughn Wildlife Management Area, located in Stockton, has free Maryland RV parking that includes a primitive camping site where you can park your RV for overnight stays. Because the area is not paved, it may become muddy after a rainstorm. The location is also close to various marshes, where you may go bottom fishing if you have a license. Trout, croaker, flounder, and bluefish will all be available to catch. Despite the fact that it is a WMA, you are allowed to hunt here as long as you hunt in season and don't kill endangered animals like the local fox squirrels.
☆ Deal Island WMA
The Deal Island State Wildlife Management Area encompasses nearly 13,000 acres of tidal marshland. When you visit this free Maryland boondocking location, you can enjoy some dispersed or primitive camping off of Riley Robert Road. This is a non-hunting place, however those who want to enjoy the animals are free to come. Because mosquito bites are common on Deal Island, you may want to bring insect repellant.
☆ Potomac State Forest Wallman Laurel Run
Potomac SF is located in Oakland, Maryland, and includes 36 locations in five different neighborhoods. When you're partaking in free Maryland RV boondocking here, you'll notice that there's a sense of community. If you have friends who want to join you while you're in our free Maryland dispersed camping areas, there's even a group site. Even yet, this is a first-come, first-served location that can quickly fill up.
☆ Fifteenmile Creek
Fifteenmile Creek is located in Pratt and includes an unpaved rustic camping area that is first come, first served. There are no hookups at this free Maryland dispersed camping site, but there are numerous spacious sites with grills and even chemical toilets. On the C&O Canal Towpath, this location is at Mile 140. You may visit a nearby canal, and the creek is home to a variety of fish.
☆ Ocean Downs Casino
To camp at this Berlin-area Casino, you'll need to check in with security, but there's a large open paved area where you can stay for a few days. While you can't park with your sides out and stabilizers down, the terrain is level, and there's plenty of room for a Class A or a big-rig. Designed for free Maryland RV Boondocking.
Free Maryland Camping Spots
Keep in mind that free Maryland boondocking spots have a lot of wetlands and canals when planning your boondocking vacation. Mosquitoes are also particularly frequent in the camping areas in all season save winter, thanks to the several miles of coastline. If you plan on sleeping outside of your RV, carry bug repellent and mosquito netting. Also, many of the sites in Maryland aren't paved, so be prepared for some muddy spots, especially given the state receives 44 inches of rain each year on average. As a result, if possible, contact beforehand; at times our free Maryland dispersed camping locations are sometimes forced to close owing to water.
In addition, the existence of fire rings in state parks and woods is particularly beneficial. It's a lot easier to light a fire and do some cooking with these. Some of the rustic camping spots here also include nearby bathrooms and outhouses, making your boondocking experience a little more convenient. The majority are first come, first served, but you should have little trouble getting a spot once you arrive. Most campsites in the state have cellular service, so you should be able to stay in touch with loved ones who weren't able to join you on your adventure.
There will be much to do while in the state. For example, tent camping in Maryland or scattered camping is permitted in a few wildlife management zones and state forests, so be prepared to encounter a variety of creatures. This is especially true in marshy places, where ducks, hunting birds like peregrine falcons, and huge mammals like bears, beavers, and mountain lions can be found. You'll also discover that free Maryland RV boondocking has a vast network of abandoned trains to investigate. If you're still undecided about what to do before you leave on your trip, read our blog to learn everything you need to know about boondocking.
Free Camping in Western Maryland
You may get a free night or two of quiet, polite camping in these free Maryland RV parking lots thanks to the generosity of some local companies, including a Cracker Barrel and a Walmart in Hagerstown, MD. Cracker Barrel even has two reserved parking spots, although Walmart's larger lot is excellent for individuals towing a toad or with huge RVs.
You won't find a picnic table or a fire ring here, and you won't be allowed to pitch your tent here. They're just ordinary RV-sized parking places in a parking lot where you may rest after visiting the neighborhood.
Free Camping Near Baltimore, MD
The Maryland Welcome Center, which has a free dump station, is the final stop worth noting. While camping here overnight is officially prohibited, it is occasionally tolerated with the agreement of local staff or the state police.
Free Maryland Camping Spots in State Parks
First time campers: So you've heard about our beautiful state parks and now you're ready to camp. That's great and we can't wait to see you. If you're new to camping or maybe just new to camping in Maryland, we've created a frequently asked questions page just for you. We want to eliminate the guesswork and make your visit to our Maryland State Parks more enjoyable. We've also included a list of what to bring that should be helpful to you, even if you're a seasoned camper. (*see below)
---
---
For complete photos and videos of our trip, visit our photos on our Facebook Page
You May Want to Join Our Boondocking Group on Facebook For More Information