Morocco touts are in all major cities in the country. It is likely that you are going to come across them at some point in your trip. Touts are people that try to talk you into using the service that they are promoting. This could be eating in a particular restaurant or paying them to show you the way to your riad. We found that there is no way to avoid these touts altogether. There are things you can do to make sure that they don't give you too much-unwanted attention.
One thing to bear in mind is that most Morocco touts work for the owners of shops and restaurants. Their job is to try and get as many people as possible. It can be annoying to be solicited by different people as you walk down the street. They are only trying to do their jobs and it doesn't cost you anything to be polite.
Morocco Touts Who Offer To Help
You may have the touts offer to show you the way to your riad or to popular tourist sites in the city. There is a chance that they may be doing this to be helpful. Our experience is that this is not very likely and in most cases, they will ask for payment. If this is a service that you decide to use then you should not pay more than 20 Dirham. There are many young children who are offering the same service. The reason that children do this is often to earn a bit of extra money so they can treat themselves to a toy. This is something that they would not be able to afford without the occasional tip. Children will be happy with a payment of anything between 5 and 10 Dirham.
What If They Demand More Payment?
This is not an experience that we have ever had but it can happen. The most important thing to remember is to be polite but firm. Do not get pressured into handing over more money than you have already given. If you begin to feel threatened then go to the nearest riad and knock on the door. Even if you are not staying there then the staff will still be able to help you deal with the touts.
If you are in a major city such as Marrakech there may also be undercover police officers around that will help. You can also threaten to call the police if you are starting to feel really uncomfortable. This will usually be enough to get them to leave.
Henna Tattoos In Marrakech
Women who are shopping in the markets in Marrakech need to be aware of Henna tattoos. There will be many people who are offering the service. In some cases, they will not ask for permission and will grab your hand and start drawing. They may tell you that it is free. After they finish they demand money and this fee could be as much as 400 Dirham. This is something that we are hearing about on a more regular basis and so is something that you need to look out for. The easiest way to deal with these types of Morocco touts is to pull your hand away and tell them no. Try to do it in a polite and firm manner. If you do want to have a Henna tattoo while you are away then you shouldn't expect to pay more than 20 Dirham.
Morocco Touts That Can Be Harassing
This last type of tout that we will discuss is also one that women need to watch out for. These men are not selling anything. They will make comments towards women that can be suggestive and unwanted. Sometimes this can be one comment they shout out as you walk past.
On other occasions, they may actually approach you to make the comment or even ask you to go home with them. This can be uncomfortable but the easiest way to deal with it is to ignore them. If you think that you are in any physical danger from these Morocco touts then call the police. If they continue to follow you then approach the first police officer that you see, even if it is only a traffic cop.
When you are on vacation you want to dress the way that you want. Sometimes there are situations when you may be better off covering up. We have seen on more than one occasion that more comments go towards women who have more skin on show.
Unfortunately, most of what these men think they know about women come from TV shows and movies. Of course, these shows do not always show a true representation of women. People in Morroco don't have anything else to compare it against.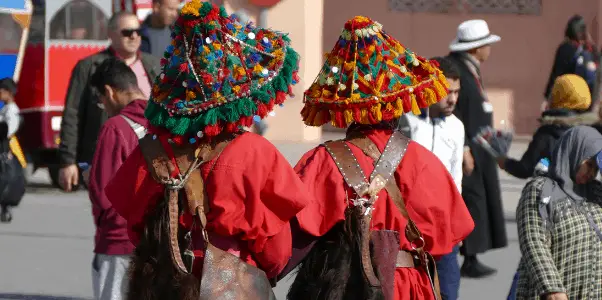 Strategies For Dealing With Morocco Touts
To recap, here is a list of the most successful strategies that you can use to deal with touts. The pretty much when you are visiting any place in Morroco.
– Ignore them and keep on walking
– Decline the service that they are offering
– Think about what you wear
– If you feel at risk, then always ask for help immediately
– Involve the police if the situation escalates.
The authorities in Morocco do not like to see tourists who are being bothered. You shouldn't feel as if your complaint is too minor or will not be taken seriously. The police will always do whatever they can to help you.
You might also like some of the articles from our website about boondocking and travel.
5 Best Ways to Visit Techatticup Gold Mine In Nevada
12 Super Reasons To Visit Mount Charleston Nevada
10 Great Reasons to Visit The Valley of Fire Park
9 Great Hiking Trails In Red Rock Canyon
For complete photos and videos of our trip visit our photo on our Facebook Page
You May Want to Join Our Boondocking Group on Facebook For More Information