Everyone appreciates a nice fresh Campfire Salmon Filets Recipe for its flavor and nutritional content. Whether you cook it at home on the barbecue or while traveling, this recipe is sure to impress everyone. One of our objectives is to prepare a nutritious dinner. But the versatility of fixing campfire salmon filets is another fantastic quality, in terms of the meals you can prepare as well as the methods you can employ to prepare them.
Campfire salmon filets can be prepared in a variety of ways and with a range of dishes. Salmon can be prepared in a rice cooker, baked, grilled, or even cooking salmon over an open flame. Surprise yourself with this interesting and unusual experience. Bring on the bonfire's scorched deliciousness.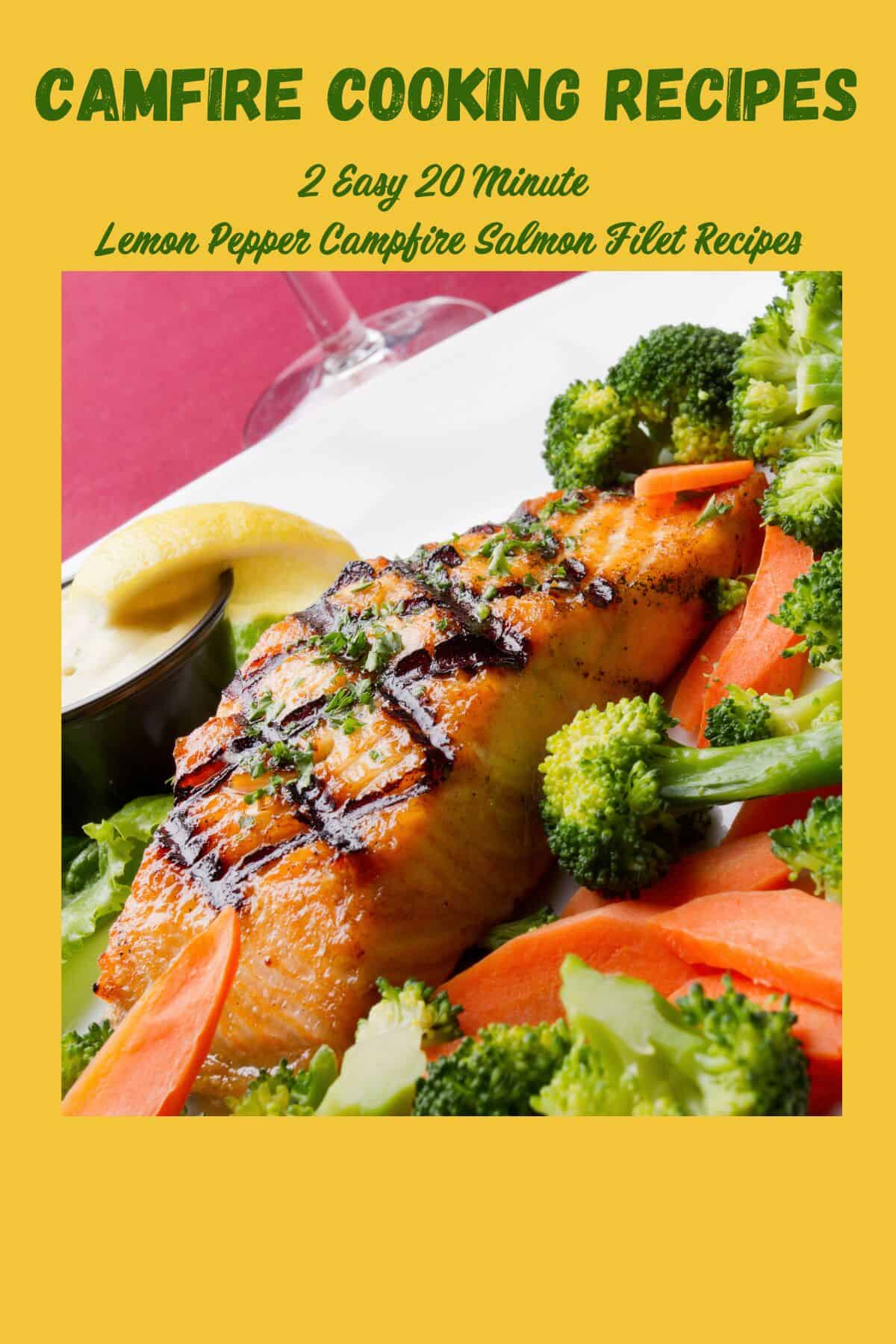 Easy Lemon Pepper Campfire Salmon Filets
The various methods also bring out the salmon's unique tastes. So when you consider having your salmon roasted over an open fire, think about smoke, flame, and char. Because it's so simple and the smoky flavor is the finest part, we believe it's an excellent method for cooking your campfire salmon filets.
Campfire Cooking Salmon Techniques
Of course, the best fish must be obtained in order to enjoy any salmon meal to its fullest. Although, we prefer King and Sockeye salmon over Atlantic salmon since they are both delicious, fresh, and healthful, we always recommend it. As was already mentioned, cooking salmon over a campfire has a unique flavor and texture, especially when done outside. These are the two campfire salmon filets techniques that produce the best results when cooking salmon over an open flame.
Salmon on Skewers
Skewers are a great option for grilling campfire salmon filets over an open flame or the hot coals of a campfire. Salmon fillets can be skewered whole or in cut-up chunks with vegetables. Everything depends on you! Any sauce can do as a marinade for the salmon! To be honest, everything is "on the table". It's simple, fun, and everyone can help prepare their own dinner when campfire salmon filets are grilled on a stick over an open flame.
Once skewered, place the salmon directly over the flames. You should cook it over an open flame rather than somewhere it might catch fire. Keep in mind to rotate the skewer frequently. This guarantees even browning of the meat throughout. Note: Always soak wooden skewers in water before putting them over an open fire to prevent them catching fire.
Salmon In Foil Packs
Another campfire salmon filets cooking method involves wrapping the salmon in a double layer of aluminum foil and heating it over an open flame. Salmon cooked as foil packet meals is a terrific option if you have a grill grate to place over an open fire. As an alternative, you can hover over an open flame using tongs.
We can wrap everything in foil before cooking the fish, which is another reason why we love making our campfire salmon filets recipe over an open flame. The fish cooks more flavorfully and consistently with the foil while maintaining its moisture. Additionally, you'll lessen the possibility of your fish disintegrating. To ensure even grilling on both sides, flip the fish like you would the skewers. Just fold the foil packaging twice.
Are you prepared to give cooking campfire salmon filets over an open fire a try? Get ready right away because we already know you're going to say yes! What kinds of recipes would you cook over an open fire, I'm intrigued. If you plan to try this method, please let us know in the comments below, along with what you plan to build!
Since we don't always have access to a lake with plenty of fish, we frequently go hiking and fishing together. I always double-check and plan my meals accordingly. On seafood night, campfire salmon with lemon pepper is served. Since I love salmon, we always have a couple salmon filets on hand for a quick campfire meal when fresh fish isn't available. So, even if the fish aren't biting, you can always have fish for a nice campfire dinner.
Fish has a tendency to stick to a grill, but employing a layer of lemon slices prevents this while also flavoring the food with lemon. Add salt and pepper to season the food and tenderize the salmon for a deliciously flaky and juicy meal.
This salmon entrée from a campfire feeds six people with a side dish or two. You can prepare a meal using this recipe and fresh vegetables in about 20 minutes.
Camping is about connection with nature as much as it is about the meals we prepare at the camp. Salmon cooked over a campfire is a delicious meal that brings families together and fosters lifelong memories.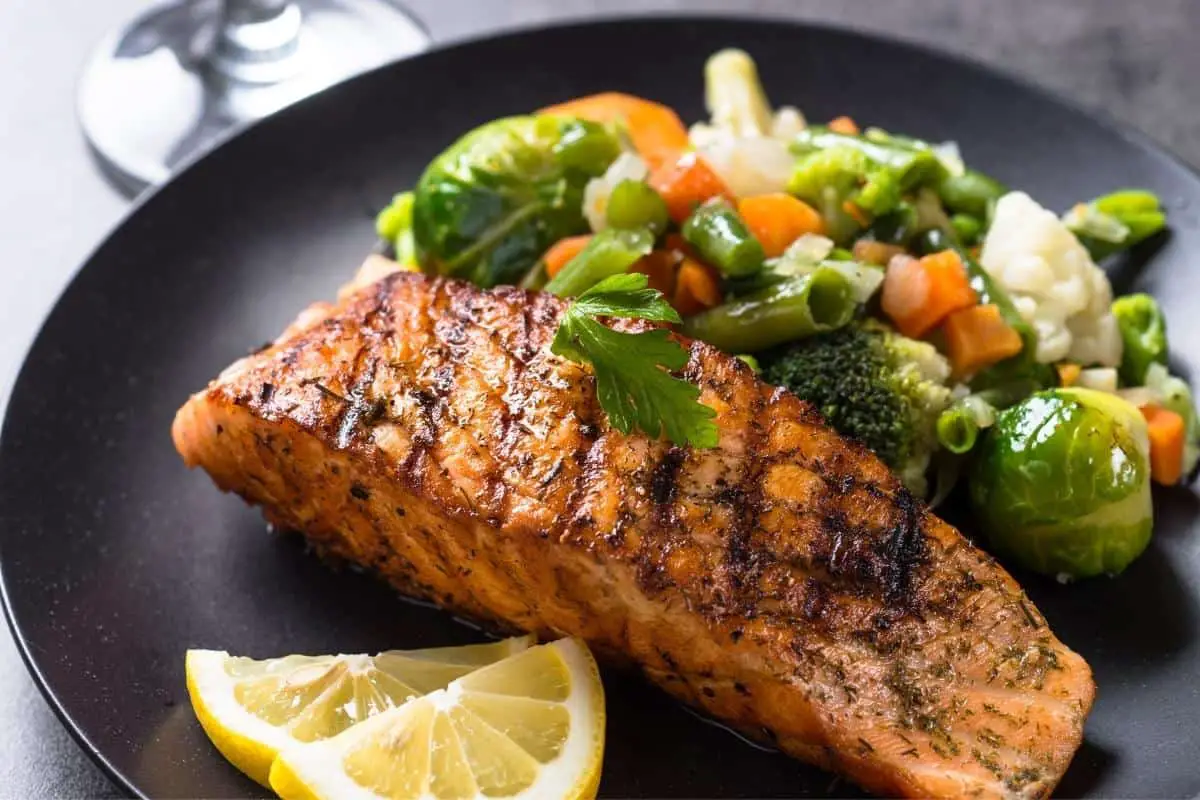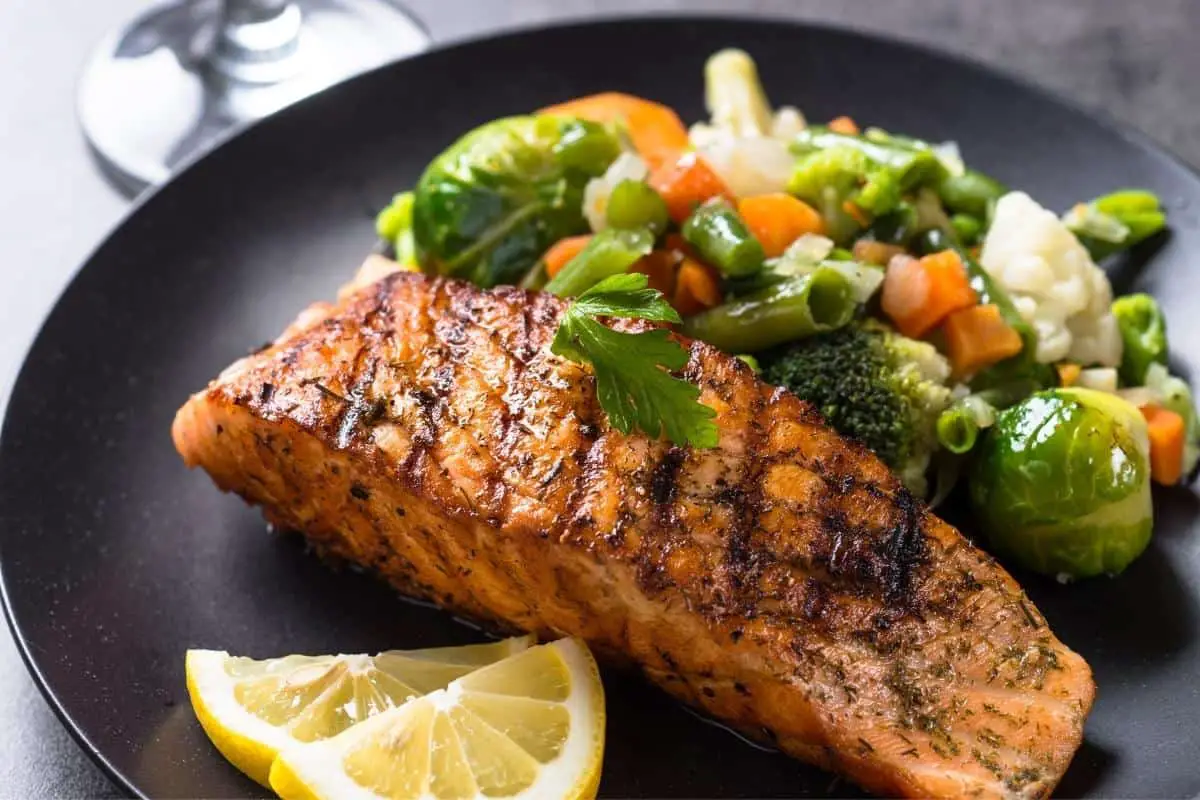 Ingredients
2.3

lb.

Salmon fillets

2

lemons

sliced ¼ inch

Cooking spray

3

tbsp.

unsalted butter

(can be subbed for Cooking spray)

Kosher Salt

to taste

Black pepper

to taste

Parsley

for garnish

Fresh lemon juice

to taste

Lemon pepper seasoning

to taste
Instructions
Build your cooking fire in preparation for cooking.

Clean the Salmon by rinsing it in ice water and patting it dry with napkins or paper towels. Whatever you have on hand.

Slice Into 6 to 8 oz fillet portions

Add Lemon pepper or favorite seasonings to taste.

Season the Salmon with salt and pepper before wrapping it in foil.

Use cooking spray (butter or Olive Oil) all over the bottom of a large foil baking pan lined with lemon slices before arranging Salmon skin side down on top of the lemons.

Place Salmon on a grate over a hot fire and cook for about 18 minutes, or until the Salmon flakes easily.

Remove from the foil, add the parsley, and serve immediately with lemon wedges. on top of the salmon
Notes
Either of these great recipes can be cooked over a gas grill or frying pan in your backyard.
-----
You may add red peppers, bell peppers, sweet potatoes to your skewers if you opt for the alternative method. A mixture of honey and butter can be basted on for a sweet flavor after cooking. Whatever you decide, you will end up with a delicious campfire dinner.

Recipe Video
Nutrition
Tried this recipe yet?
Click the stars above or below to rate and/or leave a comment below!
---
Another Campfire Recipe You Can Try: Easy Seafood Paella: 15 Minute Campfire Meal
---
---
For complete photos and videos of our trip visit our photos on our page Instagram Page
You May Want to Join Our Boondocking Facebook Group Boondocking Group on Facebook For More Information
You May Want to Join Our Campfires Recipes Group Campfire Recipes Group on Facebook