To visit Antelope Canyon in AZ you first need a good place to stay near the canyon and we recommend the Antelope Canyon Inn located in Page, Az. Read more about accommodations and how to visit the canyon below.
Stay in Page, AZ. as your home base while exploring Antelope Canyon and the other slot canyons and geologic wonders in the area. South of Lake Powell, this scenic region attracts visitors all year long. Extend your weekend getaway with stops at other nearby attractions just a short drive from Page on your scenic road trip.
The sights of Northern Arizona, such as Horseshoe Bend and Vermilion Cliffs National Monument, are sure to leave an impression on any traveler.
Antelope Inn
Address: 75 S 7th Ave, Page, AZ 86040, United States
Phone: +1 928-645-2858
Room Options:
Room, 1 Queen Bed, Accessible, Non Smoking
Room, 1 Queen Bed, Non Smoking
Room, 2 Queen Beds, Non Smoking
Antelope Canyon Inn is located in a prime location in Page, just a short drive from both Rainbow Bridge National Monument and Glen Canyon Dam. The distance from this motel to Lake Powell is 1.8 miles (2.9 km), and to Upper Antelope Canyon is 4.6 mi (7.3 km).
Take advantage of a number of convenient services at the Antelope Canyon Inn, such as free wireless Internet access, tour/ticket assistance, and barbecue grills. Free wired Internet, a 24-hour front desk, and coffee/tea in a common area are just some of the features available to guests. On-site parking is free.
Feel at home in one of the 39 air-conditioned rooms featuring refrigerators and microwaves at the Antelope Canyon Inn. Each room features a balcony. The rooms have flat-screen TVs measuring 39 inches and are equipped with cable channels and free wireless Internet access. There are either bathtubs or showers in the bathrooms, as well as free toiletries and blow dryers.
Review: The process of checking in at the Antelope Canyon Inn was quick and painless. The counter clerk did her job quickly and courteously. It was tight fitting in there with all the furniture. Everything was good. Don't expect the Ritz, it's just a clean, safe place to stay when traveling through. The price was low and it was near the canyons which is what we wanted.
Visiting Antelope Canyon In AZ
Antelope Canyon is on Navajo private land and can only be accessed through guided tours. Many local tour companies are licensed to take visitors to the canyon and teach them about its fascinating geology and history. The magnificent canyon, sculpted over millions of years by water and wind, got its name from the abundant pronghorn antelope that used to live there.
Because more light enters the canyon and the walls rise to a height of 120 feet, the Upper Antelope Canyon tour is the more popular option. Equally impressive is the Lower Antelope Canyon tour, which leads visitors into the sandstone walls' whirling embrace.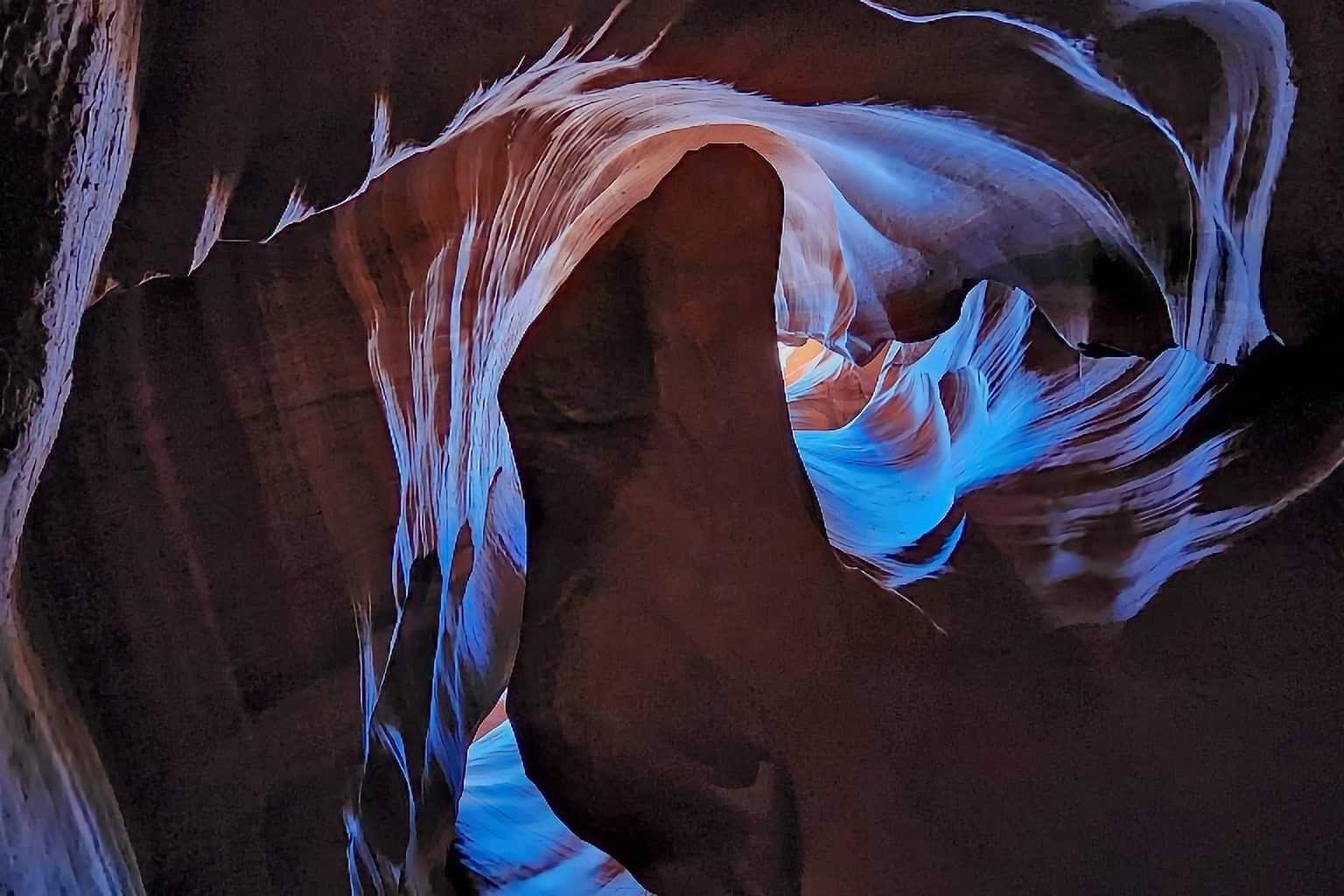 Getting To The Antelope Canyon
Antelope Canyon in AZ is a slot canyon in Lake Powell Navajo Tribal Park about ten minutes east of Page, Arizona, close to the Utah border. It was formed by erosion over millions of years. Upper Antelope Canyon and Lower Antelope Canyon are two entrances into the same slot canyon within the park.
Ground level and less than 2% inclines make the upper entrance to Antelope Canyon the most frequented. Getting to Lower Antelope Canyon involves a lot of descending and climbing ladders and stairs.
It's about a 4.5-hour drive north from Phoenix to Antelope Canyon. Tours can last up to two hours total, including time spent parking, traveling to and through the canyons, and exploring them. Due to this, many visitors choose to spend at least one night in the area (see "Antelope Canyon Inn Review" above).
---
---
check out our video
---
---
How Much Does It Cost to Go to Antelope Canyon, Arizona?
There is a significant price difference between the two Antelope Canyon in AZ sections. A standard Navajo permit costs $8 and there is an additional fee to the families who own the land around the canyons and regulate all access.
The cheapest option costing around $60 for the shorter but more popular upper section and a little more for the longer lower canyon as of 2023. Since 2018, visits are only permitted within the framework of organized tours, with advanced booking being preferred but same-day access possible during less busy times of the year.
Trips leaving between 10 AM and Noon, considered peak times, may cost more. With the Navajo capitalizing on the canyon's rising popularity, fees will most likely rise.
The majority of tours start in Page or at the park's entrance off Highway 98. Please try to be there at least 15 minutes before the scheduled start time.
Antelope Canyon is an amazing place to visit because of its bright red canyon walls and the rays of light that shine through the dust. Antelope Canyon consists of two distinct slot canyons, each of which provides a unique adventure. How do you choose which one to see if you can only go to one?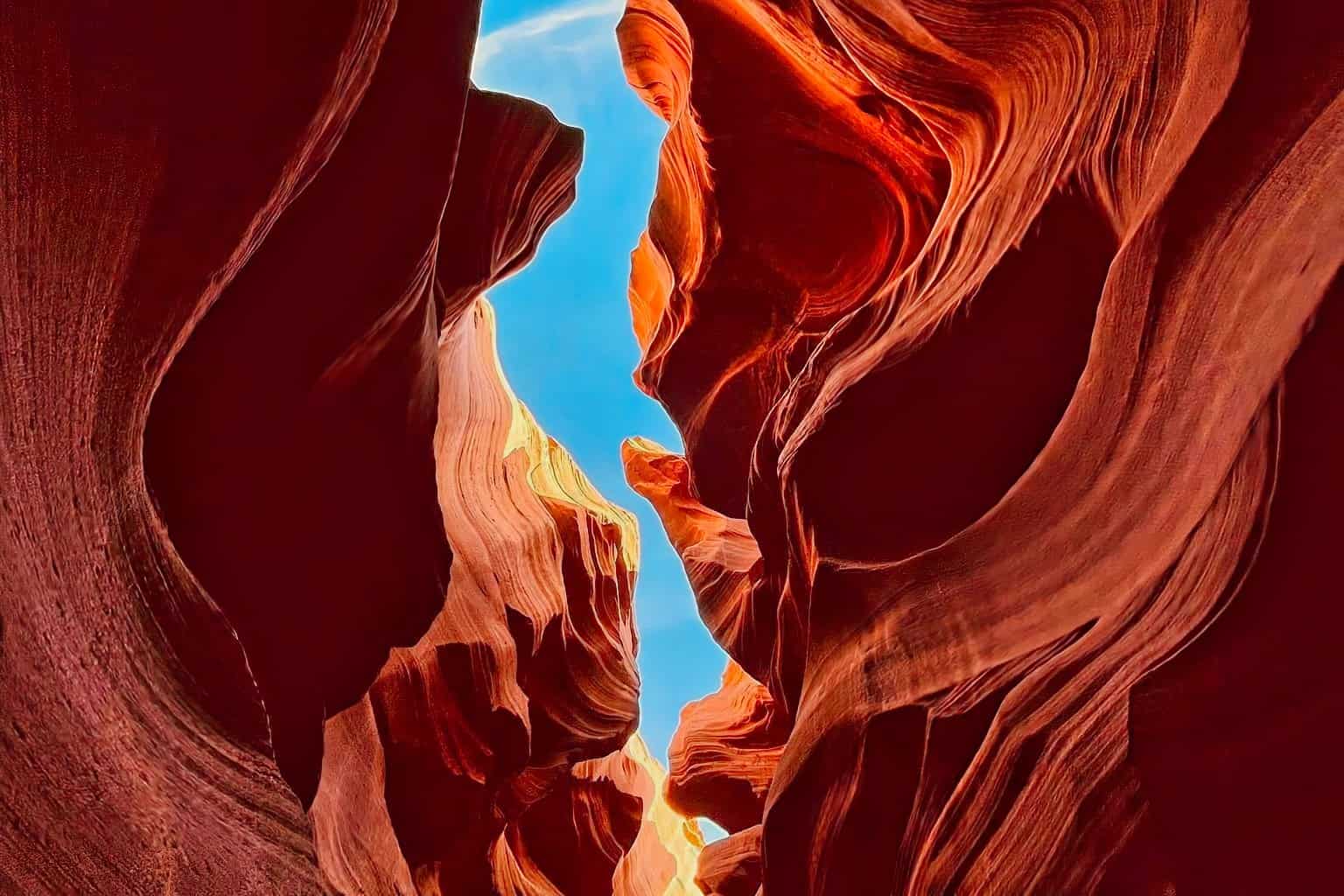 How Do I Decide Between Upper Antelope Canyon and Lower Antelope Canyon in AZ?
Page, Arizona is home to Antelope Canyon as well as the Antelope Canyon Inn. Both slot canyons are on Navajo territory and are accessible only through guided tours.
In the first week of May of 2022, John and I visited both canyons on the same day. Both were excellent, but we each had our preference. Although I preferred Upper Antelope Canyon, he favored Lower.
The good and bad points of both canyons are listed below.
Upper Antelope Canyon in AZ is what most people mean when they talk about Antelope Canyon. This slot canyon is the more well-known of the two. This canyon is the more photogenic of the two due to its light beams, falling sands, and extremely high canyon walls.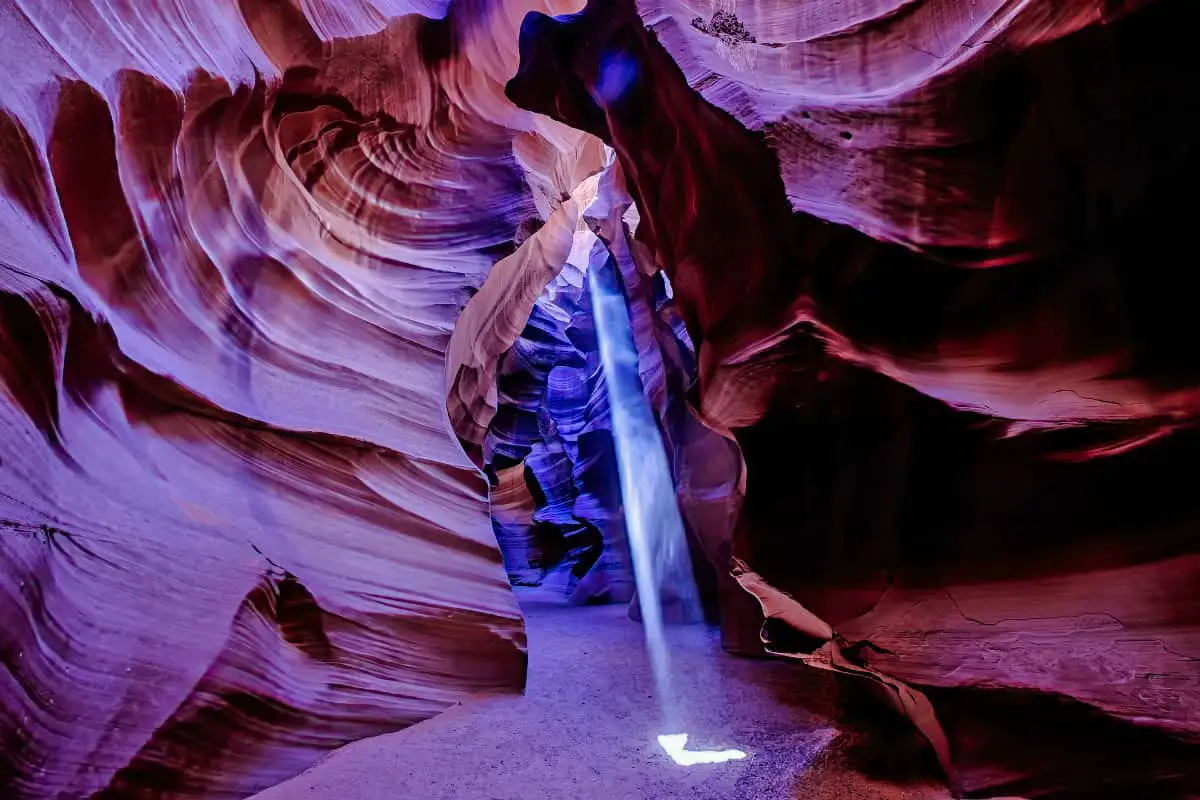 Antelope Canyon Photo Shoot Information
The upper portion of Antelope Canyon is an inverted "V" shape, narrow at the top and wide at the bottom. Lower Antelope Canyon is more narrow and difficult to navigate, but the upper canyon is wider at its base, making it more comfortable to stroll through.
When the sun is in just the right position, the narrow upper canyon walls help to create the light beams. The upper canyon is darker and chillier due to the high, narrow walls.
Photographers from the entire world travel to Northern Arizona to take pictures of Glen Canyon and Lake Powell. Antelope Canyon is the Southwest's most photographed natural attraction, and the biggest draw for photographers.
Even though guided tours are available all year round, serious photographers should schedule their visits to the canyon for the middle of the day between March and October. The canyon's pink, red, orange, and gold patterns are best seen at this time of day, when the sun's angle creates light shafts that reach the canyon floor. The muted hues of winter are stunning in their own right.
And keep in mind that the best pictures of Antelope Canyon in AZ are always taken looking up, especially if there are other tourists all around you.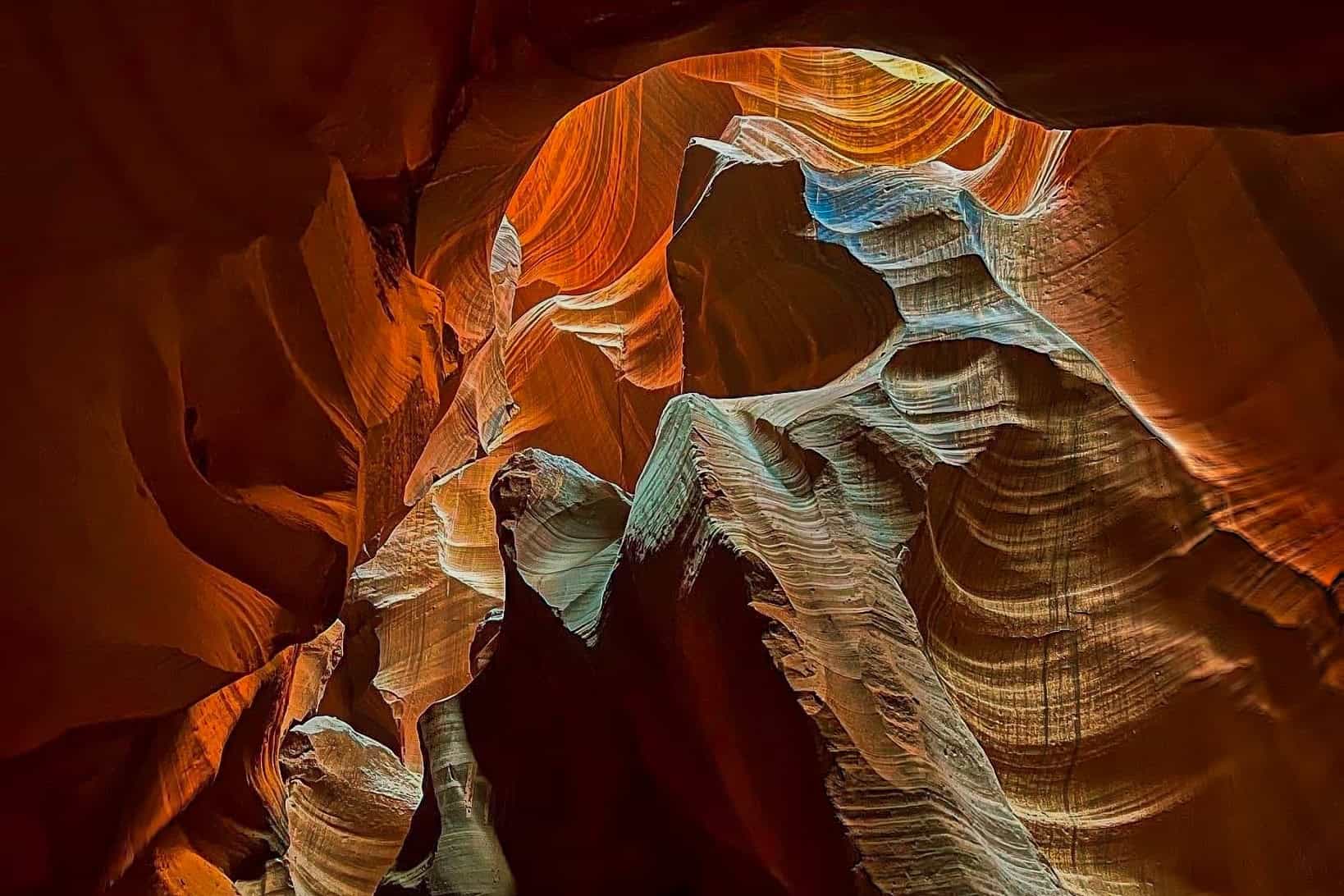 The Geography, History, and Dangers of Antelope Canyon
Antelope Canyon's incredible beauty is the product of its location, which is widely recognized as a place of exceptional geological splendor. This is because the forces that shaped the present-day state of Arizona in the United States of America in North America contributed to the distinctive features of this location.
This canyon, unlike many others, was not formed by geological upheavals like volcanoes or earthquakes. That alone sets it apart from the vast majority of other remarkable geological formations in this part of the continent.
Long-term erosion of the local Navajo sandstone has split the canyon in two, which has surprised some observers. For thousands of years, this has been happening because of the persistent flash floods in the area.
Over the years, the slot canyon was further eroded by the force of desert winds that had been channeled through it. In addition to further flash flooding, the site is still occasionally hit by winds of this strength.
Despite the presence of safeguards, these remain a threat in Antelope Canyon. At the canyon entrance, there is a warning siren installed by the United States Weather Service. However, the speed at which such floods move between the two parts is difficult to predict.
Eleven tourists were killed in a flash flood in the Lower Canyon on August 12, 1997, before the siren was installed. It wasn't raining where we were, but a nearby thunderstorm dumped a huge amount of water into the canyon very quickly.
Want more ideas to round-out your trip to Arizona?
A lot of great ideas are in these posts!
---
Facts About Antelope Canyon in AZ
The incredible Antelope Canyon is just one of many breathtaking geological features in the region. It has also become, not surprisingly, a major tourist attraction for the region.
In addition, and again, it's easy to see why, it serves as an exceptionally well-liked subject for photographers of all skill levels. It's hard to think of another place on Earth that's as striking or as different in appearance as this one.
The area where the site is located is, however, very rough and potentially dangerous. This area also happens to encompass what is now considered to be Navajo Nation territory.
Antelope Canyon in AZ is only open to visitors on guided tours due to its location on what was once Navajo land. On the other hand, this fact shields the site to some extent from the potential destruction caused by humans.