Boondocking Tips for Beginners is the most accessed and most questioned request for information on our blog at Our Big Escape.
As a beginners camping or RV enthusiast, you understand how essential it is to admire the beauty of nature. However, going off-grid and staying outside the campground will require a bit of vital knowledge for safety, comfort, and legality while camping. Boondocking for beginners information for the most part is pretty simple and straight forward but also information that is so simple it is usually overlooked.
---
Want more ideas to round-out your Boondocking and Camping Knowledge?
A lot of great ideas are in these posts!
---
If you are a boondocking for beginners individual and you are in search of information we have tried to supply you with the 10 things we never thought of before beginning our fulltime boondocking lifestyle. Keep in mind that we had a 6 year international travel lifestyle and for that reason some things did come easier to us.
Boondocking for beginners can be relatively challenging; however, if you are looking for ways to do it right as a newbie, you are in the right place. To understand that better, in this article, we shall be taking you through the most important boondocking tips for beginners.
What is Boondocking?
Boondocking, also referred to as dry camping or dispersed camping as well, it simply put is camping without water hook-ups or electrical. It might sound intimidating; however, it can be done by anyone irrespective of the size of their van or RV.
Usually, boondocking involves going to the middle of a wilderness and set-up a camp but there are also city parks, beaches, and many other options. While boondocking, you will not be having access to electricity, sewer hook-ups, or water. You will also be camping without having a neighbor in sight and enjoy some fantastic views as well. The best part is that while boondocking, you will be able to camp for free, which is an incredible thing you will appreciate. Camping in established campgrounds can cost you as much or more than a simple hotel room.
Where Can One Boondock?
There is no doubt that boondocking is a remarkable thing while using a travel trailer or motorhome. However, it would be best if you always considered doing so by setting up your camp in places where boondocking is allowed. The number one source is using land from the Bureau of Land Management. The BLM has over 247 million acres under their control and most of it is available to your for free. It is the number one source for boondocking for beginners to get their feet wet. The problem with BLM is that most of the land is located only in land west of Texas.
As a newbie, understanding where to boondock is vital. To help you with that, we have compiled lists of apps and websites that will help you find the best place for boondocking within the United States;
· Public Land App
· Fish and Wildlife Service
· Bureau of Land Management
· Ultimate Campgrounds
· National Forest and National Grasslands
· FreeCampsites.net
· Campendium
How Safe Is Boondocking?
This is a commonly asked question among newbies, which is worth answering. Some individuals feel like boondocking in the wilderness isn't a fantastic idea. However, by using your common sense and adhere to the boondocking tips for beginners discussed in this article, you will find it safe and fun, just like any other camping.
Is Boondocking Legal?
Several cities restrict pitching tents anywhere you want to or park RVs in a yard; thus, most individuals tend to have a difficult time believing that boondocking is legal. Fortunately, by staying in places where boondocking is allowed and adhere to proper etiquette, the whole camping process becomes legal.
What is the best Boondocking RV or Travel Trailer?
If you are on the lookout for the best boondocking RV or Travel trailer, you might be wondering which one to get as a newbie. However, no boondocking RV is the best; this means that you can do boondocking with any RV.
With that in mind, some RVs are better than others when it comes to going off-road and navigating the forests and mountains. As a newbie, you should note that such types of RVs are the best boondocking RVs. We chose what we think is the ultimate boondocking for beginners setup because it is all self contained.
We have a 4WD Toyota 4Runner with a CVT Mount Hood roof top tent. It sets up in 30 seconds and comes down and is packed in 3 minutes. In addition we installed a Nomad Kitchen, 70 qt. refridgerator, 24 gallons of fresh water in 2.5 gallon jugs, a Jackery 1500 inverter with 4 solar panels and a Rinse Kit. That gives access to every place no matter how rough the terrain, and we are able to make our supplies last as long as 14 days without re-supplying. The entire setup is less than 10K which is a fraction of a 5th Wheel or Classes A or C.
In addition to our setup, here are some of the best boondocking motorhomes and travel trailers available, along with things you need to consider while looking put for a dry camping camper.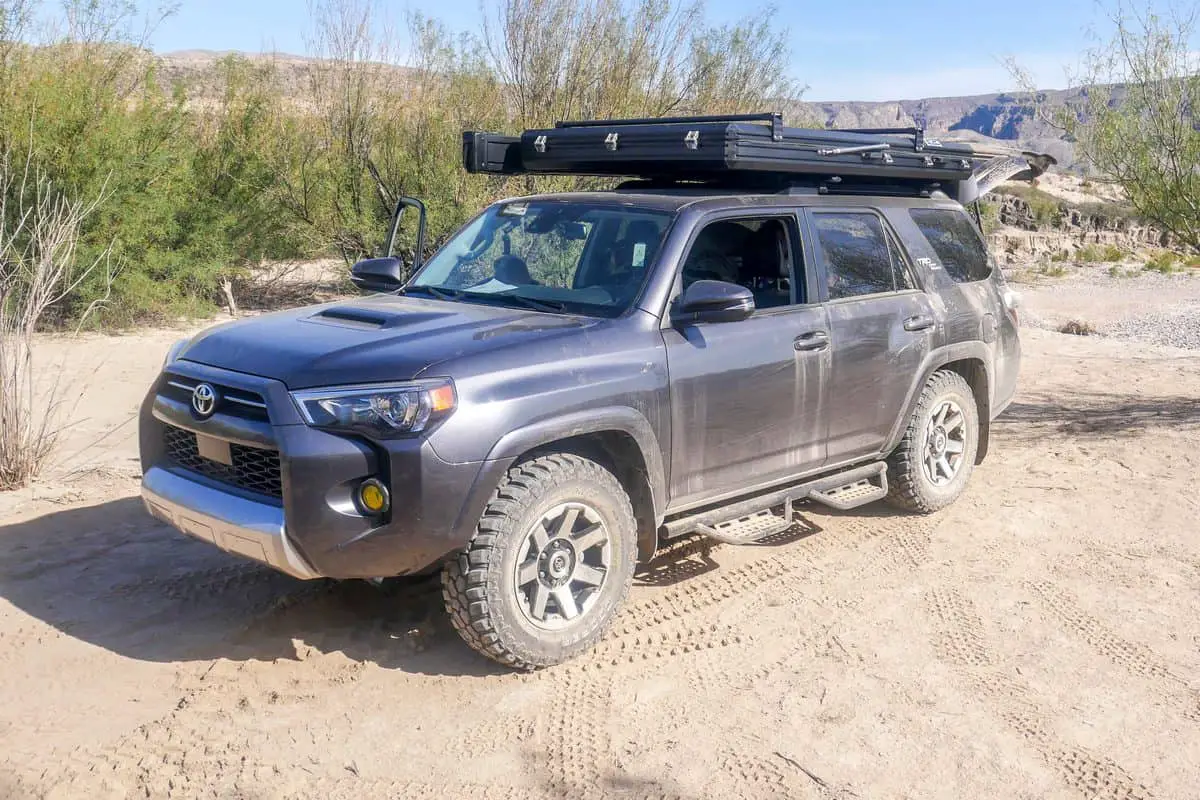 What Is the Best Type of Boondocking Travel Traveler?
When it comes to boondocking, the best travel trailer is a compact trailer, which you can pull using your SUV. Due to this, you should best invest in teardrop trailers, along with pop-ups and A-frame travel travelers.
The other positives are if you fell safe in a location you can unhook and either sitesee or run errands. The drawbacks are a hit to gas mileage and the wear and the tear on the trailer as well as the vehicle pulling all the time.
A compact trailer is way better compared to the traditional bumper pulls along with large fifth wheels, which are often bulky.
What Is the Best Type of Boondocking Motorhome?
It is highly recommended that you check out for something elegant like a campervan or class B when it comes to a motorhome. You can as well consider using a small class C. We researched every type of option available before settling on the RTT but had we chosen any other it would have been a Class B or C.
The big drawback to these types are a vast amount of boondocking spots are not accessible and the gas mileage is horrible as well as the large upkeep.
Things To Consider Before Purchasing A Boondocking Camper
For a successful boondocking, you should consider purchasing the best camper out there. However, with different designs and models available in today's market, choosing a boondocking trailer that best suits your needs is relatively challenging.
Generally, choosing a boondocking RV equipped with solar panels or generators or both will be best. In addition to that, you should have a sufficient amount of freshwater, a black tank, and a grey tank capacity. In addition to that, here are some key aspects you will need to factor in;
a. Bathrooms. This is a vital feature you need to check for in a boondocking camper unless you are comfortable with going to the bush to relieve yourself as well as waiting in order to shower. If not, you should invest in a camper equipped with a bathroom; however, you should note that small trailers often come unequipped with bathrooms.
b. LED. Compared to traditional lights, LEDs have been designed to use relatively less electricity. As a result, investing in an RV equipped with LED is best for boondocking.
c. Roof vent fan. It is an essential feature that helps in removing air via rig; therefore, it eliminates bad smells and helps in storing your things cool during hotter months.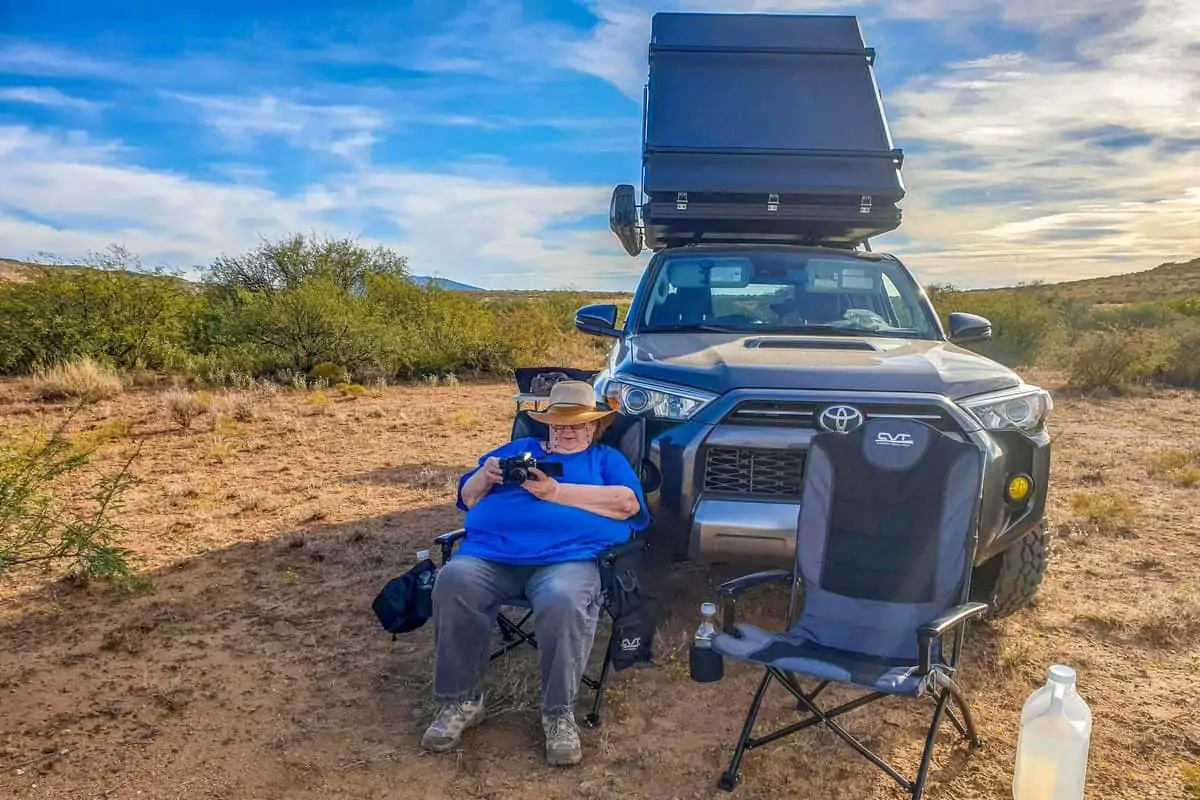 Boondocking Tips for Beginners
By now, you must have understood all the necessary and essential aspects involving boondocking. With that said, we can now dive into the boondocking tips for beginners. As a newbie, the discussed tips and suggestions will be of great assistance for a safe as well as successful boondocking every single time.
1. Size doesn't matter
This might come as a shock to most individuals, but the truth of the matter is that the size of an RV doesn't matter when it comes to boondocking. This means that if you own a relatively big RV or don't have access to a small RV that will best suit your needs, you can still go out there and enjoy mother nature. However, you should keep in mind that larger boondocking RVs will not fit into some of the tightest spots; therefore, you should always consider using your common sense for successful camping.
2. Assess ahead
You should note that one of the most vital boondocking tips for beginners is scouting ahead. This is an essential tip that you need to consider, especially if you own a relatively big camper. It would be best if you considered sending an individual with a smaller RV to assess the area and figure out the best route as well as help you avoid some significant problems.
3. Water conservation
As a newbie, making your water last for an extended period is often the most challenging thing. Likely, you can always extend your water supply allowing you to camp for an extended period. Some of the smartest ways of conserving your water while boondocking include;
4. Smart washing.
Usually, a lot of water gets wasted or used while washing; therefore, you should consider coming up with ways to minimize water consumption while washing. One way of achieving this is by scraping all the food while washing your dishes and then wipe them out using a paper towel. By doing so, you will be able to use a little amount of water as possible. You should also consider rinsing your dishes in a dishpan and then pour the water outside; this will help you save tank space.
5. Bathing.
When it comes to bathing, you should consider reducing the amount of times you shower. It would be best if you considered using wet wipes to clean yourself along with dry shampoos. Furthermore, it would be best if you considered turning off your water while lathering; this reduces the amount of water used while showering. Showering outside also helps in saving tank space significantly.
6. Flushing using greywater.
Instead of getting rid of your dishwater, you might consider saving it and use it to flush your toilet.
7. Composite toilets.
You might consider investing in composite toilets since they don't use water, making it one of the best ways of conserving water.
8. Adhering to the rules
When it comes to boondocking, there are some unspoken rules. As previously discussed, you will need to boondock in an allowed location. In addition to that, you will have to be courteous about your neighbors if you might have any; you should always consider remaining quiet at night as well as early morning. Furthermore, you should always try your best and stay outside their space.
One of the most essential boondocking rules you should note as a newbie is that you should live your site cleaner than you had found. Always make sure that your campfire is off and try and avoid dumping tanks on the ground.
9. Electricity consumption
It is highly recommended that you understand the amount of power you will require before heading out for boondocking. You should consider taking note of how long your battery lasts and figure out whether you will need a bigger battery or an additional solar panel.
10. Regulations
It is advisable that you be aware of the regulations. This is vital since you just can't set up a camp anywhere you like. Whenever you are not certain if it is permitted to boondock in a particular location, you should consider asking a ranger. For BLM lands, you might consider using the internet to direct you to where offices are located.
11. Have respect for the locals
As a boondocking enthusiast, one of the most critical tips is respecting the locals. While boondocking, you will be surrounded by wildlife, which is by far one of the most fantastic things. Therefore, it is recommended that you have to keep in mind that wild animals are dangerous. It is best that you avoid leaving food along with your trash outside. In addition to that, you should maintain your distance and don't disturb the wild animals in any way.
12. Security
While boondocking, it is recommended that you take precautions despite the fact that no one will bother you. You should try and avoid tempting thieves by storing your luxurious items away and always keep your door locked.
Furthermore, you might consider keeping a can of pepper spray along with a baseball bat with you for enhanced protection. Some individuals prefer carrying their firearms; if you consider doing this, you should ensure that you know and adhere to the rules and regulations.
13. Reducing Trash
As a camper, you should always leave your campsite cleaner than you found. Unfortunately, packing everything and holding onto a bunch of trash throughout your trip can be uncomfortable. To help with that, you should consider avoiding carrying lots of garbage off your site once you complete your stay. It would be best if you considered taking food out of the package before heading out. By getting rid of individually packaged items along with disposable dishes and removing meals that are packed for fresh produce will help reduce trash.
14. Always Be Prepared For An Emergency.
Safety should always be your top priority and as a result, be prepared for any emergency is a vital practice. Here are some boondocking tips for beginners when it comes to preparing for an emergency;
a.  Communication. It would be best if you always had a way you can communicate with the outside world. This means that you should carry with you a charged mobile phone and always stay within cell range. Furthermore, you should note where the closest landline is for use during emergencies.
b.  Emergency kit. It is recommended that you pack an emergency kit. The kit should consist of a first aid kit, weather radio, water, and emergency snacks, along with ways of keeping warm without the use of electricity.
c.  Fuel. When it comes to fuel, you should always have extra fuel; it is never a fun experience getting stuck in the middle of nowhere just because you run out of gas. Always keep track of fuel in order for this not to occur.
d.  Tools. When boondocking, sometimes things can go wrong, which will force you to fix them. Therefore, you should ensure that you are equipped with all the vital tools to help you achieve that.
e.  Learning. You should always be willing to learn since tools, along with an emergency kit, will not be essential if you will not learn how to use them. With the internet, you can always get everything done with utmost ease as long as you are willing to learn.
Final Verdict
These boondocking tips for beginners are highly essential for successful camping. As we conclude, we urge that you adhere to these tips for your safety and exciting camping experience, and we hope that the boondocking tips for beginners have been of great benefit.
---
You May Want to Join Our Boondocking Group on Facebook For More Information
You May Want to Join Our Campfire Recipes Group on Facebook For More Information
Check Out Our Pictures On Instagram – Our Big Escape.