Try one of our 5 best Valley of  Fire State Park photos locations. About an hour and a half from Las Vegas, there is some great natural spots in the Valley of Fire State Park is a great place to spend a day or even a week exploring. This place is great for photographers because it has bright red and orange rocks, weird textures, and a big desert feel.
The Valley of Fire is one of those places that is highly recommended as a day trip from Las Vegas, but not everyone makes the drive. But you have probably seen many pictures of the amazing Fire Wave or the strange Elephant Rock and thought it would be fun to visit the state park.
I'm here to convince you that Valley of Fire state park is a must-see if you're in Las Vegas or Nevada.
Even though I spent three months living in a van and traveling around Utah, the Valley of Fire has some of the most beautiful scenery I've ever seen. Just to see the Fire Wave is well worth the trip.
Valley of Fire State Park is famous all over the world for its 40,000 acres of bright red Aztec sandstone outcrops nestled in gray and tan limestone. The park also has petrified trees and petroglyphs that are more than 2,000 years old. At the Visitor Center, there are displays about the park's geology, ecology, prehistory, and history.
How to get the most out of your photos from Valley of Fire State Park vacation is staying at a campground in a park. So, you'd be inside the park and could drive to any of our top 5 spots in just a few minutes.
Be aware that you have to hike to each of these, and that you can only do at most two of them in a day. So, you can get up early and hike to one of the spots, come back to camp to cool off during the hottest part of the day, and then go to another spot for the rest of the day and sunset. Sunsets over the red rocks are often beautiful.
In the Valley of Fire, bright red outcrops of Aztec sandstone are nestled between gray and tan mountains made of limestone. The sandstone is from the Jurassic period. It is made up of the sand that the wind blew away after the land rose and the inland seas went away.
11,000 years ago, early people moved into southern Nevada. The petroglyphs carved into the rocks by the Basketmaker culture about 2,500 years ago are the most obvious sign that people lived there. The Early Pueblo culture came after them.
In 1865, Mormons moved into the area near St. Thomas, which is at the south end of the Moapa Valley. At that time, Paiutes lived in this area. Along a narrow stretch of water, farming, ranching, and mining took place in the area.
---
Want more ideas to round-out your trip to Nevada?
A lot of great ideas are in these posts!
---

Our Top 5 Valley of Fire State Park Photos Locations
---
---
check out our video
---
---
Fire Wave Valley of Fire State Park Photos
Fire Wave is probably the most well-known thing about the park. Photos of the Fire Wave Valley of Fire State Park photos are the ones that people want the most, and they were what first drew me to the park. Even though Fire Wave wasn't an official part of the park, it was so popular that the Park made a Fire Wave Trail and added it to the list of named stops.
The Fire Wave is by far the most impressive rock formation in Valley of Fire State Park, and it makes for a great Instagram photo. The red and white sandstone in the shape of zebra stripes on a hill that looks like a wave is a sight like no other. This is also why the Fire Wave is so popular.
From the parking lot at Fire Wave, you can take the Fire Wave hiking trail straight to the famous Fire Wave. The hike is easy and less than a mile long. Take note that there is no shade along the way. Please bring lots of water and clothes that protect you from the sun.
In general, the first hour of sunlight in the morning and the last hour before sunset are the best times to tak the Fire Wave at Valley of Fire State Park photos early if you want soft tones, but if you want to get the true, bright colors of the Fire Wave in your photos, you should take them later in the morning or early in the afternoon.
You won't have to worry as much about shadows in your photos at the Fire Wave because there are no trees and almost no shade.
If you want to take Fire Wave at Valley of Fire State Park photos, you should try to go when there are the fewest tourists, which is not in the summer. On partly cloudy days with soft light, you can also take pictures of Fire Wave in the morning to avoid crowds. When I go to the Wave again, it will be in the morning right after the park opens.
Aside from the Wave, the Fire Wave trail itself has a number of great places to take pictures that are worth your time as you walk.
Photo tip: Take your Fire Wave at Valley of Fire State Park photos near the wave's base to get a better view of it. From further up on the rock, Laurel took a great picture of me.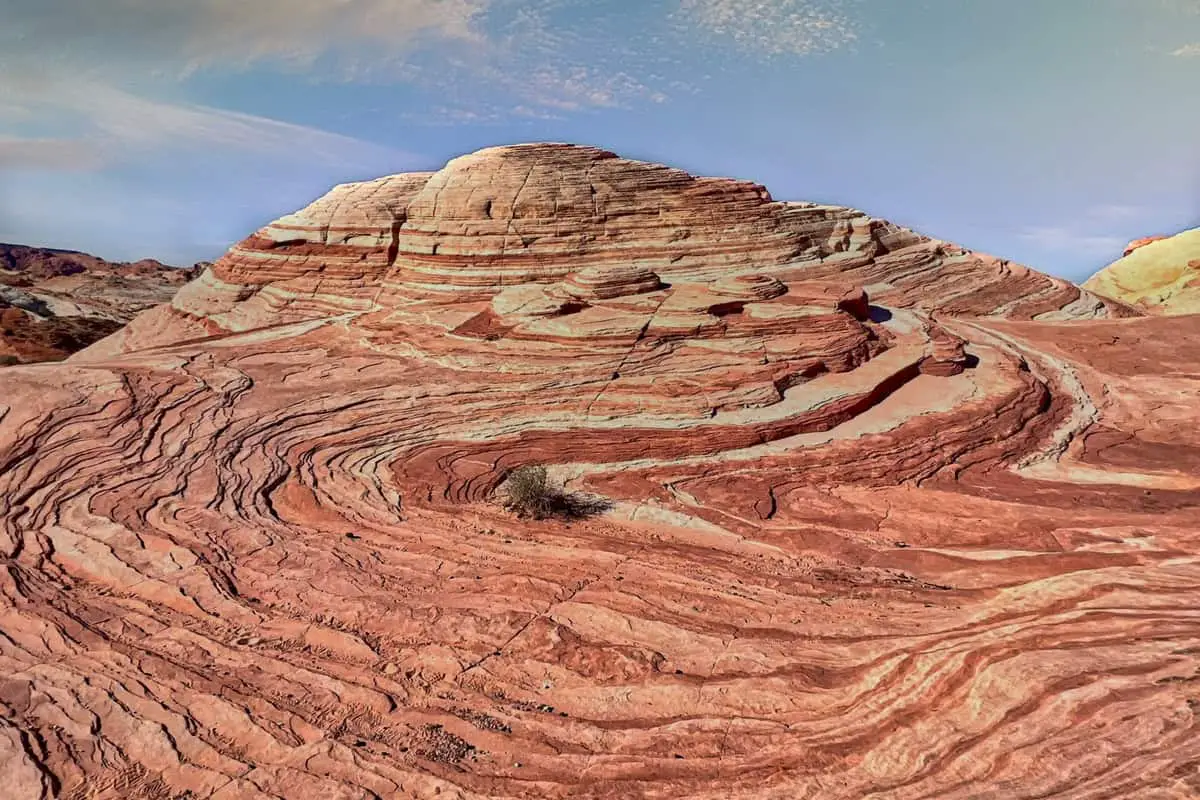 Elephant Rock at Valley of Fire State Park Photos
Yup, A rock in Valley of Fire looks like an elephant! It's easy to see why it's one of the best places to take pictures in the Valley of Fire State Park. How cool is its "trunk" and how cute is the way it sits? (Or at least, I think it's sitting?)
Elephant Rock is an arch-shaped rock in Valley of Fire State Park that looks like an elephant, just like the name says. You might think that these rock formations don't really look like an elephant, but trust me, they do. I didn't believe it until I saw it for myself.
The whole rock and arch that make up the trunk of the elephant is very impressive to see in person, and it's the perfect place to take a picture.
Because of how the rock is made, the best time to take Elephant Rock at Valley of Fire State Park photos is in the late afternoon or early morning, when the sun is low but hasn't yet set behind the hills next to the rock.
The best way to take a picture of Elephant Rock is with a tripod and a wide-angle to 70mm lens with a polarizer. This is a great place to take pictures at sunset, but you can also take pictures here at other times of the day.
The rock is right next to the road, but there aren't many places to park on Valley of Fire Road, so it's best to park in the nearby lot and walk to the rock formation.
Photo Tip: If you're up for it, the best Elephant Rock at Valley of Fire State Park Photos photos will be taken at sunrise. Even though it's not required, it will help make sure that there aren't too many people in your pictures. Most hikes will be just for you.
Seven Sisters at Valley of Fire State Park Photos
The Valley of Fire Seven Sisters is a group of seven tall, eroded rocks right next to the Valley of Fire's east entrance. Even though I tried many times, I couldn't find a good way to arrange these formations. I don't find them nearly as photogenic as other parts of the park. But I'm putting them here in case you want to add the Seven Sisters at Valley of Fire State Park photos to your list of places to go.
The Valley of Fire Highway has a quick pull-off where you can see Seven Sisters. These seven rock formations are made of sandstone and were formed by erosion.
Once a part of the nearby red formations, all that is left of them now are these rock towers. The surrounding sandstone deposits have been eroded away by strong forces over time. Many "blow holes" show that the towers will fall down in the distant future, many hundreds of years from now.
Photo tip: Seven Sisters at Valley of Fire State Park photos can be beautiful, and since the park is on the road, it can be your last stop of the day before heading back to the campground.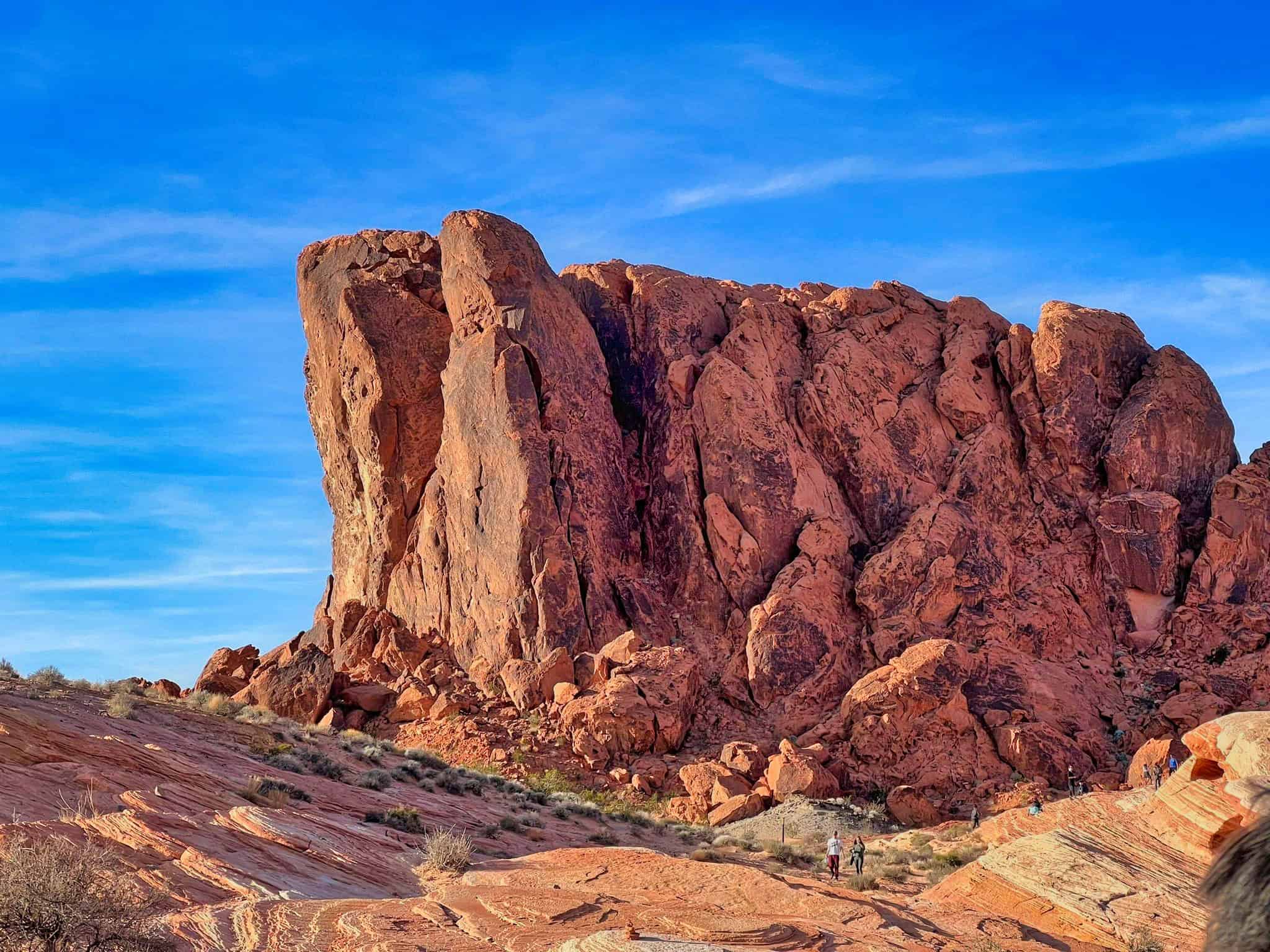 White Domes at Valley of Fire State Park Photos
White Domes Trail is another great place to take photos for Instagram because it has colorful rocks and a narrow canyon.
At the end of the scenic drive, in an area called the White Domes, there is more amazing sandstone. A trail that goes around a big sandstone mountain in a half-mile loop goes through a short but colorful slot canyon. Some of the best rock walls in the park for taking abstract pictures are on the back side of the trail.
White Domes are sandstone formations with bright, contrasting colors and a one-mile hike. The White Domes Trail is a moderate loop with wide views of the desert, a slot canyon, lots of different colors, windows, caves, and an old movie set.
The Professionals, a movie from 1966, was filmed in the White Domes area. This Lee Marvin, Burt Lancaster, and Claudia Cardinale western was typical of the western genre in the 1960s. It was also in charge of building the road and giving people access to this beautiful area. A small piece of the hacienda's wall is all that is left at the site.
Really, the whole park is great for abstracts, but the White Domes at Valley of Fire State Park Photos are the best, which is why I like this spot the most. I first took a picture of this wall in June 2007, when it was 100 degrees outside. On this trip, however, I was able to work on the bounce light and fine-tune the composition of the wall all afternoon while the temperature was a comfortable 65 degrees.
At the start of the trail, there are purple and yellow rocks. As you move through the slot canyon, you will come across rocks with white and red stripes. It's a beautiful place to explore, and there are lots of places to take pictures along the way.
For the best light, the White Domes trail in Valley of Fire State Park is the best place to take photos. If you want to take pictures in the slot canyon, you should do so later in the morning when the light is better.
Photo tip: These aren't the only photo-worthy spots on the White Domes Loop! You'll find a small arch, cool rocks with holes in them, and more when you go for your White Domes Valley of Fire State Park photos. Basically, keep your eyes peeled for more epic photo spots as you're hiking- you're bound to find some!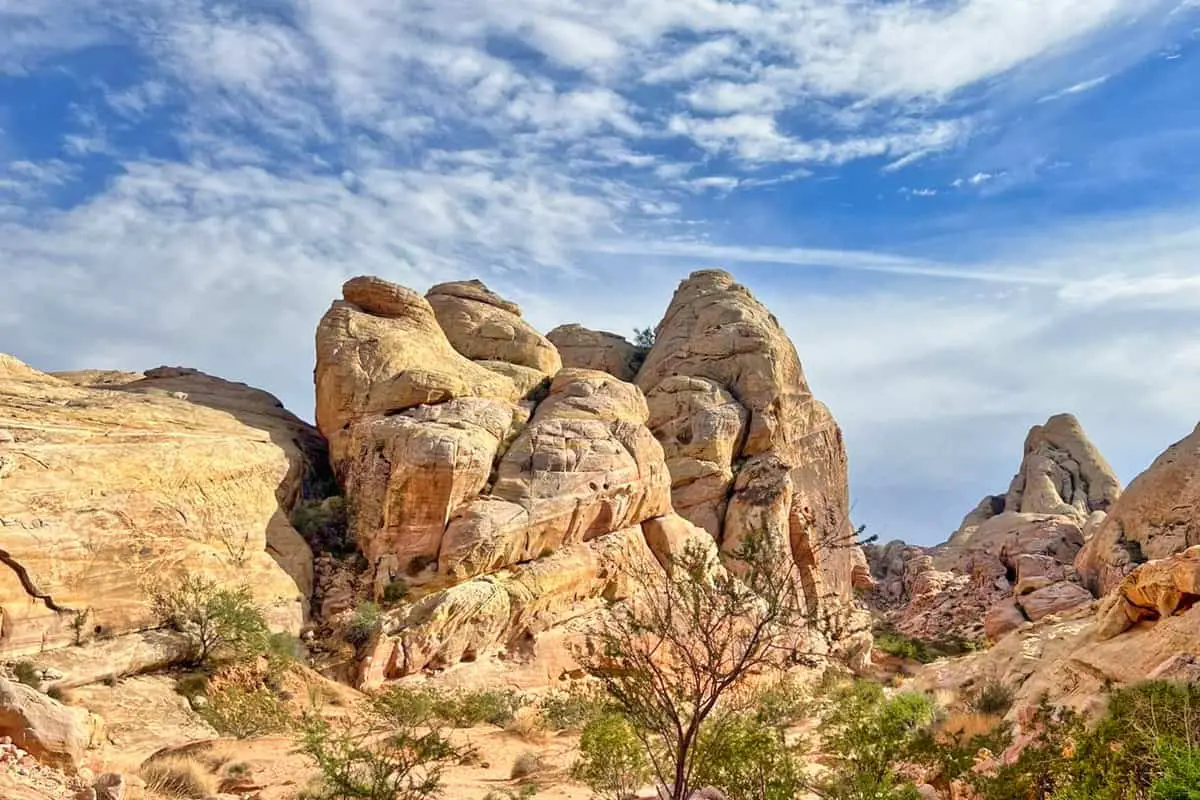 Rainbow Vista Valley at Fire State Park Photos
This is an easy 1-mile trail to the Fire Canyon Overlook. Despite reviews online, from a photographer's perspective, I found the views to be too busy and not that scenic. In fact, the parking lot offered better access to photogenic subjects, especially colorful rock formations that were directly across from the parking lot.
If you are looking for rainbow-colored hills to take photos of, this is your spot! The entire rainbow vista hike provides beautiful rainbow rock views along the way and ends at the Fire Canyon Overlook. It is perfect for creating Instagrammable content. There is even a mini arch on this trail which you can be creative with.
Given the hills surrounding this hike, taking Rainbow Vista Valley at Fire State Park photos right at sunset or sunrise might cause a lot of shadows to be in your photos so you will be better off taking photos later in the late morning and early in the afternoon.
Photo Tip: Rainbow Vista is a viewpoint in Valley of Fire State Park, where the road reaches the top of a low ridge revealing a vast area of multicolored rocks stretching for many miles northwards, rather different than the dark red cliffs found further south. The panoramic view from Rainbow Vista is a great place for Rainbow Vista Valley at Fire State Park photos.
Photographing Valley of Fire Park- Some Things You Should Know
---
The visitor center at Valley of Fire State Park is great. It has a lot of information about the park's history, geology, and hiking trails. But for photographers, the information is only about places that are officially recognized.
Many of the places to take pictures in Valley of Fire that are posted on the internet and bring photographers to the park are not officially recognized, so they are not marked on any maps or brochures.
In 2017, I went to in Nevada for the first time. I didn't know much about the park other than what I had seen in pictures online. So, my first stop was at the Visitor Center, where I thought I could get maps or directions to all the places on my list where I wanted to take pictures. I only had directions to two places when I left, and I didn't know anything about all the other places I wanted to photograph.
Yes, I was ready to take pictures in the park, but I didn't know where to go and I couldn't use the internet to find out. Please learn from what I did wrong and look up all the places you want to take pictures of before you go to the park. In fact, it was my own experience that made me want to write this post about taking pictures in Valley of Fire State Park.
The best way to do this is to look for Google Maps on the internet. Get the GPS of each location, when you find it on the map right click the marker to get the GPS. Print a park map and put these on your own map in case your internet in the park is not good.
Camping In the Valley of Fire State Park
---
Group-Use Campsites: There are three group-use campsites, each accommodating up to 45 people; there is no minimum person count. These sites are available for overnight camping by reservation only. Group-use reservations are accepted beginning on the first Wednesday of November at 9am for the coming year.
Reservations can be made Monday-Friday from 9am-4pm by telephone at 702-397-2088. From the main menu, press "3" for group-use information, and then "1" to check availability or make a reservation. The park does not accept reservations by email, fax, US mail, or in person.
A reservation fee of $25/site/night must be paid at the time of booking. Camping and day-use fees of $20/vehicle/night for Nevada residents, or $25/vehicle/night for non-Nevada residents, must be paid upon arrival.
Other Park Fees
Day use entrance fee: $10.00 per vehicle (Non-NV Vehicles: $15.00 per vehicle)
Camping: $20.00 per vehicle, per night (Non-NV Vehicles: $25.00 per vehicle, per night) + $10.00 for sites with utility hook ups
Bike in: $2.00 per bike
Hiking Tips For the Valley of Fire State Park
---
Pack the 10 Essentials For Every Hike
1. Navigation + Communication Devices Fully Charged
2. Sun Protection
3. Proper Footwear + Extra Clothes
4. Water
5. Extra Food
6. Headlamp
7. First Aid + Repair Kit
8. Knife / Multi-tool
9. Fire Tools
10. Emergency Shelter
11. Trash Bag
Directions To the Valley of Fire State Park:
Valley of Fire is located approximately 58 miles from the Las Vegas Strip in the Mojave Desert. The elevation of the park is between 2,000 and 2,600 feet.
From the Las Vegas Strip:
Take 1-15 North for 35-40 miles
Take Exit 75 and head East toward Valley of Fire/Lake Mead
From there, drive about 17 miles on Valley of Fire until you reach the West Entrance Station
---
You May Want to Join Our Boondocking Group on Facebook For More Information
You May Want to Join Our Campfire Recipes Group on Facebook For More Information
For More Photos Visit Our Instagram at Campfire Recipes Instagram Our Big Escape