Mount Charleston is an hour's drive from the Las Vegas Strip and downtown Las Vegas lies the Spring Mountains National Recreation Area with more than 60 miles of winding trails kept in excellent condition meandering throughout the vast area. It is part of the Humbolt-Toiyabe National Forest. If that name doesn't ring any bells, that's okay, as the region is known to locals as Mount Charleston and sometimes also Lee Canyon or the Mount Charleston Wilderness Area. It covers over 316,000 acres of stunning beauty and amazing diversity. Mount Charleston is the highest point in Nevada and is 1,918 feet at it's highest point.
Other notable places in the area to hike and picnic are Red Rock Canyon and the Mojave Desert
How to Get There
About a 45 minutes scenic drive from Las Vegas, both trailheads are easily accessible through paved roads. In Las Vegas, take US-95 north off I-15 (in the Reno direction). To reach the city's outskirts, continue on the highway for about 20 minutes. Turn left (west) on State Route 157, which is prominently marked "Mt. Charleston," very soon after the final housing subdivision. Over the next 20 kilometers, the road gains nearly 5000 feet in elevation. You pass through two vacation home communities, Rainbow and Old Town, close to the highway's conclusion. The highway abruptly turns to the left at Old Town, but a smaller side road (Echo Road) continues straight. To access the trailheads for the North Loop and Trail Canyon, continue straight on Echo Road; to access the South Loop trailhead, turn left. For more information, consult the trail descriptions.
---
Want more ideas to round-out your trip to Nevada?
A lot of great ideas are in these posts!
---
What to Do at Mount Charleston
The park has a great number of things to do including looking for wild horses, looking at pictographs from the former desert dwellers of the area, climbing the Cathedral Rock trail, visit robber's roost, and of course skiing in the winter months.
What to Expect At Mount Charleston Peak
Feast your eyes on mountains peaked in snow during winter months while it is always enclosed by desert and home to more than 50 sensitive plants and animals, many of which can only be found in this special place and absolutely nowhere else in the world. This is the perfect place if you long to escape the city. The mountain is a winter favorite for Las Vegas ski enthusiasts.
Mountain peaks, all located in the Spring Mountains worth mentioning for their height include Bonanza Peak, McFarland Peak, Mummy Mountain, The Sisters, Fletcher Peak Griffith Peak, and Harris Mountain. When winter sets in, these high peaks provide glorious alpine wilderness for skiers, hikers, snowboarders, and even ice climbers.
Here the natural diversity is truly a revelation, containing seven unique ecological zones ranging from the floor of the desert to the snow covered top of Mount Charleston. These zones maintain a vast array of wildlife including deer, bobcats, elk, mountain lions, birds, palmer's chipmunk, and much more.
There's a trail to accommodate everyone, even beginners based on your degree of fitness. You make your selection among the temperatures depending on the type of elevation you'd like to be enveloped in for the day. Quite similar to Las Vegas, isn't it? You will find numerous picnic areas
Mt Charleston Peak is the highest peak in Southern Nevada at 11,916 feet. Most of the trails begin at about 6,000 feet, and a few bring you right to the top. Don't be fooled by the nice weather. Conditions are more volatile than they may seem. Be sure that you wear plenty of sunscreen, even in the cold weather, and wear a hat and long sleeves to protect yourself as much as possible.
Camping Opportunities and Other Lodging
For backpackers, there are plenty of places to camp along the trail. The official trail brochures say, "Camp at least 200′ away from springs and trails." Camping away from springs is reasonable, since wildlife depend on them, but camping away from trails is unrealistic in some places. The best and most popular camping spots appear to be adjacent to the trail. (In maintainer's opinion, if you are neat and break camp early, you shouldn't have a problem. There appears to be no enforcement.)
Since rain and insects are rare, you can usually camp in the open, without a tent.
There are also several Forest Service campgrounds on the highway: Kyle Canyon, Hilltop, and Fletcher View (closed for renovation). They tend to fill up mainly on summer weekends. If the campgrounds are full, you should be able to find a place to camp on BLM land in the lower desert. (Try turning off State Route 157 at the Harris Springs Road, which is about halfway between US-95 and the trailheads. Follow the road up the hill to find an endless expanse of open terrain.)
Because the mountain is so close to Las Vegas, you can easily lodge in the city. The closest hotel-casino to the mountain is the Santa Fe Station, which often has bargain rates. If you have more money to spend, you can stay at one of the two hotels in the trailhead vicinity: Mt. Charleston Lodge (at the South Loop trailhead), and the Mt. Charleston Hotel (about 5 miles below the trailheads on 157).
Our Top 15 Mount Charleston Hiking Trails
---
---
check out our video
---
---
1. Mary Jane Falls Trail Wilderness Area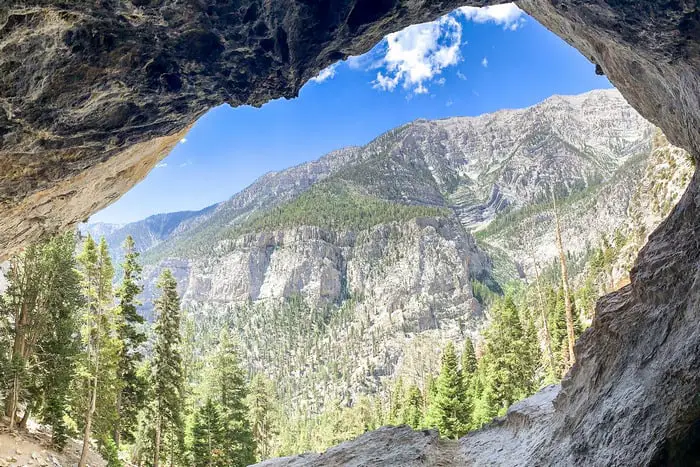 Mary Jane Falls at Mount Charleston is a 1.6 (3.2 miles round trip) heavily traveled trail found in the Kyle Canyon area of the Spring Mountains Recreation Area. This trail has a tendency to become pretty crowded, so you should begin your hike early. For rock climbing buffs you can actually climb the falls.
This Mount Charleston hiking trailis an excellent way to get a break from the oppressive summer heat in Vegas among the the White fir trees. If you're a beginner at hiking, you might find it a bit arduous due to the vast array of switchbacks and the high elevation, but its highly worthwhile to tackle this challenge because the falls are lovely. Since the falls depend solely upon snow melt for their water dont be disappointed if there isn't a lot of water flow in the latter part of the summer or when the area is experiencing a period of drought. In order to see the falls at a time when they have the most water, you should go in the spring when the snow on the mountains has just begun to melt and fill the falls.
2. Fletcher Canyon Trail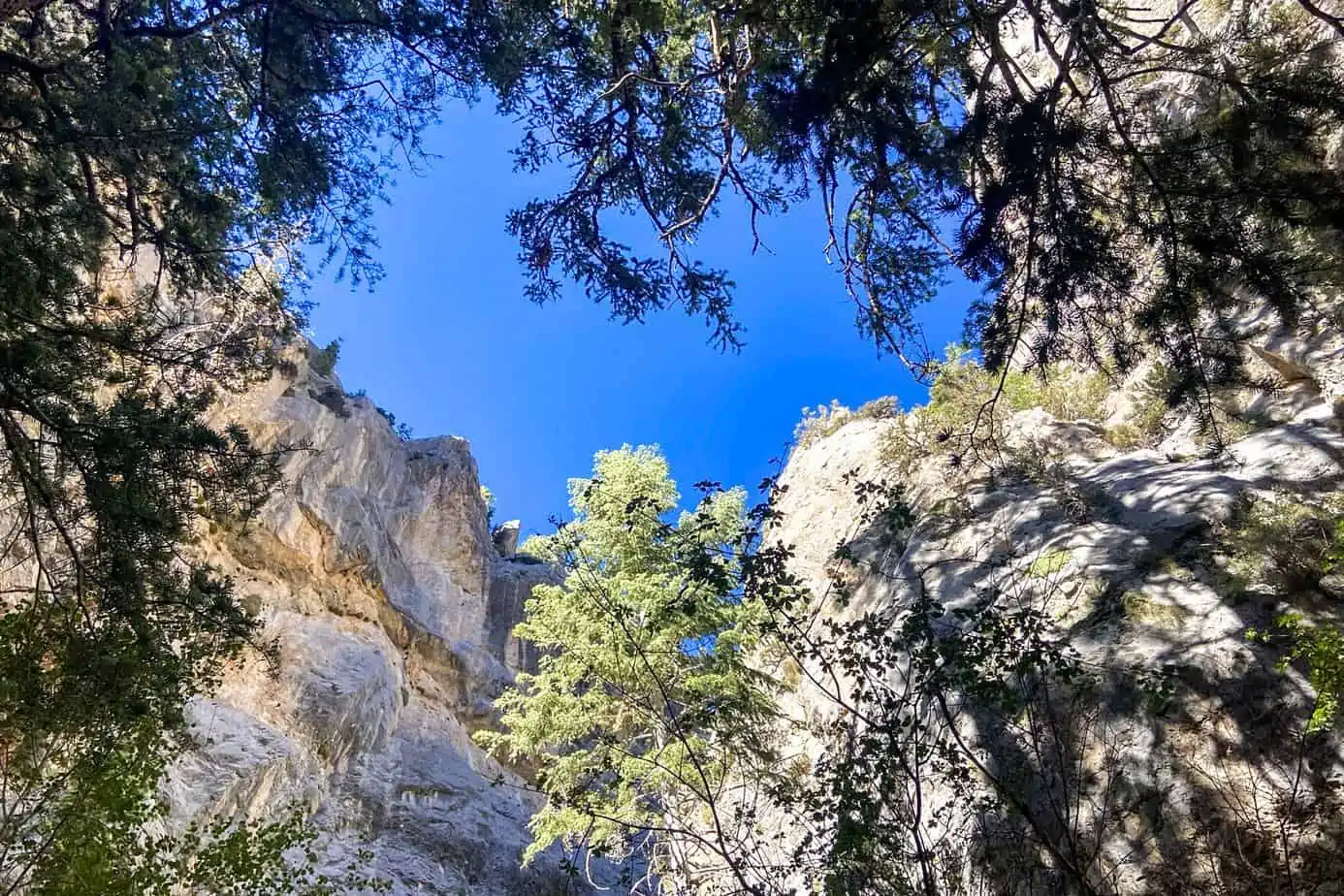 This Mount Charleston hiking trailis not very difficult at all and a great hike for beginners. There is a little elevation gain but not much and the Ponderosa Pine is majestic. The only real obstacles are some logs that have fallen onto the trails. It does get to be a little taxing until you reach the slot canyon and you will have a few impediments to overcome before reaching the end. You really require a strong upper body and the ability to maintain your footing here as the great boulders are quite slippery. Just be very careful and stay safe. If you choose to download the map the directions are easy to follow.
3. Griffith Peak by South Loop Trail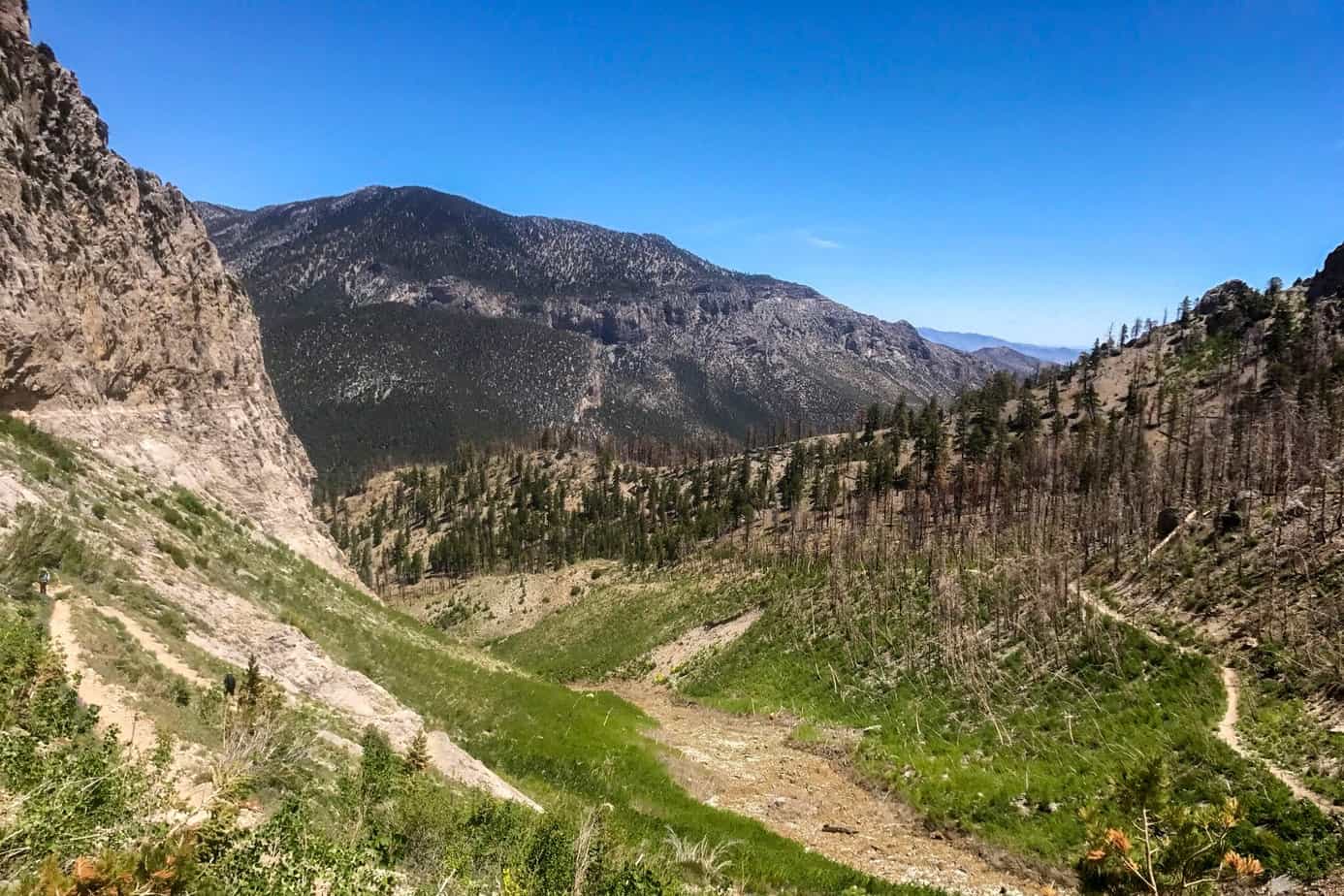 There is no problem following this Mount Charleston hiking trailand its also very well maintained, it is definitely not for anyone who has lung, heart or breathing issues. Don't worry, there isn't anything dangerous on this trail, it is just exhausting if you are not in top shape to tackle it. There is a vast and marvelous view once you reach the top that makes you feel glad to be alive, and youll meet lots of outgoing people who offer encouragement while traveling the trail. Everyone should be able to finish this hike, but you will be tired.
4. Raintree Trail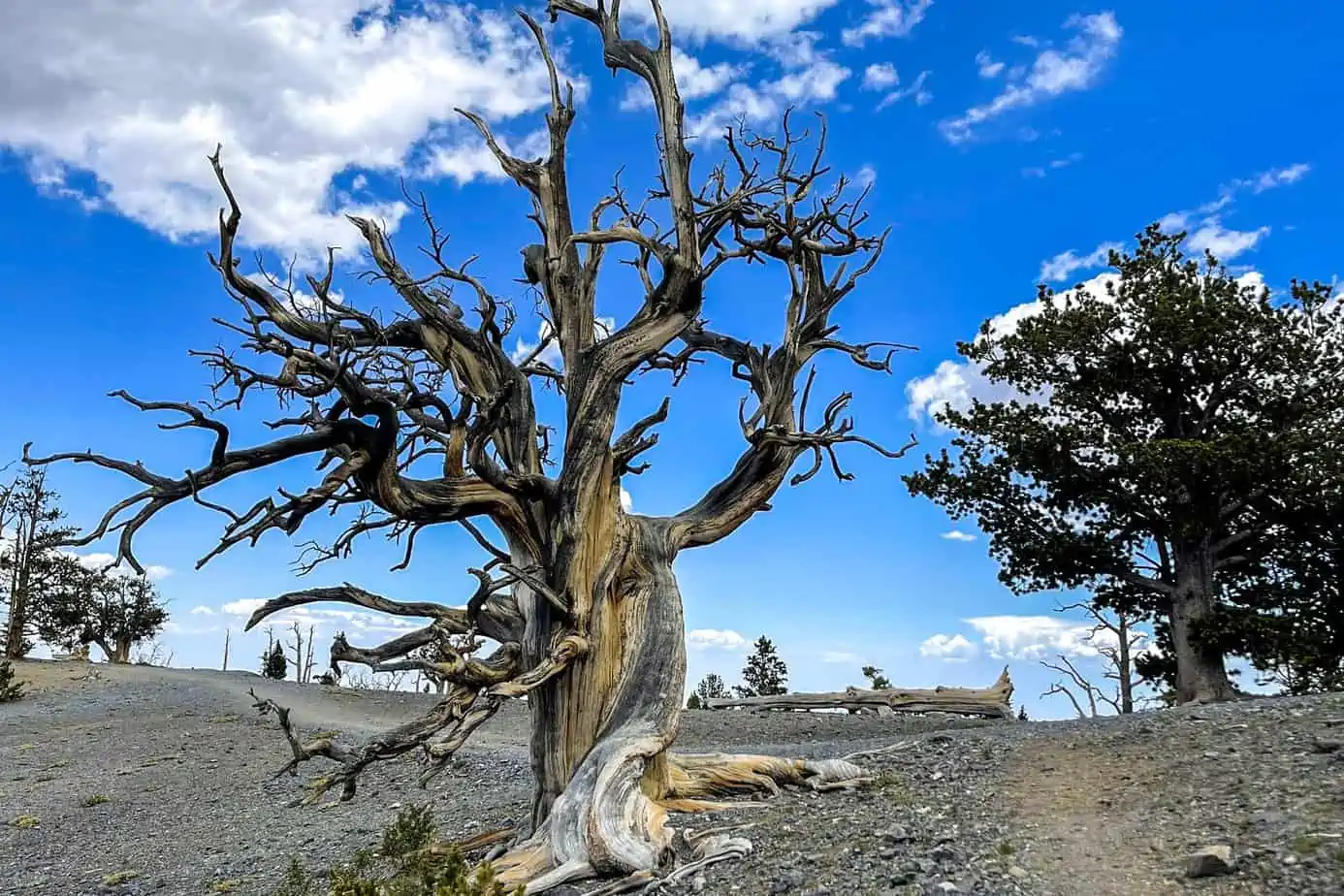 This Mount Charleston hiking trail has certain places where you will encounter snow and wet, slushy conditions. By concentrating your walking on the sides of the trail you will be able to get past most of the snow. This trail always provides a fantastic and enjoyable hike.
5. Trail Canyon Trail Trailhead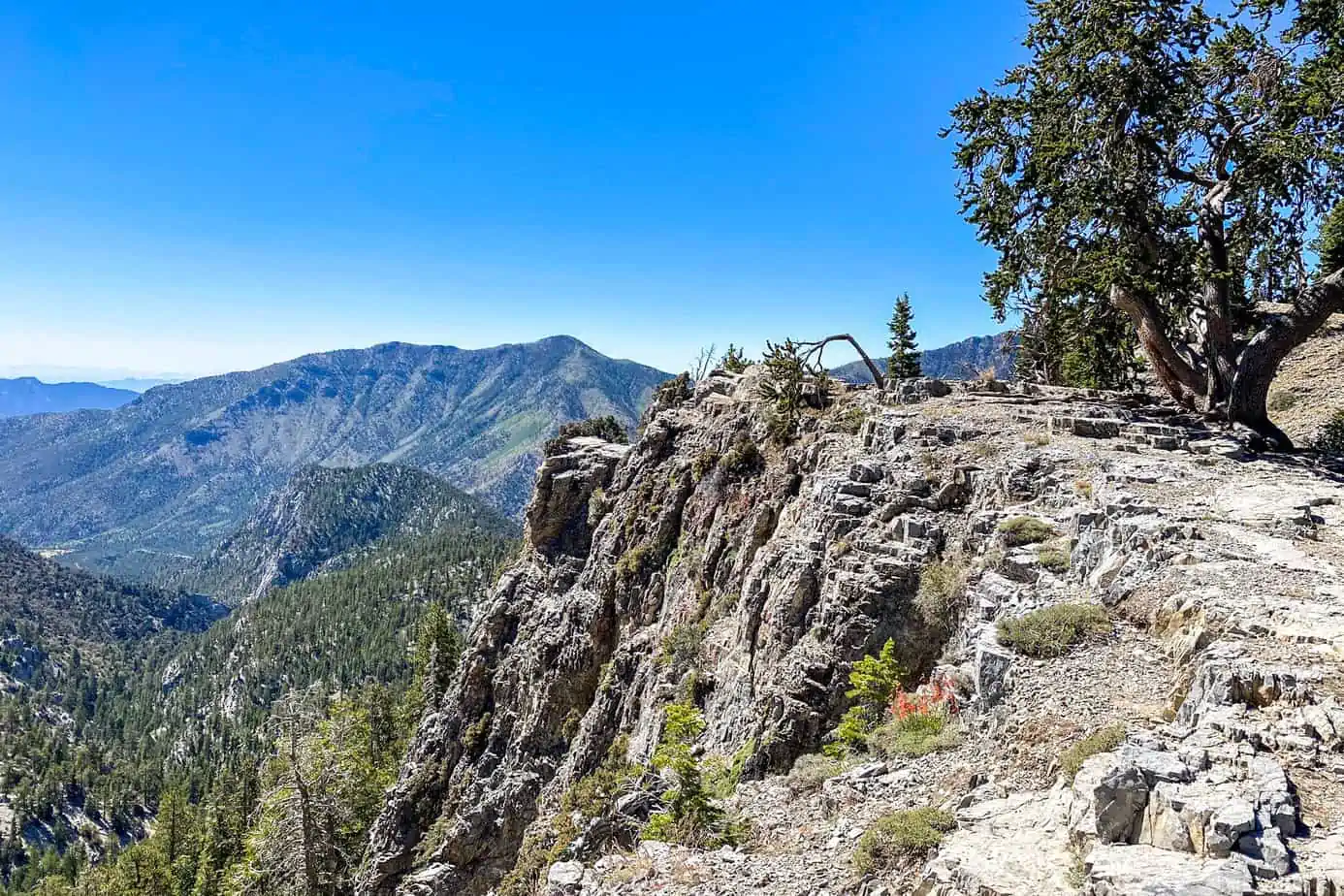 Since most of this Mount Charleston hiking trail is an uphill climb you need to be careful if you suffer from heart, lung, or breathing issues. However, if you can manage it, the view is glorious. There's plenty of shade to stop and rest in, and although it is heavily trafficked and we did see our fair share of people on the trail, there were plenty of quiet moments throughout the hike. Give this hike a try in the summertime and you'll be rewarded as Mount Charleston is an amazing escape from the Las Vegas heat.
6. Big Falls Trail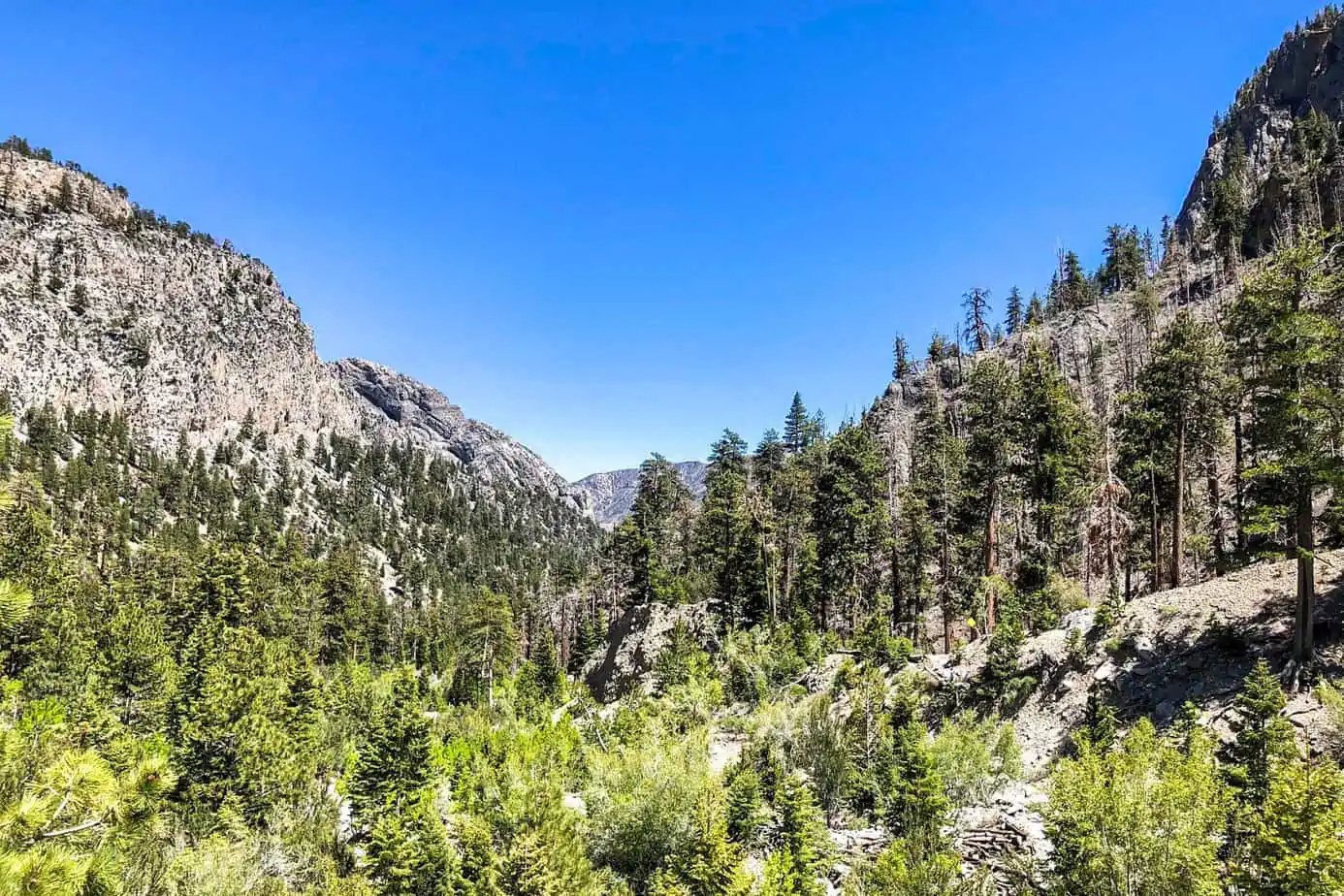 Sort of a different Mount Charleston hiking trail here, but loads of fun! Be sure that you keep yourself focused on the route once you are no longer on the main trail, but there are some boulders you can have some sport navigating around. Around half of the trail is in the shade, which is comfortable when the temperature hovers around 80 degrees or so. There is some question as to whether the hike is 3.25 miles or so, rather than the stated 4.5, but that's not a huge issue. You'll really enjoy this trail and have a great time.
7. Charleston Peak South Trail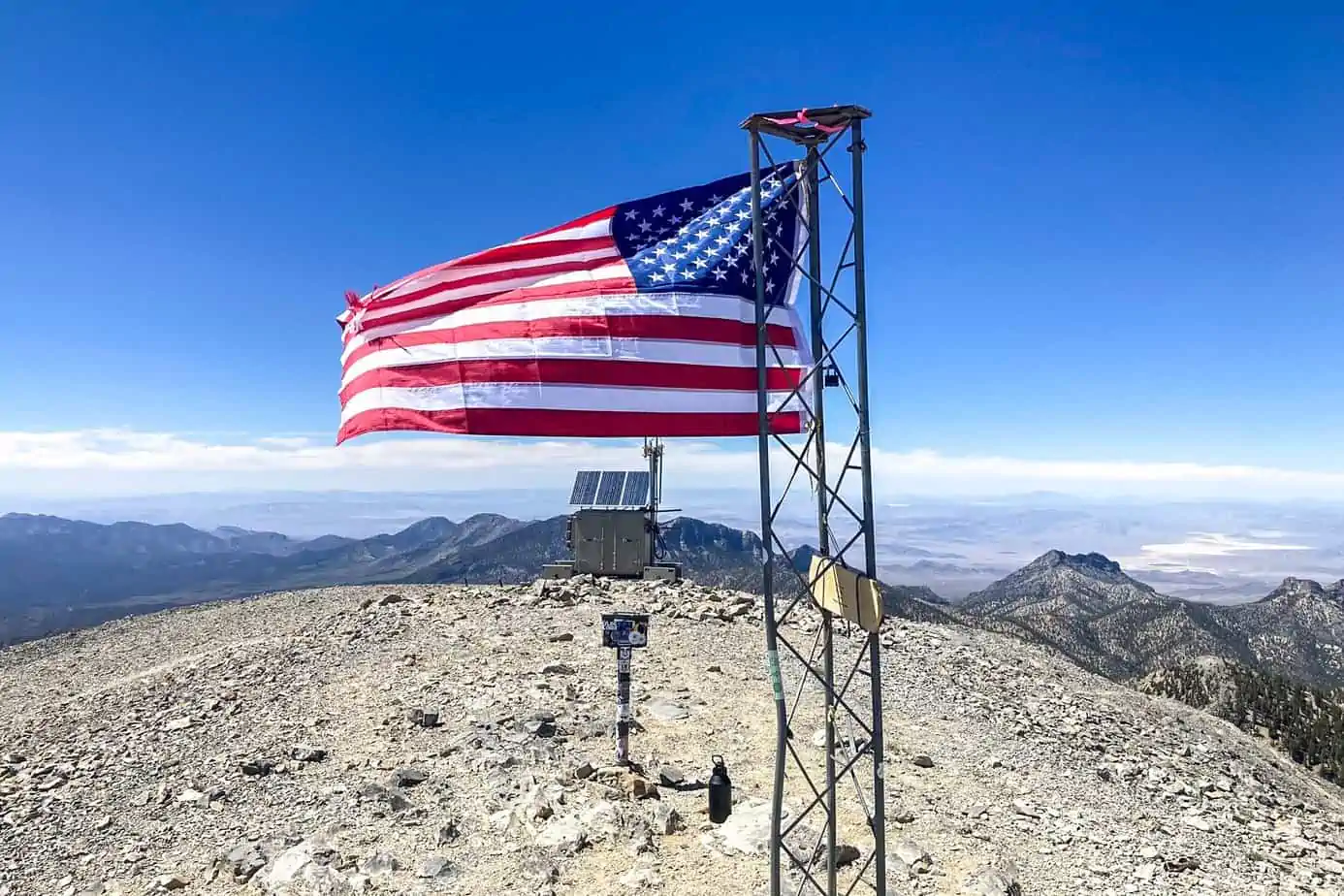 This Mount Charleston hiking trail trail is in great shape, and even a lot of rain didn't disturb it or disrupt anything. Normally the trail is well-traveled. The summit is cool and there is a light wind. A challenging trail to attempt, but no hidden perils. Remember to take enough water and sunscreen.
8. Echo Overlook Trail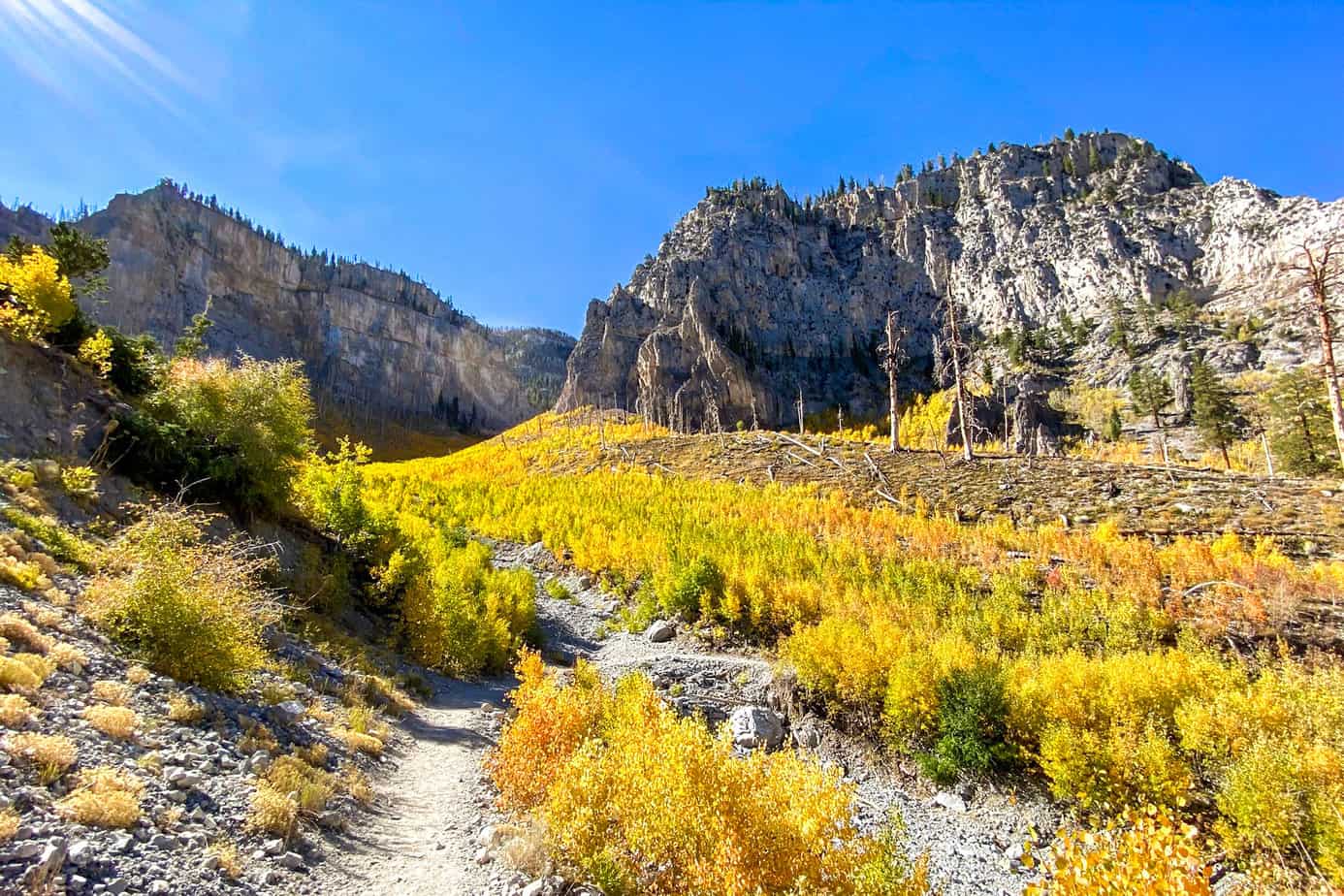 Often declared their favorite Mount Charleston hiking trail by hikers, this Mt. Charleston trail is full of amazing scenery and another plus, it is clearly marked out so that you wont get lost. There are stunningly colorful flowers all along this trail which you cant take your eyes off of. Trail is long and there are some switchbacks. If the entrance happens to be closed, you can gain access to the trail from the Cathedral Rock parking lot.
9. Fletcher Peak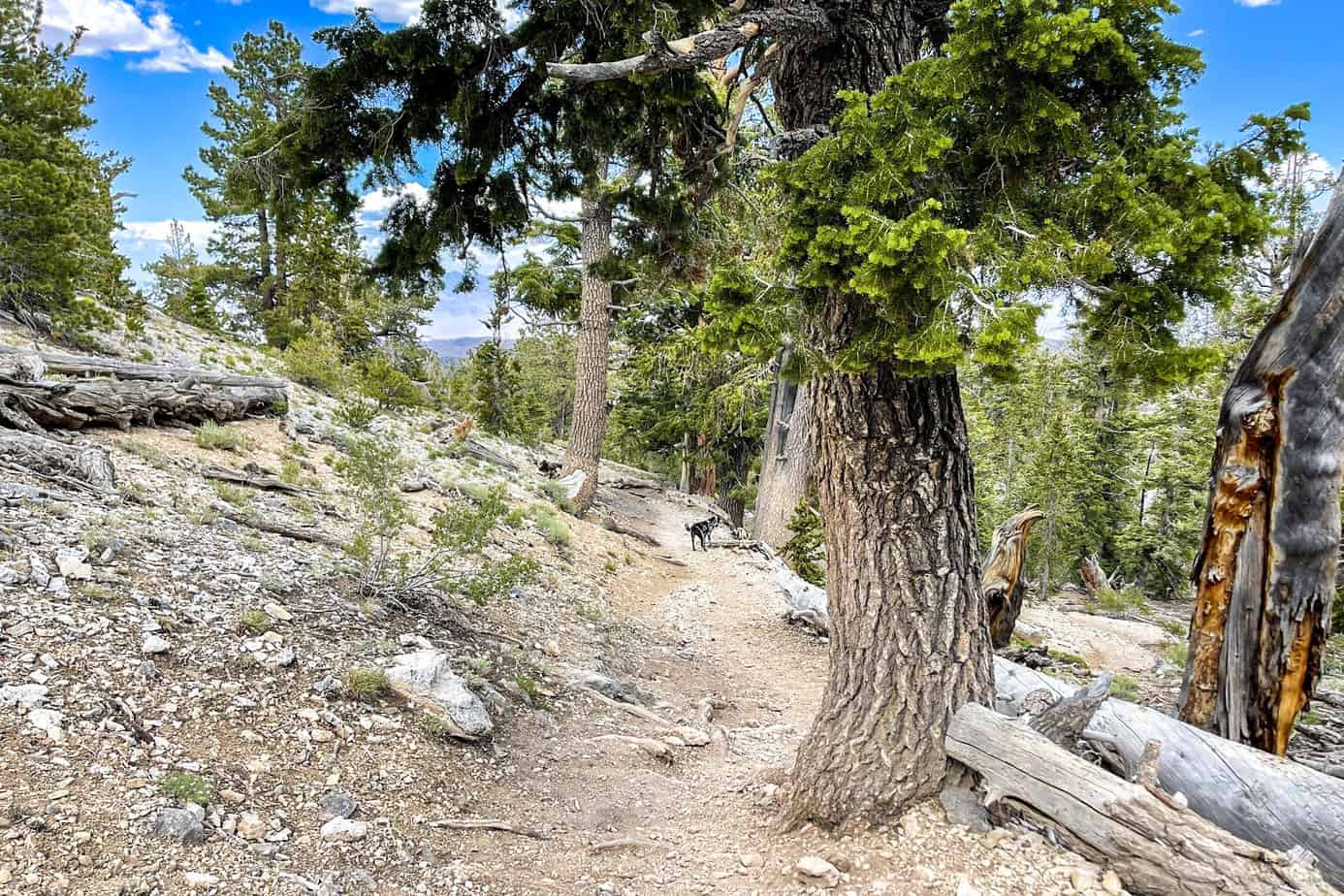 While this Mount Charleston hiking trail hike isnt dangerous or extremely difficult, it does rate somewhere in the range of being medium-hard.
If you love spectacular views, however, then by all means make the effort to hike this trail, as there are some magnificent views from the peak.
10. Stanley B Springs Trail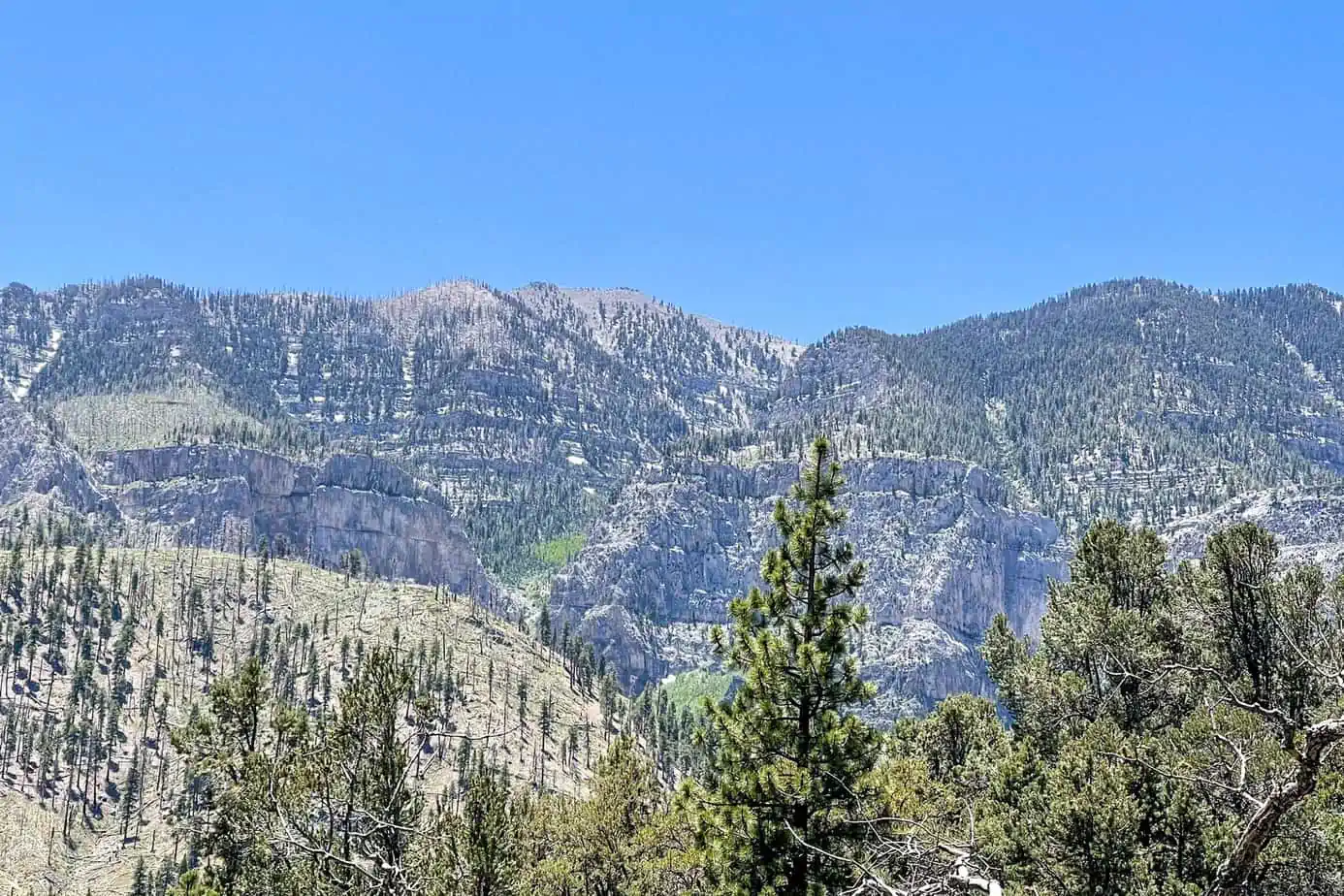 Quite a lot more difficult than you are led to believe and it will take a little better conditioning. When you reach the Y there is a lot of slippery rock located to the right, and a nearly non-existent trail to the left. Its a gorgeous path, and really rewarding to undertake regardless of the time of year. The uphill trek at this Mount Charleston hiking trail is actually making ones way through a dried out stream bed.
11. Mount Charleston North to South via Trail Canyon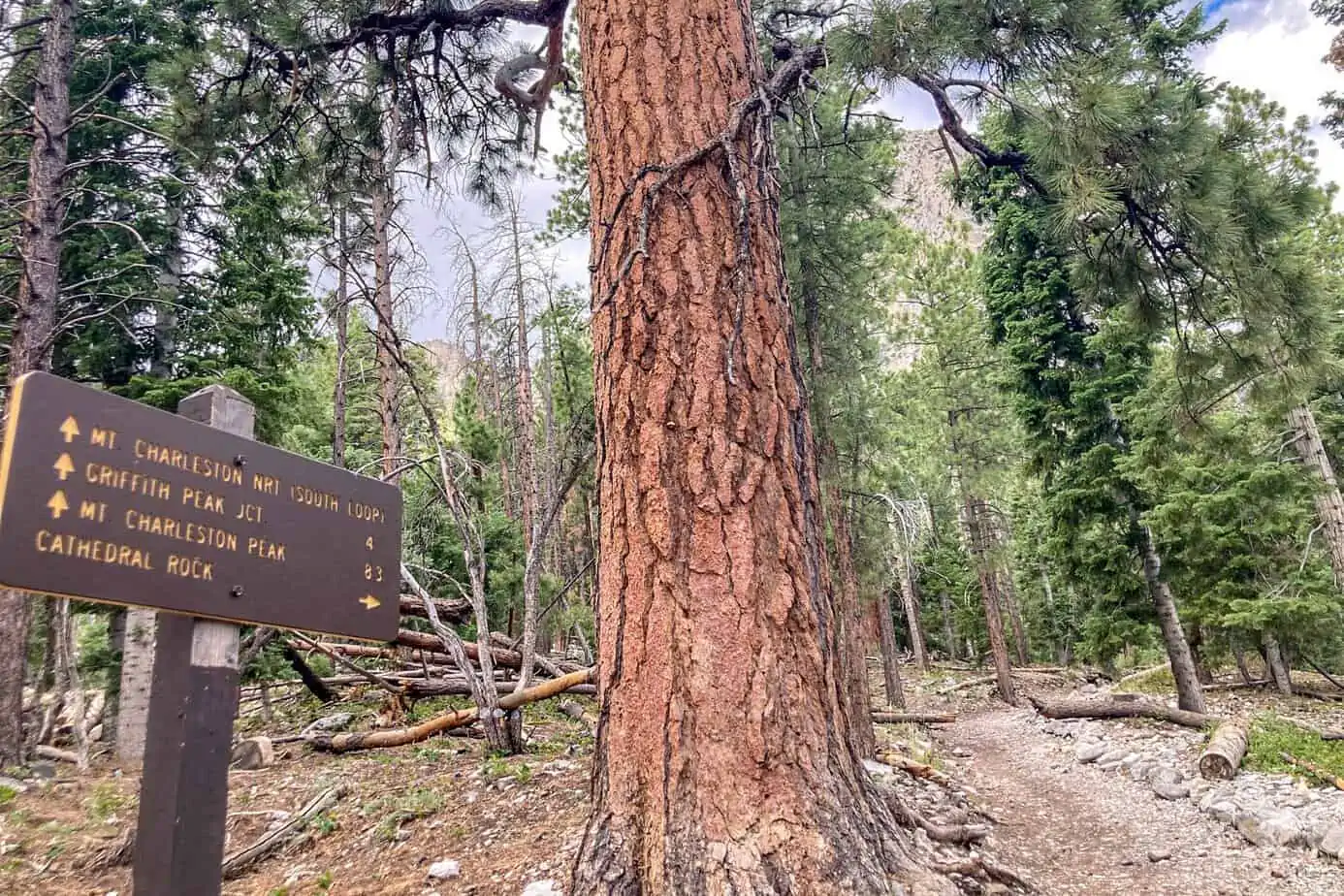 This is an excellent Mount Charleston hiking trail hike if you are interested in building up endurance and skill for the future. It also provides great experience with learning how you cope with being at higher elevations. Are you subject to altitude sickness, and all that. Just look out for 2 downed trees on the north loop before Charleston Peak that you will have to work your way around, but the trail is still well taken care of and you should be completely fine.
12. Mummy Spring Trail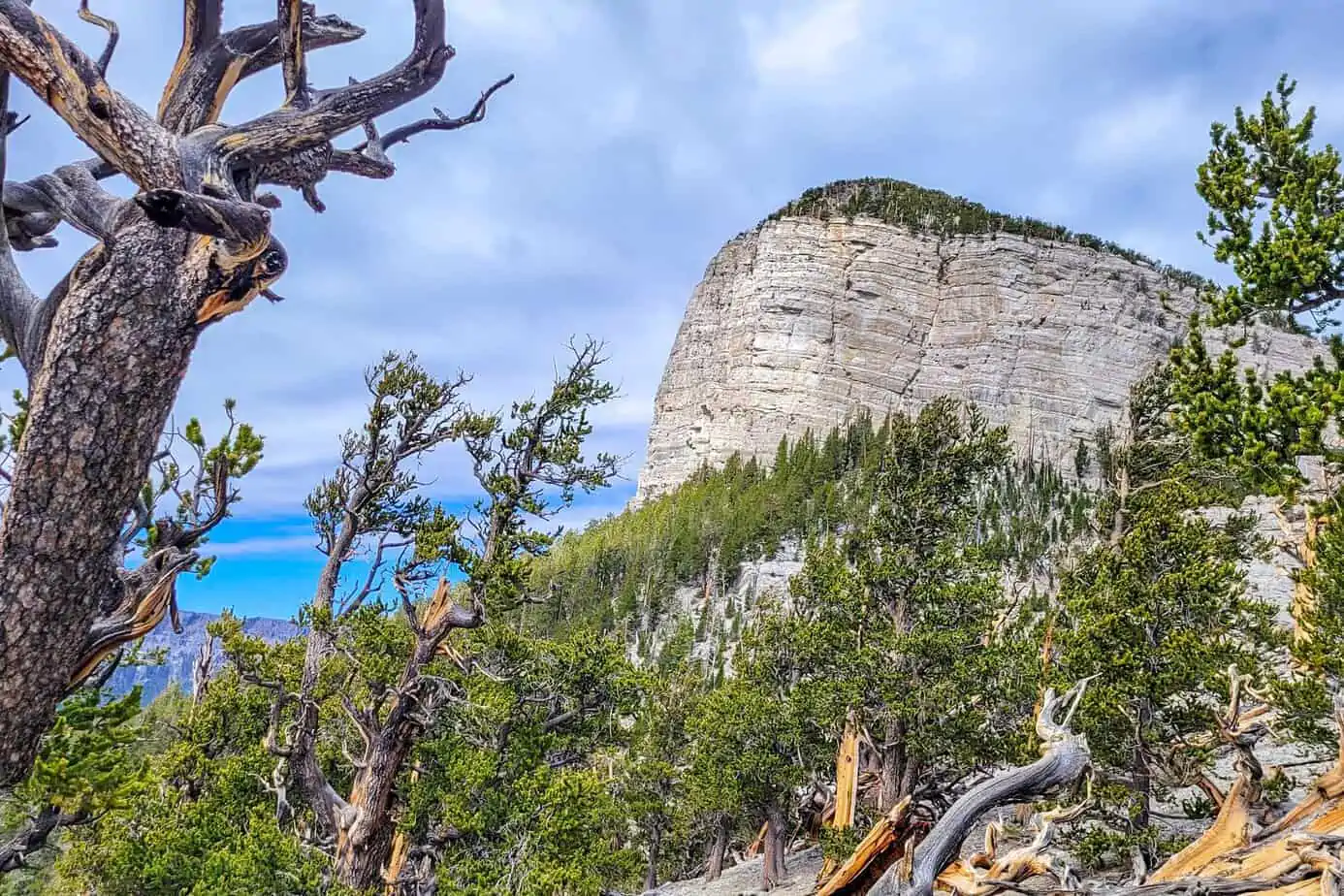 A fantastic Mount Charleston hiking trail trail featuring an amazing ancient forest of bristlecone trees most of which are 3,000 or more years old. Breathtaking. Upon entering the canyon springs you will find that you are engulfed in a sense of serenity. There are certain areas, such as the switchbacks that can take a lot out of a person if you aren't in top shape, but you will be glad that you made the effort.
13. Wildhorse Canyon Loop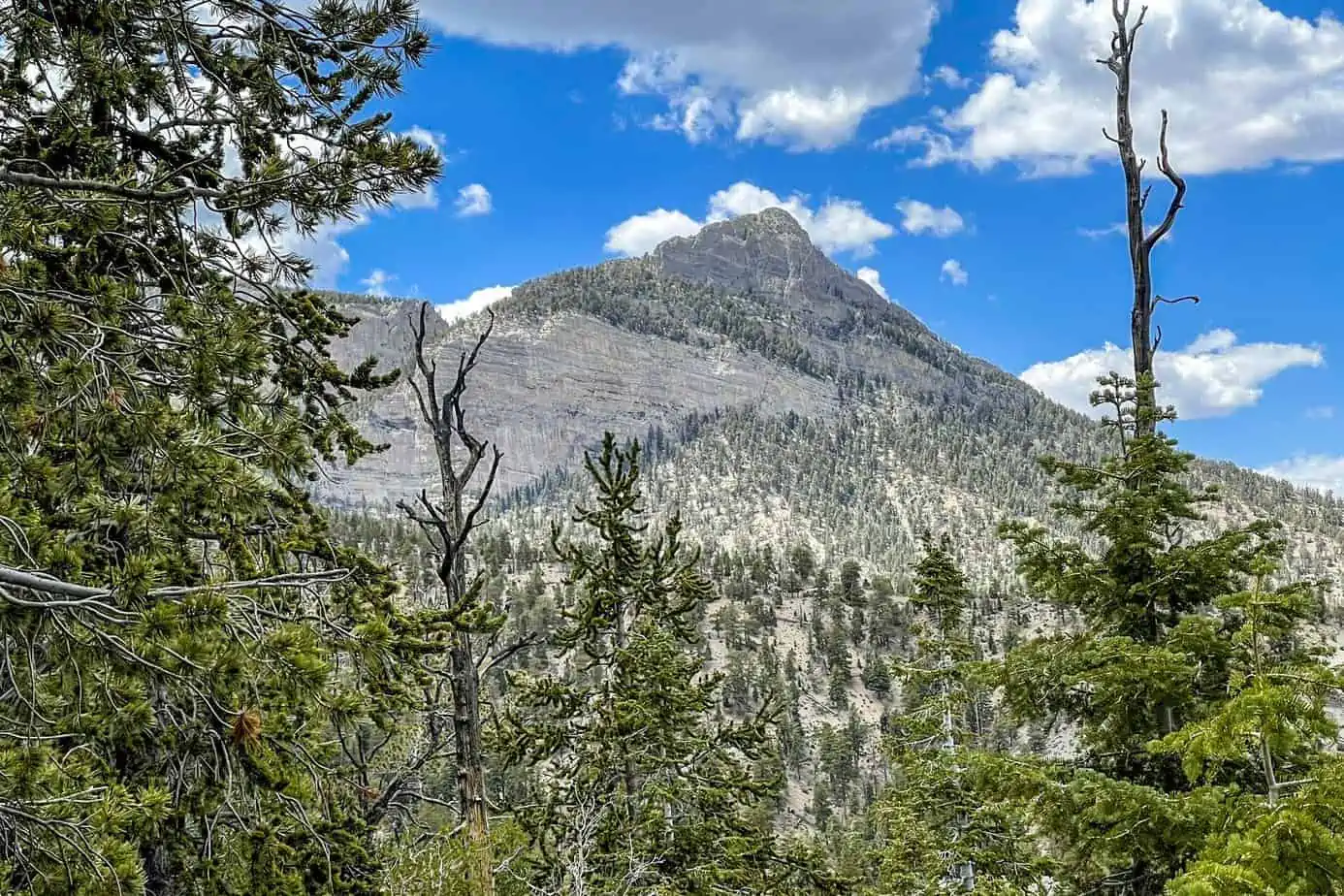 This is actually a pretty decent Mount Charleston hiking trail with some wonderful scenery. The only problem that you will face is that you have to keep on the alert for where the loop moves on. This segment is not marked. The Mount Charleston hiking trail gets a lot more narrow here and that's the reason you can simply overlook it. The descent is rather steep, as the rest of the trail is only of moderate difficulty. Be careful as there are a lot of trees that have fallen down lying across the trail. You should be fine, but keep a close watch on your feet, especially when descending.
14. Trail Canyon Overlook and North Loop Trail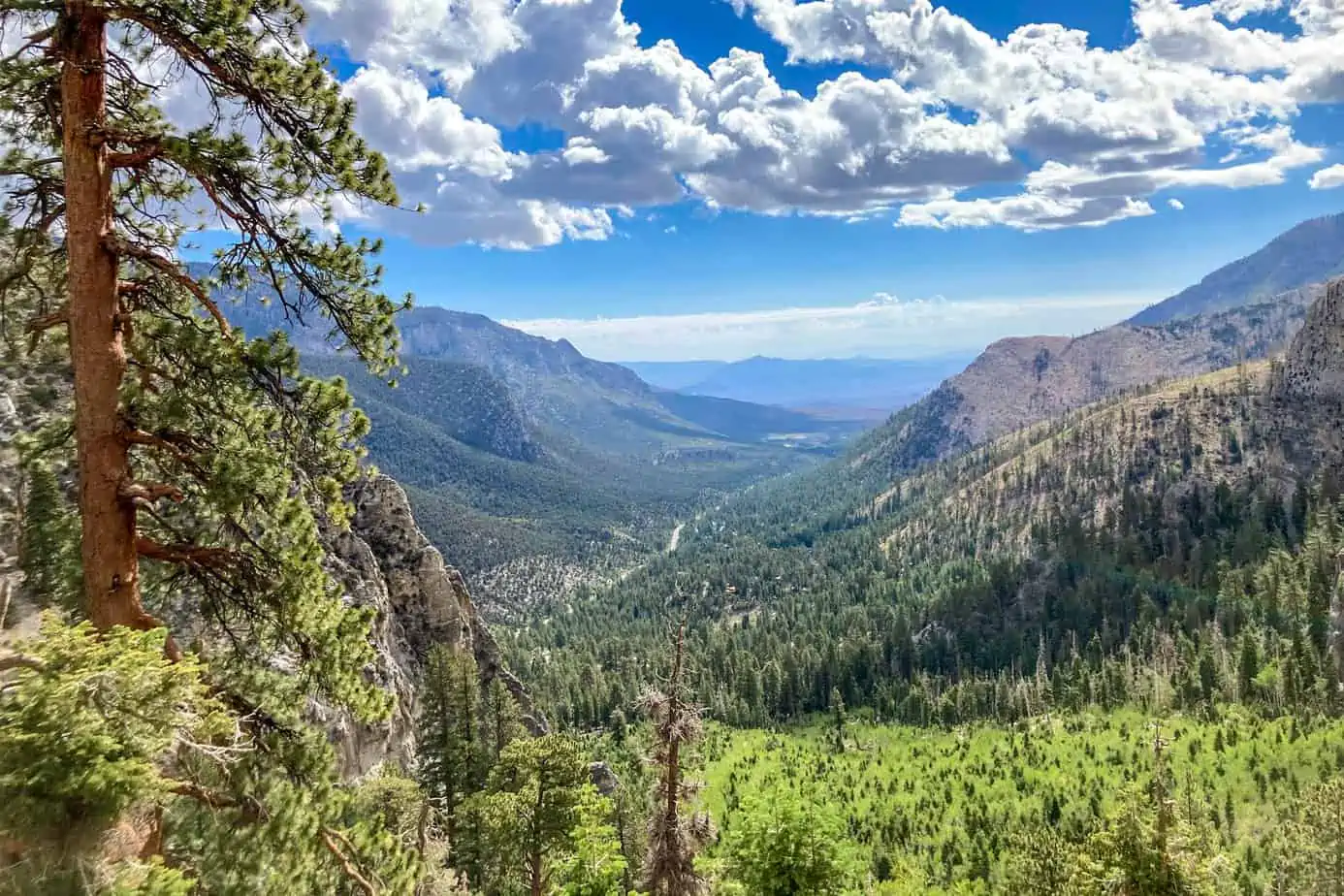 Fantastic Mount Charleston hiking trail. Although the trail is dog friendly, in order to protect your best friends paws, you should invest in some booties, if you haven't already. The terrain does become somewhat rough and rugged. Furthermore, a lot of the hikers taking on this trail allow their dogs to remain off leash. Just be forewarned.
15. Bristlecone, Bonanza, No Name Loop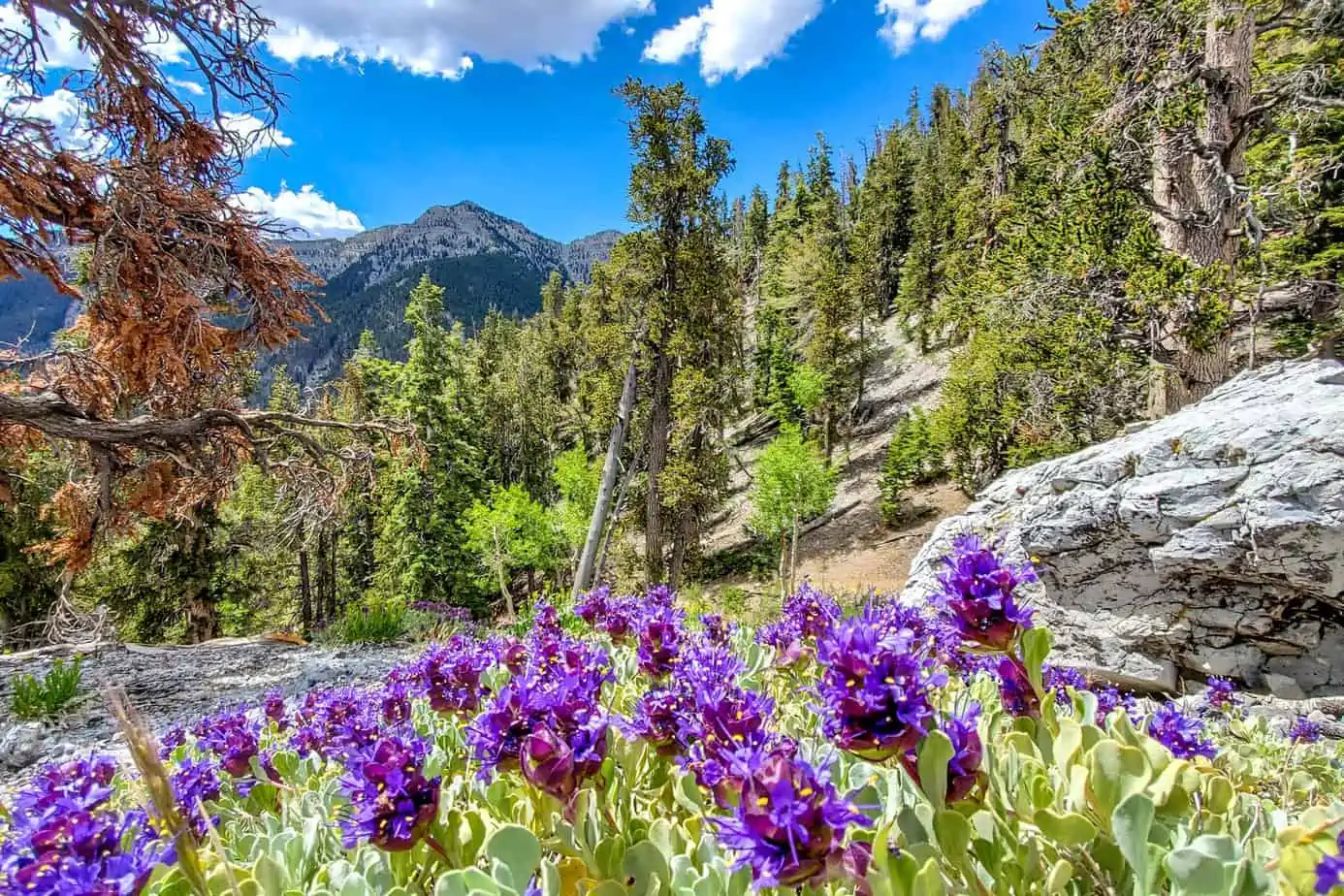 Wonderfully enjoyable hike. The upper bristlecone section is problem free, but when you begin the Bonanza Loop, it actually goes clockwise, so this can be confusing, and the elevation can make the hike more taxing than you expected if you are not that experienced with climbing to high elevations.
Several switchbacks on the way to the peak and a bit more difficult among the Mount Charleston hiking trails, but these are not a problem. Keep your eyes wide open, because the loop the top of the peak is easy to pass on by without noticing it. It is located near the mountain wilderness trail marker, so you can pay extortion attention while there. The view is awesome and makes the entire climb something you'd do again.
---
For complete photos and videos of our trip visit our photos on our page Instagram Page
You May Want to Join Our Boondocking Facebook Group Boondocking Group on Facebook For More Information
You May Want to Join Our Campfires Recipes Group Campfire Recipes Group on Facebook