Last updated on September 9th, 2021 at 09:30 am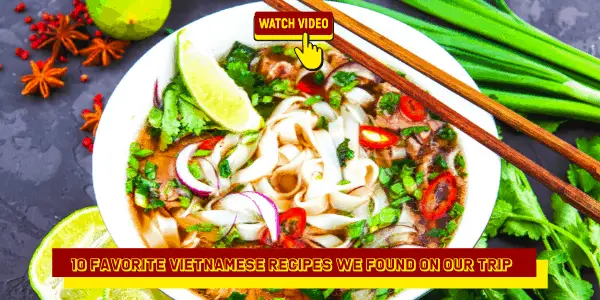 Vietnamese recipes are distinctive and memorable. Their cuisine relies on the balance of sweetness, flavor, saltiness, and sourness. They achieve this through the use of nuoc mam, cane sugar, tamarind and the juice of kalmansi citrus fruits. Vietnam dishes use plenty of fresh herbs but are not that spicy as the chili sauce comes separately. We have assembled a group of foods and their associated Vietnamese recipes to help you experience the same food we love so much.
1. Cao Lau Photo and Recipe from Taste Vietnam
This noodle dish originated from the Central Province of Vietnam known as Quang Nam. The dish features pork and a shrimp-based broth, green lettuce and turmeric noodles. The softness of the pork, the tenderness of the shrimp combined with the crunchy peanuts. Add the sesame-freckle rice crackers and they give you an unforgettable food experience.
Goi Cuon is the most popular Vietnamese recipes in Vietnamese Cuisine. The dish features translucent spring rolls packed with greens. To this, they add a combination of minced shrimp, crab pork and coriander. In some places, the dish comes with a dish of lettuce and mint. The dish originated in China. It appears much the same as Chinese spring rolls. The dish is available in most Vietnamese restaurants. When served fresh, flavorful and light, the dish will be a breath-catching experience.
3. Banh Mi Photo and Recipe from All Recipes
Banh Mi is a type of meat-filled sandwich on the Banh Mi bread. This is our favorite of the included Vietnamese recipes of all time. The bread that preparation contains wheat flour alongside rice flour. The typical fillings can come steamed, oven-roasted or even pan roasted. They can contain Vietnamese sausage, pork belly, grilled pork, or grilled chicken. Add ons include tomato sauce, fried eggs, and tofu. Accompanying vegetables include cilantro, fresh cucumber leaves, and pickled carrots. Banh Mi is popular in most restaurants in Western cities.4. Bahn Xeo Vietnamese Recipe Photo and Recipe from All Recipes
4. Bahn Xeo Vietnamese Recipe Photo and Recipe from All Recipes
Known as the sizzling cake, Bahn Xeo is a savory pancake. Created using water, rice flour, and turmeric powder. The pancakes can come wrapped in lettuce, mustard leaves or Bahn Trang wrappers. You can add mint leaves and then dip them in sour dilute fish sauce. The most popular place to get Bahn Xeo is the legendary restaurant Bahn Xeo 46A.
5. Bun Cha Photo and Recipe from Taste.com
This dish is the most inviting Vietnamese recipes to try and originates in Hanoi. Made up of square pork meat that grilled on dry charcoal. It is often served with rice noodles and a side dish of dipping sauce. The dish originated and remains popular in Hanoi. An alternate similar dish of rice vermicelli and grilled meat. You will find this more in areas outside of Hanoi.
6. Pho Photo and Recipe from Steamy Kitchen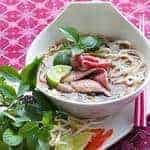 This dish which is the countries staple food has become the Vietnamese national dish. The noodle soup consists of linguine-shaped rice noodles, a few herbs, meat, and broth. The dish may come served with either chicken or beef flavored with ginger or coriander. The Southern Vietnamese eat pho for breakfast while the rest consume it at any time of the day.
7. Mi Quang Photo and Vietnamese recipes from Danang Cuisine
The Vietnamese noodle originated from the region of Quang Nam Province. It is a staple in Vietnam. You will find it in family parties and served in most restaurants all around the country. It contains yellow rice noodle with alkaline water to give a slippery texture. It features shrimp, chicken, pork and even beef or fish. The broth made from simmering meat in water. It is then added to the fish sauce, shallot, black pepper, and garlic.
8. Cha Ca Photo and Recipe from SBS
This seafood dish is among the standouts in Vietnamese cuisine. The origin of the dish is in Hanoi. The dish, prepared by having the white fish sauteed in butter with spring onions and dill. It is then served with rice noodles and a scattering of peanuts.
9. Nom Hua Chuoi Photo and Recipe from Edible Austin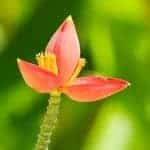 For vegetarians, Nom Hua chuoi is a great option. Chilli and lime are the main flavors in this meal. Add a unique flavor and refreshing punch to the shredded vegetables. There are many other Vietnamese recipes for vegetarians but this is especially unique.
10. Com Tam Photo and Recipe from Danang Cuisine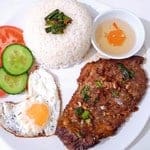 Com Tam comes from rice with fractured rice grains. The dish is from Southern Vietnam near Ho Chi Minh City. The dish can include grilled pork and the bi, shredded pork mixed with cooked and shredded pork skin. The rice and meat served with greens, vegetables, prawn paste cake, and grilled prawns.
The simplicity of the Vietnamese dishes will have you always asking for more. The slight variations by region will make them even more interesting.
As always we try to get the original recipe. We, of course, cannot usually do that and we have to come home and take the recipe we have tried that was the most like our local dish. Not the same but if you do wish to try them they are listed below and many of them are close fits to the Hanoi food we enjoyed so much.
You might also like some of the articles from our website about boondocking and travel.
5 Best Ways to Visit Techatticup Gold Mine In Nevada
12 Super Reasons To Visit Mount Charleston Nevada
10 Great Reasons to Visit The Valley of Fire Park
9 Great Hiking Trails In Red Rock Canyon
For complete photos and videos of our trip visit our photo on our Facebook Page
You May Want to Join Our Boondocking Group on Facebook For More Information