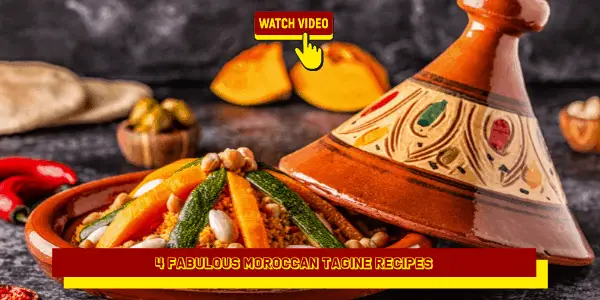 A Tagine is a clay cooking pot and is used for all types of  Tagine Recipes. They are one of the oldest forms of a pressure cooker. The Tagine pot takes all of the flavors from the spices and forces into the meat and vegetables.
Traditionally tagine pots are made out of clay. They can be glazed or unglazed. They come in a variety of sizes. There are small cooking tagines that serve 1 or 2 people, medium for 4 and large tagines for 6 or more people.
There are also two different types of pots. One is painted on the outside, and one is plain. Do not cook in the decorated tagines. These are strictly for show
Tagine Recipes – Moroccan cuisine
Moroccan cuisine is influenced by Morocco's interactions and exchanges with other cultures and nations over the centuries. Moroccan cuisine is usually a mix of Amazigh, Andalusian, and Mediterranean cuisines, with slight European (French and Spanish) and sub-Saharan influences. [1]
Tagine Recipes – 
Ingredients
Morocco produces a large range of Mediterranean fruits, vegetables and even some tropical ones. Common meats include beef, goat, mutton and lamb, which, together with chicken and seafood, serve as a base for the cuisine. Characteristic flavorings include lemon pickle, argan oil, preserved butter (smen), olive oil, and dried fruits.
The staple grain today is wheat, used for bread and couscous, though until the mid-20th century, barley was an important staple, especially in the south. Grapes are mostly eaten fresh, as a dessert; wine consumption is only about 1 liter per capita per year.The traditional cooking fats are butter and animal fat, though olive oil is now replacing them.Butter is used both fresh, zebeda, and preserved, smen. [1]
Tagine Recipes – 
Flavorings
Spices are used extensively in Moroccan food. Although some spices have been imported to Morocco through the Arabs for thousands of years, many ingredients—like saffron from Talaouine, mint and olives from Meknes, and oranges and lemons from Fes—are home-grown, and are being exported. Common spices include cinnamon, cumin, turmeric, ginger, paprika, coriander, saffron, mace, cloves, fennel, anise, nutmeg, cayenne pepper, fenugreek, caraway, black pepper and sesame seeds. Twenty-seven spices are combined for the famous Moroccan spice mixture . [1]
Tagine Recipes – How to Use a Tagine Pot
For clay pots, you should always season or prime it, to begin with. This will strengthen the clay from cracking and it can help remove some of the natural clay taste.
First, soak the lid and the base of the tagine in water for a minimum of 2 hours.
Drain the water and air dry the lid and base.
If it is an unglazed tagine, rub the entire pot (interior and exterior) of the lid and base with olive oil.
Put the pieces into a cold oven and turn the heat to 300F for 2 hours.
Turn off the oven, and leave the pot and lid to cool.
Once cooled wash the top and base by hand, and coat the interior again with olive oil before storing or using. [1]
Tagine Recipes – Moroccan Chicken Is A Versatile Meal
Chicken Tagine from Morocco is probably the most consumed dish in all of North Africa.
The Tagine pot takes all of the flavors from the spices and forces into the meat and vegetables. Many times fruit is also added to the vegetables. There are no recipes as such and each time the same cook prepares it they will probably differ in some ways. If you do not own a Tagine Dish I would certainly recommend you get one. This meal can be prepared in a skillet or crockpot but the results will not be nearly as good.
Moroccan Chicken Tagine
Try this classic mix of spices, chicken, and vegetables. Add couscous for a great meal and a true Morrocan delight.
Ingredients
1/2

cup

onion

chopped

1

cup

water

2

garlic cloves

minced

2

Roma tomatoes

cored and diced

1/4

cup

peas

frozen

3

carrots

sliced

2

Tbsp

olive oil

1

tsp

curry

1

tsp

chili powder

1

Tbsp

fresh parsley

chopped

1

tsp

Kosher salt

(paleo diet: sea salt)

3

lbs

chicken

whole roaster cut into pieces

1

lb

potatoes

peeled and sliced (paleo diet: sweet potatoes)
Instructions
Peel and slice potatoes 1/4" Place potatoes in water to avoid browning while you cook the chicken in tagine.

Place the vegetables on the bottom of the dish or as many Morrocans do add the meat and build layers of vegetables standing upright on the meat.

Sprinkle the chicken with parsley, cover in the spice mix pour olive oil over the entire dish. Add 1 cup of water to the bottom of the Tagine.

Cook 75 minutes and check the meat, it should be tender and fall off of the bone.

Add the peas and potatoes and cook for another 15 to 20 minutes.
Notes
Serve with couscous or rice.
Tagine Recipes – Vegetarian Recipe
Easy Moroccan Vegetarian Tagine Recipe
A great simple Tagine recipe for vegetarians. You will still have the perfect mix of Tagine flavors but without meat and Gluten-Free.
Ingredients
1/4

cup

Private Reserve extra virgin olive oil

more for later

2

medium yellow onions

peeled and chopped

8–10

garlic cloves

peeled and chopped

2

large carrots

peeled and chopped

2

large russet potatoes

peeled and cubed

1

large sweet potato

peeled and cubed

Salt

to taste

1

tbsp

Harissa spice blend

1

tsp

ground coriander

1

tsp

ground cinnamon

1/2

tsp

ground turmeric

2

cups

canned whole peeled tomatoes

1/2

cup

heaping chopped dried apricot

1

quart

low-sodium vegetable broth or broth of your choice

2

cups

cooked chickpeas

1

lemon

juice squeezed

Handful fresh parsley leaves
Instructions
In a Tagine pot, heat oil over medium heat till simply simmering. Add the onions and increase the heat to medium-high. Brown lightly for five minutes, stirring frequently to avoid burning.

Chop the vegetables and garlic. Add to the Simmering mix then season with salt and spices.

Cook for five to seven minutes on medium-high heat, mix frequently with a wooden utensil.

Add tomatoes, apricot, and broth. Season once more with simply a low dash of salt.

Keep the heat set to medium-high, and cook for ten minutes. Cut the heat, place Tagine Cover on and simmer for another twenty to twenty-five minutes or till veggies are tender.

Stir in chickpeas and cook another five minutes on low heat.

Stir in juice and parsley, style and change seasoning - adding additional salt or harissa spice mix to your desired taste.
Tagine Recipes – Moroccan Lamb Recipe
Moroccan Lamb Tagine
The perfect Tagine Lamb recipe. This meal is easy to prepare and forget until it is ready. 6 simple steps to a great Moroccan dish.
Ingredients
1

tsp

cayenne pepper

2

tsp

ground black pepper

1½

Tbsp

paprika

1½

Tbsp

ground ginger

1

Tbsp

turmeric

2

tsp

ground cinnamon

2½

lbs

cubed lamb shoulder

2 in chunks

2

large onions

grated

2

Tbsp

olive oil

2

Tbsp

argan oil

3

cloves

garlic

crushed

1

pint

tomato juice

2

400 g

tinned chopped tomatoes

4

oz

dried apricots

cut in half

2

oz

dates

cut in half

2

oz

sultanas or raisins

3

oz

flaked almonds

1

tsp

saffron stamens

soaked in cold water

1

pint

lamb stock

1

Tbsp

clear honey

2

Tbsp

coriander

roughly chopped

2

Tbsp

flat-leaf parsley

roughly chopped
Instructions
Mix the cayenne, black pepper, paprika, ginger, turmeric and cinnamon in a small bowl. Place the lamb in a large bowl and add in half of the spice mix. Cover and leave overnight in the refrigerator

Preheat the oven to 150C/300F/Gas #2.

Heat 1 tbsp olive oil and 1 tbsp of argan (or vegetabloil in a large casserole dish. Add the onion and remaining spice mix. Cook over low heat for 10 minutes so that the onions are soft. Add the crushed garlic for the final 3 minutes.

In a separate pan, heat the remaining oil and brown the lamb on all sides. Add the meat to the Tagine dish.

Add the tomato juice, chopped tomatoes, apricots, sultanas, saffron, honey, raisins, almond flakes, and lamb stock to the bottom of the Taginedates, Cook for 2-2½ hours or until the meat is meltingly tender.

Place the lamb in a tagine or large serving dish and sprinkle over the chopped herbs. Serve.
Notes
Overnight Prep-time for mixing the cayenne, black pepper, paprika, ginger, turmeric and cinnamon in a small bowl. Place the lamb in a large bowl and add in half of the spice mix. Cover and leave overnight in the refrigerator.
Tagine Recipes – Cubed Beef Recipe
Cubed Beef Tagine Recipe
Try the beef recipe for a spicy, tasty Moroccan favorite.
Ingredients
600

gram

stewing beef

1

onion

½

a bunch of fresh coriander

olive oil

1

x 400 gram tin of chickpeas

1

x 400 gram tin of plum tomatoes

800

ml

organic vegetable stock

800

gram

butternut squash

100

gram

prunes

2

Tbsp

flaked almonds
SPICE RUB
1

Tbsp

ras el hanout spice mix

1

Tbsp

ground cumin

1

Tbsp

ground cinnamon

1

Tbsp

ground ginger

1

Tbsp

sweet paprika
Instructions
MARINATING
Mix spices and beef, add black pepper and a small amount of salt. Cover place in the refrigerator overnight.
COOKING INSTRUCTIONS
Peel and finely mince the onion, and the coriander leaves, finely chopping the stalks.

Add Olive oil to the Tagine and add the meat to brown for 5 minutes. Add the onion and coriander and continue cooking for another 5 minutes. Stir frequently.

Add chickpeas, tomatoes and 400 ml of water and continue stirring, bring to a boil, add Tagine top and cook for 1 and 1/2 hours over low heat.

Cube the squash, tear the prunes and remove the pits, Toast the almonds until brown in a small skillet and add them to the mix.

When the time is up, add the mix and cook for another 1 1/2 hours. Add water if needed. Remove the lid and simmer until the excess liquid is gone and serve with rice or couscous.
Notes
If you have a gas stove, you also need to be sure to use the tagine heat diffuser and not set it directly on the flame.
Serves -- 4
Cooks in  3 Hours 40 Minutes PLUS Marinating time
Difficulty -- SUPER EASY
After Moroccan Tagine Recipes, where to next?
Check out Bosnian Food in Sarajevo and Mostar