Last updated on September 27th, 2023 at 06:41 am
As we go through this post about Traditional Peruvian Recipes we felt the need to begin with some history about the  Peruvian culture and it's impact on the food there.
The Peruvian Culture
Seated on the Andes mountain, 1,500 miles of desert, and Amazon forest, Peru is a country with rich history and features signs of civilization dating back to about 8,000 years. Furthermore, Peru has diverse biodiversity and cultures and migrants who inhibited the country and changed its cuisine significantly.
Traditional Peruvian food is a vital expression of its culture, and its geographical location offers the Peruvians abundant fresh ingredients. Its culinary history is said to date back to Inca and pre-Inca, and it consisted more of potatoes, corn (maize), and spices that were significantly influenced by Spanish colonies.
Throughout the years, Peru has incorporated various migrations, including African, Japanese, Chinese, and European cuisines. With that said, in this article, we shall be discussing the history of traditional Peruvian food.
The History of Food from Peru
Peruvian Gastronomy or the Peruvian cuisine depends on its roots a long time ago, developing some of the best and precious cultural fusions in the world. Traditional Peruvian food is recognized as a top-secret. The cuisine is not only famous for its top-notch taste, but also for its different and ability to incorporate ingredients from other cultures.
The traditional Peruvian food features combined exquisite taste of four continents; Africa, Asia, Europe, and South America. With an array of traditional foods, Peruvian culinary skills are constantly evolving and tend to be impossible to list in their entirety. You will find more than two thousand types of soup and over 250 traditional desserts along the country's coast.
Before the arrival of the Spanish colonials, the natives were already domesticating approximately 1,000 types of potatoes. It is even believed that potatoes were the primary contribution of Incas to the world; furthermore, potatoes were a must in their diet. The Inca diet consisted of cereals such as maize, quinoa, meats of Alpaca, and fruits, along with hot peppers.
The traditional Peruvian food dates to the Inca period, and they remain largely unchanged to this date. The best example is pachamanca and carapulca. The Spaniards also introduced various culinary skills along with unique ingredients that were not available in Peru, such as dairy products, olives, beef, grapes, rice, and chicken.
As time progressed, the Spanish and Peruvian cultures started mixing gradually and fused to form a new unique Peruvian cuisine. The African slaves who were also brought to Peru influenced Peruvian cuisine significantly.
Old Style Peruvian Food Cooking and Food
One of the reasons to visit Peru is culinary. In fact, traditional Peruvian food is considered one of the world's best gastronomies for several years. This has been made possible by its vast ecosystems, climates as well as the environment that allows for the growth of various spices and food making Peruvian cuisine significantly diverse. To prove that, here are some of the best old-style Peruvian food cooking and food;
Alpaca Meat
This is an exotic traditional Peruvian food. This might come as a surprise to some but in Peru; you can actually enjoy Alpaca- these cute animals are traditional Peruvian food. In addition to being adorable, Alpaca meat is exceptionally delicious, and its tenderness differs depending on the part. If you have Alpaca meat for the first time, you will find it tastier than steak or meat you ever had.
Lomo Saltado
With Peru hosting diverse cultures, the birth of a unique dish is possible thanks to the clash of civilizations in the kitchen. And the Lomo saltado is an excellent example.
The food got its unique flavor from the Chinese immigrants, combined with red onions, sliced steak, aji amarillo, French fries, and chili, and form an exquisite taste. Lomo saltado is even considered the father of various traditional Peruvian dishes like tacu tacu with loins and tallarin saltado.
Ceviche
Traditional Peruvian food consisted of ceviche with plenty of chilies locally referred to as aji. The Peruvian ceviche is unique since it consists of soaking your fish in lemon juice and serving it immediately. According to Peruvians, preparing ceviche is an art, and they love experimenting with it to make their dish unique and stand out from the rest of the world.
Cuy Chactado
Cuy chactado means fried guinea pig. Before they were introduced and made as pets in Europe, guinea pigs were served as traditional Peruvian food. The pigs were domesticated in almost all Peruvian homes. To this day, cuy chactado is a Peruvian delicacy and tends to be full of flavor.
Juane
Juane is a traditional Amazonian boiled food designed for grab and go. This dish comprises hen meat, rice, olives, and eggs, all wrapped in the leaves of macaw flowers. Juane is undoubtedly a unique dish and a delicacy in Peru.
Our Final Thoughts Before the Recipes
Traditional Peruvian food is undoubtedly the best- it comprises an array of cooking styles from four different continents. This is something you cannot find in any traditional cuisine out there. If you have never experienced Peruvian cuisine, you have got plenty of exquisite dishes waiting for you in line. Peru is a perfect destination for any food enthusiast and heaven for most chefs.
Peru's cuisine has evolved significantly over the years, and it is still growing thanks to the fusion of indigenous Peruvian culture and immigrants to form a unique cuisine the world has never seen. As we conclude, we hope that you have found this article informative and that you have learned the history of traditional Peruvian food.
Our 20 Favorite Traditional Peruvian Recipes
---
---
check out our video
---
---
8 Peruvian Recipes for Dinner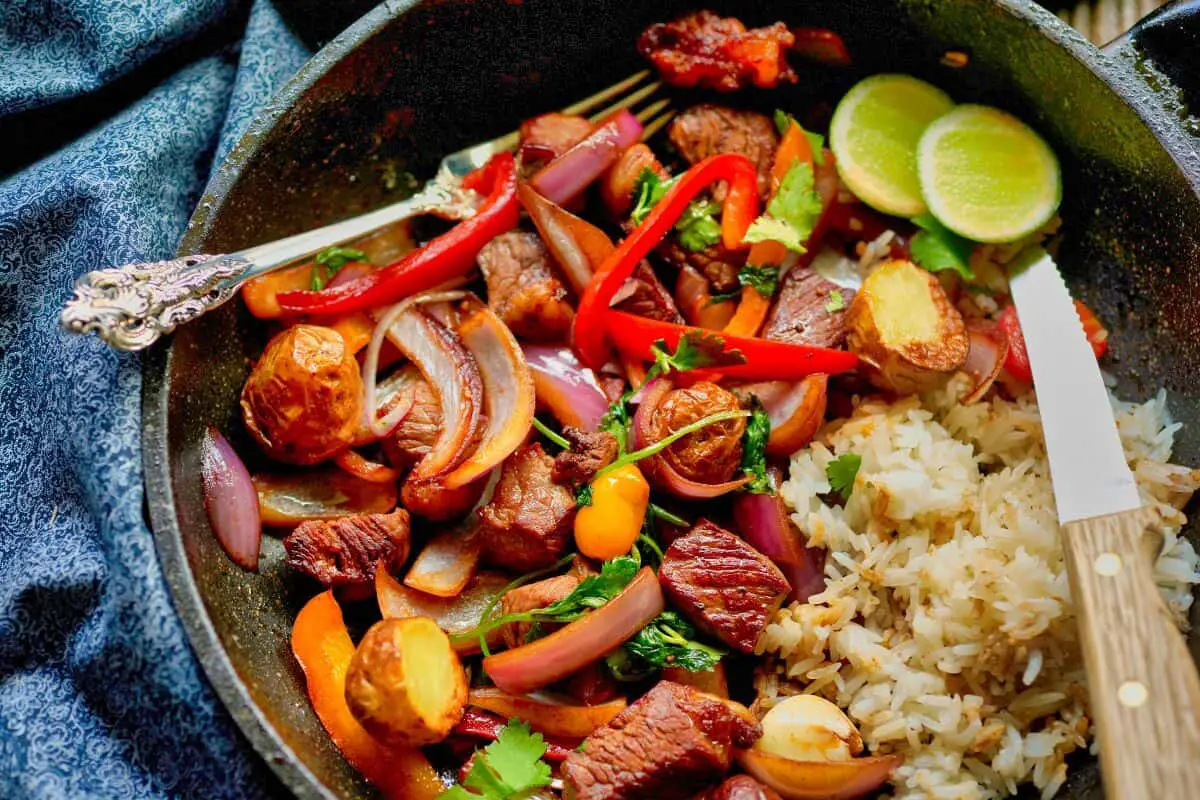 Peruvian Stir-Fried Beef With Onion, Tomatoes, and French Fries. At first glance, Peruvian lomo saltado looks like something my mom might have invented to clean out years of fridge and freezer buildup. There are chunks of beef, mingling in a dark brown sauce with onions, scallions, peppers, cilantro, garlic, and…tomato? And are those soggy yellow things French fries? Appearances, as we well know, can be deceiving.
Lomo saltado is, in reality, a deeply thoughtful dish made with a set of ingredients and techniques that reflect the mix of cultures that contributed to its existence. It's an example of chifa cooking, a term that describes the Chinese-Peruvian hybrid cuisine created by Chinese immigrants who moved to South America more than a century ago, as well as the restaurants where that traditional Peruvian food is served.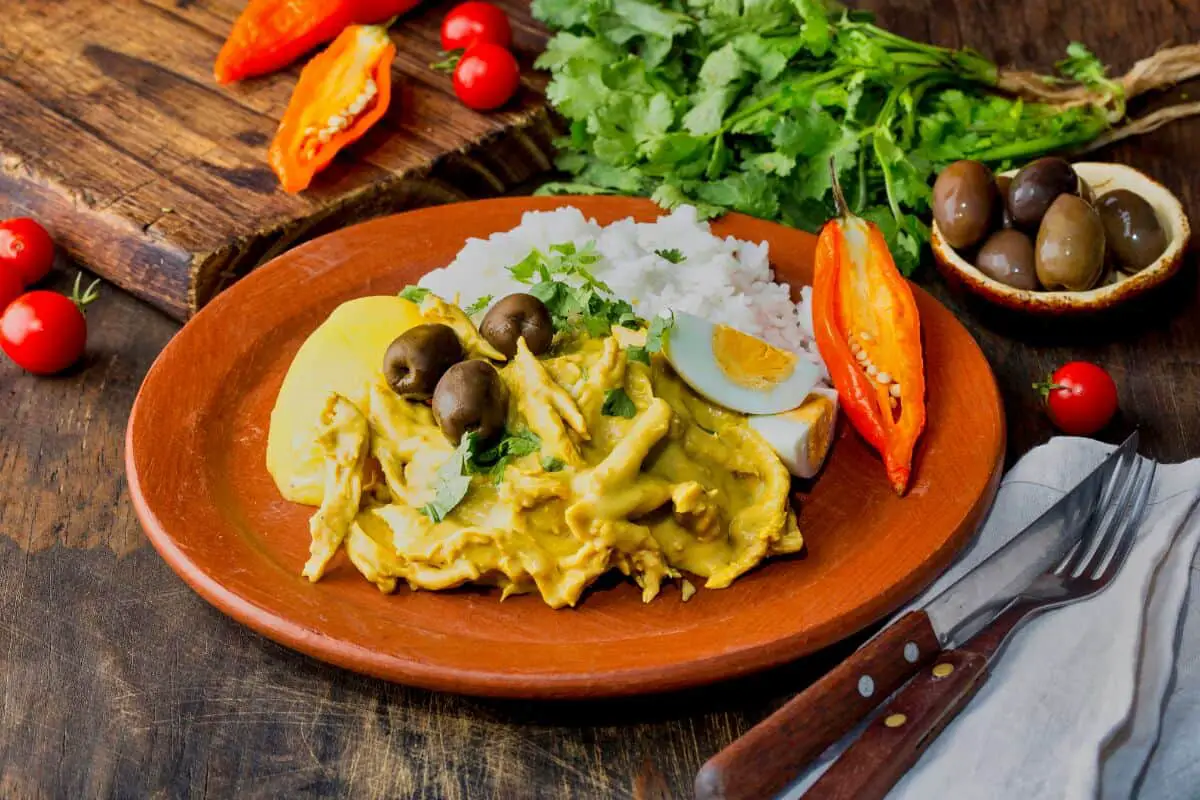 Aji de gallina is a classic Peruvian dish, with shredded chicken wrapped in a smooth, creamy sauce with chili, cheese and walnuts. It's a delicious meal, plus perfect to adapt for leftovers. It has been many years now since I was last in Peru – pre kids for a start. I admit I have been reminiscing a bit more recently. I think it's a combination of seeing a friend's trip and getting back in to some Peruvian cooking (like anticuchos skewers) which have sparked memories.
The first time I went, I instantly loved Peru and started planning my next trip back. This was mainly to do some of the things I didn't manage the first time (like hike the Inca trail and see the Nazca lines). But I far from completed my list of places to go or traditional Peruvian food to try.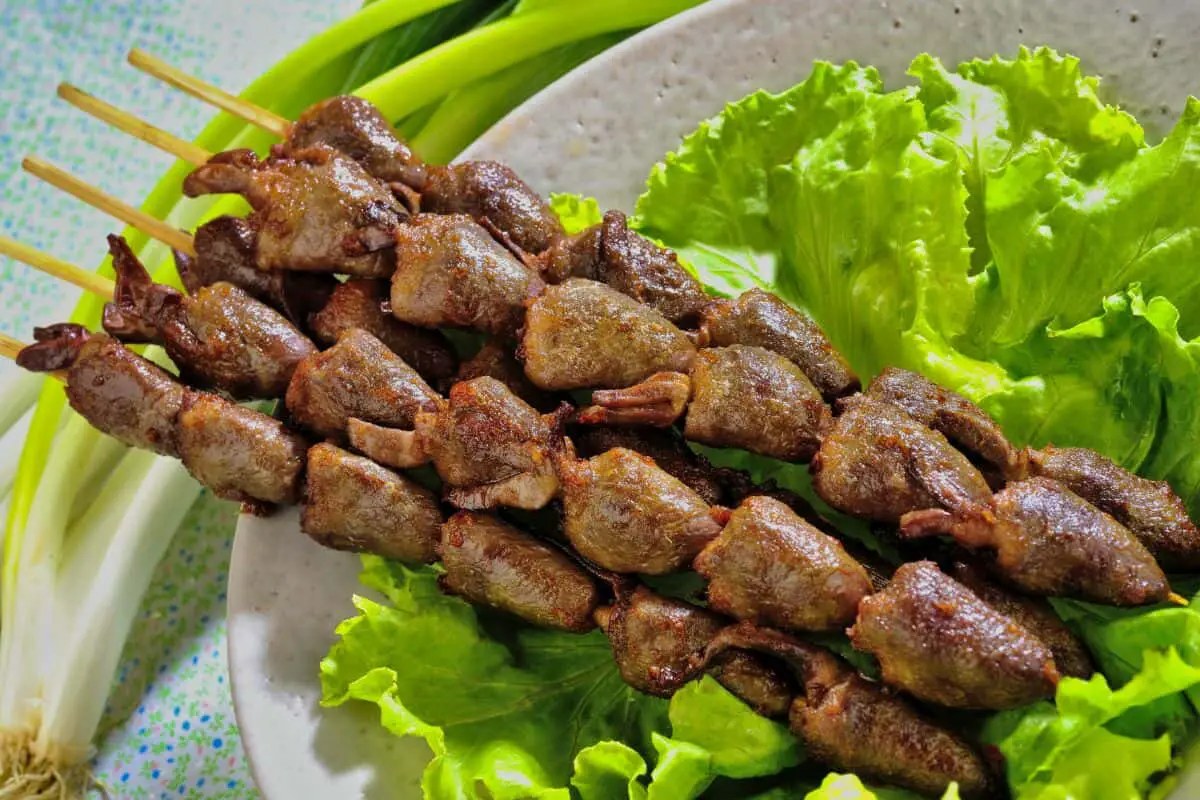 The mere thought of preparing anticuchos makes me happy; it represents Peruvian cuisine at its purest. The star ingredient of this traditional Peruvian recipe is the beef heart. If you have not yet tasted this delicious and highly nutritious organ meat, I encourage you to give this dish a try. It is not only healthy but also delicious and satisfying.
Anticuchos are so popular in Peru that they even have a national day, celebrated every October 17. Besides that, it has become popular in countries such as Argentina, Bolivia, and Chile.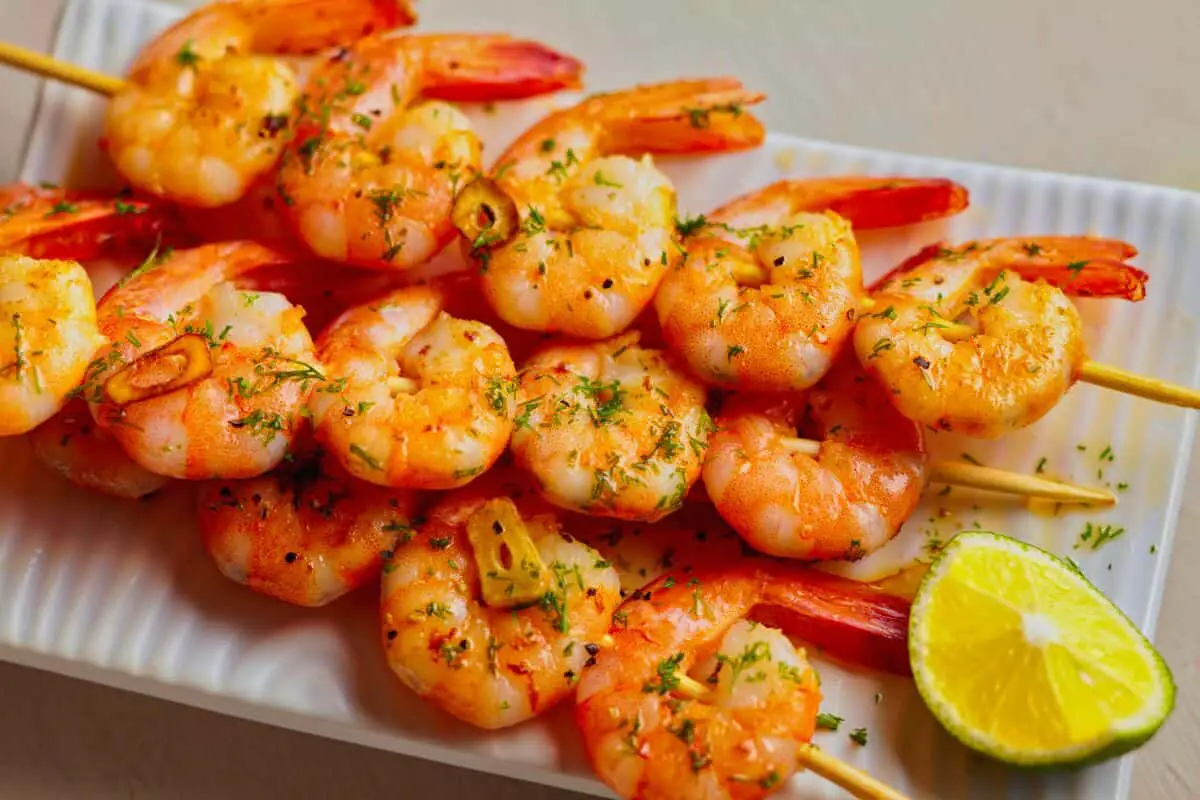 For the past few years, I feel like 90% of the stuff I've cooked at home tends to fall in the Mexican, Italian, Mediterranean, American, Vietnamese or Thai sort of categories. And while those are all my faves and are so dang delicious, I've been craving some new ethnic flavor profiles lately. I tend to gravitate toward traditional Peruvian food that's on the fresh and healthier side and features nice bold flavors, but doesn't require tons of unusual spices or such that I'll use once and then never again. Stuff that's easy to adapt for different diets, especially if I'm having friends over with different health needs. And stuff that's — well, you know me — quick an easy to prepare. 😉
You May Also Like: 30 Best Chilean Recipes Using Traditional Food from Chile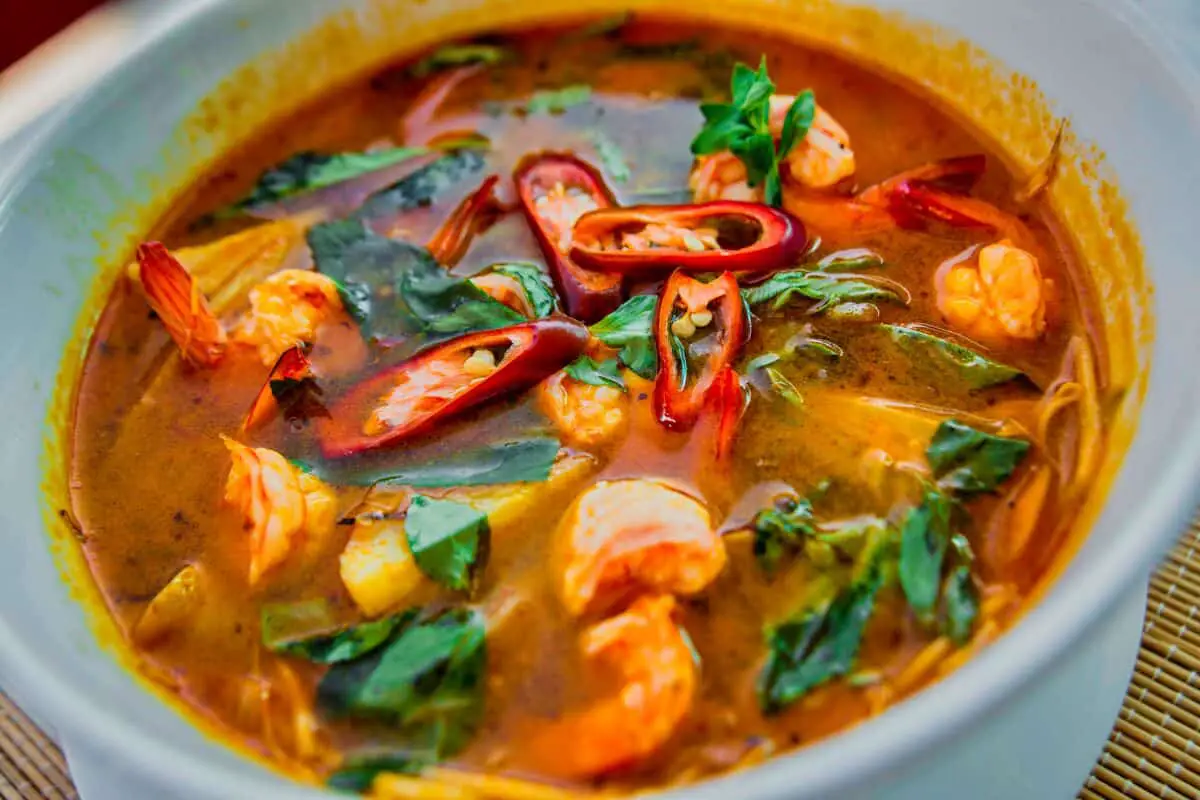 Two things will guarantee a great Parihuela: using fresh ingredients, and serving it immediately. It's also important to use a firm flesh white fish as the main ingredient, such as the center cut of a cod or sea bass. But since Dungeness crab are in season in California, I also added some for flavor, contrast, and to enhance the presentation.
The inspiration for this traditional Peruvian food comes from Gaston Acurio, while the warmth and spice for this dish comes from the aji panca hot pepper. Combine that spice with cumin, ginger, cilantro, and lime juice, and you'll enjoy a seafood soup that is flavorful, spicy, crisp, nourishing, and refreshing — exactly what the fishermen from Peru would enjoy after a day at sea.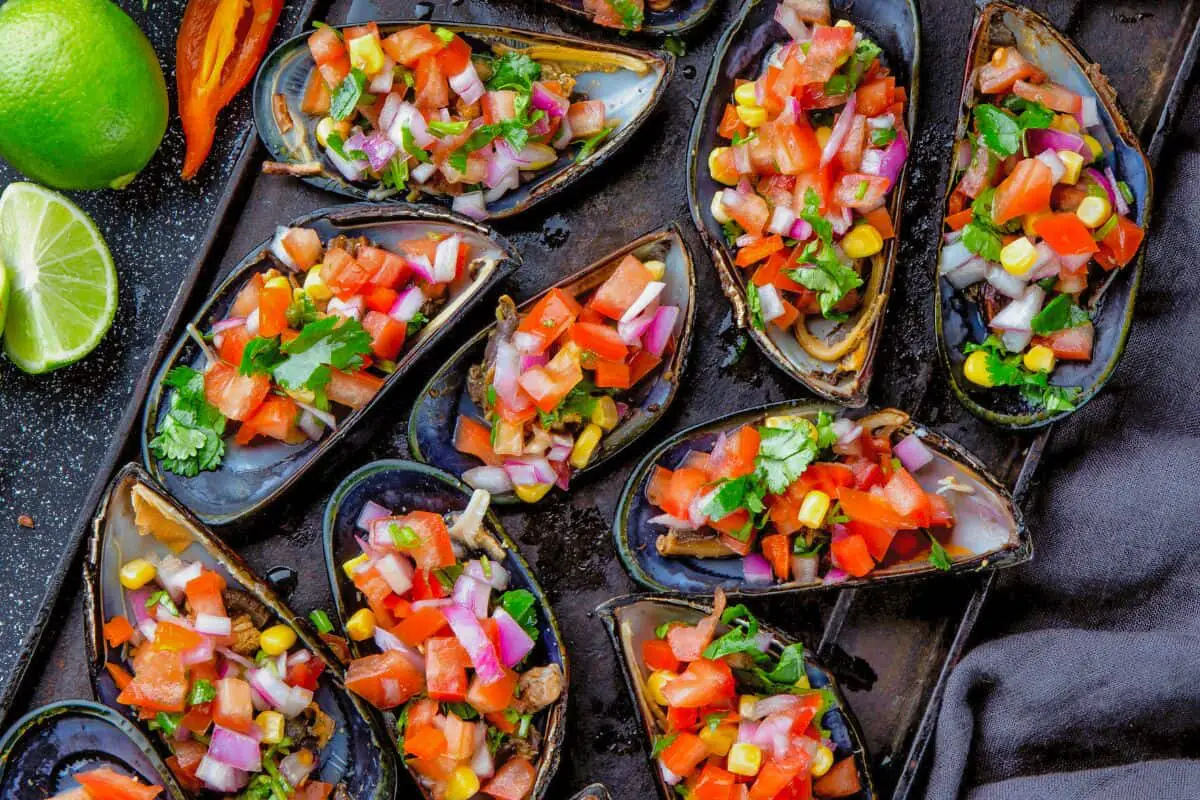 For seafood lovers, choros a la chalaca is one of the best dishes that Peru has to offer. This common appetizer includes an array of half mussels shells stuffed with a mixture of fresh ingredients.
Luckily, you don't need to make a trip to Peru to taste this dish. Instead, you can make it at home by yourself.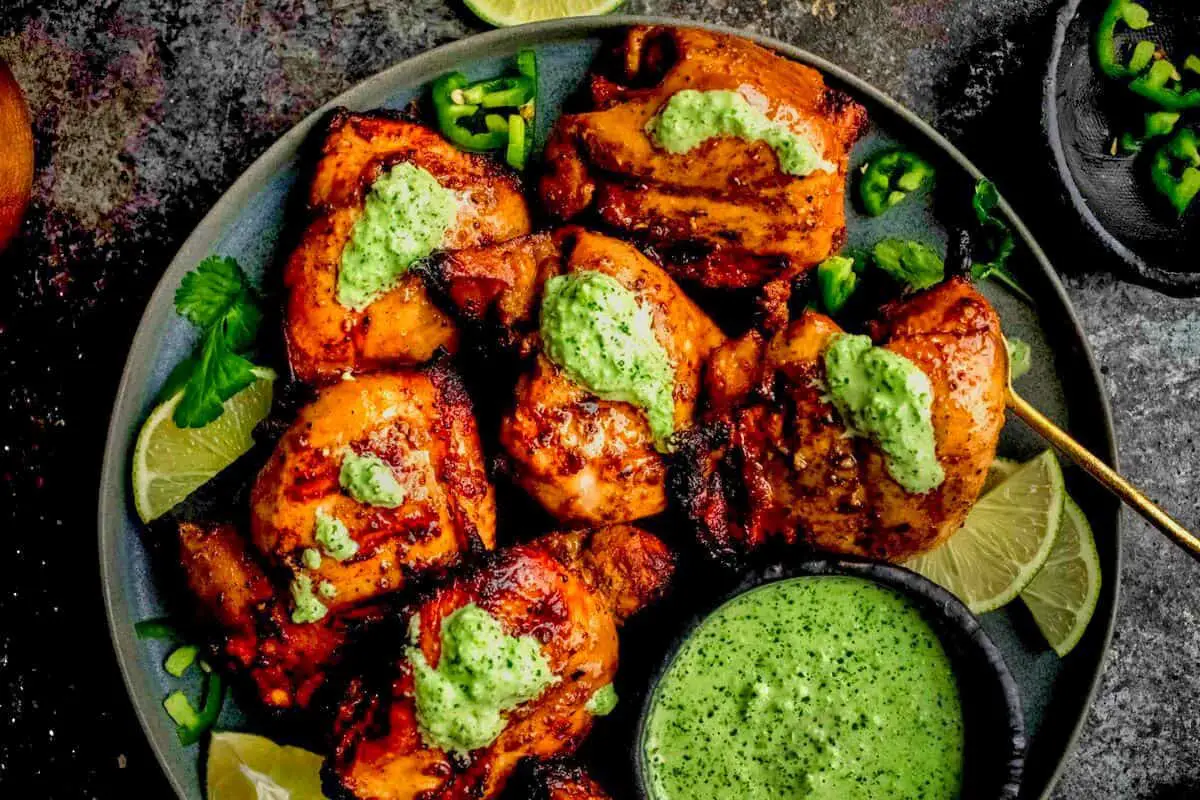 This chicken has all of the flavors going on thanks to an easy marinade. Marinating boneless chicken thighs in a mix of garlic, soy sauce, and cumin and serving it next to this amazing creamy green sauce gives this dish layers of intricate and authentic Peruvian flavors.
Similar to my favorite Mojo Sauce and Peruvian Aji Verde, the vibrant green sauce in this traditional Peruvian recipe tastes like it came straight from Peru. Made with jalapeno, cilantro, and fresh lime juice, the flavor and texture are creamy but made tangier with the addition of Greek yogurt.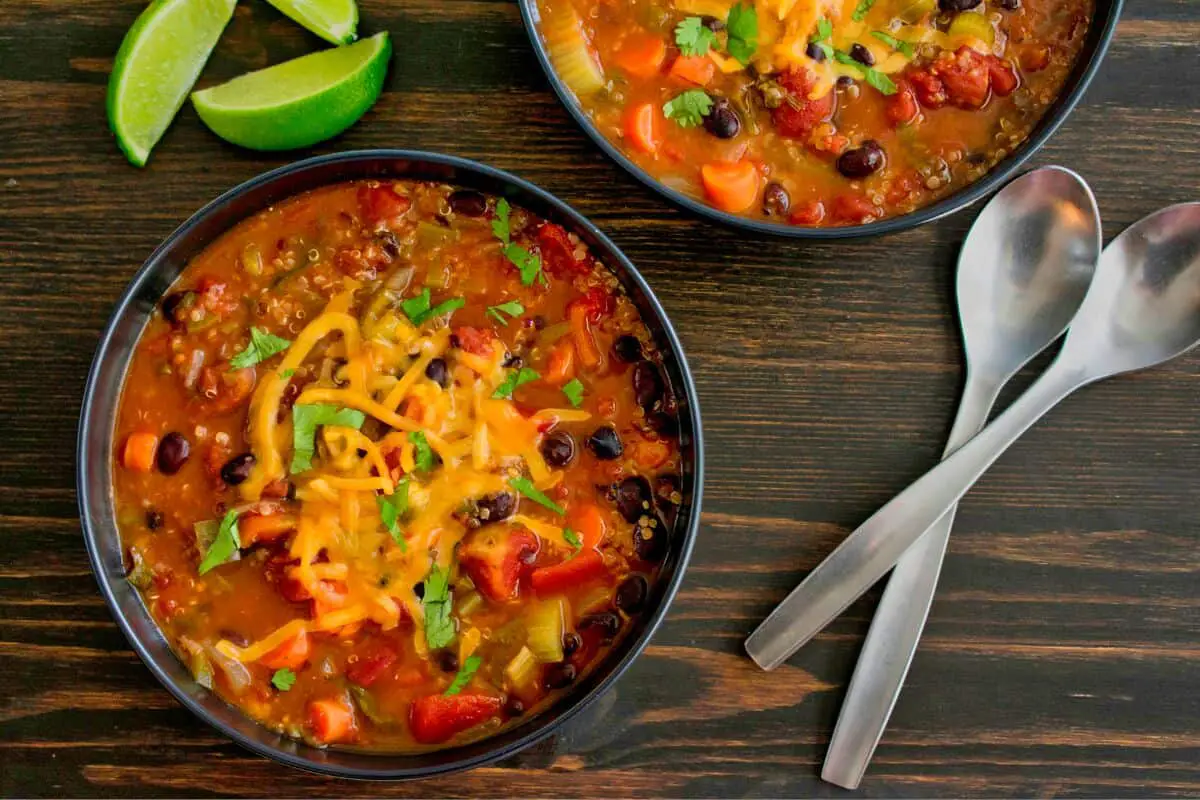 This traditional Peruvian recipe for Peruvian quinoa stew is one version of the hearty soups that are served throughout the Andes. It is a filling and relatively easy stew that's full of fiber, protein and colorful vegetable goodness. Added benefits come from the tomatoes, which are high in lycopene, a potent antioxidant that might help in protecting the body against damage from free radicals.
You May Also Like: 21 Favorite Traditional Brazilian Recipes 
4 Peruvian Side Dish Recipes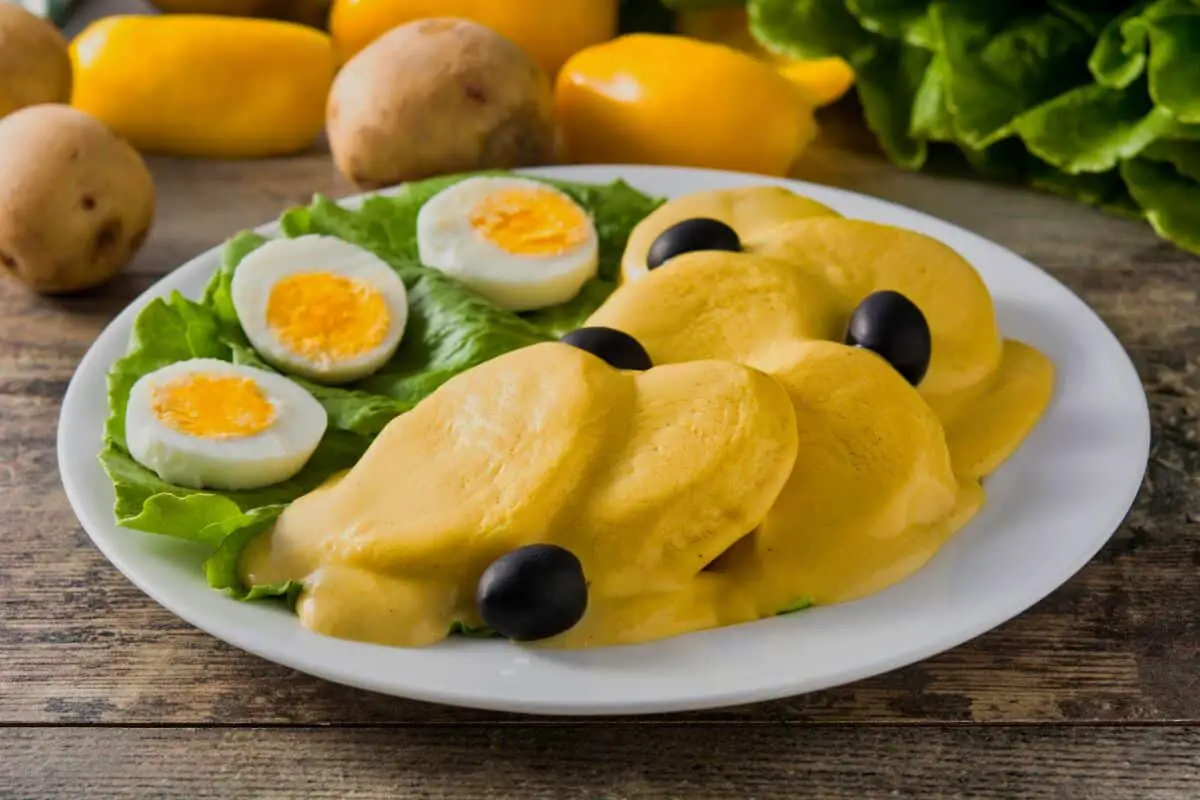 Papa a la Huancaina is an appetizer composed of thickly sliced boiled potatoes that are smothered in a subtly spicy velvety sauce called Huancaina sauce. This traditional Peruvian recipe offers a balance of cheesy, spicy, salty, bitter, starchy flavors and textures for a delicious result.
Huancaina sauce is often found on Peruvian tables as an excellent accompaniment to many other dishes like pasta, fried yucca or chifle (fried plantains).
This Peruvian Green Rice is hands down the best rice side dish ever! The fresh cilantro not only makes the rice green, but it's also extraordinarily nutritious and delicious. And with the addition of peas, carrots, onion, and garlic, this rice is sure to be a hit at the family dinner table.
All of that glorious, green cilantro! Now, don't just add a teaspoon of ground coriander or even chopped fresh cilantro and expect the rice to become green. You have to blend the fresh cilantro with the water you cook the rice in first.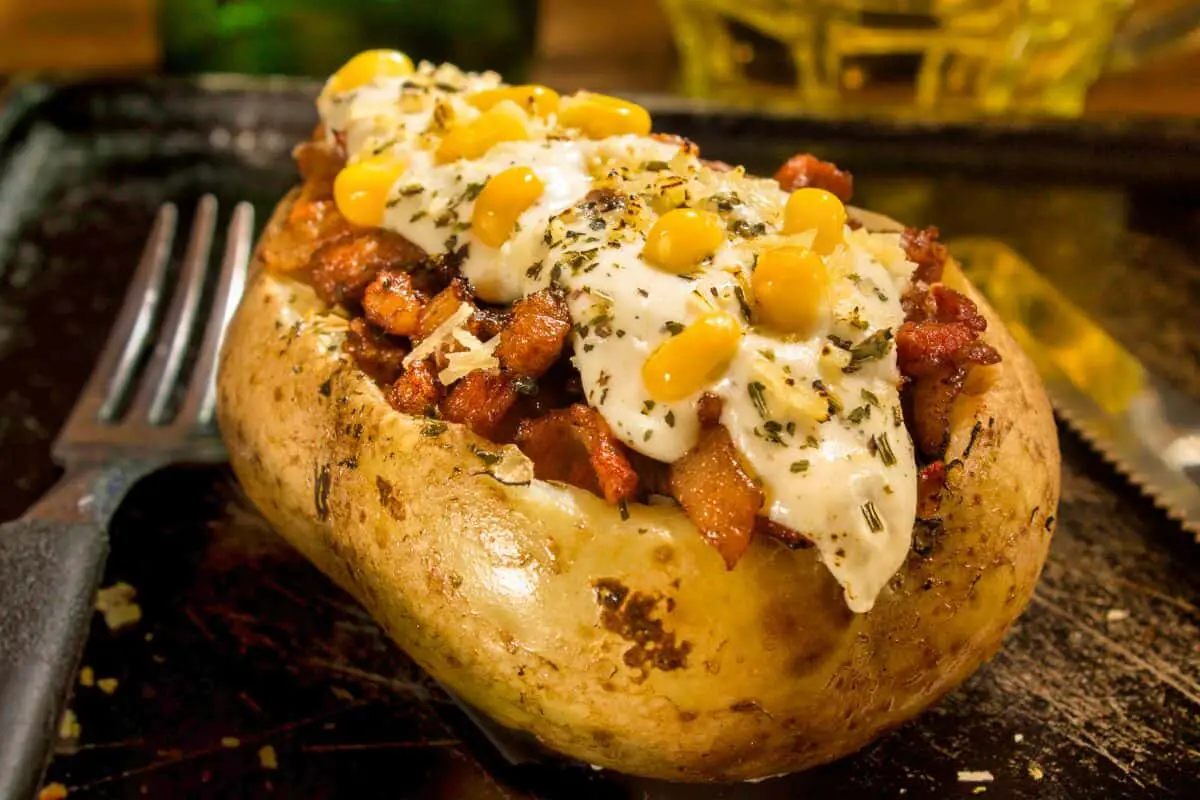 Papa rellena, translating to "stuffed potato," is delicious traditional Peruvian food, combining mashed potatoes with ground beef. A seasoned ground beef filling, similar to an empanada filling, is enveloped in a layer of mashed potatoes, which is then formed into an oblong oval shape and deep-fried until it's golden brown and crispy. Kids love this meal, especially with ketchup on the side.
A key ingredient in Peruvian cooking is the aji pepper, which makes its way into the filling, adding a bit of spice along with a subtle fruity flavor. Other ingredients like raisins, olives, and hard-boiled egg are included, adding to the authenticity of the dish.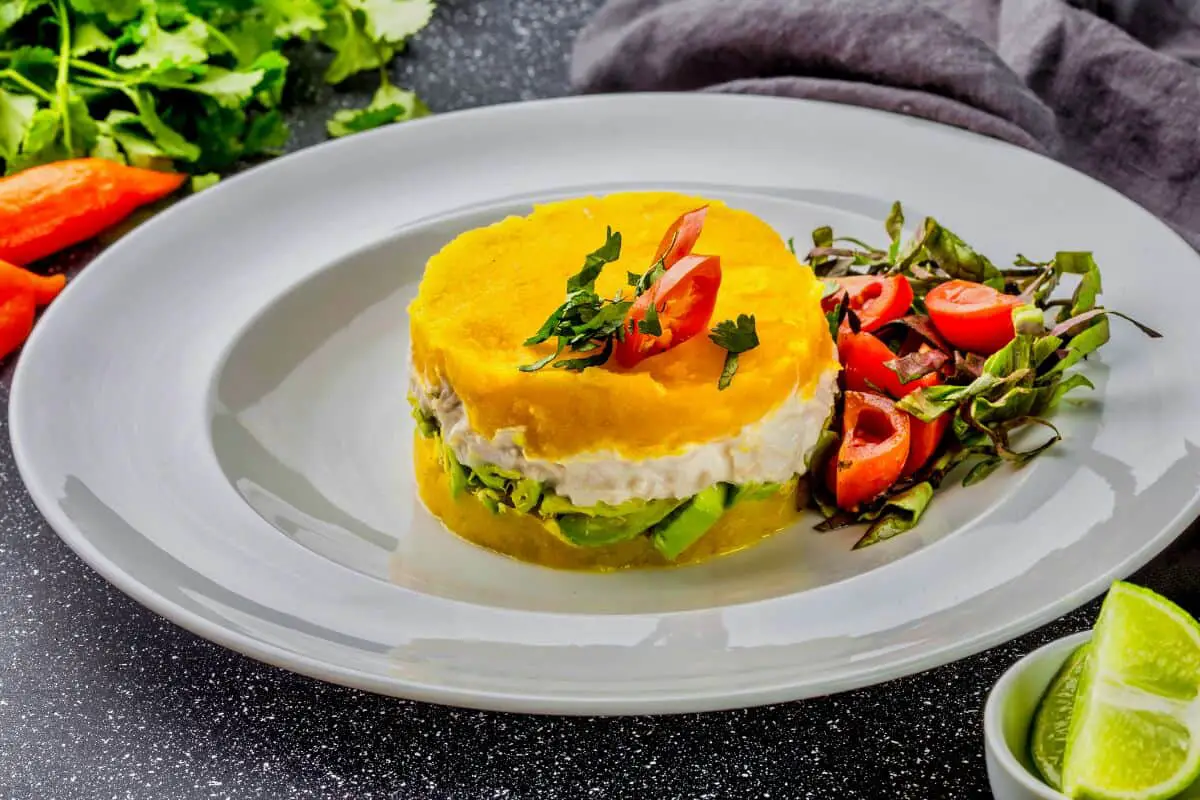 There's nothing very unusual about serving a chicken or potato salad at a cookout, which is why this layered Peruvian potato and chicken salad will cause such a stir. Or should I say, "causa" a stir, since in Peru that's what this gorgeous dish is called. Infused with ají amarillo, lime juice, and cilantro, these are perfect for making ahead and packing in your cooler on a hot summer day.
You May Also Like: 25 Unbelievable Bolivian Food Traditions & Recipes 
4 Peruvian Dessert Recipes
Lucuma is one of the most unusual tropical fruits from South America where it is very popular. It is a tree fruit that is grown in the Andean regions of Bolivia, Chile, Ecuador, and Peru. The fruit is about three inches long with an oval, curved shape similar to an egg, which also gave it its English name, eggfruit. The flesh is yellow to orange depending on the variety, and as it matures, the flesh becomes softer. The pulp of lucuma is orange with a distinctive, sweet aroma reminiscent of maple syrup or sweet potatoes. Only the flesh is eaten, the skin and large seeds are discarded.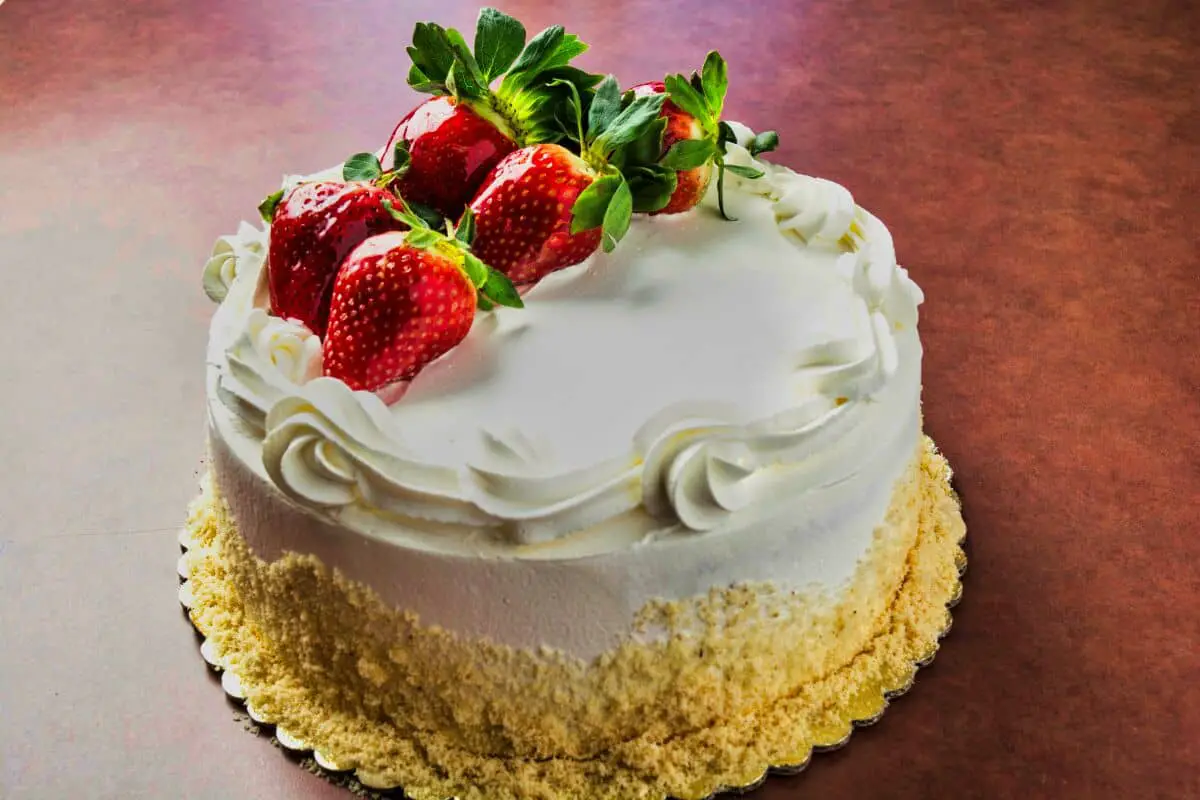 Tres Leches Cake has a soft and ultra-moist crumb. It is soaked with a 3 milk mixture and topped with a lightly sweetened whipped cream. This is a Tres Leches Cake traditional Peruvian recipe and the best we have tried. It beats any store-bought version all day long!
We love the simple, crowd-pleasing desserts that come together in a casserole dish like classic Tiramisu, or Strawberry Pretzel Salad, and of course this easy Tres Leches Cake. They are easy to make and perfect to bring to potlucks and parties. They transfer well and are always the first to disappear.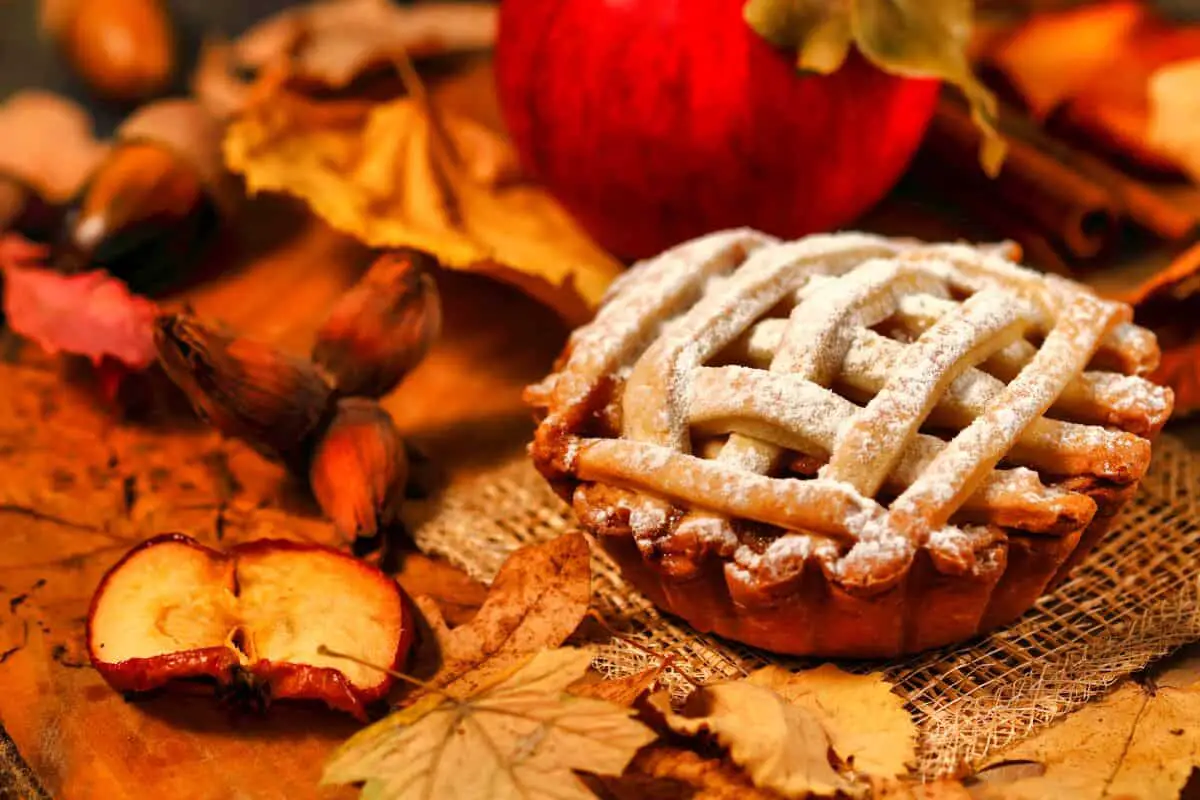 Is there a right time of the year to have a piece of apple pie? Even though it is far from being Peruvian, I can assure you that we all love this dessert as much as Americans do, or as much as Austrians love apple strudel, and we always try to find the best crust, the best filling, and the best magical combination of flavors. I need to confess that many years ago I took it a bit too far with this obsession, and baked one every day with different ingredient combinations and doughs.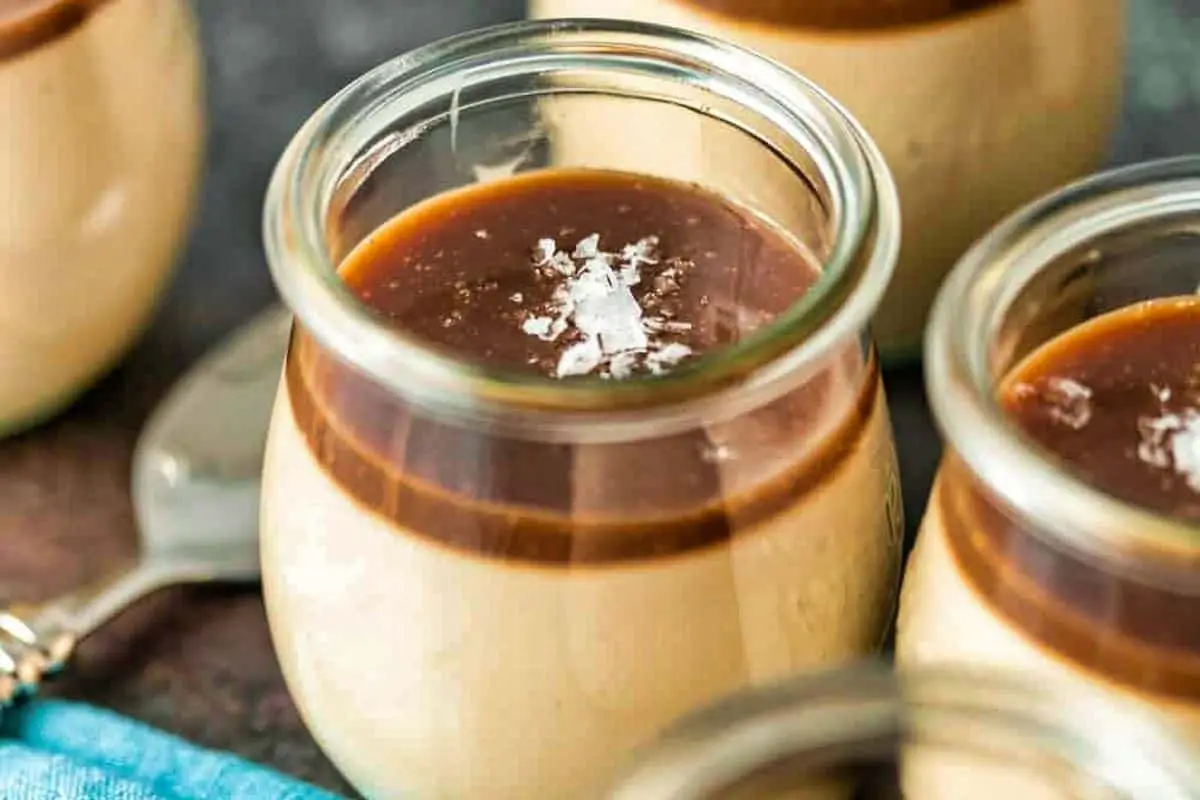 Suspiro Limeño or Suspiro de Limeña is a creamy, custard-like Peruvian dessert very popular in Lima and the cities around it.
Amparo Ayarza, a Peruvian lady from the city of Lima made this dessert for her husband. Her husband, being a poet, gave it the name of Suspiro de Limeña, which means, 'Sigh of a Lima lady' because it is soft and sweet like the sigh of a woman.
And yes! This dessert is creamy, light and very rich.
You May Also Like: https://ourbigescape.com/ultimate-colombia-travel-guide/
4 Peruvian Drink Recipes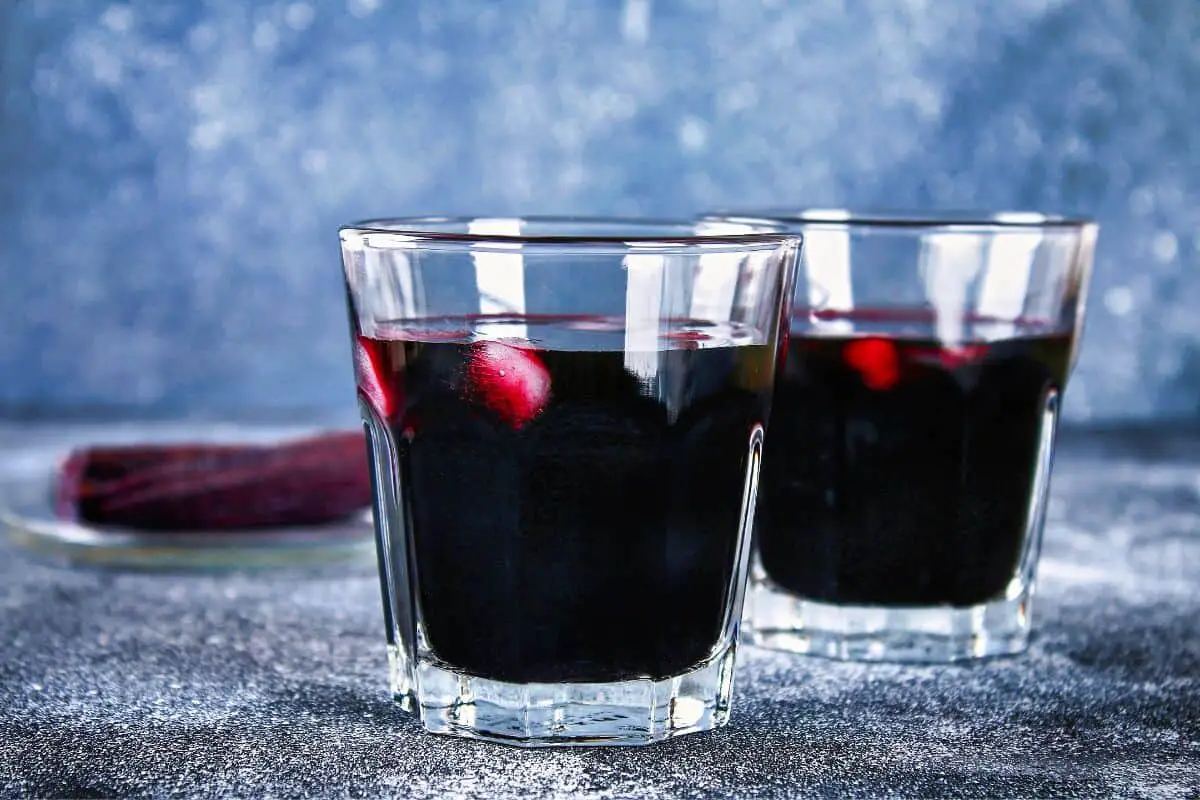 Deep purple in color and made from dried corn, this nonalcoholic Chicha Morada—"purple beverage"—is undisputed as Peru's iconic refreshing drink. Of humble Andean origins and rich in antioxidants, it is consumed nowadays by people of all social classes and in almost all contexts in that country, from a quick drink-on-the-run at a market stall to an elegant state dinner. The flavor of this purple corn drink is slightly rustic, mildly sweet, and surprisingly invigorating due to the spices used in its preparation.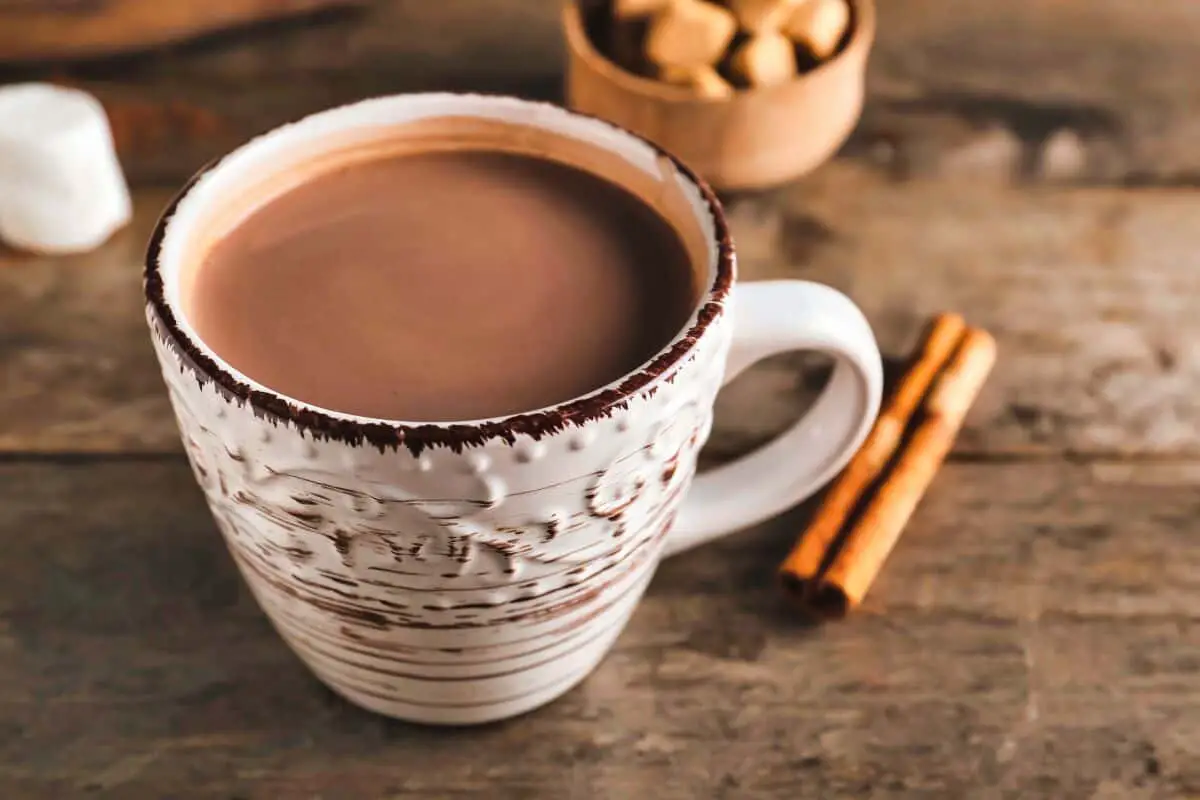 There's nothing like a hot chocolate drink on a winter's day to warm the soul. Peruvian chocolate is some of the best in the world (we're a bit biased) so make sure to get some high-quality chocolate with a high percentage of cocoa. This will help add real depth to the drink. The traditional Peruvian recipe is so flavorful that you shouldn't need a lot of sugar to make it taste great.
We've added some instant coffee (you could use premium ground Peruvian coffee for the best experience) to the traditional Peruvian recipe to give it that little kick. This is optional but it makes the hot chocolate recipe a real pick-me-up. Of course, it can also be enjoyed in the summer. There are no rules. Serve in a large cup and enjoy the aroma of orange, anise, cloves, cinnamon, and of course, Peruvian chocolate.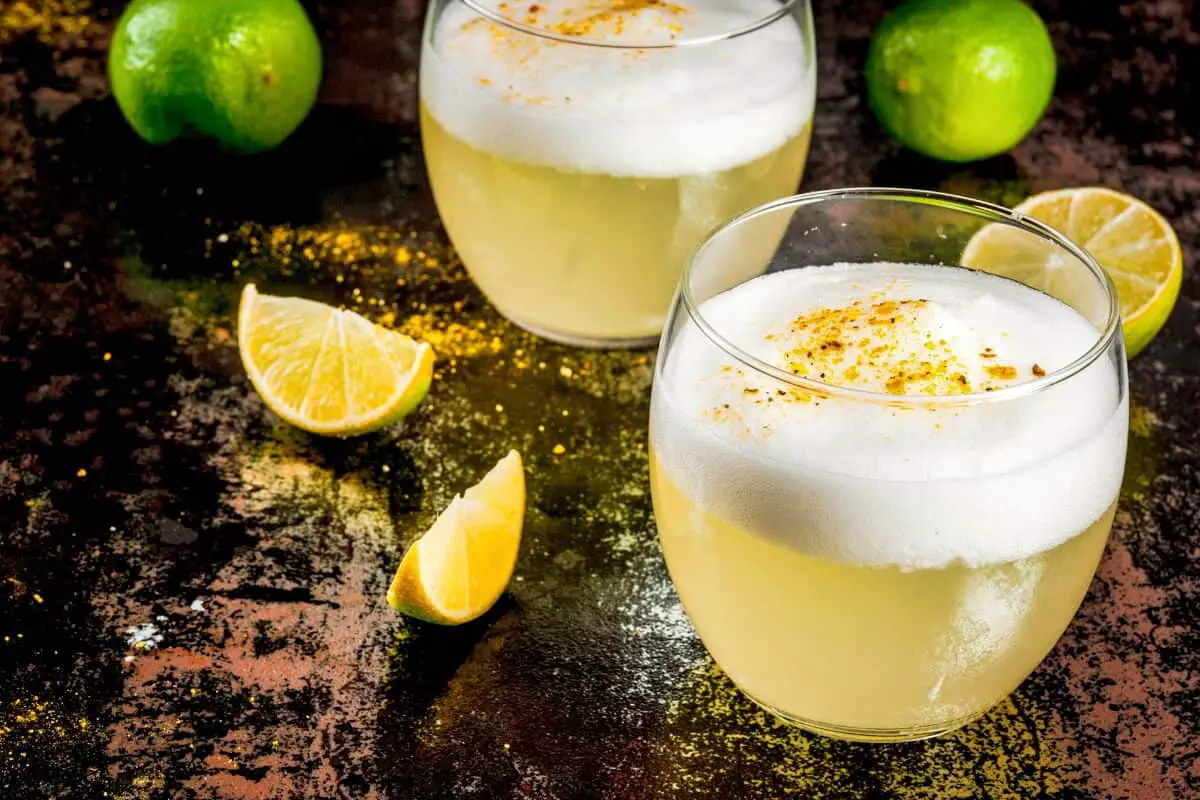 Serve this Peruvian inspired cocktail as a refreshing cocktail for summer barbecues or picnics. Perhaps one of the greatest tragedies of traditional Peruvian food and drink in Peru is that it is often relegated to just one or two things.
Everyone knows ceviche, but not many other traditional Peruvian food choices in Peru.
The same is true for Peruvian drinks. The pisco sour is famous but there are so many more!
I'm not going to lie. I've sampled a lot of Peruvian cocktails. For a month I worked at a hostel bar in exchange for meals and board.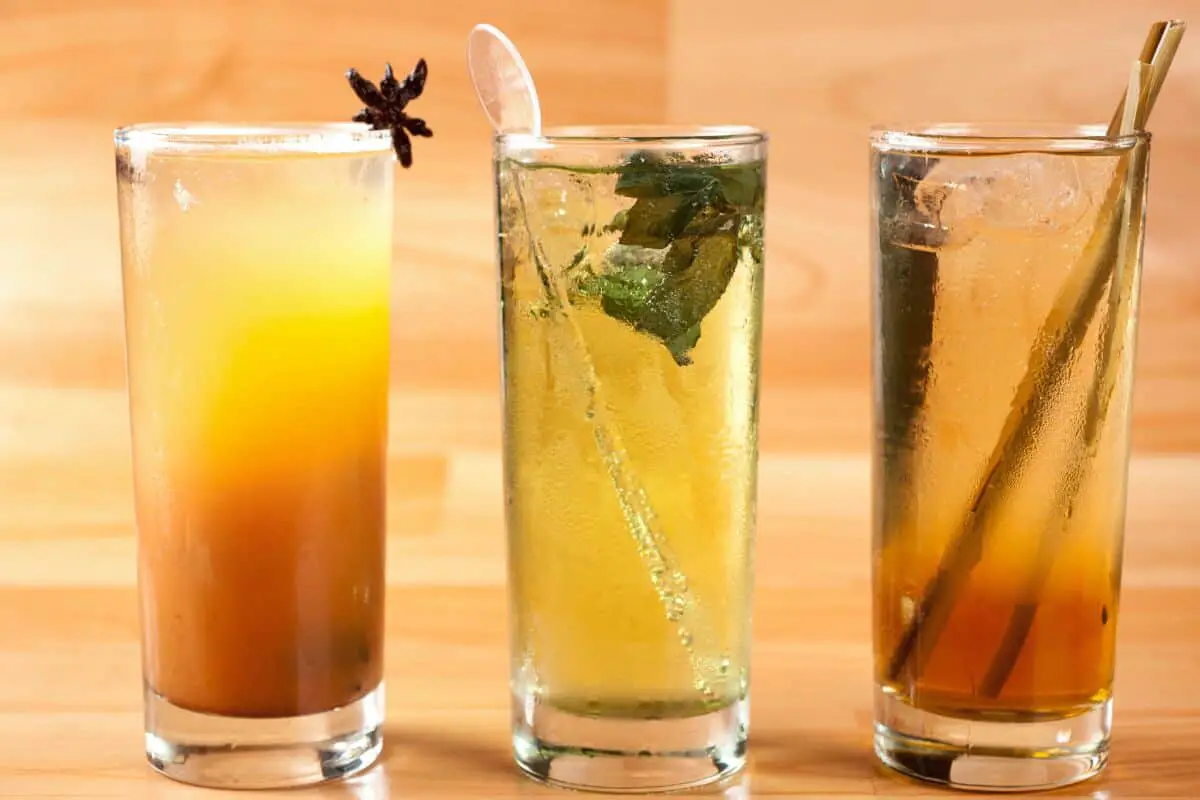 Cool, light, and refreshing… Chilcano de Maracuya (a Pisco and passionfruit cocktail) features Peru's beloved Pisco, fragrant Maracuya (aka passionfruit or passion fruit), ginger ale or ginger beer, and a few drops of bitters. This one is perfect on a hot summer's day!
It's a variant on the classic Peruvian Chilcano de Pisco… the passionfruit pulp replaces the lemon or lime juice in the classic cocktail. I think you'll find it's quick and easy to make as well.
A traditional Peruvian Chilcano uses ginger ale, but I tend to use ginger beer (can be alcoholic or non-alcoholic) instead. I love the stronger ginger flavor!
---
Check Out Our Pictures On Our Instagram – Our Big Escape.
You May Want to Join Our Boondocking Group on Facebook For More Information
Check Out Our Recipes On Our Instagram – World Recipes OBE
Discover our unique product testing journey at Our Big Escape. We bring real-world experiences and adventures into every review, ensuring authenticity and reliability. Dive into our process at
How We Test Products: A Journey of Discovery and Trust
, where every product is an adventure tested.