20 Great Aussie Recipes From Our Trip
Some of the Aussie recipes in this article are the same food that the Aborigines of Australia have used for 50,000 to 60,000 years or more. You will also find Aussie recipes that were left from the original colonists from Britain along with the ones from the prison ships. You will also notice both Asian and Mediterranean flavors from the colonists from those areas.
The Aborigines were always hunters and gathers and lived with that mentality alone, never having much in the way of a cultivation attitude. They were always on the move and this did not fit into their nomadic lifestyle. They used the food that was available to them naturally like native plants, snake, alligator, kangaroo, and smaller insects and grubs.
The arrival of the English brought about large scale changes with the introduction of cereal grains like wheat as well as cattle and sheep. While they became the staple food of the colonists the Aborigines continued their nomadic life and diet.
After World War II other ethnic foods and spices from Asia began to creep into their foods making it much tastier than the original recipes from England. Today you will find a varied group of food choices and we have tried to supply you with some of all of it with this group of recipes.
1. Aussie Meat Pie
Photo and Recipe Courtesy of Orgasmic Chef
It's Aussie Rule Footy finals and both John and Rob enjoy watching the games. If you've never watched Aussie Rules football you'll be in for a shock. In American football, they rest while they huddle and between each play. Aussie Rules doesn't stop. Ever. They run from beginning whistle to the end or a least that's how it seems.
During footy matches, there are traditional foods. Like baseball and hotdogs, Australian footy gives us Aussie recipes for meat pies and sausage rolls and both are served with tomato sauce (ketchup). It's a trick to eat a meat pie with one hand but most every Australian can do it without spilling one drop of gravy.
2. Baked Barramundi with Spicy Dressing
Photo and Recipe Courtesy of Ethnic Foods Are Us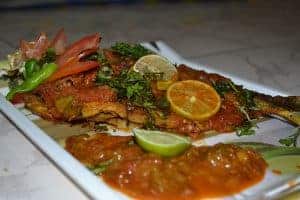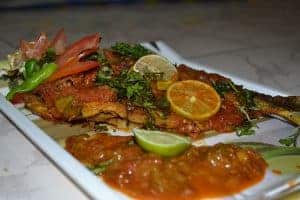 This Oven Baked Barramundi with Spicy Dressing dish is without a doubt a classic representation of authentic and traditional Australian/Aboriginal cuisine. Succulent and so flavorful, it will melt in your mouth with an explosion of textures and flavors on the palate and one of my favorite Aussie recipes.
3. Anzac Biscuits
Photo and Recipe Courtesy of Toris Kitchen
It's a day to remember all those fallen soldiers in war. A memorial day. There is a tradition here to bake and eat "Anzac Biscuits." They are delicious. I thought you may look into it online and also find a recipe and share this day with your fans.
This was a new one for me, and I got inspired. I found a traditional Anzac Biscuit recipe from the Australian Department of Veteran's Affairs. After a quick search for treacle (aka golden syrup) at my local gourmet market, I was able to whip up a batch in half an hour.
4. Australian Christmas Fairy Bread
Photo and Recipe Courtesy of Wander Cooks
Most Australians grew up with this beloved sugary snack which, like the best things in life, was reserved for birthday parties and special occasions like Christmas. And while there's no such thing as a White Christmas in Australia, with Fairy Bread there's rainbow snow!
Maybe it's those memories of '100's & 1000's' scattered among the shreds of wrapping paper on Christmas Morning. Or maybe it's the sugar rush. To this day I'm still not sure if the frenzy was more for the presents or the Aussie recipes for Fairy Bread and candy canes.
5. Aussie Burger With the "Lot"
Photo and Recipe Courtesy of Curious Cuisiniere
Turns out, Australians really like their burger toppings. Now, we love a good loaded burger. Blue cheese, bacon, avocado, mushrooms, grilled onions. Give us the works!
But, when we saw the list of toppings for a traditional Australian hamburger with the works (also known as "the lot", we stopped dead in our tracks. Be prepared for something different with this Aussie recipe traditional burger.
Lettuce, tomato, and cheddar cheese. It sounds like a good standard so far.
Onions, bacon, and a chili mayo sauce. Bring it on.
Grilled pineapple. Sure, why not?
A runny fried egg. We've seen it done before. We're still on board.
Pickled beets…. Sorry. You lost us.
6. Australian Damper Bread
Photo and Recipe Courtesy of Fine Dining Lovers
Damper bread is an Australian bush bread traditionally cooked in the hot embers of a campfire. Check out the full damper bread Aussie recipes to make it at home.
7. Aussie Steak Sandwich
Photo and Recipe Courtesy of Australian Beef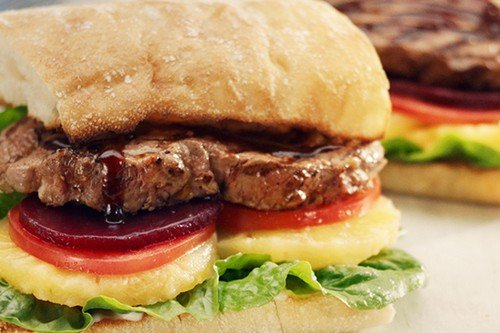 Food doesn't get much more Australian than a steak sandwich with pineapple, beetroot, lettuce, and smoky barbecue sauce.
In Australia, a steak sandwich is made much like a traditional Australian Hamburger with a piece of grilled steak or fried minute steak, fried onions, lettuce, tomato, tinned beetroot, and barbecue sauce or tomato sauce (tomato ketchup). Cheese, all Aussie recipes must have a fried egg, fried bacon or grilled pineapple to be truly Aussie.
8. Bush tomato (akudjura) scones
Photo and Recipe Courtesy of SBS
This scone Aussie recipe favorite option makes for a perfect savory afternoon snack. Bush tomato is a small native berry, when dried it has a caramel-like flavor and slightly tangy acidity.
9. Traditional Australian Pie Floater Recipe
Photo and Recipe Courtesy of Travel Food Atlas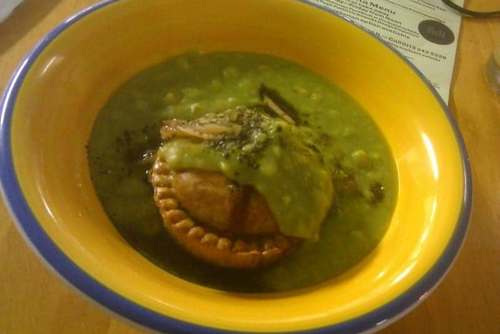 Australia and England have a strong connection with traditional national dishes. So, on my very first trip to London I was keen to get in and around some of those classic British dishes to see the similarities, and perhaps learn some new recipe variations to try back home.
On a cold dreary London day, I found a charming little pub near the Natural History Museum to stop in to have a lazy lunch. I was after some comfort food, so I couldn't think of anything more comforting than a meat pie served with mushy peas and gravy.
10. Australian Sausage Rolls
Photo and Recipe Courtesy of Favorite Family Recipes
First of all, quality, fresh sausage is the key to making delicious Australian Sausage Rolls. The unique blend of signature seasonings found in Jimmy Dean Premium Pork Sausage makes it the perfect sausage for the addition of this Aussie recipe to the list. It has the best flavor! It is the only sausage I use in this recipe. For an extra kick, I sometimes use the Jimmy Dean Premium Pork Hot Sausage.
11. Australian Rissole Recipe
Photo and Recipe Courtesy of Great Food Recipes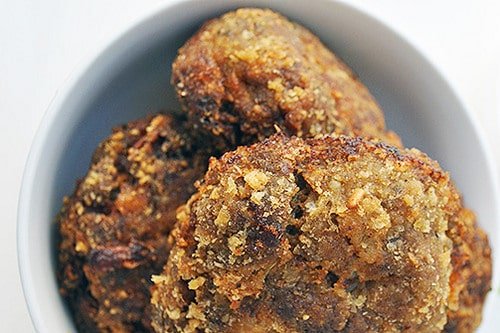 Rissoles in Australia are just a part of growing up. If your mother didn't regularly feed them to you as a child, well you were deprived and I feel sorry for you. All isn't necessarily lost though as you can start making traditional Aussie rissoles tonight and next week and the week after. These are not the pastry covered rissoles in Europe, they're probably more like Turkish kofte or meatballs in America.
They can be eaten as an appetizer served with tomato sauce (ketchup) but they're most commonly eaten as a main meal served with mashed potato and vegetables. They're also often covered in gravy but I like them just as much without gravy. You should always make more than you can eat too as they're ridiculously good on sandwiches the next day. A rissole, cheese, tomato sauce sandwich is to die for!
12. Aussie Beef Tenderloin with Dairy-Free Horseradish Sauce
Photo and Recipe Courtesy of Marys Whole Life
Aussie recipes beef Tenderloin is something that we traditionally have every Christmas, and I absolutely love it. I am not usually the one in charge of cooking it, but this year I am! It can be intimidating to cook a large, expensive cut of meat, which is why I usually let someone else handle the preparation. I decided this year that I needed to master an easy, fool-proof method for cooking it, and now I feel confident that it will turn out perfectly on Christmas! If you've ever been scared to cook a beef tenderloin – fear not. I got you!
13. BEST Traditional Mincemeat
Photo and Recipe Courtesy of Daring Gourmet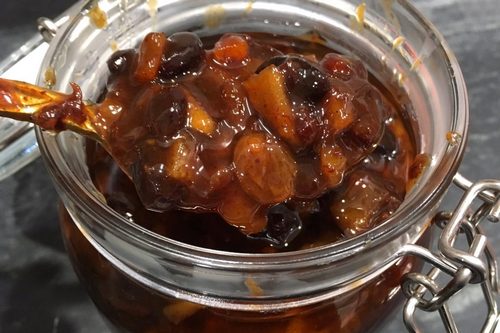 Whatever Happened to Traditional Mincemeat?
And I say lost, not because it's been erased completely, rather because mincemeat has changed so much, some of its most important elements having been left out, that it just barely resembles its original ancestor. Of the many traditional British dishes that have undergone some form of alteration over the years, mincemeat has probably changed the most. That is largely due to the common omission of mincemeat's two key ingredients: Meat (traditionally beef or lamb) and suet. Try this traditional Aussie recipes mincemeat.
14. Aussie Easy Meatloaf
Photo and Recipe Courtesy of Best Recipes
My family loved this meatloaf! I used hot Italian sausage and Italian breadcrumbs; also, I made the sauce with red wine. The leftovers were eaten before going to bed. It's a winner.
15. Traditional Beef Casserole Recipe
Photo and Recipe Courtesy of Kitchen Nine
Aussie recipes Beef casserole is filling, tasty, and a staple in just about every household. But you can give your own traditional beef casserole recipe a refresh by adding the right blend of garlic, onion, and vegetables to enhance the flavor for your next dinner.
16. Churrasco with Three Sauces
Photo and Recipe Courtesy of AGFG
Also known as pul biber, this ground spice is made of dried Turkish chilies that pack a fruity, smoky taste but aren't too spicy. The seeds are removed before grinding, so the pepper won't overpower your cooking with too much heat. Once you've tried it, it will become your go-to chili powder. Substitute crushed red chili flakes if you don't have any Aleppo pepper.
17. Char-Grilled Kangaroo and Vegetables
Photo and Recipe Courtesy of Ethnic Foods R Us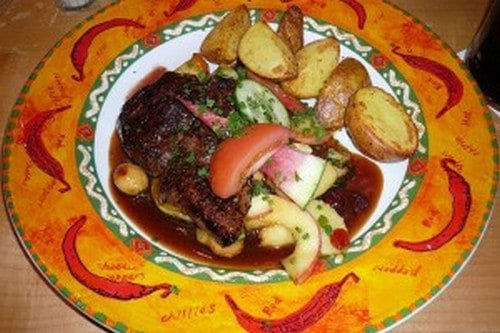 Bush Tucker style Char Grilled Kangaroo and Vegetables. Let me tell you, this char-grilled sumptuous dish is as authentically Australian/Aboriginal as it gets. How can you have a good collection of Aussie recipes without Kangaroo?
18. Traditional Aussie Barbecue
Photo and Recipe Courtesy of Australian Information Stories
Australian BBQ is a huge tradition in our culture, we love them. We look forward to our weekend breaks and the great Aussie barbie is such a part of our leisure time.
We invite friends and family to our homes or we go to theirs and we share some chops, steaks or sausages over a beer, wine or champagne every chance we get. This way of eating for us dates back to early white settlement as our weather definitely lends itself to outside eating. Our indigenous people have always cooked their food outside and that method has evolved to what it is today.
19. Australian Pepperberry Cured Tasmanian Steelhead
Photo and Recipe Courtesy of Huon Aquaculture
Pepperberry Cured Tasmanian Steelhead is a delightful Australian dish. Steelhead is from the Pacific Salmon family of Trout. They are especially tasty, and chefs worldwide will attest to their superior texture and flavor. Another great thing about this recipe is, it is simple to make. The curing takes some time, so you have to wait, but the small effort it takes pays off big time in the end at the dinner or lunch table. Aussie recipes for steelhead are almost all the same but the Pepperberry makes a big difference.
20. Aussie Beer can chicken
Photo and Recipe Courtesy of Kidspot
The last entry for Aussie Recipes is Beer can chicken. It is moist and so easy to make at home. You can make it in a conventional oven or in a barbeque. Add herbs and spices or keep it simple and let the flavors of the chicken shine through. You cant make a trip to Australia without a taste of this chicken.
---
Now that you have read the Australia Recipe Guide, what's next? Let's learn more about the food in Germany. Check out the Germany Recipe Guide
---