The chief factor in traditional Recipes for Scottish Food cooking is Scotland's abundant supply of game, dairy products, fish, fruit, and vegetables with a high reliance on simplicity and minimal seasoning.
What is Scottish Food?
Scotland, with its temperate climate and abundance of indigenous game species, has provided a cornucopia of food for its inhabitants for millennia. The wealth of seafood available on and off the coasts provided the earliest settlers with their sustenance. Agriculture was introduced, with primitive oats quickly becoming the staple.
The mobile nature of Scots society in the past required food that should not spoil quickly. It was common to carry a small bag of oatmeal that could be transformed into a basic porridge or oatcakes using a griddle. It is thought that Scotland's national dish, haggis, originated in a similar way: A small amount of offal or low-quality meat carried in the most inexpensive bag available, a sheep or pig's stomach. [1]
History of Scottish Food
In common with many medieval European neighbors, Scotland was a feudal state for a greater part of the second millennium. This put certain restrictions on what one was allowed to hunt, therefore to eat. In the halls of the great men of the realm, one could expect venison, boar, various fowl and songbirds, expensive spices (pepper, cloves, cinnamon, etc.), and the meats of domesticated species. From the journeyman down to the lowest cottar, meat was an expensive commodity and would be consumed rarely. For the lower echelons of medieval Scots, it was the products of their animals rather than the beasts themselves which provided nourishment. This is evident today in traditional Scots fare, with its emphasis on dairy produce. It would appear that the average recipes for Scottish food would consist of a pottage of herbs and roots (and when available some meat or stock for flavoring), with bread and cheese when possible.
Before Sir Walter Raleigh's introduction of the potato to the British Isles, the Scots' main source of carbohydrate was bread made from oats or barley. Wheat was generally difficult to grow because of the damp climate. Food thrift was evident from the earliest times, with excavated middens displaying little evidence of anything but the toughest bones. All parts of an animal were used.
The mobile nature of Scots society in the past required food that should not spoil quickly. The recipes for Scottish food had to address this problem.
It was common to carry a small bag of oatmeal that could be transformed into a basic porridge or oatcakes using a girdle (griddle). It is thought that Scotland's national dish, haggis, originated in a similar way.
A small amount of offal or low-quality meat carried in the most inexpensive bag available, a sheep or pig's stomach. It has also been suggested that this dish was introduced by Norse invaders who were attempting to preserve their food during the long journey from Scandinavia.[2]
5 Frequently Asked Questions About Scottish Food
Haggis. Scotland's national dish is haggis, a savory meat pudding, and it's traditionally accompanied by mashed potatoes, turnips (known as 'neeps'), and a whisky sauce.
Although typically served with haggis, neeps and tatties are featured in many Scottish dishes. Just to clarify, 'neeps' are turnips and 'tatties' are potatoes. In Scotland, neeps and tatties go together like peas and carrots.
The basic ingredients to a traditional Scottish breakfast include square Lorne sausage, link sausages, fried egg, streaky bacon, baked beans, black pudding and/or haggis, tattie scones, fried tomatoes and mushrooms, and toast. You can find breakfast recipes for Scottish food in the group below.
Apple trees, Pear trees, plums, and cherries are common fruit tree choices in Scotland. Hardy varieties of each of these can be found which are suitable for growth in almost all parts of Scotland.
Roast turkey is the traditional main course. However, a variation on the turkey stuffing, made with haggis, is a great idea for enjoying a turkey dish. Dishes like Roast Pork, Glazed Ham, Roast Angus Beef, Steak pie, Roast Leg of Lamb are also served at the Christmas dining table. For dessert, the most traditional is the Christmas pudding, usually served with brandy sauce cream. We have collected a few Christmas dessert recipes for Scottish food in the group below.
1. Scottish Rumbledethumps – Recipes for Scottish Food
England has 'bubble and squeak', Ireland 'colcannon' and, in Scotland, this delicious fry-up of vegetables is called Rumbledethumps. The dish is popular in the Scottish border regions, but you can easily make it at home wherever you are.
This Rumbledethumps recipe is based on a classic recipe from Sue Lawrence, one of Scotland's most famous cooks and food writers. Sue's recipe is classic and works every time. It's also easy to adjust to your tastes and preferences, too.
For this Rumbledethumps recipe, you can use leftover mashed potato and swede (also known as turnip or tatties and neeps) if you have some handy or cook from fresh. The beauty of the dish is it can be made the day before and heated up. Then all it needs alongside is a hearty stew, or, if you prefer to eat it on its own, try​ it with a fried egg on top.
Rumbledethrumps is one of the great and simple recipes for Scottish food.
2. Full Scottish Breakfast You Can Make At Home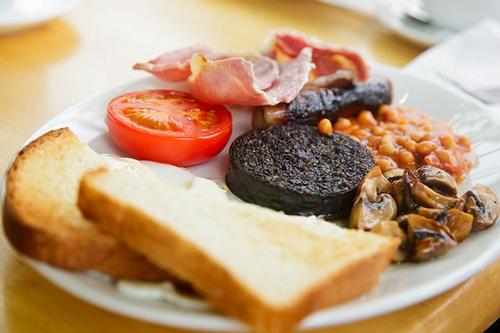 Whether you're looking to relive that amazing meal you had on a trip to Edinburgh, or just want to get back in touch with the recipes for Scottish food you grew up eating, you can have a taste of Scotland right in your own kitchen.
So, don't want for a trip back to Scotland to cure that craving for Scottish cuisine. We've some tips below on the tasty Scottish food and recipes that you can make right in your own kitchen at home.
Start your day out right with a hearty meal of a full Scottish breakfast. This is going to include eggs, black pudding, back bacon, mushrooms, link sausage, buttered toast, a tomato, baked beans, and tea or coffee.
And if you're like me, it will also include a small bowl of porridge. Also note that sliced haggis is an optional addition to your breakfast plate.
3. Scottish Bap – Recipes for Scottish Food
The Scottish bap bread is a soft roll, usually round, sometimes oval, sometimes square. It's a flat-topped bread roll, dusted with flour, and an indented hole is in the middle to stop it from rising to a dome.
It's best eaten fresh out of the oven first thing in the morning, sliced in two and enveloping fried bacon and eggs. It is one of those recipes for Scottish food that everyone loves.
4. Scottish Bubbles and Squeak Patties

My father in law is from Scotland and this is a favorite family dish. This one is a Scottish favorite. Makes a great side dish with chicken.
5. Scottish Oatmeal Rolls – Recipes for Scottish Food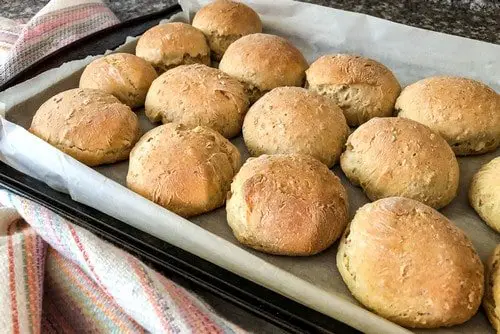 My family likes rolls that can hold up to scooping gravies, sauces, and more. This is one of those recipes for Scottish food that is always a favorite. The oatmeal in the dough gives it a Scottish touch.
6. Traditional Scottish Mince & Tatties

If you haven't heard of mince and tatties, it's basically ground beef and root vegetables in a hearty gravy with mashed potatoes.
When we lived in Scotland for 3 years, this dish was the most frequently consumed meal (aside from sausage rolls) that friends made for us. These recipes for Scottish food are simple, down to earth comfort food!
It seemed easy enough, and the ingredients are super simple, so I thought I'd give it a go in our wee Scottish kitchen.
7. Sticky Scottish Pecan Appetizers
Served in Scottish Shortbread "cups," these appetizers are sticky, salty-sweet, and delicious. Shortbread has been around for many centuries, thought to have originated in Scotland as a specifically designed biscuit using yeast.
Over time, the base of this recipe has evolved into 1 part sugar, 2 parts butter, and 3 parts flour, with additions to match desired tastes. One of those recipes for Scottish food that allows you to taste the flavor of Scotland.
8. Scottish Soup – Recipes for Scottish Food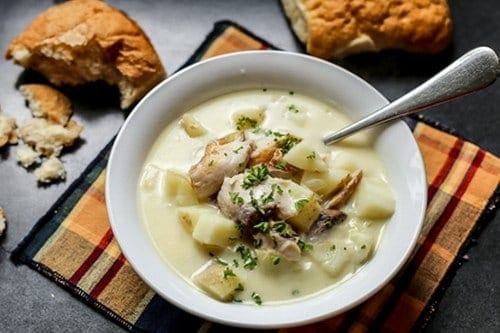 Ahhhhh good old bonnie Scotland. How we love you so. We're lucky enough to have visited Scotland a bunch of times and we've eaten some incredible food up there. So good.
We decided to make a super British soup in honor of Scotland, the flavors are super earthy and warming, you're gonna love it.
---
Now that you have read the 16 Traditional Recipes for Scottish Food post, what's next? Let's learn more about food in other surrounding areas.
14 Truly Great Traditional English Recipes
10 Best Traditional Dutch Recipes From Holland
10 Best French Comfort Food Recipes
Our 10 Best German Recipes To Make At Home
Our 10 Favorite Spain Recipes To Make At Home
---
9. Stovies – Recipes for Scottish Food
Stovies is a traditional Scottish dish, which is usually made from meat, potatoes, and onions. It is one of those recipes for Scottish food that becomes a very simple and quick-to-prepare dish.
10. Slow Cooked Scottish Beef Stew
Fall-apart beef cooked in the oven or the slow cooker – this Scottish beef stew is my favorite Scottish recipe and perfect for Burns night! (New Year's Eve)
11.Traditional Cullen Skink. A Meal In A Bowl.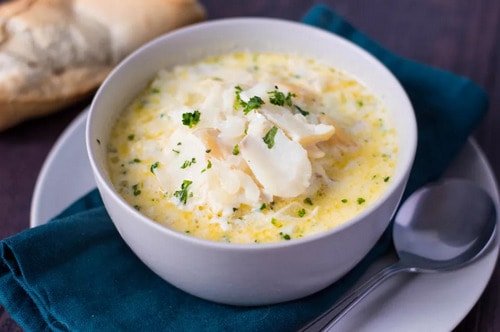 Traditional Cullen Skink is a classic Scottish dish from the recipes for Scottish food. It's a thick soup or chowder but definitely a meal in itself and real comfort food. It comes from the Scottish town of Cullen in Moray on the northeast coast of Scotland.
Made from smoked haddock, leeks, and potatoes, this version is lovely and thick. I like to put half the soup through a blender to make it really nice and thick. It's a great dish to serve for dinner in autumn and winter as it's really hearty and warming.
12. Hotch Potch – Recipes for Scottish Food
Basically, it's a stew of mostly green vegetables and lamb, or that's how it's written, but, not so fast. Other ingredients were used in the past, or in times of famine, to make a version reproducible by home cooks, I assume.
What sort of things get eaten in Scotland during a famine? Wild things, interesting things, and the header mentioned 3, in particular, that might be hard for average 20th Century readers to find: Levisticum Scoticum, (Scotch lovage) wild onions, lamb's quarter, and, nettles, specifically the tops of nettles, which I thought was interesting, and evidence of it being an early to mid-summer recipe.
The greatest food has a story, and I think the techniques and combinations born of frugality, or even hardship can be the most interesting.
13.Traditional Scottish Shortbread
What is one of the easiest recipes for Scottish food? Traditional Scottish Shortbread Recipe.  Perfectly crumbly, irresistibly buttery, and wonderfully delicious. Scottish Shortbread has been a year-round favorite treat for centuries!
Shortbread is as basic and simple as a cookie (biscuit) can get.  But it's also divinely delicious.  And for that reason, shortbread has been a favorite throughout the UK for hundreds of years.
The origin of shortbread goes back to somewhere around the 12th century when it was originally made from leftover bread-making dough that was left to dry out and harden into "biscuit bread."  Over time butter replaced the yeast and biscuit bread evolved into shortbread.  The term "short" refers to the crumbly texture from the large quantity of butter.  Butter was a luxury item and so shortbread was enjoyed only on special occasions and, of course, by the nobles and royals.
14. Classic Cranachan – Recipes for Scottish Food
Cranachan is the classic Scottish dessert of Scotch-spiked whipped cream layered with raspberries and toasted oats and sweetened with honey. It's as easy as it is delicious.
Sweet summer raspberries folded into cream flavored with honey, whisky, and toasted oatmeal – what of the recipes for Scottish food could be more delicious? This traditional Scottish dessert of oats, cream, whisky, and raspberries is a delicious alternative to trifle.
15. Scots Christmas Pudding Recipe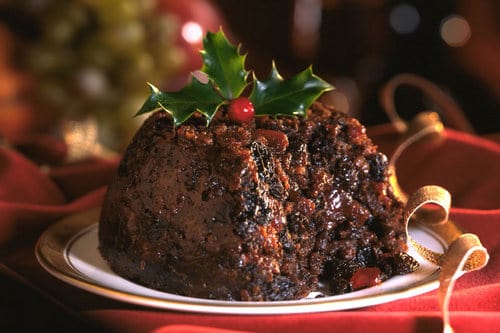 A perfect Christmas pudding of raisins, apples, dates, and warm flavors like cinnamon, ginger, honey, a dash of rum, etc.
16.Traditional Scottish Black Bun – Recipes for Scottish Food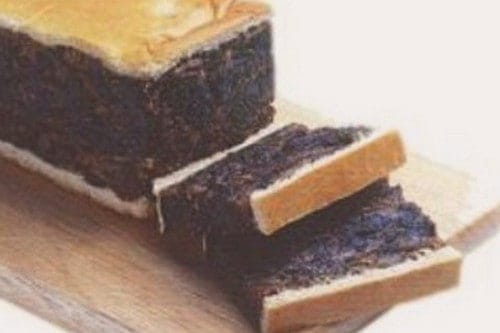 This is a traditional Scottish Hogmanay cake that needs to be made some weeks before the year-end as it needs time to mature. Wrap in clingfilm then aluminum foil and store in an airtight container till needed. With the holidays coming up, try some of these recipes for Scottish food that will make your New Years' feast unique.